There's never been a better time to consider a gay cruise. Itineraries include more remote destinations, and more charter companies are offering a wider variety of cruise experiences to meet the full spectrum of the LGBTQ+ community. Also, the ships chartered are almost uniformly elevated and luxurious.
No longer are gay and lesbian groups and full-ship charters relegated to older, tired vessels. Full-ship gay charters command big business for the cruise industry, and major cruise lines are responding by offering their newest and most exciting ships. Many charter companies will take over the entire ship, bringing aboard their own dance parties, entertainment, activities and hosts to tailor the vacation experience to their audience.
The magic of a gay cruise lies in the shared experience of traveling with your community. Each sailing fosters an environment where you can be yourself. You can choose whether to blend in with the crowd or stand out and be celebrated for your flair.
For more cruise news, reviews and tips, sign up for TPG's cruise newsletter.
Bonds often form more quickly and naturally aboard a ship where you're surrounded by your people, especially on full-ship charters where large mixers kick off each sailing.
Expect welcome parties with themes that go beyond just a name tag, whether that's icebreaker games or an opportunity to dress up in a way that signifies where you're from or how you identify. You'll find more openness throughout the ship compared to a traditional non-themed cruise, especially on the pool deck, as many passengers seek out the experience to expand their social circle.
Don't miss the boat on making lifelong friends during an epic cruise vacation. Here are 12 of the best gay cruises in 2023 and 2024.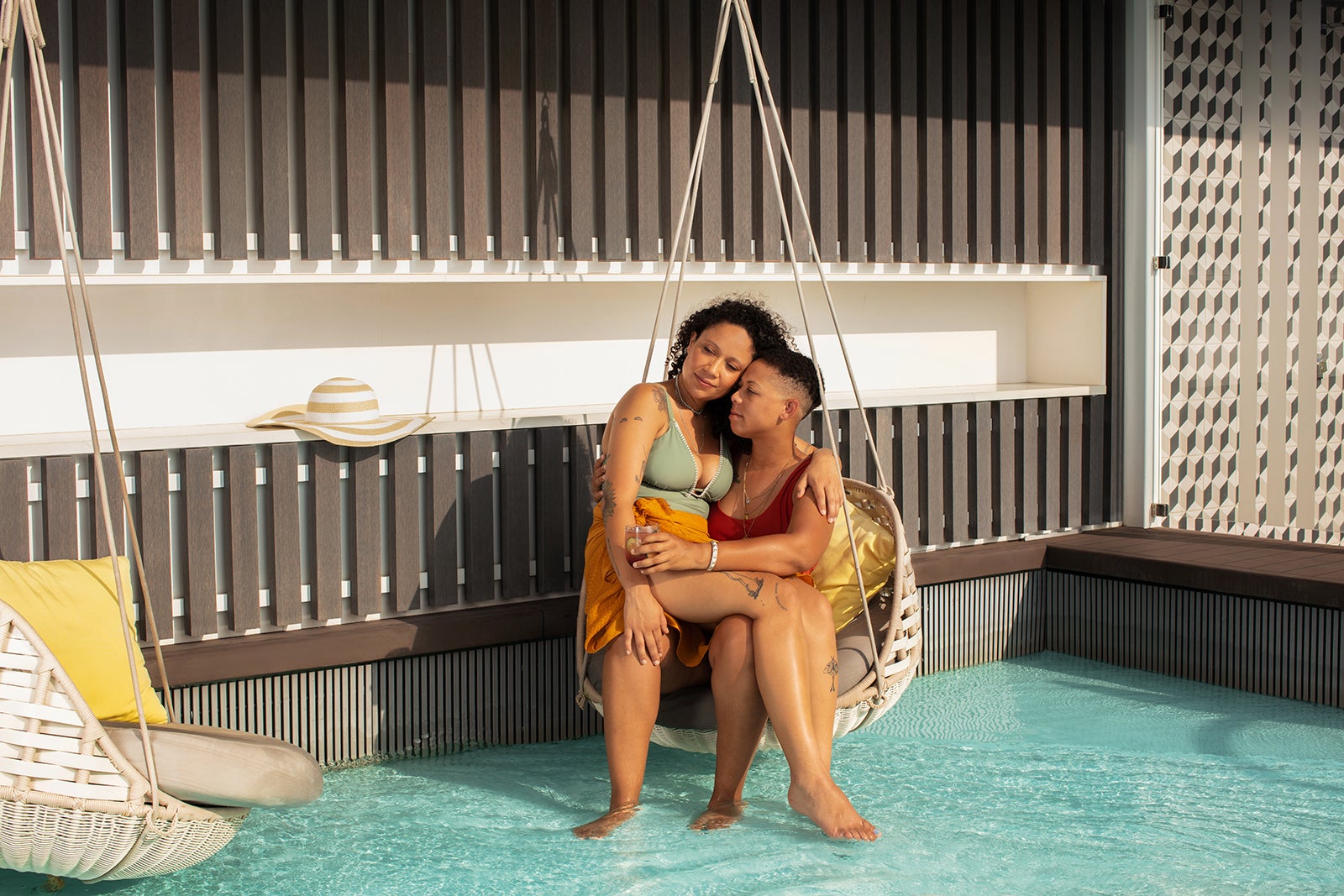 OUTbound's Christmas Market River Cruise
Date: Dec. 8-15, 2023.
The best part of a Christmas market river cruise is docking in a port that's a few steps away from the warm glow and transfixing scents of a European Christmas market. The best part of booking that cruise with OUTbound, a charter company that focuses on LGBTQ+ travelers, is going to those markets with your newfound group of queer friends.
OUTbound's December itinerary on Emerald Cruises' Emerald Destiny plies the Danube River, alighting at ports in Germany, Austria, Slovakia and Hungary, where there will be plenty of time to sample the local warm chestnuts and mulled wine.
Most of the OUTbound trips are hosted by celebrity gay couple Jonathan Bennett and Jaymes Vaughan, who bring a playful whimsy to the journey. There are still a few cabins available for the 2023 cruise, with rates starting at $2,997 per person based on double occupancy. Fares do not include port fees and taxes.
How to book: Reserve your spot on the OUTbound website or by calling 916-683-1000.
Related: Booking your first river cruise? Here's what you need to know
Atlantis Events' Caribbean Cruise
Date: Oct. 23-30, 2023.
Atlantis is the largest gay cruise charter company. When it hosts a sailing, the company takes over some of the largest ships at sea.
If you appreciate partying on through sunrise, don't miss the chance to sail on Royal Caribbean's Navigator of the Seas this fall with Atlantis' Caribbean Cruise.
The ship recently underwent a $75 million upgrade, adding new dining venues and waterslides, and refreshing staterooms for a more upscale, elevated onboard experience. Expect Atlantis to bring an impressive overlay of high-tech party lights and sound gear to keep the dance parties hopping day and night.
On this new weeklong itinerary from Los Angeles, the ship will stop in Cabo San Lucas, Mexico, on its way to an overnight in Puerto Vallarta, Mexico. Make sure to pack accordingly and dress to impress. Every night will bring a different theme, and you can be sure many of the 3,100 guests on board will dress up.
Select cabins for the fall 2023 sailing are still available, with rates from $899 per person based on double occupancy. Prices do not include additional booking fares, taxes and port fees.
How to book: Pick the cabin you want for the Caribbean Cruise on the Atlantis website or by calling 310-859-8800.
Related: Best Caribbean cruise tips to help you make the most of your time aboard and ashore
Atlantis Events' Singapore to Bangkok Cruise
Date: Nov. 11-20, 2023.
Sailing the first gay cruise to Bangkok, Atlantis is gearing up for a full-ship charter of Norwegian Cruise Line's Norwegian Jewel, which has a capacity of more than 2,300.
The nine-night cruise will leave from Singapore and visit Port Klang (Kuala Lumpur) and Langkawi Island, Malaysia; Ho Chi Minh City (Phu My), Vietnam; Sihanoukville, Cambodia; and Ko Samui, Thailand, before arriving in its final port, Bangkok (Laem Chabang, Thailand).
The itinerary also includes three days at sea, which the charter company will fill with pool parties, gay-focused entertainment and dance parties.
Atlantis charters are specifically geared toward gay men, though you will likely find a small percentage of lesbian women and a few straight allies. Though this cruise is all about the party, you may find a more relaxed, quiet scene if you seek it out.
Rates for available cabins start from $1,099 per person based on double occupancy, not including additional booking fares, taxes and port fees.
How to book: Choose your cabin on the Atlantis website or by calling 310-859-8800.
Related: 4 things to consider before booking an LGBTQ cruise
Vacaya's Caribbean Cruise 2024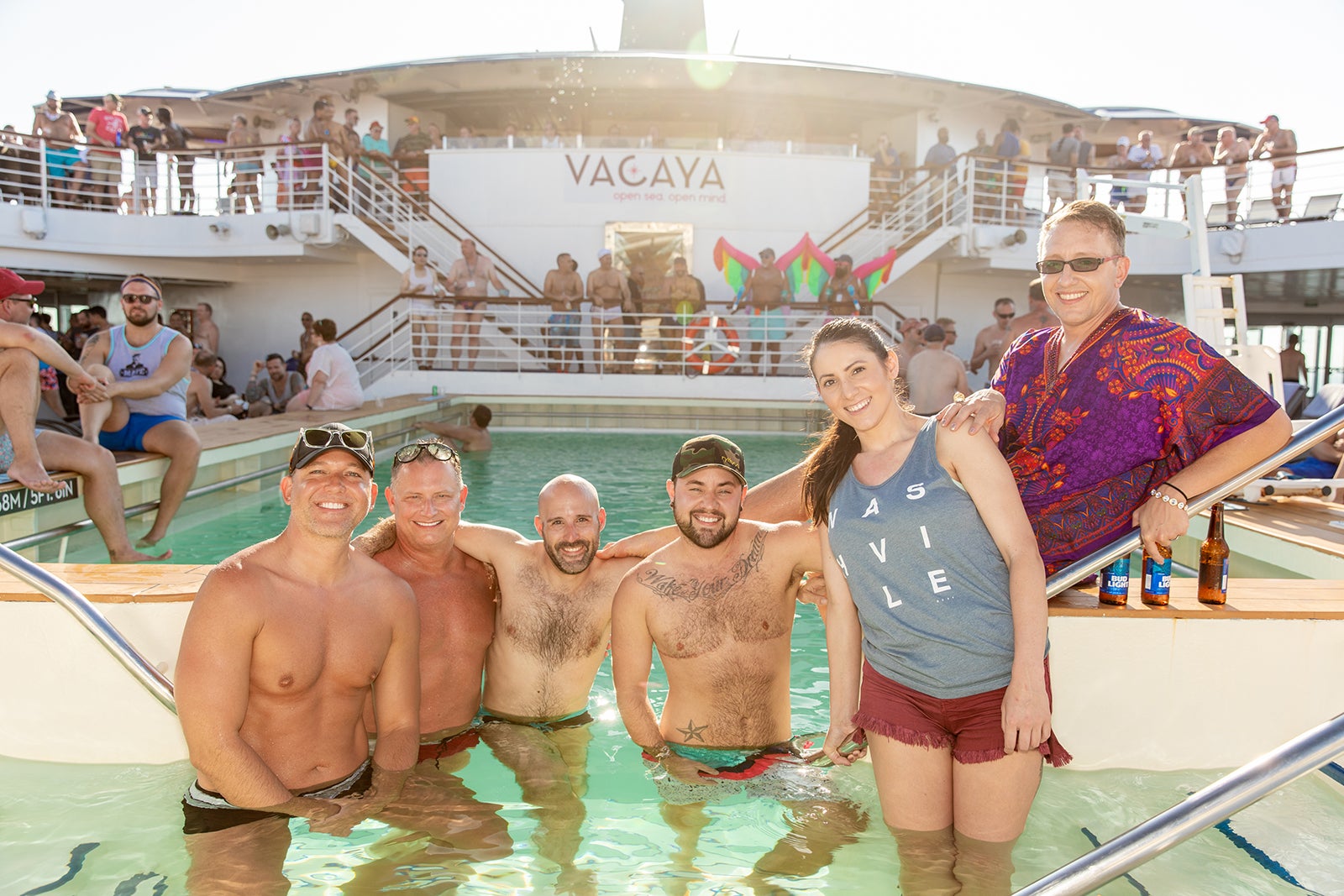 Date: Feb. 17-24, 2024.
Now in its fifth year of large-scale charter cruises and full resort buyouts, Vacaya will sail on its largest full-ship charter yet on Celebrity Cruises' Celebrity Apex. The ship will depart from Fort Lauderdale and stop in San Juan, Puerto Rico; St. Croix, U.S. Virgin Islands; and St. John's, Antigua, with three days at sea.
Vacaya is the first and only large-scale travel group to openly and outwardly welcome the entire LGBTQIAPK (lesbian, gay, bisexual, transgender, queer, intersex, asexual, polygamous/polyamorous and kink) community and its allies.
The vibe on board is friendly and easygoing, the entertainment is Broadway-caliber and the nightly parties are more about gay anthems than house beats. The company also features an opportunity to give back on each trip with its ReachOUT program, where passengers can volunteer with a local project while in port.
Fares for available cabins on the upcoming Caribbean cruise start at $1,997 per person based on double occupancy, not including port taxes, fees and gratuities.
How to book: Get up-to-the-minute availability on the cabins and their locations for the Caribbean Cruise 2024 on Vacaya's website or by calling 718-504-0404.
Related: 11 things I learned on my 1st gay cruise
Olivia's Majestic Alaska Cruise
Date: Sept. 21-28, 2024.
Olivia is the most renowned and popular travel group for lesbians, having hosted more than 300 trips for 350,000-plus women. Among the many trips on the books for the next two years, Olivia will charter its first-ever large-ship Alaska cruise on Holland America's Eurodam.
Join 2,100 women for a seven-night cruise through Alaska from Seattle. The itinerary includes visits to Juneau, Glacier Bay, Icy Strait Point, Sitka and Ketchikan, Alaska, as well as Victoria, British Columbia. Several renowned guests and performers will also be on board.
The remaining cabins are going fast, with early bird rates for available cabins starting from $1,499 per person based on double occupancy, not including fees and airfare.
How to book: Reserve your spot on Olivia's website or by calling 800-631-6277.
Related: From Asheville to Prague: 11 underrated LGBTQIA+ friendly destinations to visit
Vacaya's South America Cruise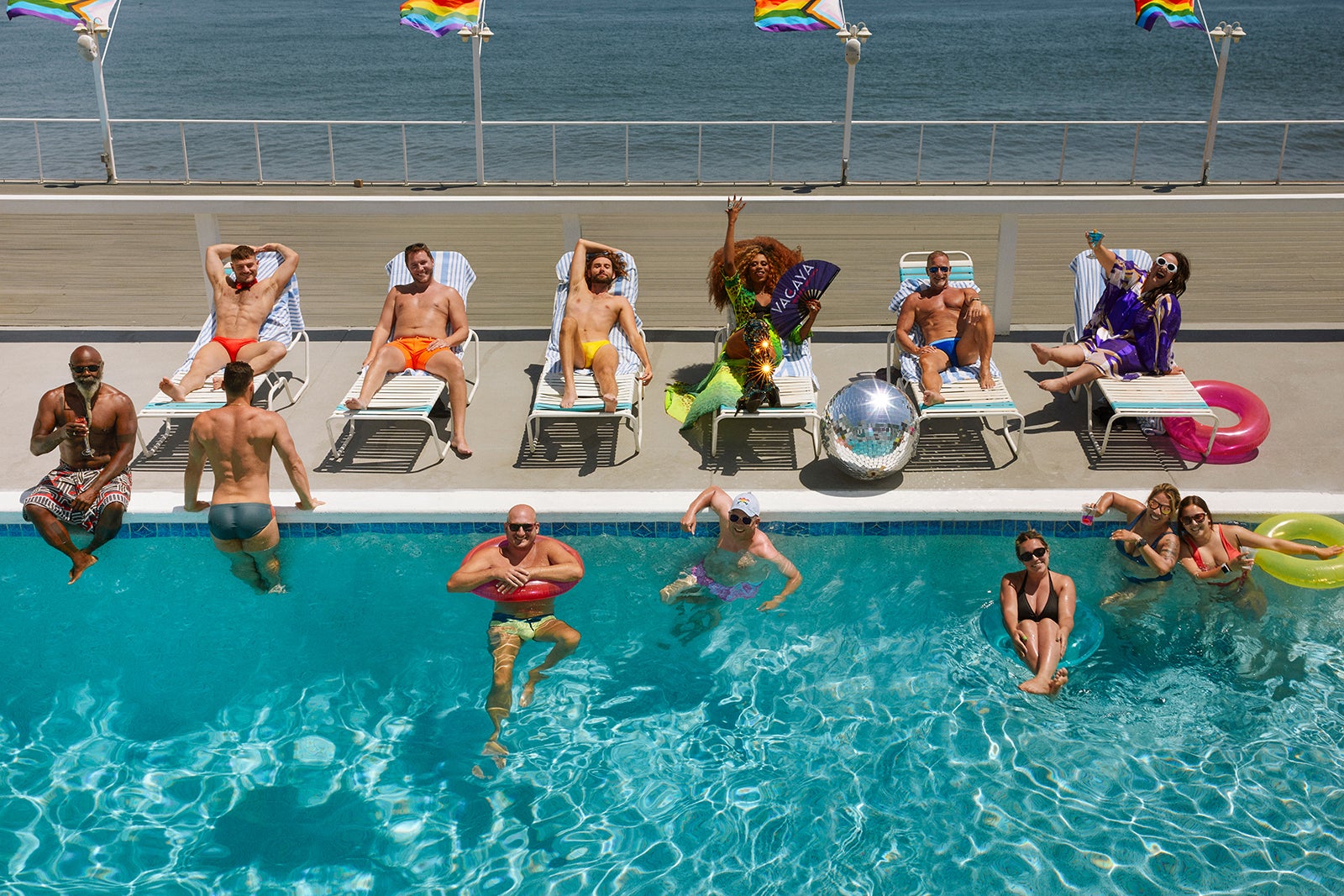 Date: March 29-April 6, 2024.
Vacaya's small-ship luxury cruises roam the world, visiting exotic ports and often going where few LGBTQ+ groups have gone before. The travel company's South America Cruise will bring LGBTQ+ passengers to many off-the-beaten-path ports on an expedition cruise in South America, sailing on Atlas Ocean Voyages' World Navigator.
The eight-night itinerary begins in Buenos Aires, Argentina, with a stop in Punta del Este, Uruguay; an overnight in Itajai, Brazil; and stops in Ilhabela, Paraty and Buzios, Brazil, before completing the journey in Rio de Janeiro.
Expect fabulous beaches and hopping nightlife at the perfect time of year at these unique, less-visited ports of call.
Vacaya's all-inclusiveness of the queer community pairs nicely with the all-inclusive benefits of this cruise, including an open bar and unlimited internet. These smaller-ship sailings almost always sell out quickly.
Rates for available cabins start at $3,997 per person based on double occupancy and do not include port fees, admin fees and gratuities.
How to book: Check the latest cabin availability and book Vacaya's 2024 South America Cruise on Vacaya's website or by calling 718-504-0404.
Brand g Vacations' Amazon Cruise and Machu Picchu Discovery
Date: April 14-26, 2024.
Join a small group of 40 other LGBTQ+ travelers for Brand g's four-night cruise on the Amazon River on Delfin III, owned and operated by Delfin Amazon Cruises. The cruise is part of a 13-day luxury vacation package that will capture many highlights of Peru, most notably with a glass-domed train journey to Machu Picchu.
Brand g is known for its intimate, small-ship charters with a focus on all-inclusive luxury. The all-suite ship still has some availability in the base rate suites, which start at $6,399 per person based on double occupancy, not including taxes, tips and fees.
How to book: You can reserve a cabin for this cruise on the Brand g website or by calling 952-295-4254.
Related: 21 tips and tricks that will make your 1st cruise go smoothly
GaySail's Gay Nude Cruising in Tahiti
Date: Nov. 11-18, 2023, and Nov. 23-30, 2024.
Anchors aweigh, and off with your clothes! GaySail's nude sailings offer the rare chance to sail au naturel in the safe confines of a private, full-charter catamaran.
GaySail's upcoming Tahiti cruise will take a small group of up to 14 gay men on a journey to many of the highlights of the South Pacific, including Bora Bora, Maupiti and Moorea.
GaySail has an impressive lineup of small-ship charters scheduled, including both clothing-optional and all-nude sailings. The charter company predominantly caters to European gay men (its headquarters is based in Amsterdam), but men from all around the world are welcome to join.
Pricing for the November 2023 and 2024 sailings starts at 2,295 euros (about $2,354) per person, including taxes and fees.
How to book: While the experience of sailing naked will be freeing, the experience is not free. Book your reservation on the GaySail website or by emailing info@gaysail.com for more details.
Pied Piper Travel's Maiden Voyage to the Eastern Caribbean
Date: Dec. 3-10, 2023.
Pied Piper's small gay groups on large-scale ships have sailed on hundreds of cruises since its inception in 1990. With upwards of 30 group sailings currently scheduled through 2024, Pied Piper's globe-trotting trips span an impressive variety of destinations and themes, including trips to Alaska, New Zealand and Rio de Janeiro during Carnival.
Of the many cruises scheduled, the company's upcoming group set for the Maiden Voyage to the Eastern Caribbean on the new Celebrity Ascent is among the most exciting. Be the first to sail on Celebrity Cruises' new Edge-class ship as it departs from Fort Lauderdale with stops in St. Maarten; St. Thomas; and Puerto Plata, Dominican Republic.
Sailing with the Pied Piper group includes a special Welcome Aboard cocktail party, private dining tables, an onboard Pied Piper host and invitations to special events and activities. The base rate for staterooms available on this cruise is $1,949 per person based on double occupancy, not including taxes, gratuities and additional port fees.
How to book: For more details about the Maiden Voyage to the Eastern Caribbean on Celebrity Ascent, visit Pied Piper Travel's website. Book your reservation by calling 800-874-7312.
Related: Tipping on a cruise ship: Everything you need to know
R Family Vacations' 2024 Summer Cruise
Date: July 7-13, 2024.
Join R Family Vacations for a special group sailing on board Celebrity Reflection. While this is not a full-ship charter, R Family will host many exclusive group activities during the sailing, including performances by Broadway belters, an LGBTQ+ comedy show, dance parties, a theater camp and special R Family dinners.
The ship will depart from Fort Lauderdale, with stops in Key West, Florida; George Town, Grand Cayman; and Bimini, Bahamas.
R Family was the first LGBT family travel company and has been a leader in the LGBT family travel market for 20 years, creating the opportunity for queer families to connect and share in the joy of travel. The company has since expanded beyond family travel to include adults-only, small-ship sailings.
Rates for the company's summer cruise start at $912.39 per person, not including port fees and taxes.
How to book: Visit R Family's website for pricing and availability, or call 917-522-0985 to book.
Source Journeys' Treasures of Venice and Dalmatian Coast
Date: Aug. 17-24, 2024.
Source Journeys has been a small-group LGBTQ+ charter company for more than 20 years, hosting a handful of small-ship charters and land-based tours each year. Source prides itself on a shipboard atmosphere of acceptance, where all feel welcome.
Of the company's upcoming trips planned, its summer 2024 Venice and the Dalmatian Coast cruise on Star Clippers' Royal Clipper is a highlight, as it charters the world's largest sailing ship.
The round-trip itinerary from Venice, Italy, includes a stop in Kotor, Montenegro, before hitting up the highlights of Croatia, including Dubrovnik, Zadar, Hvar, the Pakleni Islands and Rovinj.
Pricing for the seven-night cruise starts at $2,899 per person based on double occupancy. The fare does not include port fees, gratuities and pre- and post-cruise packages.
How to book: Reserve your spot on the Treasures of Venice and the Dalmatian Coast cruise via Source Journeys' website or by calling 305-672-9779.
Out Adventures' Egypt: Nile River Cruise & Cairo
Date: Nov. 8-17, 2024.
Check the Great Pyramids of Giza off your bucket list, trace Egypt's queer history while exploring the tomb of Khnumhotep and Niankhkhnum, and lose yourself in Cairo's bustling bazaars on Out Adventures' nine-night Egypt tour. The trip features three nights in a hotel in Cairo, followed by a four-night Nile River cruise and two additional nights in Cairo before flying home.
You'll sail with a small group of no more than 20 gay men (and their allies and families) with excursions that'll include visits to Luxor Temple, the Royal Tombs in the Valley of the Kings and the Abu Simbel temple complex.
Out Adventures has a number of gay charter cruises, some combined with land tours, planned through 2024. The trips focus on groups no larger than 40 to enable a more tight-knit sense of community and connection. Additionally, the small size allows Out Adventures' groups to travel to more exotic, remote destinations.
The small-ship experience will fill up fast, with rates starting at $5,495 per person based on double occupancy, not including taxes, tips and fees.
How to book: Book your spot on the Nile River cruise on the Out Adventures website or by calling 866-360-1152.
Planning a cruise? Start with these stories: