United Airlines is giving Newark a big glow-up with the opening of its hotly anticipated new lounge in the airport's Terminal A.
On Wednesday, the airline officially opened the doors to its newest United Club outpost, welcoming (some disgruntled) flyers into this oasis amidst a very busy airport.
The 15,000-square-foot location has been in the works for years, and it comes about six months after the inauguration of the spiffy new Terminal A.
When the new Terminal A opened in January, it didn't have any lounges — and now United's roughly 350-seat facility is the first to open. (An American Admirals Club, Delta Sky Club and American Express Centurion Lounge are all slated to open starting later this year.)
As for United, the airline considers Newark one of its most important hubs, and it already operates from 17 gates in the new Terminal A facility. (The remainder of the airline's operation spans the entirety of Terminal C.)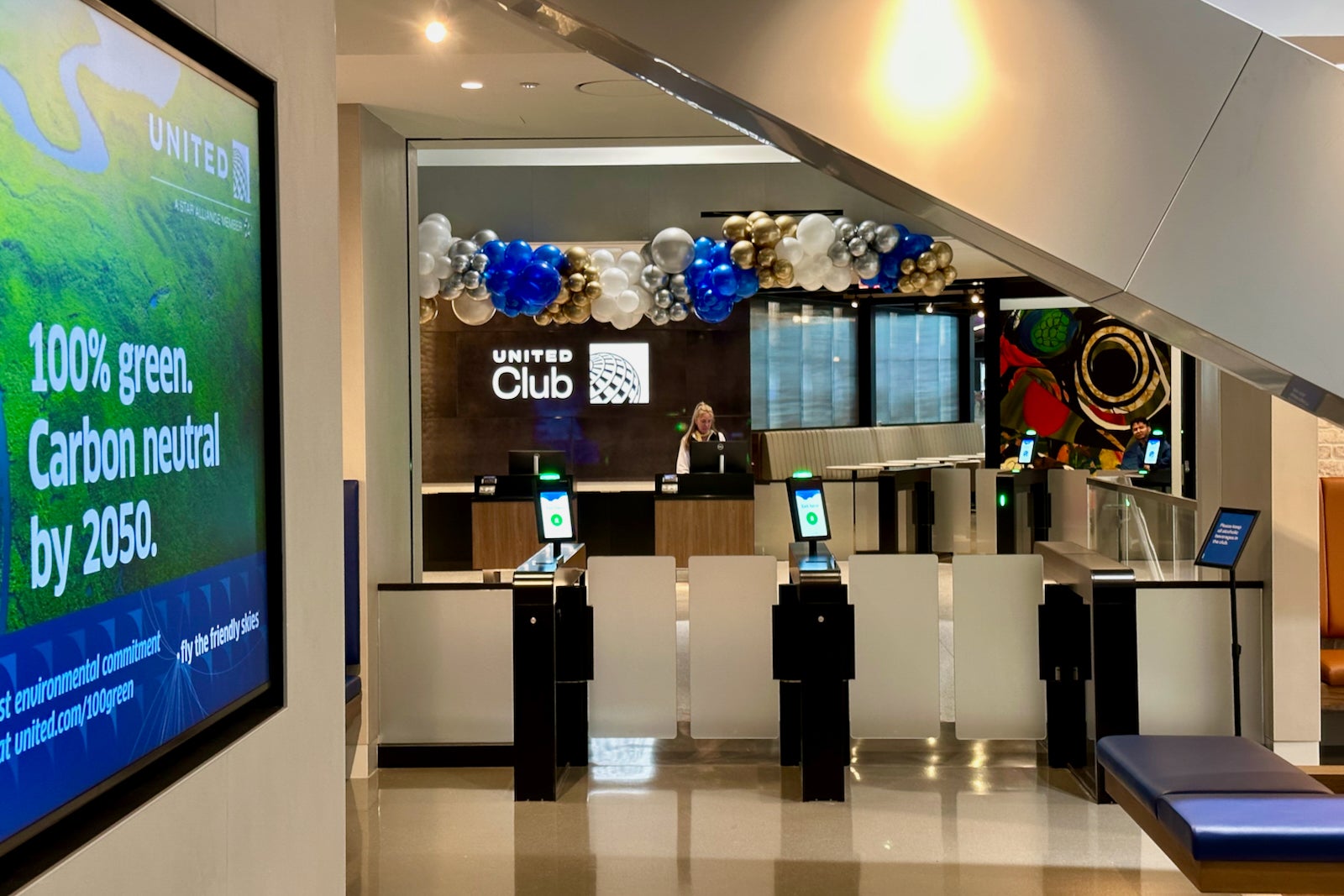 As such, this is an incredibly important club for United, and it's part of a broader Newark lounge strategy — more on that below.
It's just too bad United's current operational woes somewhat overshadowed the opening as the airline struggles to recover from days-long disruptions due to thunderstorms.
That said, once the skies clear, there's a lot to get excited about this new club.
United Club Newark access and location
United's new lounge is open from 5 a.m. until 9:15 p.m. daily.
You'll find the new United Club outpost just past security in the central spine of Terminal A, directly across from Gate A27.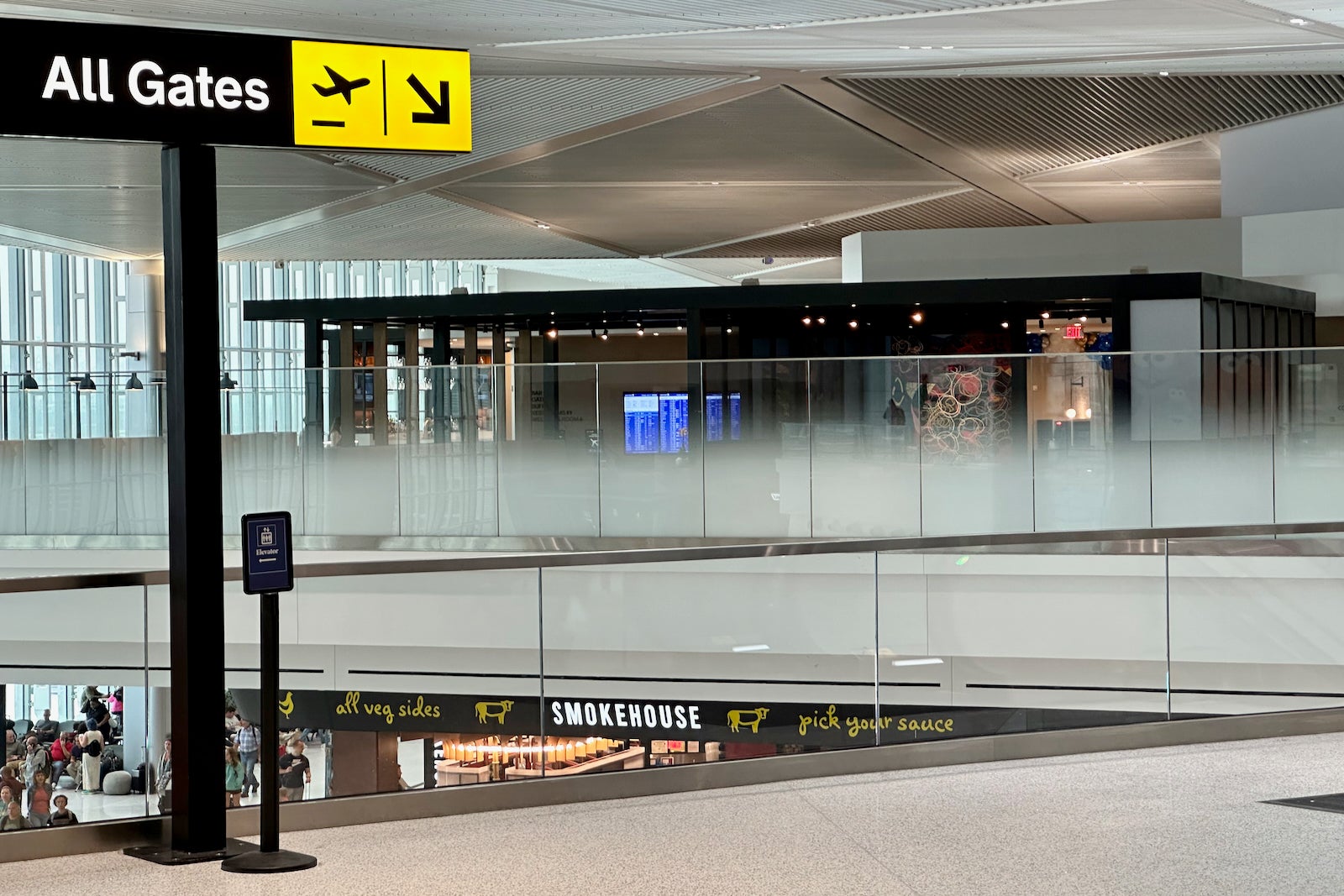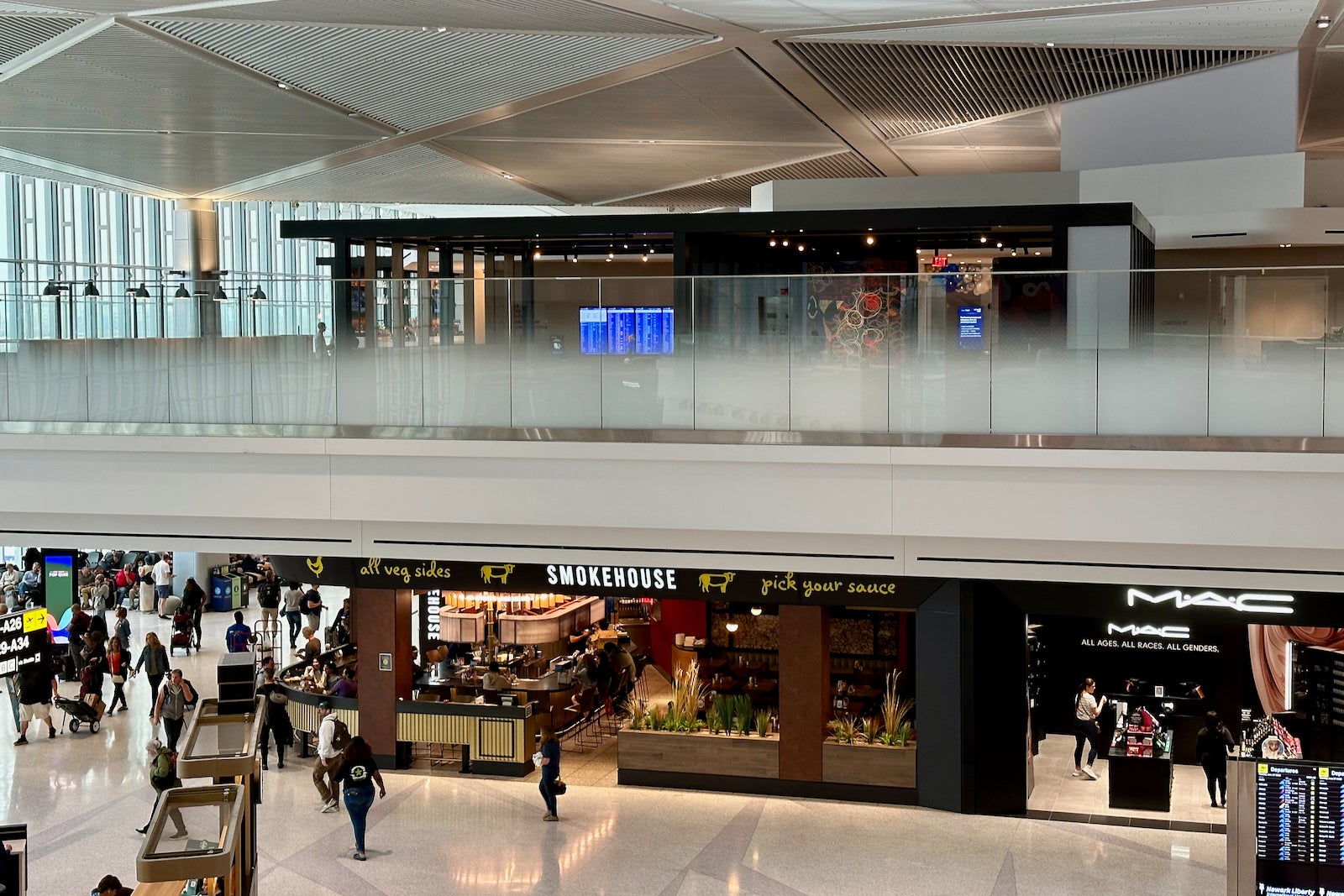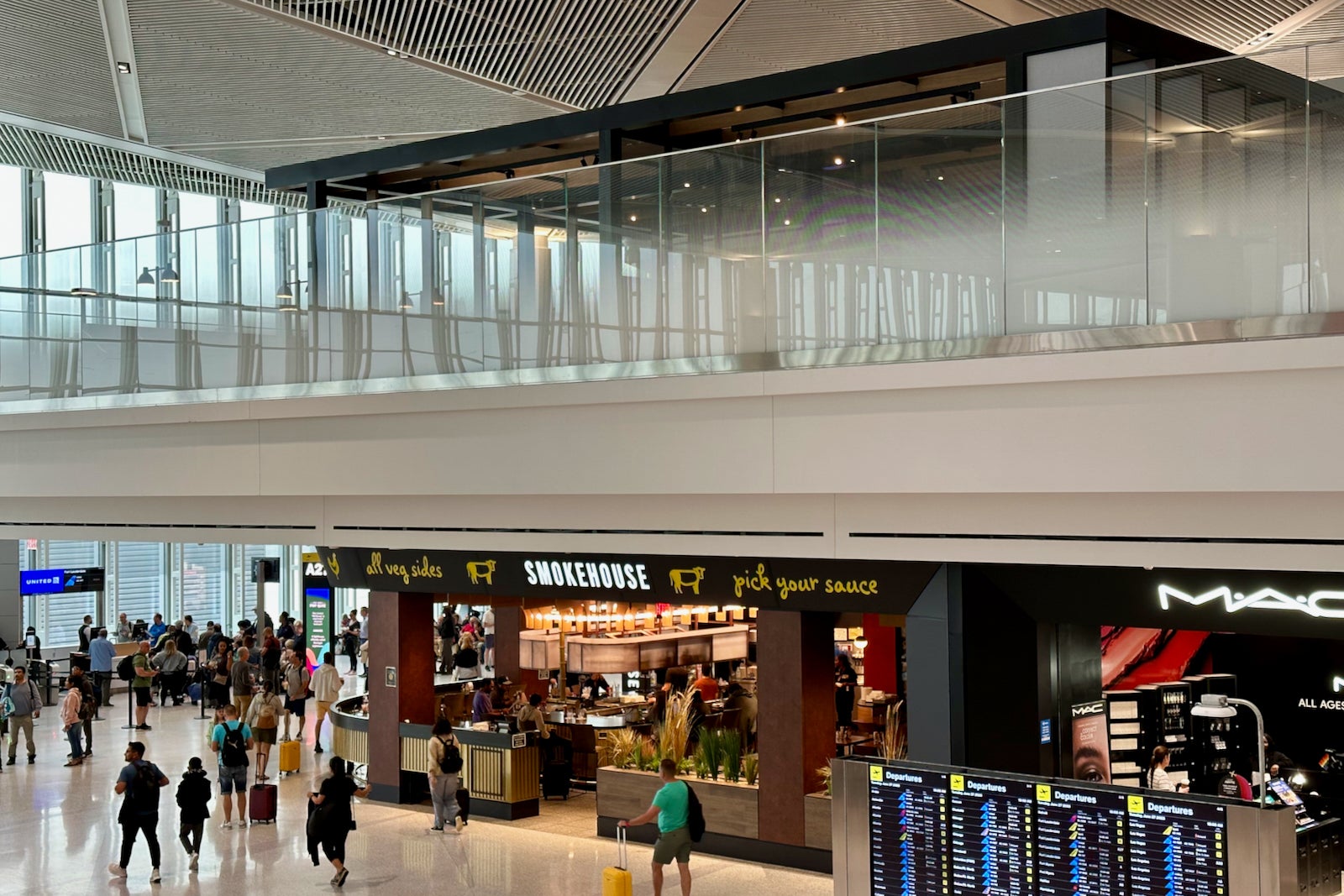 It's located on the terminal's upper level, and you can either take the stairs or ride the elevator up one level to the entrance.
Just note that perhaps the biggest downside to the lounge is its open-air layout, meaning that you'll hear some of the ambient terminal noise and public address announcements.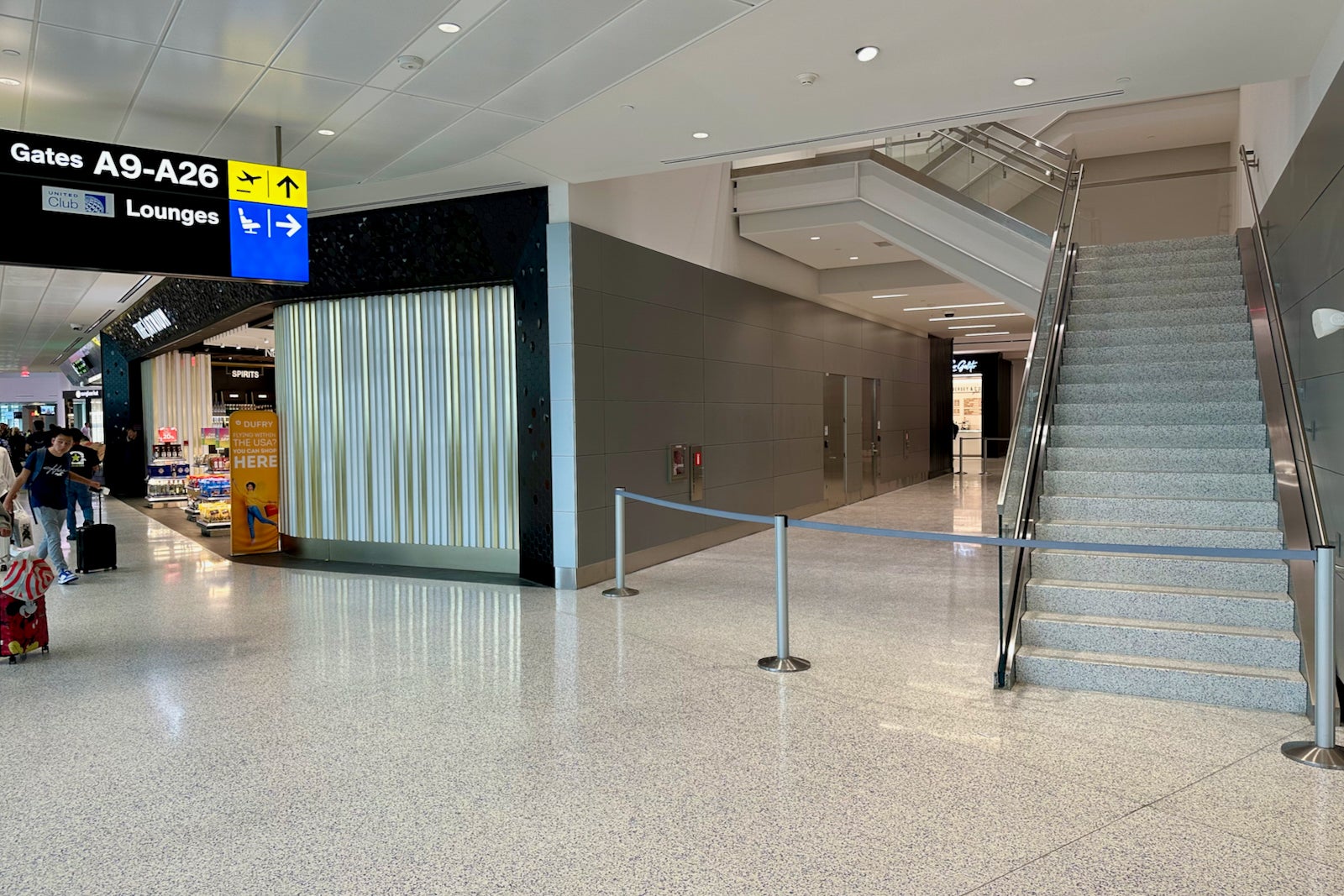 For full access details, check out TPG's guide to United Club access.
United Club Newark layout
From the moment you step inside, you'll realize that this lounge is unlike most of United's others.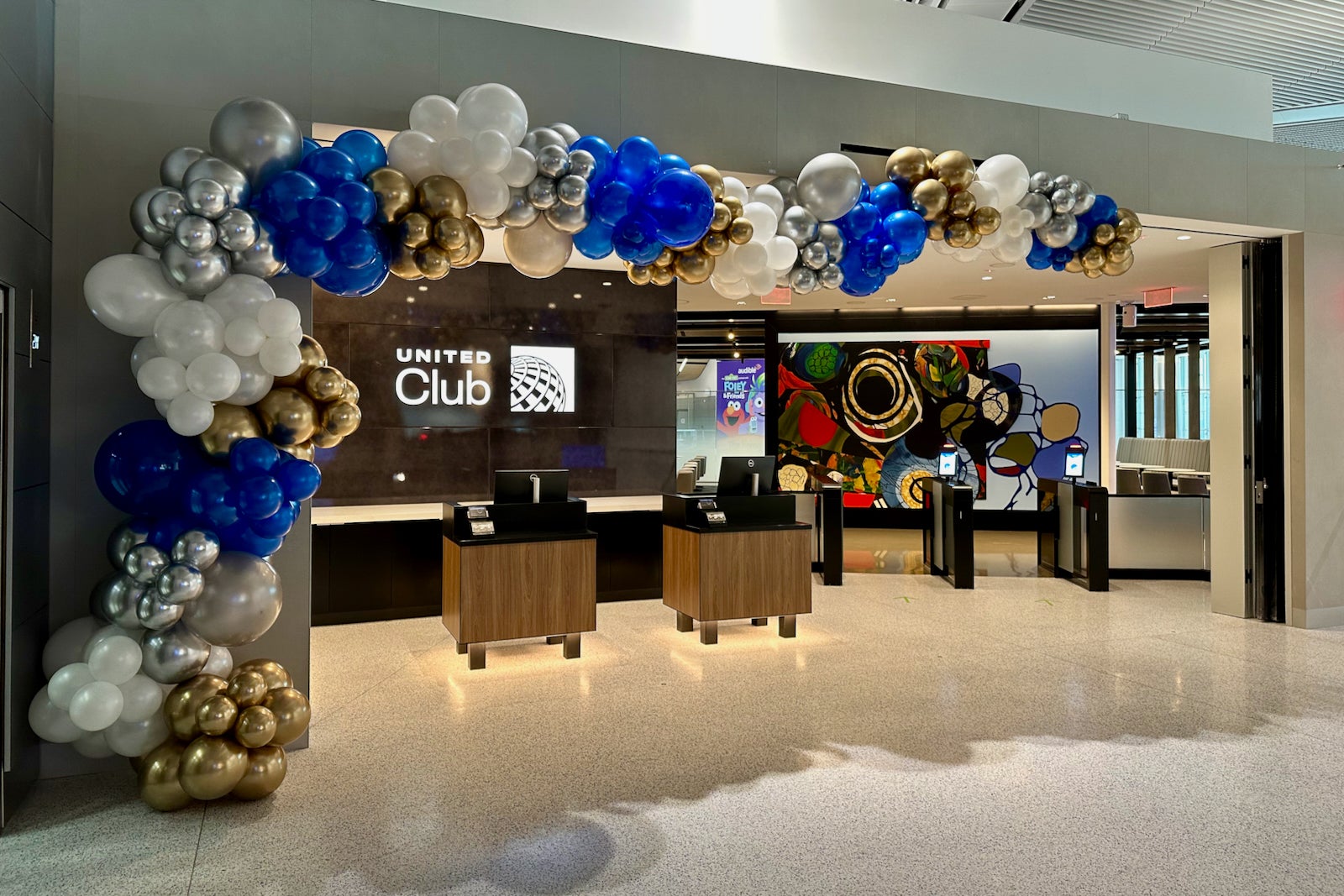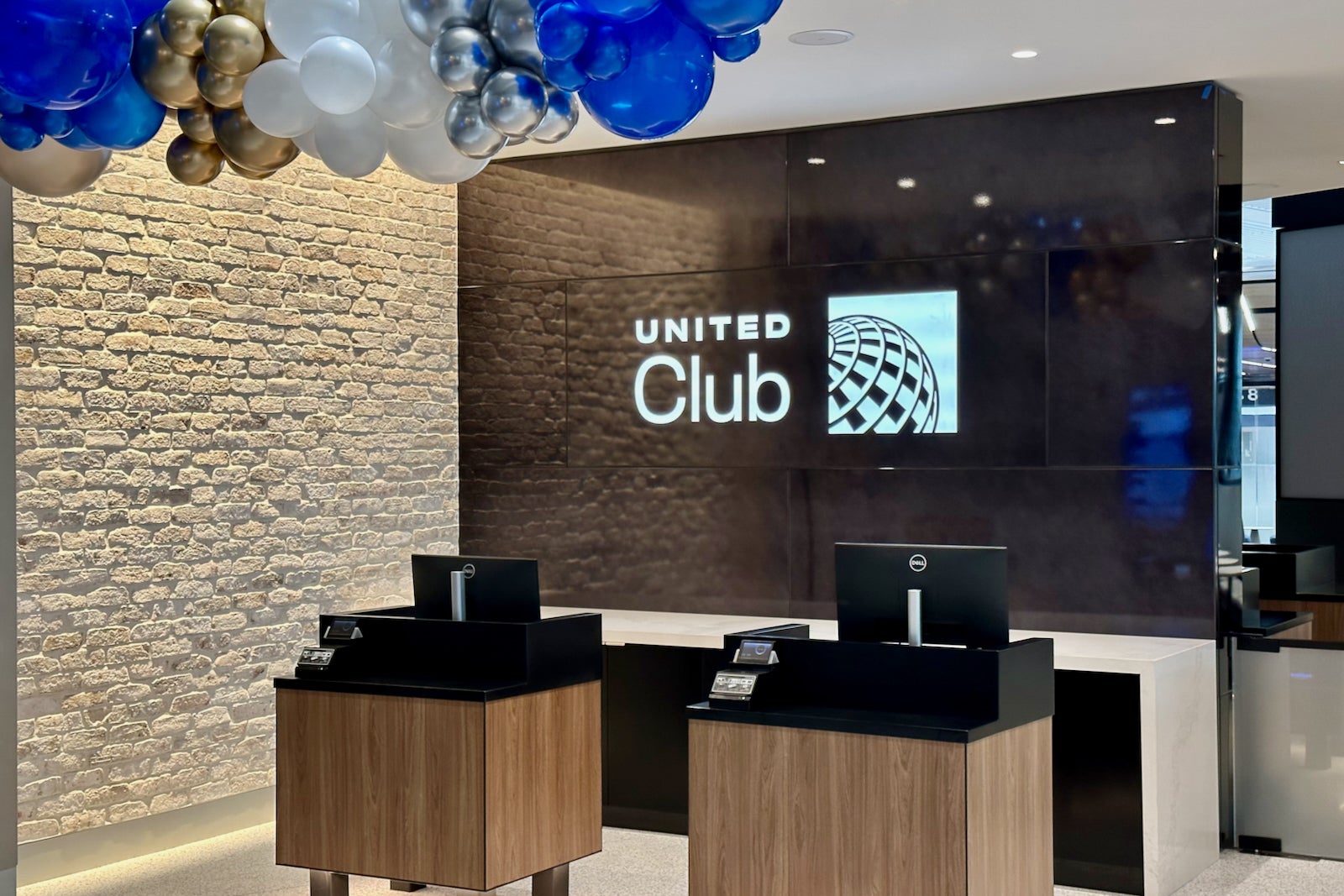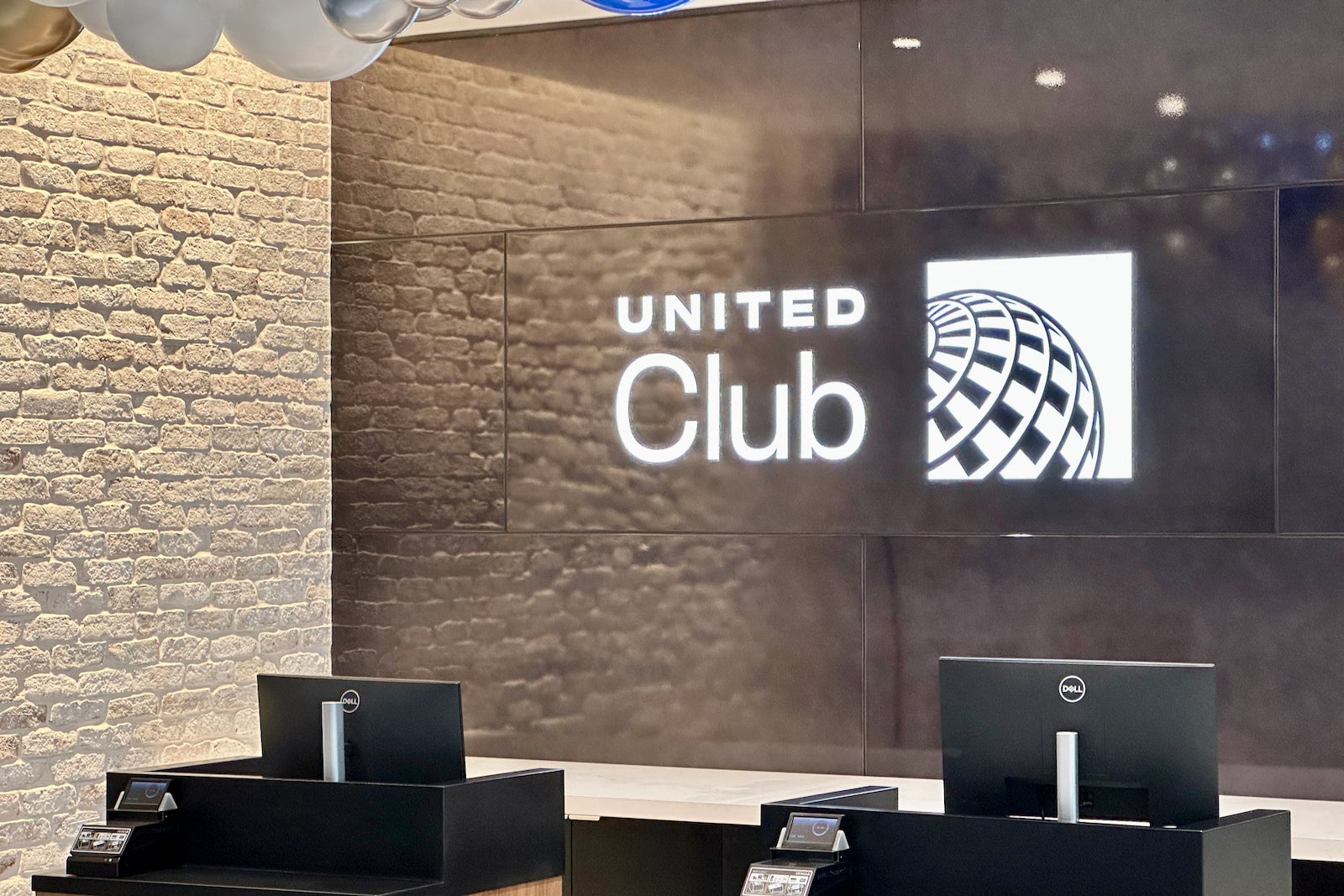 In fact, the uniqueness of the new Newark club is part of United's new lounge design strategy, Alex Dorow — United's managing director of lounges, premium services and hospitality — said. "We're not building cookie-cutter clubs [anymore]. It's no longer a one-size-fits-all mentality," Dorow told TPG.
The reception area is designed in the airline's latest motifs, with brick- and stone-lined walls providing a modern and inviting atmosphere.
As with United's other new lounges, there are two self-scan entry gates for easy access — just scan your boarding pass and then select how many guests (if any) you're bringing inside.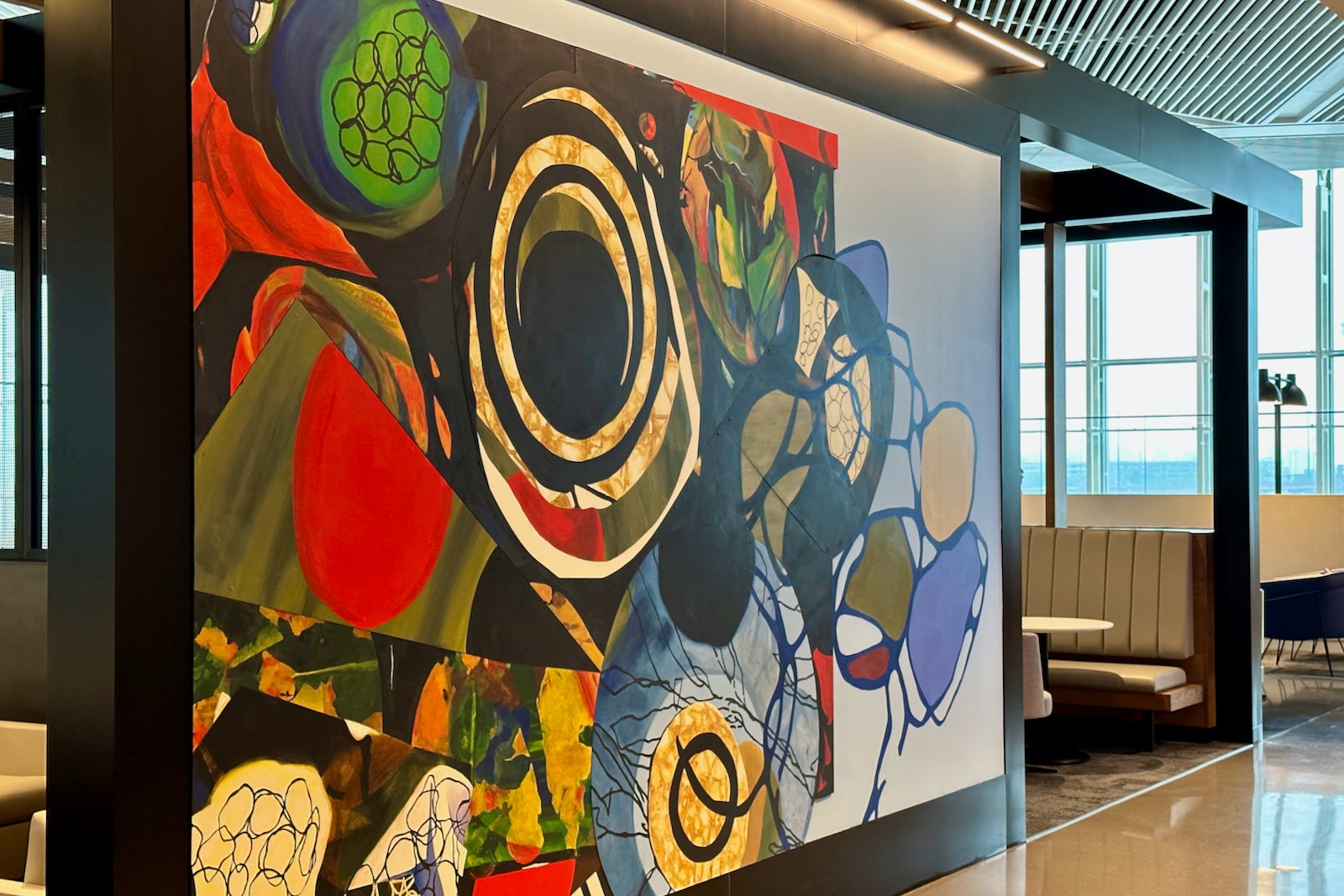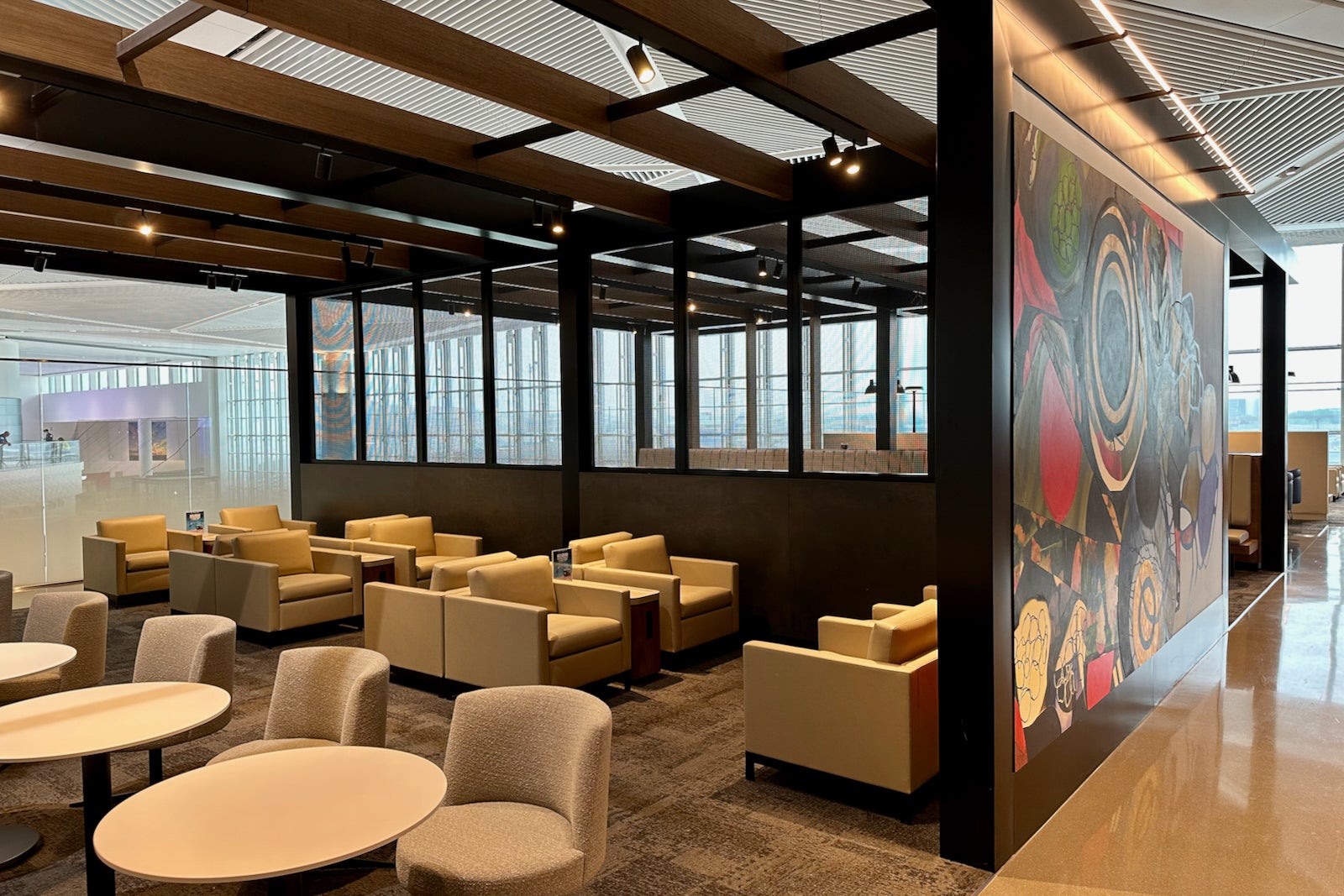 It's nearly impossible to miss the custom-designed colorful mural waiting for you just past the entrance.
It was designed by Antoinette Ellis-Williams, a local Newark resident and professor of women and gender studies at New Jersey City University.
Ellis-Williams' signature piece hangs just at the entrance and is designed as a "global portal of entry … My hope is that everyone sees themselves in this piece." she said.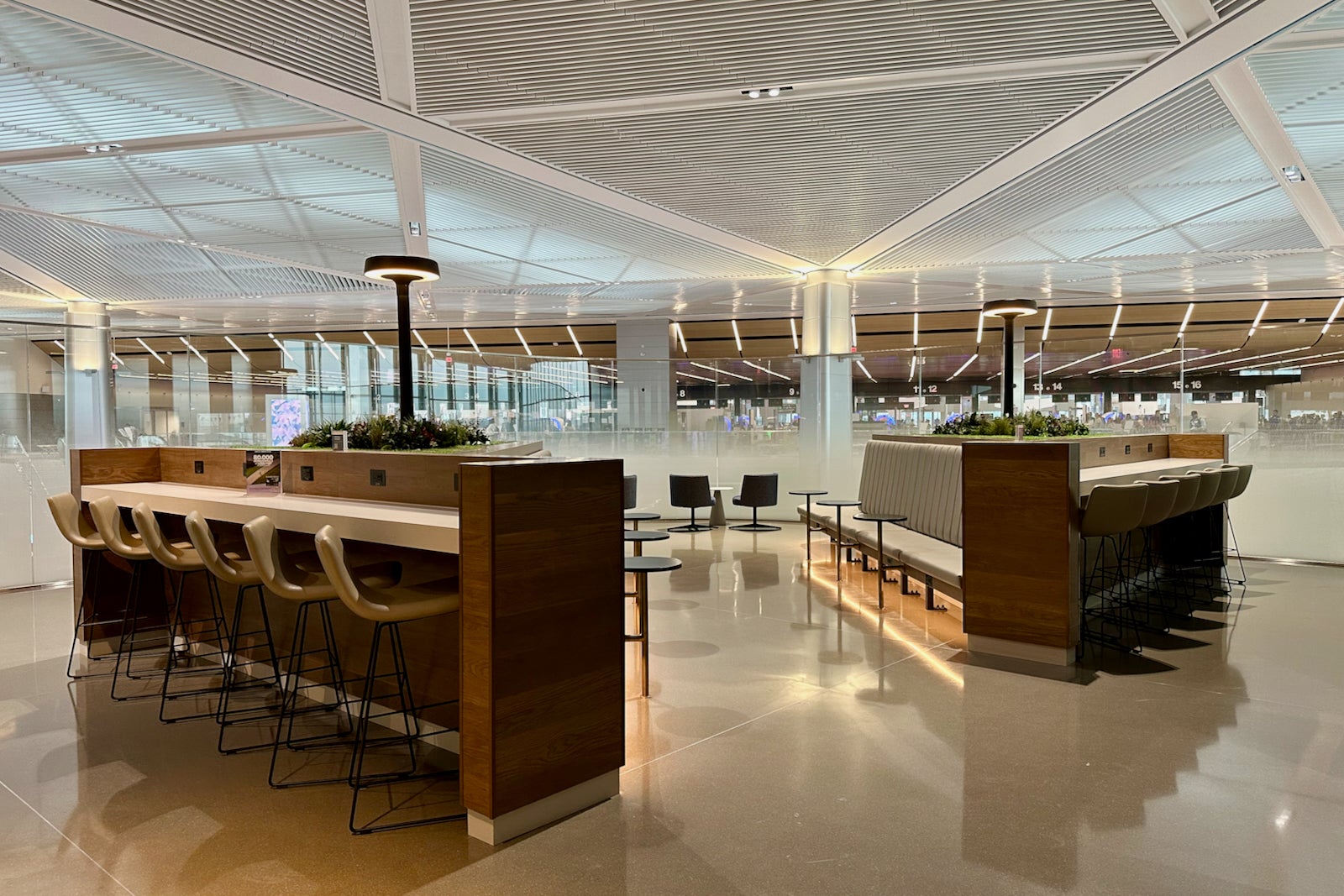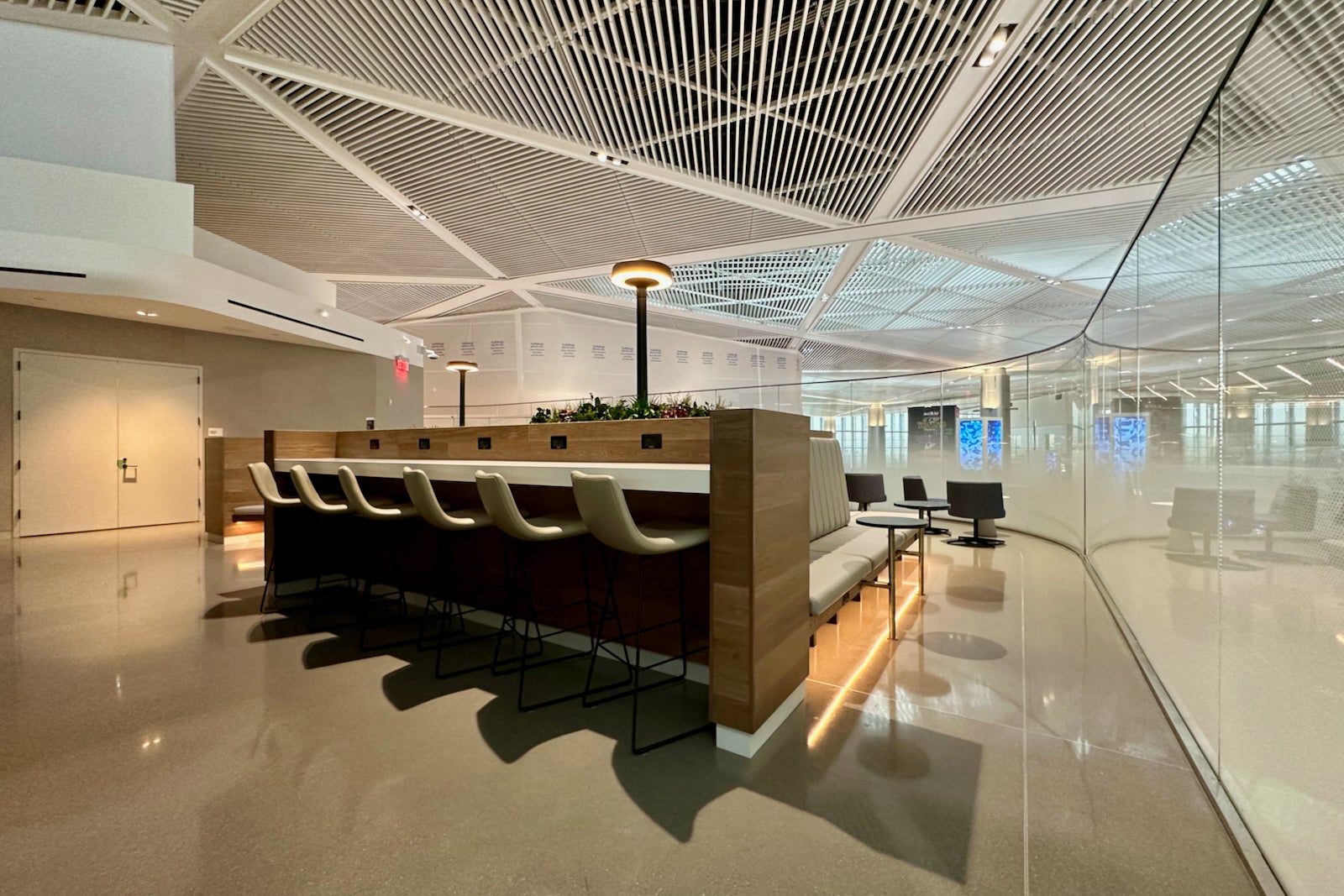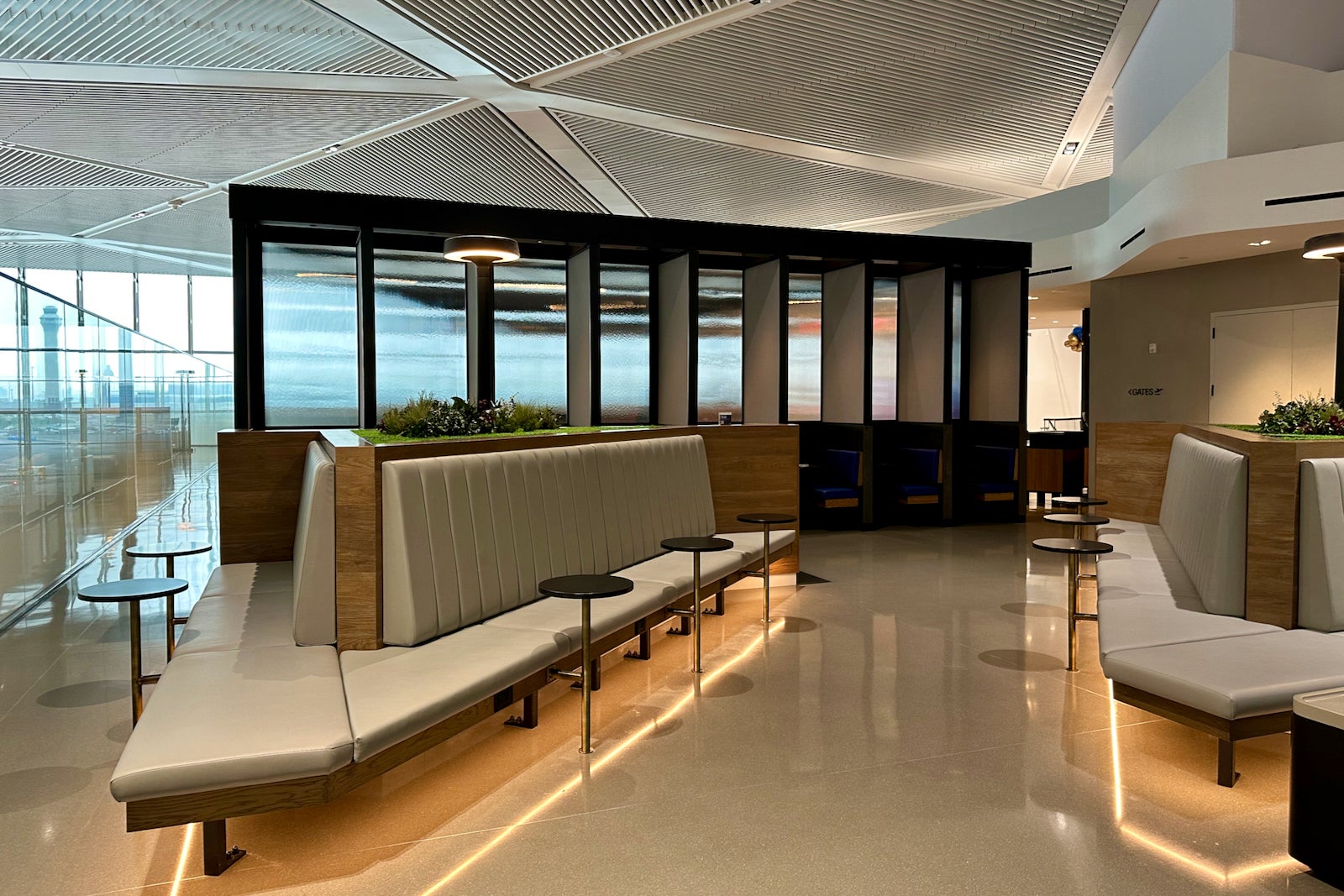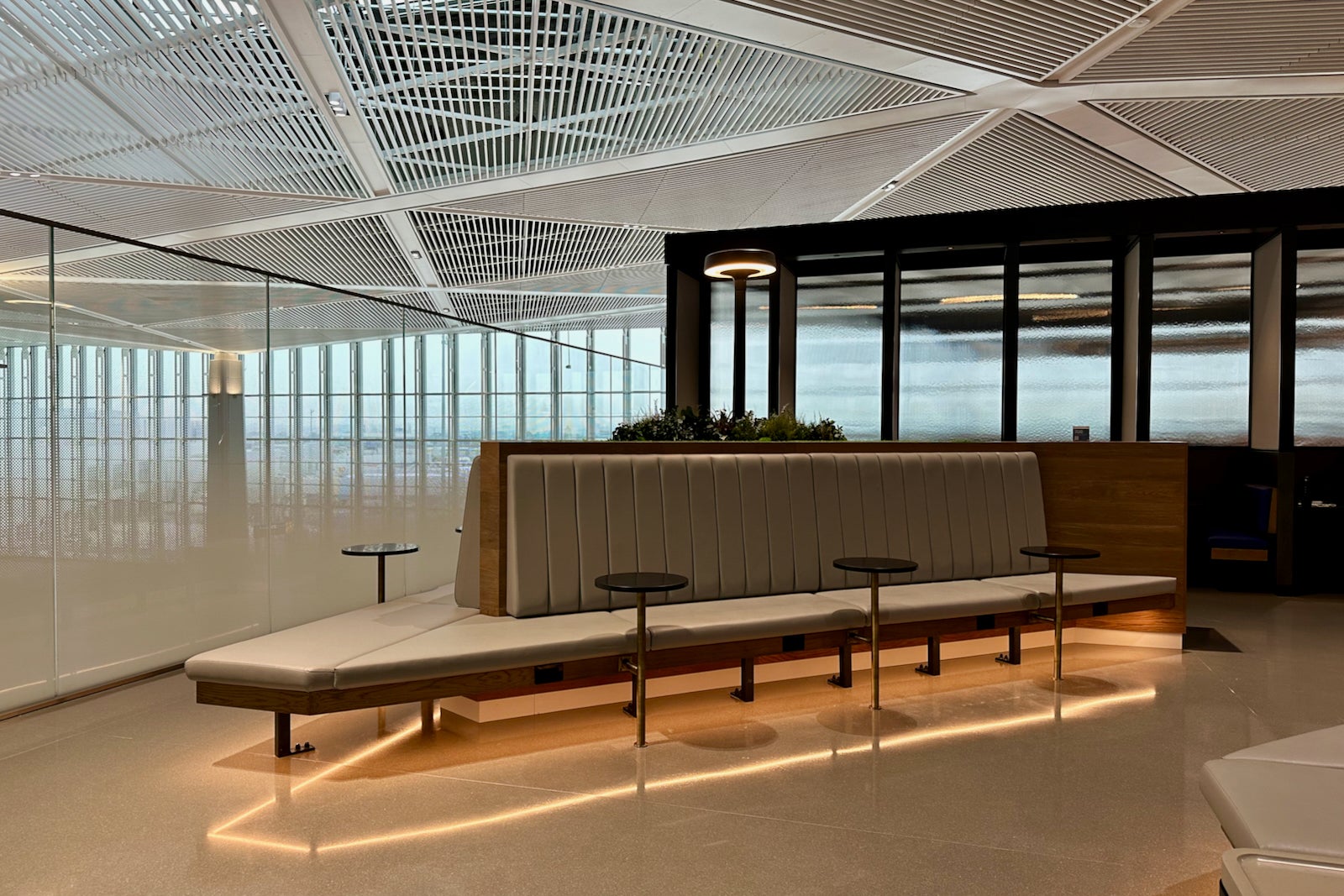 The lounge itself is shaped like an L, with the main seating and working areas located along the "arm" of the L.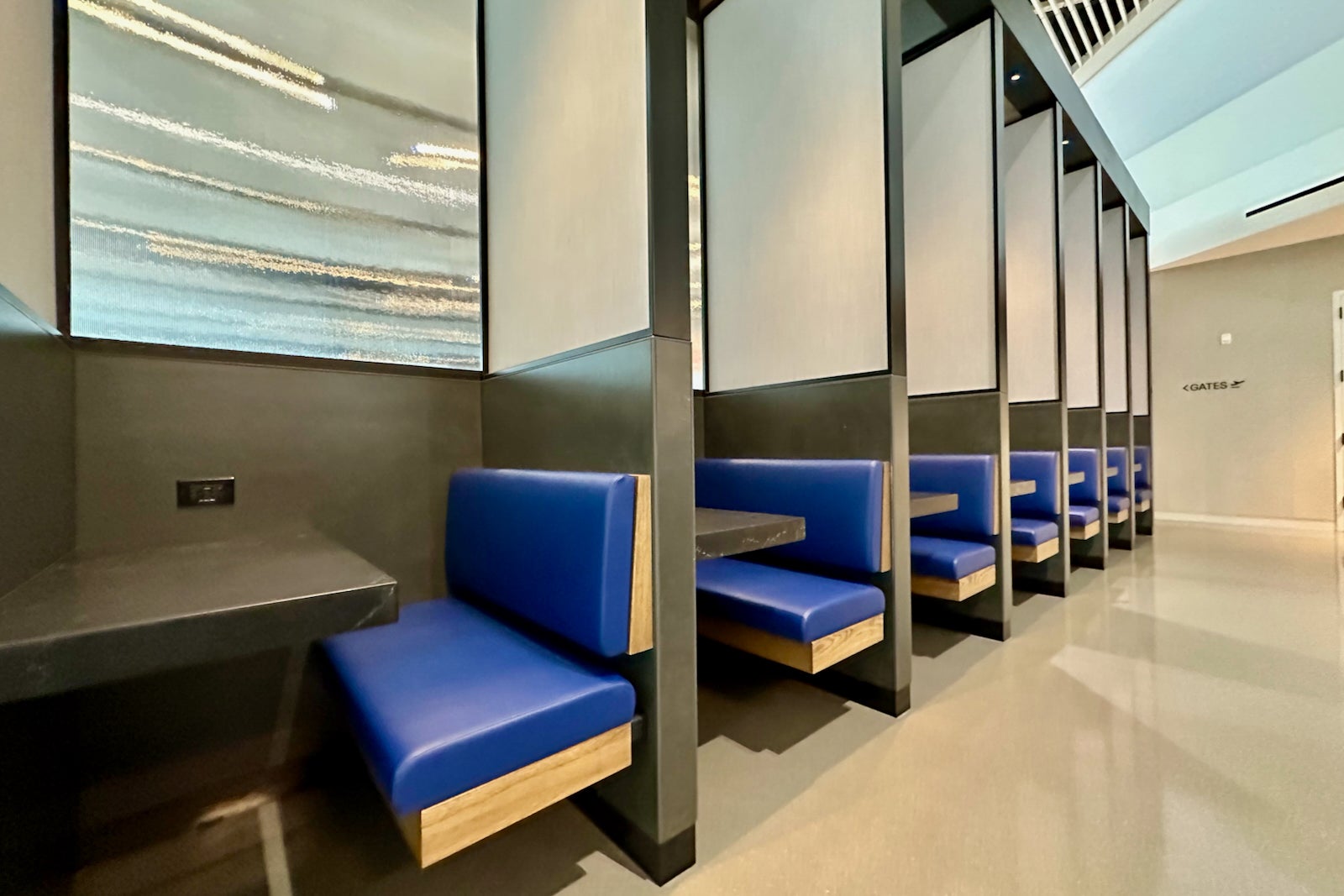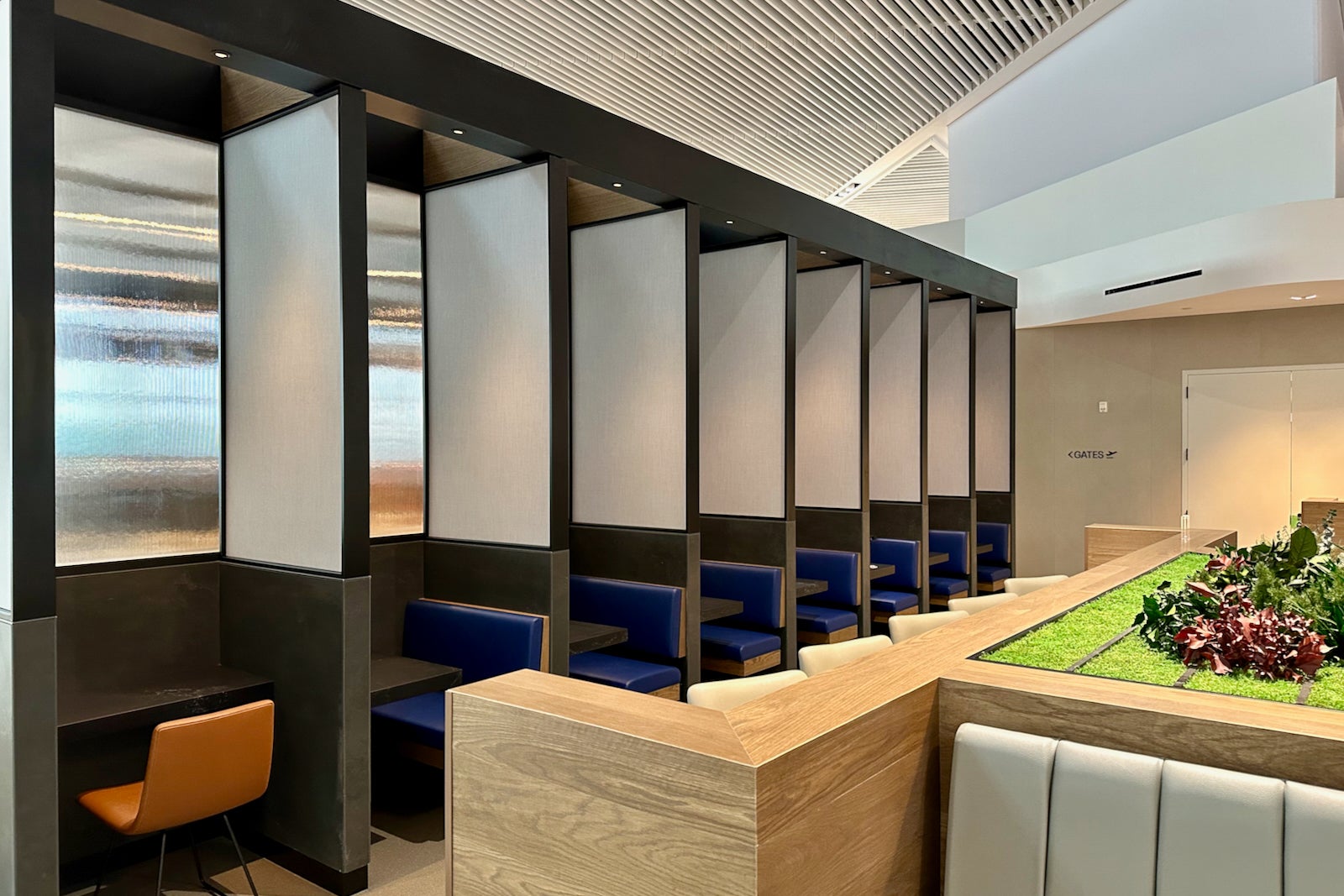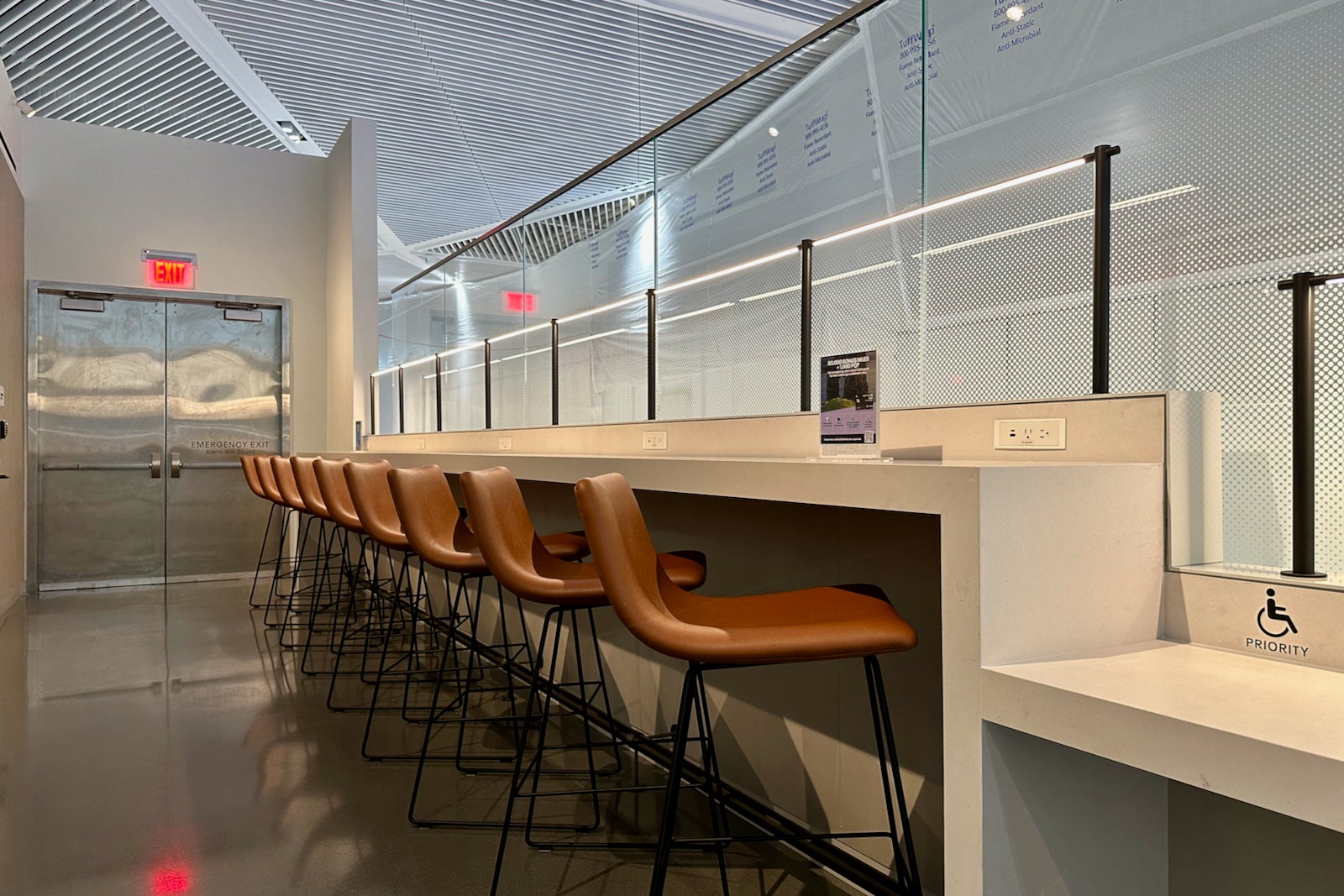 As you enter and turn left, you'll find a variety of high-top tables and individual workstations here, each within an arm's reach of power. This is where I envision most business travelers will camp out.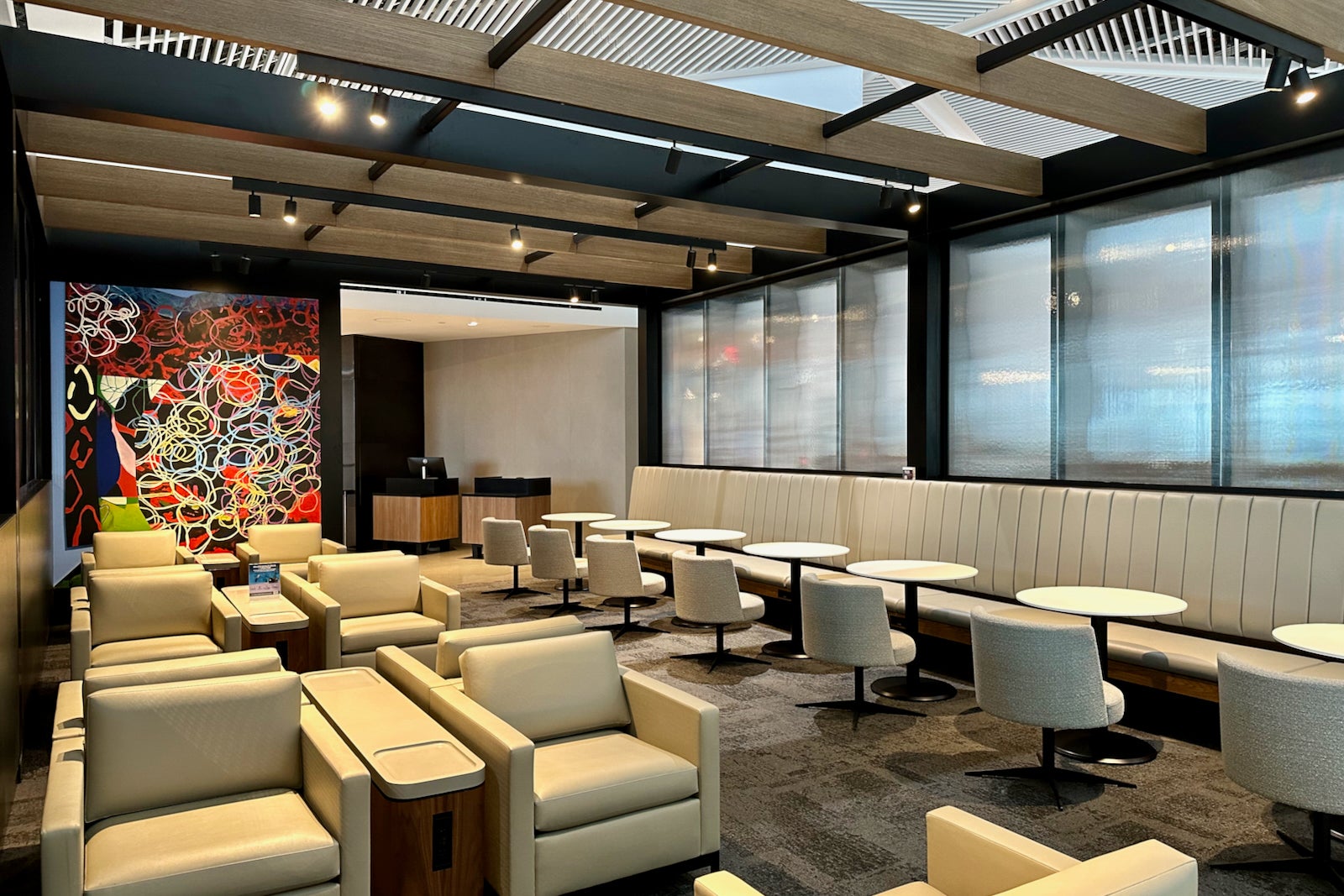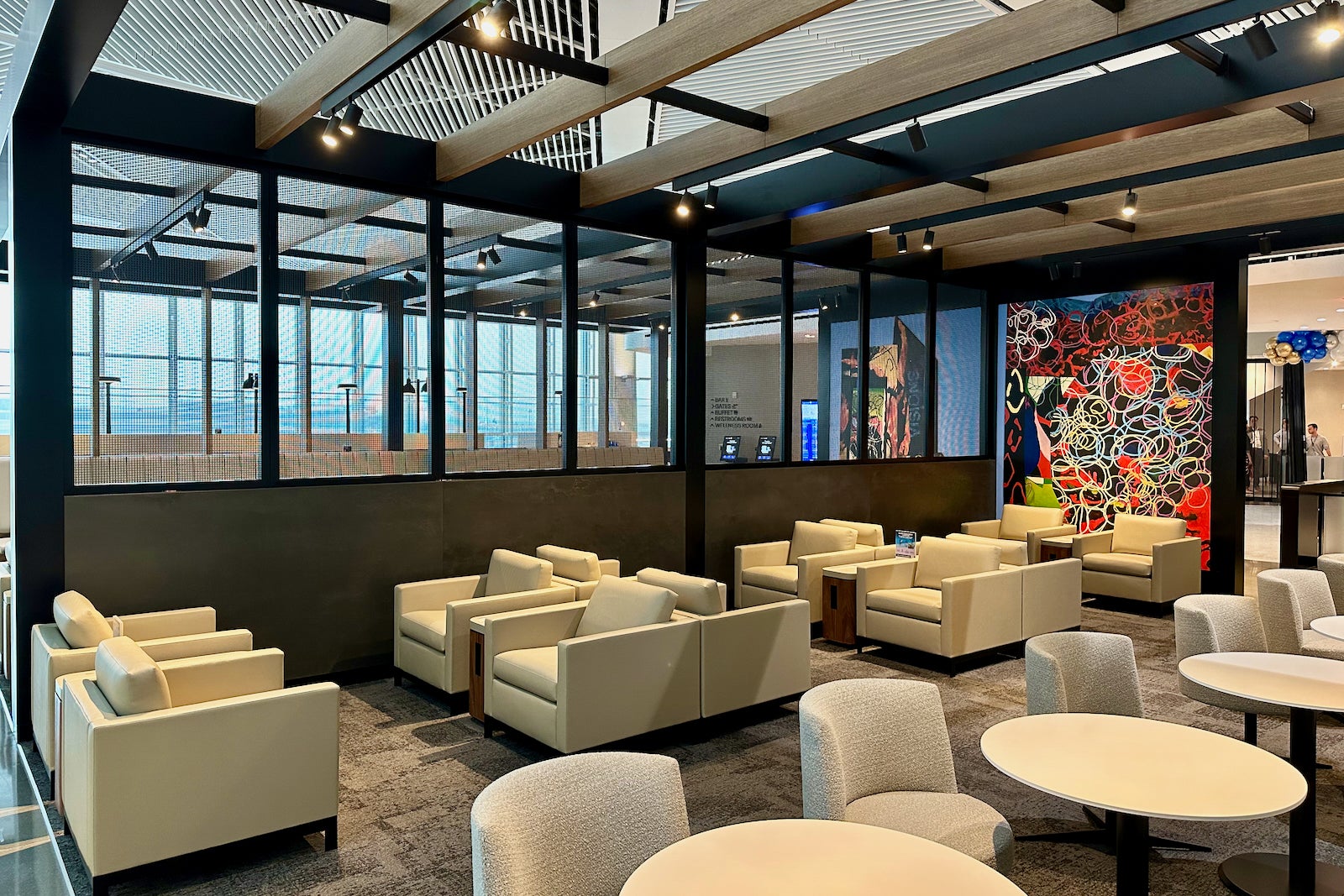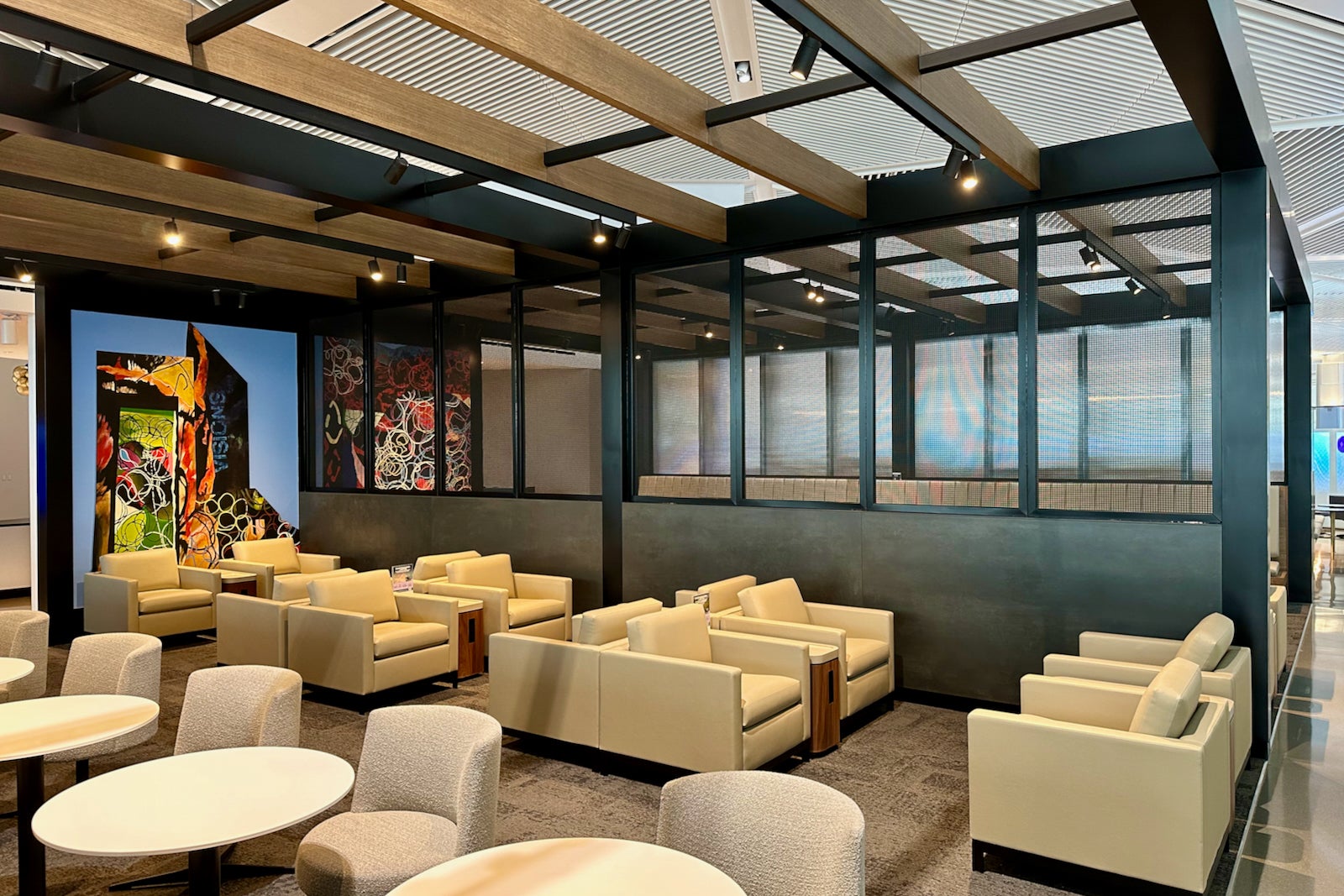 Next to this area are two large living rooms covered by a pergola-like structure. These recliner seats and individual chairs will likely be a hit with families and friends traveling together.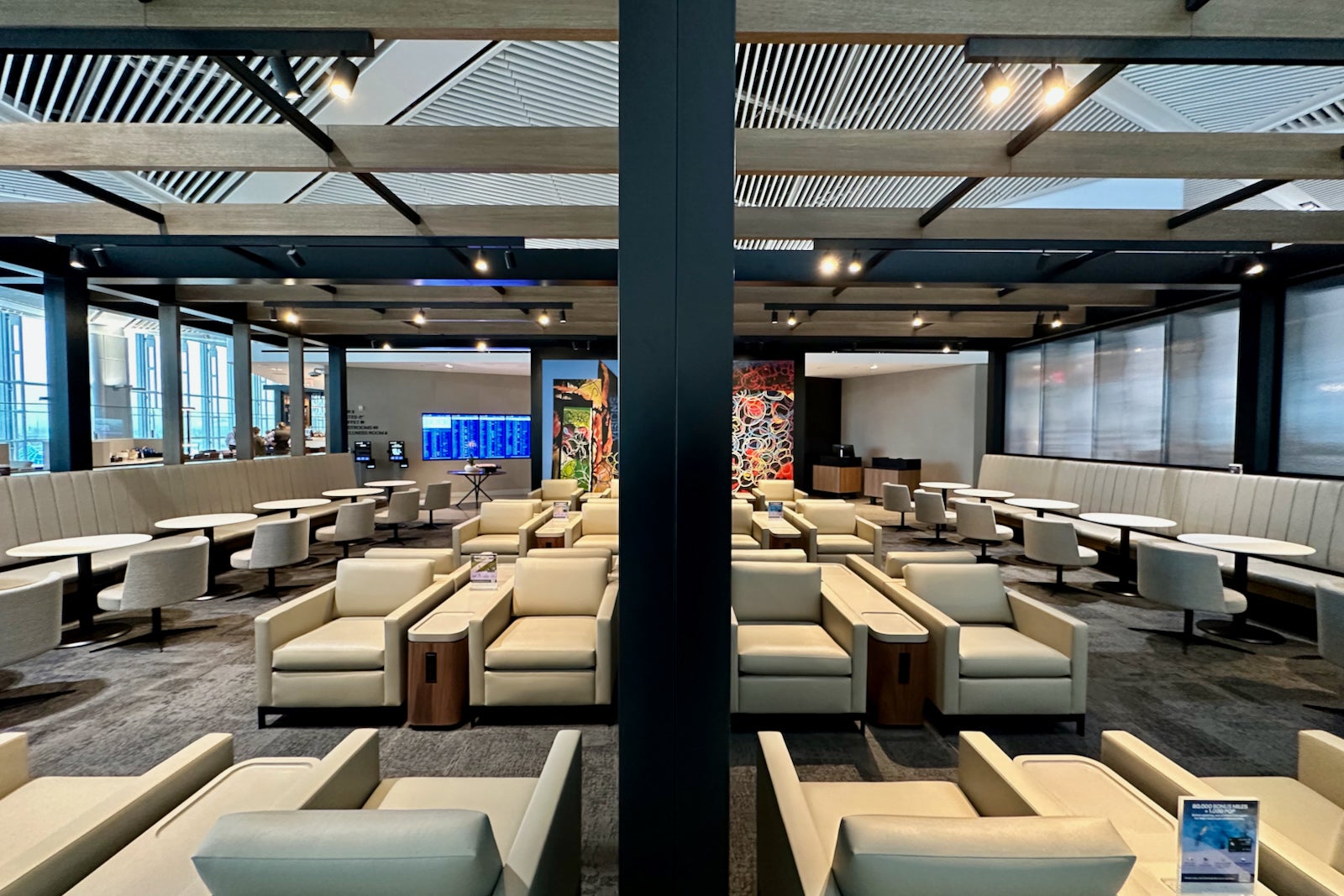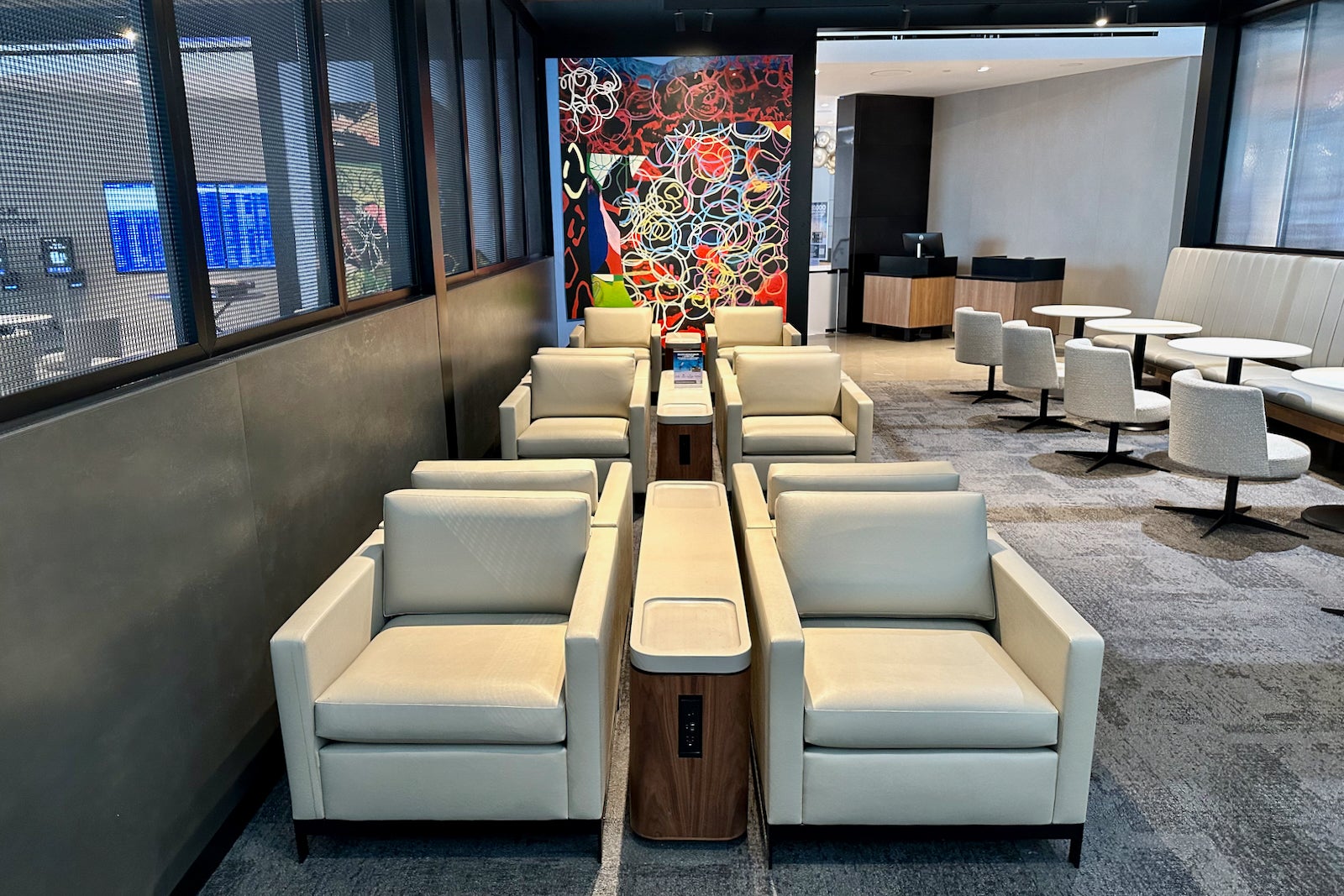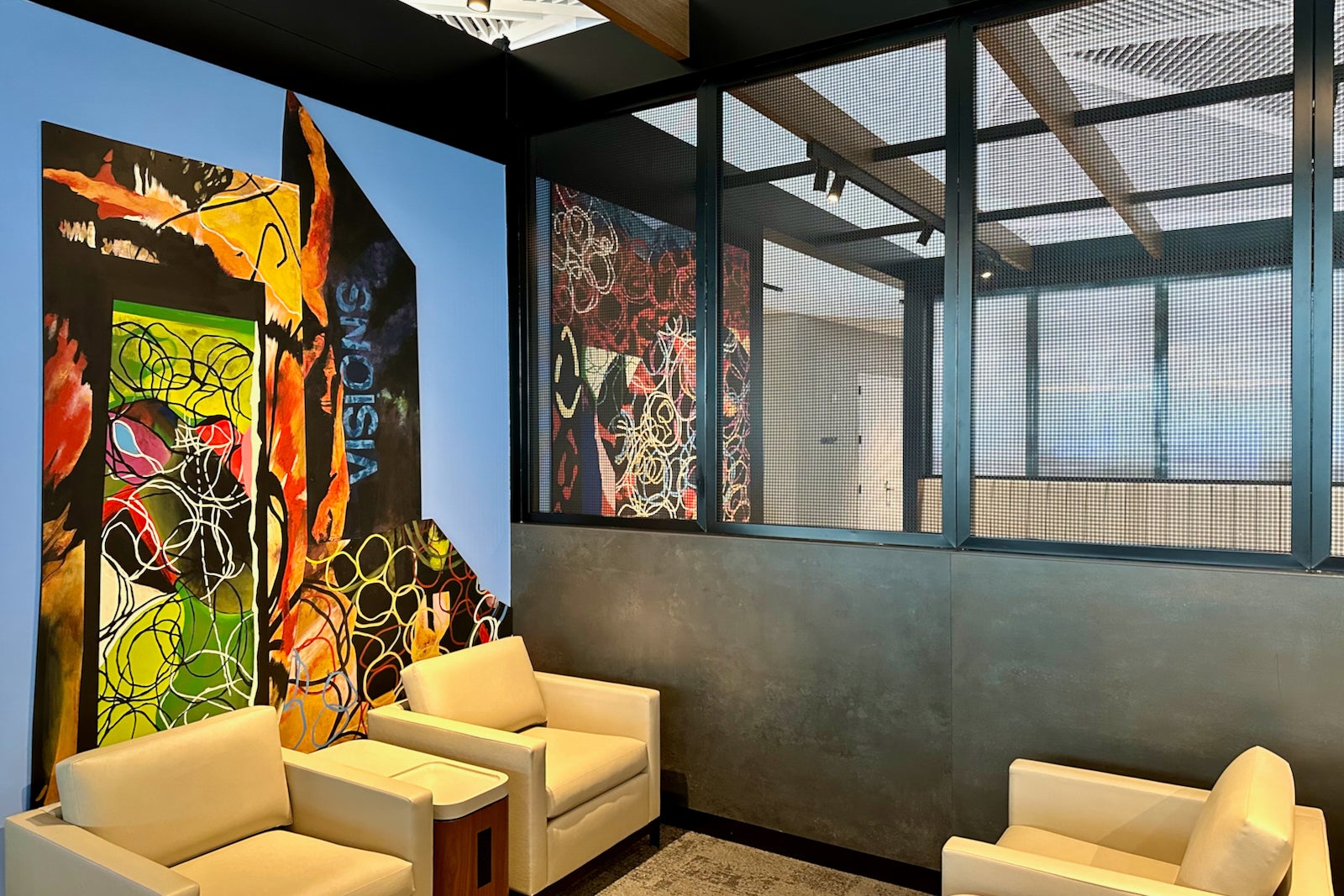 Plus, you'll have a front-row view of Ellis-Williams' two other murals that she designed for the Newark outpost. One is inspired by the diversity of the local Newark neighborhood and another  represents the overall travel experience, she explained to TPG.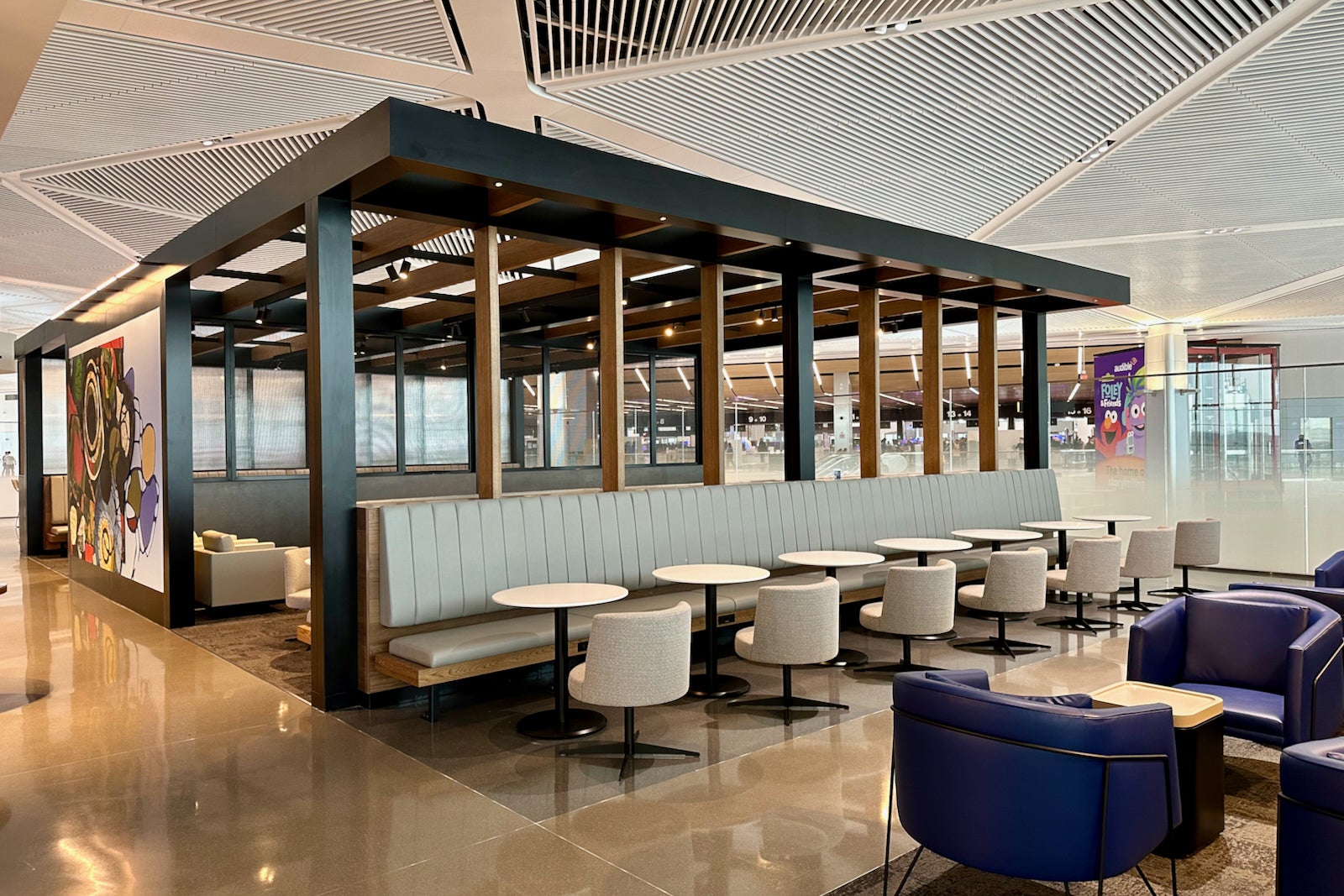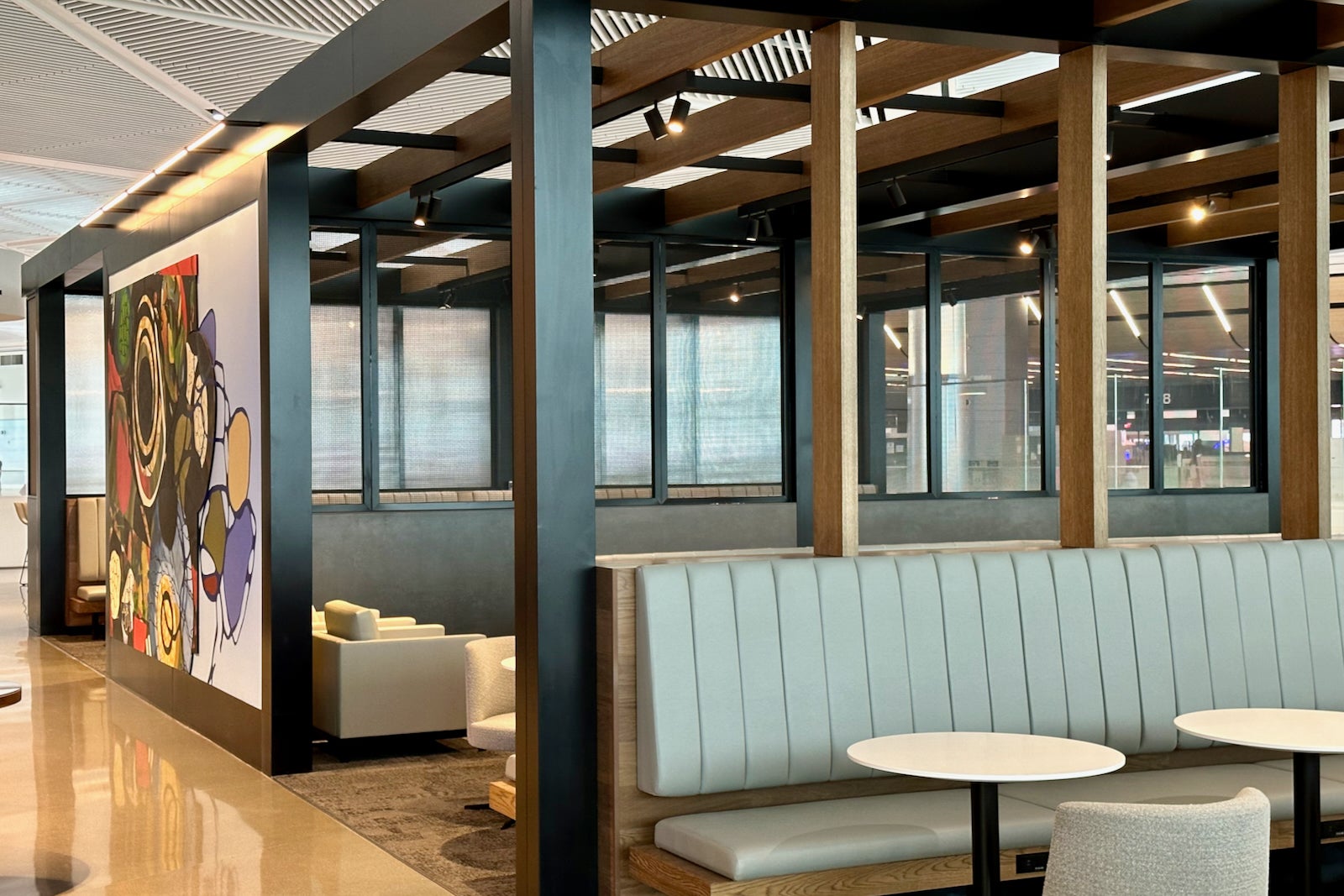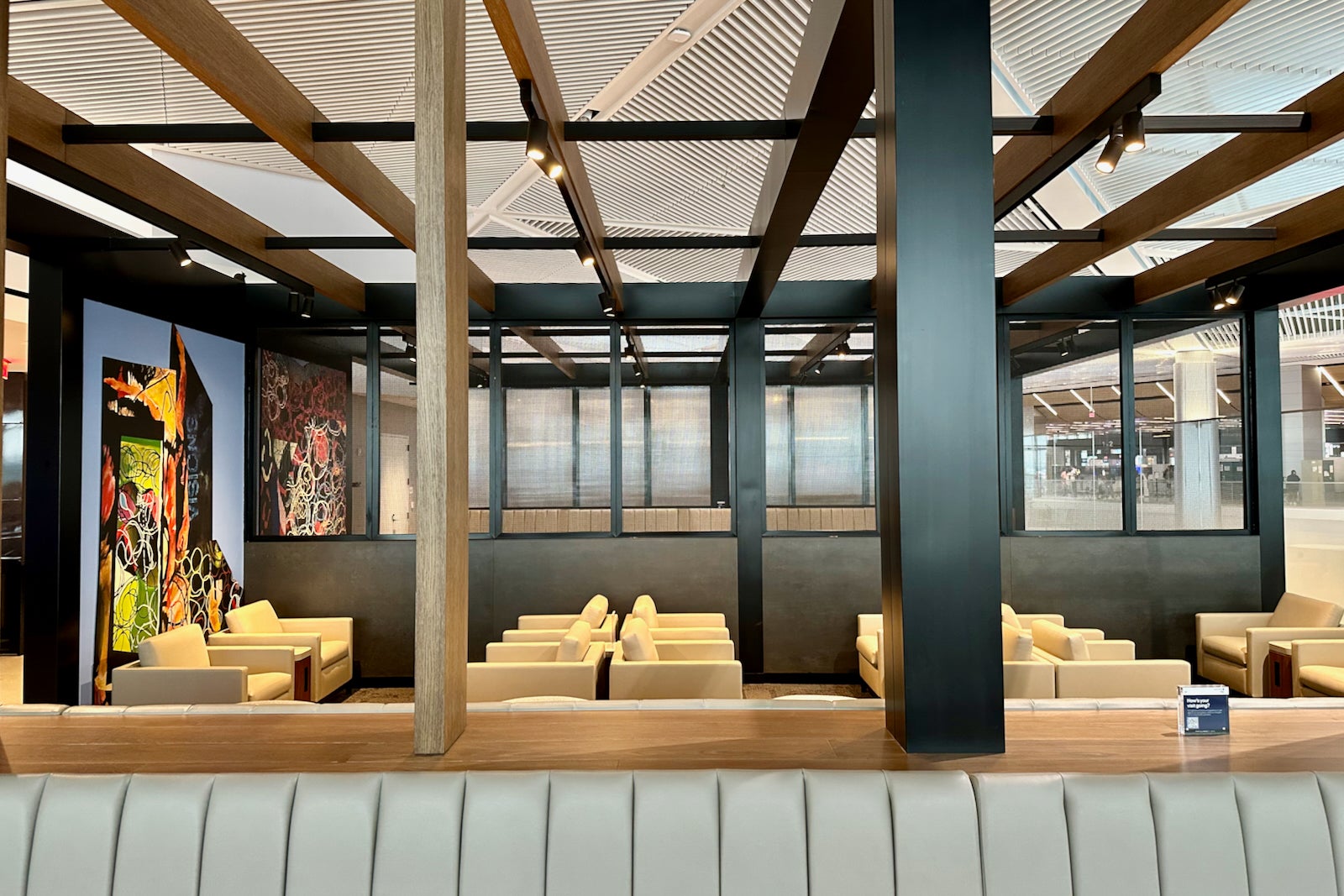 Finally, additional tables and seating areas line the rest of the perimeter of the lounge. This area is exposed to the terminal, so it might get a little louder here than underneath the pergola.
Without even taking into account the rest of the lounge, this relaxation and working area is among the nicest in the United Club network.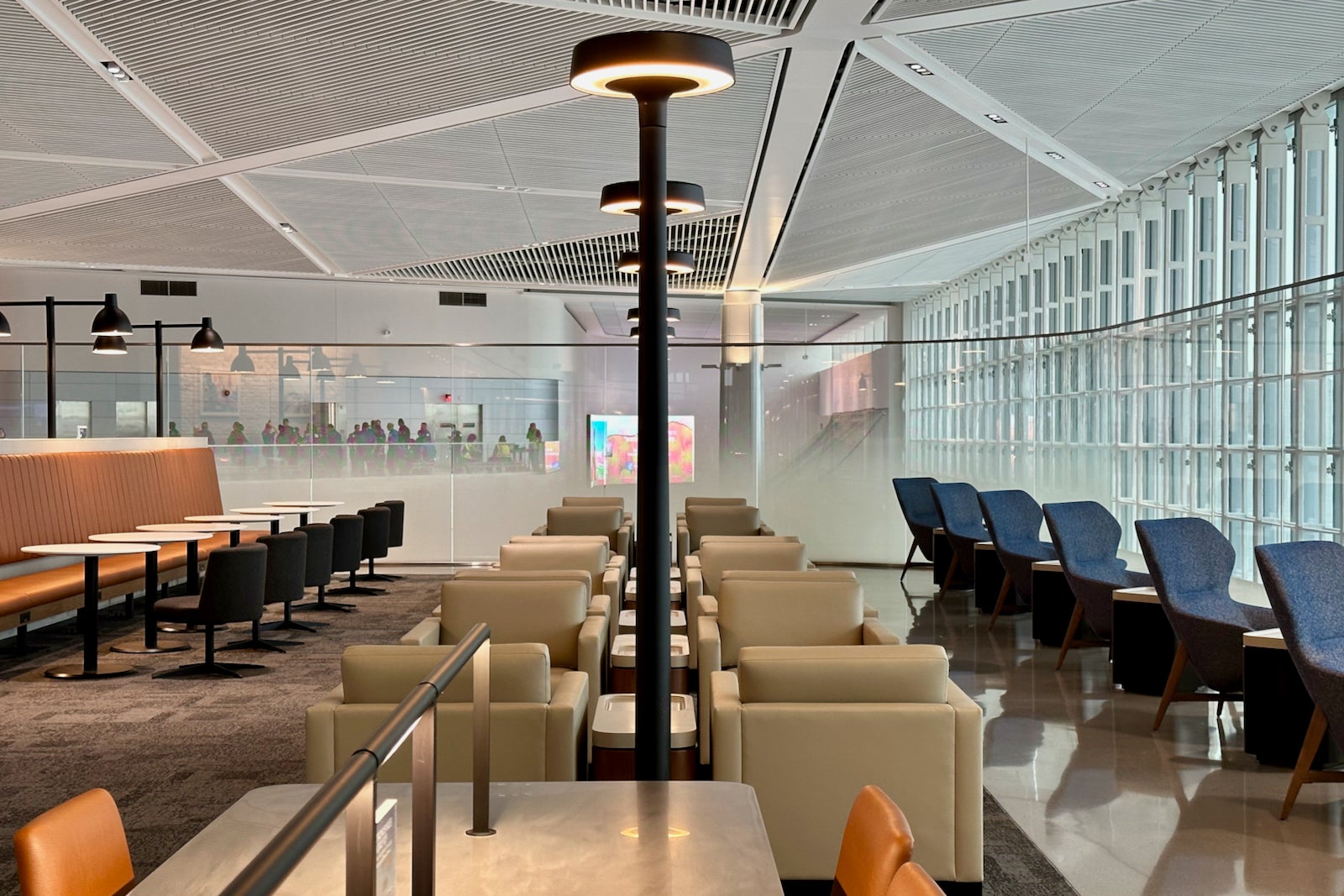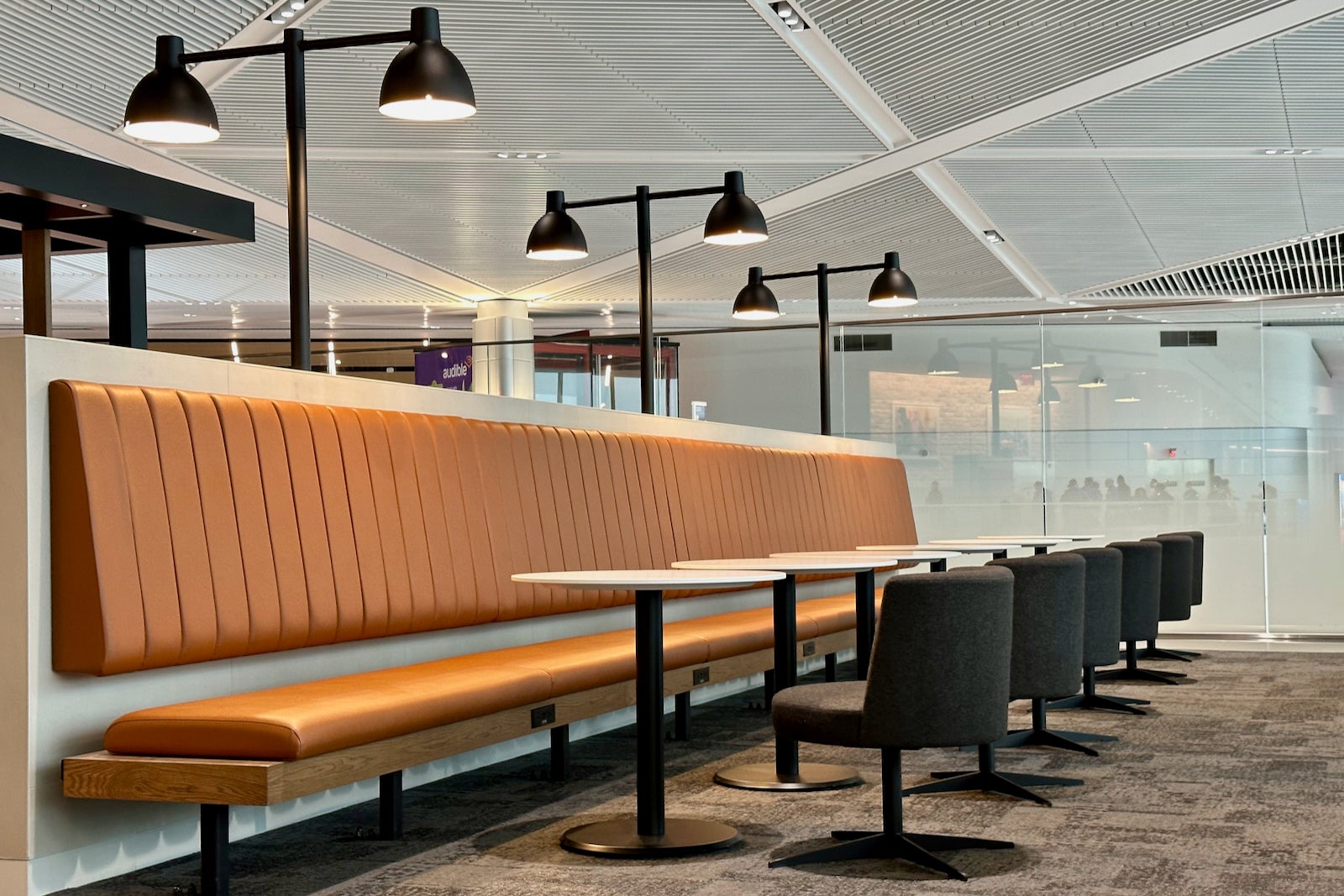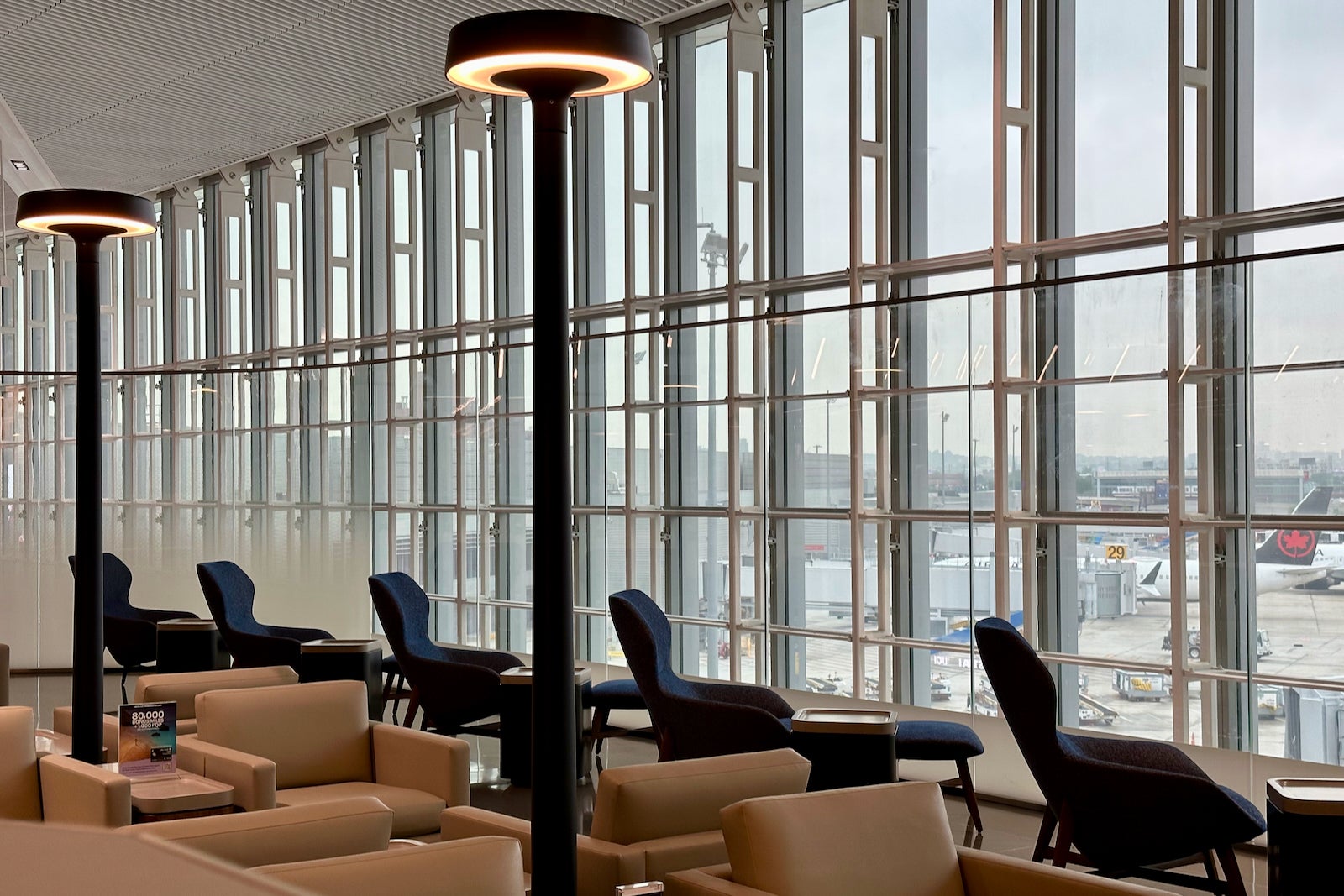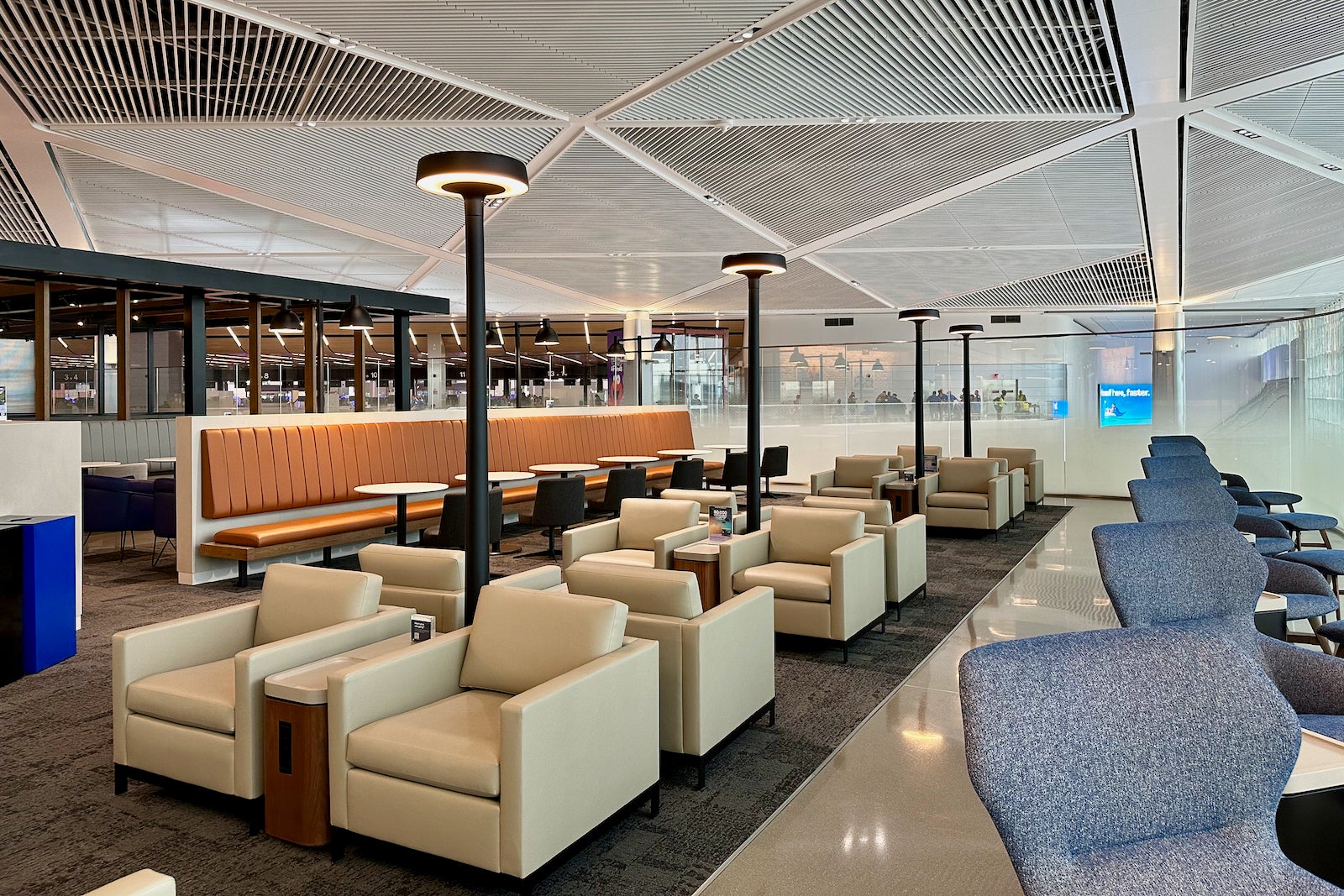 I love the variety of seating options, the modern and clean design and the tasteful colors that United chose. (It even reminds me a bit of the new Admirals Club that recently opened in Washington, D.C.)
As you approach the leg (or stem) of the "L," you'll make your way through the bar and buffet area, which I'll cover below in more detail.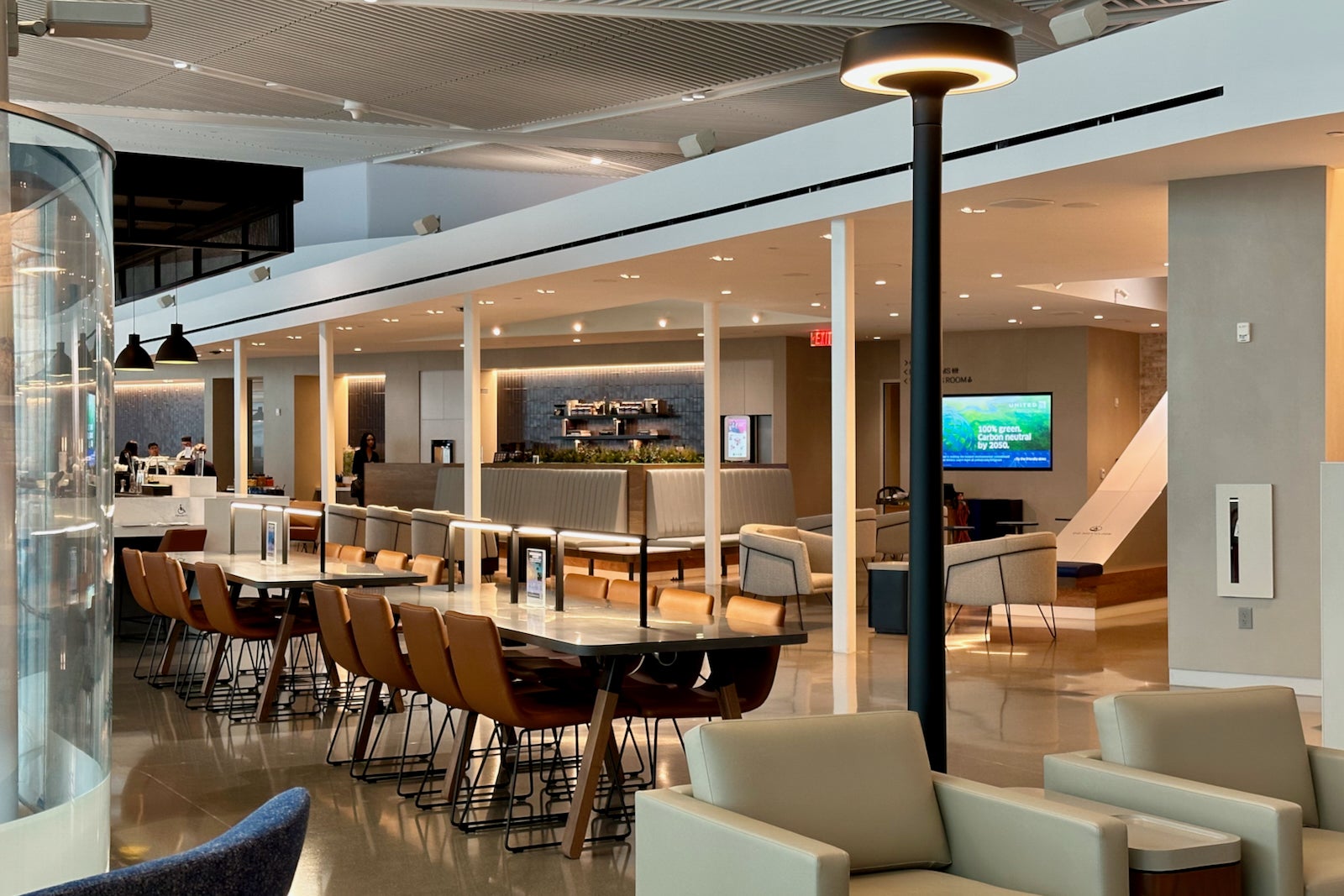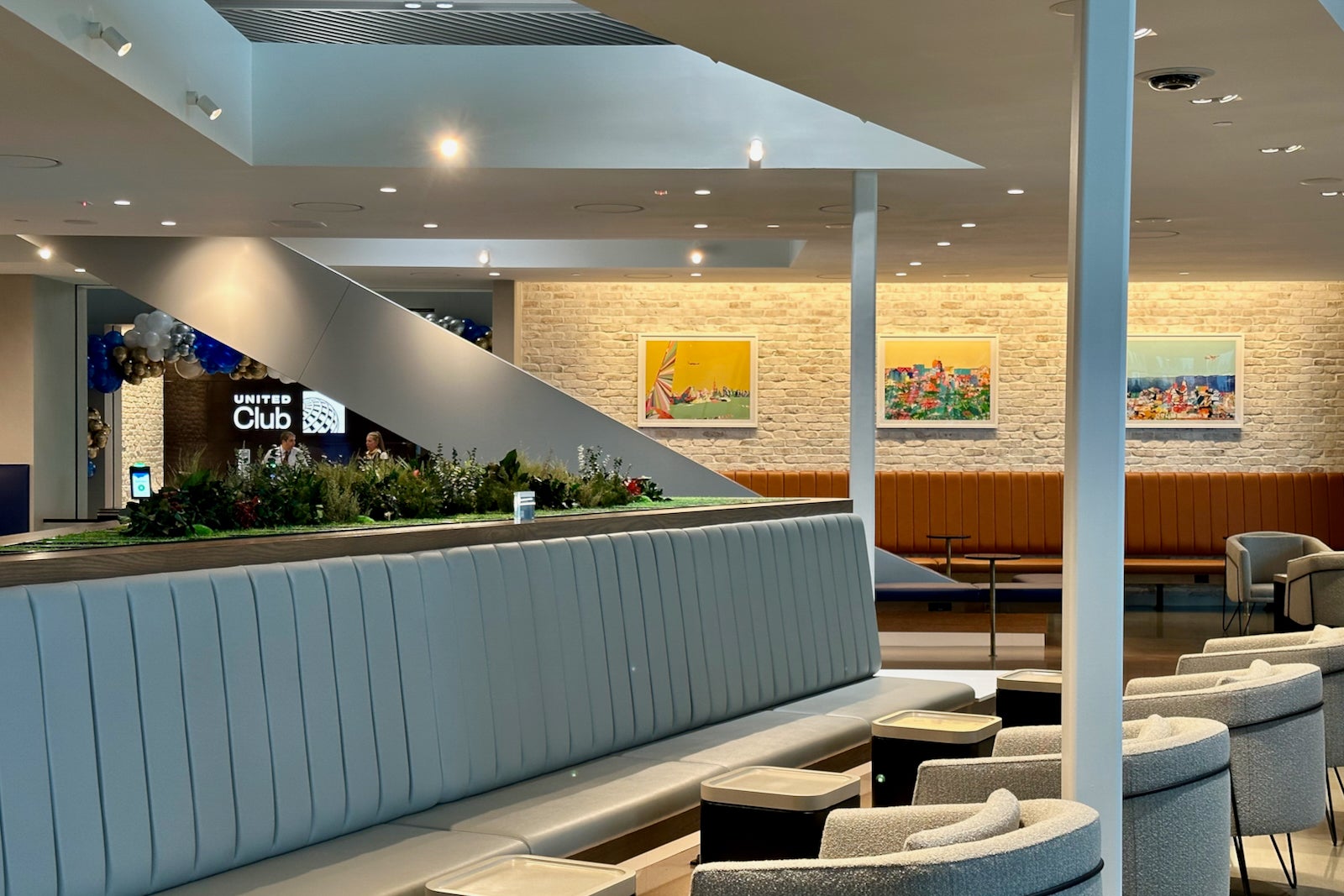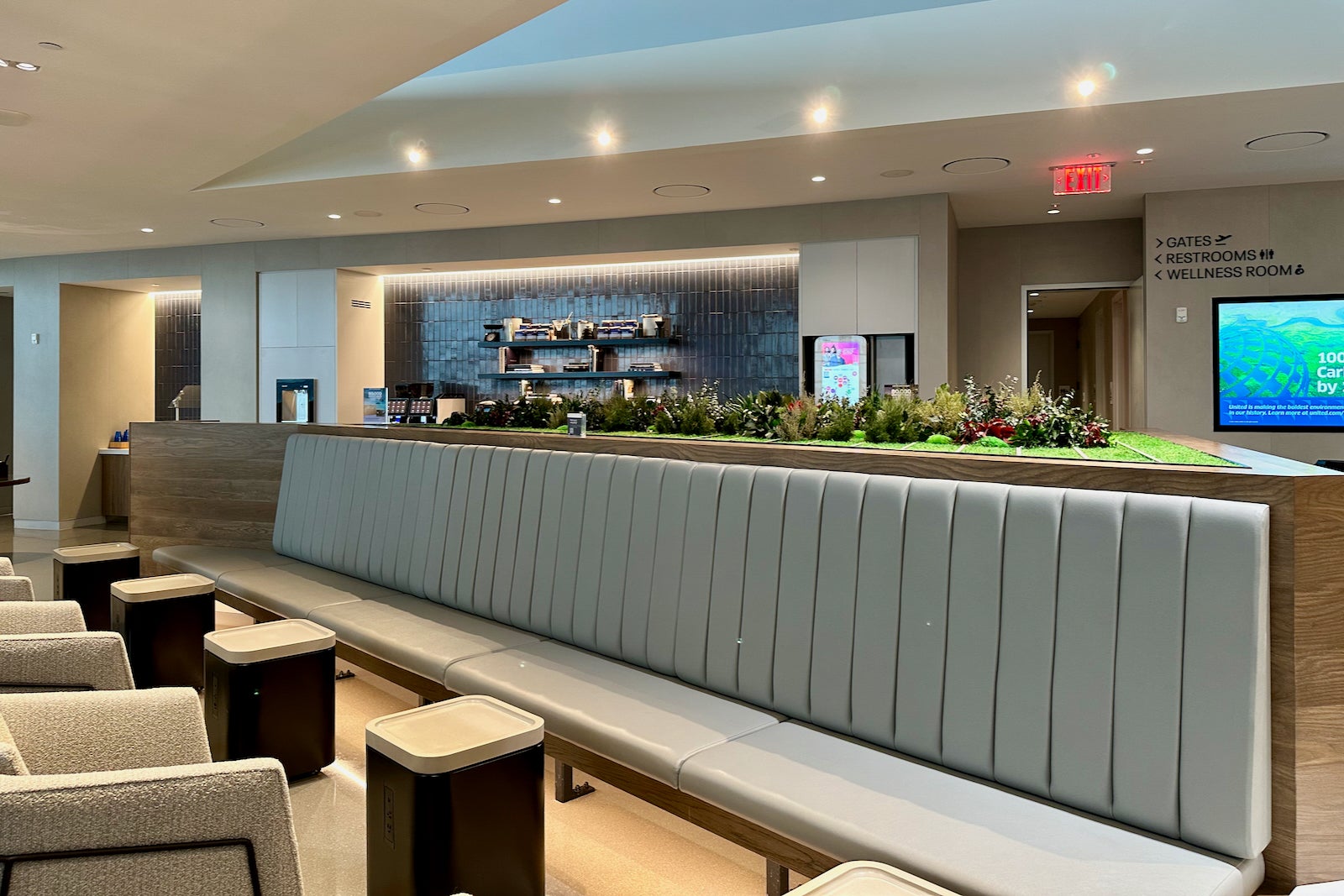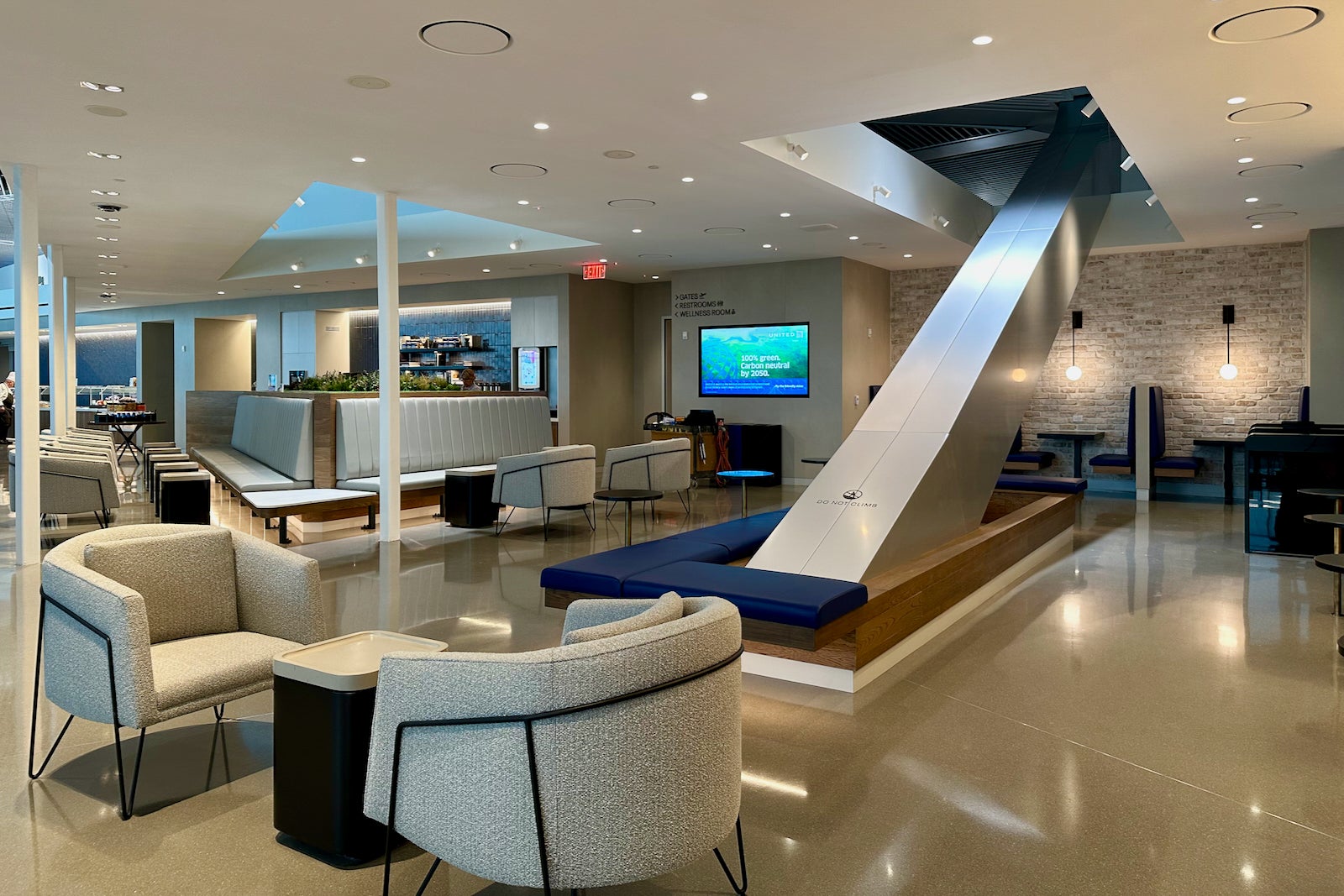 Note that there's a separate dining room across from the buffet.
There are some seats lining the bar and in the central core of the lounge, but I'd expect these to be among the busiest and most heavily trafficked. If you're looking to relax, I'd recommend sitting elsewhere.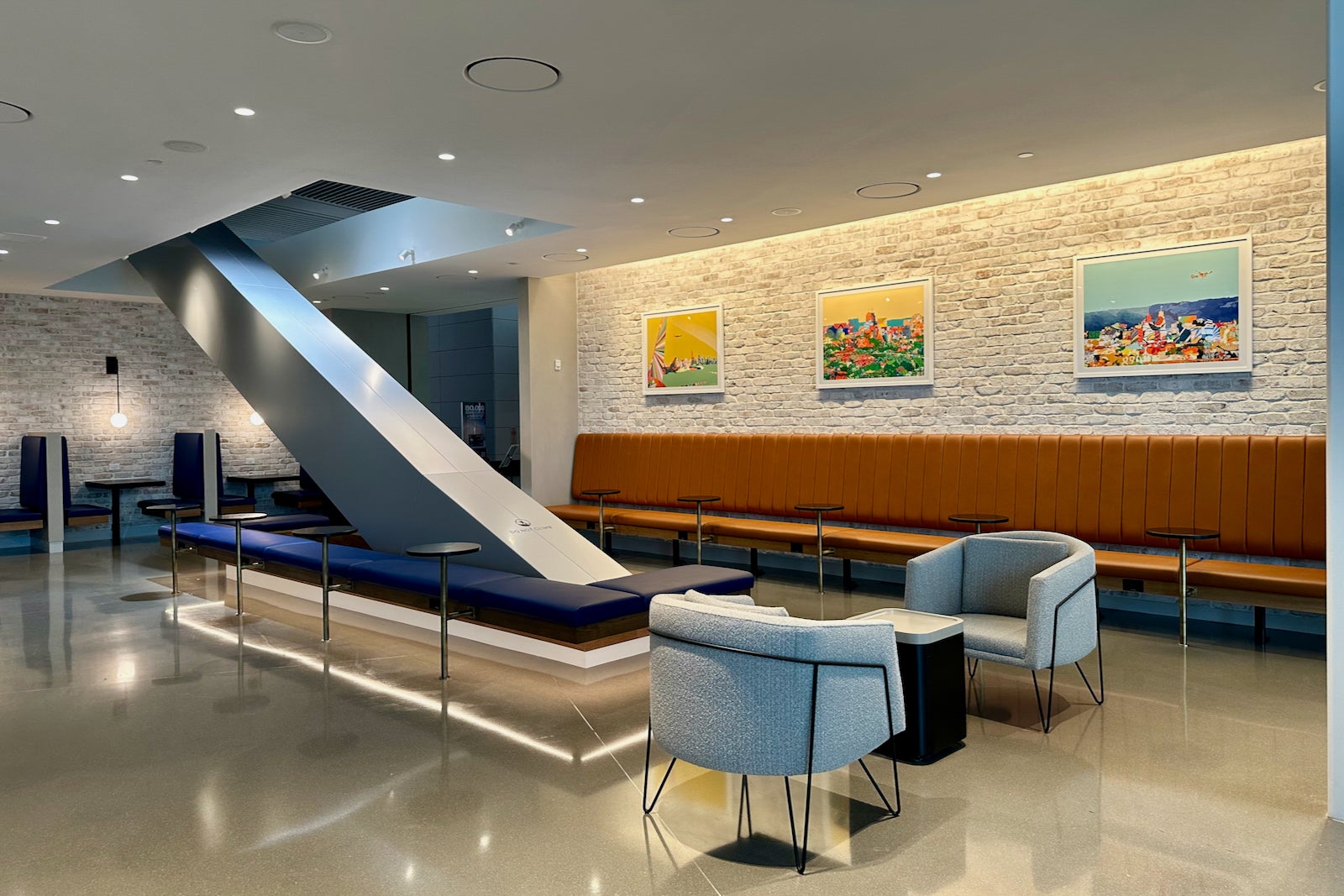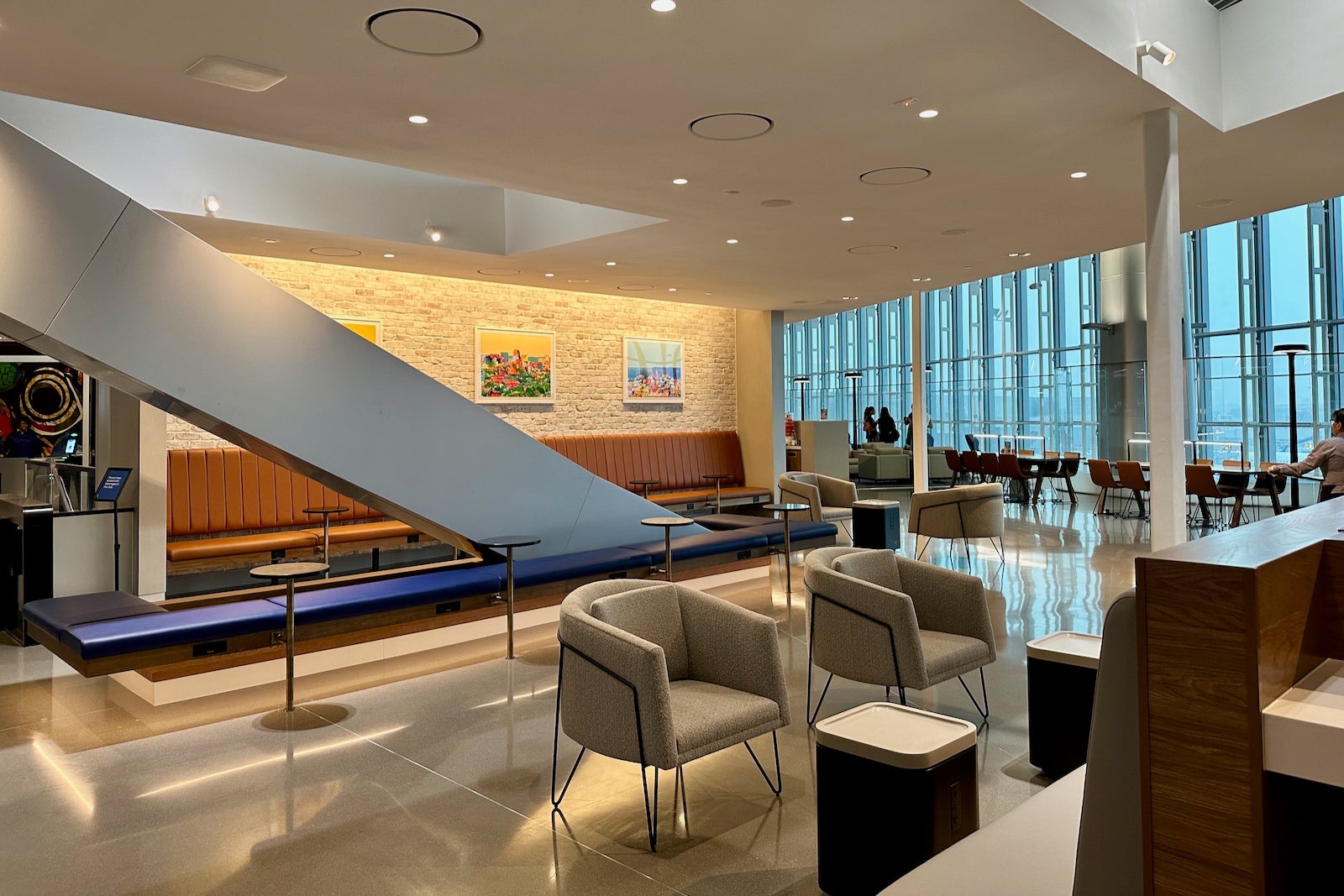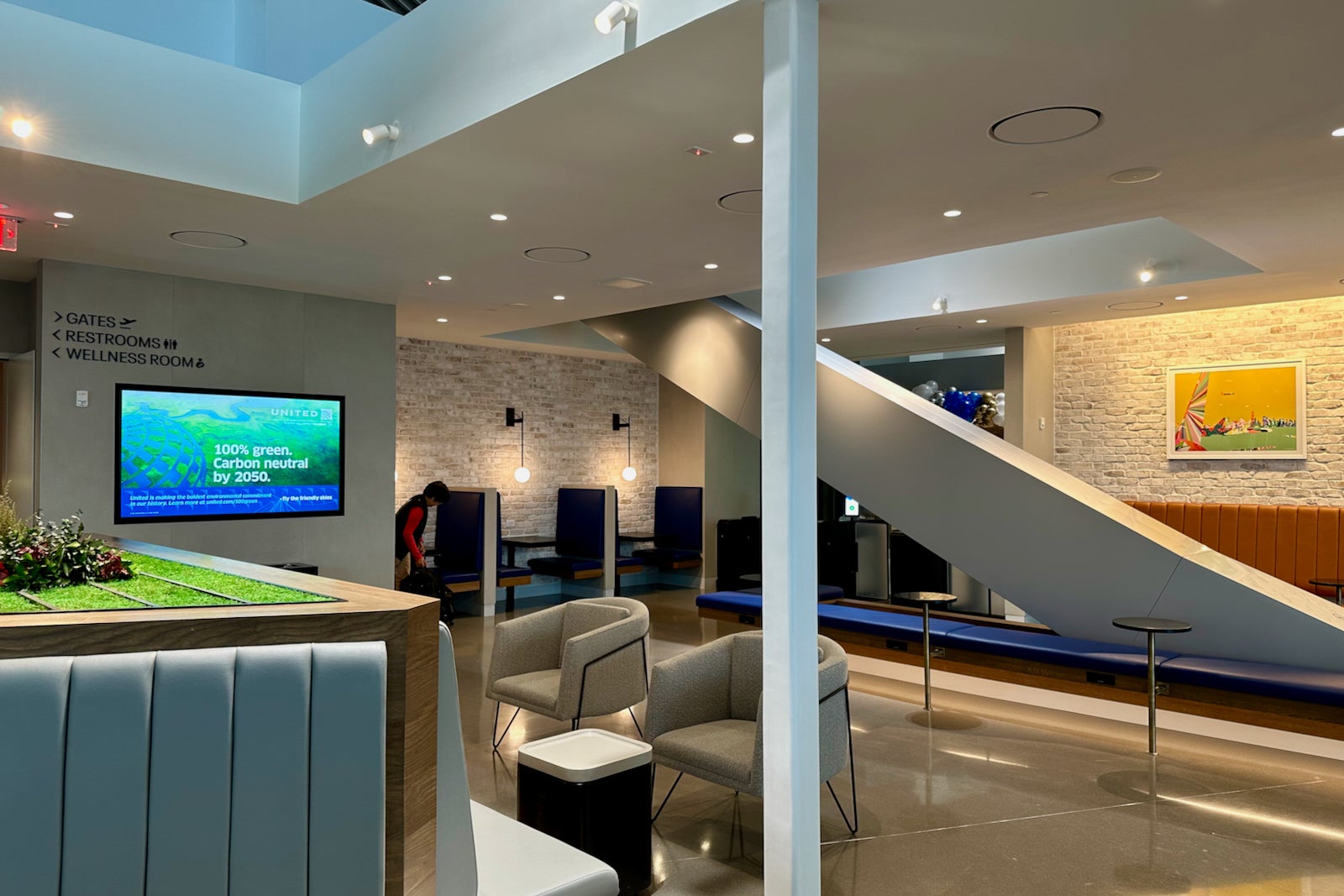 Lining the lounge walls are some colorful prints depicting must-see sights in New Jersey and New York. If you look closely enough, you may even spot an airplane or two.
Speaking of spotting airplanes, aviation enthusiasts may be disappointed to learn that the lounge's location on the mezzanine level means it's not flush against the outside terminal windows.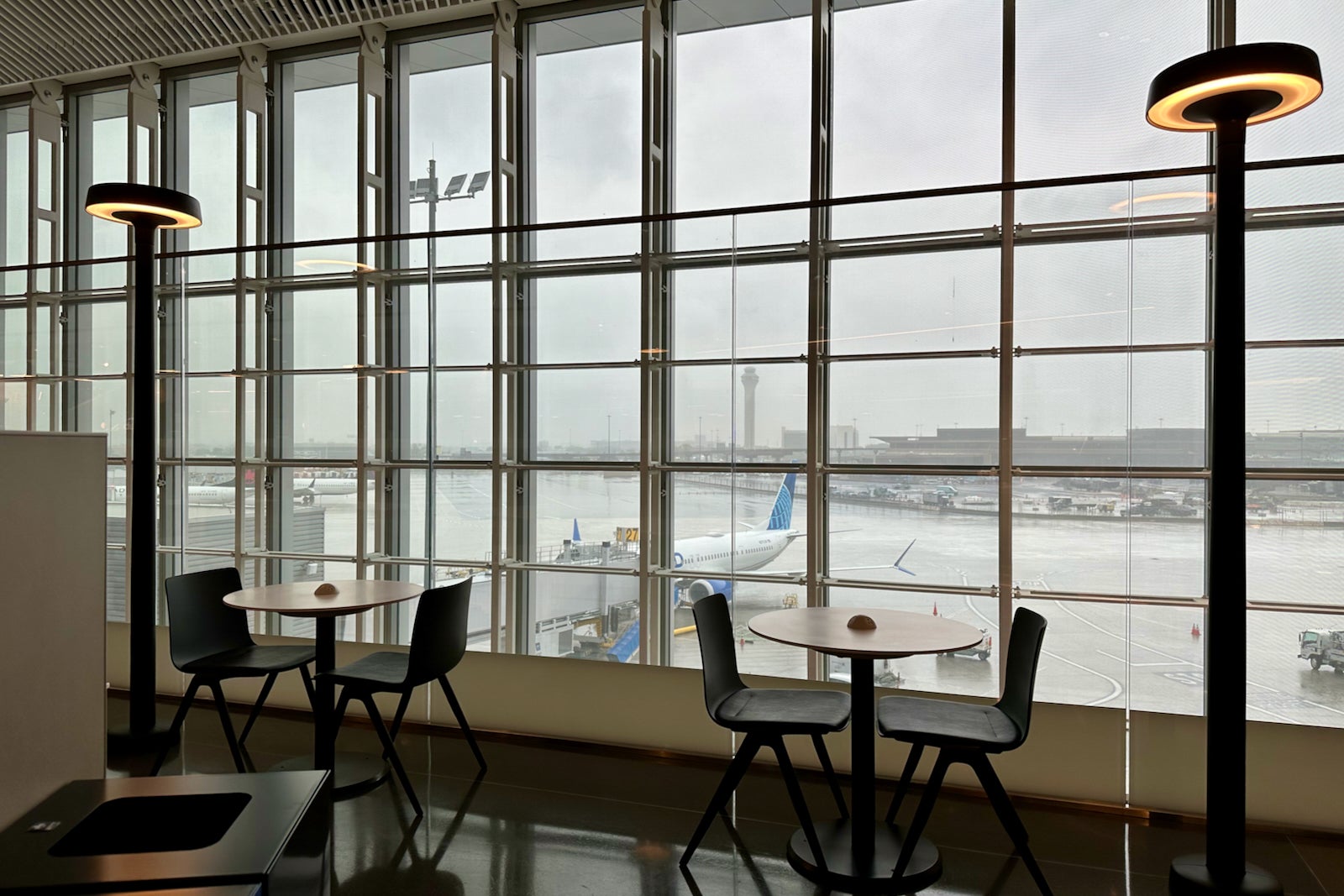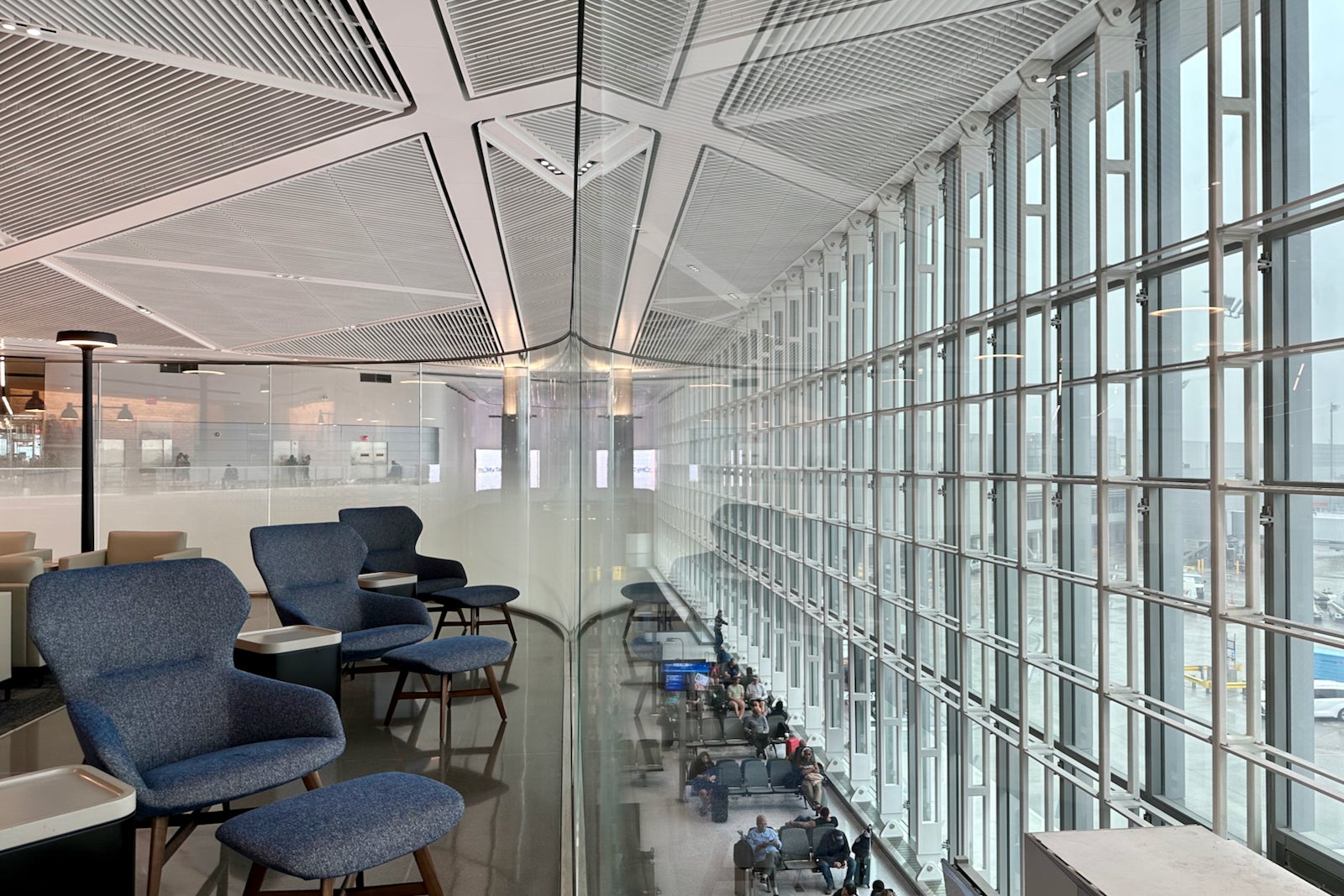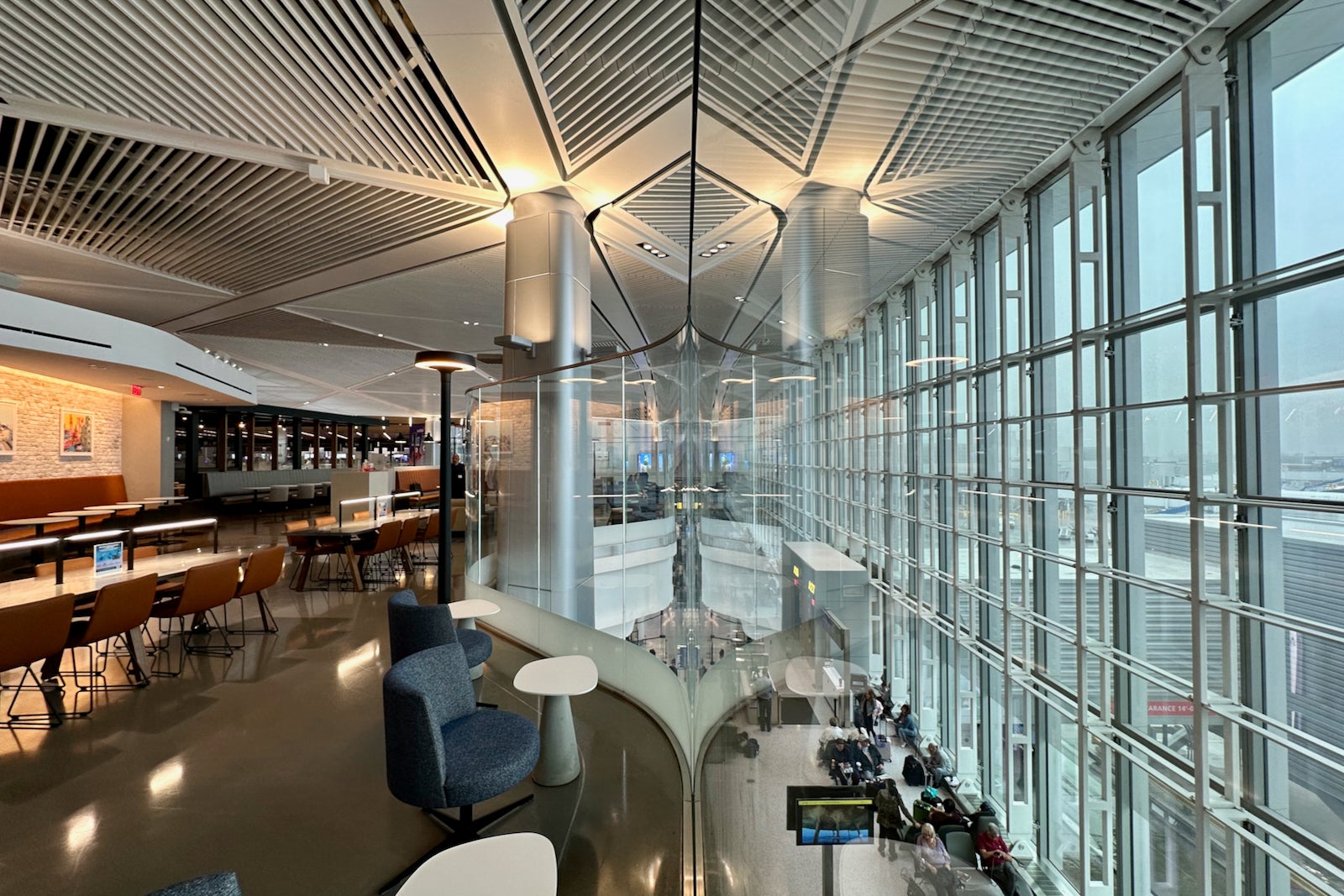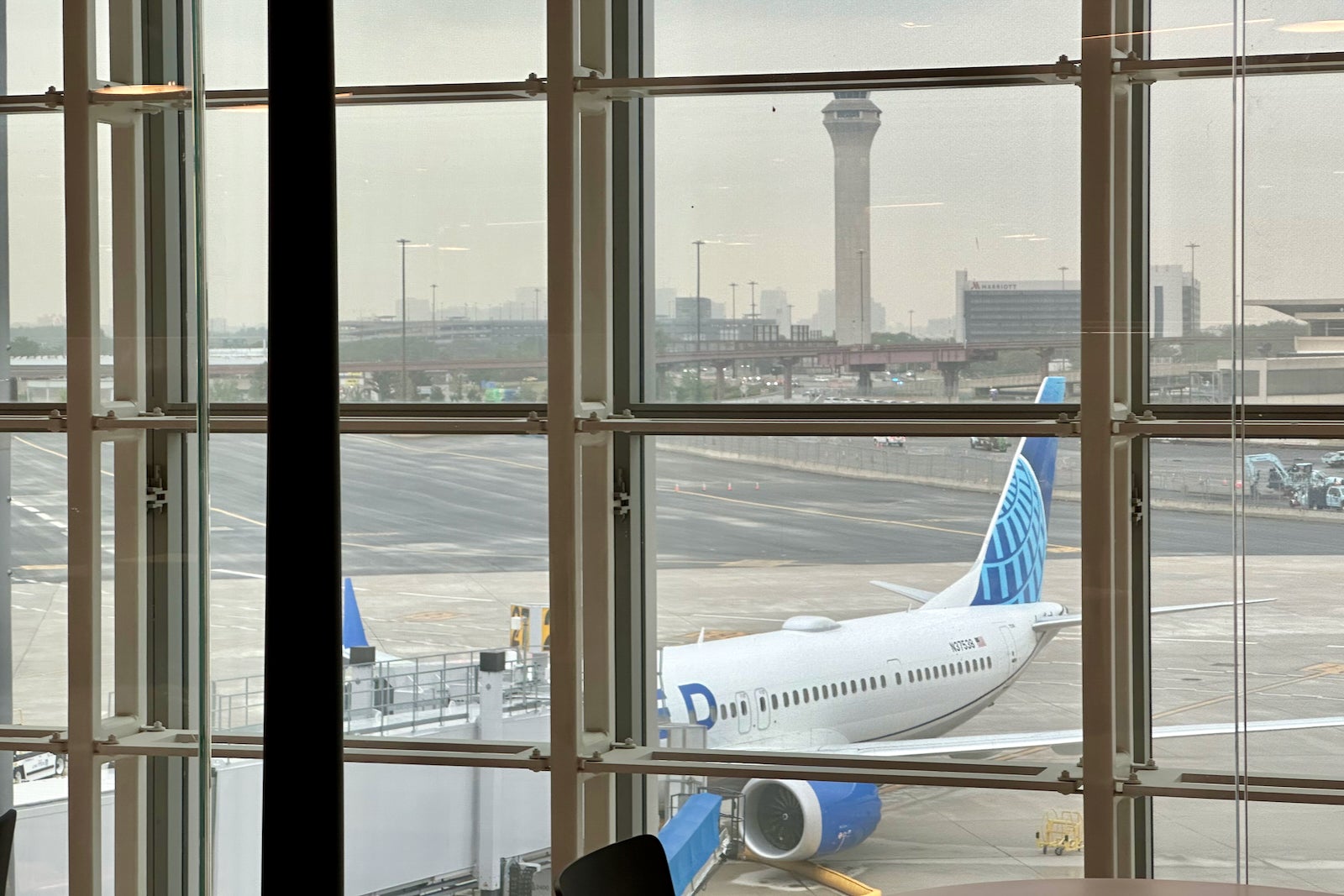 Don't lug around your fancy camera expecting perfect airplane views.
United Club Newark food and beverage
The lounge's bar and buffet are just beyond the main seating area.
From the granite counters to the wood-lined wall paneling to the liquor bottle displays, the bar itself is stunning. I didn't get a chance to check out the menu or sample any of the offerings, but I'd expect a mix of complimentary and chargeable drinks.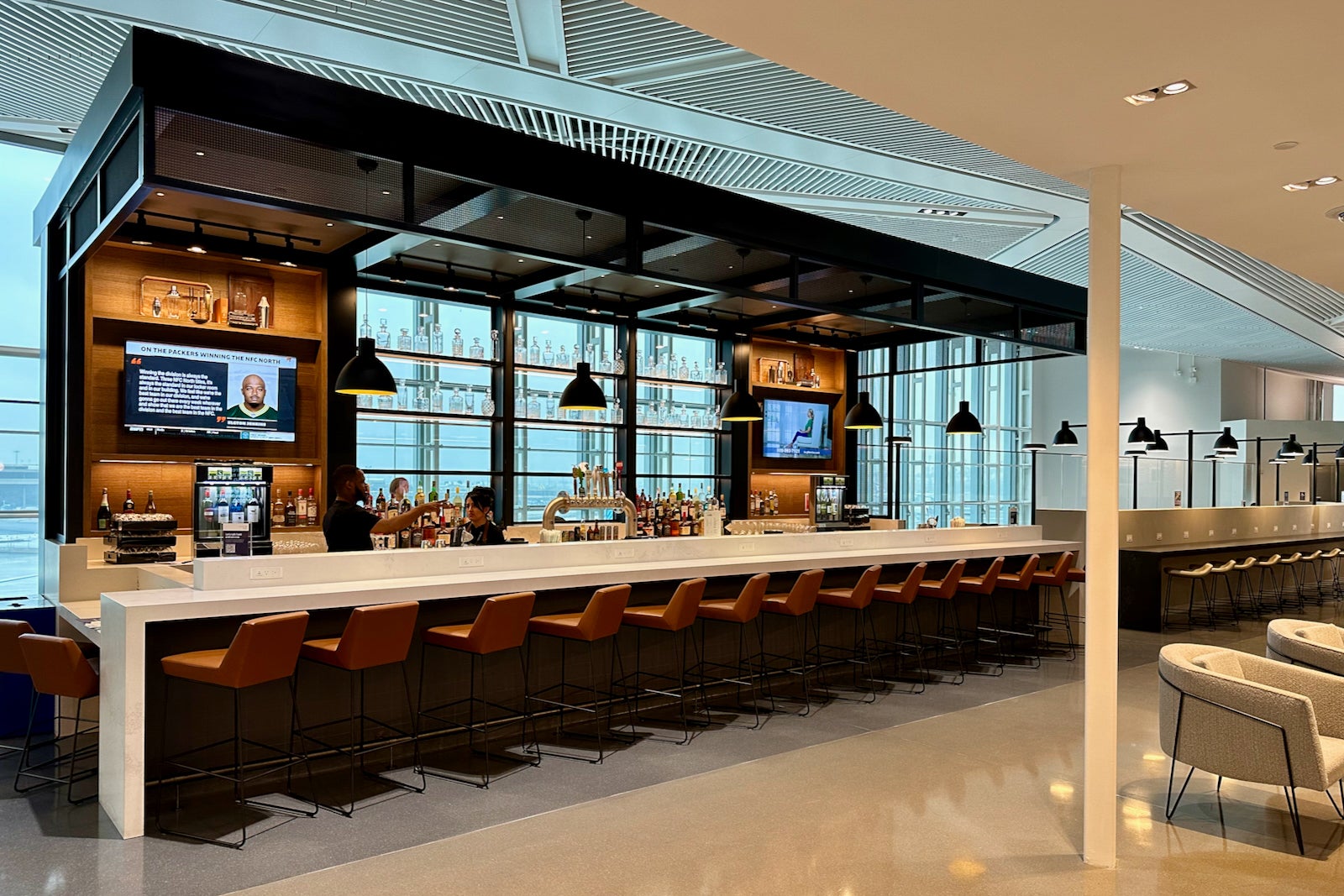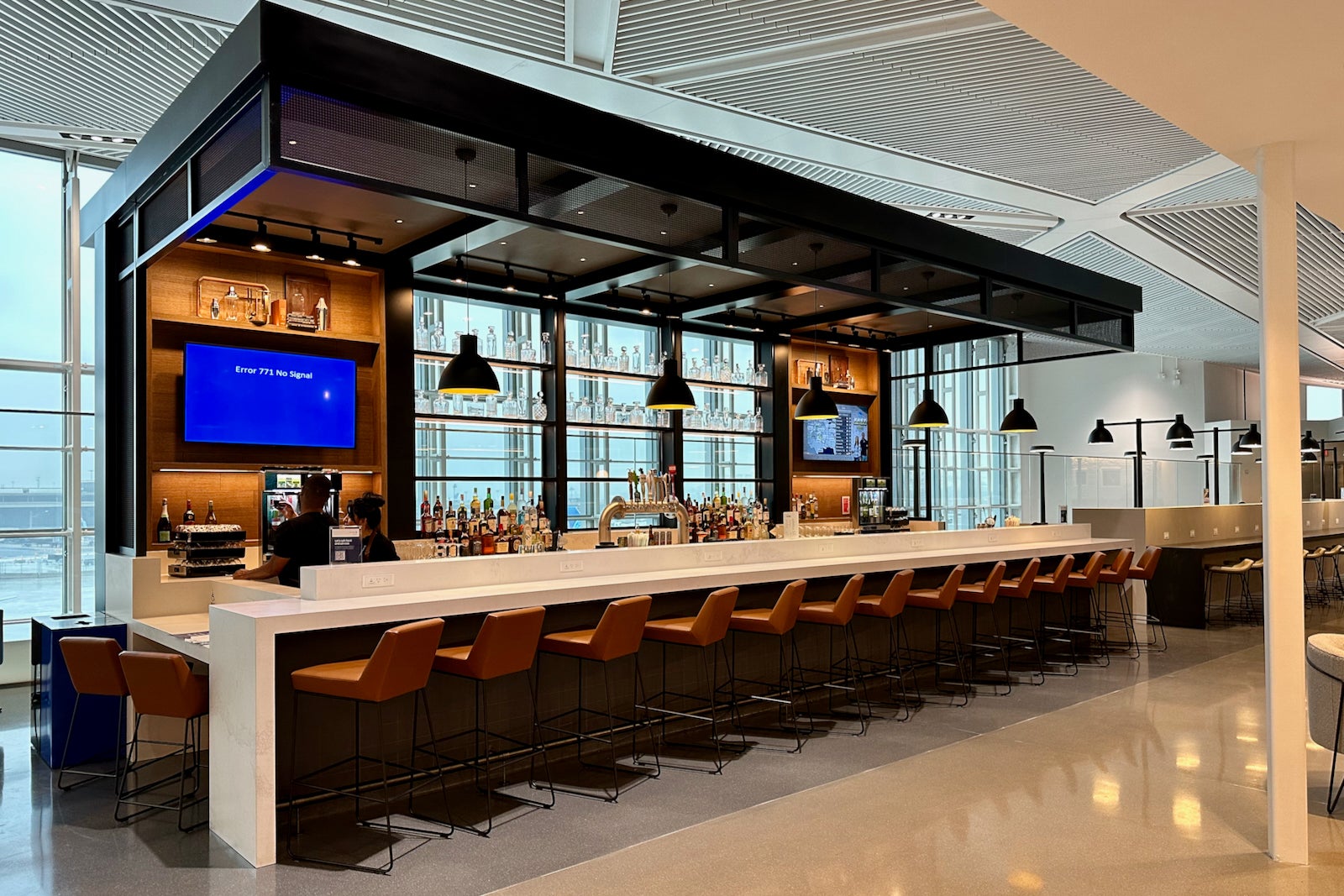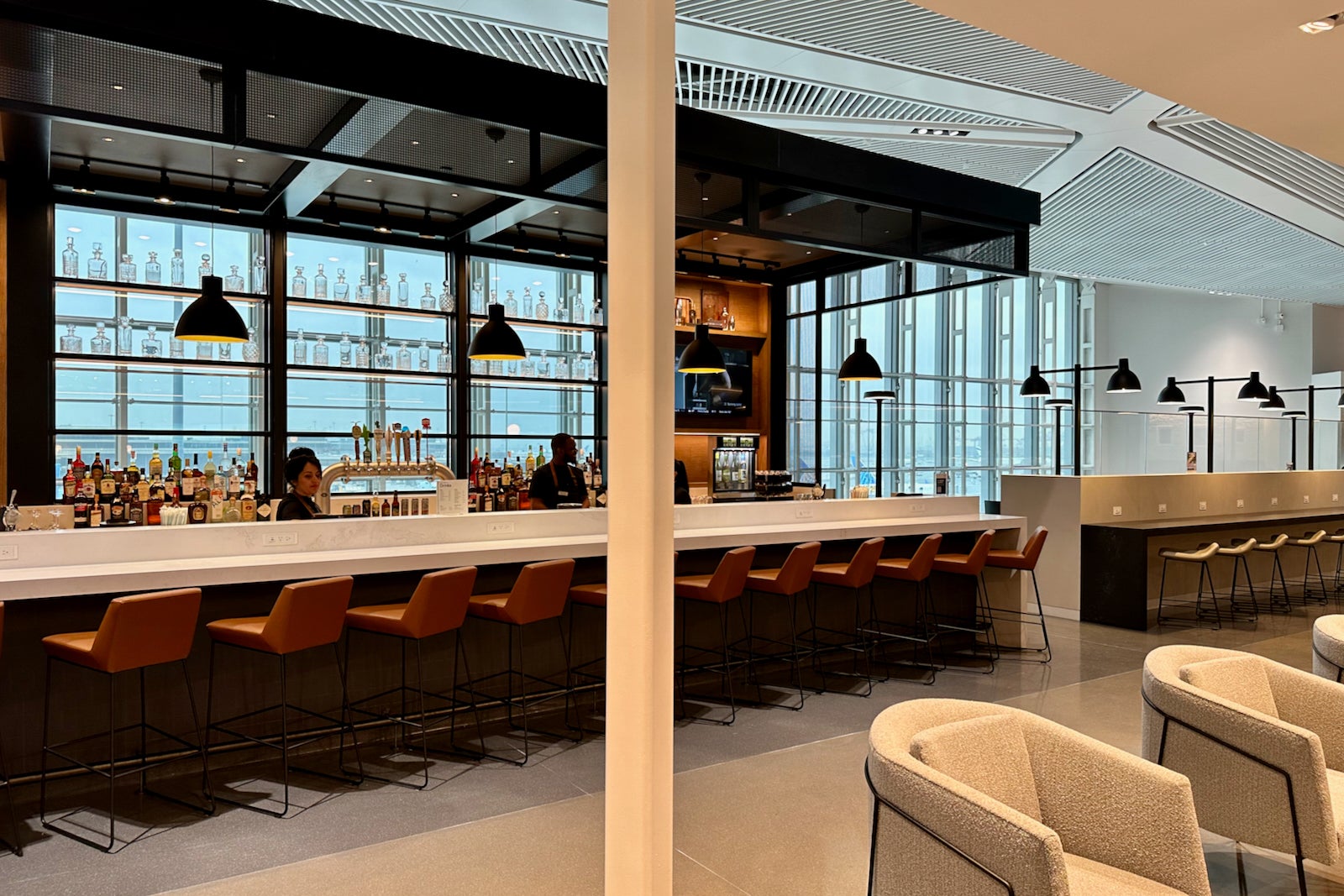 There are even six beers on tap, including Modelo, Blue Moon, Coors Light and others, pictured below.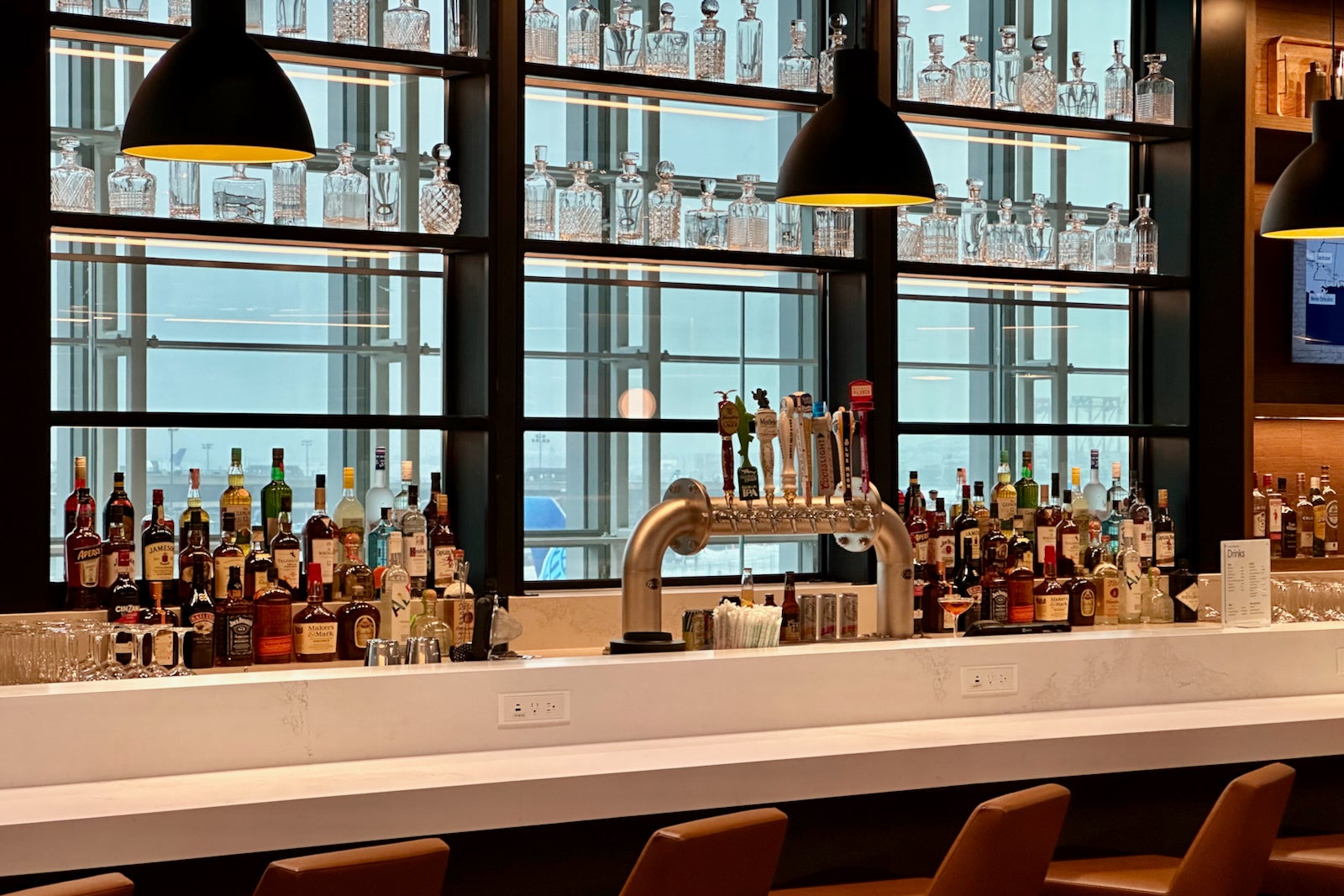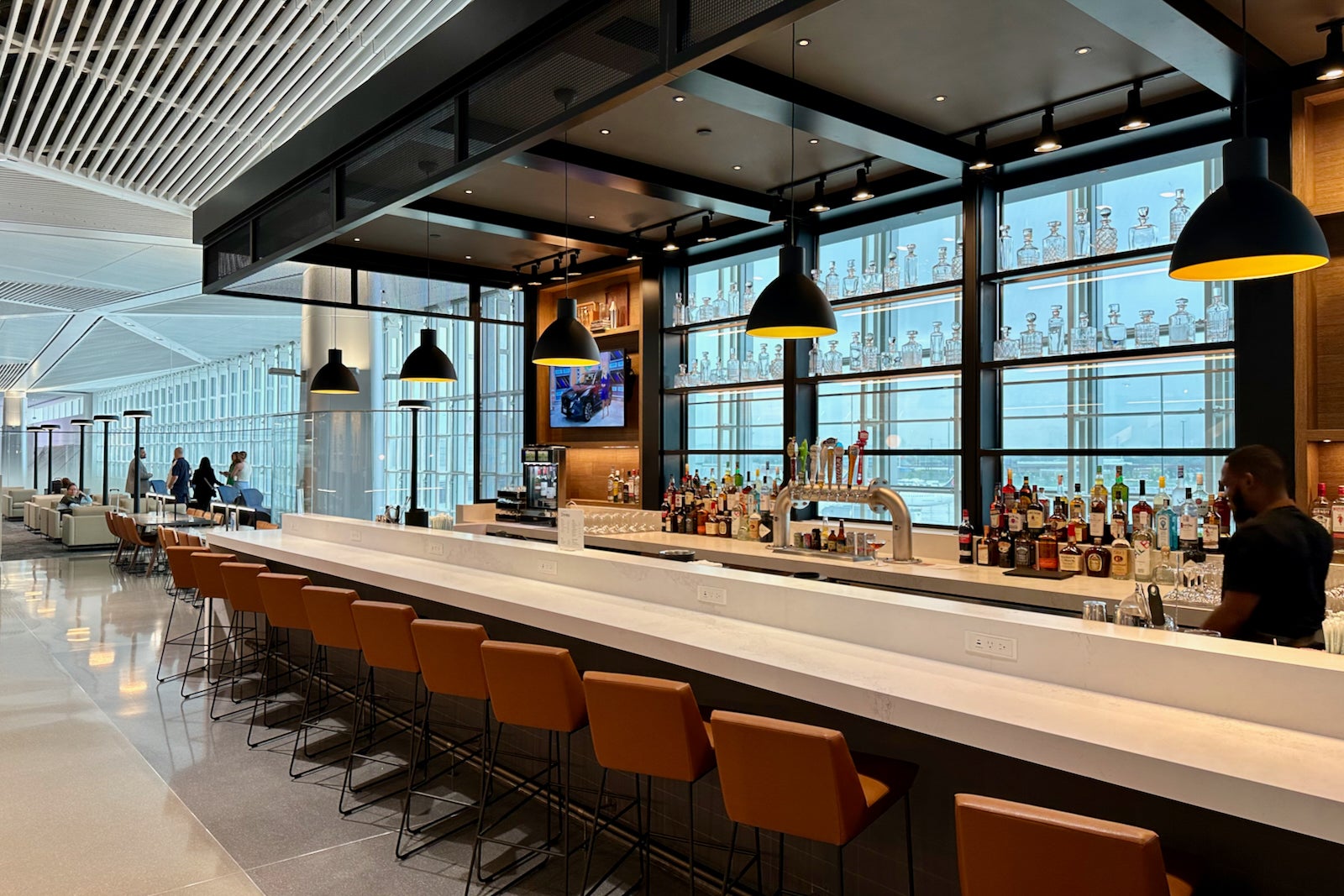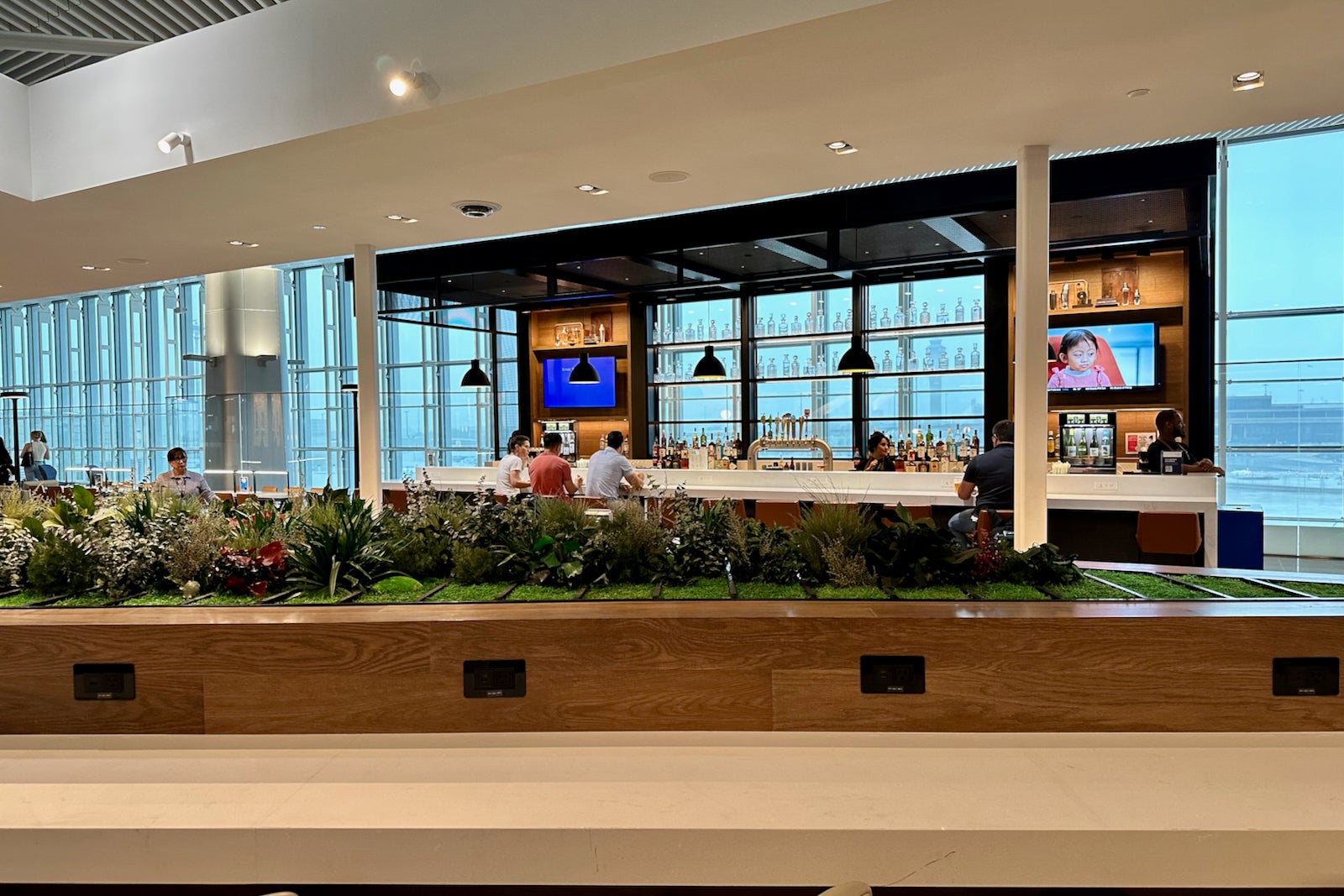 Nonalcoholic drinks are available from the walk-up beverage table in the center of the lounge.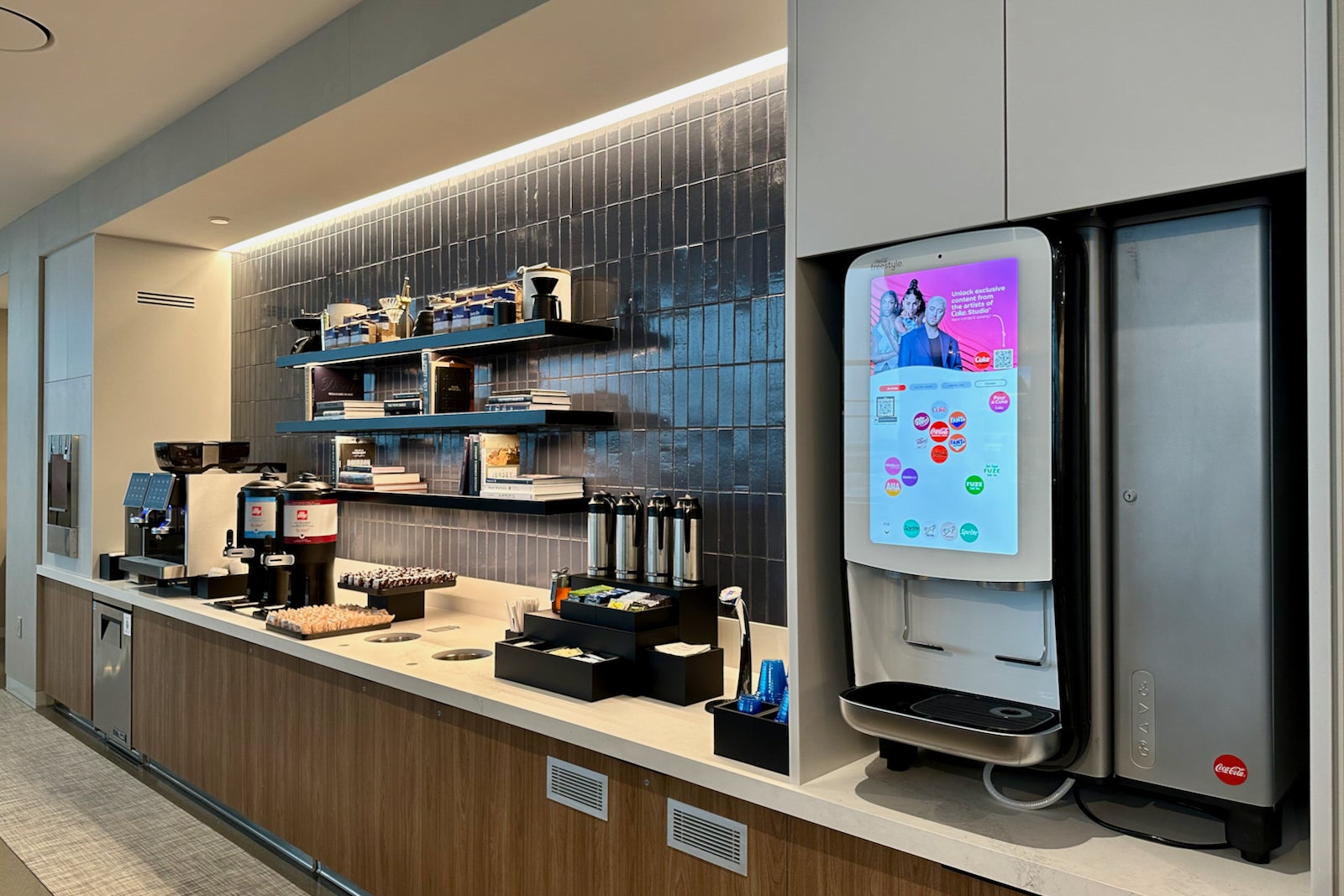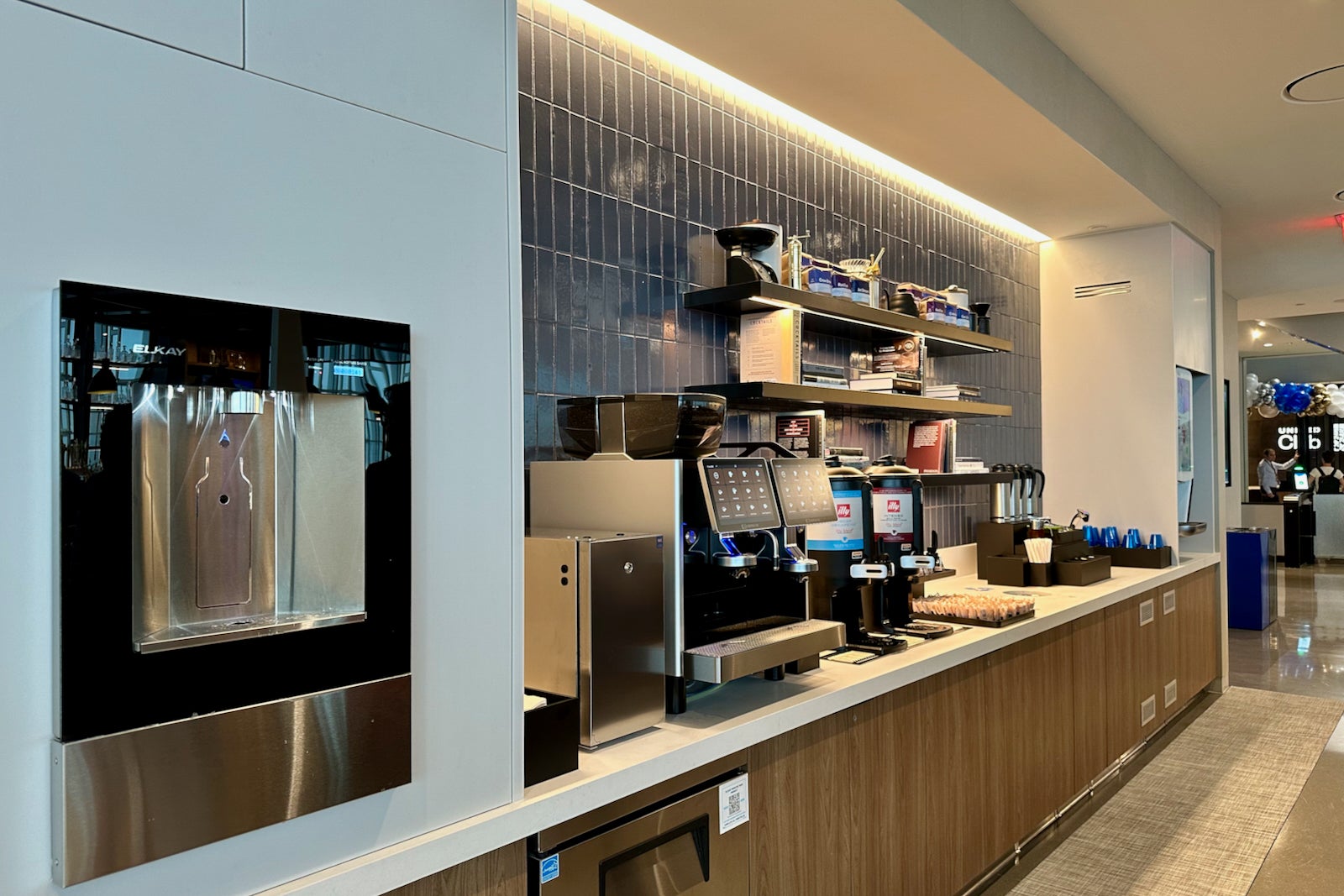 There's a Coca-Cola Freestyle machine, along with an Eversys coffee machine and Illy coffee jugs here, too.
You'll also find a more compact beverage station near the main seating area.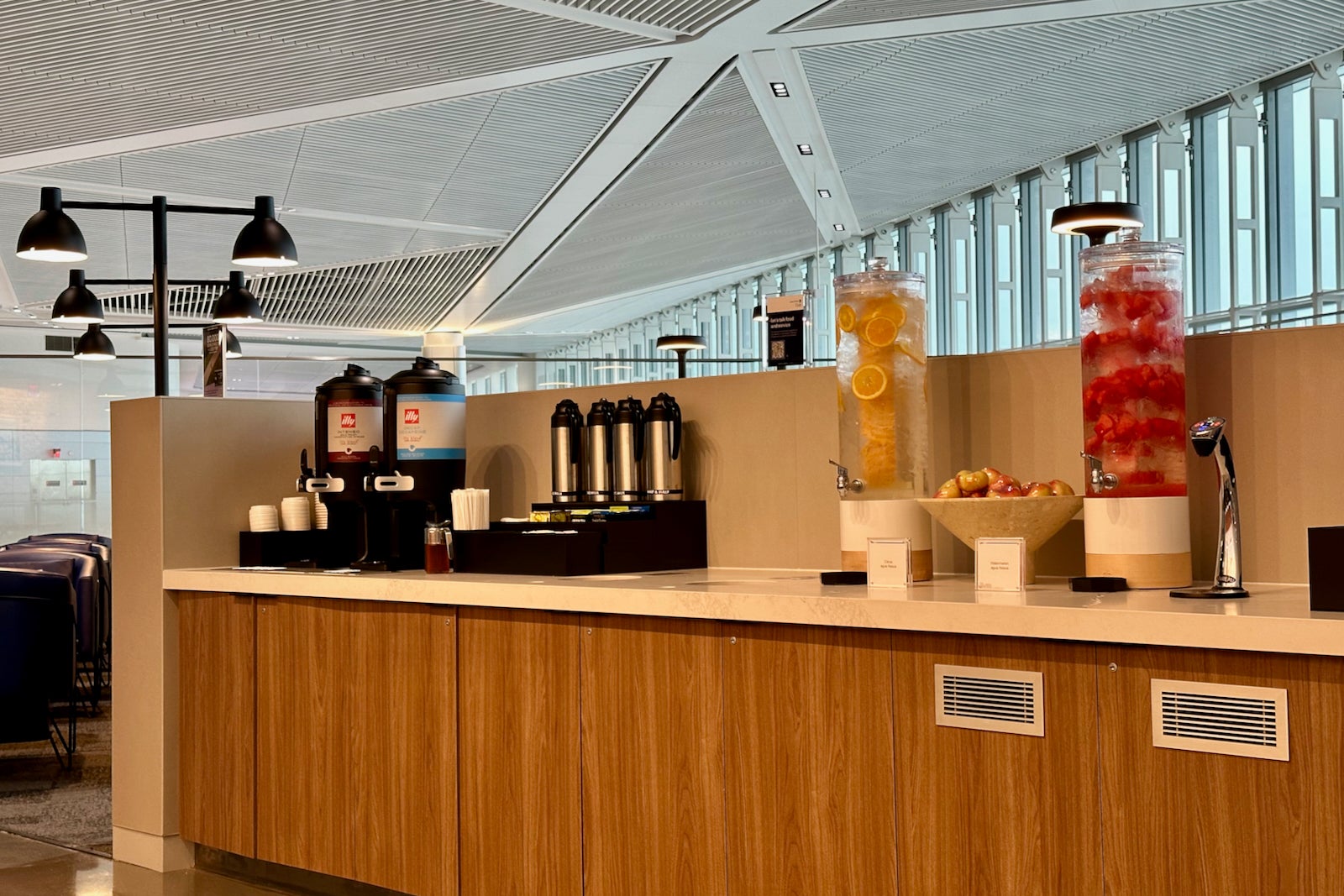 I'm a big fan of the personal water-bottle refill station built right into the beverage area. Hopefully, more airport lounges add these environmentally friendly dispensers.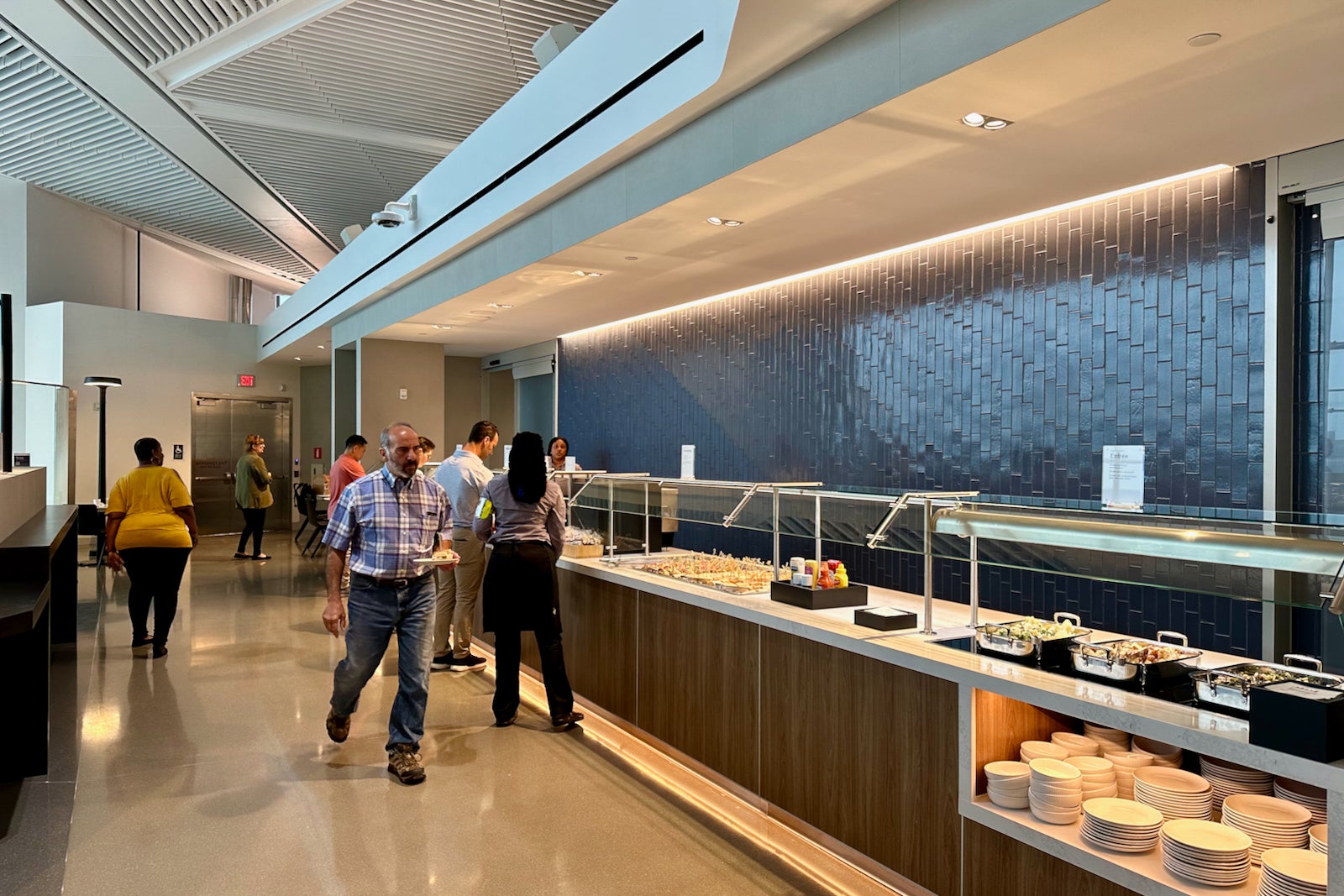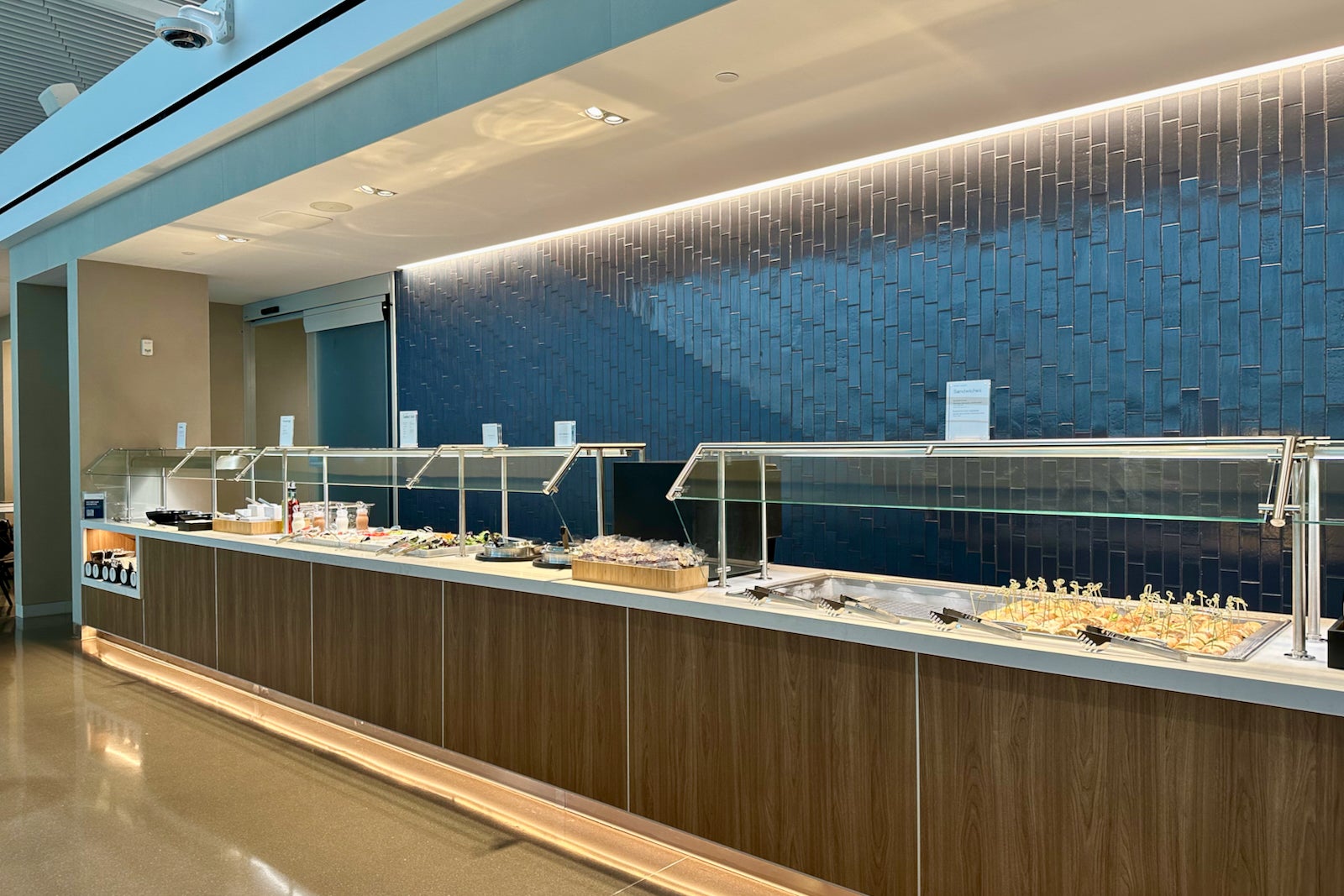 Next to the water dispenser is the main buffet, flanked on one side by a circular snack table with jars of sesame sticks, banana chips and dried papaya cubes.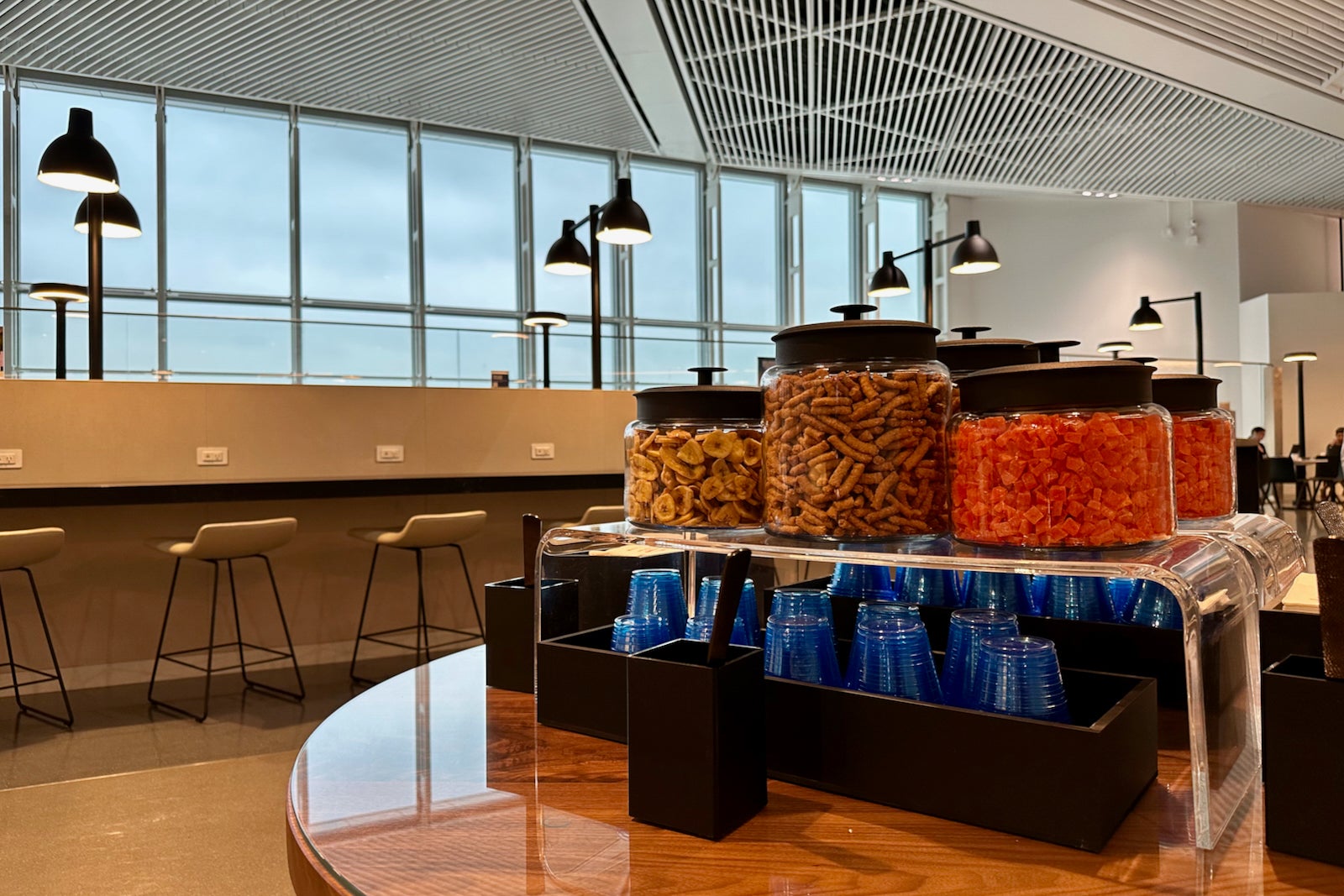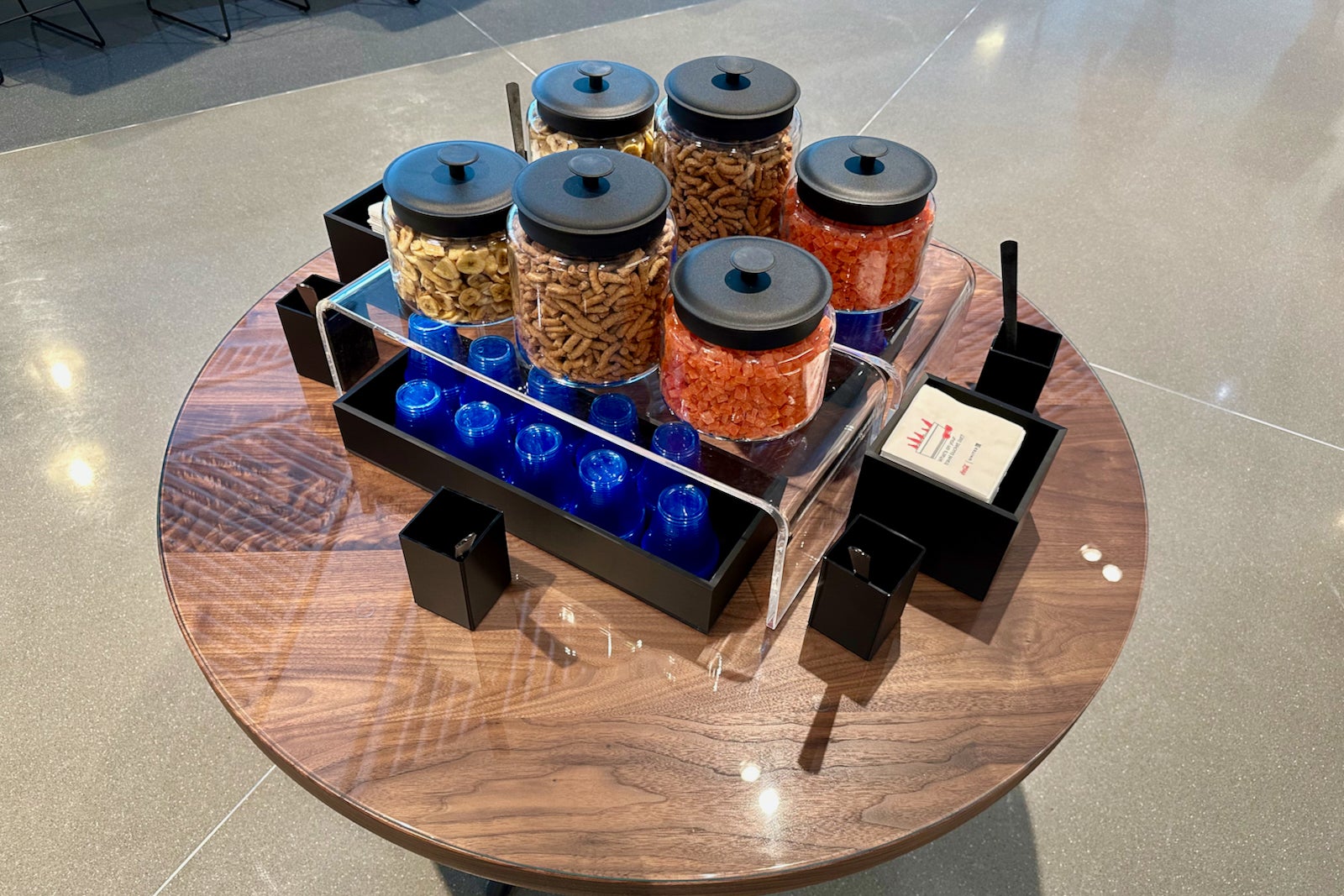 Meanwhile, the food buffet was stocked with the all-day dining fare when I visited. Options included a handful of hot appetizers, some sandwiches, two soups, a salad bar and two entrees. For what it's worth, Flik Hospitality caters this United Club.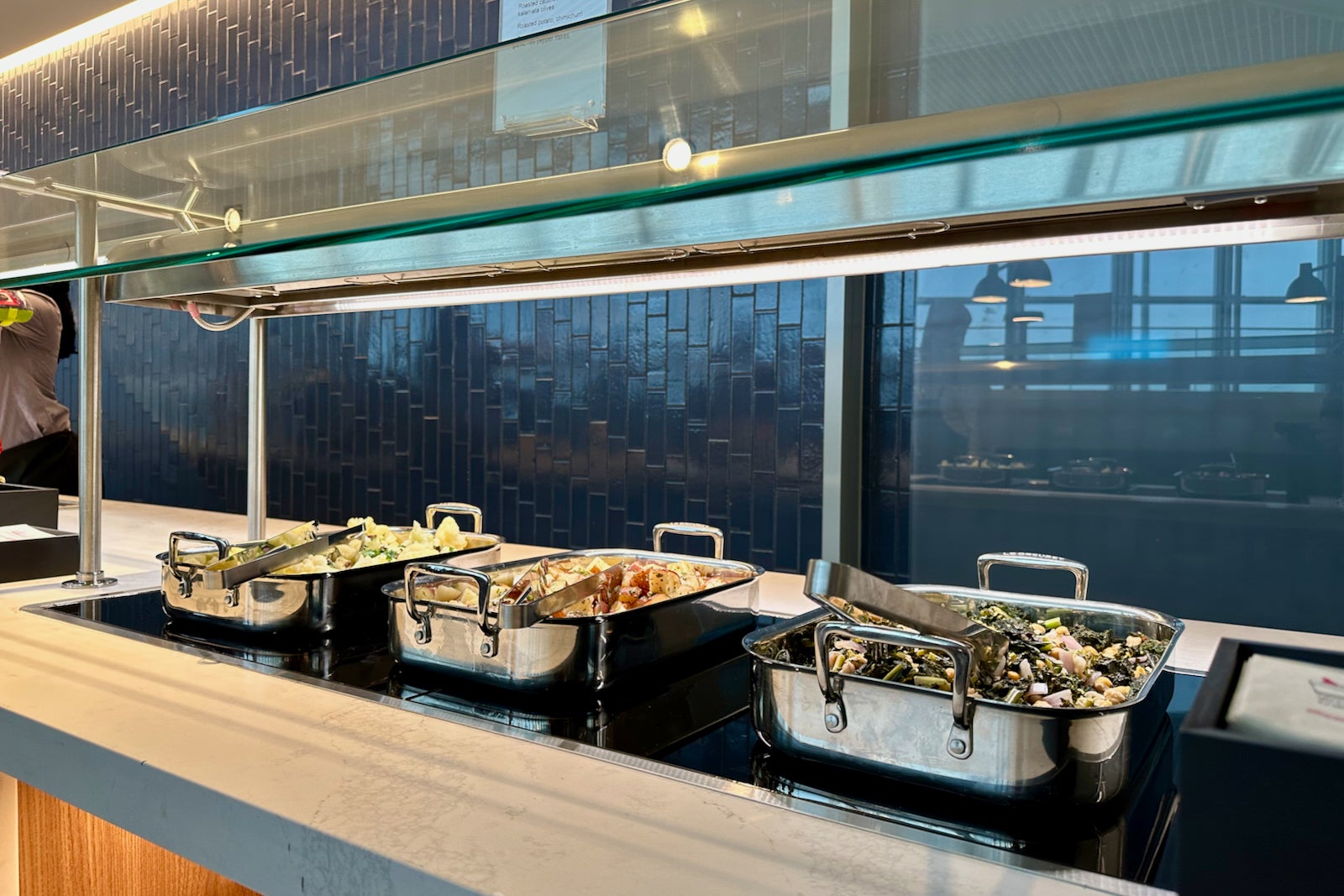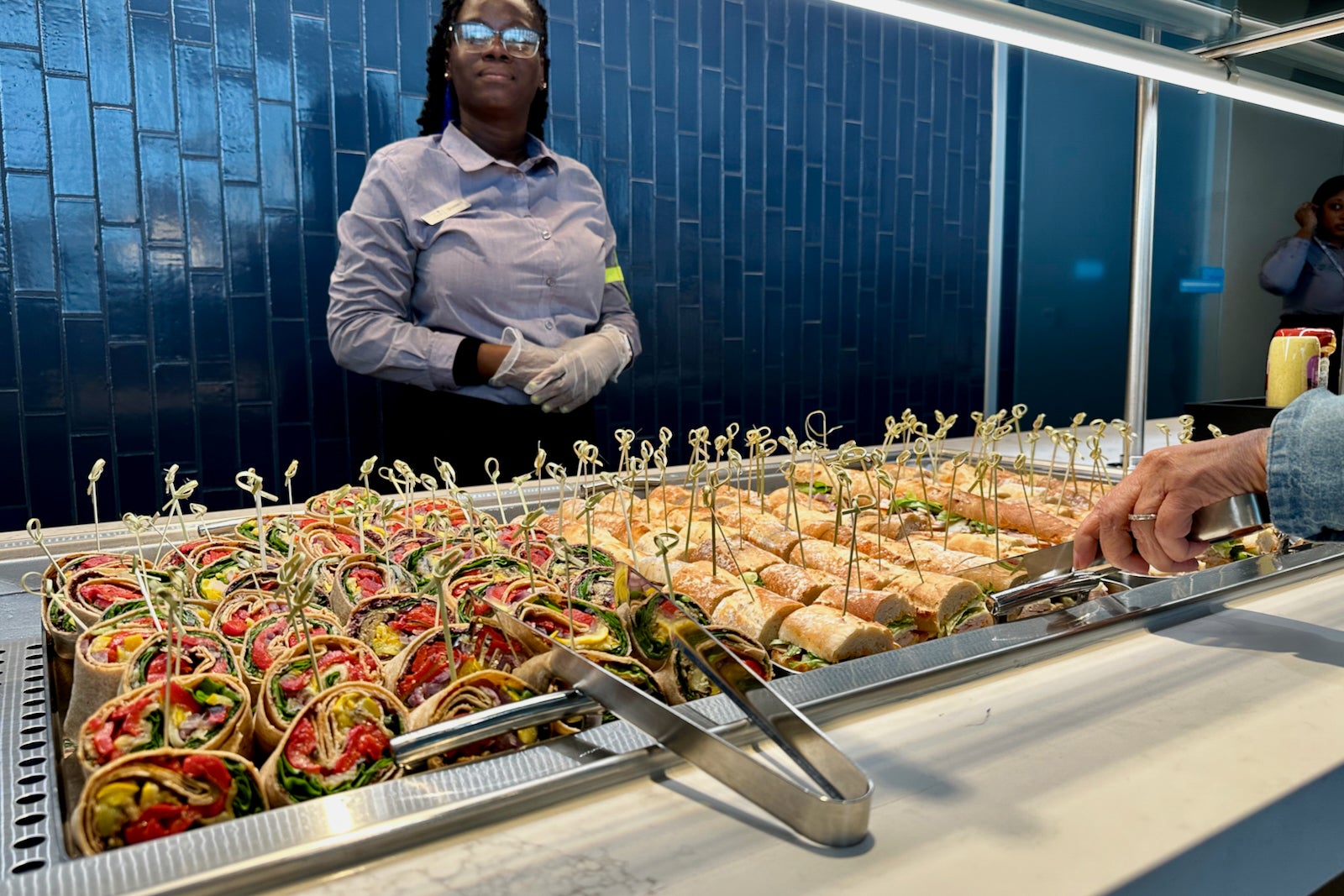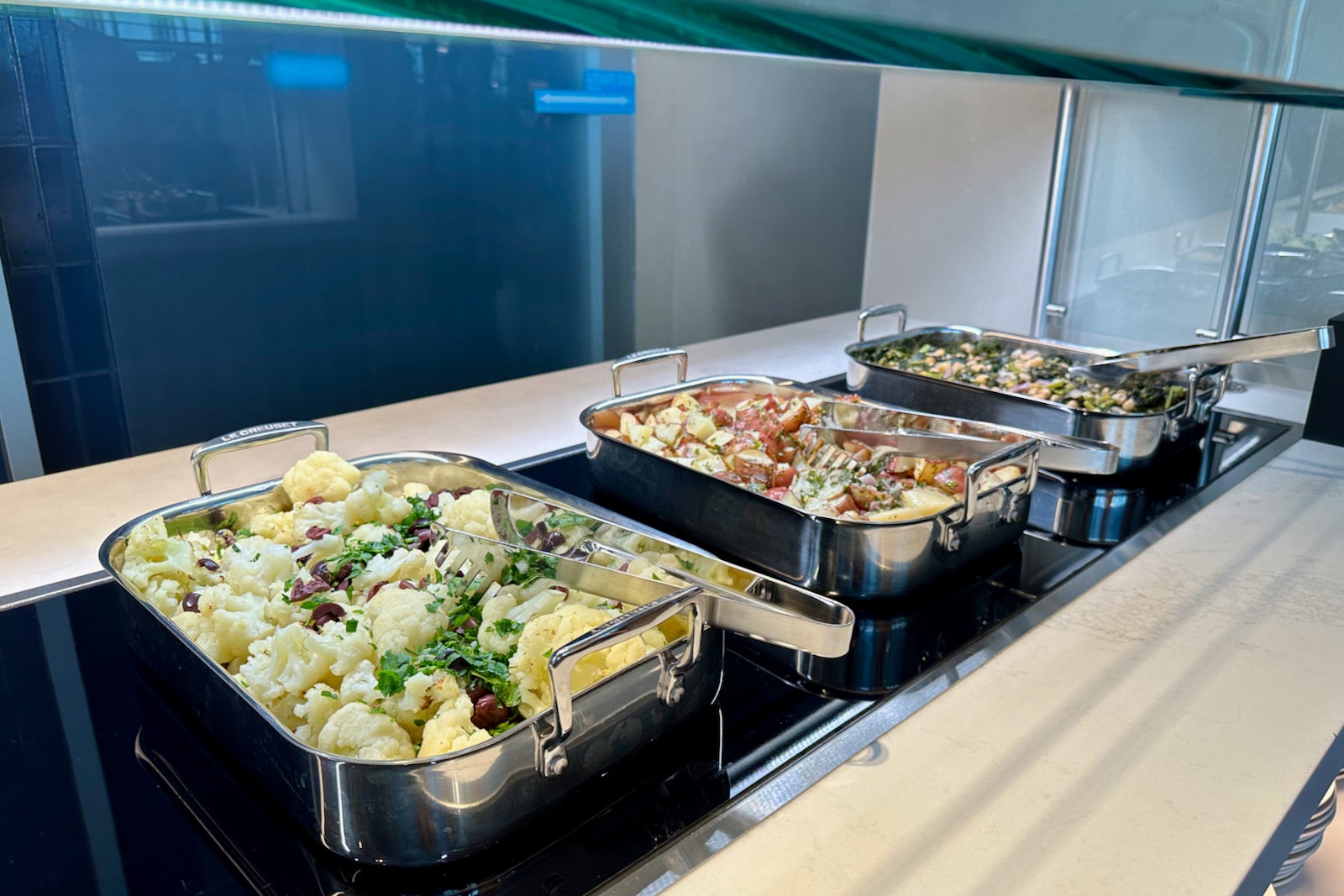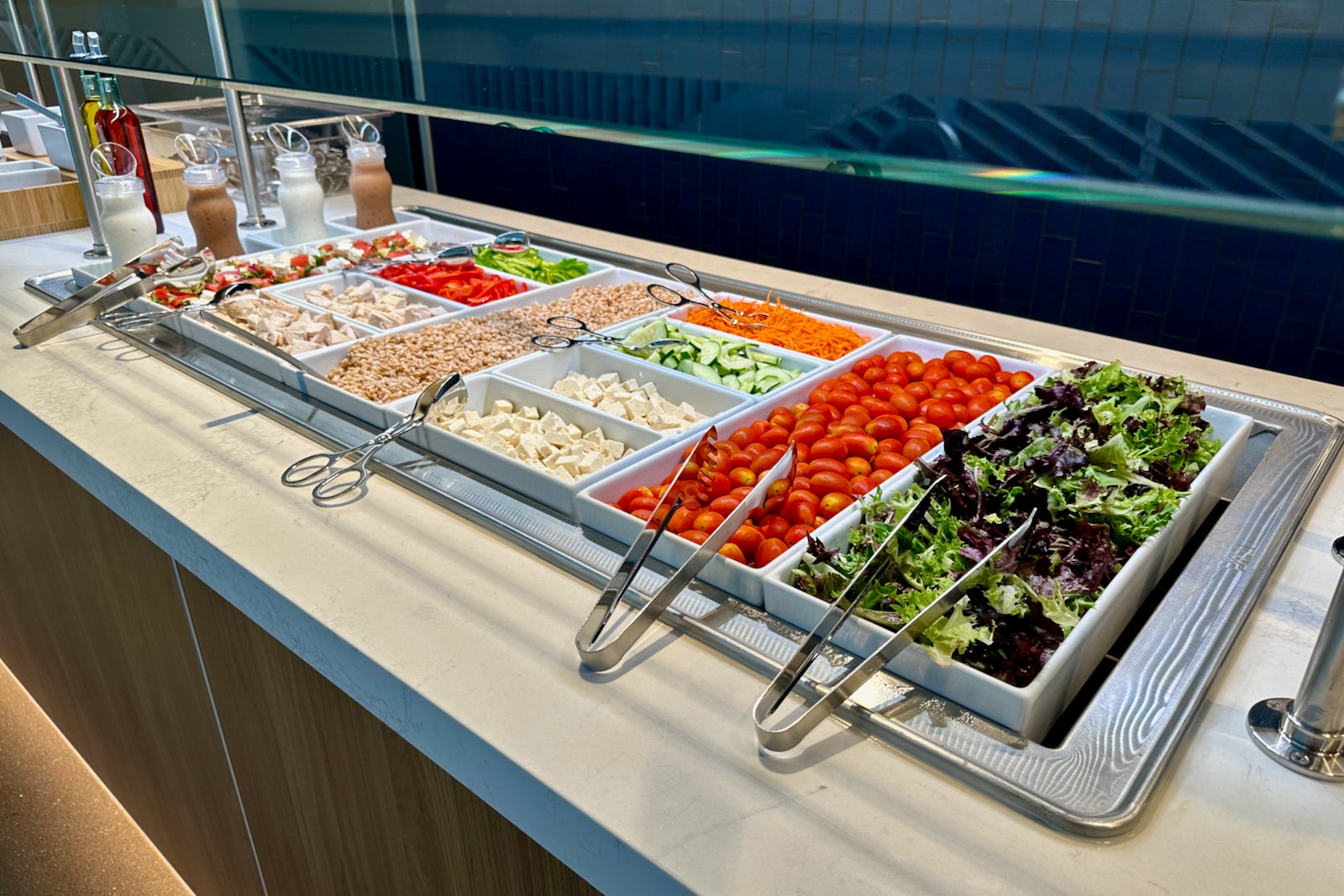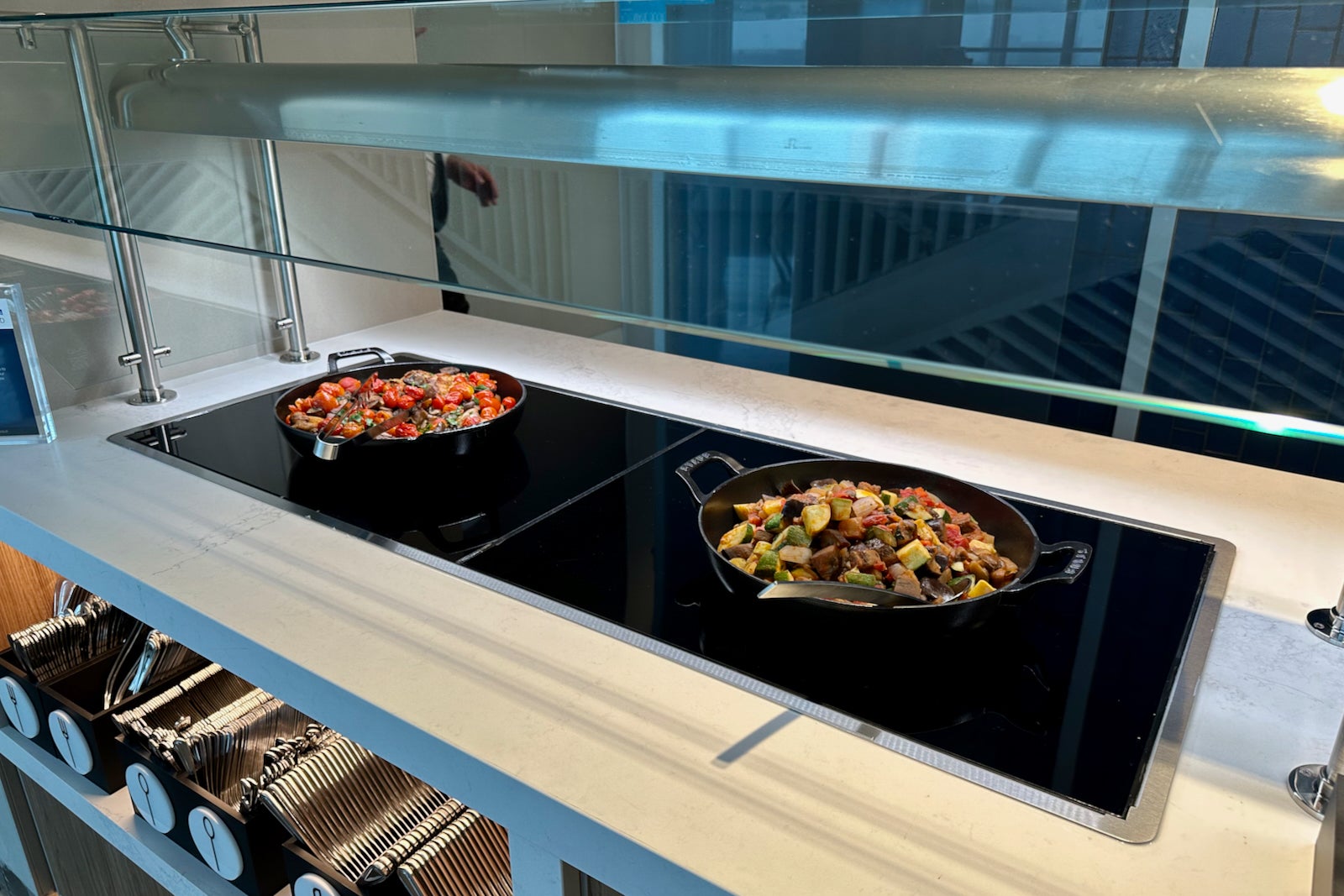 Keep in mind this is no Delta Sky Club. Don't expect a gourmet multi-course meal here, but the selection looked pretty good nonetheless, certainly relative to other United Clubs.
United Club Newark amenities
This lounge is physically one of the nicest in the network, and there's no doubt it's been designed for the modern-day traveler.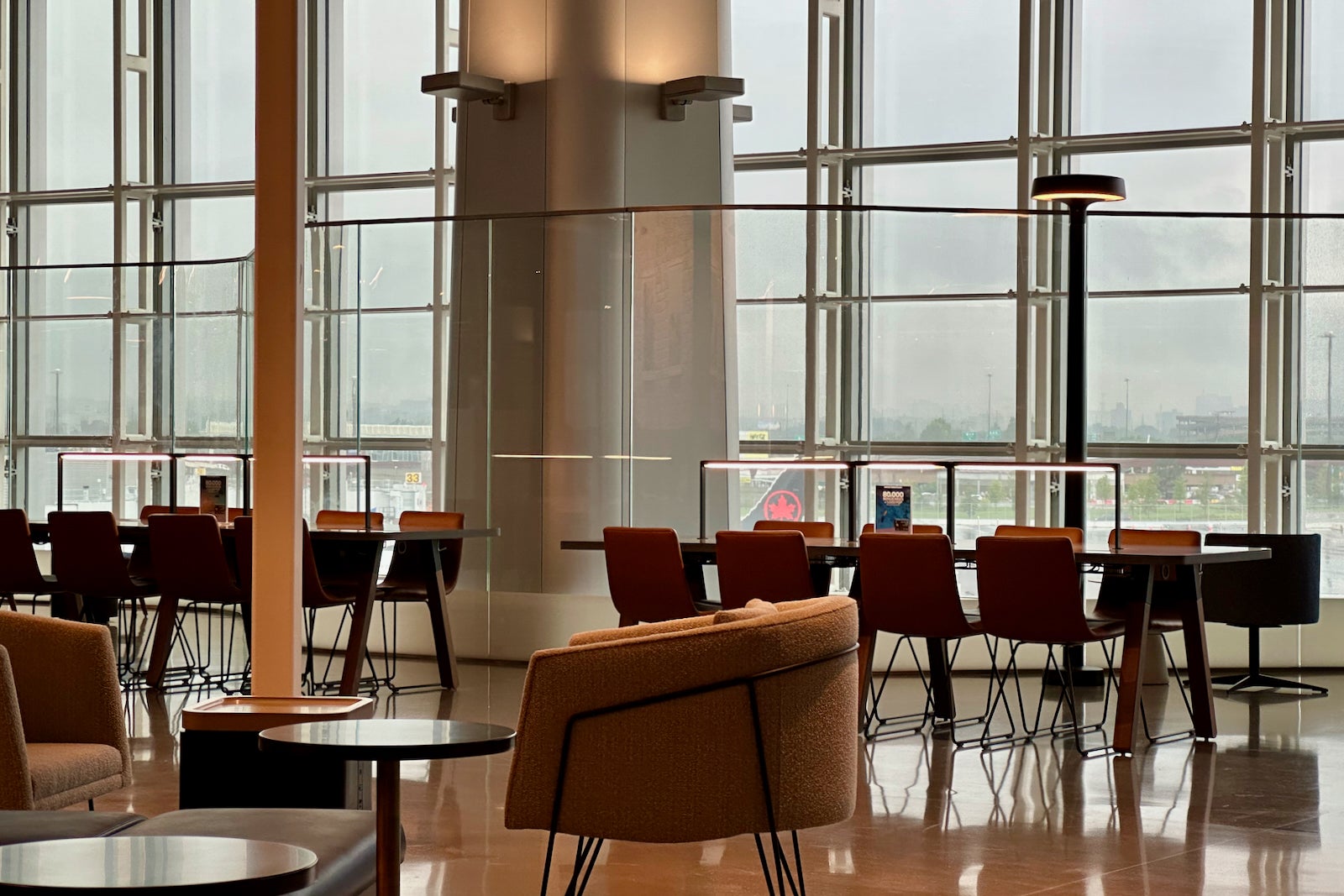 Wherever you sit, you'll have easy access to a power outlet, a USB-A port and a USB-C port. I'm thrilled to see United installing this next-generation charging standard in its new clubs, especially as more devices transition away from USB-A.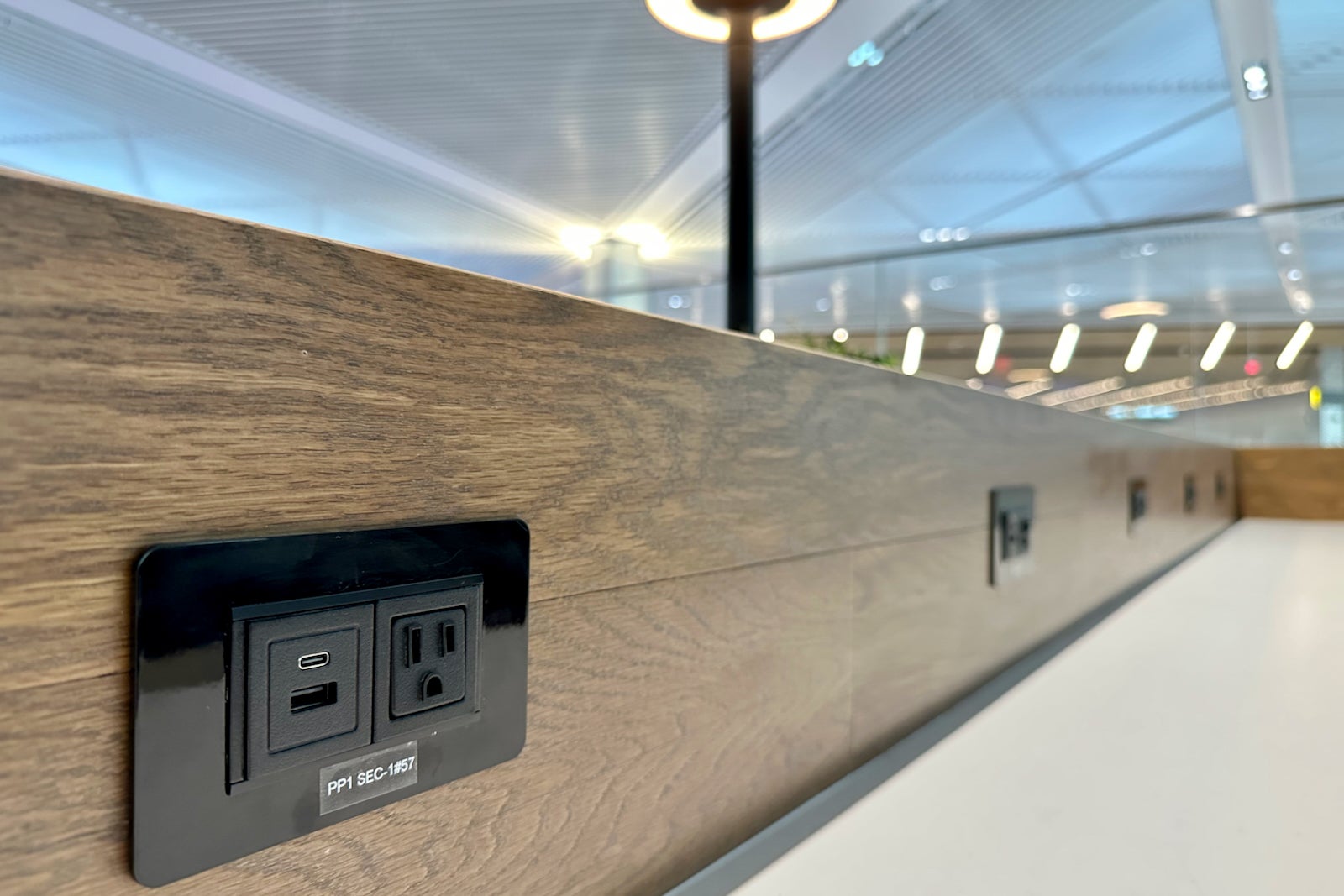 Fast and free Wi-Fi is available throughout the space without any password requirements.
It's a shame that there aren't any showers or private phone booths in the club. Fortunately, though, you'll find plenty of the former in the United Club located near Gate C123, which is much closer to where the international flights depart from anyway.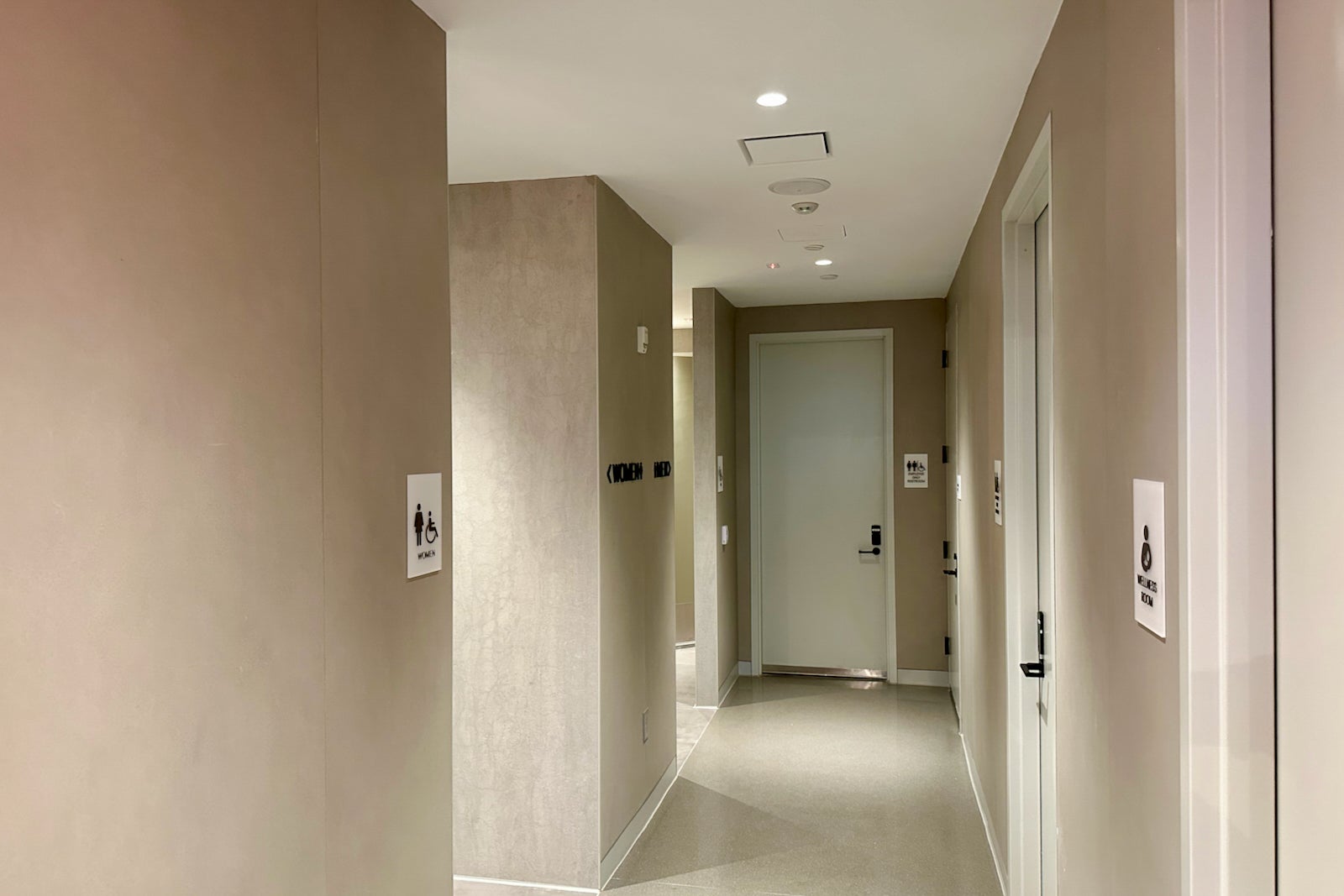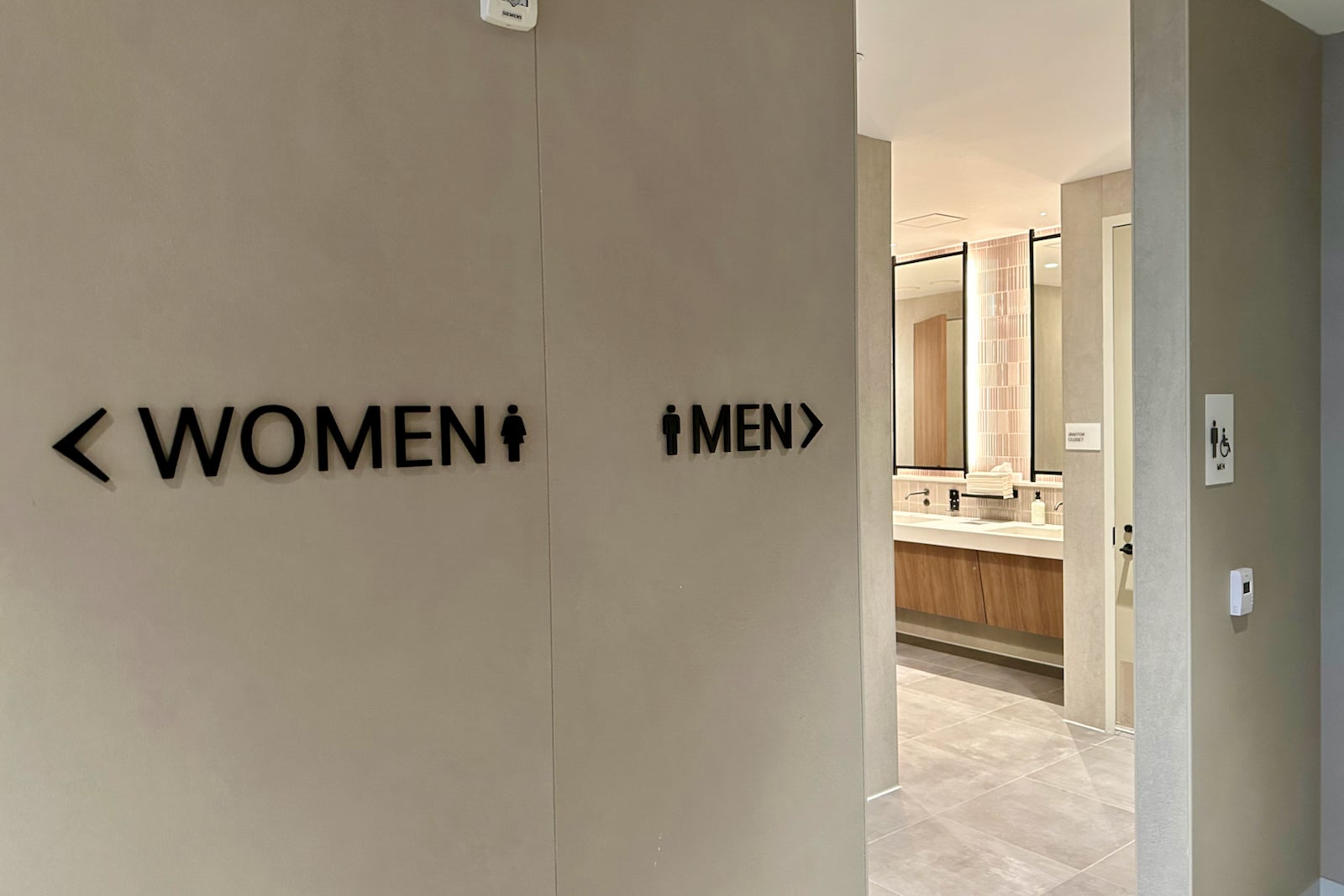 There's a single set of gender-specific restrooms in the lounge, and with just two stalls and urinals in the men's room, I'd imagine that the bathrooms will get busy during peak periods.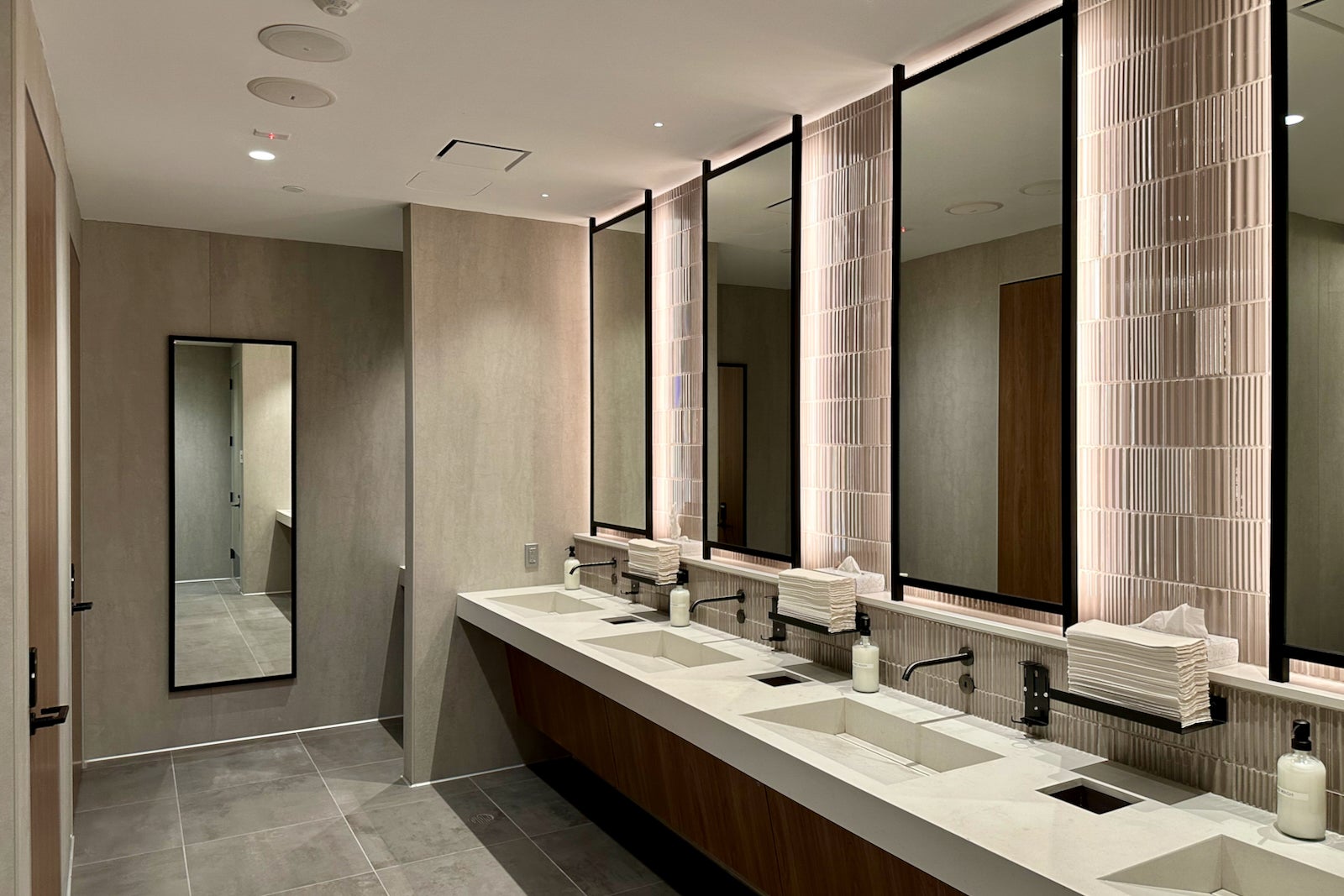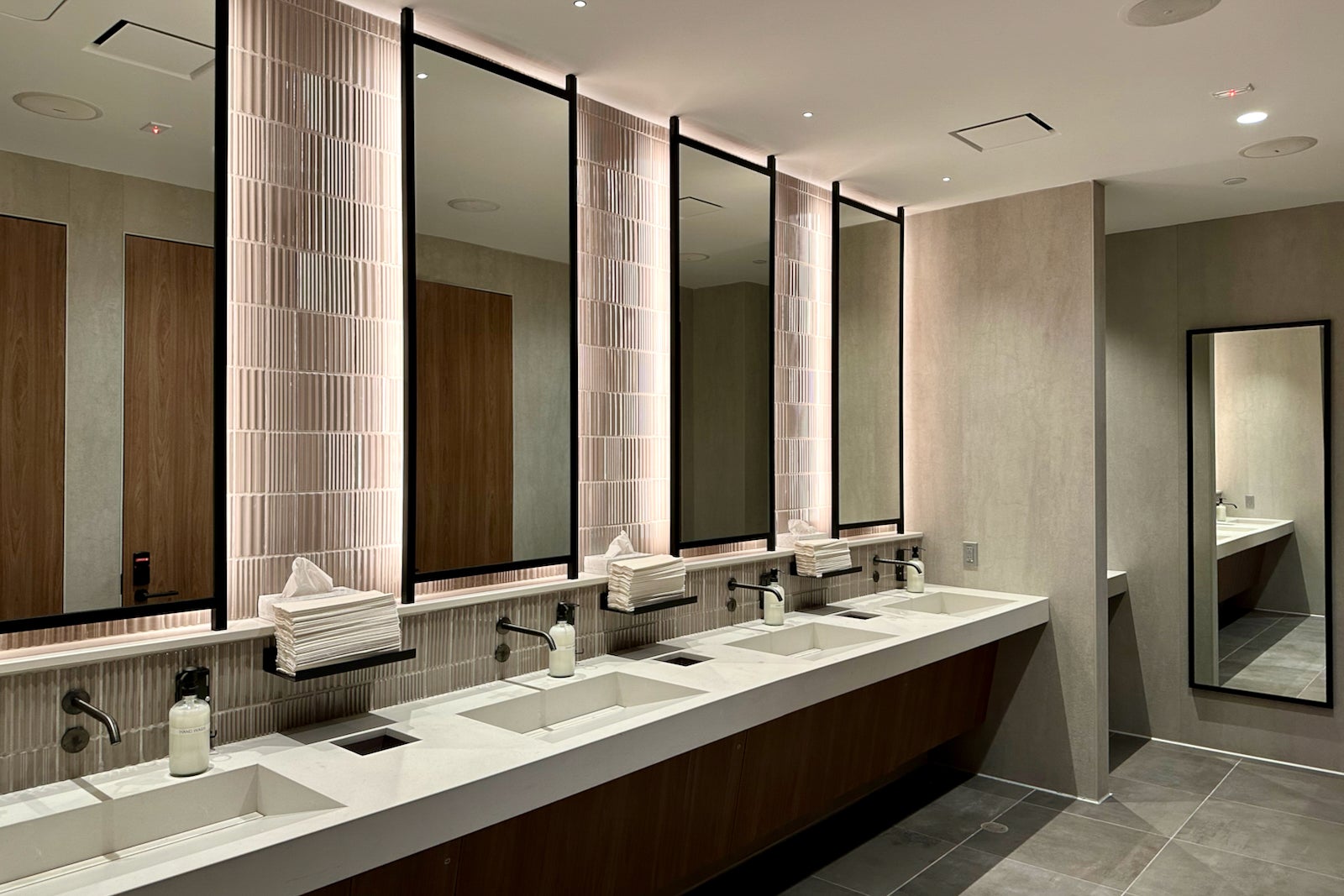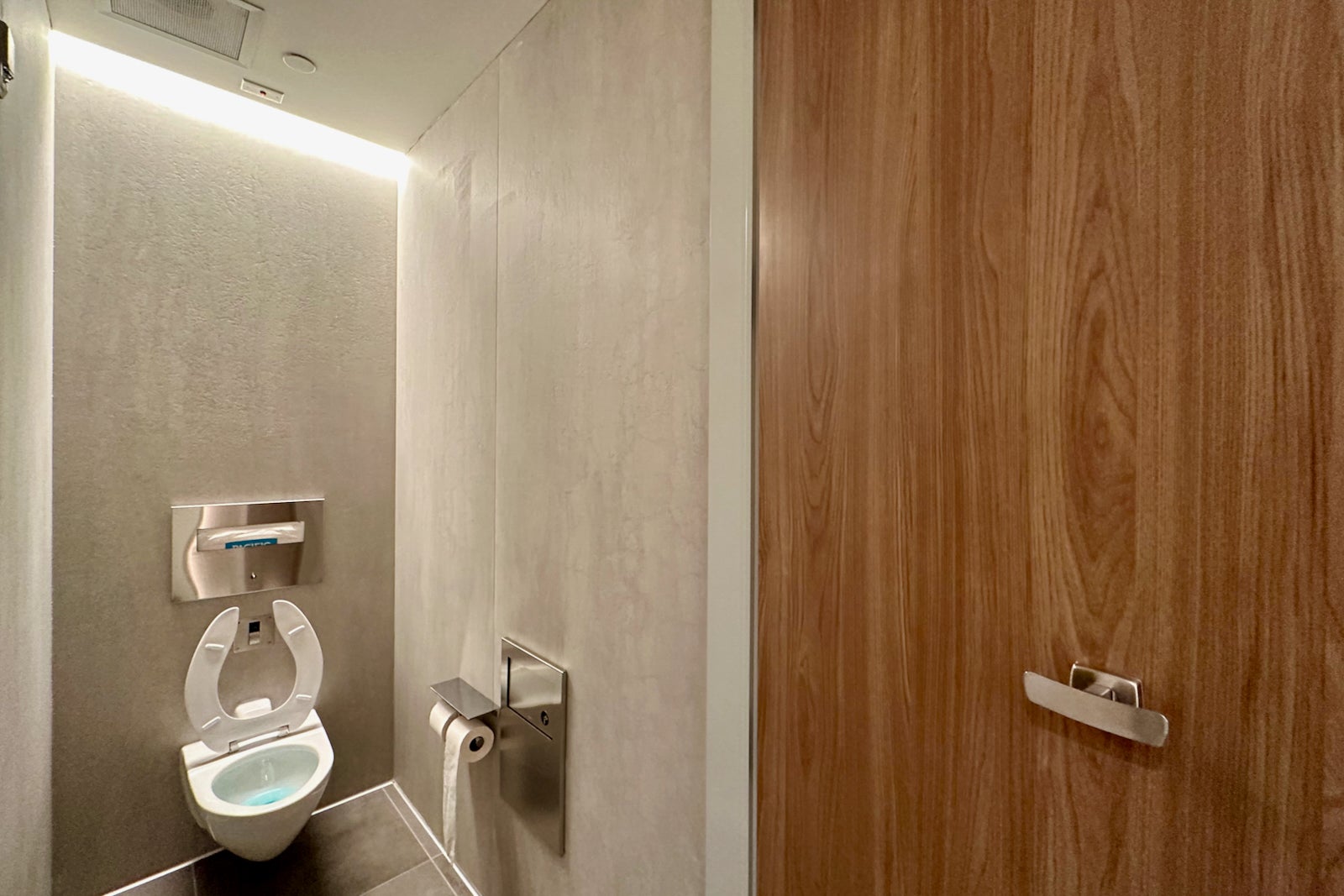 You will find a single all-gender restroom, as well as a wellness room that doubles as a changing area and lactation room, in the same hallway as the main bathrooms.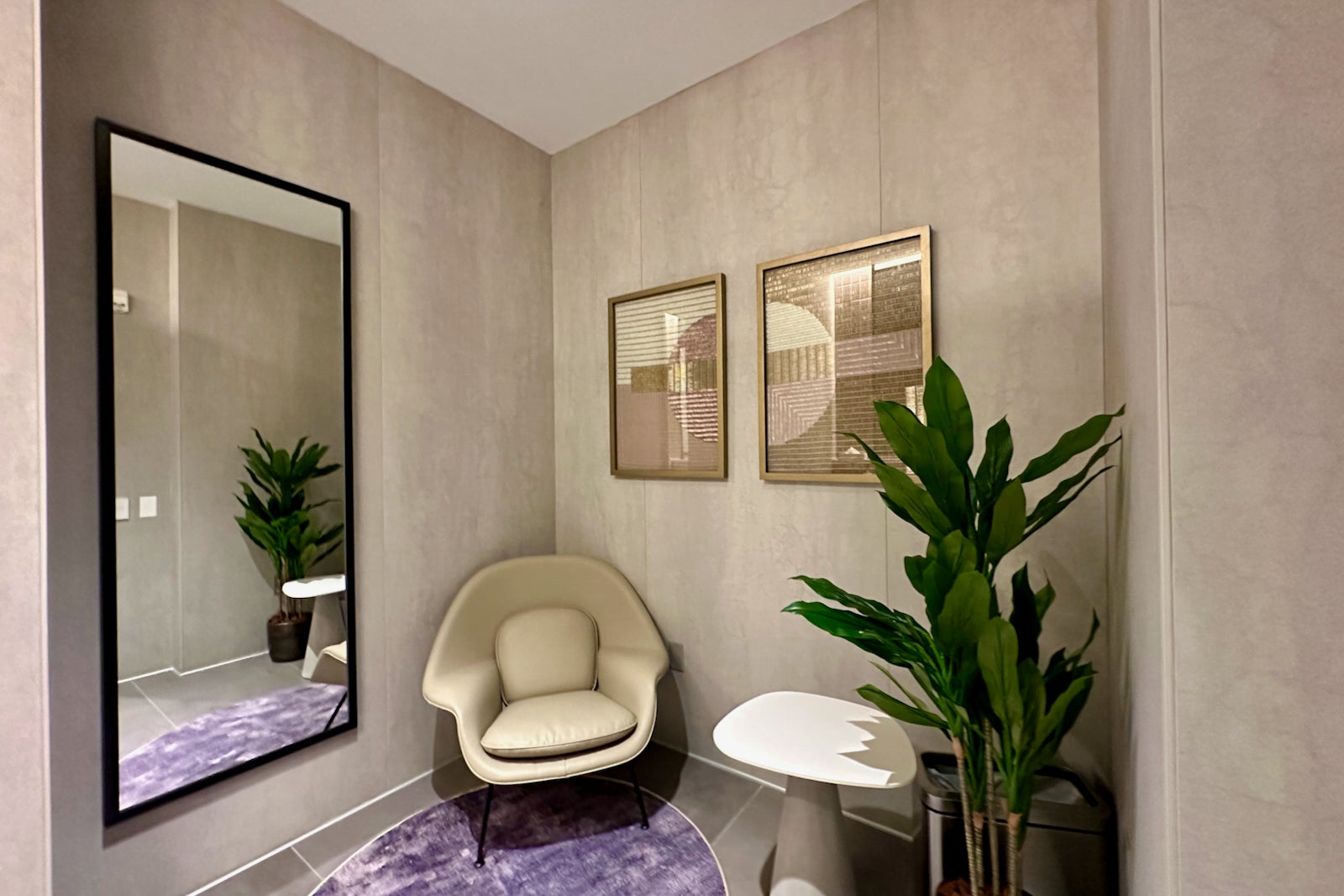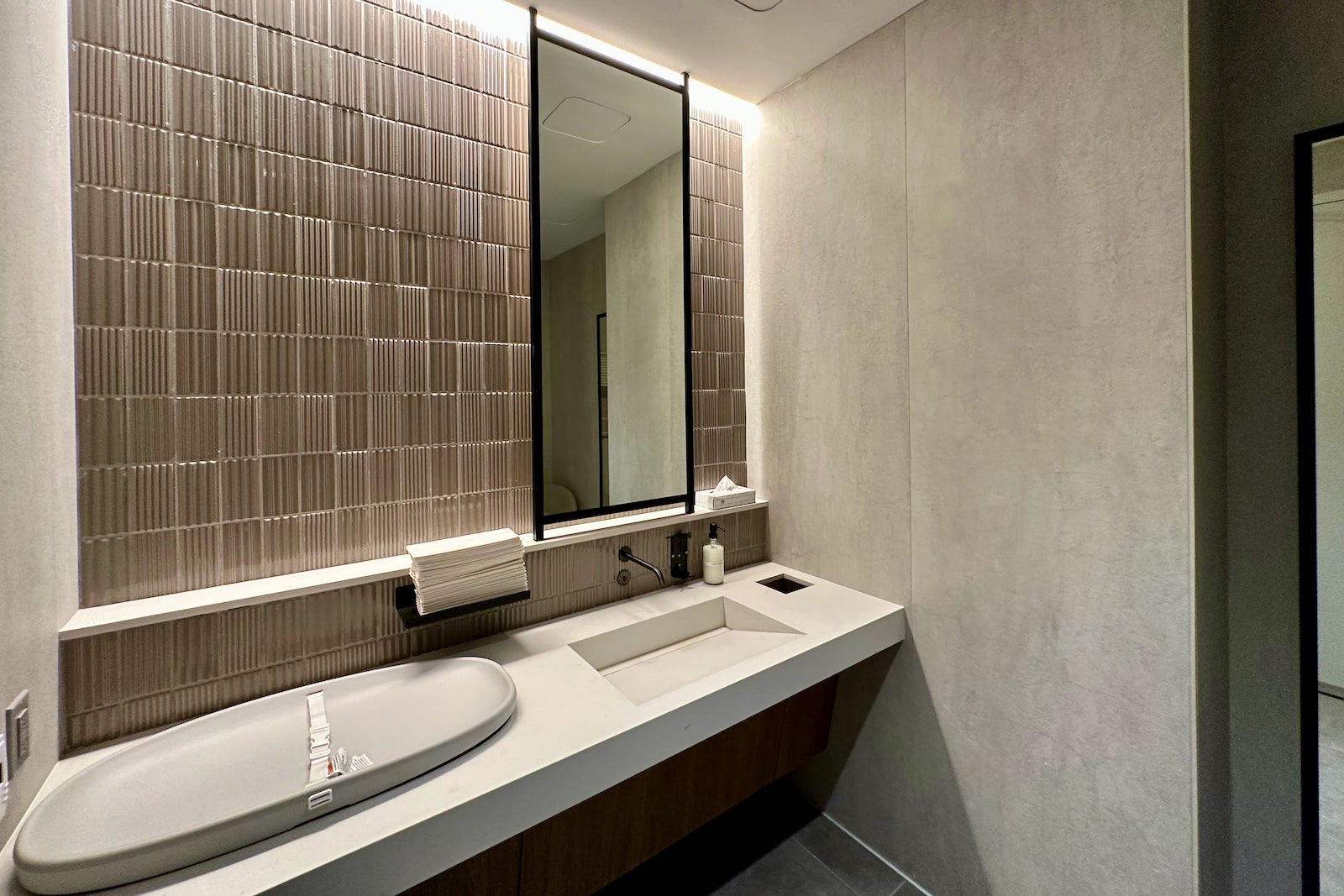 Finally, United's been transitioning away from staffing lounges with customer service agents as it leans into its virtual "agent-on-demand" concept. This club has just two agent-staffed help desks, but you will find some self-serve rebooking kiosks near the entrance.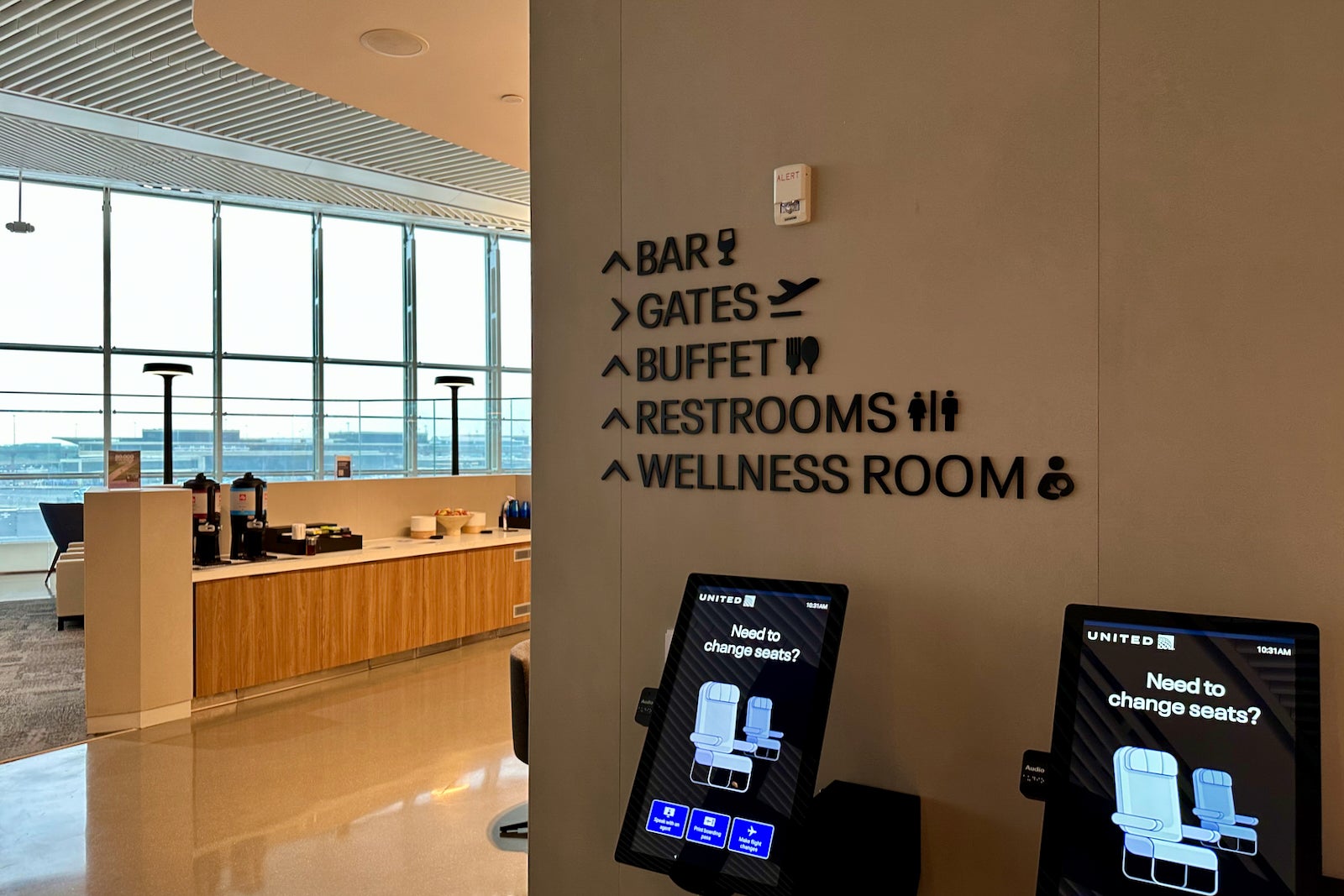 That said, one of these help desks will actually be staffed by an Air Canada representative since this new club doubles as a replacement for the Maple Leaf Lounge that closed in conjunction with the old Terminal A.
United Club Newark bottom line
United's new lounge in Newark's Terminal A is finally open.
It doesn't just add some much-needed lounge capacity to one of the airline's busiest hubs, but it's also a place I'd actually want to relax and recharge at.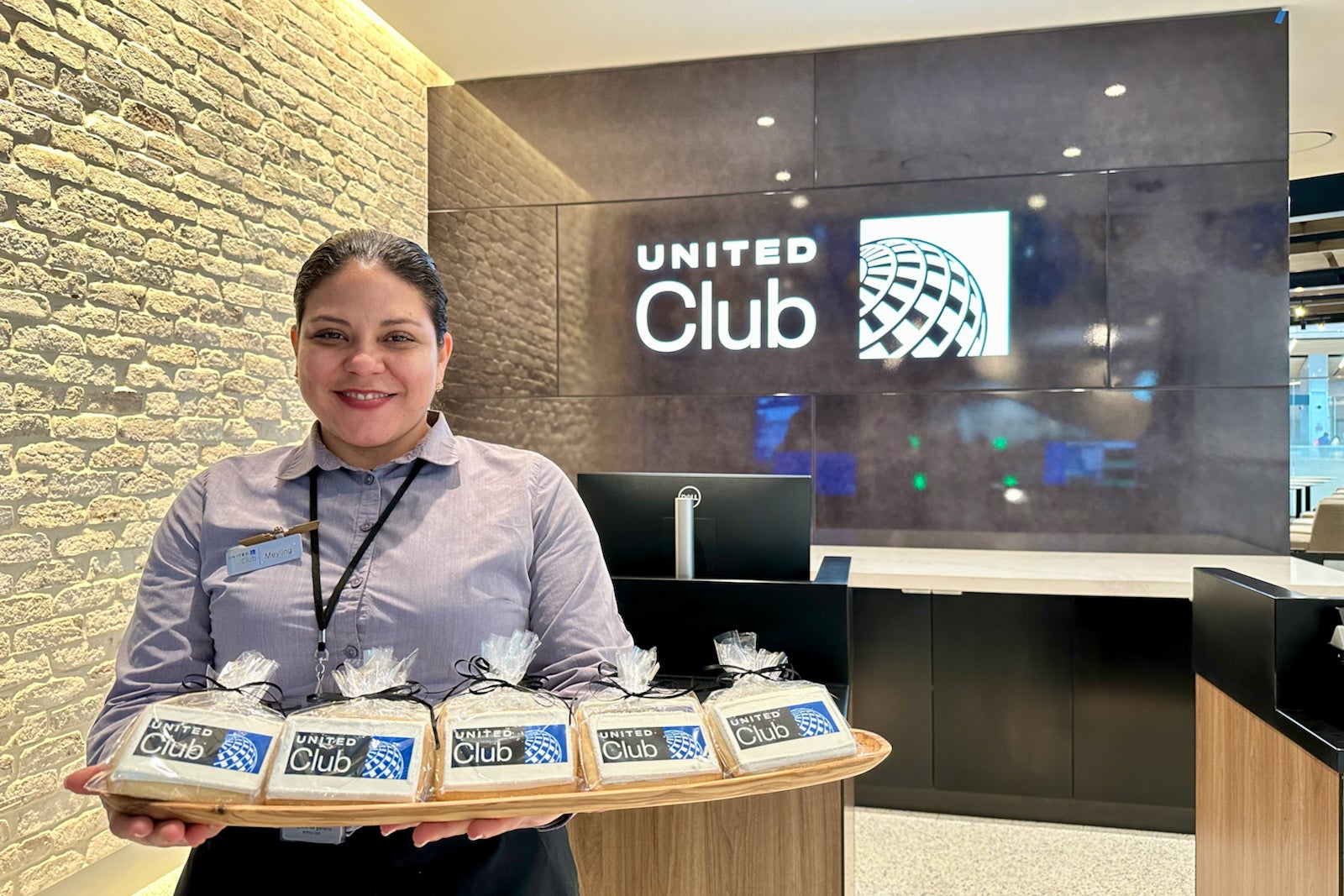 The finishes and layout are perhaps the nicest in the entire United Club network, and it's the latest to feature the airline's new design motifs.
Now that this space is open, United has just one major milestone left in Newark: the complete overhaul of the C73 United Club.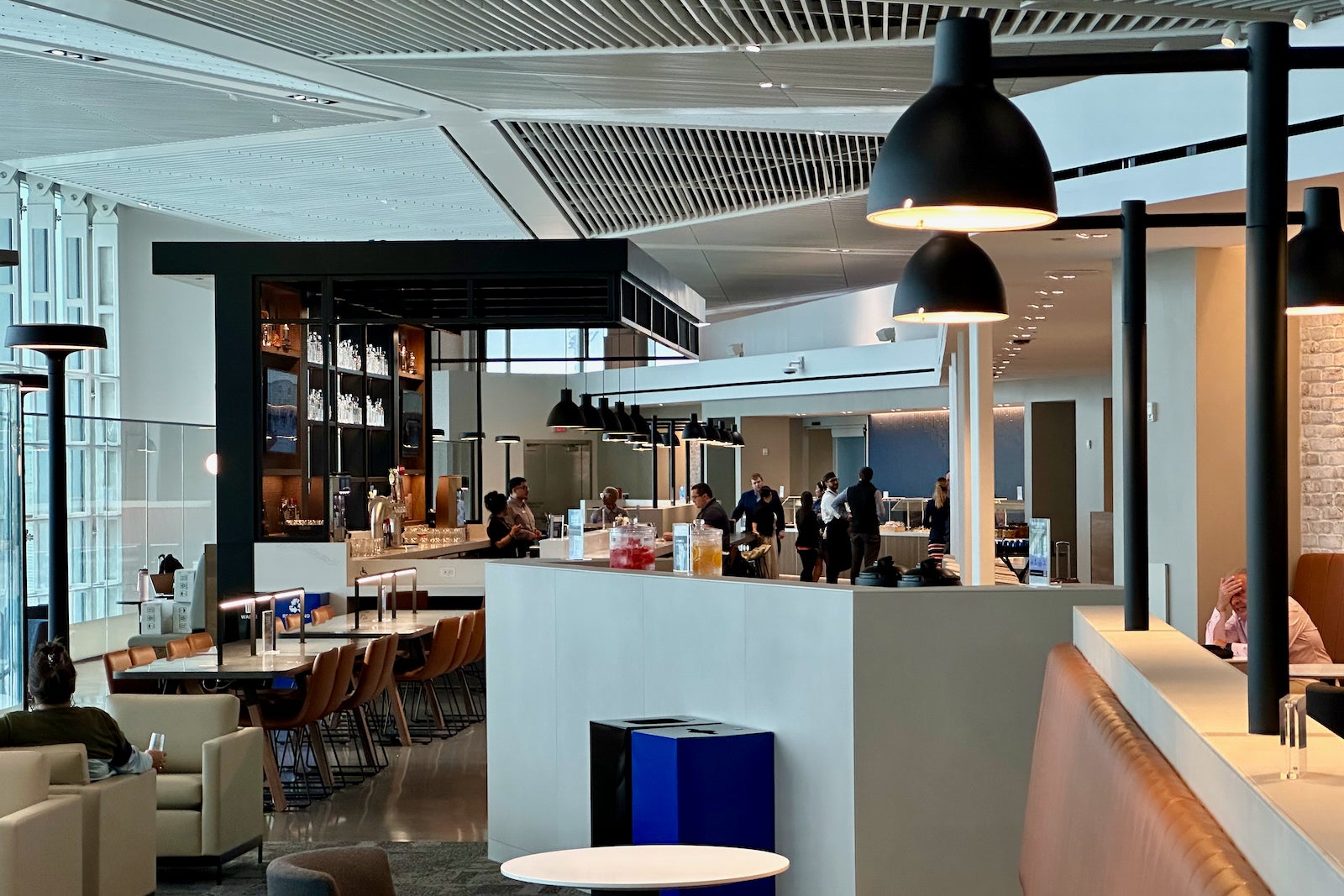 That work is well underway, with an opening slated for this fall, Dorow said. Once it opens, Newark will be the first hub to exclusively feature new and revamped lounges — but it certainly won't be the last.
Related reading: