Disney Cruise Line might be a comparatively small cruise line with just five ships, but what it lacks in size, it more than makes up for in popularity and enthusiastic fans. It also has some unique approaches to cruising that may surprise you — whether you're a first-time cruiser or an experienced cruiser on a different line.
After sailing on six Disney Cruise Line voyages across four of its ships in the last few years, I've picked up a few hacks and money-saving techniques I'm happy to pass on to you. No matter if this is your first time at sea or your 99th, you can benefit from this list of 26 Disney cruise tips, tricks and secrets.
For cruise news, reviews and tips, sign up for TPG's cruise newsletter.
You can find discounts on Disney Cruises
Disney cruises are generally more expensive than other family-friendly competitors such as Royal Caribbean, but there are still ways to save money on a Disney cruise. Here are some different discounts you can find for Disney Cruise Line.
Book early
When booking a Disney cruise, your best move is to book the cruise as soon as it becomes available. You'll have the best selection of cabins and generally the best prices. Sometimes, you can find discounts closer to the sailing if certain room types aren't selling as hoped.
Sail one-way
A few times a year, Disney ships based in seasonal homeports need to head toward their next cruising region. When that happens, the ships sail one-way (aka repositioning) cruises, starting in one port and ending in a different one. You can often book these one-off sailings for less money than the normal round-trip cruises that start and end in the same spot.
For example, Disney Dream will sail a three-night cruise to move it from San Juan to Ft. Lauderdale in November. You can book a cabin with a balcony for $1,580 for two people, which is a solid price on Disney Dream. The $3,326 price tag for a concierge-level cabin is very good; those cabins usually start at close to $800 to $1,000 higher on many other three-night sailings.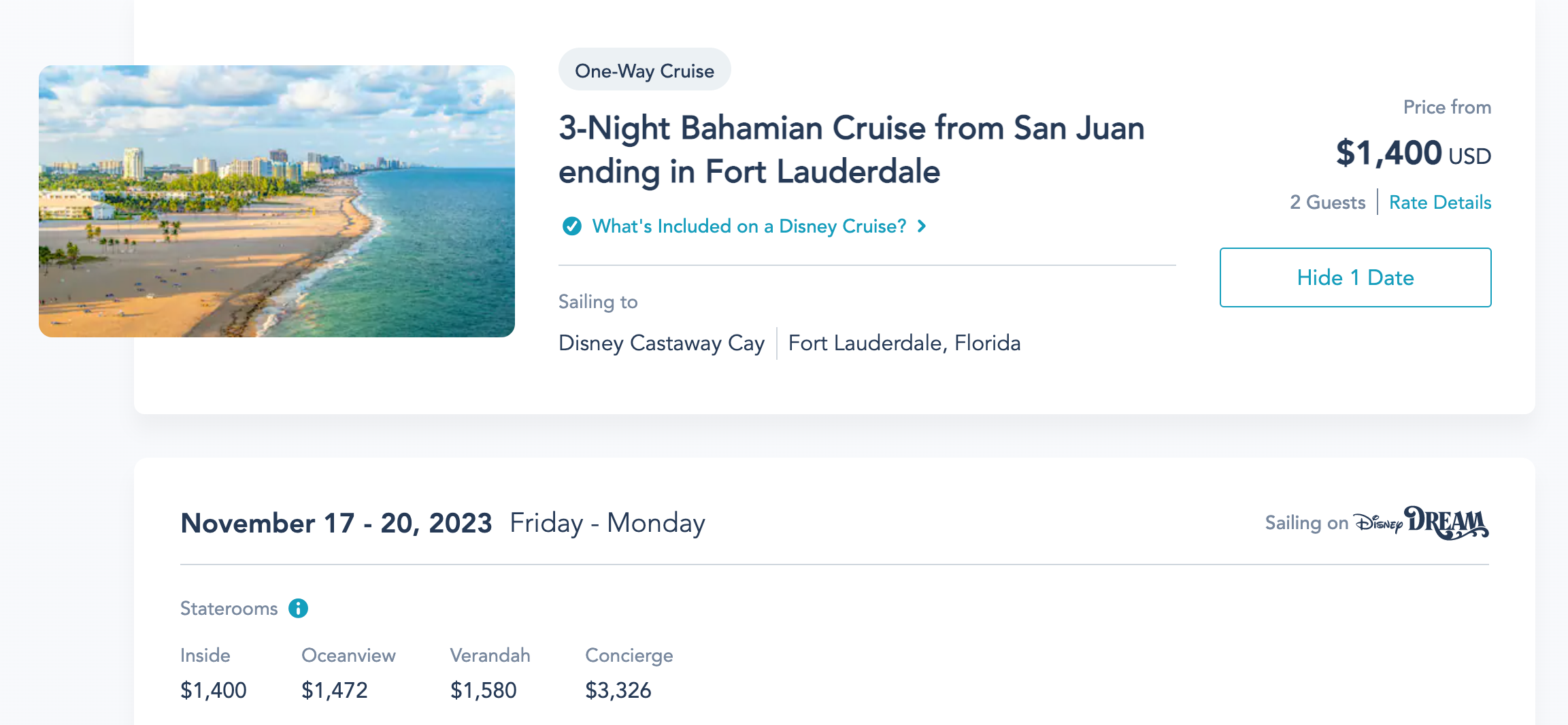 Remember to factor in the cost of two one-way flights when you're calculating the savings bonus of taking a one-way cruise.
Related: Ultimate guide to Disney Cruise Line 
Let Disney pick your cabin
If you're not picky about which cabin you get, an easy way to save a substantial amount of cash on your Disney cruise is to let Disney pick your cabin for you. You select a room type (such as an inside room or one with a balcony) and then let Disney assign you to a specific cabin location closer to sailing. For your flexibility, this type of guaranteed fare comes at a discount.
In the example below, you'll see the cheapest inside cabin where you pick a specific room on the ship is $2,072, while the price starts at $1,488 if you let Disney choose which inside room you get. This type of fare comes with additional restrictions, so read the fine print carefully. I've done this multiple times and have always been happy with the room location I've received.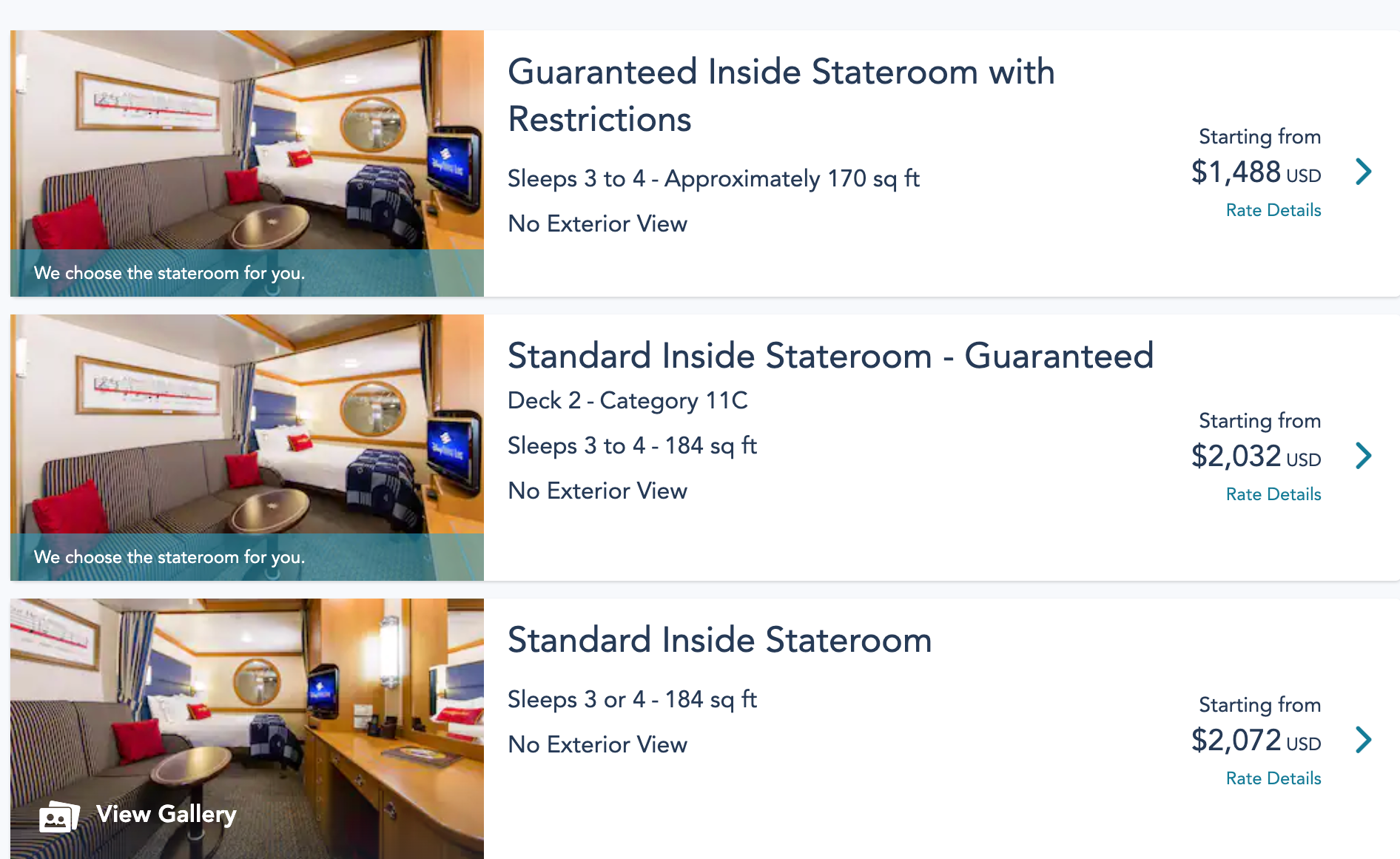 Upgrade your room at the port for less
Depending on the ship's occupancy, it can be cheaper to upgrade your cabin at the port right before you board than in advance. There's no guarantee a better room will be available, but it can't hurt to ask when you are checking in inside the port just before boarding if nicer rooms are available.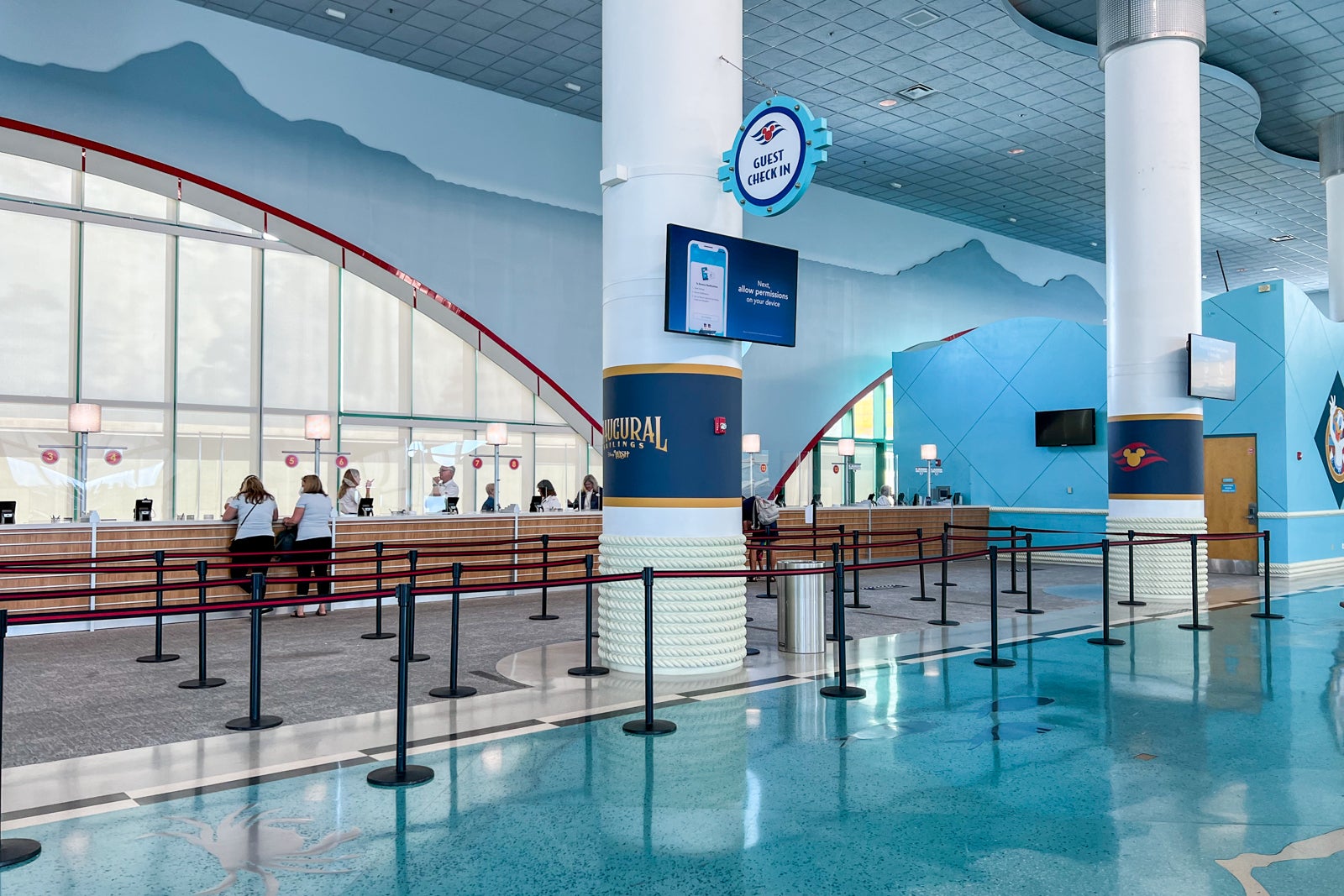 If higher room categories have gone unsold, the check-in staff can tell you the price to upgrade to a nicer room; they can reference a spreadsheet that outlines the upgrade rates based on your current cabin and fare. In my experience, you can save up to half the cost compared to upgrading your room in advance.
Pay with points or discounted Disney gift cards
You can pay with discounted Disney gift cards to save a little money. There are many ways to do this, but stacking credit card bonus categories with discounted gift cards that can be available at places like Sam's Club or even Target can knock around 5% off the total price without too much effort.
You can also use some types of credit card points and miles to pay for a Disney cruise. For example, you can use Capital One miles from cards such as the Capital One Venture Rewards Credit Card and Capital One Venture X Rewards Credit Card, to cover all or part of any charge that's considered a travel expense.
The Disney Visa also offers some onboard savings perks and you can enjoy 0% APR for six months on your Disney cruise.
The information for the Disney Visa has been collected independently by The Points Guy. The card details on this page have not been reviewed or provided by the card issuer.
Related: How to book a cruise with points and miles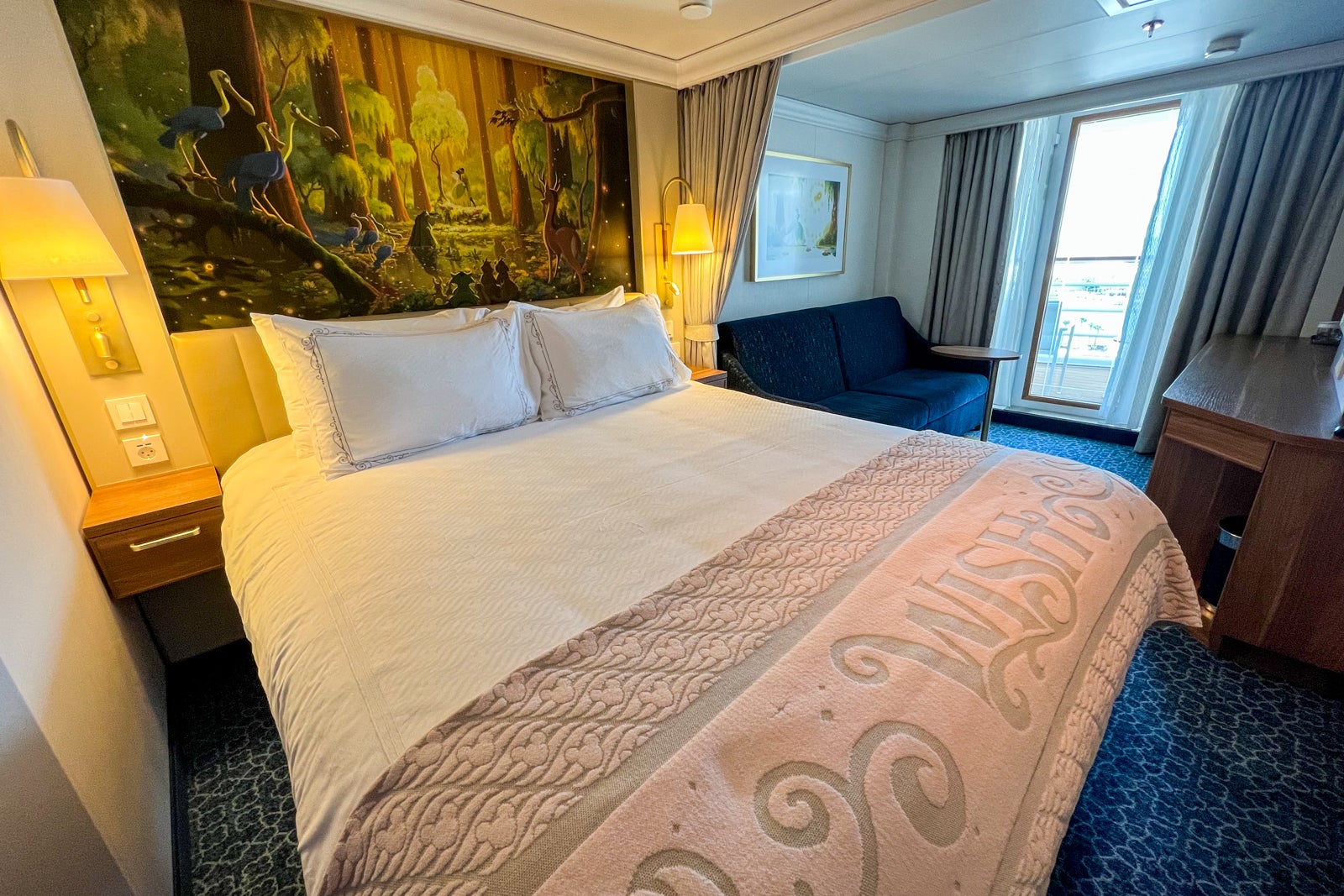 ---
FOR NO-COST ASSISTANCE WITH PLANNING AND BOOKING YOUR NEXT DISNEY VACATION, CHECK OUT TPG'S DISNEY BOOKING PARTNER, MOUSE COUNSELORS.
2 rooms are cheaper than a suite
If your family is considering getting a suite to spread out and have more space, but are finding the prices for Disney Cruise Line suites to be prohibitively high, consider connecting staterooms instead. A family of four can expect to spend about 50% more on connecting cabins instead of all staying in one room, which is likely a lot less than buying up to a suite which can be several times the cost of a regular room.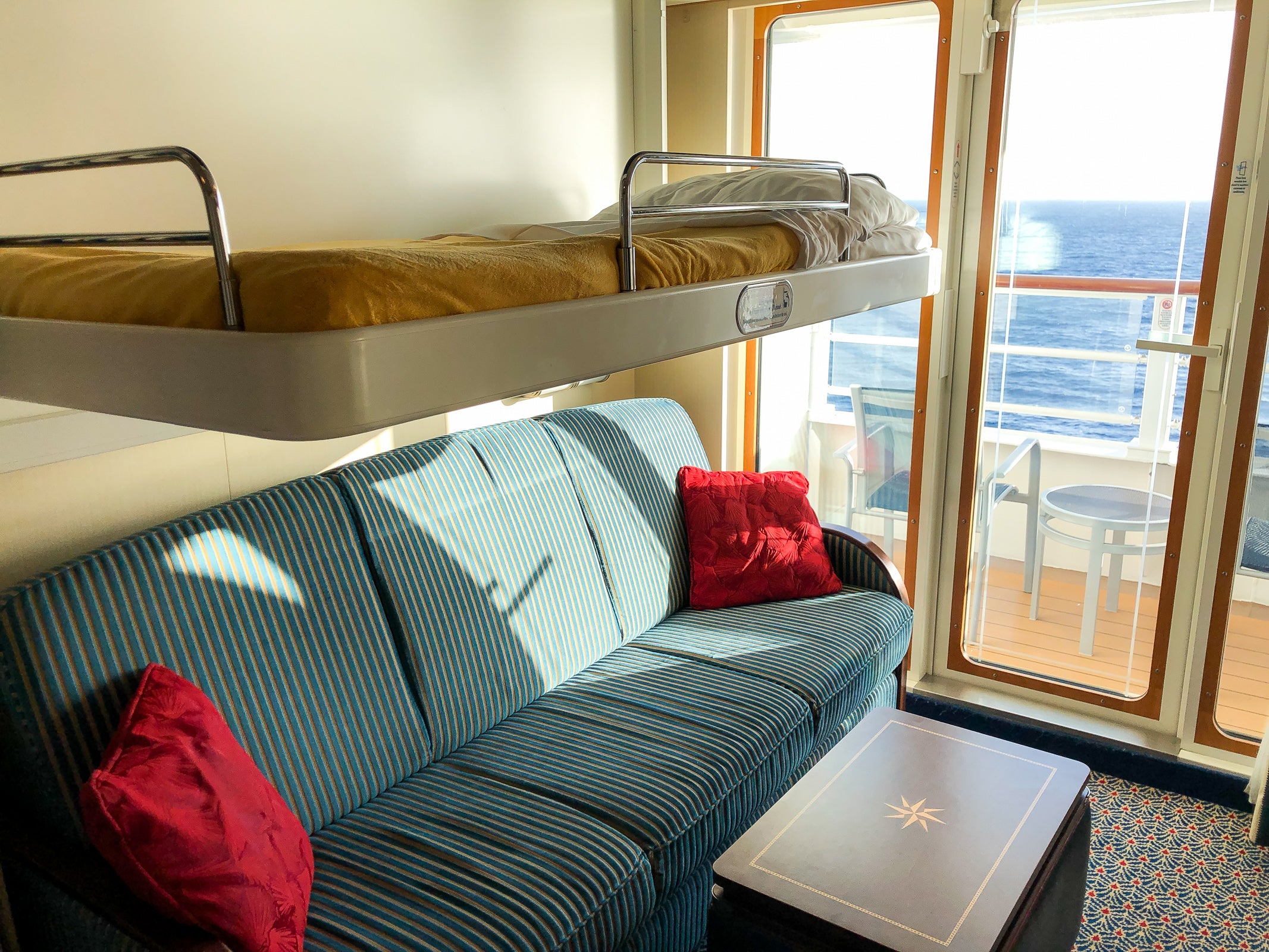 Get free Mickey ice cream bars (and more) from room service
Unless you're staying in a concierge-level stateroom (more on that soon), room service on a Disney cruise is relatively basic. However, it's available at no extra charge, so use it as much or as little as you like.
I'm a fan of ordering room service for a quick breakfast (or that first hit of coffee) or for a fun anytime treat of Mickey ice cream bars. I often order Uncrustables from room service the night before port days to toss in my bag for the family to eat while ashore. My girls learned how to politely call to order these by the second or third day of the cruise.
It's a common courtesy to add a few dollars for a tip to the slip that you'll sign when the order is delivered.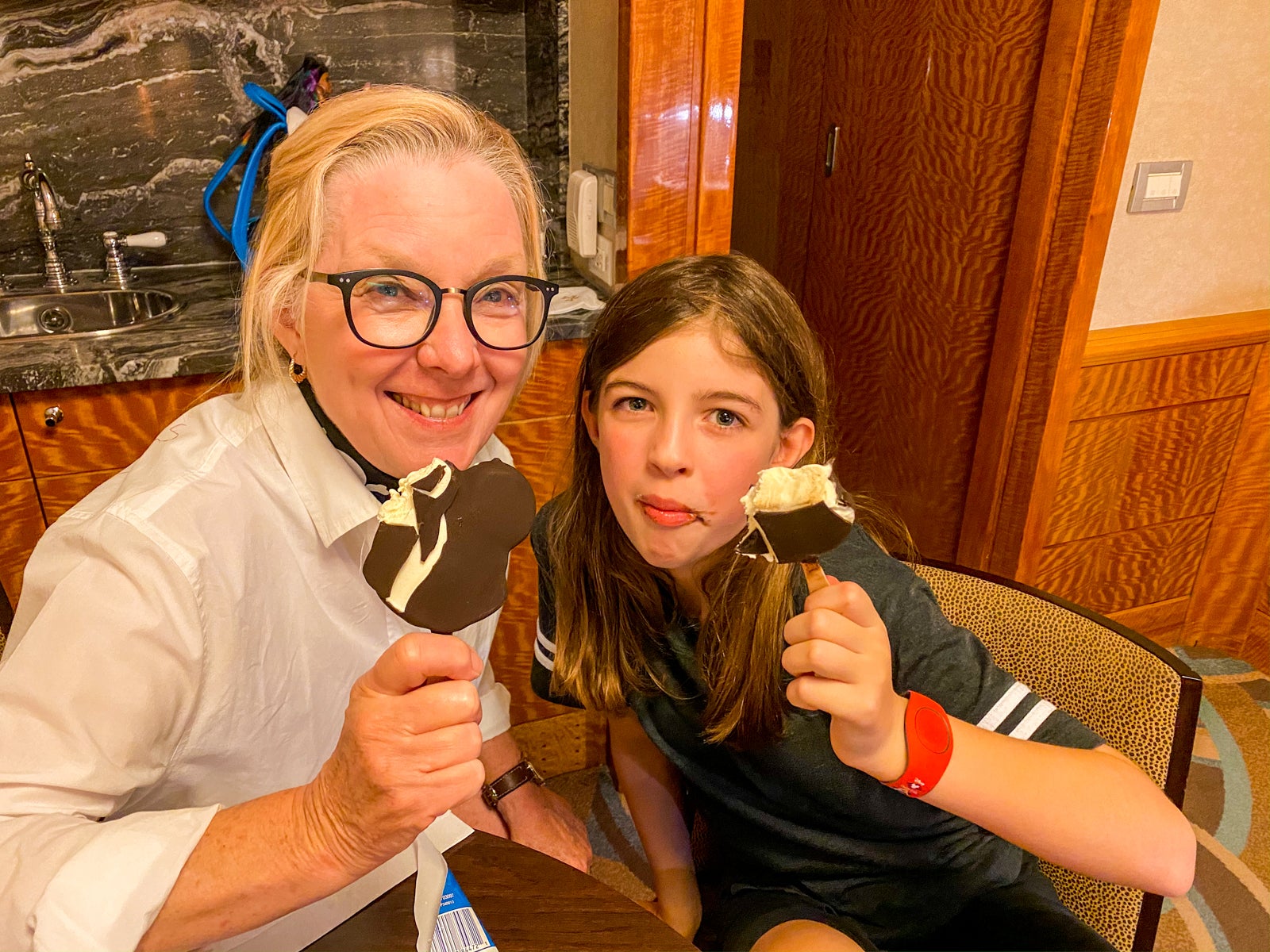 Order as much dinner as you want
On Disney Cruise Line, you'll be assigned a dinner rotation through the three included restaurants on the ship. Your serving team will rotate with you, which is pretty fun as they get to know you and your preferences.
Since this food is all included, don't be shy. If you can't decide between the shrimp or salmon entree, try both. Order a couple of appetizers or be daring and try a dish you've never tasted before.
When it comes time for dessert, create your own sampler-platter for the table and taste them rather than limiting yourself to one selection.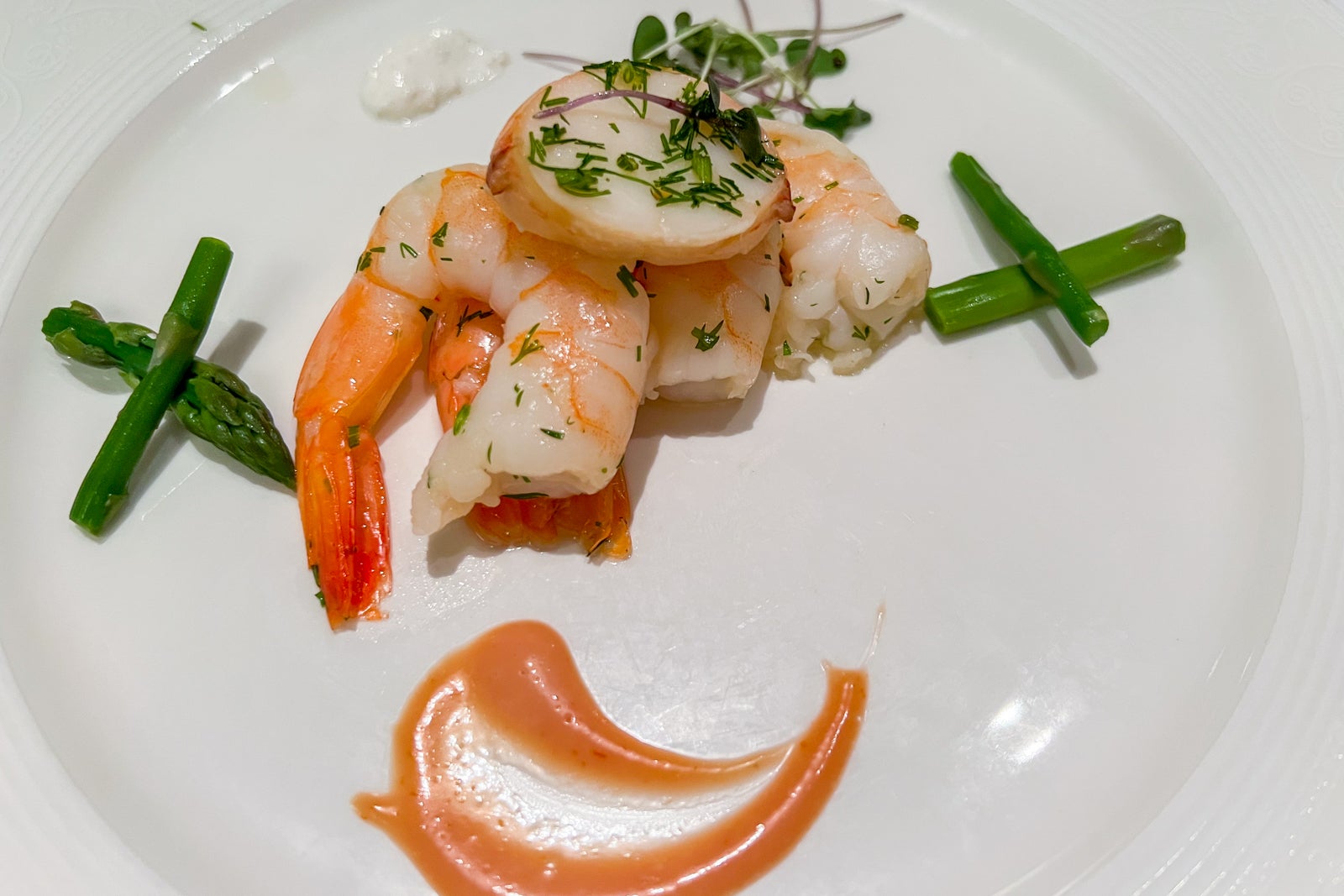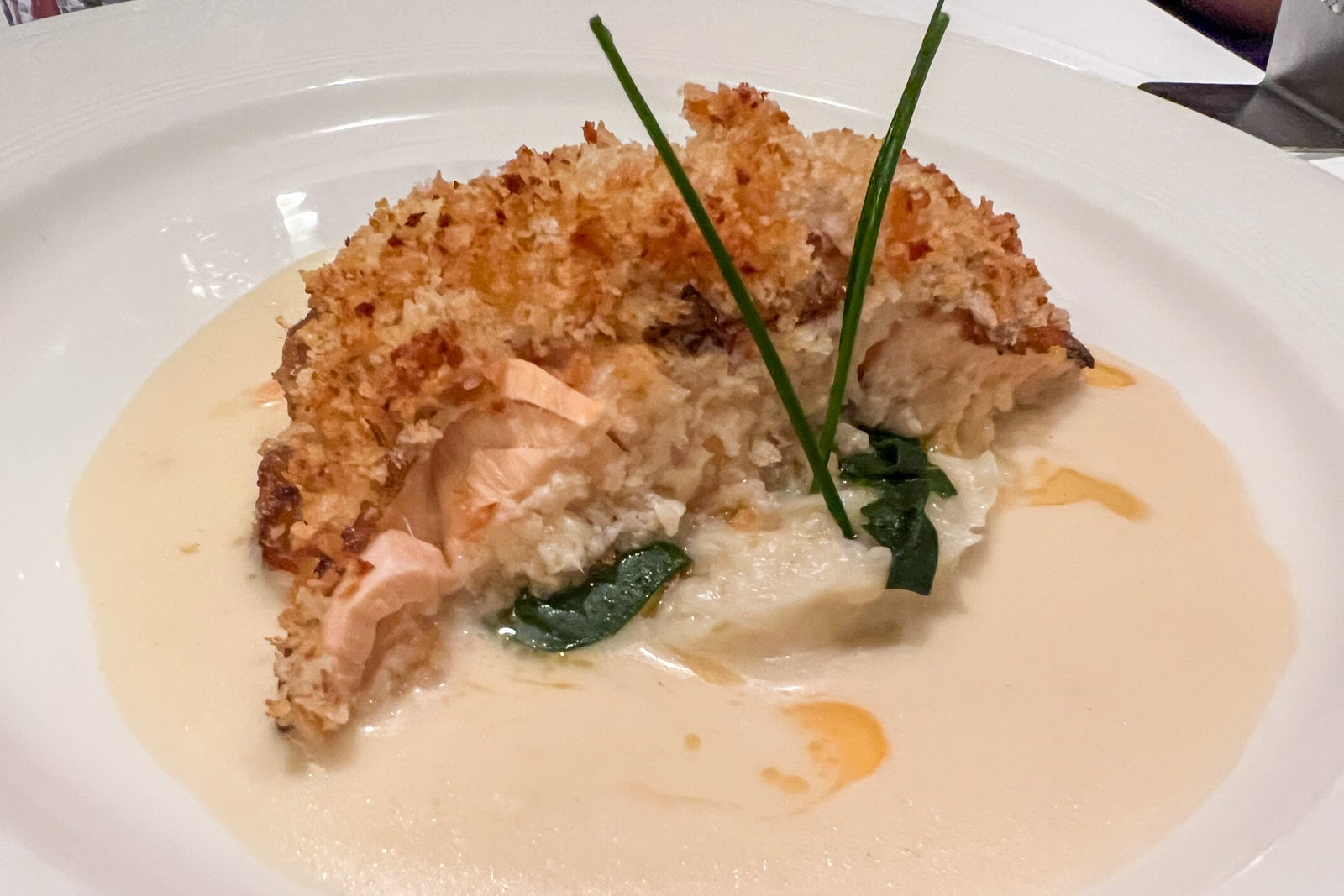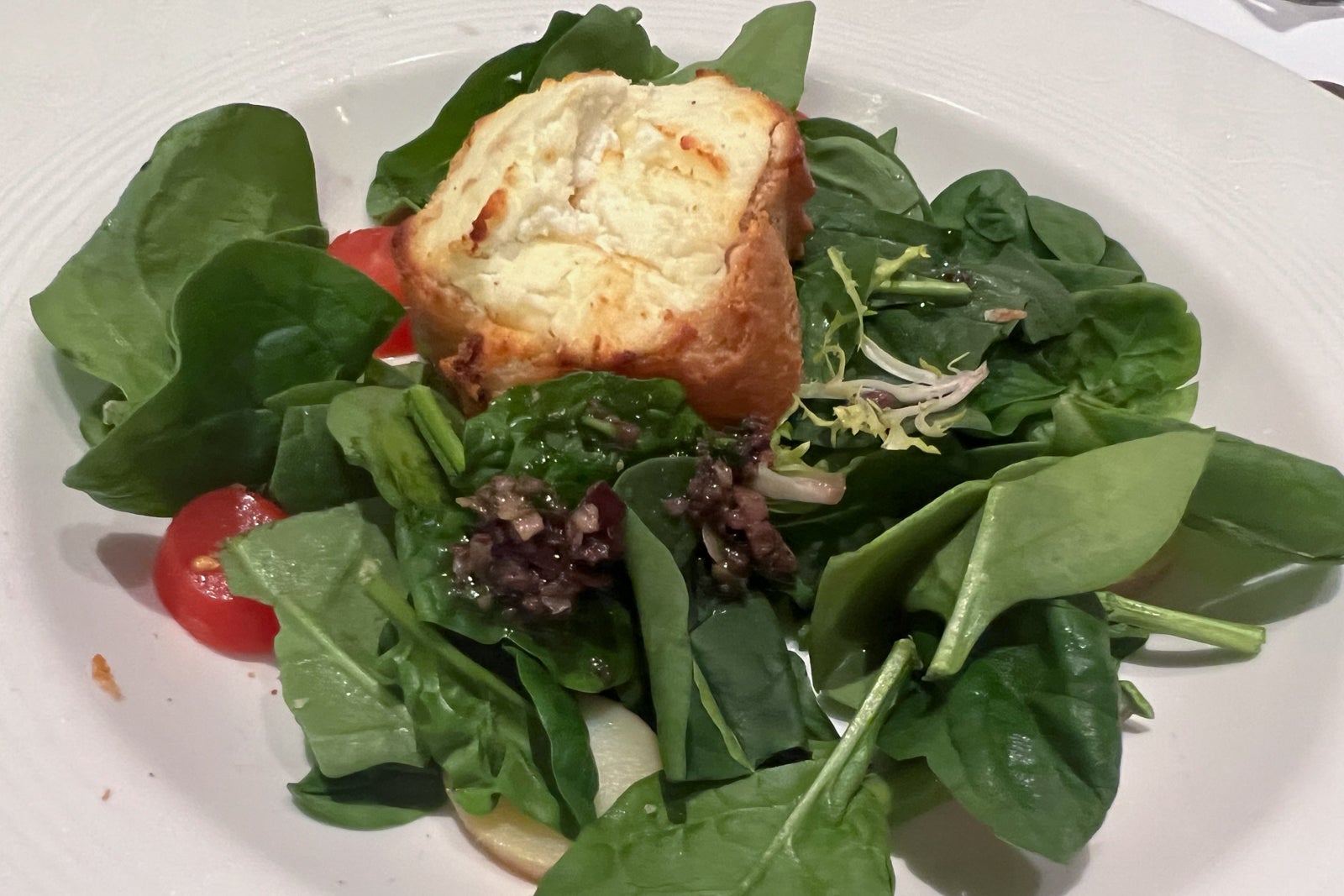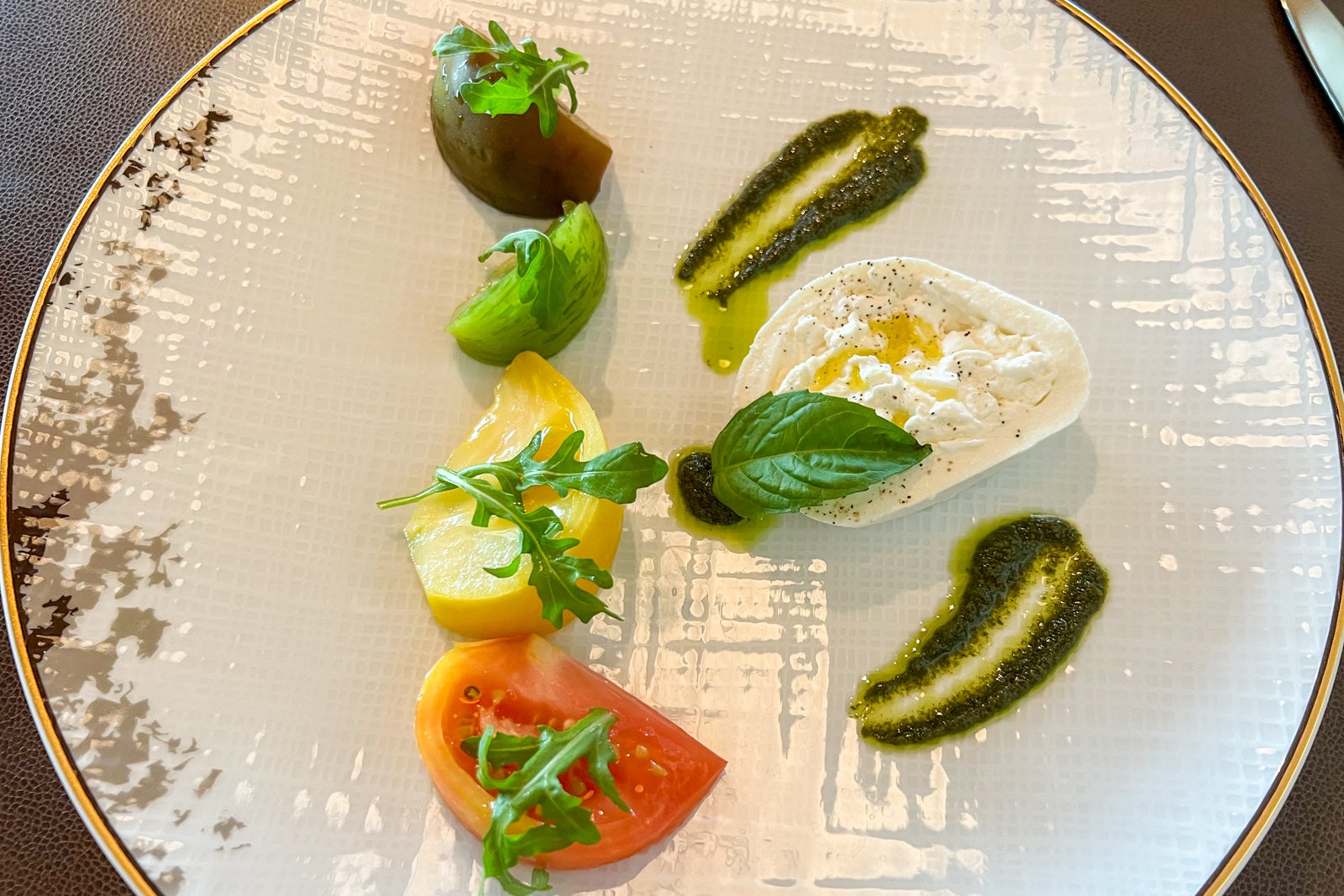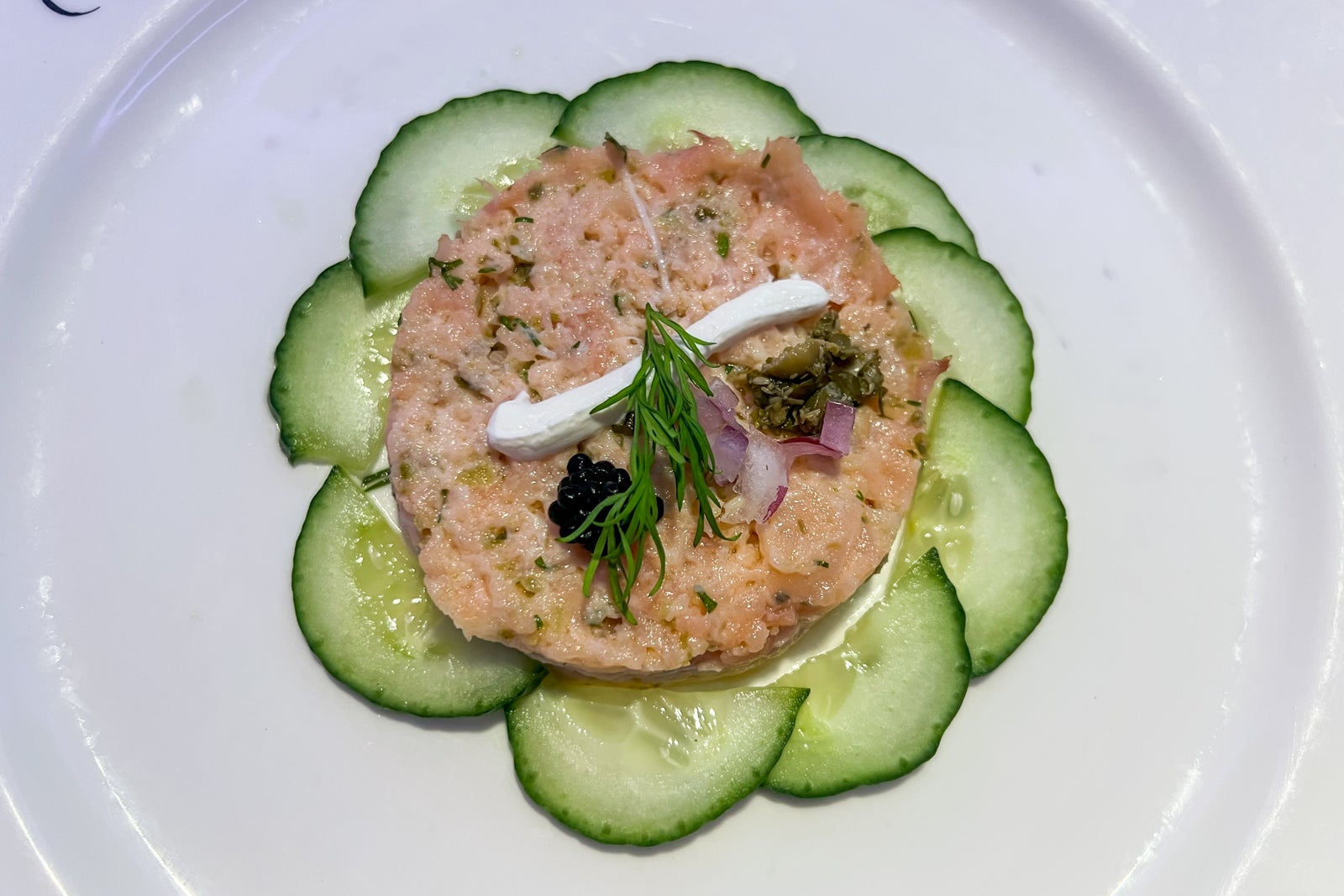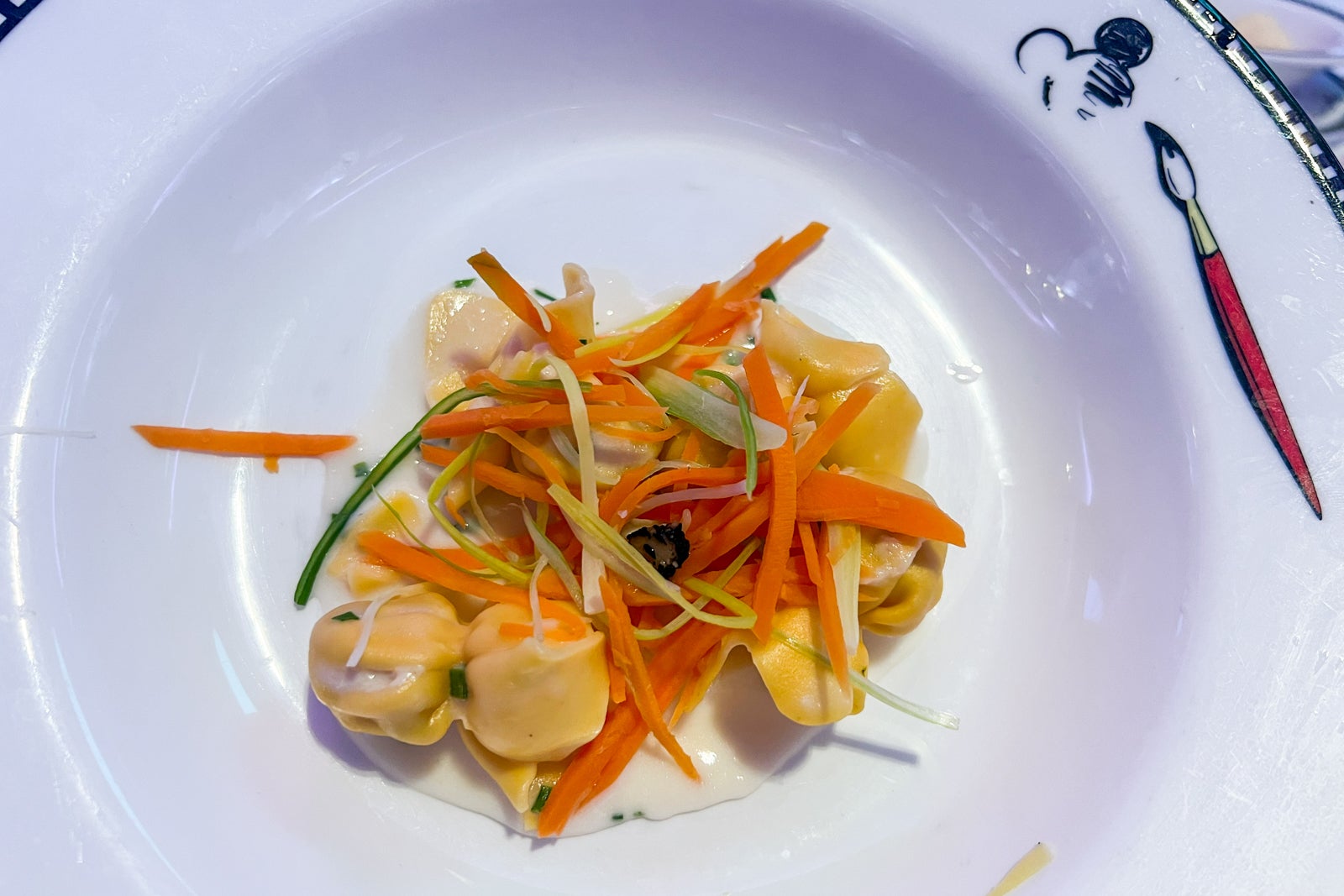 You aren't locked into your assigned dining plans
If, for some reason, your assigned order of restaurants or tablemates (if you have any) aren't working out, don't be shy about asking guest services to make alterations. They will connect you with the appropriate people within the dining team to make necessary adjustments.
New movie releases are shown in the theaters
While a movie theater may sound like a strange place to spend a few hours at sea, I recommend making time to go see a new Disney movie while on your next Disney Cruise. The ships show first-run movies, so instead of heading to your local theater to see the next Marvel, Pixar or other Disney film released close to your cruise date, save some money and enjoy the movie at sea for no extra charge.
In fact, if you are at sea when a new Disney movie premieres on land, you'll get to see it the same night on the ship, too.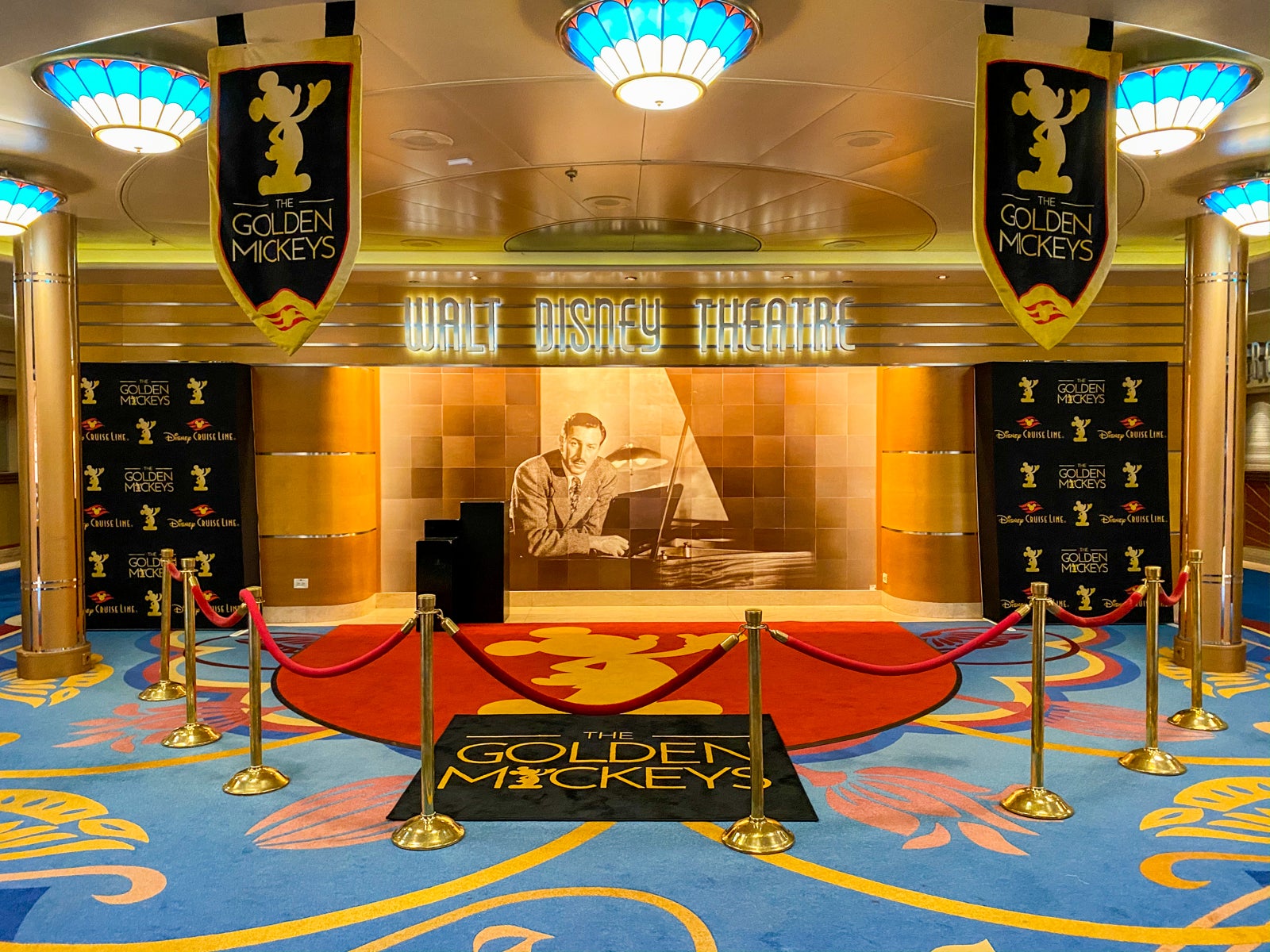 It's cash-free on the ship — except for this
You don't need much cash while on a Disney cruise. Your "Key to the World" room key serves as your form of payment and identification on the ship. I highly recommend bringing a lanyard to keep track of this important card if it's your first Disney voyage. Return cruisers are given a lanyard in their cabin.
However, if you want to add an extra tip to your service team at the end of the cruise beyond the standard amount that's charged to your folio, it's nice to do that with cash. If you are staying in a concierge-level room, you may want to pack some extra cash for the concierge lounge hosts and the evening bartenders, too.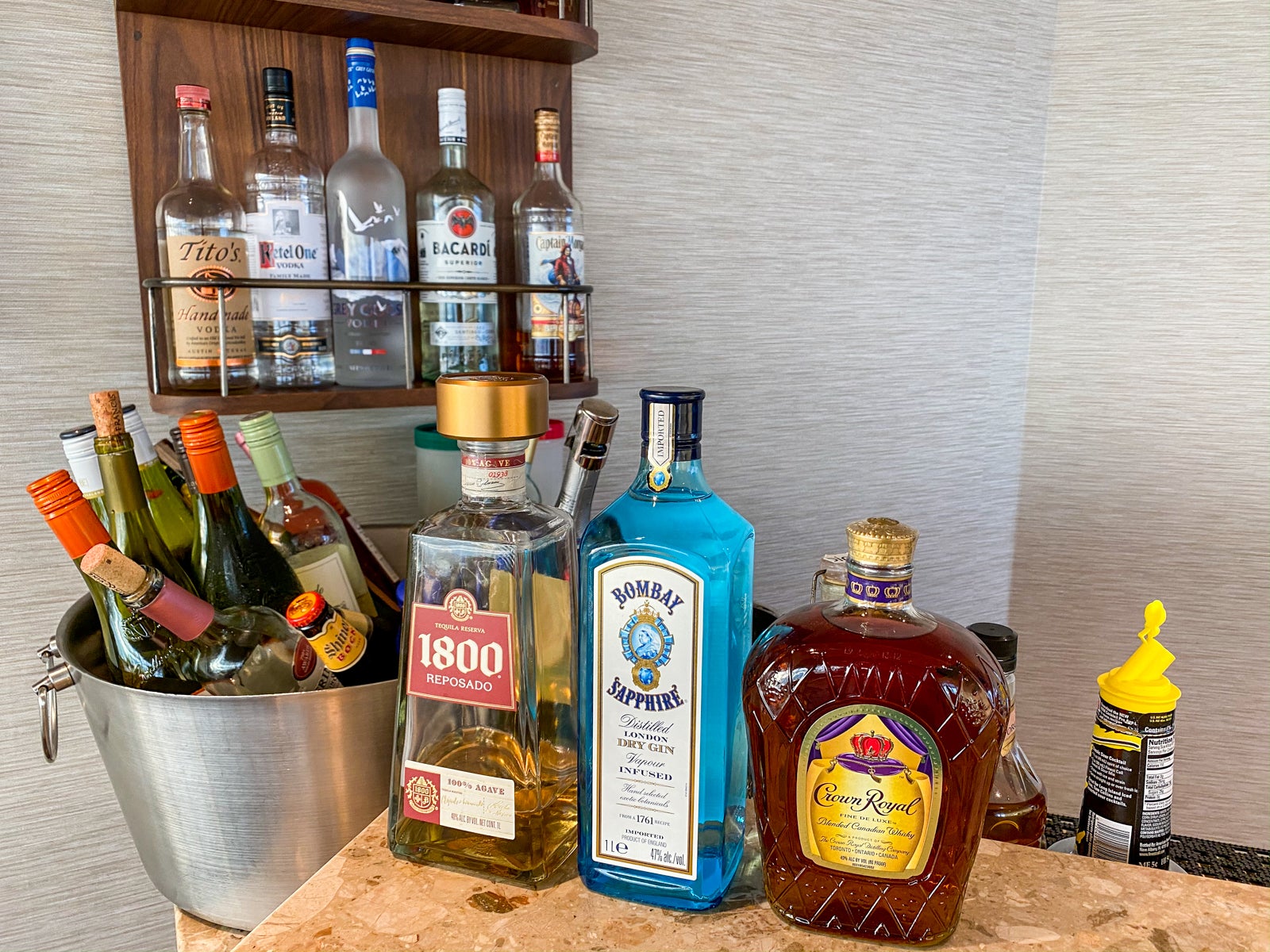 Your kids can (maybe) get into an older club
Disney Cruise Line divides kids into four age groups — the nursery (up to age 3), the primary kids club (3–12), a tween club (11–14) and a teen club (14–17). The clubs, other than the nursery, are complimentary, so the magic age for a Disney cruise begins once your child is at least 3 years old and potty-trained, so they can enjoy time in the kids clubs while you enjoy … whatever you want.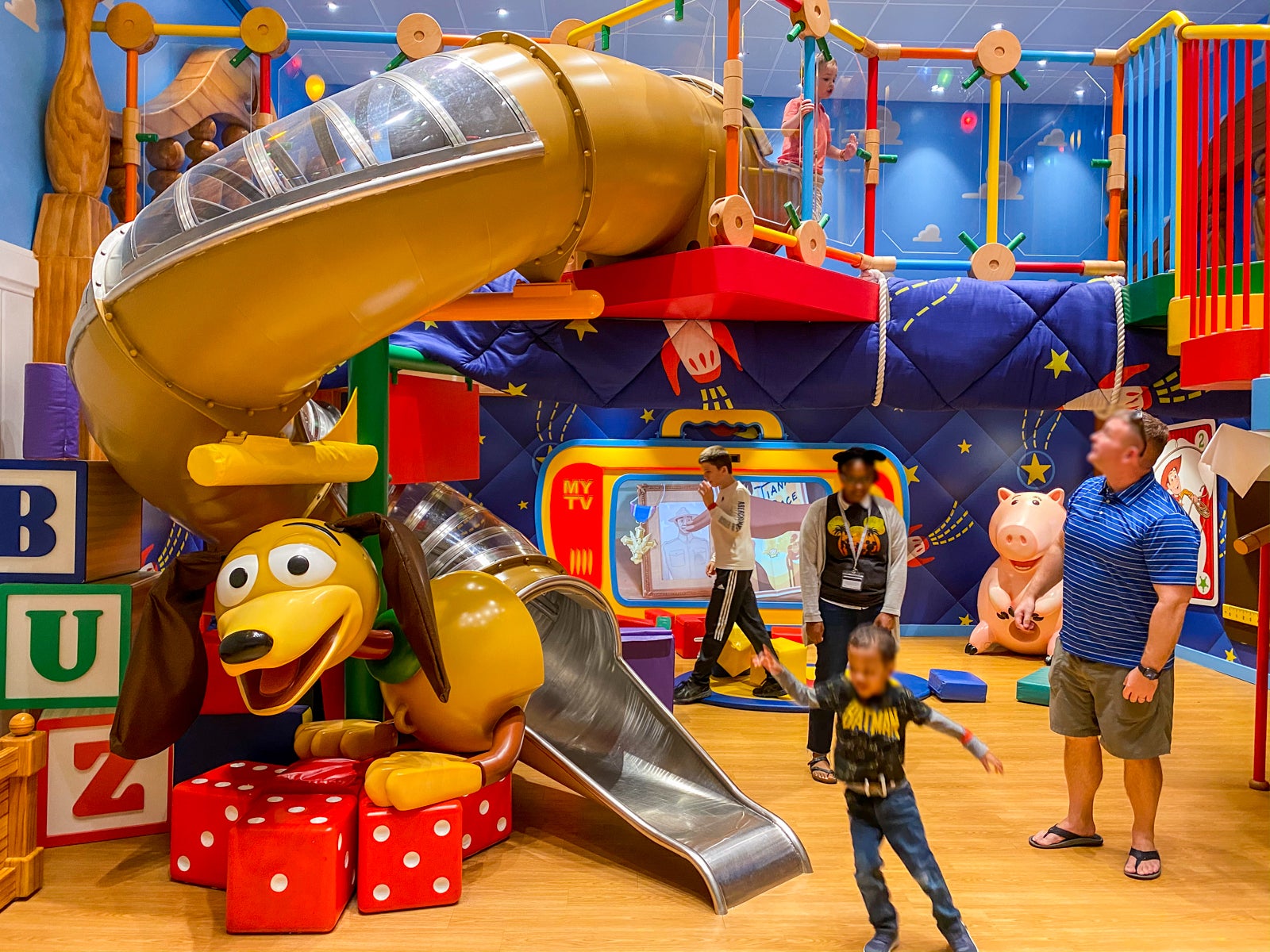 Once your kid is ready to age up to the next club, they can actually do that a little early with your permission. For example, my oldest was able to level up to the tween club at 10 years old and the teen club at 13 years old with a signed slip from me, so use (or hide) that information as it suits you best. I will say that once your kid levels up in those clubs, they probably won't go back much to the previous club.
Take note that the tween and teen clubs allow kids to come and go at will. If you need your child to be monitored, then they will need to stay in the main kids club, which is open through age 12.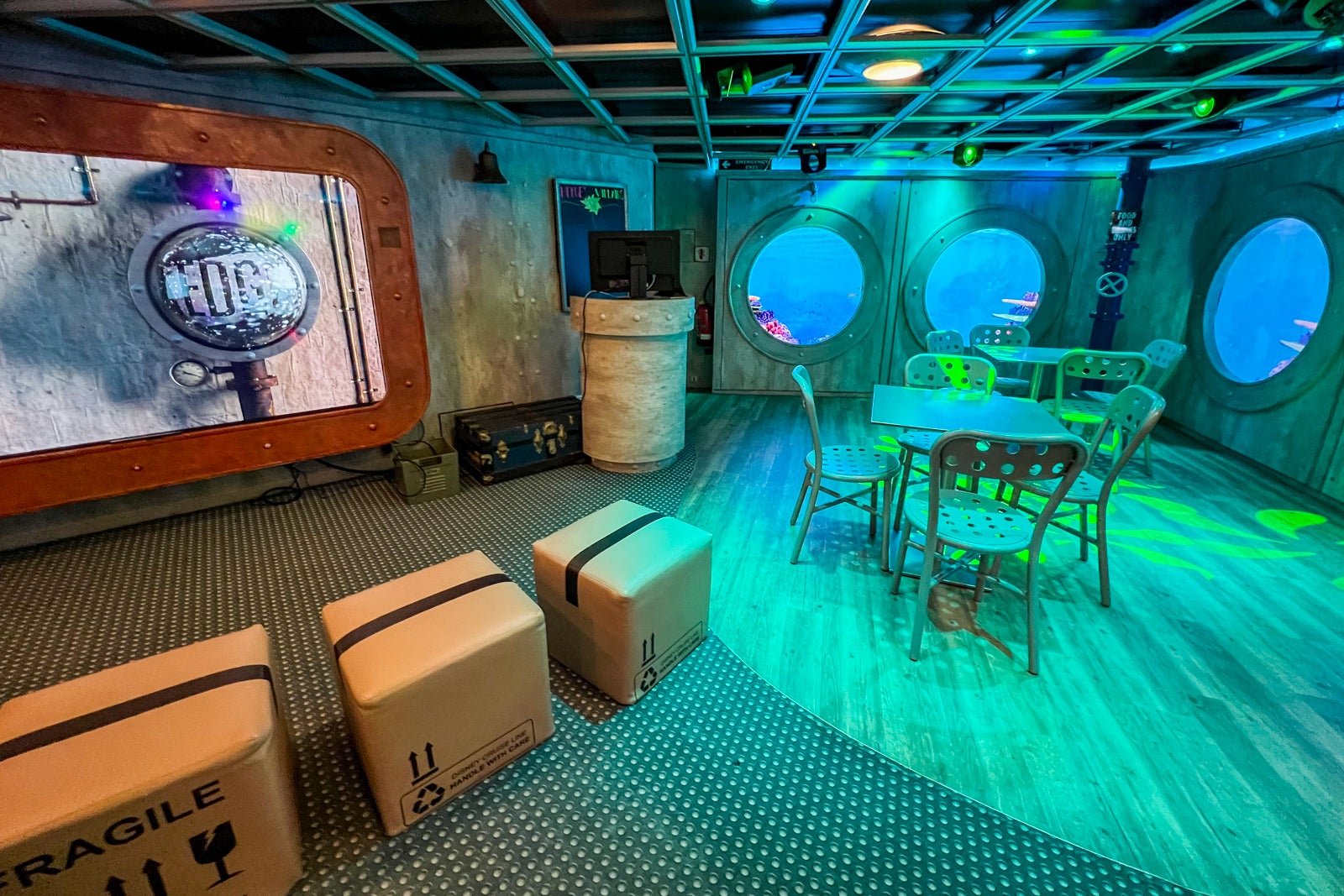 Hit the pools early or late to avoid crowds
If you don't want to swim in a crowded pool or wait in a long line for a slide around the AquaDuck or AquaMouse, you'll need to employ some strategy. I recommend heading to the waterslide the second you board the ship if it is warm enough in your port, as that is as empty as it's going to get.
If you miss that window, mornings are also pretty empty, as are late afternoons as everyone starts to get ready for the evening. Avoid mid-day on sea days at all costs unless you like swimming with dozens of your new best friends.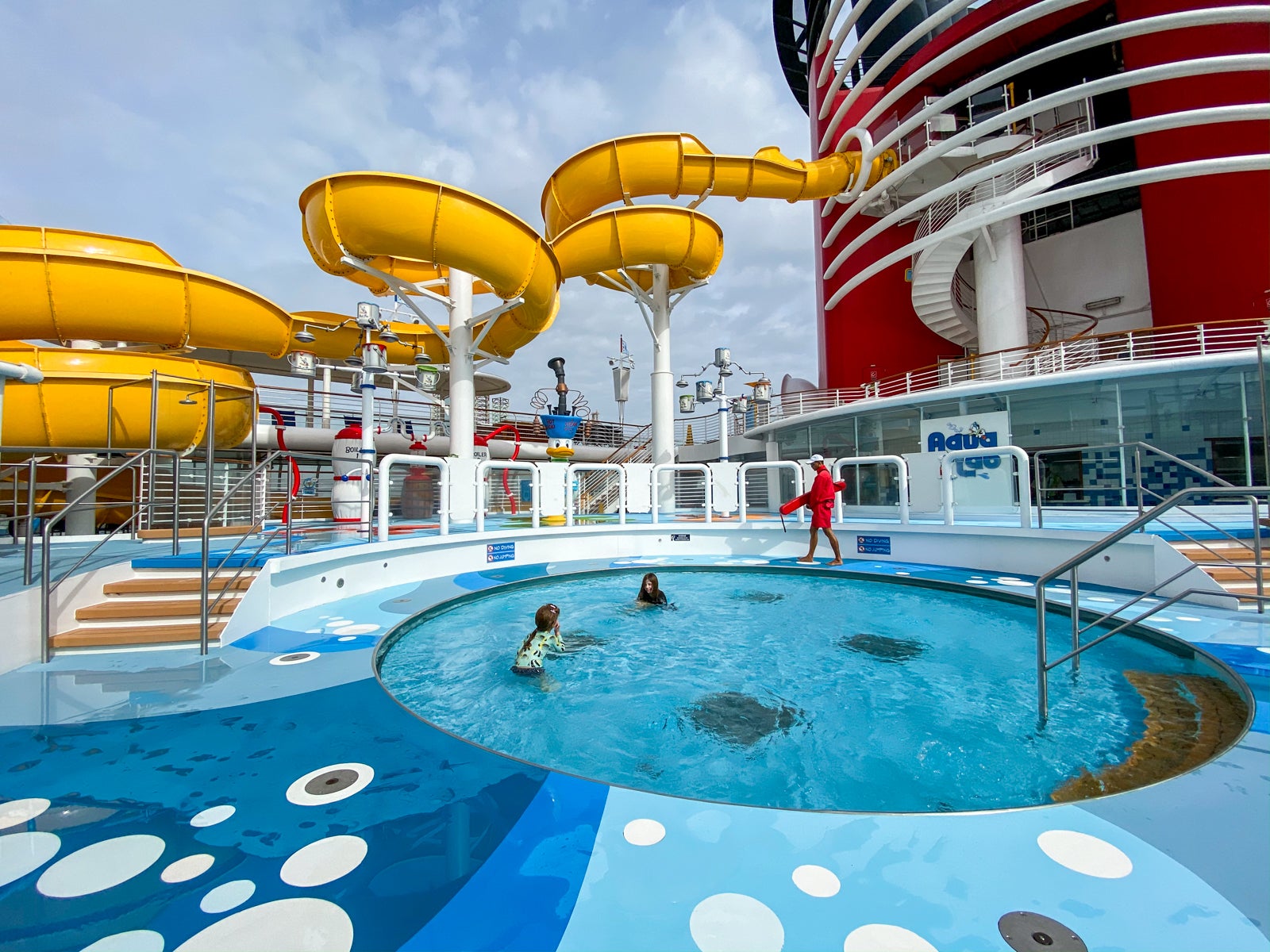 You'll want to decorate your door
The cabin doors on a Disney cruise are almost all metal, so decorative magnets will stick to the doors nicely. Pack themed magnets to decorate your door. Not only is it fun to participate in this shipwide decoration, but the personalized door serves to help kids (or tired adults) find their cabin should they forget the room number.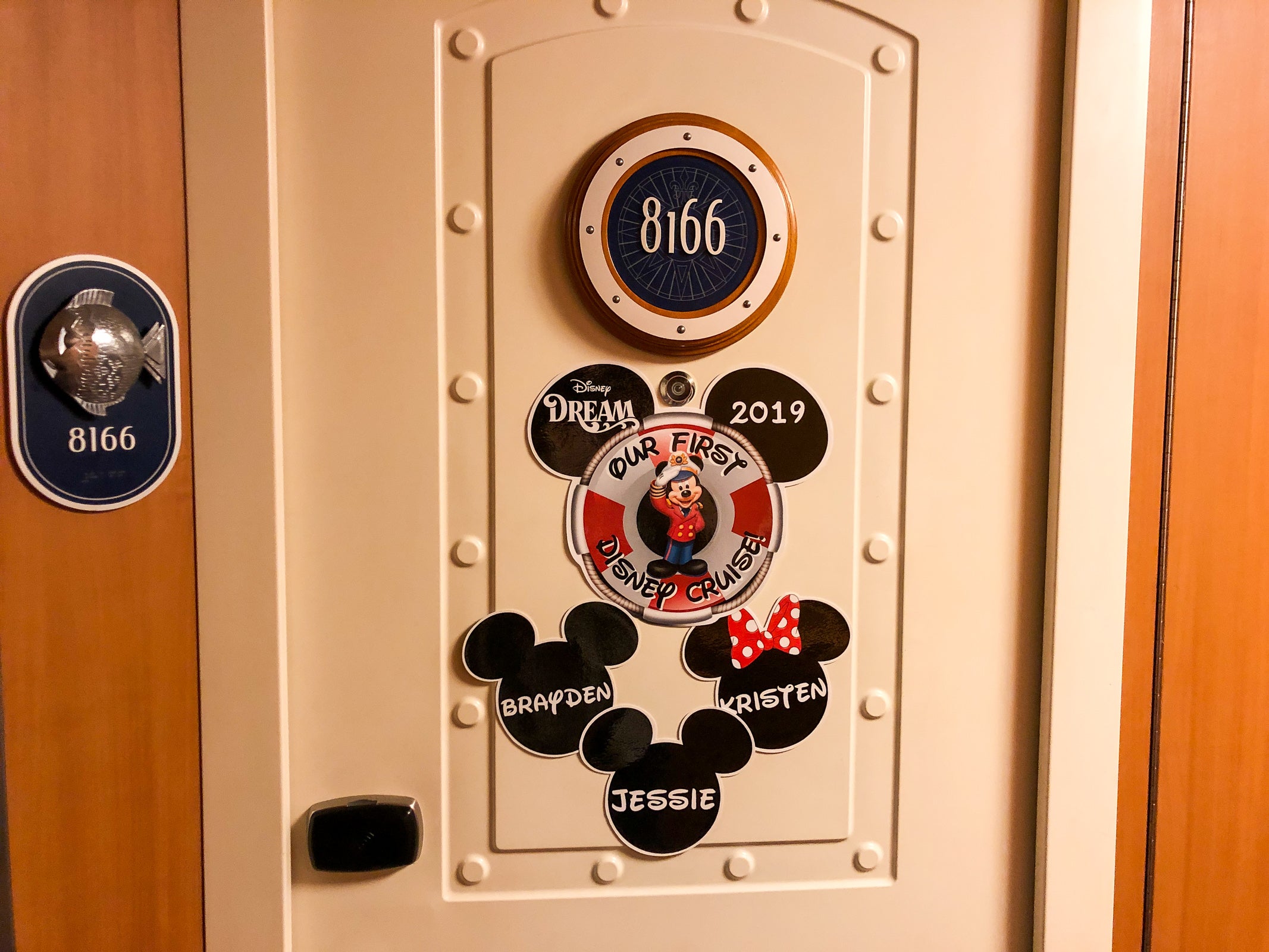 You can keep things simple or order personalized magnets on a site like Etsy in advance of your sailing. You may see some doors that go all out and even have pouches with goodies in them. Those hanging pouches are known as fish extenders (as they hang off of a fish built into the ship). They often signify that the cabin is participating in a gift exchange with others on the cruise that they arranged beforehand on Facebook.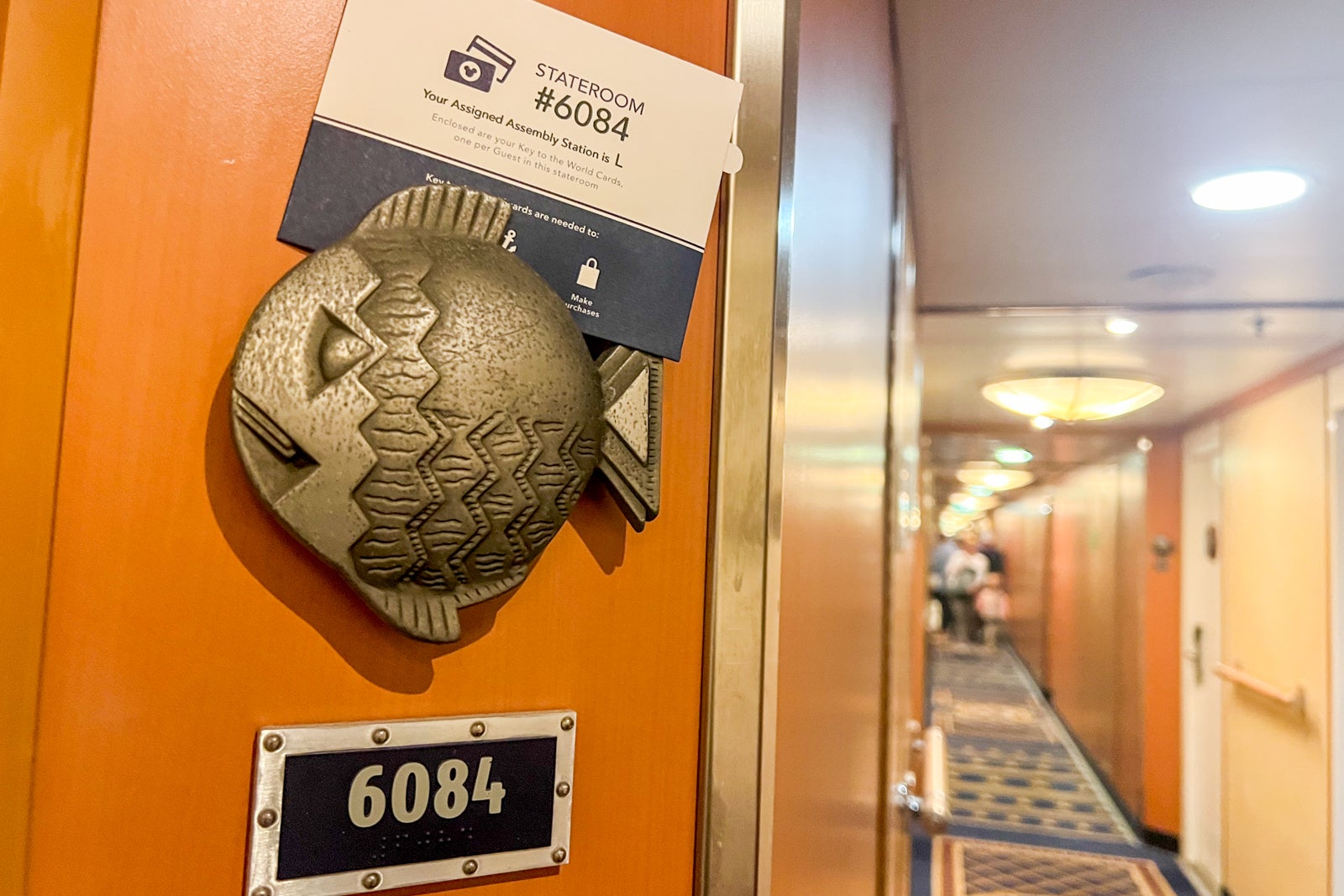 Your sailing has a Facebook group and it's worth joining
Speaking of Facebook, the odds are excellent that your individual sailing has a Facebook group with several hundred people in it. If you wish to participate in gift exchanges, get to know your shipmates pre-cruise or tap into a hive mind for advice on picking excursions and packing, it's a big asset to belong to a group specific to your sailing.
Go to Facebook and search for your sailing (e.g. Disney Wonder Alaska June 12 – 19). You'll likely find a "private" group that's not officially affiliated with the cruise line. Join the group to be kept in the loop and to drum up excitement for your trip before you set sail.
Soda is free if you know where to look
If you order a can of Coke in the dining room or from room service, it's going to cost you a few dollars, but you can get as much free soda as you want from the fountain. These are usually located on the pool deck and in the buffet area. Bring a refillable bottle so you can easily take your soda with you around the ship.
Check the app for happy hours
Alcohol isn't free on board, but you can find discounted drinks at happy hour. On my most recent Disney cruise, select drinks were 50% off from 9 p.m. to 10 p.m. in the ship's pub. Check your Navigator app during your sailing to look for happy hours on your Disney cruise.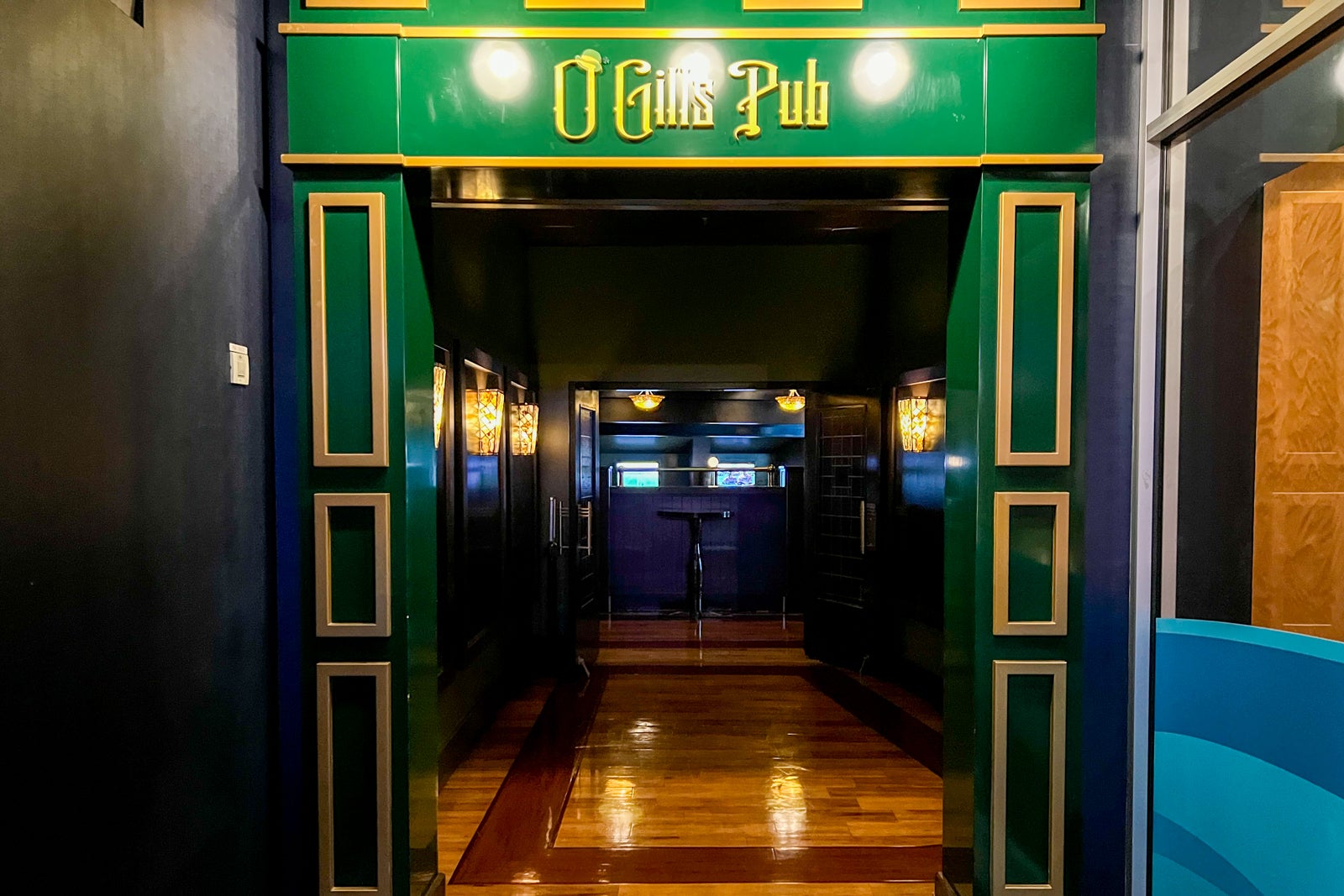 The best merchandise sells out
If you see a cool hat, sweatshirt or shirt you adore, buy it as soon as you spot it. The onboard gift shops are only open while the ship is at sea, and the popular items sell out (and generally don't get restocked while you're on board).
A Disney cruise is not just for families
There's no doubt that families make up a large portion of the Disney Cruise Line passenger base, but a Disney cruise is not just for kids. The ships cater to childless couples and friend groups with special spaces reserved just for grownups.
Each ship has an adults-only nightlife area and/or multiple bars and lounges to visit in the evening. An adults-only sun deck includes a pool and space to sunbathe. Each ship also has one or two adults-only restaurants you can retreat to at dinnertime if you want to ensure a high-end and kid-free meal. (You'll have to pay extra for these meals, however.)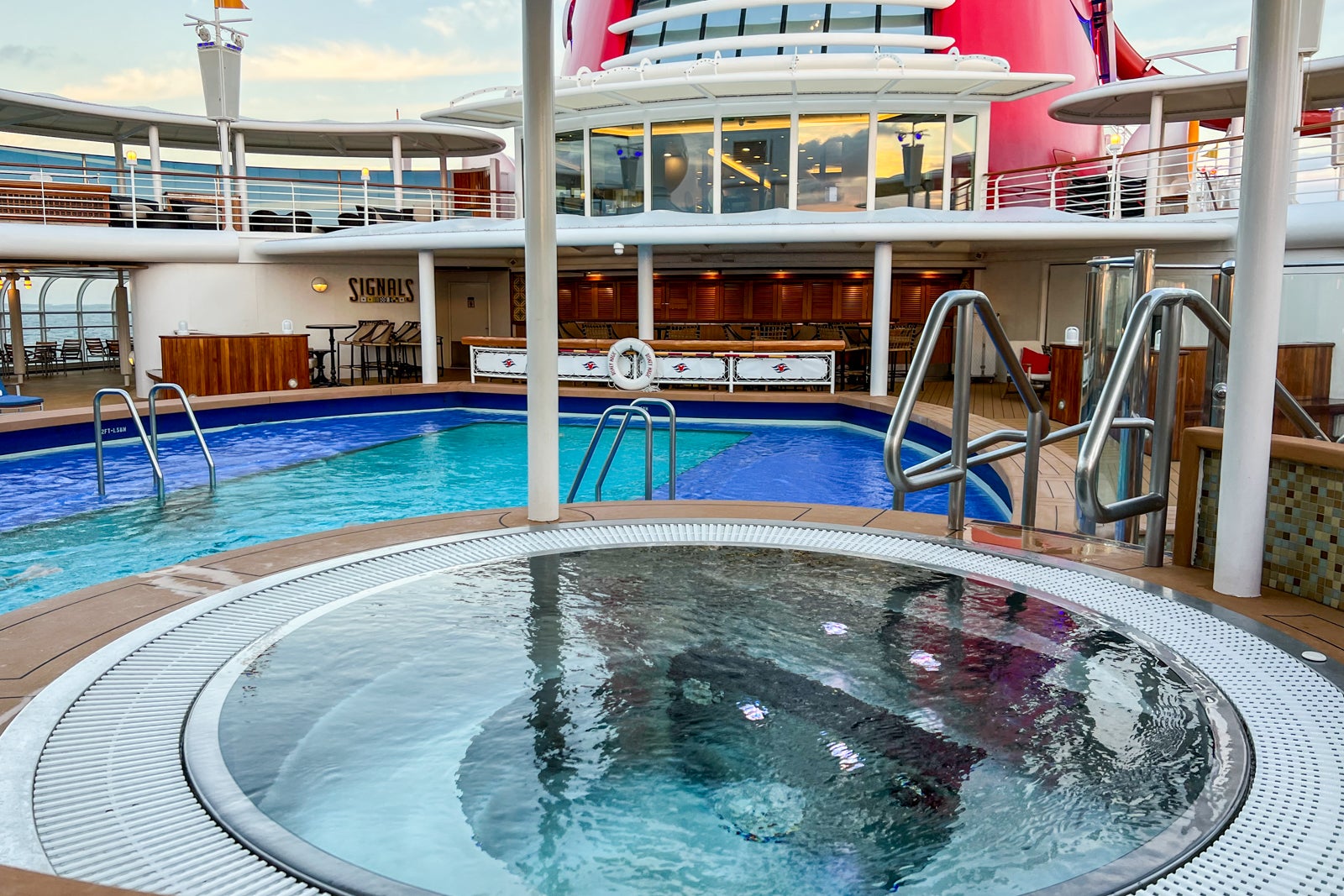 Disney offers legitimately good liquor and tastings
On top of the cocktails and drinks you may expect, Disney ships offer some very high-end liquors on board. I shared a photo of the below beverage cart on Instagram while on a recent cruise and got dozens of messages from people shocked Disney would have Pappy's bourbon. That specific 23-year-old bottle goes for several hundred dollars per drink, and it's on board Disney cruise ships.
If you're looking for something more affordable, sign up for one of the various beverage-tasting classes on offer. Most of the tastings are $40 – $50, and you'll get to sample a few drinks, as well as learn more about wine, tequila, bourbon and other beverages.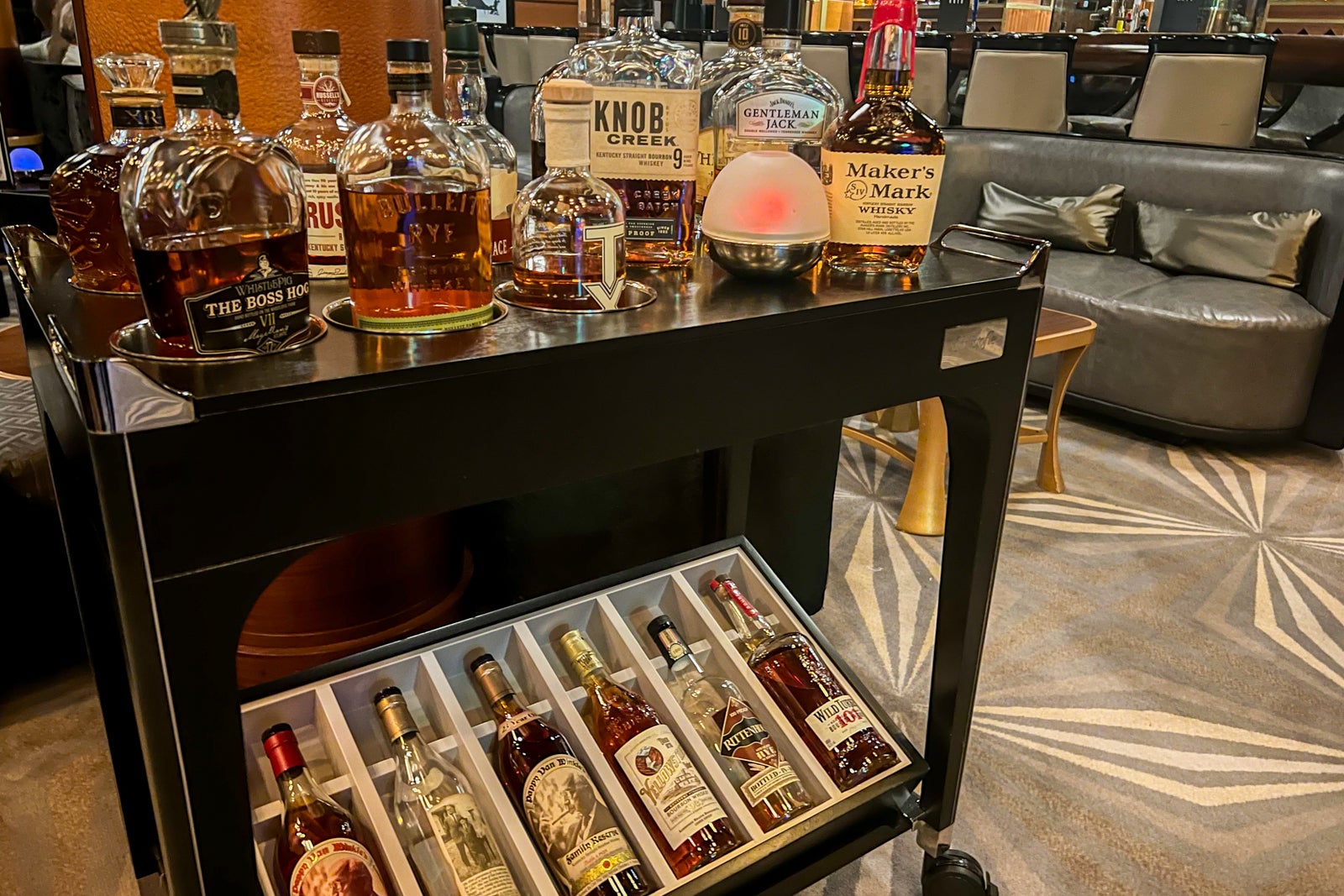 You don't need to pay for motion sickness pills
If you find the motion of the ocean to be a bit more than you bargained for, head to guest services, and they will give you — and your kids —  motion sickness pills free of charge.
Pro tip: Don't wait until you are feeling terrible to start battling any potential motion sickness. At the first signs of queasiness, seek out a remedy. Green apples and ginger candy are alternatives for travelers who prefer not to take medicine.
The concierge lounge is extra magical
If you want your own personal Fairy Godmother who all but ensures you get the bookings you want, the best meal times, coveted reservations at the adults-only restaurants and cabana access at Castaway Cay, then book yourself into a concierge-level cabin or suite.
You'll get all that, plus you can board the ship first and skip the lines when disembarking. Concierge guests get exclusive access to a lounge with included evening drinks and a private sun deck (with a hot tub on Disney Wish). You can order meals from the onboard restaurants to your room, and hang out with a Disney character in the lounge one evening of the cruise.
Not to mention, you'll be staying in some of the nicest and largest accommodations on the ship.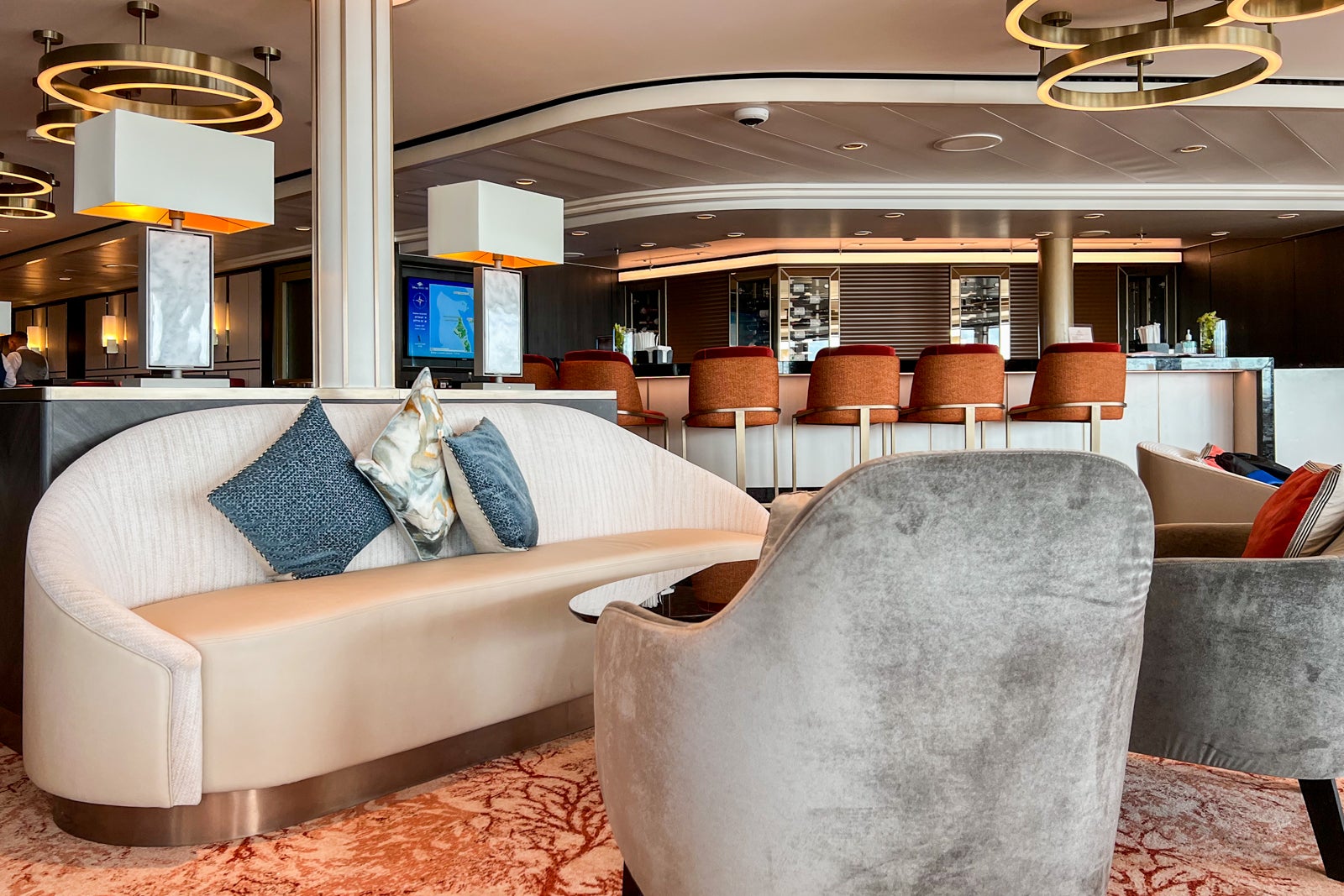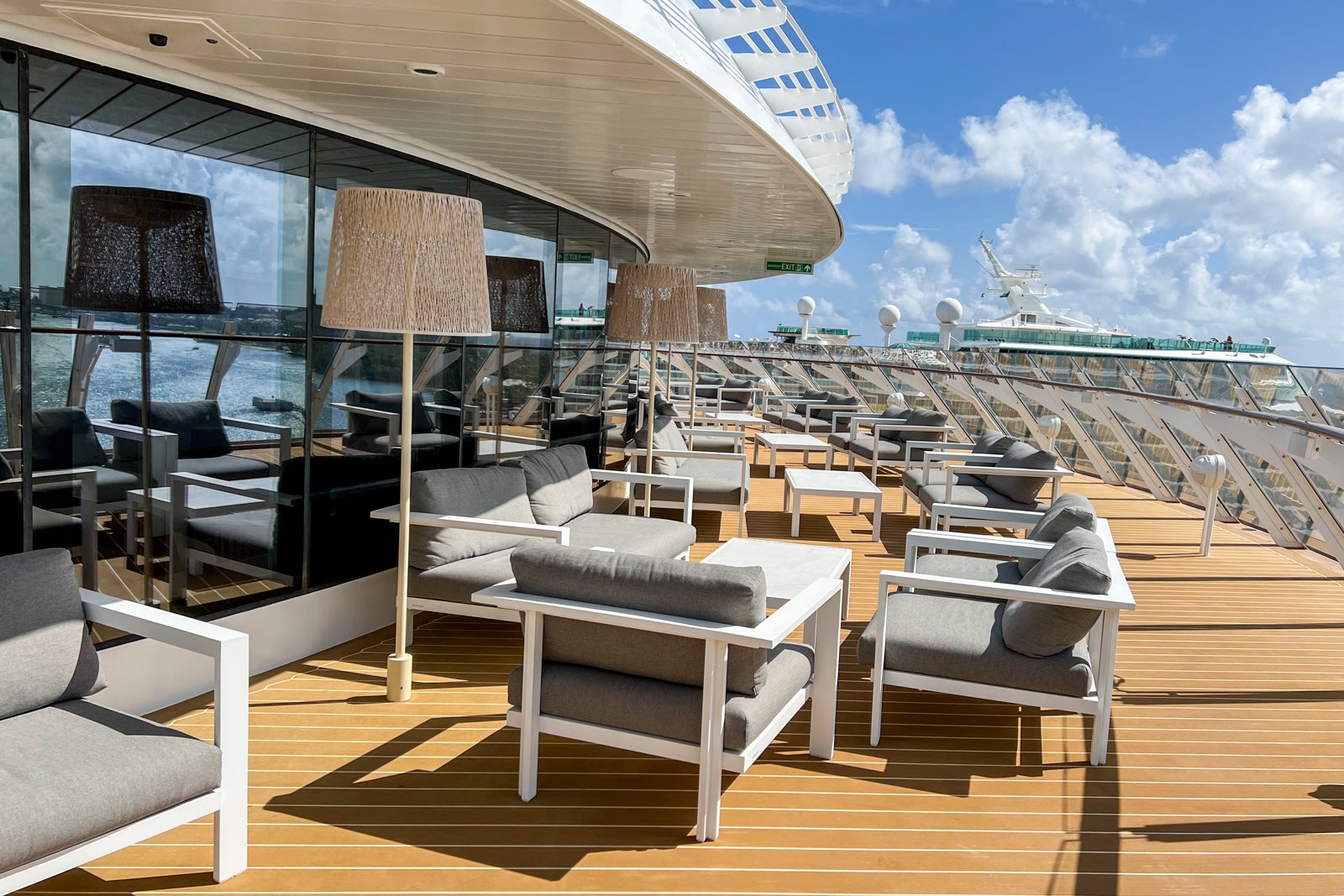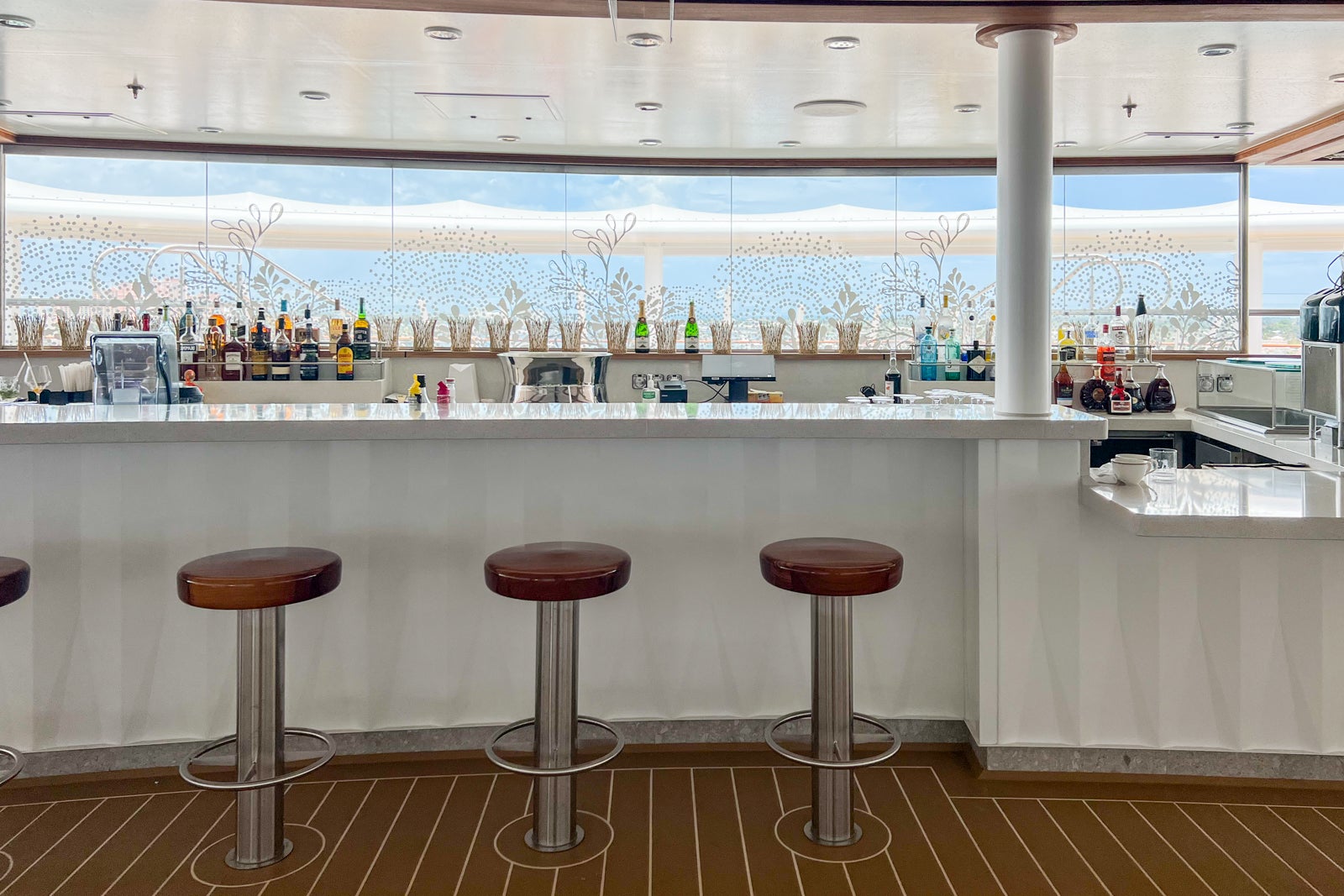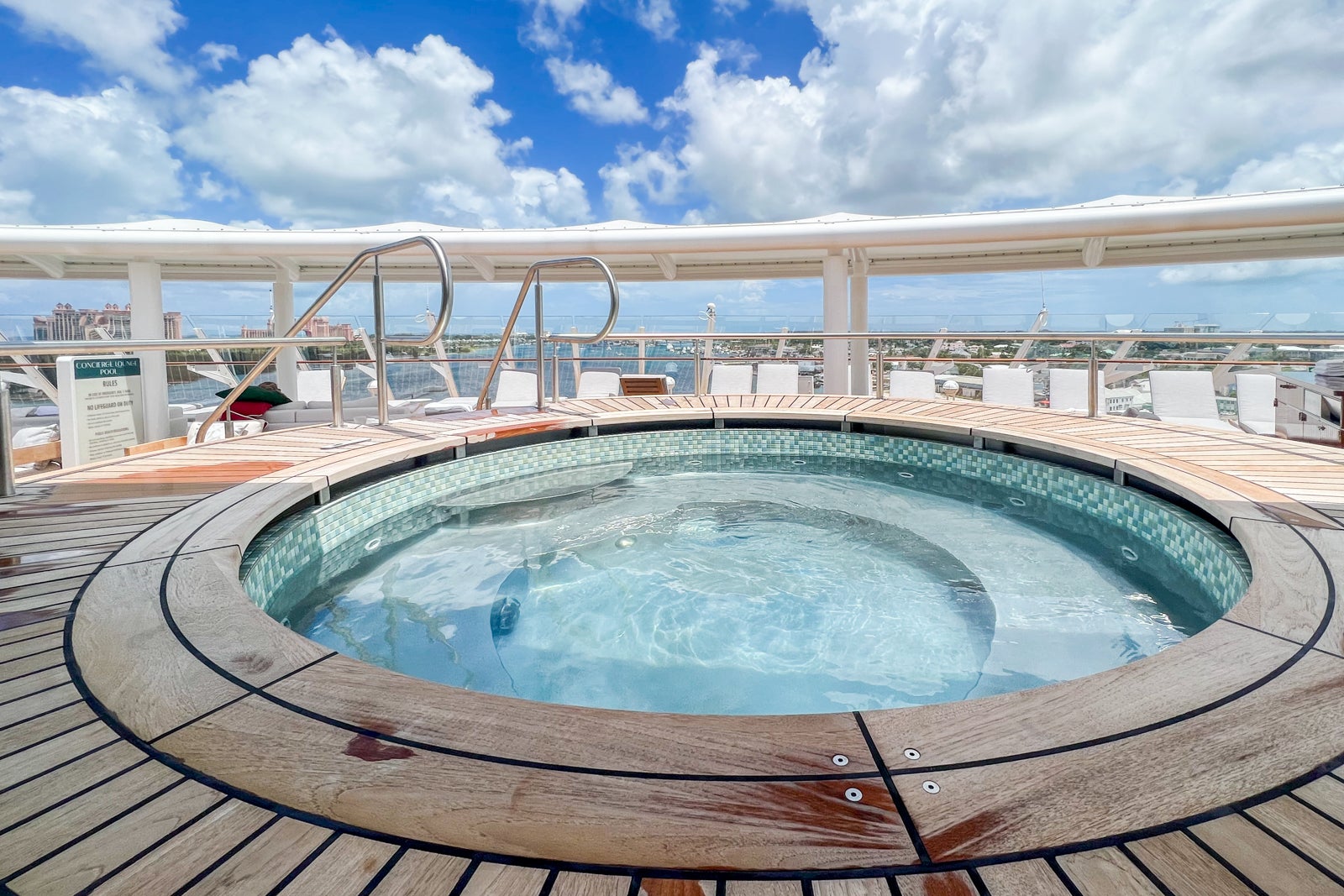 Concierge-level rooms do not come cheap, but they're the way to go if you want cream-of-the-crop service on a Disney cruise. I'd venture that the added perks and extra booking window for specialty restaurants and Castaway Cay are most valuable on the shorter Disney cruises of three or four nights.
Related: What it's like on a $10,000 Disney Wish concierge cruise
Find your way by looking at the carpet
It can be disorienting at first to find your way around a cruise ship, but Disney makes it easy to know if you are heading forward or aft when you're in the long cabin hallways. If the carpet design is upside down, you're heading toward the back of the ship, but if it is right side up, you're heading to the front of the ship. In the photo below, the globe is the clue.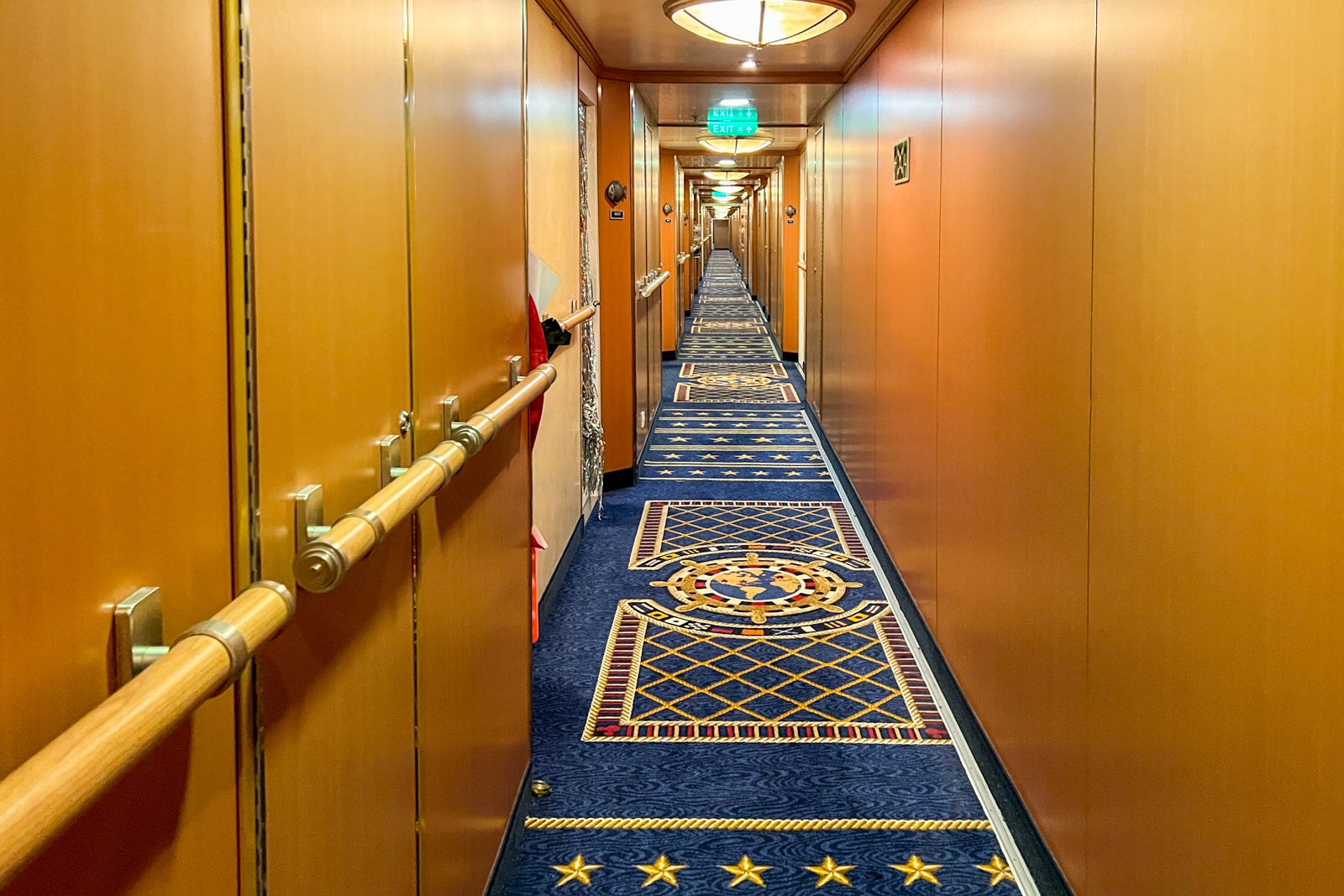 Late dinner is better
Disney cruise ships offer two dinner options — early or late seating. Your showtime for the evening entertainment is opposite your dinner; if you have an early dinner, you have the late show and vice versa.
It's logical to assume that an early dinner at 5:45 p.m., as opposed to late dinner at 8:15 p.m., is better if you have little kids. Having done both, I'd say that late dinner is vastly superior in most situations.
First, 5:45 p.m. is too early to have made the most of your day and be ready for dinner. With all there is to eat on the cruise, you might not even be hungry yet. Beyond that, if you aren't heading into the dark theater to see the show until 8:15 p.m., it can be hard for little ones to sit still or stay awake.
However, if you see the show first and then eat dinner, the servers are great about expressing your meal with little kids. It's better to do a quick dinner and then head to bed (or back to the kids club!) than an early dinner and miss the evening shows because your kid no longer has the ability to sit still.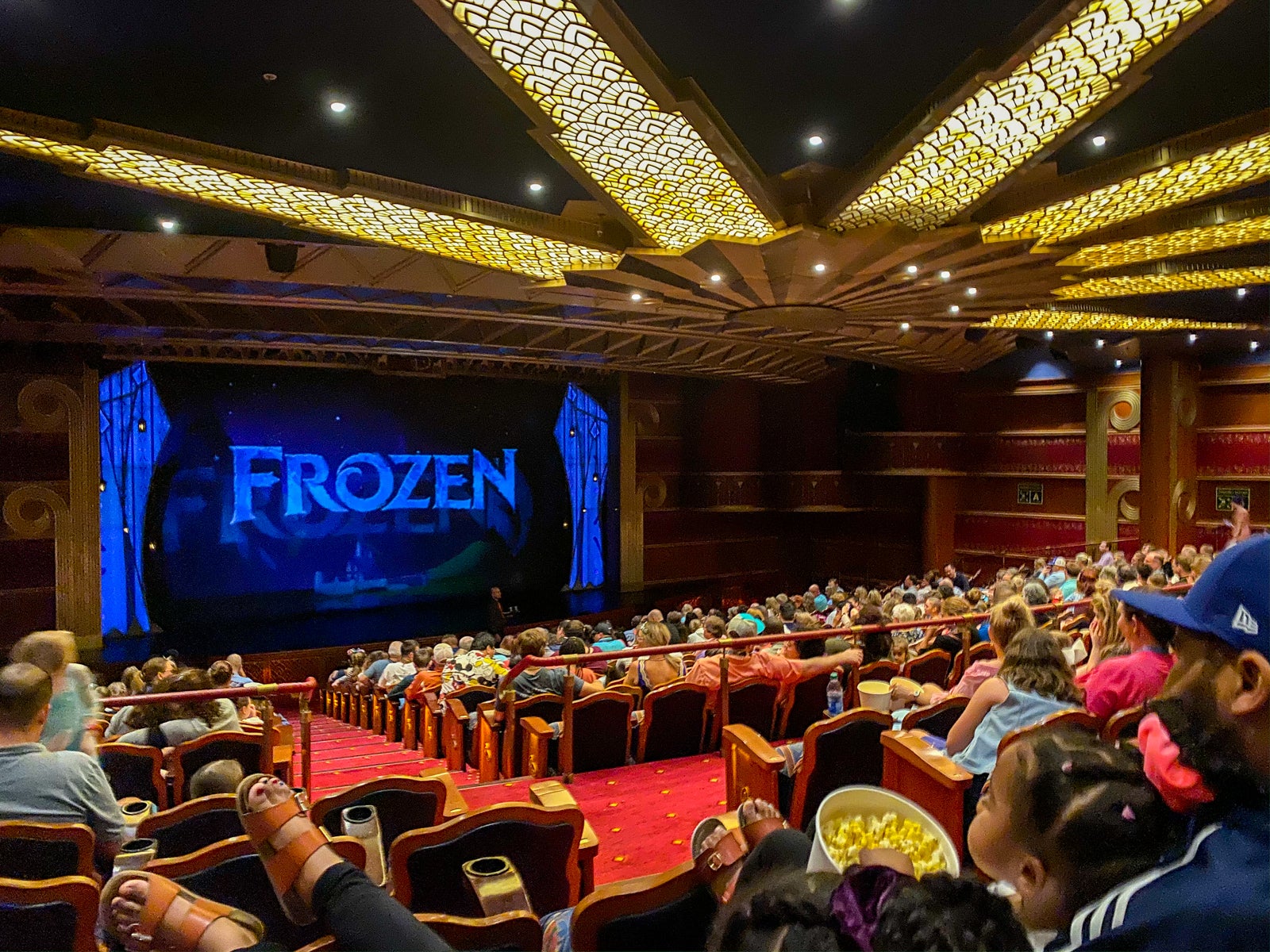 If you enjoy fine dining, book a fancy dinner at one of the adults-only restaurants. Depending on which ship you are on, there will be one or two restaurants that are reserved for adults — Palo and perhaps also Remy or Enchante.
Remy and Enchante are super-fancy and pricy, but Palo is approachable-fancy and costs an additional $45 per person for the set menu. It's 100% worth the money if you can get a booking.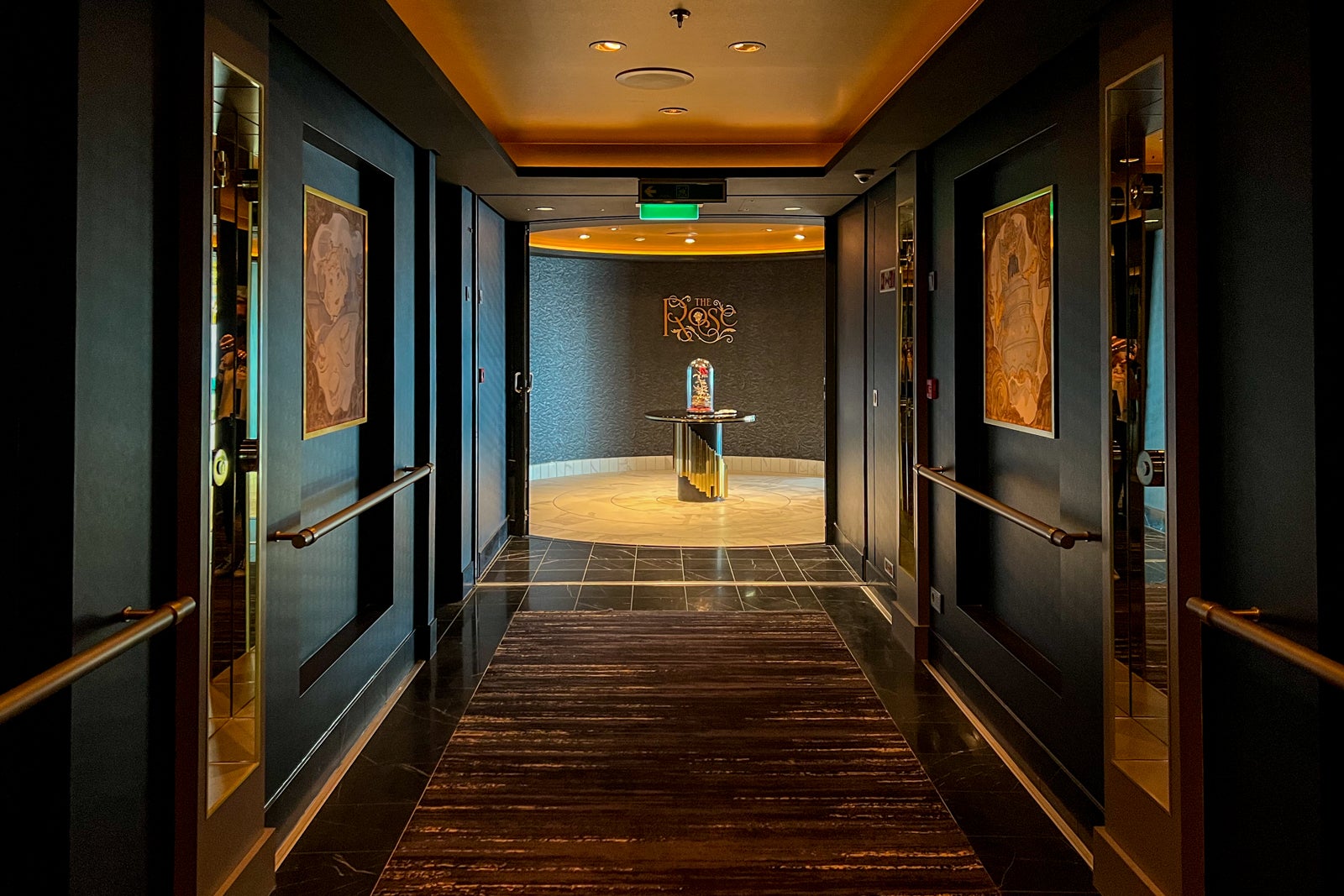 You'll leave any cartoony trace of Disney behind as you leisurely indulge on beef tenderloin, sea scallops, grilled lobster with pasta, calamari and chocolate souffle.
The best character meetings aren't the posted ones
You'll find many character meet-and-greets on the itinerary for each day where it's known that Mickey, Donald or Minnie will be at a specific place at a specific time for a brief hello and a photo. Those meetups are great, but they are not the best character interactions you'll find on Disney Cruise Line.
The best time you'll have with characters will be when you least expect to see them. You might spot Goofy walking around in his pajamas, Donald waddling out on the deck or Minnie strolling the halls in her finest dress.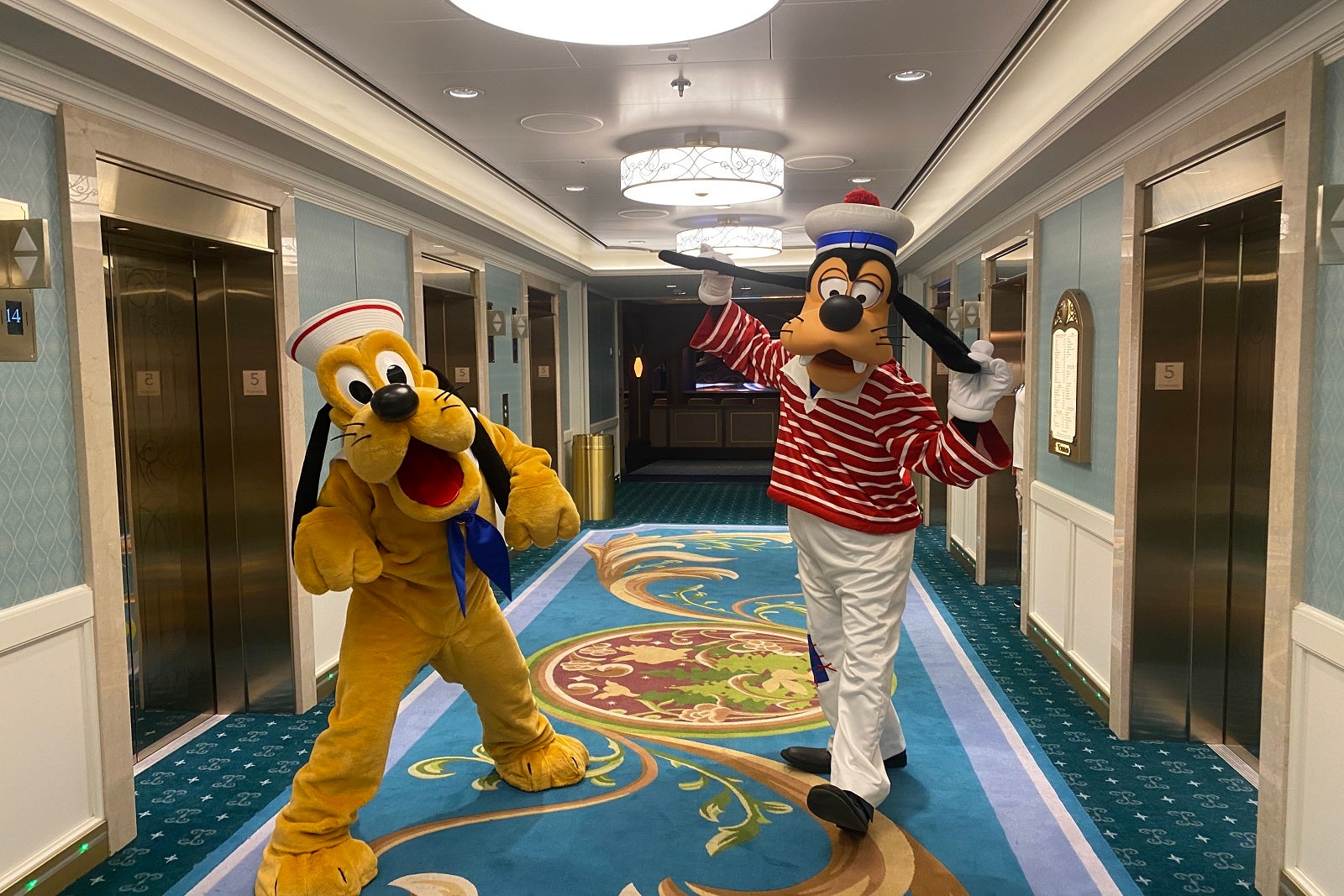 These encounters can't be planned or predicted, but without the lines and forced nature of a quick photo, the more free-form interaction with the characters is better than any planned photo sessions you'll find on land or sea.
All the characters come out to say goodbye on the last night
On the last night of each cruise, all of the classic characters come out to the atrium for a short time (15 – 20 minutes) so you can snap a quick photo with anyone you missed before they do their final farewell presentation. Check your app for this goodbye show, which usually occurs around 10 or 10:30 p.m.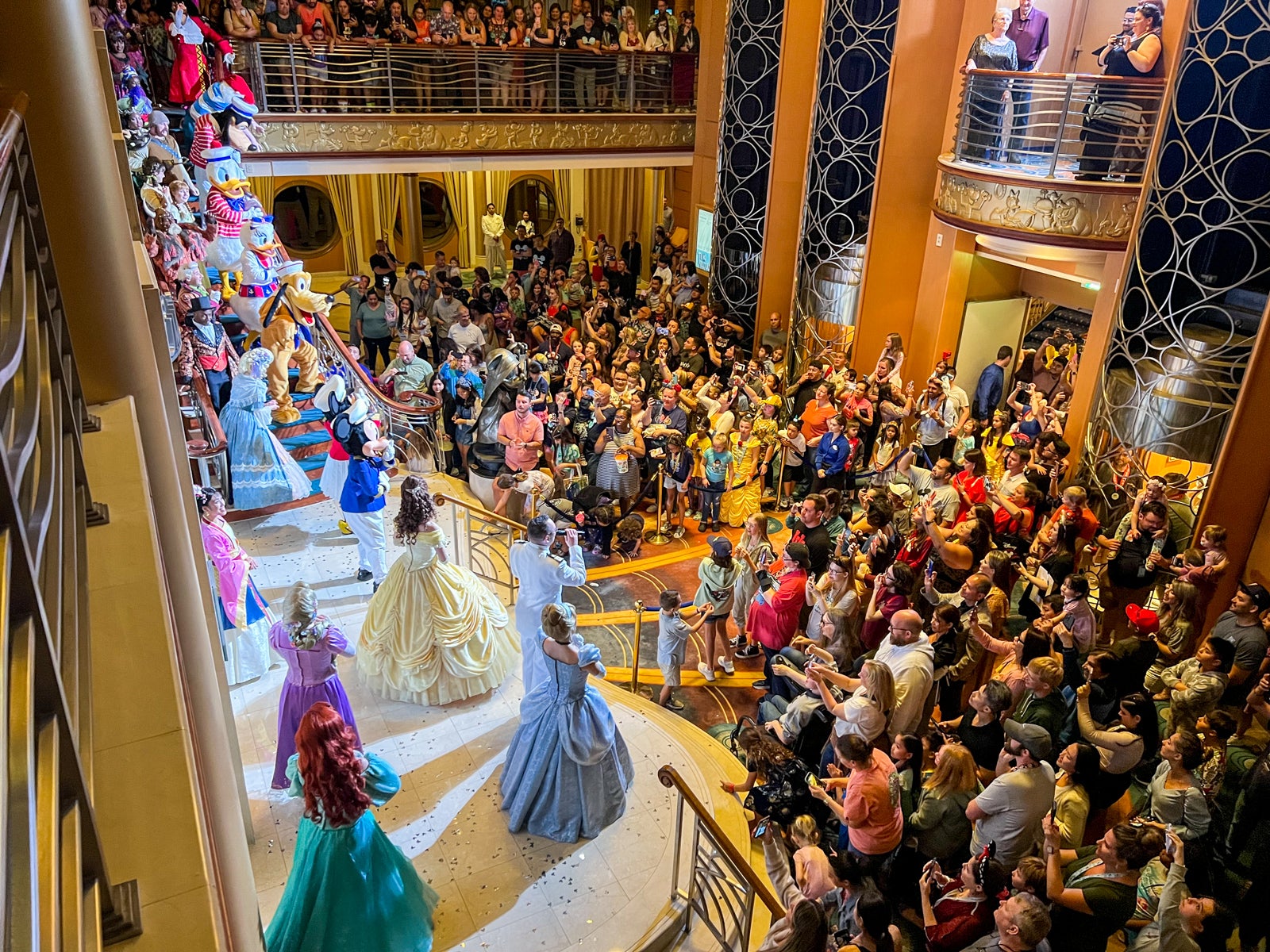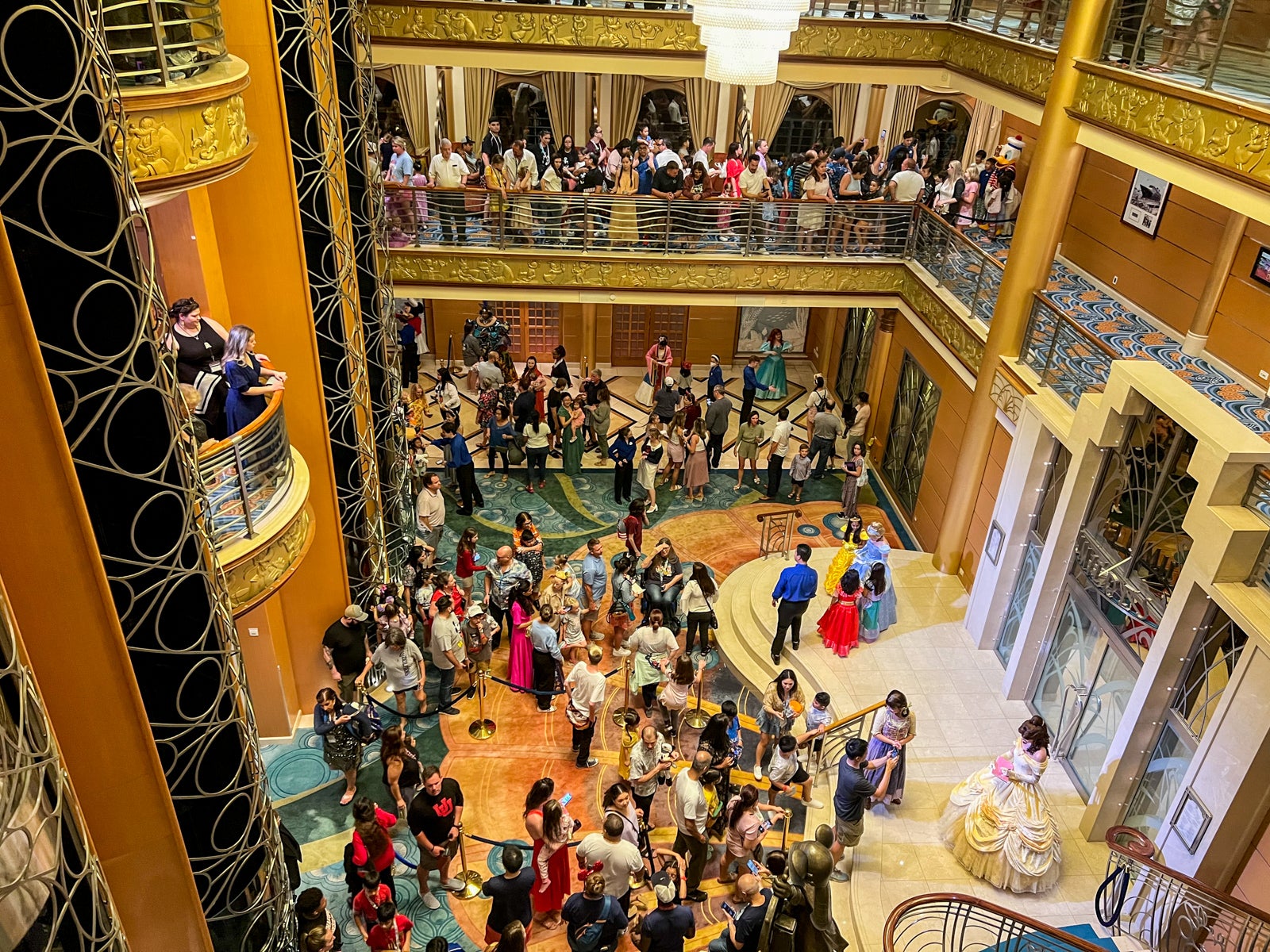 Pro tip: If you have a specific character you want to photograph, ask a cast member setting up for the event where that character usually stands during photo time. That way, you can position yourself in the right area to snap a photo because the event can turn chaotic in a hurry.
Skip the debarkation line by carrying your own bags
Getting off the ship at the same time as thousands of other guests can be a buzzkill, so don't do that. If you can manage your own bags, don't put them out the night before and take them off the ship yourself the final morning.
That leaves you free to disembark as early as possible before the regular disembarkation begins, which might be around 7:30 a.m. or so, depending on the port, weather and other factors. You can avoid the crowds because you don't have to wait for your luggage to be assembled along with everyone else.
You can bring your own water and wine
If you want to have bottled water at the ready, bring a case of it onboard. It will need to be sealed in its original packaging and you have to carry it on (instead of having it in checked luggage), but it can be worth it if you want to save money for the truly yummy drinks.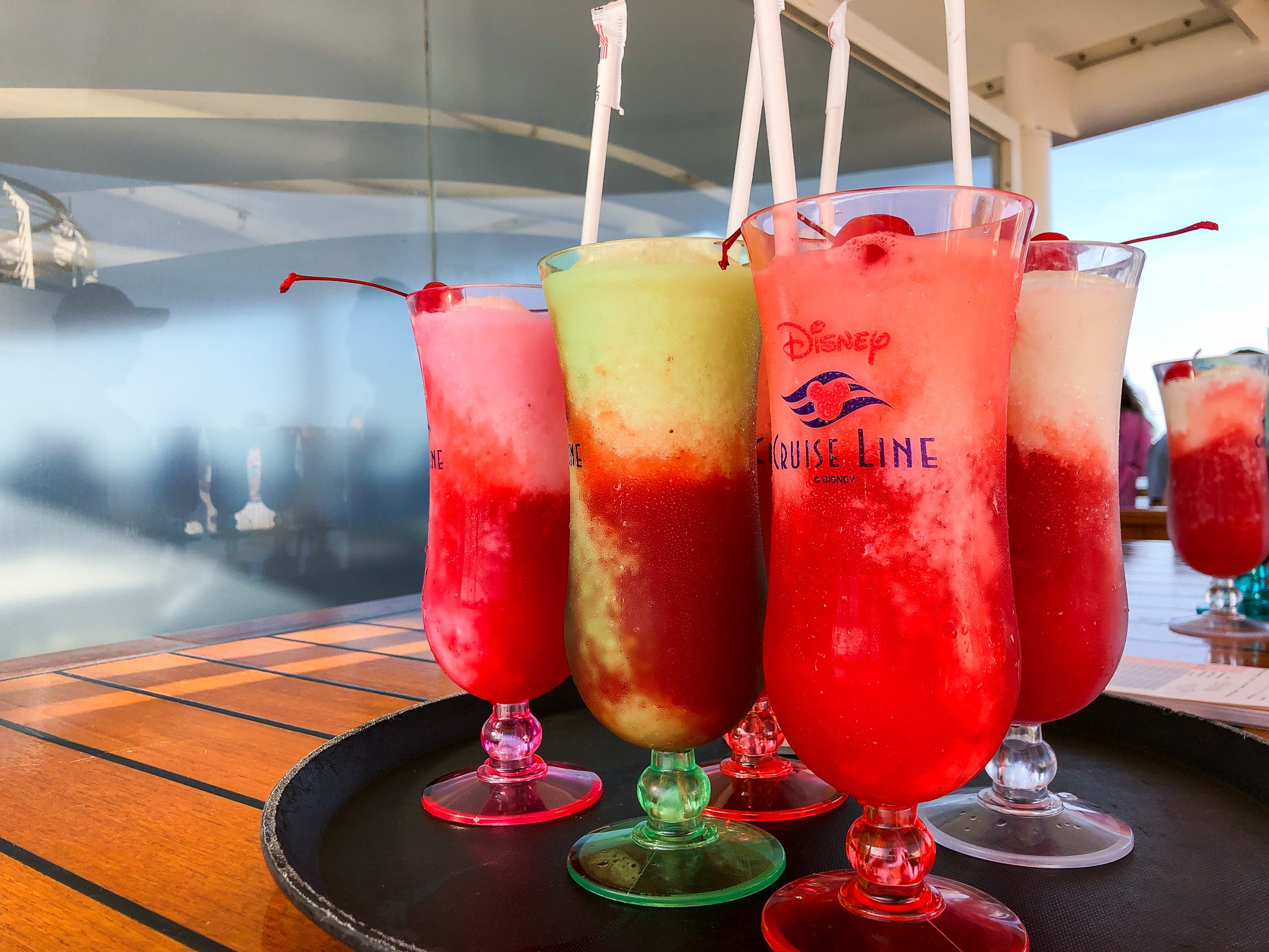 If you enjoy wine or beer out on your veranda, you can save a little cash by bringing your own alcohol onboard, with limits. Guests 21 years and older may bring a maximum of two bottles of unopened wine or Champagne (no larger than 750 ml) or a six-pack of beer (no larger than 12 ounces) on board at the beginning of the voyage and at each port of call. Again, these beverages need to be carried on and not stashed in checked bags.
You can enjoy the spa without a treatment
If you love the idea of spa-like quiet and relaxation without paying around $200+ per treatment, look into the Rainforest Room in the Senses Spa, which costs much less than that per day. Depending on demand, you can book a one-day pass or get a pass that lasts the duration of your cruise. Inquire in the spa as to availability and exact pricing, but it's certainly going to be less than a spa treatment.
Each of the Disney ships has its own version of this room. On Disney Wish, the space has not only the heated loungers that are a common fixture in each of these thermal areas, but also an indoor and outdoor lounge component, a steam room, a chilled ice room and a relaxing water feature for dangling your feet.
Bottom line
You can't go wrong in booking a Disney cruise as there is already so much included and available at your fingertips. But with a little knowledge, you can skip some of the common first-timer mistakes and board like a pro, starting with your first cruise.
Related reading: