Can Southwest Airlines, the airline that made the 10-minute turn (deplane one flight and board the next one in 10 minutes) famous back in 1972, shave off just three minutes between each flight nowadays? That's the question Lisa Hingson and her deputy Kaci McCartan are trying to answer with a handful of gate-side innovations currently being tested at the airline's Hartsfield-Jackson Atlanta International Airport (ATL) base.
Hingson and McCartan are members of Southwest's innovation team, which is tasked with finding ways to improve the passenger experience, and in this case, helping boost the airline's operational performance.
The ideation behind this project began well before the coronavirus pandemic, and the team even managed to come up with 35 concepts that could help shorten each turn. However, all of this work was shelved when the pandemic began, especially as tight turns weren't as hard to achieve with load factors at historic lows.
Related: 11 ways that Southwest is trying to improve the travel experience in 2023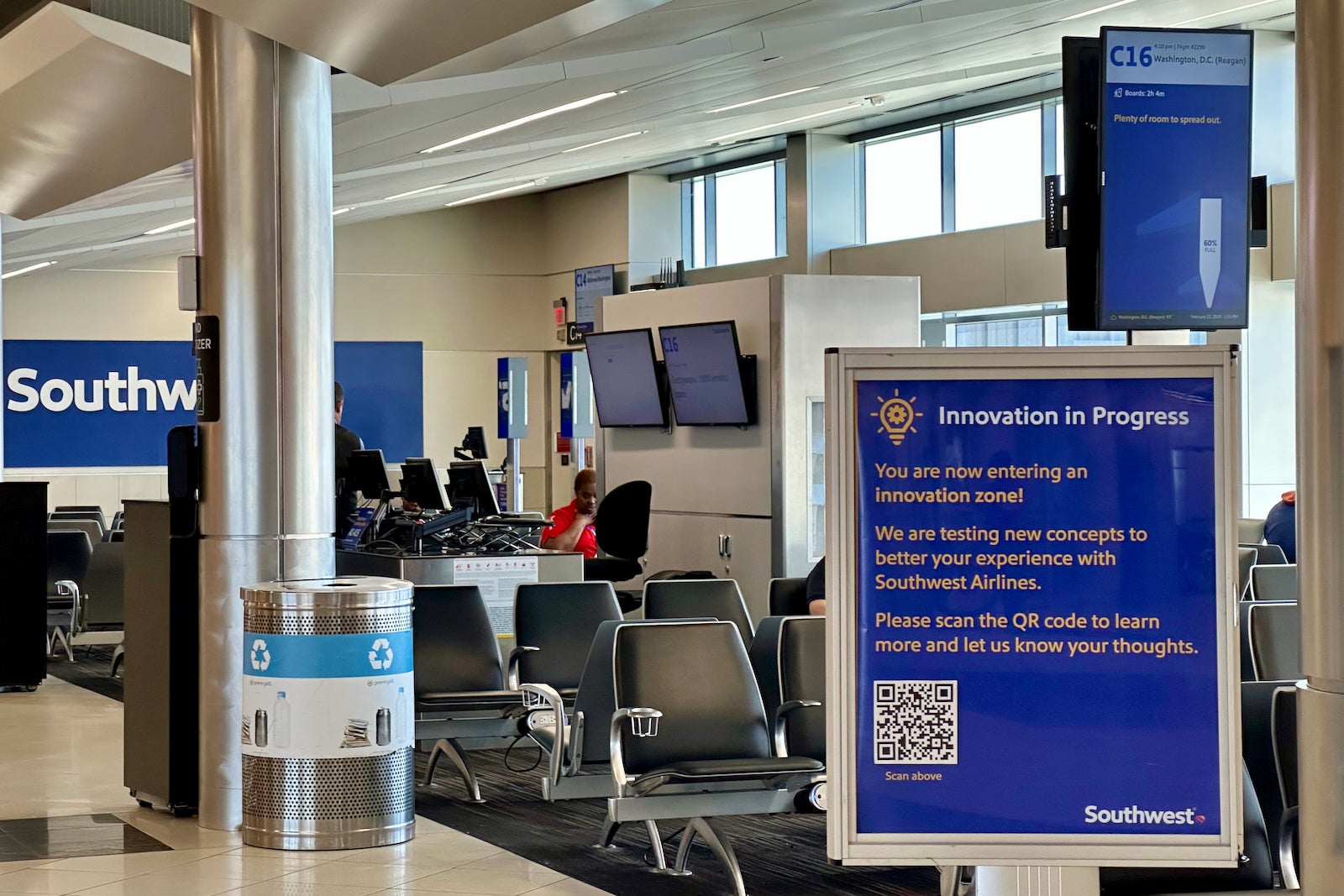 In recent months — notwithstanding the airline's massive operational meltdown during the holidays — Hingson, McCartan and the broader team have spent weeks in the innovation lab at Southwest's Dallas headquarters refining the 35 concepts and boiling them down to just seven of the most feasible ones.
Fast forward to today, and the innovation team is camping out at four of the airline's 18 gates in Atlanta through March 3. That's because gates C13 to C16 are acting as a real-world stress test for the innovations that Hingson and McCartan first concocted in the lab.
In fact, TPG just visited the airline's Atlanta base for a first look at these innovations in action. Some of the improvements may never roll out to all of Southwest's 121 airports, but here's a look at what the airline is testing.
Designated preboarding areas
Southwest does things differently. Unlike other carriers, Southwest doesn't have assigned seats. Instead, flyers line up to board (generally) in the order in which they check in.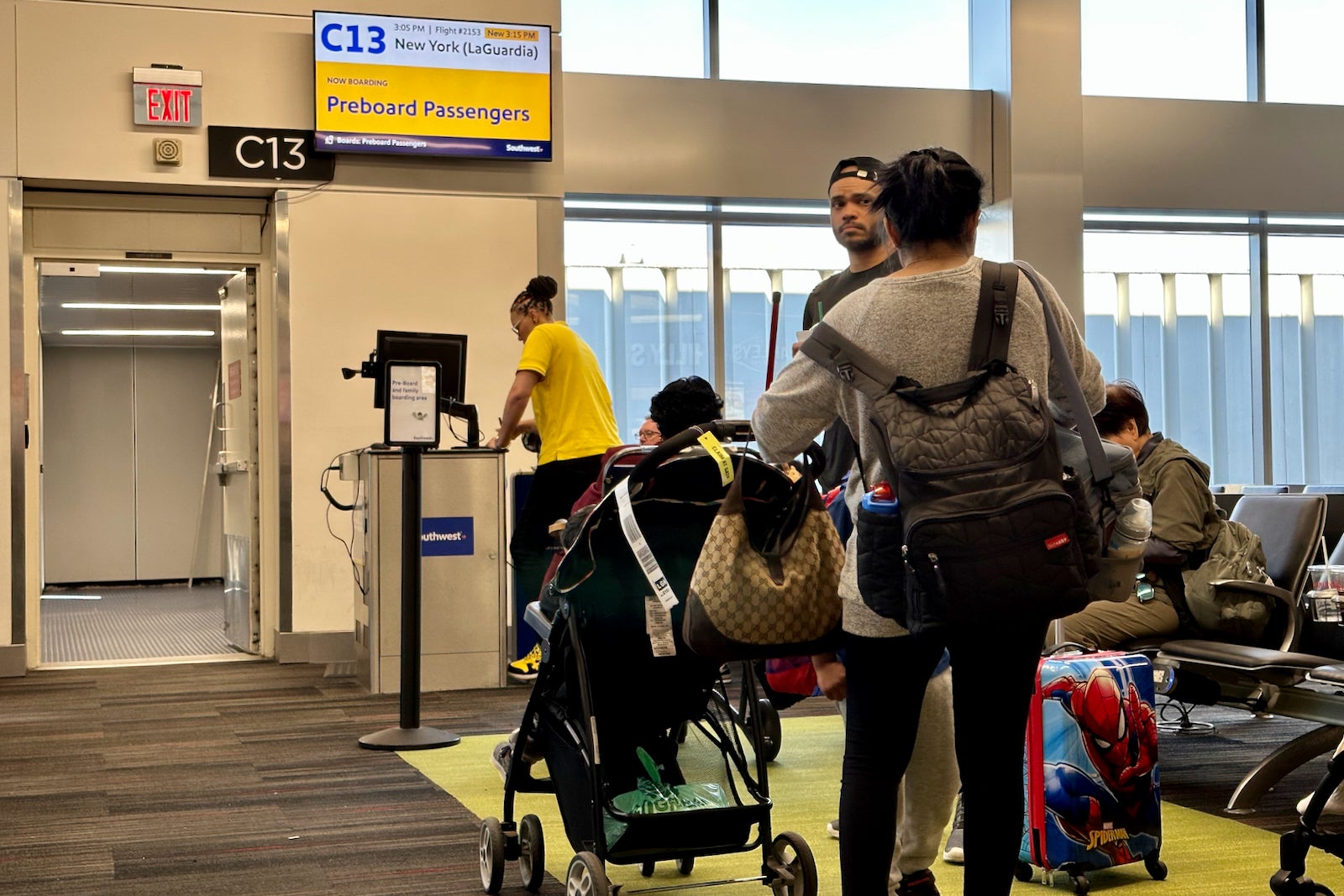 Passengers who use wheelchairs, along with those needing special assistance, are invited to preboard, but this process often causes big bottlenecks, according to McCartan. It's not always clear where the wheelchairs and preboard passengers should line up, and there's often no dedicated area in the holdroom for all these flyers.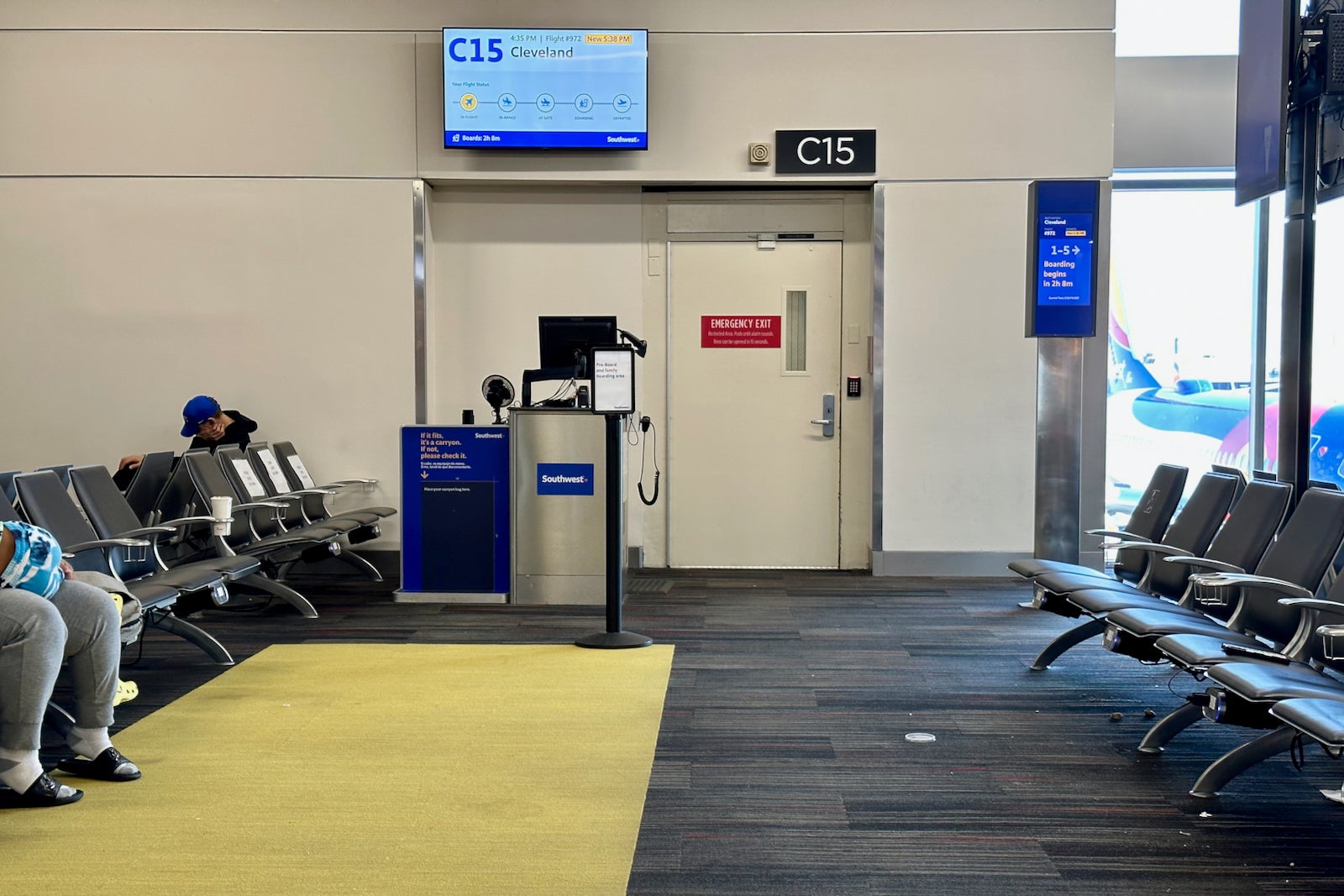 As part of the test, Southwest installed a color-coded carpeted area that demarcates where these passengers should line up.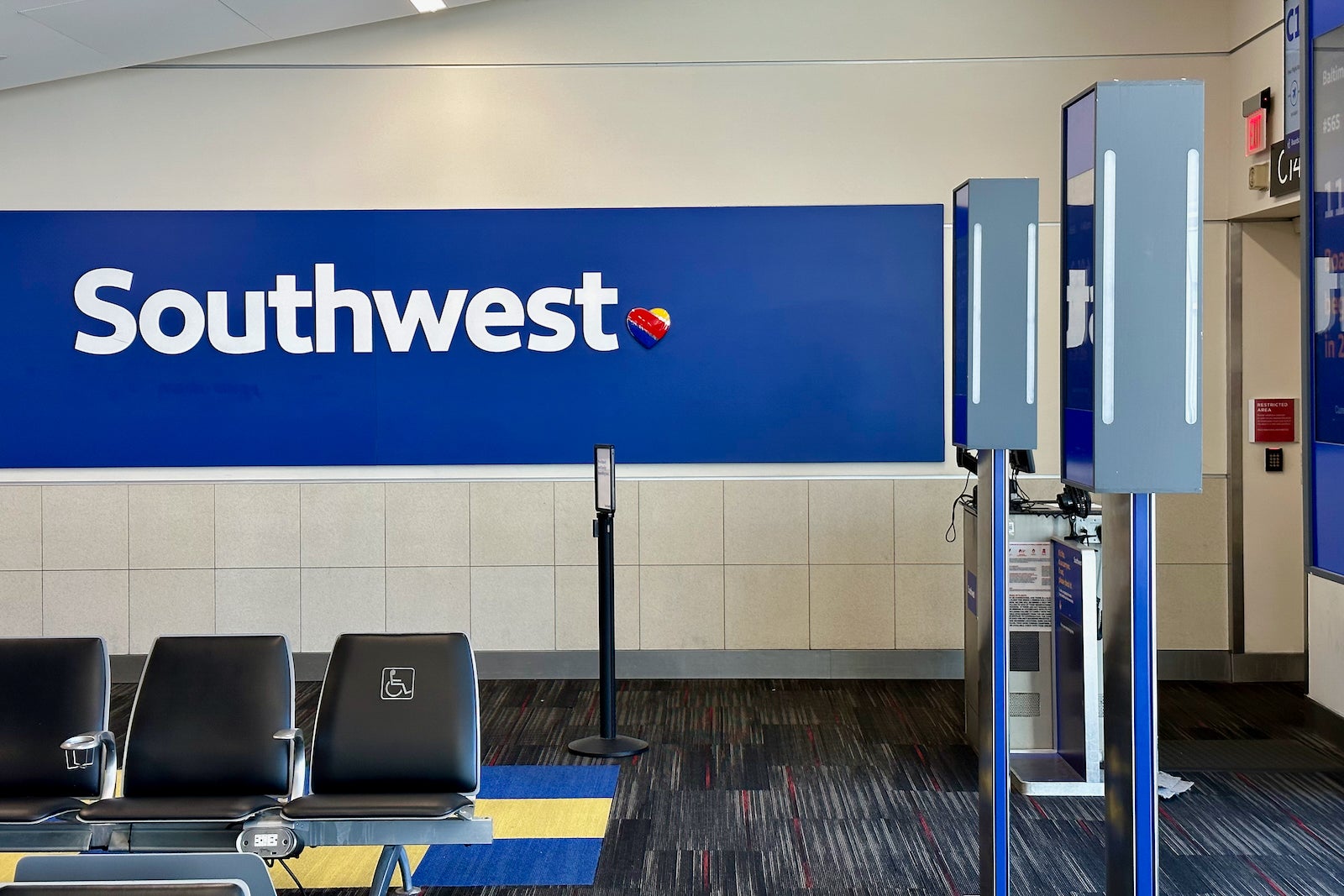 Each of the four Atlanta gates has a different colored carpet. After coffee spilled on the yellow carpet on day one, the innovation team decided that dark blue would likely look the best in places with lots of foot traffic, like airports.
21st-century boarding pillars
When you check in with Southwest, you're assigned a boarding group letter and number, which tells you when you'll get onto the plane to pick your seat.
Most Southwest gates have metal pillars that show you where to line up when your boarding group is called. However, unless you listen to the announcements, it's hard to know when it's your turn to board.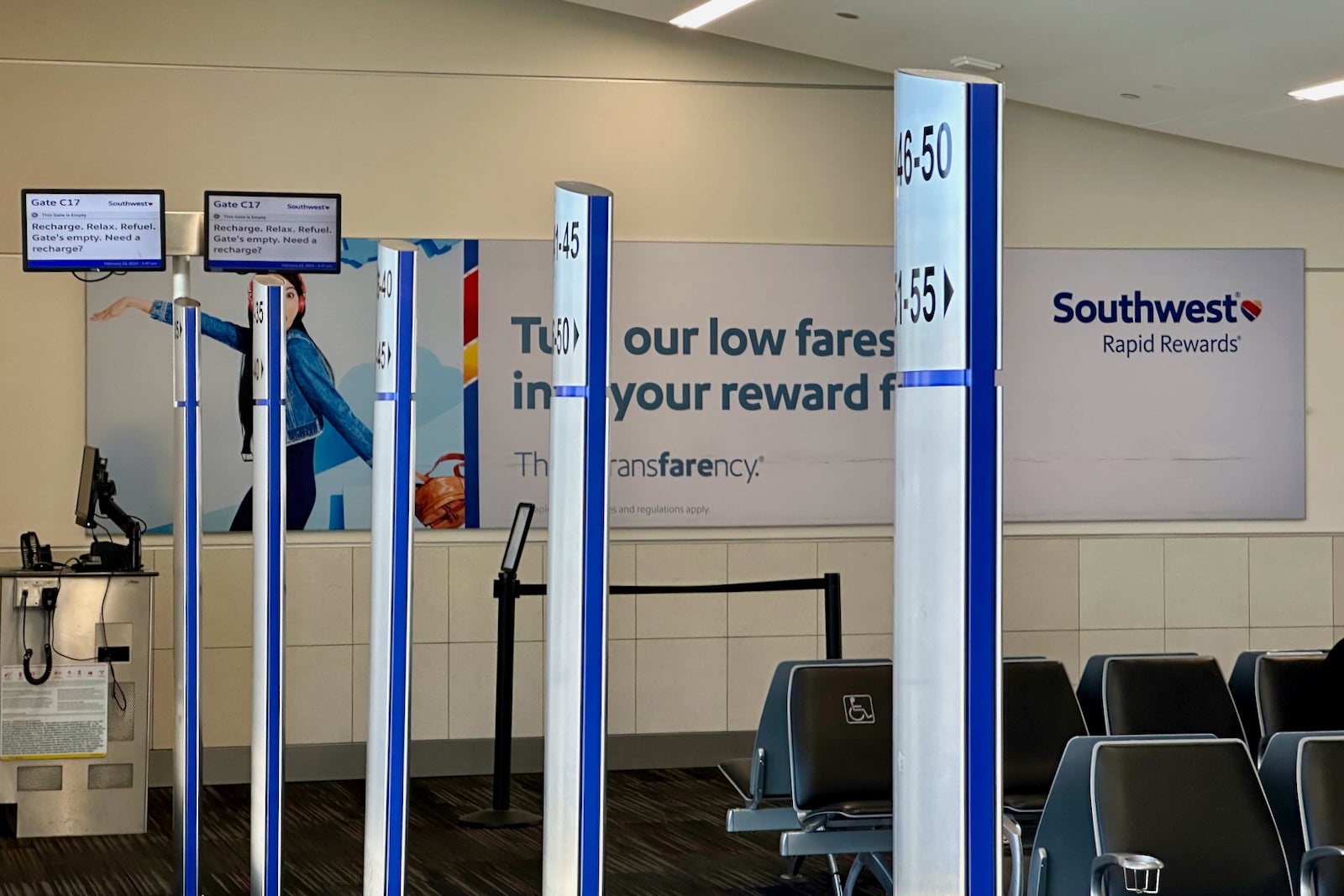 Southwest's innovation team is trying to fix that. To move passengers more quickly, the team is debuting digital pillars with built-in monitors that display real-time boarding information.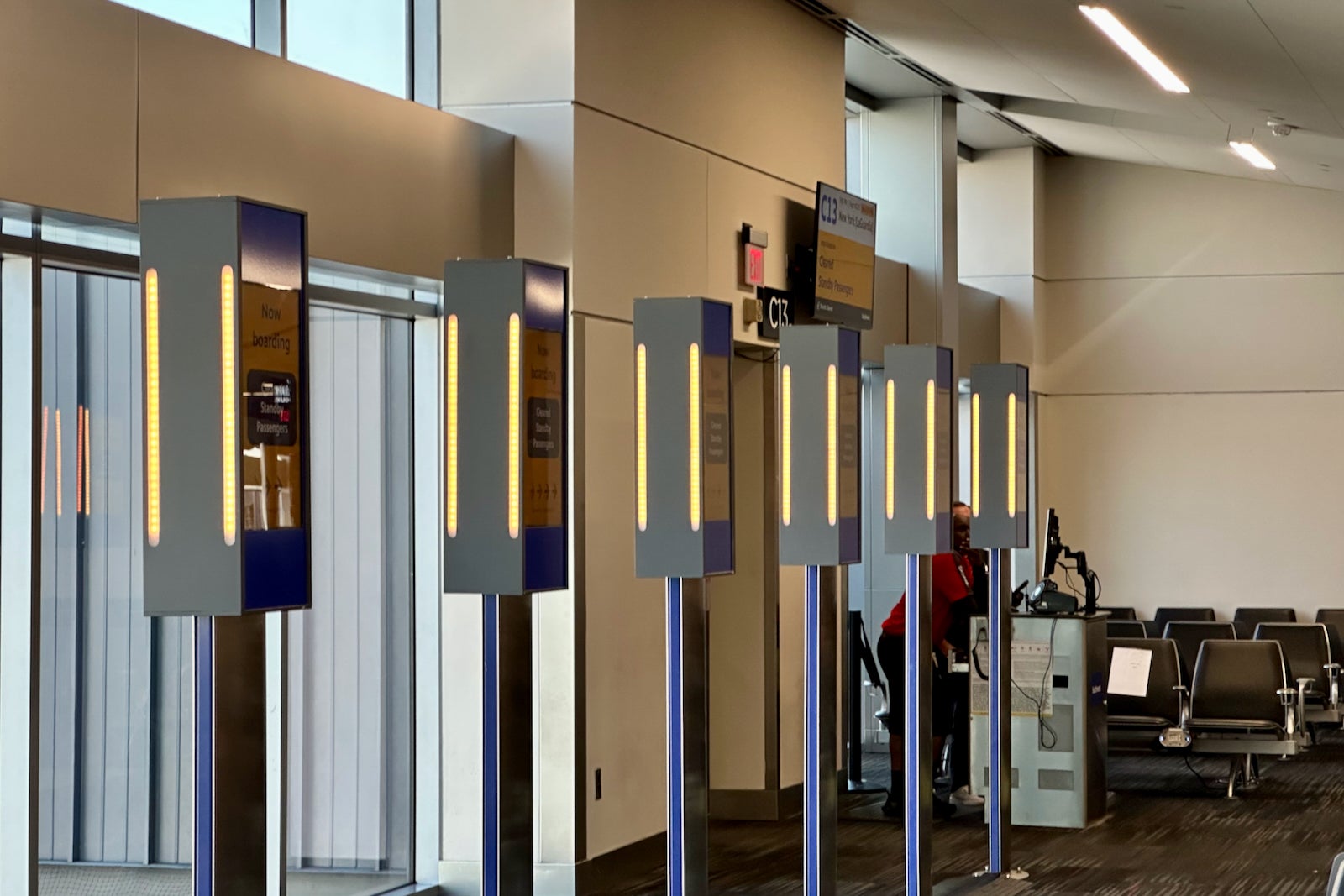 The monitors show what group is boarding and when it's your turn to line up. They even feature built-in yellow and blue LED lights to attract your attention; blue signals that your side is lining up and getting ready to board, while yellow indicates that your group is boarding.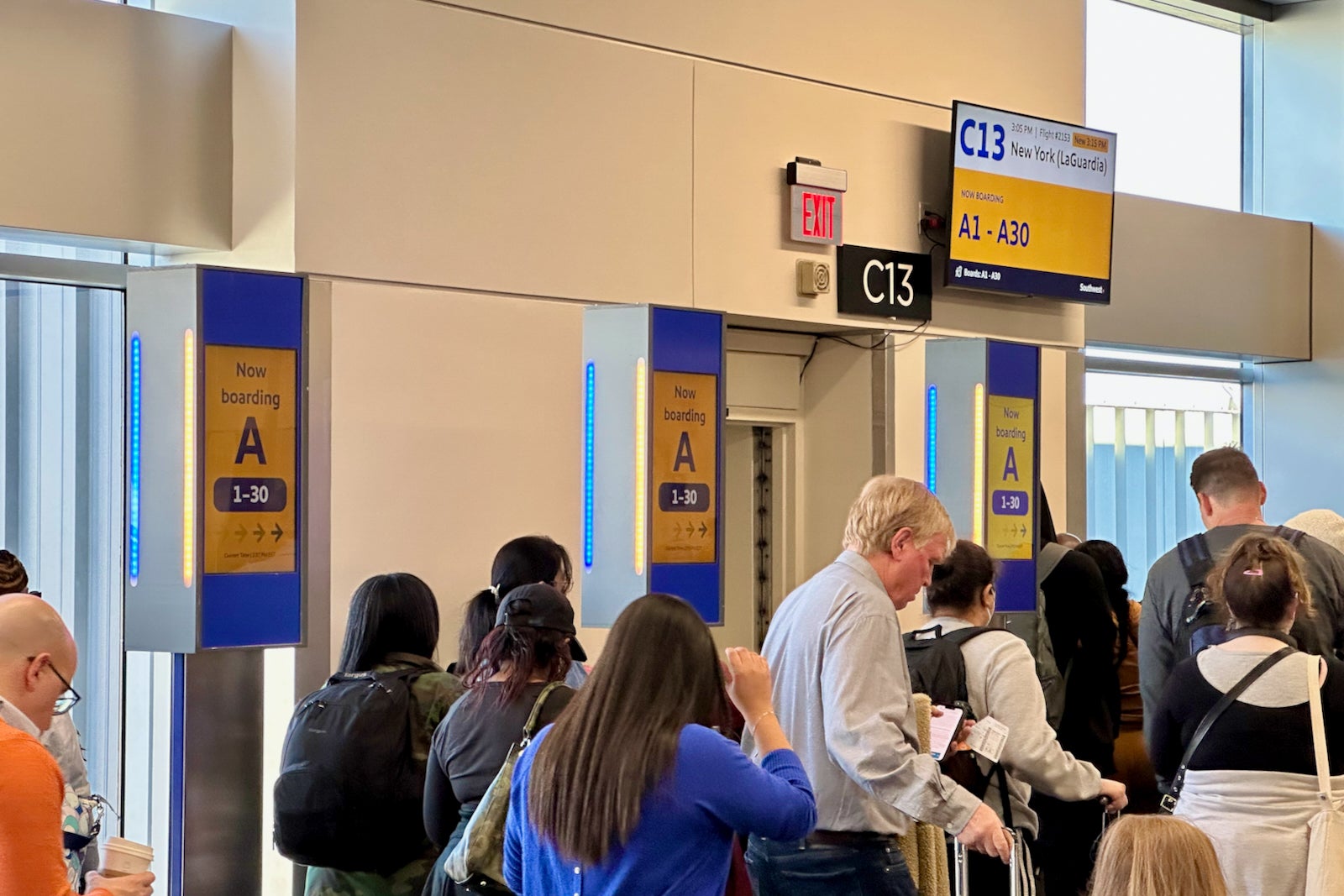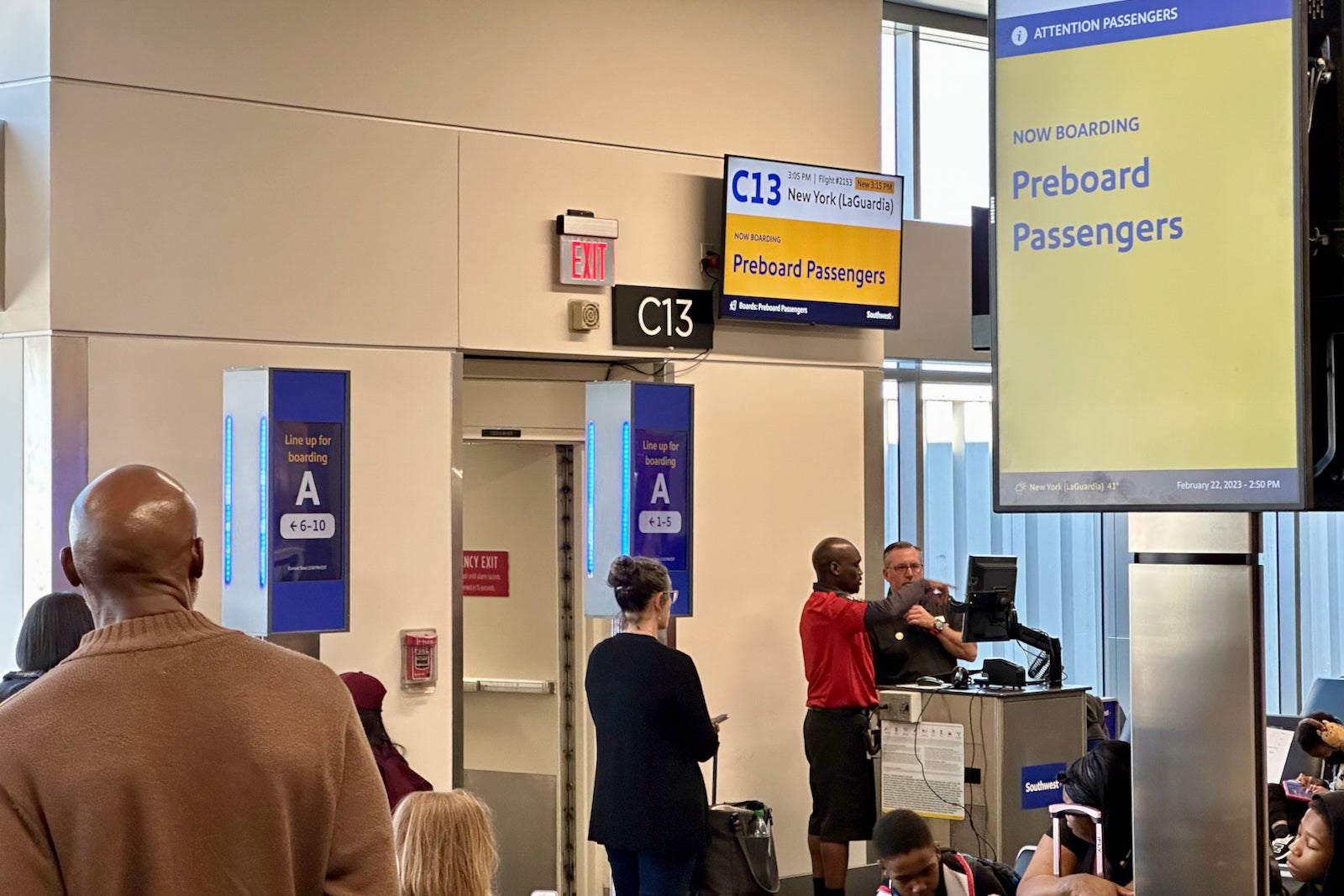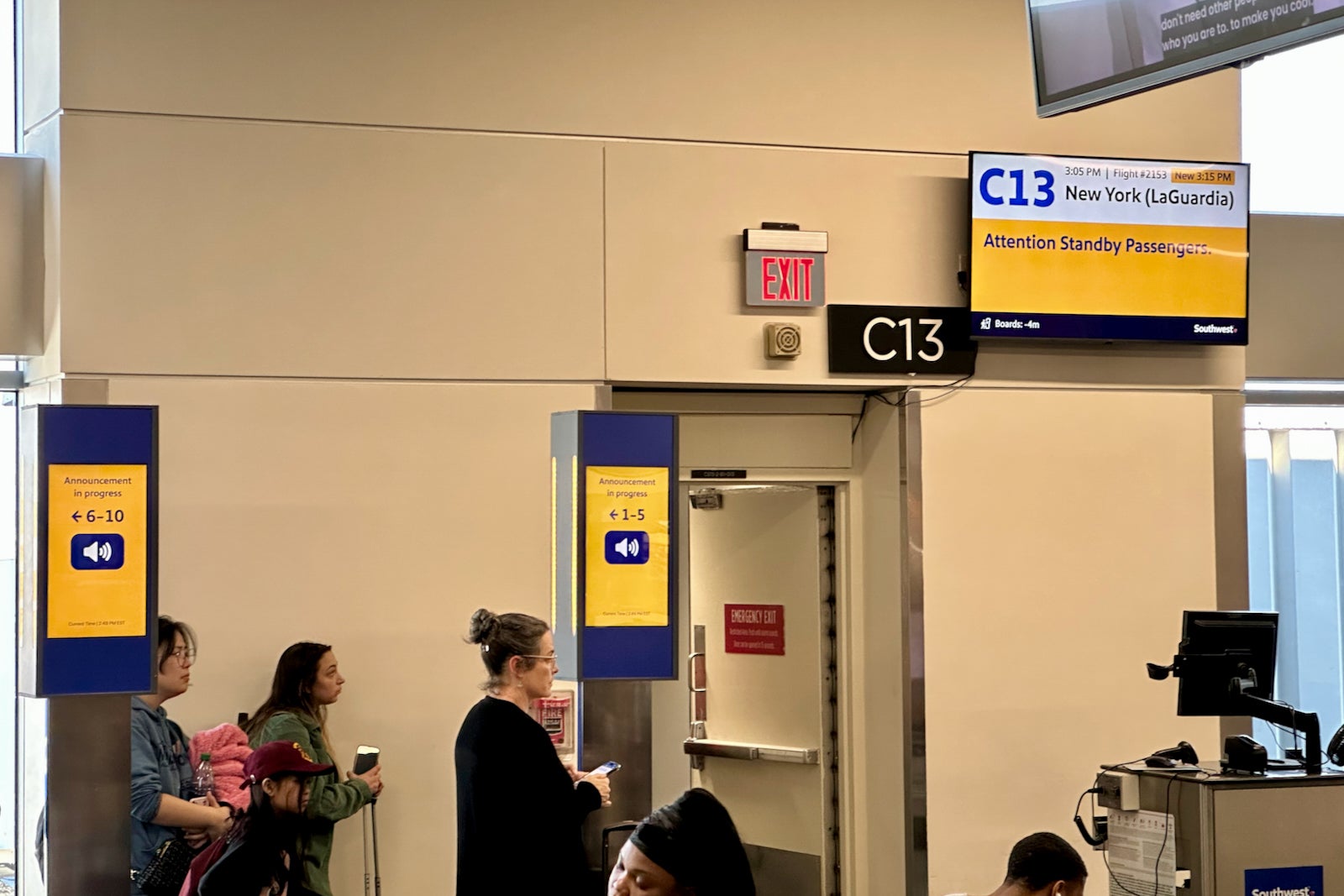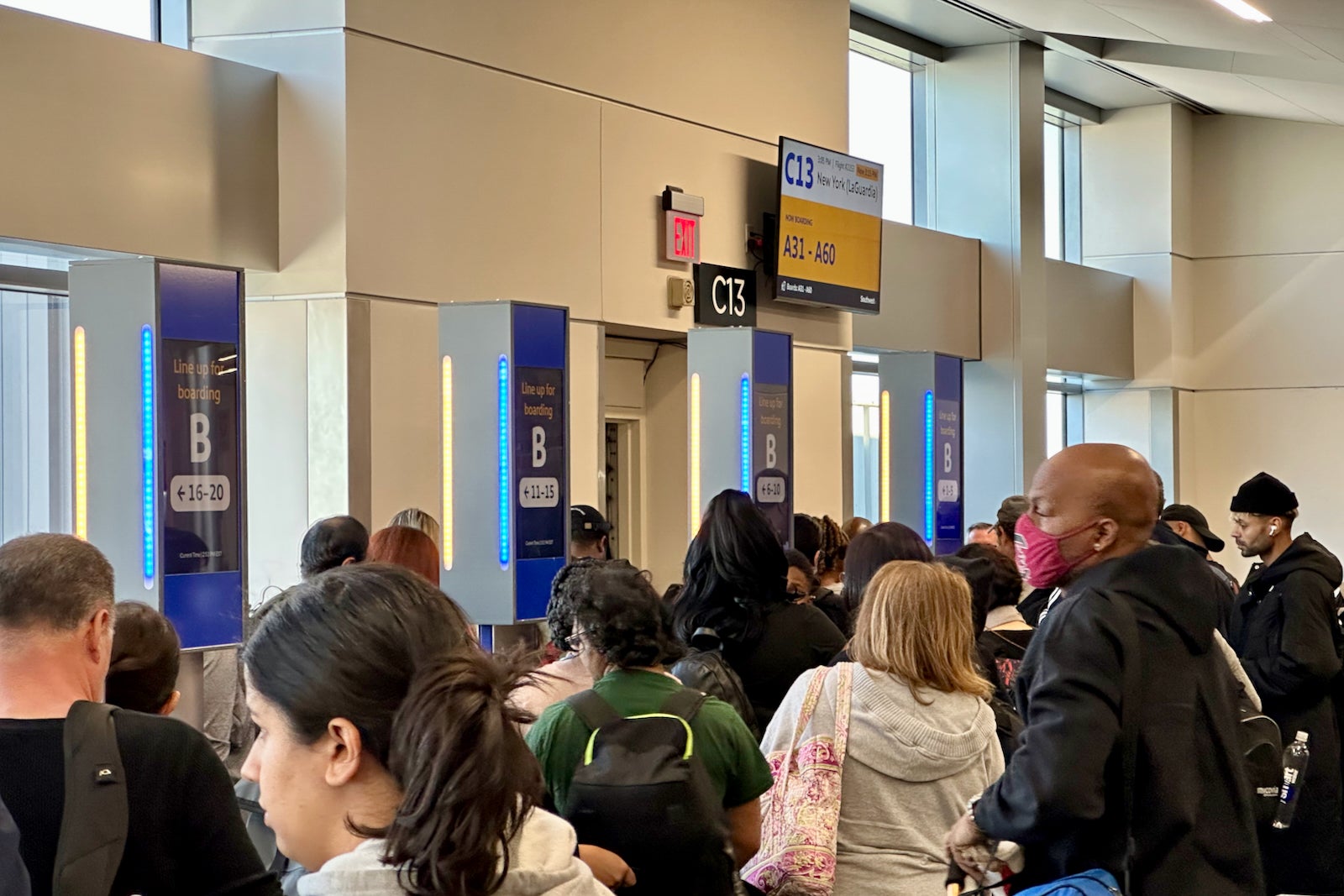 It's hard to imagine these stanchions not being an improvement over the current ones. The biggest issue for Southwest, however, is finding power outlets for all the monitors, something that the innovation team will need to figure out if they decide to roll out these digital pillars more broadly.
A new way to see announcements
These days, many travelers use noise-canceling headphones to drown out distractions in an airport. (I'm personally a big fan of Apple's AirPods Pro.)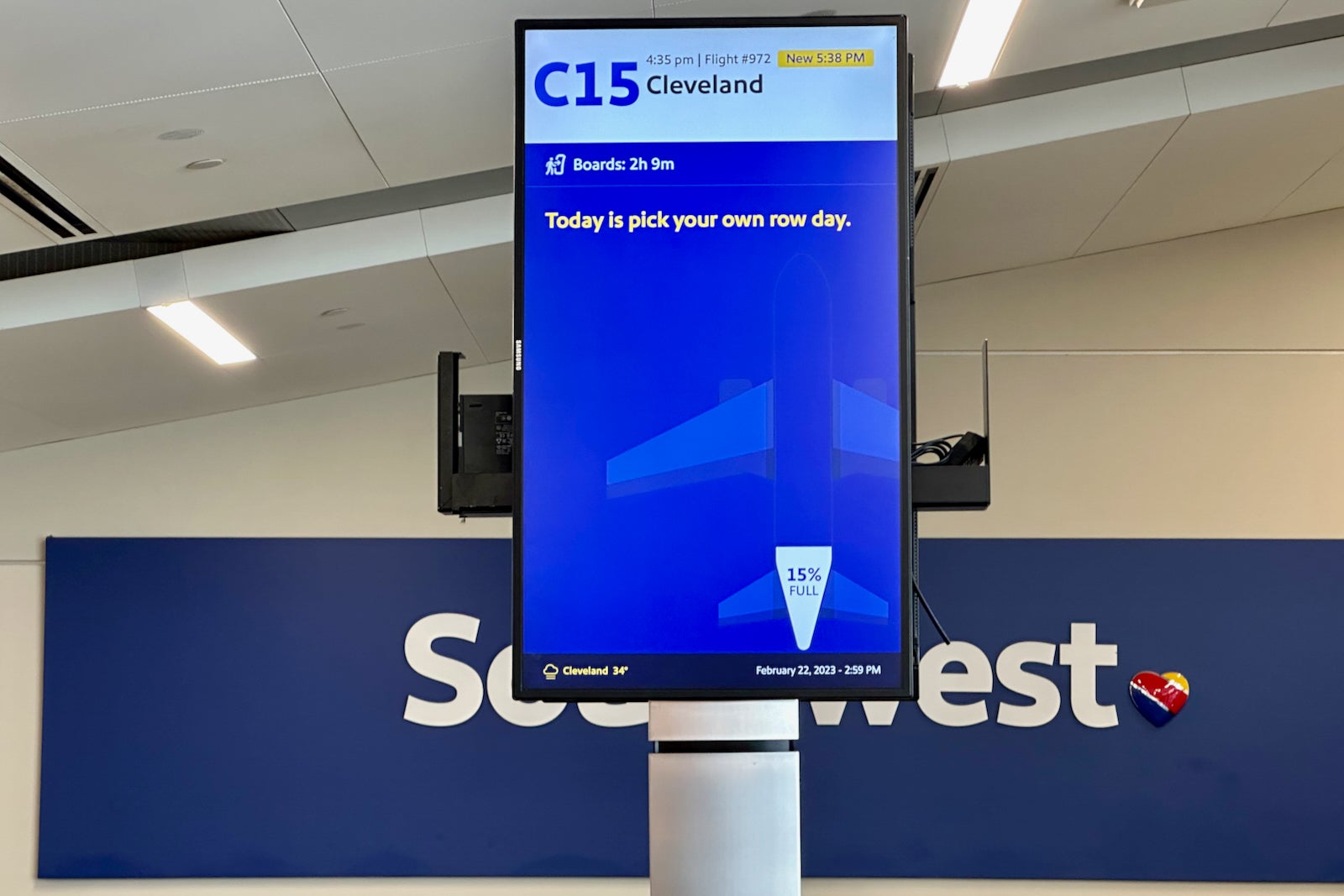 If you're wearing your headphones, though, you may not hear an important announcement — unless you're sitting at one of Southwest's test gates.
In addition to showing live boarding information, the new digital pillars also display visual announcements, including updated flight status and whether gate agents need more gate-checked bags.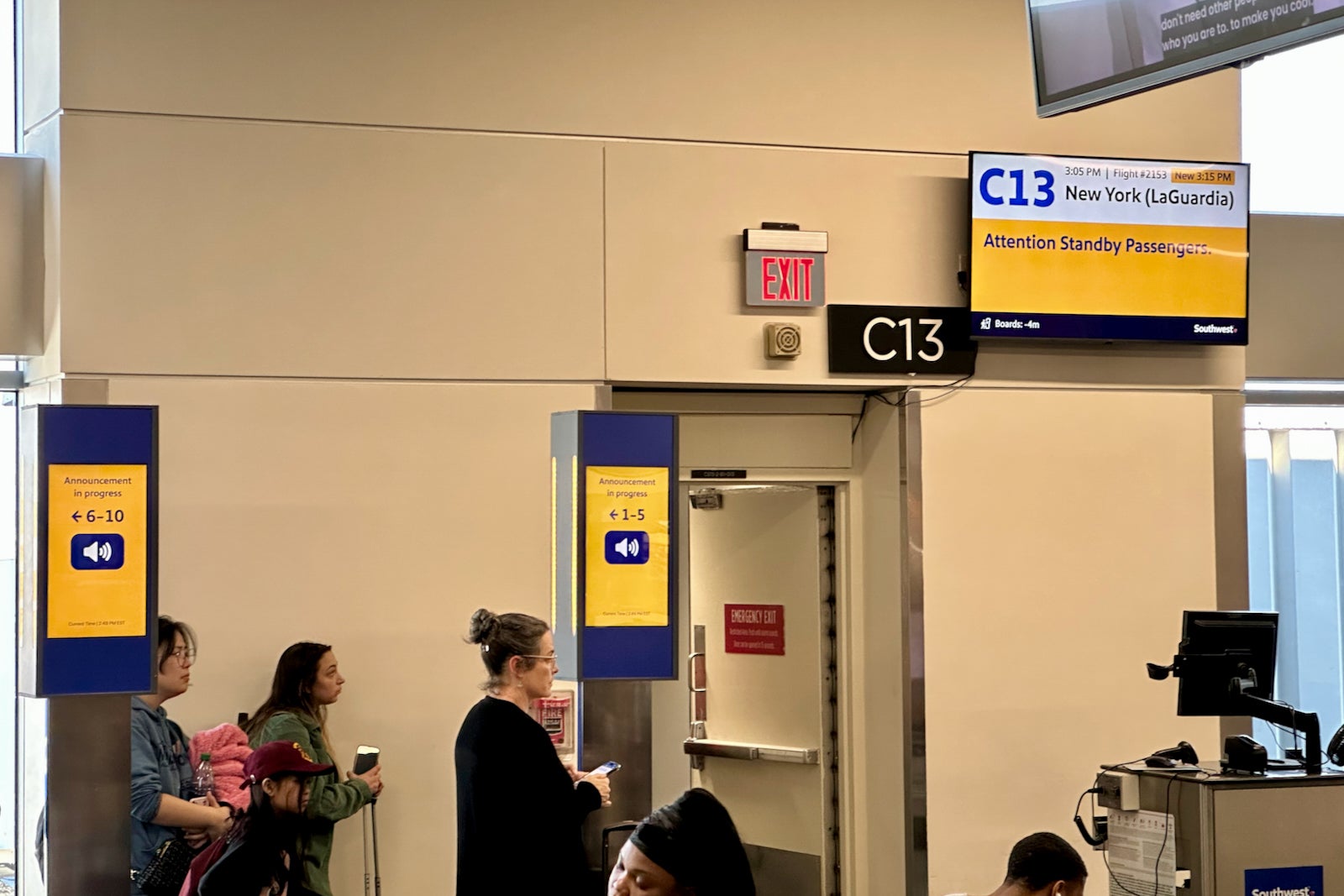 Though you won't get a full transcript of what the gate agent says, these visual announcements should be enough to grab your attention.
Self-service at the gate
It's hard to imagine that this is being rolled out as an innovation in 2023, but Southwest is trialing whether adding a self-serve kiosk in the gate area will shorten the line to speak with a counter-service agent.
If nearly every other major U.S. airline is any indication, the answer is likely yes. However, it's still something that Southwest is testing in Atlanta.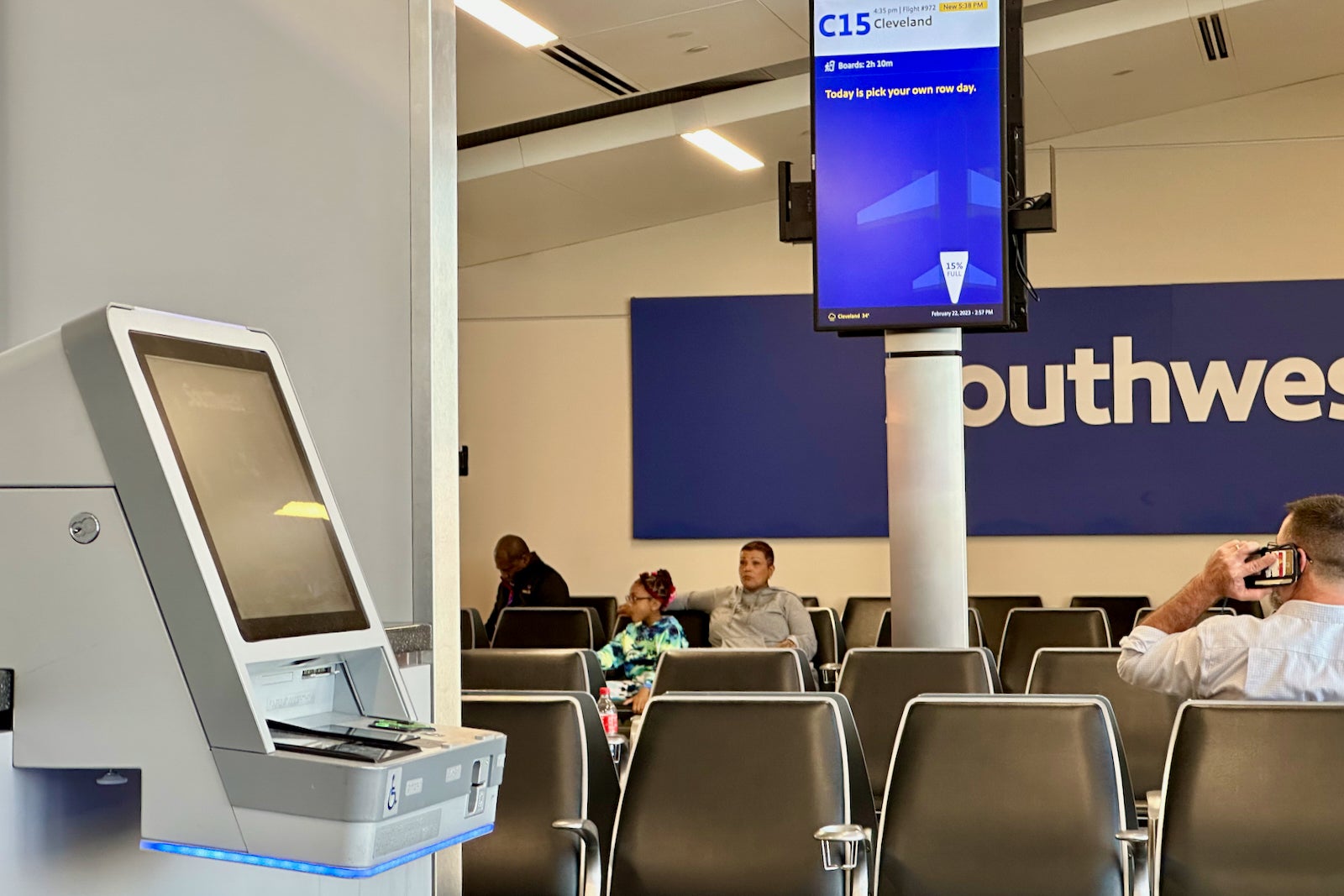 The innovation team wants to see whether customers will use these kiosks to reprint boarding passes, generate bag tags for gate-checked carry-ons and add infants to their reservation, all without speaking to an agent.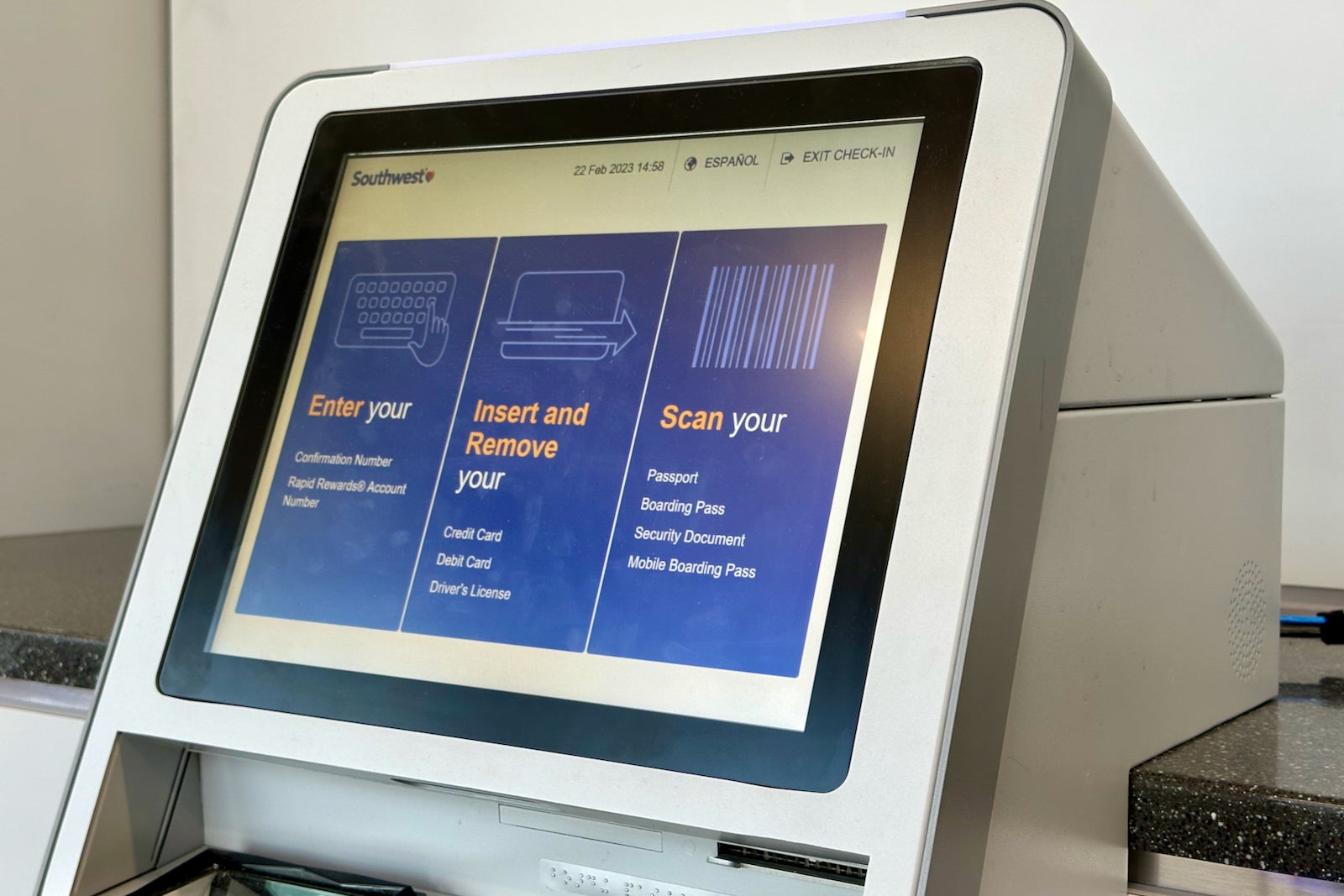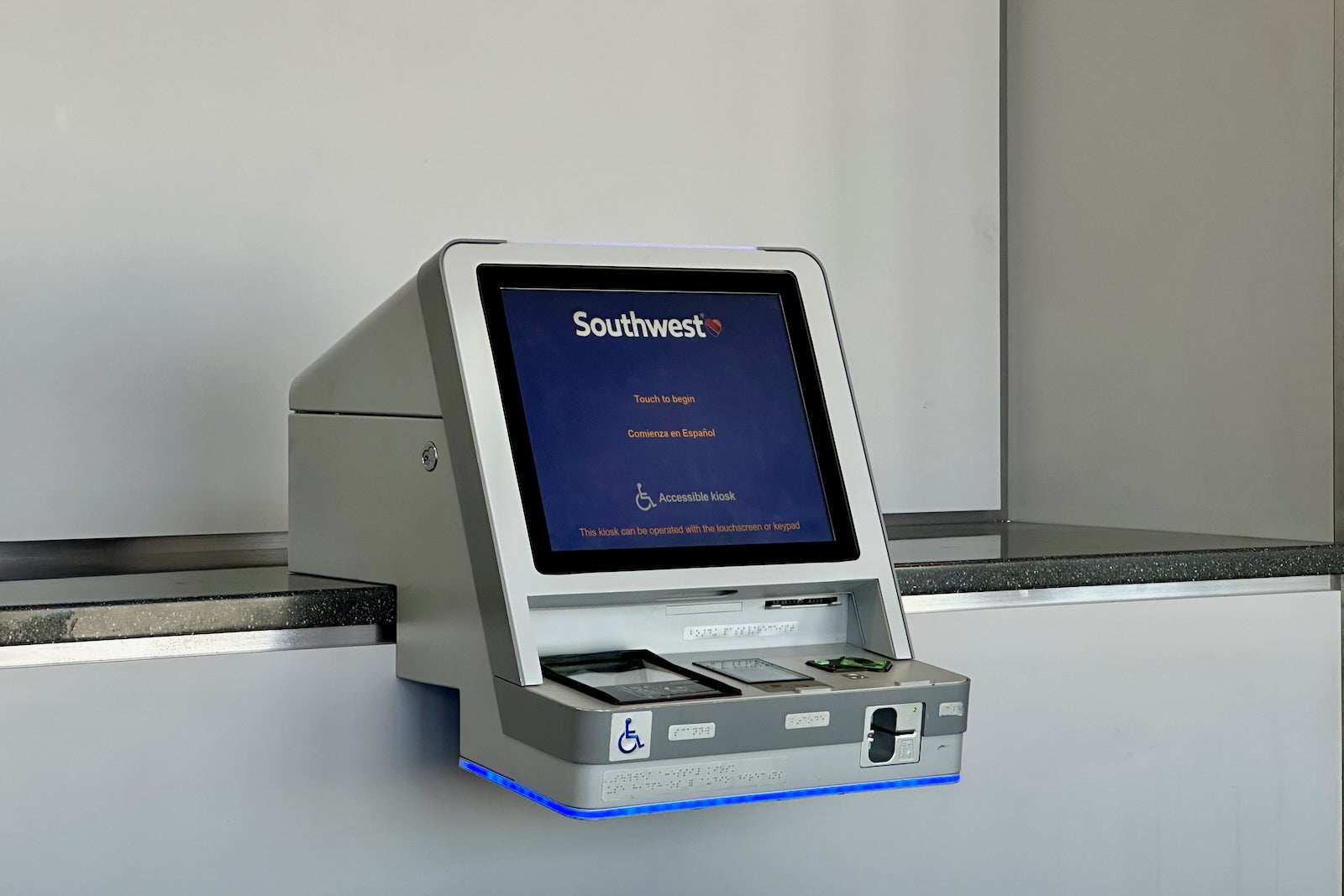 The airline is also considering adding the ability to purchase last-minute boarding group upgrades at these kiosks, which could likely further reduce the line to speak to an agent.
An all-in-1 iPad app
Speaking of agents, Southwest is making mobile-friendly versions of the tools that agents need to master a turn, including the ability to print bag tags, communicate with the onboard crew and monitor the number of wheelchair and special services passengers.
This technology is powered through a new internal iPad app that the innovation team is piloting in Atlanta and distributing to multiple passenger-facing employees, including operations agents, customer service agents, customer service supervisors and inflight crews.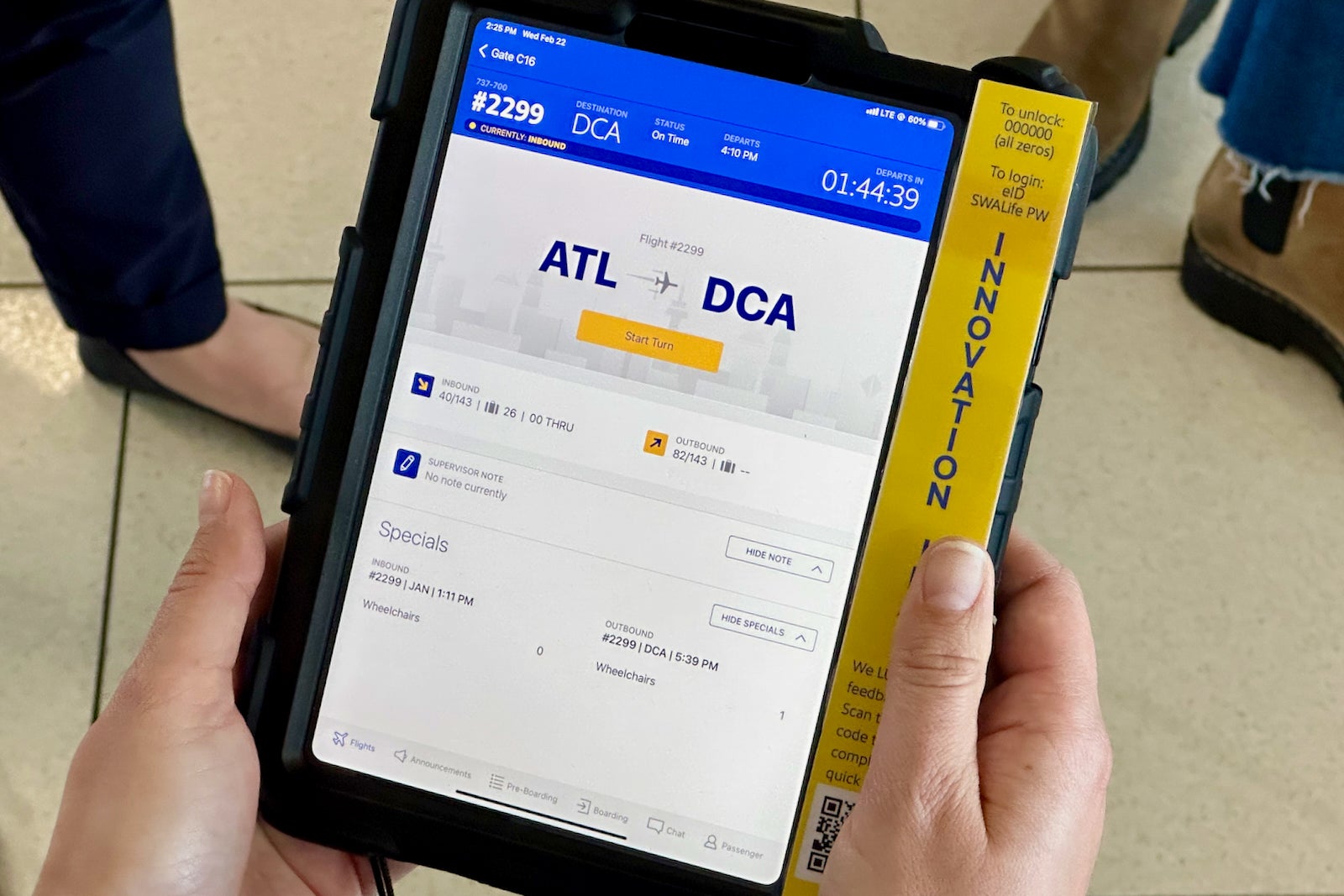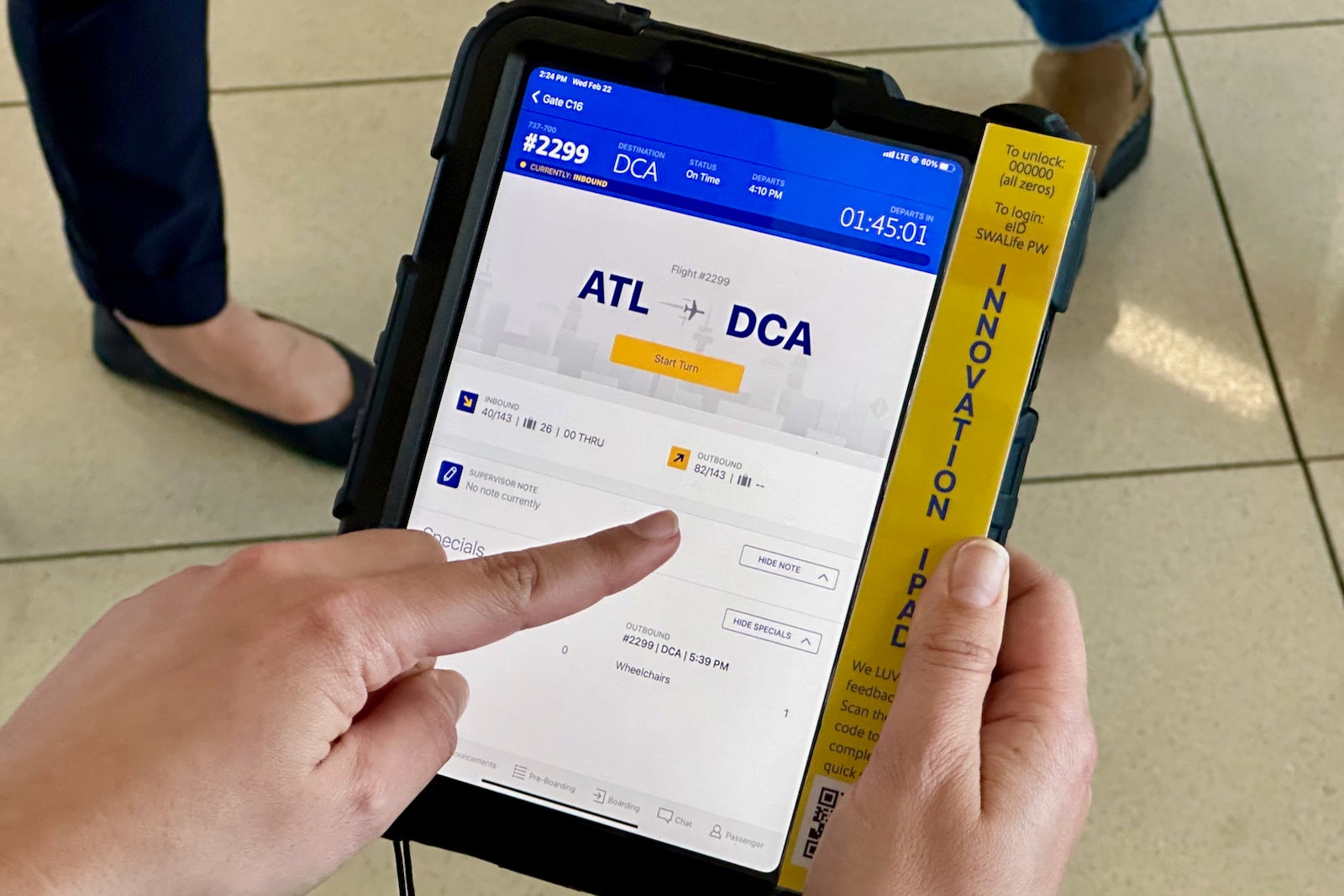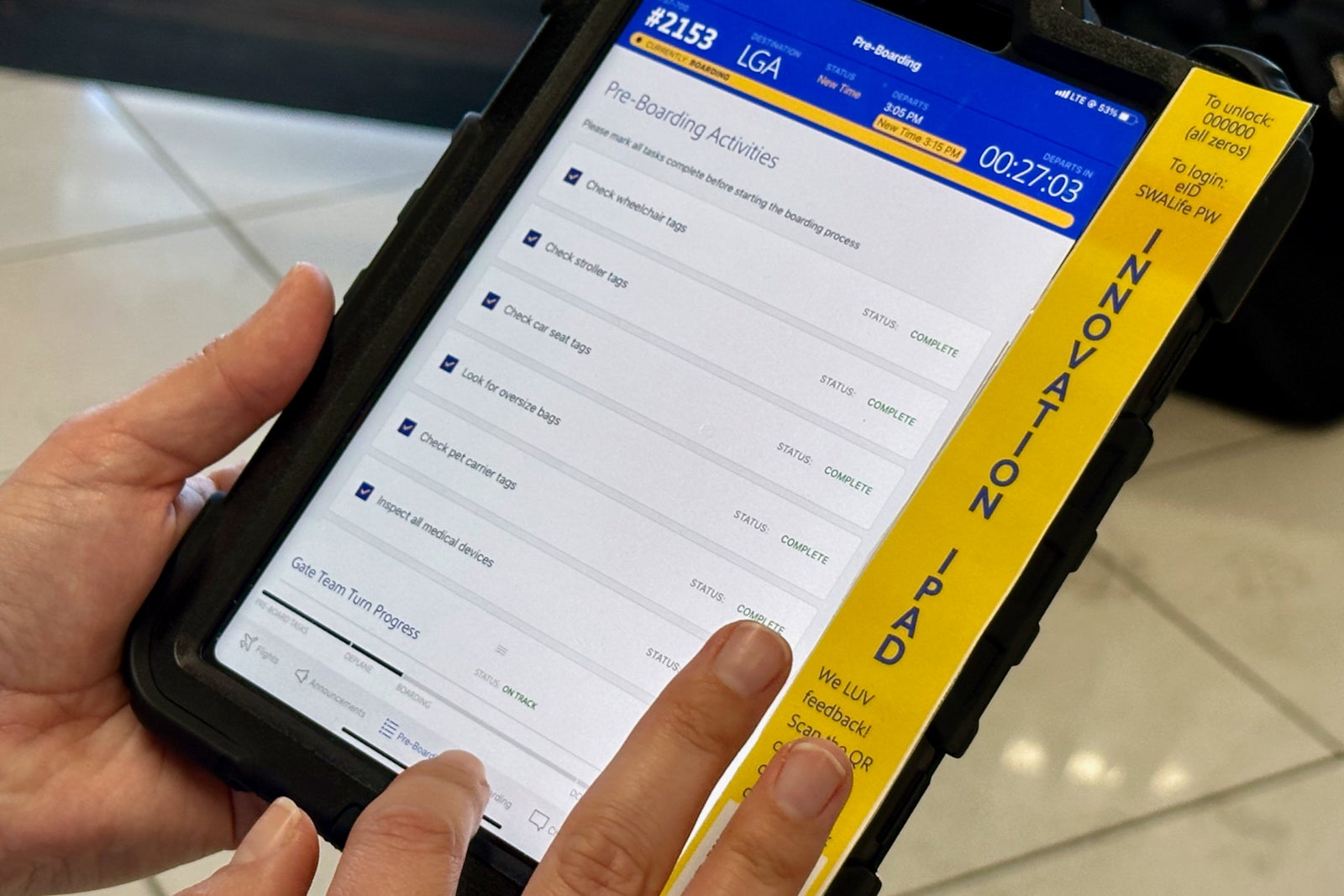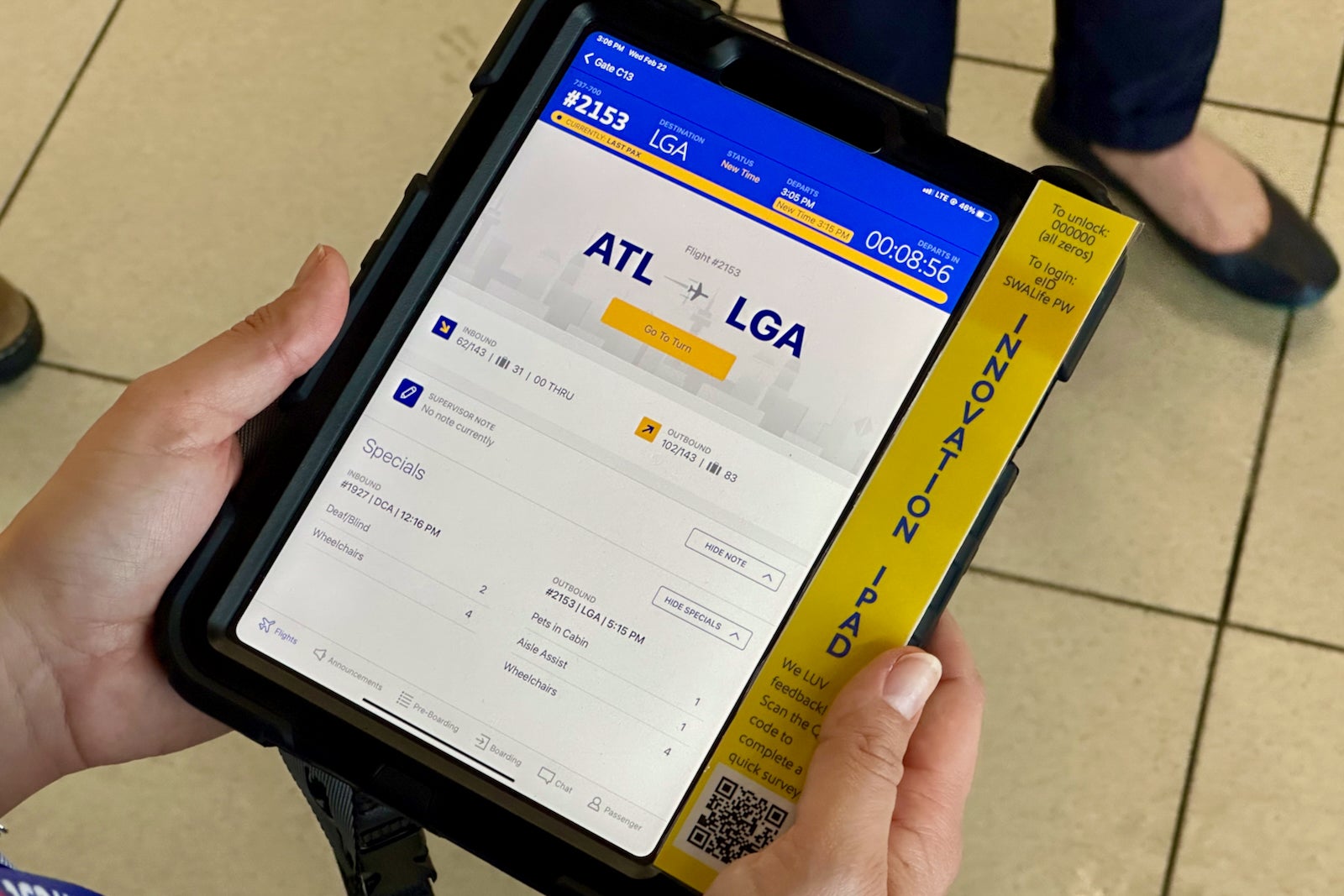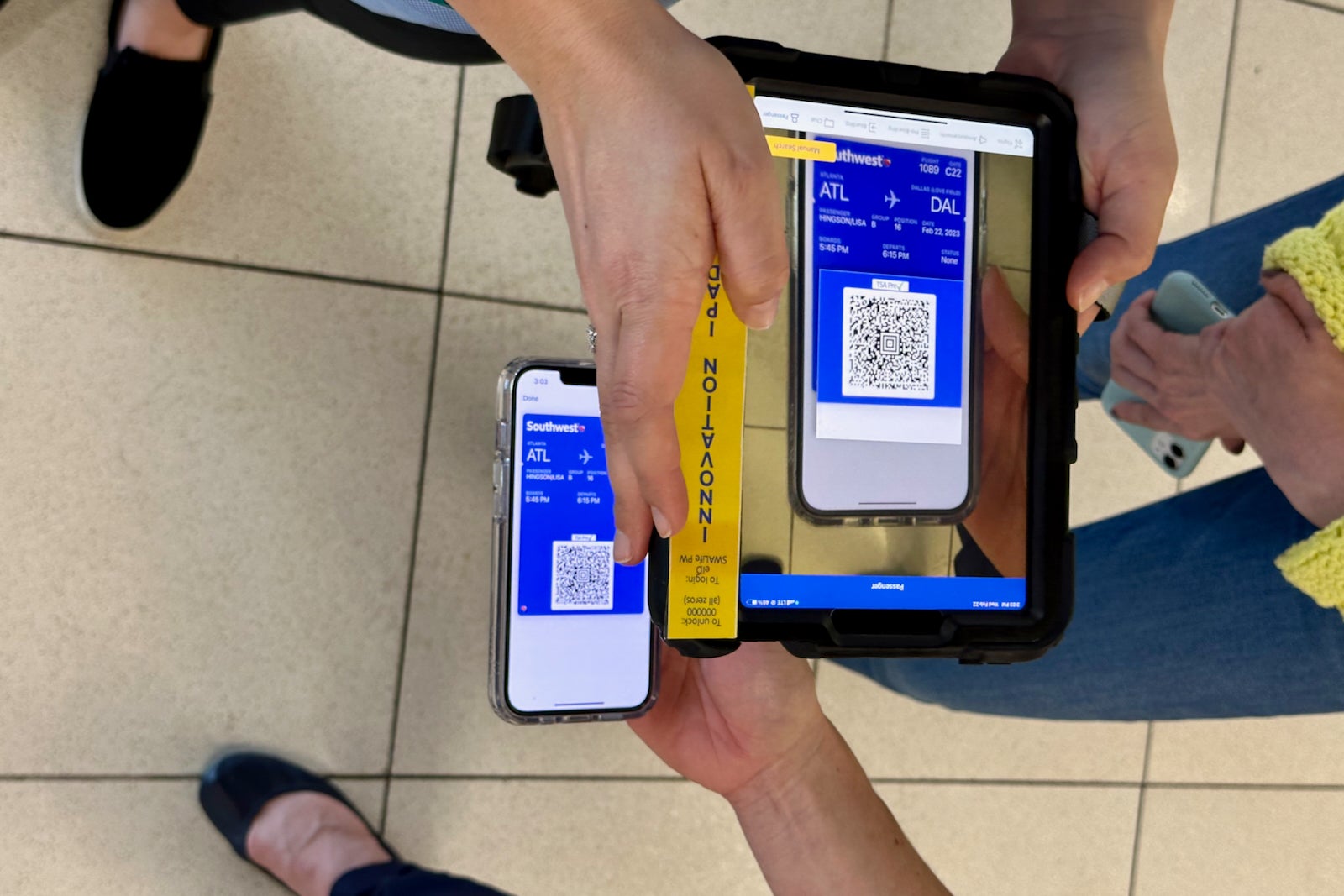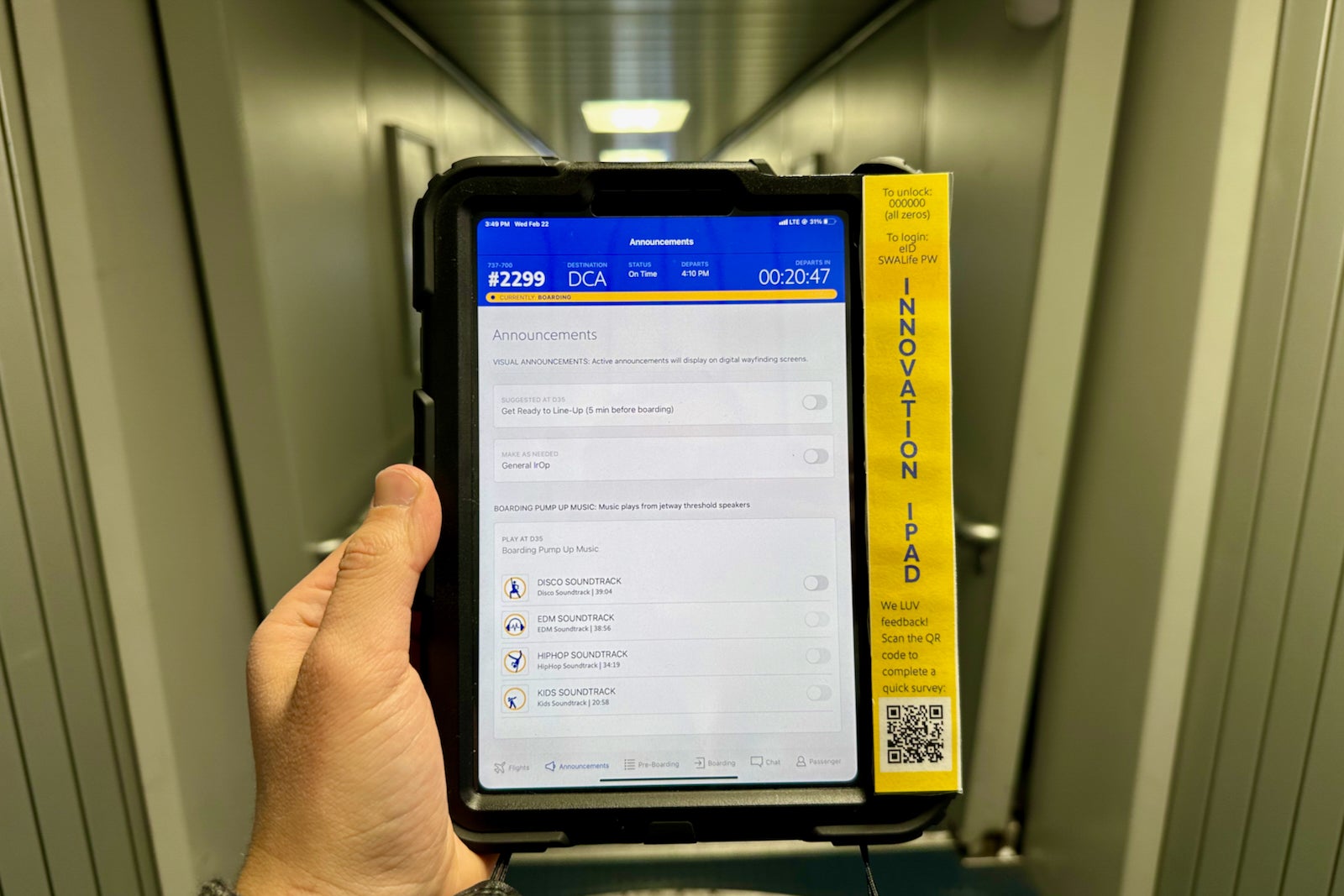 The all-in-one iPad app lets agents accomplish many of their everyday tasks. It also powers many other innovations, including visual announcements and team-wide chats.
For example, before the debut of this iPad app, gate agents needed to walk down to the plane to ask the flight crew if they were ready to board. Sometimes, an agent would need to make the trip multiple times, especially if the cleaning crew arrived late or if the plane was experiencing a technical malfunction.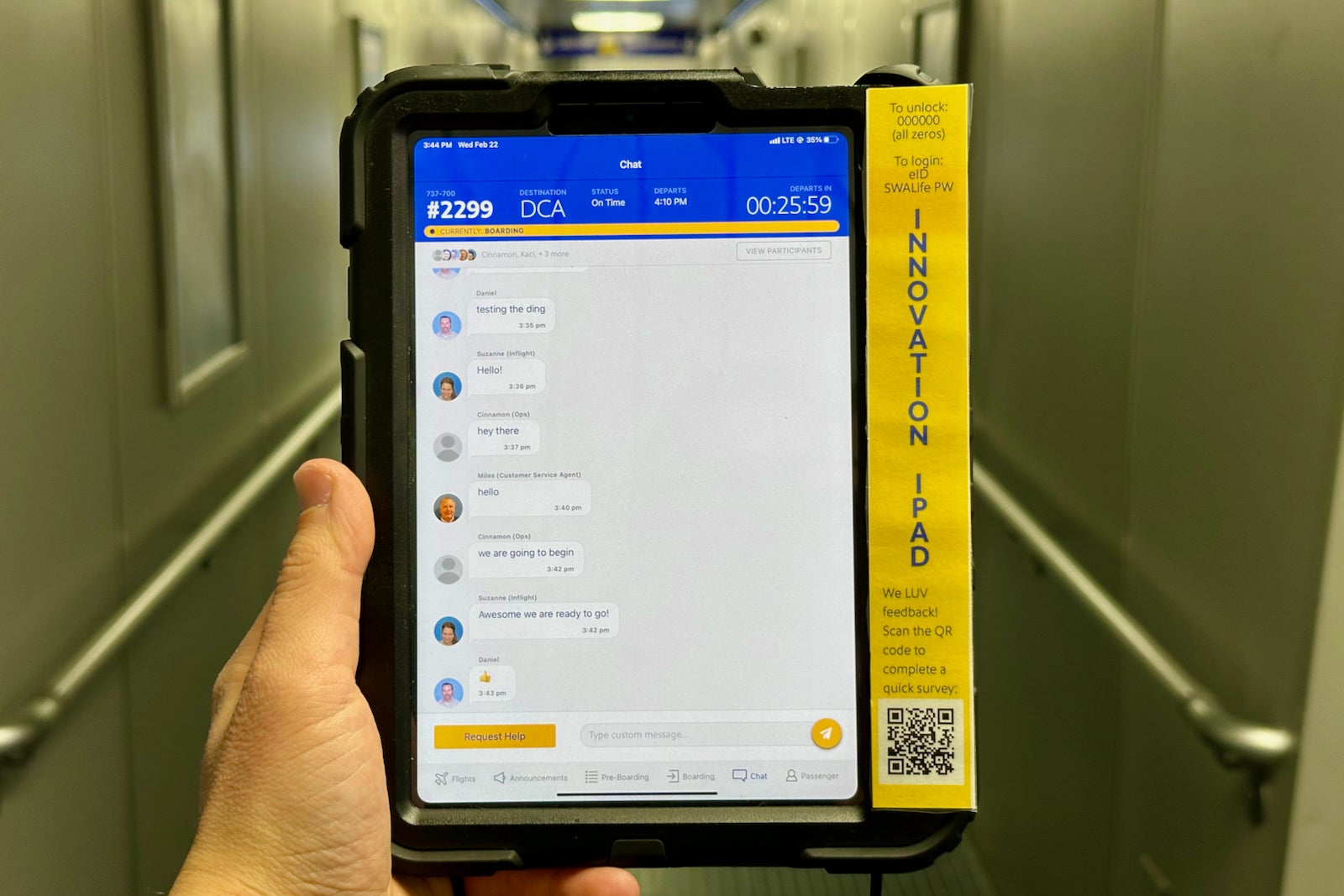 Now, with the new chat feature, the gate agent can wirelessly connect with the flight attendants — saving them time-consuming trips to the plane and hopefully helping speed up the boarding process.
A jet bridge party
Once you've scanned your boarding pass, the next big bottleneck is usually a long wait in the jet bridge. To minimize that, the Southwest team came up with three exciting innovations that are poised to transform the jet bridge experience.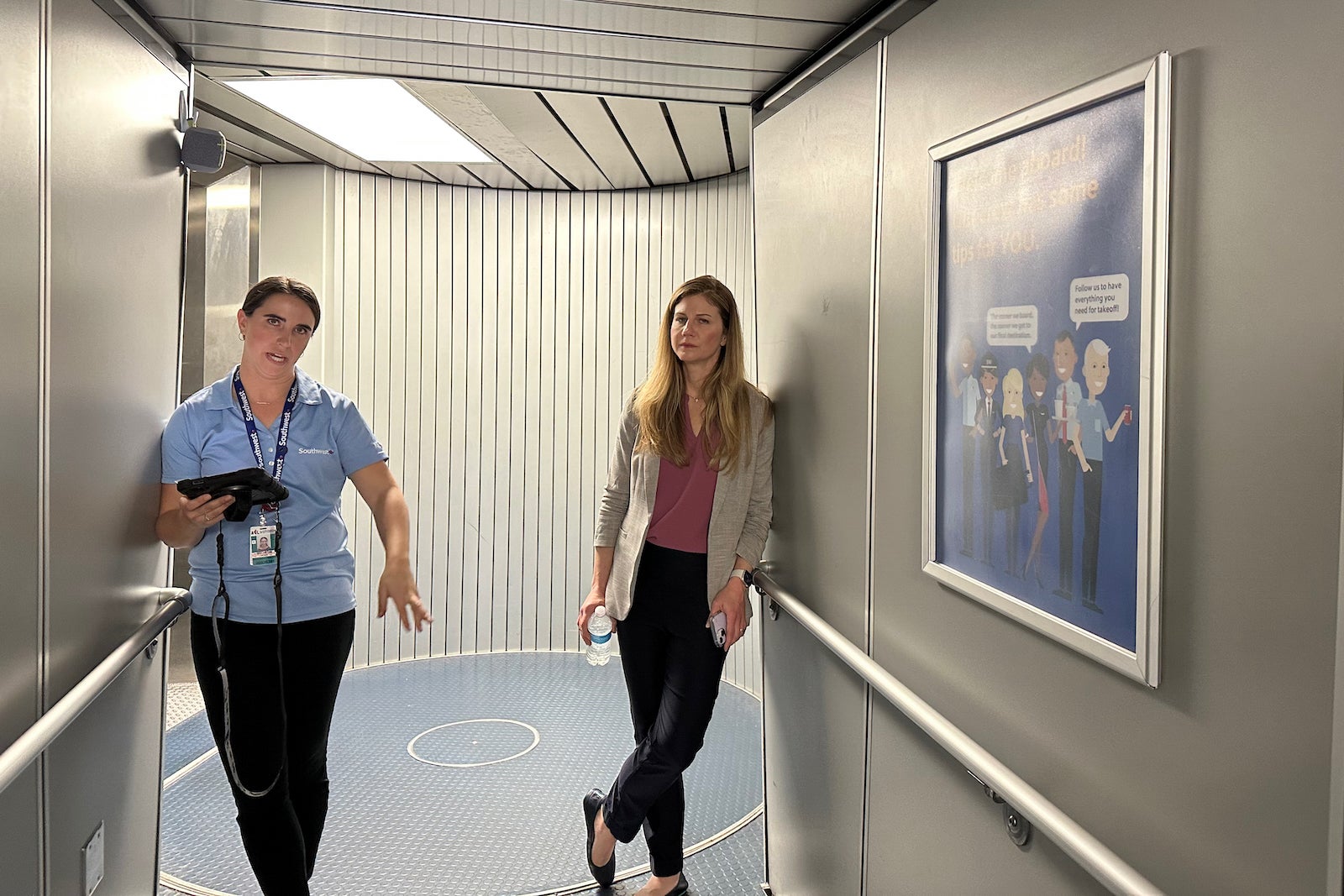 The first is the installation of Bluetooth speakers in the jet bridge, which play (royalty-free) disco, electronic dance music, hip-hop and kids music during boarding and deplaning.
Listening to music at a high beats-per-minute rate is scientifically proven to get people moving faster and more efficiently, according to McCartan, which is exactly what Southwest wants during one of the most critical phases of the turn.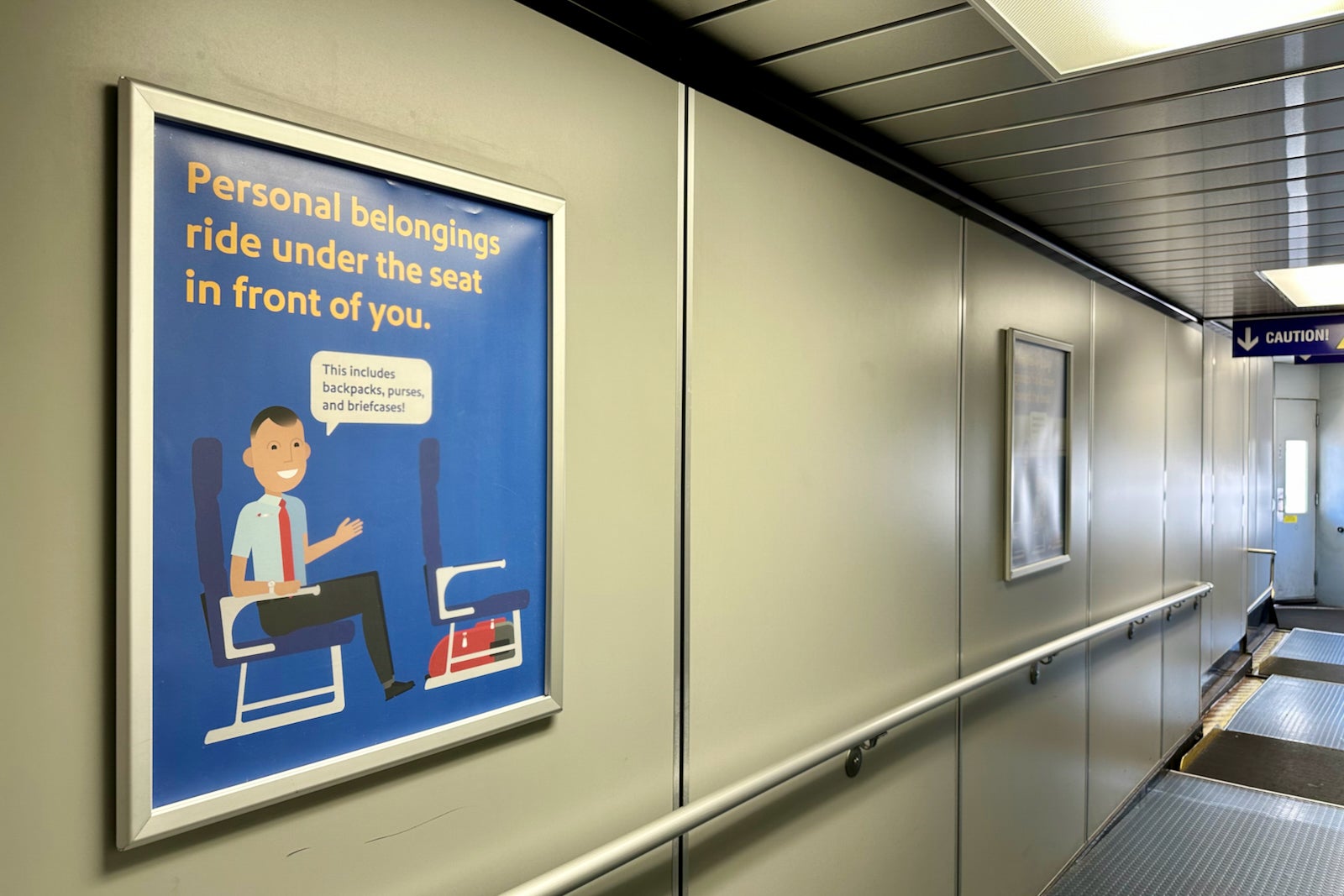 Better yet, the flight crew can also control what's playing on the speakers, so if they are running out of overhead bin space or there are only middle seats left, the crew can play a prerecorded message over the speakers (complete with Southwest's famous "ding" sound) to help manage your expectations for what's happening on board.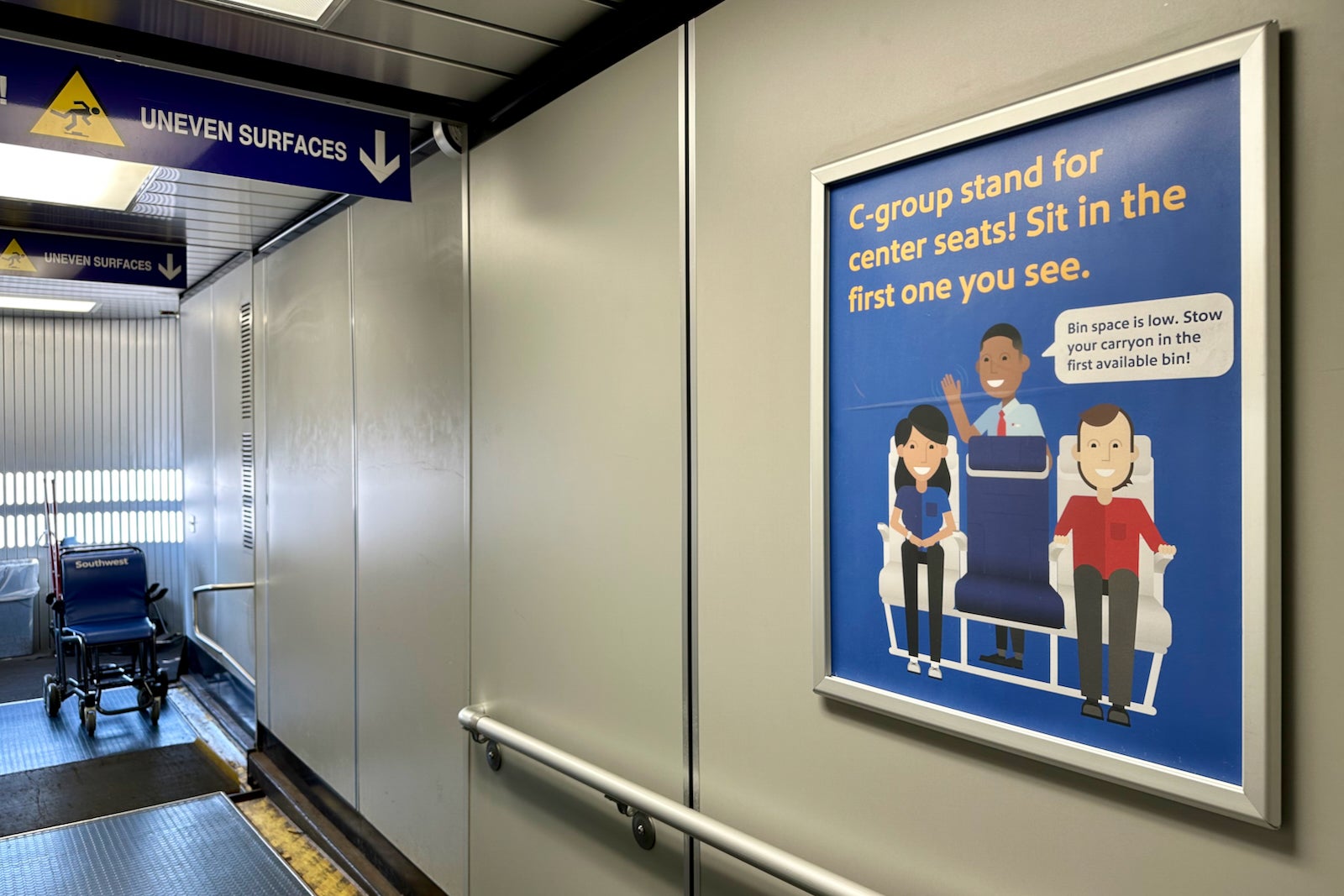 When you're waiting on the jet bridge, you're a pretty captive audience. That's typically why you'll find most of these walls currently lined with airline- and travel-focused ads.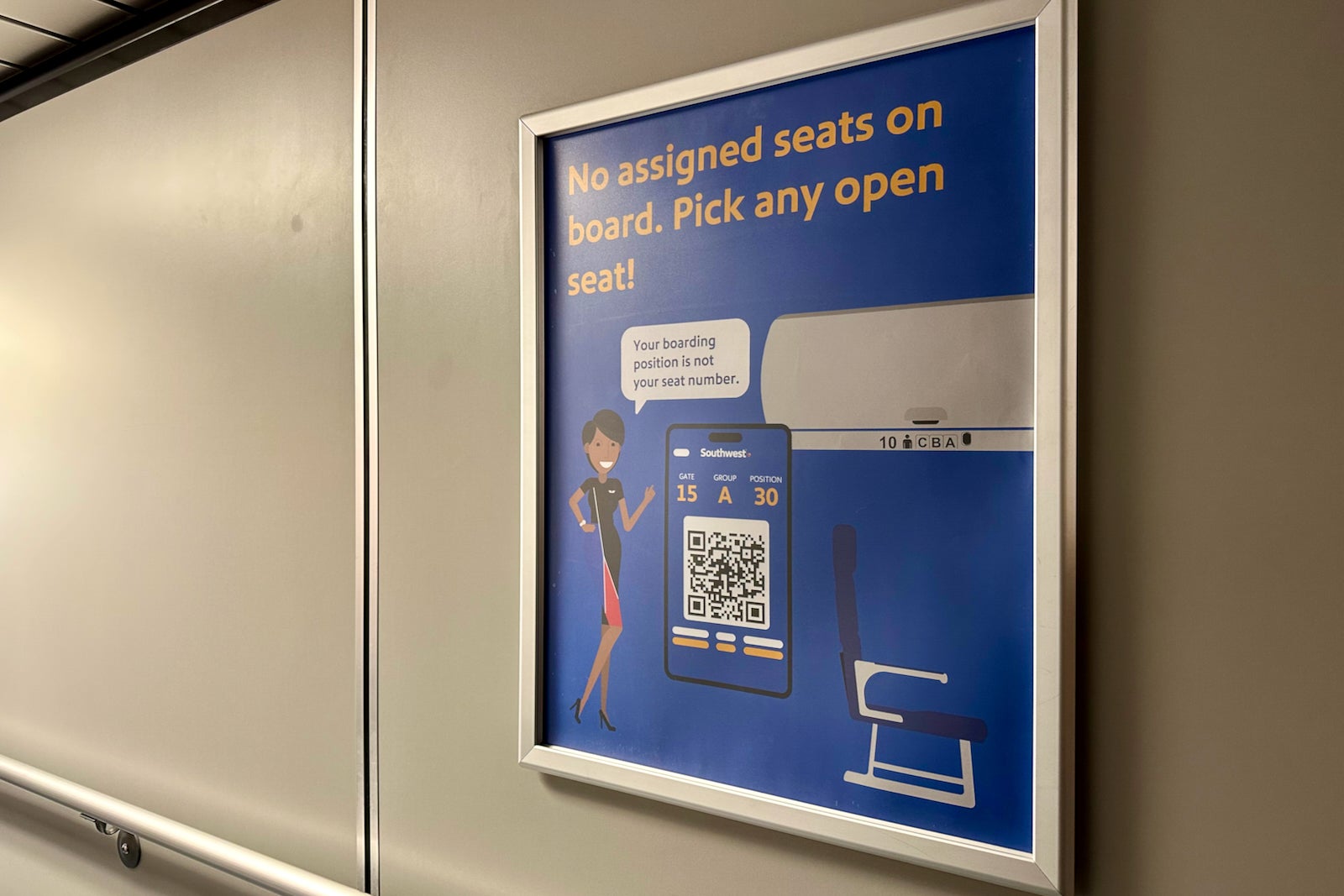 However, the innovation team is also testing whether displaying tips and tricks for navigating the Southwest boarding process will help speed up the process. So far, the team is hearing incredibly positive feedback from infrequent Southwest travelers, so it'll be interesting to see if this initiative rolls out more broadly.
Ramp information display
While all the aforementioned innovations are designed for "above-wing" operations, there's one the team is trialing for ramp workers — a dynamic display posted outside the gate that shows important preflight information.
These displays show a countdown until departure time, along with other important information, such as the status of the boarding process. Perhaps most importantly, these displays alert the ramp team when there are gate-checked bags waiting to be put into the cargo hold.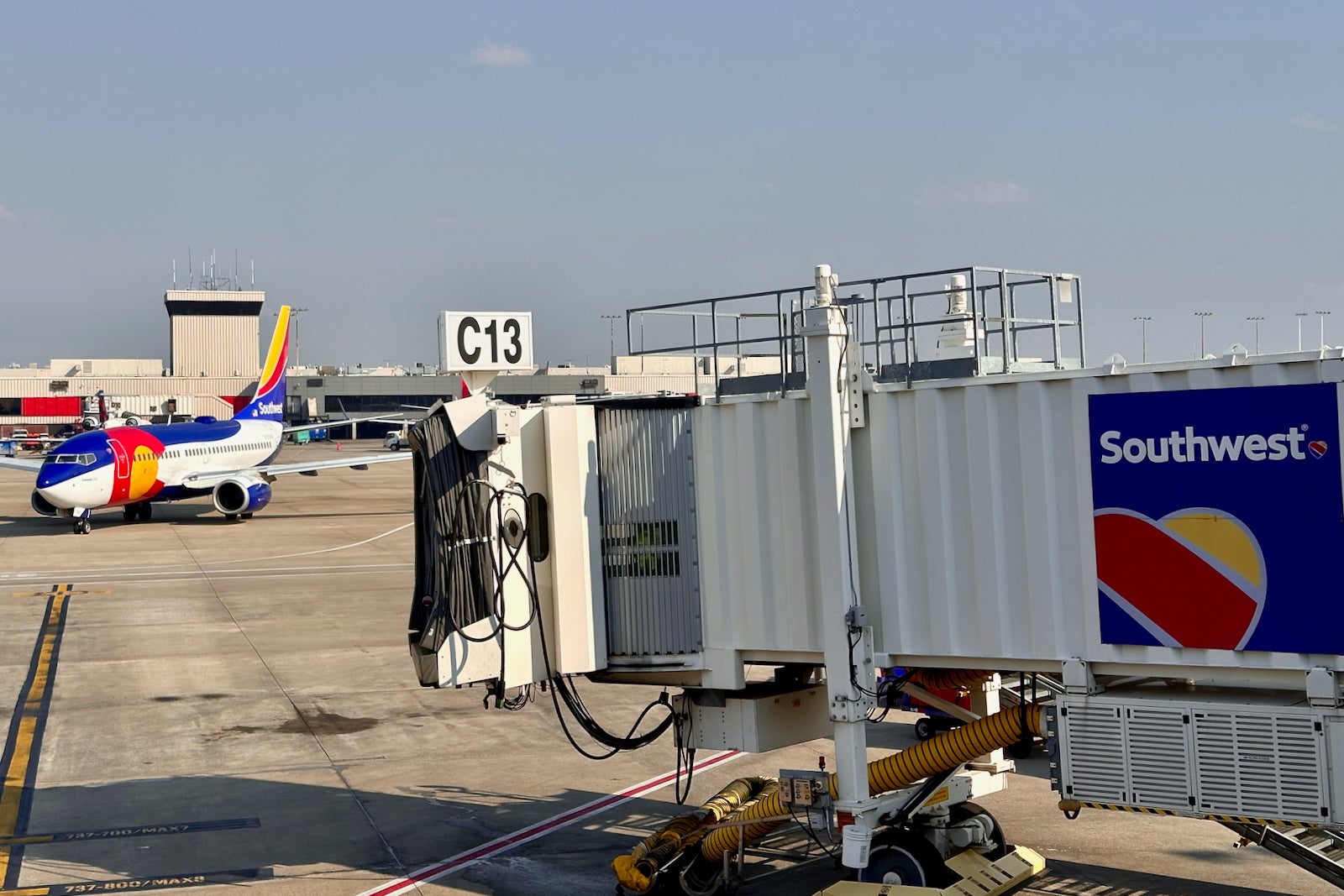 Previously, ramp staff would need to trek up the stairs to the jet bridge to see if there were bags waiting for them. Sometimes, these agents would need to climb the stairs three to four times each flight, wasting precious time that could be spent on other important predeparture tasks, McCartan told TPG. These new dynamic displays should eliminate these wasted trips, giving Southwest's ramp workers a big efficiency boost.
Of course, it's worth mentioning that many major airlines have successfully rolled out these displays already, so while this might be an innovation for Southwest, it's old news for some of the airline's competitors.
Bottom line
When planes sit on the ground between flights, Southwest doesn't make any money. That's why the famous 10-minute turn was born back in 1972, as the fledging airline charted its way to profitability.
As Southwest has grown in the past 50 years, so too has the complexity of each turn. There are more processes, more resources and more paperwork required to get passengers deplaned and boarded.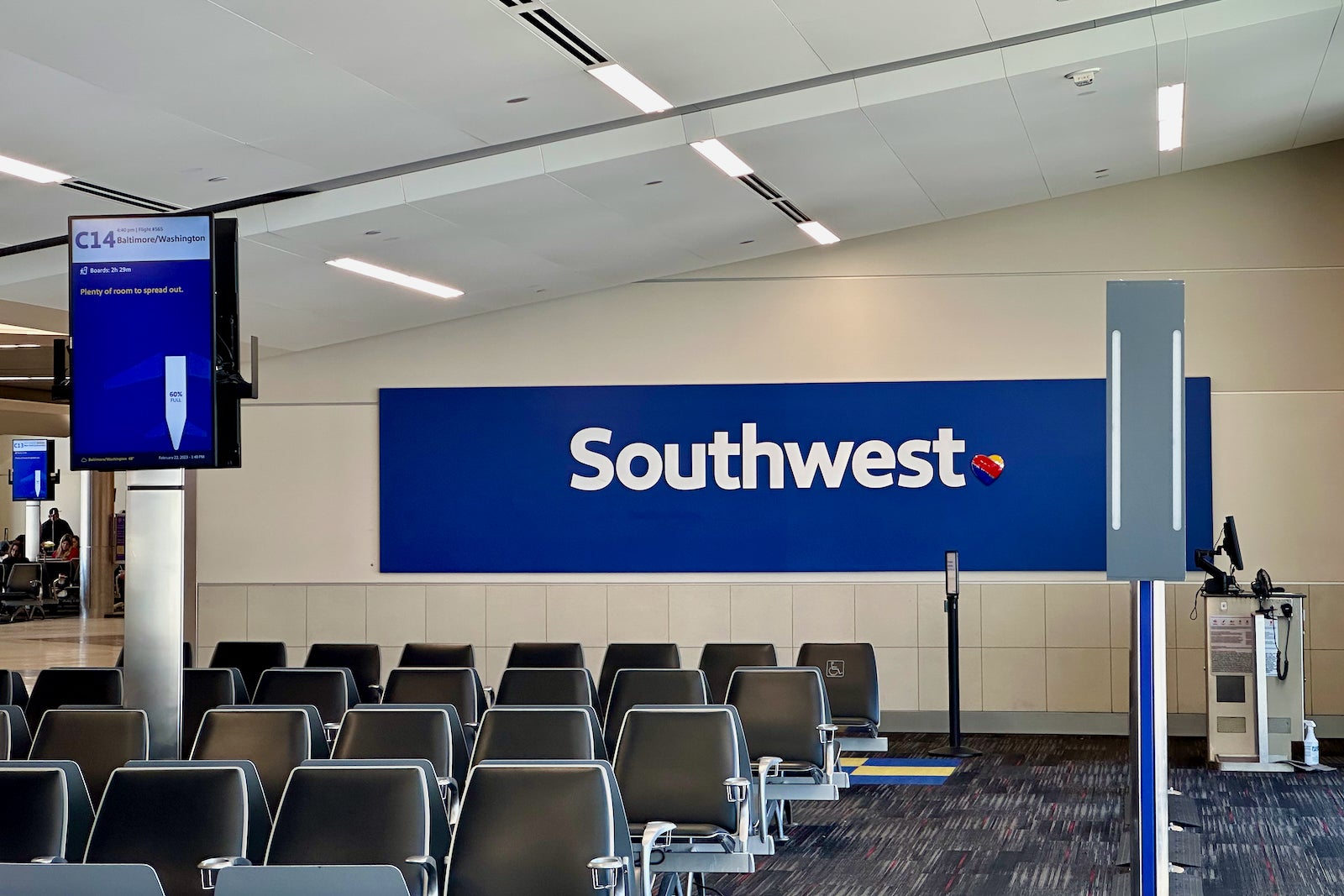 If the airline can tighten each turn by just a few minutes, it might be able to squeeze one more flight a day from each aircraft. It's that high utilization that leads to low fares — and keeps people on Southwest's innovation team busy these days.
From digitalized boarding pillars and a brand new mobile app for gate agents to a reimagined jet bridge experience and other innovations, Southwest is working hard to improve turn times.
Whether these innovations ever materialize outside the beta test in Atlanta is anyone's guess. However, one thing is certain: After experiencing the industry's worst-ever meltdown over the holidays, Southwest should be going all-in on whatever it takes to boost its operational reliability.
Additional reporting by Caroline Tanner.
Related reading: