This is a recurring post, regularly updated with the latest information.
We get it — learning how to master this points and miles game is no easy feat. We have a guide to getting started with points and miles, but what happens once you are ready to cash those points in for a trip?
Some travel experts have mastered the art of maximizing points and miles to travel luxuriously without breaking the bank. But for those of us who don't have the time or inclination to become experts, there are tools available that make it easier to find hotel and flight award availability. With these tools, you can use your points to travel where you want, when you want and how you want without spending hours searching for availability.
Here are eight of the best apps and websites that can help you get the most out of your award travel redemptions.
Max My Point
What it does: Tracks hotel award availability at Hyatt, Hilton and Marriott properties.
What it costs: Basic membership is free. Monthly memberships start at $3.99 per month.
Max My Point is a website that lets you check award availability for Hyatt, Hilton and Marriott properties worldwide, essentially taking the guesswork out of award redemption searches by showing only real-time pricing and availability. The homepage shows popular properties, but you can also sort by point value and availability or search for specific properties.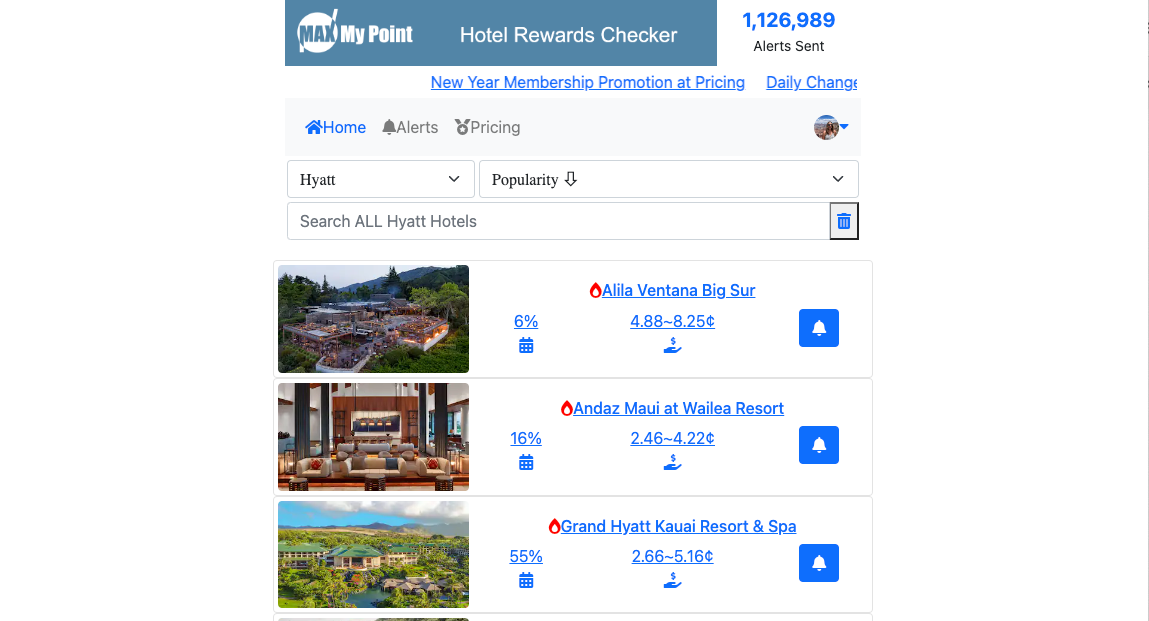 Once you choose a property, you can view a calendar that displays standard room points pricing, standard suite points pricing and the lowest cash rate for a full year. This makes it easy to plan your trip around the dates with the best points pricing. When you click on the check-in date you want, it will automatically take you to that property's website to start the booking process.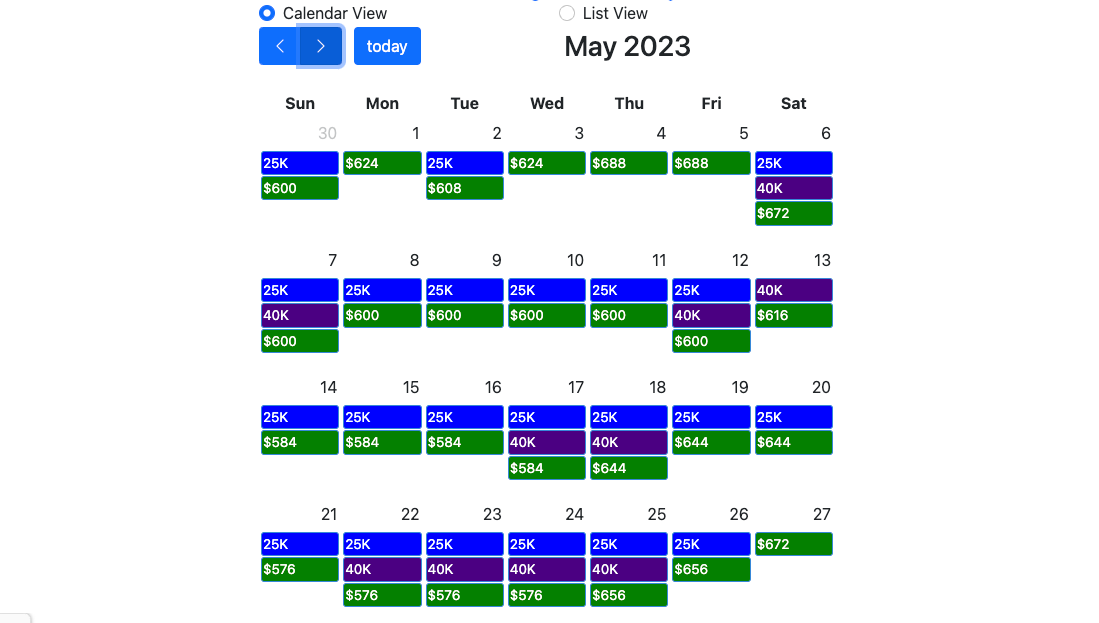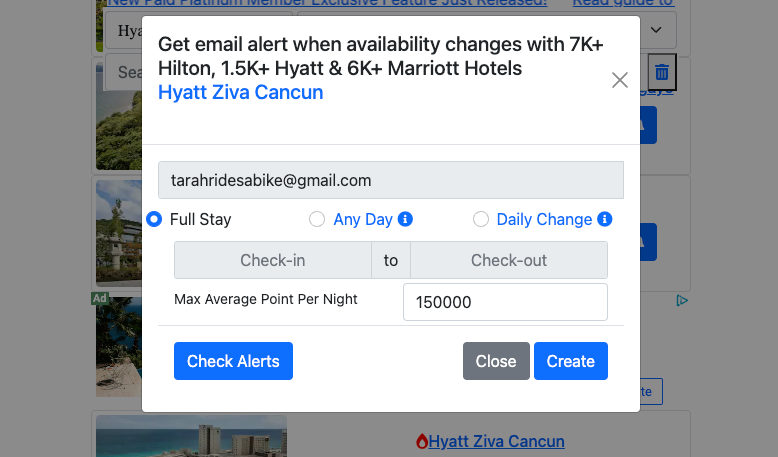 If you don't see the availability you were looking for, you can register for a free account and set up an alert to receive an email if the availability changes. In the above example, we used the Hyatt Ziva Cancun. Max My Point also offers two paid membership levels ($3.99 and $7.99 per month) that get you access to more frequent alerts.
Related: It's exceptionally difficult to stay at these World of Hyatt 'unicorns' on points — here's how to book them
TPG's director of content operations, Andrea Rotondo, likes using Max My Point to search for Hyatt award night availability. Although Hyatt guarantees standard room availability on points when the same room is available with cash, that isn't always the case once you start searching directly through Hyatt.
StayWithPoints
What it does: Tracks hotel award availability at Hyatt, Hilton and Marriott properties.
What it costs: Free.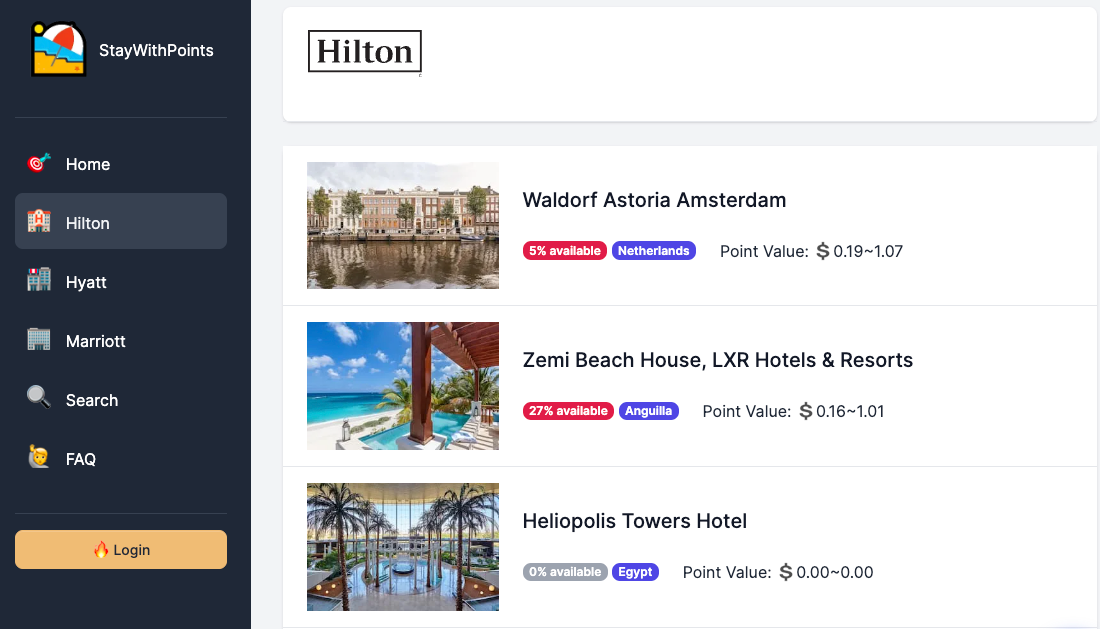 On the StayWithPoints site, you can view points redemption availability from Hyatt, Hilton and Marriott properties around the globe. Or, you can let StayWithPoints make the decision for you by scrolling through their list of popular properties.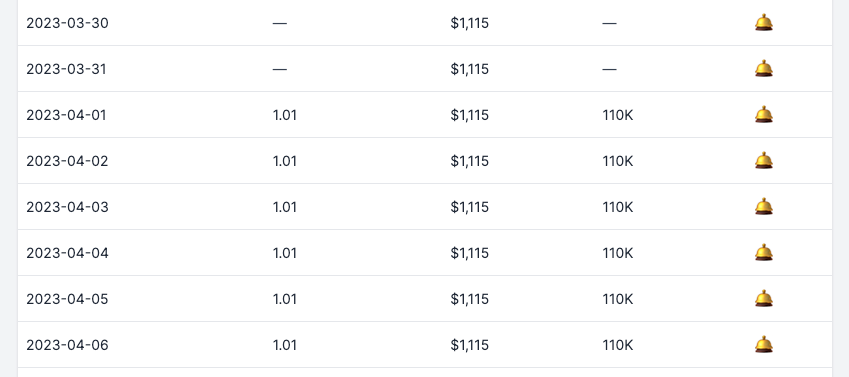 While scrolling through the list, Zemi Beach House in Anguilla caught our eye. When you click through to a specific property, you can see a full year of award availability, points value and cash and points pricing per night. It took some scrolling, but we eventually came across a full week of points availability at Zemi Beach House.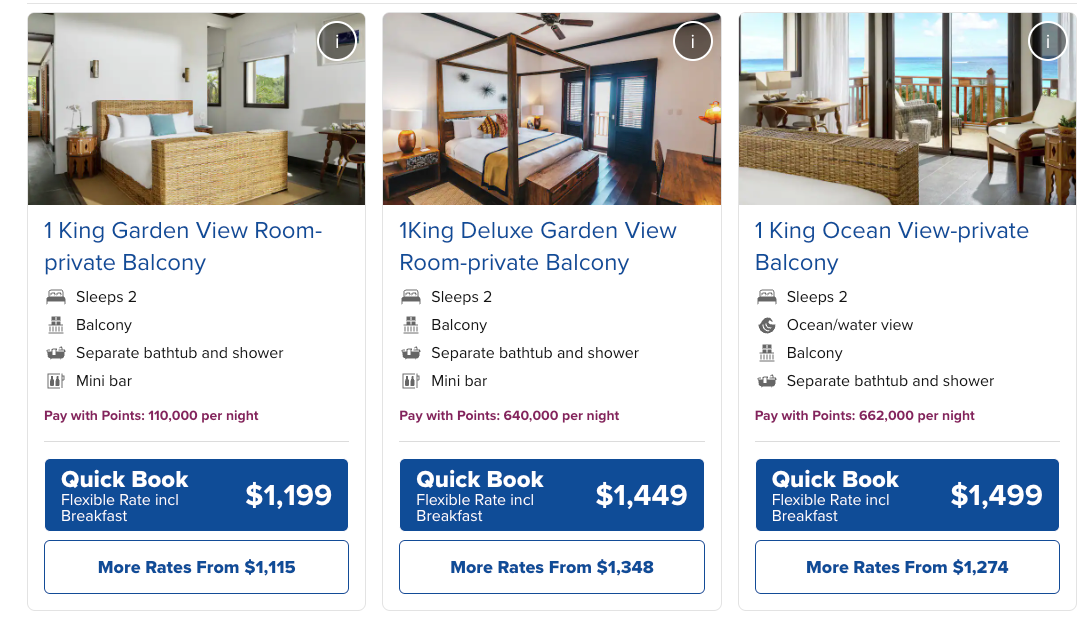 When you click on your preferred check-in date, it takes you straight to the hotel's website to book directly. You can also register for a free account to receive alerts when award redemption becomes available for the property where you wish to stay.
TPG app
What it does: Syncs your credit cards and loyalty programs to help you spend smarter to earn more points and miles.
What it costs: Free.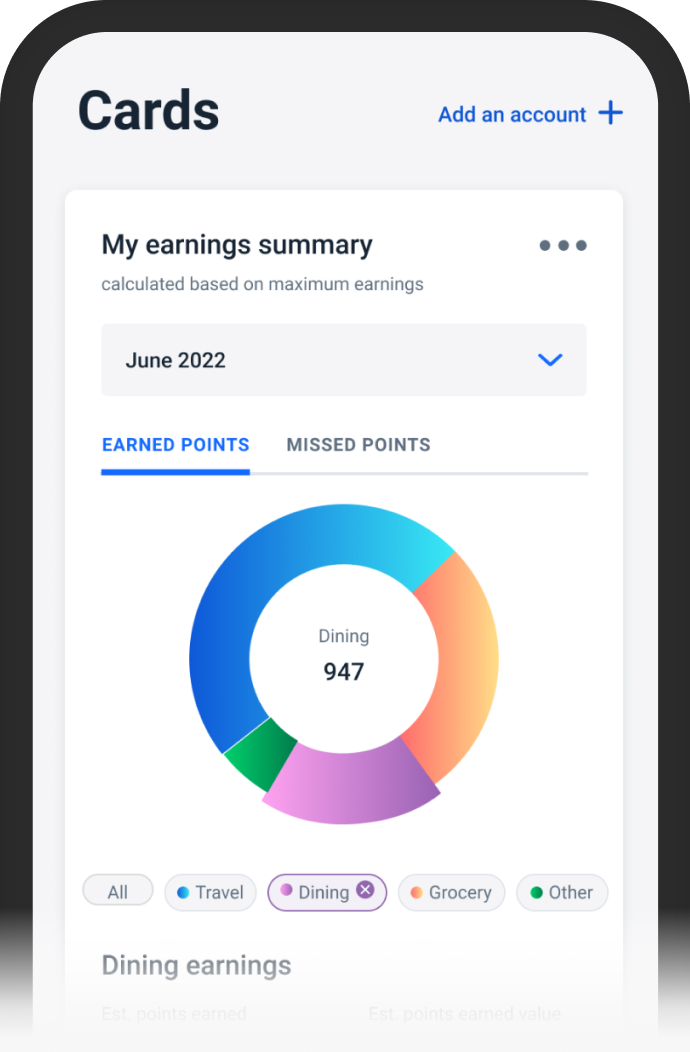 We aren't above a little shameless self-promotion, and honestly, this list wouldn't be complete without a nod to our very own TPG app. Within the app, you can see all of your credit cards in one place, track your hotel and airline loyalty program points and miles, get recommendations for the best card to use for different purchases, keep up with the latest TPG news and so much more.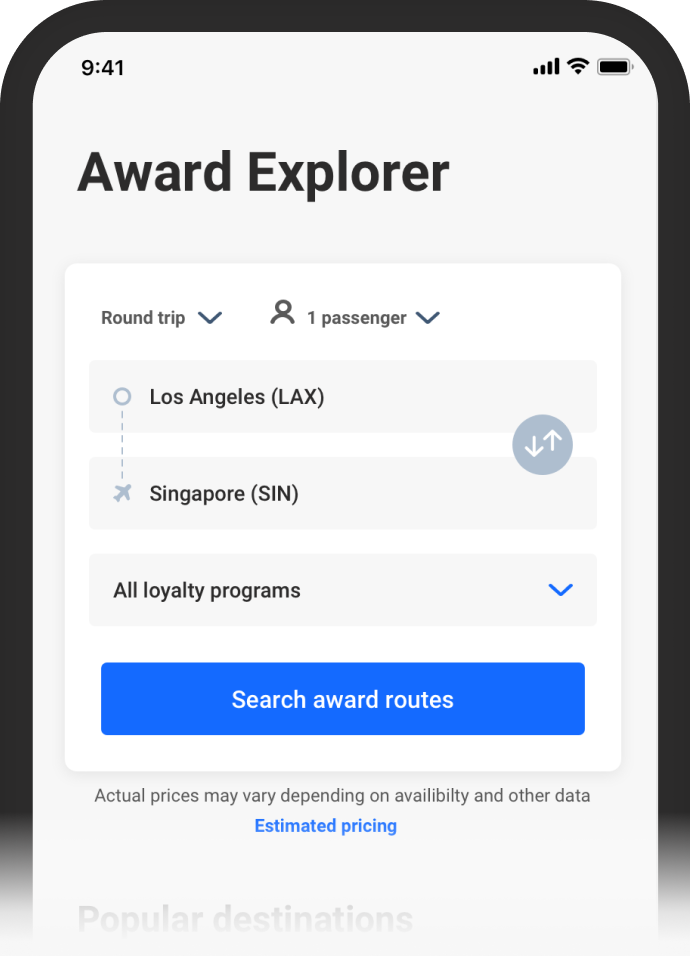 Once you are ready to spend the points you've accumulated, you can use the TPG app's "Award Explorer" tool to find out how many points or miles you'll need to book your dream vacation.
Just input your departure airport, the destination and how many tickets you need, and the TPG app will display estimated points pricing across 21 loyalty programs (based on availability). You'll also be able to see how close you are to having enough points for that particular trip and whether you're better off paying in cash or points.
TPG's newsletter editor, Becky Blaine, likes using the TPG app to choose the card that will net her the most points based on where she is shopping. Earning more points more quickly helps her take those dream trips even sooner.
Point.me
What it does: Finds flight award availability based on your itinerary.
What it costs: $5 for one-time use; premium plans start at $129 annually.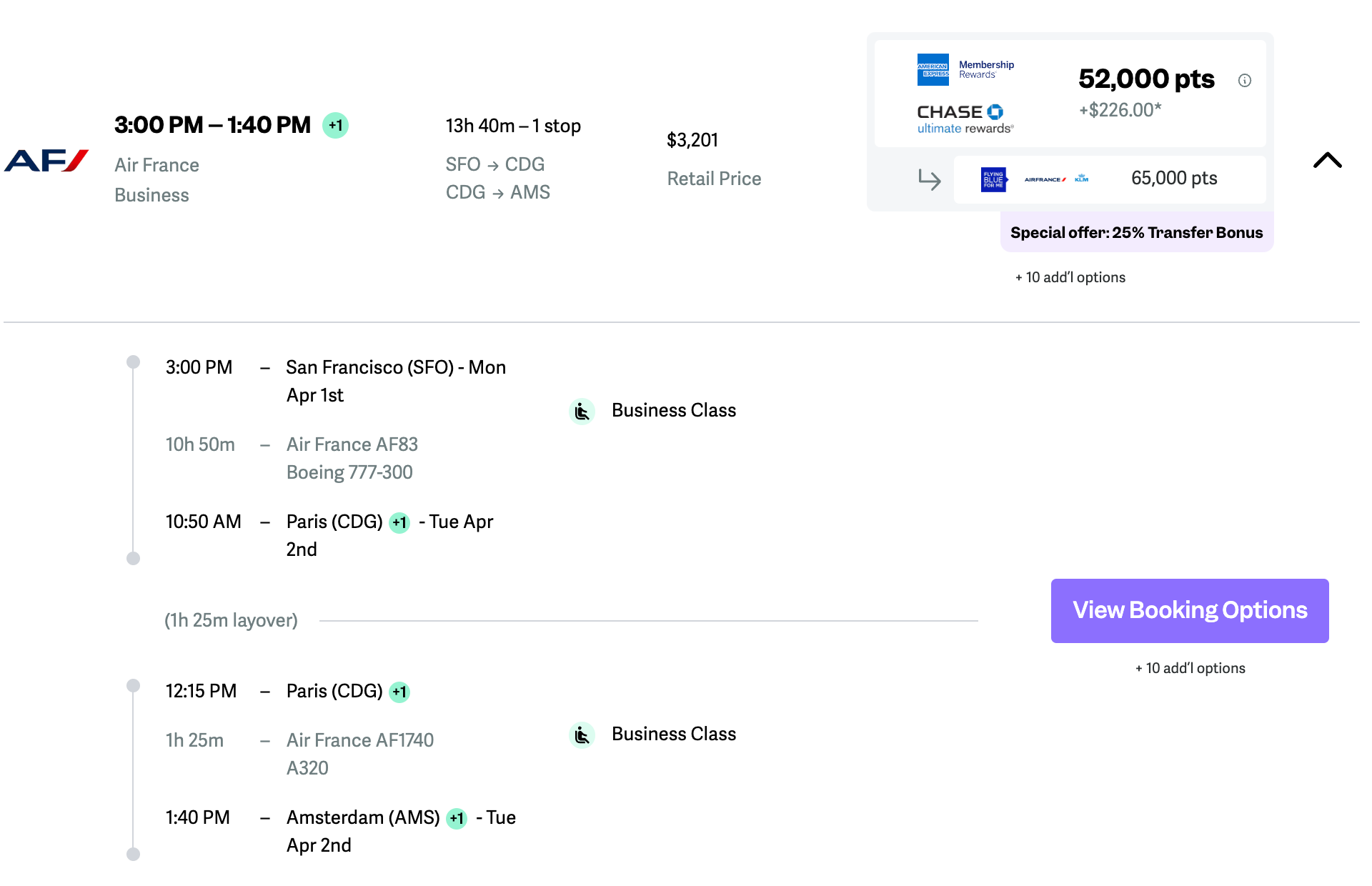 Point.me's robust interface checks for award flights on 34 loyalty programs across more than 100 airlines. After entering your itinerary details, Point.me shows you real-time award availability, including which transfer partner will get you the most bang for your buck.
Point.me also has a team of experts available 24/7 to help you travel more for fewer points with advice tailored specifically to your needs. How much you pay determines how tailored your experience will be.
If you try the service out for just one trip, you can pay $5 to access Point.me for 24 hours (unless you have access to a complimentary code). Standard and premium plans are available, starting at $129 annually. You can also opt for Point.me's concierge service to have one of their travel experts book your trip for you ($200 per passenger). You can also schedule a one-on-one consultation to help you meet your points and miles earning (and burning) goals.
Bilt Rewards users can access a limited version of Point.me for free through the Bilt Rewards app. Similar to the full version, you can search for award flight availability, though you will only see results from programs that are Bilt transfer partners. If you have Bilt Rewards you want to transfer to an airline loyalty program to purchase tickets using points, this is a good way to try Point.me for free.
Related: Bilt Rewards app adds live award availability powered by Point.me
Roame.travel
What it does: Finds flight award availability based on your itinerary.
What it costs: Free, but you need to sign up for a free account to search.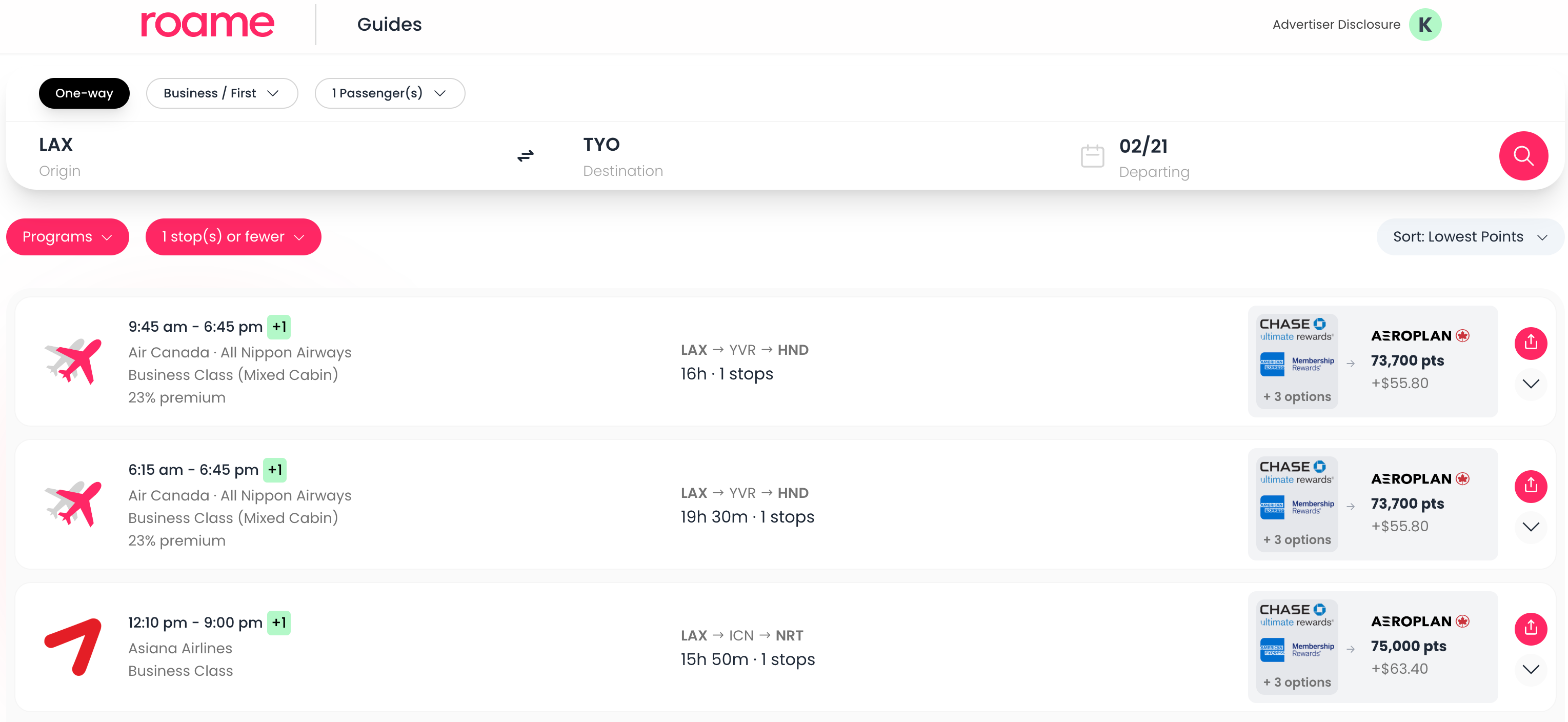 Roame.travel works a lot like Point.me, but there's no charge to use the platform. Before you can search, you need to sign up for a free account. It searches 11 airline programs for award availability. Unlike Point.me, Roame.travel gives nearly instant search results in under 12 seconds.
Roame.travel shows lots of multi-cabin awards, so make sure you closely review your cabin classes. In the screenshot above, two of the three flights are mixed-cabin itineraries with the transpacific flight in economy class.
As always, we recommend confirming award availability before transferring awards.
Seats.aero
What it does: Displays award seat availability on longer-haul, international flights.
What it costs: Free for the basic version and $7.99 monthly for the Pro version.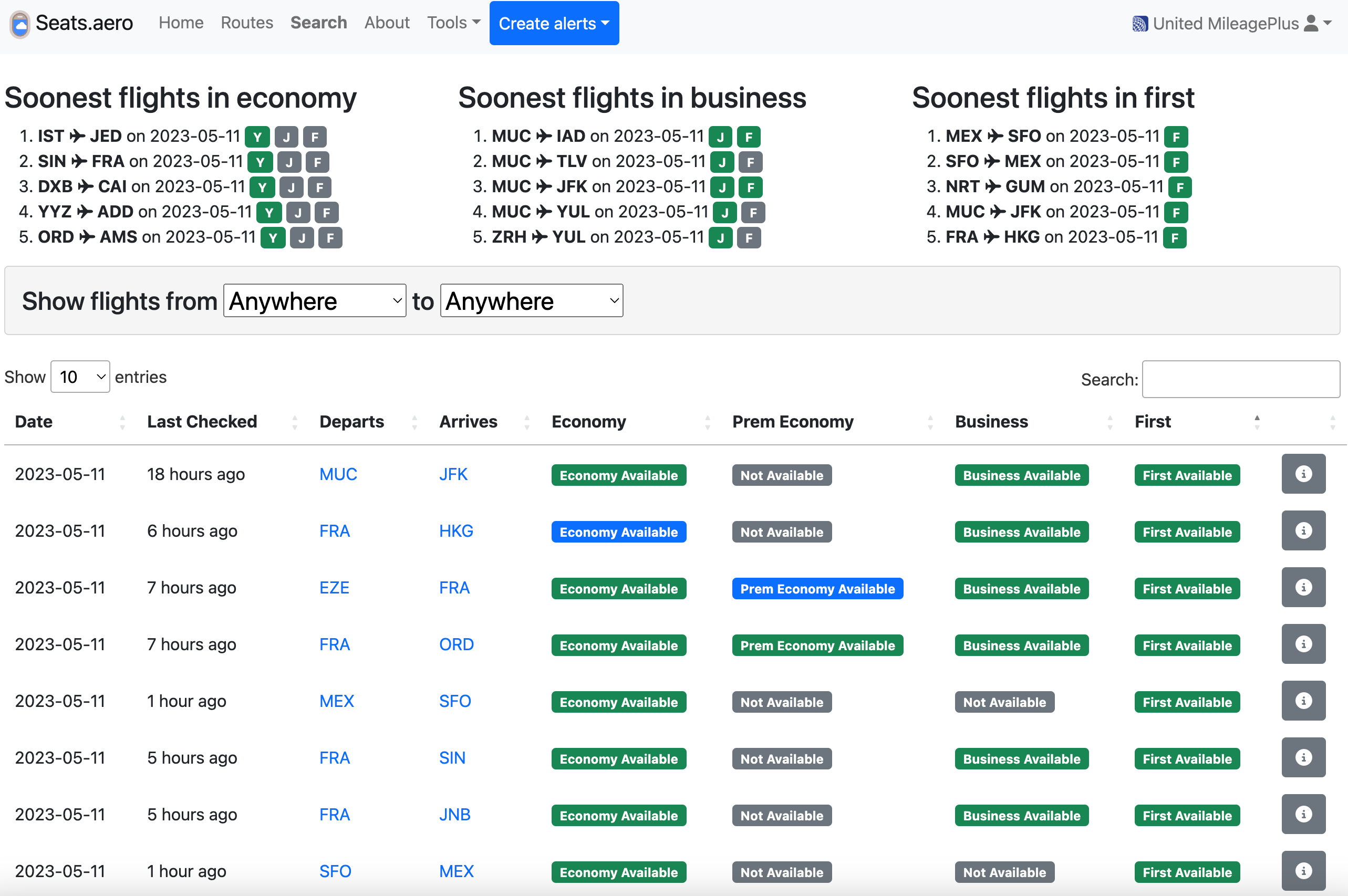 Speaking of finding the "needle in the haystack" award seat, seats.aero searches for award space every few hours and provides results for the next two months. It's one of the best ways to search for Lufthansa's first-class award space, generally only available to Star Alliance partners shortly before departure.
The Pro version allows you to search up to a year in advance on longer routes, set up unlimited alerts and receive SMS notifications when award availability is located.
ExpertFlyer
What it does: Finds real-time seat availability and award flight availability.
What it costs: Free for free membership; paid memberships start at $4.99 per month.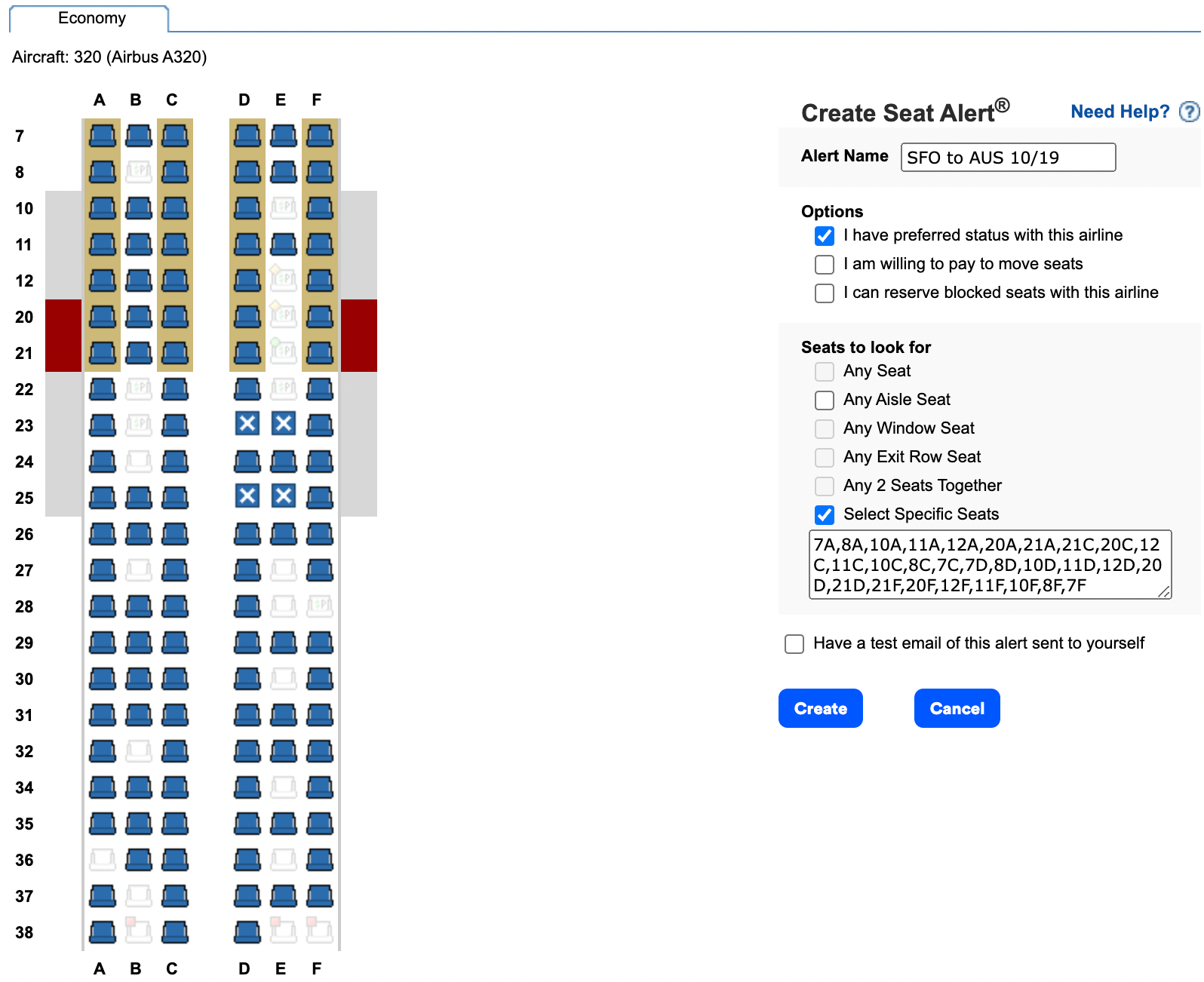 ExpertFlyer (owned by TPG parent company Red Ventures) has one free and two paid membership tiers. The free membership allows you to view real-time seat availability for your upcoming flights; you can set alerts to determine when the seat you want opens up. You can set an alert for aisle, window, exit row or two seats together (or for specific seat numbers if you have a favorite).
Related: Beginners guide to finding award space with ExpertFlyer
ExpertFlyer's basic plan ($4.99 per month) offers more functionality to search for flight availability, including award and upgrade availability for various routes. You can also set up to four simultaneous seat alerts, but you are limited to 250 searches per month.

ExpertFlyer's premium plan ($9.99 per month or $99.99 per year) offers even more flexibility in terms of flight search options. You'll enjoy unlimited searches, up to 200 simultaneous alerts and the ability to set up aircraft change alerts and seat alerts.
ExpertFlyer also has a mobile app for seat alerts.
Read our full ExpertFlyer guide to learn how to best utilize all that ExpertFlyer offers.
Google Flights
What it does: Finds flight schedules and pricing for most major airlines with several filtering options.
What it costs: Free.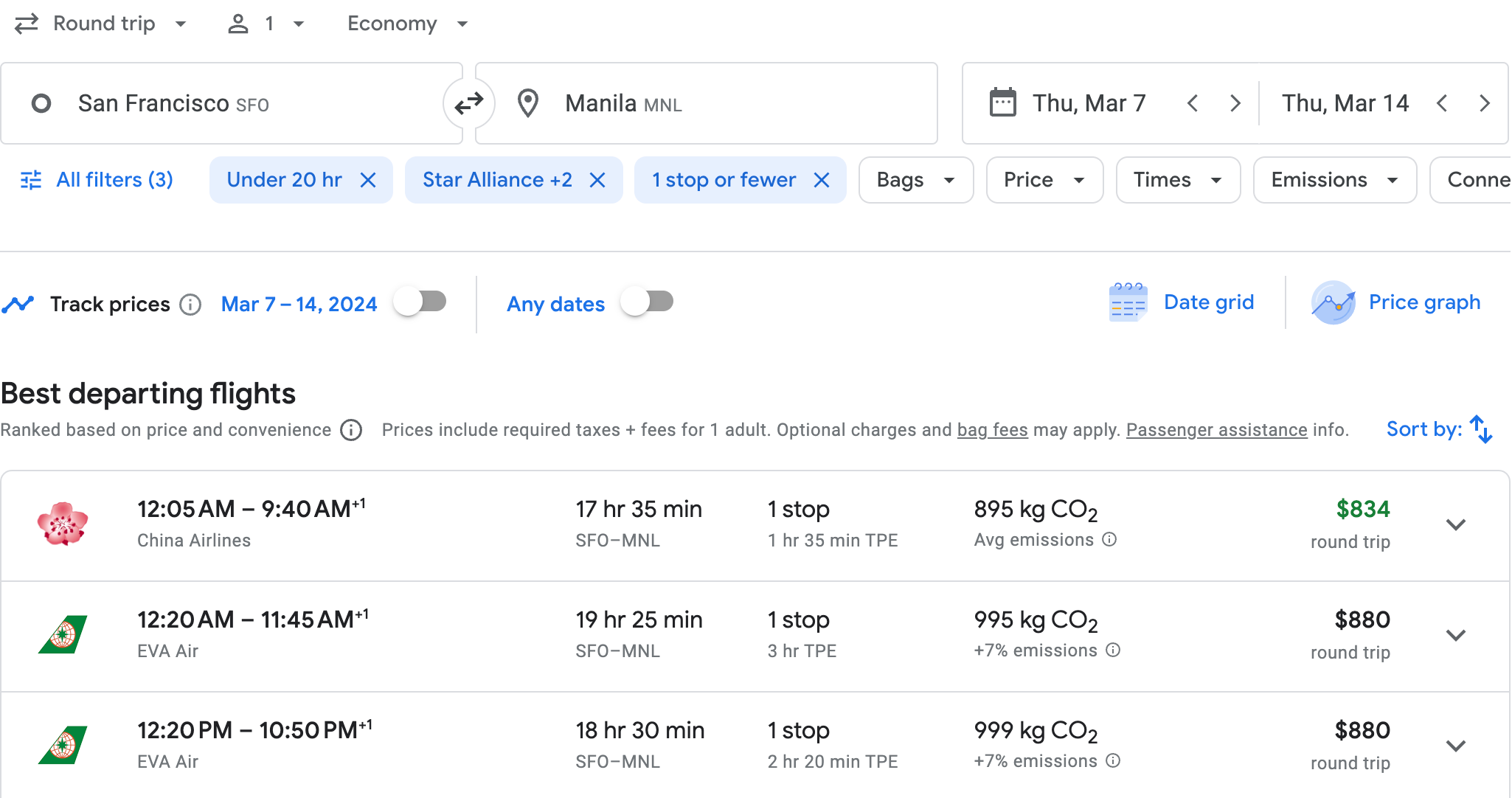 Google Flights is your one-stop shop for finding the best flight for your schedule and budget. You can search flight schedules and pricing across most major airlines and sort results based on price, duration, number of stops and more. You can also set flight price alerts or enter only your departure city and use the interactive map to choose your destination based on current pricing.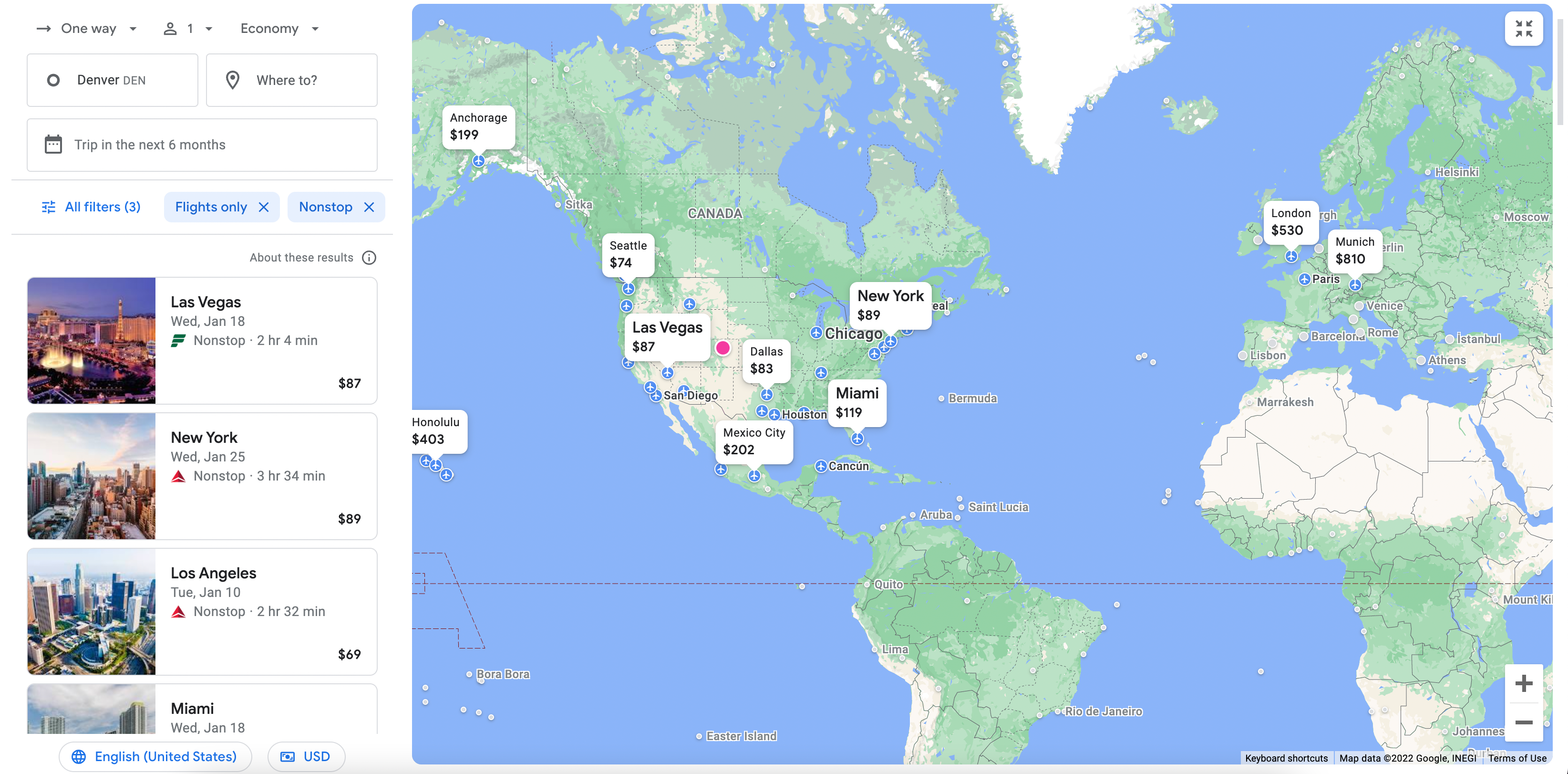 Google Flights does not display points pricing, but that doesn't mean it can't help you find award space. You'll still have to book directly through the airline, but you can save valuable search time by narrowing down your options through Google Flights first.
For example, if you have a bank of points and miles with a Star Alliance, Oneworld or SkyTeam partner airline, you can filter search results by alliance to see routing options. Or, you may find a nearby airport with better pricing that you wouldn't have searched for otherwise.
Bottom line
What's great about these tools is that you can use them together to find award flight and hotel availability.
For example, start with the TPG app to earn the most points for your purchases. Then, use a site like Point.me to find reward flight availability or StayWithPoints for reward hotel stay availability.
No matter which combination of sites and apps you use, they take the guesswork out of reward redemptions and put you on the fast track to becoming an expert in redeeming points and miles.
Related reading:
Additional reporting by Kyle Olsen.