When Finnair revealed its new AirLounge business-class seats in February 2022, it set the aviation industry abuzz. Rather than your typical lie-flat bed or multi-position recliner, these lightweight fixtures are more like padded pods with non-reclining benches designed to let passengers lounge in a variety of positions. It's the apogee of Nordic design simplicity.
I recently got to experience flying Finnair's innovative AirLounge myself on an Airbus A330 flight from Chicago's O'Hare International Airport (ORD) to the carrier's hub at Helsinki Airport (HEL). Since the airline is currently retrofitting all its Airbus A330 and A350 aircraft by the end of 2023 with the refreshed cabin, you might have the chance to fly it yourself soon.
Here are some of the technologically advanced and uniquely Finnish design elements I enjoyed on my flight — and a handful of elements I thought needed work.
One of the widest business-class seats in the sky
The first thing you'll notice upon boarding is how much space these seats have. Since they don't have separate chair components and are more like padded pods where the cushioning is incorporated directly onto the shell, they make you feel like you're lounging on your own private sofa.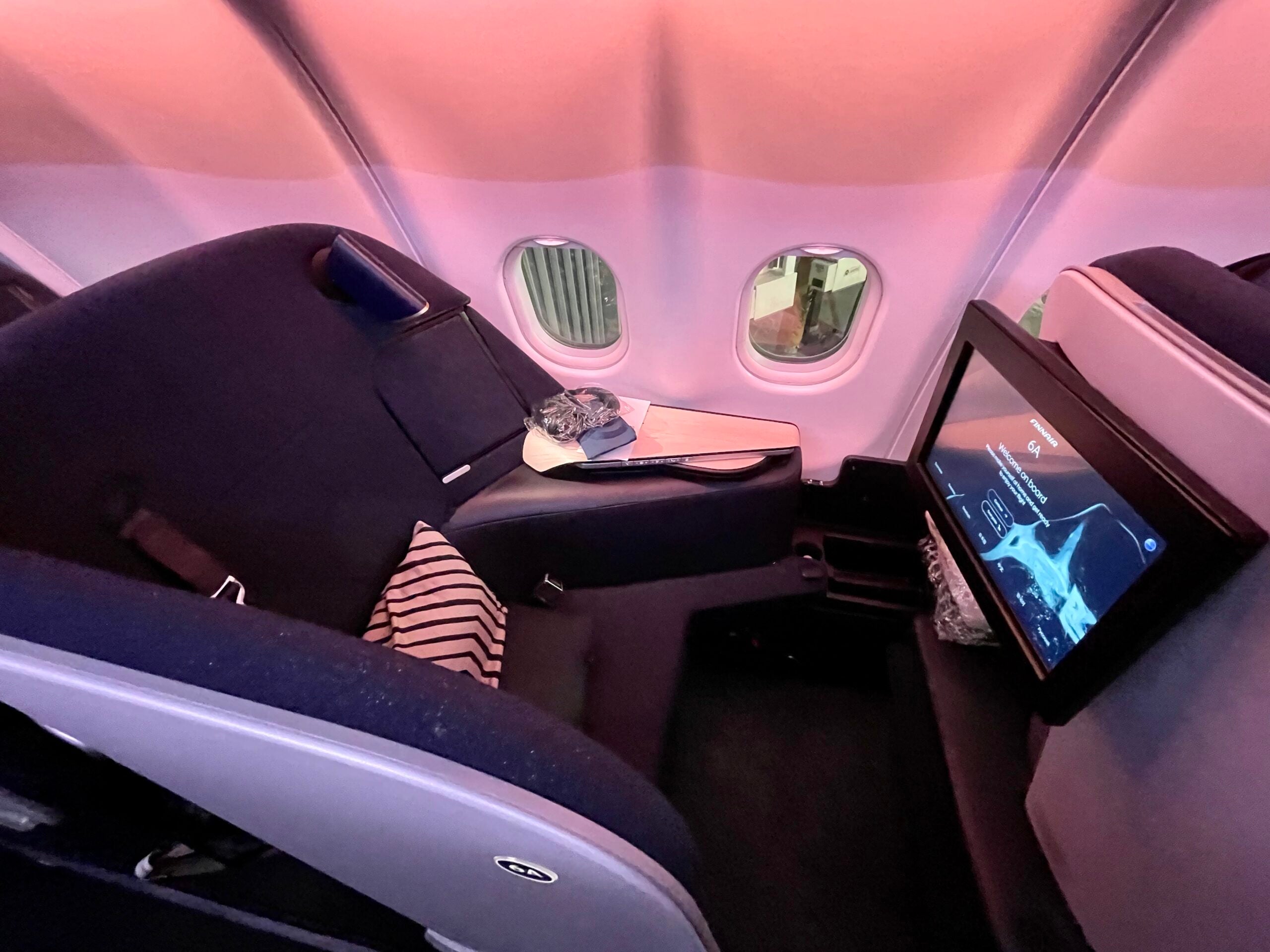 The back of the space measures 21 inches across, which could be tight for someone with broad shoulders, but the low positioning of the side table means that you shouldn't feel cramped when resting your arms on the side.
These seats do not recline. Rather, when you're ready to relax into watching a movie or to lie down for a sleep, you can arrange your pillows to provide more support to your head, neck and back, and then use a button to raise a leg rest and a lever to pop up a padded section to convert the seat into a lie-flat bed.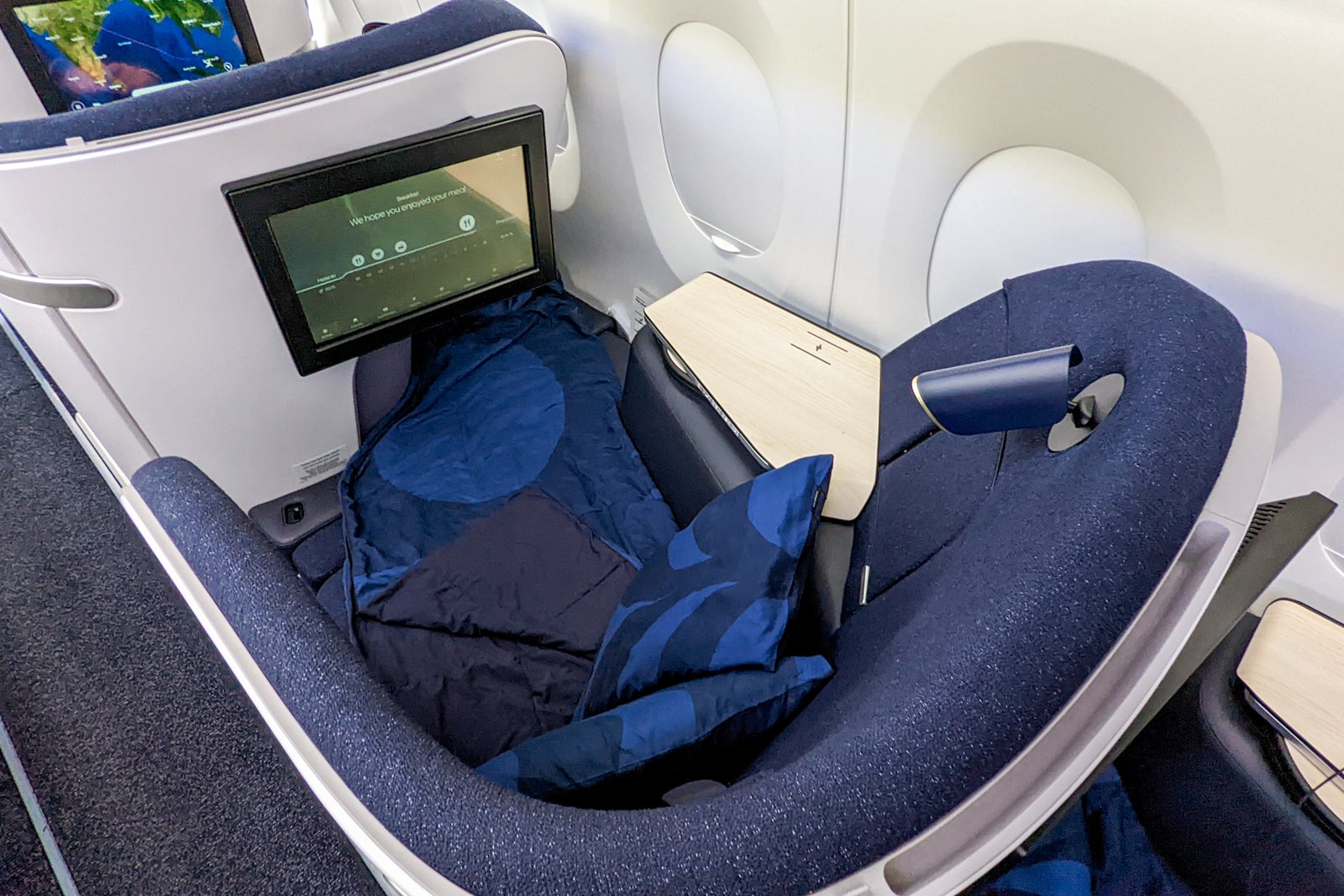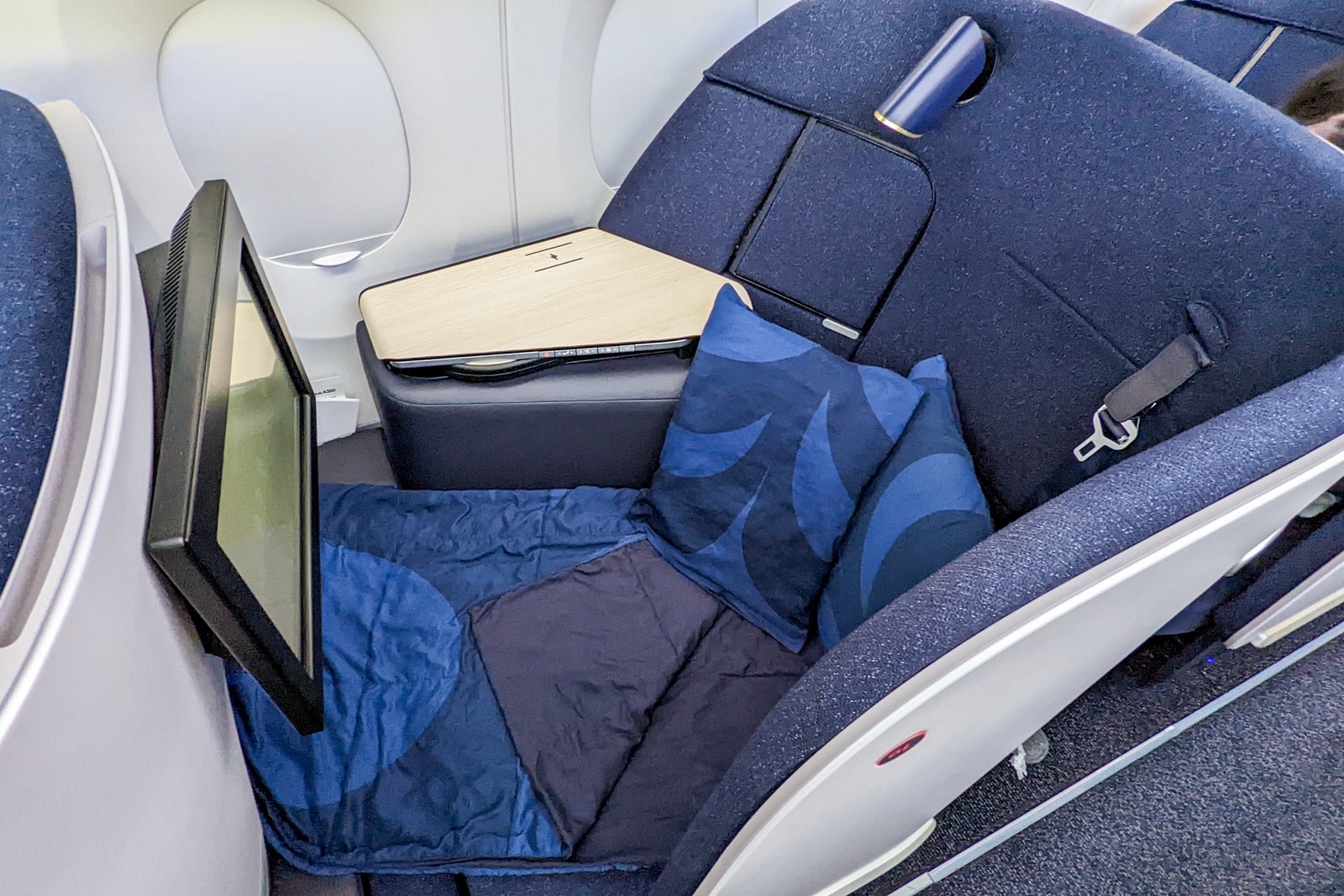 Given that there is no mechanism to recline, the shell of the seat and the seat itself are basically the same, giving you a roomier feeling than your average business-class seat. However, don't think that it feels rock-hard; the seat padding is thick enough that you don't notice it is the only thing insulating you from the shell.
If you're a restless sleeper or are a passenger of size or above-average height, you'll find this bed to be wider and longer than those found on most other airlines. The seat measures 74 inches long from the back to the footwell when you're lying down, so you'll only start to touch your feet at the front of the seat if you are over 6 feet tall.
Lots of privacy from the cocoon-like shell
These seats are not only wide — but the shells are also very tall and extend well past the back of the seat, meaning you can hardly see the passenger across the aisle from you. While there is no privacy door like in Qatar Airways' Qsuite or Delta One Suites, you'll have no trouble feeling like you're in your own cocoon.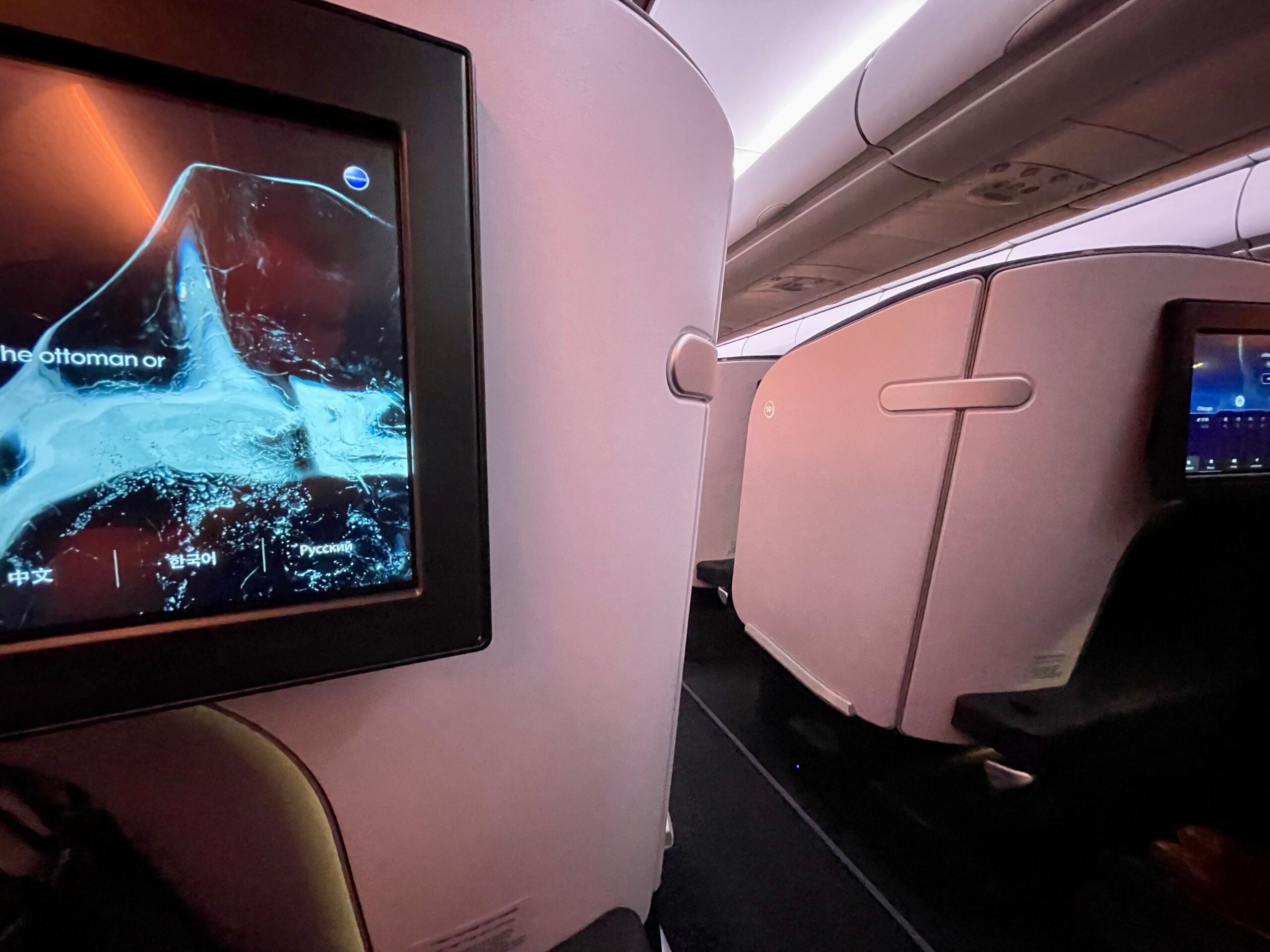 You aren't completely shielded from noise or movement in the aisle, however, due to the walls and the staggered layout, you can't see the passenger across from you eating — you'll only get a glimpse of what they're watching on their entertainment screen and their legs when they're lying down.
Unique menu items
As Finland's flag carrier, the airline likes to showcase Finnish cuisine on its rotating menus. On my flight, I enjoyed a welcome drink of blueberry juice and asked for a cheeky dash of gin from Helsinki Distillery to give it a kick.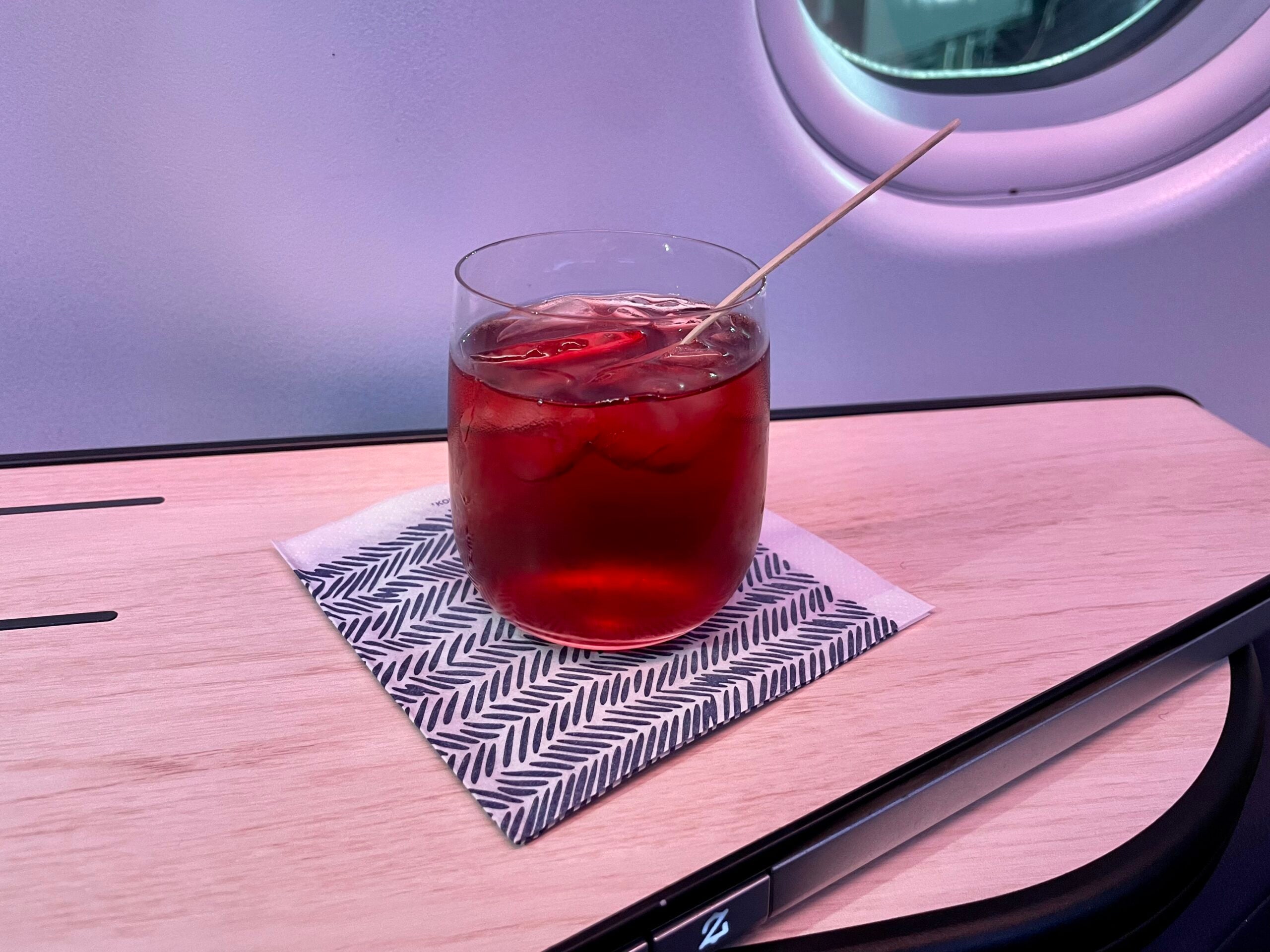 Other unique menu items also help make you feel like you are already in Finland. The ones served on my flight included:
Porcini mushroom soup flavored with cured elk.
Lightly smoked rainbow trout with stewed buckwheat, roasted cauliflower and string beans.
Vispipuuro, a light semolina wheat dessert with tangy lingonberries.
Single-malt whiskey from the Kyrö Distillery Company, an old dairy converted into a distillery on the west coast of Finland.
You can view the menu items on your upcoming long-haul business-class flight. If you're departing Helsinki on a long-haul flight (except to Doha), you can preorder your meal up to 24 hours before departure.
Finnish textiles, clothing and homewares company Marimekko has partnered with Finnair for over a decade now, so you'll eat off plates and bowls from the design house that feel minimalist, curvy and thick. Think: upscale Ikea.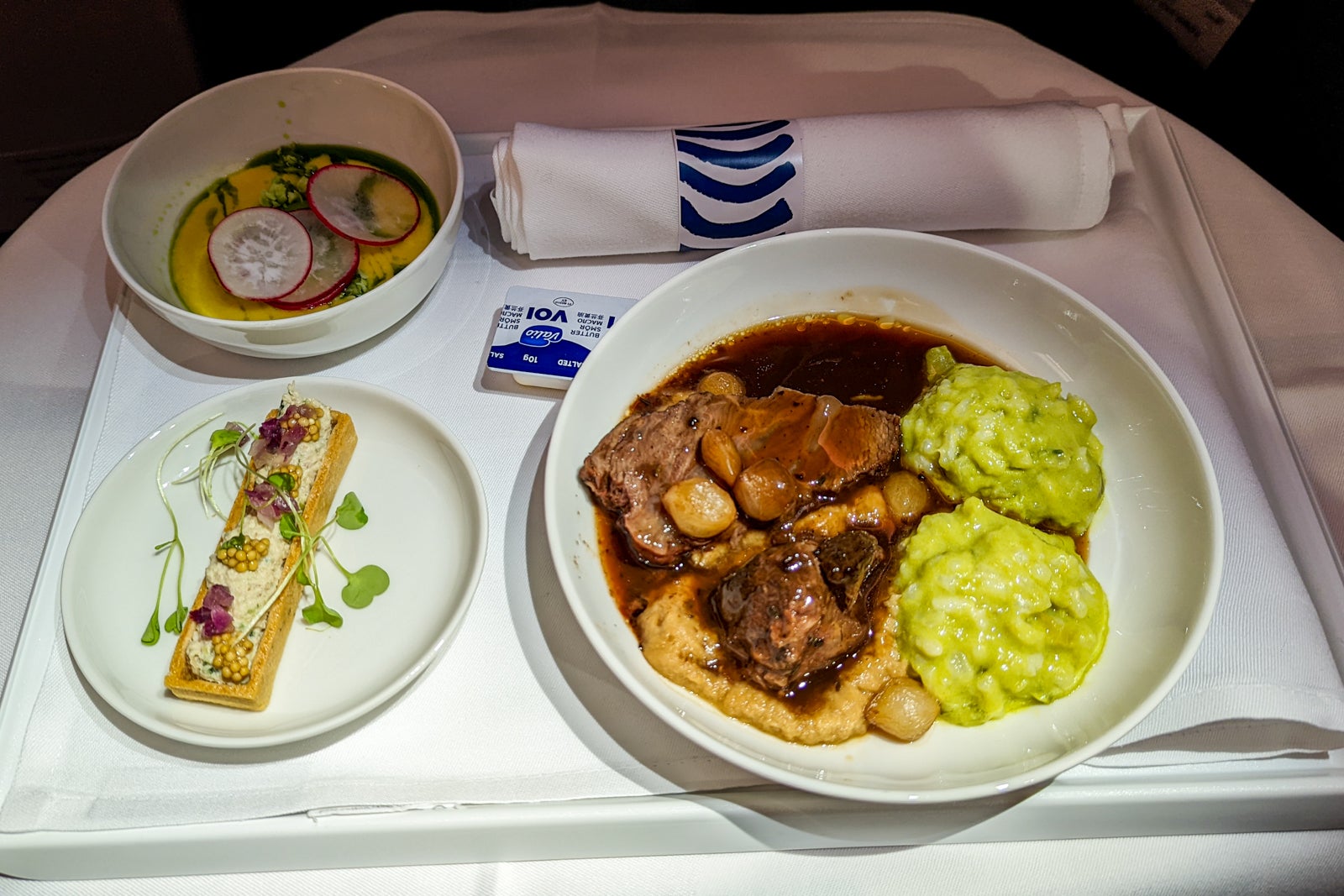 Champagne is poured into the airline's iconic frosted sparkling wine flutes from venerable Finnish glassware house Iittala and other beverages are poured into the company's instantly recognizable Ultima Thule line of glasses.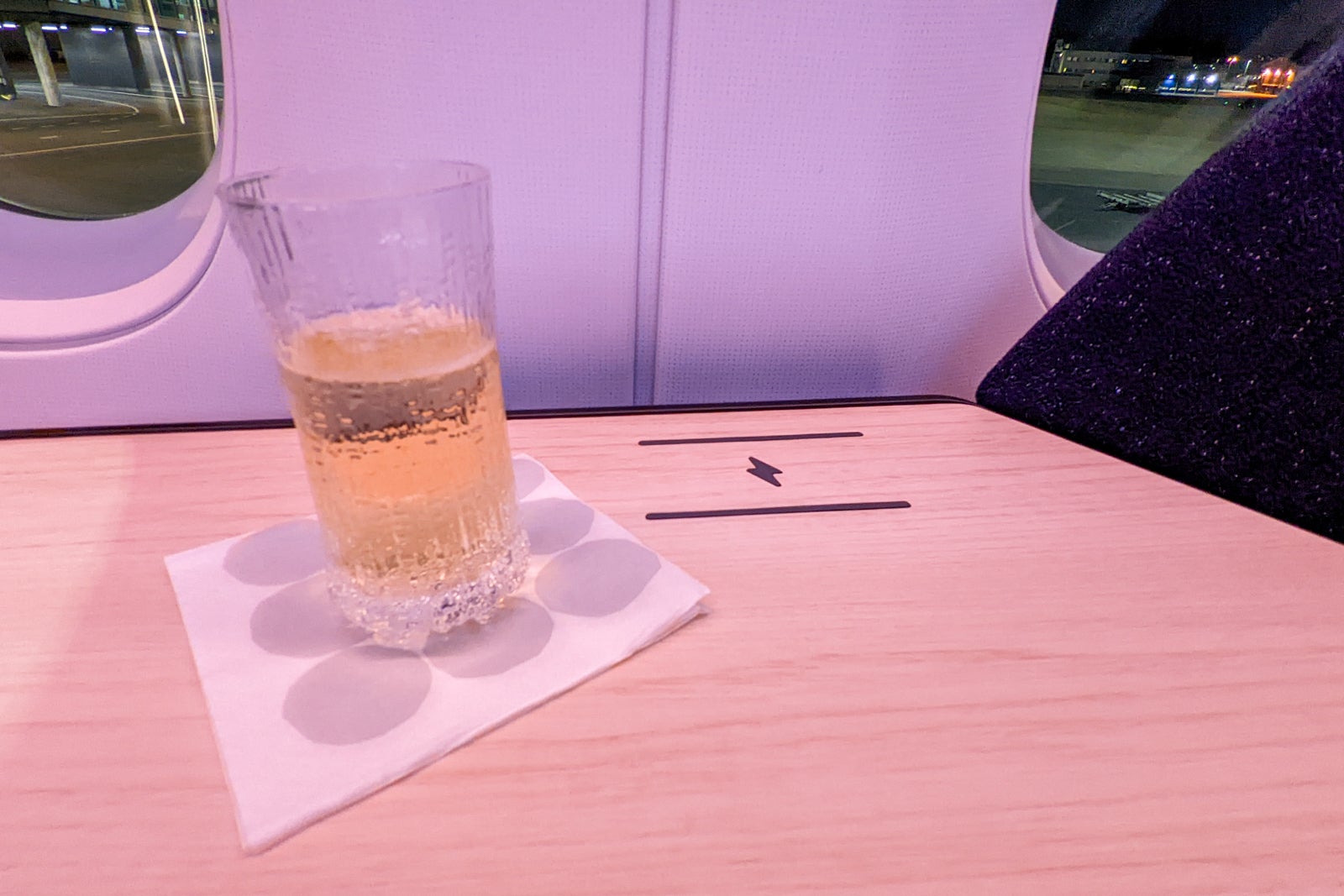 All of these design elements came together to make me feel very calm and cozy, which is precisely the impression I got of Finland during my four-day stay in Helsinki after this flight.
Comfortable bedding
On overnight eastbound departures from the U.S. to Europe, getting a few hours of solid sleep is important. (And with the airline's return flights across the Atlantic operating during daylight hours, a nice little siesta can help you adjust to your home time zone.)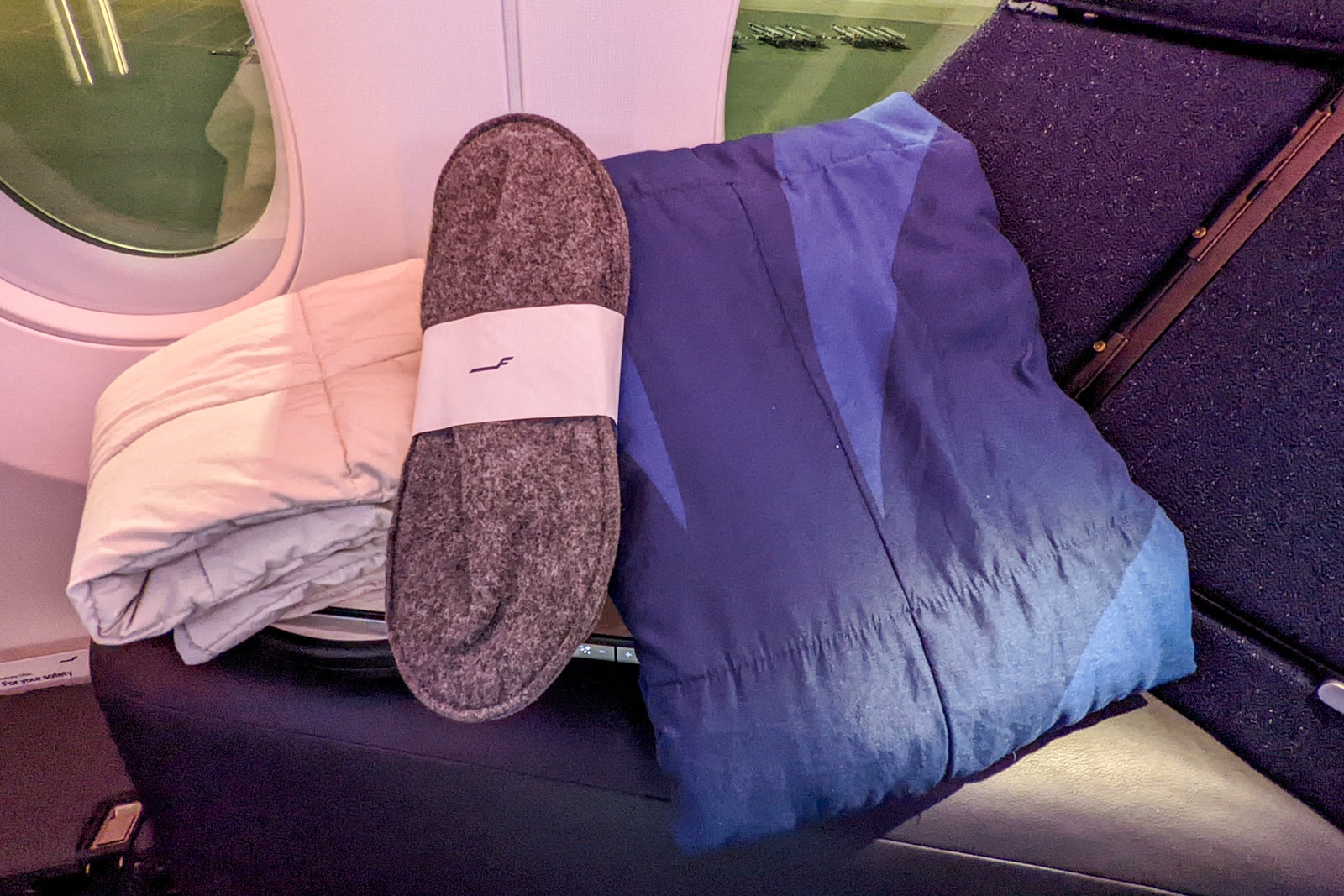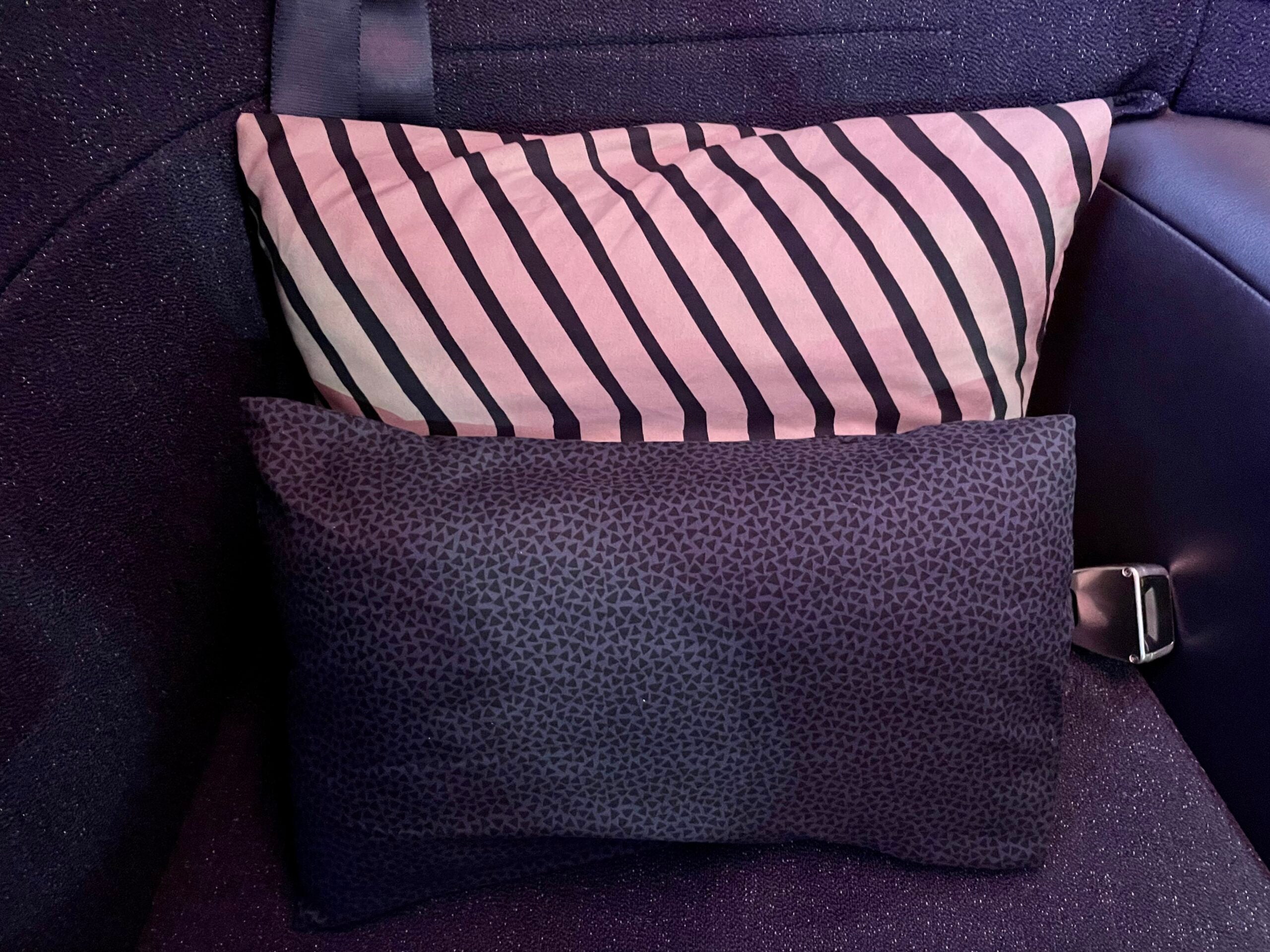 Luckily, Finnair business-class passengers receive two pillows, a mattress pad, a thick but breathable Marimekko-branded duvet to snuggle under and slippers for when they want to wander about the cabin. For me, a comfortable mattress pad and a duvet that doesn't overheat you are necessary to get a good night's sleep.
Innovative inflight entertainment system interface
When it updated its business-class cabins, Finnair installed one of the more modern inflight entertainment systems I've seen, winning the Interface and User Experience Design award at the 2022 Red Dot Design Awards.
The 18-inch screen can be controlled with either the touchscreen itself or a remote control, though the seat is close enough to it to use the touchscreen without straining. It comes loaded with more than 100 movies and almost 50 TV series. The Bose headphones the airline provides are comfortable but not noise-canceling.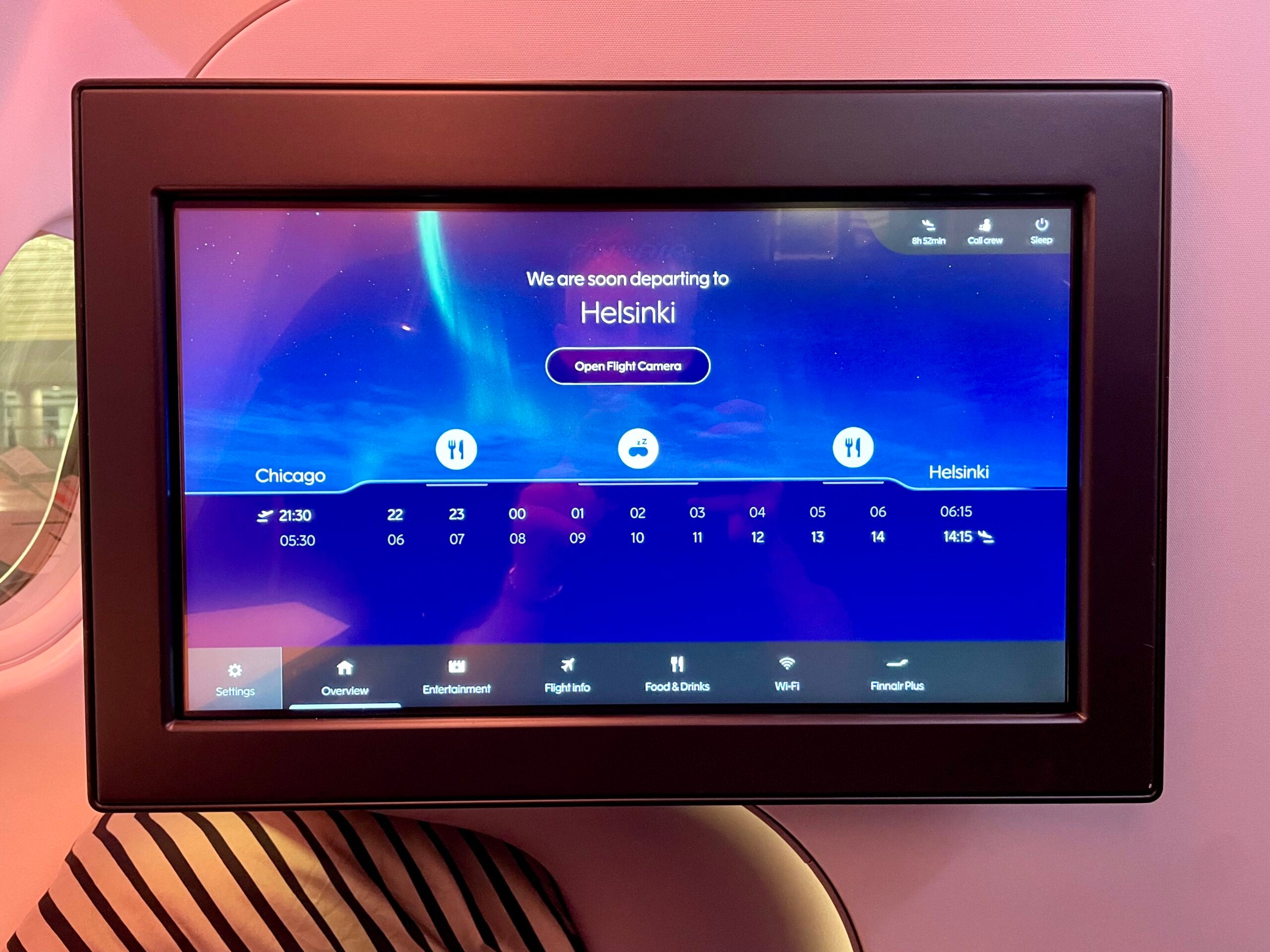 One of the screen options was a visualization of the flight. I appreciated being able to see when the two meal services would occur during the journey and was impressed that breakfast was served so efficiently that the crew could wait until one hour before landing (and even 40 minutes before for some passengers who requested to maximize their sleep). However, this system does not offer the ability to order food or drinks — for those, you'll need to call an attendant.
While I immediately set my watch to my destination's time zone upon boarding, it is helpful to be able to see the current time at both your origin and destination across the entire flight, too.
Finally, long-haul business-class passengers receive complimentary internet access for an (uninterrupted) one-hour bloc during the flight. After that, it'll cost you 6.95 or 12.95 euros ($7.80 or $14.40) for a browsing or streaming package for the remainder of the flight.
Wireless phone charging
This is something we are increasingly seeing in hotels and lounges but not so much inflight — a wireless charging pad, with this one incorporated into the seat's side table, which sits opposite the aisle. This can be convenient as you don't need to unpack (and potentially forget) your charging cords. Just make sure to remove your phone's case if it is thick (as I had to) so the signal can reach your device.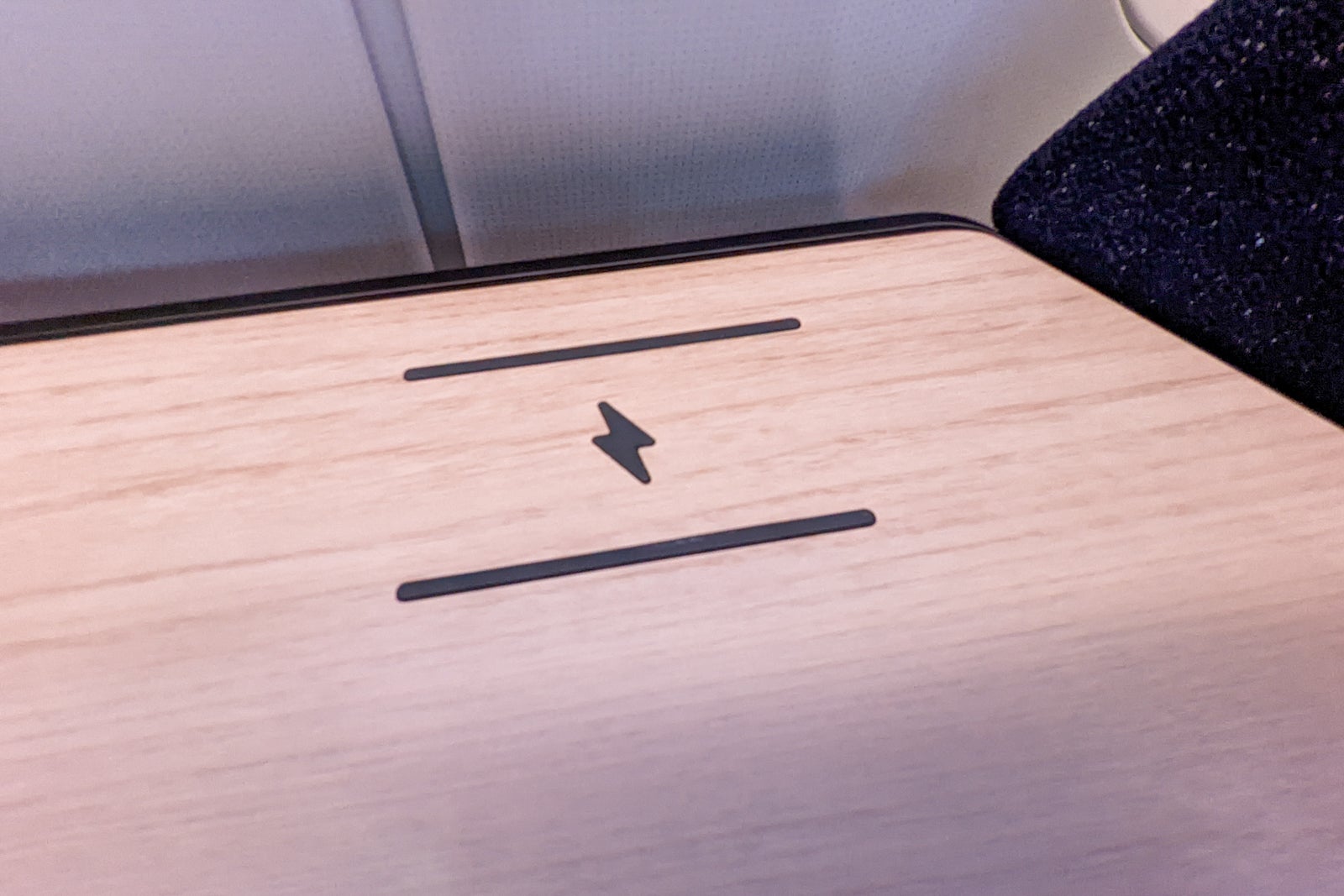 Given that wireless charging can take up to twice as long to charge a device to full battery, I opted to keep the case on and charge my phone through a USB port.
An (almost) hidden electronics compartment
There is another really smart space-saving design move from Finnair. The compartment housing the entertainment system's remote control along with USB-A and USB-C charging ports and room for smaller electronics blends into the seat beside your shoulder furthest from the aisle. The deeper side table compartment is where you can store and charge your larger devices with a universal power outlet.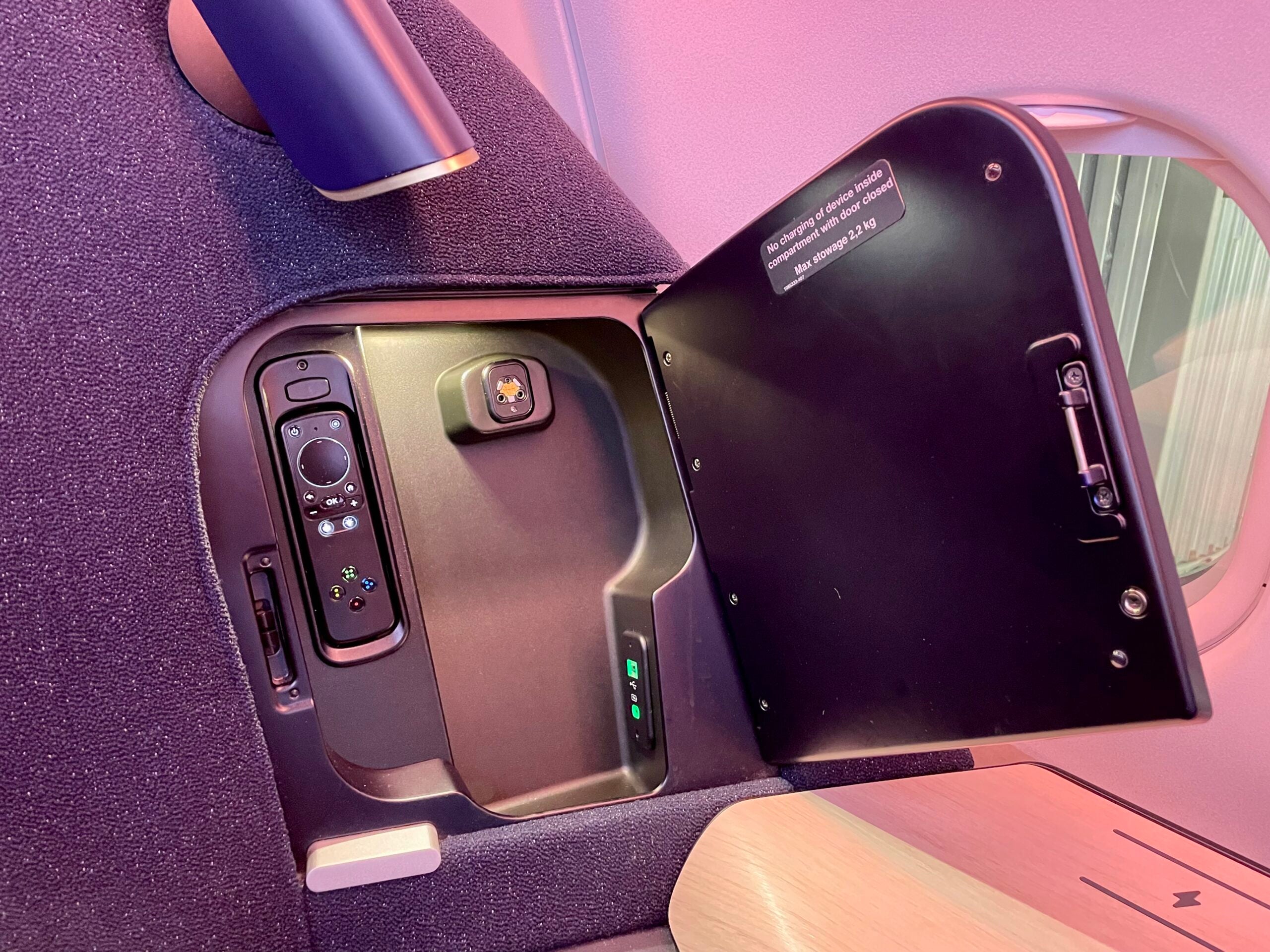 Marimekko amenity kits
While not the most comprehensive amenity kit out there, the Marimekko-branded cases Finnair hands out make for attractive, small toiletry cases or re-gifts as a pencil case to a student.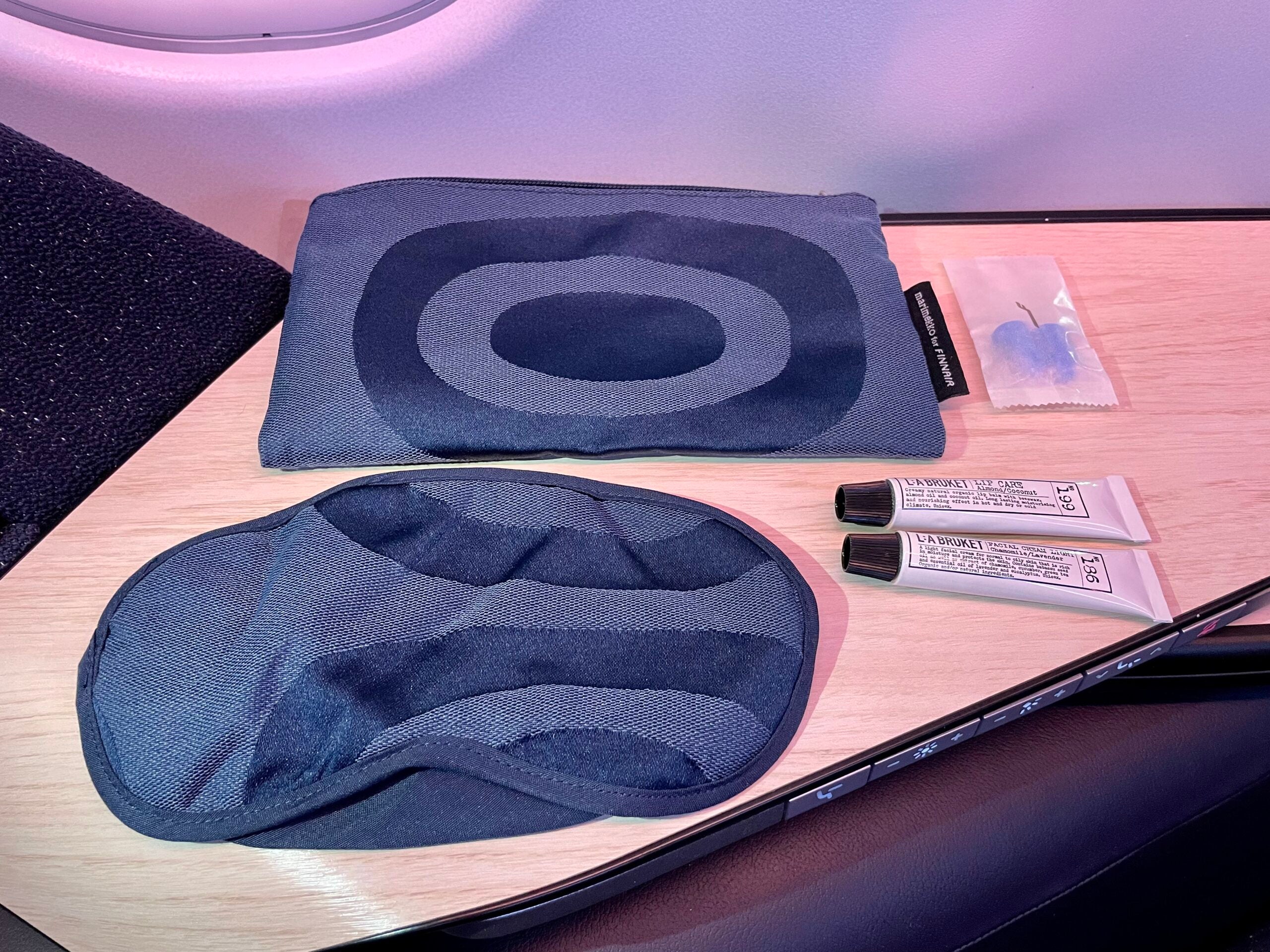 Somewhat disappointingly, it only features an eye mask and earplugs as well as lip balm and facial lotion from fancy organic Swedish body-care brand L:a Bruket. I'd love to see the inclusion of a cologne sample, hair comb or small make-up mirror to enhance this design element.
3 design misses in Finnair's AirLounge business class
Despite the AirLounge's innovative design and exclusive partnerships with Nordic brands, there are a handful of things I think could be improved upon — and the first is by far the most important.
I found the seat to be quite uncomfortable when sitting in upright mode. Given that I was traveling on a red-eye, I was lying down for more than half the flight, so it didn't bother me too much. However, on an eastbound flight to the U.S., I would anticipate needing to adjust my position frequently.
Even with the two pillows providing limited support to my back when I was eating and watching entertainment on the screen, I got cramps in my neck, shoulders and back that I usually don't get when in a more "supported" or traditional business-class seat. I think asking for some extra pillows from the cabin crew would help to mitigate this but, still, the design of the seat does not have any curvature for your spine.
For what it's worth, I didn't find the over-the-shoulder seatbelt to use in upright mode to be restrictive, and there is an alternative seatbelt to use when in lie-flat mode, which is conveniently concealed in the seat when not in use.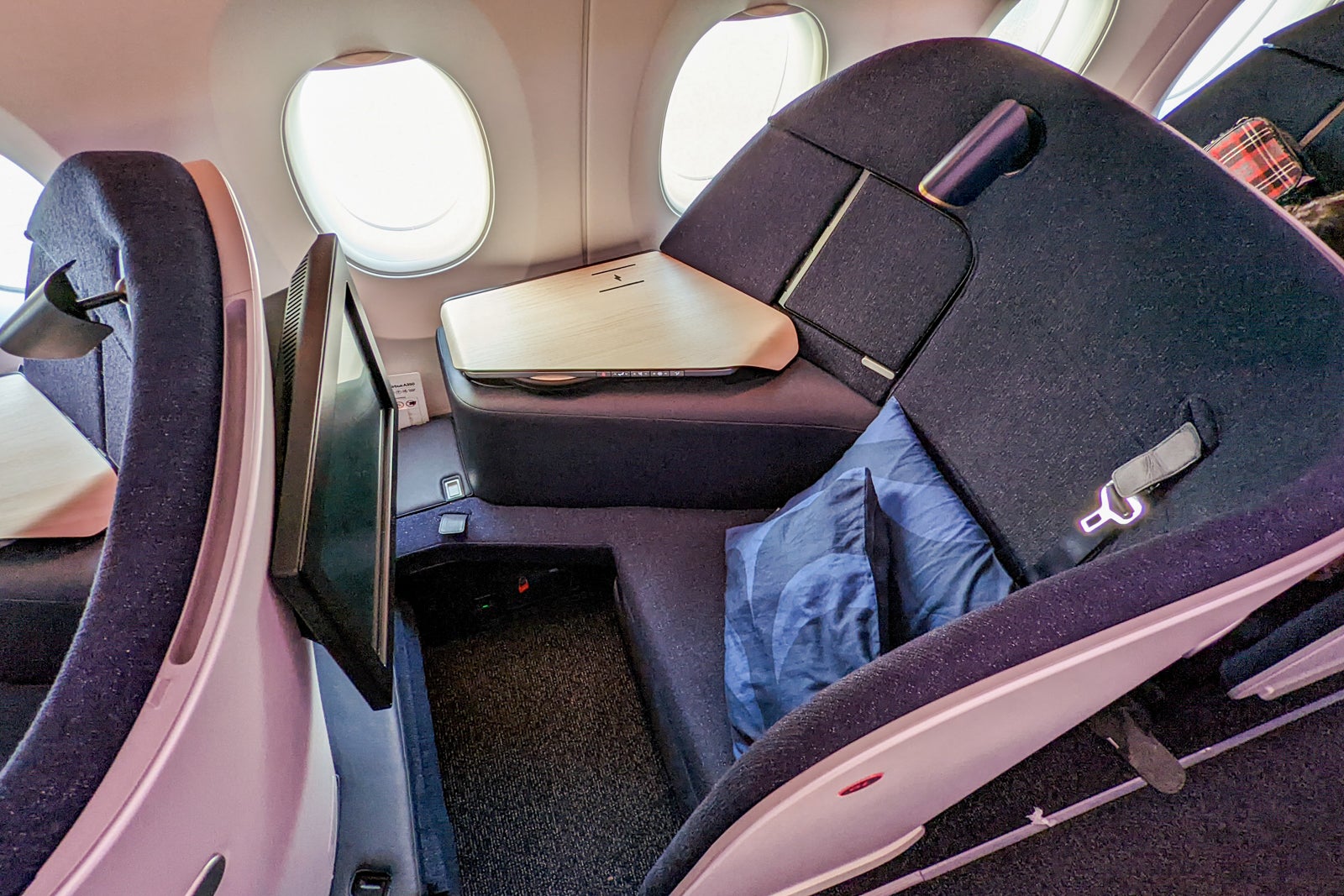 Senior points and miles writer Ben Smithson concurred with me in his review of this product that the aisles feel very tight to walk through given the seats' large footprints. You may need to walk diagonally to avoid bumping into other passengers' seats when walking to and from the lavatory. I feel for the cabin crew providing meal service in this tight cabin, though their service trolleys did squeeze through.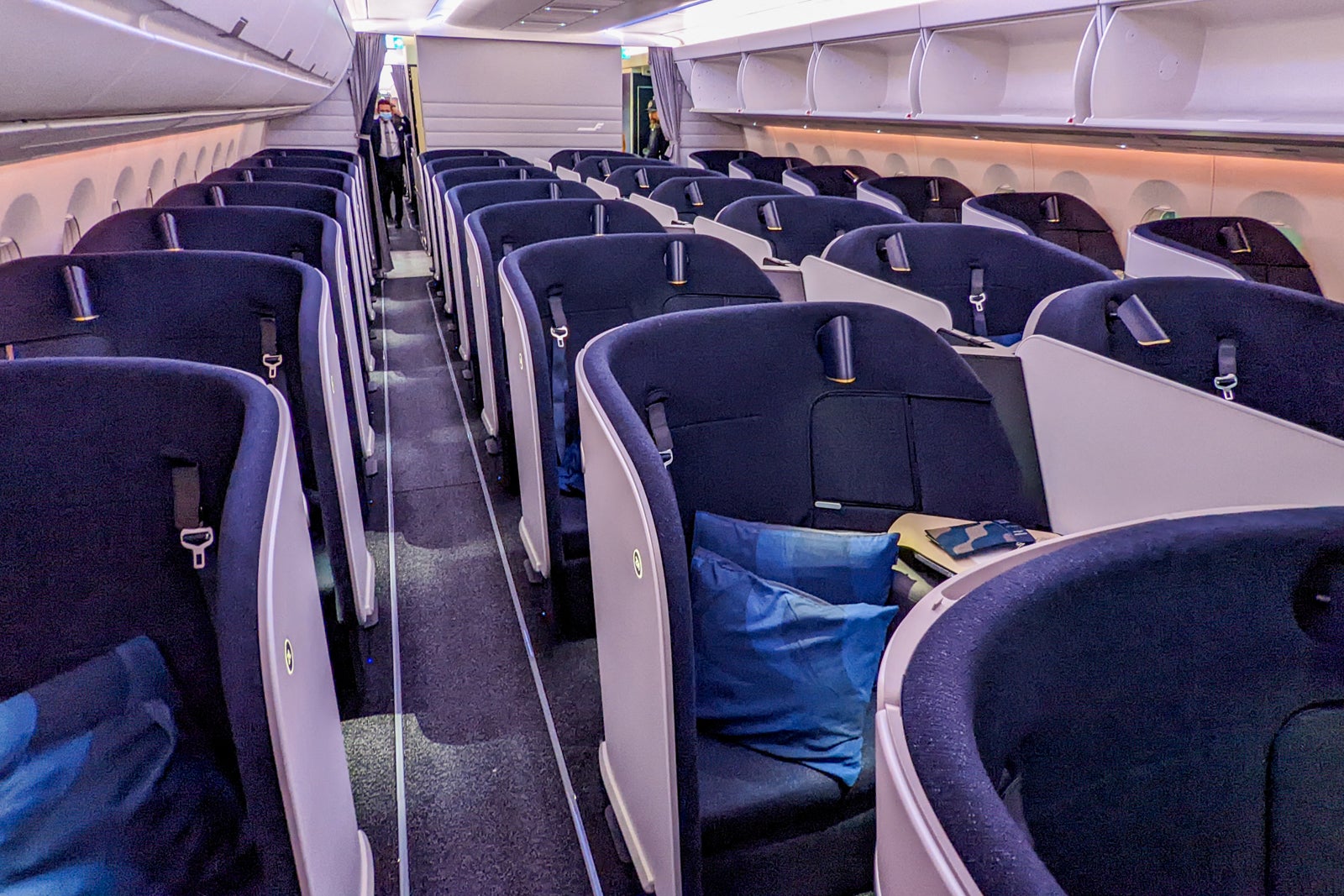 Finnair has nailed the spaciousness of the seat, but it comes at a cost, with no space to store devices larger than a tablet. That means you'll need to place your laptop on the footwell or floor, or keep it packed away in your carry-on luggage. That said, there was plenty of room for smaller devices and other sundries you might want to have on hand rather than having to go into the overhead.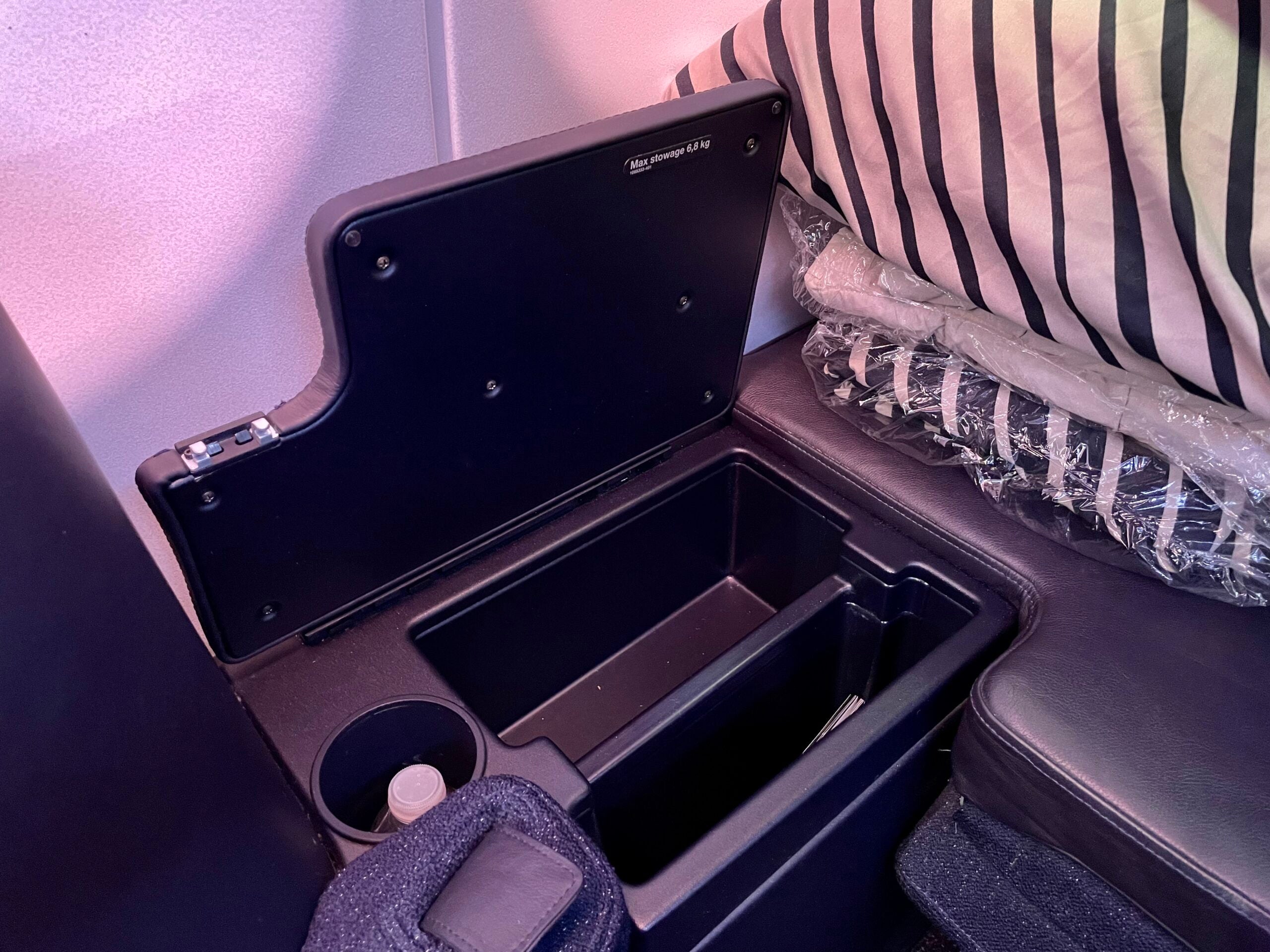 And, finally, if I were to nitpick: I think Finnair missed an opportunity to incorporate some Finnish design elements in their lavatories, which are bland at best.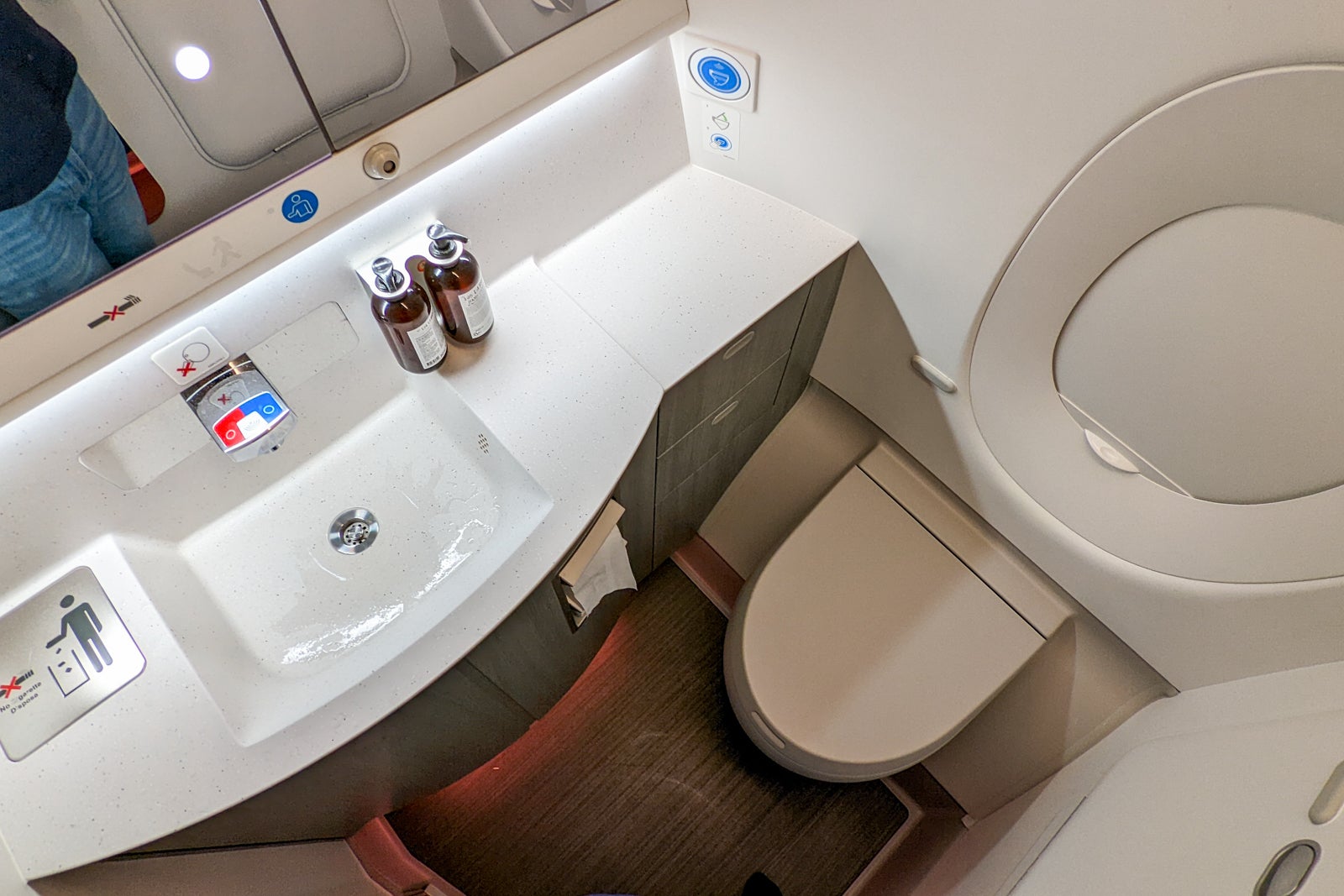 Sure, they were clean and spacious enough, but I would have loved to have seen something unique, like the artificial tulips and fun white-and-blue Delft houses wallpaper that KLM has on its planes.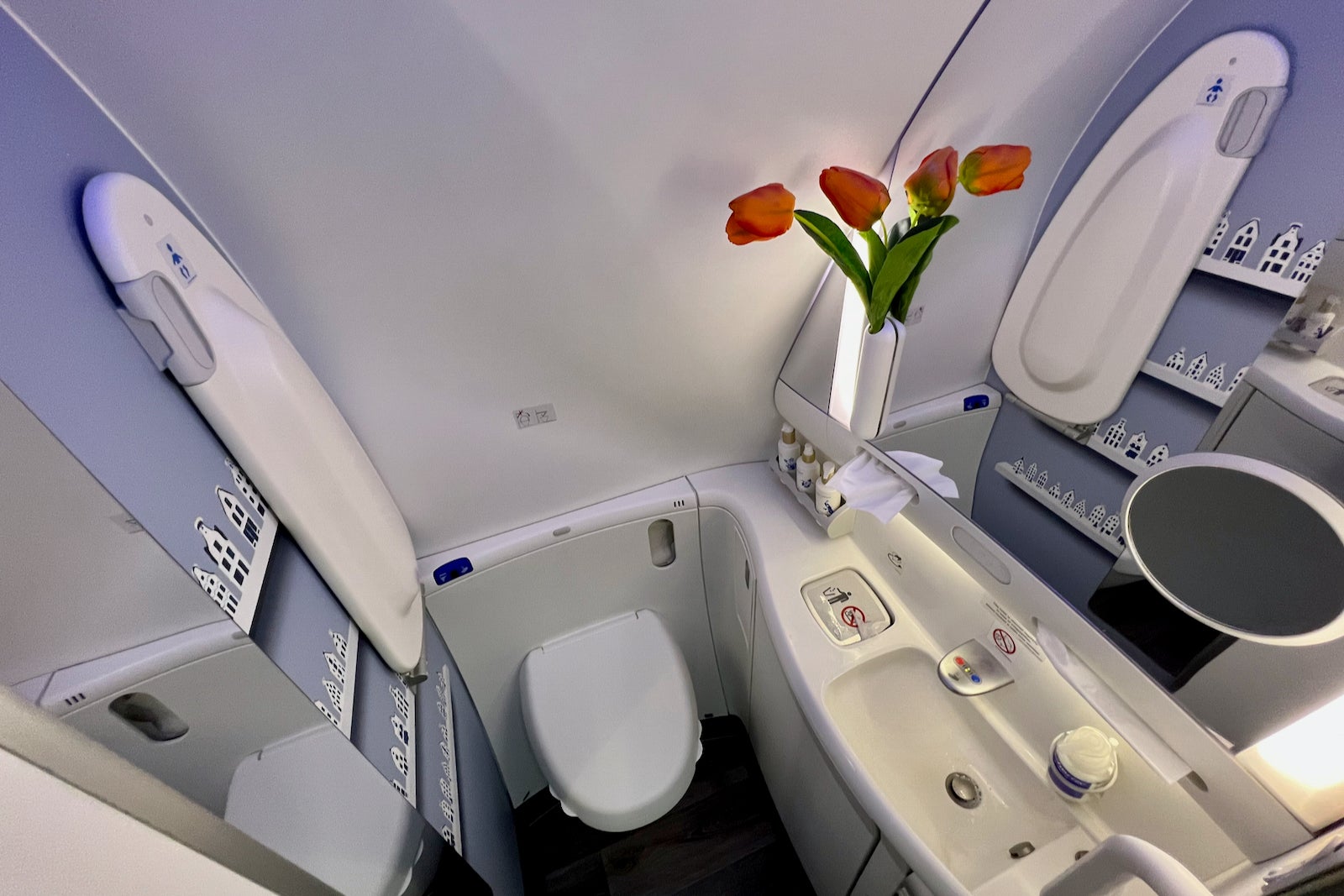 Finnair could channel their calm, cool and crisp image with, say, a wallpaper picturing a cozy, small cabin on the edge of a remote lake in the Finnish wilderness.
Bottom line
Finnair's AirLounge business-class seats offer a unique design that sets them apart in the aviation industry. Their lightweight fixtures resemble padded pods with a non-reclining seatback, allowing passengers to lounge in several positions. The cocoon-like design of the seats provides privacy, although some noise and movement from the aisle can still be noticed.
Finnair incorporates Finnish cuisine and design elements, such as Marimekko plates and blankets and Iittala glassware, into the inflight experience, creating a sense of being in Finland — 35,000 feet in the air. The innovative inflight entertainment system, with a large touchscreen and intuitive controls, enhances the overall experience, too, while wireless phone charging and concealed compartments add convenience and efficiency to the journey.
Overall, Finnair successfully incorporates its national design heritage into the flight experience, making passengers feel like they are flying a piece of Finnish tradition and getting either a preview of the destination or a last experience of the country as they fly home.
Related reading: