Editor's note: This is a recurring post, regularly updated with new information and offers.
For the second year in a row, an airport has won the title of America's Best Restroom in a contest celebrating public restrooms that are not only reliably clean but also have charm, convenient features or unusual decor.
Baltimore/Washington International Thurgood Marshall Airport (BWI) and its newly renovated, amenity-rich restrooms have claimed the throne in the 2023 America's Best Restroom contest. The airport was one of 10 finalists selected — and that's no small feat.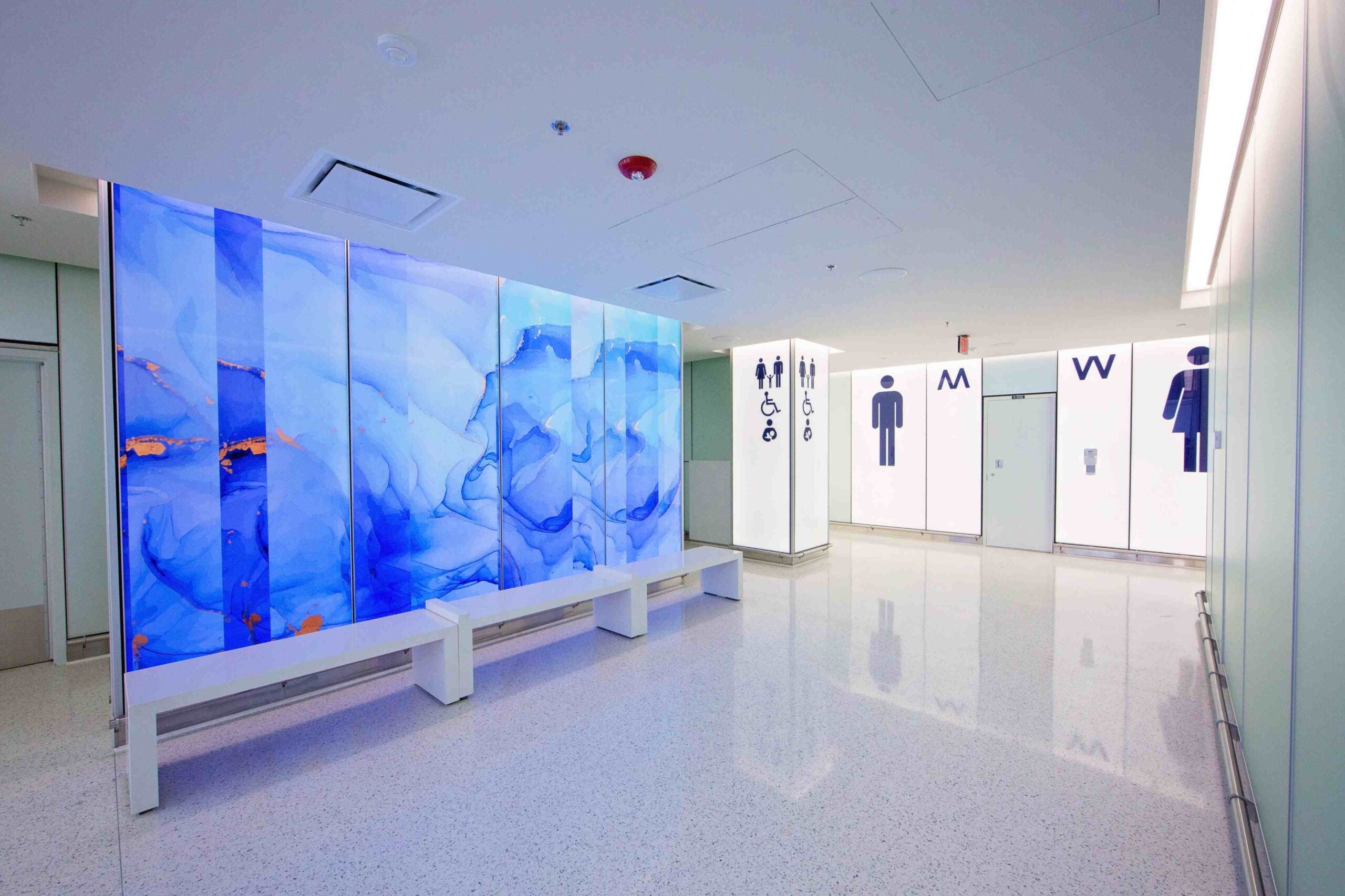 The annual Cintas-sponsored contest scours the land for restrooms with unique design elements that are clean, visually appealing, functional and innovative. It then pits 10 of the best bathroom beauties against each other in a public face-off.
BWI's winning restrooms are on concourses B, C and D. They are bright and spacious, with windows that provide both natural light and privacy.
Each set of restrooms includes welcome features and amenities such as touchless fixtures, full-height stalls and doors, extra space for stowing roller bags, and red and green light occupancy indicators for the stalls. Sensors alert the custodial staff when supplies need to be refilled, and there are seating areas where travelers may wait for their companions.
The new restrooms at BWI also have digital entrance signage showing current stall availability as well as individual lactation, adult-changing and family-assist rooms.
"We're honored to be recognized by Cintas and contest voters for our commitment to providing a positive passenger experience and outstanding facilities," Ricky Smith, executive director and CEO of BWI, said in a statement. "Passengers rank restrooms as an airport's number one amenity. That's why we work so hard to provide creative, clean and inviting restrooms to make travel more enjoyable."
In addition to bragging rights and a coveted spot in America's Best Restroom Hall of Fame, BWI's first-place award comes with $2,500 worth of products or services to help keep the winning restrooms clean.
Beyond BWI, this year's finalists included public restrooms in a dive bar, a hotel, a public rest area, restaurants, a craft brewery, a ski resort and a lightship.
Airports on a roll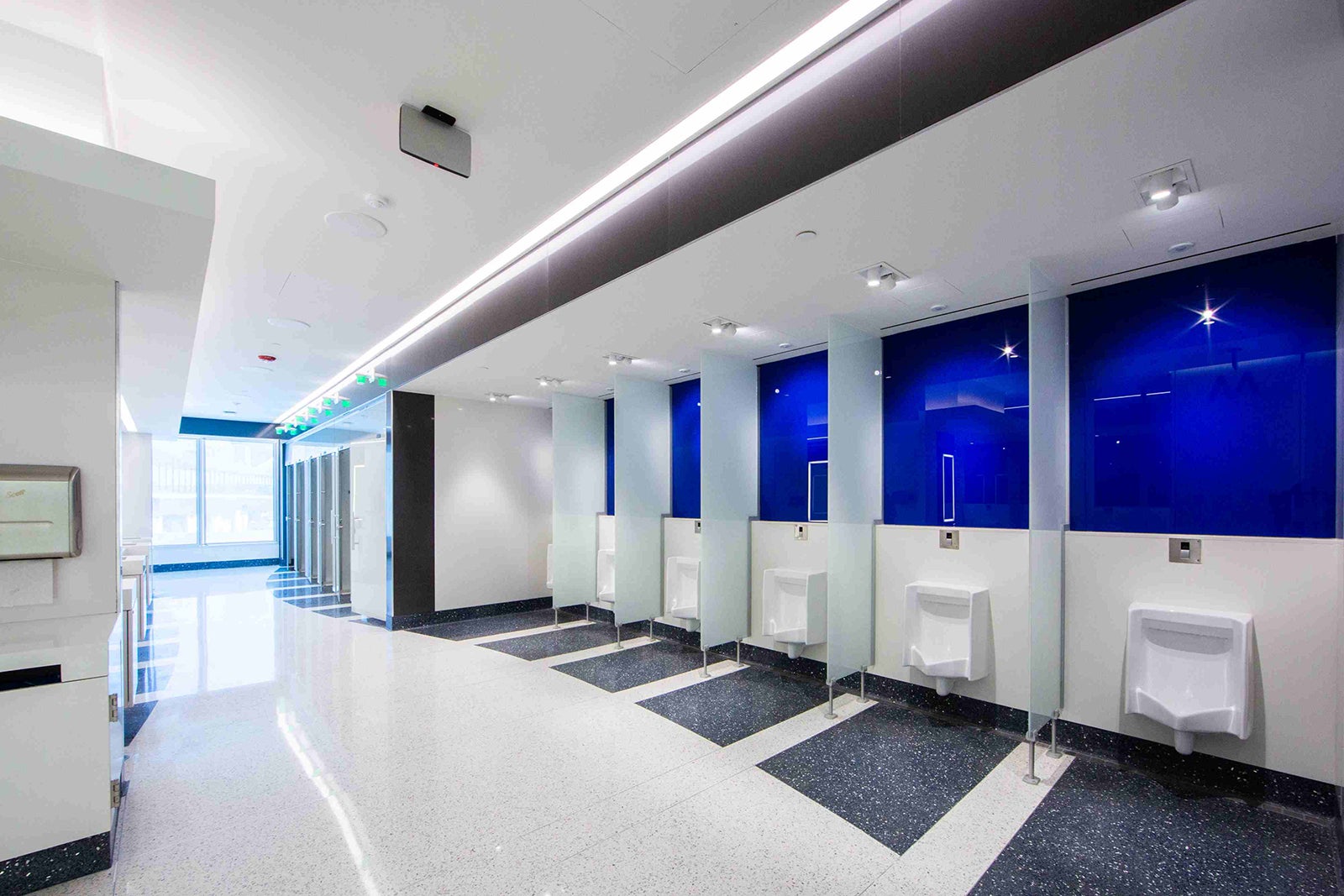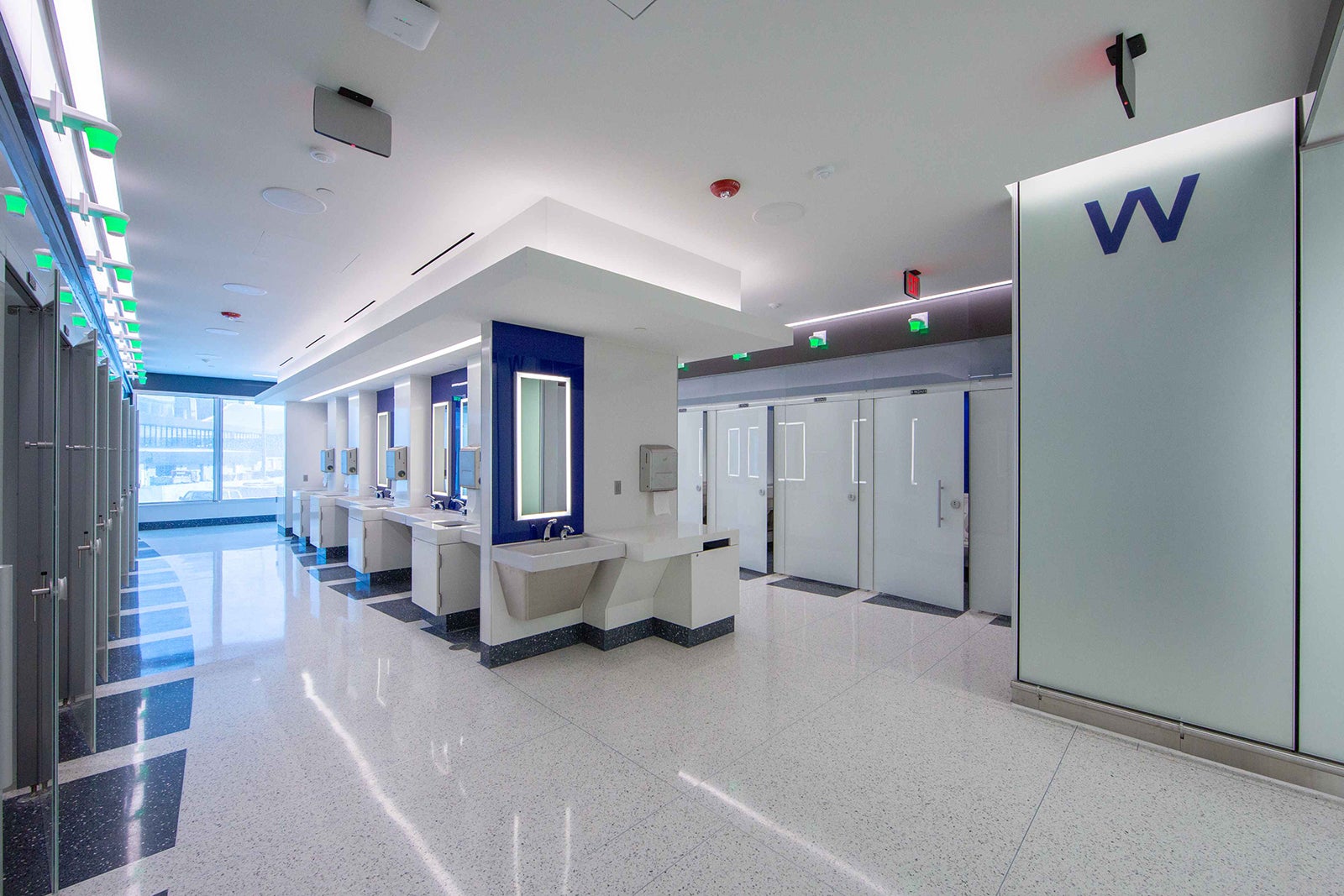 Last year, in a surprise showing, restrooms at two airports — Newark Liberty International Airport (EWR) and Tampa International Airport (TPA) — were in the running. TPA took top honors for its first set of renovated restrooms featuring large Florida-themed graphics and the airport's "cockpit" concept that puts a paper towel dispenser and trash receptacle within reach of each sensor-activated sink and soap dispenser.
Minneapolis-St. Paul International Airport (MSP) took first place in 2016 for the renovation of the first set of restrooms in a planned 100-set makeover project that was set to be completed in 2025.
Those restrooms include waiting areas and amenity nodes with flight information and emergency devices, as well as mosaic murals at the entrances and Minnesota-themed artwork.
Back in 2005, Fort Smith Regional Airport (FSM) in Fort Smith, Arkansas, took first place for its always-clean restrooms that featured "beautiful décor," dried flower arrangements, automated toilets and sink faucets, and other amenities.
You can see all the lavatories that have landed in the Hall of Fame here.
The 2023 finalists
BWI had some very worthy competition among the finalists in the 2023 America's Best Restroom contest.
The restrooms at Huntsville, Utah's Snowbasin Resort — one of the oldest continuously operating ski resorts in the country — feature Italian Carrara marble, bronze and crystal chandeliers, private stalls, hand-painted walls, and plush hand towels.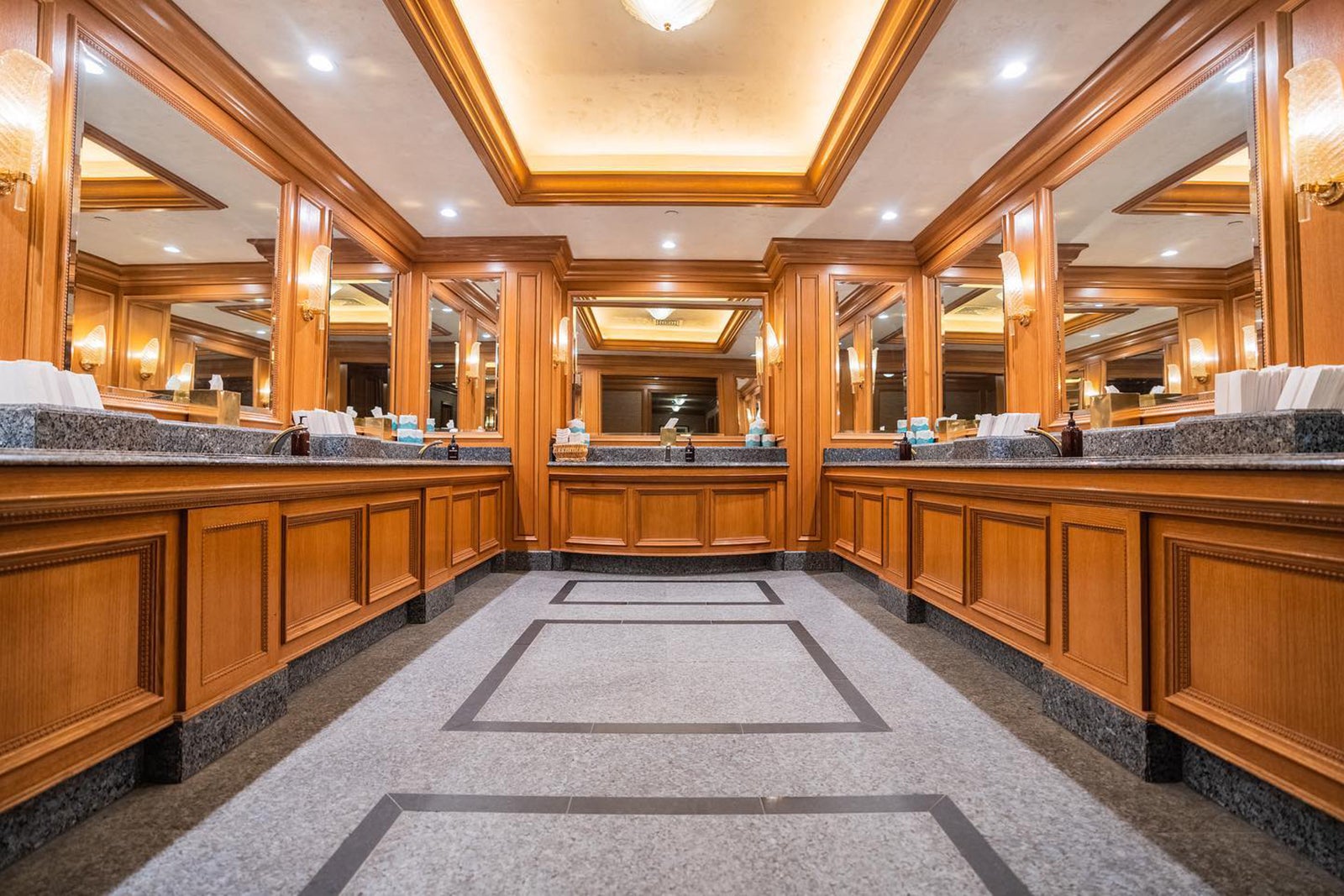 Framed portraits of rabbits cover the walls at the Rabbit Hole restaurant in Greenville, South Carolina. A rose garden seems to grow from the ceiling, and snippets from an "Alice in Wonderland" audiobook play over a speaker.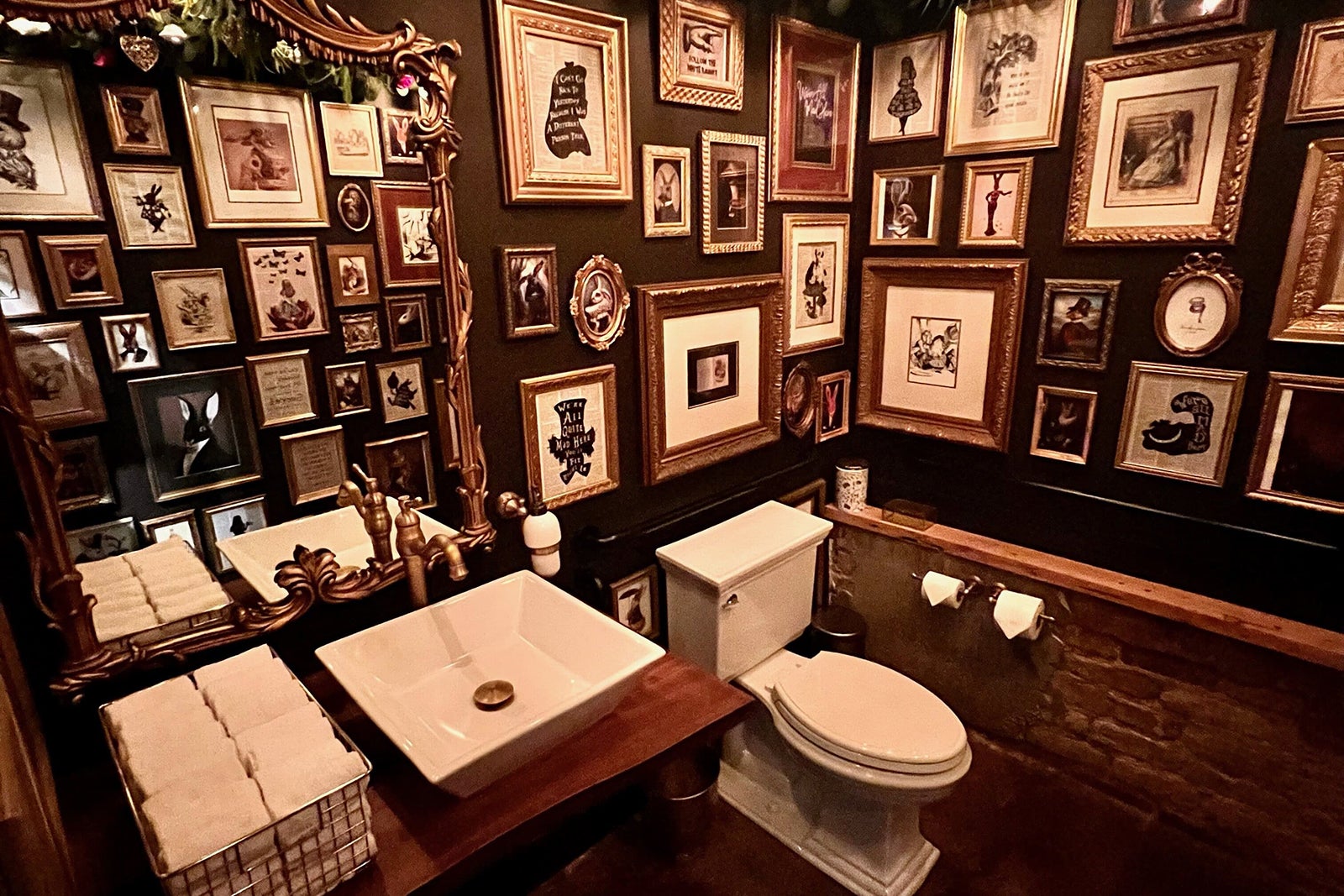 On the New York City lightship Frying Pan — which was built in 1929 and now has a spot on the National Register of Historic Places — there is naturally a nautical-themed restroom. This one has riveted sheet metal, shiny wood, bright light fixtures above each stall and sink, and hand-painted pictures of the historic ship.