Editor's note: This post has been updated with new information.
---
Alaska Airlines has officially become the first U.S. airline to offer digital bag tags for checked luggage.
The Seattle-based carrier announced on Wednesday that it successfully debuted an electronic bag tag device in partnership with Dutch company Bagtag. At launch, these electronic bag tags are being sent to 2,500 Alaska MileagePlan elite members for the first round of testing.
Eligible elites who will receive a bag tag are those who have traveled in the last 12 months, checked at least one bag and were among the first to register to use the device.  The airline expects to roll out these devices more broadly next year. When it does, the devices themselves won't be cheap — they'll run roughly $70 each.
That said, the airline estimates a roughly 40% reduction in the time spent in the check-in lobby when using this new technology, so it could definitely make sense to invest in one depending on your travel patterns.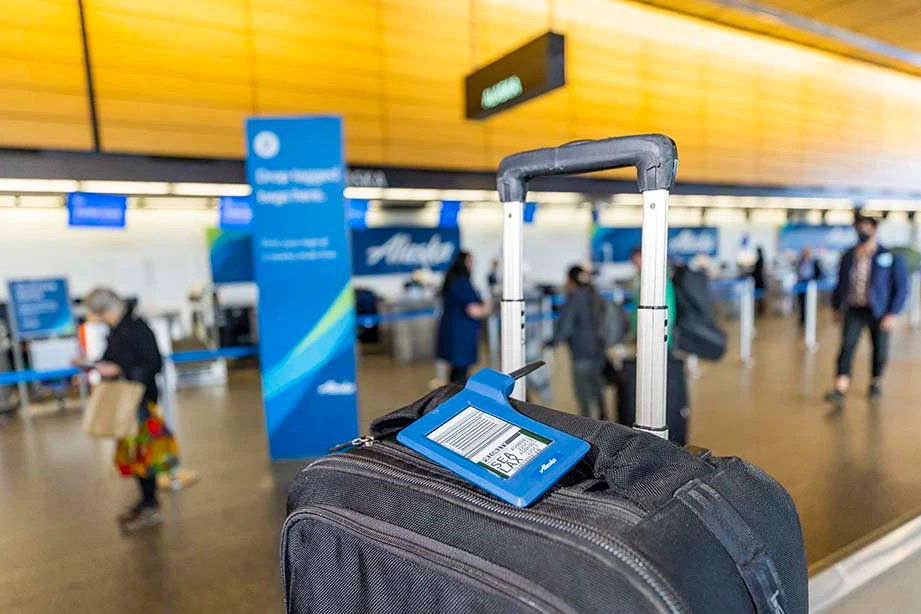 After attaching the device to your bag, you can activate it starting 24 hours before your flight during the check-in process on Alaska's mobile app. At launch, only single-passenger domestic itineraries that include just a single checked bag are supported.
You also need to qualify for complimentary checked bags in order to use the electonic bag tags. This includes those with Alaska's cobranded credit cards, Mileage Plan and Oneworld elites, Club 49 members and first-class travelers.
Alaska plans to remove all three of the aforementioned restrictions in the coming months as it rolls out the technology more broadly.
In order to use the digital bag tag, your phone must support Bluetooth and near-field communication — most smartphones produced in the last few years do, including the iPhone 6 or later and the Samsung A51 or later.
After completing mobile check-in, the bag tag device will sync with your phone through an antenna that powers and reads the information transmitted from the Alaska mobile app. The device's e-paper screen will then display your digital bag tag..
When you arrive at the airport, you'll approach the baggage drop-off counter and bypass any kiosks or desks. You'll need to present your government-issued ID and your bag will then be on its way.
As for the bag tag itself, it doesn't require charging or batteries, and it can withstand being run over a luggage cart — Alaska's team successfully tested its durability by running over it with a truck. The device is attached to your bag using an industrial-strength plastic zip tie, but the airline recommends placing an identification tag inside your suitcase in case the device were to fall off.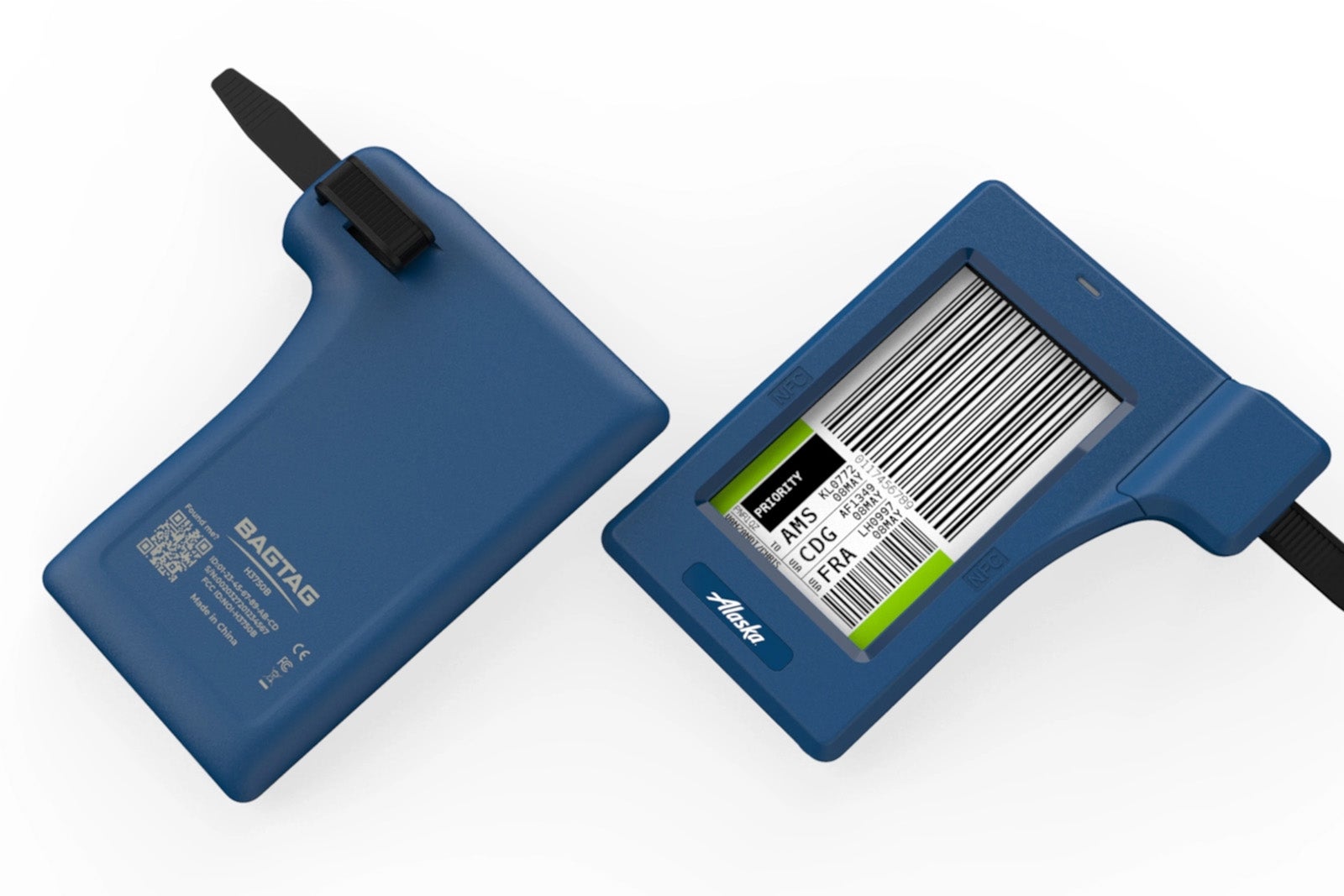 Want more airline-specific news? Sign up for TPG's free new biweekly Aviation newsletter.
"We've tested our electronic bag tags on countless flights across the country, including international routes where Alaska Airlines flies, and the devices have performed exactly as they're meant to," said Charu Jain, senior vice president of merchandising and innovation at Alaska in a statement.
The rollout of the electronic bag tag program will happen in several phases.
As mentioned, the first phase, which is launching during the first week of December, includes 2,500 Mileage Plan elites who received an electronic bag tag in the mail. In early 2023, Alaska will open up the program to additional frequent flyers, who will have the option to purchase a device for around $70 each.
Later next year, all flyers will be able to purchase one of these devices.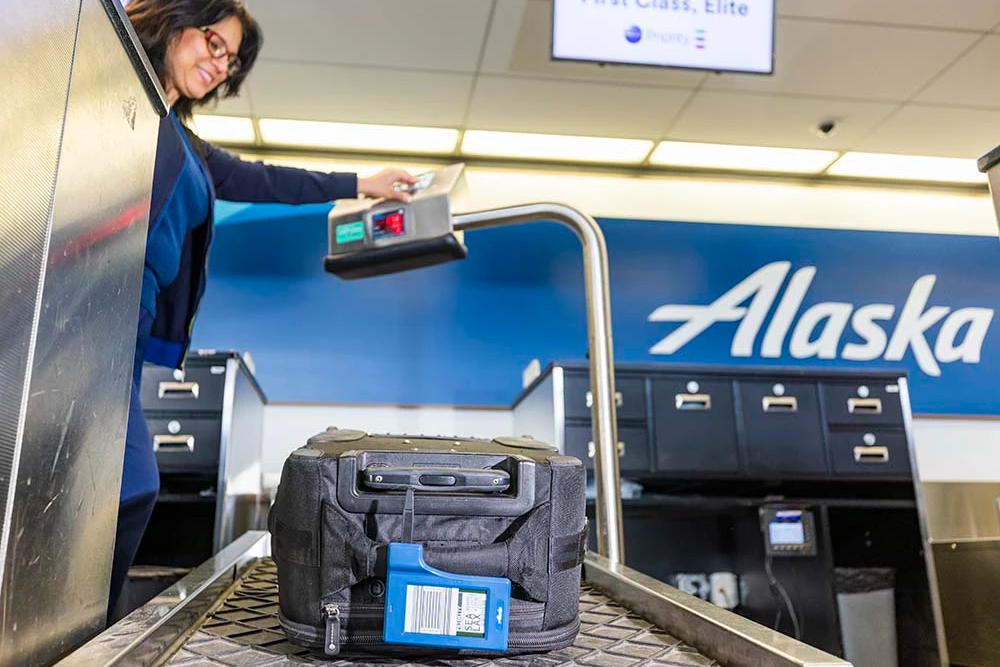 Note that the $70 figure will be per device, so if you have multiple bags, you'll need to purchase multiple tags. Of course, the devices can be reused on multiple trips, but no other U.S. airline has announced support for this new electronic bag tag standard. Plus, the $70 fee does not include any bag fees that Alaska charges, which start at $30 for the first bag and $40 for the second.
That said, you can share an electronic bag tag with a family member or friend, so you could theoretically split the cost among a few people.
While Alaska is the first U.S.-based airline to debut electronic bag tags, this technology is already live or has been piloted with various international carriers, such as the Lufthansa Group, Air France, KLM and China Southern. The luxury luggage brand Rimowa even joined the electronic baggage tag program with pre-installed devices on its popular metal hardshell cases.
Featured image courtesy of Alaska Airlines.