Welcome to Skyview 6.
The shimmering six-story glass building sits just a short hop from Dallas/Fort Worth International Airport (DFW), one of the newest hotels in Texas to welcome guests.
The 600-room facility opened in January and touts a long list of amenities. It includes a two-level, 73,500-square-foot fitness center, a swimming pool, pickleball and volleyball courts, and multiple dining options.
There's also a 10,000-square-foot ballroom that can accommodate a wide range of corporate events; it even has walls that can turn the space into an indoor-outdoor facility.
Want more airline-specific news? Sign up for TPG's free biweekly Aviation newsletter.
However, if you want to stay here, you're out of luck.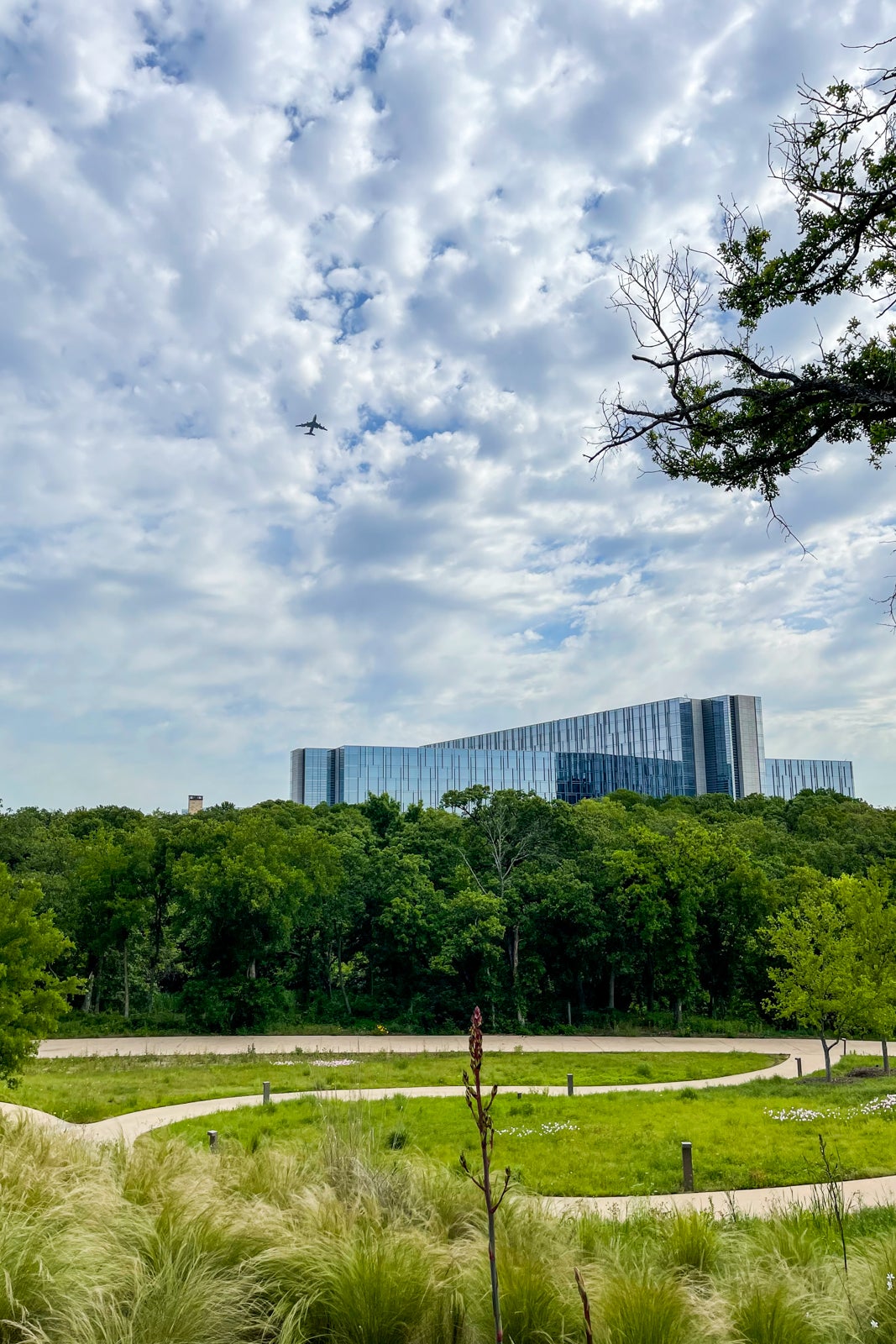 Skyview 6 does not accept reservations from the public. It's open only to pilots, flight attendants and other American Airlines crewmembers traveling to headquarters.
The building is a short walk — or bike ride — from the facilities where pilots, attendants and other frontline workers come for regular training to keep the qualifications current. The airline envisions it as a place not only for crew to stay during training but also as a place to foster a sense of collaboration and community among employees.
Holly Ragan, American's senior manager of corporate real estate, led the design and construction of Skyview 6.
"I've been floored by the kind of culture it's building," Ragan told TPG during a walk-through of the facility last week.
The communal, shared space creates an environment where employees "are able to connect (and) build relationships," Ragan said as she continued the tour, her enthusiasm hard to hide.
She calls Skyview 6 her "unicorn" – something that lets Ragan and her team combine all the high-profile components of real estate design that rarely come together in a single project.
A stylish new hotel? Check. A soaring fitness center and public spaces with sweeping staircases and iconic art? Check. A tavern and restaurant facility, each with its own signature spaces? Check and check.
"It's been an absolute blast to be able to lead this project," Ragan said as we continued our tour.
That project – Skyview 6 – is the latest addition to American Airlines' headquarters complex, which sits among leafy green spaces and alongside a languid stream.
Think less of a soulless office park and more of a college-like campus dubbed "Skyview" — or officially the Robert L. Crandall Campus, in honor of American's legendary CEO from the 1980s and 1990s.
Buildings include Skyview 8 (the main headquarters building), the CR Smith Museum, which chronicles American's history, and the company's operations and training centers. Pedestrian- and bike-friendly pathways wind through the property and link the buildings together.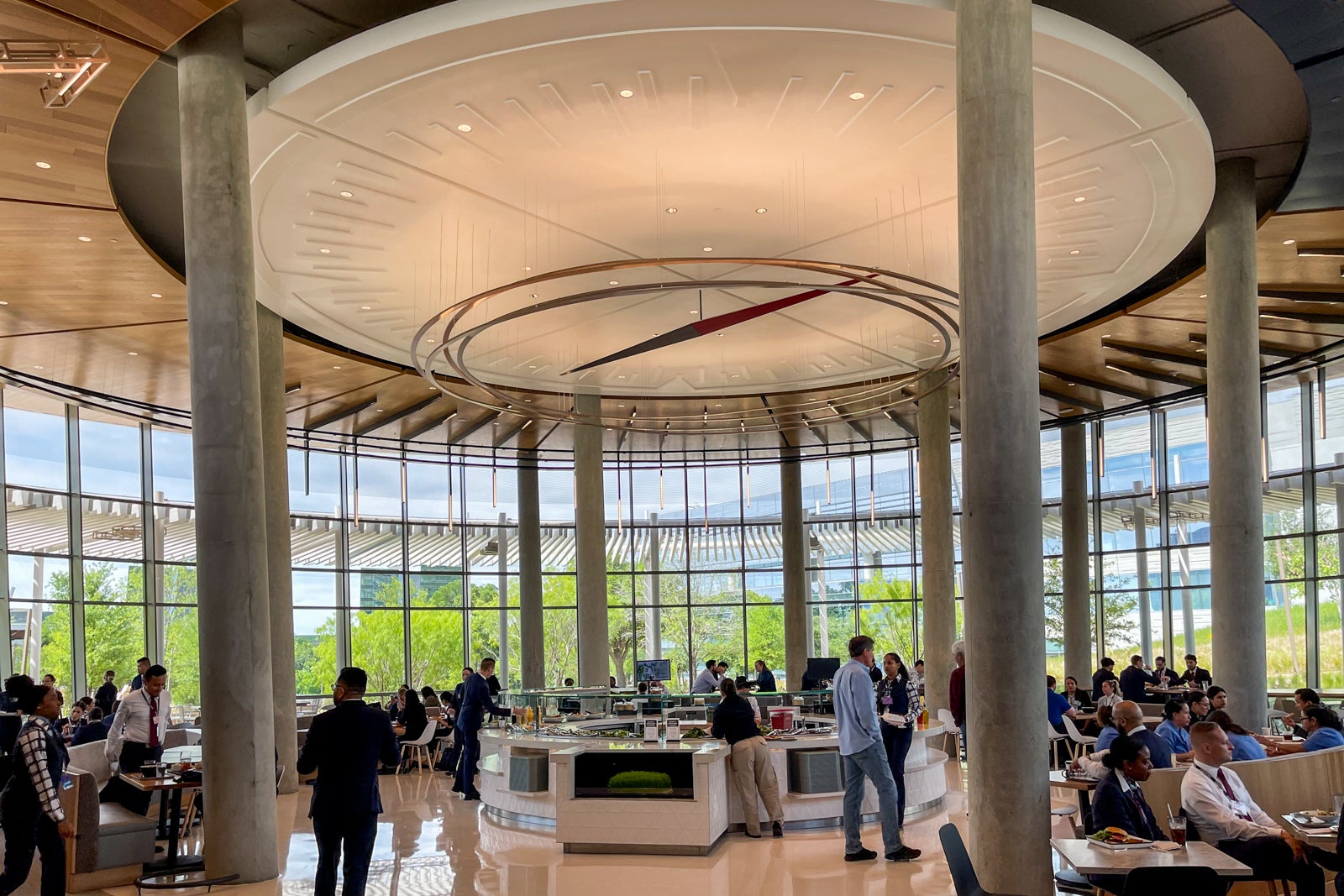 Now, the hotel takes its place as the last major addition to the Skyview complex. American describes it as "the final step in bringing key facilities and services together on one campus" in an environment that "fosters collaboration and innovation" among employees.
Despite its off-limits status to nonemployees, the sparkling new hotel has sparked curiosity.
Brady Byrnes, American's executive who oversees the carrier's flight attendants, inflight dining and clubs and lounges, acknowledges that he's fielded inquiries from aspiring guests.
"The questions range anywhere from 'You guys have a hotel?' to 'How can I book it? Is it on Orbitz?'," said Byrnes, who's worked for American since beginning as a flight attendant in 1997.
Spoiler alert: It's not.
However, for those employees who get to pass through the hotel's doors, the experience is likely to be a memorable one.
Read on for an inside look at what it's like at Skyview 6.
Check-in and lobby
Employees arriving by shuttle or car from DFW – about 7 miles north – enter at a dedicated drop-off spot just outside check-in area. Those coming from elsewhere on campus enter the building from the other side of check-in area. There's a dedicated Skyview 6 docking station for those coming via the campus bike-share.
The check-in desk sits under ceiling replicas of engine turbines for Boeing 787, 777, 737 and Airbus A320-family planes – the four planes that comprise the carrier's mainline (nonregional) fleet.
Most employees can access the building and their rooms with mobile keys linked to their phones, but physical key cards are available upon request.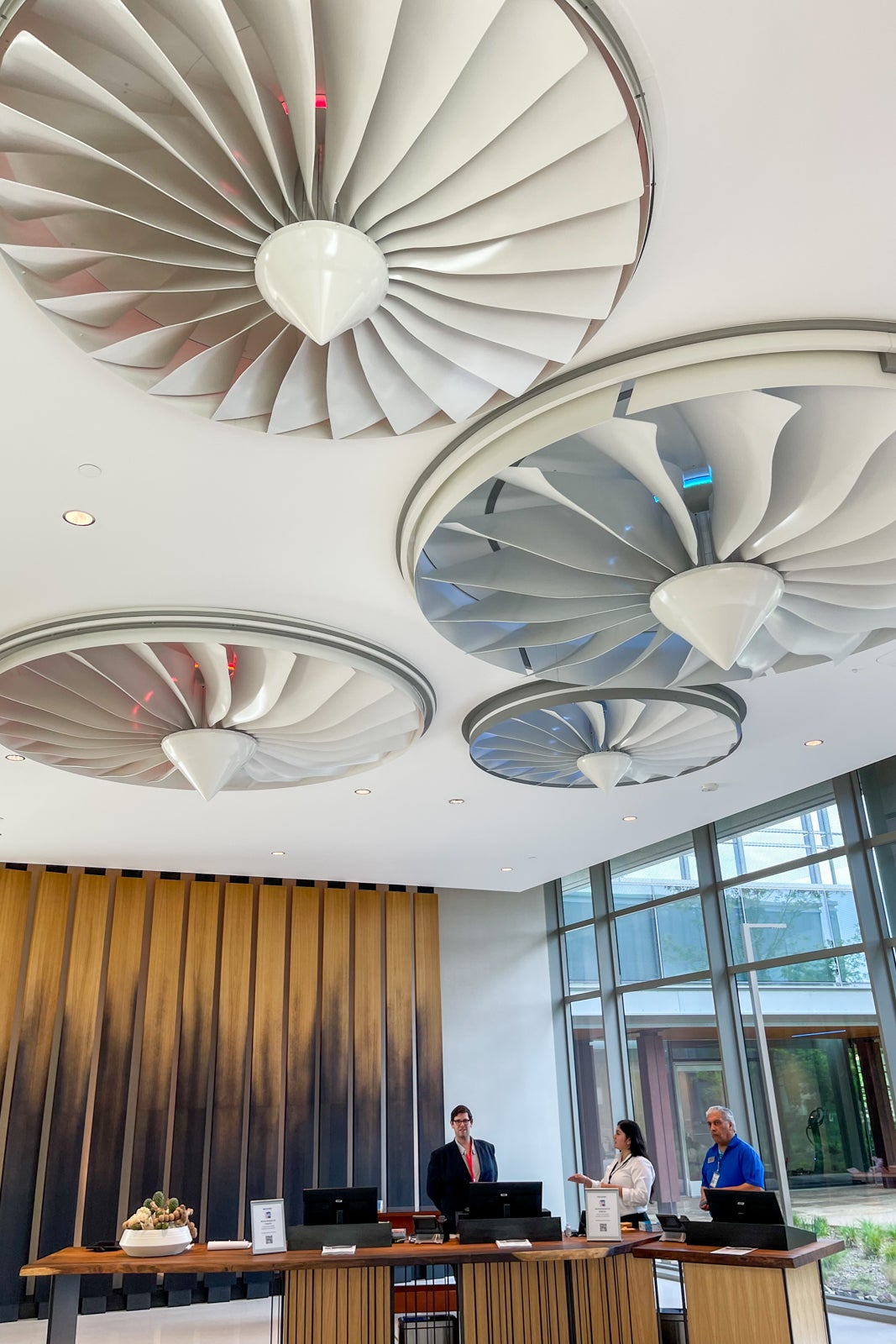 Across from the check-in desk is a staircase that rises under a circular medallion paying homage to nearly a half-century of American Airlines flight attendants. The medallion was the same one that hung at American's original "Stewardess College" – something American says was an industry first when it opened in 1957.
For decades, attendants would have their group photo taken under that medallion upon completing their training — a tradition that now lives on in the lobby of Skyview 6.
"The staircase means a lot to flight attendants," Byrnes said.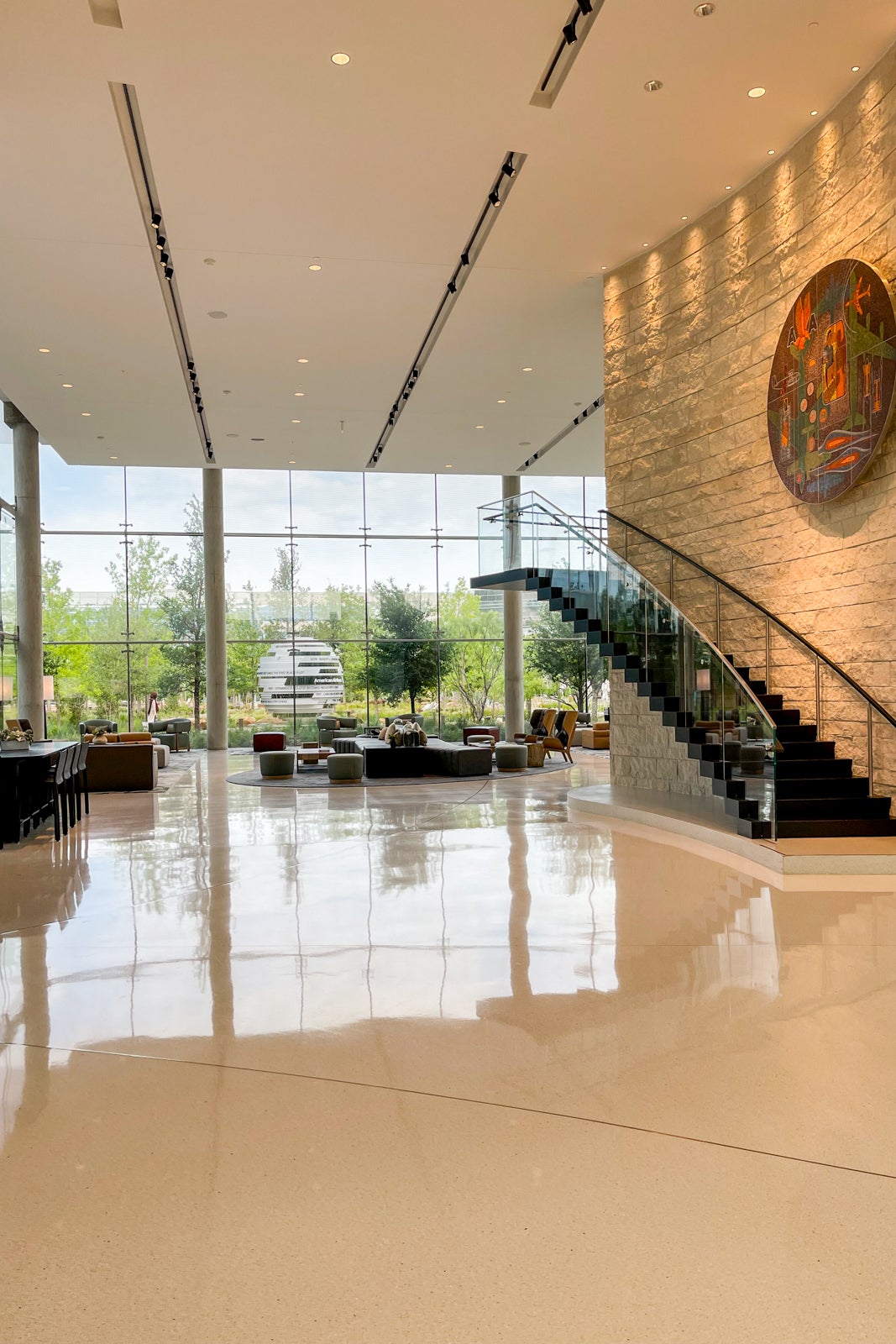 Rooms
"Every room is exactly the same," Ragan said.
The uniform layout, however, doesn't mean it's drab and boring. Queen-size beds and working desks look out over campus through floor-to-ceiling windows.
During design, team members were solicited for feedback on what they wanted in the room.
"Pilots were passionate about the blackout (blinds)," Ragan shared.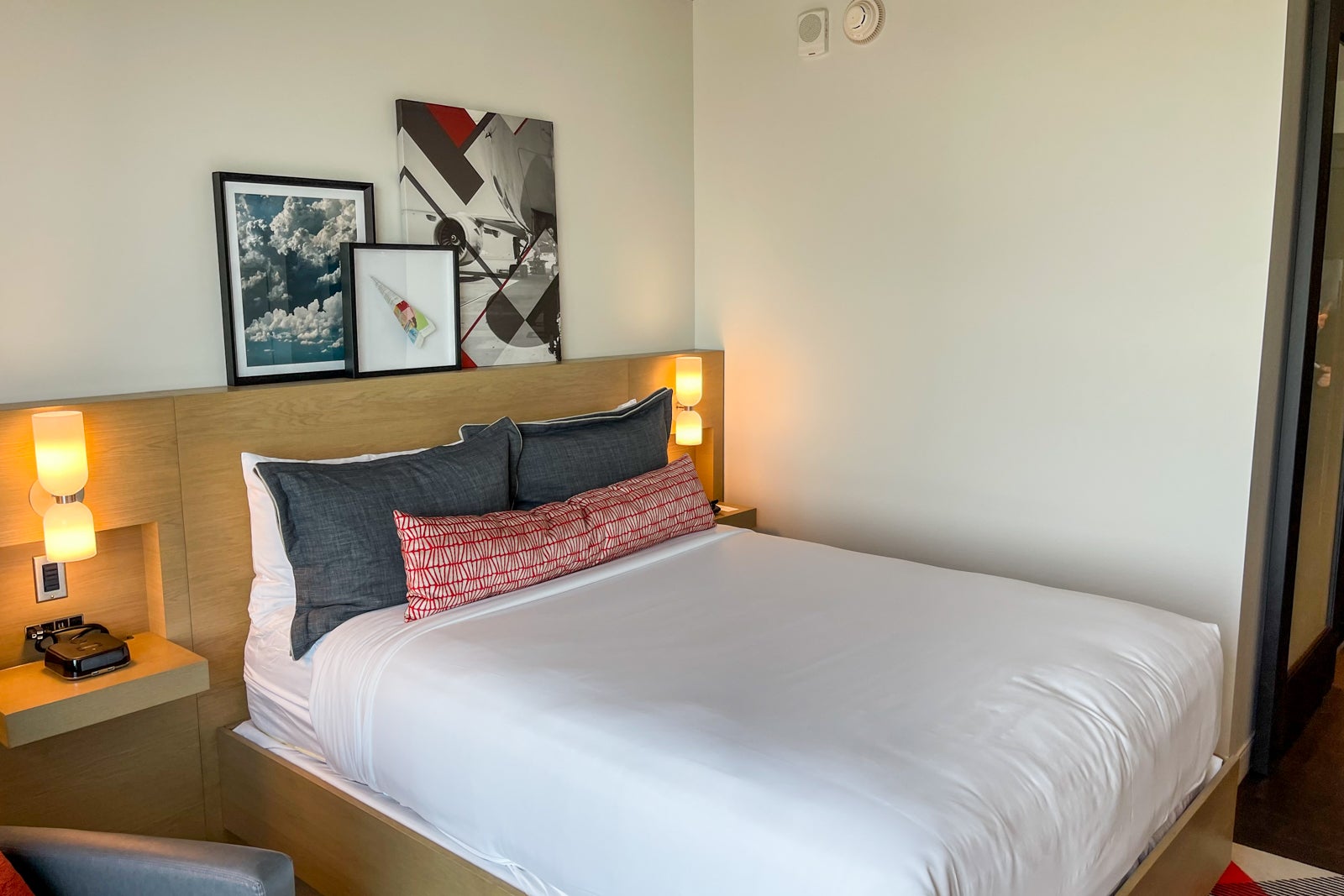 There is a recliner in every room, which also came at the request of employees.
Every room has a safe that can fit a laptop, allowing employees to safely stow their company hardware when it's time to take a break from studying and training regimens.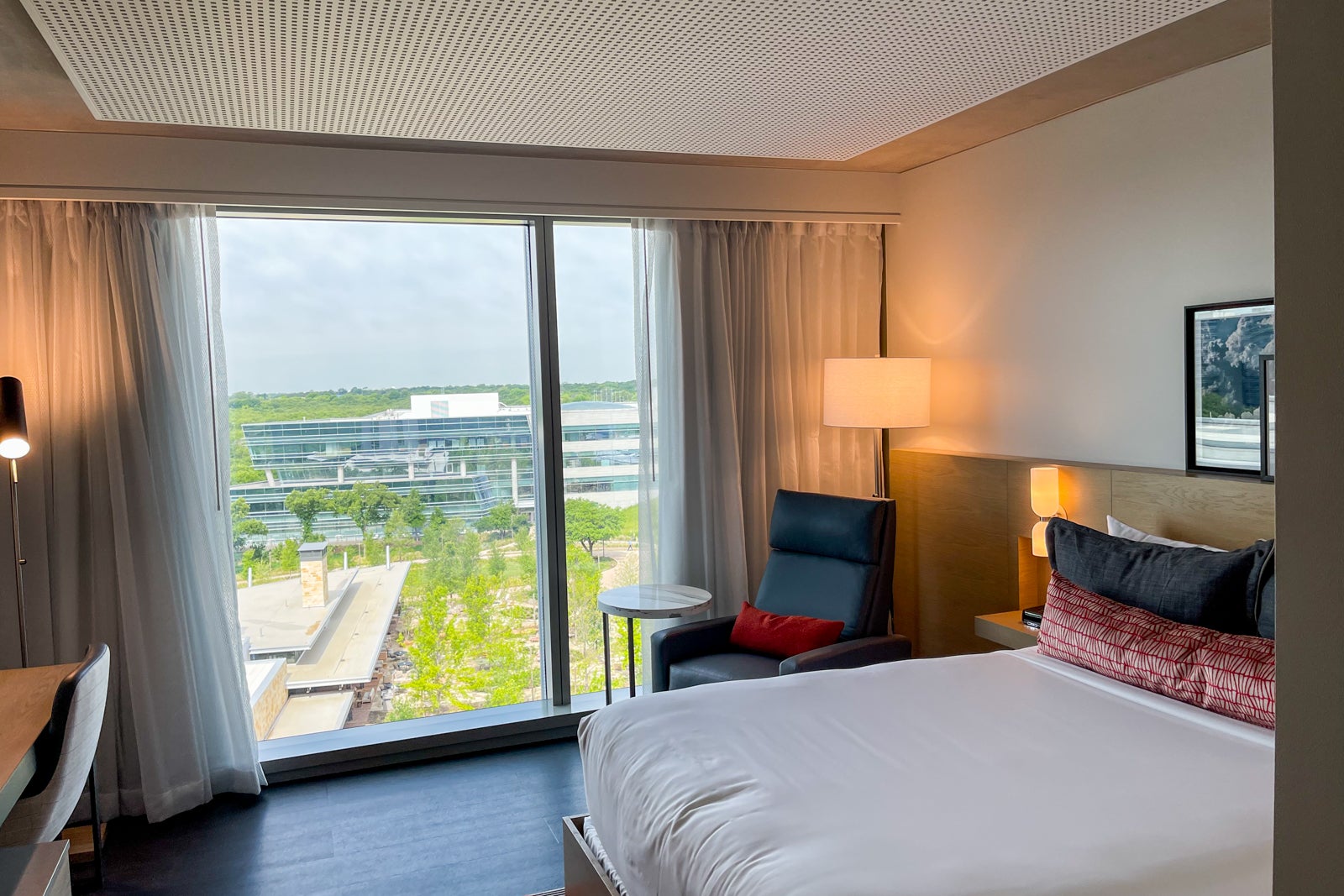 Bathrooms are fitted with mirrors with inline clock displays and Bluetooth capabilities that allow crew members to play music while they get ready for the day.
Typical hotel-style wardrobes are available for hanging clothes. Rooms also feature drawer storage for longer stays since some training sessions can last up to three weeks.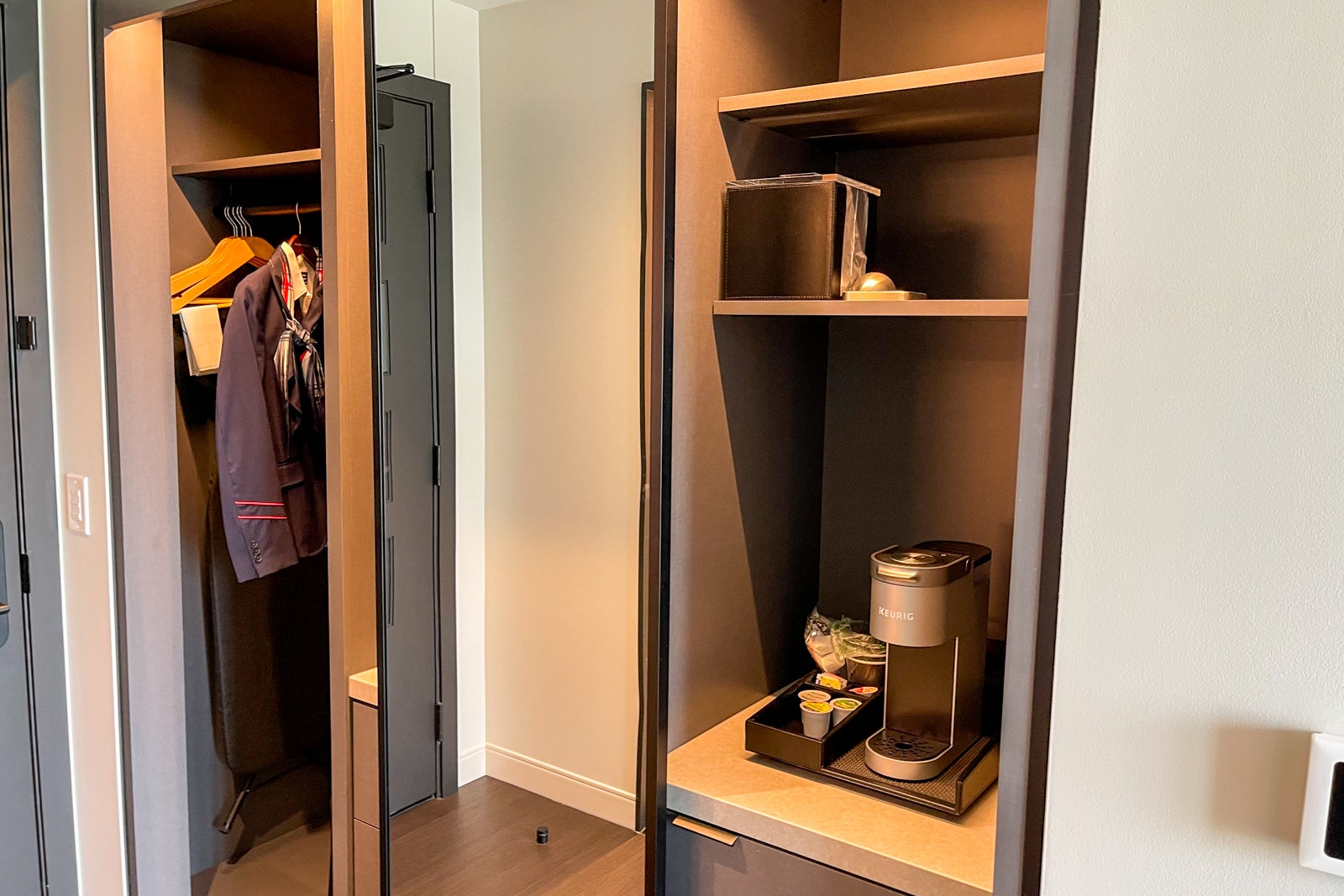 Public spaces
Each floor has a study lounge and a laundry room. The lounges are designed as shared spaces to encourage collaboration and interaction among crewmembers, according to Ragan.
Elsewhere, airline-themed art lines the halls. Some signature pieces produced in custom sizes are still yet to arrive.
Open staircases connect areas off the lobby, fitness center and other spots. It's meant to mimic the feel of Skyview 8, the main administrative building, where all employees — including CEO Robert Isom and the executive team — sit at open desks with few walls.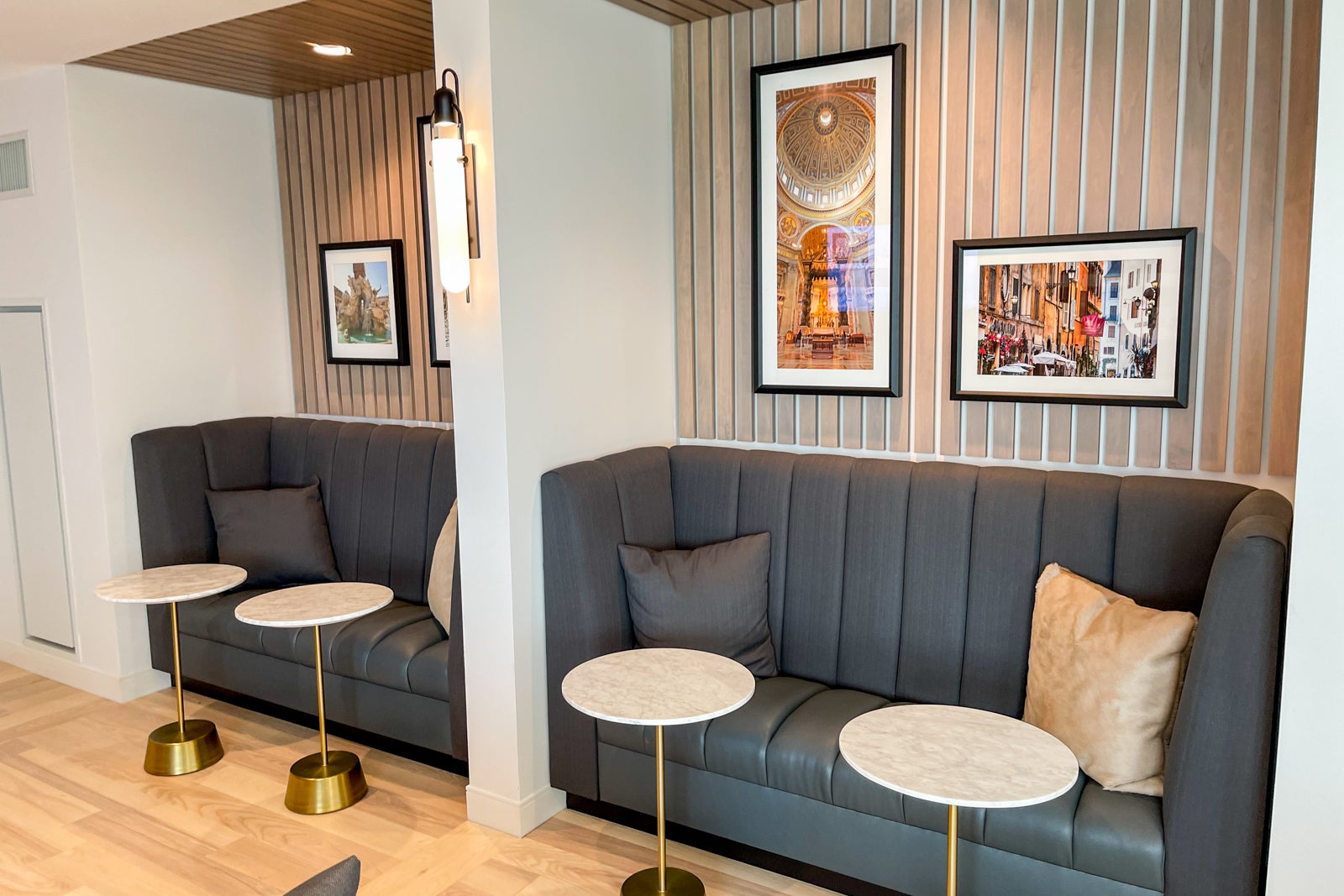 Dining
The Skyview 6 dining facilities run the gamut from grab-and-go options to cafeteria and bar-style offerings.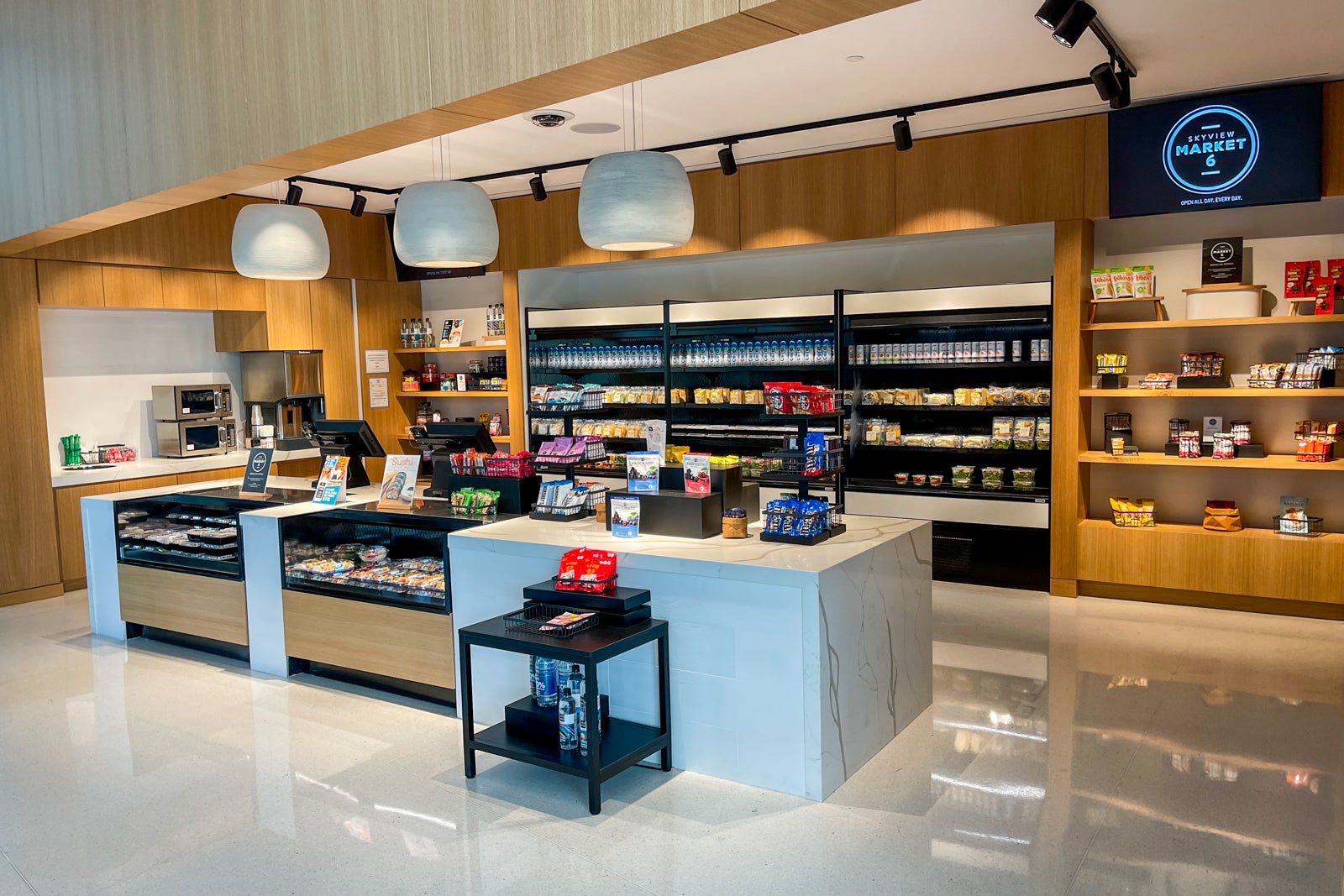 The Tavern evokes a trendy, hip big-city pub. A mix of booths, bar seats and high-top tables flank pool tables and a bar in a triangular-shaped space. Floor-to-ceiling windows can retract during nice weather to transform the pub into an indoor/outdoor space.
Across the courtyard from the Tavern is a cafeteria-style dining facility. Visitors enter this wing of Skyview 6 with the option to stop at a grab-and-go facility or a coffee bar that shifts to wine service in the evening.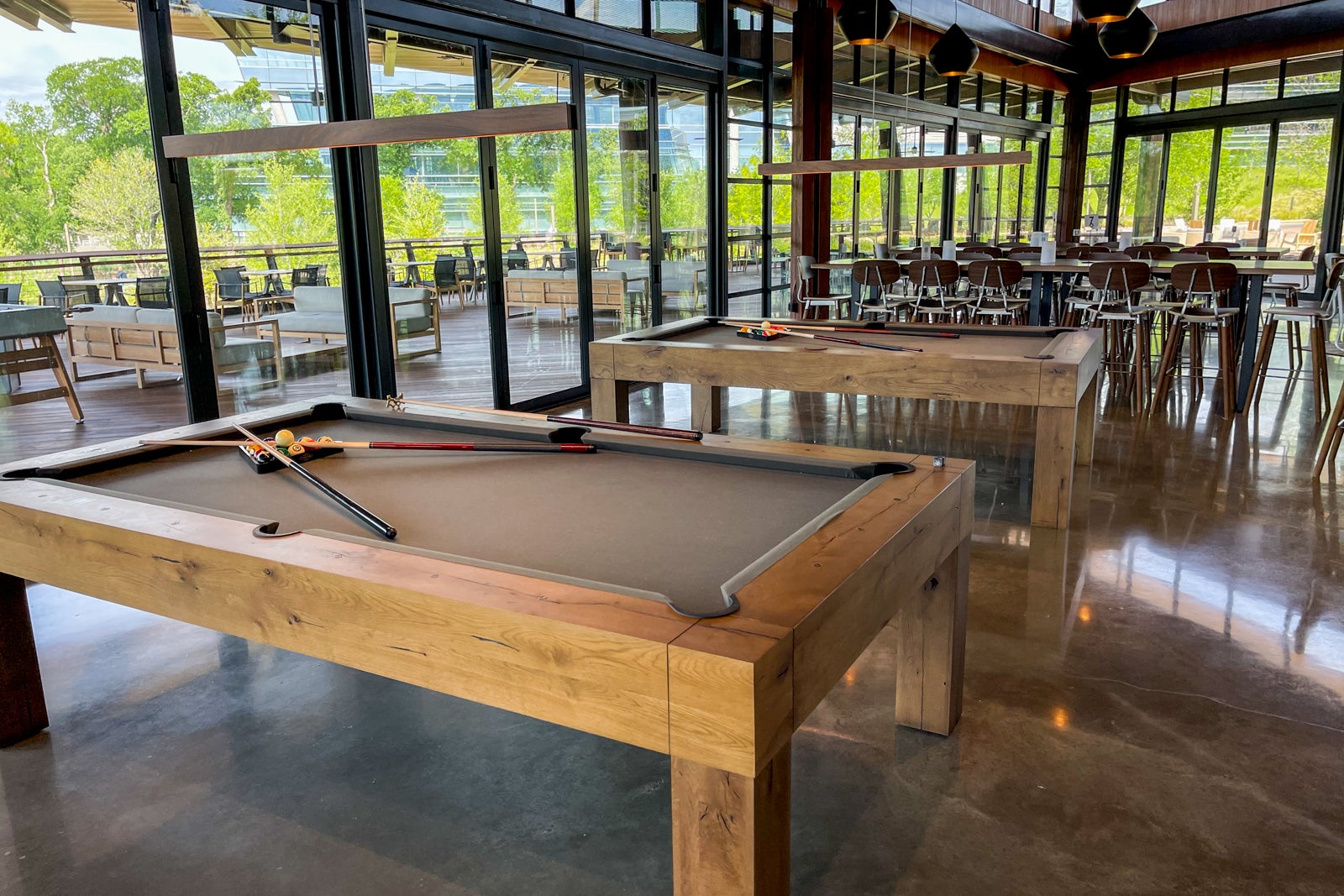 Those coming for the main dining room place their orders at kiosks and then collect their food as it's prepared. From there, they proceed to the dining area. There's a wide range of seating options, and above the signature space is a rotunda with a compass fixed under the circular roof. The giant replica compass points true north.
The eateries serve up to 1,700 lunches in a typical day.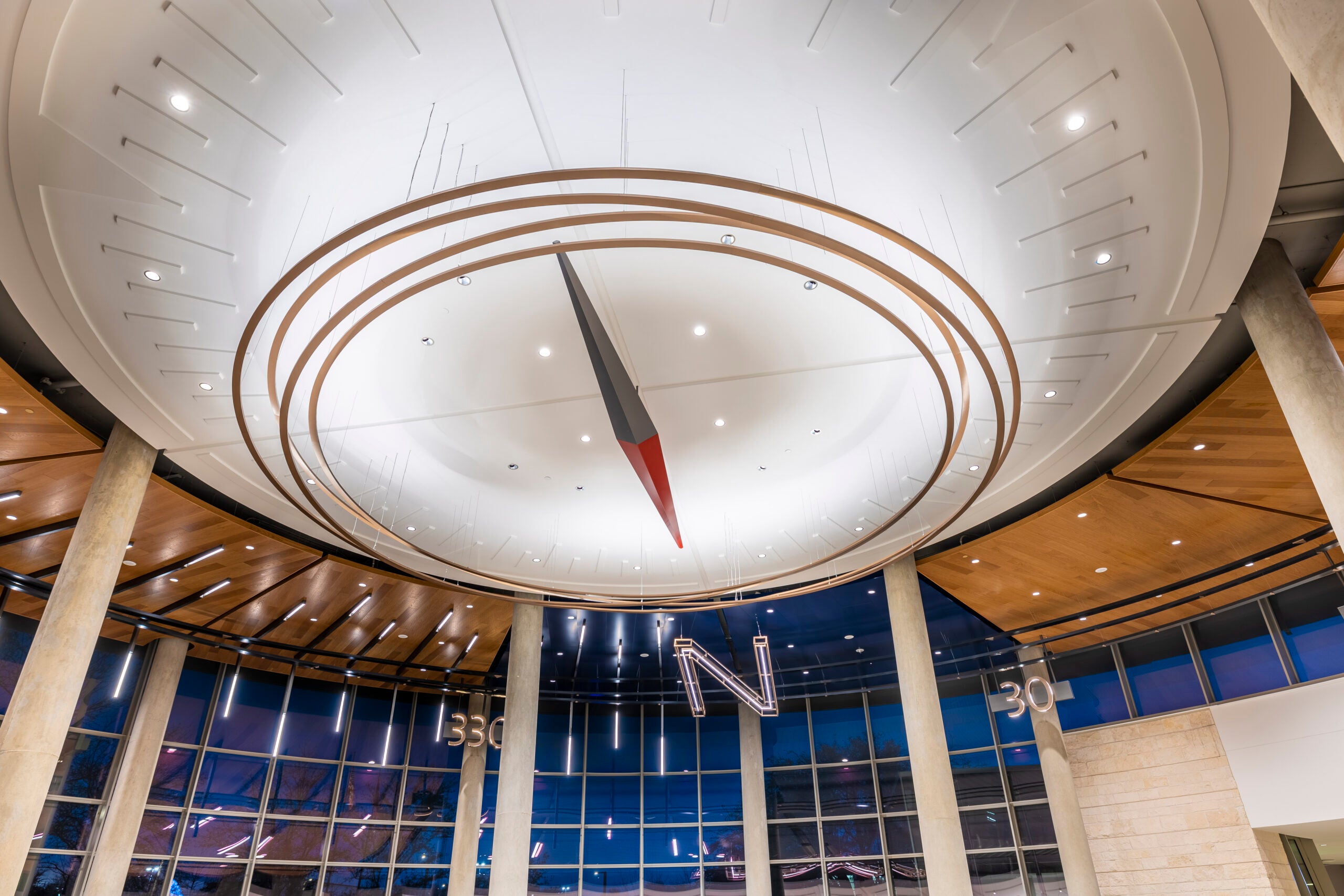 Courtyard
There's a public outdoor space between two wings of Skyview 6. Texas native plants and reclaimed limestone boulders punctuate the landscaping. Walking trails meander through the space and connect it to the main campus walkways. A docking station sits near a Skyview 6 entrance for visitors arriving by bike.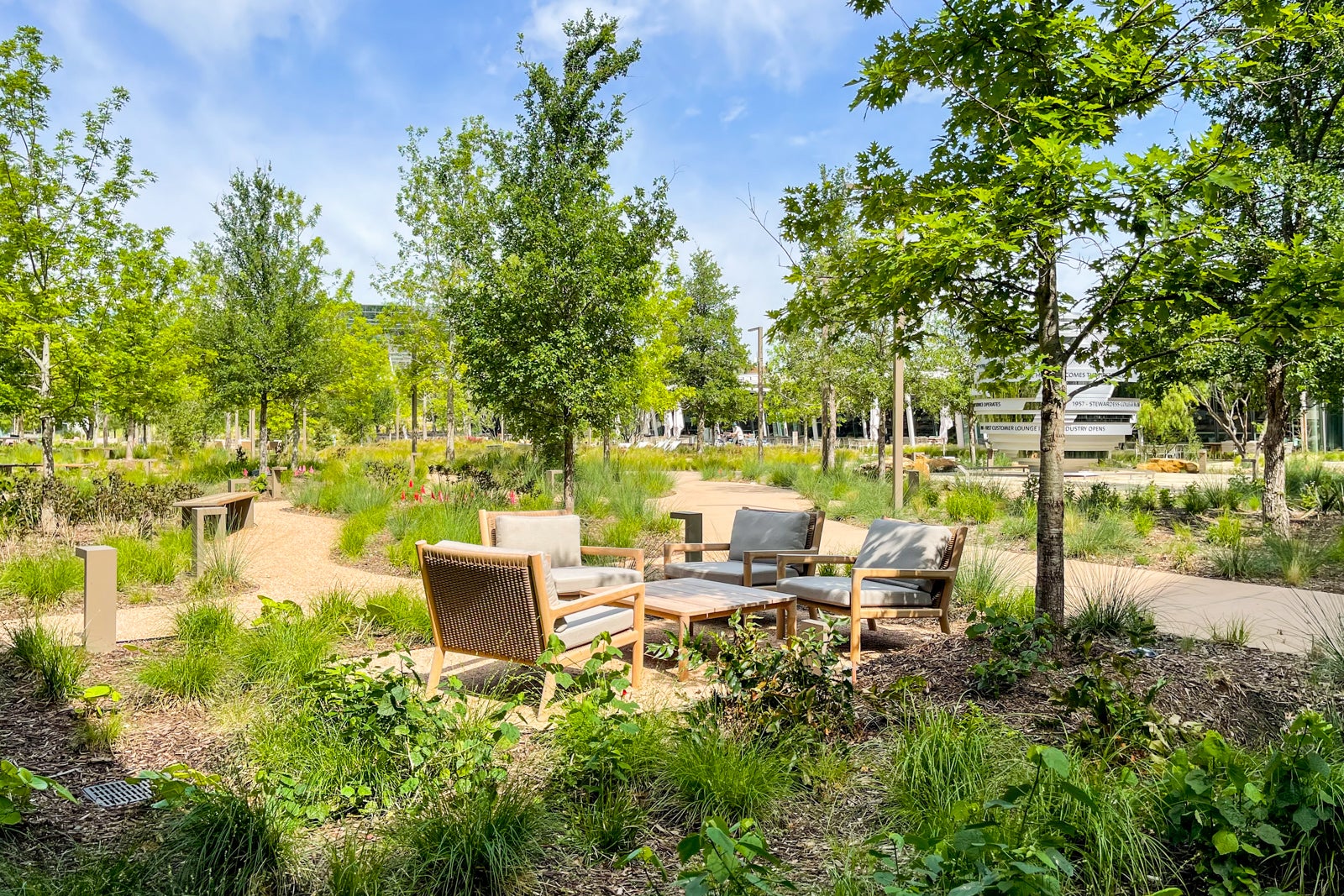 There's also the Globe of Firsts — an Instagram-friendly installation amid the walking trails in the middle of the courtyard. The 12-foot silver sphere is inscribed with American's "firsts," such as the launch of its AAdvantage frequent-flyer program and its trail-blazing female pilots.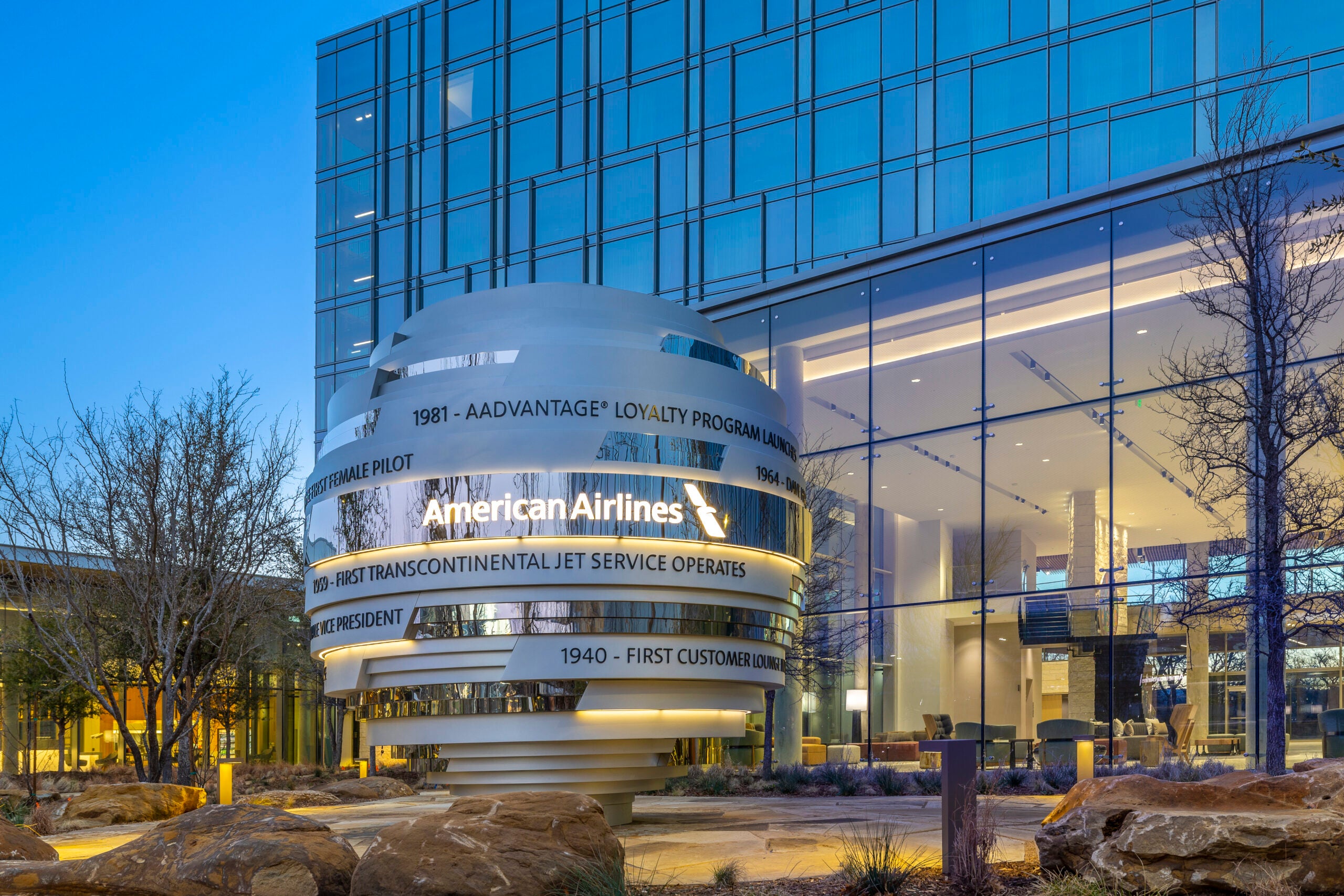 Exercise facilities
At the spacious two-floor fitness center, natural light floods in from floor-to-ceiling windows. The facility offers more than 70,000 square feet of space and features weights, workout machines and group fitness rooms for yoga, biking and other sessions.
Outdoor facilities include a pool and courts for volleyball, basketball and pickleball.