Delta Air Lines has a new shortest wide-body route — and it's one that might surprise you.
The airline is currently deploying a Boeing 767-300 between its mega-hub at Hartsfield-Jackson Atlanta International Airport (ATL) and Raleigh-Durham International Airport (RDU), a roughly one-hour route that's only 356 miles long, as first seen in Cirium schedules.
The Boeing 767 will operate on a roughly daily basis from now until April 9, 2023, as part of a schedule extension that was just filed over the weekend. You'll want to be sure to check the aircraft type when booking to see which plane is slated to operate your flight.
Delta's 767-300 comes in two cabin arrangements. The newest configuration, which is internally dubbed the "76K," features a Delta One, Premium Select, Comfort+ and economy cabin. Delta began a retrofit project for 19 of its 767-300s (and some Airbus A330s) during the pandemic, and the reconfigurations are focused on adding a premium economy cabin to these fleets. 
The 216-seat Boeing 767-300 that's flying to Raleigh-Durham features 26 Delta One pods in a 1-2-1 configuration, 18 Premium Select recliners in a 2-2-2 arrangement, 21 extra-legroom Comfort+ seats and 151 standard economy seats in a 2-3-2 configuration.
When the 76K variant operates on short domestic flights, the Premium Select cabin is marketed as Comfort+, which means that Medallion elites and those splurging for extra-legroom seats can enjoy first-class-style recliners at no additional cost. Just be sure to select a seat in rows 20 through 22 while booking.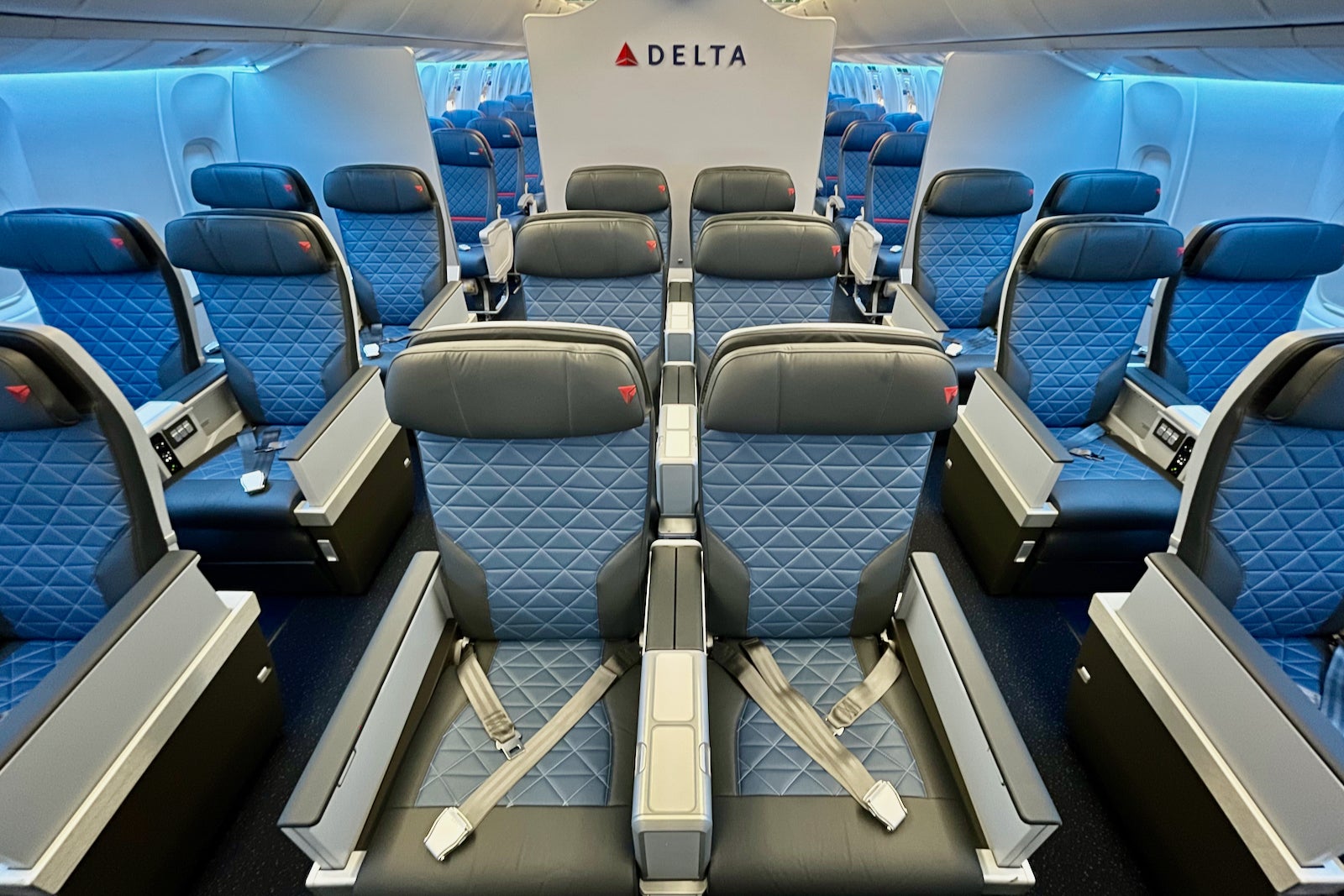 Twin-aisle jets typically fly on long-haul routes, but every so often, airlines will deploy them on short domestic flights. That can be a great opportunity to try a long-haul product without needing to sit on a plane for hours at a time while crossing multiple time zones.
These planes feature fancy lie-flat business-class cabins, a premium economy section and sometimes even spacious economy products, too.
During the pandemic, airlines suffered from reduced demand, especially on international routes, so it was quite common to find widebodies operating on hub-to-hub flights or routes to popular domestic destinations, such as Hawaii, Las Vegas and Orlando.
That said, Raleigh-Durham definitely doesn't "feel" like a traditional domestic wide-body route. Perhaps the 767 has some downtime in Atlanta and instead of parking the jet for a few hours, the airline thinks it can fill the 216-seat plane on a short domestic route. Or, perhaps the airline is seeing lots of cargo demand or is doing some pilot training specific to the 767 fleet.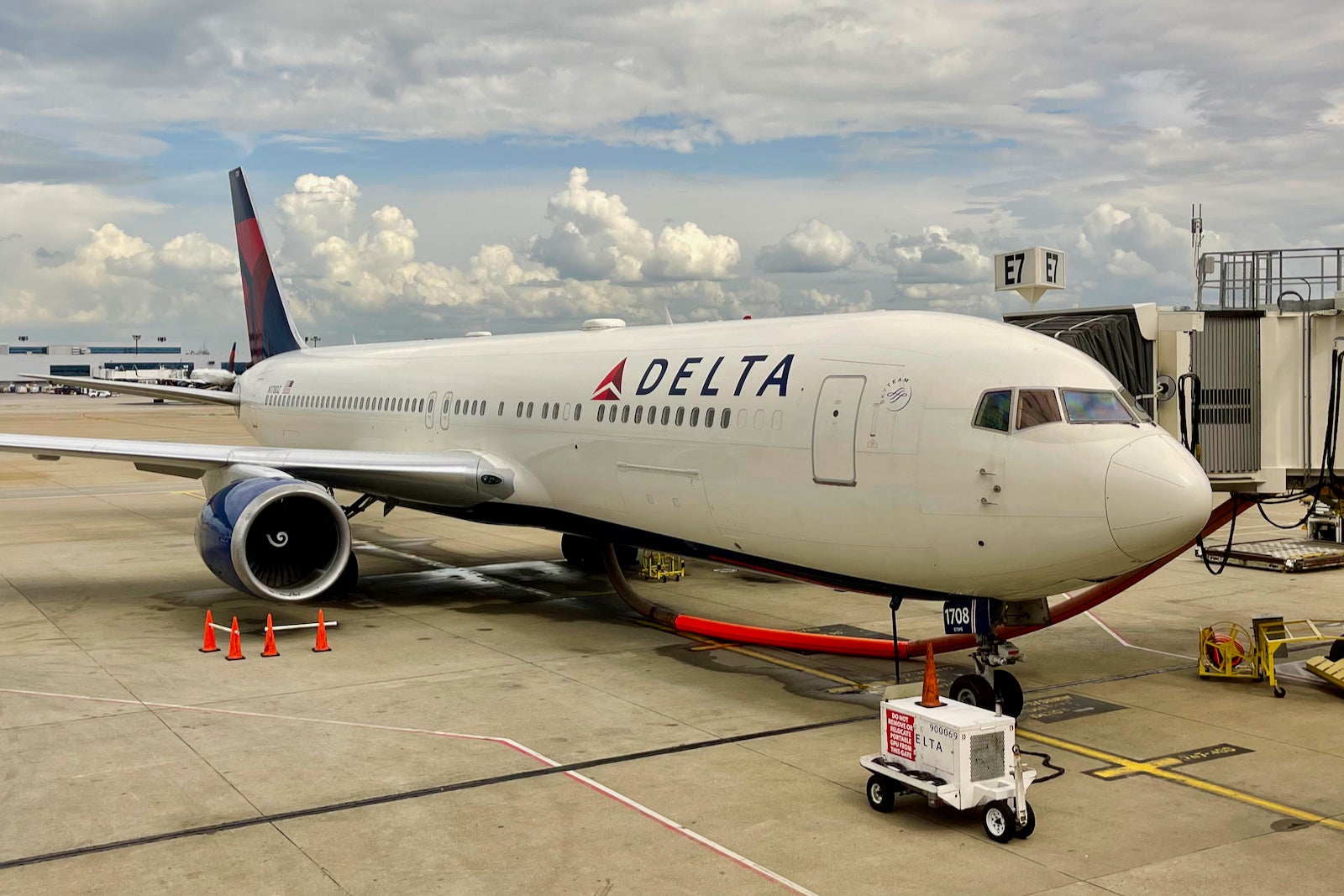 Alternatively, it could just be used as a repositioning flight for the 767 to get to Raleigh-Durham before Delta's transatlantic service to Paris.
Either way, it'll be a great opportunity to fly in comfort on such a short flight. Plus, with plenty of premium seats, scoring an upgrade on one of these flights should be easier than on some of the frequencies that are operated by smaller domestic jets.
For Delta, the Atlanta to Raleigh-Durham route is now its shortest regularly scheduled wide-body flight. The airline does plan three repositioning flights in January on its Airbus A330-300 from Boston to New York, but those aren't regular frequencies.
The following are Delta's 10 shortest wide-body routes (with at least 10 frequencies in a given month), based on Cirium schedules:
| | | | |
| --- | --- | --- | --- |
| Origin | Destination | Equipment | Distance (miles) |
| Atlanta. | Raleigh-Durham. | Boeing 767. | 356. |
| Atlanta. | Orlando. | Boeing 767. | 403. |
| Atlanta. | New York. | Boeing 767. | 760. |
| Detroit. | Orlando. | Airbus A330. | 957. |
| Minneapolis–Saint Paul. | Phoenix. | Airbus A350. | 1,276. |
| Minneapolis–Saint Paul. | Orlando. | Airbus A330. | 1,310. |
| Atlanta. | Phoenix. | Boeing 767. | 1,587. |
| Atlanta. | Salt Lake City. | Boeing 767. | 1,589. |
| Atlanta. | Las Vegas. | Boeing 767. | 1,747. |
| Atlanta. | Los Angeles. | Boeing 767. | 1,946. |