Over the past few years, the American Airlines Advantage program has seen its fair share of devaluations, from increasing award redemption rates to introducing dynamic pricing and eliminating reduced mileage awards.
However, despite the recent devaluations, there are still some great value redemptions — you just need to know where to look. Contrary to what some may believe, there are still plenty of terrific opportunities to redeem AAdvantage miles for flights.
Here's a look at some of the best sweet spots in the American Airlines AAdvantage program and how to redeem your miles for them.
Best use of AA miles
Earlier this year, the AAdvantage program switched to dynamic pricing for flights operated by American Airlines. If you are hoping to travel on American Airlines flights during peak periods, you can expect to pay sky-high redemption rates.
Fortunately, there are still award charts for flights operated by partner airlines and off-peak deals to be found.
Business class to the Middle East, India or Africa on Qatar Airways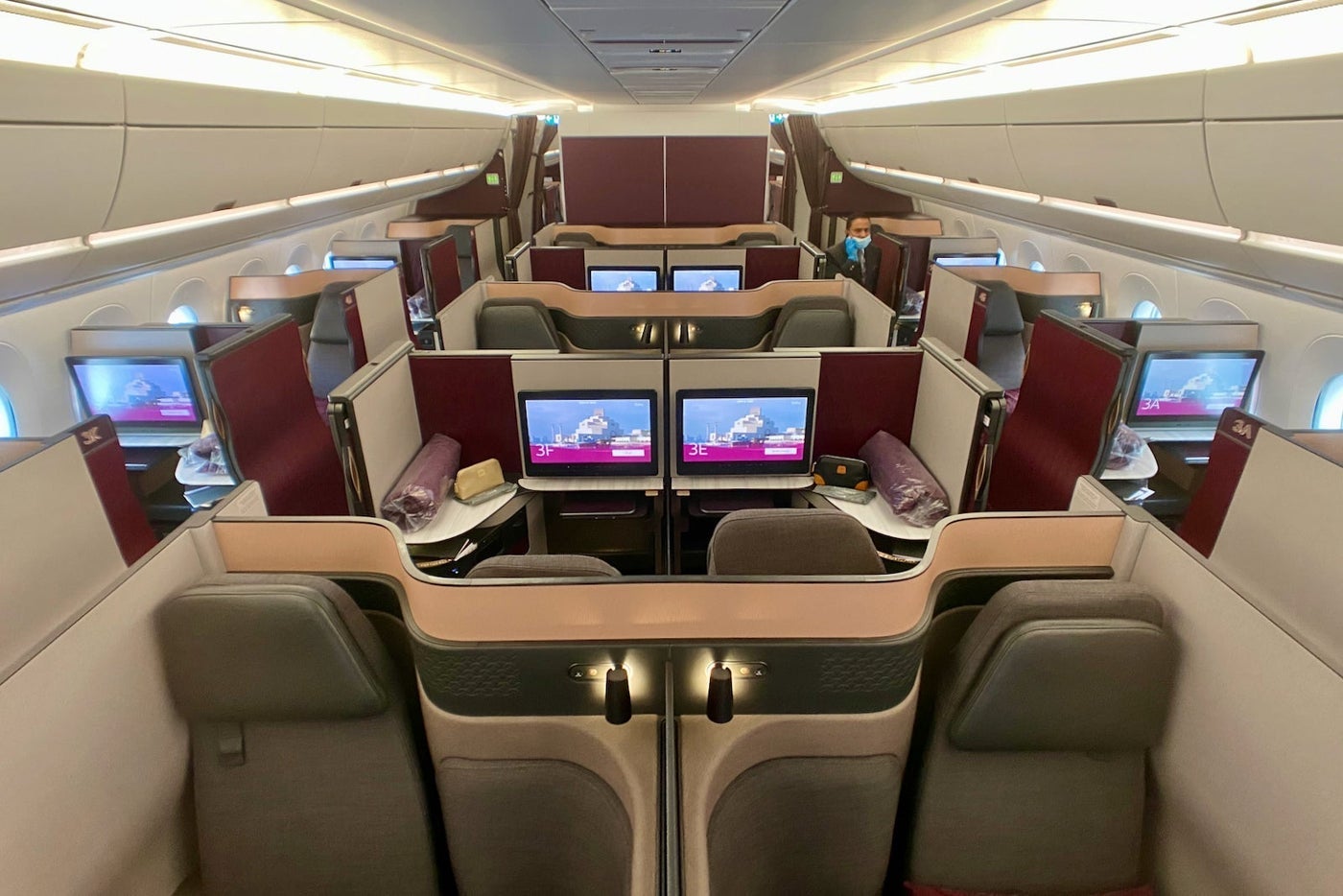 The best way to take advantage of a healthy stash of American miles is to use them to fly on one of American's partner airlines. One particularly great option is to redeem AA miles for Qatar Airways' award-winning Qsuites business class on flights to the Middle East or India for 70,000 miles. You can even extend your trip to Africa and pay just 75,000 miles one-way.
These enclosed suites are often considered among the best business-class seats in the world. Booking through the AAdvantage program is a great value considering the low number of miles required and the fact that no fuel surcharges are added.
You can use this sweet spot to book over 20 hours of flight time in Qatar Airways' business class on flights from Dallas Fort Worth International Airport (DFW) to Velana International Airport (MLE) in the Maldives via Doha's Hamad International Airport (DOH) for just 70,000 American AAdvantage miles and $41.80.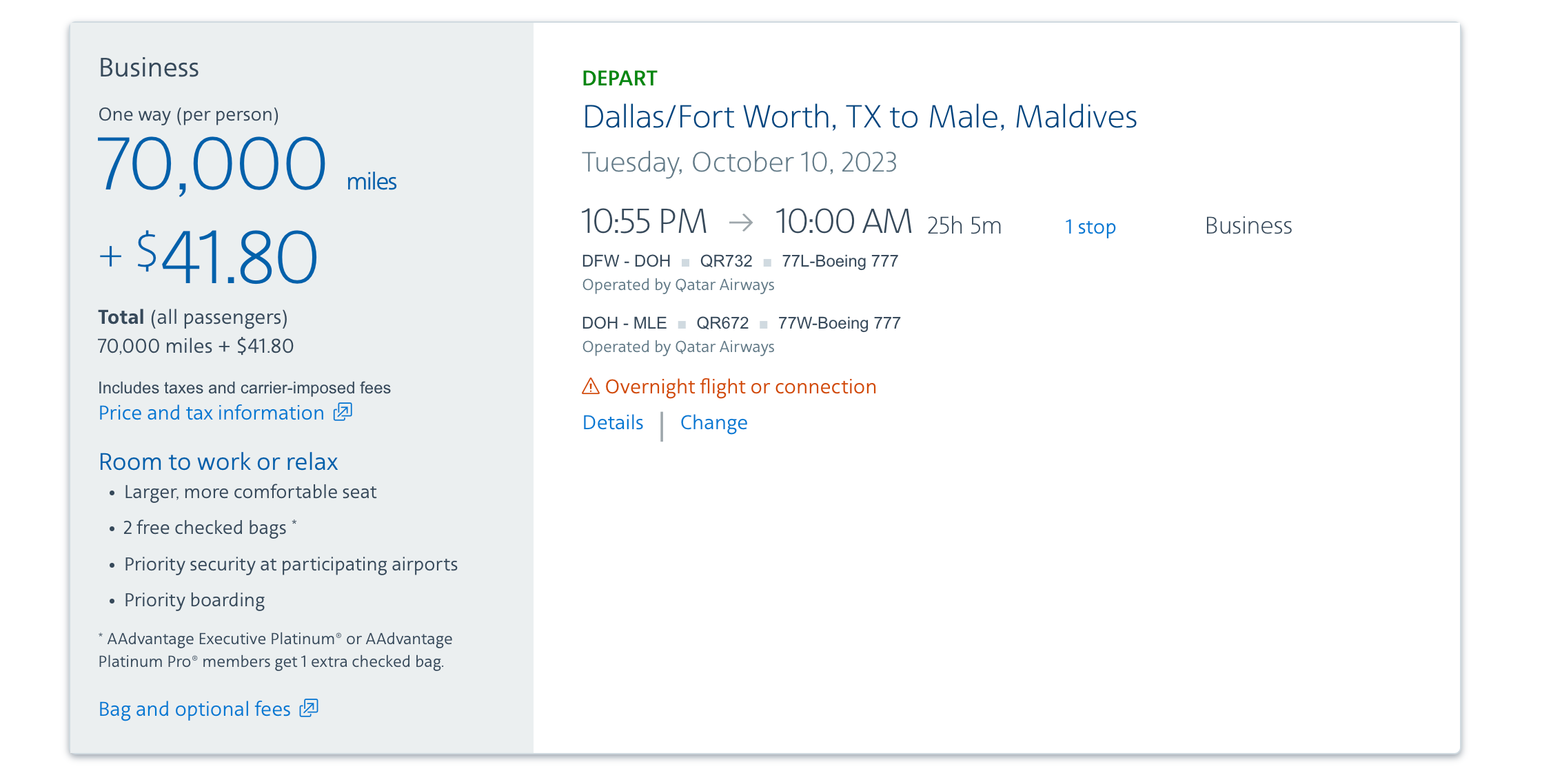 Best of all, you will need the same number of miles when traveling from the U.S., no matter which departure city you choose.
Qatar flights can be booked with American miles directly on aa.com — as long as there's saver-level award availability.
Related: The best websites for searching Oneworld award availability
Off-peak AA flights to Europe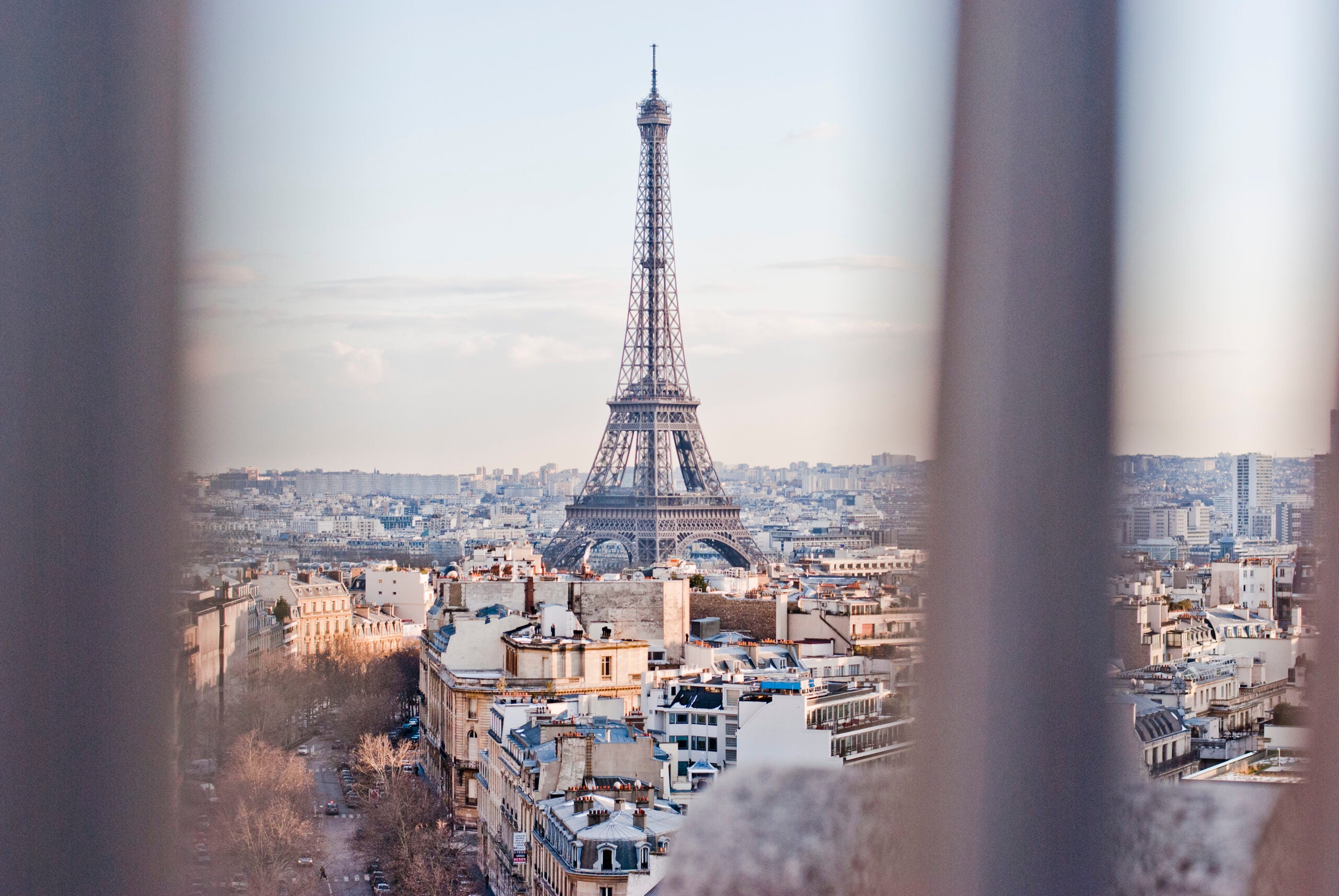 If you can travel in the quieter winter months, some great deals can be found on American Airlines-operated flights to Europe. While you can also redeem flights on British Airways, you'll be hit with huge fuel surcharges if you travel on BA rather than AA — expect at least $700 one-way in business class.
While 25,000 miles in economy or 67,000 miles in business class one-way during the low season isn't an incredible deal, the fees and taxes of just $5.60 are a terrific deal.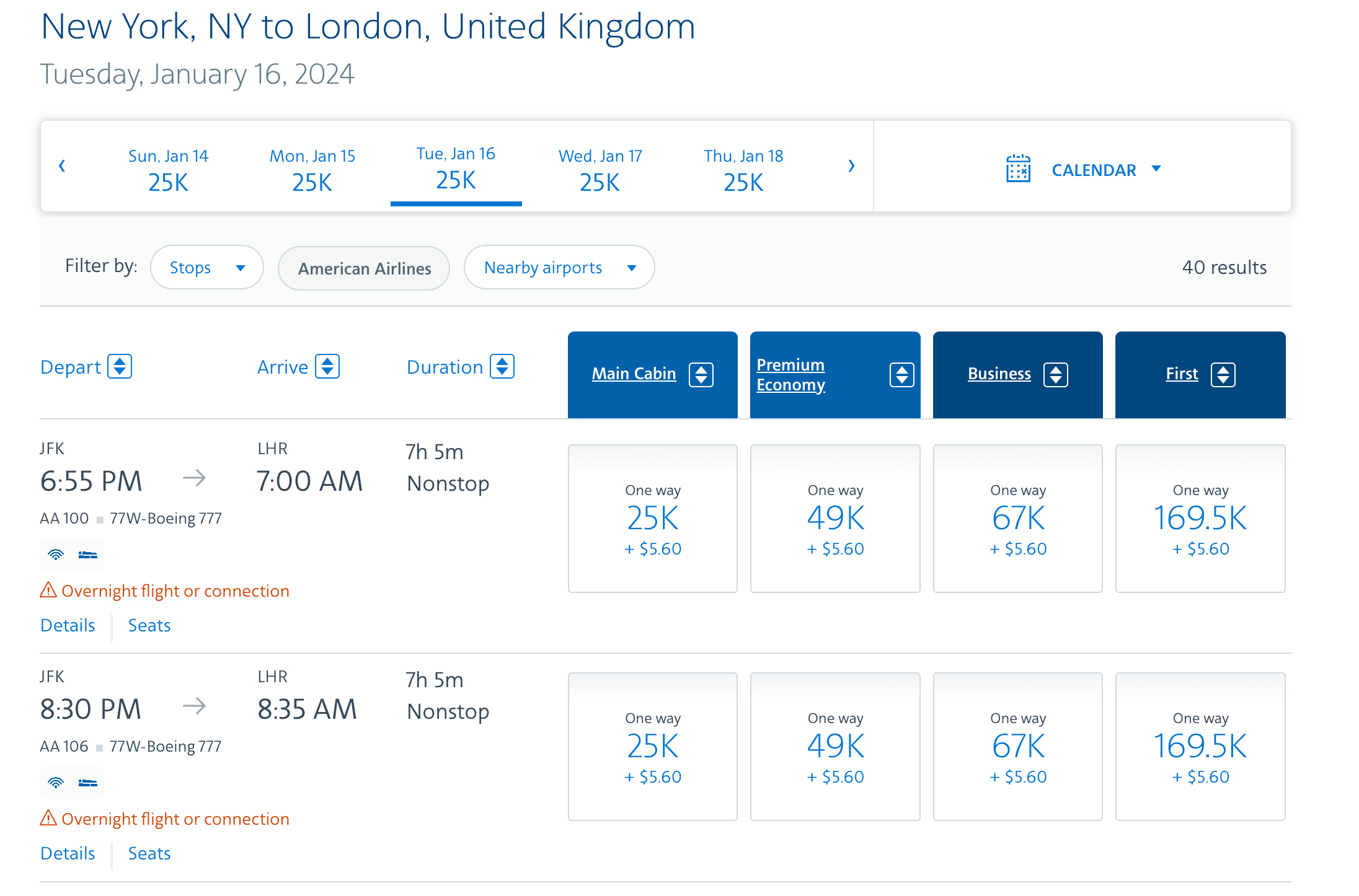 Not to mention, AA's international first-class product isn't particularly memorable, so unless you're sitting on a major stockpile of rewards, it's not worth the extra 100,000 miles. Business class is perfectly sufficient.
Related: The best ways to travel to Europe using points and miles
Connecting business-class flights to Europe on partner airlines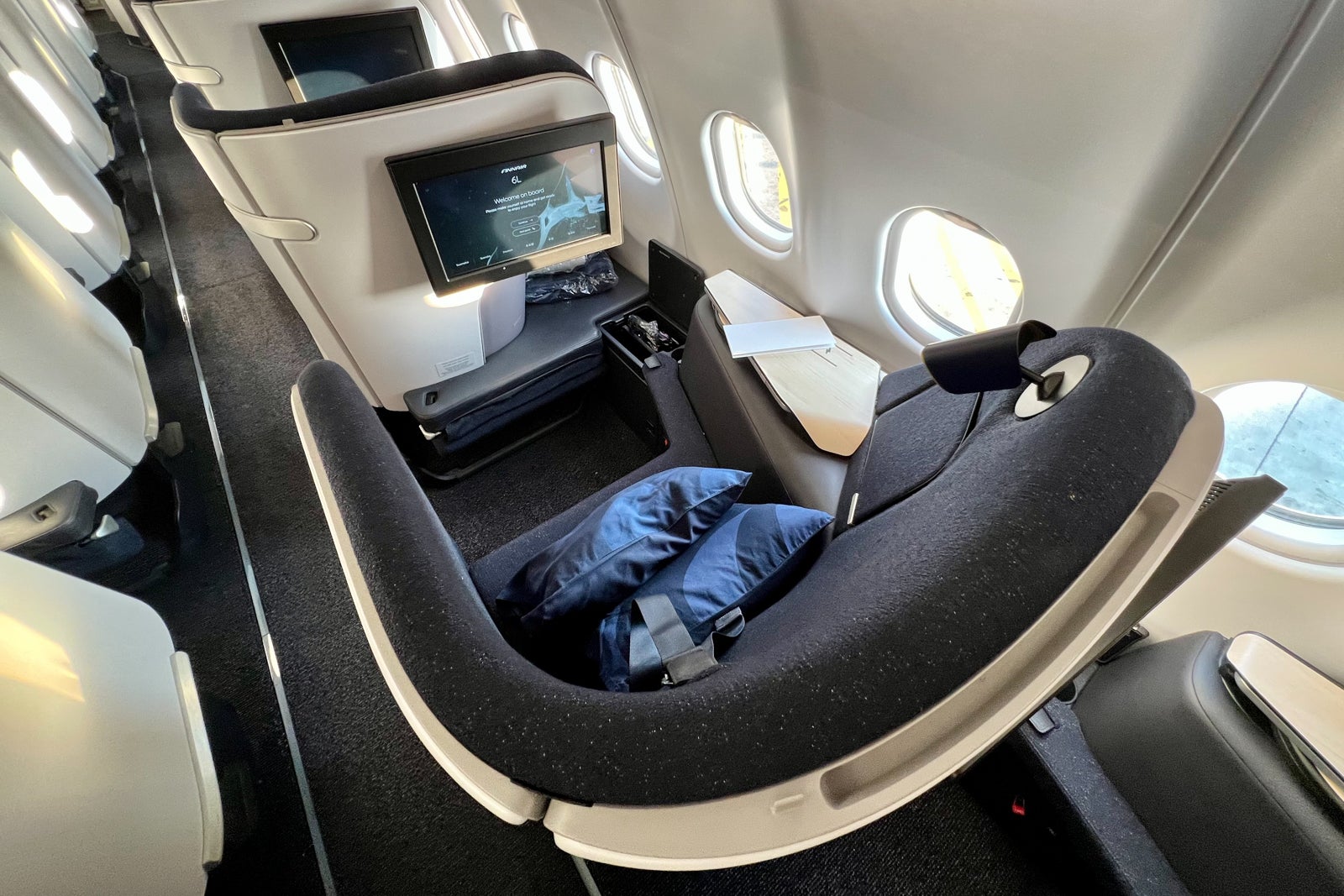 American also has pretty decent saver rates for business-class flights to Europe on partner carriers, especially if you plan to take a connecting flight.
For just 57,500 American miles one-way, you can book business-class seats to Europe from anywhere in the U.S., regardless of the distance or if you need to make a connection. This is lower than both Delta and United's typical rates for business-class travel to Europe and even comes in lower than Avianca's excellent rate of 63,000 LifeMiles one-way.
You'll want to avoid long-haul flights operated by British Airways since fuel surcharges can be ridiculously high. Instead, look for flights operated by American Airlines or other Oneworld partner flights, such as Finnair.
For example, you can fly business class from Charlotte Douglas International Airport (CLT) to Helsinki Airport (HEL) via New York's John F. Kennedy International Airport (JFK) for just 57,500 American miles and $5.60.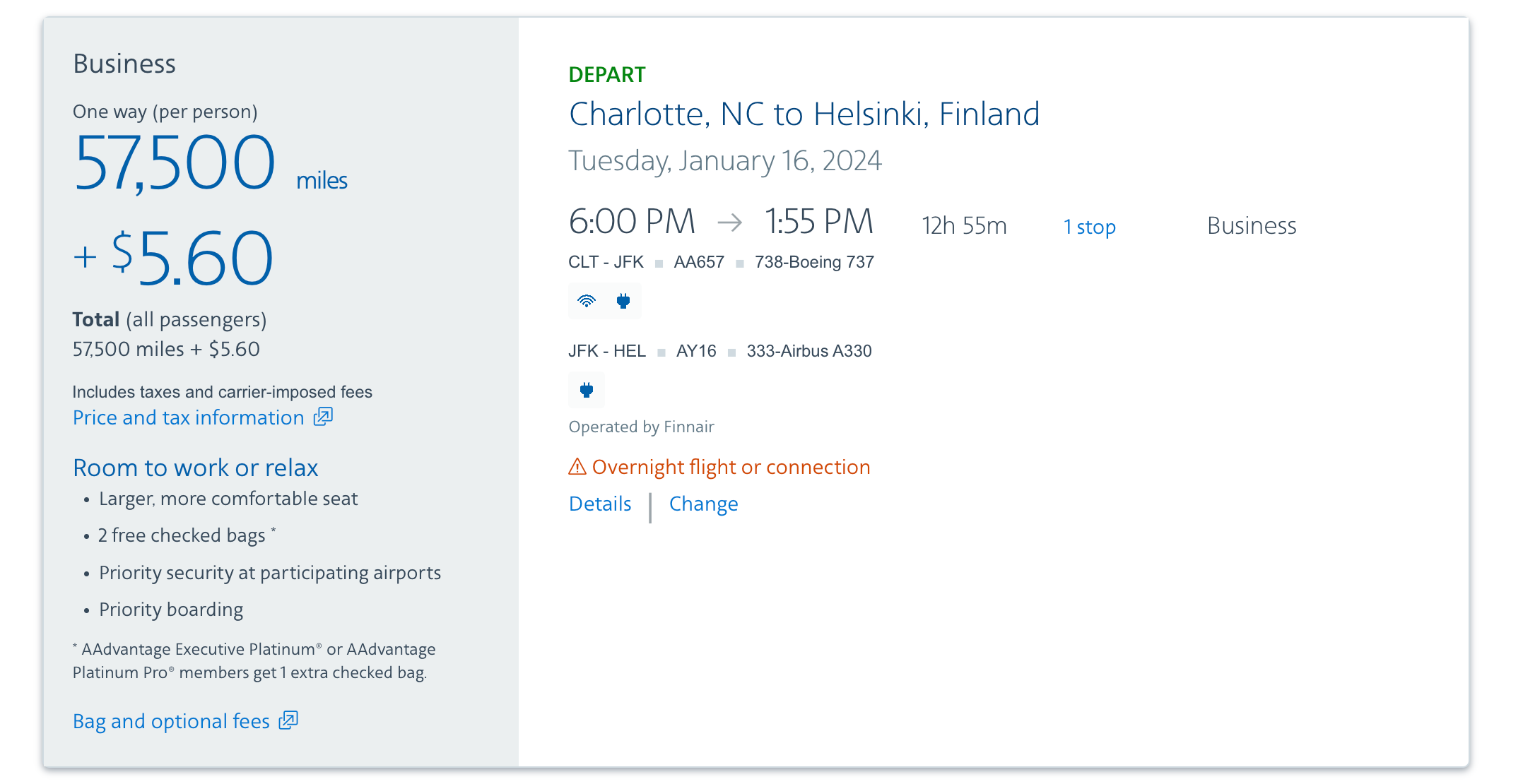 First-class flights to Japan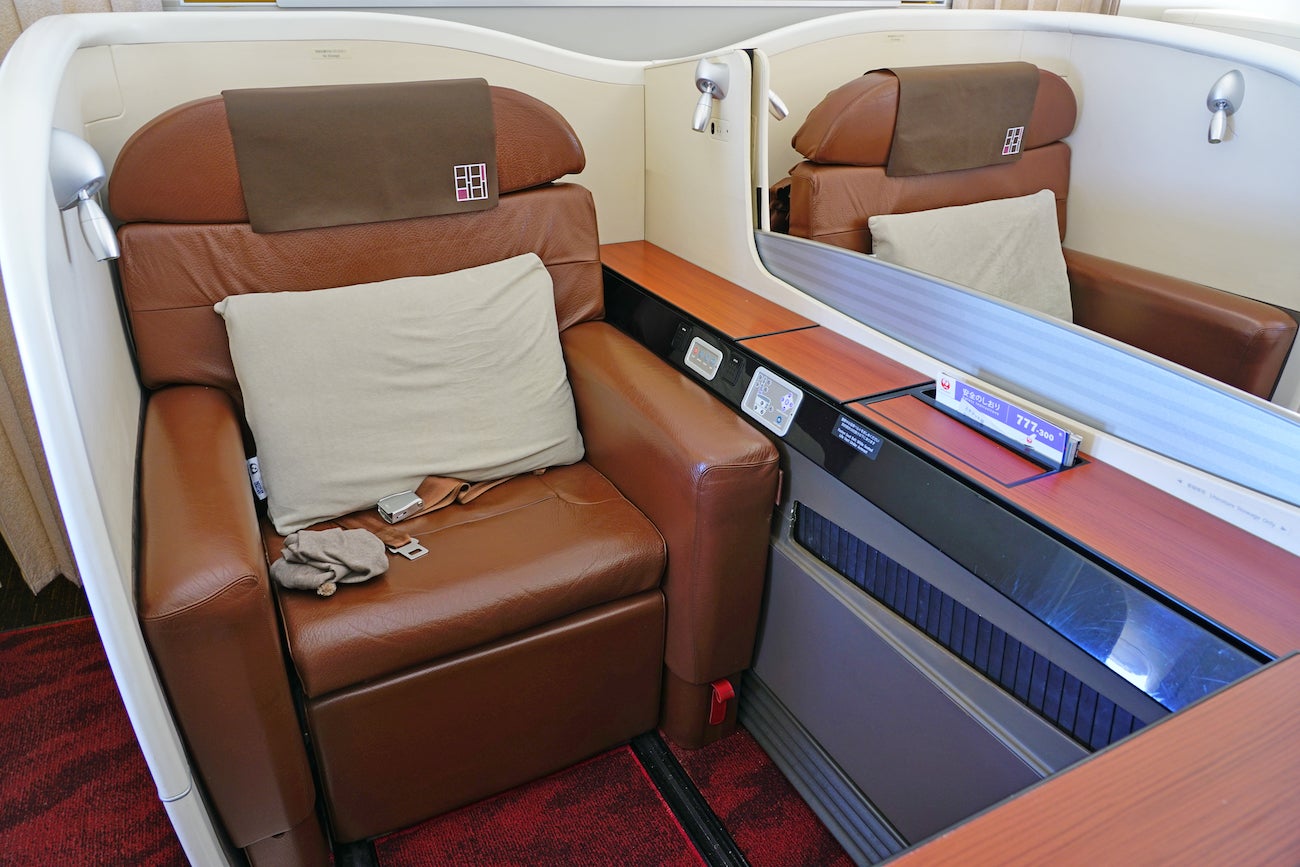 Flying first class is incredibly expensive if you're paying for a cash ticket, and redemption rates have continued to increase for many programs. However, one solid deal you can still book with AA miles is first-class flights to Japan for 80,000 miles one-way.
Japan Airlines has a top-notch first-class product, so look for flights that route through a JAL hub city, such as Los Angeles International Airport (LAX), San Francisco International Airport (SFO), Chicago's O'Hare International Airport (ORD) and JFK. Availability can be sparse, but if you find seats, you'll be in for a treat.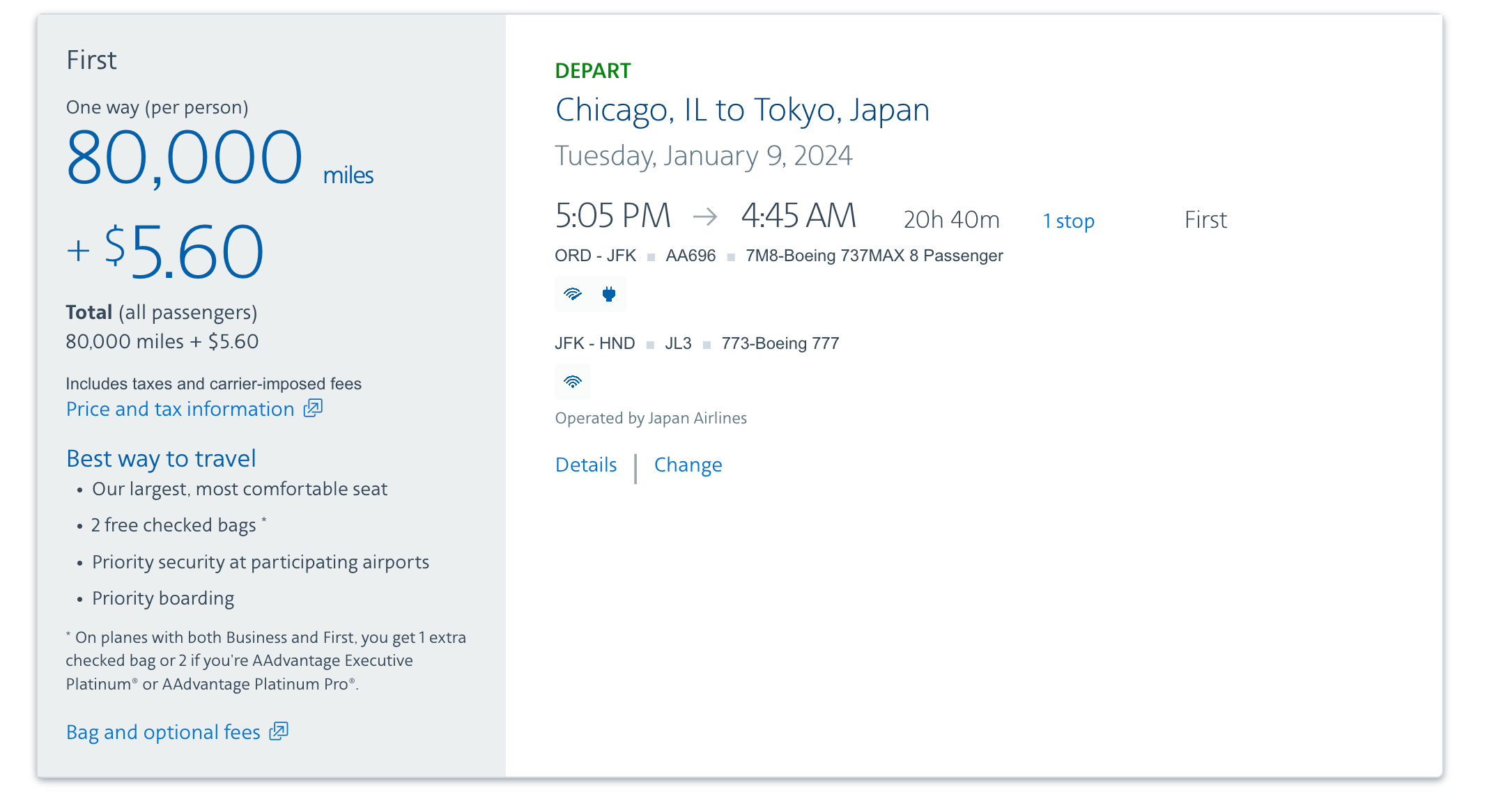 You can book JAL award space directly on the American Airlines website, so there is no need to call and wait on hold to book this amazing award redemption.
Related: Using points and miles for a birthday trip to Japan
Short-haul economy flights on AA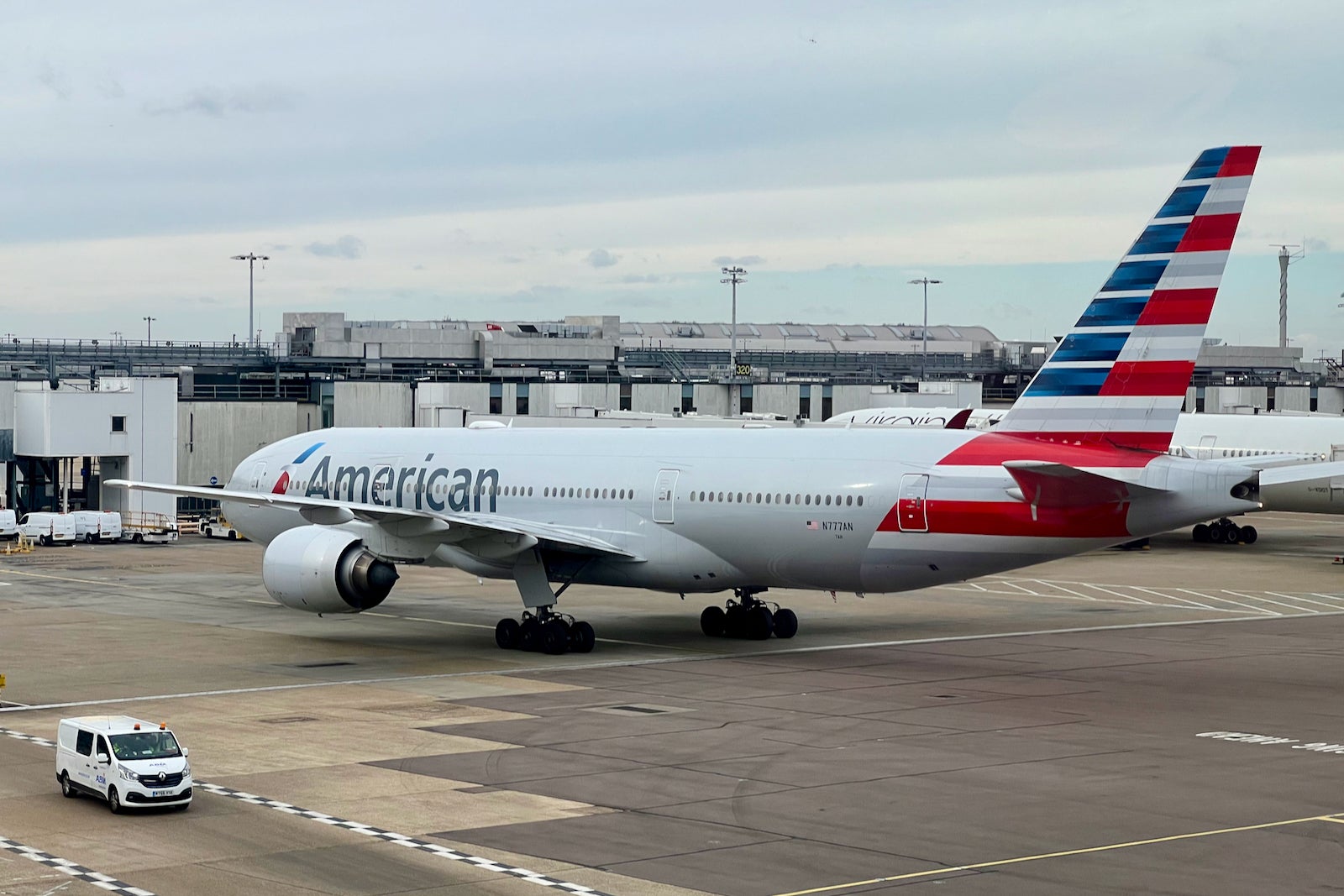 Dynamic pricing for award travel is not always a bad thing. Short-haul flights on American Airlines can be good value at the lowest levels, which start at just 7,500 miles plus $5.60 for a Main Cabin seat. You can even find availability during peak summer dates.
Check mileage rates against cash prices, as the dates with the lowest mileage availability typically have low cash fares.
Mileage upgrades on American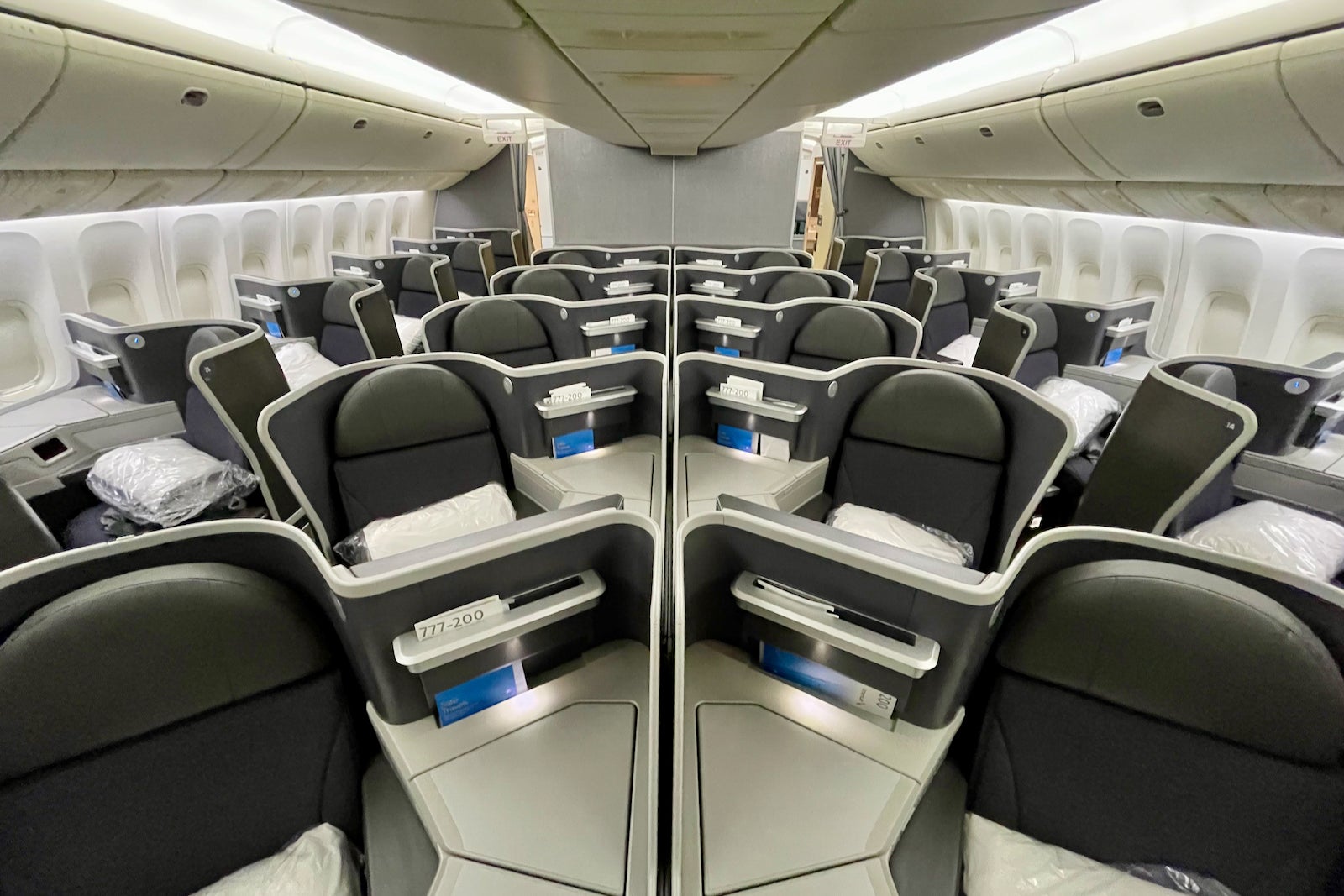 It's generally a better value to book the class of service you want from the start when redeeming miles. However, there are many cases where you may not have the required miles to redeem for a business-class ticket. In these cases, you may purchase a cash economy ticket and upgrade your flight using miles or a combination of miles and cash.
First, understand that award and basic economy tickets are not eligible for upgrades. You must also fly on an AA-operated flight to upgrade with AAdvantage miles. It will cost fewer miles to upgrade if you've purchased a full-fare ticket than if you've purchased a discounted ticket. Full details on which exact fare codes are eligible for upgrades and the different costs can be found on American's Upgrade with miles page.
The sweet spot in this chart is for upgrading discount economy tickets to business class when traveling to Asia, Europe or South America. You can move from the coach cabin to a lie-flat seat for 25,000 miles plus $350 in each direction.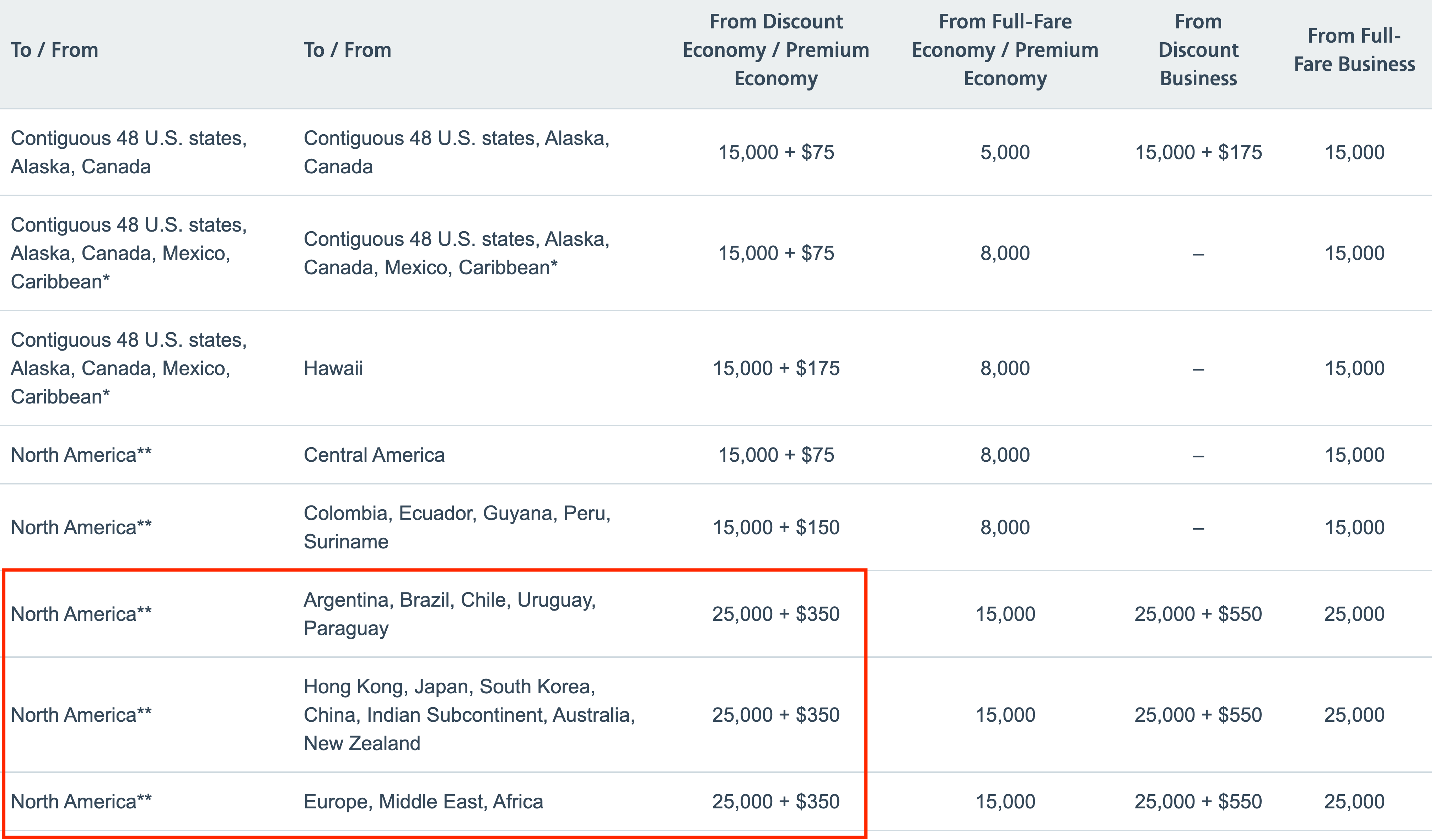 Given how expensive business-class cash fares are right now, it can be a savvy investment to buy a cheap fare in a lower cabin and upgrade using miles.
Your upgrade would be subject to availability, which can be tricky. However, you can check upgrade inventory for your flight by logging into ExpertFlyer (which is owned by TPG's parent company Red Ventures) and searching for "C" fare availability, which corresponds to business-class upgrades.
How to earn AAdvantage miles
If you're hoping to book any of the above awards, there are several ways to earn American Airlines miles.
You can only transfer AAdvantage miles from Bilt Rewards and Marriott Bonvoy to your AA account. Bilt points transfer to AAdvantage miles at a 1:1 ratio, while Marriott points transfer 3:1. Unfortunately, transfers from Marriott to American no longer qualify for the 5,000-mile bonus for every 60,000 points you transfer.
Of course, you're not stuck earning with these two programs. You can also open an American Airlines cobranded credit card and earn miles on your everyday spending. Plus, you may earn a lucrative sign-up bonus at the same time. Here's a look at the current American Airlines card lineup:
The information for the CitiBusiness AAdvantage Platinum Select and AAdvantage Aviator Red has been collected independently by The Points Guy. The card details on this page have not been reviewed or provided by the card issuer.
Bottom line
There's still a lot of value to be had with American's AAdvantage program despite American switching to dynamic pricing for flights on its own metal. The trick is to redeem your miles for the sweet spots on partner airlines and not waste your miles on low-value redemptions.
After you've decided the best ways to use your AA miles, take steps to find award availability. Before you know it, you'll be taking off on an (almost) free flight.
Additional reporting by Peter Thornton.