Is Carnival's Bolt roller coaster actually the best top-deck, heart-thumping attraction on a ship? I'm aboard the second voyage of Carnival Celebration, the second ship in the Carnival fleet (and the entire cruise industry) to boast a roller coaster ride, and I made it my mission to find out. I roped in my husband and 8- and 11-year-old kids to get a variety of perspectives.
Here's everything you need to know about riding Carnival's Bolt roller coaster and my hot take on whether the short ride is worth what is a very high price tag.
For cruise news, reviews and tips, sign up for TPG's cruise newsletter.
Bolt, the Carnival cruise roller coaster
Carnival's roller coaster is not exactly what you expect when you think of amusement park roller coasters. You won't find a train of cars linked together that race along a track. Nor is it a passive ride where you hold onto a handle and scream.
Instead, the Bolt roller coaster has two two-person Jet Ski-style vehicles that travel around the track independently. The "driver" (i.e., the rider in front) can actually control the speed of the roller coaster, both by turning a handlebar throttle and by pressing a button for a boost of speed. The rider in the back, however, simply enjoys the ride (and the screaming) with no responsibilities.
The 800-meter track circles above Deck 18, starting out by the water park, continuing with a spiral section right above the mini-golf course then racing around the funnel and the ropes course. If you're playing putt-putt, it feels like the roller coaster cars might blow the hat right off your head. You can hear the zooming on all the upper aft decks.
Bolt is currently found on Carnival cruise ships Mardi Gras and Carnival Celebration. When Carnival Jubilee debuts in 2023, it will also have a roller coaster on its top deck.
Cost to ride the Bolt roller coaster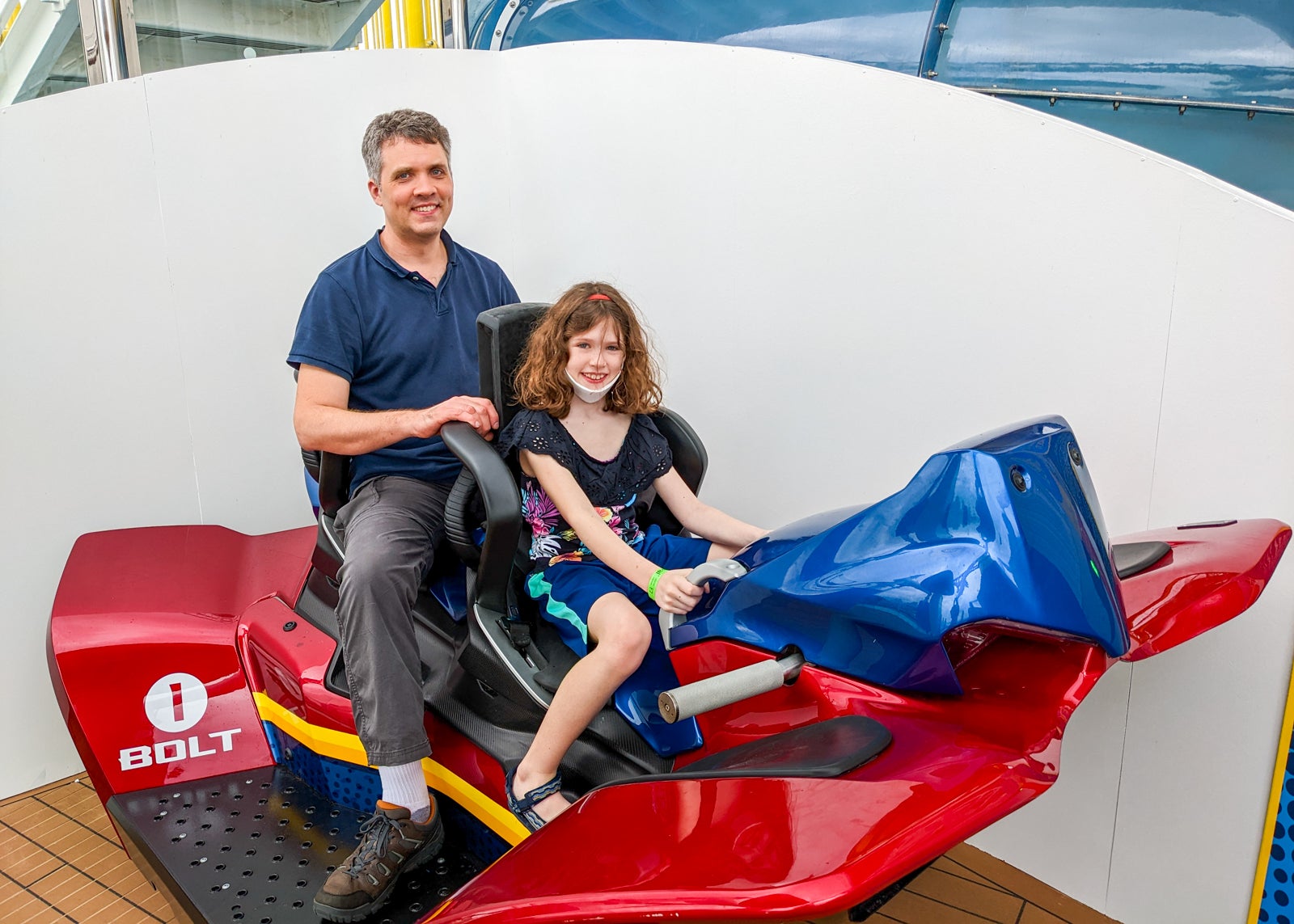 Unlike the waterslides and ropes course that share the top deck with Bolt, Carnival's roller coaster is not free to ride. Each ride costs $15 per person for two laps of the track, regardless of whether you're riding solo or with another passenger.
As each ride is approximately 20 seconds, your cost to ride is about 75 cents per second. For our family, that meant we were all going to ride once and then be content with watching others speed above our heads.
Weight limit and height requirement, plus other rules
Sadly, not every Carnival cruiser is allowed to ride Bolt. A sign by the entrance states that the roller coaster weight limit is 300 pounds. The minimum height requirement is 52 inches (4 feet, 4 inches) and the maximum is 77 inches (6 feet, 5 inches). Stand on the scale next to the stairway up to the ride, and a green light will go on if you're an acceptable weight. Measure your height against the thick line on the height chart.
To put that in perspective, my 8-year-old daughter is just slightly above average in height and she barely cleared the height requirement.
In addition, riders must be wearing closed-toe shoes, and swim attire is not permitted. Dresses and skirts are not allowed unless you can tie them between your legs into makeshift shorts. If you wear glasses, remove them or fasten them to your head with a strap. My son didn't have a strap but the ride attendees had a few on hand that he could borrow.
Empty your pockets before you go or store your belongings in the provided cubbies so you don't lose your cruise card or wallet as you ride. Unfortunately, you're not allowed to take GoPros or cellphones, so you can't get any first-person videos of the ride. Ask a friend to video you from below; a good spot to film is on the jogging track between the mini-golf course and the water park.
How to sign up for Bolt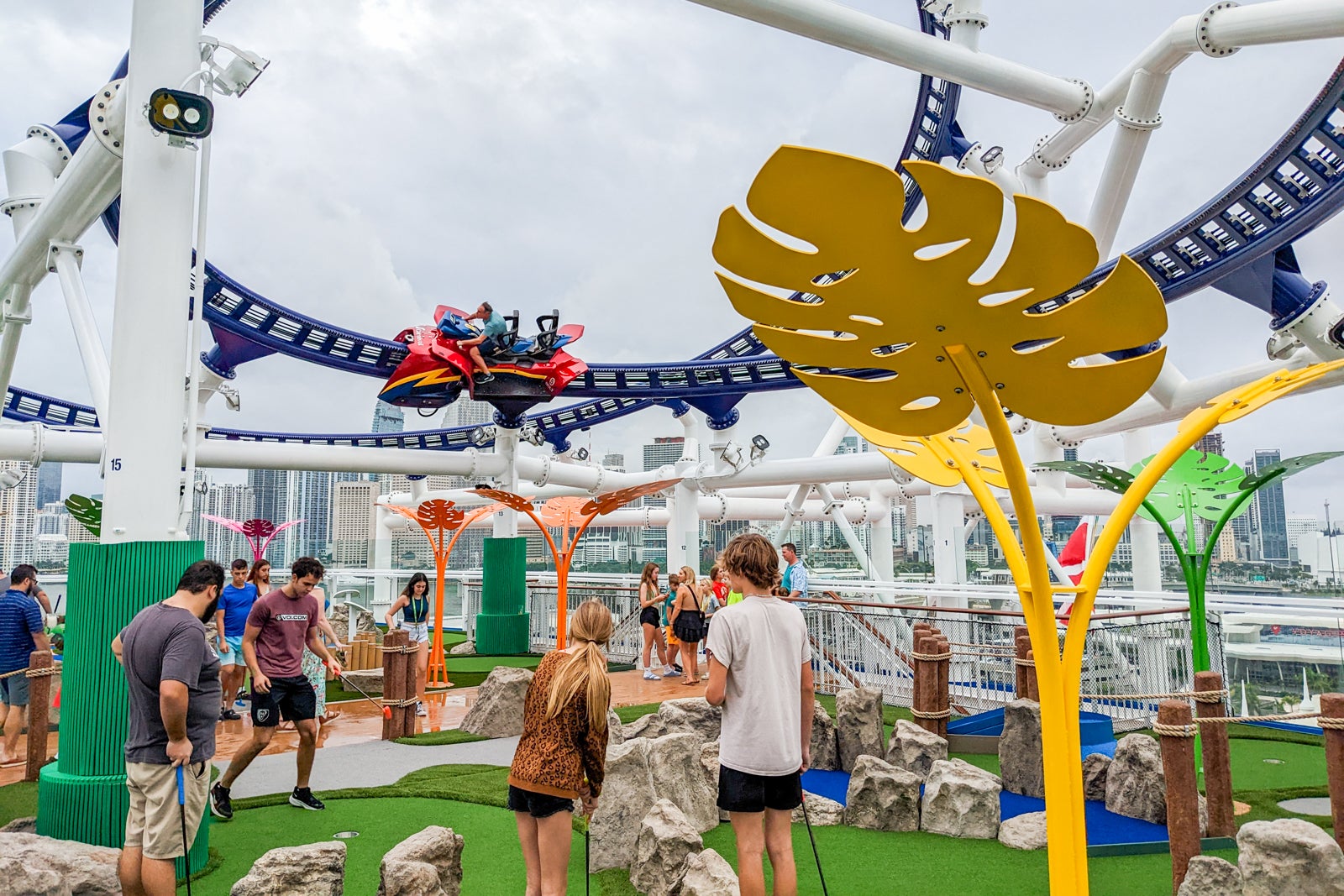 If you want to ride a roller coaster on a cruise ship, you have two options for snagging a spot. You can walk up to the attendee manning the ride and ask if there are available slots. We chose to ride on embarkation day, when the weather was gray, and waltzed right on with no wait at all.
You can also make a reservation on Carnival's Hub app for a specific time – recommended if you want to ride during a popular time, such as on a sea day. The reservation option was not working on my app on the first day of our Carnival Celebration cruise, but we met people who successfully made reservations on theirs.
When does Carnival's roller coaster run?
Bolt runs on sea days and port days alike. Typical hours might be 9 a.m. to 6 p.m. on sea days and 1 to 6 p.m. on port days. It won't run in the dark, so may have longer hours in summer. (I'm cruising in late November, so sunset comes early.)
We also learned on this sailing that Bolt won't run in the rain or high winds. On embarkation morning, it was pouring rain in Miami, and all of Carnival's outdoor attractions were shut down. The roller coaster only opened later in the afternoon, when the rain stopped and the sun sort of came out.
As I write this, in the late morning on our first sea day, the ride is once again closed. I asked the attendant about it, and he said that when winds reach 45 mph, they have to close the roller coaster. The decision comes from the bridge; officers will radio the Bolt staffers to alert them when they must close and when they can reopen the ride. (The same policy applies to the ropes course, in case you were wondering.)
If you've pre-booked on the app, your shipboard account will be credited if your ride is canceled due to weather or mechanical issues.
My family's impressions of Carnival's Bolt roller coaster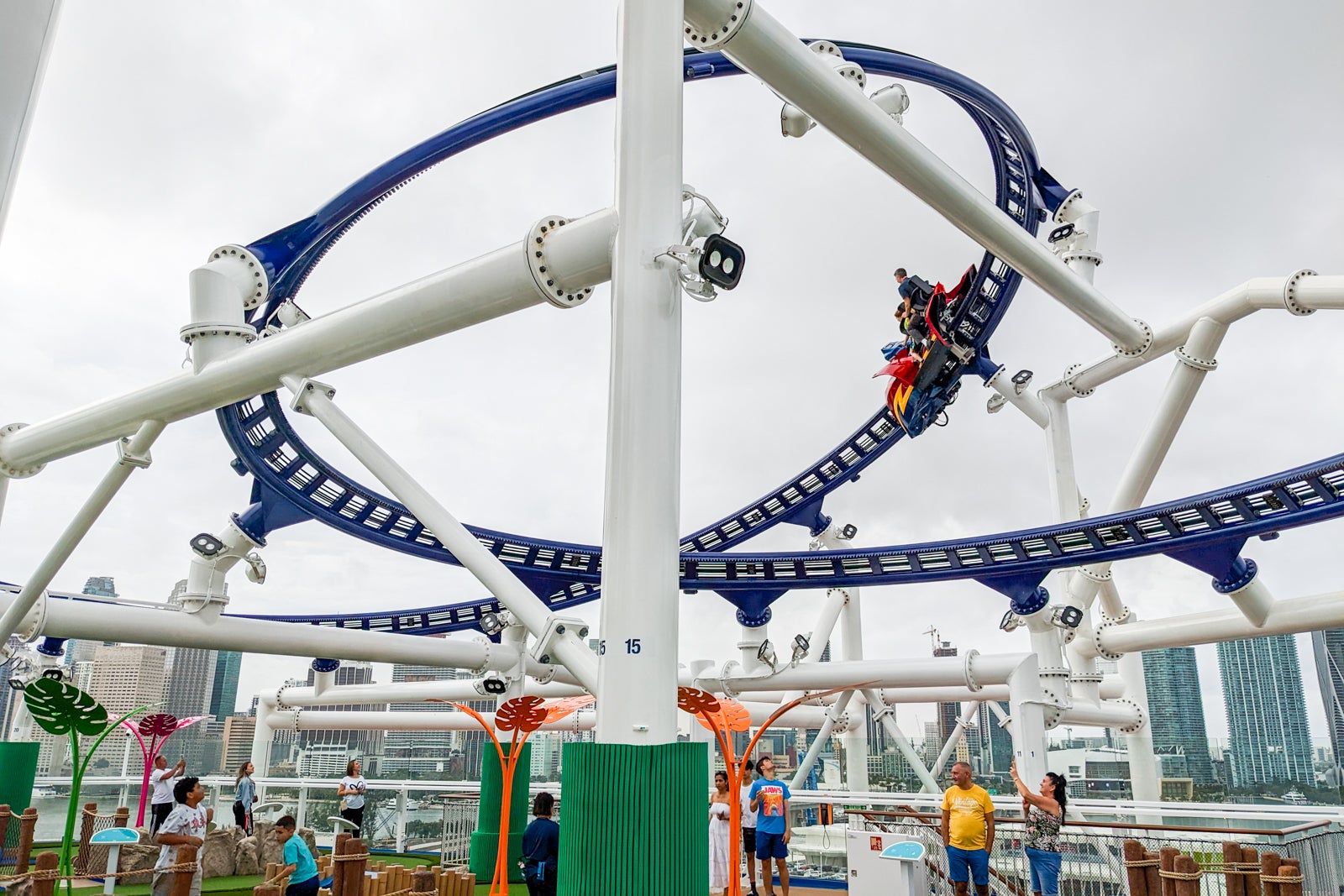 My 11-year-old son and I decided to try the roller coaster first. As there was no line, and we were only going to pay to ride once, we decided to go solo in our own cars. The two cars race along the track at the same time, with the second starting after a delay, so we could ride at the same time.
The attendant buckled me in with a heavy-duty seat belt that locks into place. He showed me how to use the hand throttle on the right handlebar to rev the engine and the button on the left to push for speed boosts. Then we were off.
I saw no reason not to go for broke so I gunned the engine as soon as my car leaped into motion. That might have been a mistake because that initial burst of speed turned my stomach a bit, and I wasn't sure how the ride would go. But once I adjusted to the speed, it was just fast enough to be fun but not sickening and I kept the car at full throttle even through the twisty-turny parts. I kept jamming the boost button, but it wasn't clear when or how often it would give me extra bursts of speed.
I was so focused on going fast that I wasn't looking around, so I made a point to try and take in the Miami views on the second lap. The scariest part of the ride came at almost the very end, when I was careening uphill through a banked section and suddenly my speed plummeted. My car was creeping along at a sideways angle, and I was bit concerned about not making it over the hill. But I made it slowly around the bend, and realized the ride attendants had to cut my speed so I wouldn't crash into my son, who was slowing down as he neared the end of the ride. But if that's the case, it's a design flaw to have that final section banked.
My son was raving about Carnival's roller coaster when I caught up with him after the ride, but he said he didn't use his boost because he thought the regular speed was scary enough and he didn't need to go faster.
My husband and daughter went next, and she chose to drive. They were in the second of the two cars; while the first couple sped off, it was clear that my daughter was not using the throttle or boost and merely driving at the car's base speed. I could tell they were traveling more slowly and the first car appeared to be close to lapping my family. I wondered if the attendants slowed down the first car so that it wouldn't catch up to my slow-going family.
Still, my daughter said the ride was amazing, and that's what counts. My son said he'd consider using the limited amount of money I put on his cruise card to ride the roller coaster again – forgoing video games in the arcade or souvenir shopping for another two laps. That's a rave review right there. My husband's take was that the views, speed and tilty track were all good, but that the ride was too short. I agree. For $15, perhaps four laps would be better.
Is Bolt the best top-deck attraction at sea?
After two days on board, my son and I have tested out all the waterslides and the ropes course on Carnival Celebration, as well as the roller coaster. The ropes course has the advantage in that once you're strapped in, you can go around countless times without waiting in line. However, my 8-year-old bailed three obstacles in, and I had to talk a crying, frightened child back across those obstacles to the main platform. I tried again later, and the latter half of it is a bit challenging and definitely pushes your trust in a harness over your base fear of falling to the limits.
The water park is fun but the slide lines are long. The Blue Lightning mat slide is clearly the best, but the yellow Twister slide is too slow and the sudden drop to start the Orange Thunder slide is a no-go for many. (I did it once, and really don't need to do that again.)
Bolt would be my favorite, but the high price tag for such a short ride means most people will only enjoy it once or twice. It will be interesting to see if Carnival ever issues an unlimited rides pass and what it might cost.
Cruise fans have been dreaming of a cruise ship roller coaster for years, and it definitely gets high marks for novelty and thrills that are more fun than scary. If it's not the best top-deck attraction at sea, it's certainly among the top contenders.
Planning a cruise? Start with these stories: