Thinking about booking one of the first sailings of Royal Caribbean's soon-to-debut Icon of the Seas? You better act fast. And bring a boatload of money.
It's turning into one of the hottest tickets in the history of cruising.
"That ship literally has been the best-selling product in the history of our business," Royal Caribbean CEO Michael Bayley said Tuesday during a conference call with Wall Street analysts. "It's been absolutely outstanding in terms of the demand and the pricing that we're generating."
While the debut of Icon of the Seas is still 11 months away — its first sailing won't take place until January 2024 — it's already booking up at such a rapid clip and at such sky-high prices that it's having a meaningful impact on the entire line's outlook for next year, Bayley suggested.
For more cruise news, guides and tips, sign up for TPG's cruise newsletter
The year 2024 is "looking very healthy, and a big driver of that is Icon," Bayley said during the conference call, which came after Royal Caribbean's parent company, Royal Caribbean Group, reported fourth-quarter earnings.
Royal Caribbean fans have been eagerly awaiting the arrival of Icon of the Seas — at 250,600 tons, the biggest cruise ship ever built — for years.
First announced in 2016 and currently under construction at a shipyard in Finland, the 20-deck-high vessel will be the first of a new class of ship at Royal Caribbean — the line's first new class in nearly a decade.
Thanks in part to the extra space from its bigger size, it'll also be chock-full of new-for-Royal Caribbean attractions and venues, as well as new types of cabins. That's got Royal Caribbean fans excited — and paying up to be among the first to try it.
Related: TPG's ultimate guide to Icon of the Seas attractions, venues and cabins
Bayley noted that one of the top suites on Icon of the Seas, its three-floor-high Ultimate Family Townhouse, is already 55% sold for all of 2024 at an average price of $75,000 a week — or $10,714 a day.
It's an example of what Bayley said were the "remarkable stats" the line has seen since the ship went on sale — the sort of pricing that only the very top suites on the highest-end luxury ships normally command.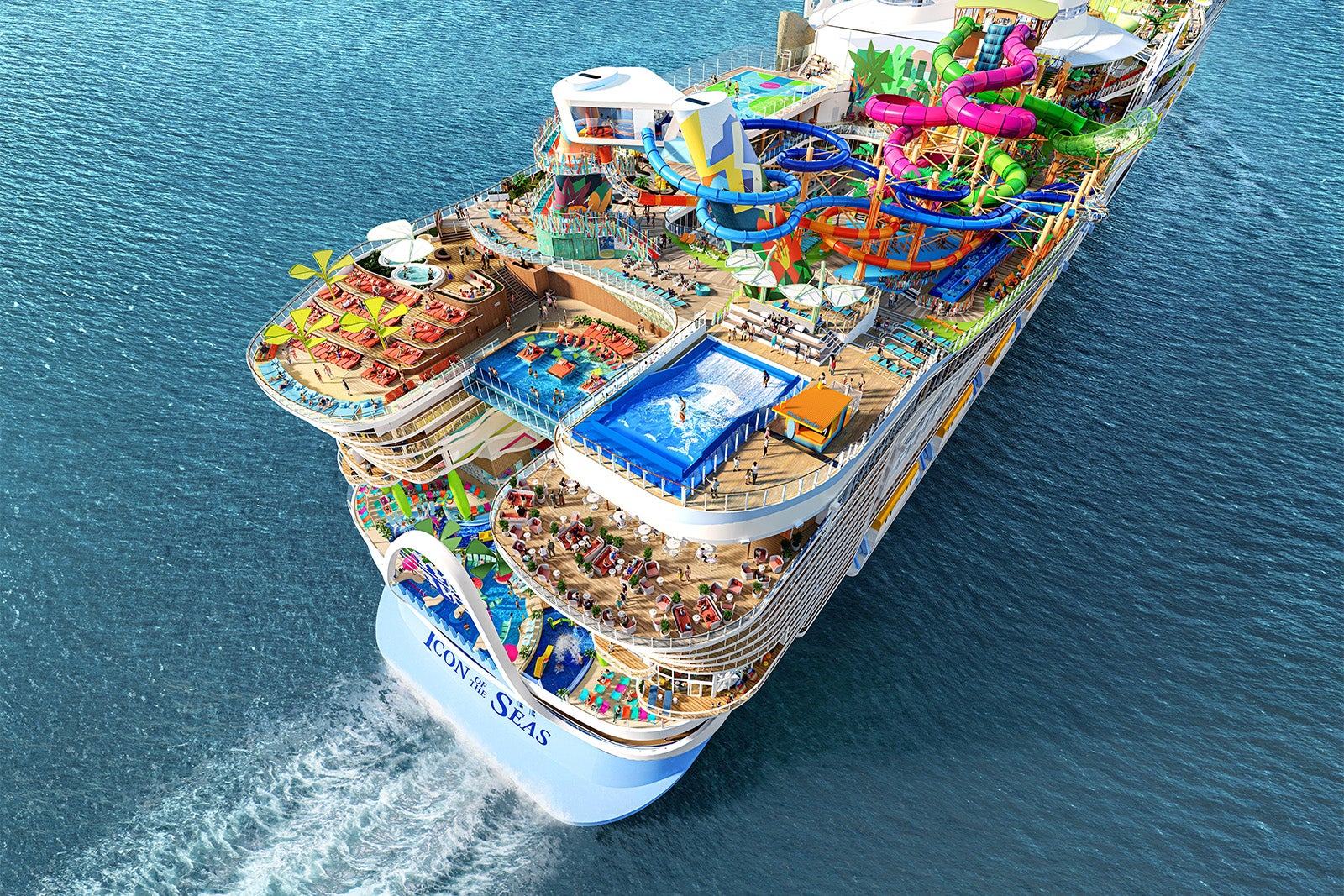 "You can just get a feel of the kind of demand that is being generated" from those numbers, Bayley said.
Royal Caribbean began taking bookings for the ship's first sailings just a few months ago, in late October. As TPG wrote about back then, many of the cabins on its maiden voyage sold out within hours.
The first sailing of Icon of the Seas, a seven-night voyage out of Miami to the Eastern Caribbean, is scheduled for Jan. 27, 2024.
The ship will sail year-round out of Miami in 2024, alternating between Eastern Caribbean and Western Caribbean itineraries, with four different routings available for departures between January 2024 and April 2025.
Related: The ultimate guide to Royal Caribbean
When it's finished, Icon of the Seas will have two more passenger decks than the current size leader in the cruise world, Royal Caribbean's 10-month-old Wonder of the Seas.
It'll also be longer than Wonder of the Seas, by a tad, measuring 1,198 feet long — 10 feet longer than Wonder of the Seas.
But its biggest difference may be in the number of passengers it will hold. Its maximum capacity will be 7,600, about 7% higher than Wonder of the Seas' maximum capacity of 7,084 passengers.
The bigger passenger capacity is in part due to the ship's greater focus on family travelers. Icon of the Seas is being built with a lot more cabins that have extra bunks to accommodate families with children. It'll also have more amenities geared to families, including a new-for-the-line outdoor family "neighborhood" called Surfside.
Related: Icon of the Seas will cater to families
Aimed at families with younger children, Surfside will feature splash areas for babies and kids, pools and lounge spaces for parents, family-friendly eateries and shops, and a bar with "mommy and me" matching mocktails for kids and cocktails for grownups.
Royal Caribbean is the world's biggest cruise line, with 26 ships that collectively have room for more than 94,000 people, based on double occupancy per cabin. It has long operated most of the world's biggest cruise vessels.
Planning a cruise? Start with these stories: