Hyatt is once again making a play to extend its reach into the luxury and lifestyle hotel segment.
The Chicago-based hotel giant plans to acquire Mr. & Mrs. Smith, a London-based travel booking platform comprising more than 1,500 boutique and luxury hotels and villas around the world, Hyatt leaders announced Friday morning.
The deal comes at the expense of IHG Hotels & Resorts, which currently has a partnership with Mr. & Mrs. Smith that enabled IHG to dabble further into the boutique and luxury hotel sectors, though that partnership never really got onto solid ground from a loyalty program perspective.
Hyatt is slated to fully acquire the Mr. & Mrs. Smith brand for 53 million British pounds (roughly $66 million) and close the deal before the end of June. The move is the latest in a string of acquisitions and partnerships fueling Hyatt's expansion into luxury and lifestyle hotels as well as deepening its portfolio of European properties.
Hyatt leadership noted the Mr. & Mrs. Smith deal involves hotels in 20 countries where there are currently no Hyatt-branded hotels in operation, such as Fiji, Croatia, Iceland and Anguilla (though World of Hyatt members can find points earning and redemption options in some of those places thanks to the program's affiliation with Small Luxury Hotels).
"Founders Tamara and James Lohan, alongside their impressive team, have built the ultimate global direct booking collection of truly unique stay experiences, including rooms located in treehouses, within caves, and underwater suites," Mark Vondrasek, Hyatt's chief commercial officer, said in a statement. "Importantly, we see a lot of synergy between our collective ethos of care, and we look forward to working together to bring our shared focus to new, memorable stay experiences for guests and World of Hyatt members – and introduce new guests to Hyatt hotels around the world."
Hyatt's gain is IHG's loss
Mr. & Mrs. Smith was an intriguing way to earn and redeem IHG One Rewards points when traveling in parts of the world where there wasn't one of the company's flagship brands like InterContinental, Kimpton or Six Senses.
Personally, I have enjoyed stays at Mr. & Mrs. Smith properties booked through IHG in the last few months, including at Les Rosées, a guest house in southern France north of Cannes, and Germany's Ameron Frankfurt Neckarvillen Boutique, which helped me elevate my IHG One Rewards elite status.
Both hotels offered local flavor as well as personal touches upon arrival, like a bottle of local French wine at Les Rosées and locally made chocolates at Ameron Frankfurt. The staff at both of these properties went above and beyond daily to make an overnight stay feel extraordinary, from homemade cookies and an incredible breakfast in France to remembering personal preferences in cocktails amid a packed bar in Germany.
The fact that these hotels and others in the Mr. & Mrs. Smith ecosystem will now be part of Hyatt puts significant pressure on IHG to find a new partner with unique luxury properties to entice its members to remain loyal. This comes on the heels of several other challenges IHG has faced recently, including losing roughly 100 hotels to acquisitions by Sonesta, and a planned Six Senses outpost in New York City that switched brand affiliation to Accor's Faena label.
But Hyatt will be under pressure, too, to integrate the Mr. & Mrs. Smith hotels into the World of Hyatt ecosystem. While I loved staying at Mr. & Mrs. Smith hotels as an IHG One Rewards member, I (along with countless readers) noted it was a clunky endeavor to book the hotels via IHG, and you often had to manually remove any other brand option but the Mr. & Mrs. Smith partnership in the reservations system for the hotels even to appear in a search.
Disjointed loyalty recognition was another sticking point amid the IHG partnership, as IHG One Rewards members earned one set of benefits while those in IHG's separate InterContinental Ambassador and Kimpton Inner Circle members enjoyed elevated benefits with Mr. & Mrs. Smith properties.
It's not clear if Hyatt has worked out the technical aspects of this partnership, as a company release admits immediate integration won't come at the closing of this deal:
"At a later date following the closing, Hyatt plans to unveil direct booking access to properties within the Mr. & Mrs. Smith platform through Hyatt's distribution channels, including Hyatt.com and the World of Hyatt app. The anticipated move will have the potential to unlock access to more than twice the number of global boutique and luxury properties within Hyatt direct booking channels, and Hyatt is exploring ways to enable World of Hyatt members to earn and redeem points across eligible hotels in the Mr & Mrs Smith collection."
While IHG One Rewards travelers might have complained that booking Mr. & Mrs. Smith properties via IHG wasn't always the easiest, Hyatt's language implies a better solution won't come immediately to World of Hyatt members, either. We'll continue to follow the evolution of this partnership as it develops…and hope that the rollout of points earning and redemption options as well as elite-status recognition rolls out more quickly and smoothly with Hyatt than it did with IHG.
Hyatt renews focus on luxury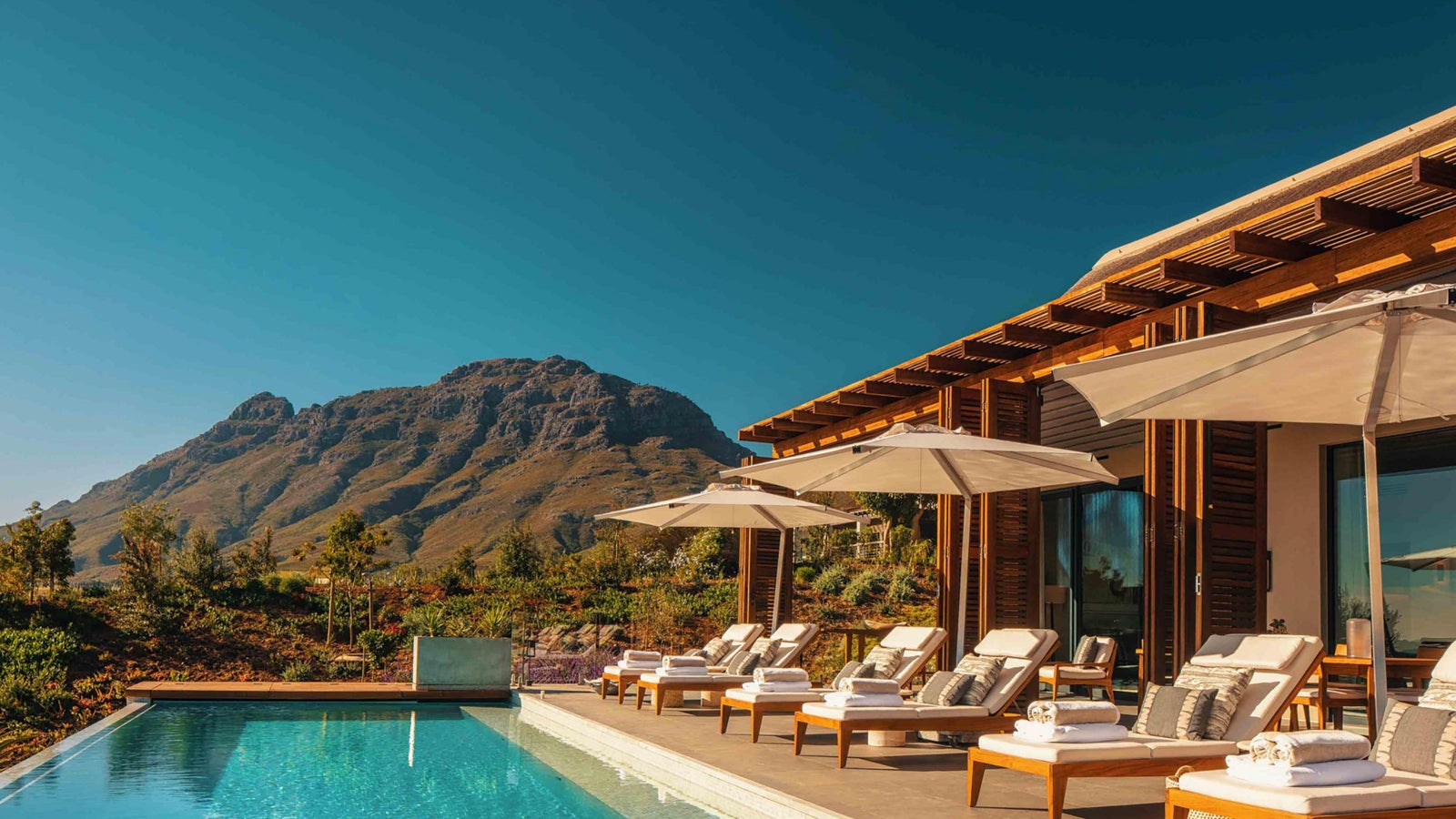 This move might come as a surprise to some, given Hyatt launched a more affordable extended-stay brand last week. However, Hyatt's leaders repeatedly tout how the company focuses almost entirely on higher-end travelers, and this is clearly another foray into this market.
The Mr. & Mrs. Smith deal reaffirms Hyatt's historic high-end business model — and pumps further luxury fuel into the World of Hyatt loyalty program's pipeline. There are more than 1 million members in the Mr. & Mrs. Smith travel program, which should be a significant addition to the 36 million World of Hyatt members reported at the end of 2022.
Mr. & Mrs. Smith also has a significant presence in Europe, where Hyatt has eyed rapid growth thanks to its $2.7 billion Apple Leisure Group acquisition last year as well as a partnership with Germany's Lindner Hotels & Resorts.
"I am really excited that we have found such a dynamic and globally trusted brand as Hyatt to take Mr. & Mrs. Smith into our next chapter. We have long admired and respected Hyatt and are confident that there is no one better placed to build on what we have achieved and take our company to new heights," Tamara Lohan, co-founder and CEO of Mr. & Mrs. Smith, said in a statement.
"Our vision has always been for Mr. & Mrs. Smith to be the world's definitive travel club for hotel lovers. Thanks to Hyatt, that vision has become much closer to reality. With Hyatt's support, Mr. & Mrs. Smith will be able to offer our community of members, hoteliers and partners so much more."
What remains to be seen, however, is how quickly and closely World of Hyatt will be able to integrate Mr. & Mrs. Smith's bookings into its own online platforms and if Hyatt will match Mr. & Mrs. Smith's stay-based recognition perks while also affording its own elite members benefits on Mr. & Mrs. Smith stays.
It's also the next step in Hyatt's ongoing multi-pronged strategy of both outright acquisitions of other hotel groups as well as strategic booking partnerships like this one to provide tangible value to its World of Hyatt members. Making sure these members find new reasons to remain loyal after all this effort is an immediate hurdle to cross. A quick integration among all these platforms should be the easiest way to make this deal a success from a customer standpoint.
Related reading: