It's one of the most frustrating parts of travel. You book your flight, pack your bags and get ready for your trip. Then, right before you're set to fly, your flight is delayed, or worse, canceled.
You're stuck trying to salvage plans and figure out the best way to proceed, possibly missing airline connections, special plans, hotel reservations and more.
It feels like someone should pay you for all of this extra work and grief, right?
Ideally, the time-equals-money philosophy would be put into action in the case of delays. Of course, as with all things related to air travel rules, it's never quite as straightforward as we think it should be.
Here's what you need to know about qualifying for and receiving flight delay compensation.
What is flight delay compensation?
At its core, flight delay compensation repays you for lost time. Ideally, it holds airlines responsible for getting you to your destination within a set time. If they can't meet the minimum requirements for carriage, they would provide compensation, or financial repayment, for your time.
In Europe, one standard law provides for this type of financial restitution for delays and canceled flights, and it's very transparent and easy to understand. In the U.S., individual airlines set thresholds that are much less clear.
Related: Your flight is canceled or delayed – here's what you should do next
Flight delay compensation for international flights
Within the European Union, there are existing regulations that provide monetary relief to passengers for flights affected by delays and or cancellations thanks to a 2005 regulation known as EU261.
Suppose you are delayed three or more hours. In that case, you are entitled to compensation (see the chart below) unless the delay was caused by "extraordinary circumstances." These circumstances include weather, political strife, air traffic control decisions that are out of the airline's control and security risks.
Things like mechanical and technical problems are not extraordinary circumstances. However, airline strikes, for example, may be considered an extraordinary circumstance.
As a result, airlines have shelled out hundreds of millions of euros to passengers inconvenienced by delayed flights.
Since its inception, Europe has broadened this rule to apply to domestic connecting flights originating in the EU; this means flights within the EU, flights departing from the EU to the U.S. (and other countries) and even the connecting flights you book within the U.S. are eligible for compensation.
Depending how long you're delayed, there are clear reimbursements you are entitled to receive:
| Compensation | Distance |
| --- | --- |
| 250 euros ($267) per passenger. | 1,500 kilometers (932 miles) or less. |
| 400 euros ($427) per passenger. | More than 1,500 kilometers within the EU and all other flights between 1,500-3,500 kilometers (932-1,864 miles). |
| 600 euros ($641) per passenger. | 3,500 kilometers (2,175 miles) or more. |
Note that any compensation may be reduced by half if you accept a reroute from the airline to your final destination.
Related: TPG's guide to understanding EU261 flight compensation
Flight delay compensation for domestic flights
Unlike in Europe (see below), the U.S. does not have one central tenant that directs how airlines should compensate passengers in the case of a delay.
"There are no federal laws requiring airlines to provide passengers with money or other compensation when their flights are delayed. Each airline has its own policies about what it will do for delayed passengers," is the official word from the U.S. Department of Transportation.
However, the DOT is making strides toward creating more transparency in the industry regarding this issue. As part of this, they've sought to hold airlines accountable for compensating passengers.
Travelers are already entitled to refunds for flights canceled by the airline and flights that are "significantly" delayed or changed after booking.
Until recently, however, the DOT has never defined what constitutes a "significant" delay or change, leaving it to airlines to voluntarily self-regulate. In some cases, this results in airlines having extensive rolling delays of a flight rather than canceling it.
Now, the DOT has defined language and timing so that a "significant delay" would be defined as one that affects the departure or arrival time of a domestic flight by three hours or more (or by at least six hours for an international flight).
A "significant change" would include one that changes the departure or arrival airport or adds more connections to an itinerary than what was originally booked.
Interestingly, it would also include changes to the aircraft type "if it causes a significant downgrade in the air travel experience or amenities available onboard the flight."
Also, recently the department unveiled its airline customer service dashboard — a new tool that shows how the top 10 largest U.S. carriers will accommodate passengers in the event of a delay or cancellation that is within the airline's control.
The dashboard only provides information about accommodations that airlines provide when the delay is within their control. Many of the delays have been outside airline control — often due to weather or air traffic control issues. Airlines generally provide little to nothing if a flight is delayed or canceled for those out-of-control issues.
The DOT hopes the new dashboard will become a resource for consumers to consider when they choose an airline.
Related: All the airlines' flight delay and compensation policies from DOT's customer service dashboard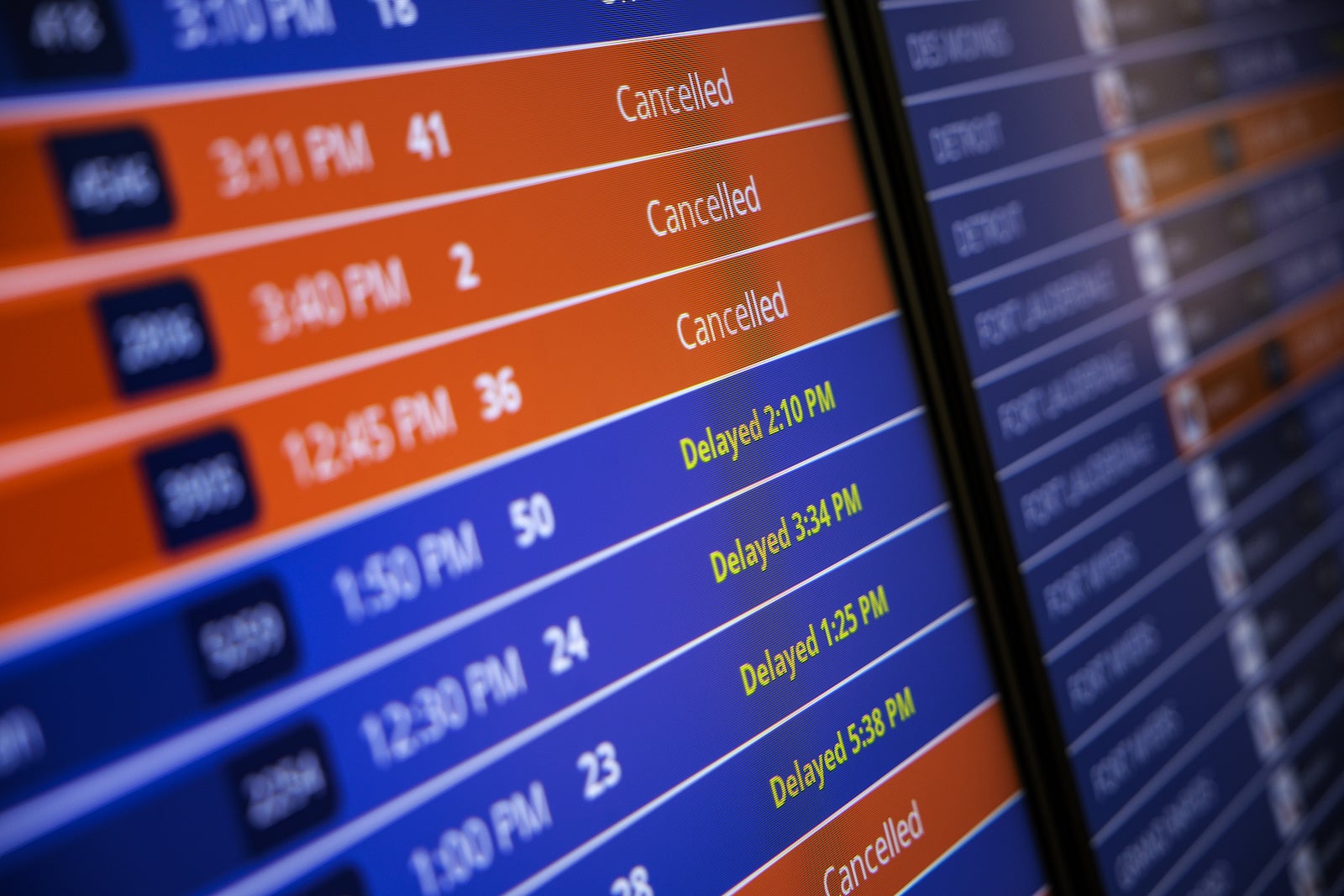 What happens when I miss a connecting flight due to a delay?
Unfortunately, in the U.S., there is no overall policy governing delays. If you miss your connecting flight, contact your airline immediately either in person at the help desk, on the phone (usually a quicker option) or through the app. Or, if you have lounge access, head there first to talk to an agent usually without a line.
The airline should work with you to place you on the next available flight. This may include putting you on another carrier. If you need to stay overnight, ask the airline for hotel and food vouchers.
After you return home, contact the airline about delay compensation.
Many travel credit cards include trip delay, interruption and cancellation benefits that protect you when flights go wrong. When you know that your flight will be affected, contact the card issuer that you purchased the ticket with to determine your options (see below).
Related: Missed your flight? Here's what to do
What credit cards offer flight delay compensation?
Trip delay reimbursement is a benefit that will compensate you for expenses that aren't reimbursed by your transportation carrier. Cards reference "common carriers" for this coverage, which typically means forms of public transportation with published schedules on which you bought tickets — think air trips, not road trips, for this category.
While airlines may provide hotel rooms and food vouchers for overnight delays that are under their control, such as maintenance issues, they typically won't provide coverage for things like weather delays. Moreover, what an airline provides may not cover all of your expenses. This is where trip delay reimbursement can help you.
Here are some cards that are among the best for trip delay reimbursement. It's important to note that the specific terms can vary from card to card (or issuer to issuer).
Also worth noting is that depending on the card, you must have a delay of six or 12 hours to qualify, which we note here: Capital One Venture X Rewards Credit Card (six hours); Chase Sapphire Reserve (six hours) and Chase Sapphire Preferred Card (12 hours or overnight); The Platinum Card® from American Express* (six hours); Delta SkyMiles® Reserve American Express Card* (six hours); Marriott Bonvoy Brilliant™ American Express Card® * (six hours);  Marriott Bonvoy Boundless Credit Card and Marriott Bonvoy Bold Credit Card (12 hours or overnight); World of Hyatt Credit Card (12 hours or overnight); United Club Infinite Card and United Explorer Card (12 hours or overnight).
*Eligibility and benefit level varies by card. Terms, conditions and limitations apply. Please visit americanexpress.com/benefitsguide for more details. Underwritten by New Hampshire Insurance Company, an AIG Company.
Related: Flight delayed? Remember these 4 things if you want trip delay reimbursement from your credit card
How to apply for flight delay compensation
Don't delay in requesting your compensation. In the EU, individual countries set deadlines, and they can vary wildly. The deadline to file a claim is not based on your citizenship, where you live or your destination but instead the location of the headquarters of the airline you flew.
You can generally find instructions on how to submit a claim on a carrier's website. However, if you have trouble finding that information, you can also print and complete the Air Passenger Rights EU Complaint Form and submit it to the airline directly.
In the U.S., it's also best to ask for compensation soon after your disrupted flight. Domestic carriers are not obligated by law to offer financial compensation for delays. However, many do have policies — which you can find on the DOT dashboard — that provide some financial restitution for long delays.
Be sure to keep a copy of your flight information, including your ticket number for the compensation request.
Bottom line
Although there is no consistent policy across the board for delay compensation, there are a number of ways you may be able to get financial compensation if your flight is significantly delayed.
In Europe, for delays of more than three hours, you may be eligible for compensation under EU261. In the U.S., check the DOT's new service dashboard to see if your carrier will compensate you for your airline delay.
If you can't get financial compensation that way, check with your credit card issuer to see if they provide trip delay reimbursement.