Planning to fly during the holidays but not quite sure what's allowed in your carry-on bag? Wondering if you can bring all your gifts in your checked luggage? Curious whether you can bring holiday food treats on board?
Never fear; AskTSA is here. The Transportation Security Administration just introduced a new text-based option for mobile phones so travelers can find answers to their pressing travel packing questions.
This is in addition to its social media accounts and "What Can I Bring?" webpage.
Simply text "Travel" to AskTSA (275872). The service provides automated responses 24 hours a day, and there are TSA experts available from 8 a.m. to 6 p.m. EST. (We did notice some extended answers during these hours as opposed to overnight.)
The interface requires users to choose one of the following topics to get started: TSA PreCheck, What's Allowed, Identification, Medical Questions, Damages/Claims and Other.
We decided to try the "What's Allowed" section to get some packing help for the holidays this week.
Related: Here's the 411 on the TSA's 3-1-1 rule
After we chose this category, the next question was "Carryon" or "Checked" luggage, and then we were presented with the following topics: E Cigarettes, Electronics, Firearms, Flammable Aerosols, Food, Grooming Items, Knives, Lighters and More.
Here's how we fared looking for packing tips for some popular items.
Sports equipment
First up, senior cruise writer Ashley Kosciolek, who's about to embark on a multistop trip with ice skates and fishing lures in her carry-on bag, checked in with AskTSA.
It took several minutes for Ashley to hear back about the skates, which is a time lag I experienced as well. Although two to three minutes certainly isn't long, it feels like the message might not have been received while you're staring at your phone.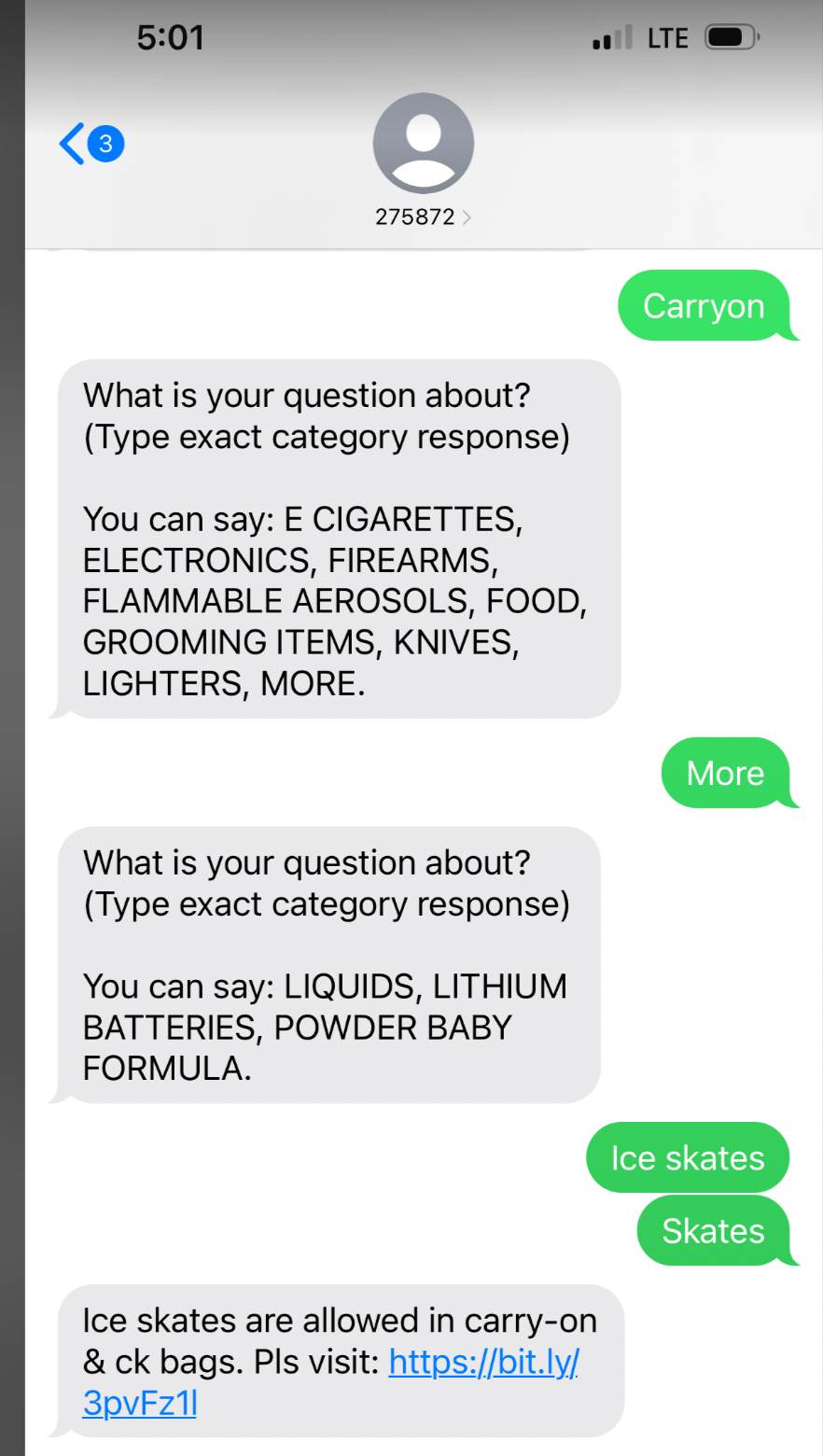 This ice skates answer offered the same information Ashley had found on the TSA website when she searched online.
Gifts
Next, I asked one of the questions I hear most frequently from friends: Can I bring wrapped presents through security?
This is always a tricky one. I've personally seen an agent unwrap a tightly secured set of candlesticks from Tiffany's, watching as layer after layer of bubble wrap was removed while the passenger in front of me became more and more distraught.
I've never wrapped a gift since (instead, I bring gift bags and tissue paper for quick gifting). I have not, however, witnessed this again.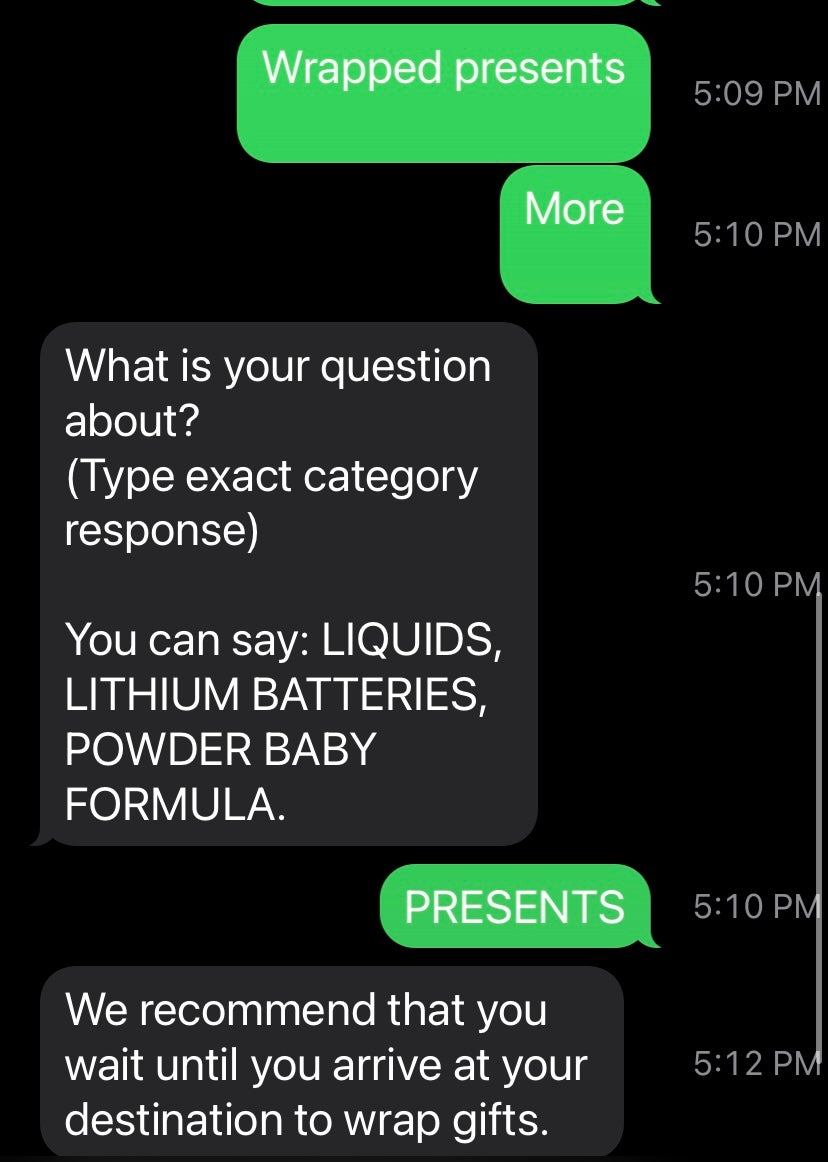 The official word is that they "recommend" waiting. It's easy to see why travelers could be confused by this directive.
Food
What TSA-approved foods can be brought through security is a top question we get from readers. Managing editor Clint Henderson sent a query to the TSA that I hadn't thought of yet: Can I bring frozen turkey on a plane?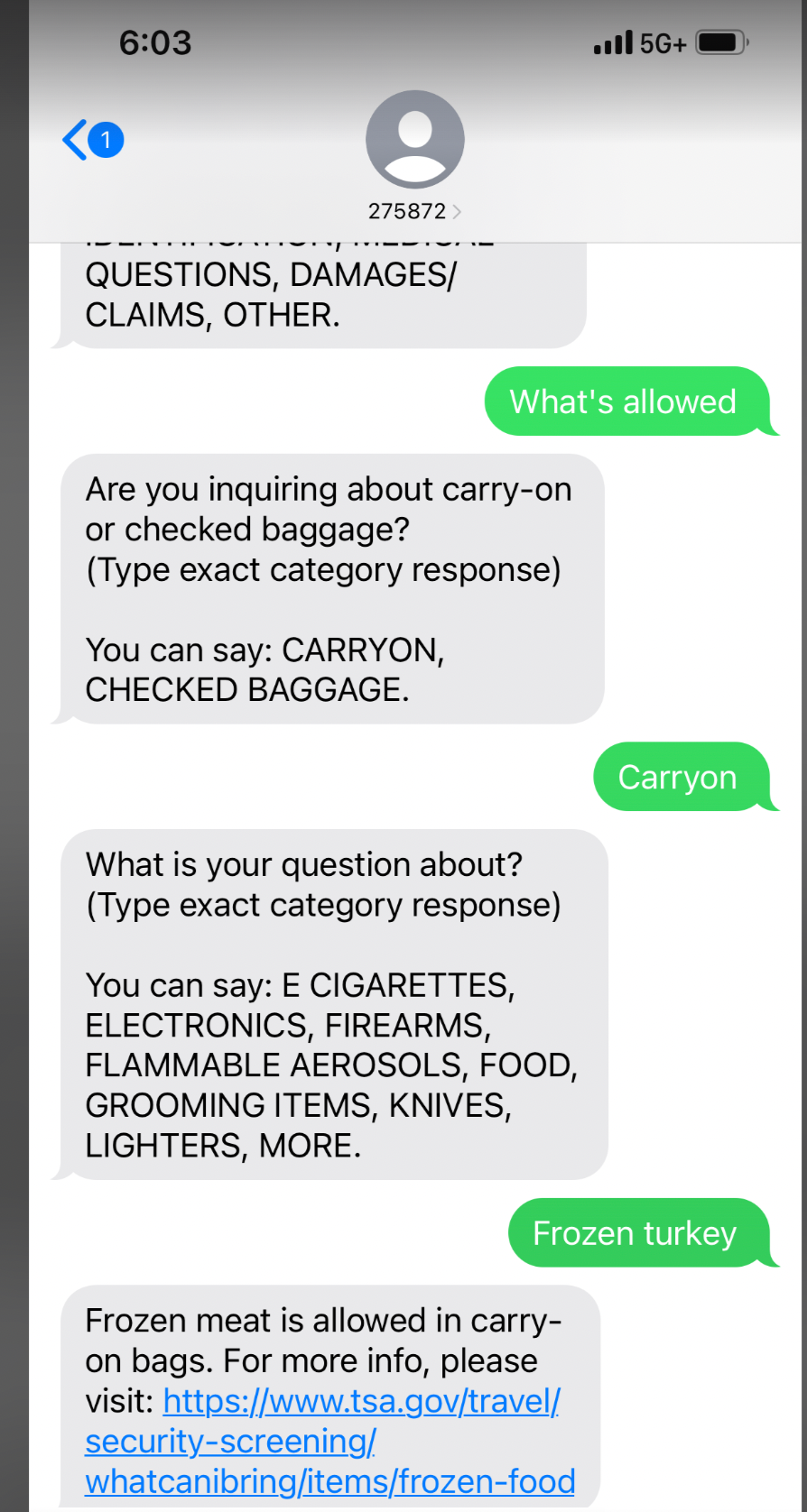 Good news for Clint: He can bring his frozen turkey on board (this also applies to other frozen food, including water, but they all need to stay in a solid, not liquid, state for screening to qualify).
With more food questions, we had newsletter editor Becky Blaine reach out to AskTSA.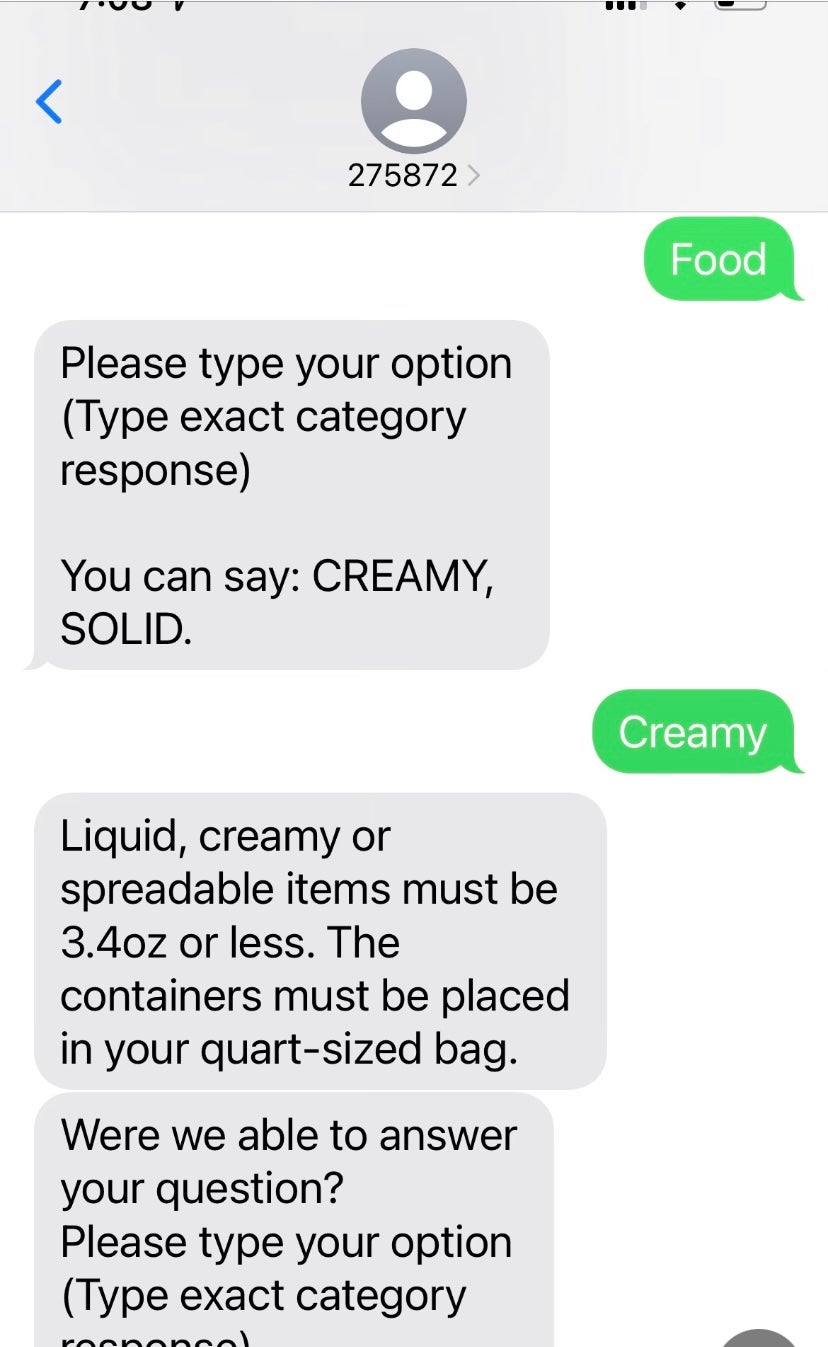 Becky had pumpkin pie in mind when she queried "creamy" foods, one of the two categories (along with "solid") offered up for food questions.
When she replied "No" to whether she had received a satisfactory answer to her question from the automated system, she was informed that a "Social Care Specialist" would be in touch between 8 a.m. and 6 p.m.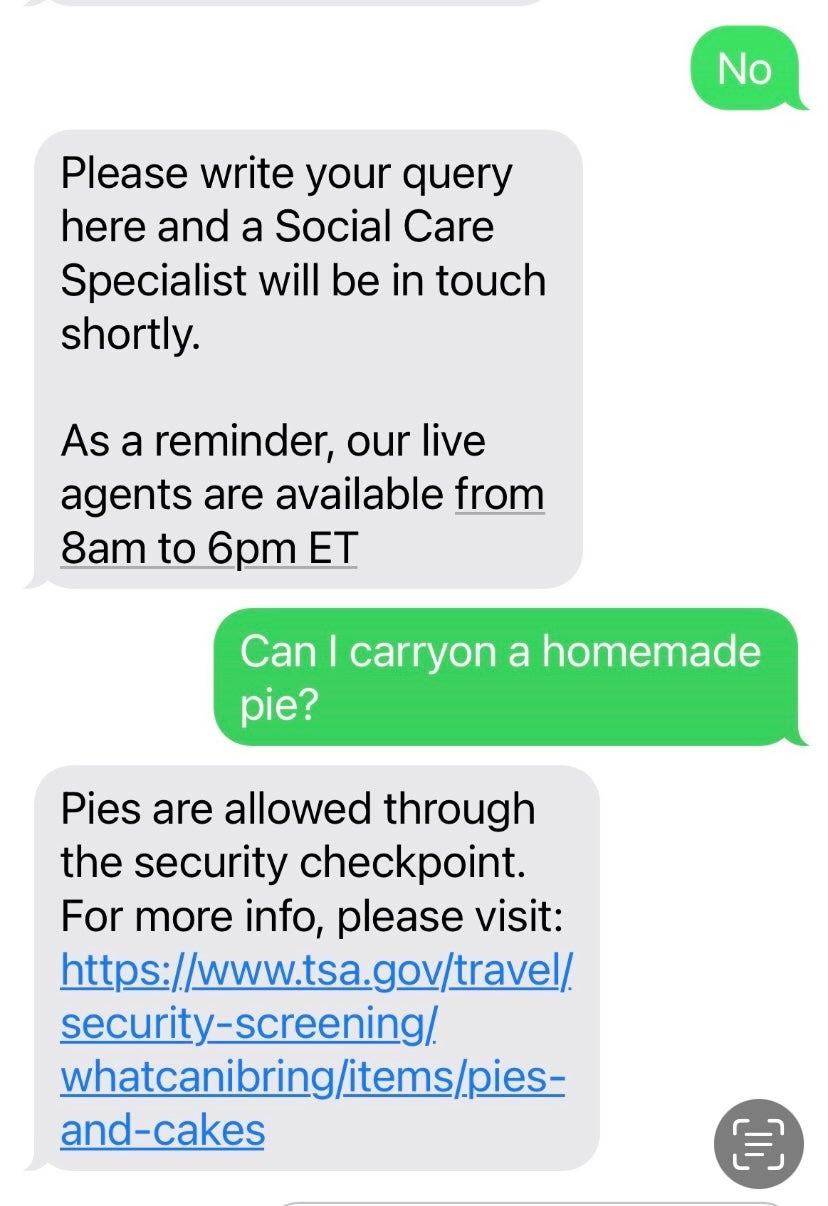 While this answer was helpful, we were able to type in "pie" on the TSA "What Can I Bring?" page and received an answer immediately.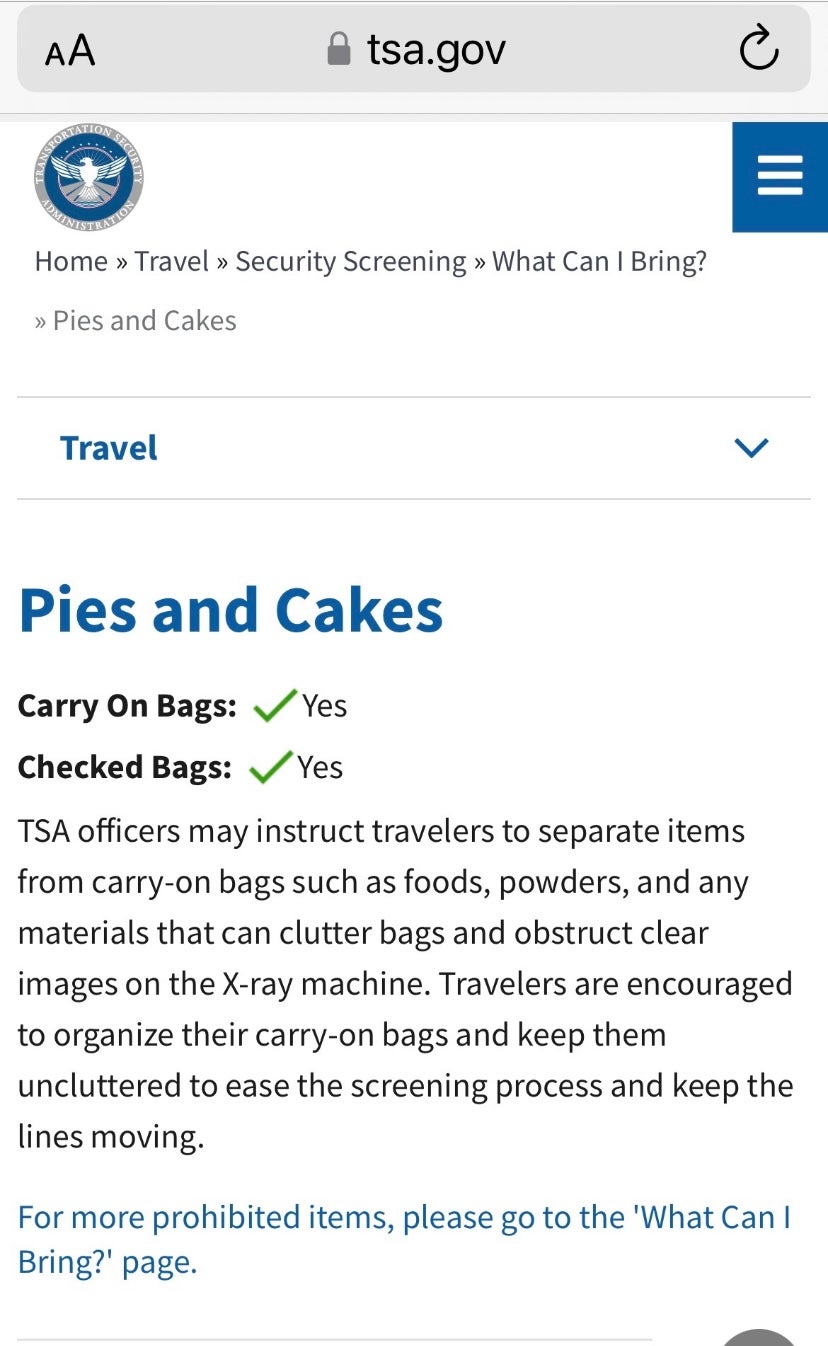 Bottom line
If you're not in a rush and want to know what you can pack, the AskTSA text message option is a helpful tool, especially if you want a personal answer on an item that you're not sure how to categorize.
However, we were able to find information a bit faster simply by searching with Google for most items.
Related: Here's what to pack in a carry-on bag every time you travel