A decade of service hasn't diluted the timeless allure of The London Edition.
The third addition to Marriott's collection of high-end hotels affiliated with legendary hotelier and Studio 54 co-founder Ian Schrager, this Edition has been wowing guests since opening its doors in 2013.
As you might expect from a property adjacent to London's cool, swanky Soho district, The London Edition impresses with its stunning design and impeccable service. Sure, the rooms are small and a few key amenities are missing, but this top London hotel's eye-catching spaces make it easy to overlook those minor inconveniences.
But is The London Edition the right fit for your trip to London Town? Here's everything to know before you book your stay.
Entertainment enthusiasts will love the fabulous location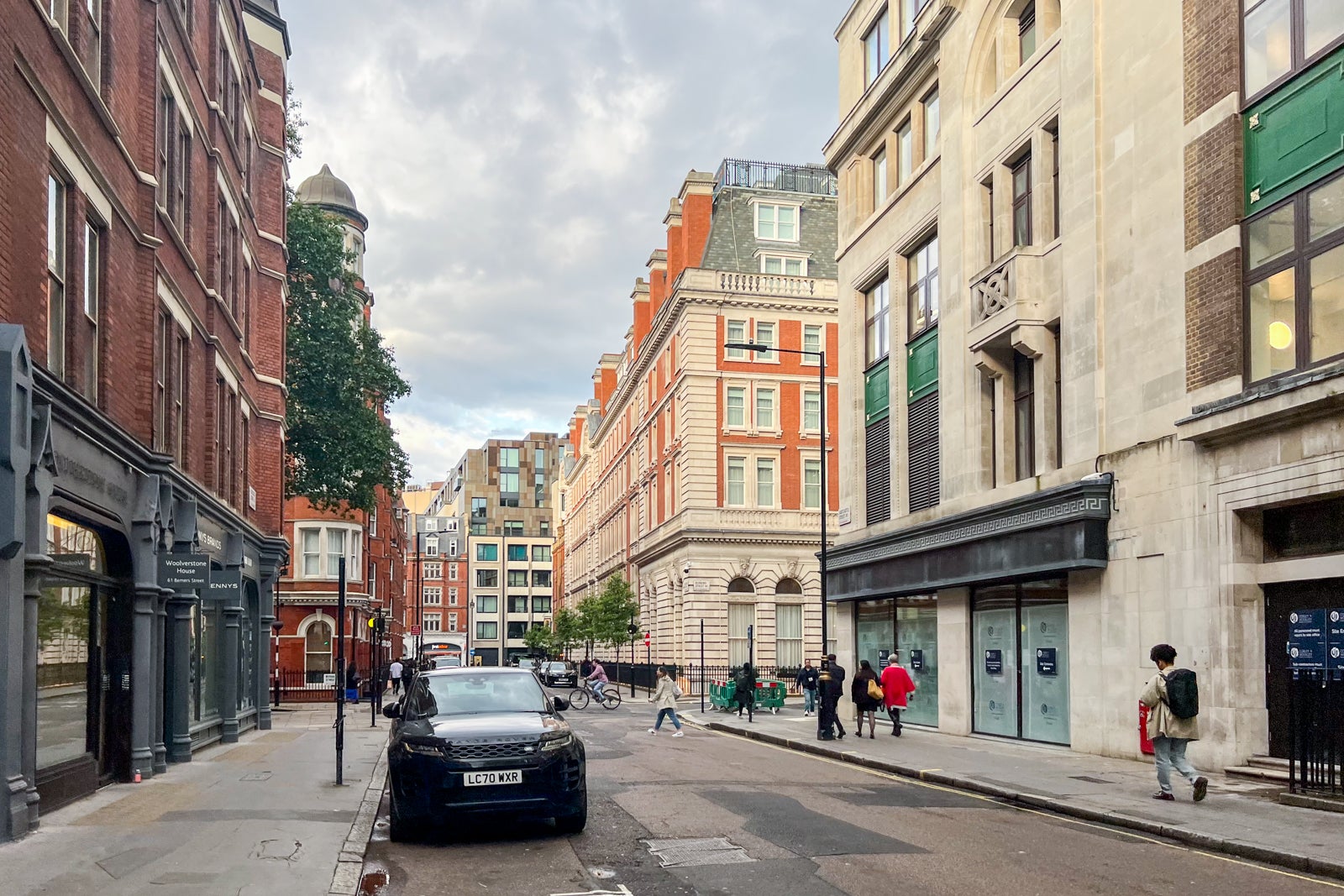 Situated on Berners Street in Fitzrovia, the city's media and advertising hub, The London Edition offers easy access to many of central London's top activities and attractions.
Walk a few minutes south to fashionable Soho to find some of the best restaurants, shops and nightlife venues in the city. Continue walking a little farther and you'll reach the theaters of the West End, where London's best productions take place.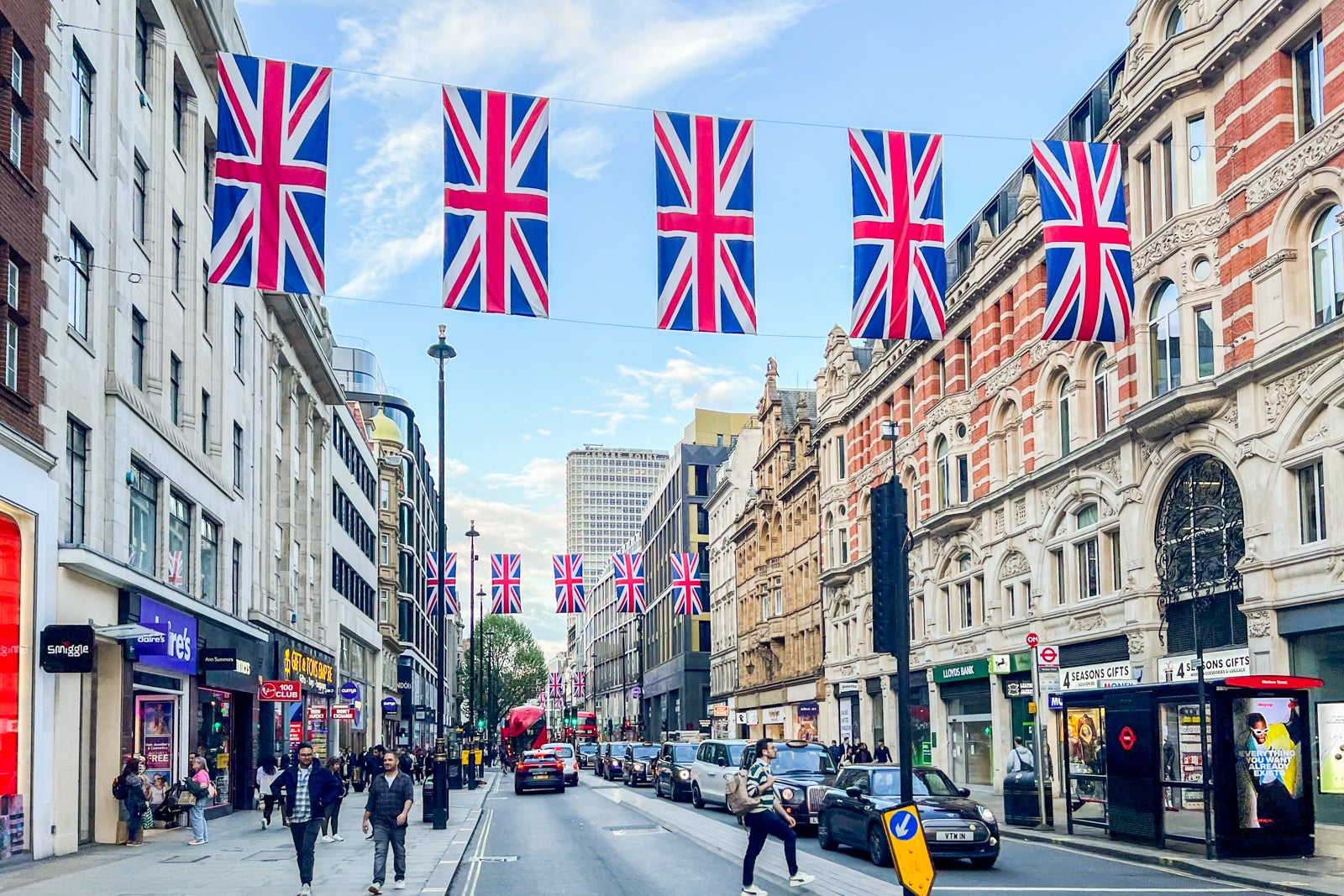 If Soho doesn't have quite what you're looking for, you're in luck, as Fitzrovia's Charlotte Street — another entertainment mecca — is also just a few blocks away. Walk north from the property to enjoy its wide array of incredible restaurants and cafes.
The property serves as a solid spot for sightseers, too, as you're only a seven-minute walk away from the Oxford Circus Tube station, meaning you can easily move around the city to see famous sights like Buckingham Palace and Big Ben. Some attractions, like The British Museum, are even within walking distance.
Related: 27 of the best free things to do in London
There are several ways you can book The London Edition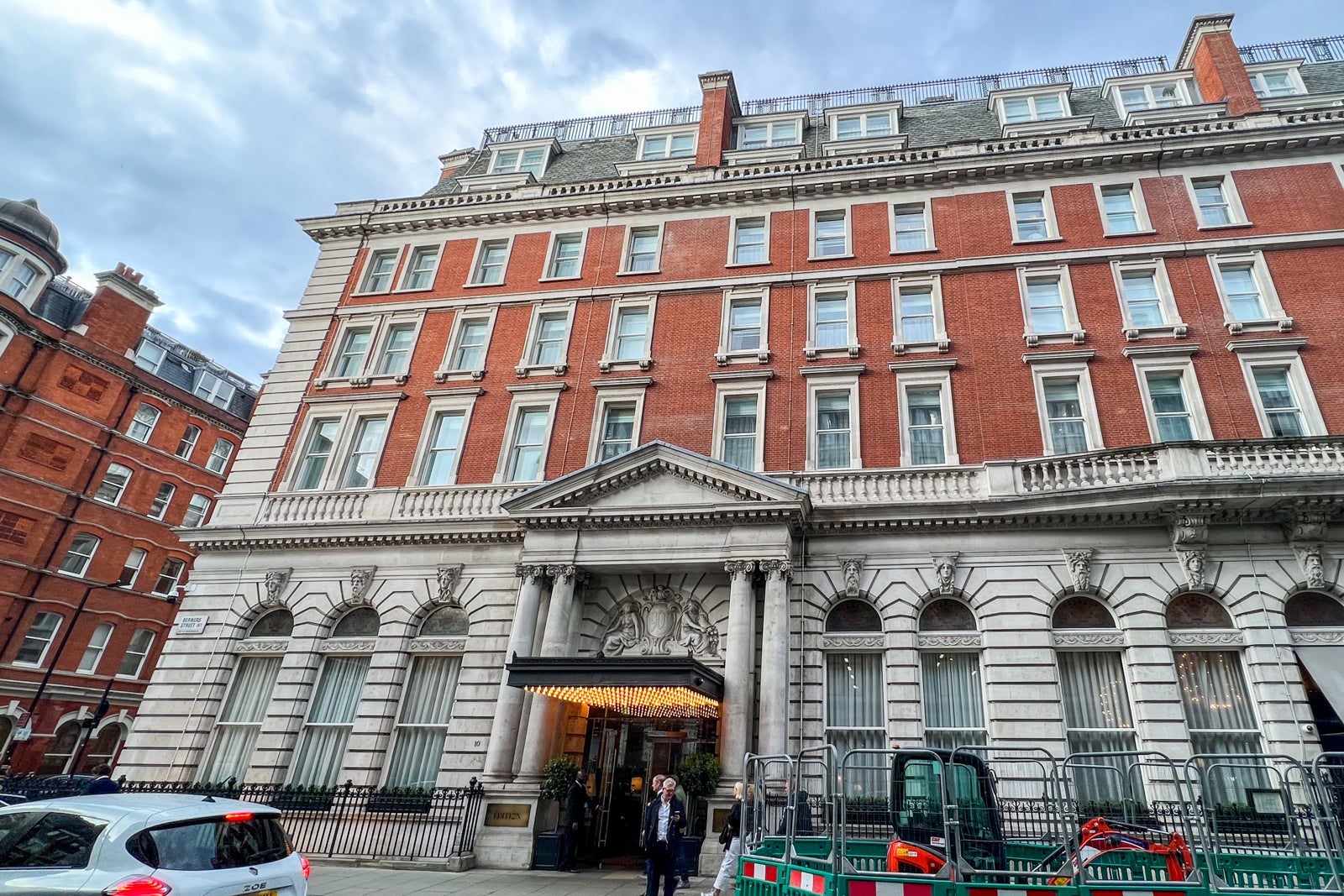 Because The London Edition is part of the Marriott family of hotels, guests can use Marriott Bonvoy points or cash to pay for their stays.
Cash rates for rooms here during the busy summer months generally range from 459-1,279 British pounds (about $579-$1,613) a night. Meanwhile, award rates during the peak summer season can also vary quite a bit depending on the dates chosen, ranging from 77,500 to 110,500 points per night.
I was visiting right around the coronation of King Charles III, but nightly rates for a superior king guest room sat comfortably in the property's range for summer stays. With cash, I would've paid $619 for the first night and $1,072 for the second night. However, the combined price in cash was slightly higher than what I would've spent with points, based on TPG's valuation of Marriott Bonvoy points at 0.84 cents apiece, so I instead redeemed 82,000 points for the first night and 110,500 points for the second night of my two-night stay.
If you have select American Express credit cards, know that you can also book this hotel via the American Express Fine Hotels + Resorts program. By making your reservation through this program, you'll receive a room upgrade (subject to availability), plus daily breakfast for two people and a $100 stay credit. Nightly rates start around $700.
Related: A comparison of luxury hotel programs from credit card issuers: Amex, Capital One, Chase and Citi
The inviting lobby perfectly complements the building's historic charm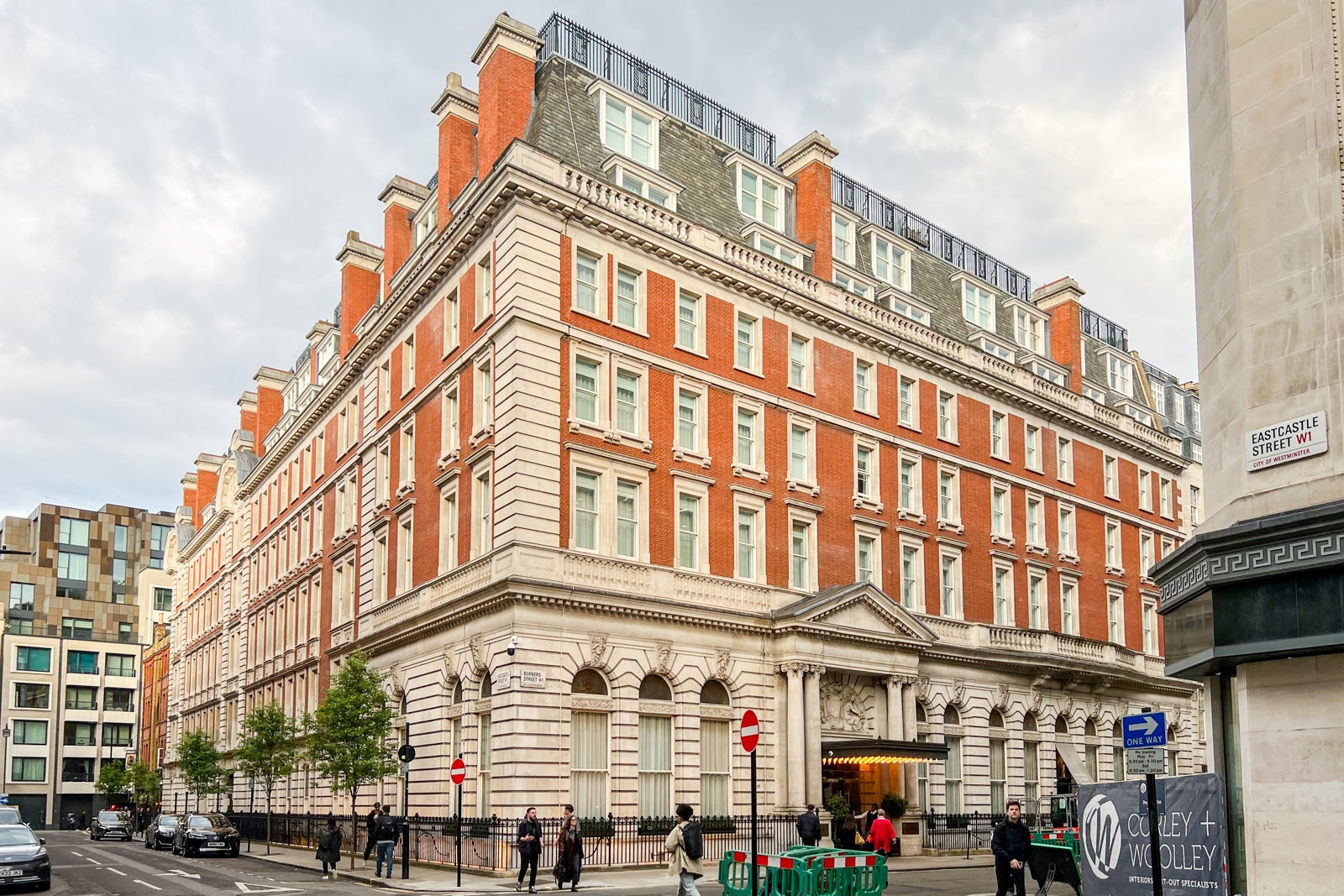 Built inside an early 20th-century building linked to the historic Berners Hotel, the 173-room London Edition draws you in from the moment you arrive.
While its exterior's Georgian architectural details (think: brick and stone features, symmetrical chimneys and entrances with towering columns) are a feast for the eyes, the property's renovated interior is equally memorable thanks to its incredible lobby.
When you step into the lobby, your eyes are immediately drawn to the ornate ceiling up above, plus the grand staircase and walls of marble all around. There's a wide variety of seating options to choose from. Additionally, you'll find a classic snooker table in one corner, adding to the upscale yet relaxed atmosphere the lobby offers during the day.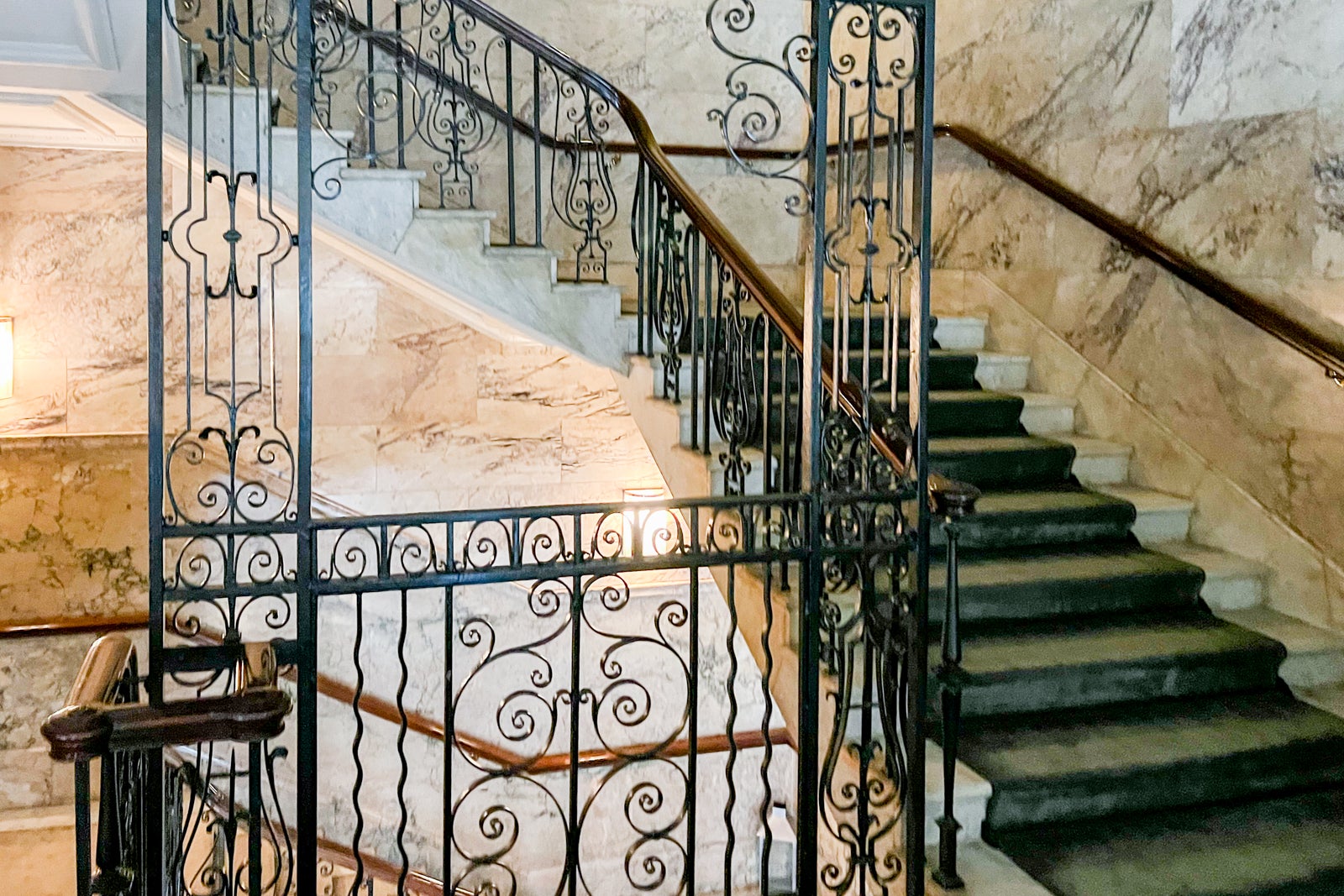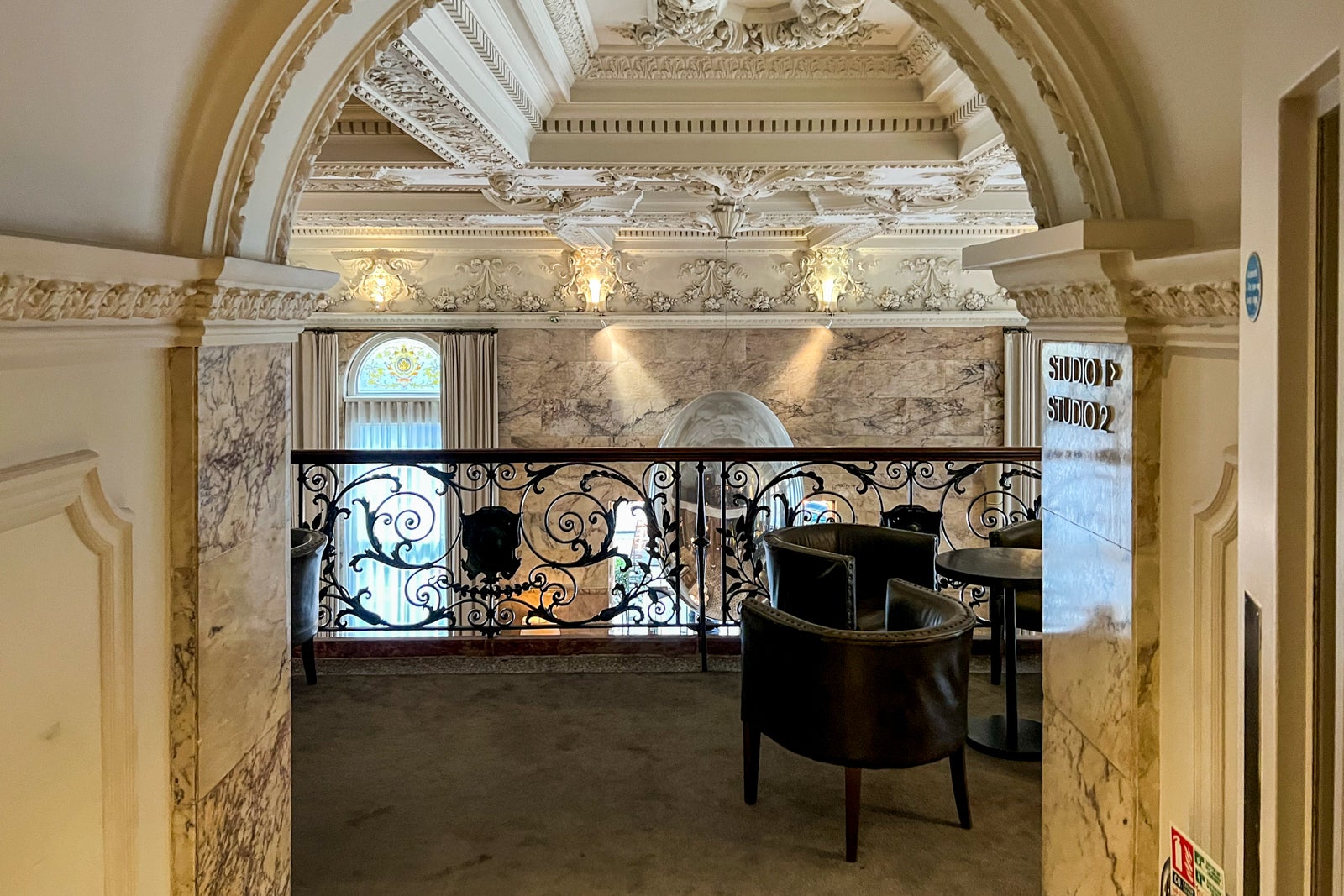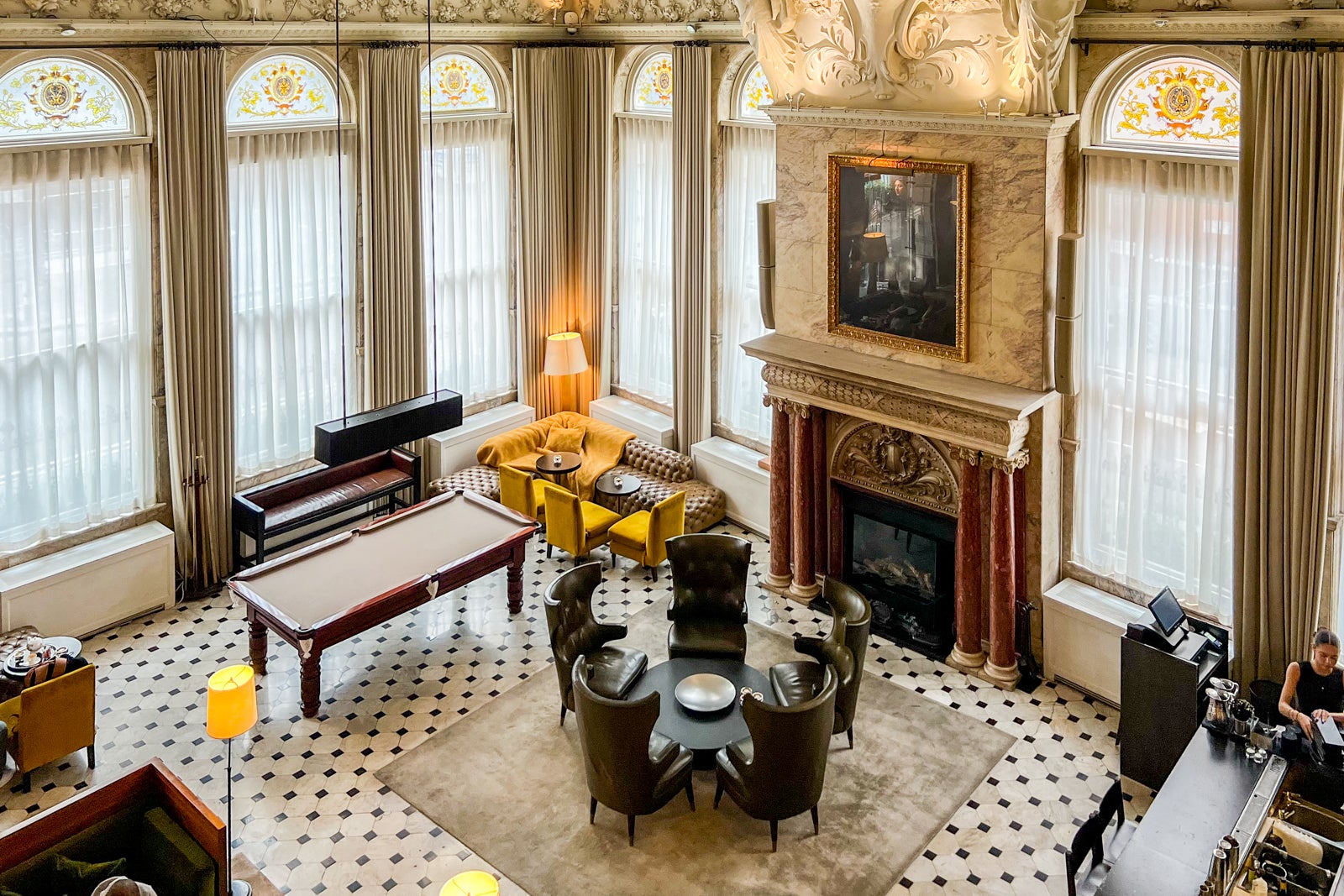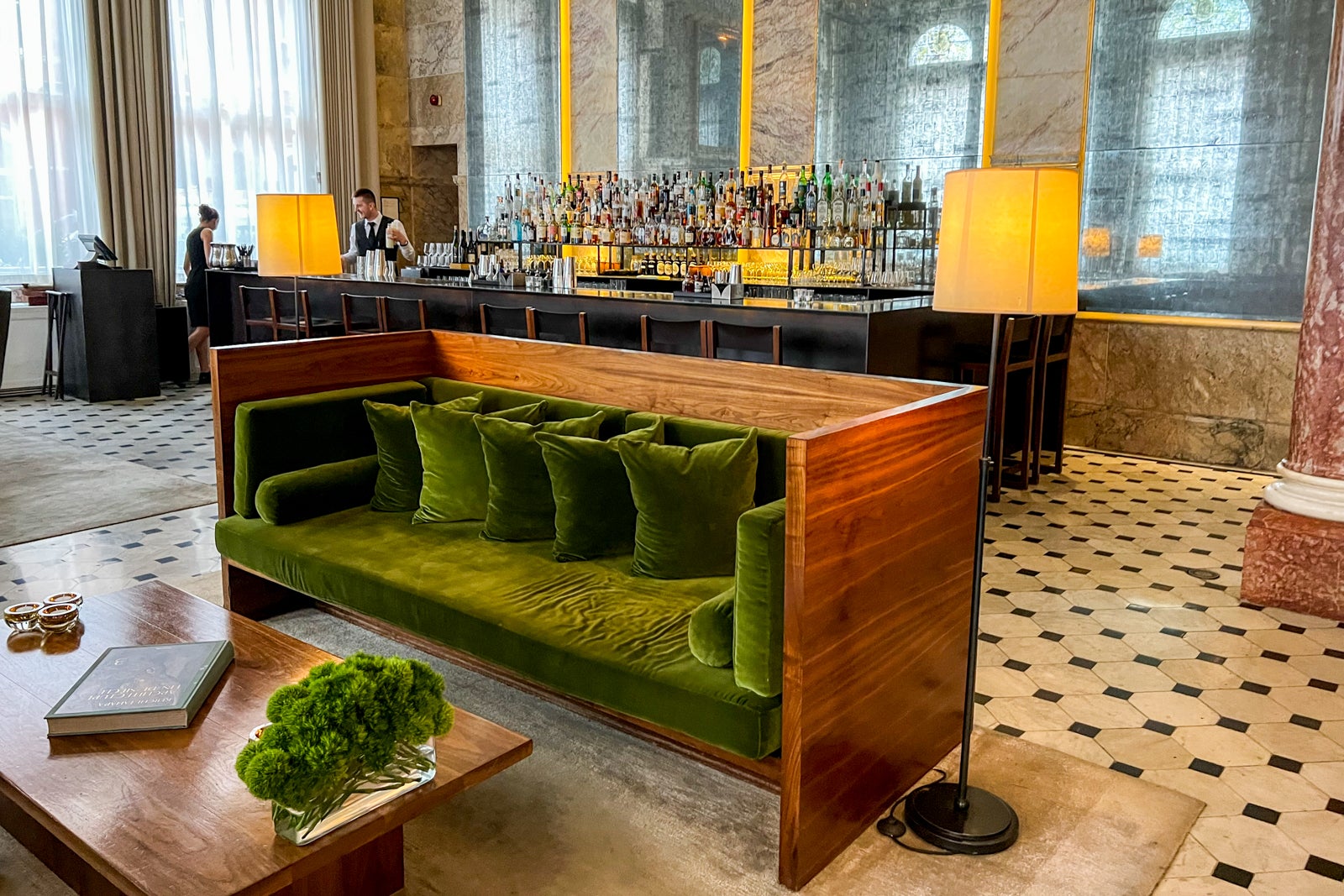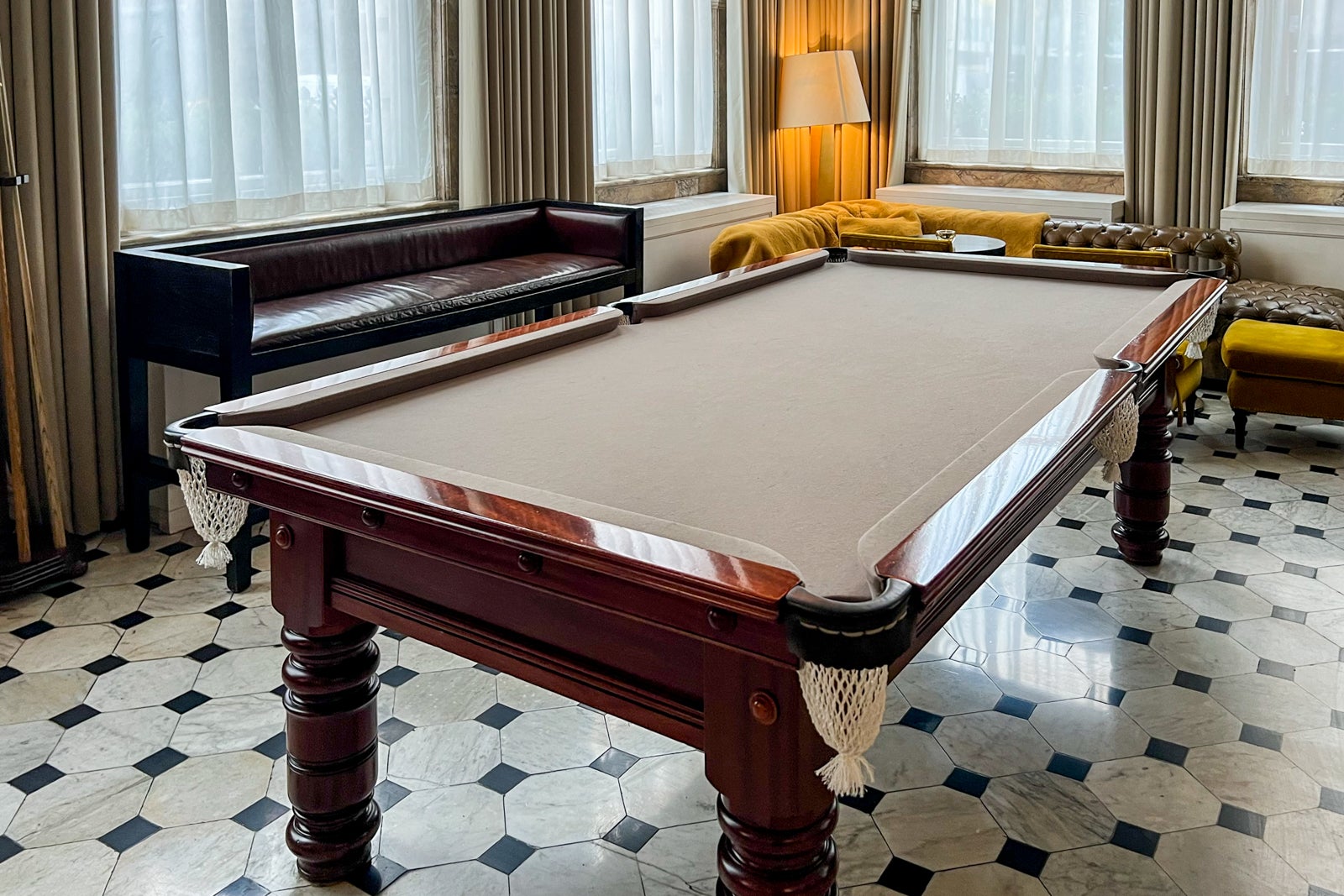 The elegant lobby really shines at night, though, as this is when its see-and-be-seen bar fills with fashionistas. Whether you grab a seat by the stunning fireplace or at the long black bar, you'll have a terrific view of your surroundings and the high-end clientele as you sip a tasty cocktail.
Related: Why I love hotel bars, especially when I travel solo
Great service is the standard here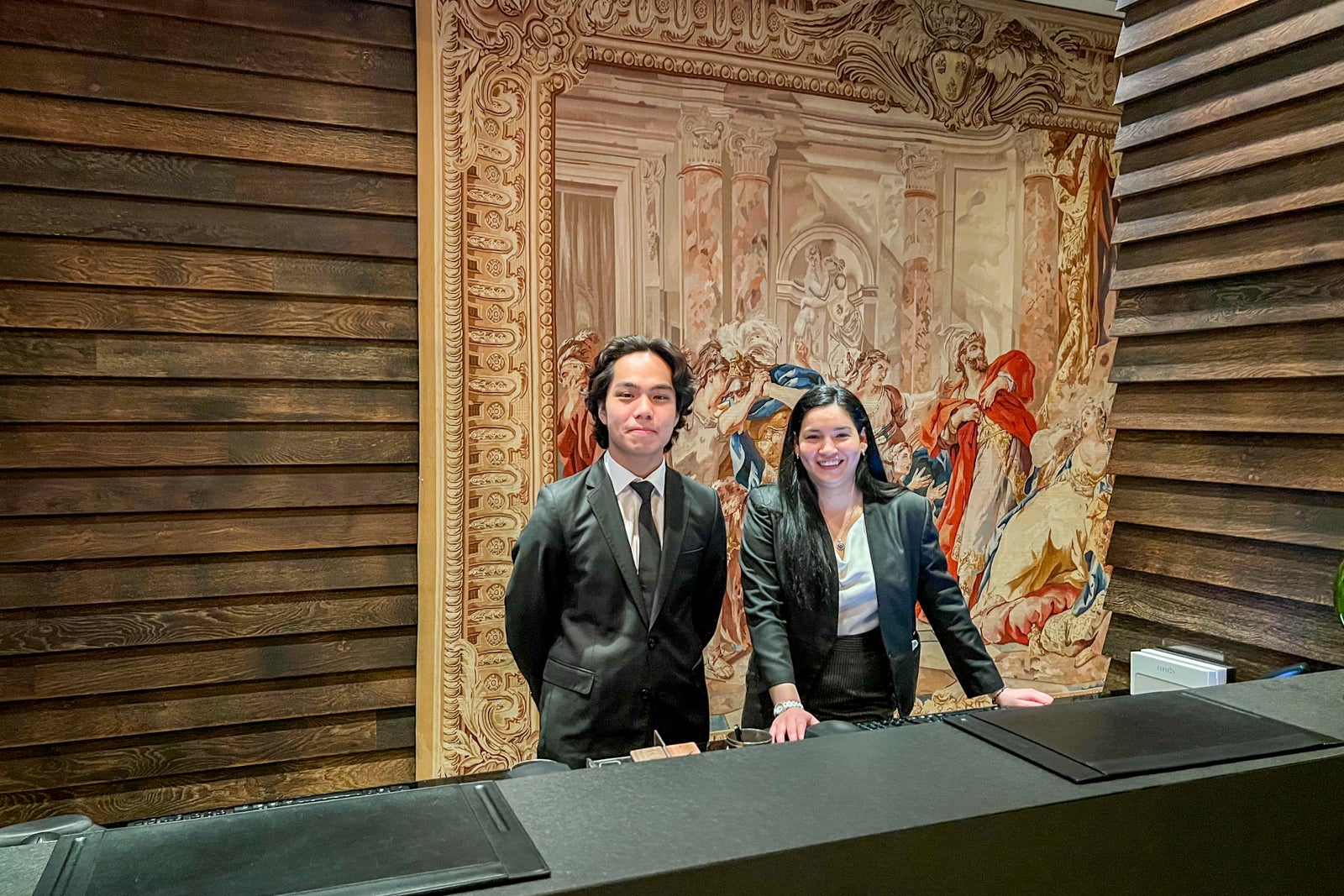 From the moment I started the check-in process, it was apparent how exceptional the service is at The London Edition. The employees at the front desk were friendly and efficient, accommodating my last-minute request for a room with two beds.
Not to mention, service requests were addressed promptly. For example, when I asked for Nespresso pods and an iron and ironing board shortly after arriving, my call was answered right away, and the requested items arrived in less than 10 minutes.
The concierge team provided solid restaurant recommendations as well, and the doormen were always eager to offer advice or directions.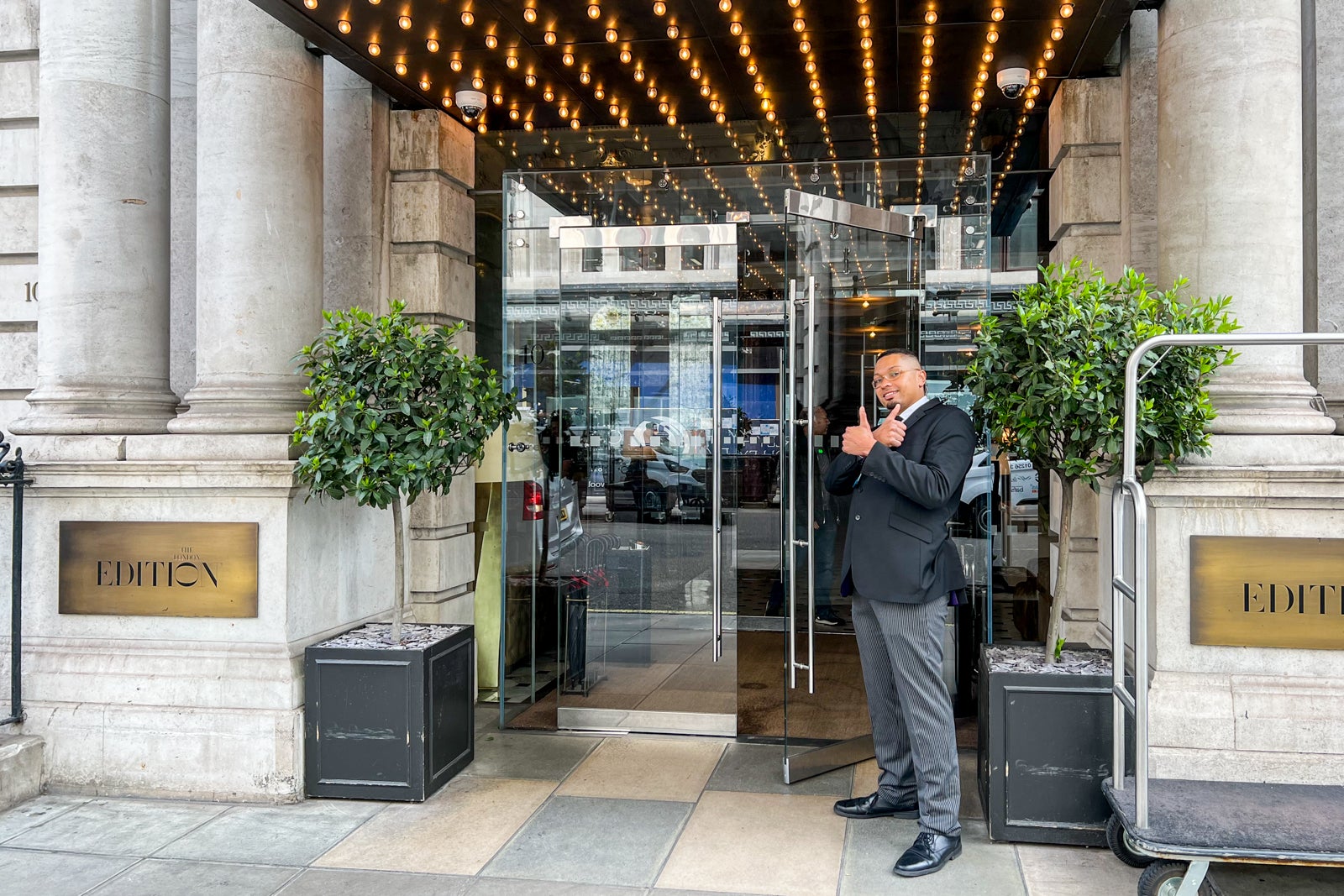 No matter who I was interacting with at the property, I walked away with a smile on my face and a sense of ease, knowing I had what I needed to enjoy my stay.
Related: The complete guide to flying to London on points and miles
Rooms are stunning but lack light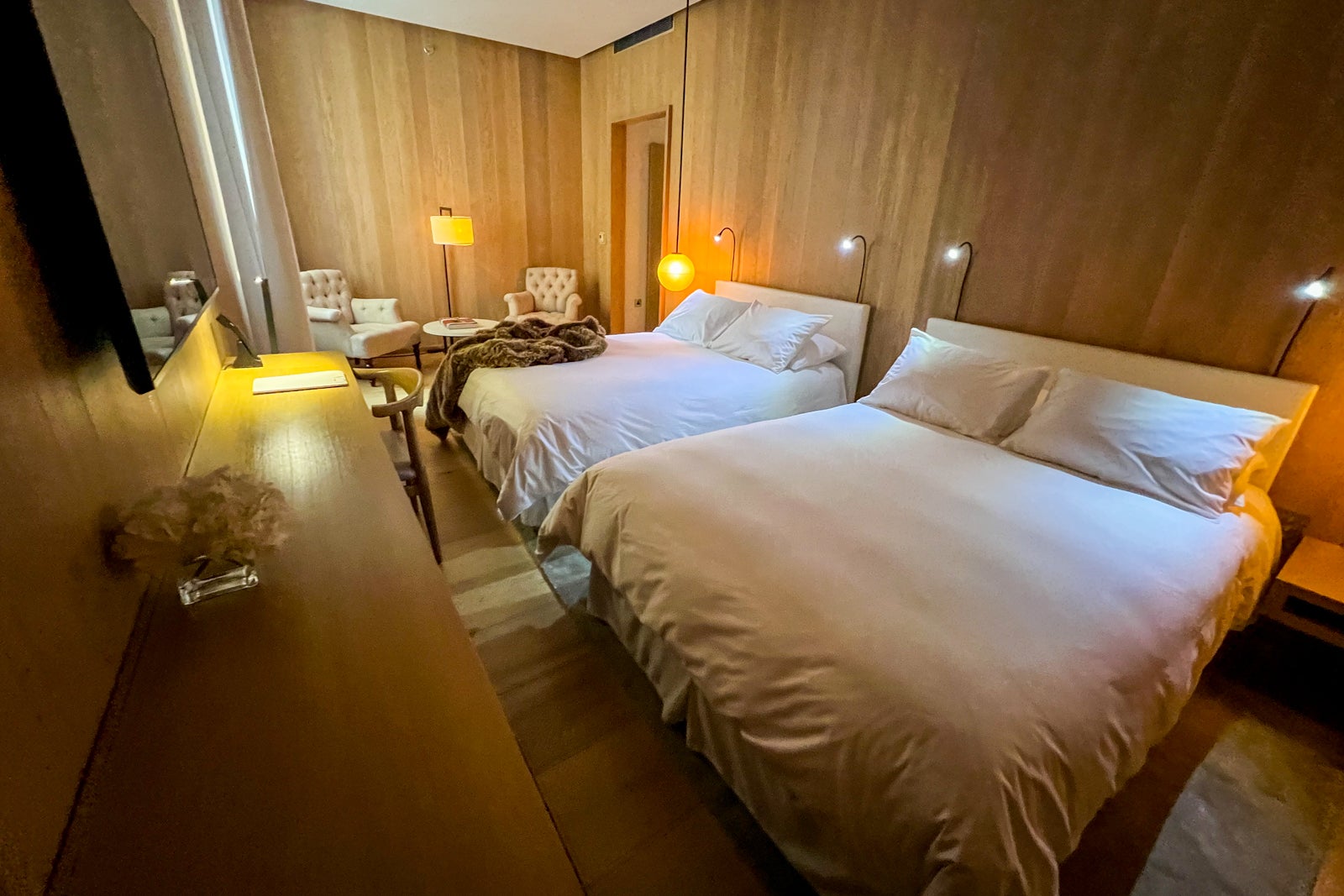 First impressions are everything, and I'm not going to sugarcoat it: I was pretty disappointed with the room.
The oak floors, wood-paneled walls and smell of the hotel's signature scent were all to my liking, but those pluses were quickly overshadowed by the tiny and dark design. If you like clean, modern interiors in neutral colors, The London Edition's rooms will fit the bill, but as someone who values natural light, I immediately found myself feeling let down by what I saw.
With only one window that looked out into an alley, there was hardly any natural light in the room. While adequate light fixtures could've remedied the dark setting inside, the ones provided were dim and low to the ground, making it hard to see at times.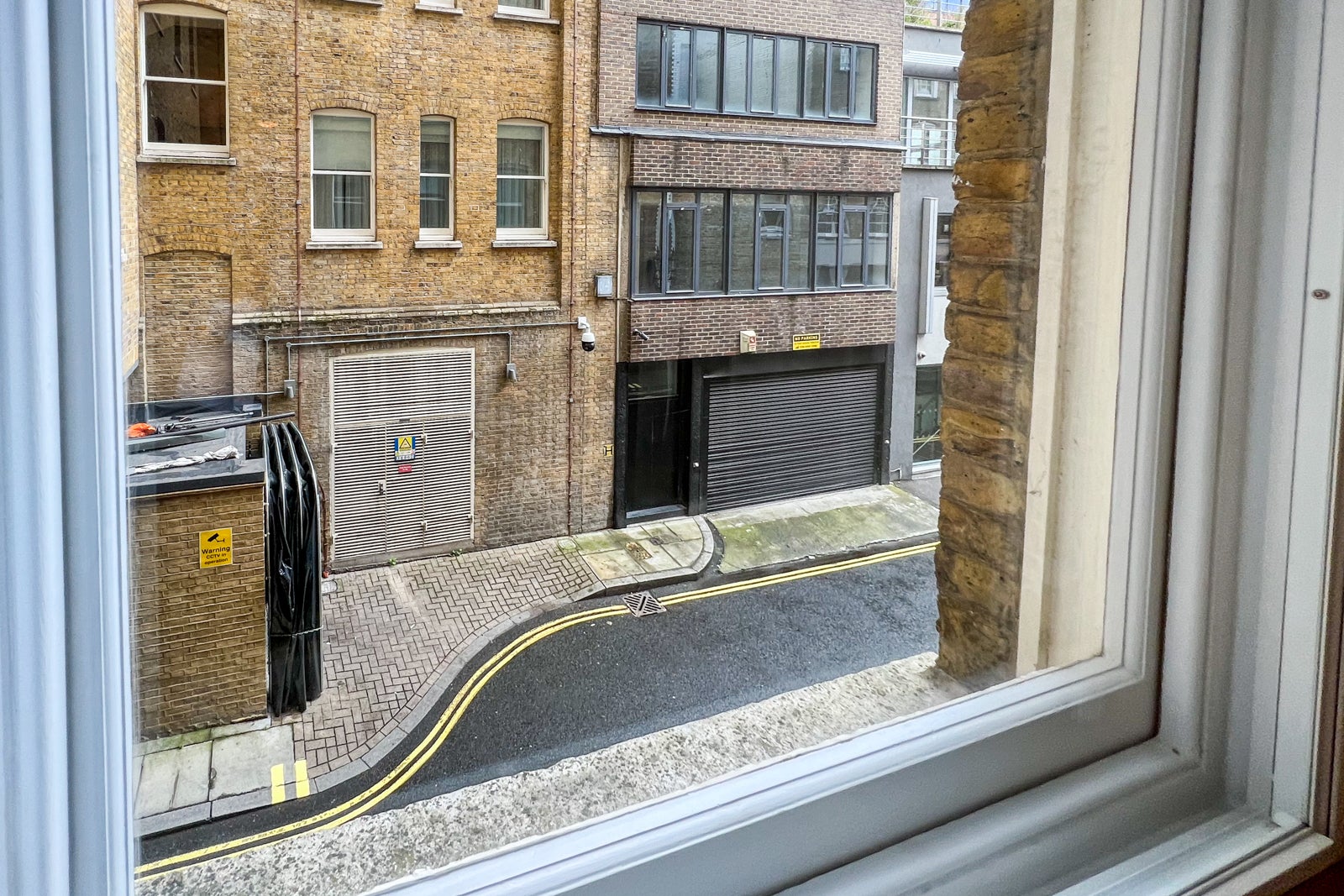 That said, I appreciated the tidy, streamlined look of the room. You'll find the signature Edition faux-fur throws on the comfortable beds, as well as pristine 300-thread-count bedding in a crisp white hue.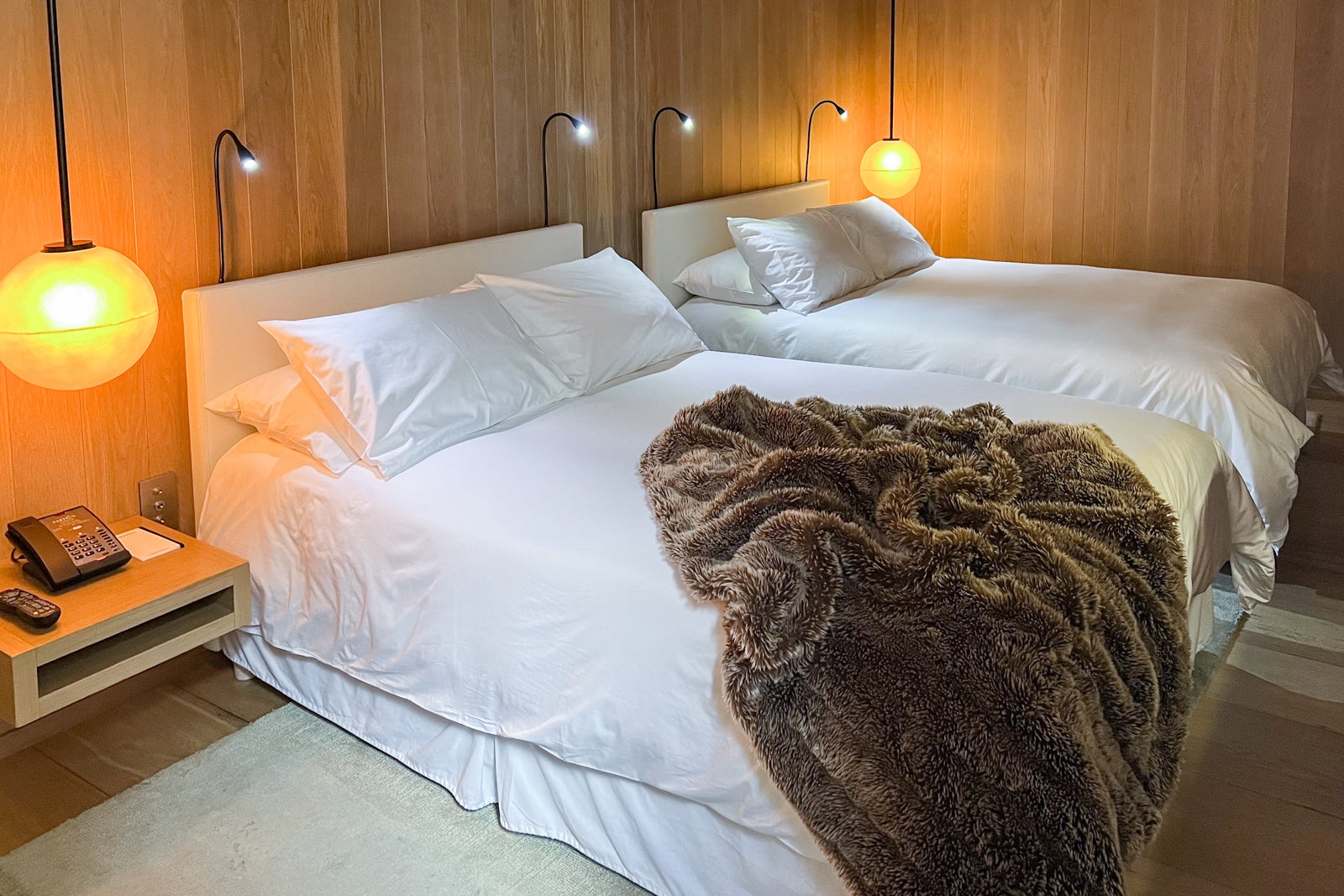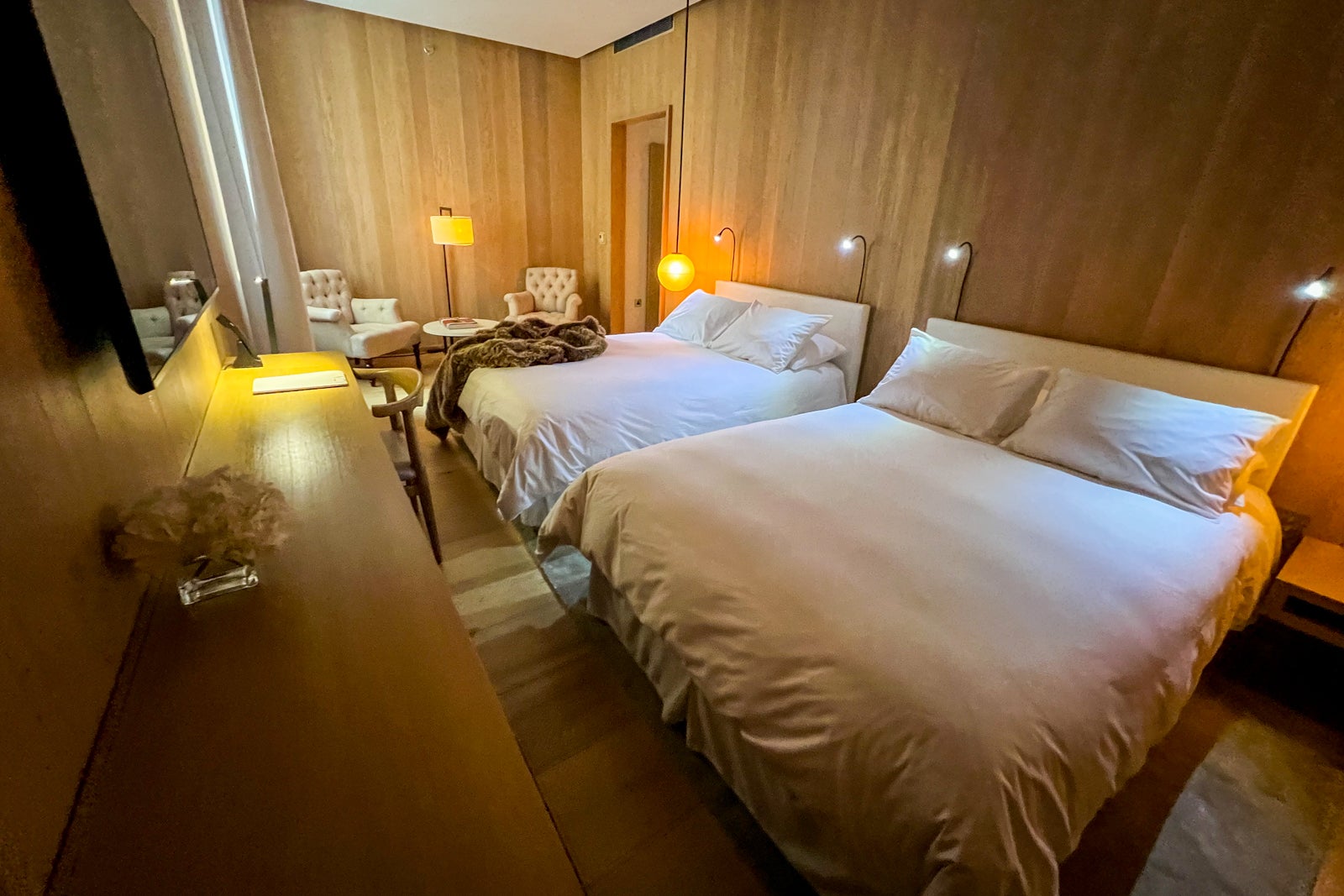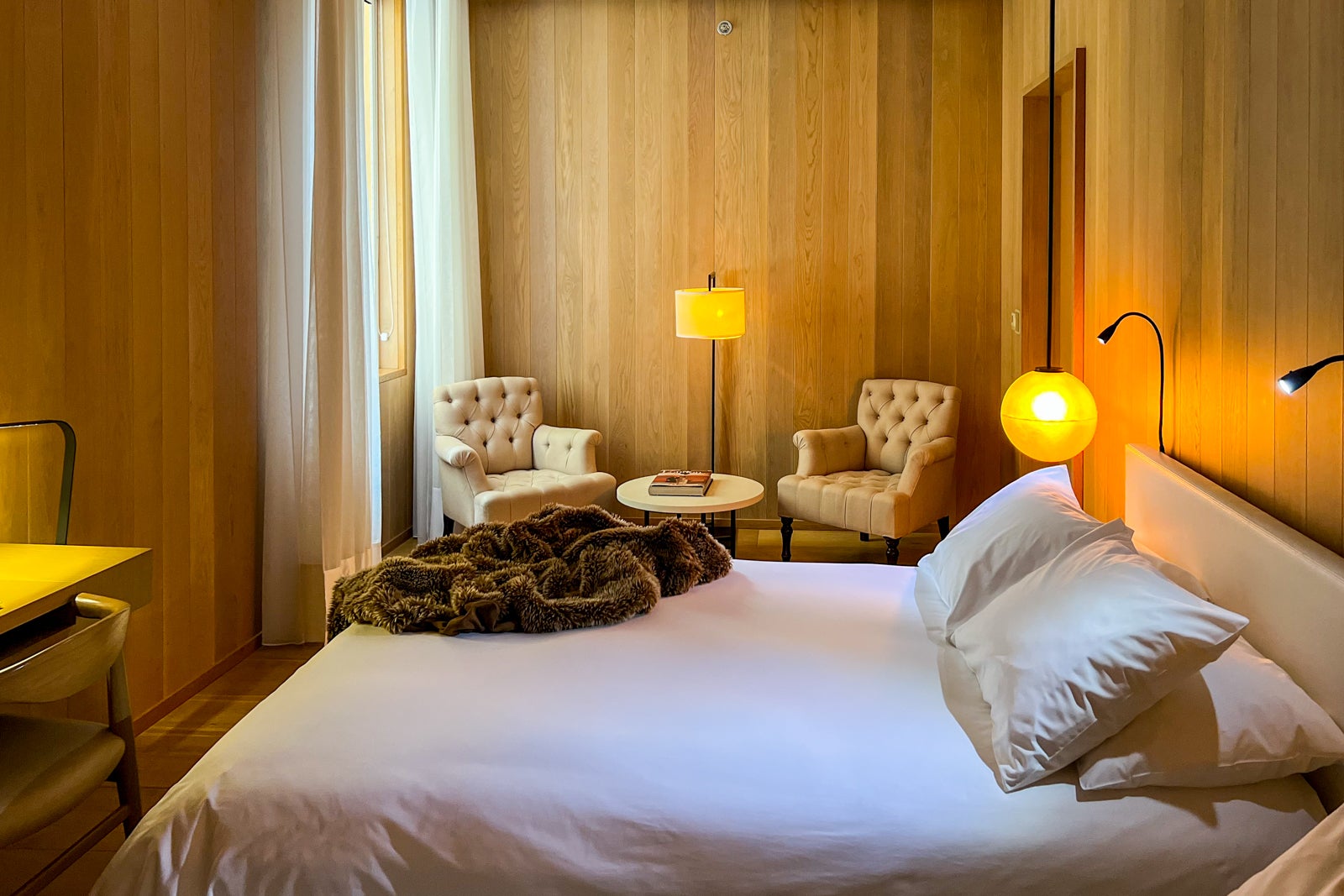 Additional features include a small seating area with two tufted club chairs; a long, thin desk beneath the flat-screen TV; and a well-stocked minibar with a Nespresso machine, complimentary bottled water from United Kingdom-based Berrington and a couple of small bottles of spirits. You'll also notice a few books alongside an assortment of items available for purchase, including an Edition candle and a mix of salty and sweet snacks, and a minifridge full of alcohol and still and sparkling water.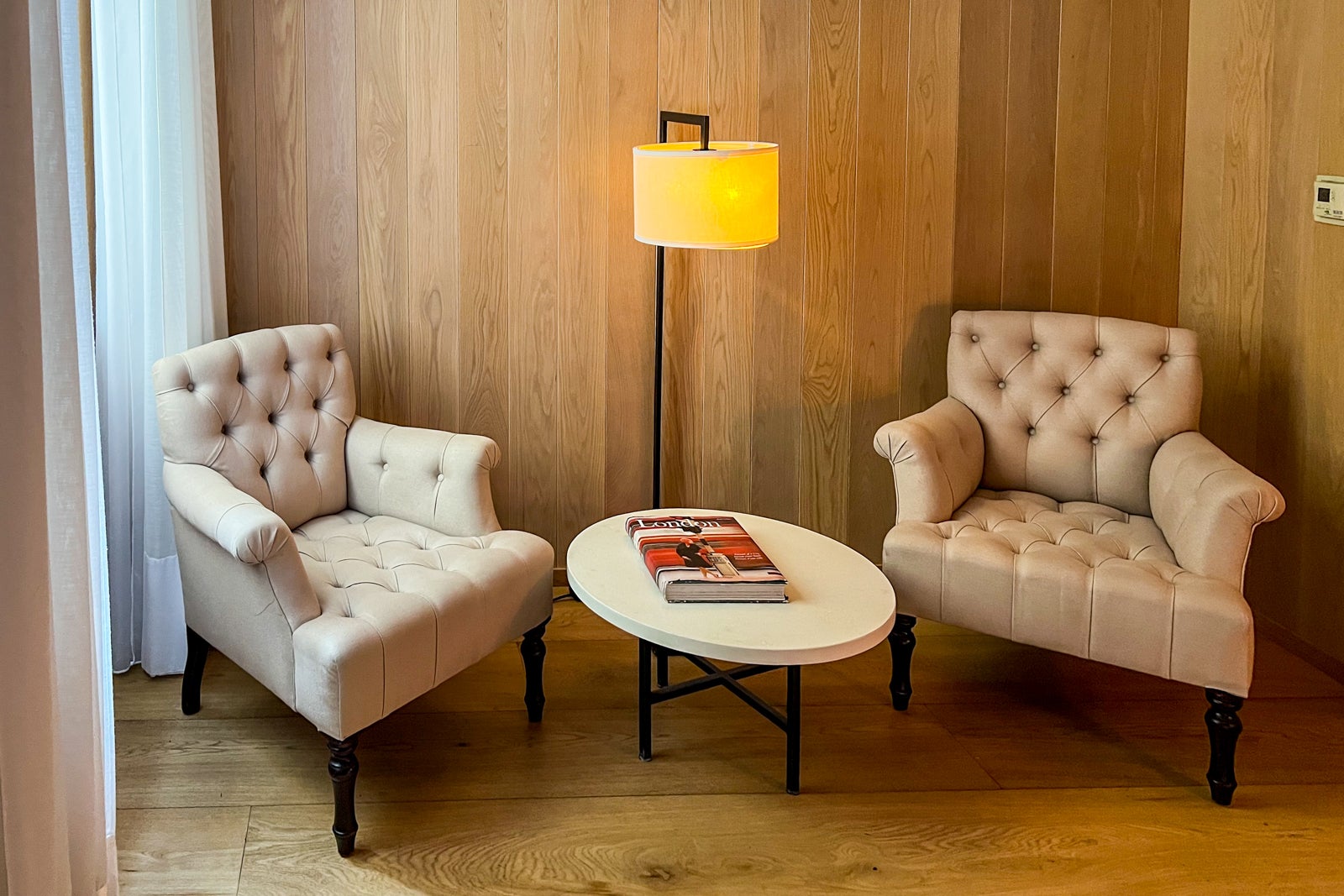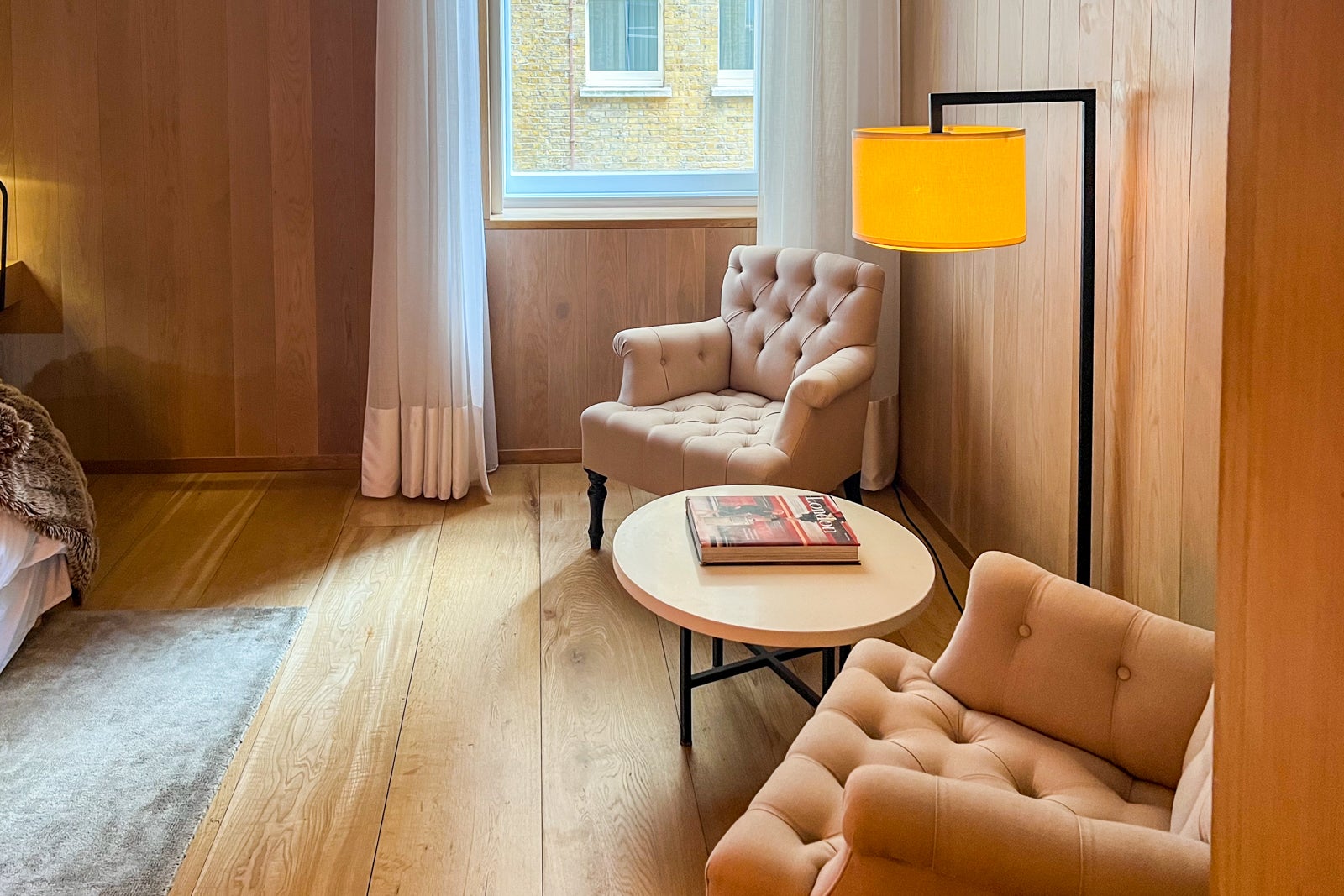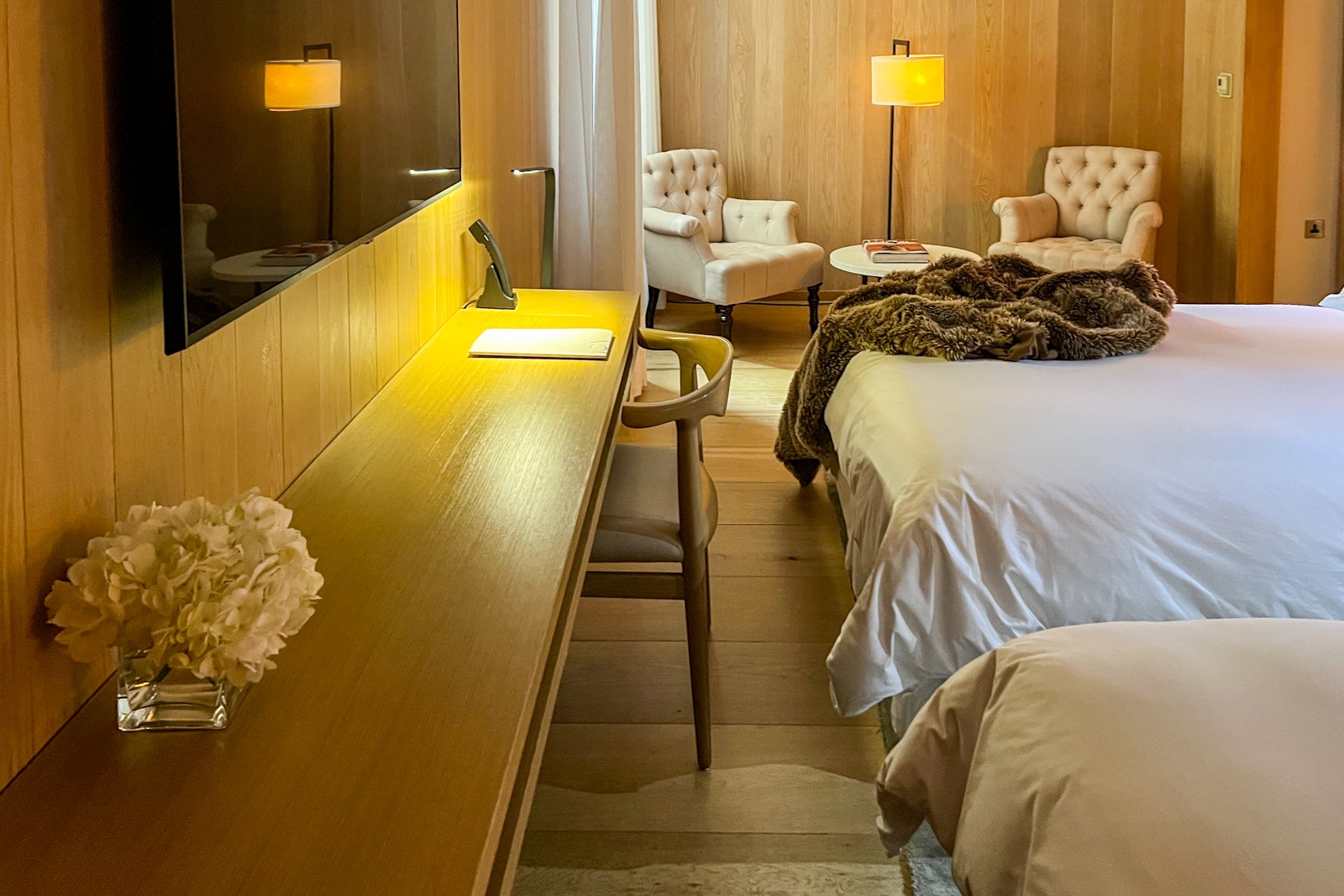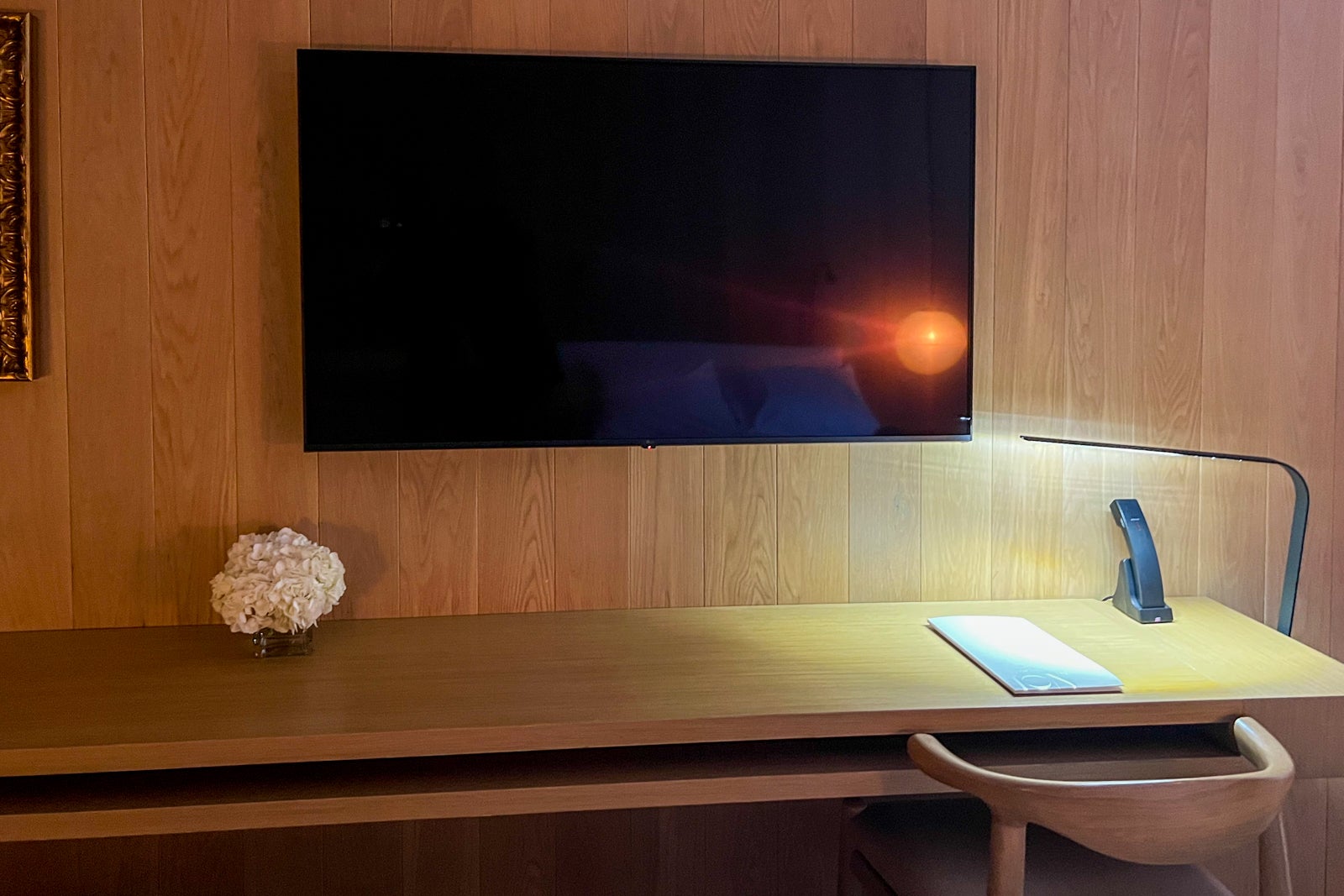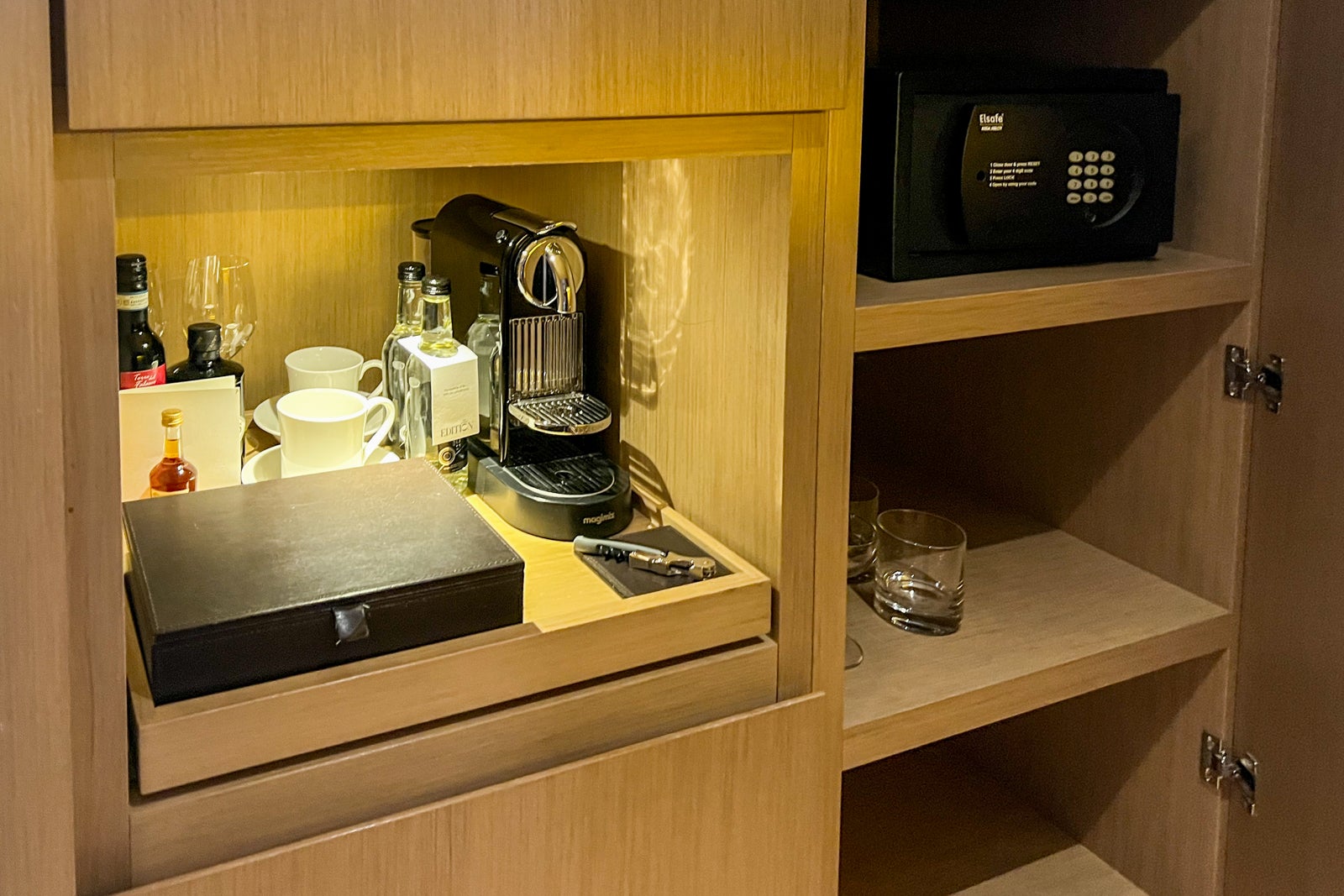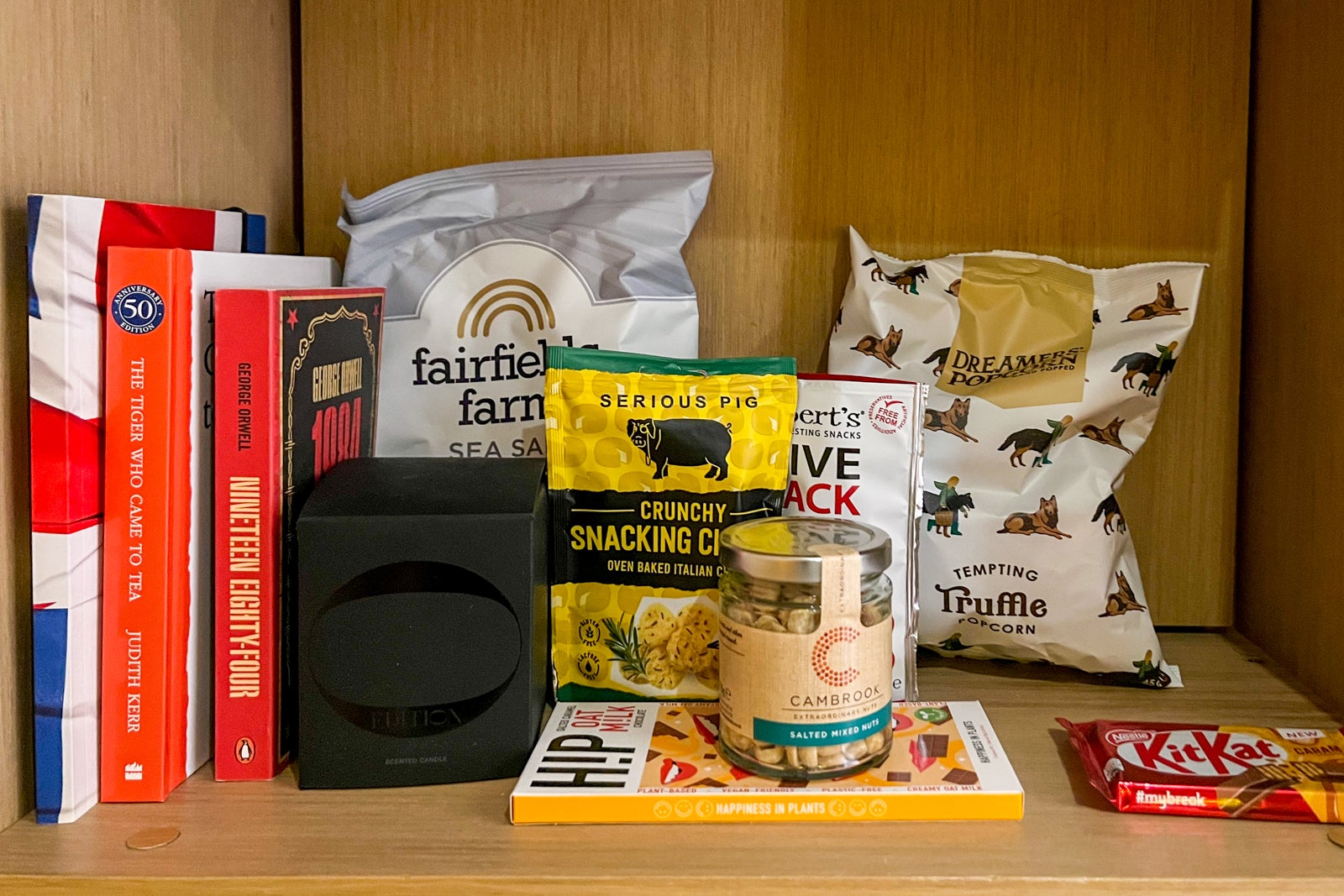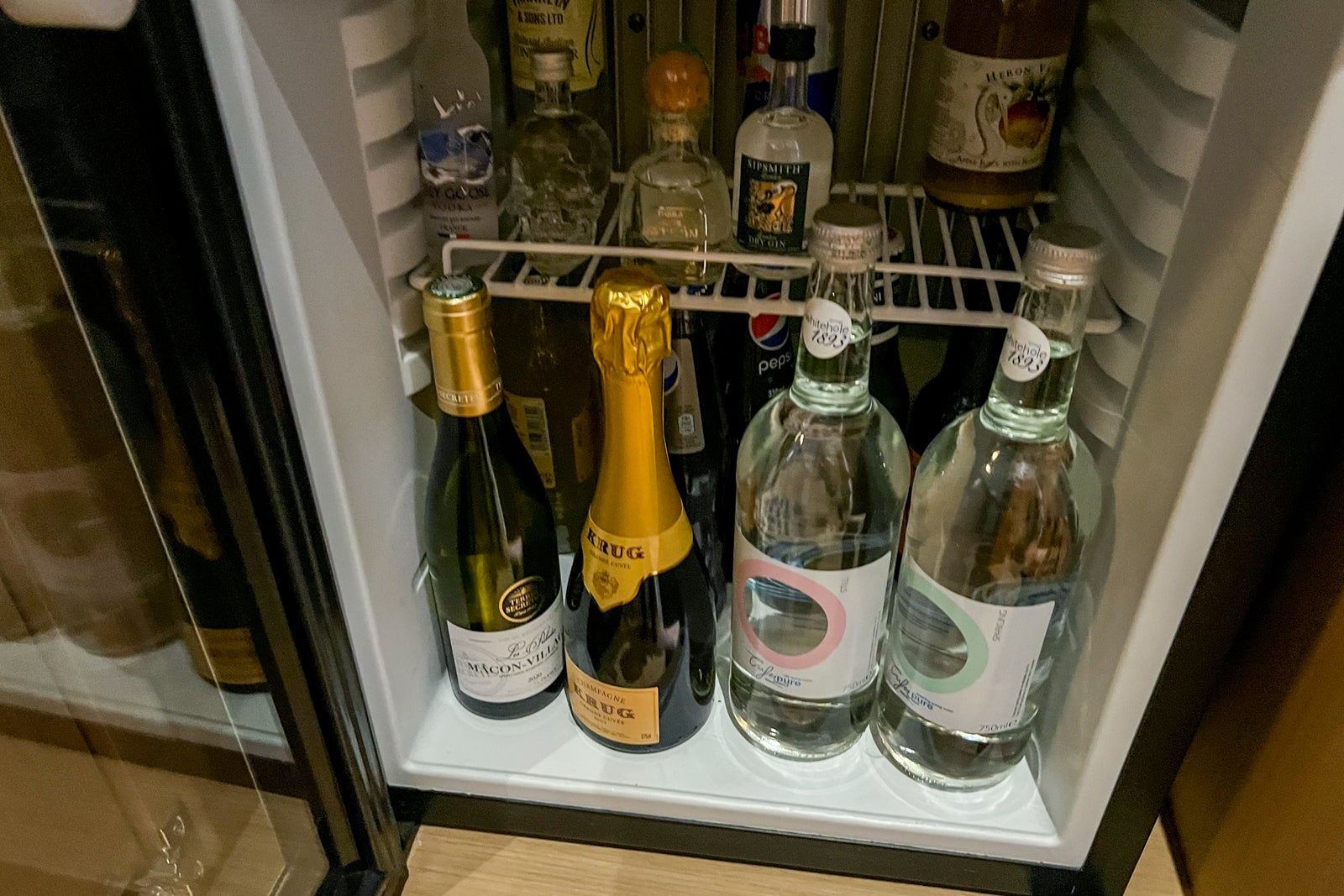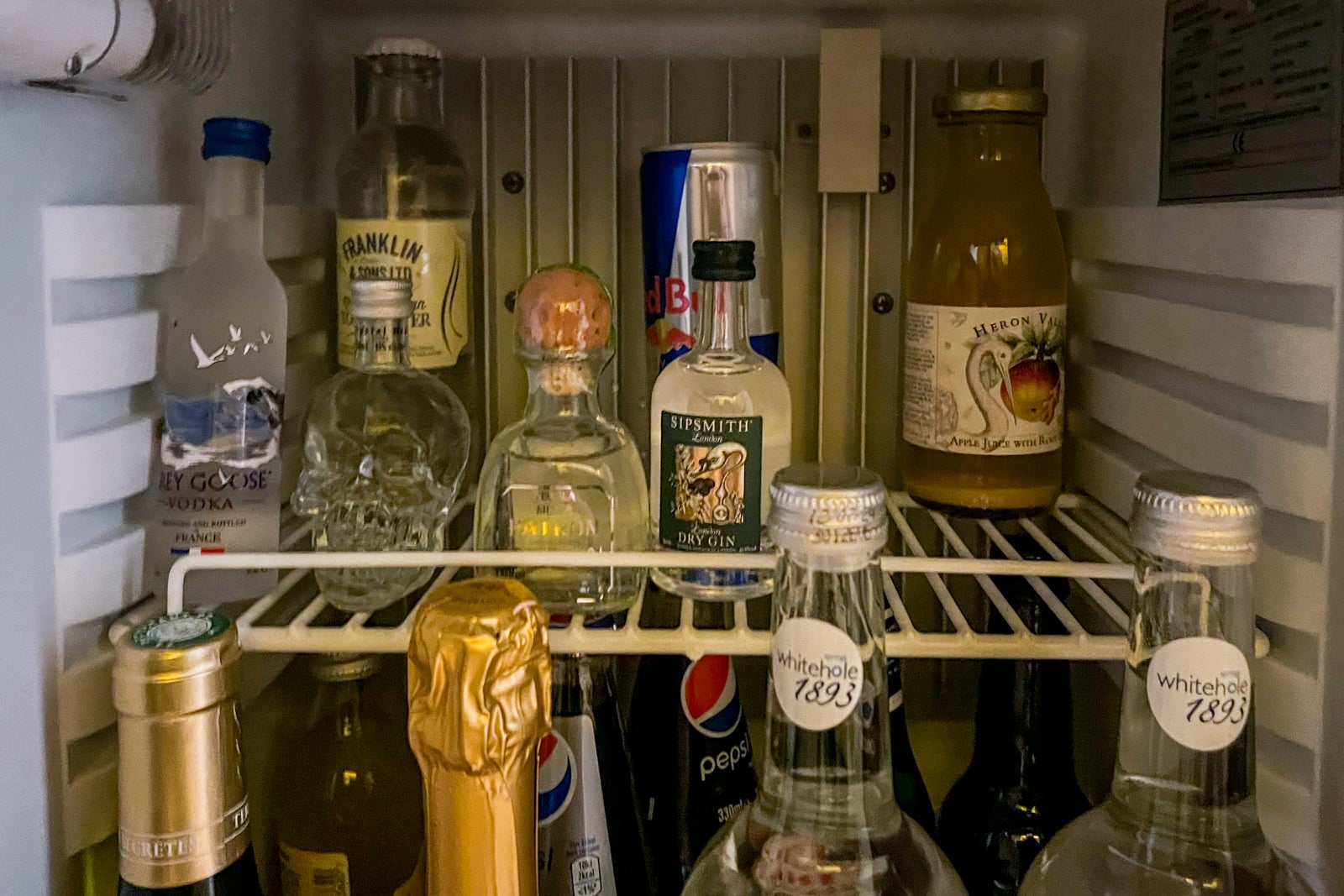 In standard rooms like mine, the sleek bathrooms are by the entrance. It was a highlight of my room, as it was light and bright — a stark contrast to the dim sleeping area.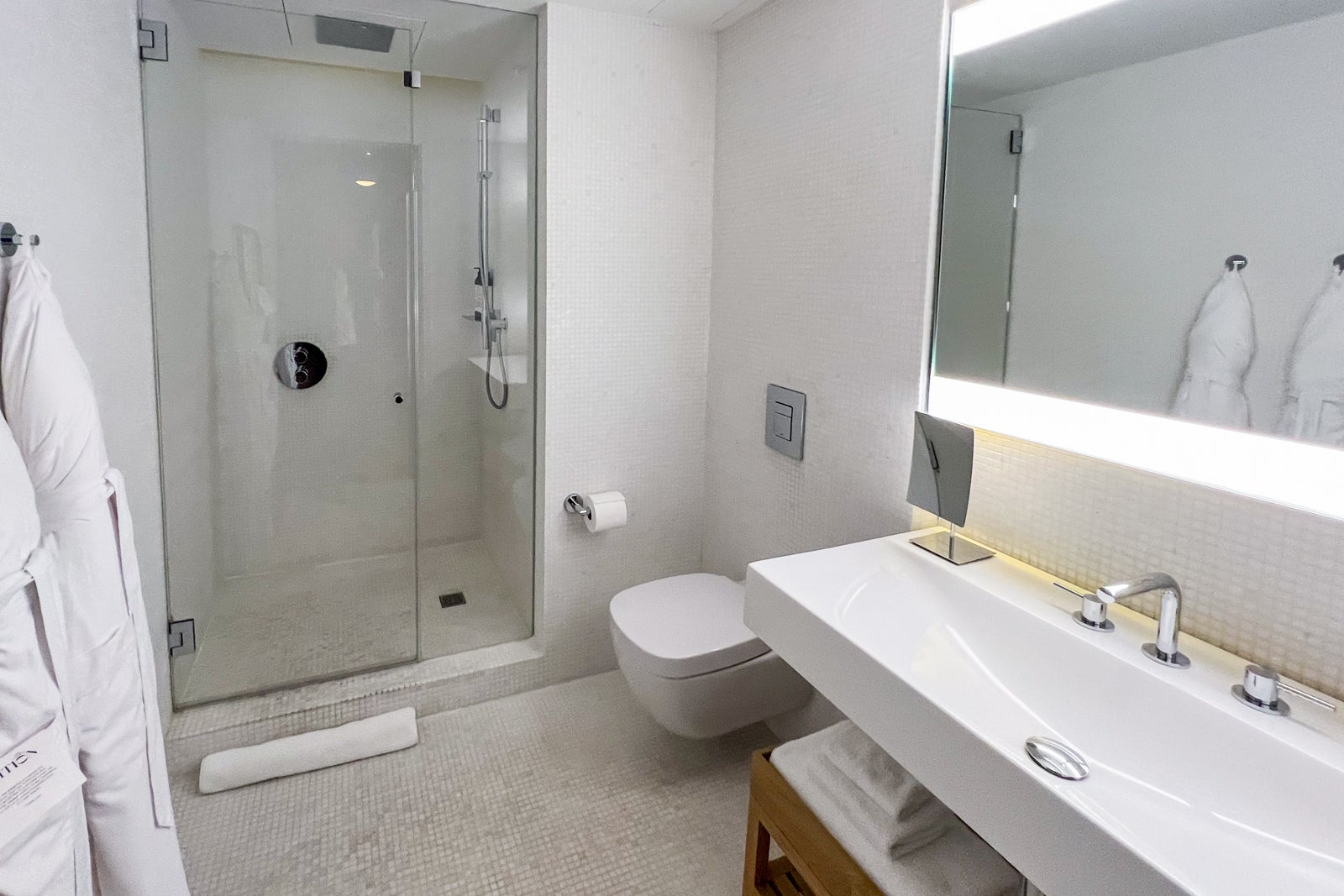 The all-white design is made up of white tiles that cover the floors, walls and walk-in shower stall. Natural wood elements beneath the long porcelain sink and on the wall for towels add an element of warmth to the space, and Le Labo toiletries in a custom woodsy, masculine scent provide a touch of luxury and exclusivity my travel companion and I loved.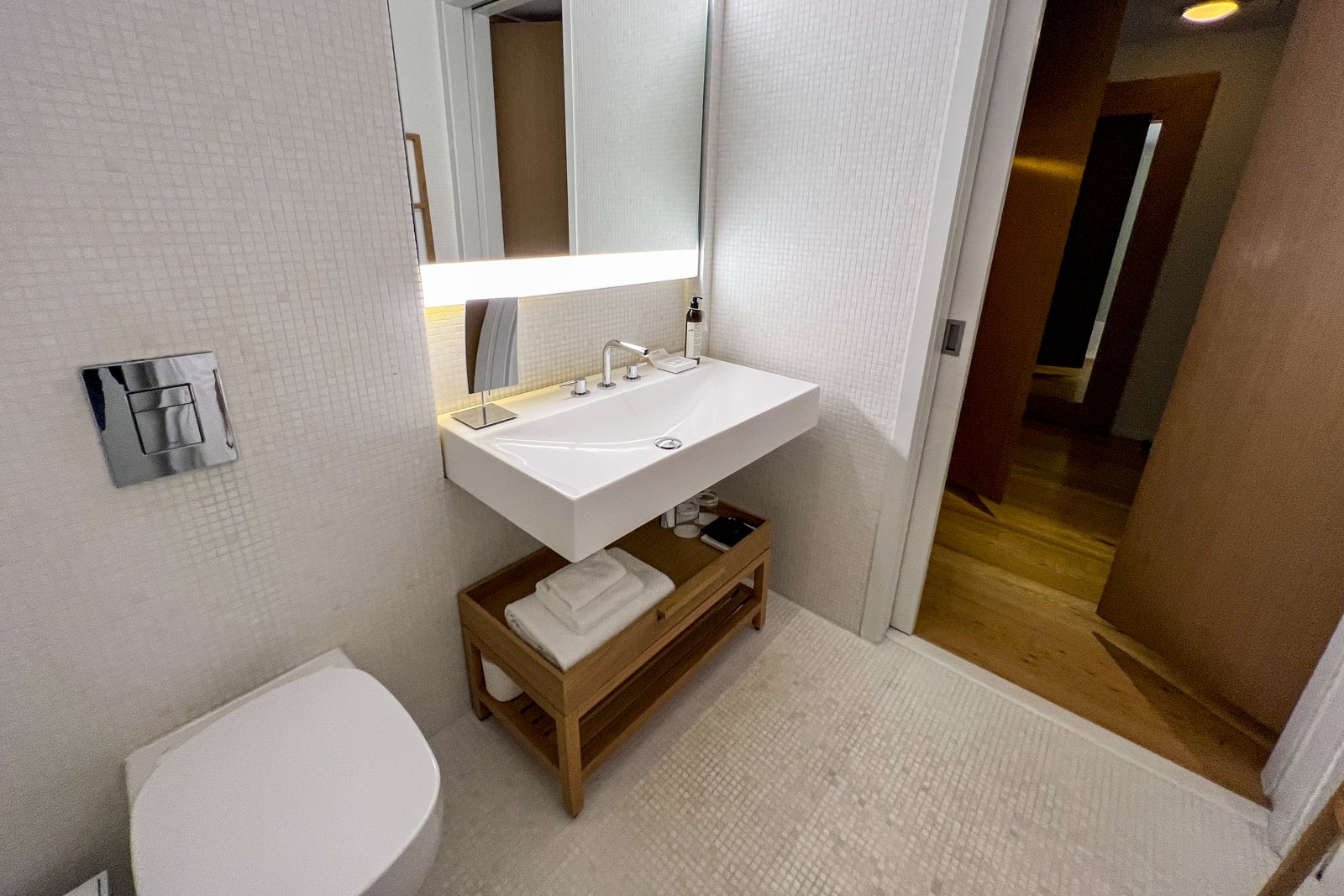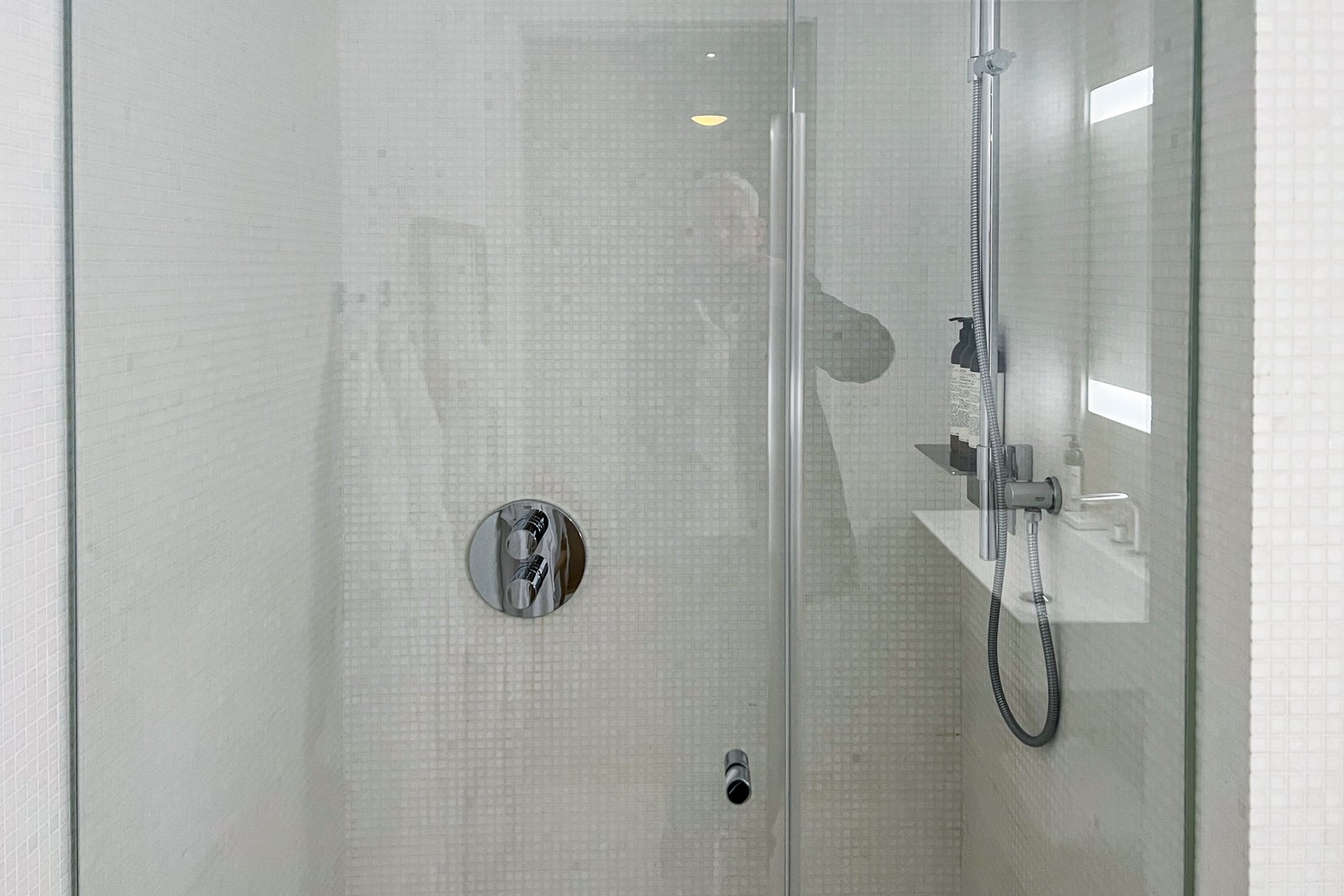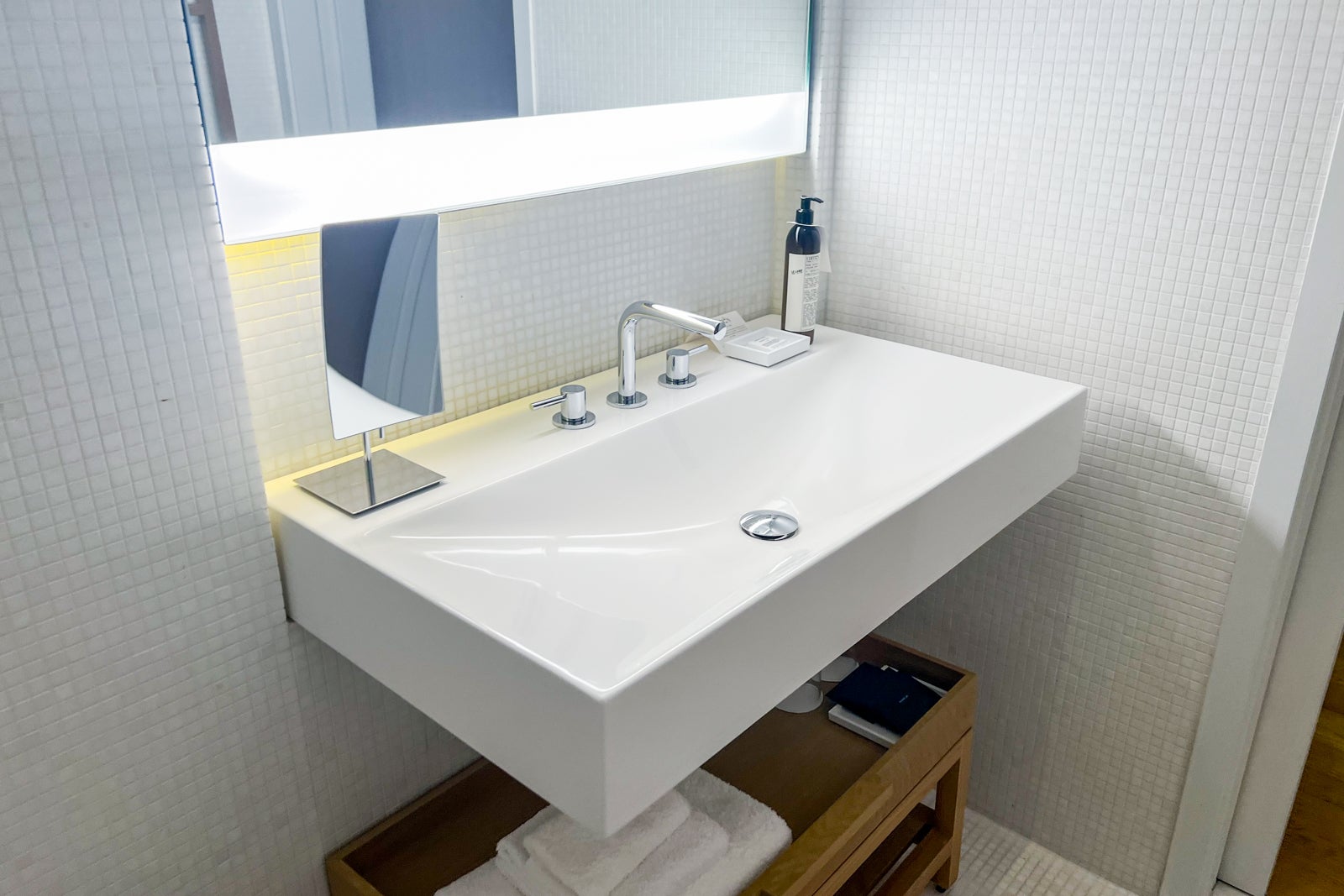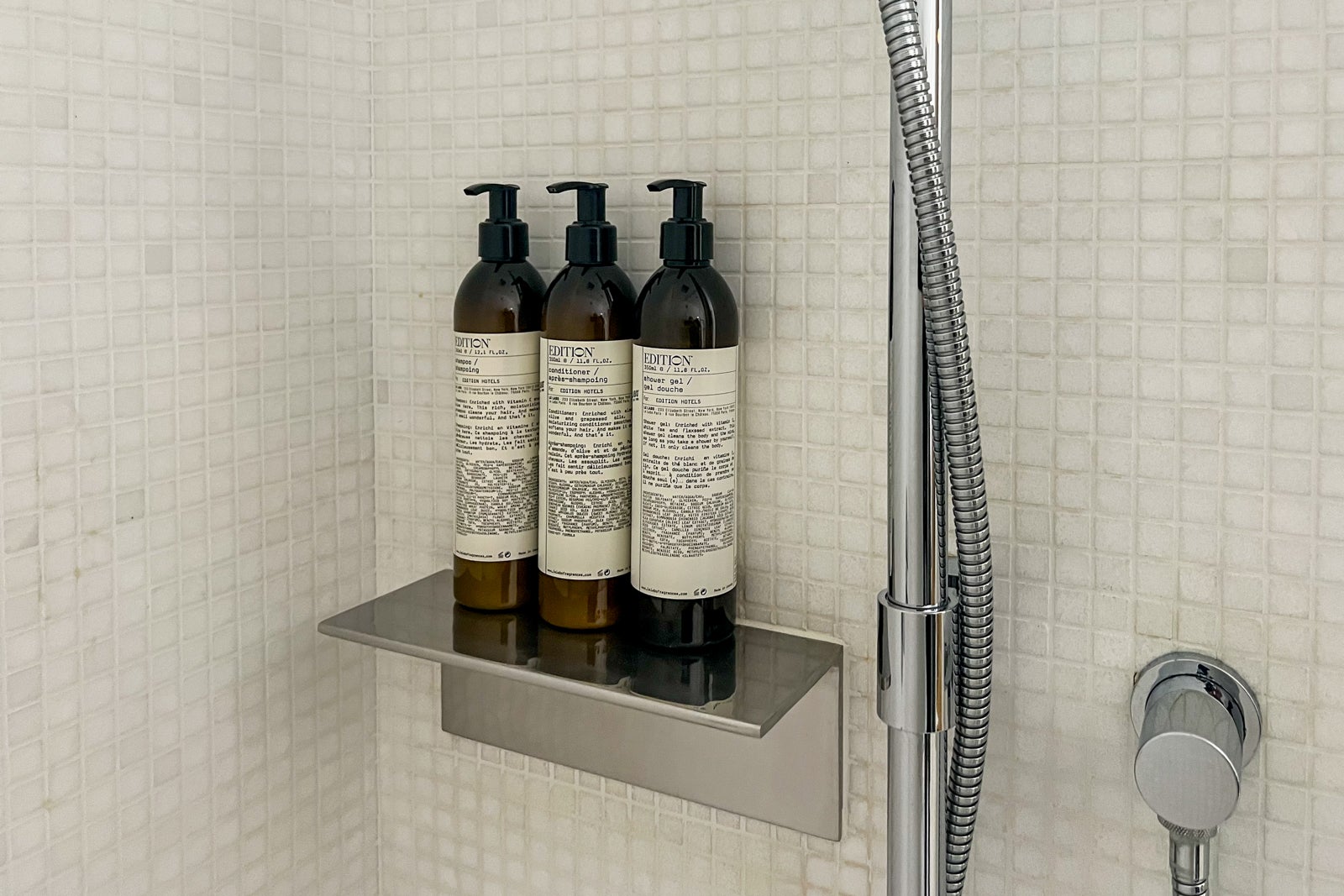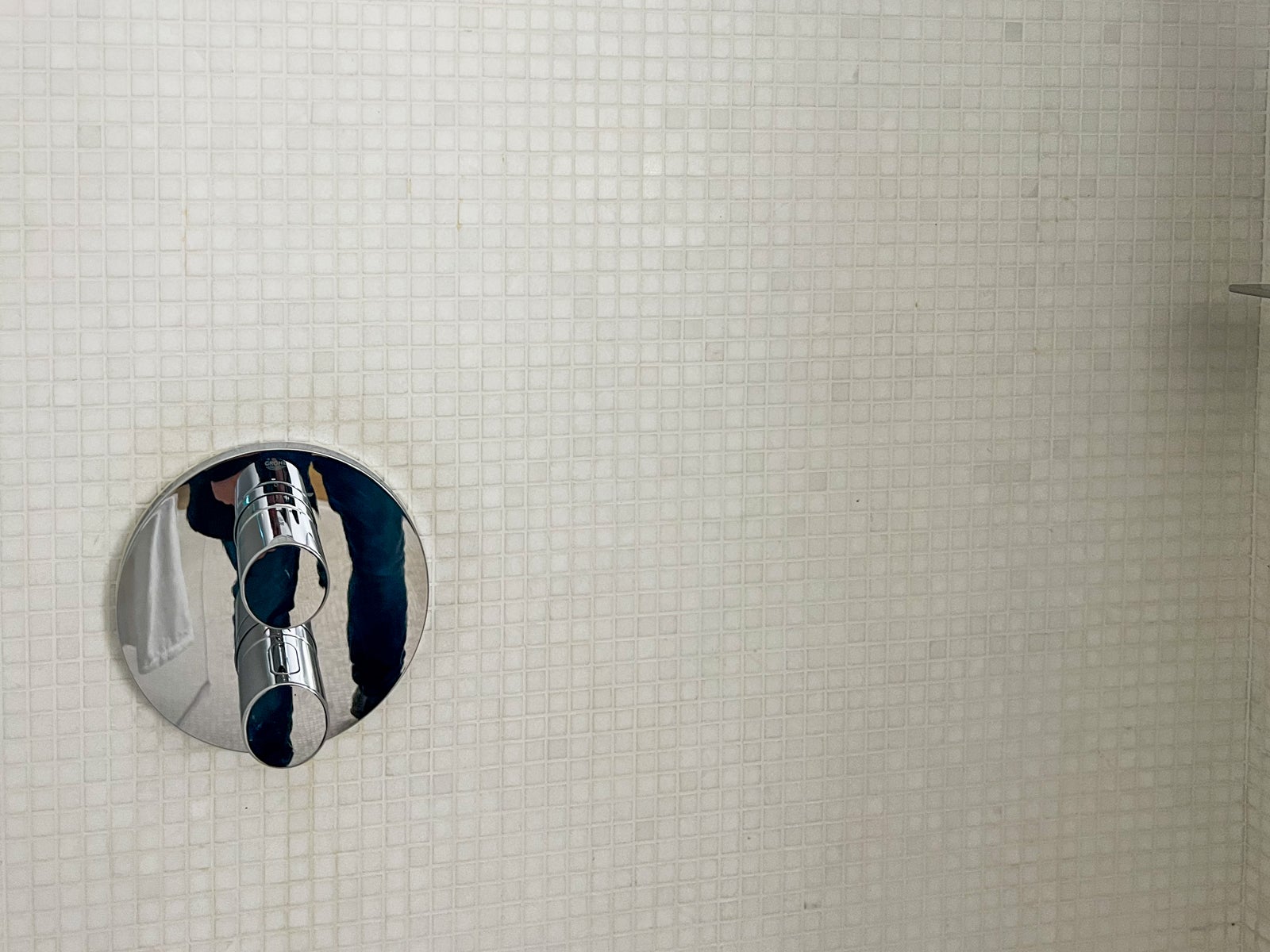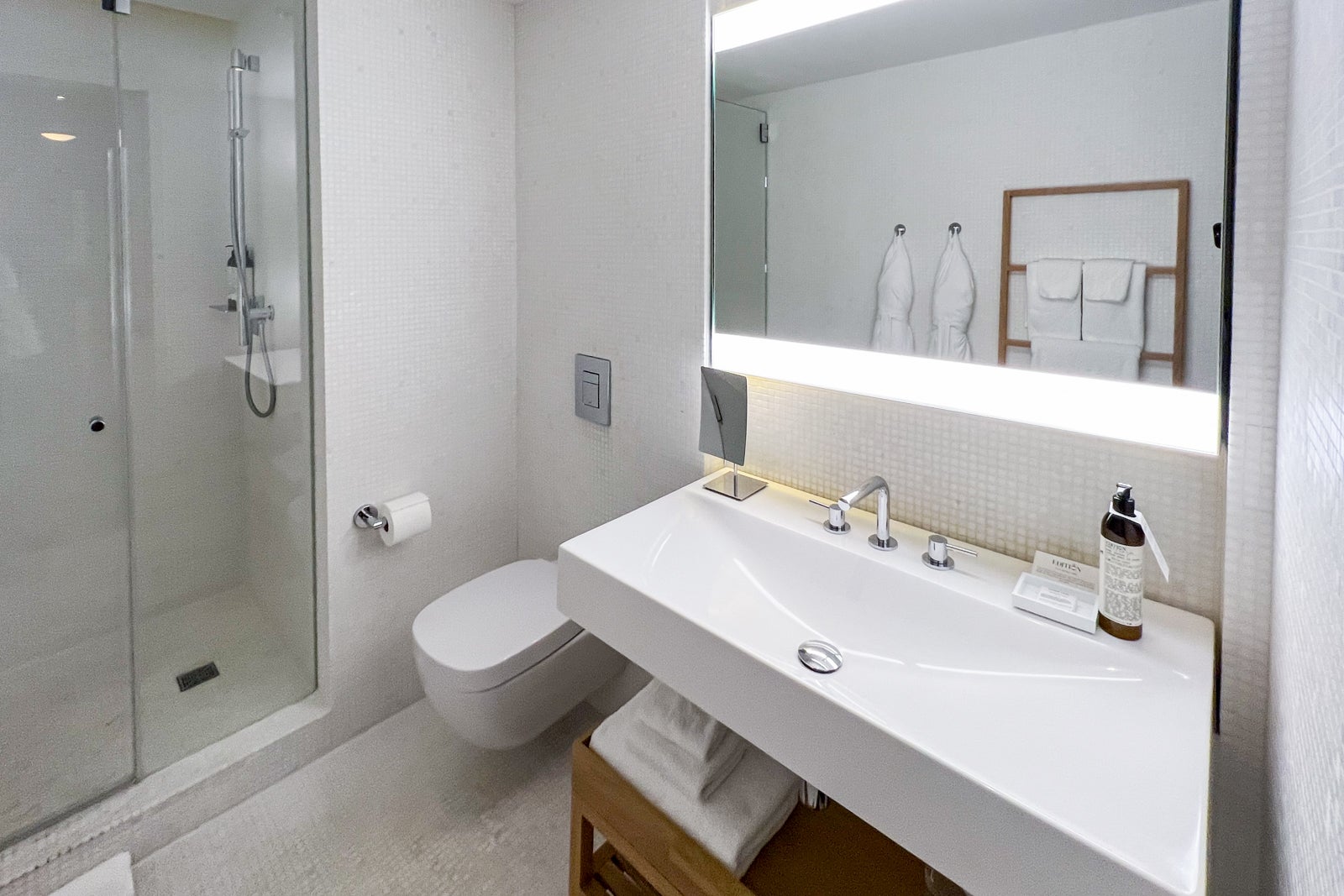 The water pressure and temperature in the shower were excellent as well. However, there was one downside to the otherwise flawless space: Per U.K. regulations, no power outlets are permitted inside bathrooms, so you won't be able to use items like blow dryers and hair straighteners in the light-filled room.
Related: 18 of our favorite points hotels in Europe
The fitness center is small but adequate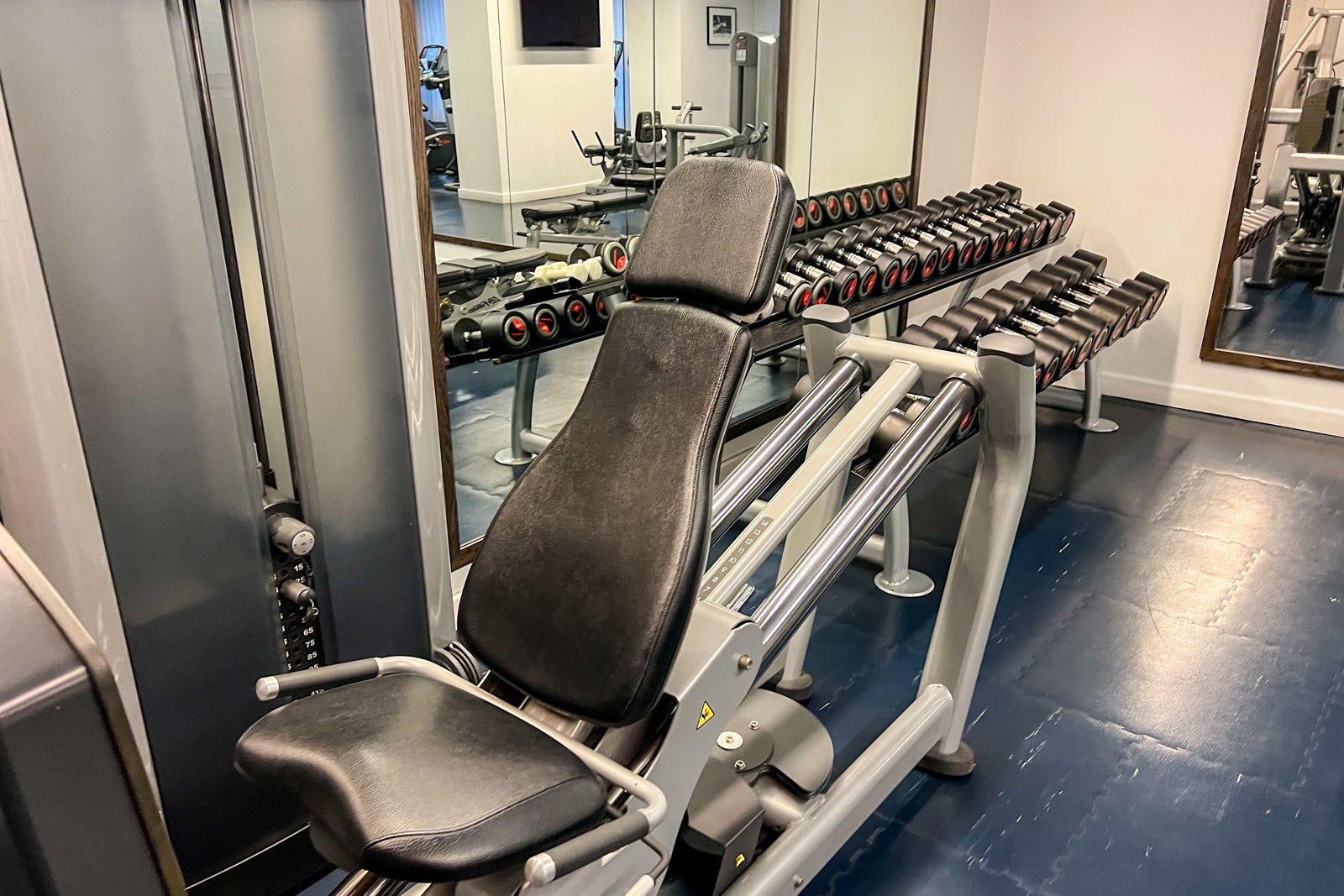 Much like the rooms, the on-site gym felt a bit too compact for my liking, though you'll find enough equipment and machines to get the job done. There are several Life Fitness machines for cardio and weight-training workouts, as well as a selection of free weights.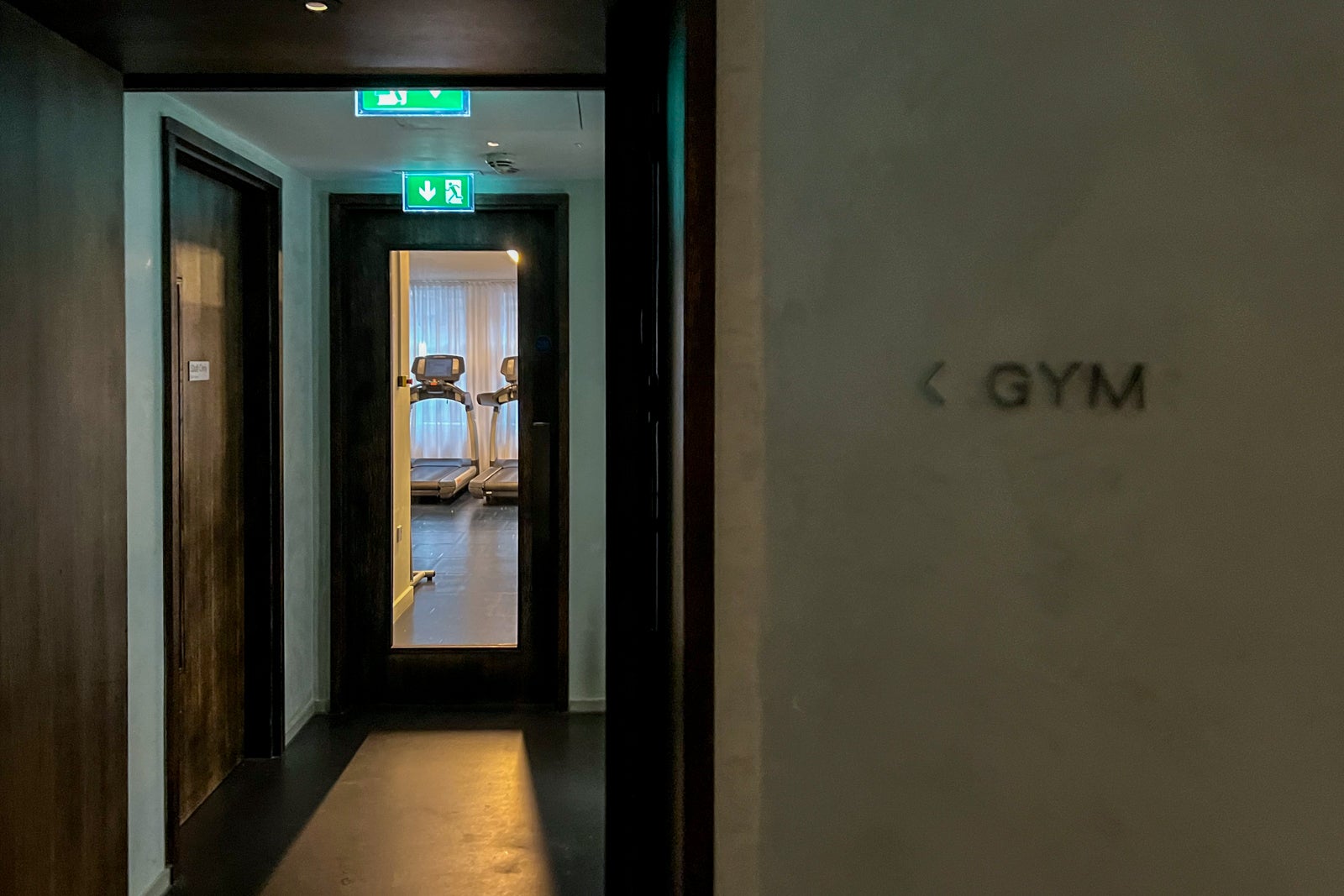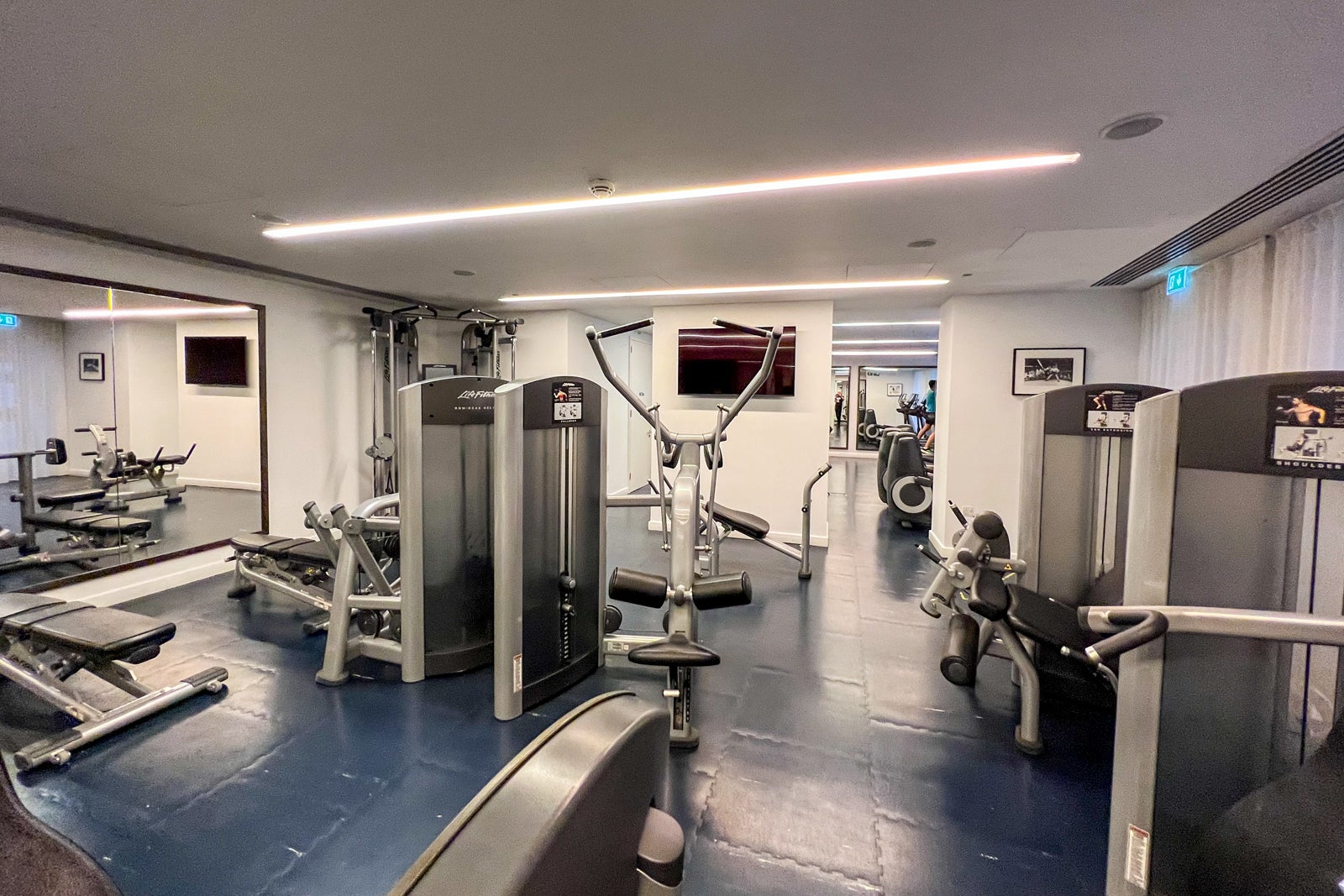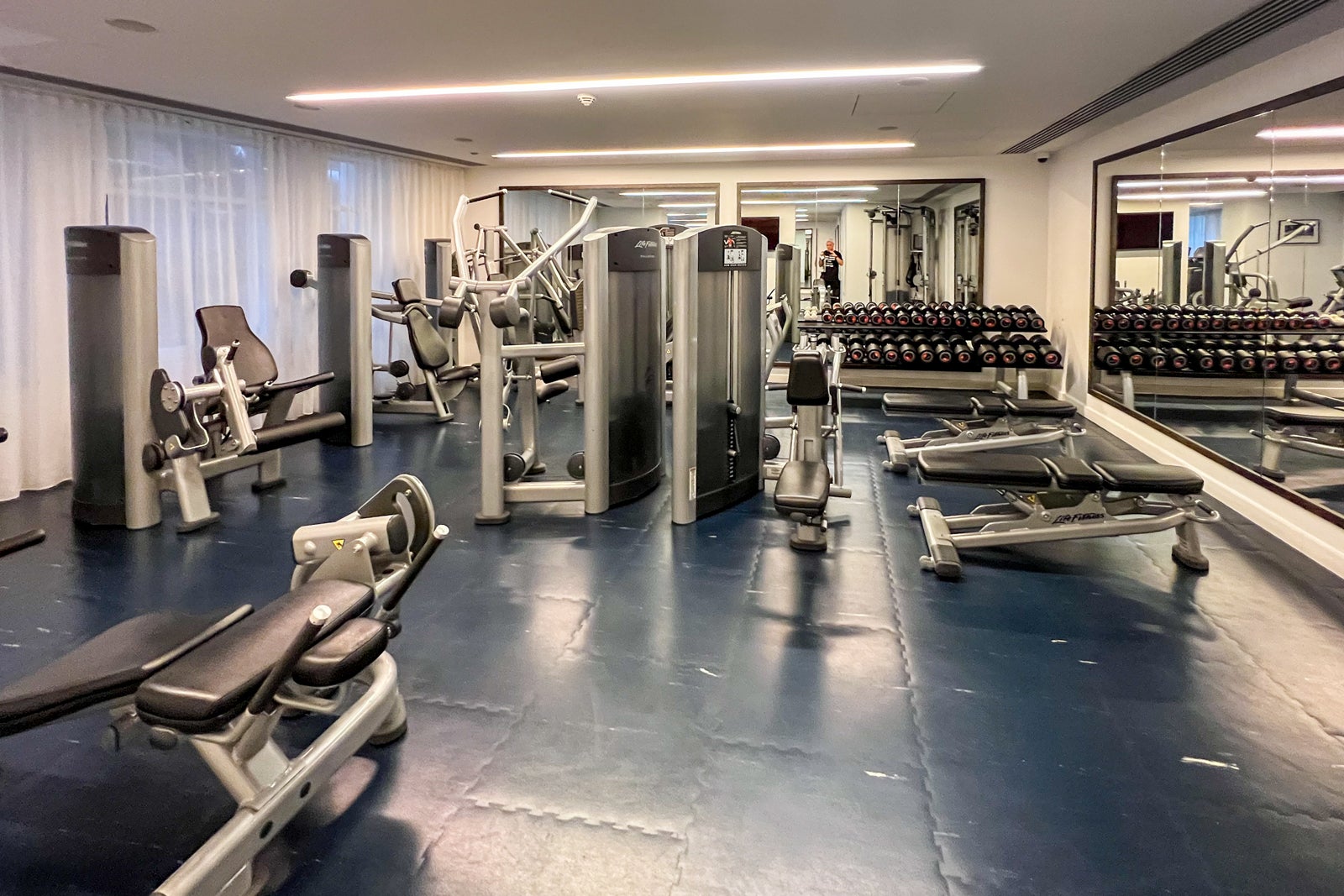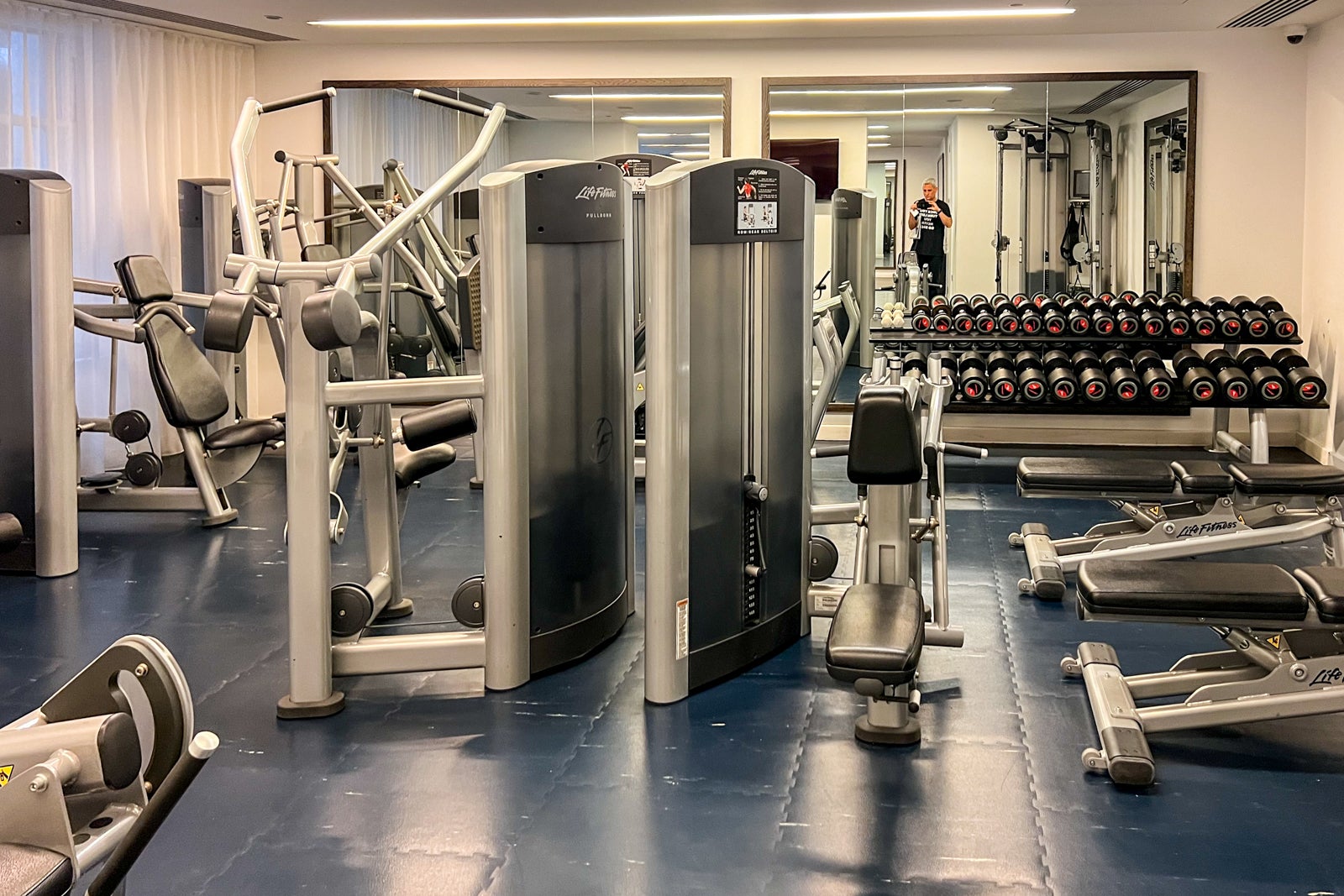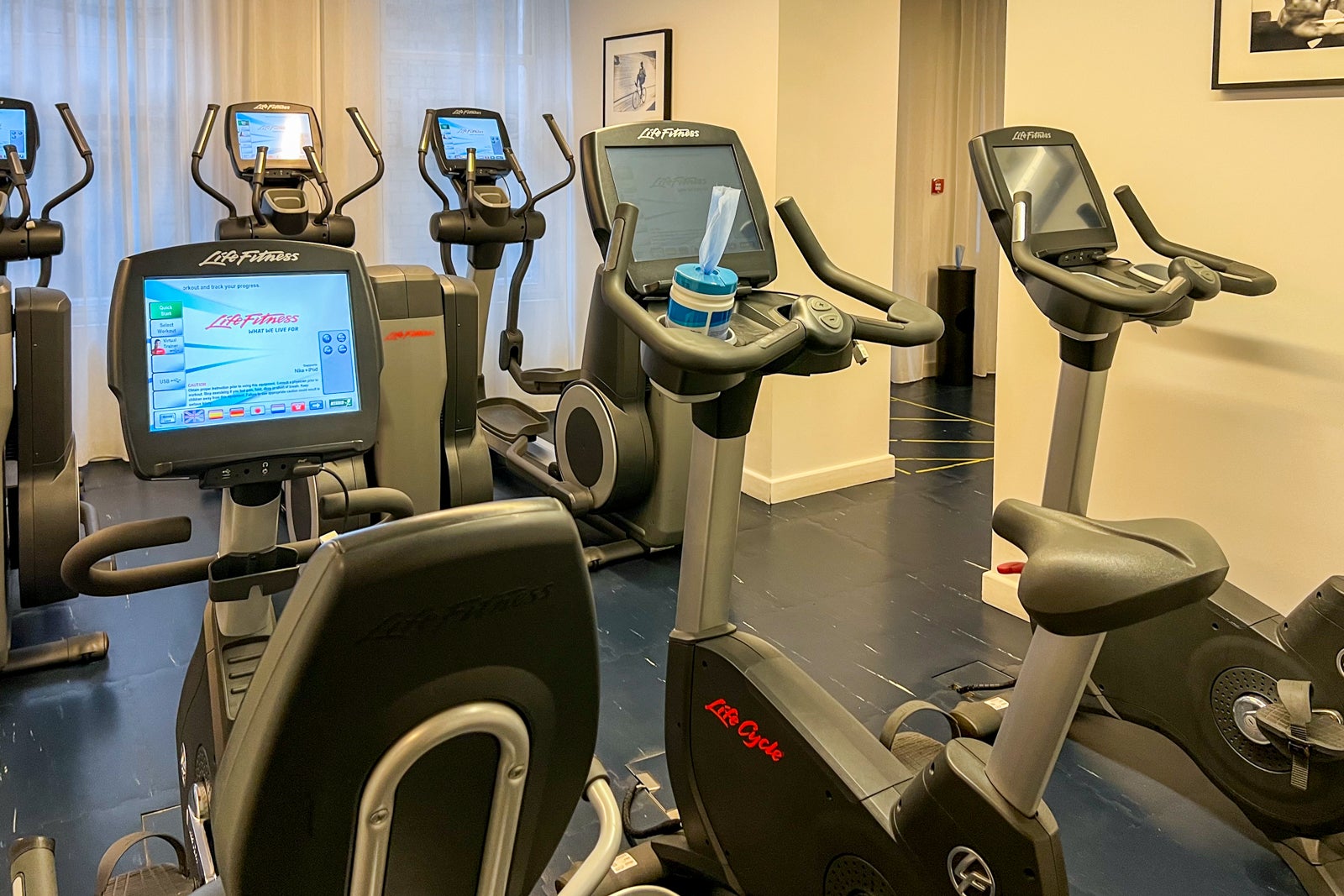 The fitness center is open 24 hours a day, so you can take full advantage of the facility whether you prefer to exercise in the morning, at midday or at night. Another bonus: The gym is stocked with complimentary towels, headphones and drinks.
Related: 17 of the best hotel gyms in the world
Foodies will appreciate the on-site dining options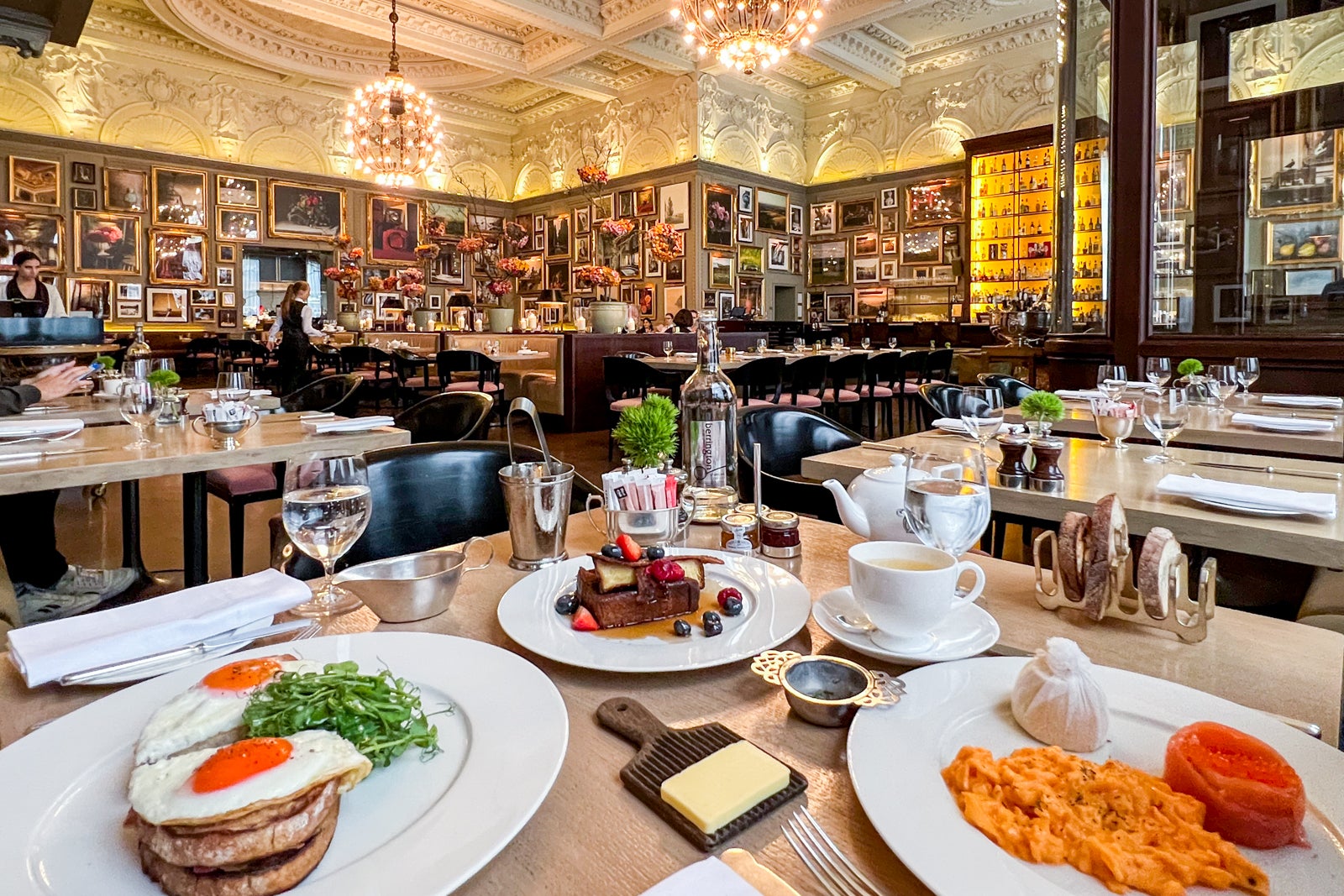 In addition to having access to 24-hour room service, guests can visit one of the property's three food and beverage outlets — Berners Tavern (the main restaurant), the Punch Room and the Lobby Bar — when they're in need of some sustenance.
Berners Tavern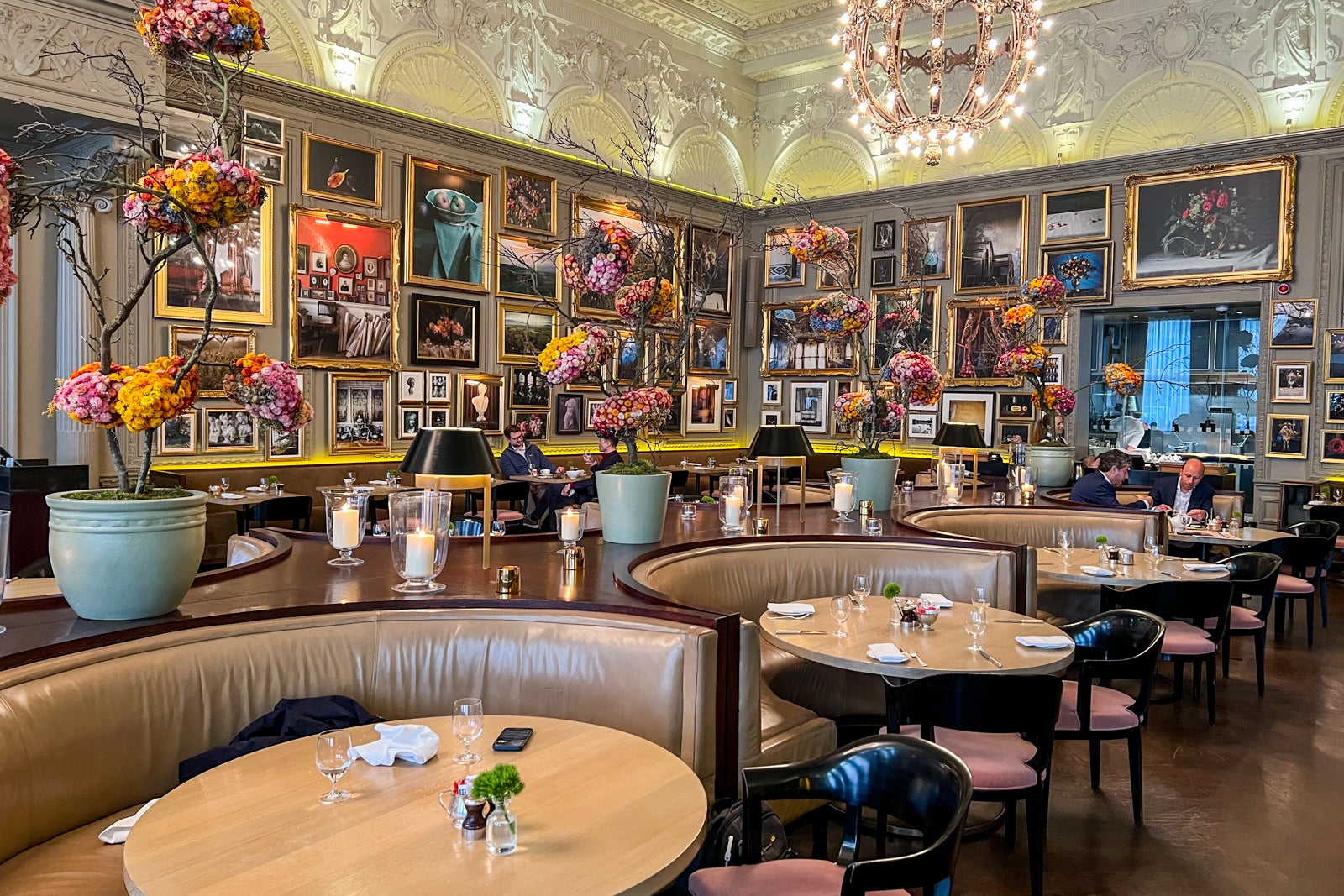 Berners Tavern is a place to see and be seen, especially for dinner. As such, you'll want to lock in your dinner reservations as soon as possible since it can be tricky to get a table.
I didn't try to get in for a proper supper during my visit, so I instead opted to visit for breakfast one morning. I was thoroughly satisfied with everything I tried, including the Crispy Dingley Dell sandwich with bacon, onion jam and two fried eggs for 19 British pounds ($24) and the brioche French toast topped with bacon, berries and maple syrup for 15 British pounds ($19).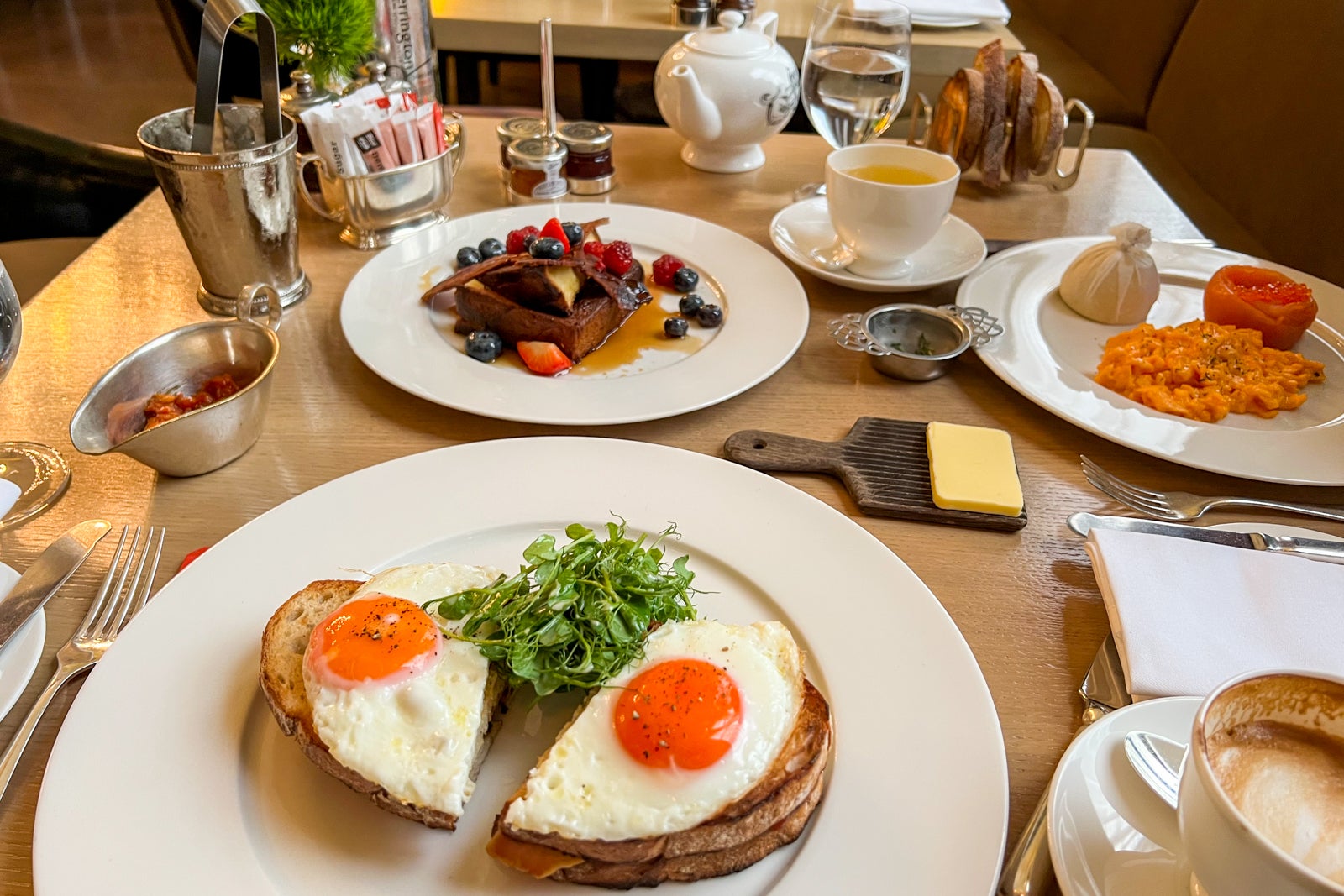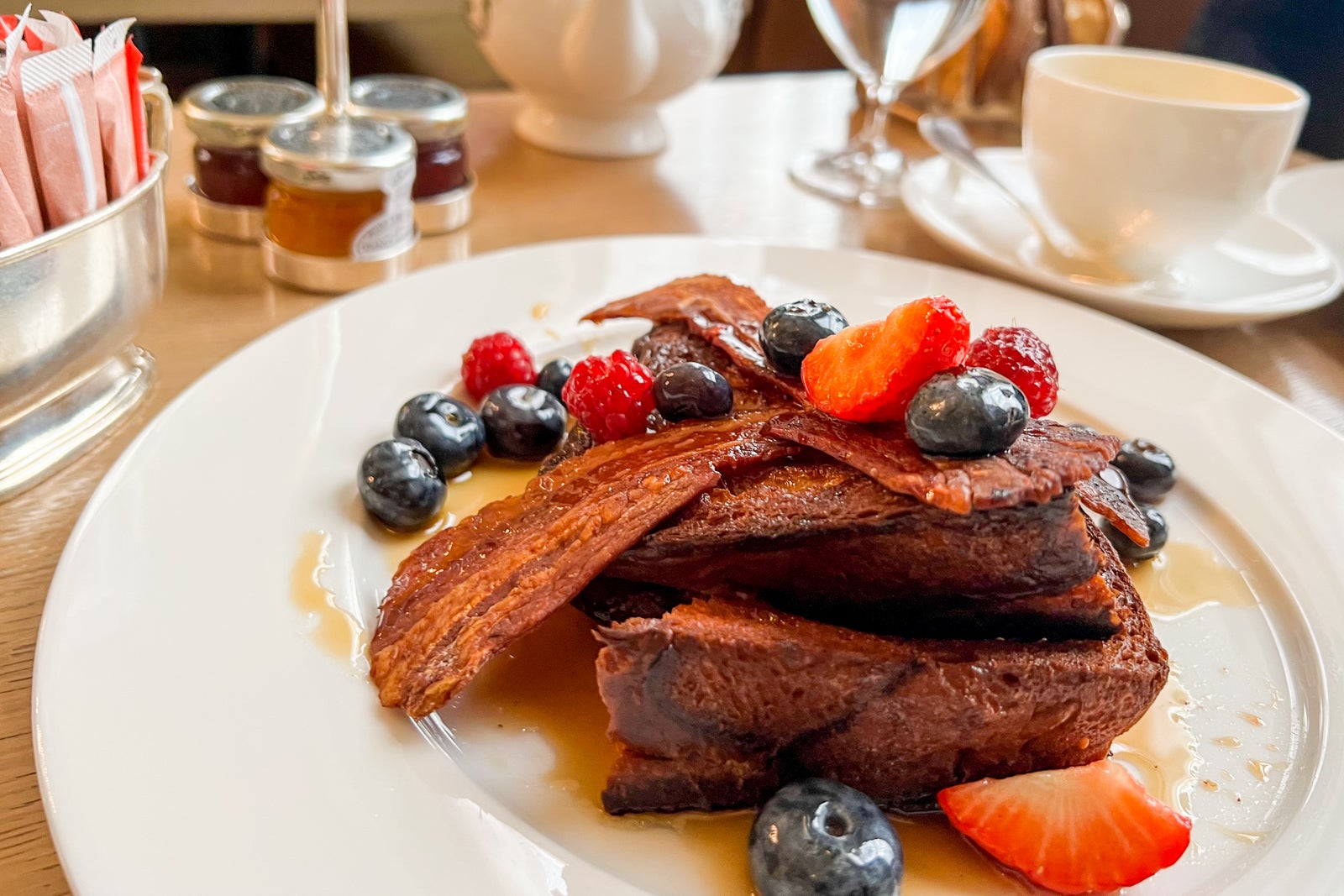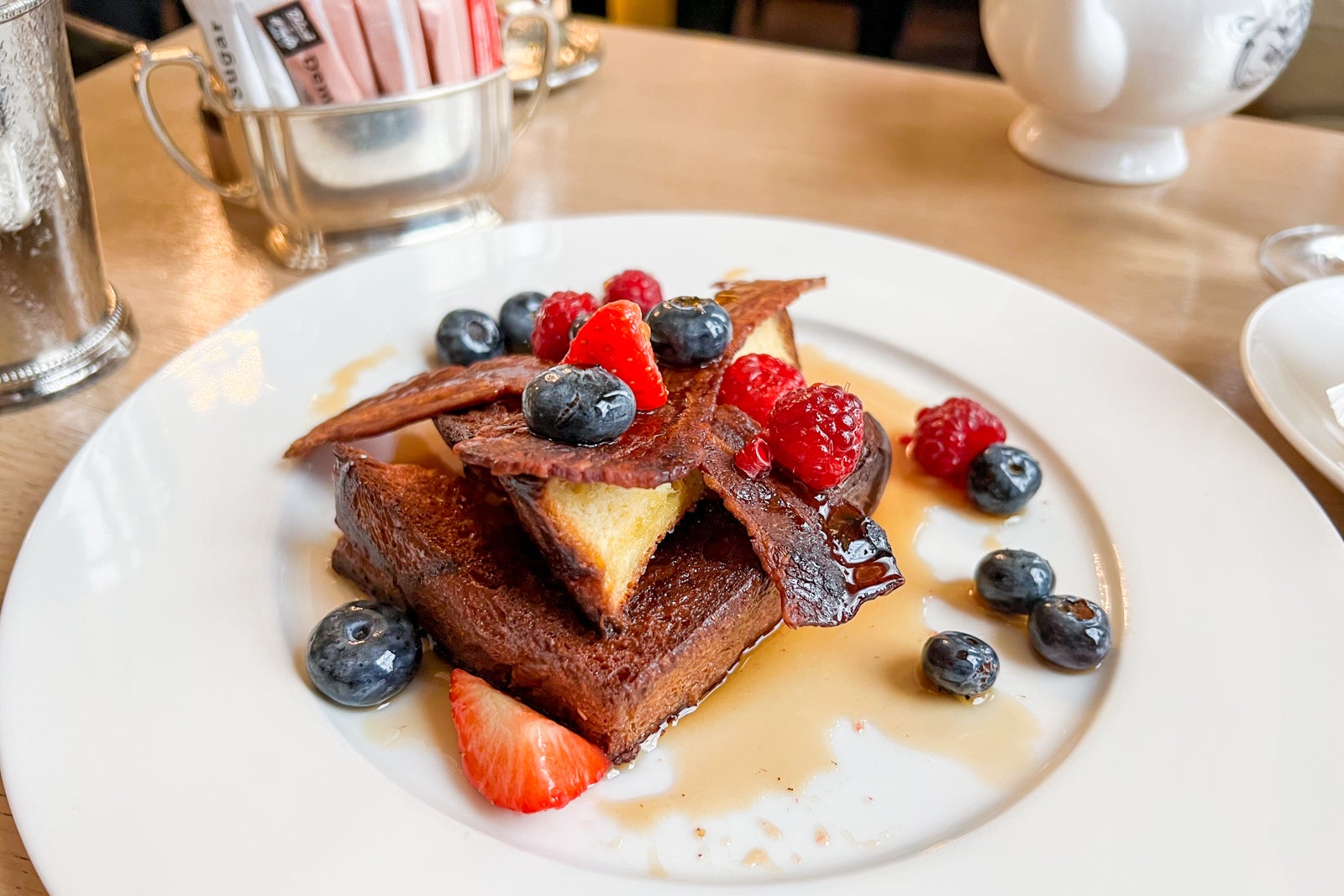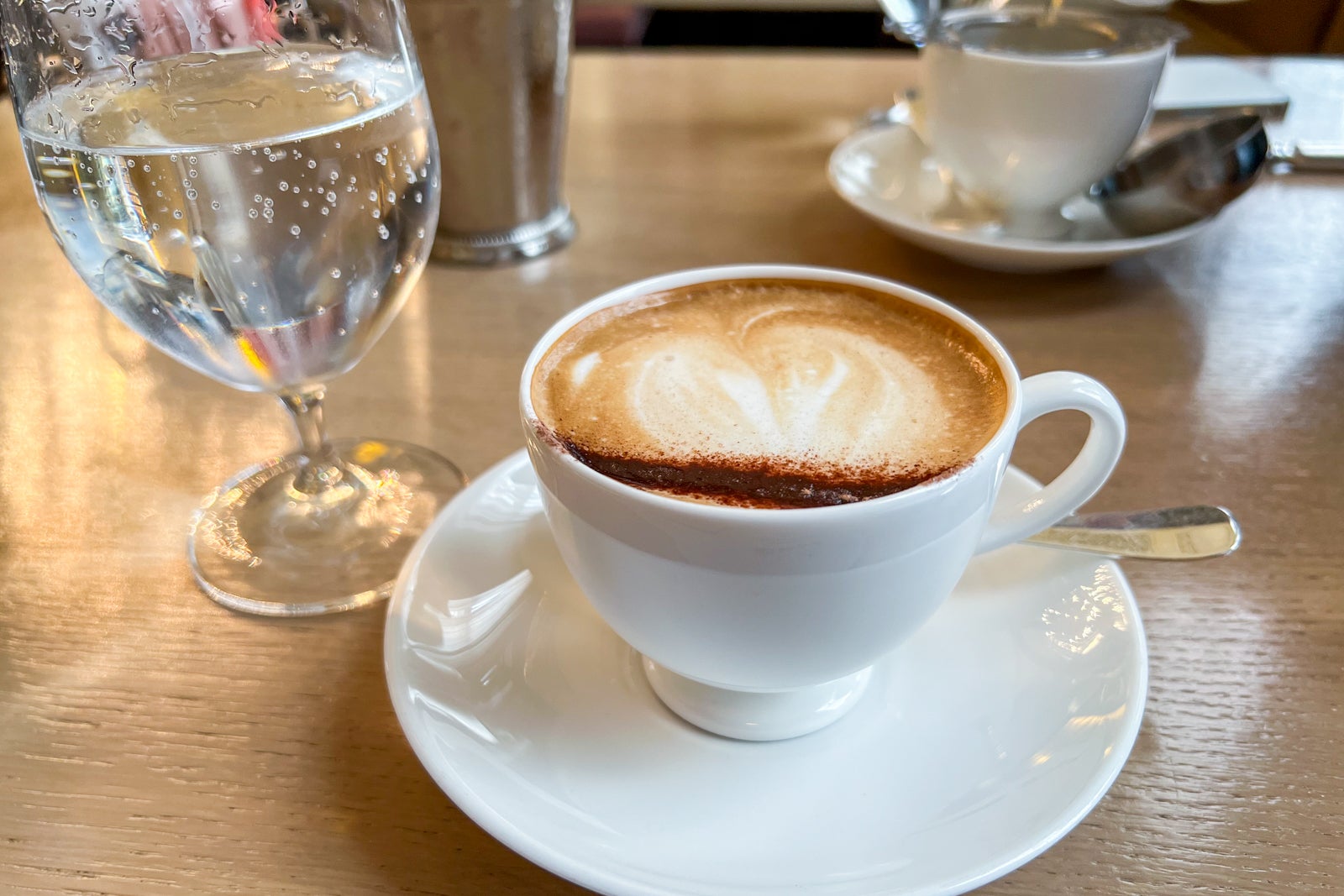 While the delicious comfort food was enough to win me over, what set this restaurant apart from typical breakfast spots was its spectacular environment. The airy venue, which features walls of traditional art and massive chandeliers hanging from beautiful intricate ceilings, has an Old World vibe fitting of the historical building in which it resides.
Punch Room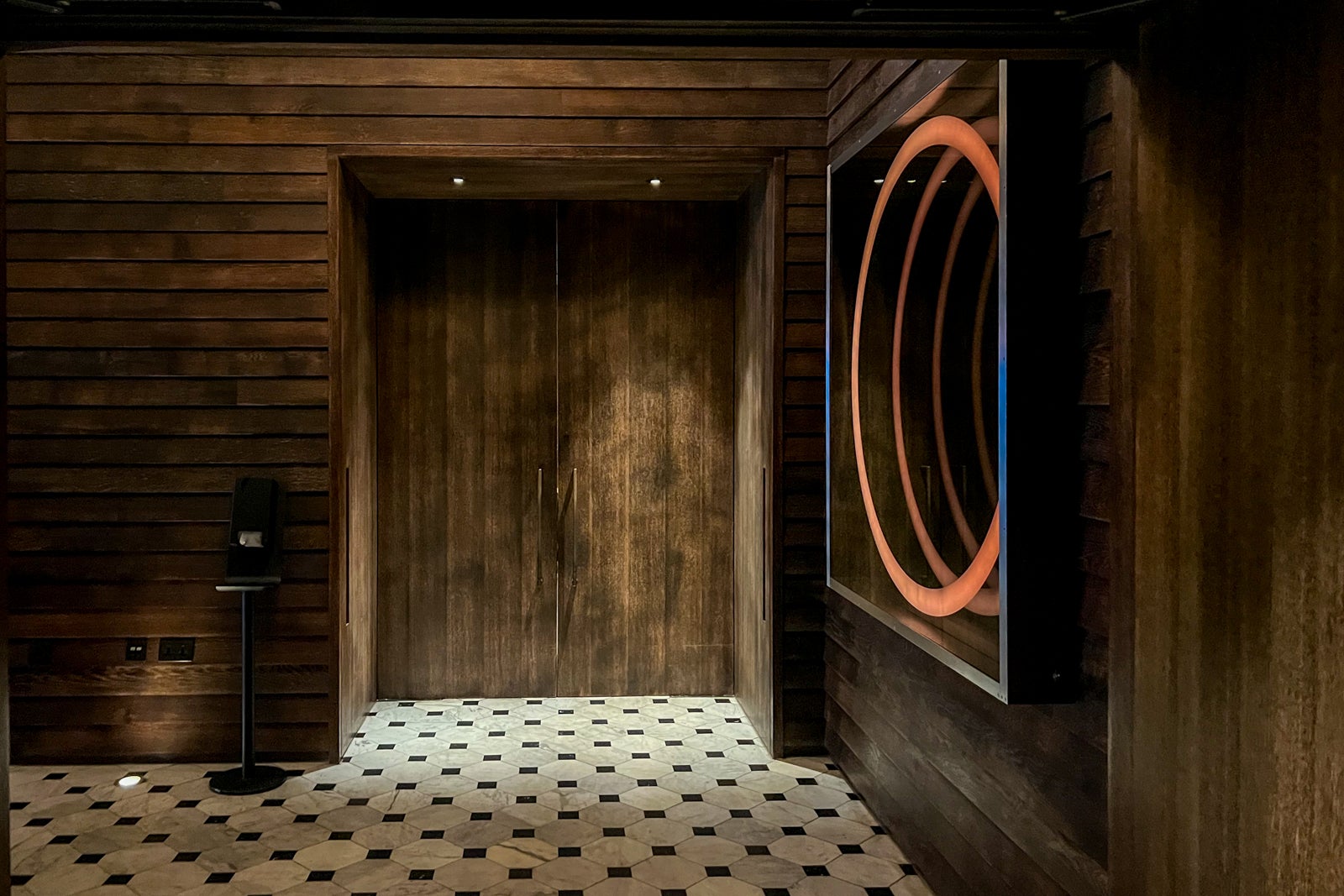 If you like moody speak-easies, odds are you'll enjoy the hotel's Punch Room venue. The intimate, dimly lit bar, which draws inspiration from the private clubs open throughout London during the 19th century, has two rooms and a lovely fireplace.
The space attracted a well-dressed crowd of night owls when I stopped by, and the service was excellent.
When you visit, you'll get a complimentary first round of a sweet aperitif — the signature Milk Punch. Then, you can pick from a variety of drinks inspired by light and how it appears on visible objects.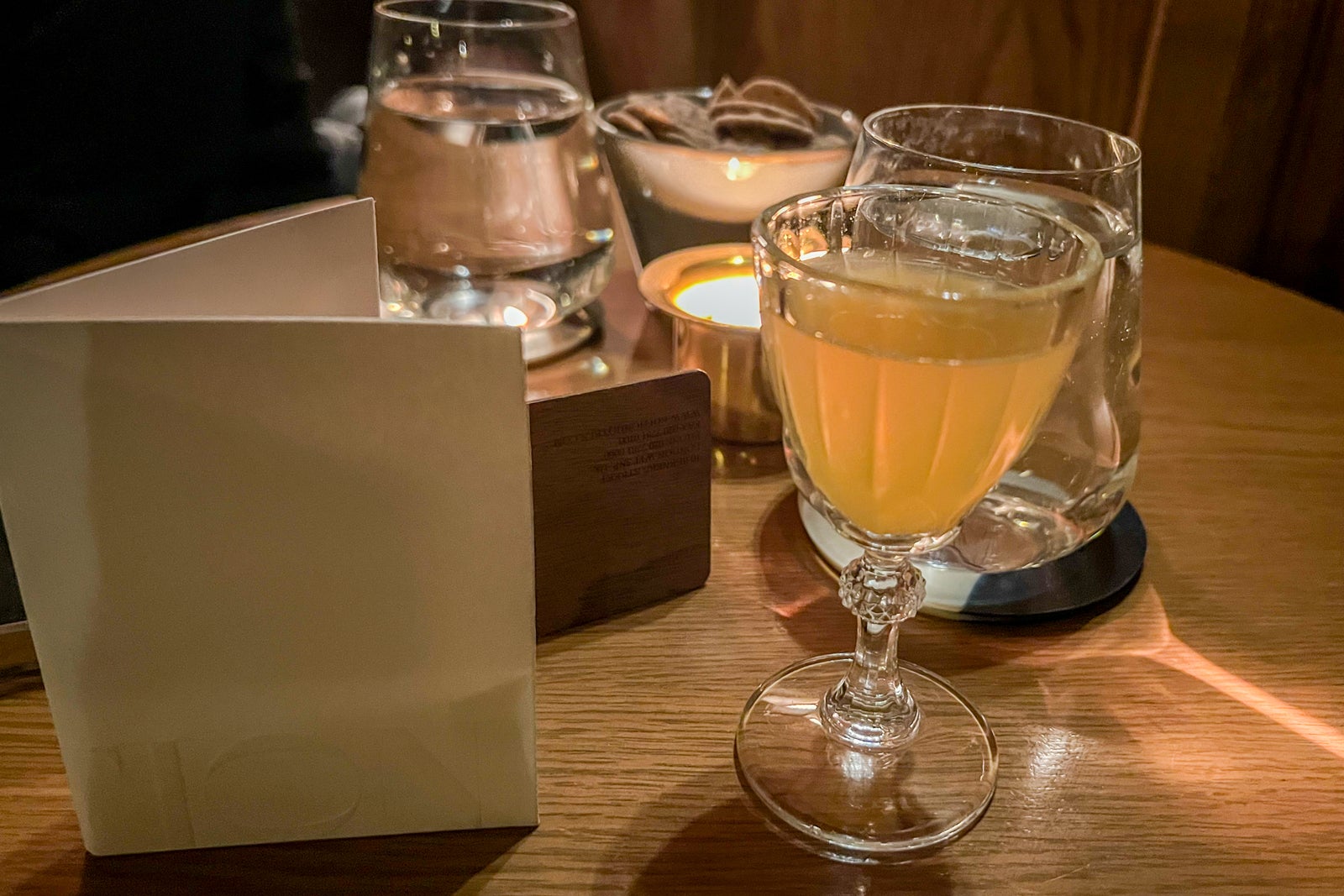 For example, I ordered a mocktail in the "Opaque" section of the menu called the Calima Punch for 12 British pounds ($15). Featuring hints of apple, lemon, ginger and pear tea, the nonalcoholic concoction was a welcome nightcap after a busy day out and about.
In-room dining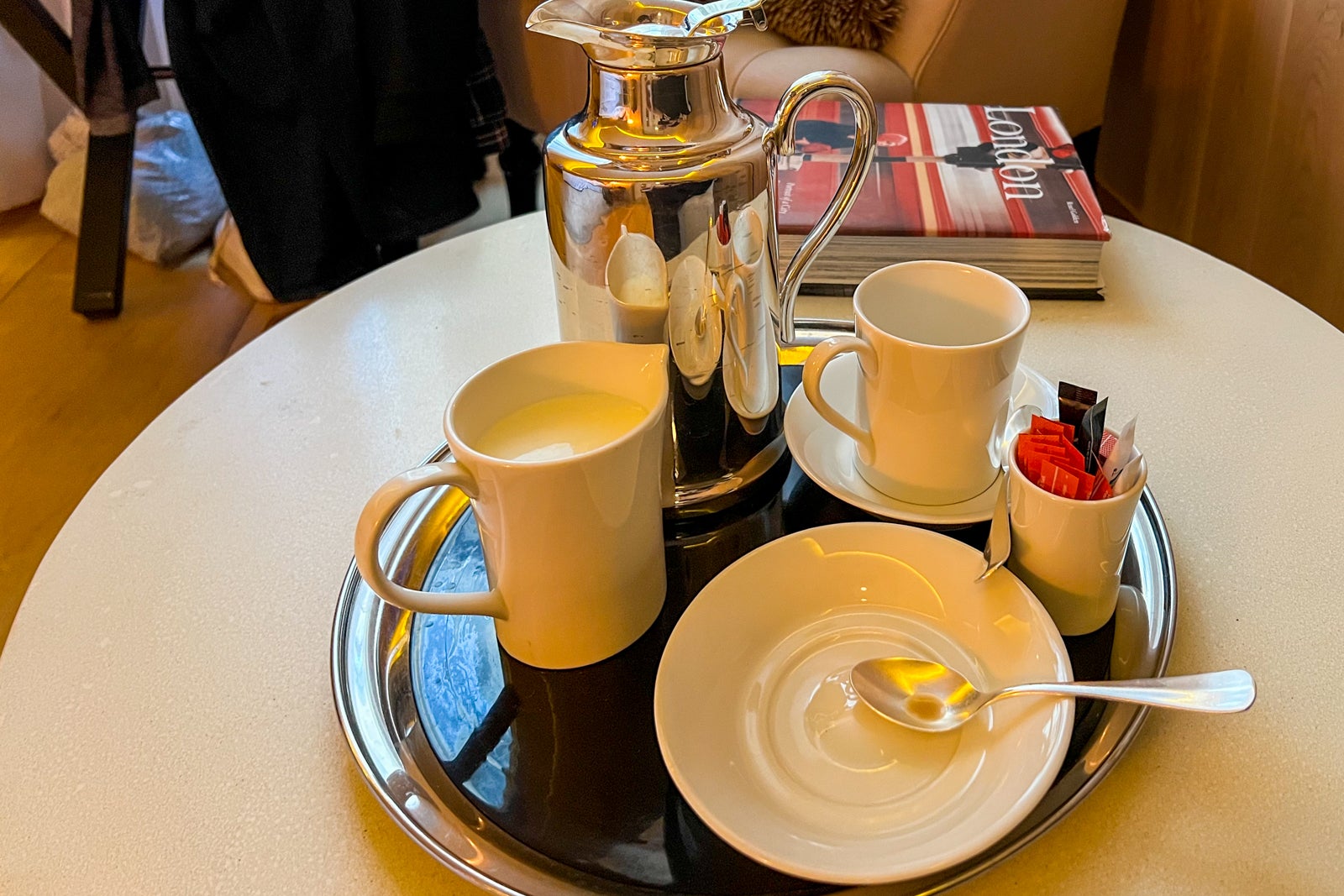 Berners Tavern is a great spot to dine, but if you prefer a more private setting, take advantage of the hotel's 24-hour room service.
On the last night of our stay, my travel companion and I decided to order a couple of desserts — the orange and almond sponge with mascarpone cream in an orange and vanilla sauce for 14 British pounds ($18) and the hazelnut brownie with vanilla ice cream for 12 British pounds ($15) — off the room service "Night Menu." Both were delicious and exactly what we needed after a night out on the town.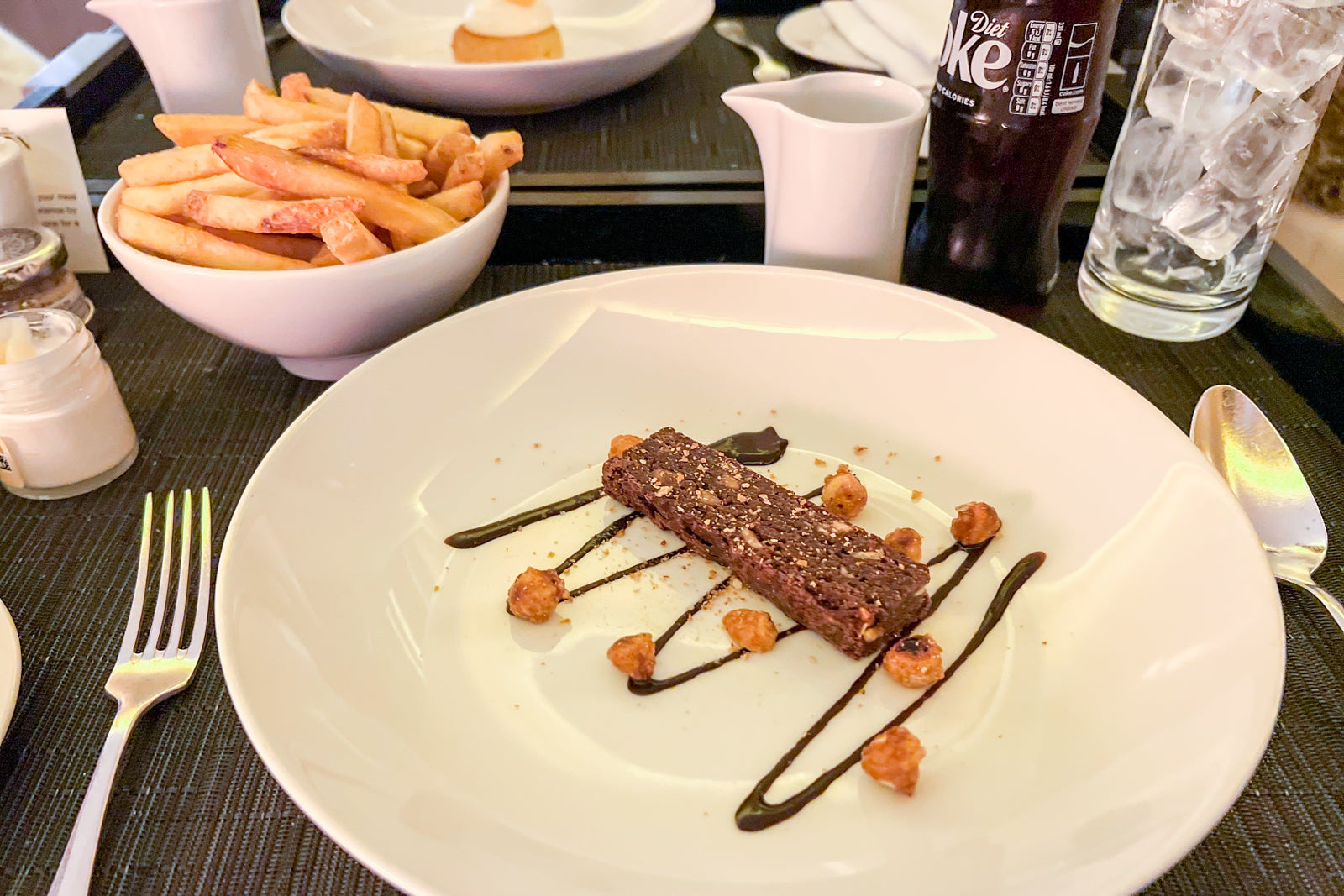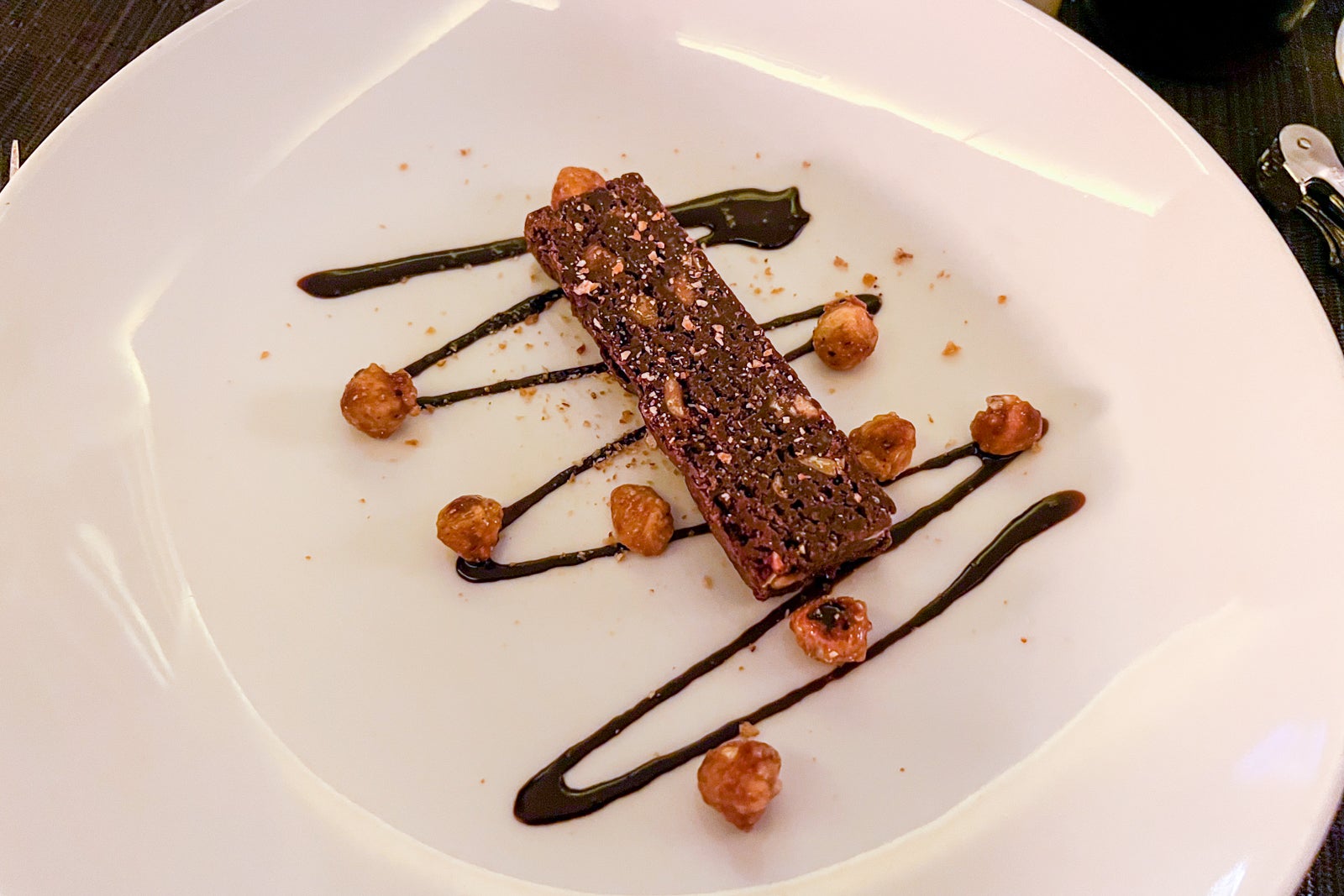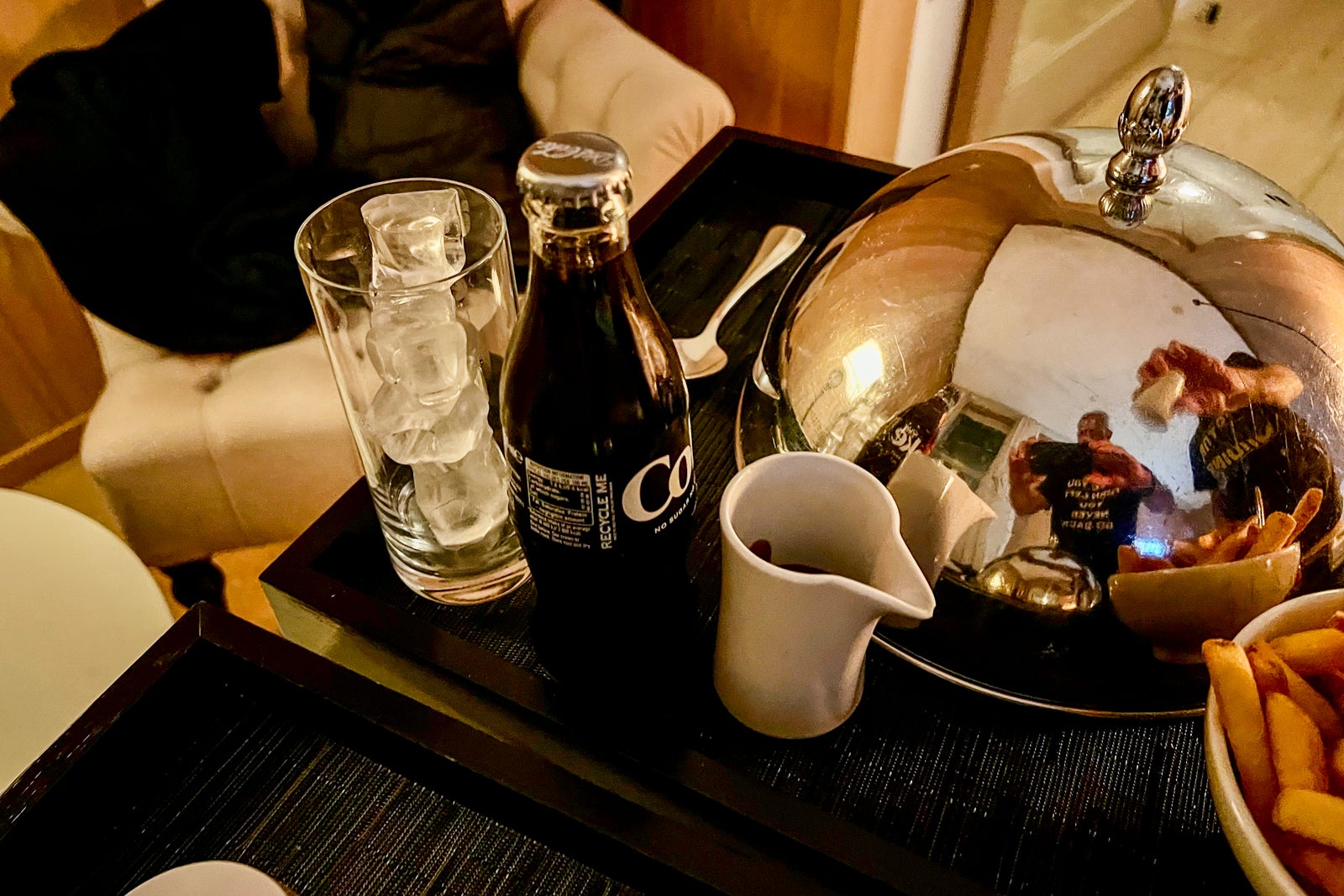 Should you crave a pick-me-up instead of a sweet treat to round out the night, know that the room service team does a great job at handling requests for caffeinated beverages. We asked for coffee to be delivered with fresh cream on both days of our stay and were pleased to have it within 15 minutes of placing our order.
Related: The 26 best Marriott hotels in the world
Accessibility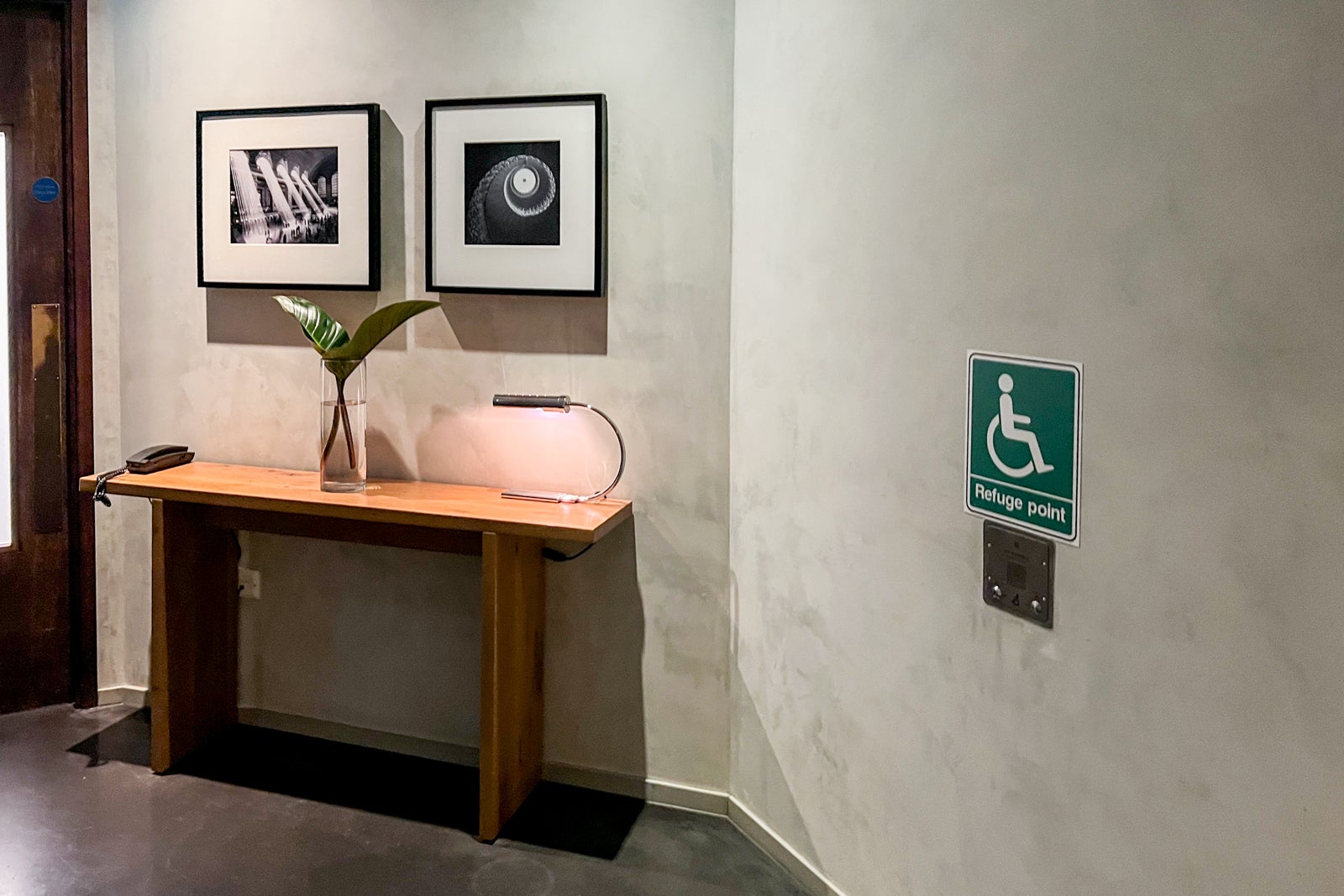 The London Edition is a very accessible hotel, a welcome surprise given the age of the building. There are two large elevators wide enough to accommodate a wheelchair and outfitted with Braille on their buttons, plus refuge points throughout the hotel where those with disabilities can call for help when there's an emergency via an intercom system.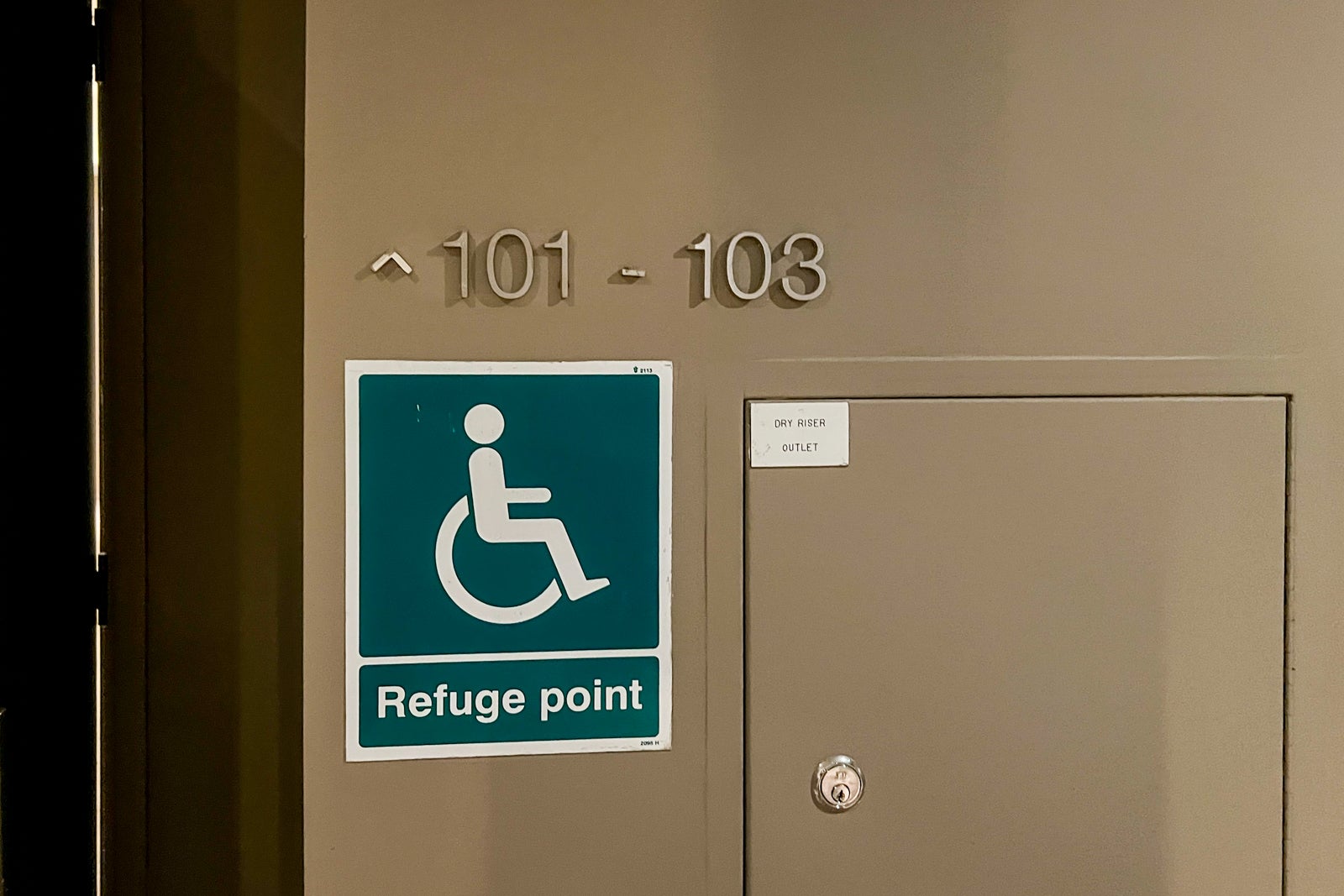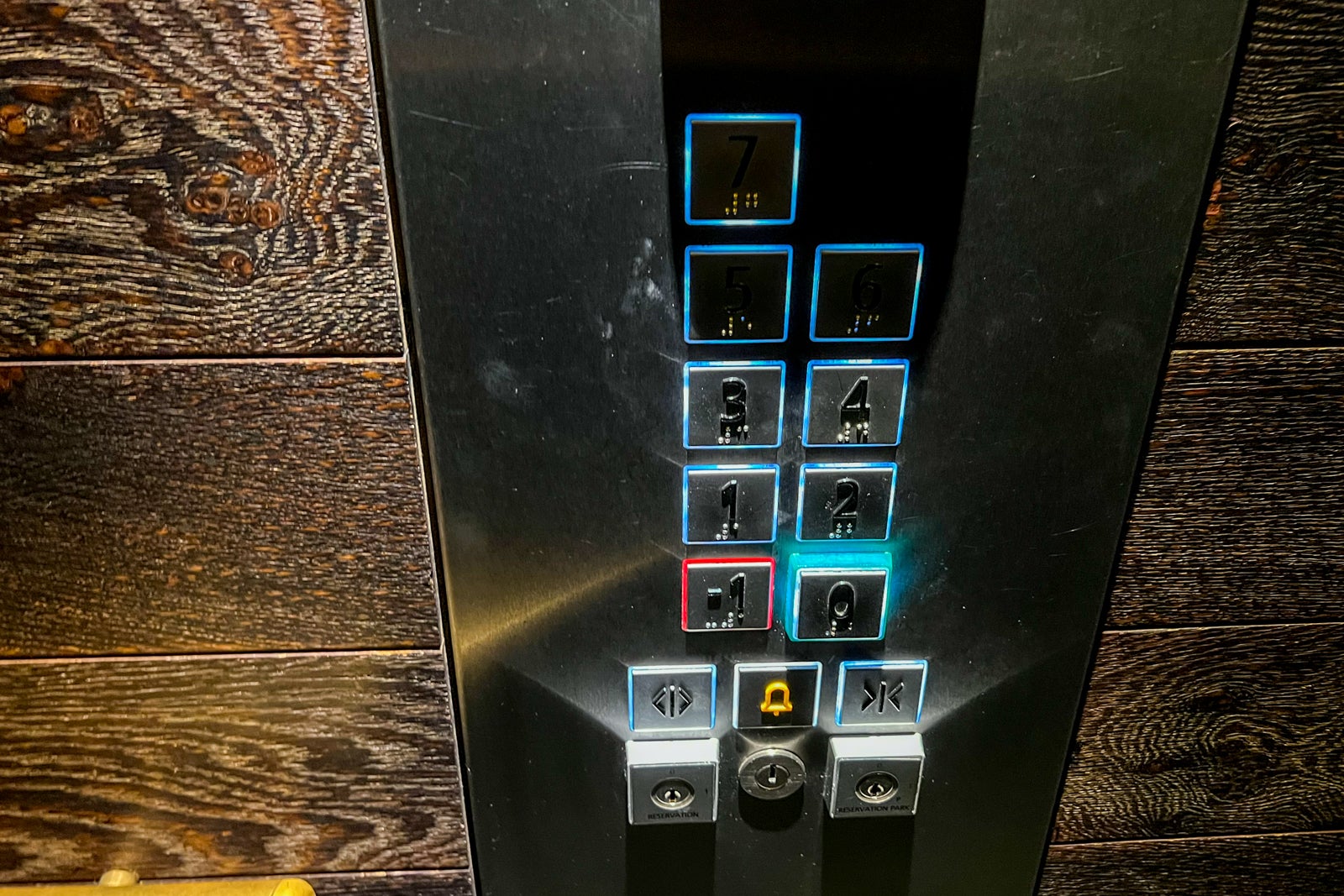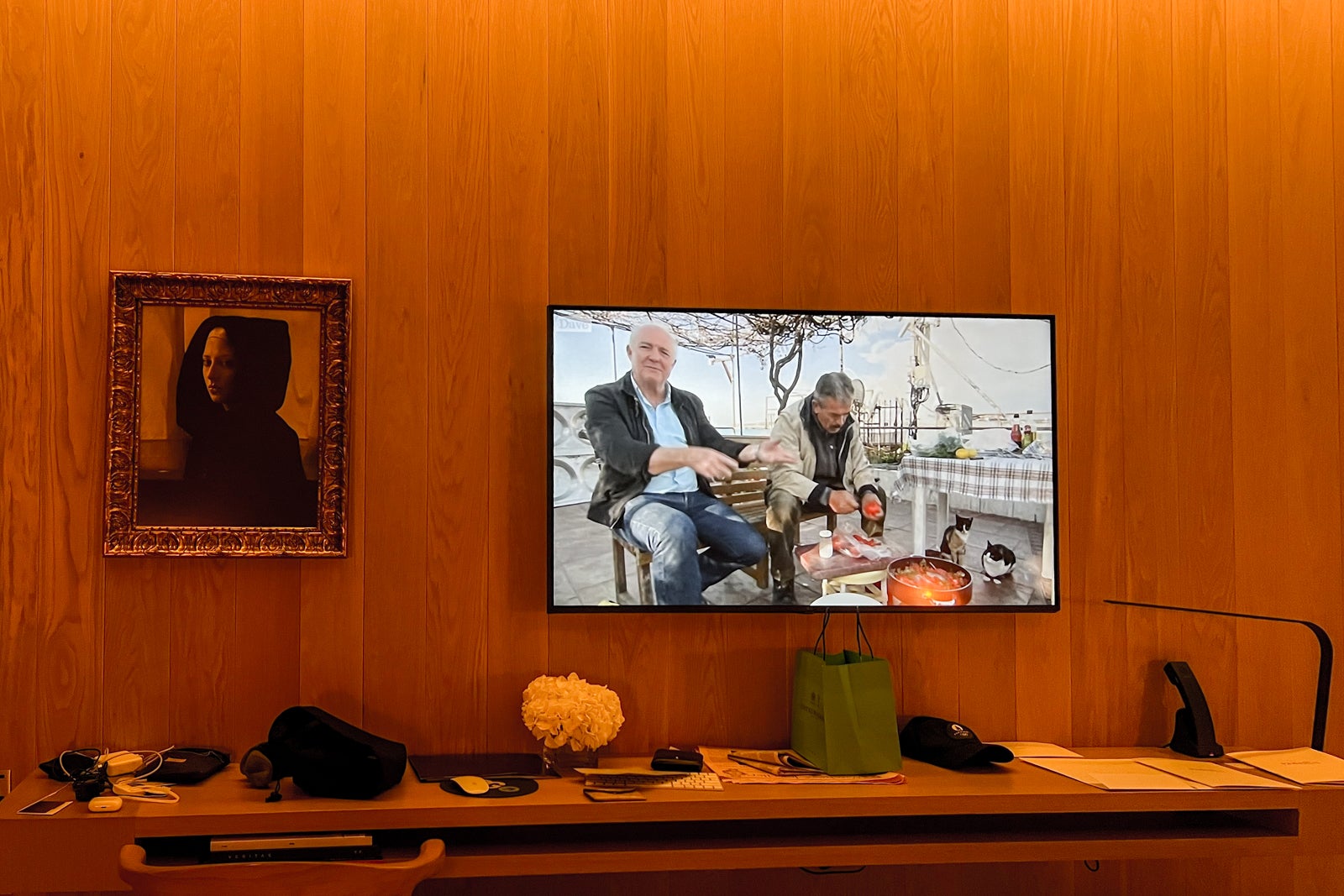 As for accommodations, there are nine wheelchair-accessible rooms. Those with mobility issues will likely appreciate the fact that most counters and beds sit low to the ground, even in standard rooms.
Related: How to make sure you get an accessible hotel room if you need one
Reasons The London Edition might not be for you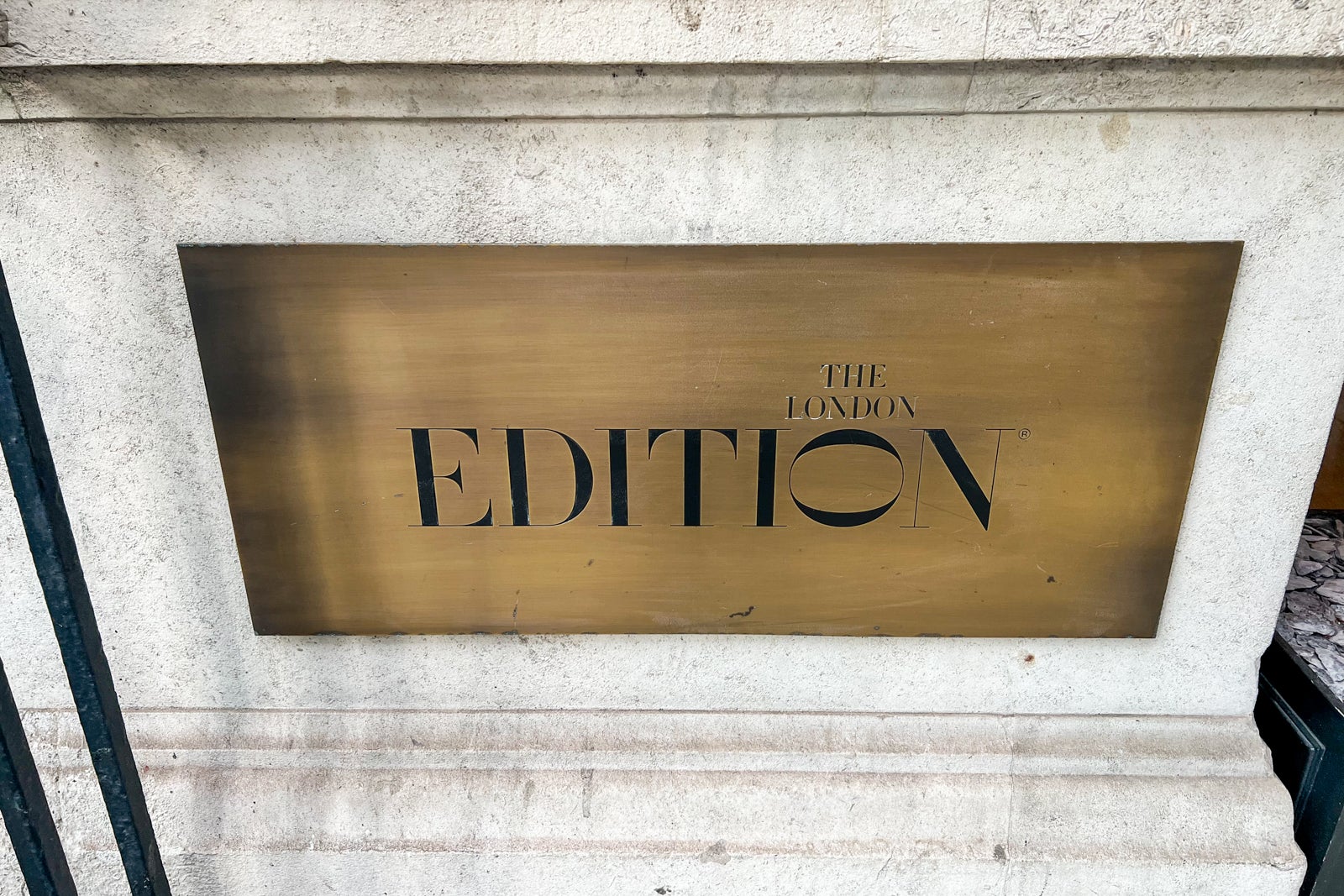 The London Edition is a great hotel that I'd stay at again, but there are a couple of drawbacks that may make it less than ideal for you.
The rooms are tight and can get claustrophobic, especially if you are traveling with more than one person and reserve one of the lower-category rooms. If you want more space (and natural light) in your accommodations, you might want to look elsewhere.
On-site amenities are a bit limited here. While the food and beverage outlets were top-notch, the gym was underwhelming, and there wasn't a spa. It's not a grand hotel in the traditional sense, so if your heart is set on all the bells and whistles of a luxury hotel, you should probably book elsewhere.
Related: Which credit card should you use for Marriott stays?
Alternative places to stay
If The London Edition isn't your cup of tea, you're in luck, as London has so many incredible hotels.
A perennial favorite is Corinthia London, a high-end option that's more along the lines of a classic business hotel. It sits just one block back from the River Thames and is within walking distance of iconic sights like the London Eye and Westminster Abbey.
Another elegant property that has legions of fans is The Langham, London in Marylebone. Also offering proximity to the West End's lively atmosphere, this spot is great for visitors seeking a comparable location to The London Edition but with the luxe amenities the Edition is missing, such as a pool, a spa and afternoon tea.
For something still affiliated with Marriott (and therefore bookable with Marriott Bonvoy points), consider the JW Marriott Grosvenor House London. On the eastern edge of Hyde Park in Mayfair, this property is a more affordable (but still convenient) choice, as you can grab a free night for as few as 52,000 Marriott Bonvoy points per night.
Hyatt has a few noteworthy hotels here, too, so if you have a stash of World of Hyatt points, know that you'll find a few properties affiliated with the brand. The Hyatt Regency London Albert Embankment is a solid option for those who wish to be east of the River Thames, while the Great Scotland Yard Hotel (part of Hyatt's Unbound Collection) appeals to those interested in bedding down in Westminster.
Related: The 23 best Hyatt hotels in the world
Checking out
If you are looking for a central London hotel with a low-key but fabulous vibe and an over-the-top lobby, The London Edition is the property for you — and you can book here.
While the rooms are on the small side, the hotel more than makes up for this shortcoming with its superb service and exceptional cuisine. Factor in the hotel's ties to Marriott, meaning you can earn and redeem Marriott Bonvoy points here, and you have a phenomenal place to retire in style after a busy day checking out all London has to offer.
With a bit of luck, you may even spot a celebrity during your stay. At the very least, you'll get treated to an eyeful of beautiful people gathered around the hotel's spectacular fireplace, an experience I'm hoping to one day enjoy again.
Related reading: