Editor's note: This story is continually updated
---
On Thursday, the U.S. expects to welcome back Chinese tourists for the first time since 2020, when the Chinese government implemented its now infamous "zero-COVID" policy.
Three days later, as Chinese officials loosen COVID-19 regulations on Jan. 8 (scrapping the previously enforced strict quarantine for all incoming travelers in a government-designated hotel), the U.S. will subject all visitors from China to incoming testing requirements.
As both American and Chinese citizens resume travel between the countries, here's what you should know about traveling to and from China.
Travelers from China must test to enter the US
Beginning Jan. 5, all travelers from the People's Republic of China (PRC), as well as the Special Administrative Regions of Hong Kong and Macau, must submit a negative PCR or rapid self-administered antigen test taken within two days of departure for the U.S., according to the U.S. Centers for Disease Control and Prevention (CDC). Rapid tests must be "monitored by a telehealth service or a licensed provider and authorized by the Food and Drug Administration or the relevant national authority test of that country," per the CDC.
This rule applies to all air travelers aged 2 and older, effective 12:01 a.m. (EST) Friday. However, the rule does not apply to passengers who recently recovered from COVID-19 and tested positive at least 10 days prior to entry.
"CDC is announcing this step to slow the spread of COVID-19 in the United States during the surge in COVID-19 cases in the PRC given the lack of adequate and transparent epidemiological and viral genomic sequence data being reported from the PRC," the agency said in a press release on Dec. 28. "These data are critical to monitor the case surge effectively and decrease the chance for entry of a novel variant of concern."
The newly announced testing requirement applies to all inbound air passengers, regardless of nationality or vaccination status, traveling directly from China or via a third country, including those transiting through the U.S. However, it does not apply to transiting passengers who spend less than 24 hours in airports in China, Hong Kong or Macau.
These testing rules also apply to passengers transiting Incheon International Airport (ICN), Toronto Pearson International Airport (YYZ) and Vancouver International Airport (YVR) on their way to the U.S. if they have been in China within the 10 days preceding entry to the U.S.
"These three transit hubs cover the overwhelming majority of passengers with travel originating in the PRC and the Special Administrative Regions," the CDC said.
Though the CDC has tasked airlines with confirming receipt of a negative COVID-19 test ahead of flying, passengers are responsible for uploading documentation during the check-in process, either online or with a gate agent. Domestic carriers also noted these changes online; for example, American Airlines says that passengers without a negative test or recovery document won't be allowed to board the plane.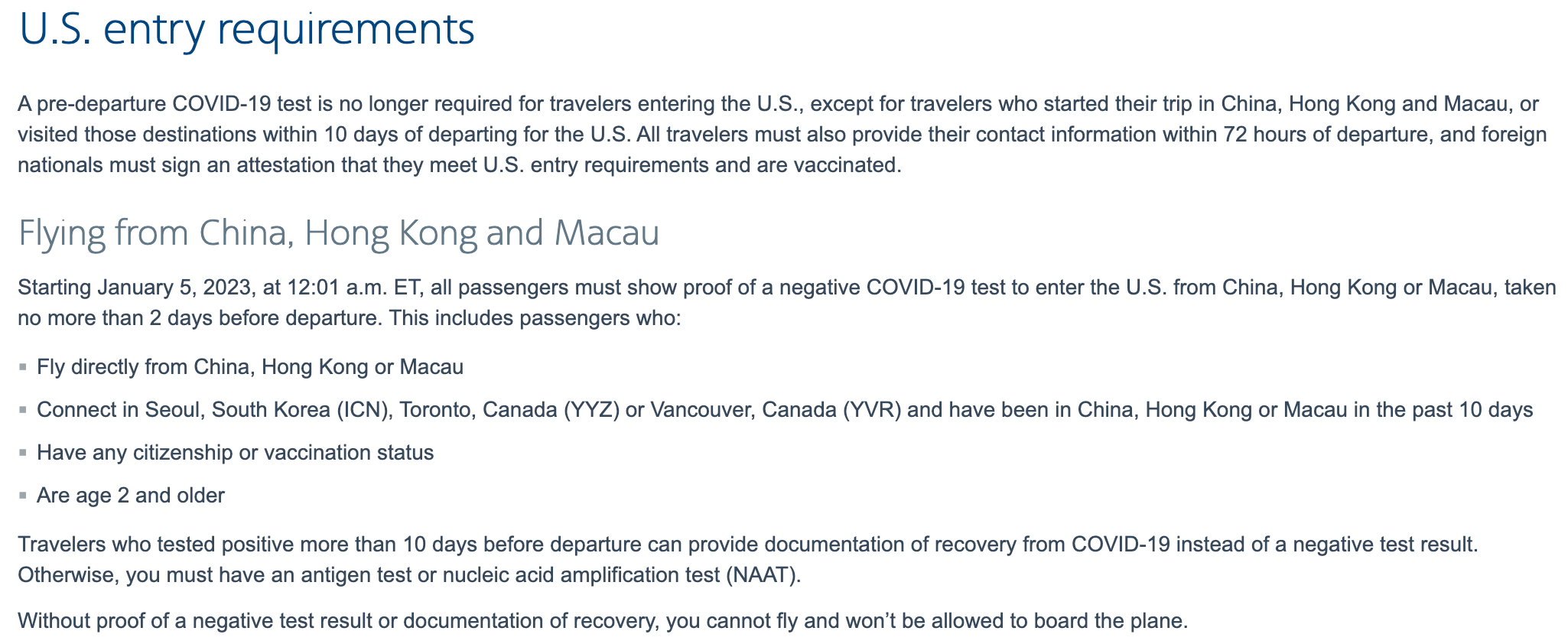 Read more: IHG sees a tale of two recoveries between the U.S. and China
"We will continue to monitor travel patterns, adjust our approach as needed, and keep Americans informed in a timely manner," according to the CDC.
The European Union is also expected to impose mandatory COVID-19 testing on Chinese travelers among its 27 member states this week — following efforts by individual countries, including Italy, France, Spain and Germany, to do so.
"ECDC, together with the EU/EEA Member States and the European Commission has increased its monitoring activities and will revise risk assessments and adjust actions if needed," the European Centre for Disease Prevention and Control said in a statement on Jan. 3. "ECDC is working closely with the World Health Organization (WHO)/Europe and WHO/Headquarters and is in regular contact with the Chinese Center for Disease Control and Prevention (China CDC) and major CDCs globally."
Outside of the EU, India and the United Kingdom have done the same.
Current COVID-19 situation in China
The U.S. implementation of testing measures on travelers coming from China is due to a recent surge in new cases among persons in mainland China in December, according to data from both the World Health Organization and The New York Times.
Health and government officials, including the ECDC, have routinely questioned the reliability of COVID-19 data coming from China.
"The number of COVID-19 cases has reached a record high in mainland China, peaking on 2 December 2022," the ECDC said this week. "In the past three weeks, incidence has fallen, likely also due to a lower number of tests being carried out, resulting in fewer infections being detected."
Even though the country has administered nearly 3.5 billion vaccine doses as of Nov. 29, 2022, per the WHO, the country has relied on Chinese-made vaccines thus far; these vaccines have shown to be less effective against the omicron variant, according to various reporting, including by NPR.
A boom to travel expected
China's reopening next week will almost certainly impact the average nightly price of a hotel room in some of the world's most popular destinations, per industry experts TPG spoke to.
In 2019, Chinese tourists accounted for 4.2% of worldwide tourism — or $154 billion of total spending, according to a recent analysis conducted by AllianceBernstein, a global investment firm. Collectively, China accounted for 12% of the world's total spending on hotel rooms in 2019. In 2023, it's practically at zero.
At the same time, we expect to see hotel rates increase in U.S. cities previously frequented by Chinese tourists pre-pandemic, such as San Francisco, Las Vegas and New York City.
Thus, travelers will likely see the biggest impact in major cities still struggling to recover to pre-pandemic hotel rates, namely San Francisco.
"I see a clear positive correlation between demand and pricing," Richard Clarke, a managing director who covers the hotel industry at Bernstein, told TPG via email. "Those locations that get a lot of Asian visitors have lagged on pricing, so a catch-up on demand should help."
Although analysts are cautious about forecasting exact numbers specifying how much more expensive hotel rates might get with the return of travelers, they seem to rally around the idea this is good news for hotel owners — especially amid so much economic uncertainty.
"It seems like there's an only upside, but the exact timing is a little uncertain," Patrick Scholes, managing director of lodging and leisure equity research at investment bank Truist Securities, said.
Bottom line
The timing of China's reopening aligns with the Chinese New Year, which begins on Jan. 21 and runs for nearly a month. With many people traveling to China for the largest Chinese holiday of the year, a large spike in new COVID-19 cases is expected.
"We look forward to welcoming Chinese travelers back to the United States," U.S. Travel Association President and CEO Geoff Freeman said on Dec. 28. "The Biden administration's highly targeted COVID testing approach is reasonable and appreciated."