Citi is a TPG advertising partner.
---
Along with launching its new travel portal in March, Citi announced two new hotel programs for those with ThankYou points-earning credit cards. They are the Hotel Collection and Luxury Collection.
These programs launched with limited footprints — just the U.S., Mexico and the Caribbean for now. Citi is adding additional hotels on a rolling basis.
Since these are new programs, you may wonder what they are and how they work. Should you book your next stay with one of these programs instead of directly with the hotel? And can you pay with your Citi ThankYou points?
Here's a detailed look at Citi's Hotel Collection and Luxury Collection — and whether you should use them.
What is the Citi Hotel Collection?
Citi's Hotel Collection is a curated list of hotels and resorts available in Citi Travel with Booking.com, Citi's travel portal. These are all four-star and five-star properties.
Anyone with a credit card earning Citi ThankYou points can access this portal and Citi's Hotel Collection. This includes not just the popular Citi Premier® Card but also no-annual-fee options like the Citi Rewards+® Card and Citi Double Cash® Card.
Hotel Collection reservations include additional benefits over other hotel bookings in Citi's travel portal.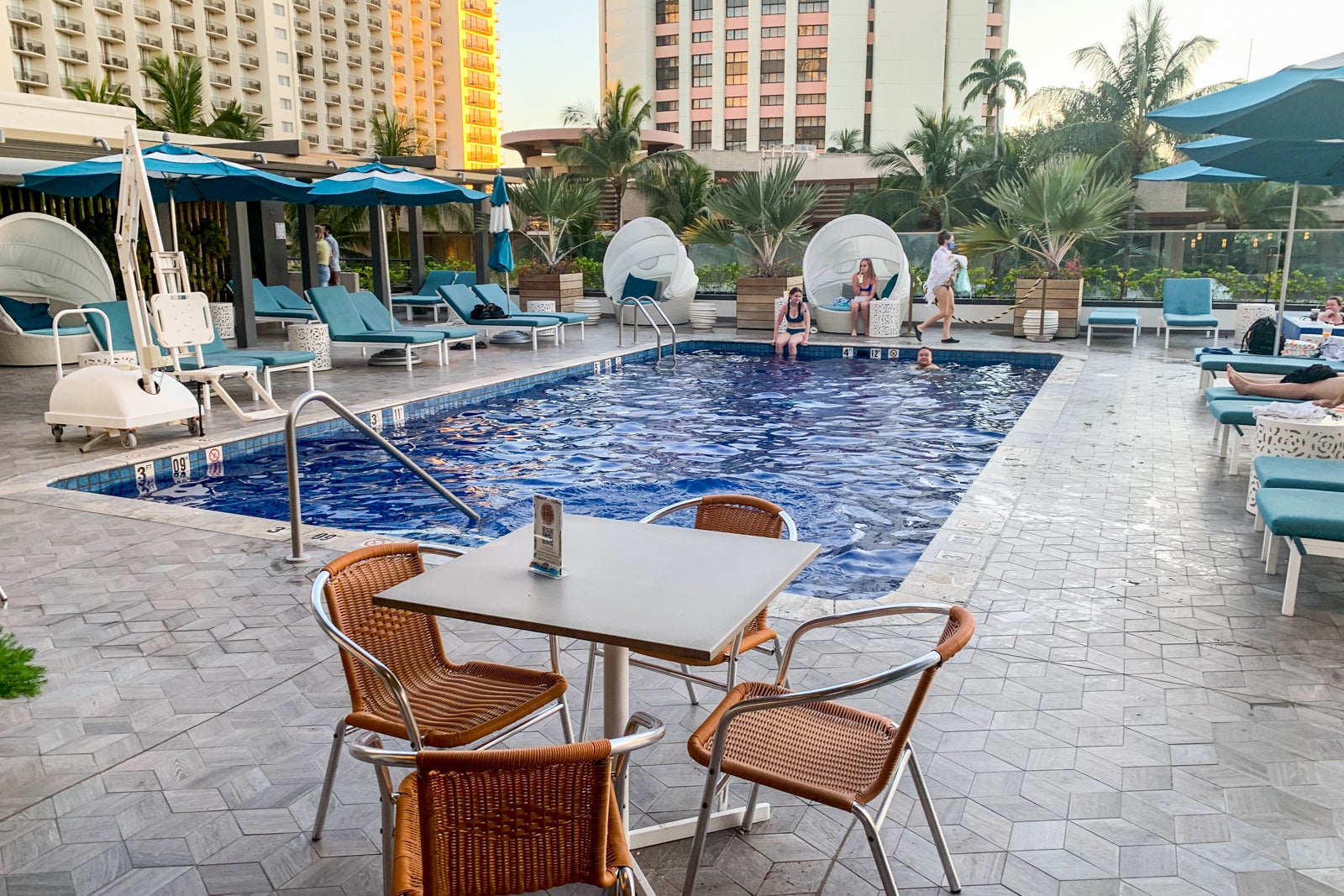 What is the Citi Luxury Collection?
As the name implies, the Luxury Collection is Citi's most premium accommodation offering. Booking these four-and five-star properties comes with top-tier benefits.
In exchange for providing additional benefits over those in Citi's Hotel Collection, only those with the Citi Premier Card and Citi Prestige® Card (no longer open to new applicants) can access these bookings. (For additional details on these cards, read our full reviews of the Citi Premier and the Citi Prestige.)
The information for the Citi Prestige has been collected independently by The Points Guy. The card details on this page have not been reviewed or provided by the card issuer.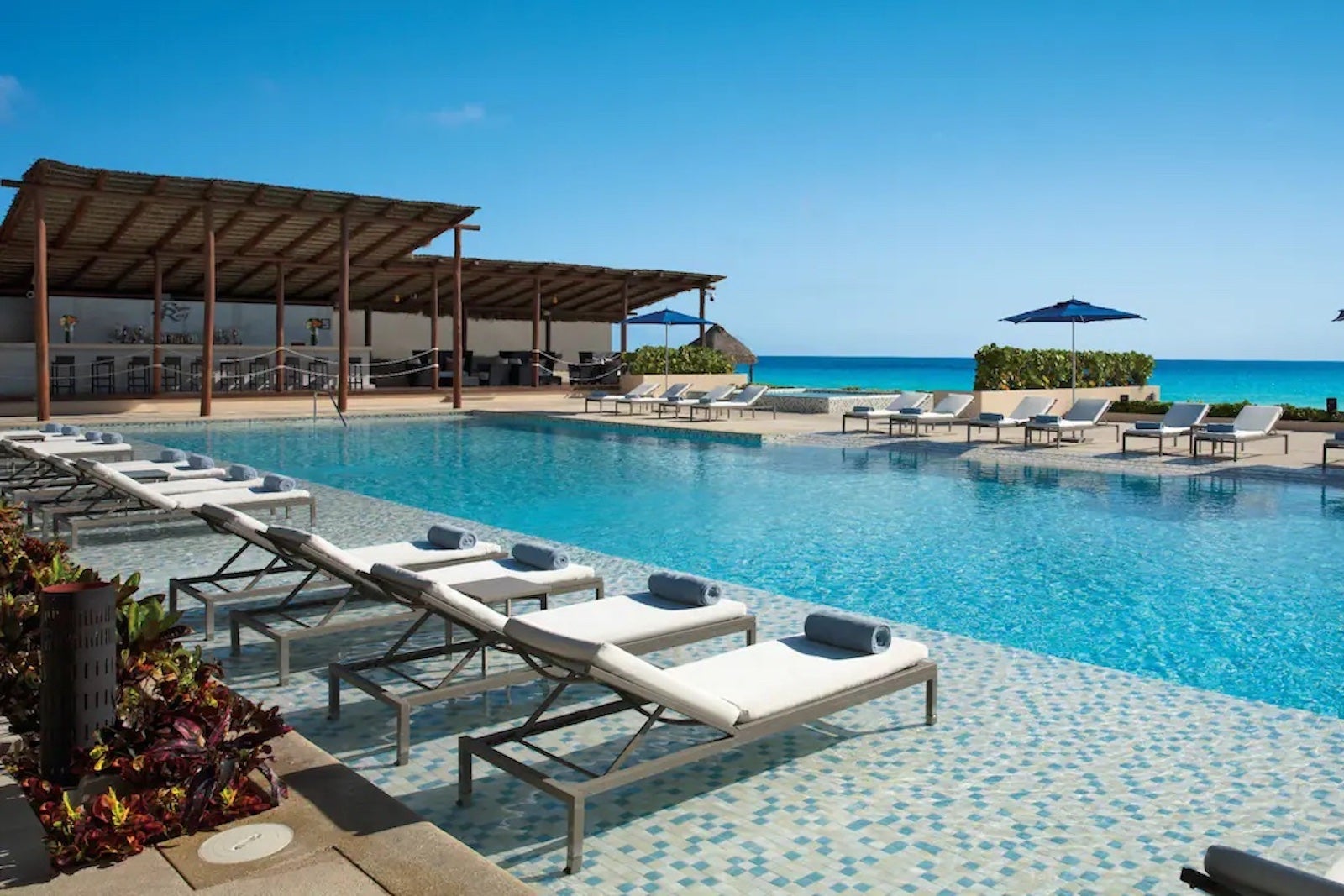 Main perks and benefits
Both Hotel Collection and Luxury Collection reservations offer the following guaranteed benefits:
Daily breakfast for two people.
Complimentary Wi-Fi for the length of your stay.
No minimum stay requirements.
You also may receive early check-in or late checkout privileges — based on availability.
Luxury Collection bookings include the following additional perks:
$100 on-property credit; uses vary by property and cover eligible expenses charged to your room.
Room upgrades at check-in when available.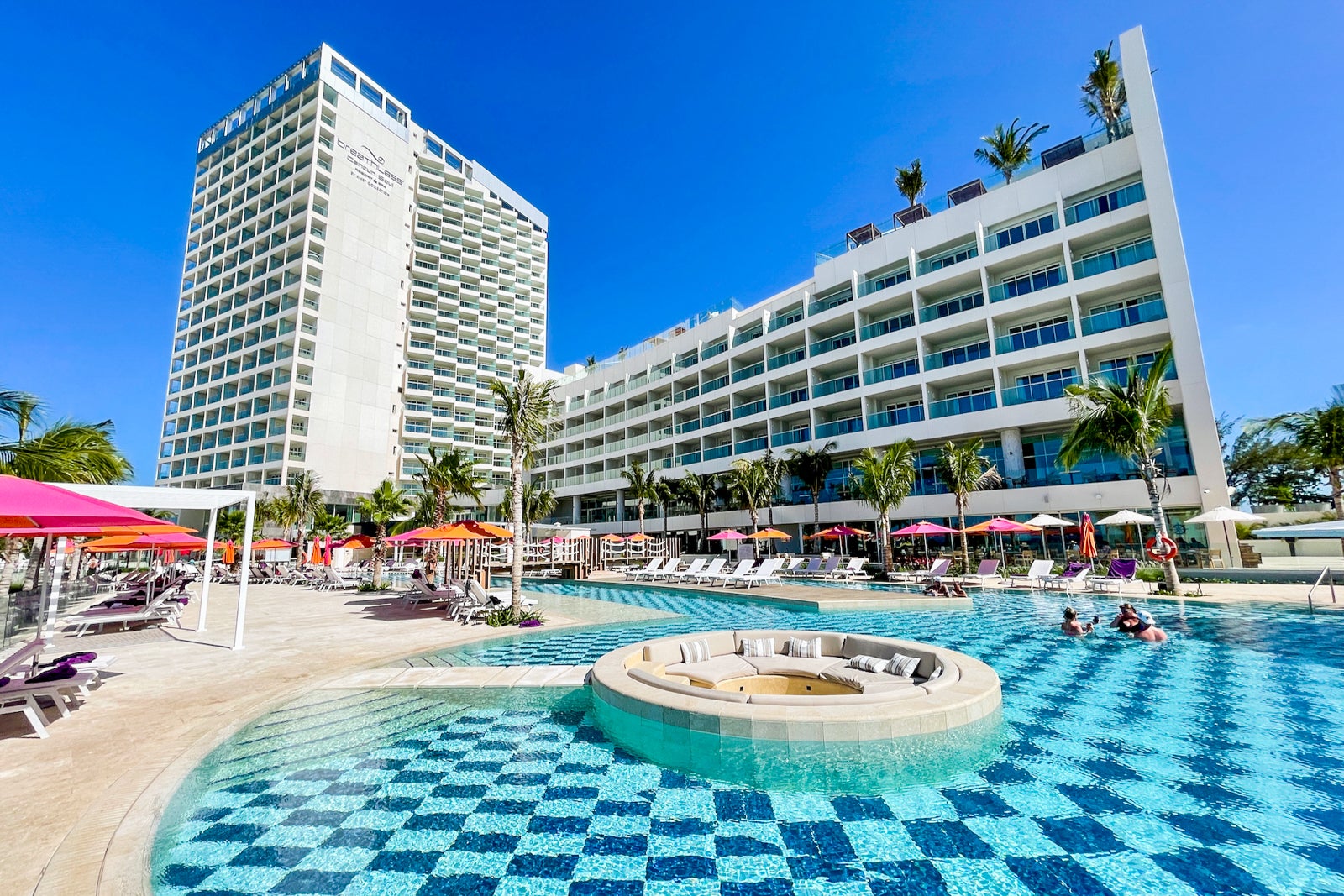 There are some caveats to understand with these benefits. First, certain benefits are based on availability and aren't guaranteed. The only guaranteed benefits are complimentary Wi-Fi, free breakfast and the $100 on-property credit (on Luxury Collection bookings only, for this final benefit).
Second, you cannot receive duplicate $100 credits by making separate back-to-back reservations. Citi's terms say that multiple reservations at the same hotel on continuous dates count as one stay, even if you check out and check in again. If you want to know what the on-property credit covers, you'll need to contact the property directly. There's no way to find this information in Citi's portal.
Lastly, Citi's terms allow hotels to provide the $100 on-property credit and/or breakfast as a gift card or a credit on your final bill. Ensure you clearly understand your benefits before arriving at the hotel for check-in.
You can read the terms of these benefits by clicking on "See offers" next to any Hotel Collection or Luxury Collection labeling in Citi's portal.

This is visible in the list of hotels in your search results (above) and when viewing details of a particular property (below).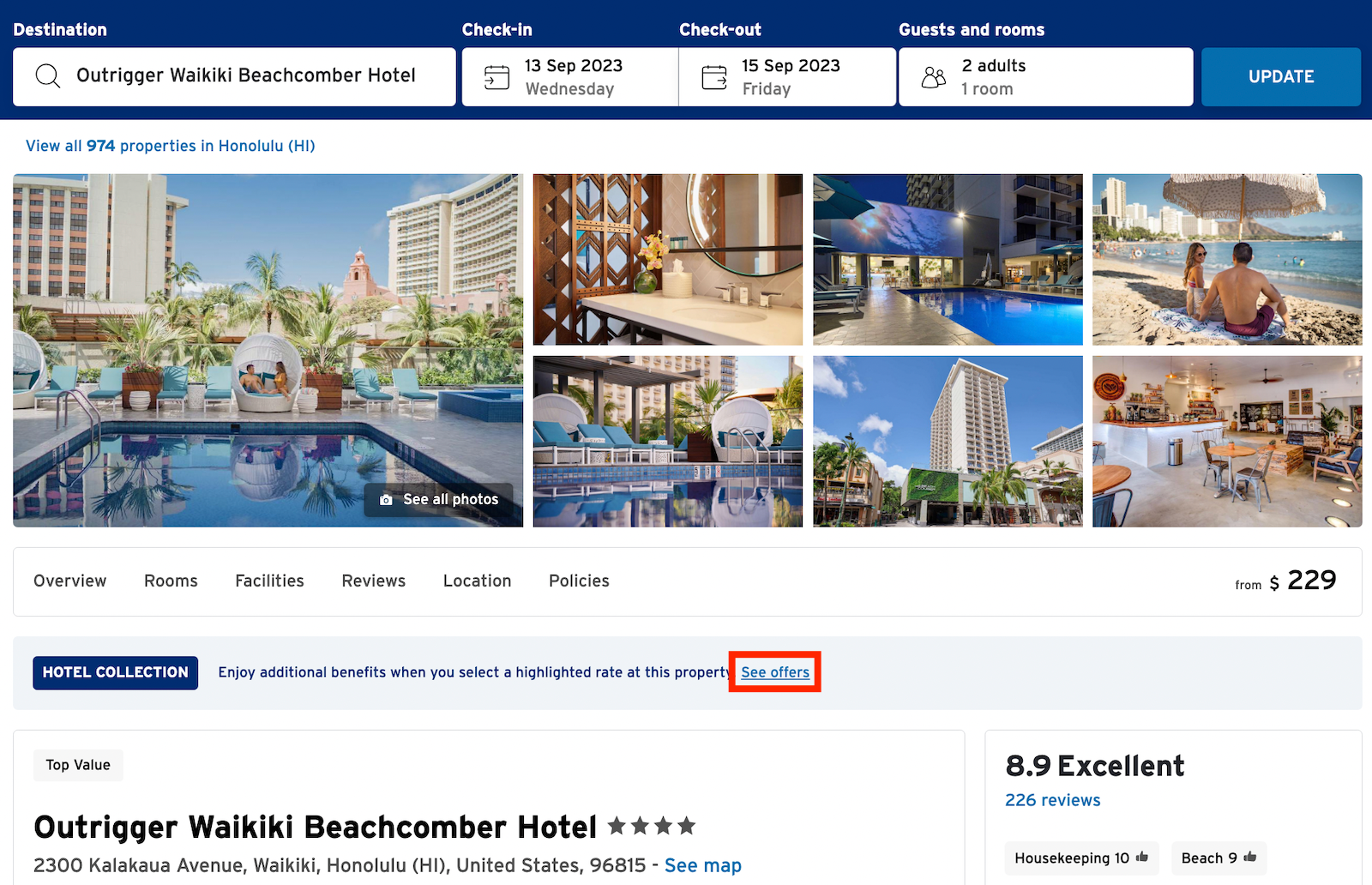 How to book Citi Hotel Collection and Luxury Collection stays
To book a hotel in the Hotel Collection or Luxury Collection, start your search on Citi Travel with Booking.com by providing your destination, dates and the number of guests.

In the results, you'll notice hotels with a Hotel Collection or Luxury Collection tag if they're available.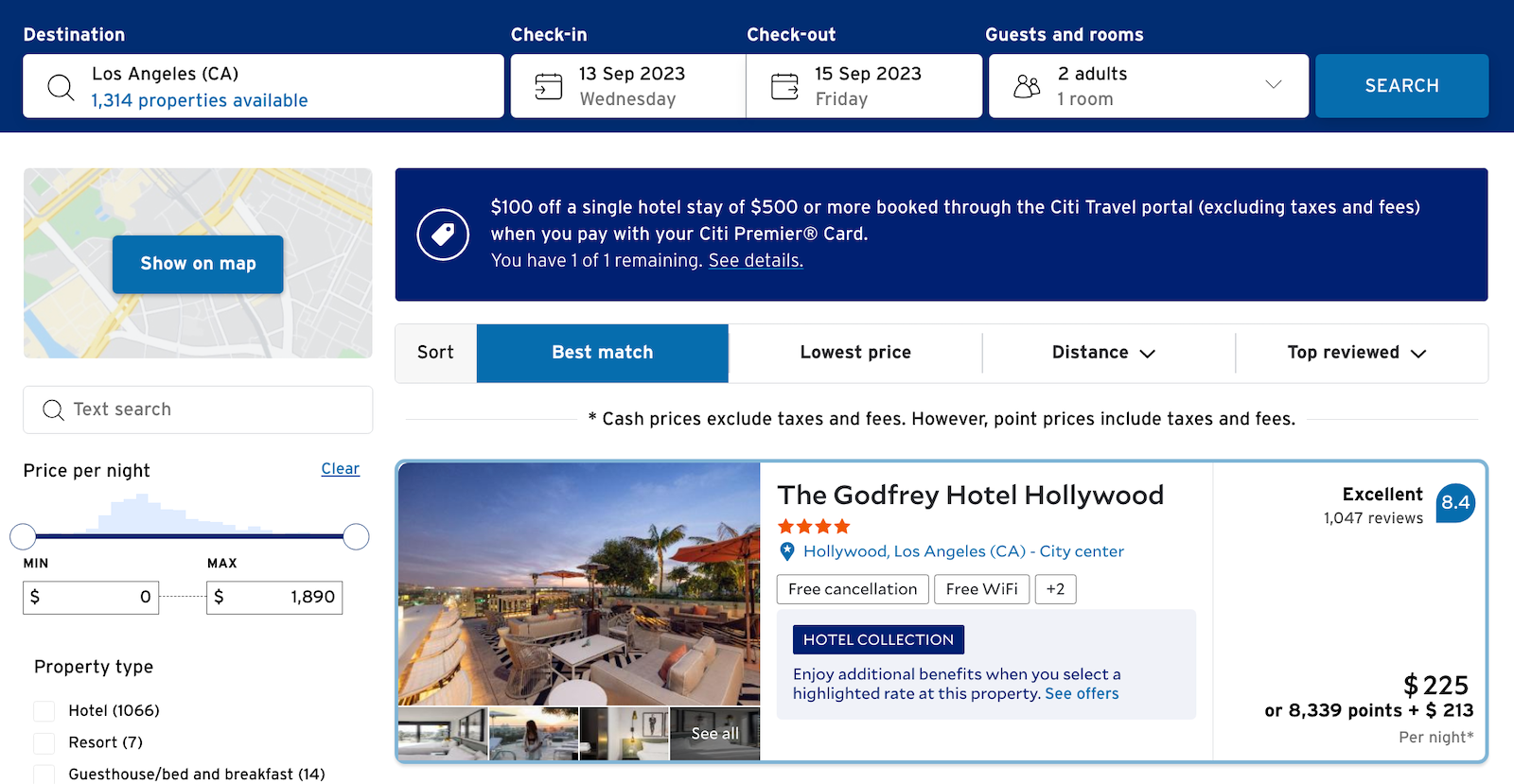 Interestingly, you'll notice that some results are tagged as both Hotel Collection and Luxury Collection. If they're tagged as both, make sure you're getting the Luxury Collection benefits on the payment page.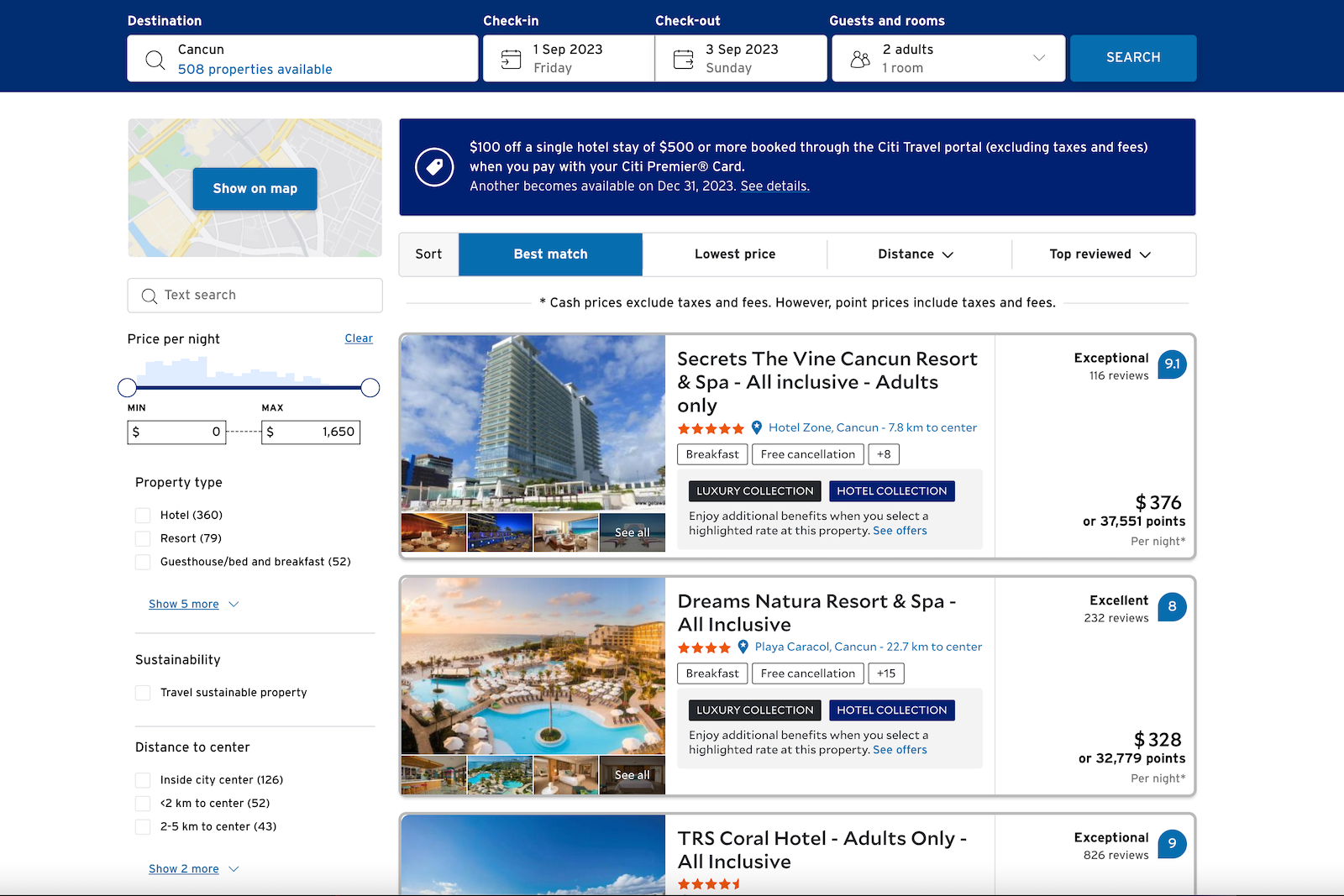 Unfortunately, there's no way to filter for only Hotel Collection or Luxury Collection properties. Chase's Luxury Hotel & Resort Collection and Capital One's Premier Collection provide a unique page showing only hotels in those programs. When using Amex Travel, you can filter for only Fine Hotels + Resorts or The Hotel Collection properties. These approaches are much simpler than needing to scroll and look for the labels in Citi's portal.
Related: A comparison of luxury hotel programs from credit card issuers: Amex, Capital One, Chase and Citi
Additionally, not all room rates at your chosen property are available for Hotel Collection or Luxury Collection extra benefits. Ensure you choose an eligible room rate — which could cost significantly more. You can see in the example below that a Hotel Collection-eligible room costs more than double a base room.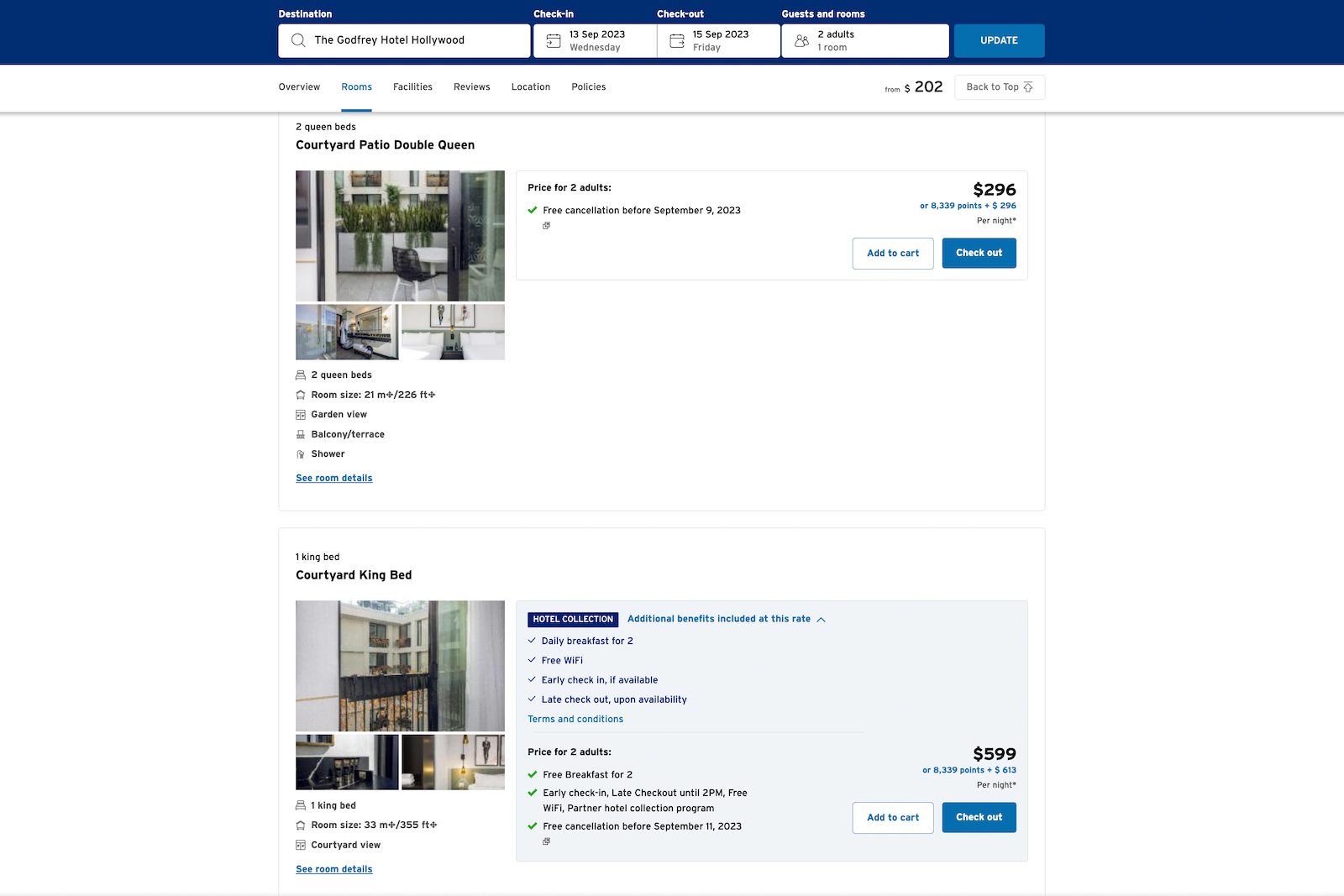 After choosing a property and selecting a room type from the available options, you'll provide guest details. Note that you can't edit the guest name on Hotel Collection and Luxury Collection bookings.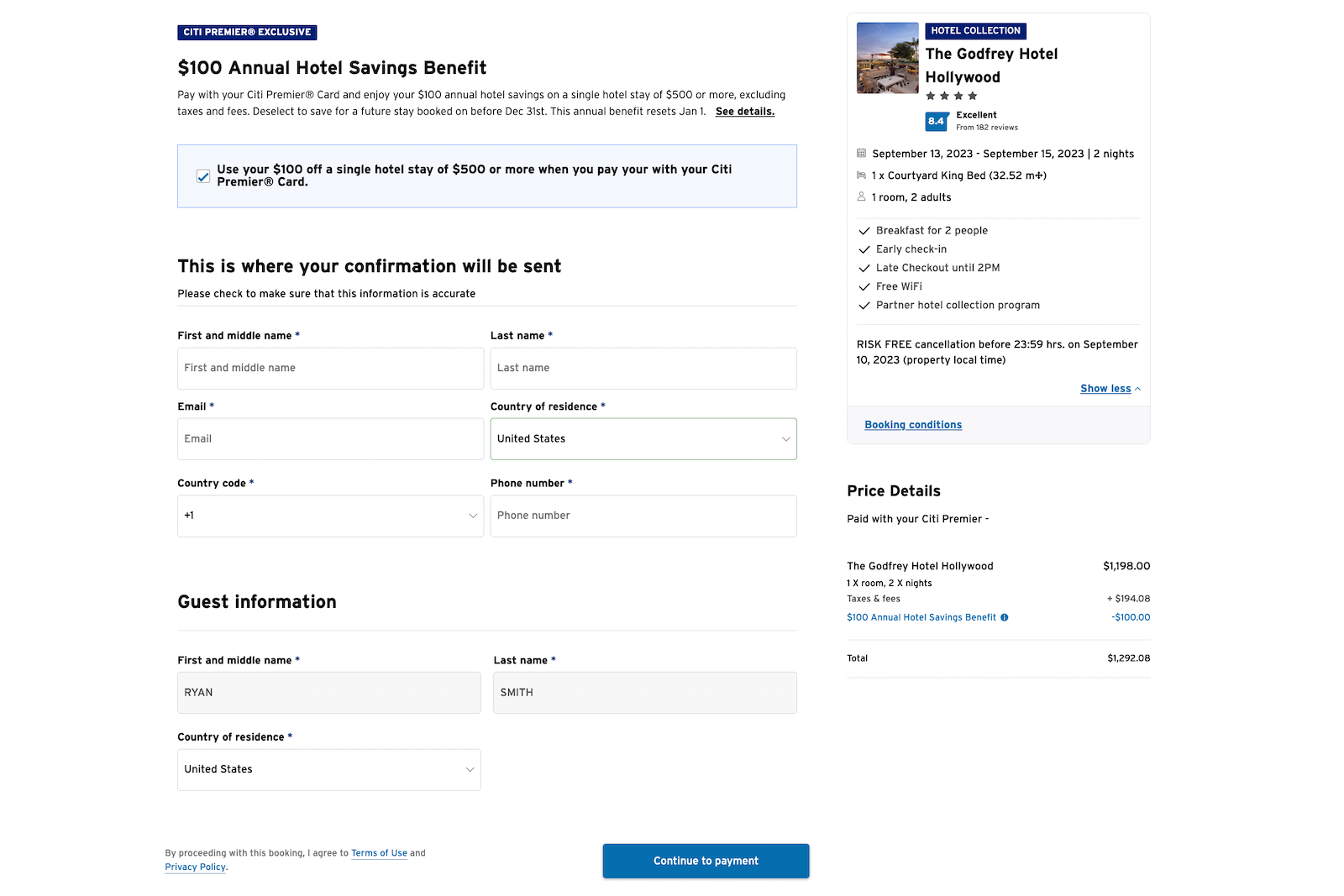 This page also has a quick reminder of the benefits you'll get (if you selected a qualifying rate), then you'll proceed to payment. You can pay with your credit card, points or a mix of both.
Will I earn elite status or loyalty benefits at hotels?
If you have (or are working toward) elite status in a hotel program, here's how that interacts with Citi's Hotel Collection and Luxury Collection.
First, you cannot provide your loyalty number during the booking process. The option doesn't exist on Citi's travel portal.
Related: 9 things to consider when choosing to book via a portal vs. booking directly
You could contact the hotel directly or try adding the reservation to your loyalty account with Marriott or Hilton, for example. However, it's unlikely that your status will be recognized during the stay or that you'll get credit for this stay in your desired rewards program.
That's because hotel rewards programs usually require booking directly with them to receive elite status benefits. While we have seen mixed results with American Express stays (through Fine Hotels + Resorts or The Hotel Collection), we are less optimistic with Citi. That's due to discussions with Citi and the inability to add your rewards number when making a reservation.
If your elite status is important to you, consider that before making a reservation through this channel.
Related: The best ways to book hotels through online travel agencies and bank portals
Can I use Citi points to book?
You can use your Citi ThankYou points to pay for anything you book in Citi's portal — including stays at Hotel Collection and Luxury Collection properties.
You can redeem points at a value of 1 cent apiece. You can use as little as 1 point or as much as all of your points to offset the cost of your booking.


The convenience of paying for bookings with points at checkout is a highlight. However, it's worth noting that this may not be the best value for your points. TPG values ThankYou points at 1.8 cents apiece, so redeeming them for 1 cent apiece isn't ideal.
Redeeming ThankYou points for maximum value involves using Citi's transfer partners. The caveat is that there may not be a transfer partner connected to the hotel you want to book. Additionally, those with no-annual-fee credit cards can access far fewer transfer partners. If there's no transfer partner available (or if the convenience of paying with points through the portal is your prime concern), then this remains an option.
Using the Citi Premier $100 hotel credit
Citi Premier cardholders can get $100 back on a hotel booking of $500 or more in Citi's travel portal once per calendar year. You can use this benefit annually, and it can be stacked with Hotel Collection and Luxury Collection bookings.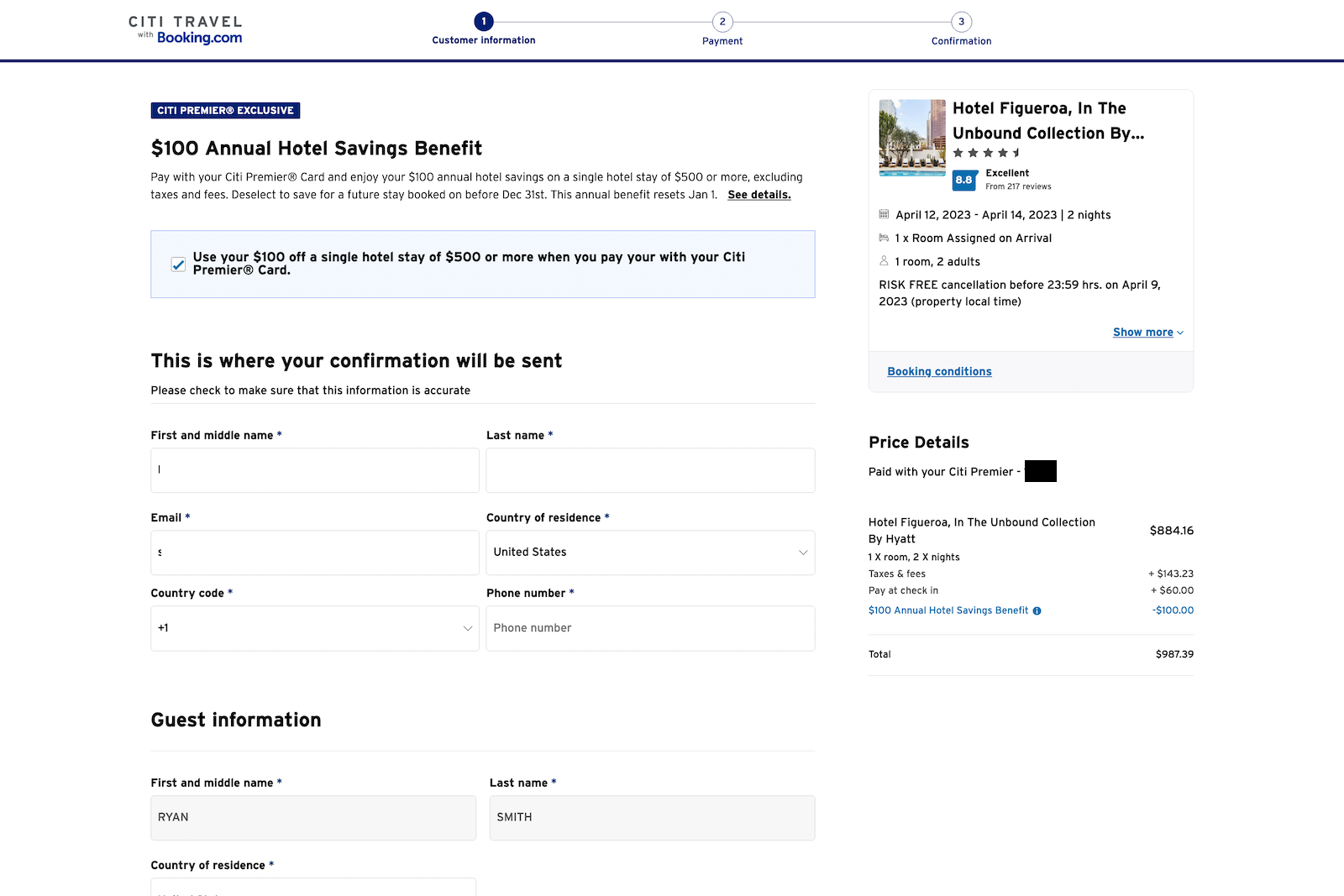 Thus, you could combine benefits like free breakfast, $100 on-property credits or room upgrades with a $100 savings on your bookings — thanks to benefits provided by these hotel programs and your credit card.
When beginning your hotel search, you'll see these benefits highlighted if your Premier card is the active card.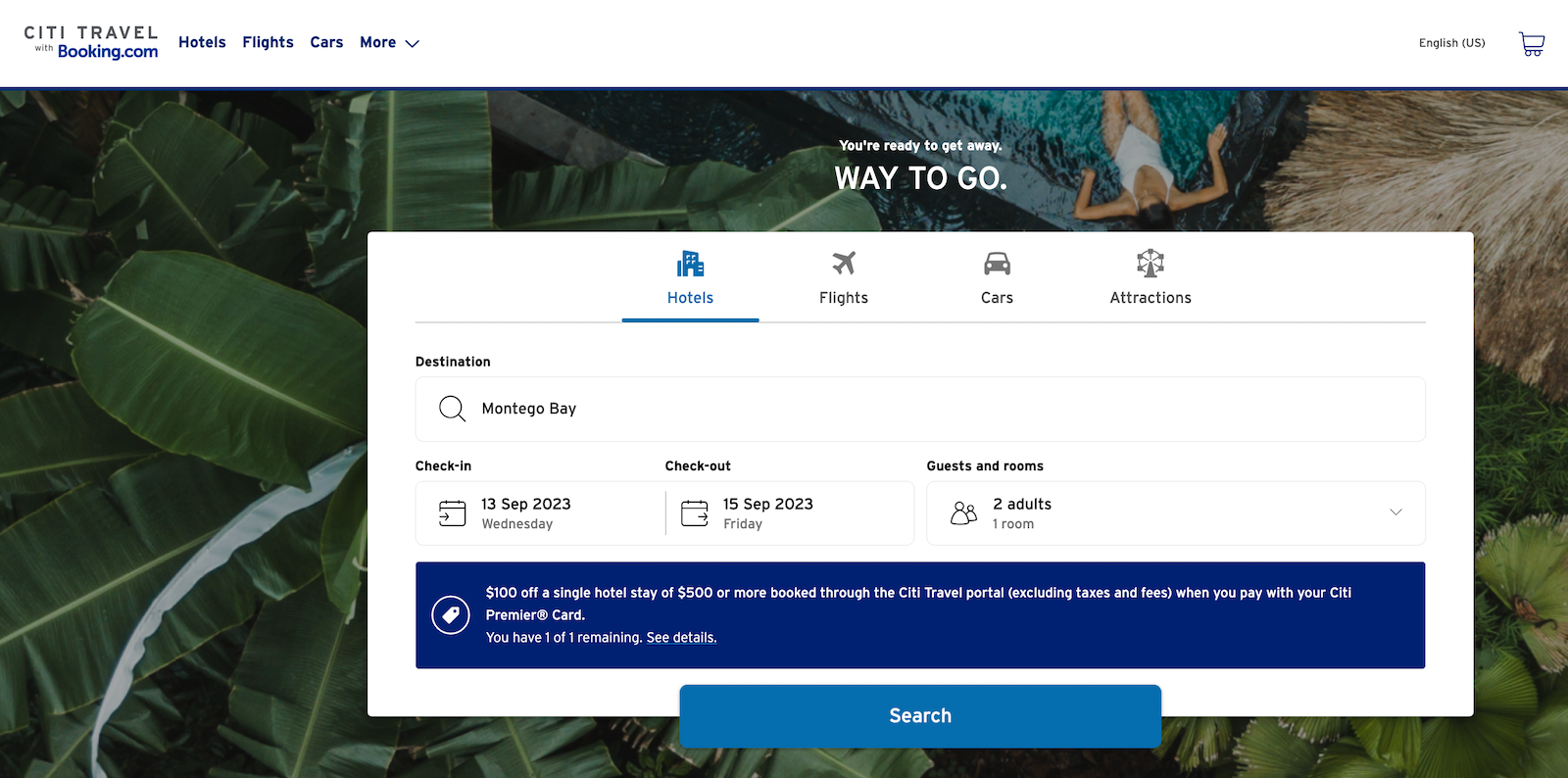 Using the Citi Prestige 4th-night-free benefit
Similarly, Citi Prestige cardholders can stack their cardholder benefits with Hotel Collection and Luxury Collection benefits. Twice per year, Prestige cardholders can get a fourth night free on bookings of four nights or more. You must book through Citi's portal to use this perk.
This is a valuable benefit in its own right. Stacking a free fourth night with other benefits from Hotel Collection or Luxury Collection stays multiplies the value.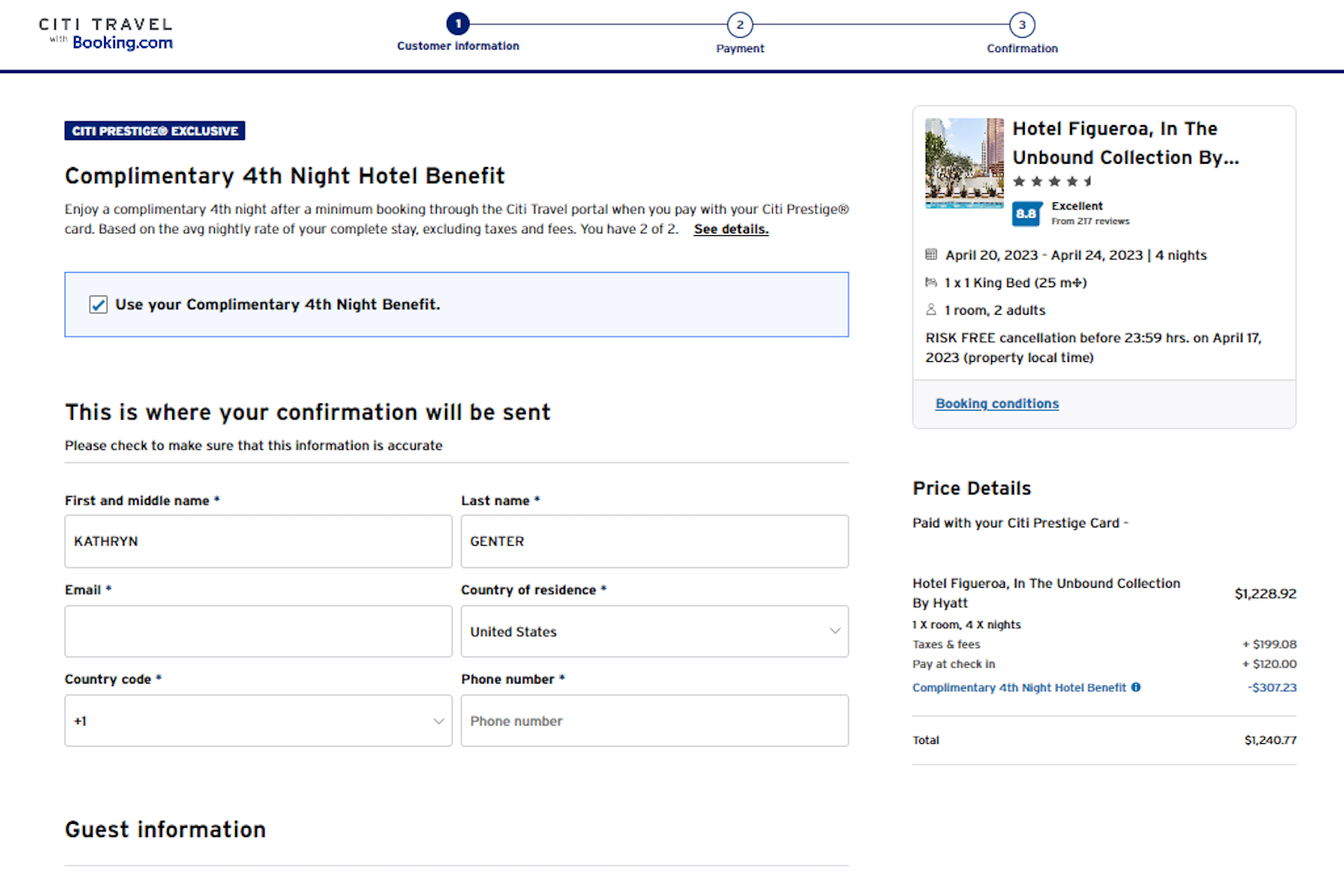 On the payment page, a check box allows you to choose whether you'll use the complimentary fourth night.
Are these programs worth it?
When you hear that you'll get additional benefits with your hotel reservations, it might sound like an obvious win. However, that may not be the case.
It's worth using these programs if the price is similar to booking elsewhere or if the additional benefits overcome a higher price advertised in Citi's portal. Compare the money you'll save with free breakfast added to your booking against any higher upfront price when making the reservation. Which booking method saves you money in the long run?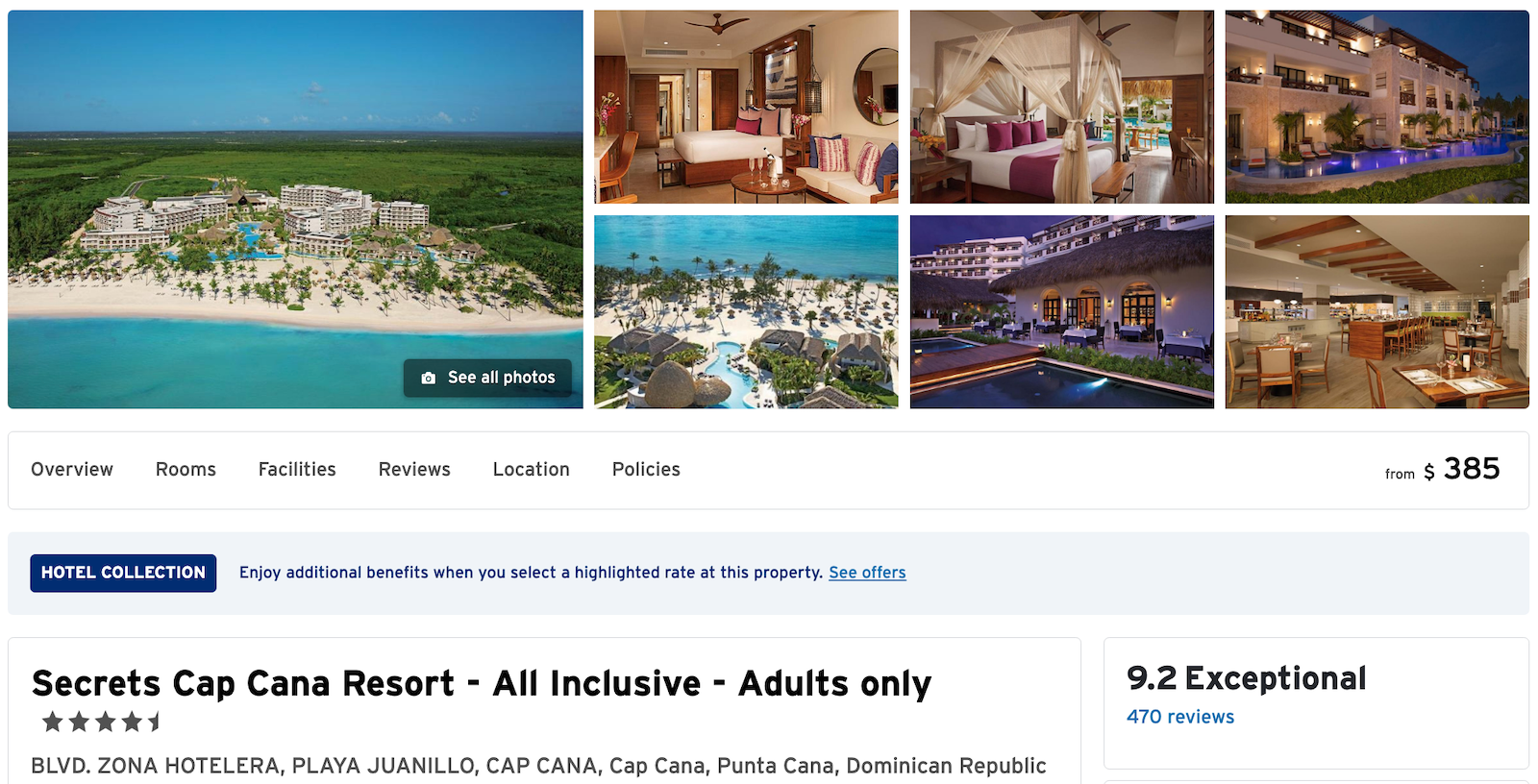 However, you may not save money. Since not all room rates are eligible for Hotel Collection or Luxury Collection benefits, you'll pay more to get these perks. So, which is cheaper for you: paying $200 more for a room rate, including breakfast for two people, or dining at a restaurant every morning?
Plus, multiple all-inclusive resorts are included in Citi's Hotel Collection and Luxury Collection. These properties already include all meals with your room rate and provide Wi-Fi to all guests. Citi's terms say you won't receive substitute benefits and that you can't cash out unused perks. Are you paying extra without receiving anything in return?
If the math doesn't make sense, book directly with the hotel. The same applies to those who want elite status benefits.
Lastly, it's not worth booking here if you can use fewer points to achieve the same result. Depending on the property, you might be able to leverage Citi's transfer partners to book an award stay using fewer points. If you have elite status with that hotel, you might receive some of these same perks.
When to use the Citi Hotel Collection and Luxury Collection
Conversely, there are times when you absolutely should use Citi's portal and make a Hotel Collection or Luxury Collection booking.
Use these benefits at boutique hotels where the question of elite status is irrelevant. Moreover, if the price is the same as booking in another way (but without the added benefits), using these these programs definitely makes sense.
It also makes sense if you can use your Citi Premier or Citi Prestige cardholder benefits to defray the cost of your stay and make the math work in your favor. If booking with Citi is now cheaper, thanks to your credit card benefits, it's a win.
Additionally, it makes sense if you want to use points and one of two situations applies. Book this way if you'll use fewer points here than through a transfer partner or if this is your only way to pay with points. If you're booking a boutique hotel property — so a transfer partner option doesn't exist — this may be your only option for paying with points. Check your options to ensure you're paying the lesser amount.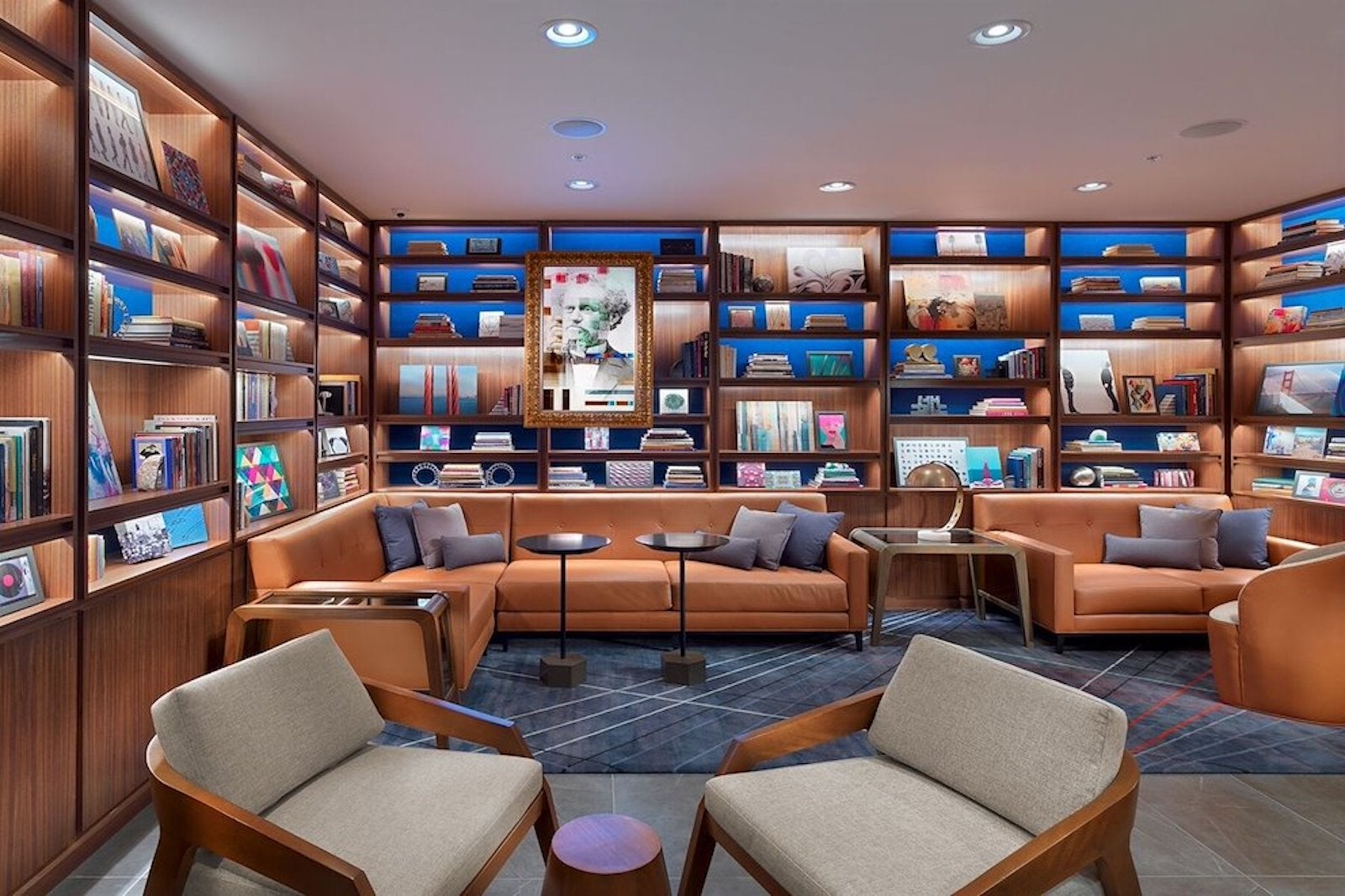 Bottom line
It's getting crowded in the credit card hotel program arena. Citi recently launched two programs: Hotel Collection and Luxury Collection. The latter offers additional benefits, but it's also more exclusive. There are similarities between these programs, and there is also overlap between Citi's programs and programs from other credit card issuers.
The idea of getting additional benefits added to your hotel stay sounds enticing. Everyone likes free breakfast, after all. However, be sure that this is the right way to book your next hotel stay by checking costs and what benefits you might sacrifice — or what benefits you might pay for without receiving.
Related: A comparison of luxury hotel programs from credit card issuers: Amex, Capital One, Chase and Citi