Online shopping portals allow you to earn bonus points, miles or cash back when you shop at select retailers. By logging in to your preferred portal, clicking on a store and making a purchase as usual, you can earn these bonuses on top of the rewards you get from your credit card.
Capital One Shopping is one such portal that helps you find the best deals and save money, even if you don't have a Capital One credit card. It offers targeted deals that differ from the Capital One Offers found in your account. Additionally, you can get automatic free coupons at over 100 stores.
In this guide, we'll cover everything you need to know about using Capital One Shopping to save money on purchases.
What is Capital One Shopping?
Capital One Shopping is an online shopping portal that can save you money on your purchases. You can use it even if you don't have a Capital One credit card. However, instead of receiving cash back, you earn gift cards. Although it's not the same as getting cash, many gift card options are available.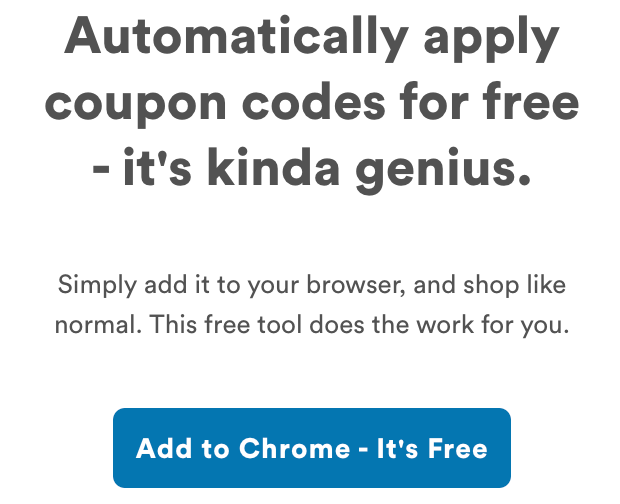 Capital One Shopping also provides a Chrome extension you can easily download after logging in. Once installed, the extension will prompt you to activate any available Capital One Shopping offers while you search online.
To use it, visit your desired retailer, and you'll be prompted to activate the available offers in the top right corner of your screen. This extension is a convenient solution for simplifying the rewards-finding process and avoiding the need to manually search for them.
Related: Best credit cards for everyday spending
How to use Capital One Shopping
To use Capital One Shopping, start by visiting capitaloneshopping.com and creating an account. From here, you can set up your own credentials or choose to log in via Capital One (if you already have an eligible card).
Alternatively, you might be able to accept a referral to jump-start your earnings.
At the time of writing, you can join using a friend or family member's referral link, and when you download the browser extension and spend $10 in the first 30 days, you'll earn a one-time bonus of $30 in rewards.

Once you have an account, you can view the available deals by searching for a brand using the search bar at the top. Once you've found what you want, click on "Activate," and you'll be redirected to the merchant to complete the purchase.
Like other shopping portals, you must click the provided link to purchase and receive rewards (unless you have the browser extension, which will prompt you when you open an eligible merchant's site). In addition, you should avoid navigating to other websites or shopping portals during the process, as this may cause your purchase to not be tracked properly with Capital One Shopping.
Also, if you have a coupon code that's not listed on Capital One Shopping, you should avoid using it to earn rewards.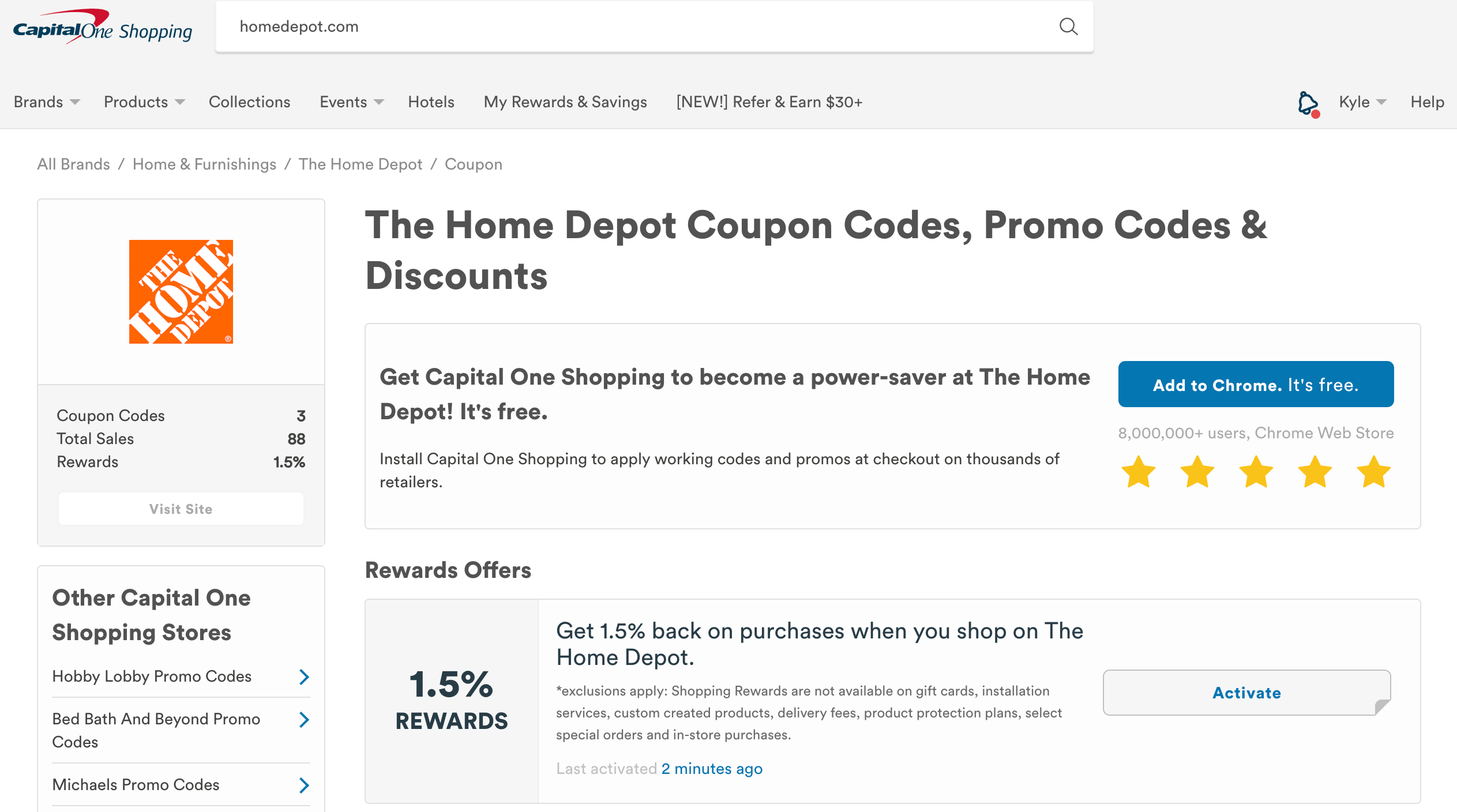 Alternatively, you can search for your product directly in the Capital One Shopping search bar or by selecting "Products." This will display the various merchants that sell your product, including the product condition, estimated delivery time, potential rewards and final, out-of-pocket cost after rewards.
For example, by purchasing the Bose 700 headphones on eBay, you can save almost $50 compared to purchasing them directly from Bose.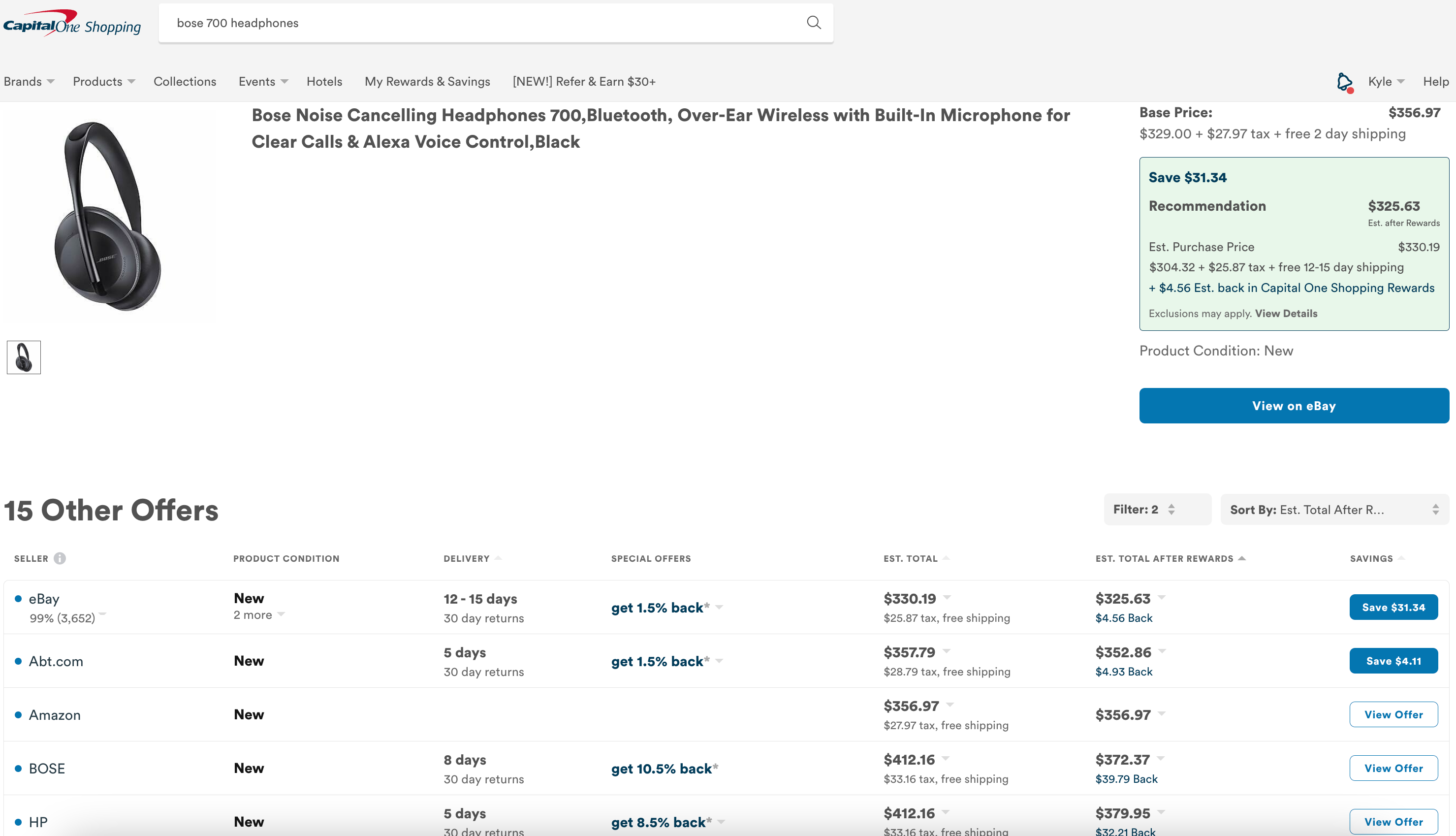 Capital One Shopping also has a similar price comparison tool for hotel reservations.
As you can see, booking with certain online travel agencies can save money on your hotel stay. Still, you generally won't receive your elite status benefits or earn elite-qualifying points or nights. If you find a lower rate at a Marriott, Hyatt, Hilton or IHG property than what's available by booking directly, you can submit a price match/best-rate guarantee request, and if approved, the lower rate will be honored.
Related: 9 things to consider when choosing to book via a portal vs. booking directly
How to redeem Capital One Shopping earnings
As mentioned, Capital One Shopping provides users with gift cards at select retailers for their earnings. This is different from programs like Rakuten, Dosh and Top Cashback, which allow you to earn cash rewards (typically distributed via PayPal, check, automated clearing house service or Venmo transfers).
You can order gift cards by selecting "Redeem Now" under the "My Rewards & Savings" tab.

Some gift card merchants on Capital One Shopping include 1-800-Flowers, Chico's, Global Hotel Card, The Home Depot, Macy's, SiriusXM and Safeway.
Related: Use a shopping portal aggregator to maximize online purchases
What credit card should you use with Capital One Shopping?
You can use Capital One Shopping without using a Capital One card. However, many Capital One cards can be great options, including:
For additional suggestions, check out our list of the best cards for online shopping.
Related: Best credit cards
Bottom line
The Capital One Shopping portal can help you save money, even if you don't have a Capital One credit card. Although it falls short of offering cash back, you can earn gift cards from various retailers with your purchases. It also offers valuable price comparison functionality and the ability to apply coupon codes to your transactions. And the Capital One Shopping browser extension makes it easy to activate available offers and earn rewards while making online purchases.
Overall, using Capital One Shopping is a simple and effective way to maximize savings on your purchases — so sign up today.