Delta Air Lines is back at it with a slew of interesting new routes.
This time, though, the Atlanta-based carrier is mostly boosting point-to-point connectivity, rather than adding spokes to its key hub airports.
Specifically, the carrier is adding the following five routes later this year, as confirmed by airline spokesperson Drake Castañeda.
Austin — Las Vegas.
Austin — Orlando.
Las Vegas — Sacramento.
Las Vegas — San Diego.
New York — Nassau, Bahamas.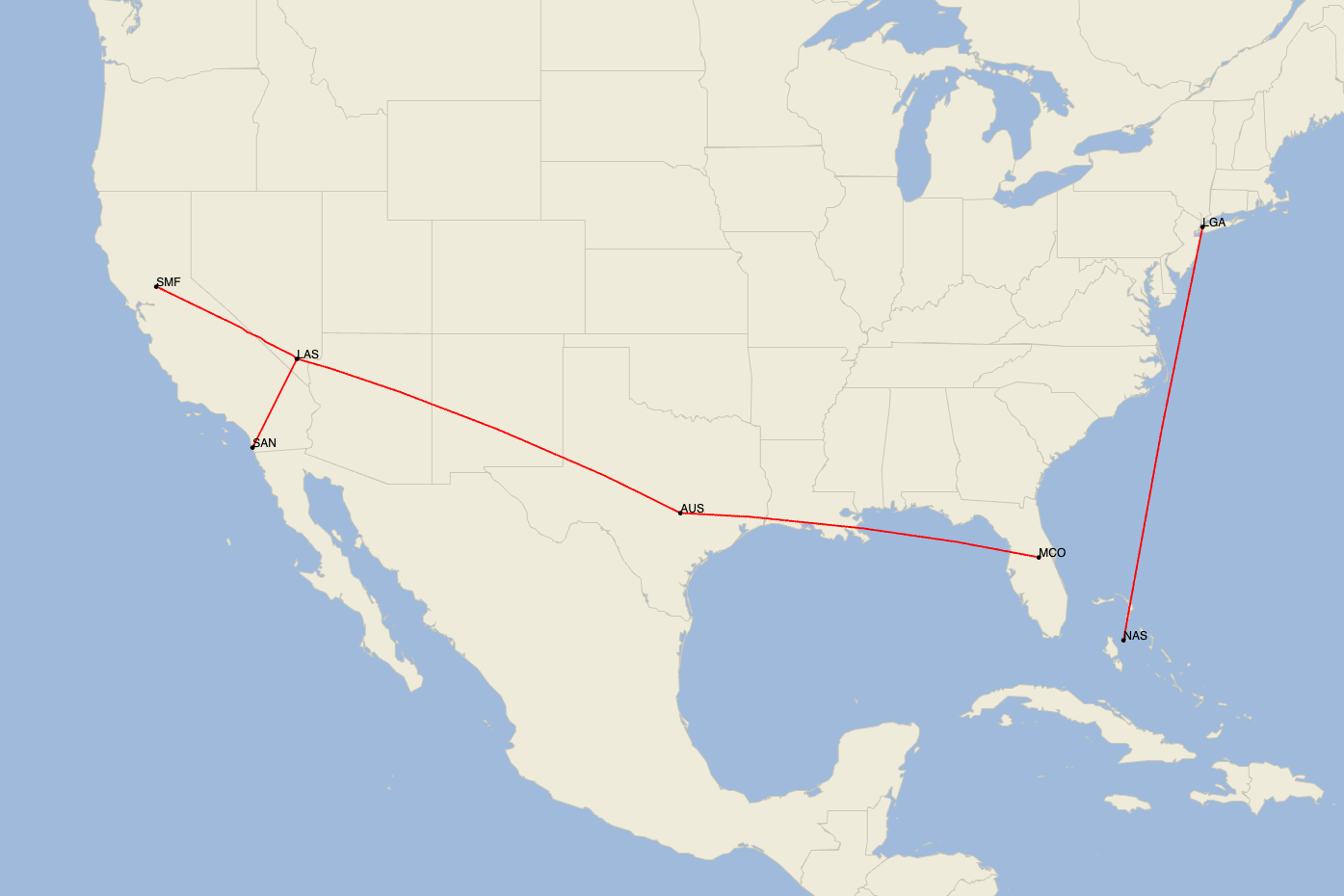 All of the aforementioned routes will commence on Oct. 9, except for the new LaGuardia service, which will take off on Dec. 16 — just in time for the busy winter holiday season.
Delta will fly between Las Vegas and San Diego twice a day, and the other new flights will operate on a once-daily basis. These new flights will be loaded into Delta's schedule over the weekend and will be bookable by no later than Monday, July 10.
As you can see, the airline's additions from Austin and Las Vegas don't touch a hub. Instead, these point-to-point flights connect busy origin and destination (O&D) markets that boast lots of nonstop demand. (That's also why Delta will have so much competition on these routes from competitors ranging from American Airlines to Spirit Airlines to Southwest Airlines, and even some other carriers.)
Interestingly, Austin has been one of the hottest aviation markets in recent years. During the pandemic, the Texas capital saw increased service from a slew of airlines; perhaps most notably, American added multiple tranches of new routes as it grew its presence in the city.
Before the pandemic, Delta considered Austin among one of its five focus cities — those cities are Austin, Cincinnati, Nashville, Raleigh-Durham and San Jose, California — a list that's since been pared down to just two key airports: Austin-Bergstrom International Airport (AUS) and Raleigh-Durham International Airport (RDU).
As such, since Austin is still a focus city for the airline, Delta's growth there shouldn't come as much of a surprise. The airline last flew between Austin and Orlando in January 2015, Cirium schedules show, while the route to Las Vegas is a new one for the carrier.
Being one of the fastest-growing metropolitan areas in the country, Austin has seen a steady stream of companies moving into the area. Plus, with the city's vibrant arts and entertainment scene, it's a popular destination for leisure travelers.
Along with Delta, American, Alaska, Allegiant Air, Hawaiian Airlines, JetBlue and Southwest have all unveiled new routes to Austin recently.
As for Vegas, the city also sees millions of leisure and business travelers each year, and Delta's new routes there should help boost its presence in Sin City and along the West Coast. (Notably, the route from Vegas to San Diego is technically a resumption from April 2020, Cirium schedules show.)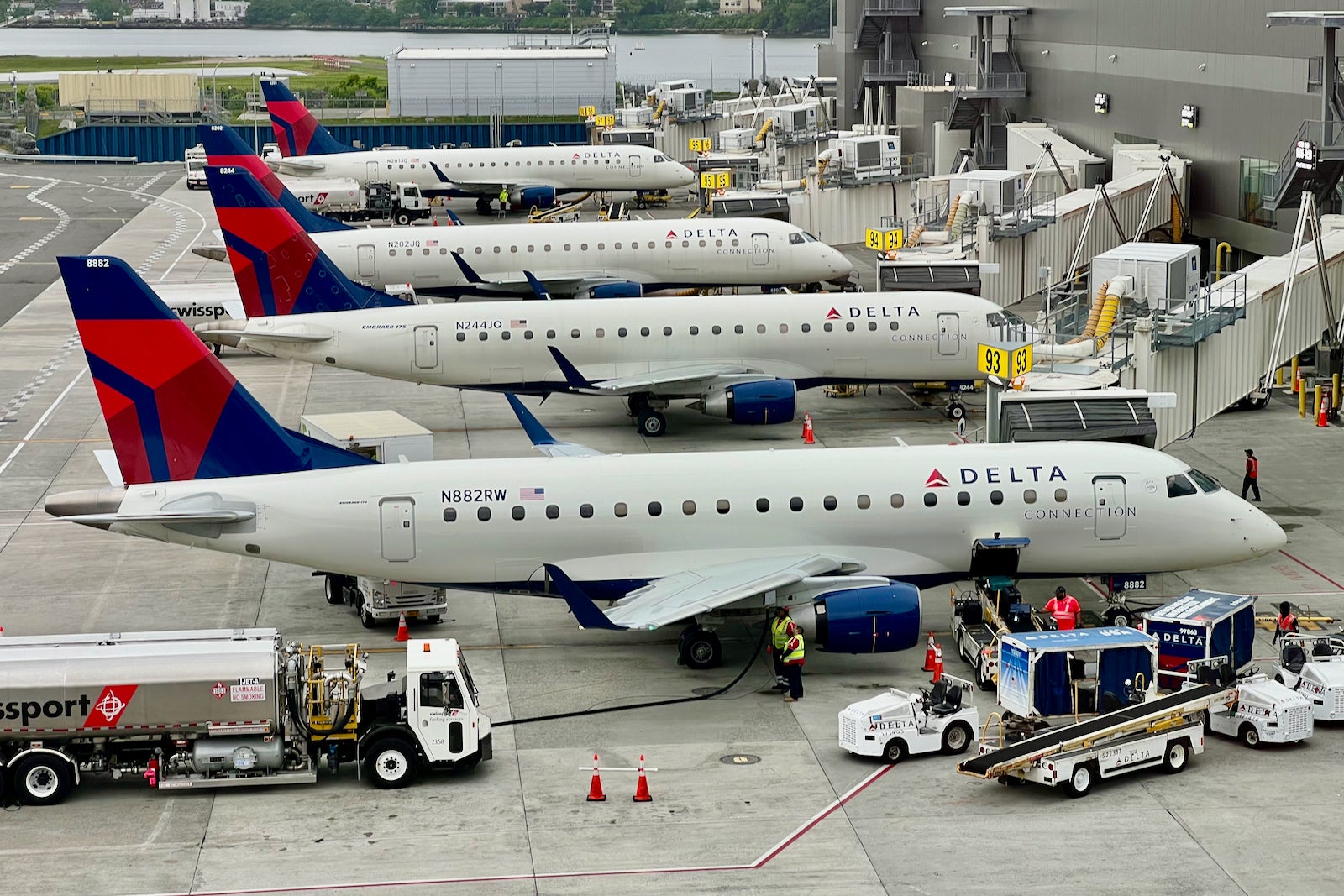 Finally, there's the interesting new seasonal daily flight from New York's LaGuardia Airport (LGA) to Nassau that's launching on Dec. 16 and will run through April 7, 2024.
You don't often see new international services to and from LGA, since the airport doesn't offer a federal inspection station for customs and immigration formalities. Therefore, the only international flights that can be flown to LaGuardia are those that arrive from pre-cleared destinations that offer U.S. customs and immigration before departure.
One such airport is Nassau, so when you arrive in LaGuardia, you'll essentially be treated as if you landed on a domestic flight.
Adding this new service from New York will go head-to-head against JetBlue's existing flight in this market. LaGuardia is the airport of choice for many New York City residents, so Delta should have no issue marketing this new service to those looking for some fun in the sun this winter.
Delta last flew between the two cities in January 2017, and the airline's existing service from New York's John F. Kennedy International Airport (JFK) to Nassau isn't changing as part of this update.
Related reading: