Editor's note: This story was updated to reflect that redeeming miles for guest access to grab-and-go lounges complements the existing policy for traditional Sky Club visits.
---
Based on the lines alone, getting into the Delta Sky Club is one of the hottest tickets in town.
Though Delta Air Lines has made numerous changes to its access policies in recent months, many Sky Clubs continue to suffer from overcrowding (and that's after waiting in line to enter).
Now, the airline has published three more adjustments to its Sky Club access policies, as seen on Delta's updated Sky Club house rules website.
Want more airline-specific news? Sign up for TPG's free biweekly Aviation newsletter
Here's the latest — and don't fret: The changes aren't necessarily bad news.
Redeem miles for guests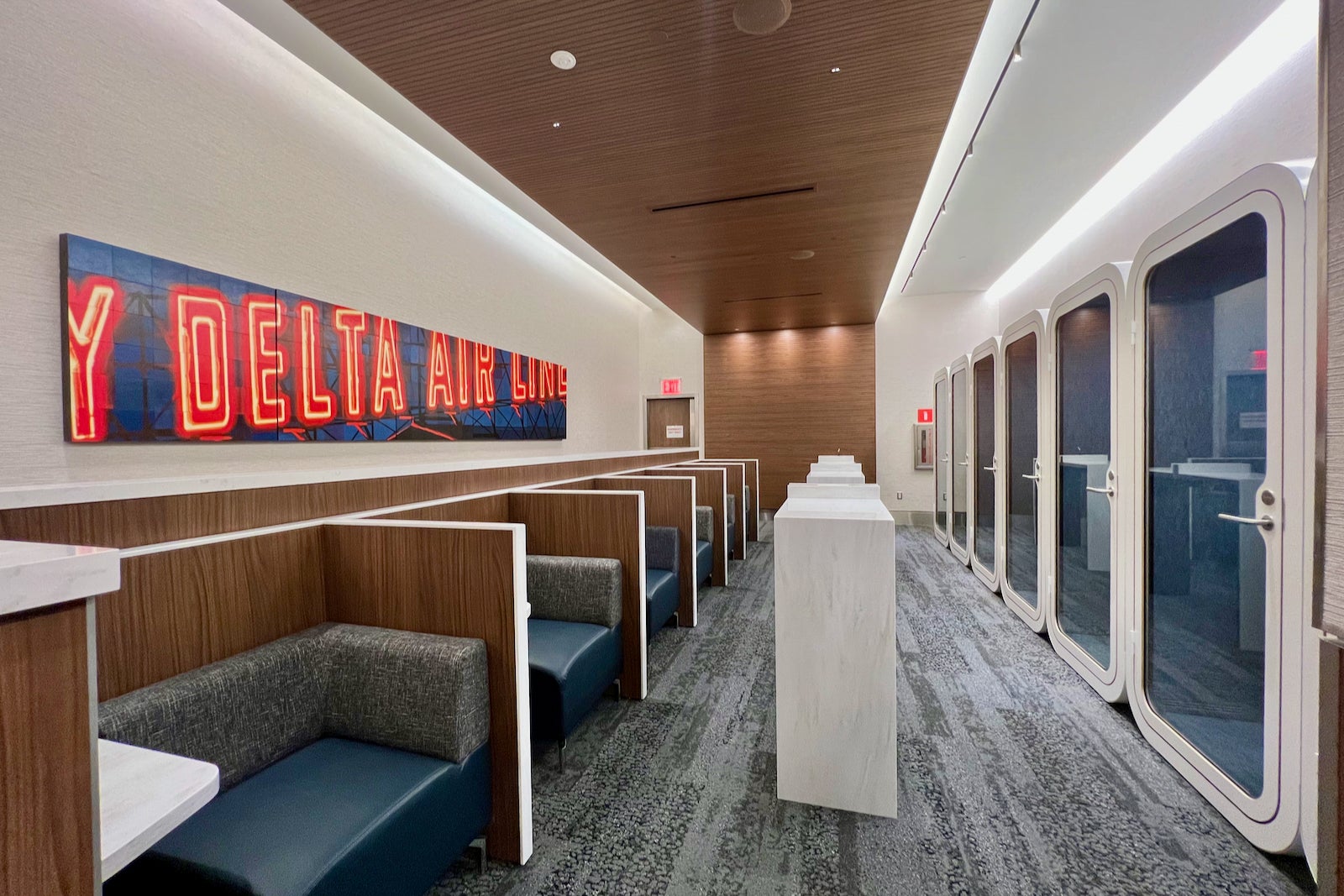 Over the years, Delta has been the most aggressive of the U.S. carriers in turning its mileage currency into a cash-like equivalent.
Instead of just redeeming miles for flights, you can purchase seats, upgrades and even a bottle of top-shelf Champagne using your SkyMiles.
You can also redeem SkyMiles to cover the guest fee for entering the lounge, which also now applies to the airline's grab-and-go locations at a rate of 2,500 miles per eligible guest.
More from TPG: Best credit cards for airport lounge access 
If you're a Sky Club member, you can redeem 5,000 miles to cover the cost of each additional eligible guest you bring into the traditional lounge. Otherwise, you can pay for an eligible guest at the rate of $50 per person.
A one-cent per point valuation isn't necessarily the best deal in the SkyMiles program, but more redemption options are certainly better than fewer.
Cheaper guest fee
Speaking of guest fees, Delta's new grab-and-go Sky Clubs come with lower guest fees than the traditional lounge.
This fee, $25 per additional guest, is for anyone who brings an eligible guest into the grab-and-go Sky Club experience.
As mentioned above, Sky Club members can redeem 2,500 miles for guests in the grab-and-go experience, while all other travelers, including those accessing the Sky Club with an American Express credit card, will need to pay the guest fee in dollars.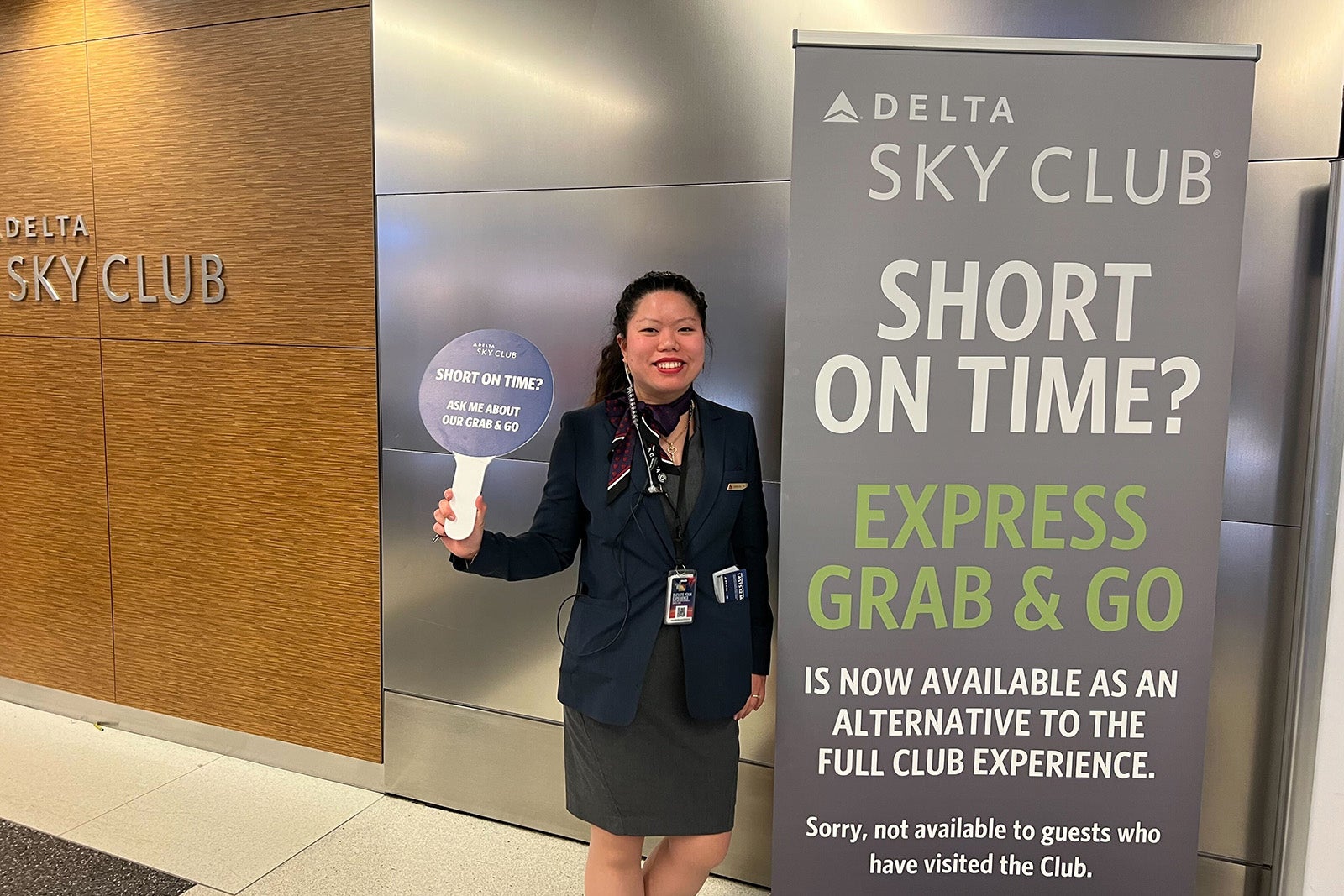 Delta's first two grab-and-go Sky Clubs opened last month in the lobby of existing Sky Club outposts. In particular, you'll find them in:
Hartsfield-Jackson Atlanta International Airport (ATL), Concourse B.
John F. Kennedy International Airport (JFK), Terminal 4, Concourse B.
These grab-and-go Sky Clubs are part of a trial to see if flyers like this new lounge concept.
Based on how the pilot goes, the airline will open more of these concepts nationwide — and not necessarily just within existing Sky Clubs, according to a recent interview with Claude Roussel, Delta's managing director for Sky Clubs. This way, flyers would have more lounge options when flying with Delta, and the airline wouldn't need to find massive spaces within the busiest airports to build more full-fledged lounges.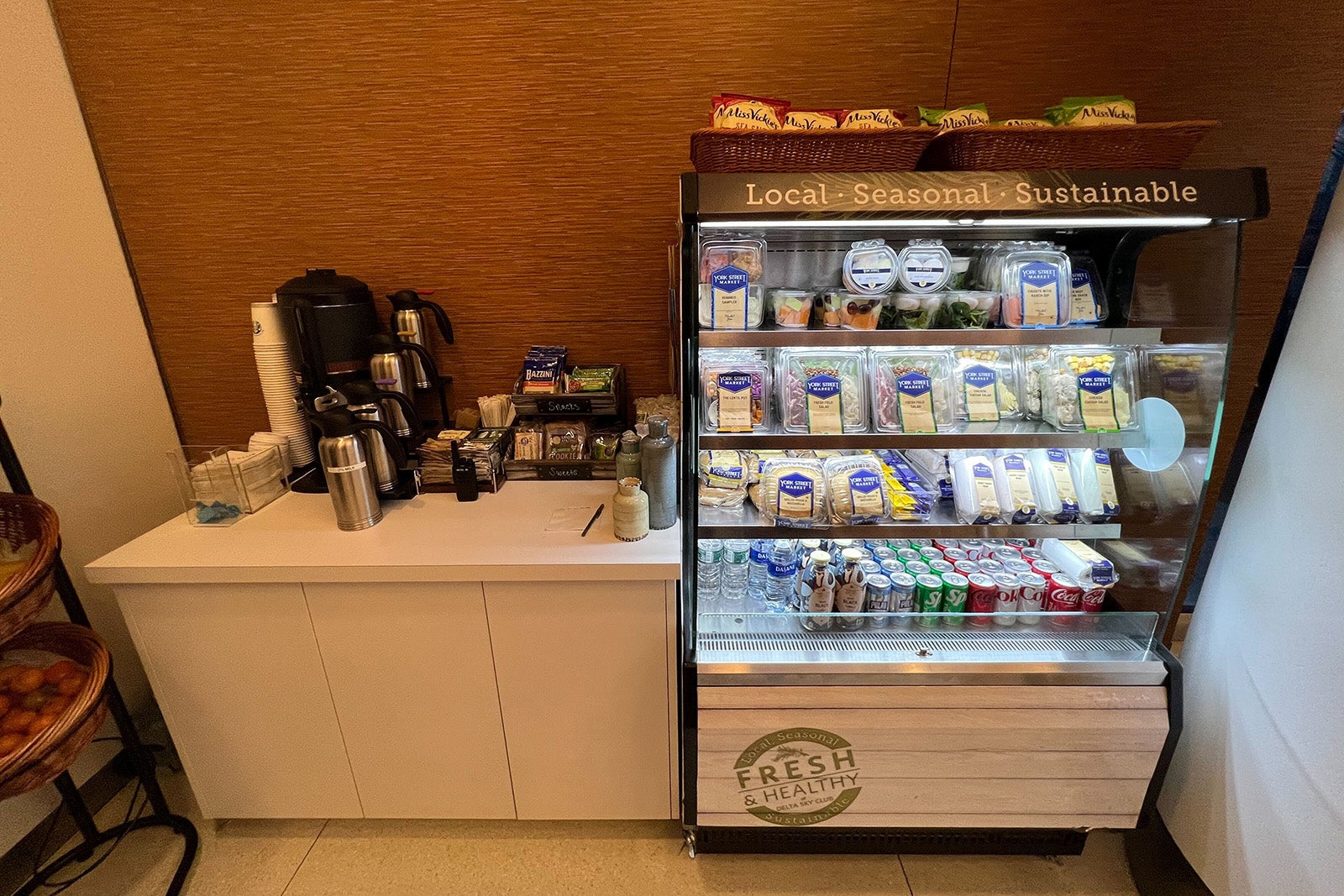 TPG recently visited the first grab-and-go lounge in New York and found a selection of refrigerated sandwiches, salads, vegetable cups and more in the food section. There were no hot food options or alcoholic drinks available.
Given this more limited service concept, it makes sense for Delta to offer a lower the guest fee for grab-and-go access. (Although, some flyers will undoubtedly just stock up on food for the whole party without necessarily paying the guest fee.)
No mixing and matching
Perhaps the biggest perk of the grab-and-go Sky Club option is that you get to skip the line for the regular club.
Whether you're in a rush or just prefer to relax by your gate, visiting a grab-and-go Sky Club shouldn't take more than a few minutes.
But once you visit one of these locations, you can't then change your mind and spend time in the regular club.
More from TPG: Best credit cards for Delta Air Lines flyers 
Though this policy has existed since the grab-and-go clubs opened, Delta formally updated its Sky Club house rules on Wednesday to include the following language.
A Delta Sky Club Member or customer with Club access (and their respective guests) may not enter a Delta Sky Club within 3 hours after utilizing the Grab and Go feature on the same day at the same airport. Similarly, a Delta Sky Club Member or customer with Club access (and their respective guests) may not utilize the Grab and Go feature within 3 hours after entering a Club on the same day at the same airport.
That means you'll only get your pick of one Sky Club experience before your flight.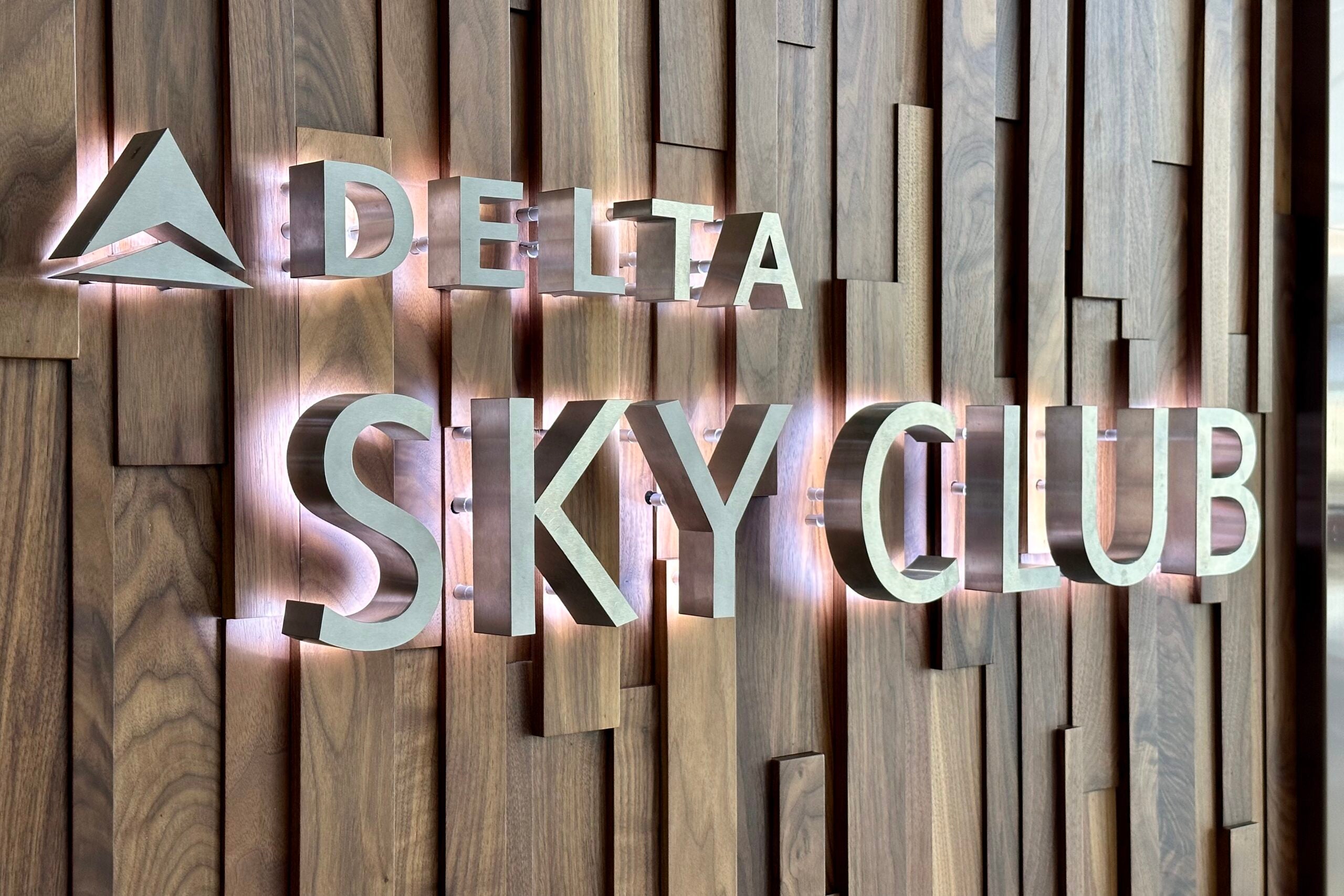 Prefer to skip the line? Choose the grab-and-go Sky Club. Want a drink and some hot food? Be prepared to wait to enter the regular club.
That said, Delta will "exercise situational flexibility" in case of irregular flight operations. As such, I'd expect the lounge receptionists to be considerably more flexible during rolling delays and cancellations.
Bottom line
Delta's latest Sky Club access policy updates aren't necessarily going to solve overcrowding, nor are they necessarily bad news.
Adding more ways to pay for guest access in the grab-and-go clubs is certainly a welcome improvement, even if the redemption rate isn't the most lucrative. Plus, the cheaper guest fee for grab-and-go access might convince a few more flyers to use this experience as opposed to waiting in line for the regular club.
While it'd be great if the airline could magically build bigger lounges, that's certainly not a short-term solution. Until then, we'll probably see more of these smaller updates to better match supply with demand.