Walt Disney World's classic log flume ride, Splash Mountain, first plunged guests down the 52-foot drop on July 14, 1989, and Disney has just announced its final trip through the briar patch will occur in January 2023.
The ride as it exists today features characters heavily inspired by "Song of the South," a 1940s-era Disney film that depicts dated, racist stereotypes, so it was ripe for a reimagining given the company's commitment to diversity and inclusion.
Splash Mountain, as we know it, will be closed starting Jan. 23, 2023, to undergo a transformation into the previously announced Tiana's Bayou Adventure. Tiana's Bayou Attraction picks up Tiana's story after the 2009 "The Princess and the Frog" movie concludes. On this ride — the first featuring Princess Tiana — you'll join Tiana and her alligator pal Louis as they get ready to host a celebration for all of New Orleans.
The current Splash Mountain attraction is home to many animatronic critters, and from what Disney has shared, the new ride will have no shortage of "adorable creatures," including an otter, rabbit, raccoon, beaver and turtle, among others.
Disney has also released a new rendering of the moment you first enter the bayou on the attraction and shared that the ride will feature Zydeco music (a Louisiana-born blend of rhythm and blues).
Based on the renderings — and the warmly lit fireflies within them — it seems this attraction will keep that "dark ride" vibe as it builds toward its eventual finale drop.
Related: Book a Disney vacation with TPG's partner, Mouse Counselors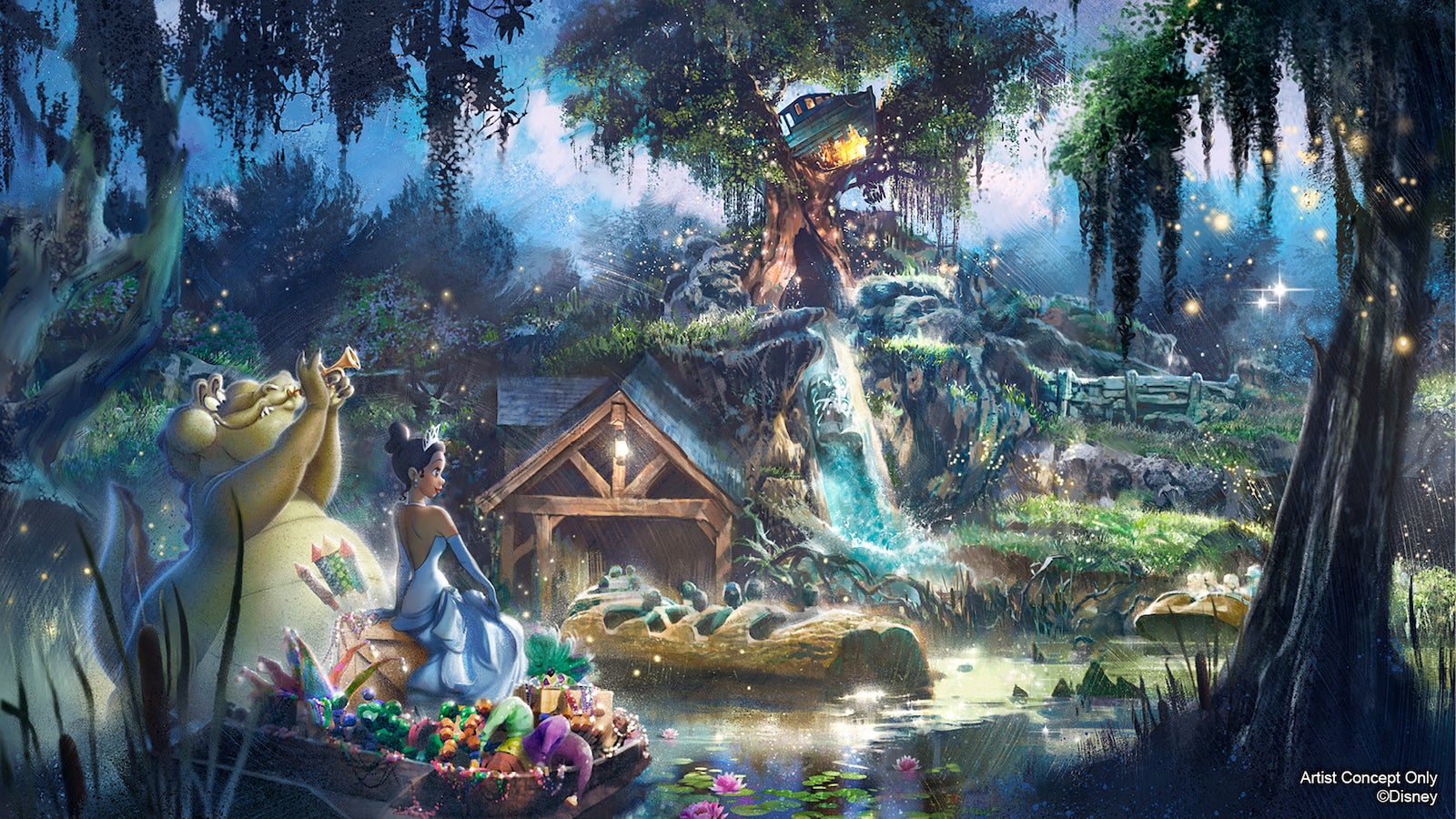 Disney has not yet announced a closing date for the Splash Mountain attraction at Disneyland.
However, both U.S. Disney parks are transforming their respective Splash Mountain attractions into Tiana's Bayou Adventure with previously announced late 2024 opening dates.
Related readings: