Do cruise ships have medical facilities with doctors and nurses on board? The short answer is yes.
When you board a cruise ship you become part of a community of people of all ages who will be together for several days, a week or more. On large cruise ships carrying thousands of passengers and crew, your community may be the size of a town or even a small city. To handle any health issues that come up in this floating metropolis, cruise lines employ doctors and nurses who work out of an onboard medical center.
To be clear, the onboard facility is not a hospital – it's more akin to a health center or ambulatory care unit. The professionals who work there have training in emergency medicine and the equipment to stabilize a patient even in dire circumstances. Mostly, though, what they deal with are things like sprained ankles, upset stomachs and people who have forgotten to pack medication.
For more cruise guides, reviews and tips, sign up for TPG's cruise newsletter.
That said, in the wake of the COVID-19 pandemic, many cruise lines have expanded their medical care facilities on ships and added new requirements for medical personnel. Royal Caribbean, for example, now requires all its doctors to have training in acute respiratory illness and has added an infection control officer who oversees the line's infection control plan on each ship.
If you have an emergency on any cruise ship, you can push a button on your stateroom phone for help – the equivalent of dialing 911 from your home phone. For minor ailments, you can visit the medical facility during set office hours.
Who are the medical personnel?
The American College of Emergency Physicians, in conjunction with the Cruise Lines International Association, sets strict standards for who treats patients, as well as guidelines for medical facilities, on ships operating from the U.S. Similar authorities are involved for international cruises. All medical staff are both certified and experienced.
Under the ACEP standards, physicians must have three years of post-graduate/post-registration experience in general and emergency medicine or be board-certified in emergency medicine, family medicine or internal medicine. Staff also must be certified in advanced life support or have certification or physician specialist training in areas such as emergency medicine, anesthesiology or critical care.
Ships that carry children under age 12 are required to have at least one physician with training in pediatrics or with an equivalent emergency training that involves kids.
Training requirements for nurses also are quite detailed. Typically, one of the nurses is a trained paramedic and all nurses are experienced registered nurses.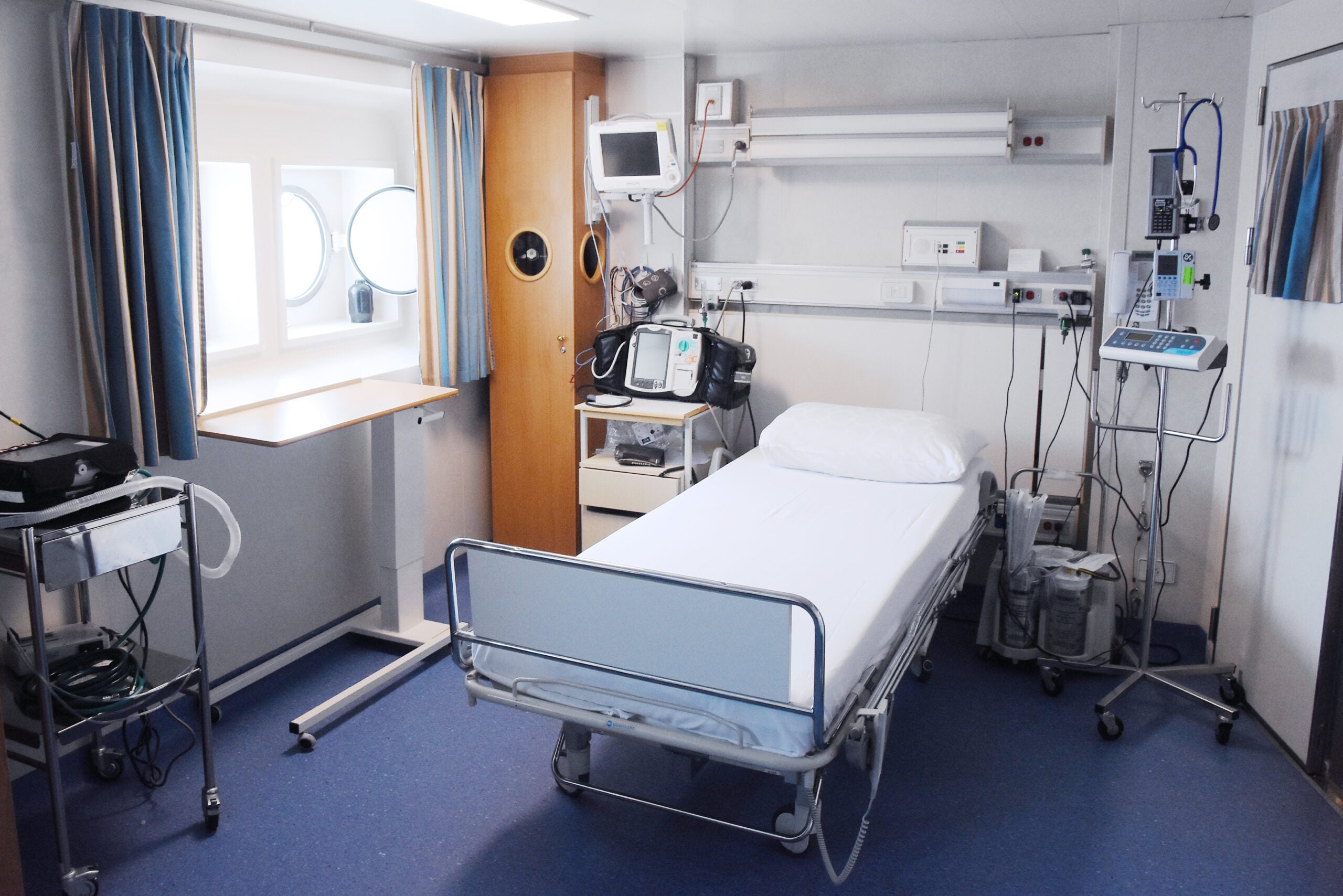 Medical staff varies by ship size, but typically ships have a doctor and at least two nurses. The world's largest cruise ships may have two doctors and five or six nurses. River ships and small ships that hover close to shore have less staff since they can easily access health facilities on land.
Cruise lines find shipboard nurses and doctors via worldwide recruitment companies. Medical personnel typically work on ships on two- to six-month contracts.
Doctors and nurses report to a chief medical officer at the cruise line's headquarters, who is available 24 hours a day to deal with emergencies.
What to expect at a cruise ship medical center
Cruise ship medical centers usually are located on a lower deck, set apart from crowded areas and close to the back-of-the-house crew facilities. The medical personnel treat both passengers and crew.
While medical personnel are on call 24 hours a day, most passengers visit during scheduled hours. Carnival Cruise Line's facilities, for instance, are open on embarkation day from 8 to 9 a.m. and 3 to 5 p.m; on sea days from 9 a.m. to noon and 3 to 6 p.m.; and on port days from 8 to 10 a.m. and 4 to 6 p.m.
Inside the medical center you'll find a waiting room – where you will fill out medical history forms as you would in any doctor's office – and exam rooms. Only if your medical situation requires it will you see a separate area with hospital beds, a small surgical suite where wound suturing and other minor surgeries may be conducted, or the ICU or isolation rooms.
Equipment in shipboard medical centers includes defibrillators, cardiac monitors, external cardiac pacing capability, a ventilator, oxygen tanks, x-ray machines and lab equipment. Some lines add technology; for example, select Carnival ships have thrombolytic therapy (to break down blood clots) and pulse oximetry (to test oxygen levels). There will also be wheelchairs and stretchers.
Pharmacy supplies include seasickness pills, aspirin and other over-the-counter products, antibiotics and limited supplies of prescription medications, as well as emergency medications such as those needed for advanced cardiac life support.
Serious situations
While most medical complaints on ships are routine, the medical team is equipped to perform life support services and stabilize anyone seriously ill. Personnel trained in medivac procedures would then generally medically disembark the patient on a stretcher at the next port of call and have the person transferred to a hospital.
If an extreme case occurs at sea, the U.S. Coast Guard (or equivalent local authority overseas) will be called in to hoist the patient off the ship by boat or helicopter.
No one likes to think about it, but your ship may also have a morgue with refrigerated units.
Who pays for treatment
Cruise ship doctors work as independent contractors and may charge a basic hourly fee. There will be additional charges for medications and tests.
All must be paid for at the time of service and will be billed to your shipboard spending account. You'll receive a receipt to submit to your health insurance company for possible reimbursement. Be aware: Many personal insurance policies purchased at home do not cover you while traveling outside the U.S.
Related: A guide to travel insurance for cruises
If you purchased separate travel health insurance from your cruise line or a third-party provider you will still be required to pay for the services up front and may have to wait several months to be reimbursed.
Planning a cruise? Start with these stories: