Do cruise ships have Wi-Fi? Yes, but internet access on cruise ships is both better and worse than you may expect. If you're headed on a cruise vacation and want to stay in touch with family and friends — or stream movies and music on board the ship — it is possible to stay fully connected while at sea. But if you think the connectivity will be similar to a hotel, you'll need to adjust your expectations. Connectivity can be slow and spotty, although cruise lines are working to change that.
Ships rely on satellites for their internet connections at sea. The strength of the connection depends on several factors, including where you are in the world and the weather. On many lines, certain locations — such as public spaces near the center of the ship — tend to have better connectivity than other places (like your cabin).
Cruise lines are quickly adopting new technologies to make internet access more reliable — and more affordable. Royal Caribbean Group recently announced that it will start using SpaceX's Starlink, a quickly expanding satellite network with download speeds of 50 Mbps (megabits per second) to 250 Mbps and upload speeds of 10 to 20 Mbps.
For more cruise news, reviews and tips, sign up for TPG's cruise newsletter.
Here, I'll give an overview of what to expect from internet offerings on cruise ships, as well as a line-by-line look at the plans and pricing available on your next cruise vacation.
What types of Wi-Fi plans do cruise lines offer?
Larger mainstream cruise lines typically have several plans available for purchase, with the cheaper plans only supporting email and texting and the pricier plans allowing streaming and Wi-Fi calling. Most upscale and luxury cruise lines offer a complimentary basic Wi-Fi plan that you can upgrade if you need a faster connection.
Before purchasing a plan, consider how much time you'll be online, how many devices you need to connect (a smartphone, tablet and a laptop?) and how much speed you'll need. If all you want to do is check emails or send texts, you may not need to spend additional money on an upgraded plan at all. Most cruise lines, but not all of them, let you use a one-device plan across multiple devices as long as you're only logged in to one at a time.
Note that you do not need a cruise ship Wi-Fi plan to access the free services — such as ordering food or checking the daily schedule — on a cruise line's app.
Related: Wi-Fi on cruise ships: 5 things to know about internet use on board
Pro tips for using cruise ship Wi-Fi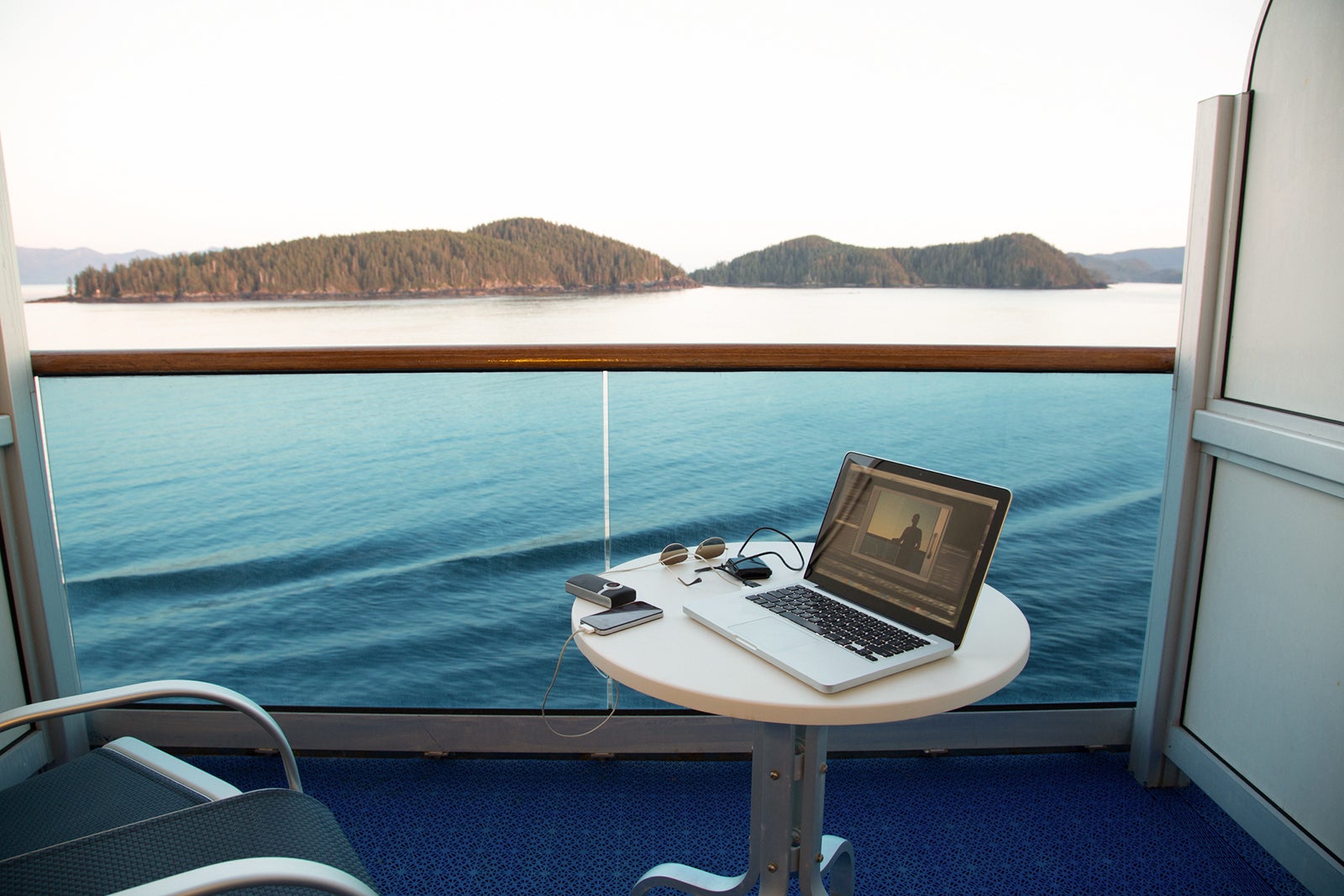 Before booking your cruise, look for promotions and deals that include basic Wi-Fi. If you can't get cruise ship internet included, don't wait to purchase your internet package until you're on board: It's usually less expensive to purchase Wi-Fi packages before sailing. Buying a package for the entire cruise is typically a better deal than the daily rate.
Keep your phone on airplane mode when you're on the ship to avoid roaming charges and other fees. Satellite roaming fees are much higher than you realize.
Related: Can you use your cellphone on a cruise?
Download apps, movies and music before your cruise. Not only can you access this entertainment on the flight to your home port, but you will be prepared should the onboard internet be slow on a sea day when you'd like to catch up on your must-watch show or listen to your favorite tunes at the gym.
To find the strongest Wi-Fi signal on the ship, download a network analyzer like NetSpot.
If you don't need to stay connected while on board, head into port and find a restaurant, bar or a mall with free Wi-Fi. Ask crew members on the ship about the best places for free Wi-Fi in port; they often know. Or, use apps like WiFi Map that show you locations of nearby hotspots when you're in port.
Related: How can I get Wi-Fi on a cruise for free?
If you're struggling to upload photos on a sea day when everyone is on board and online, wait until folks are off the ship in port to try again. Early morning and late at night when people are sleeping are also good times to find faster connections.
Line-by-line guide to cruise ship internet access
If you want to know what's available at sea before booking your next cruise, we've compiled a list of the available Wi-Fi plans and pricing for each of the major mainstream and luxury cruise lines. Most prices listed are per person, per day for the length of the cruise, and for one device, unless otherwise noted. Here is an overview of what to expect for the current cost and capabilities for Wi-Fi at sea; note that cruise lines can update pricing and plans at any time.
Azamara
Price: Starting at $19.95 per day
Azamara's internet access is provided by AT&T and Wireless Maritime Service. Guests on board the line's ships can choose to use one of their own devices to access Wi-Fi, such as a laptop or smartphone, or they can log in at one of the onboard Touch workstations.
Prepaid packages can be purchased during the first two days of the voyage, and pricing is based on the number of minutes — or days — guests will need access to the internet. The plans are only available for one device at a time, and unused minutes are nonrefundable. Prepaid options are priced at $19.99 for one hour of usage. A one-day pass is available at $29.95 for a full day. The daily sessions will end within 24 hours of purchase.
If guests buy a Full Voyage Unlimited Package, the cost is $19.95 per day. This plan can be purchased at any time during the sailing, but guests will be charged for the full length of the voyage.
Members of the line's loyalty rewards program, Azamara Circle, receive benefits and perks for internet options based on their level. Members who book a Suite or Verandah Plus category can also combine their loyalty and suite Wi-Fi minutes. Perks of membership range from a 5% savings, including 30 free Wi-Fi minutes, or 20% toward a Full Voyage Unlimited Package at the Azamara Circle Adventurer level. For Discoverer Platinum members, there's a 100% savings on Wi-Fi that provides a Full Voyage Unlimited Package, no matter the category of stateroom or length of the voyage.
Carnival Cruise Line
Price: Starting at $10.20 per day
Carnival Cruise Line offers guests the option of three plans via the line's satellite providers.
The Social Wi-Fi Plan provides access to the most popular social media apps, including Instagram, Facebook, WhatsApp, Facebook Messenger and others. Prices start at $10.20 per day, if purchased pre-cruise. The onboard purchase price is $12 per day.
The Value Wi-Fi plan, at $14.45 per day pre-cruise (onboard price is $17 per day), includes the Social plan features and also allows guests to browse the internet and send and receive emails.
The fastest connection available (at three times the speed of the Value plan) is with the Premium Wi-Fi plan. At $17 (or $20 on board) per day, guests will be able to place video calls and stream music and videos.
You can also purchase a single 24-hour pass for the Value plan at $20 or the Premium plan at $30.
Celebrity Cruises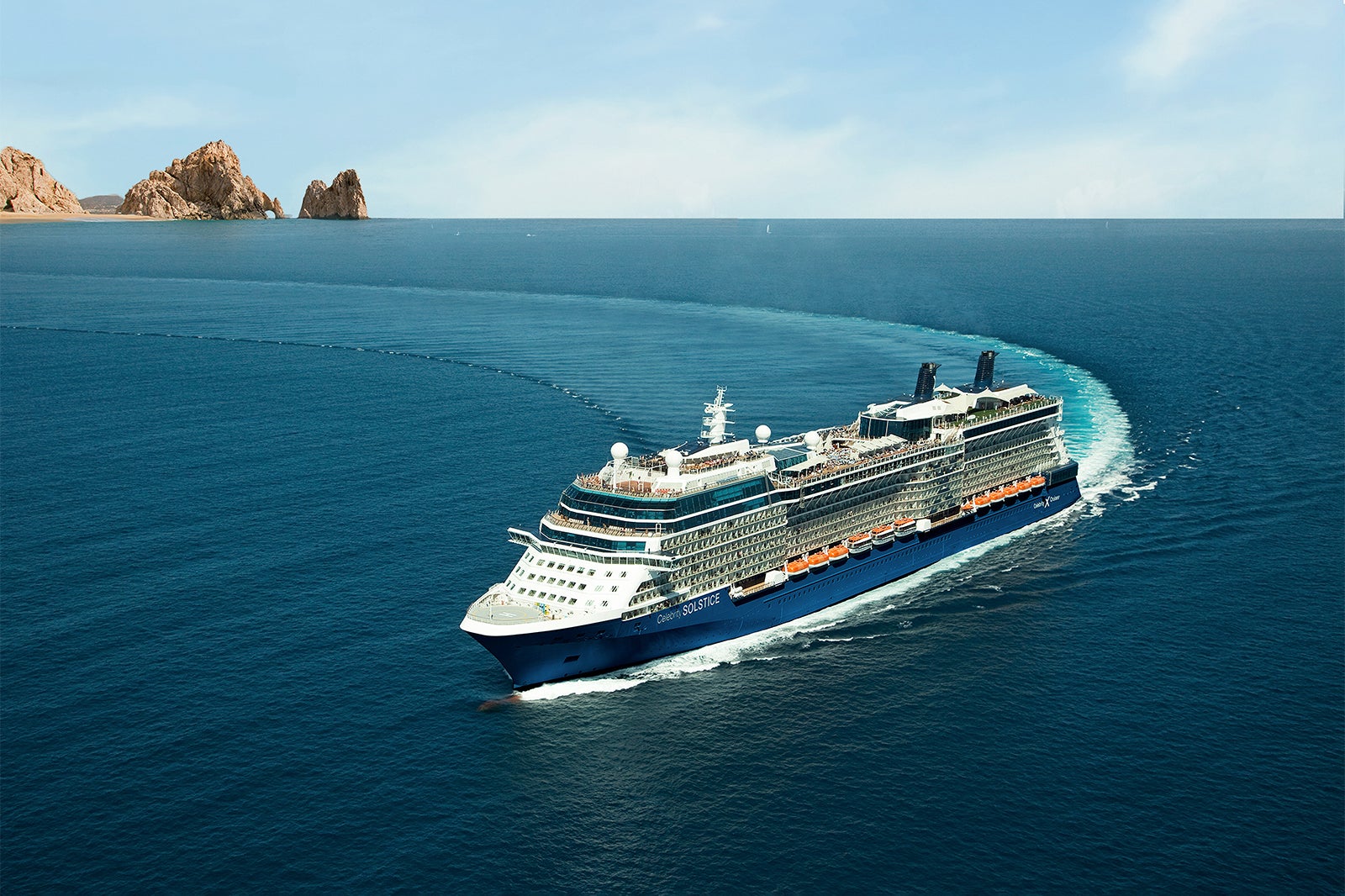 Price: Starting at $19.99 per day
Celebrity Cruises' newest ship, Celebrity Beyond, uses Starlink as a provider for internet service — and the line is in the process of installing this service fleetwide.
For cabins booked as cruise-only fares, ranging from inside staterooms to Concierge class, Wi-Fi can be purchased separately on board the ship at $19.99 per day, per device for a Basic plan, which allows guests to browse the web, send and receive emails and text via messaging apps. The Premium plan costs $34.99 per day, per device, and adds the capability for live streaming, video chats and more. With either plan, there's a 10% savings when it's booked pre-cruise.
If guests choose the all-inclusive cruise price, fares include a Classic Drinks Package (with non-alcoholic and alcoholic beverages), basic Wi-Fi access and gratuities. AquaClass cabins always have Basic Wi-Fi included in the fare; suites in The Retreat always come with complimentary Premium Wi-Fi. If you have basic Wi-Fi included in your cruise fare, you can upgrade to the Premium Package for $15 per day.
Benefits of the line's Captain's Club membership include discounts of between 10% off a package for Classic-level members to a complimentary Premium Package for Zenith-level guests.
Related: How fast is the internet on Celebrity ships? We put it to the test
Cunard Line
Price: Starting at $15 per day
Cunard recently upgraded the hardware, software and access points across its fleet to improve Wi-Fi service for guests and crew. The newly upgraded plans can be purchased on board by logging onto the ship's Wi-Fi and going to the My Voyage app.
The Essential Internet plan is priced at $20 per day when bought on a day-by-day basis, or $15 per day for the entire voyage. This option allows you to browse the internet, send and receive emails, stream music and stay connected on social media platforms via text and photos.
The Premium Internet plan includes video streaming and a three times faster connection speed than the Essential plan. The cost for this option is $30 per day, or $20 per day for the whole voyage.
The pricing for either plan is for one device at a time, and these plans can be purchased at any time during your sailing. If you want to connect to the internet using two devices at once, you can purchase an additional plan with a 10% discount.
Cunard World Club Members may be eligible to receive credit toward internet on the ships: $45 per person for Gold members; $80 per person for Platinum members and $135 per person for Diamond members.
Disney Cruise Line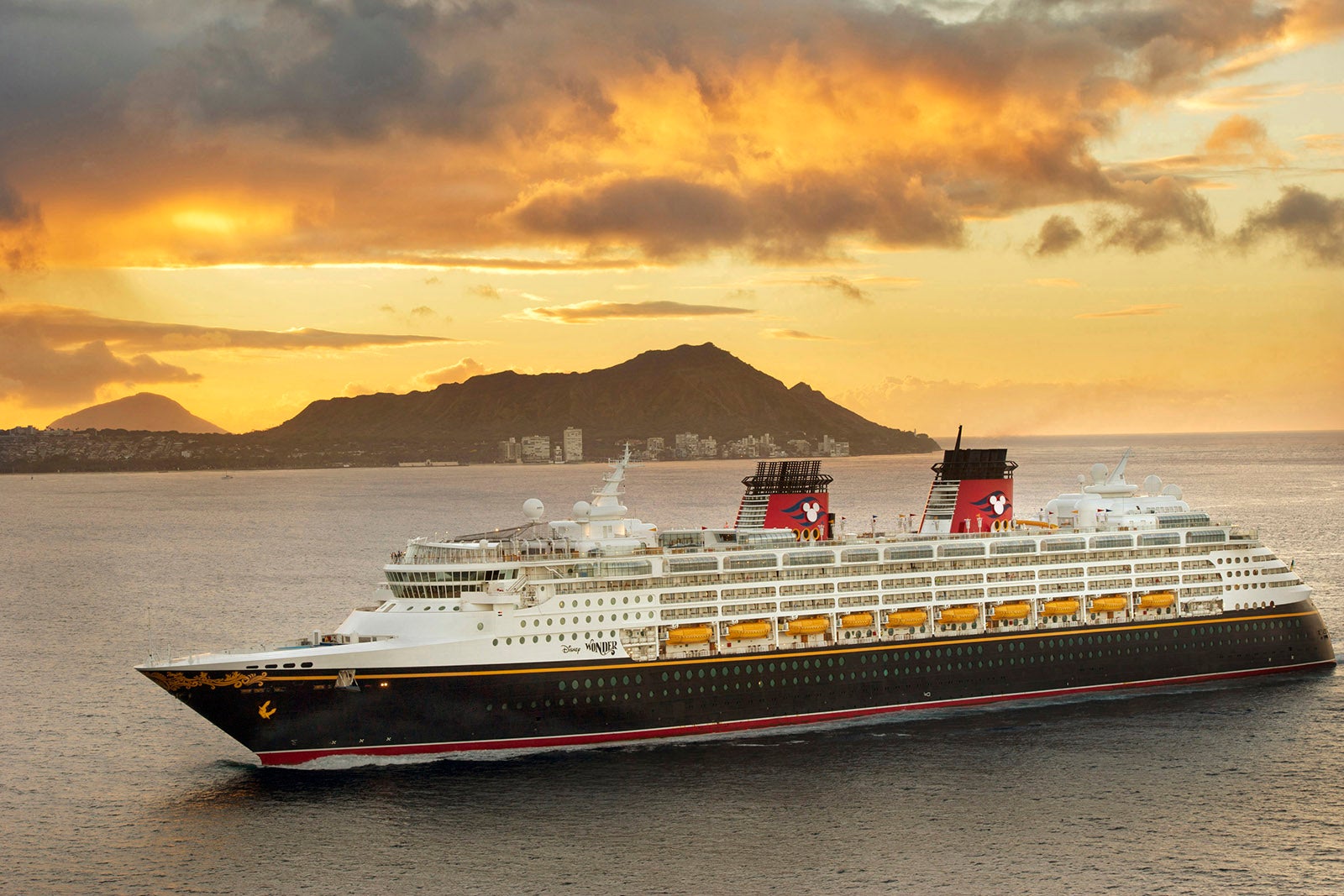 Price: Starting at $10 per day
Disney Cruise Line offers different internet plans depending on the ship you're sailing and the location of your voyage. You can find out which options are available on your ship after boarding and accessing the DCL-GUEST Wi-Fi network.
For example, on Disney Magic in Europe, guests have a choice of three different packages starting with the Stay Connected plan at $10 per day. This option will provide enough bandwidth to post photos and send texts on social media sites like Facebook, Instagram, Twitter, Snapchat and Linkedin.
Basic Surf costs $20 per day and includes the benefits of the lower-priced plan (posting photos on social media) along with the ability to surf the internet and send and receive emails. Premium Surf offers the fastest connection speeds at $30 per day and features access to Apple Music and Spotify. Guests will also be able to make calls on Zoom or FaceTime and view short-form videos on sites like TikTok and YouTube, along with other benefits like access to emails, web surfing and more.
None of the packages support video streaming on platforms like Hulu and Netflix. Discounted pricing is available for up to four devices.
On other ships, guests may have to purchase packages by the megabyte, with either a pay-as-you-go option at $0.25 per megabyte or buying the small package for 100 megabytes at $19 ($0.19 per megabyte). The prices per megabyte decrease the more you purchase. It's important to note that there are additional charges to send emails.
Holland America Line
Price: Starting at $14.99 per day
Holland America uses supplemental bandwidth sources, like Starlink, to enhance connectivity for the line's guests and crew and the line offers three Wi-Fi plans. The Social plan, at $14.99 per day, per device (or $69.99 for a 7-night sailing), provides access to most social media websites and applications.
Surf is the most popular option at $24.99 per day ($99.99 for a 7-night sailing), per device, and allows you to search the web and send and receive emails.
The Premium package at $29.99 per day ($111.99 for seven nights), per device, includes streaming and audio/video calling. Additional plans are available for up to four devices at a discounted rate.
If you're considering other onboard expenses, the line's "Have It All" Premium Cruise Package is an economical way to get internet access as well as a Signature Beverage Package (with non-alcoholic and alcoholic drinks), specialty dining and a credit for shore excursions. The package is available on most sailings for $50 per person, per day.
Holland America's 5-Star Mariner guests receive a $30 credit toward a Wi-Fi package. Early Booking Benefits for Grand Voyages include 5,000 minutes of complimentary internet access in select suite categories.
MSC Cruises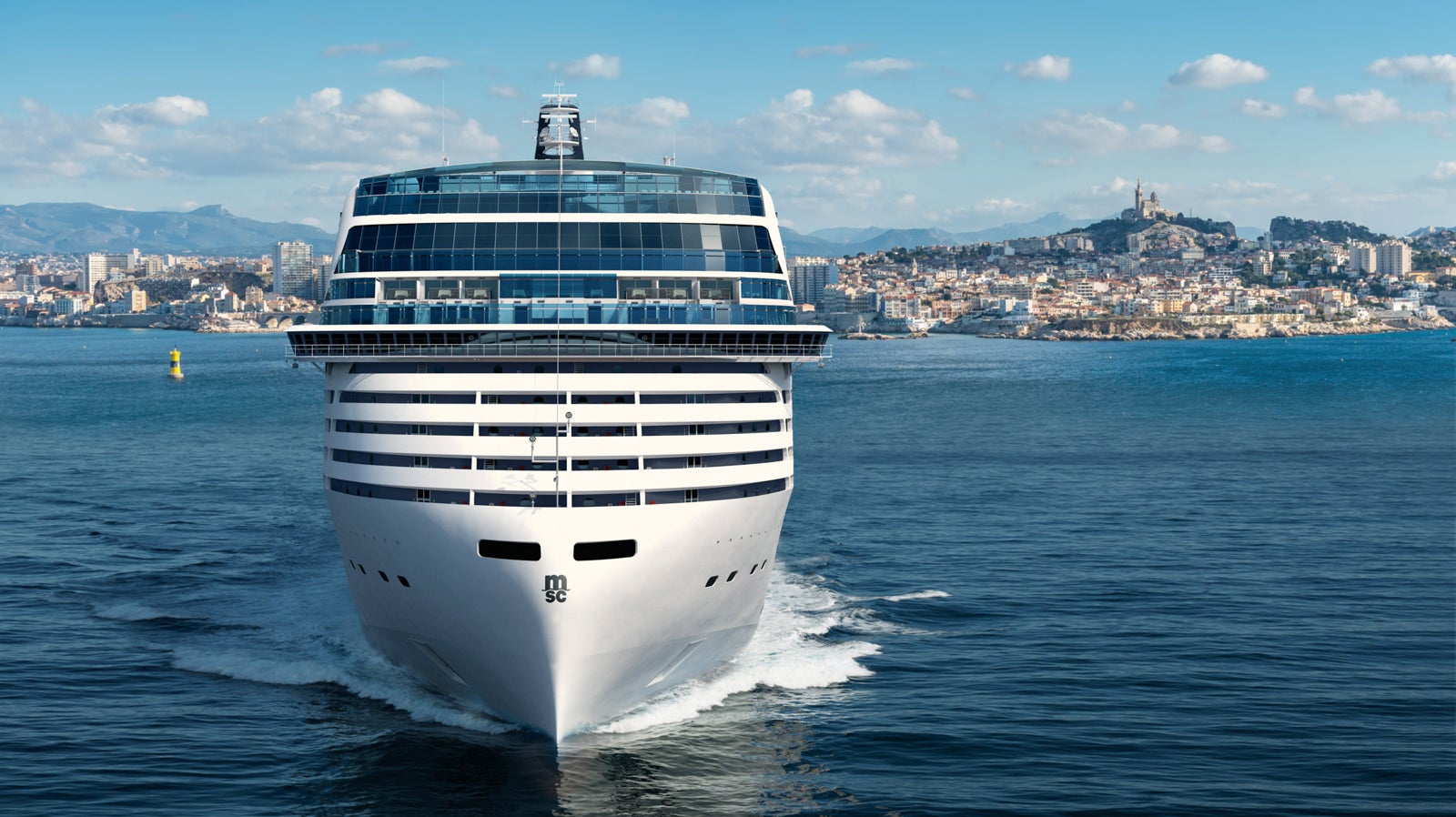 Price: Starting at $10.39 per day
MSC Cruises' current internet service providers are SES O3b and Marlink. The line says it's constantly upgrading bandwidth to increase speeds for passengers and crew. Prices for internet plans vary depending on the region; we've included current U.S. rates here.
MSC's Browse Package includes unlimited data, 24-hour internet access, chat and texts, and the ability to post photos and send and receive emails. Pricing starts at $10.39 per day, per device.
The Browse & Stream Package option includes the additional capability to video chat, stream music and movies, and post videos and live stream on social media. Pricing for this option is $14.39 per day, per device. The per-device price drops when purchasing either plan for multiple devices. Note that MSC does not let you switch from one device to another on the same plan, so make sure to sign in to your plan for the first time on the device you intend to use it on.
In addition, guests can save up to 20% on Wi-Fi packages if they book online before their sailing. Voyagers Club members also receive discounts on internet packages. Guests sailing in MSC Yacht Club receive a complimentary Browse package for two devices. It's possible to upgrade the package for an additional charge.
Norwegian Cruise Line
Price: Starting at $12.50 per day
Norwegian Cruise Line's most basic internet plan is the Unlimited Social Media Access plan for posting on Facebook, Twitter, Instagram, Snapchat, WeChat, etc. (but not TikTok). This option is priced at $12.50 per day, per device ($14.99 if purchased on board). If your cruise is 13 days or longer, there will be a reduced price per day.
The cruise line's more popular option is the unlimited Wi-Fi package. It costs $25 per day for one device if purchased online before sailing ($29.99 per day if you buy the plan on the ship). This option provides web surfing capabilities and access to email and social media apps (but again, not TikTok). The unlimited Wi-Fi package for one device is also the plan that's included with a Free at Sea promotional cruise fare. You can find discounted pricing for the same package for two or up to four devices.
The Premium Package starts at $34.99 per day, per device. This plan would include streaming on Netflix, Amazon Prime Video, Hulu, TikTok and more. Discounted pricing is available for up to four devices.
You can also opt to buy 250 minutes of Wi-Fi access for $105 ($125 onboard price). Only one device can be in use at a time with this plan.
If an internet package is included as part of NCL's Free At Sea promotion, guests can purchase an upgraded package before they sail or on board the ship. Loyal cruisers and members of the Latitudes Rewards Program receive discounts of up to 25% on Wi-Fi packages based on their membership tier level. Benefits begin with a 15% discount at the Platinum level.
It's also possible to rent a laptop on the ship or surf the internet at one of the workstations in the fleet's 24-hour Internet Café. Any of the internet packages can be used with a laptop rental or at the onboard cafes.
Oceania Cruises
Price: Complimentary to $9.99 per day
Oceania Cruises provides free, unlimited internet access with all cruise fares via Wavenet Wi-Fi. Released in 2018, Wavenet produces access speeds of 1 Mbps or less during prime guest use. Guests can log on to the internet throughout the ship, including in their staterooms or suites or in public spaces and outdoor areas. They can also use the computers at the Oceania@Sea Internet Center on board their ships if they don't have their own device.
One login is provided per cabin for use on one device at a time. Plans that include access for additional devices can be purchased on the ship, and an upgrade to streaming services for movies or music is available at a cost of $9.99 per day.
Princess Cruises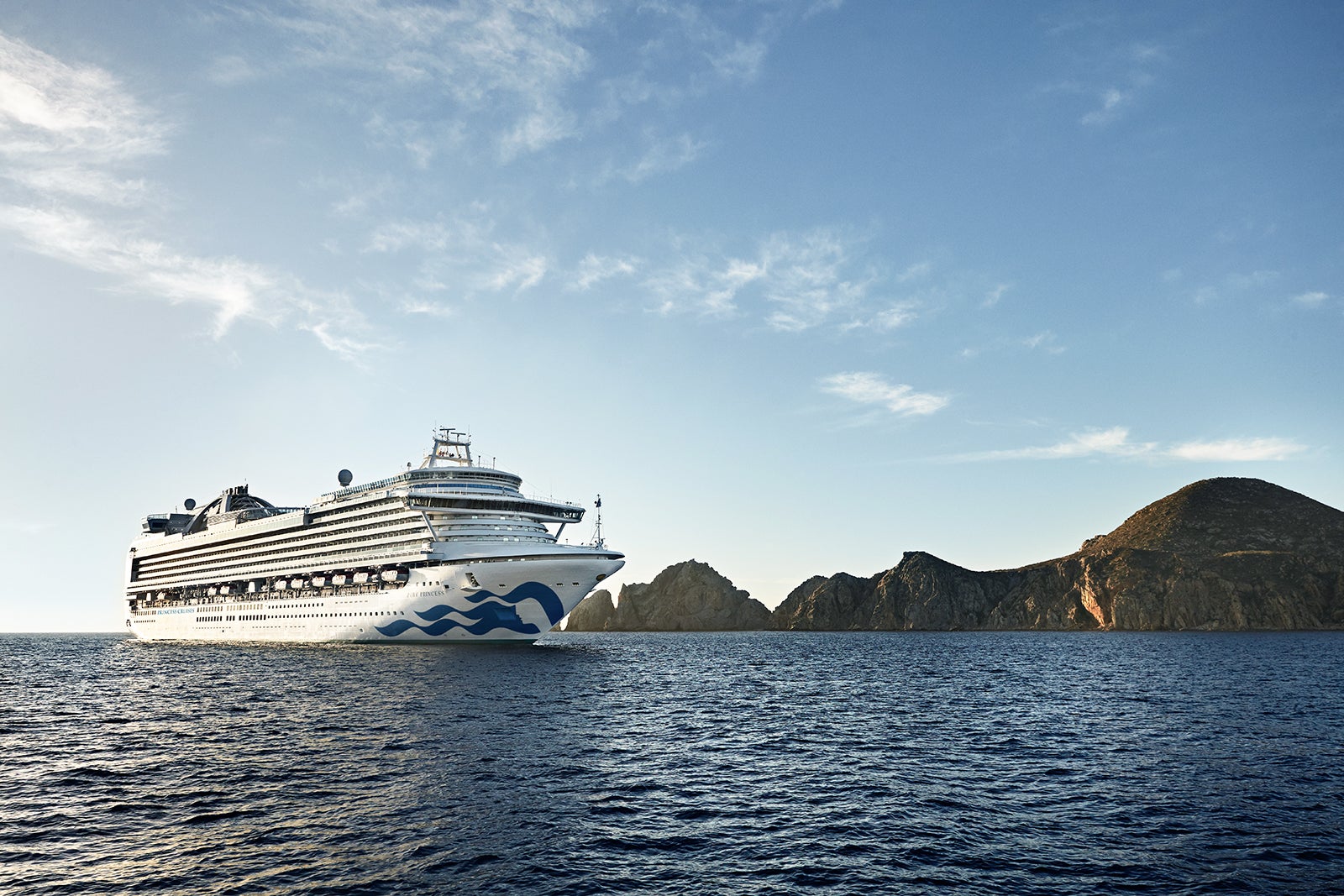 Price: Starting at $9.99 per day
Princess Cruises claims the "fastest Wi-Fi at sea" with its MedallionNet technology, with download speeds of 12.6 Mbps and upload speeds of 1.9 Mbps. Carnival Corporation and Princess achieve this speed by working with SES Networks, a leading provider for satellite connectivity.
With this internet access, you can check email, chat, surf the internet, FaceTime with their kids and pets, post photos and stream shows and music with speeds similar to what you might have at home
Princess offers a one-device package starting at $9.99 per day that you can purchase through the MedallionClass app pre-cruise. Discounted pricing is available for up to four devices. Platinum and Elite members of Princess Cruises' loyalty program receive a 50% discount on plans that will show up as an onboard credit on the ship.
Guests can also purchase either a bundled Princess Plus or Princess Premier package, which are priced at about a 50% savings of the overall value when purchased pre-cruise through the MedallionClass app. Princess Plus includes a beverage package (with alcoholic drinks up to $12 each), Wi-Fi for a single device and crew gratuities. The cost for this plan is $50 per person per day.
With Princess Premier, guests will receive the Premier Beverage Package (with drinks up to $18 each), Wi-Fi for multiple devices, crew appreciation, two evenings of specialty dining, a photo package, and a chance to win prizes like a free onboard wine tasting, dinner at the Chef's Table or even a free cruise or cash. This package is priced at $75 per person a day.
With the latter option, you can also share the Wi-Fi availability with other passengers in the cabin that do not have Princess Premier.
Regent Seven Seas
Price: Complimentary to $9.99 per day
Regent Seven Seas Cruises uses satellite communication systems and offers complimentary unlimited internet access throughout its fleet. You'll have access in most of the suites on the ships, but know that bandwidth-heavy applications such as Netflix, Skype, YouTube and VPN are not included in the free plans.
One login is provided per suite for use with one device at a time. Gold and higher-level members of the Seven Seas Society and guests in Concierge Suites and higher receive up to four logins/devices per suite.
If guests are interested in streaming, they can pay for a higher-bandwidth plan at the cost of $9.99 per day.
Royal Caribbean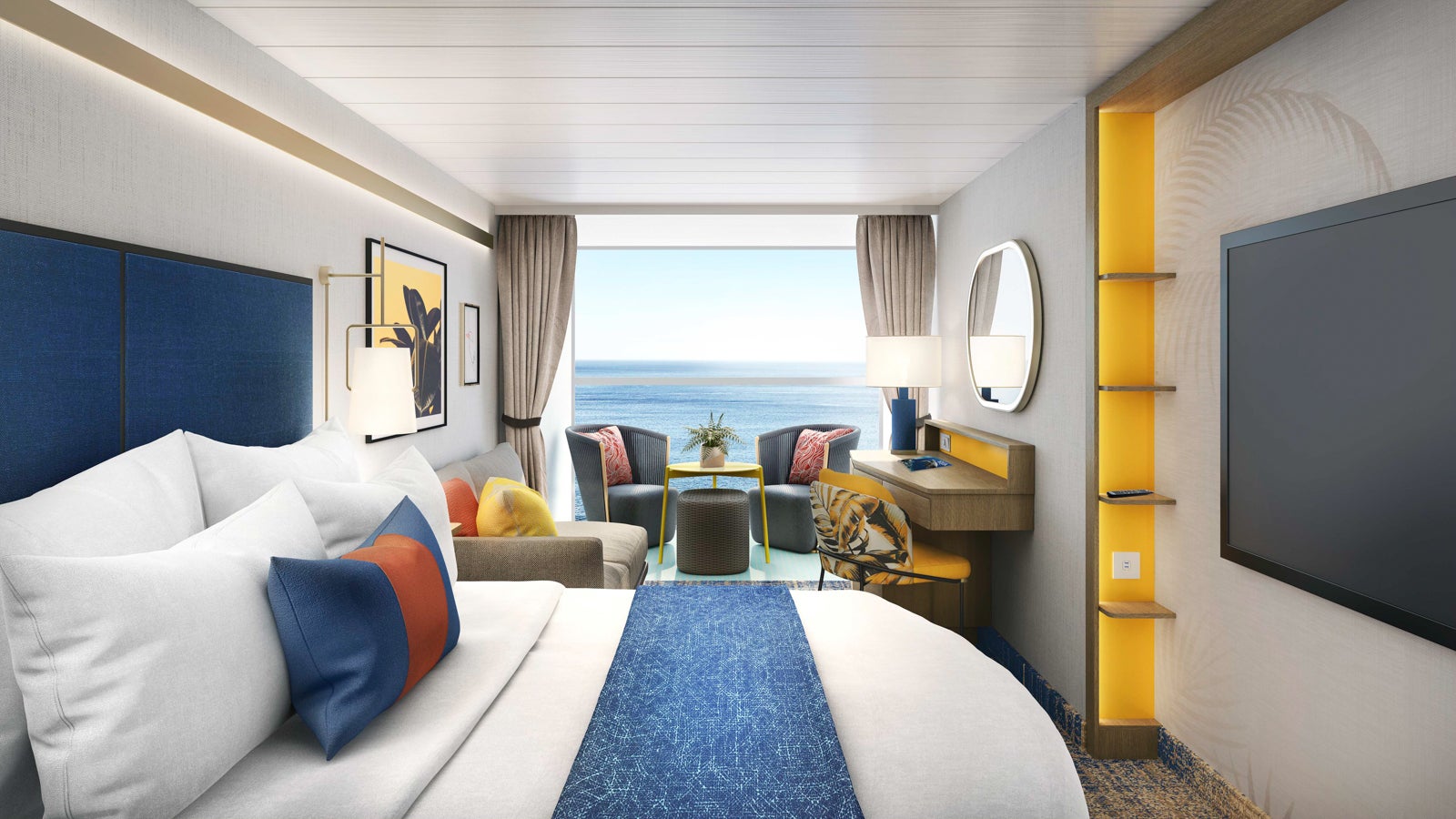 Price: Starting at $14.99 per day
Royal Caribbean touts its VOOM internet as the "fastest internet at sea" with speeds six times faster than Wi-Fi plans you'll find on other cruise ships in the world. Royal Caribbean Group is also in the process of implementing Elon Musk's SpaceX Starlink technology across its fleet.
With Royal Caribbean's basic Surf plan, guests can search the internet, send emails and post photos on social media platforms. One-day passes for one device start at $25.99, and unlimited voyage packages cost $14.99 per day, per device.
With the Surf + Stream package, passengers can surf the internet, stay in touch via email, post photos and also stream music and movies while on board the ship. One-day passes (for one device) for this plan start at $32.99, and unlimited voyage packages for one device are $19.99 per day.
Discounted pricing is available on both the Surf and Surf + Stream packages for up to four devices.
Crown & Anchor Society members receive special discounts on pricing ranging from a 10% discount for Gold level members to free, unlimited voyage access on one device at the Pinnacle level. Star and Sky Royal Suite guests will enjoy unlimited VOOM access (with the Surf + Stream plan) on one device during their sailing.
Related: How fast is the internet on Royal Caribbean ships? We put it to the test
Seabourn
Price: Complimentary to $19.95 per day
Seabourn provides complimentary, unlimited access to the internet to guests during their voyages. The complimentary Surf Wi-Fi Package provides unlimited access on one device per person. This plan includes general web browsing, email access and posting to social media accounts.
Should passengers need faster speeds and more bandwidth, the Stream Wi-Fi Package is an upgraded option that allows up to four devices and offers additional connectivity such as video streaming, internet calling and VPN/cloud storage. Diamond-level members of Seabourn Club and guests booked in Penthouse and Premium suites receive the Stream plan on a complimentary basis. Passengers in other suite categories can upgrade for a charge of $19.95 per day.
Silversea Cruises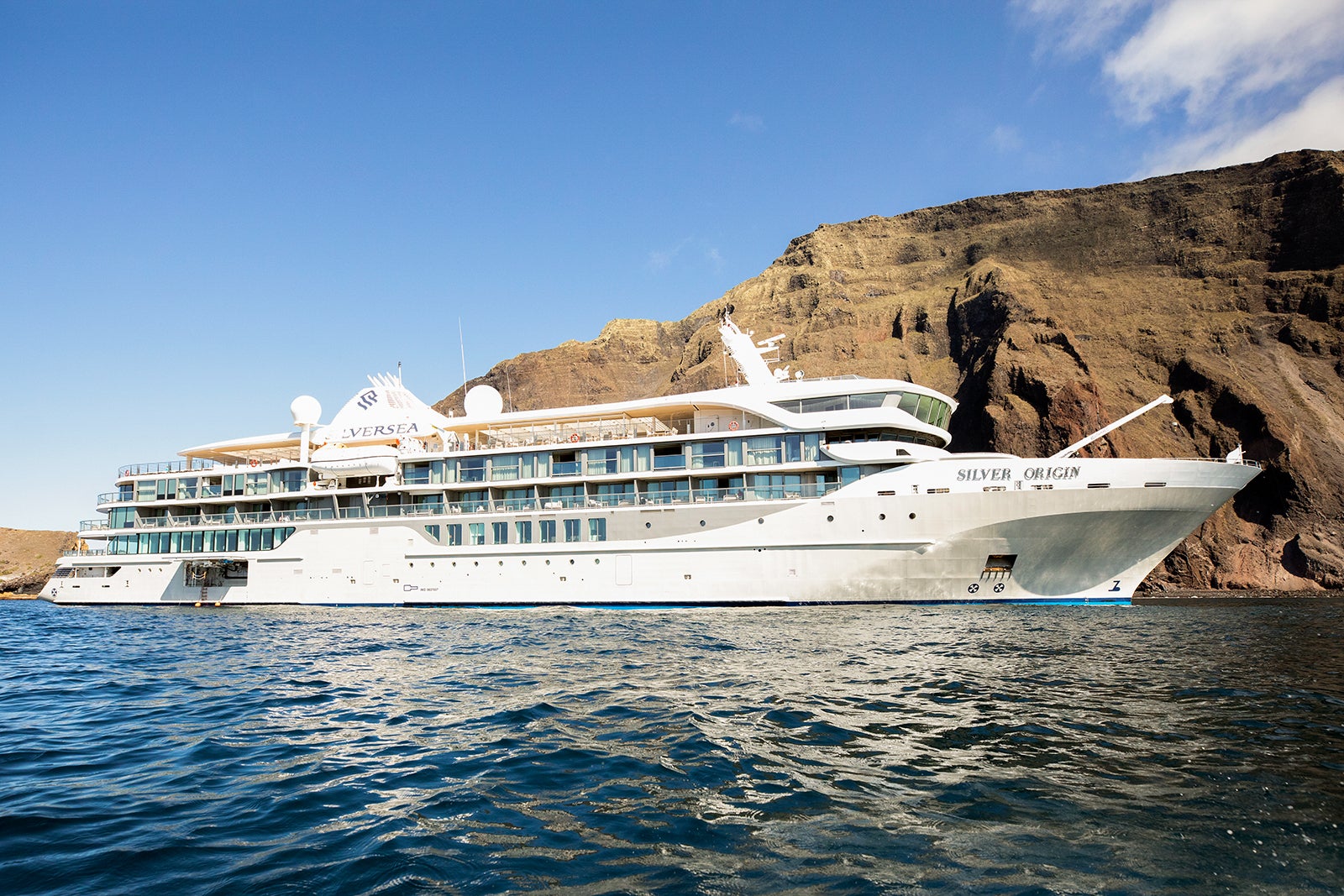 Price: Complimentary to $29 per day
On Silversea Cruises' classic ocean-going vessels, standard internet access is complimentary in Vista and Verandah Suites, while premium (the line's fastest Wi-Fi connection) Wi-Fi is complimentary for guests booked in Medallion, Silver, Royal, Grand and Owner's Suites. On the expedition ships, the level of internet access is also determined by the suite category, except for Silver Origin, which has complimentary standard Wi-Fi for all guests. For guests on Silversea's full World Cruises or Grand Voyages, all passengers have complimentary premium internet access for the sailing.
On all voyages – and with both types of internet access – the complimentary Wi-Fi is unlimited for two devices used at the same time.
If guests have standard internet access but would like to upgrade to a premium plan, the price is $29 per day (covering two devices connected at the same time). The cost of an extra device on the standard Wi-Fi plan is $20 per voyage.
Silversea is in the process of transitioning to Starlink, and the line expects the upgraded internet to be installed across the fleet by the end of March 2023.
Viking
Price: Complimentary
All of Viking's ocean ships offer complimentary Wi-Fi. Guests can connect to the internet via a personal device such as a smartphone or laptop, or they can use one of the ship's computers in the Business Center, located on Deck 1. The line relies on a VSAT satellite terminal — what Viking says is "one of the best solutions for internet access on an ocean cruise." VSAT can provide wide variances in speed depending on weather and location.
Viking's expedition ships and river ships in Europe, Egypt and the Mississippi also feature free internet access. On Mekong River cruises in Southeast Asia, the line advises that the best option is to use the public computers on the ship to stay connected, but the internet service is limited throughout the region. Viking also asks that guests limit large uploads, downloads and streaming so that Wi-Fi is more accessible for everyone on the sailing.
Planning a cruise? Start with these stories: