Editor's note: This is a recurring post, regularly updated with new information. 
---
Did you receive gift cards for the holidays that you aren't that excited about?
We have some good news: You can turn those unwanted gift cards into United MileagePlus miles through United's MileagePlus Gift Card Exchange. Here's how it works.
Which gift cards are eligible?
On the MileagePlus Gift Card Exchange landing page, United notes that "over 100" types of merchant gift cards are accepted. At the bottom of that page, there's a link to a list of the merchants whose gift cards the program will take, including Best Buy, Sears, Starbucks and Walmart.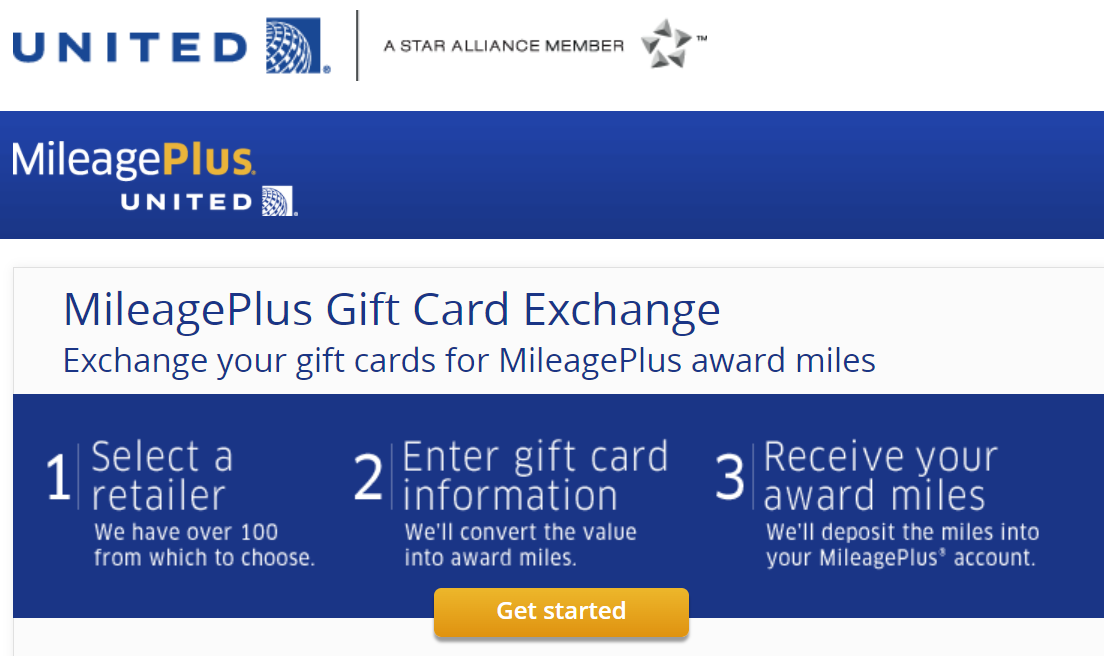 However, note that some merchants on its list aren't actually available for exchange on the website, such as Home Depot and Southwest Airlines. And there are plenty of merchants available for exchange that aren't on the list, including North Face and HP.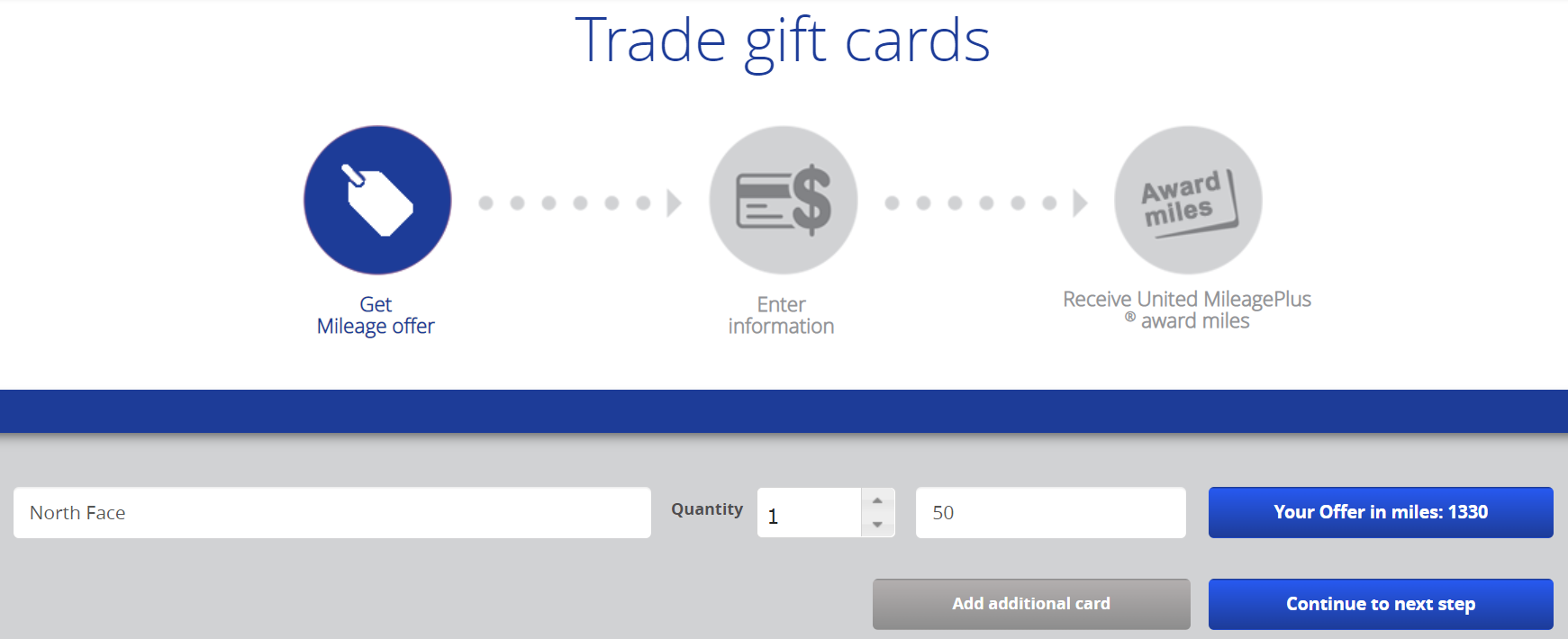 There's even an airline option. If your family didn't know you were loyal to United and gave you an American Airlines gift card, you could trade this gift card in for United miles. However, the MileagePlus gift card exchange doesn't buy gift cards from Alaska, Delta, Frontier, Hawaiian, JetBlue, Southwest, Spirit or Sun Country.
Related: 30 ways to earn miles with the United MileagePlus program
Is it worth it?
United has a chart listing the "minimum award miles awarded," which would make you think that some options offer more miles than these rates. But, I checked dozens of different merchants and the mileage offer was the same for each one.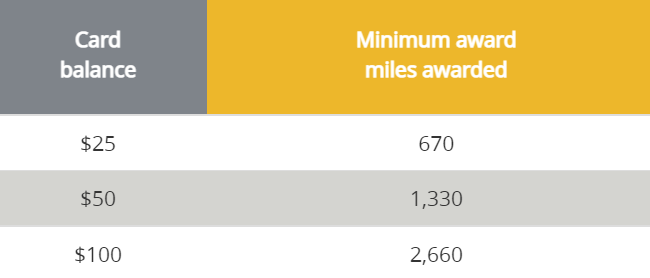 Despite the chart, you aren't limited to $25, $50 and $100 gift cards. You can exchange any gift card with at least a $15 minimum balance. From the evidence we have gathered, the calculation is the gift card value times 26.6, rounded up to the nearest 10 miles. This rate imputes a value on the United miles of between 3.70-3.76 cents per mile, depending on how much you're trading in. For example:
$15 gift cards = 400 United miles (3.75 cents per mile).
$20 gift cards = 540 United miles (3.70 cents per mile).
$25 gift cards = 670 United miles (3.73 cents per mile).
$30 gift cards = 800 United miles (3.75 cents per mile).
$40 gift cards = 1,070 United miles (3.74 cents per mile).
$50 gift cards = 1,330 United miles (3.76 cents per mile).
$100 gift cards = 2,660 United miles (3.76 cents per mile).
This rate is much higher than TPG's valuation of 1.13 cents per United mile, meaning that you're not getting a good value from your gift cards. But, if you'd rather have the miles than the gift card, it may be worth taking advantage of this way of offloading them.
Also, at least United is being consistent. When United isn't running a buy miles promotion, you can buy United miles at a rate of $35 per 1,000 United miles. After taxes and fees, this rate is also effectively 3.76 cents per mile.
Related: The best credit cards for buying points and miles
Limitations to keep in mind
To sell gift cards through the MileagePlus Gift Card Exchange, your MileagePlus account must have been open for at least 90 days. Also, the program's terms and conditions note your account must "have a positive account balance."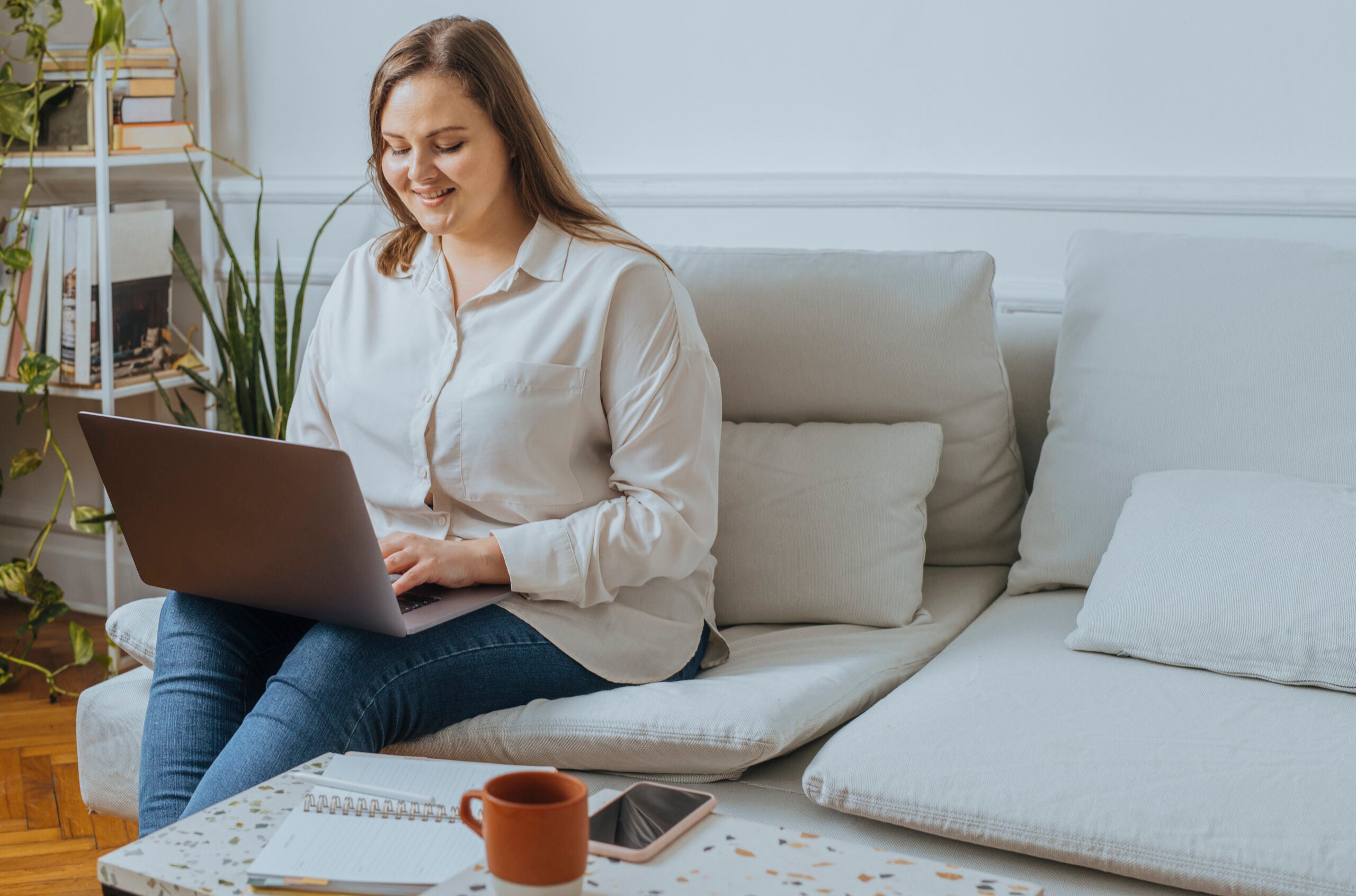 Although United will give you a quote for $10 gift cards, the terms and conditions state: "Gift cards accepted must have a $15 minimum balance on the card and may have a maximum imposed." It also appears that the exchange will only accept gift cards up to $100.
If you decide to sell a gift card through the MileagePlus Gift Card Exchange, the miles should arrive in your United account within five business days.
Related: Exchange your unwanted gift cards for Hotels.com gift cards and more
Bottom line
While you're not going to get an excellent rate from trading in unwanted gift cards, it's nice to have the option to liquidate these gift cards for something that you might actually want. That said, it might be worth checking online for another gift card exchange program (such as CardCash) that may give you a better rate.
The only argument for using the MileagePlus Gift Card Exchange is if you need United miles for an upcoming redemption, have tapped out your Chase Ultimate Rewards points and are holding a qualifying gift card. If your only other option is to buy United miles, you might as well liquidate the gift card — especially if it's one that you wouldn't use soon anyway.
Additional reporting by Emily Thompson.