In the world of theme parks, the holiday season kicks off as soon as the gates open on Nov. 1. Parks like Disney World undergo a full transformation overnight, while others roll out the trimmings more gradually.
One thing most theme parks have in common is that their "holiday" celebrations are predominantly centered around Christmas. That's really no surprise, considering upwards of 90% Americans observe Christmas, according to a 2019 Gallup poll — but Christmas is far from the only major holiday that is observed this time of year in America and across the world.
Related: 3 ways Disney is becoming a more magical, inclusive place to visit and work
In recent years, U.S. theme parks have strengthened their focus on diversity and inclusion, and that effort extends to adding representation for holidays other than Christmas to their festive lineups. And because theme parks stretch out their holiday programming, there's ample time to visit and celebrate the following fall and winter holidays:
Diwali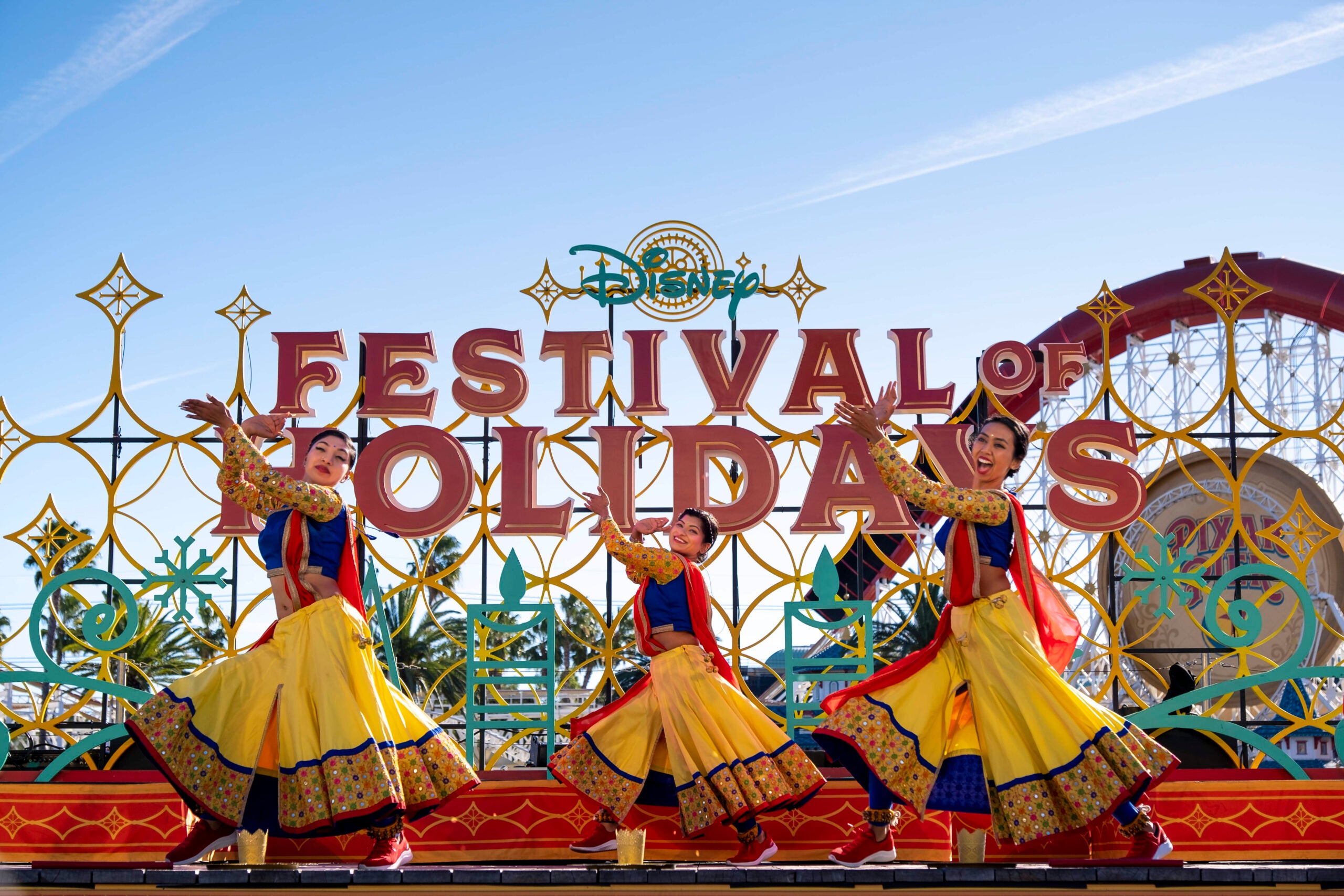 Diwali, India's "festival of lights," is observed by millions of people across many faiths, including Hindus, Kains, Sikhs and some Buddhists. The name is derived from the Sanskrit word "deepavali," which translates to "row of lights." In short, Diwali symbolizes the victory of light over darkness, good over evil and knowledge over ignorance. Diwali typically falls in October or November, though the exact date changes each year based on the Hindu lunar calendar. This year, Diwali was celebrated on Oct. 24, though theme park visitors can experience the festivities through the end of the year.
Walt Disney World
In the Asia section of Disney's Animal Kingdom, you'll find yellow and red marigold garlands and more than 50 colorful glowing lanterns hung from teak poles that were hand-carved in Indonesia with Balinese patterns. You can view the decorations near the Anandapur Theater through the end of the year.
Disneyland
The Disney Festival of Holidays at Disney California Adventure runs from Nov. 11, 2022 through Jan. 8, 2023. Food, decorations and live entertainment represent diverse cultural traditions from around the world, including Diwali. Multiple times daily during the festival, guests can watch (and dance along with) the Blue13 Dance Company. Performances are held at Paradise Gardens Park and include traditional Indian dances and a Bollywood-style dance party that guests are invited to join.
At the "Favorite Things" booth in the Festive Foods Marketplace, you can sample a chicken tikka masala dish and a guava-mango lassi, both inspired by Diwali. At Disneyland's Downtown Disney District just outside the theme parks, you can dine on a Tikka Masala Pizza and wash it down with a Tuk Tuk (alcoholic or non-alcoholic) at Naples Ristorante e Bar.
Hanukkah
Hanukkah, the Jewish Festival of Lights, is an eight-day celebration that marks the recovery of Jerusalem from the Syrian Greeks and the subsequent rededication of the city's holy temple. One of the most recognizable symbols of Hanukkah is the nightly lighting of a menorah, but you can expect to find many other traditions and culinary specialities associated with the holiday. This year, Hanukkah begins on Dec. 18 and ends on Dec. 26.
Universal Orlando Resort
Universal Orlando has eight on-site hotels and each one has a menorah lighting ceremony in its lobby each night of Hanukkah. The ceremonies begin at sundown each evening.
Busch Gardens
Busch Gardens parks in Tampa Bay, Florida, and Williamsburg, Virginia, will each mark Hanukkah in its own way. Busch Gardens Tampa Bay will have a commemorative photo-op billboard and an electric menorah that will illuminate each evening during Hanukkah.
Busch Gardens Williamsburg is introducing an all-new scavenger hunt that celebrates winter traditions around the world, including Christmas, Kwanzaa and Hanukkah. The scavenger hunt is included with paid admission and guests can pick up a clue sheet in the England area of the park. After you find the holiday symbols throughout the park, you can turn in your clue sheet and redeem it for a sweet treat at the Emporium.
SeaWorld
From Dec. 18 through Dec. 26, visitors to SeaWorld Orlando can participate in a nightly lighting of a menorah in Sesame Street Land
SeaWorld San Antonio will hold a one-night Hannukah celebration on Dec. 19, 2022. The event will include a menorah lighting ceremony in the Bay of Play area at 5:30 p.m. and discounted admission to SeaWorld for the day.
Walt Disney World
Disney World honors many winter holidays and traditions during the Epcot International Festival of the Holidays. This year the event runs from Nov. 25 through Dec. 30, 2022. For Hanukkah, a costumed storyteller will hold court in the area between the Morocco and France pavilions of Epcot's World Showcase multiple times daily, recounting tales of the music and traditions of Hanukkah from around the world. In this same area, you'll find the L'Chaim! Holiday Kitchen which serves up classic dishes like pastrami on rye sandwiches, black and white cookies and potato latkes.
Sesame Place Philadelphia
Sesame Street resident Baby Bear celebrates Hanukkah with his family and excitedly shares traditions like lighting the menorah and playing a game of dreidel with Sesame Place visitors during the park's Hanukkah celebration. The event takes place each day of Hanukkah at 4:30 p.m. between Dec. 18 and Dec. 24, 2022.
Disneyland
As part of the Disney Festival of the Holidays, the band "Mostly Kosher" will perform its 21st-century twist on klezmer, jazz, Latin and rock music throughout the day from Nov. 11, 2022, through Jan. 8, 2023. You can find the band on the stage at Pacific Wharf at Disney California Adventure. Fuel up for its performance at the Festive Foods Marketplace, with Lox & Everything Bagel Nachos, Loaded Latkes or a Brisket Slider.
Kwanzaa
Kwanzaa is a celebration of African-American culture and community. This year, the weeklong holiday kicks off on Dec. 26 and runs through New Year's Day. Each of the seven nights represents a different community-building principle of African culture.
Walt Disney World
During the Epcot International Festival of the Holidays (Nov. 25 through Dec. 30, 2022), Epcot visitors can experience the wonder of both Christmas and Kwanzaa with the inspiring gospel, R&B and holiday songs of the Joyful! Ensemble. Performances are held at 1:15 p.m., 2:20 p.m., 3:25 p.m. and 4:30 p.m. daily at the World Showcase Plaza.
Sesame Place Philadelphia
Each afternoon during Kwanzaa at 4:30 p.m., favorite Sesame Street characters will share a special Kwanzaa storytime and Kinara lighting to commemorate and educate families about Kwanzaa principles and traditions.
SeaWorld Orlando
Like Sesame Place, SeaWorld Orlando will hold daily Kwanzaa festivities between Dec. 26, 2022, and Jan. 1, 2023. Head to Sesame Street Land for a time of reflection and celebration of African heritage and a nightly lighting of the Kinara.
Disneyland
Similar to Disney World, Disneyland recognizes Kwanzaa with festive musical performances. Daily between Nov. 11, 2022, and Jan. 8, 2023, head to Disney California Adventure's Pacific Wharf Stage where a cappella vocal ensemble The Mistletoes will celebrate the spirit of Christmas and Kwanzaa with its cheerful holiday choruses. You'll also come across a Kwanzaa-inspired sweet potato loaf at the nearby Grand Californian Hotel's holiday food cart.
Latin American holiday traditions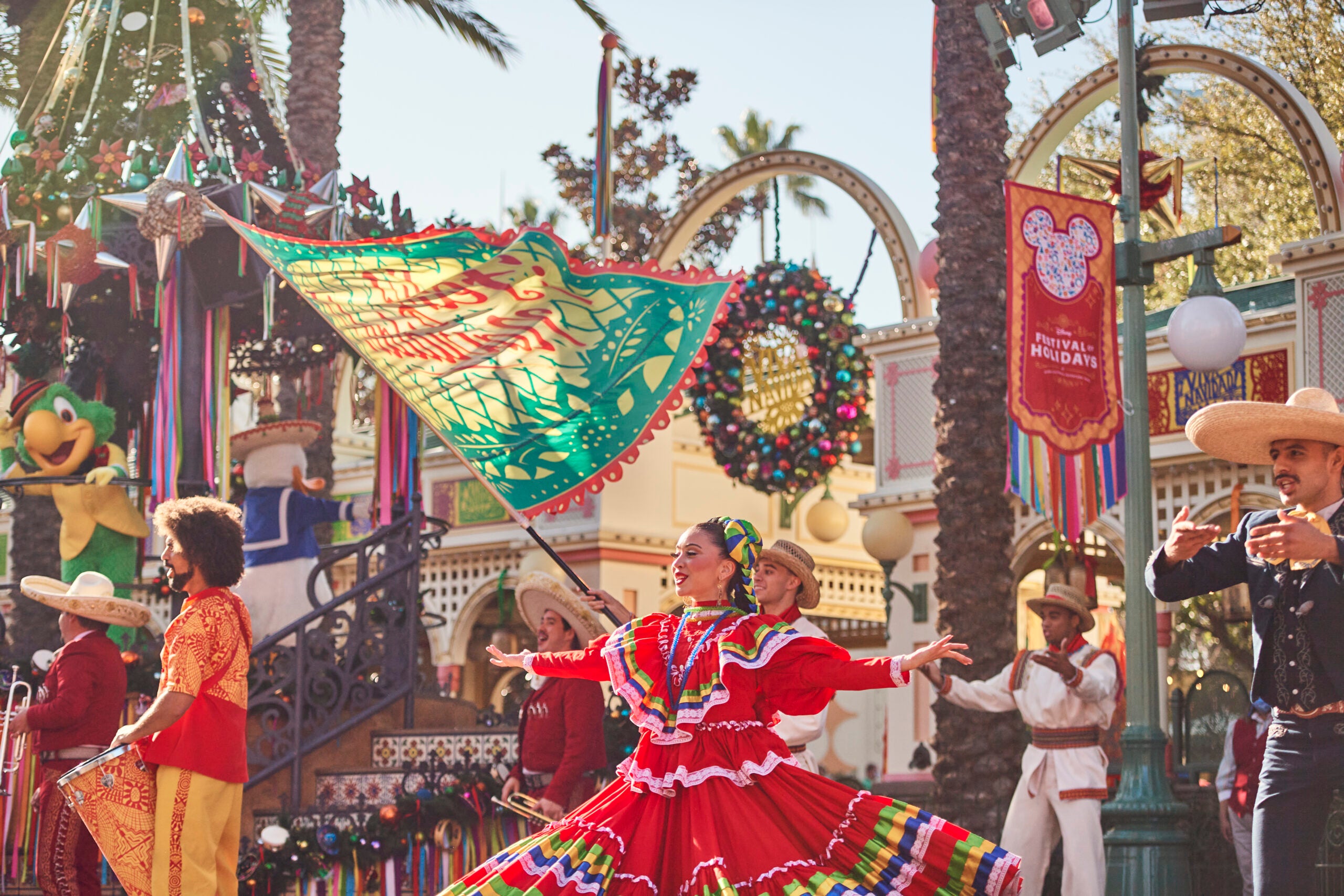 Like other countries where Christianity is the predominant religion, Christmas is widely celebrated in Latin American countries, but there are a number of Christmas traditions unique to this continent. Las Posadas, which translates to "the inns," is a nine-day celebration between Dec. 16 and Dec. 24 that commemorates the journey Mary and Joseph made to Bethlehem. Three Kings Day, which takes place on Jan. 6 annually, marks the day the three wise men found their way to the baby Jesus.
Walt Disney World
Sundays through Thursdays during the Epcot International Festival of the Holidays (Nov. 25 through Dec. 30, 2022), you can take part in a Las Posadas celebration at the Mexico pavilion with dancers, pinatas and fiery performances by popular Epcot band Mariachi Cobre. At the nearby Las Posadas Holiday Kitchen in the Mexico Pavilion, you can dine on festive holiday cuisine like barbacoa, tostadas and dulce de leche churros. And don't forget a Cranberry Cinnamon Margarita or Horchata Margarita to wash it down with.
Disneyland
Over on the West Coast at Disney California Adventure's Festival of the Holidays, you can immerse yourself in Latin American Christmas traditions all season long, beginning with the ¡Viva Navidad! Street Party Nov. 11, 2022 through Jan. 8, 2022. Hosted by the Three Caballeros (Donald, Duck, José Oliveira and Panchito Pistoles), this lively street party features music, dancing and larger-than-life puppets of Santa and Mrs. Claus. Of course, Mickey and Minnie make appearances as well. Throughout the season, you can also see the Grammy Award-winning Mariachi Divas at Paradise Gardens Park.
On Three Kings Day (Jan. 6, 2023), Disney wraps up its festive holiday season with an event at Paradise Gardens Park that pays tribute to the three wise men. You'll experience traditional decor and a special photo opportunity.