Editor's note: This is a recurring post, regularly updated with new information. 
---
The Platinum Card® from American Express is a premium travel card that gives you the power to travel far above your social status. From VIP service at luxury hotels to highly exclusive airport lounge access, no other card makes you more comfortable during your vacation.
Related: The Platinum Card from American Express review
In 2021, the Amex Platinum added an array of new perks for cardmembers and raised its annual fee to $695 (see rates and fees). This included hundreds of dollars worth of annual statement credits — one which can offset the price of Clear, a program that expedites your airport security experience.
Related: What is the Clear expedited airport security program — and is it worth it?
Here's everything you need to know about this valuable benefit.
What is the Amex Platinum Clear credit?
Clear is a third-party, expedited security program that uses iris and fingerprint scanners rather than a photo ID to identify you. If you have a membership to Clear, you can effectively skip to the front of the security line at certain airports and entertainment venues nationwide.
Related: TPG's guide to Clear airports and stadiums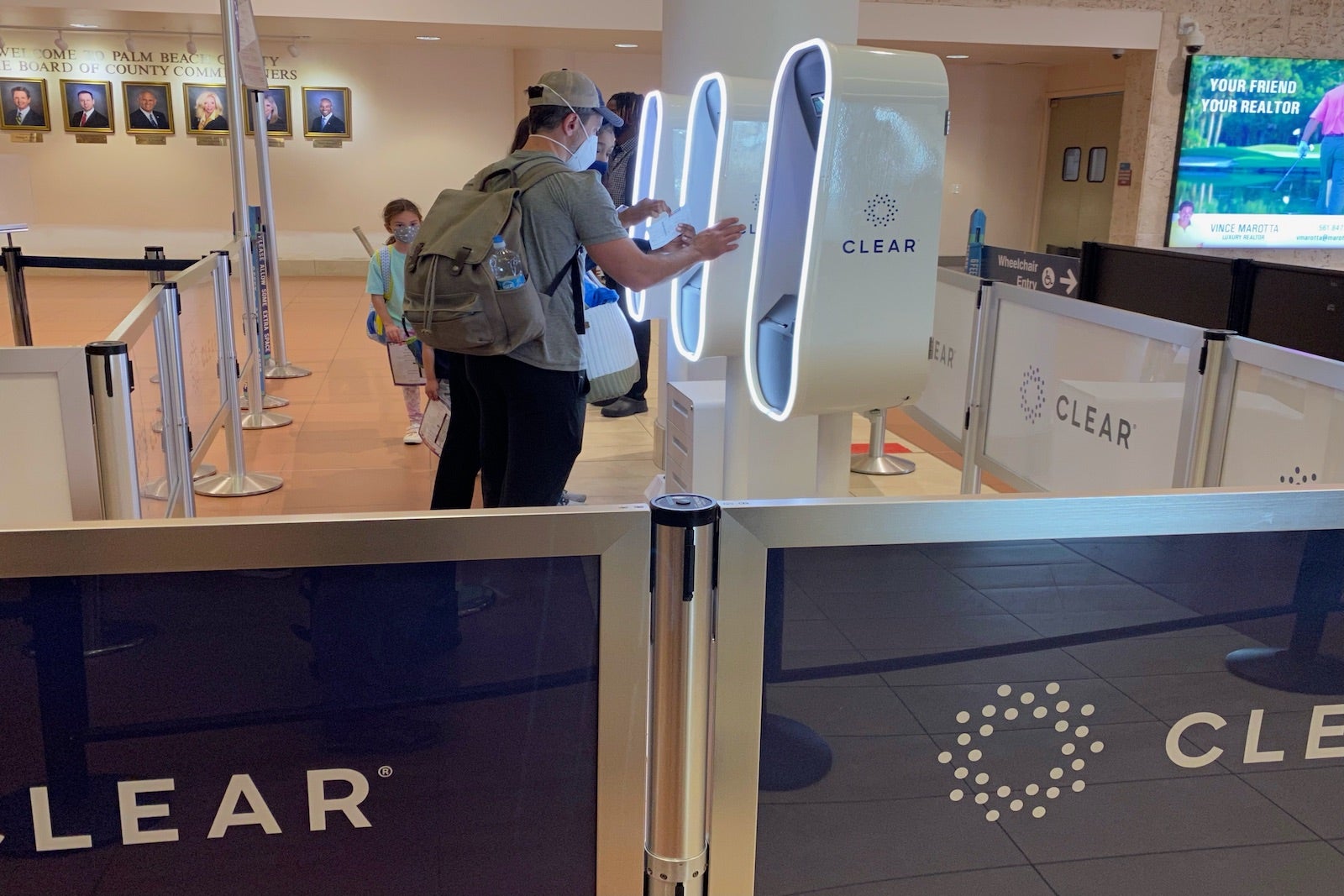 In practice, you enter a dedicated lane at the TSA security checkpoint, input your biometric data into a kiosk and head toward the gray carry-on bins. You shouldn't need to show your ID since your biometrics identify you. If you have TSA PreCheck, you can still utilize that option.
A one-year Clear membership typically costs $189. Conveniently, the Amex Platinum comes with up to $189 in Clear statement credits each calendar year. Enrollment is required. This means you can receive a complimentary membership — and potentially extend this benefit to others in your family.
Related: Clear expedited airport security program — is it worth it?
How to use the Amex Platinum Clear credit
You must enroll your card for this statement credit to activate, but the process is simple.
First, log in to your American Express account, and then select your Amex Platinum (if it's not the default card). At the top, click on the "Rewards and Benefits" icon.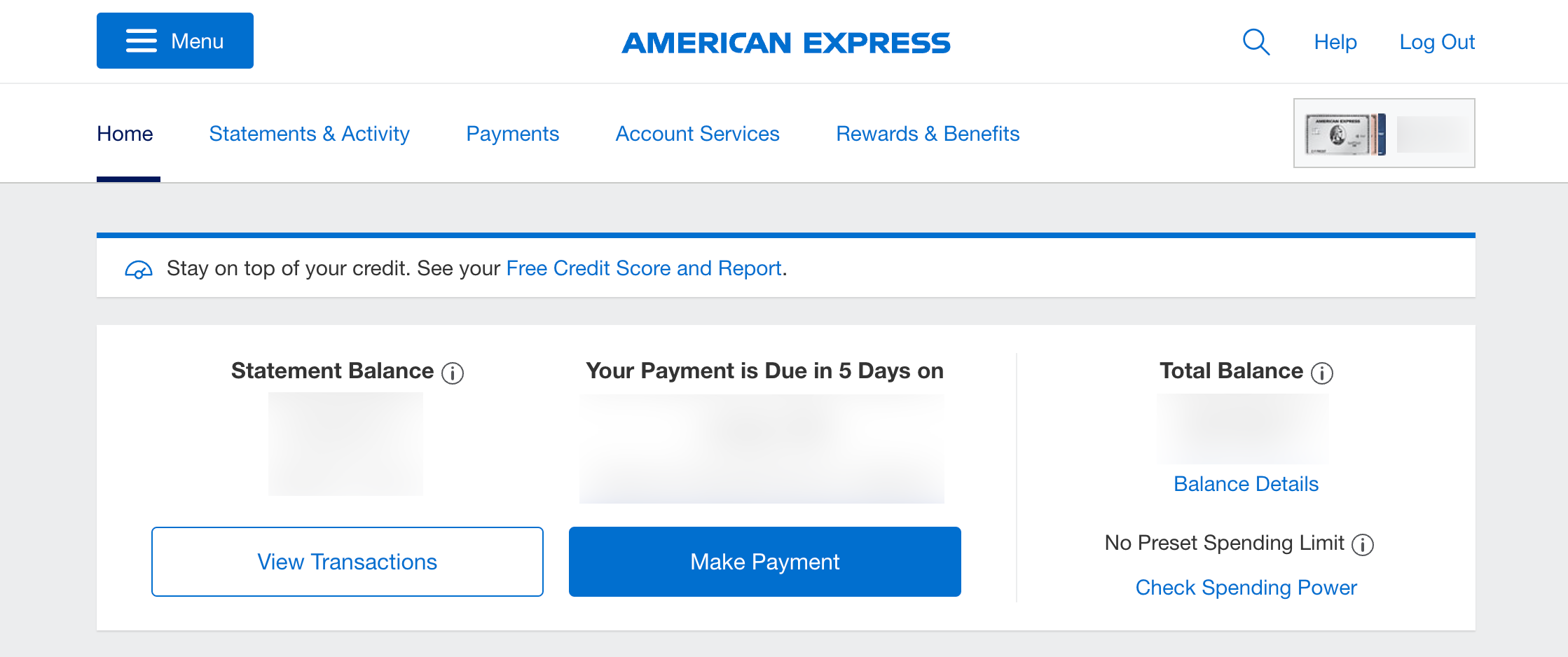 On the next screen, click on "Benefits" at the top right. This will bring you to a page of tiles, each explaining a different perk of the Platinum Card. Find the one labeled "$189 Clear credit" and note your status. If you're enrolled, you're ready to use the perk.
Otherwise, click on the icon to activate the benefit.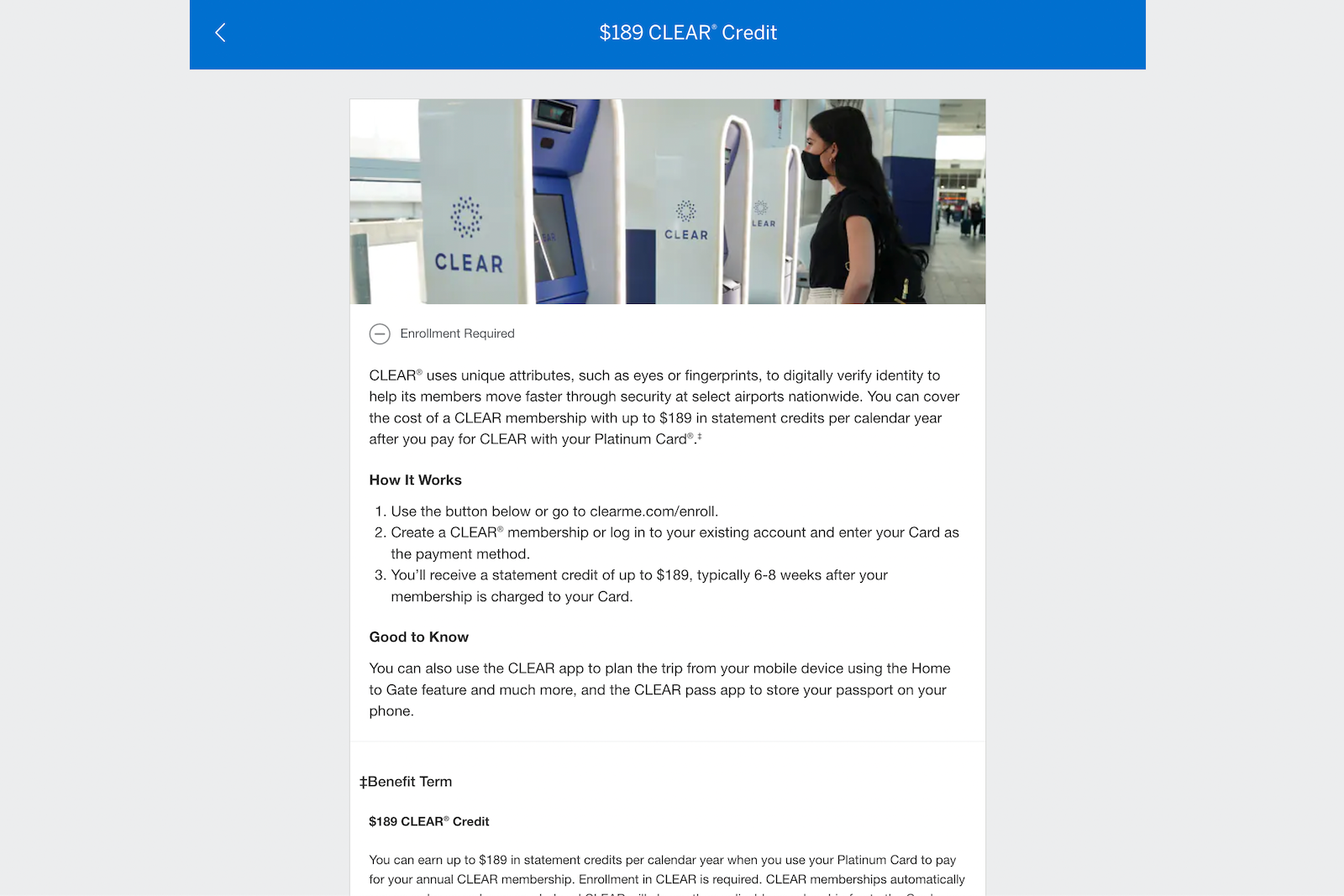 Once your Amex Platinum is enrolled, you can apply for Clear online. However, consider enrolling through Delta's link or United's link. This is a critical step if you're a member of one (or both) of these airlines' loyalty programs and are hoping to extend the benefits of Clear to an adult family member — which normally costs $60 per year.
That's because Delta SkyMiles and United MileagePlus members can enroll for a discounted Clear membership — from $10 off to a fully complimentary membership, depending on your status level and which credit cards you have:
General members of these programs: $179 per year ($10 discount).
Delta Silver, Gold and Platinum Medallion members: $149 per year ($40 discount).
United Premier Silver, Gold and Platinum members: $149 per year ($40 discount).
Delta Air Lines and United Airlines credit card holders: $149 per year ($40 discount).
Delta Diamond Medallion and 360º members: Complimentary membership.
United Premier 1K and Global Services members: Complimentary membership.
The discounts United and Delta flyers received were higher in the past, but the discounts were adjusted in February 2023.
Children under 18 years old can accompany registered adults for free, meaning your family could then use the program when combining Amex Platinum perks and Clear discounts — for free or close to it.
Regardless of how you apply for Clear, you must use your enrolled Amex Platinum to pay for your membership (and your family members, if applicable).
Amex states that the statement credit should appear within two to four weeks, but TPG staff members have found that it typically triggers within one or two days.

Your results may vary, of course.
FAQs on the Amex Platinum Clear credit
Where does Clear operate?
Clear is far from ubiquitous, but it continues to expand to new spots. Currently, you can find dedicated lanes at around 50 U.S. airports along with nearly 20 entertainment venues — including Yankee Stadium, Citi Field and Madison Square Garden in New York City (click here to see all locations).
If you don't think you'll travel through these airports or visit these venues regularly, this benefit doesn't represent much value for you.
Can I have both TSA PreCheck/Global Entry and Clear?
You can — and you should. These trusted traveler programs fulfill entirely different needs:
Clear allows you to effectively cut the line at the airport security checkpoint.
TSA PreCheck allows you to keep your shoes, belt and jacket on when going through the TSA metal detector. You also can keep your laptop and TSA-compliant toiletries in your carry-on bag.
Global Entry expedites your immigration process when entering the U.S.
Read our post on the best credit cards for Global Entry to learn how to get TSA PreCheck and Global Entry for free.
Related: Why you should get TSA PreCheck and Clear — and how you can save on both
Can I use the Clear credit for friends and family?
Yes. You don't have to use it for your own membership; it can be for anyone. As long as you enroll your Amex Platinum card and then use it to pay for Clear, you'll receive up to $189 in rebates each calendar year.
Here's a screenshot from a TPG staff member who added three family members to his account. (If you add someone to your account, Clear will prorate the year to match your current membership — hence the odd dollar amounts.)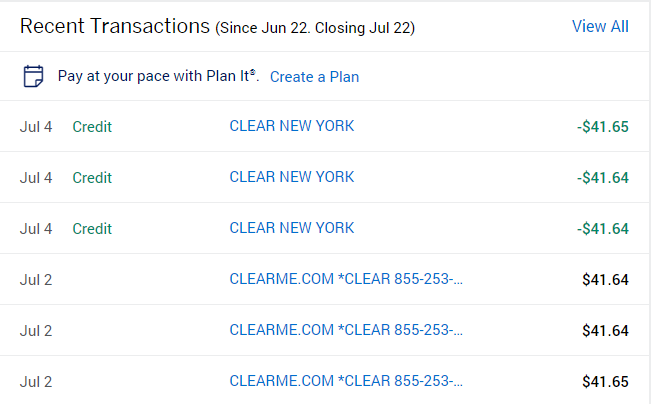 In addition, when you add family members to your account, they will get a full Clear membership in their own right. They don't need to be traveling with you to use its benefits.
Can I use the credit to purchase Clear gift cards?
Unfortunately, no. Clear gift cards are processed by a third party called eGifter. In other words, your Amex Platinum card won't see this as a Clear purchase, so the credit will not trigger.

Is this the only way to get Clear membership?
Two other cards offer a Clear discount: The American Express® Green Card and The Business Platinum Card® from American Express (enrollment is required). Both offer a $189 Clear statement credit each calendar year — enough to cover the full membership.
The information for the Amex Green Card has been collected independently by The Points Guy. The card details on this page have not been reviewed or provided by the card issuer.
As mentioned previously, it's possible to save on Clear through two major airline loyalty programs: Both Delta and United offer pathways to discounted (or even complimentary) membership.
Here are the details:
To utilize these offers, be sure to enroll via Delta's link or United's link. Clear should automatically pull your eligible discount.
One important clarification: If you have the Amex Platinum, do not charge the Clear membership fee to your Delta or United card. While being a cardholder will unlock the discounted pricing, you must use the Amex Platinum to trigger the Clear credit.
Do I have to use the Clear credit all at once?
You don't have to redeem this $189 credit in one lump sum. It will activate any time you pay Clear — up to $189 each calendar year. This is handy if you're eligible for discounts from any of the above methods. That way, you can pay for your membership and then add a family member (or multiple, if you have top-tier status with Delta or United).
How do I complete my enrollment?
Unfortunately, paying your Clear membership fee with your Amex Platinum to trigger the statement credits is only the first step in enrollment. Once you submit your information online, you must finish the process at any airport Clear location. Bring your government-issued identification, such as a driver's license or passport.
The representative will take scans of your eyes and fingerprints. From there, you'll be all set to use the enhanced security on your flights. Then you can use the benefit immediately.
Related: How to get and use Clear to avoid lines
Bottom line
Clear doesn't get as much attention as trusted traveler programs like TSA PreCheck and Global Entry, but it can be a lifesaver for reducing wait times at airport security. And you can unlock a free membership with a popular travel credit card.
The Amex Platinum offers up to $189 per calendar year in statement credits that can be used with Clear. By stacking this benefit with other discount options, you could access these biometric security lanes on your next trip and might be able to add family members at no out-of-pocket cost.
Official application link: The Platinum Card from American Express
Check the CardMatch tool to see if you're targeted for a 125,000 or 150,000-point Platinum card offer (after meeting minimum spending requirements). These offers are subject to change at any time.
Additional reporting by Ryan Smith.
For rates and fees of the Amex Platinum, click here.