As "premium leisure" shines as a bright spot for legacy airlines, Hawaiian Airlines is showing signs that it wants to compete with the "Big Three" carriers in luxury travel.
In going toe-to-toe with American Airlines, Delta Air Lines and United Airlines, Hawaiian is launching amenity kits for its long-haul flights between Hawaii and New York, Boston and Austin. The amenity kits will debut in Hawaiian's new premium cabin in its Boeing 787-9 Dreamliner.
Want more airline-specific news? Sign up for TPG's free biweekly Aviation newsletter.
Starting Nov. 6, business-class travelers will be treated to kits that include sleep masks, toothbrushes, pens, earplugs and tissues, along with toiletries like lip balm in a cream-colored canvas bag. Business-class seats will also feature a blanket, mattress pad and pillow.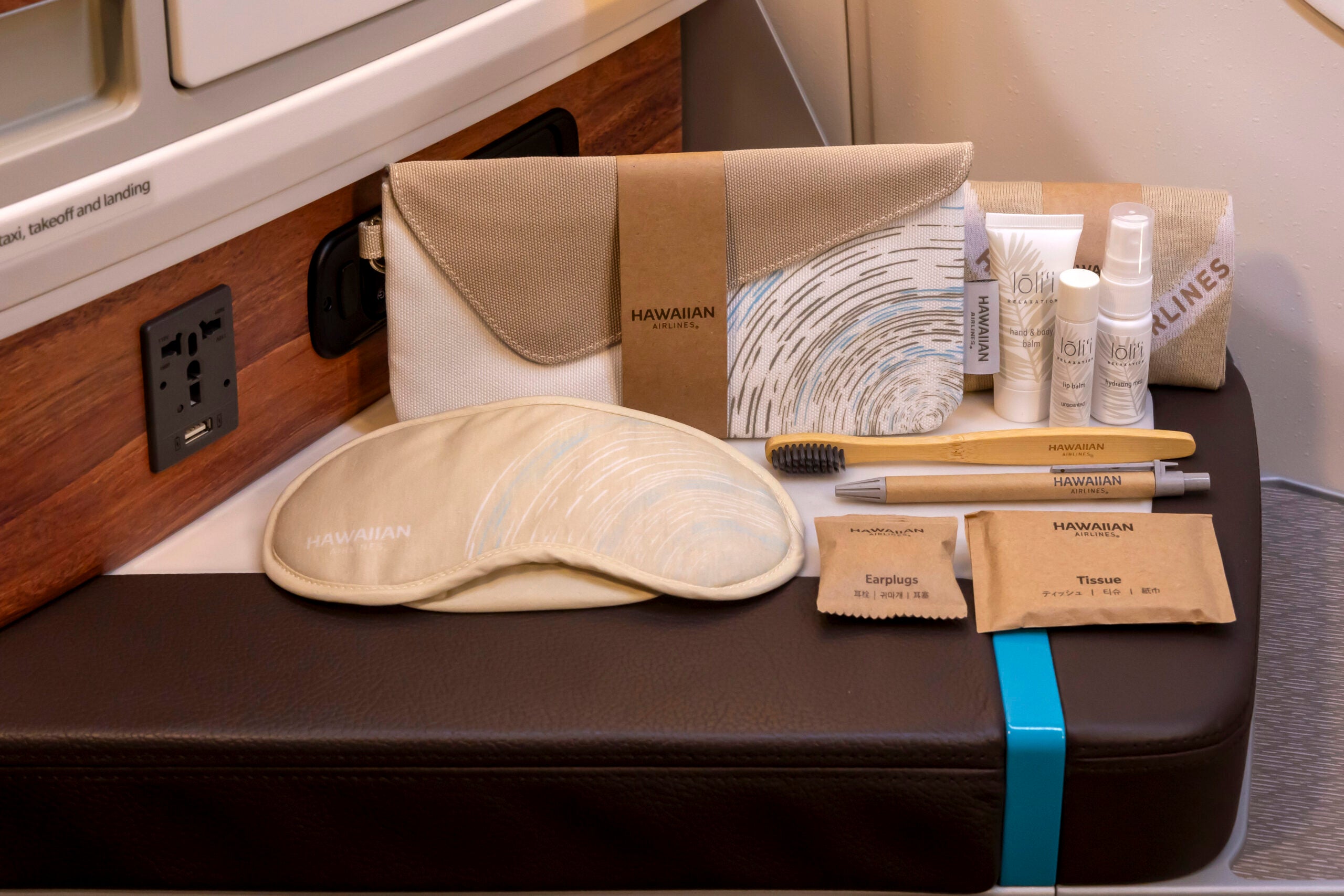 Even travelers flying in Hawaiian's Extra Comfort or Main Cabin seats will receive an amenity kit for long-haul flights; these kits will feature many of the same items as the business-class amenity kit. The bags in the back of the plane are a heather gray and are a bit smaller.
Related: Best ways to redeem points and miles on Hawaiian Airlines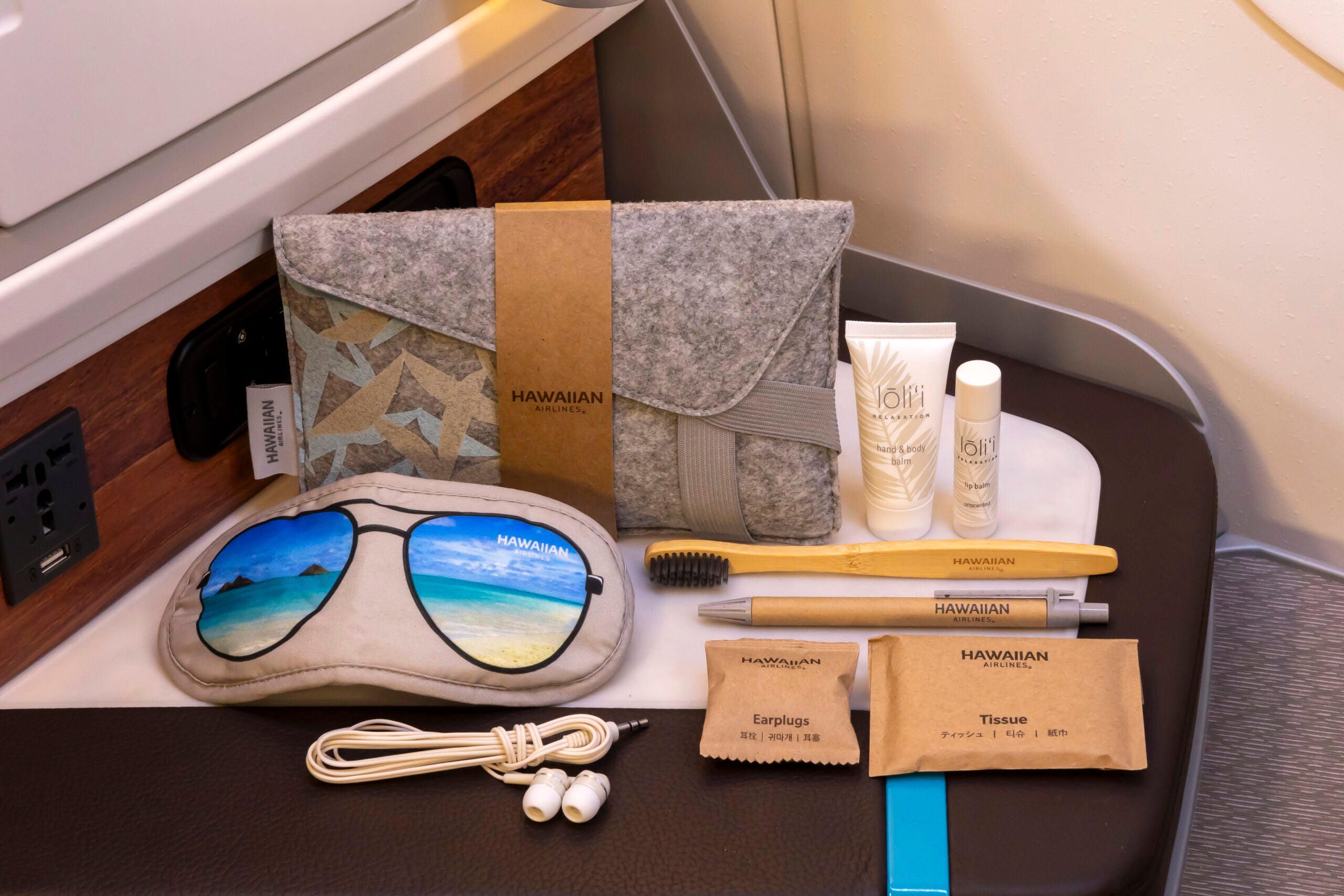 The launch of these amenity kits marks Hawaiian's attempts to follow in the footsteps of the "Big Three" carriers and capitalize on the "premium leisure" trend that has become popular within the industry. At the same time, it also shows the carrier's aim to differentiate itself from Southwest Airlines, which has become a major competitor for the Honolulu-based airline since it started flying in the Hawaii market in 2019.
Related: A review of the longest Hawaiian Airlines route: Boston to Maui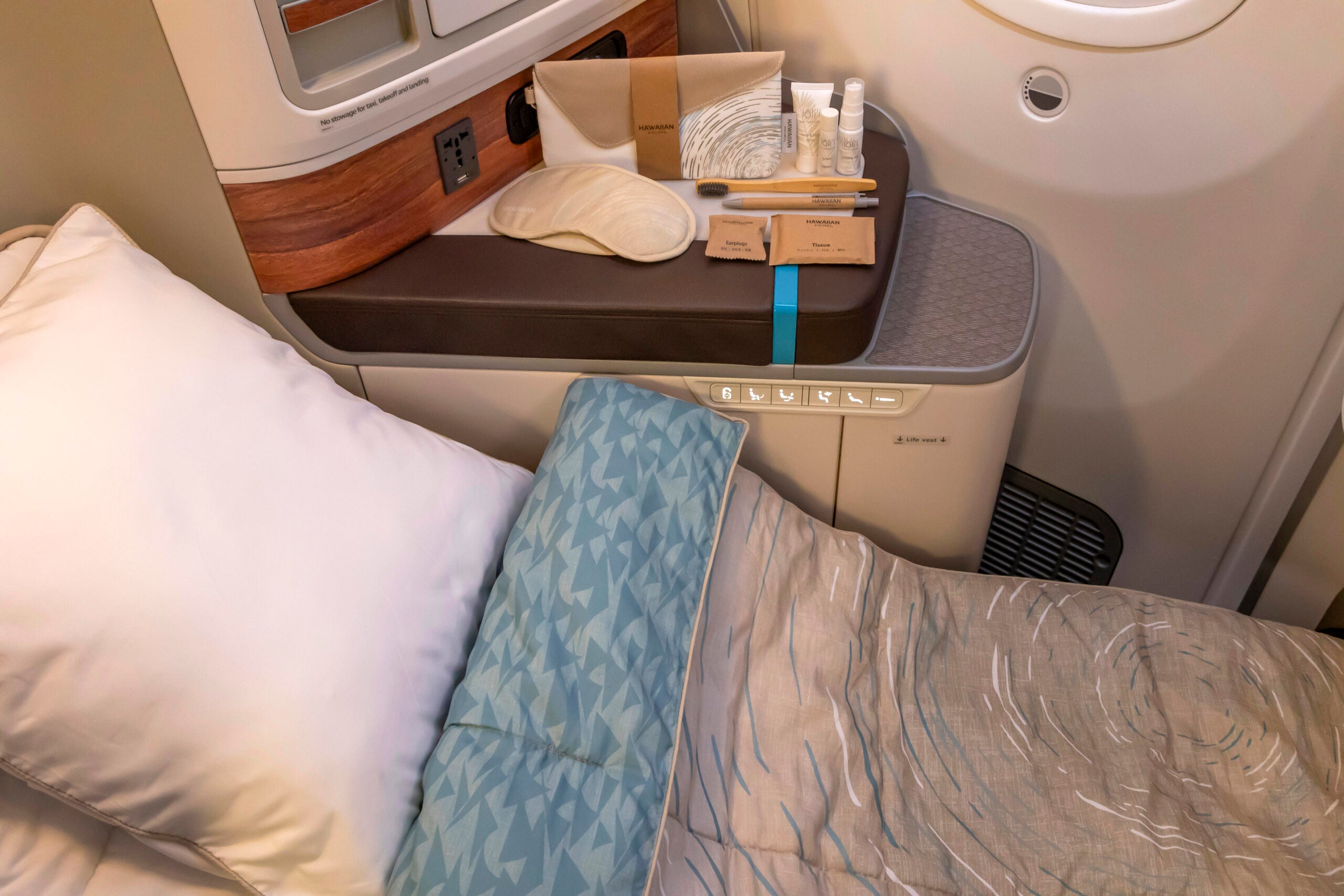 While Southwest only flies a handful of routes to Hawaii, the carrier has eaten into some of Hawaiian's market share because it has offered some cheaper fares for flights from the mainland U.S. and between the islands.
The sleekly designed amenity kits are a collaboration with Hawaiian lifestyle brand Noho Home by Jalene Kanani Bell, and they emphasize sustainable design. The canvas bag, blanket and mattress pad are made from recycled plastic.
Hawaiian said it wanted the amenity kits to create a sense of "place and comfort" for passengers, leaning into the principle of "Mea Ho'okipa," or "I am your host."
"Our collaboration with Noho Home was born out of the shared desire to create a sense of place and establish a connection to home while we bring our guests to their destination," Alisa Onishi, Hawaiian Airlines' senior director of brand and community and cultural relations, said. "We are very proud of the creativity behind these designs and can't wait for our guests to receive them."
Related reading: