Football fans know we've reached that point in the season where it becomes easier to determine which NFL teams still have a shot at reaching the ultimate game: the Super Bowl.
The playoff teams are far from finalized and there are still four weeks left in the regular season. However, one thing we do know is that Super Bowl LVII will take place Sunday, Feb. 12, 2023, in Glendale, Arizona, at State Farm stadium, the home of the Arizona Cardinals.
We also know that, as usual, Super Bowl tickets will be incredibly coveted and hard to find. It's perhaps the toughest ticket in sports, but it's not impossible to get your hands on them. If you're a Marriott Bonvoy member with a lot of points stashed away, you have a great chance to score the ultimate sports bucket list trip.
The Marriott Bonvoy Moments program just kicked off a number of Super Bowl experiences for members, offering up unforgettable opportunities to enjoy the game in style.
It's important to note that Bonvoy Moments are offered as packages or as auction items. With packages available for redemption, you can pay the assigned price in points. If you want one of the experiences up for auction, you must bid to win the package.
Related: What are points and miles worth? December 2022 valuations
We counted ten different types of Super Bowl LVII experiences on offer right now — all of them as auctions. Each package is up for auction until Dec. 8, and the bidding is already fierce.
Check out the bidding for a package that includes two stadium suite tickets, hotel accommodations and a chance to attend the star-laden NFL Honors awards show during Super Bowl week. NFL Honors is like the Oscars of the NFL. The bidding is already up to 1.3 million points (which, at .84 cents per point, according to TPG's current valuation of Bonvoy points, equals $10,920).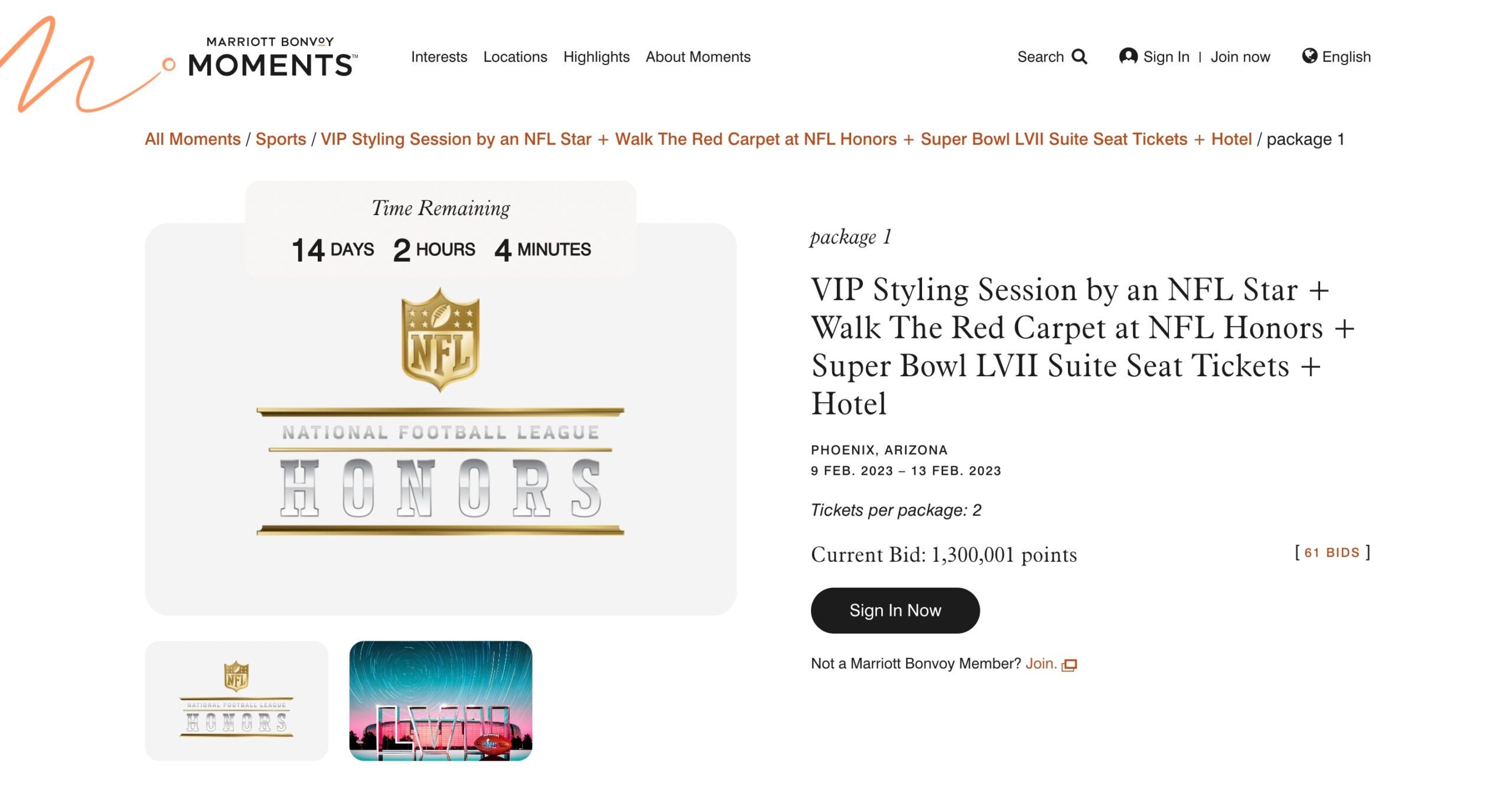 There are other experiences that include tickets to the game, plus some other perks.
So far, the most popular packages are NFL Suite tickets for the game and either pre-or post-game field access along with a hotel stay. The top bid at the moment has already cleared 2.3 million points (equivalent to $19,320, according to TPG valuations).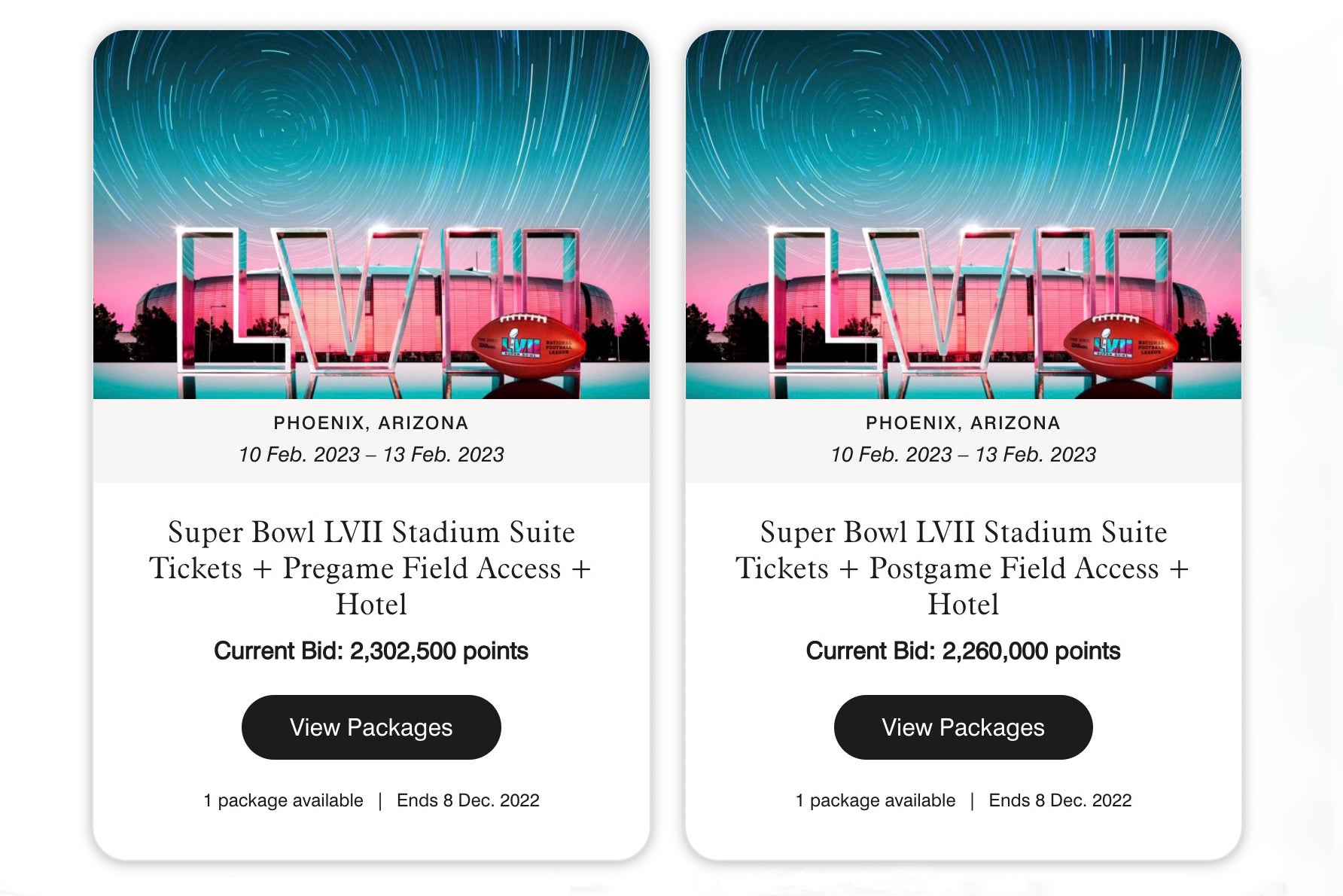 Related: The ultimate guide to Marriott Bonvoy Moments
Don't be shocked to see these packages sell at a final cost well above those already-lofty numbers. The Super Bowl is a premium event where the majority of tickets go to the NFL's promotional partners, which is why so few regular fans can get their hands on tickets.
It's also worth keeping in mind that while it's always good to try and get a solid return on your Bonvoy points, a Super Bowl experience is almost certainly not going to offer outsized value per point spent — at least not in a quantifiable way. It commands a premium price because it's a once-in-a-lifetime event that many sports fans — both diehards and casual fans — dream of attending, whether their team makes it or not.
Given how hard it is to get your hands on tickets, if you're lucky enough to have hoarded enough Bonvoy points to score one of the Bonvoy Moments, then value and good return on investment are likely worth throwing out the window.
Additional reporting by Becky Blaine.