As a recent college graduate new to making decisions on my own as an adult, it's safe to say that I'm still learning the ropes when it comes to traveling. I've embarked on many trips with friends and family, but I've never had to worry about booking my own flights, accommodations or activities.
However, that's all changing now that the world is returning to normal after the depths of the coronavirus pandemic. And, of course, I've begun my career at TPG, where travel is what we do. Seeing how frequently all my colleagues take to the road, I've been eager to travel by myself for the first time.
So, earlier this fall, I decided to take the plunge and book an October trip to New Orleans, a city I've always wanted to visit because of its exceptional food, rich culture and fun atmosphere.
I'd already gone through the flight-booking process — read more about that here  — but now it was time to figure out where I was going to stay. With my flights locked in, I would have about 36 hours to spend in the Big Easy. With that set, it was time to figure out the next crucial part of my trip: which hotel to book. Here's how it went.
Picking a location
Unsure which part of New Orleans was most ideal for tourists, my hotel search actually started with some research. Where would I want to be?  The best two neighborhoods for a first-time tourist in New Orleans seemed to be the French Quarter and the central business district, so I set my sights on these locations.
Safety was another important factor in picking a place to stay, especially as a woman traveling alone. After all, I wanted to stay somewhere that was both centrally located for sightseeing and in a safe area for solo female travelers.
From what I could tell, the French Quarter offered a more traditional New Orleans experience thanks to its historic, brightly colored Creole buildings and raucous nightlife. It's also where popular tourist sites like Bourbon Street and Cafe Du Monde reside, so it appeared to be a convenient area to stay.
The central business district, on the other hand, seemed to be full of towering buildings, giving it a more traditional city vibe. Still, that area is also home to a few popular tourist spots, such as the Sazerac House, a museum, bar and distillery dedicated to the New Orleans cocktail of the same name.
Choosing an area to stay in was difficult. The cute cafes, jazz clubs and eccentric bars were in the neighborhoods that seemed like they'd be fun to stay in. Yet, in the end, I could only pick one hotel.
I decided to narrow my search to hotels in the French Quarter because it had the traditional New Orleans experience I was seeking as a first-time tourist. Many of the most popular spots are there. Also, its distinct architecture, which has a quirky yet borderline haunting quality, intrigued me, as it was what I had closely associated with the city.
Settling on a budget
Once I figured out which neighborhood to stay in, it was time to set a budget. Since it wasn't peak festival season yet — popular events like Mardi Gras and the New Orleans Jazz & Heritage Festival take place in spring — I assumed hotels would be relatively inexpensive.
With the help of Google Hotels, I checked out my options. In the French Quarter, hotel prices ranged from $50 for the most basic budget accommodations to $533 — a big spread to choose from.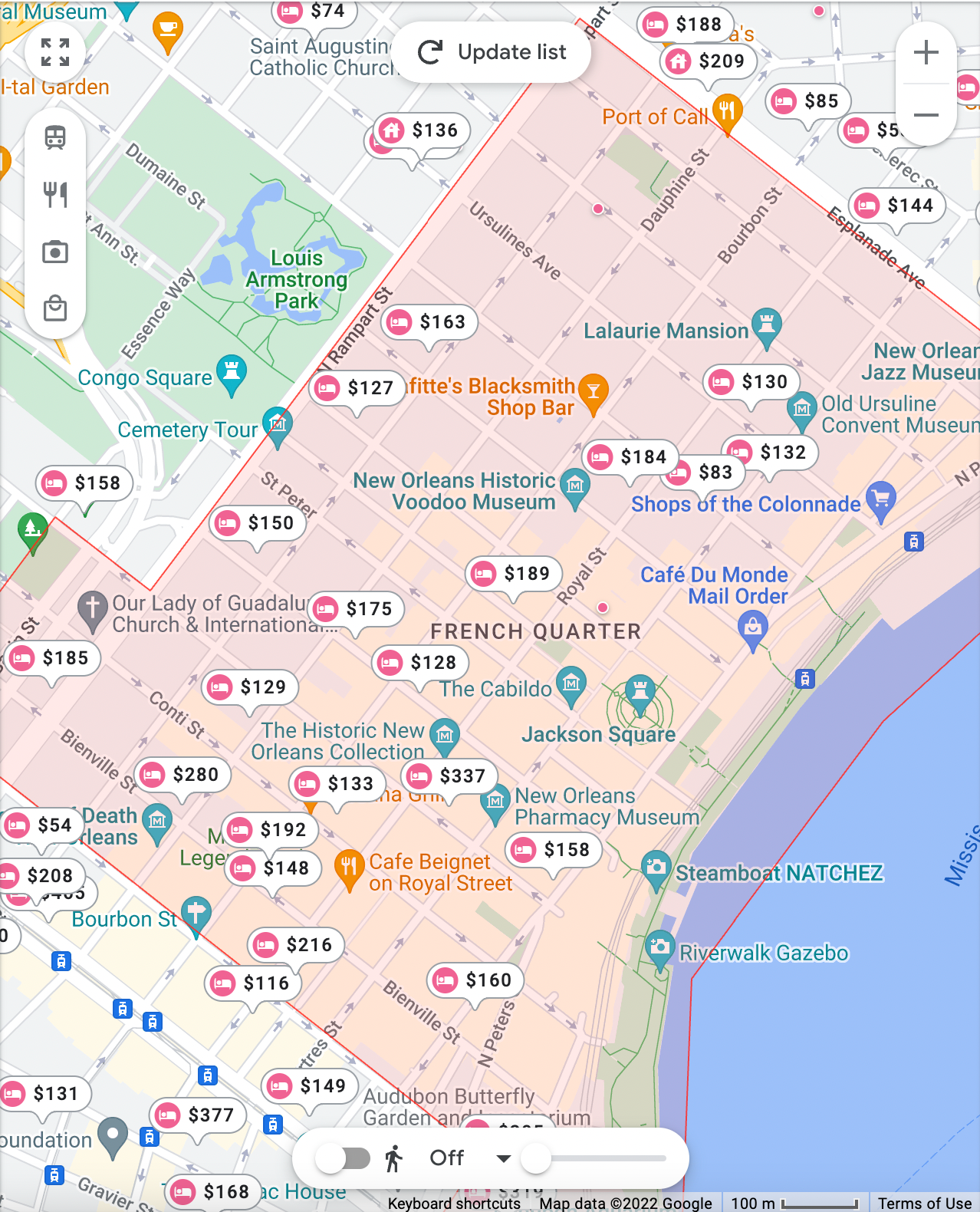 For a one-night stay, I didn't want anything too upscale. All I needed was a convenient place to sleep — preferably within walking distance of the majority of the city's attractions. Since New Orleans had so many inexpensive options, I zeroed in on spending no more than $200 on a hotel.
Choosing a hotel
With the key parameters decided, I began my search for the right hotel.
At first, choosing a property was overwhelming. As I scoured Google Hotels for potential options, I found myself struggling to pick between seemingly similar properties. Many of the hotel buildings donned the same charming French-Creole architecture and had vintage decor that was slightly dated but appropriate for the age of the structures.
Since I'd only be staying for a night — and hoped to spend as little time in the room as possible — I focused more on location and the overall aesthetic than amenities that I'd appreciate more on a longer stay.
After some extensive searching, I whittled down my options to four hotels – all in the French Quarter. I mostly stuck to major hotel chains, thinking that this trip could help me start earning my own points for future stays elsewhere. However, I also liked the charm of a couple of boutique hotels, so I decided to consider them as well.
Related: A classic getaway: Traveling to New Orleans to find the real Big Easy
Voco, St. James Hotel
During my search, the IHG-affiliated Voco, St. James Hotel on Magazine Street, quickly stood out. The online photos projected an upscale feel, but at a price I could afford. The building featured a stunning red brick French colonial exterior, which felt distinctly New Orleans. Rooms, however, looked a bit simple in design, with a plain wooden bedframe and limited lighting that made the spaces appear dark.
Still, with a standard room with a queen bed costing only $132 a night (not including taxes), I could look past the plain accommodations. After all, I wasn't planning to spend much time in my room. The location was more important to me, and the St. James Hotel appeared to offer a convenient one right in the heart of the French Quarter, close to The National WWII Museum and Bourbon Street.
While the service and ambiance were completely unknown to me, the prime location and price made the St. James Hotel a top contender.
Bourbon Orleans Hotel
Also a few blocks from Cafe Du Monde, the Bourbon Orleans Hotel is a boutique property that lacks any ties to a major hotel chain. It's home to an outdoor pool (an amenity I didn't necessarily value since I wouldn't have time to use it) and the Bourbon 'O' Bar, which the hotel website described as having live music and brightly colored murals scattered across its walls.
The rooms looked OK — I wasn't the biggest fan of the gray bedroom walls pictured on the site, as they made the rooms look dreary. It helped, though, that a queen room was priced at $144 a night, which was very affordable and still under budget for me, so I left it on the list.
La Galerie French Quarter Hotel
Another boutique option, La Galerie French Quarter Hotel sits on Decatur Street near a variety of small cafes and oyster bars. Unlike the Bourbon Orleans or Voco, St. James hotels, La Galerie's exterior didn't have the same French-Creole character I preferred. Instead, the building appeared to have a plain facade with warehouse windows, which at least gave it some personality.
Perhaps the limited lighting in the photos on the hotel's website was to blame, but the rooms and the hotel as a whole looked sterile. I felt the bright white walls in the rooms gave them an uninviting and cold appearance.
Then there was the price. La Galerie was the most expensive of the four hotels I considered, costing a total of $189 per night. The $189 price tag was a bit too close to the top end of my $200 budget. Nevertheless, I decided to keep it in the running, though I hoped to find something suitable for less.
Moxy New Orleans Downtown/French Quarter Area
Straddling the border between downtown and the French Quarter, New Orleans' Moxy outpost is a six-minute walk away from Bourbon Street, making it a convenient option for sightseeing.
Of my top four options, this member of the Marriott family seemed to have the funkiest vibe — the hotel was housed in a glass building with alternating blue windows. Sticking to the bright, vibrant hues of the chain, magenta-colored doors greeted visitors upon arrival.
Admittedly, I thought the decor of the hotel bedrooms looked a little tacky and dated, as its decorative pillows had the phrase "I woke up like this" emblazoned on them. However, I had heard good things about Moxy hotels, so I was curious about the brand. Not to mention, it seemed like a convenient, no-frills option for only $144 per night. The 24-hour grab-and-go venue was a welcome touch, too, so it remained a contender.
Related: 10 TPG-approved hotels for your next New Orleans stay
Making a final decision
Since I was solely using information from the hotels' websites and reviews on the internet, picking a hotel was not easy. It was hard to gauge the ambiance and service of a hotel through pictures online — lighting and angles can make everything look better (or worse).
Still, I only had time to stay at one property during my short visit, so I decided to go with the Moxy. It was a close call between the Moxy and Voco, St. James Hotel. However, in the end, Moxy's proximity to two central neighborhoods and favorable reviews swayed me.
Sure, the decor may not be to my taste — no quintessential New Orleans character was on display at the Moxy — but I was only in town for a night, so the hotel's appearance wasn't a deal breaker.
Here's how it went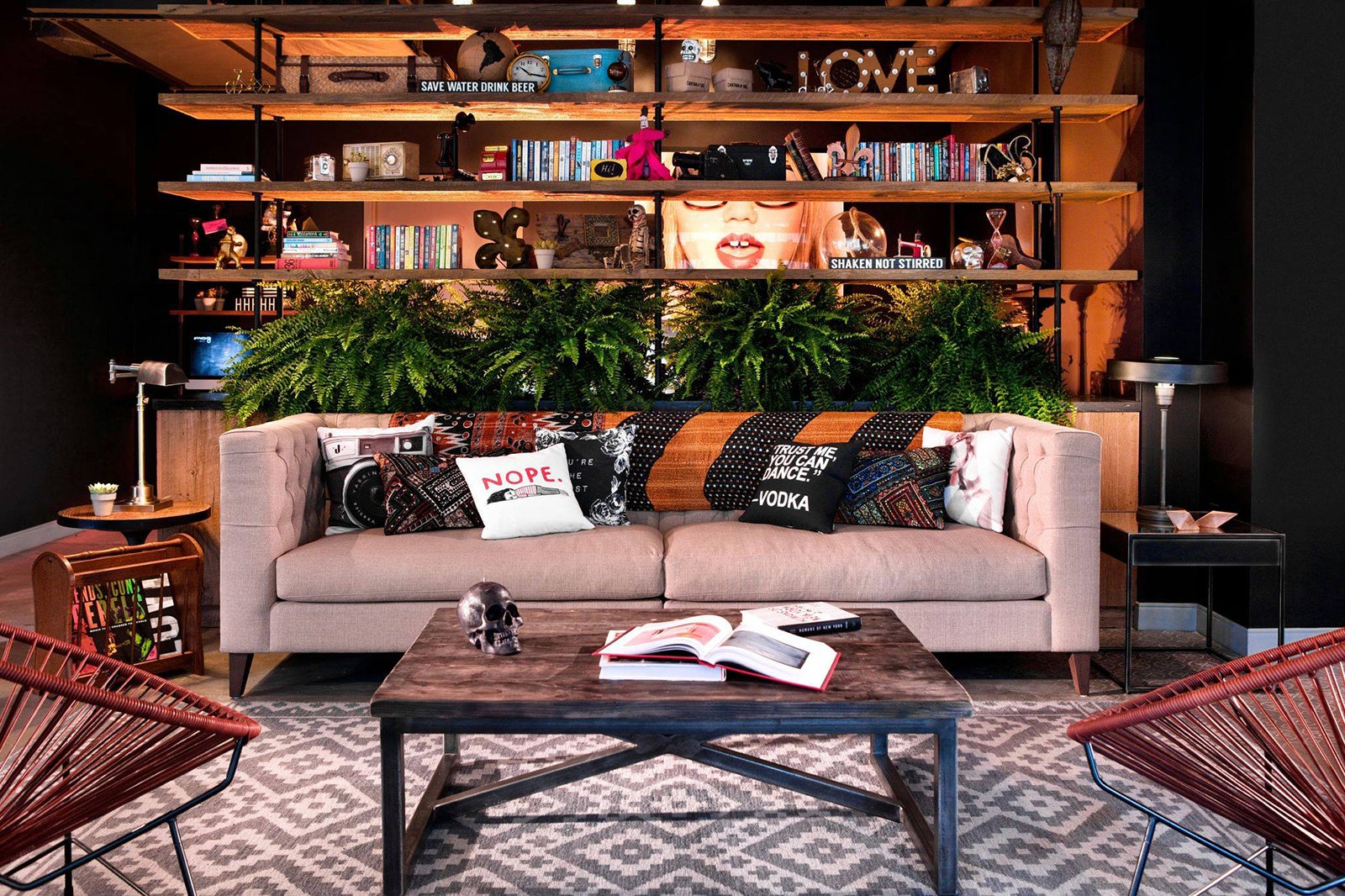 Much to my surprise, when I arrived at the Moxy in New Orleans, I found that the hotel lacked an actual entrance like what you'll find at more high-end counterparts such as the nearby InterContinental and the JW Marriott. The magenta doors just slid open — there was no driveway or doormen at the door to greet guests. It also didn't help that there was sidewalk construction right near the property, which almost obstructed the entrance.
However, considering my interest in staying somewhere simple, I got exactly what I was looking for.
The hotel lobby featured modern decor, with occasional pops of pink and magenta on the signage and accent pillows. Additionally, the reception desk doubled as a bar, and signs with phrases like "Save water, drink beer" and "Work hard, play nice" hung on the walls. It offered a vibe more commonly found in a bar than a hotel, which seemed to fit the area well, given the city's lively nightlife scene.
One of the best parts of my stay was the service. The check-in process was speedy, with the friendly front desk staff handing me my room key right away despite arriving four hours before the official check-in time. The prompt service helped make up for the lackluster room, which felt just as cramped as what I'd find in New York City and lacked natural light thanks to having blue-tinted windows.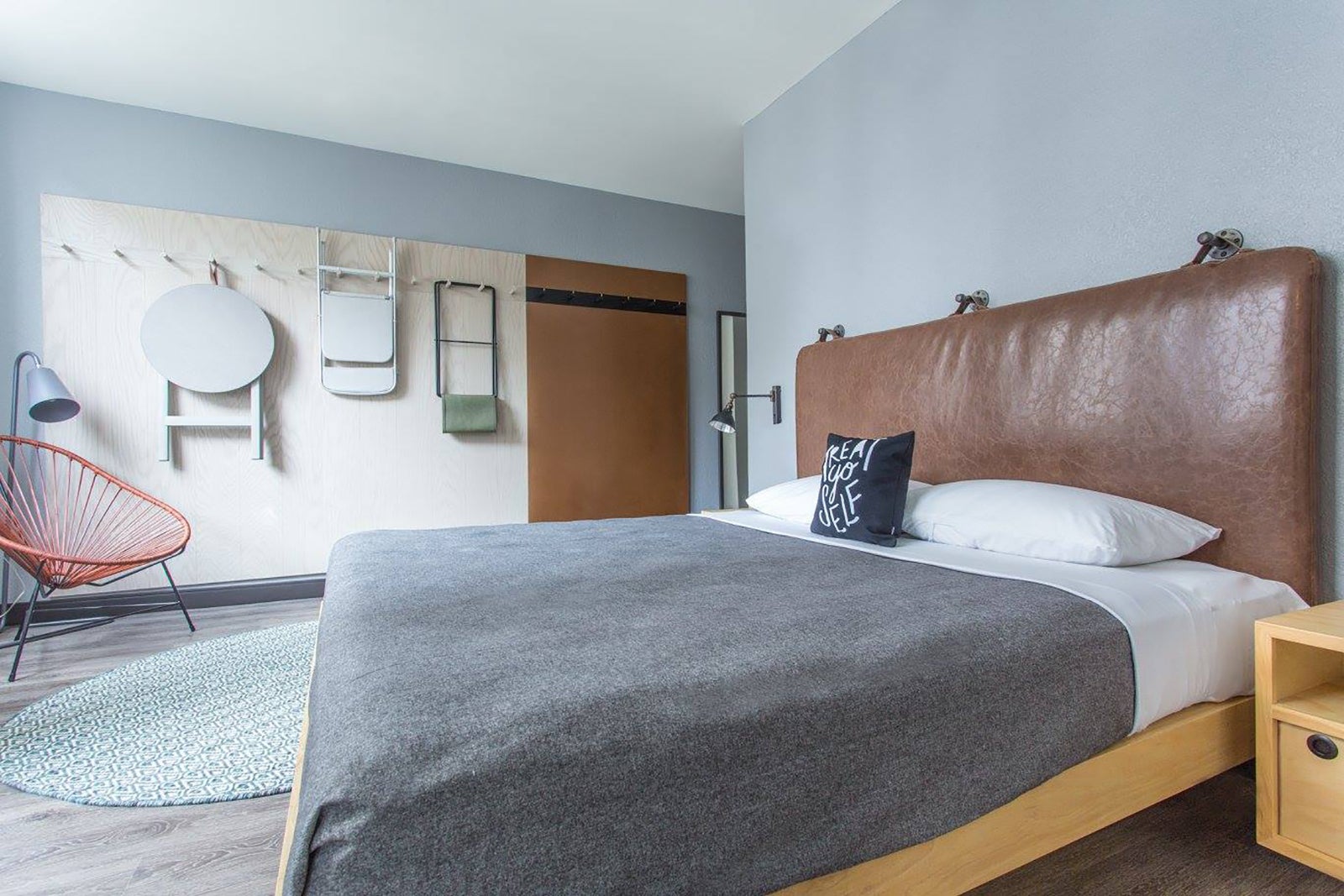 I wasn't staying at the Ritz, though, so I didn't expect white-glove service and fancy rooms. The hotel seemed ideal for a short solo trip — and it did work for my purposes. I probably would not recommend the hotel if you're visiting New Orleans with family or friends for an extended period of time. However, if you're ever in my situation, the hotel is a solid option worth considering for a quick, no-frills visit.
Bottom line
In the end, the Moxy met my expectations — but it did underscore just how much there is to consider when booking a hotel. I ended up happy enough with this stay, but I learned a little more about what to look for when booking a hotel, as well as how to sort through all the noise in online pictures and reviews. Next time, I might focus more on aesthetics and room amenities since my hotel room was rather bare-bones when it came to things like storage and natural lighting.
Still, I consider it a successful effort. I got a clean, comfortable room that checked most of my boxes. Now, I'm already looking forward to my next trip, and I'm better prepared to tackle selecting a hotel when it's time.