As you may already know, tickets to Disney World's Very Merry Christmas Party can be close to $200 per person on peak nights — and they are mostly sold out for the year.
If you accidentally missed buying your tickets in time for the occasion or you were priced out of the Christmas celebration this year, don't stress: There are still several other ways to get into the holiday spirit at Disney World for free (or close to it).
Related: Tips for visiting Disney World at Christmas: Mickey's Very Merry Christmas Party and beyond
Visit Santa at Disney Springs
Naturally, Santa has Disney on his pre-Christmas visit list since so many kids are passing through. This year, you'll find him at Disney Springs' Once Upon a Toy store.
To meet with the man of the season, you'll need to join a virtual queue, which accepts visitors at 9 a.m, noon, 3 p.m. and 6 p.m. daily. There's no charge to see the big guy. However, entering the virtual queue requires choosing a time via the My Disney Experience app while physically on Disney Springs property. Be sure to pop by when you're ready to arrange your meet-and-greet.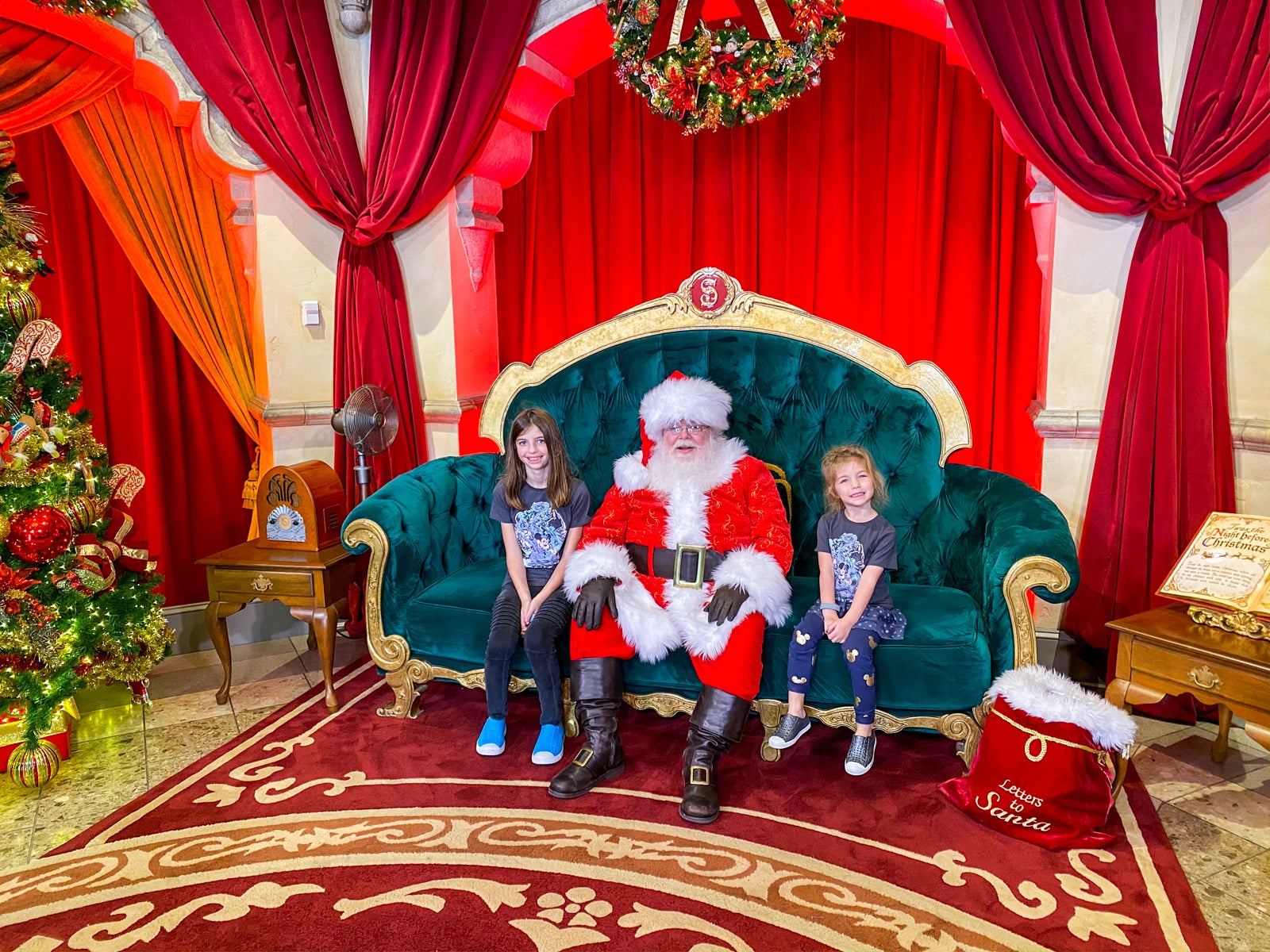 See a life-size gingerbread house at the Grand Floridian
Over at Disney's Grand Floridian Resort & Spa, one of three on-property hotels located on the monorail loop, you'll find a life-size gingerbread house made of more than 1,000 pounds of honey, 700 pounds of chocolate and 800 pounds of flour, plus all kinds of sweet ingredients.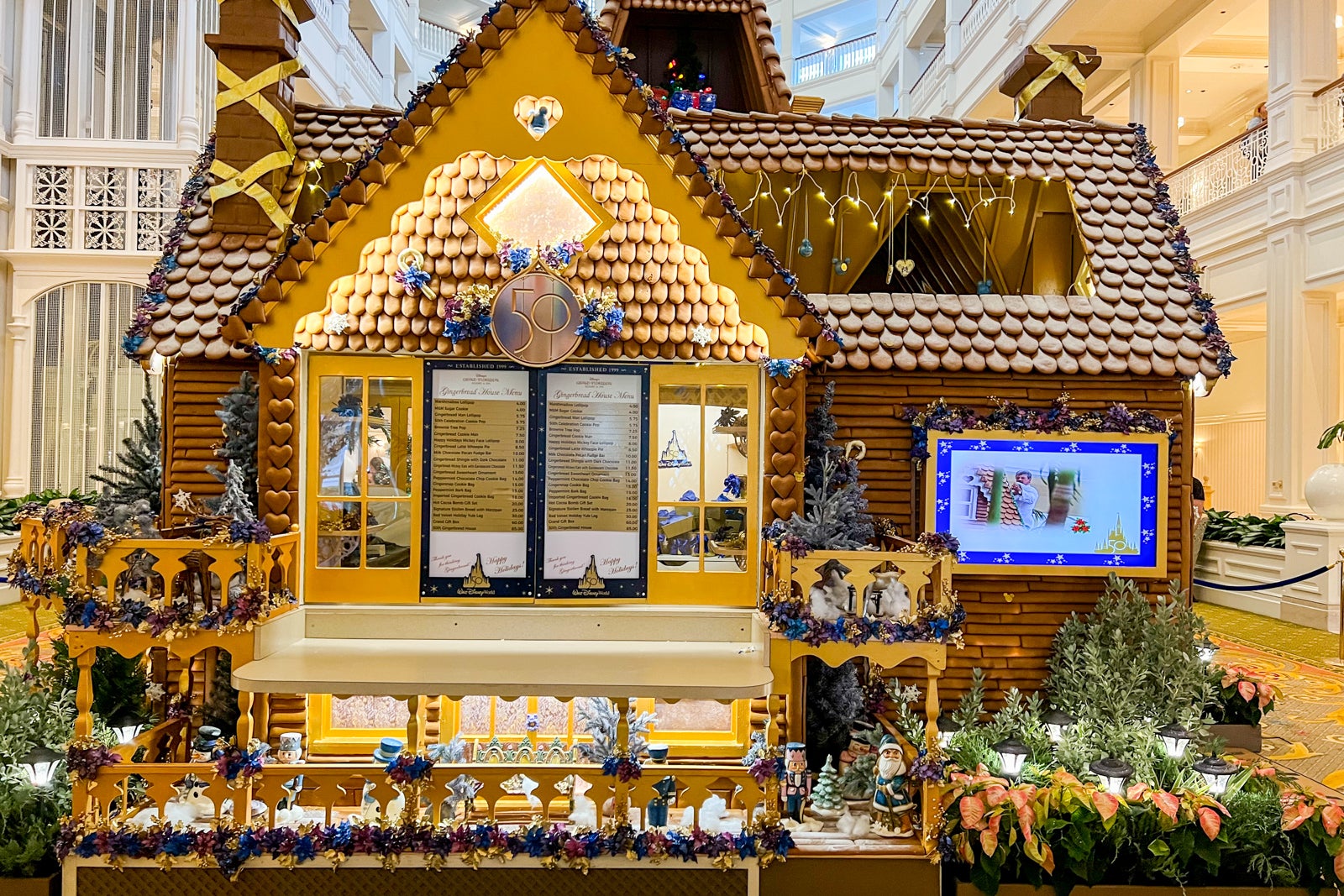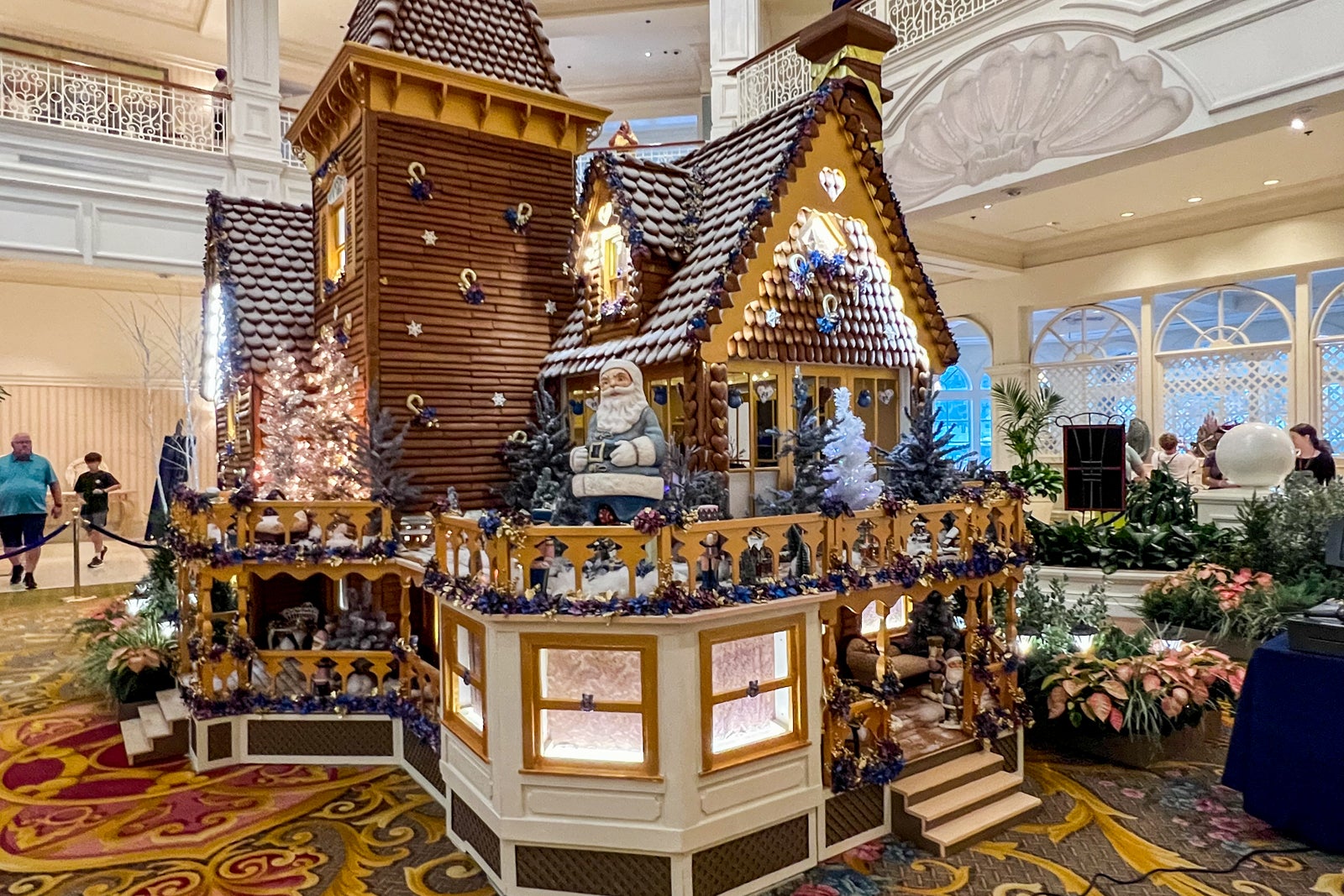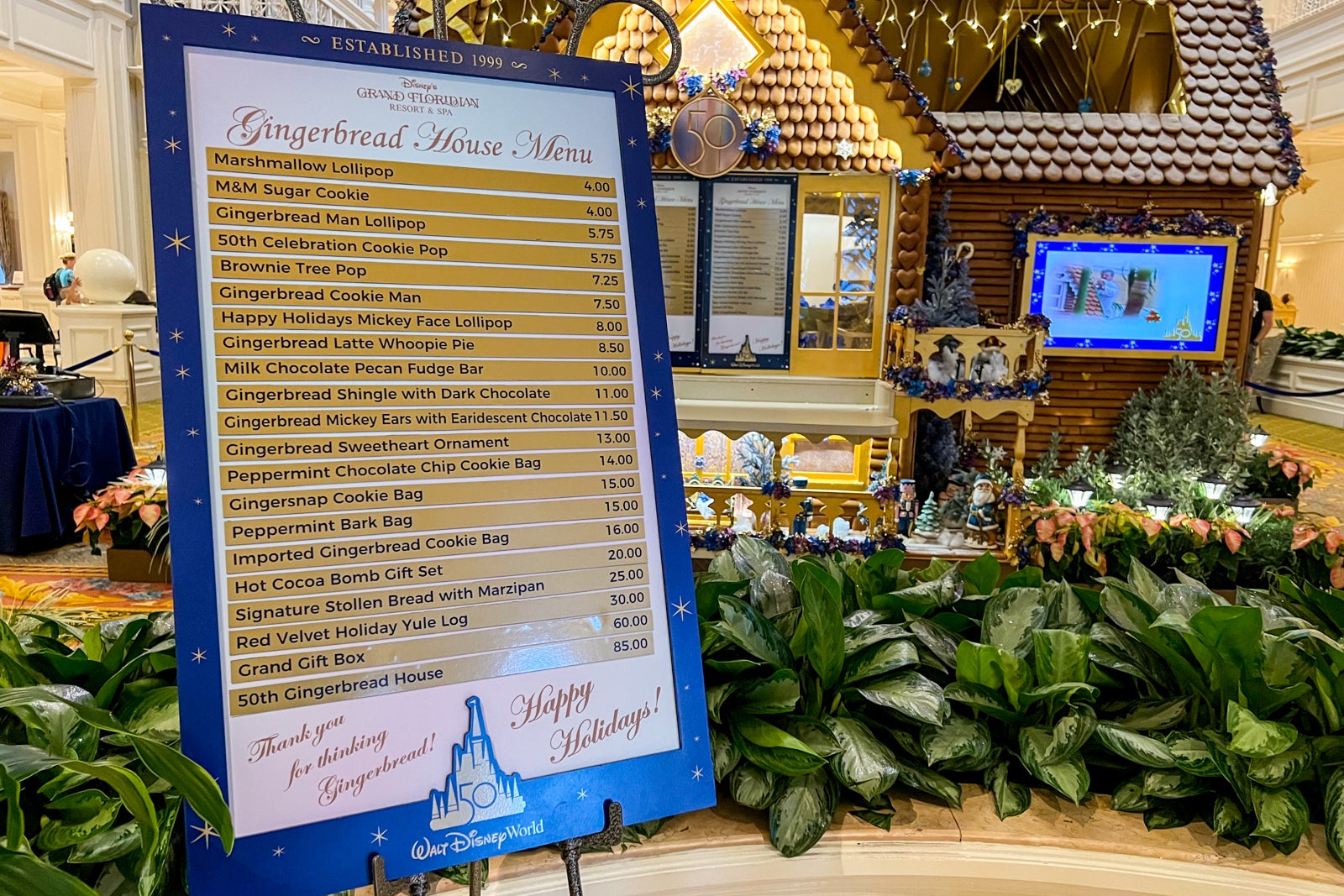 The house is free to admire — and with a little luck, you may find yourself at the property at the same time as the hotel's pianist, meaning you can listen to live piano music while checking out the house. For an even more festive experience, you can also try a gingerbread shingle served with dark chocolate, though it'll set you back $11.
Before you visit, know that there may be some extra steps you need to take when driving to the hotel. If you wish to park your car at the Grand Floridian, you may need a dining reservation, which you'll want to make as soon as possible since winter is a popular time to visit the parks and surrounding hotels.
Related: Best credit cards for Disney and Universal vacations
Find the 20 themed trees at Disney Springs
At Disney Springs, you can hunt for a whopping 20 themed trees displayed across the property. Each tree's theme varies, with decor inspired by movies such as "Frozen,"  "Encanto" and "Star Wars," plus rides like The Haunted Mansion.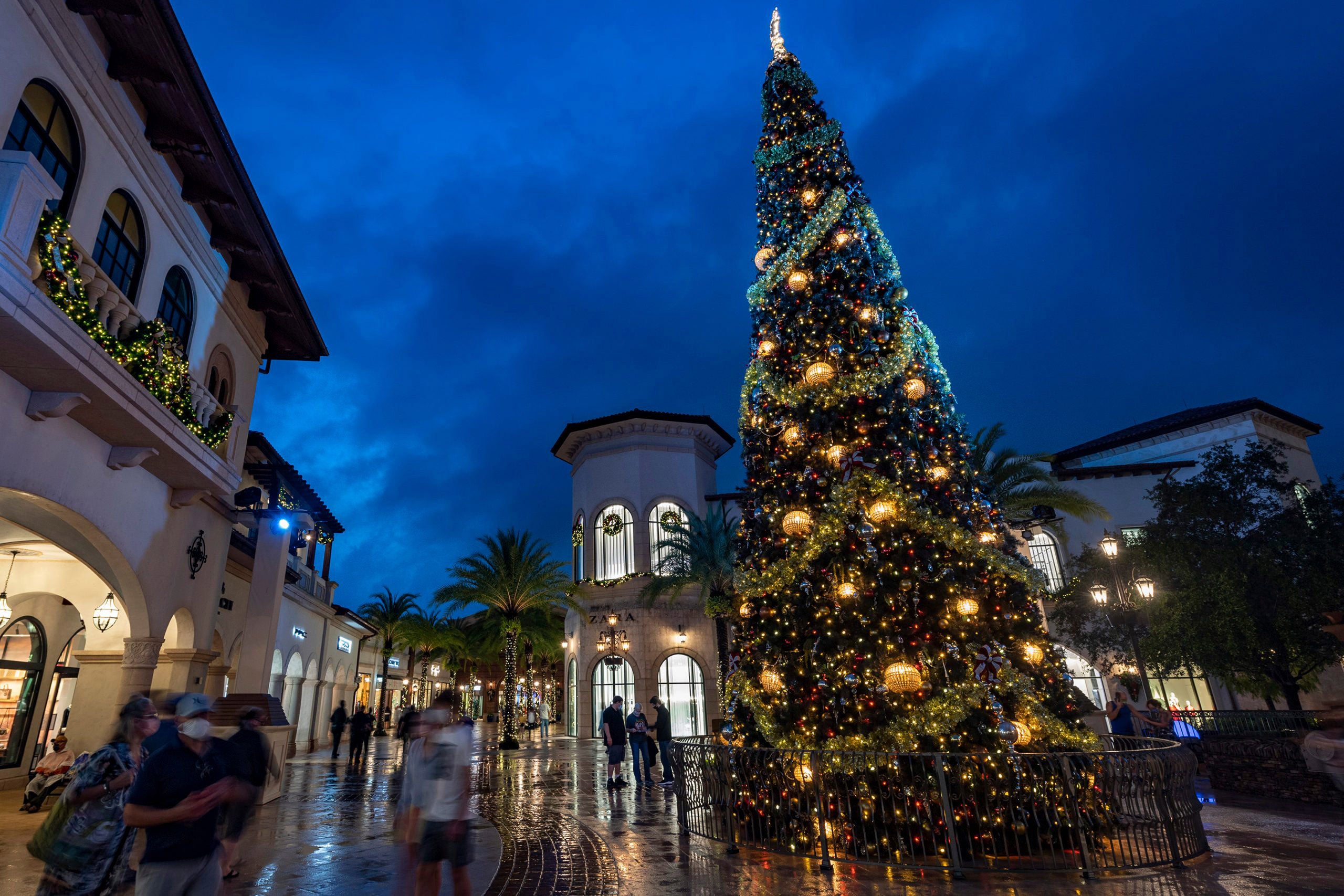 You can casually enjoy the trees as you find them, or — if you want to add a fun twist — you can make finding them more of a sport by checking them off a map with corresponding stickers. Rumor has it there is a prize for those who find all 20.
Play in the 'snow'
Yes, it snows on Main Street, U.S.A., during the Mickey Christmas party's parade — and I'll admit, it is pretty darn magical. However, this spot inside the Magic Kingdom isn't the only place where you can see "snow" while visiting Disney.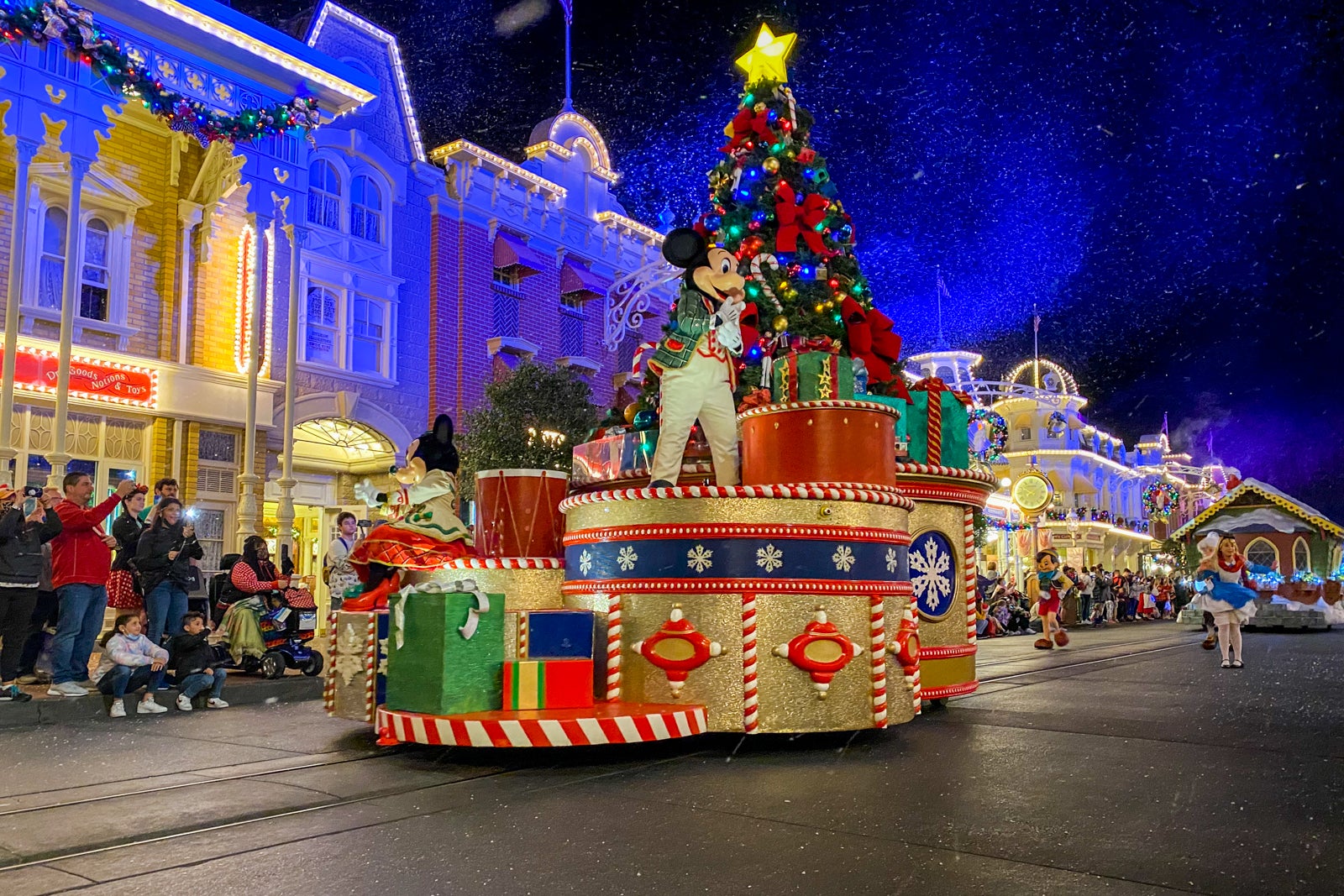 Every night in Disney Springs' Town Center, you'll see fluffy white flakes falling from the sky. Best of all, you don't need park passes or party tickets to partake in this magical experience.
When you're not busy catching "snowflakes" with your kids, visit the holiday-themed Jock Lindsey's Hangar Bar for a mug of peppermint hot chocolate or cookies and cream white chocolate hot chocolate.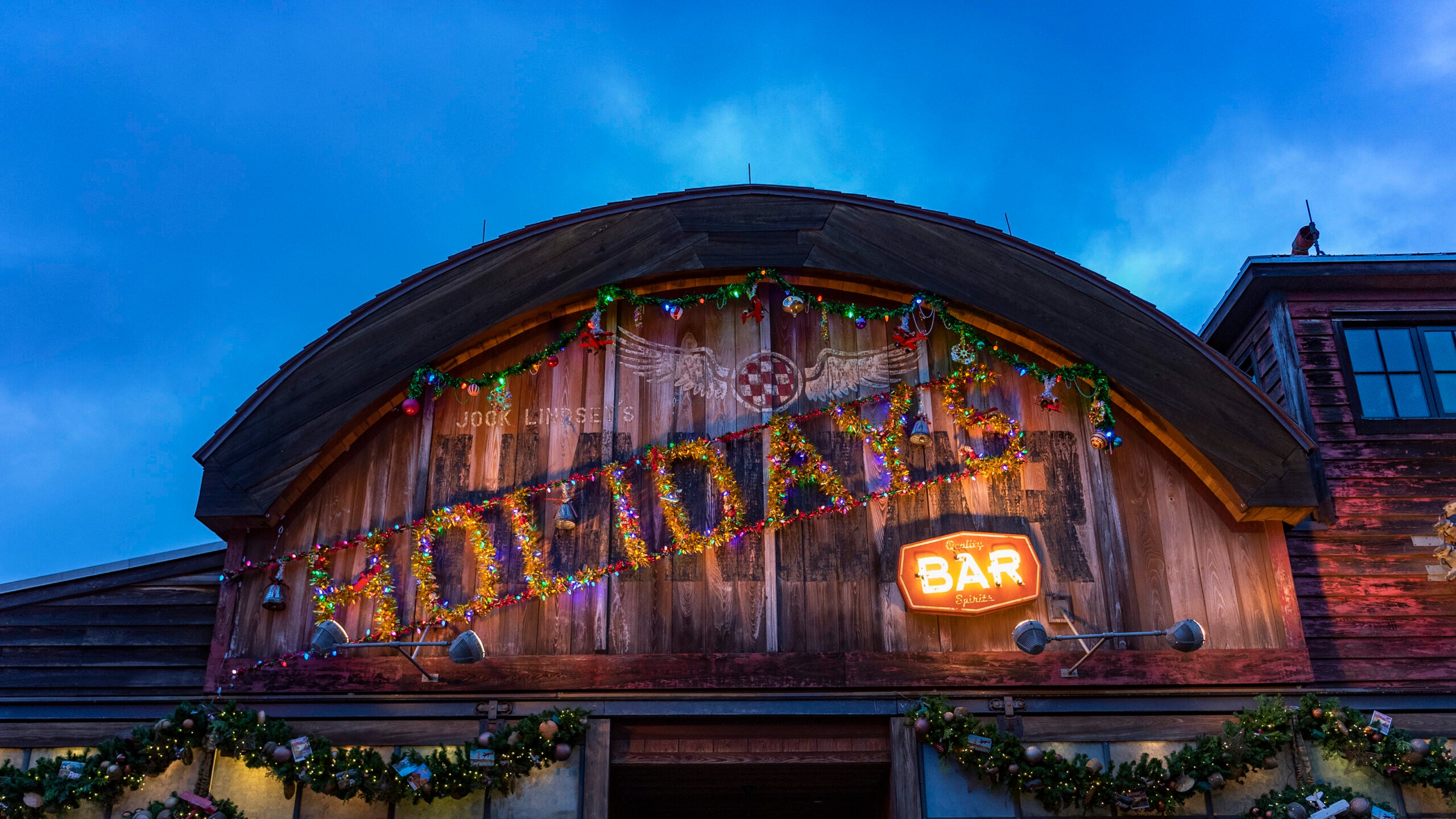 If you are craving even more chocolatey goodness, head to the nearby Ganachery for the indulgent-looking reindeer pinata treat with peppermint bark.
Look for towering Christmas trees at the resort hotels
All of the Disney resort hotels are decked out for Christmas, but some take it a step further and truly go all-out for the holidays.
In addition to the Grand Floridian, properties like Disney's Animal Kingdom Lodge and Disney's Wilderness Lodge display some of the biggest and most elaborate Christmas trees available at the Disney resorts.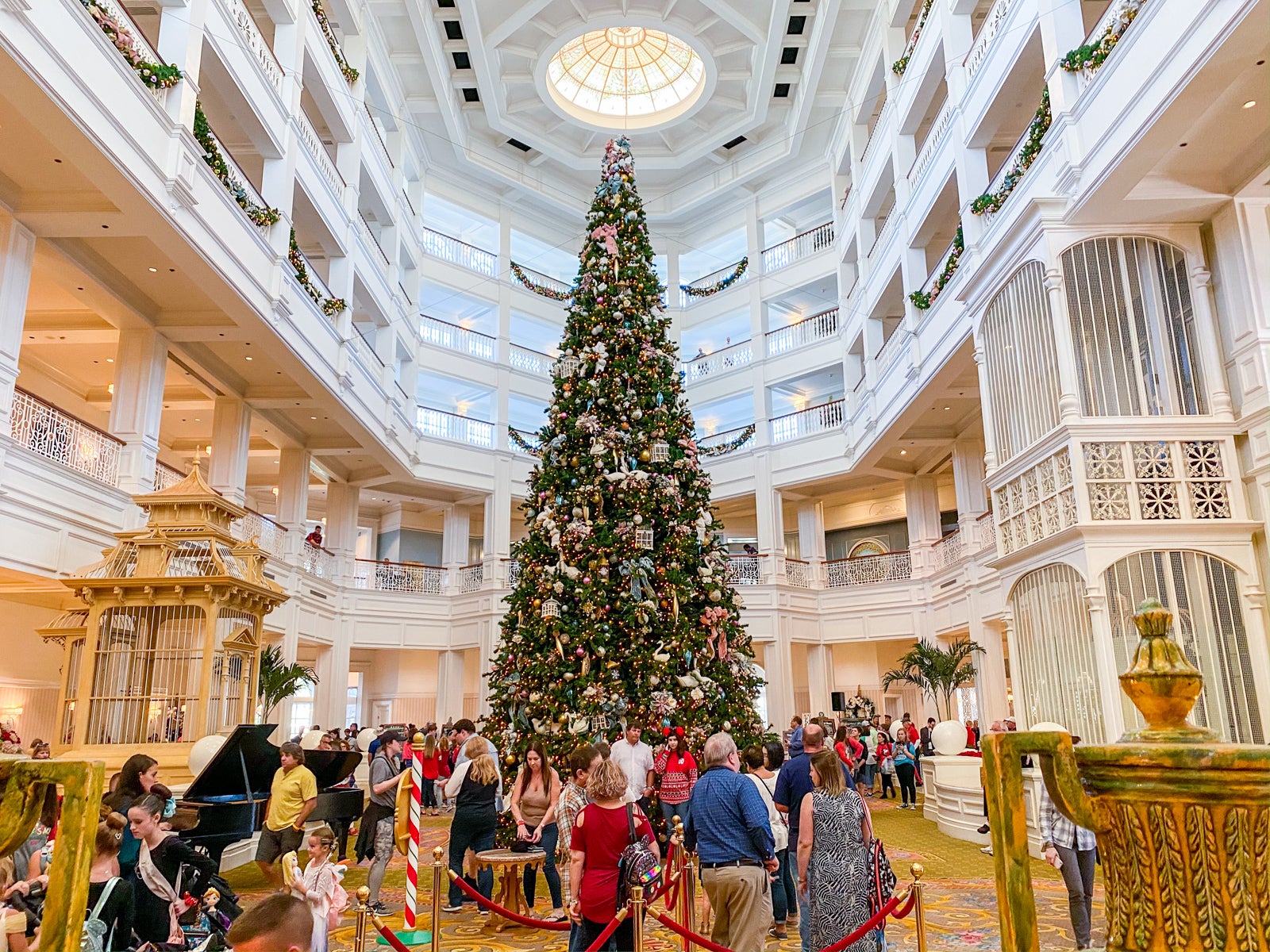 Similar to the Grand Floridian, you'll sometimes need a dining reservation to park your car at these resorts, so plan accordingly or take advantage of Disney's free transportation from Disney Springs to visit. To justify the added effort, make a whole evening of viewing the trees by resort hopping and enjoying small bites, drinks and sweet treats as you go.
Check out the Candlelight Processional (if you're already visiting Epcot)
This one is borderline cheating for this list since it does require being in Epcot, but I'm including it anyway since there is no special party ticket required for this seasonal event.
Occurring between Nov. 25 and Dec. 30, the park's famous Candlelight Processional will feature celebrity guests retelling the Christmas story three times per night from Epcot's America Gardens Theatre. As they narrate the event, an orchestra and a choir will perform.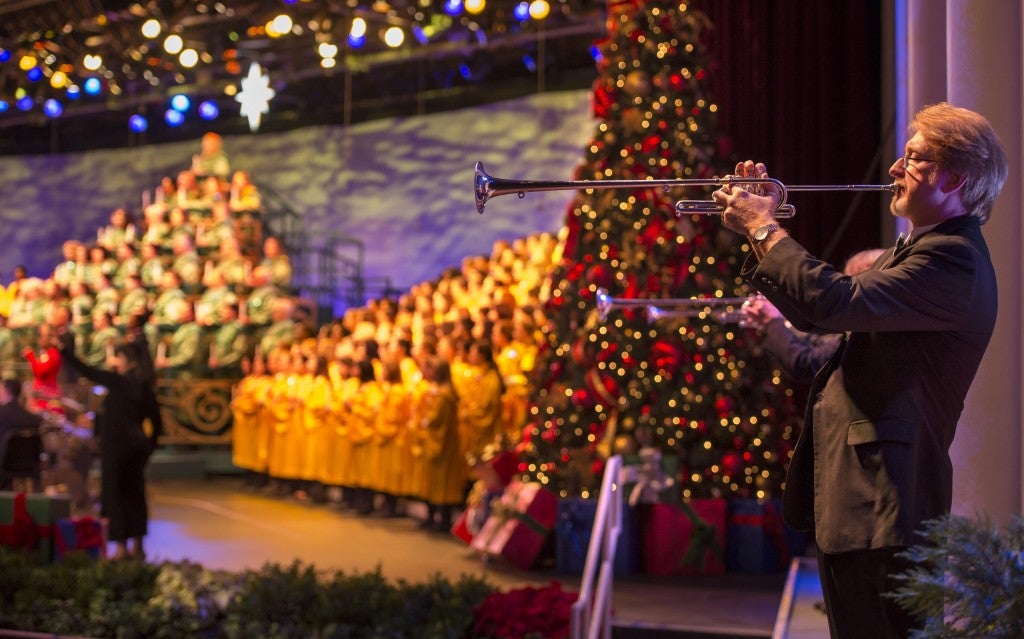 Going to the processional is free (once you are in Epcot), but you may need to get there early or book a dining package to snag a seat, especially on popular nights. This year, celebrity guest readers include Angela Bassett, Josh Gad, Neil Patrick Harris, Whoopi Goldberg and Simu Liu.
Related: Why Epcot is now Disney World's must-do park
Take in the holiday fireworks from the Polynesian Village Resort
Every night there is a special Christmas party at the Magic Kingdom, there's also a holiday-themed fireworks show that usually takes place at 10 p.m.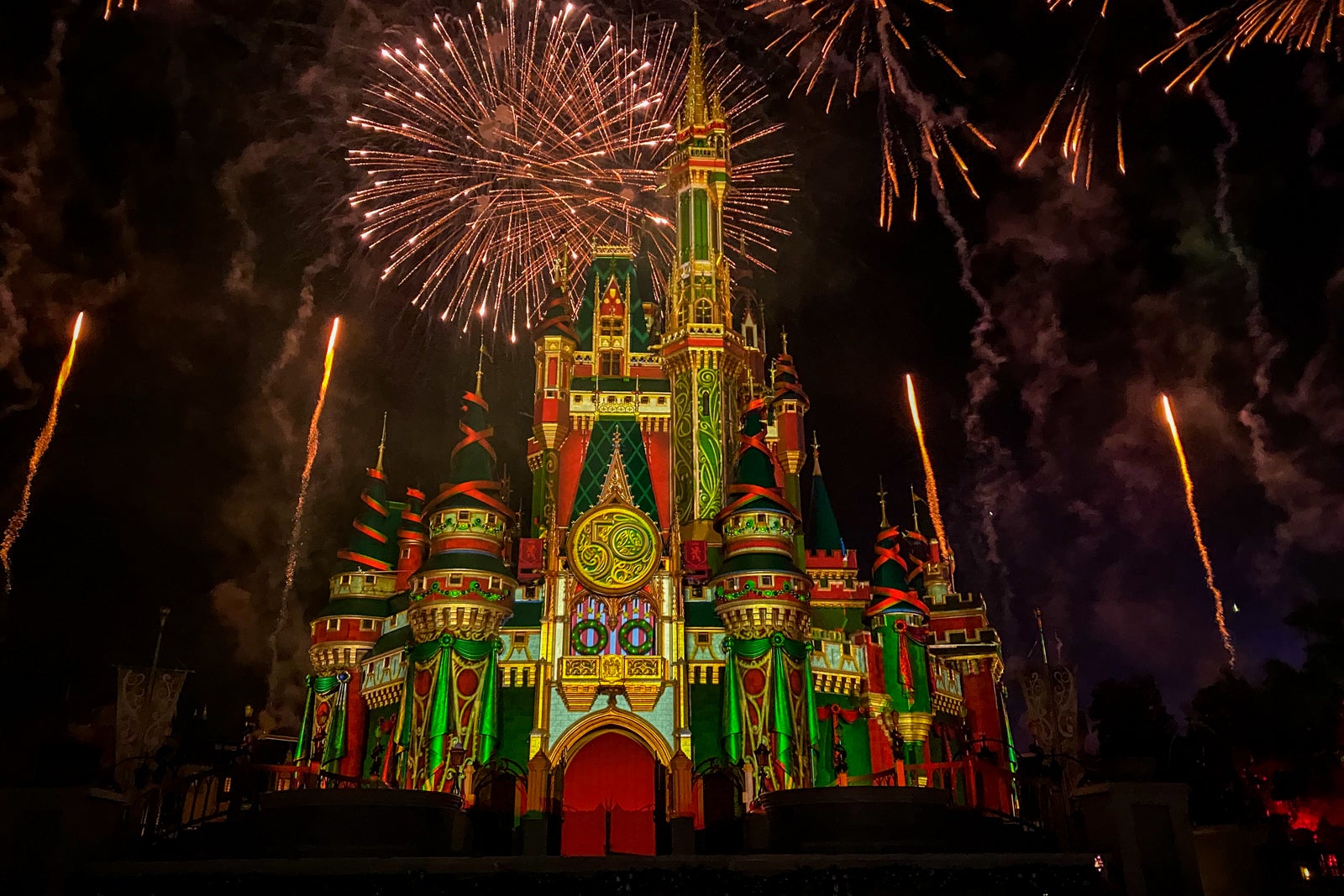 While it's not quite the same view, catching the show from Disney's Polynesian Village Resort is a solid alternative to seeing it in the park. Head to the Polynesian for dinner (or even just a Dole Whip) before venturing to the property's beach to watch the fireworks spectacle.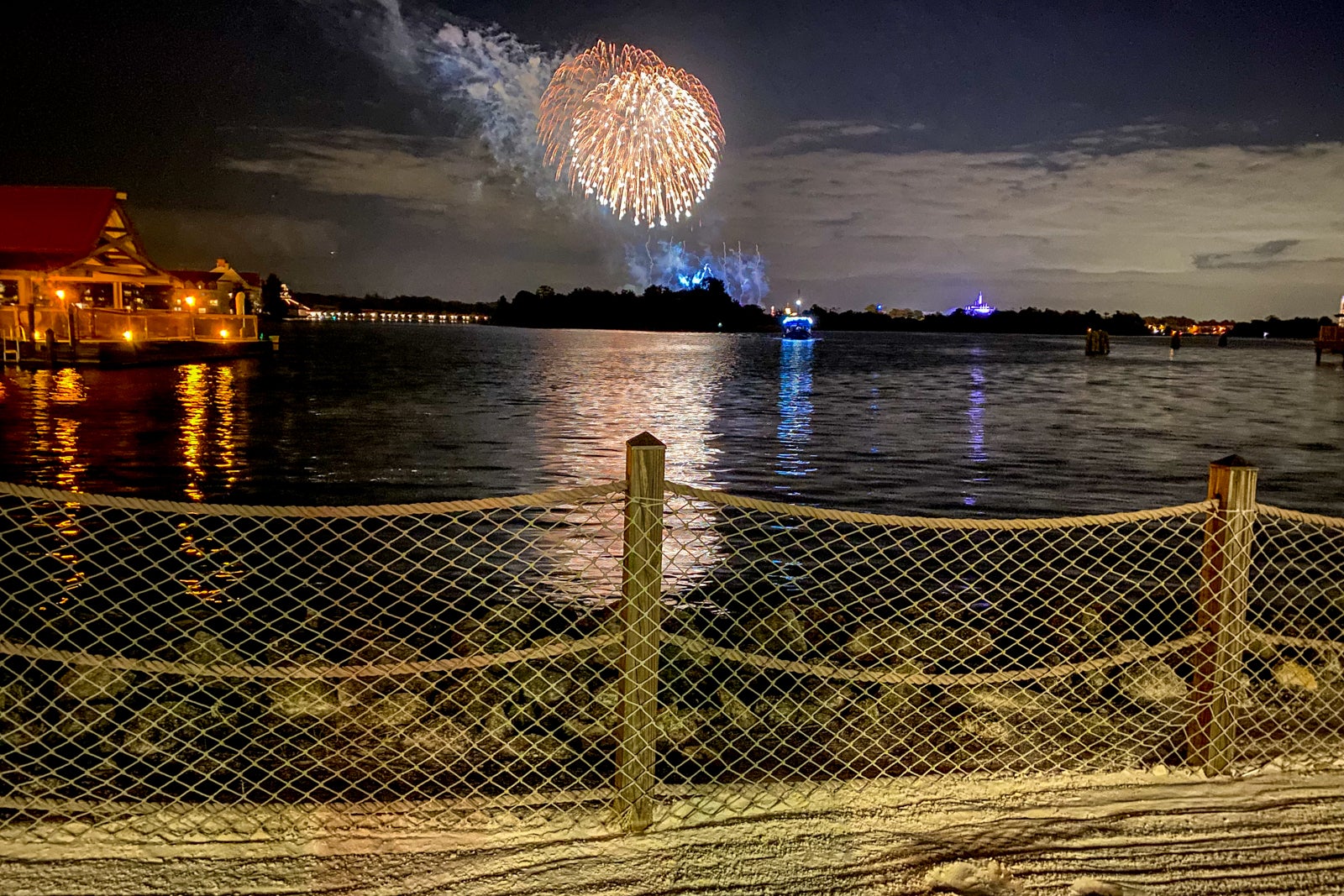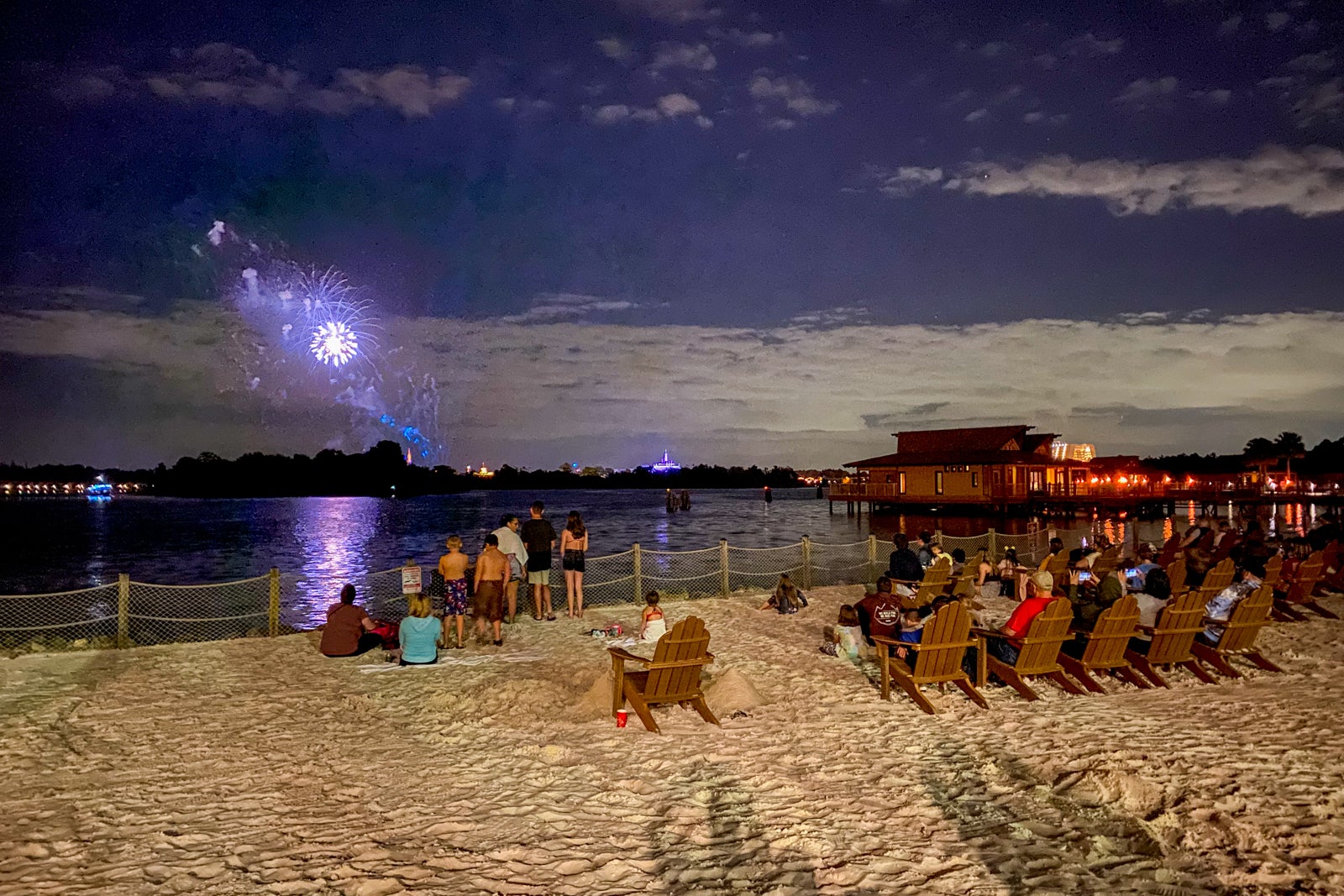 Bottom line
Now that ticket prices are on the rise yet again, Disney World is becoming increasingly difficult to visit on a tight budget. Still, there are a few ways to enjoy it without spending too much cash.
By supplementing key pricey Disney experiences with some of the free or close-to-free themed festivities occurring around the holidays, you'll find yourself feeling the magic of the season.