Editor's note: This is a recurring post, regularly updated with the latest information.
---
While Alaska Mileage Plan miles are still among the most valuable points and miles, the program recently removed its partner-specific award charts. This change lets Alaska price partner-operated awards dynamically, and we've already seen Mileage Plan raise the cost of some British Airways-operated awards.
Even though you might have to redeem more Alaska miles for some partner-operated awards now, Mileage Plan still stands out with its unique stopover program. You can even book a stopover on a one-way award.
Today, we'll take a quick look at the rules surrounding Alaska Mileage Plan stopovers and how to book a Mileage Plan stopover using Alaska's website.
Alaska Mileage Plan stopover rules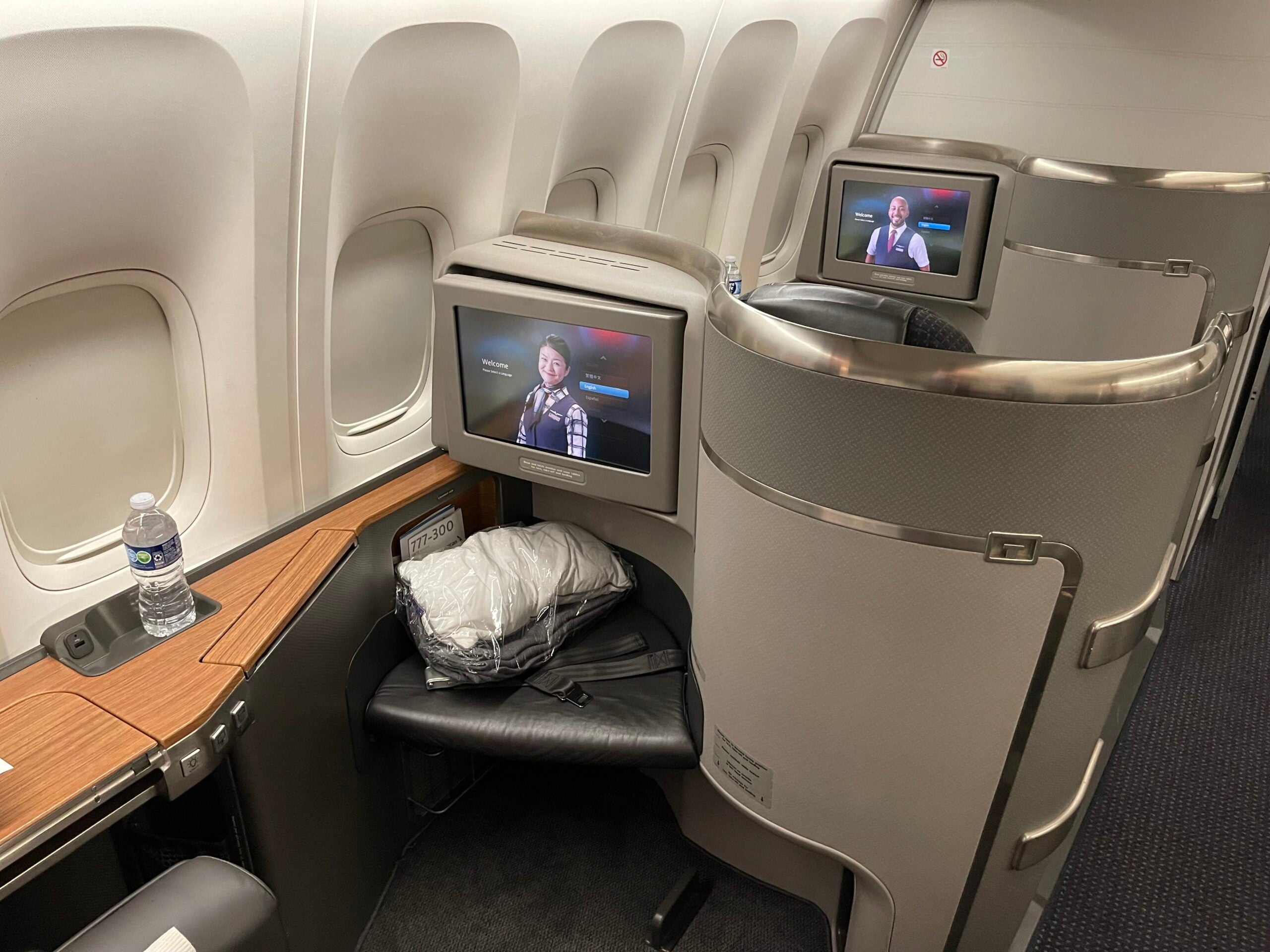 A stopover is a connection at an airport that's longer than the typically allowed time between connecting flights. Let's say you're flying from Seattle to Singapore. A stopover would allow you to stop for a few days (or longer) in a city where you make a connection. So, for example, a stopover could let you visit Tokyo on your way to Singapore.
Here are a few rules for you to keep in mind when planning a stopover with the Alaska Mileage Plan program:
You can fly a maximum of one partner and Alaska Airlines. Using the example above, if you fly Japan Airlines from Seattle to Tokyo, you'd have to fly Japan Airlines again from Tokyo to Singapore even if another partner airline has award space.
Not all partner flights may be bookable. Don't assume that all award availability is bookable through Alaska Mileage Plan. Do an award search on the Alaska Mileage Plan site to see if your desired dates and routing are available.
Stopovers aren't available within international regions. You can't add a stopover if you book an award within an international region, such as intra-Asia or Intra-Europe.
International stopovers should usually be at partner hubs. On international awards, your stopover will usually need to be at the hub city of a partner airline. So when flying on Qantas or Iberia, look for a stopover in Sydney or Madrid instead of Melbourne or Barcelona.
You can arrive and depart from different airports when the airline serves multiple airports in one city. Here's an example of this in London and Tokyo.


Related: How to plan a free stopover on your next trip abroad

How to book Mileage Plan stopovers
Now, let's look at the exact process for booking a stopover with Alaska Airlines Mileage Plan.
As a reminder, Alaska partners with the following airlines:
Aer Lingus.
Air Tahiti Nui.
Alaska Airlines.
American Airlines.
British Airways.
Cathay Pacific.
Condor.
El Al.
Fiji Airways.
Finnair.
Hainan Airlines.
Iberia.
Icelandair.
Japan Airlines.
Korean Air.
LATAM.
Malaysia Airlines.
Mokulele Airlines and Southern Airways Express.
Qantas.
Qatar Airways.
Ravn Alaska.
Royal Air Maroc.
Royal Jordanian.
Singapore Airlines
SriLankan Airlines.
You can book award flights on most of these partners online. But let's assume you want to book a Finnair-operated award with a stopover in Helsinki.
First, go to Alaska's website, and select "all search options."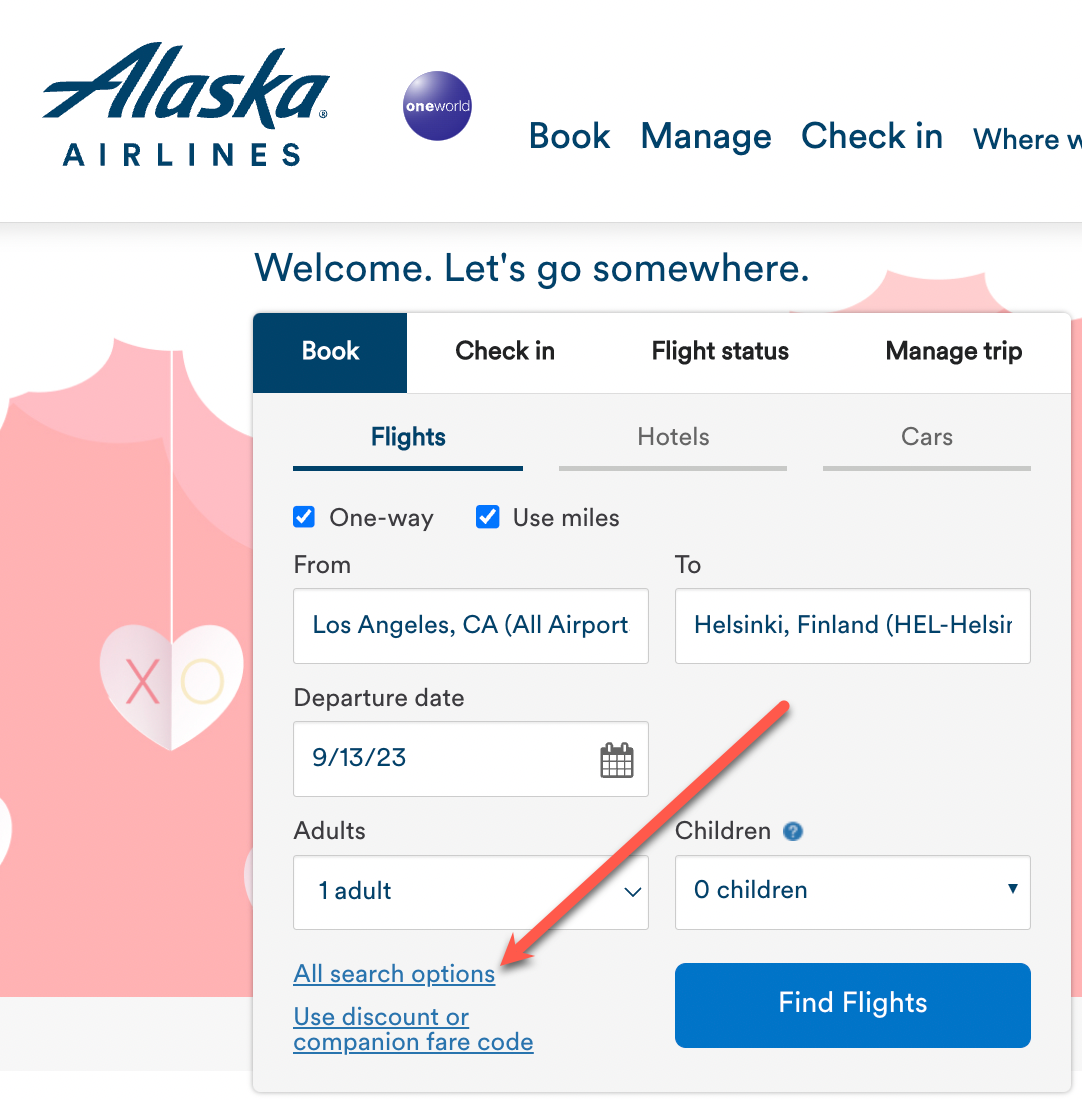 Enter your city pairs, the number of travelers and the date on the next page. Select "multi-city" and "use miles." You can leave the returning flight fields blank if you only want to book a one-way flight.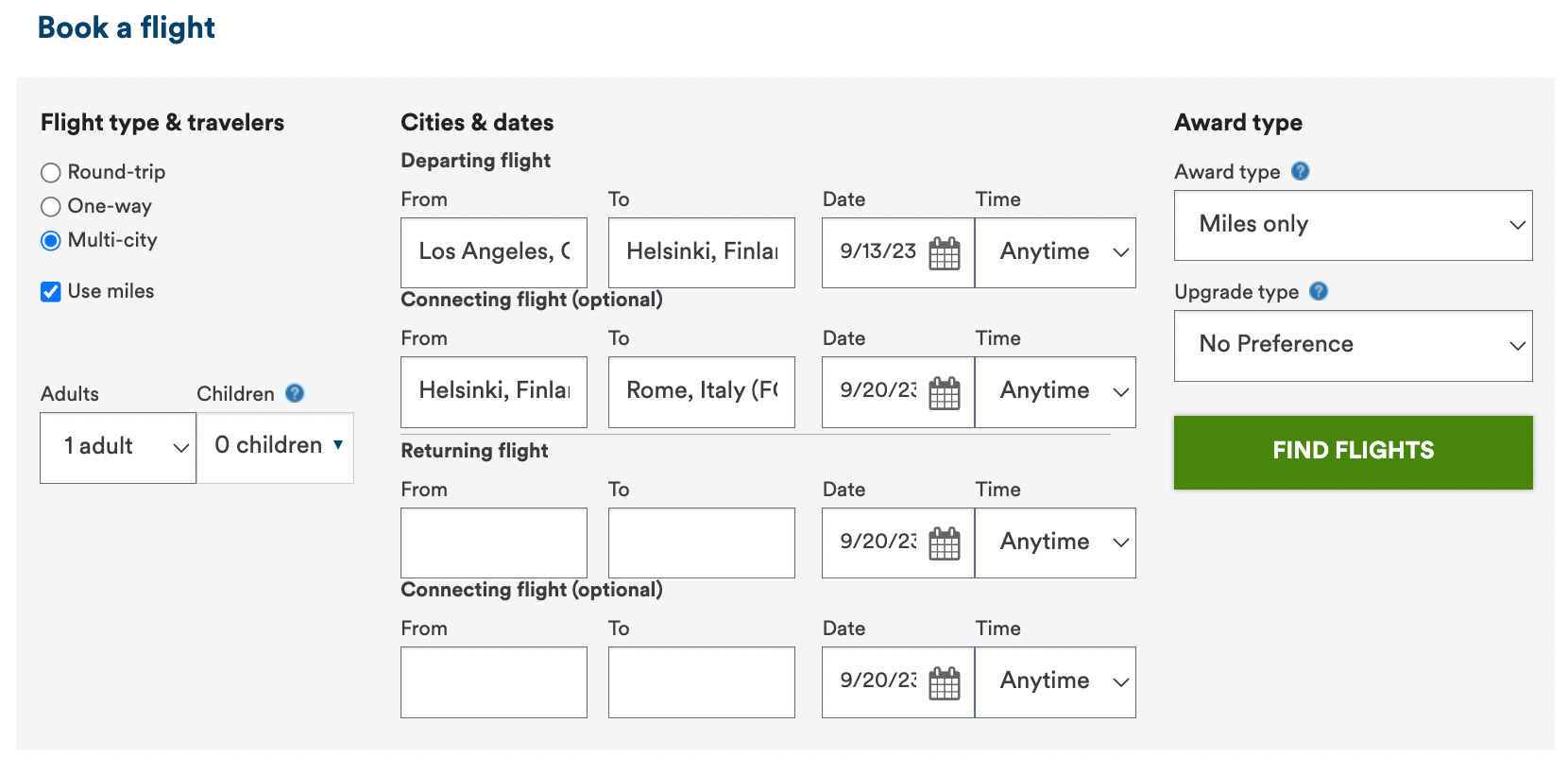 After selecting "find flights," you'll (hopefully) see some options. In this case, I could choose a morning or afternoon flight for the final leg to Rome.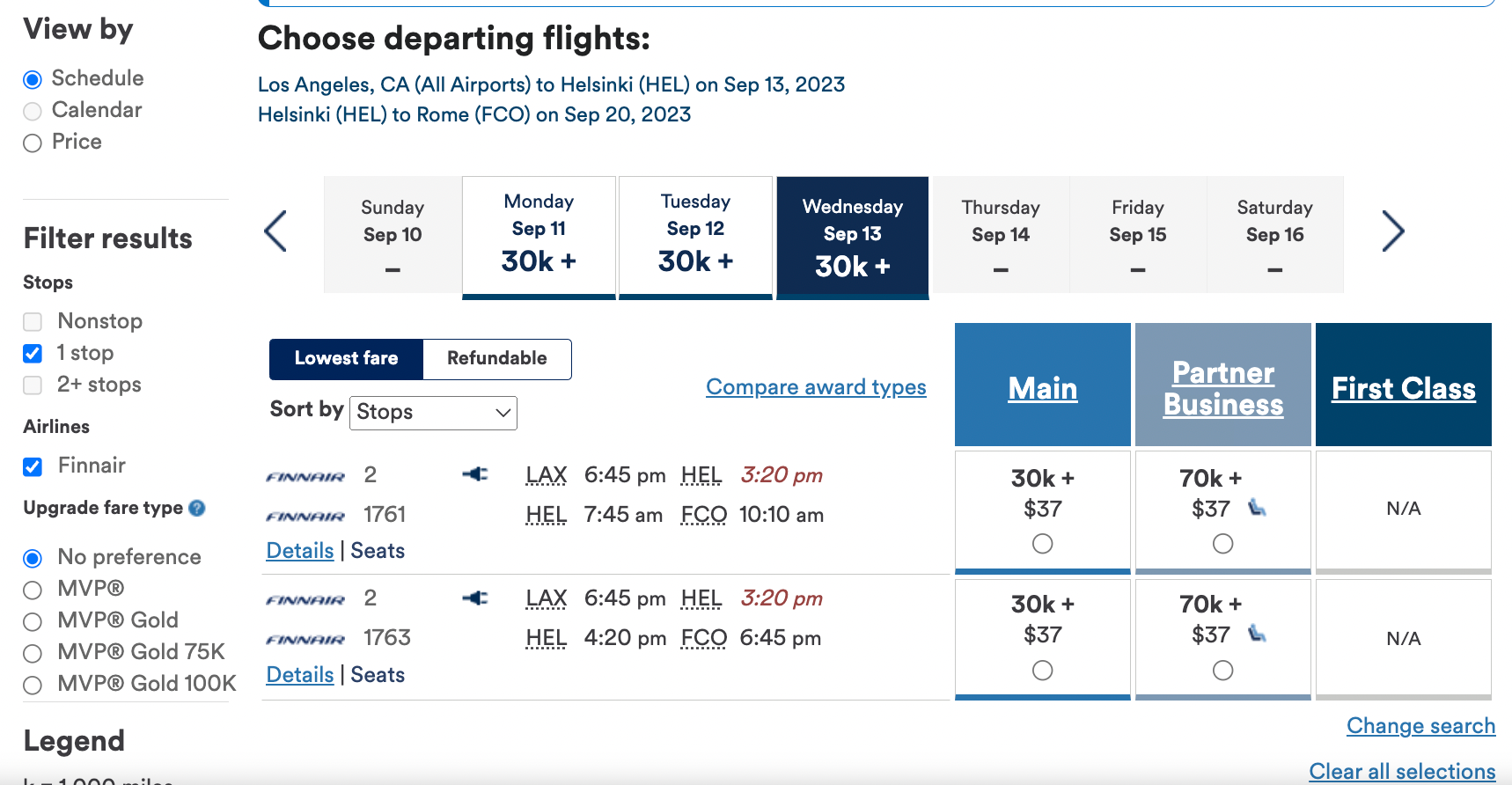 If the stopover time is unclear, select "details."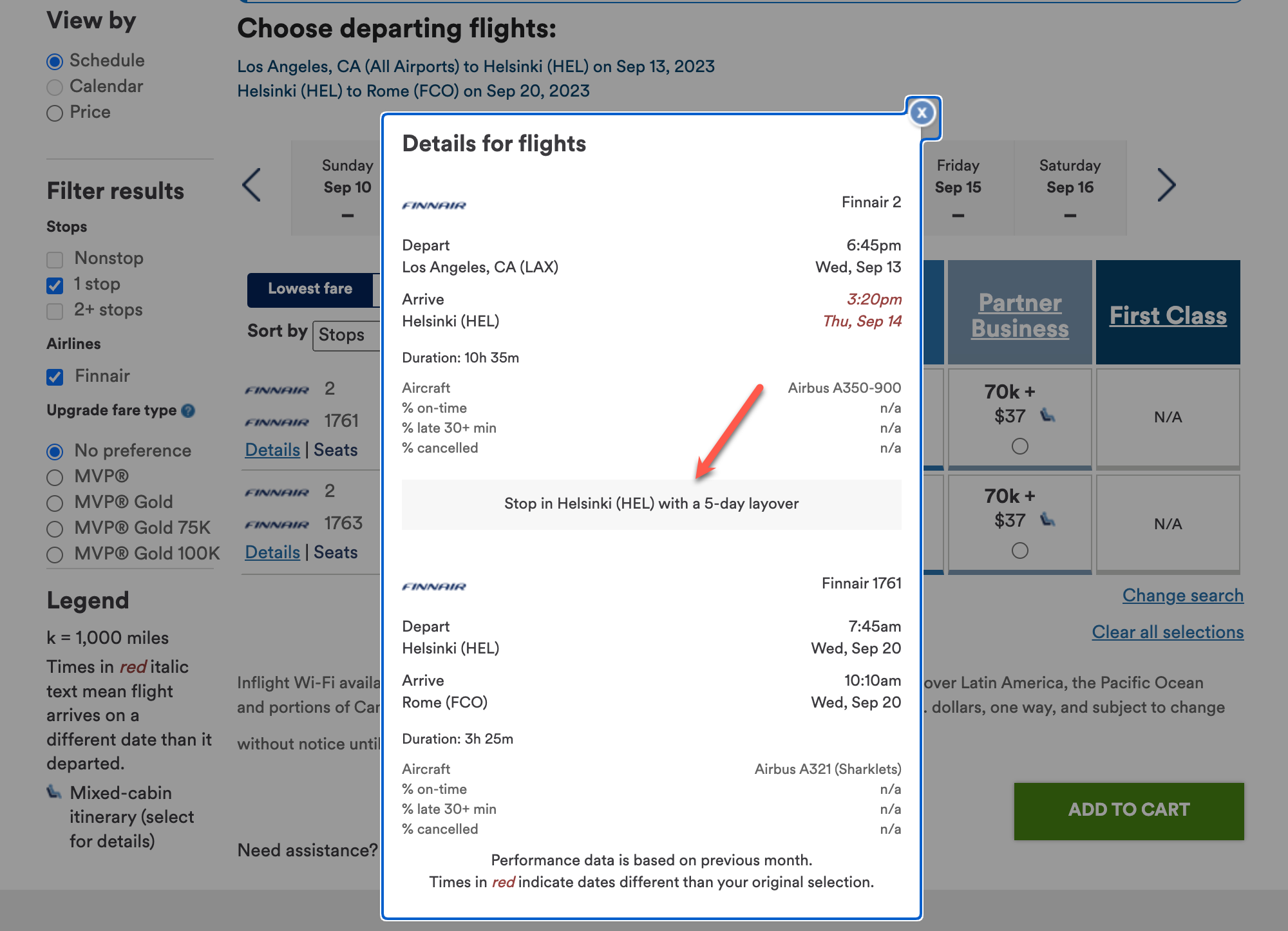 From there, it's as simple as adding the flight to your cart and following the on-screen prompts to finalize your award ticket.
Related: Maximizing redemptions with Alaska Airlines Mileage Plan
Additional tips
If you have flexibility in your travel dates or cities, consider searching for each segment separately before crafting your multi-city itinerary.
We recommend finding availability on your longest flight first. Then, piece together how to get to that departure gateway. In some cases, you may find it best to book a separately-ticketed positioning flight on another airline.
Finally, remember there's little benefit in booking a round-trip award instead of two one-way awards. You could even redeem Alaska miles one way and use a different currency the other way.
Related: The complete guide to maximizing stopovers and open jaws on award tickets
How to earn Alaska miles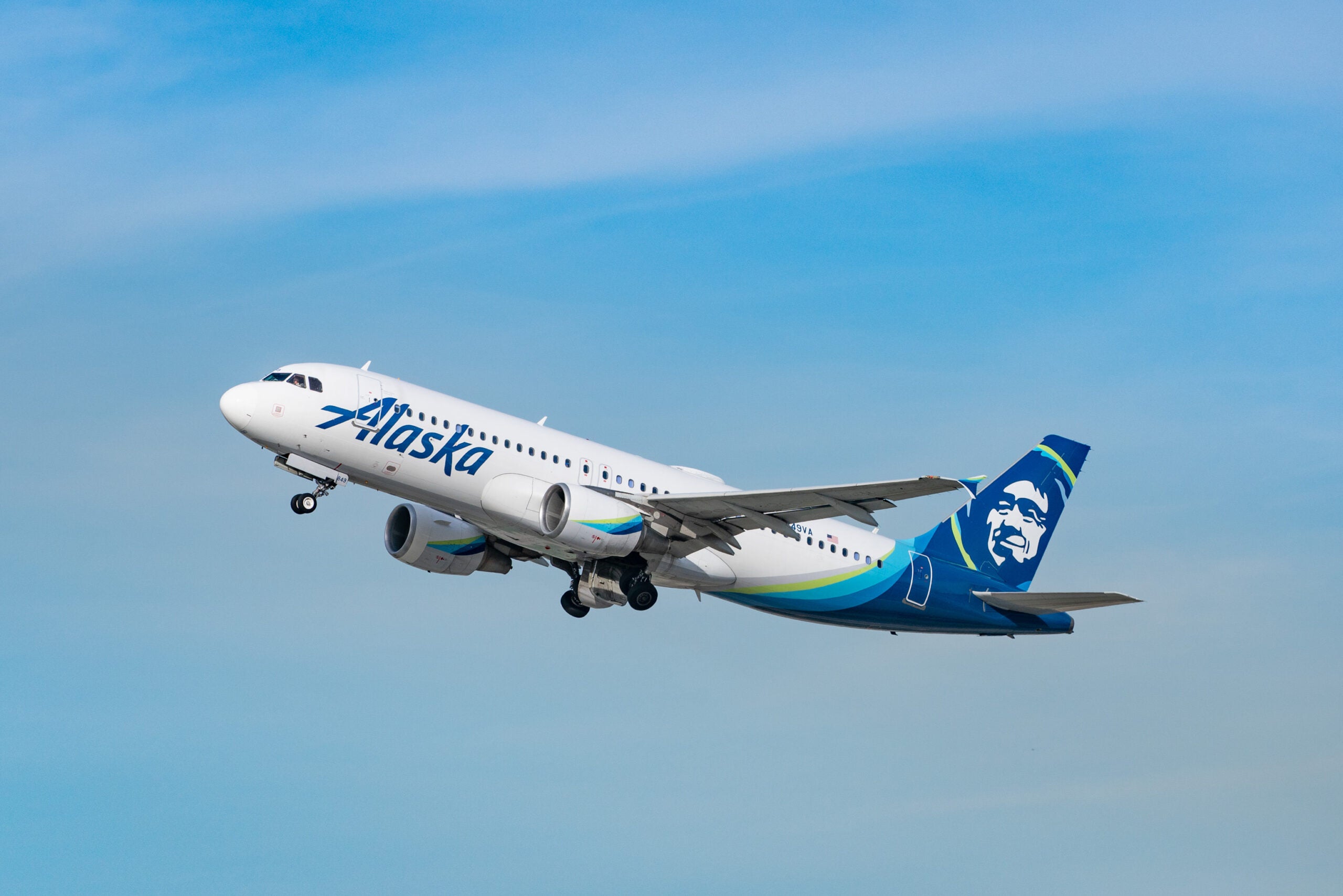 We have a full guide to earning and redeeming Alaska miles, but I'll highlight some of my favorite ways to earn Alaska miles.
Alaska Mileage Plan is one of the few programs to still reward miles based on the distance you fly on Alaska-marketed and operated flights.
But I've earned most of my Alaska miles by crediting partner Oneworld tickets to Mileage Plan. As a whole, Alaska Mileage Plan gives you more miles for Oneworld tickets than if you credited your ticket to American or British Airways.
You can also earn Alaska miles on Lyft rides in the U.S. and Canada. And Alaska Mileage Plan has a shopping portal and dining program you can use to earn more miles.
On the credit card front, Alaska isn't a transfer partner of any of the major credit card transferable currencies. You can, however, transfer Marriott Bonvoy points to Alaska Mileage Plan at a 3:1 ratio, with 5,000 bonus miles for every 60,000 points you transfer.
If you don't need to earn Alaska miles immediately, you could add the Alaska Airlines Visa® credit card or Alaska Airlines Visa® Business card to your wallet. Both cards offer sizeable sign-up bonuses and let you earn Alaska miles on purchases you make with your card.
Finally, Alaska occasionally offers bonuses and discounts for buying miles. Keep an eye on our current buy points and miles offers page to catch the next sale.
Related: Which credit card should you use for Alaska Airlines flights?
Bottom line
Getting a free stopover on a one-way award ticket is one of the best ways to maximize Alaska Mileage Plan miles.
Booking a stopover on an Alaska award ticket can let you visit an extra destination. You can also use an Alaska Mileage Plan stopover to break up an otherwise long trip between the U.S. and Europe or Asia.
Plus, adding in a stopover can make finding award space easier. After all, if you add in a stopover, you're no longer restricted to finding connecting flight options that depart shortly after your inbound flight.
Additional reporting by Ethan Steinberg.