If we could pick a word to describe the housing market today, it would be uncertainty. The benchmark fixed rate on 30-year mortgages is at its highest level since 2002, and September saw existing home sales decline for the eighth straight month.
But many still need to buy (or sell) their homes in spite of this volatility. And as you evaluate whether it's the right time to wade into the market, it's important to highlight a way to earn bonus American Express Membership Rewards points in the process — through RBN.
If you buy or sell a house using one of RBN's participating agents, you'll take home up to one Amex point for every dollar of the final purchase price of the home.
Sound too good to be true? That was my initial reaction when I first heard about RBN last year. But after extensive conversations with CEO Kipp Lassetter (and the chance to connect with some participating agents and their happy clients), I've realized that this is a viable way to boost your Membership Rewards balance.
Hear directly from Kipp by watching the recording of our Facebook Live.
If you're planning to buy or sell a home and you're not currently working with an agent, here's how you can take home a huge haul of Amex points.
Earn Amex points when you buy (or sell) a home
Before you can even think about those points hitting your account, you need to first sign up for RBN's services. To do so, visit this page and enter your city or zip code, then click Next. From there, follow the on-screen prompts to submit your information and schedule a consultation with a member of RBN's concierge team — who will help find you the best agent for your needs.
According to RBN's website, these agents are "selected by invitation only" — those who have a proven track record in a given area. The company now covers more than 330 markets (and counting), and while any agent can apply, only those who pass the detailed pre-screening process become a part of the program.
While RBN prides itself on the quality of agents it offers, the ability to earn Amex Membership Rewards points is a fantastic deal sweetener. Whether you are buying or selling a house or both, you will earn up to one Amex point per dollar of the purchase or sale price with an RBN participating agent.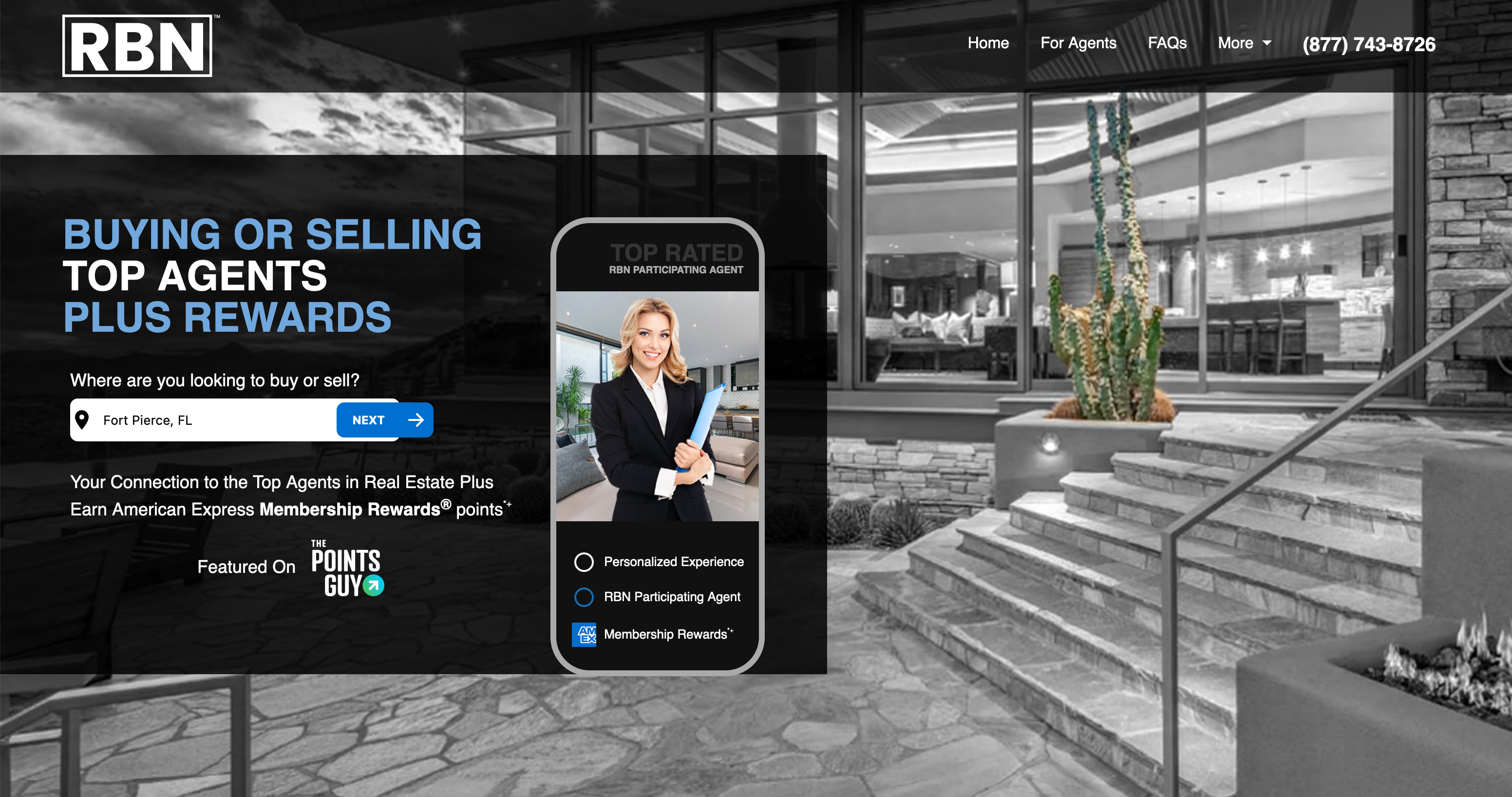 Now, I know what you're thinking. "Up to" sounds like there's some gray area, some opaque terms that could lead you to miss out on the points entirely.
Not true, according to RBN's CEO.
"It's based on the common commission structure" for the seller, Kipp said — for example, 6% of the purchase price, divided evenly between the buyer's agent and seller's agent. "As those vary off the structure, it will influence the amount of points."
In other words, as long as there's a typical commission agreement in place, the one-point-to-one-dollar ratio will stand.
Related: Tips on how to prepare for buying a home
How it works
Once you've been paired with an agent and decide to move forward, the process is no different than a standard real estate transaction. If you're enlisting the help of someone to sell your house, the agent will go through the normal steps of getting pictures, pulling comps (prices of similar houses that recently sold in your area) and setting up your listing.
And if you're looking to buy a house, it's the same story.
Most notably, there's no added cost to the customer.
I explicitly asked this question of RBN's CEO, Kipp Lassetter, and he confirmed that they own a referral brokerage — where a participating agent pays a referral fee for the lead, whether it's on the seller's or buyer's side of the transaction. This does appear on the closing statement, but it's borne by the participating agent, not the consumer.
As an example, let's say that you enroll with RBN today, connect with a participating agent and sell your house for $750,000 early next year (not unheard of in the current real estate market). If your transaction follows a common commission structure for the agents, you'd take home 750,000 Amex points.
Here's a snapshot of what that could get you:
One of these redemptions is on the mind of one happy RBN customer, Nick Lowman. He closed on a house in California last September, and he took home over 800,000 points by using participating agent Amanda Stanworth. He transferred them to Virgin Atlantic (with a 30% bonus in effect at the time), leaving him with over a million Flying Club miles.
"We're planning on using these over time to fly first [or] business class to Japan on ANA," he told me via email. All in, he's looking at roughly 10 round-trip flights from the west coast of the U.S.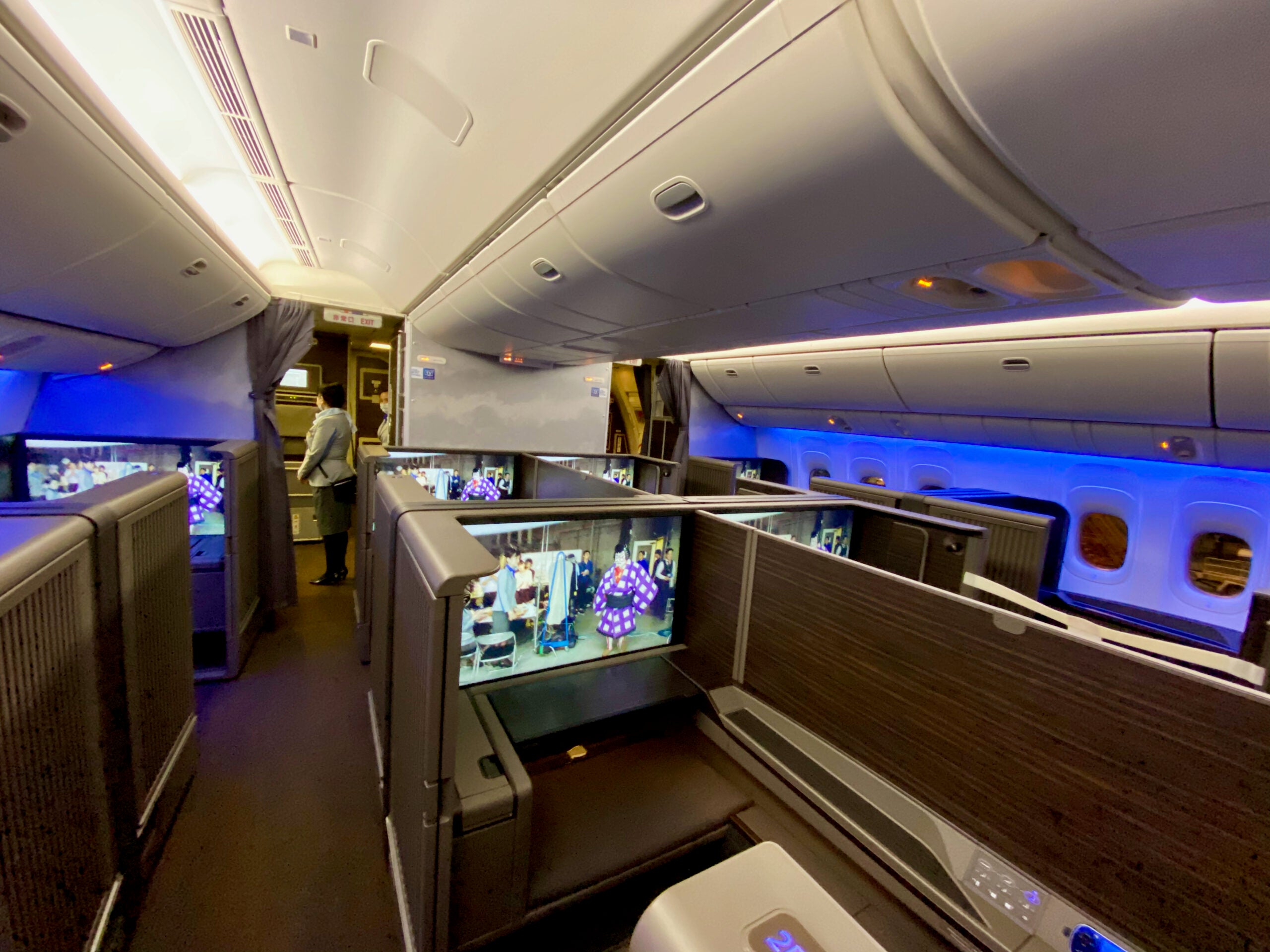 Meanwhile, TPG reader Anthony Philpott is looking at an even more exotic trip for the 600,000+ Amex points he earned on his home purchase in July. As he tells it:
"One of our life goals is to visit the seven continents. The points we earned through this process will be used towards flights for our Antarctica trip. Our trip is in February 2023, and we plan on flying business [class] from the states to Argentina [with] a 1:1 transfer to a partner airline through American Express. We will spend some time in Argentina visiting UNESCO World Heritage Sites and enjoying fine wines before embarking on our vessel to Antarctica."
But most importantly, both Nick and Anthony indicated that working with RBN was easy.
"The process — from beginning to end — was extremely simple," Nick said. Amanda was very experienced in the area they were looking, so she was a great asset throughout the transaction. Once their offer was accepted, Amanda notified RBN and made sure the necessary documents were filed — and the Amex points arrived within a week of closing.
Anthony had a similar experience.
"During the home buying process, RBN checked in weekly to see how everything was going … to make sure my experience was superb," he said. And his Membership Rewards points posted within just a few days.
A growing footprint
Since its launch, RBN has grown from coverage in 52 markets to more than 330 — and counting. In those areas not currently served, RBN allows home buyers and sellers to invite agents to learn more about the program.
Remember too that you don't even need to have an eligible American Express card at the time of purchase. RBN will hold your points for you, and once your transaction is finalized, you can add a card like The Platinum Card® from American Express or the American Express® Gold Card to your wallet — and then receive your points.
Of course, there are many great options (other than those listed above) to get maximum value from your Amex points, especially when you utilize some of the program's transfer partners — which makes now a fantastic time to take home a large haul of rewards.
Bottom line
Buying or selling a house is a massive undertaking, and for many Americans, it represents the single biggest transaction they'll be a part of in their lifetimes. And once the documents are signed, wouldn't it be nice to snag a big payday of points?
If you're looking at selling or buying a house in the next year (or doing both!), enroll with RBN today and start the process of being matched with a participating agent. You could walk away with enough points for your next vacation — or your next two or three.
Click here to enroll with RBN.
---
FAQs
The general process of using RBN is covered above, but we've put together this list of FAQs that we've heard from others in the interest of providing a comprehensive view into the program.
Is this available everywhere in the United States?
RBN initially launched in 52 markets, but it's since grown to more than 330 (and counting). And in those areas that aren't currently served by an agent, the company allows home buyers and sellers to invite agents to learn more about the program — an option that roughly 5% of RBN's current customers have used.
To see the participating agents in your area, enter your information on this page to begin the consultation process.
Can I use my existing agent?
This is where things get tricky. If you already have an agent — be it to sell your house or buy a new one — you won't be eligible for the Amex points. This is disclosed directly in RBN's terms:
"RBN respects existing contractual obligations with agents and their clients. Customers with existing agent agreements are not eligible to earn RBN Rewards."
While existing agents can apply to become a part of RBN, there's no guarantee that they'll be accepted.
What if I don't have an eligible American Express card?
While we hope everyone has at least one card that earns valuable Membership Rewards points, you fortunately don't need one at the time of purchase. RBN will hold your earnings for you until you're ready to add one to your wallet. This is especially notable for those who take out a mortgage, as the last thing you should do is apply for a new line of credit during the underwriting process.
Read more: How soon after a mortgage closing can you apply for a new credit card?
When you are ready to grab one, here are a couple of great options:
Note that you could snag even higher bonuses on these cards through the CardMatch Tool — though these are targeted offers and subject to change at any time.
Just remember that you must have a card that earns Membership Rewards points; cobranded cards (like those offered through Marriott, Delta and Hilton) are not eligible.
Am I charging the cost of the house to my credit card?
Absolutely not. Kipp says that this is one of the top misconceptions about the program. The only involvement from American Express is the bonus you get after closing; you aren't actually using your credit card to purchase the house, nor are you using it to pay any deposits, title costs or mortgage fees.
Featured photo by Martin Barraud/Getty Images.