Editor's note: This is a recurring post, regularly updated with new information and offers.
It's no secret that we think the Chase Sapphire Preferred Card is an excellent travel credit card with just a $95 annual fee and plenty of benefits.
One of these benefits is a $50 annual Ultimate Rewards hotel statement credit for reservations booked through Chase Travel.
While $50 may not seem like much in the grand scheme of things, this credit certainly shouldn't be overlooked since maximizing this benefit alone covers more than half of the card's annual fee. And you can take advantage of this benefit with only a quick one-night getaway.
You must book through the Ultimate Rewards portal
This benefit is not a $50 statement credit for any hotel you book and pay for with your card. You must specifically make your reservation through the Chase Ultimate Rewards portal. According to the perk's terms:
$50 Annual Ultimate Rewards Hotel Credit: A statement credit will automatically be applied to your account when your card is used for hotel accommodation purchases made through the Ultimate Rewards program, up to an annual maximum accumulation of $50. Annual means the year beginning with your account open date through the first statement date after your account anniversary, and the 12 monthly billing cycles after that each year. Annually, the first $50 in Ultimate Rewards hotel purchases will not earn rewards points. Statement credit(s) will post to your account within two days after your purchase posts to your account and will appear on your monthly credit card billing statement within 1-2 billing cycles.
Be warned that when you book your hotel stay through the Ultimate Rewards portal, you likely won't earn any hotel points or elite night credits nor enjoy any elite perks you might be entitled to when booking directly with the hotel. You can always call a participating property after booking to add your loyalty program number (or try to add it at check-in), but be aware that you shouldn't expect to earn points, nor should you expect to have any elite perks honored.
That said, there's still value to be found with booking through the Ultimate Rewards portal, as you can use it to book boutique or independent hotels that don't have a loyalty program anyway.
How to use the $50 hotel credit on the Chase Sapphire Preferred
Making hotel bookings through Ultimate Rewards to unlock the $50 statement credit is relatively easy.
First, log in to the Ultimate Rewards portal. If you have multiple Chase cards, make sure that your Sapphire Preferred is selected in the upper left corner. Then, you'll want to select "Travel" on the menu to the left to launch the portal.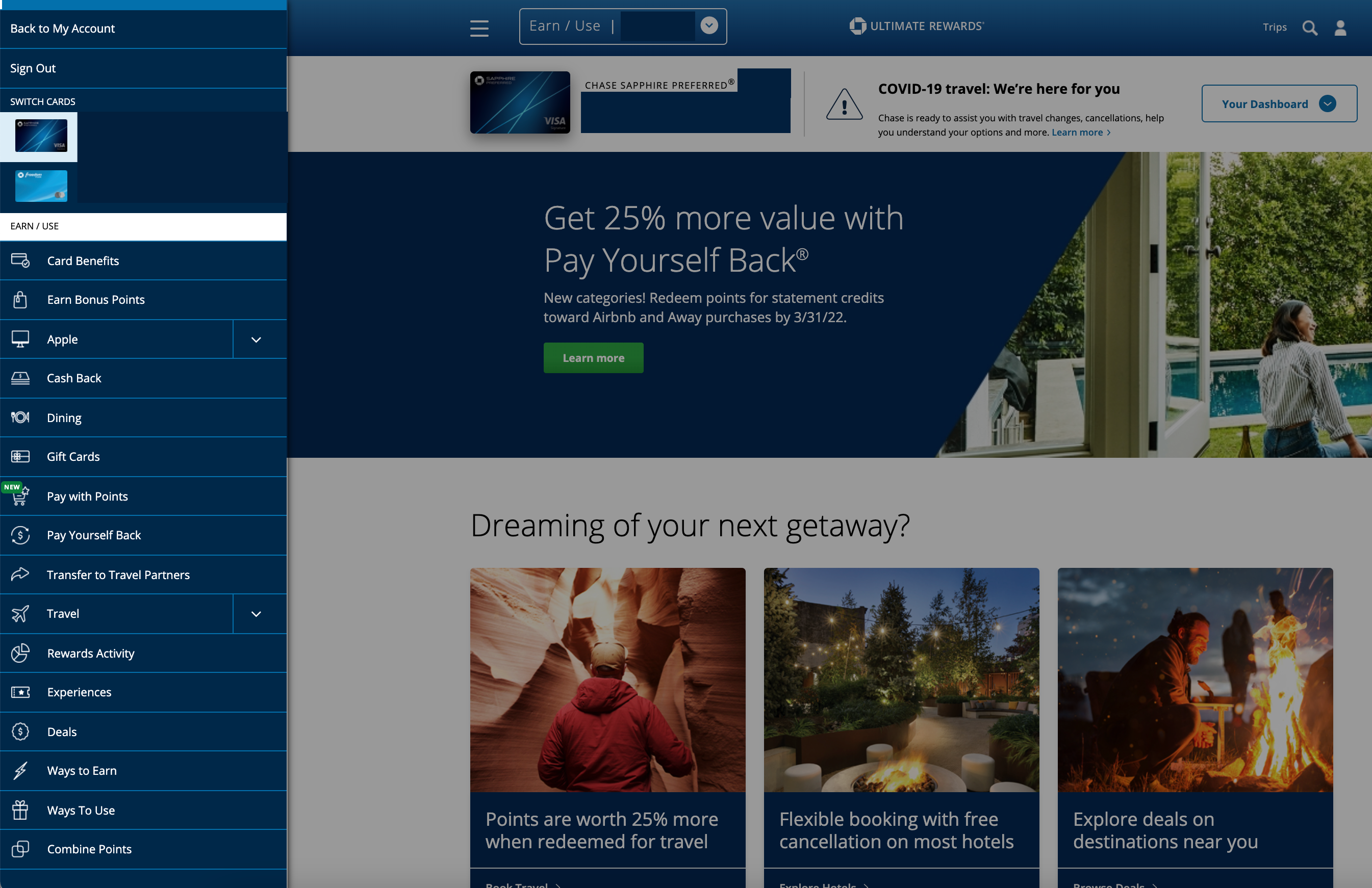 You can search for any hotel based on city or airport code.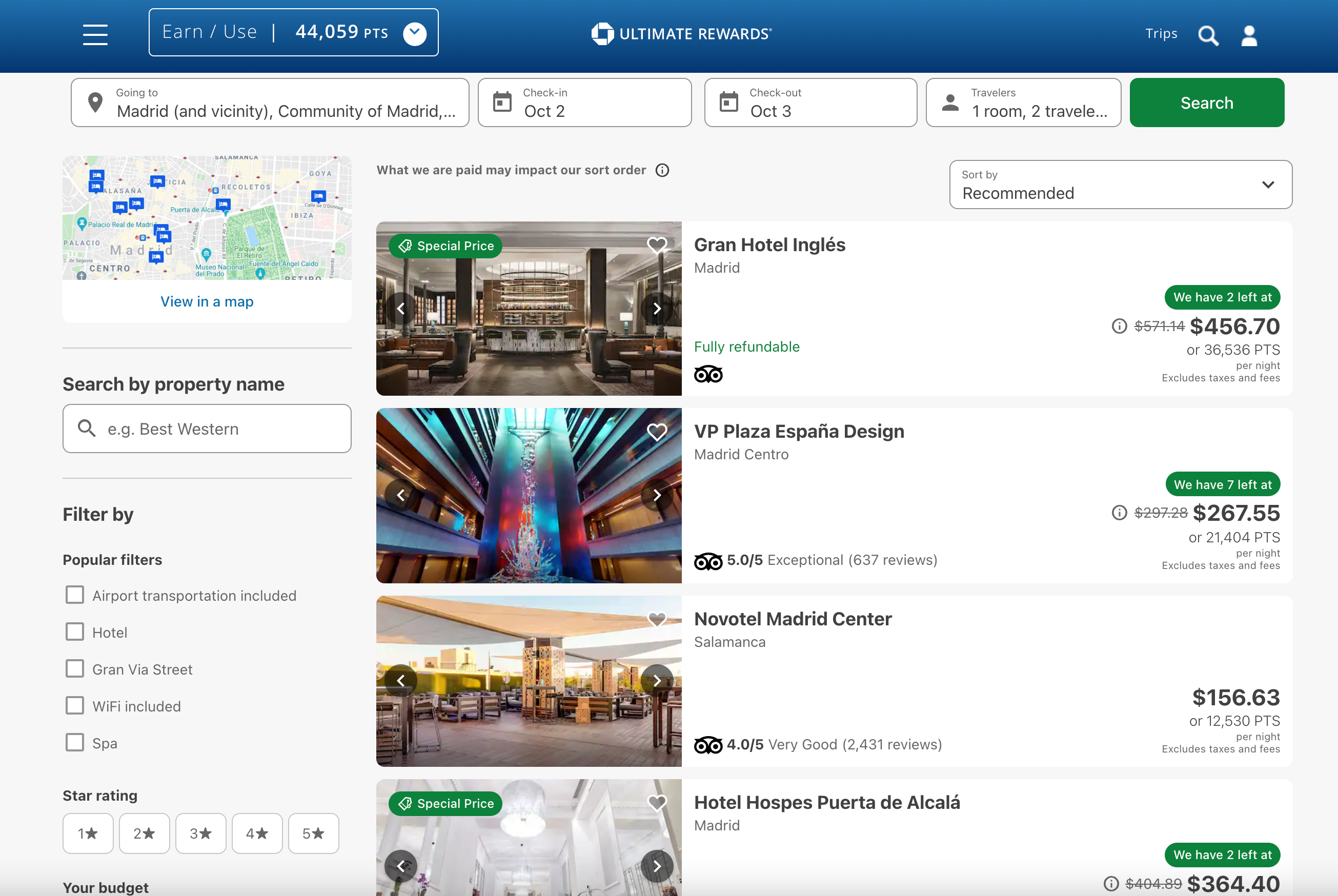 After perusing the options, I found a hotel that was about $240 per night. I selected my room and then proceeded to checkout. In the payment options, be sure to select "Save my points for later" and pay with your Sapphire Preferred instead of redeeming your Ultimate Rewards points to book this stay.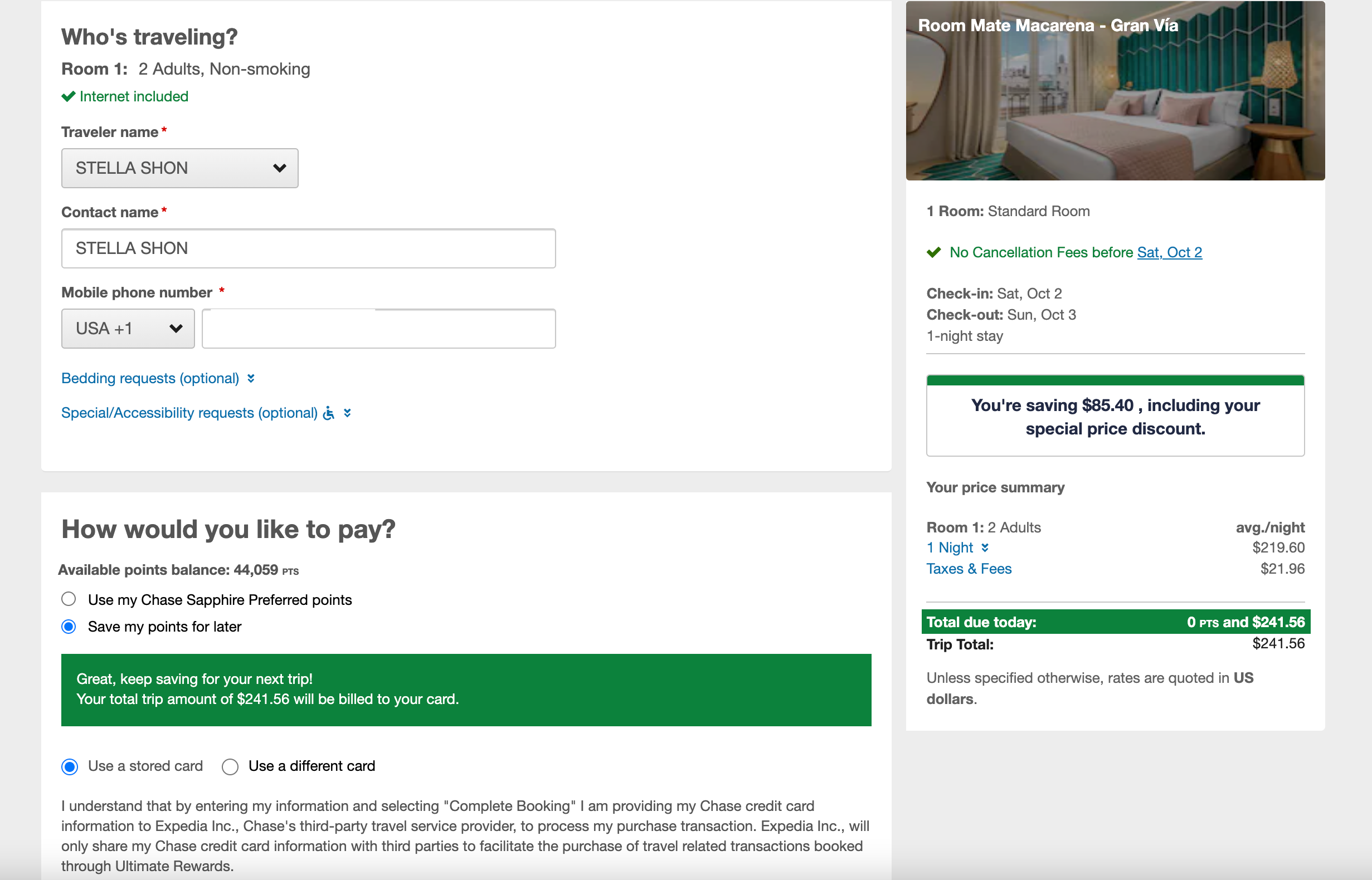 It was easy as that — I then had a confirmed booking, and the pending charge was immediately posted to my statement.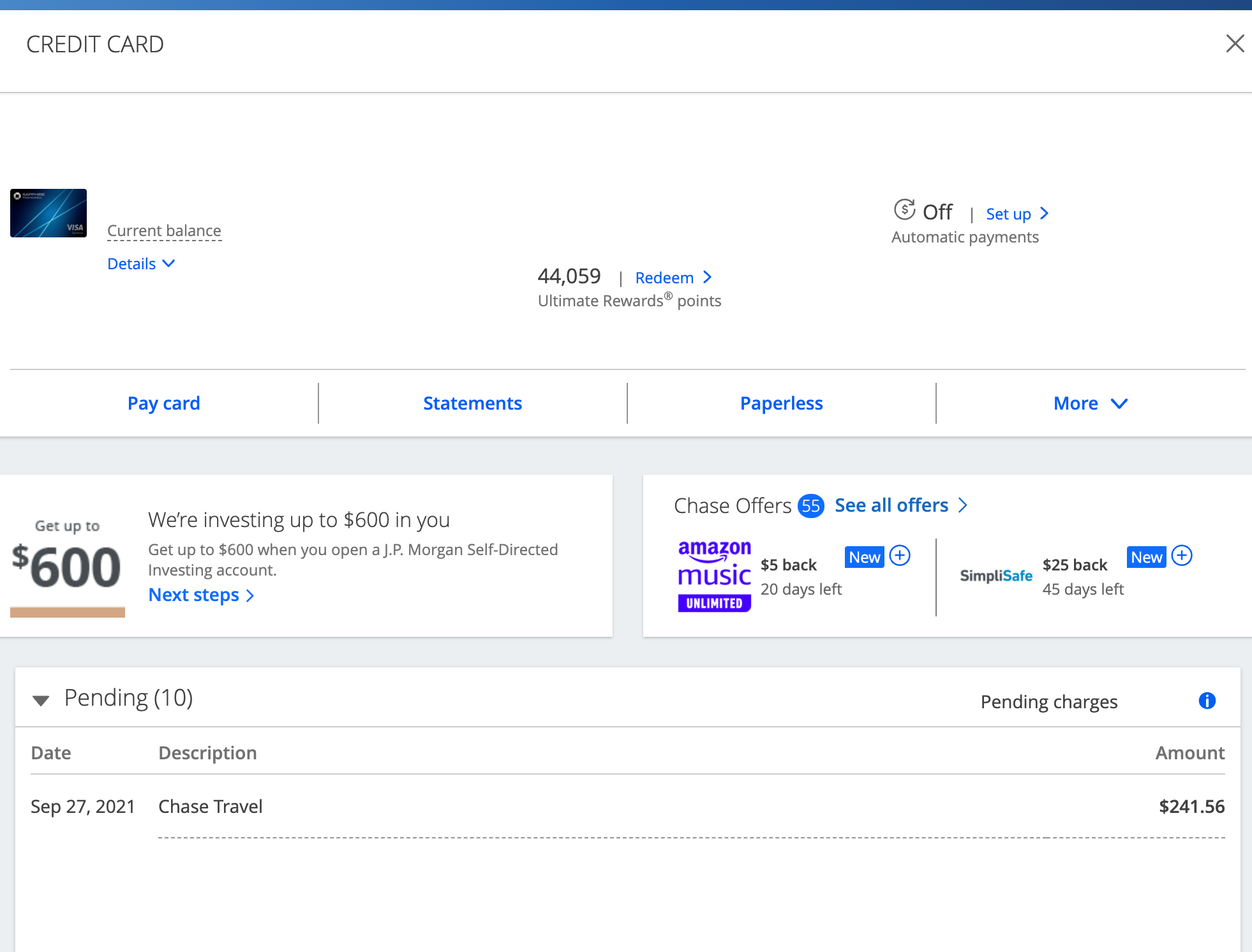 How long does it take for the Chase Sapphire Preferred hotel credit to post to my account?
Now for the burning question: How long does the $50 statement credit take to post to your account? Although the charge for the hotel posted Sept. 27, I didn't receive my $50 statement credit until two days after my stay was over — Oct. 5.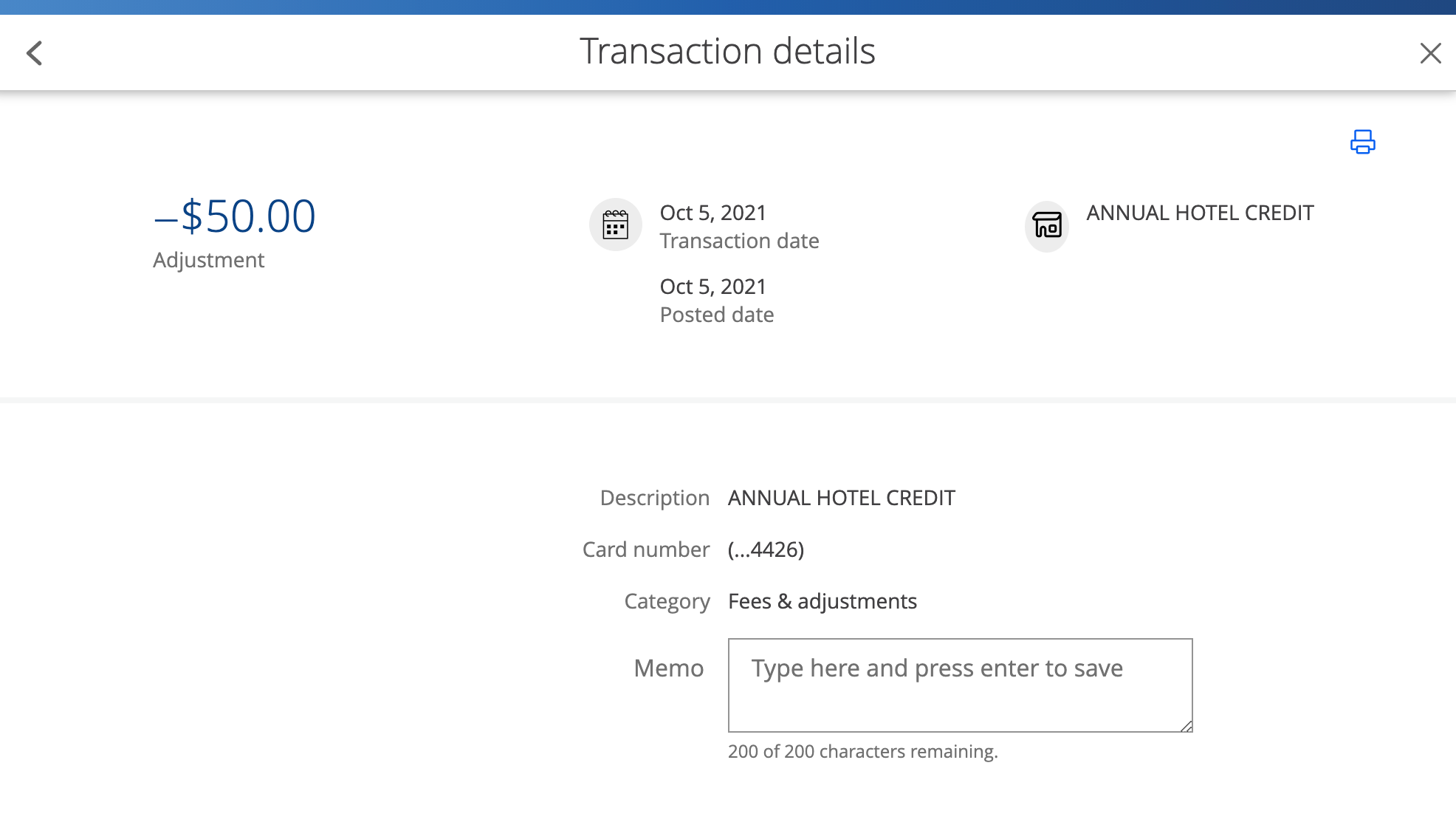 TPG director of content Nick Ewen had a similar experience when he booked a last-minute, one-night stay in Tampa. The $135.07 purchase through Chase Travel posted Nov. 5. The $50 credit hit his account Nov. 9 — the day after his checkout.
However, according to the terms of the benefit, you should see the $50 credit post within one to two billing cycles. As a result, if you're booking weeks (or months) in advance, you should receive the statement credit before your stay.
Is the $50 Chase Sapphire Preferred hotel credit worth it?
This benefit is similar to the $100 annual hotel credit per calendar year on the Citi Premier® Card (a competing card that also comes with a $95 annual fee). However, that hotel credit is much more difficult to use, as you have to spend at least $500 (on a single hotel stay, excluding taxes and fees) and book through the Citi ThankYou portal for it to apply.
Meanwhile, the $50 hotel credit on the Chase Sapphire Preferred has virtually no restrictions — save for the fact that you need to book on the Ultimate Rewards portal.
Bottom line
Chase continues to make the Sapphire Preferred a valuable and trusted option for cardholders. This annual $50 hotel statement credit alone ensures that I'll keep this card for the foreseeable future.
Although not a high dollar amount, a $50 discount can still be considerable, especially when the card's annual fee is only $95 per year. Once you consider all the card's other benefits, it's hard not to justify adding the Sapphire Preferred to your wallet.
---
Official application link: Chase Sapphire Preferred with 80,000 bonus points after you spend $4,000 on purchases in the first three months from account opening.
---
Additional reporting by Emily Thompson and Ryan Wilcox.