Gulfstream's latest plane took my breath away.
The Savannah, Georgia-based manufacturer of ultra-luxurious private jets is out with a new flagship model that it hopes to certify with the Federal Aviation Administration in the coming months.
Want more airline-specific news? Sign up for TPG's free biweekly Aviation newsletter.
It's easy to see why the Gulfstream G700 is the new flagship.
With room for as many as 19 passengers — and enough space to sleep 13 of them, the G700 is one of the larger jets on the market. The Gulfstream G700 I walked through featured a bed and even a shower.
The $75 million private jet was the talk of the show at October's National Business Aviation Association Business Aviation Convention & Exhibition in Orlando, Florida.
Here's a closer look at this impressive new jet.
It can easily fly long-haul
With a somewhat reduced load of eight passengers and four crew (remember, the G700 can fit as many as 19 passengers), the G700 is expected to have a range of 7,500 nautical miles when cruising at Mach .85–85% of the speed of sound.
By reducing the number of passengers, the G700 can carry additional fuel, as long as it remains under the aircraft's maximum takeoff weight (for number geeks, that's 107,600 pounds).
(However, if you're in a hurry, the plane can travel as fast as Mach 0.925–92.5% of the speed of sound. The range takes a hit when traveling that fast, as the higher speed burns more fuel.)
Here's what that 7,500 nautical mile range looks like from New Jersey's Teterboro Airport (TEB), just outside of New York City: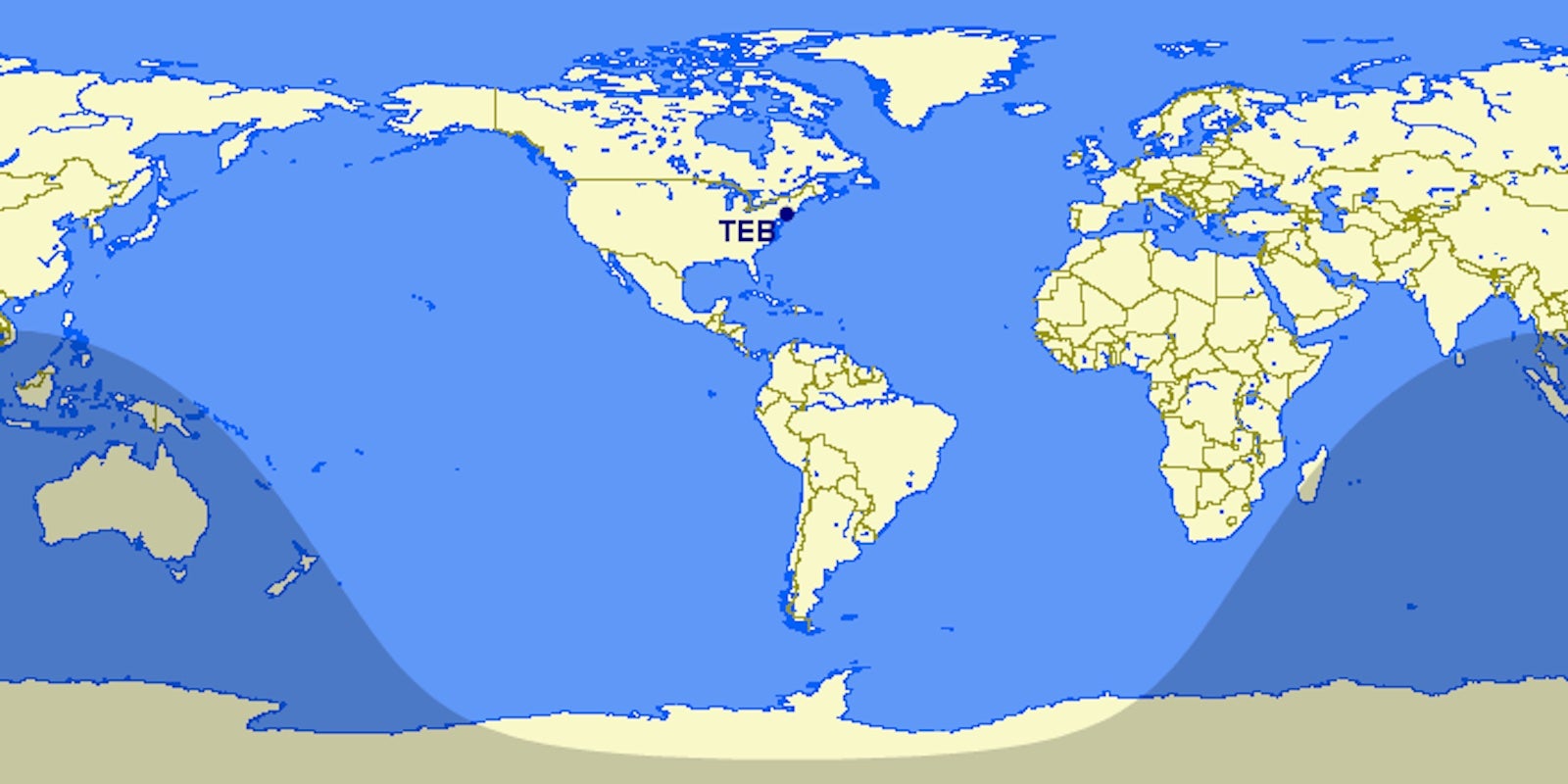 Or, from London Stansted Airport (STN):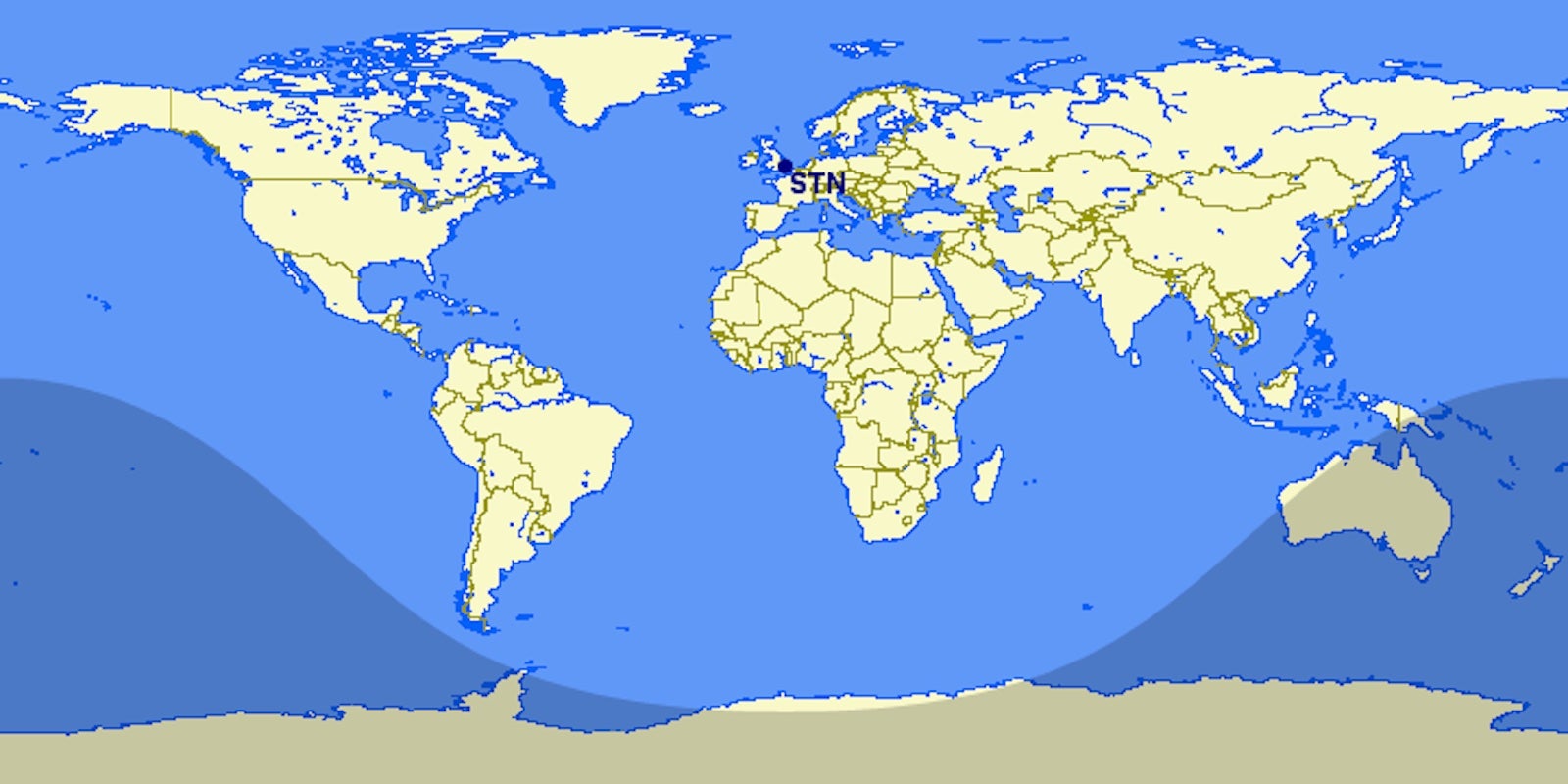 Or, from Sydney Airport (SYD):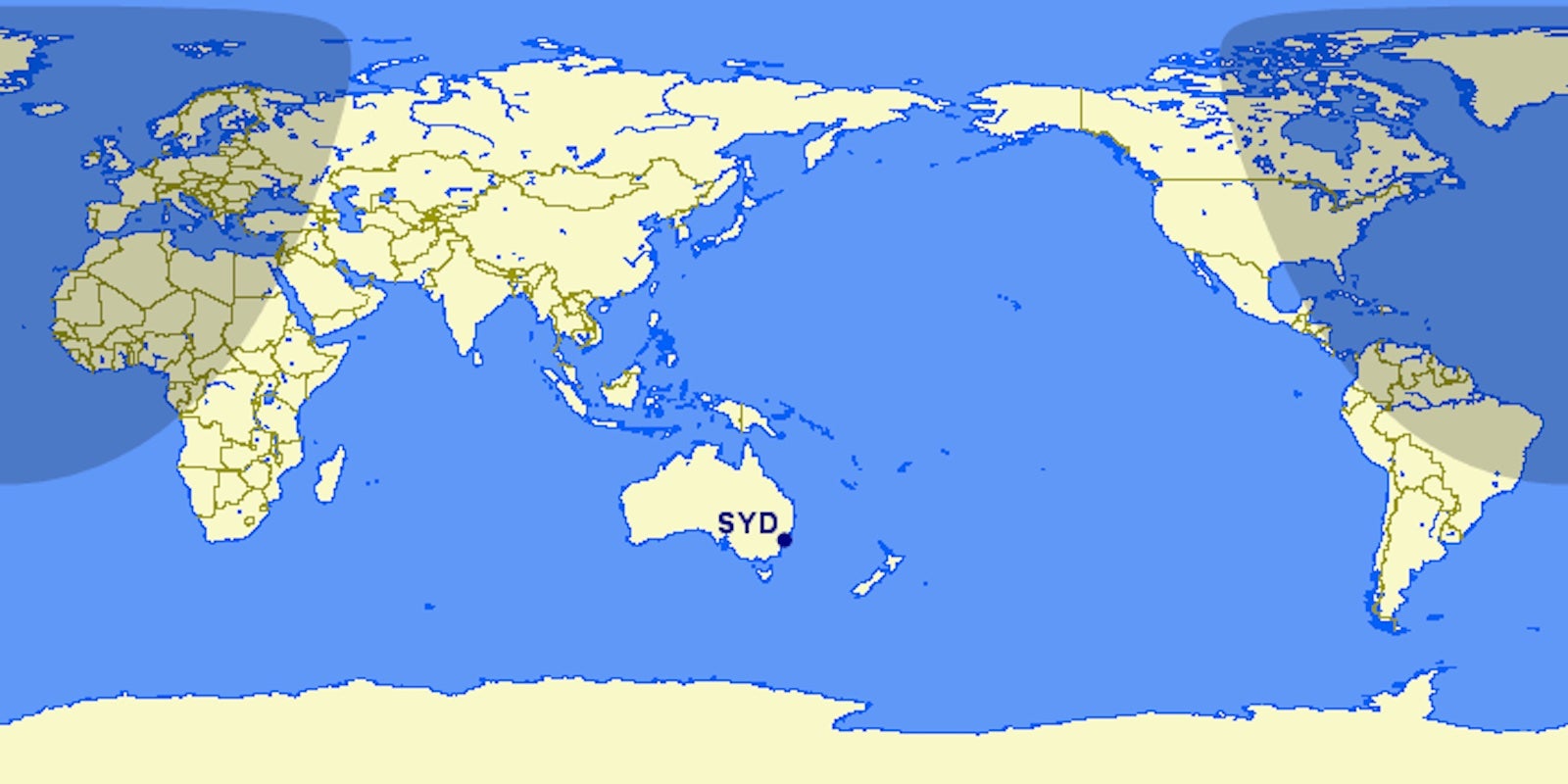 Among Gulfstream's product line, the G700 will only be surpassed in range by the G800 — a slightly smaller aircraft that will have an 8,000 nautical mile range at Mach 0.85. (The G800 has a maximum takeoff weight that's just 2,000 pounds lighter than the G700, but trades payload for the higher range and maxes out at 15 passengers.)
Gulfstream brought the first G800 aircraft — one with an unfinished interior full of test equipment — to the NBAA-BACE conference. It's expected to be certified by the FAA after the G700.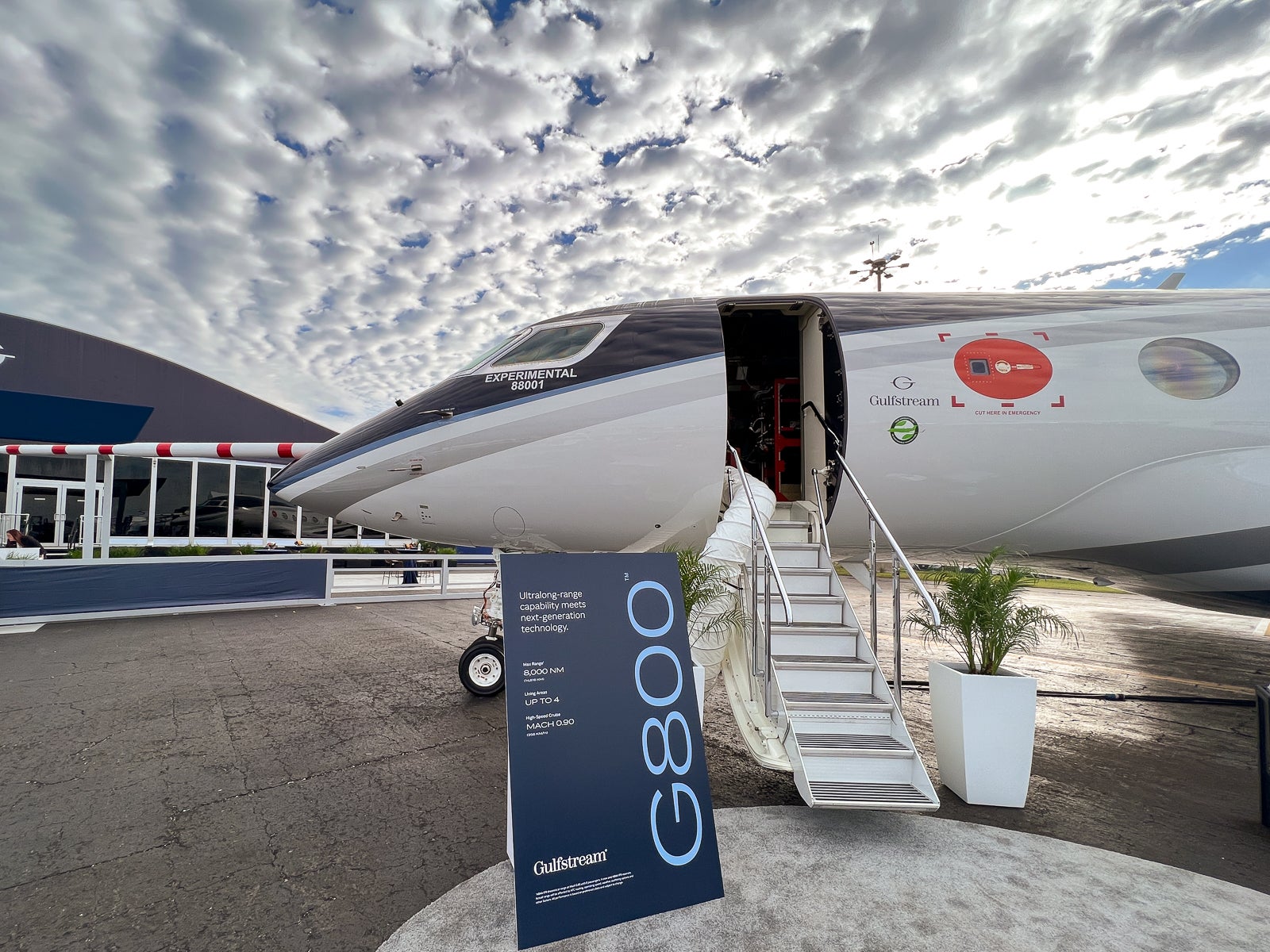 More: My trip to AvGeek paradise: Visiting Cirrus Aircraft's Vision Center
Multiple seating options
When you're purchasing a $75 million jet there, of course, will be many things to customize.
Most notable is the seating, which can be selected in multiple configurations. A corporation purchasing a G700 to use as a company jet might be more interested in a higher-density configuration, while an individual owner might focus on something lower-density that emphasizes comfort over capacity (it's all relative — I'd take the highest capacity G700 over flying commercial any day).
The aircraft I toured, N702GD, had multiple sections.
The first section of this aircraft featured a pair of club seats that, with a tray table that folds out from the side panel, can be used for meetings, work or dining.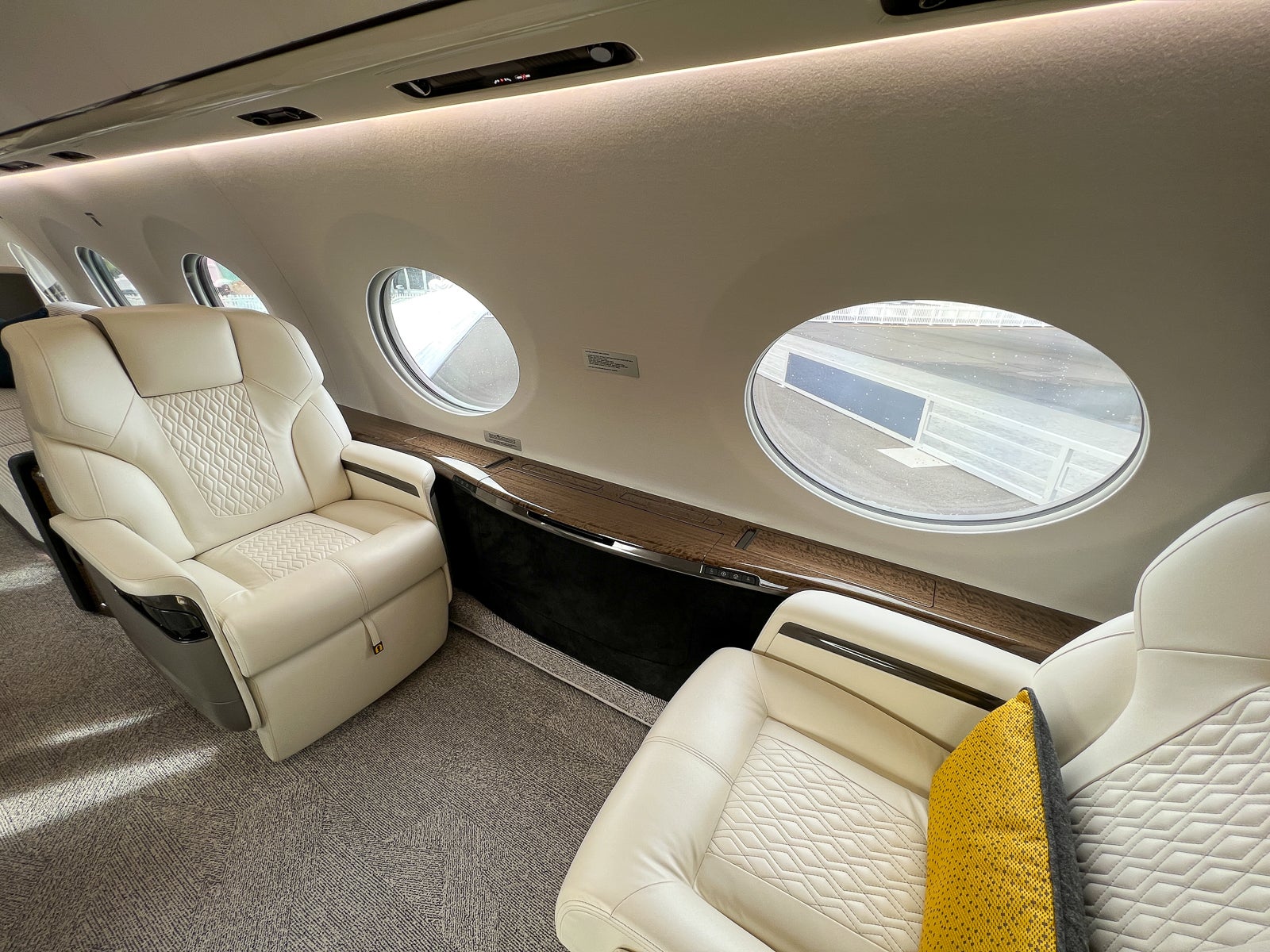 These seats can also convert into beds.
The armrests feature light and window controls, along with cupholders and wireless Qi charging.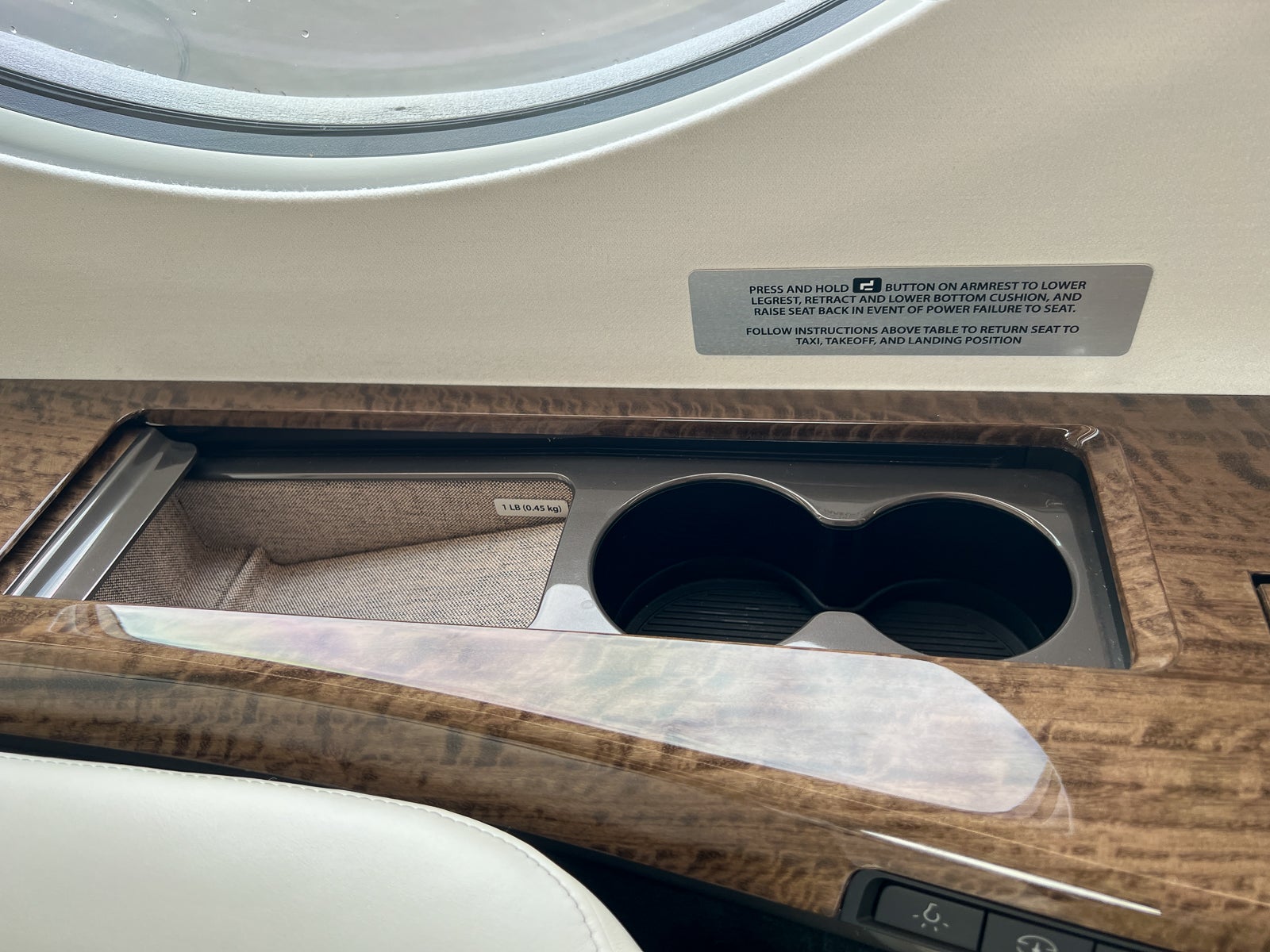 The next section of the aircraft featured a divan that can also convert into a bed. The divan features seatbelts, so it can be used for seating during taxi, takeoff and landing.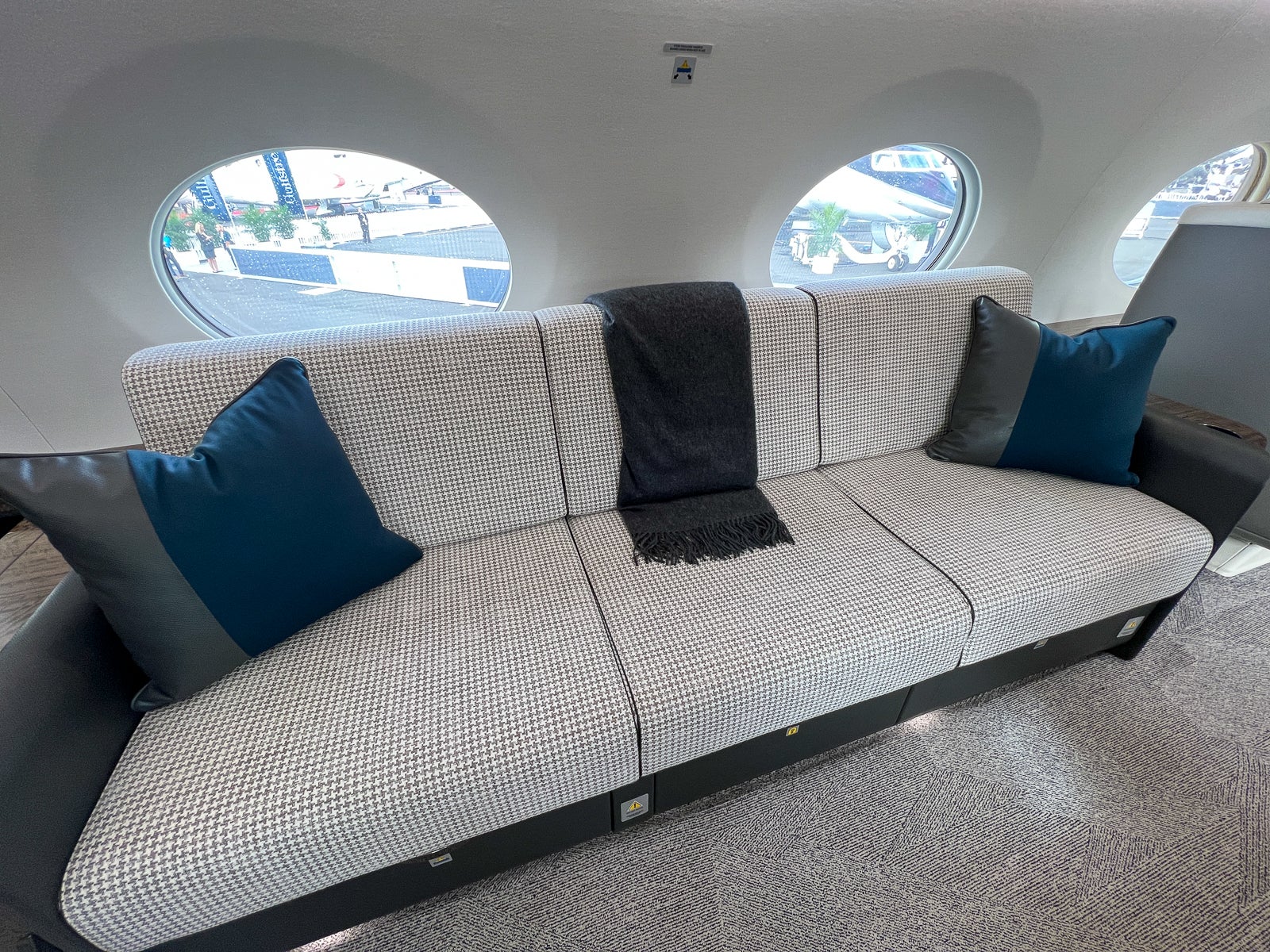 Across from the divan is an entertainment center that features a TV that folds up.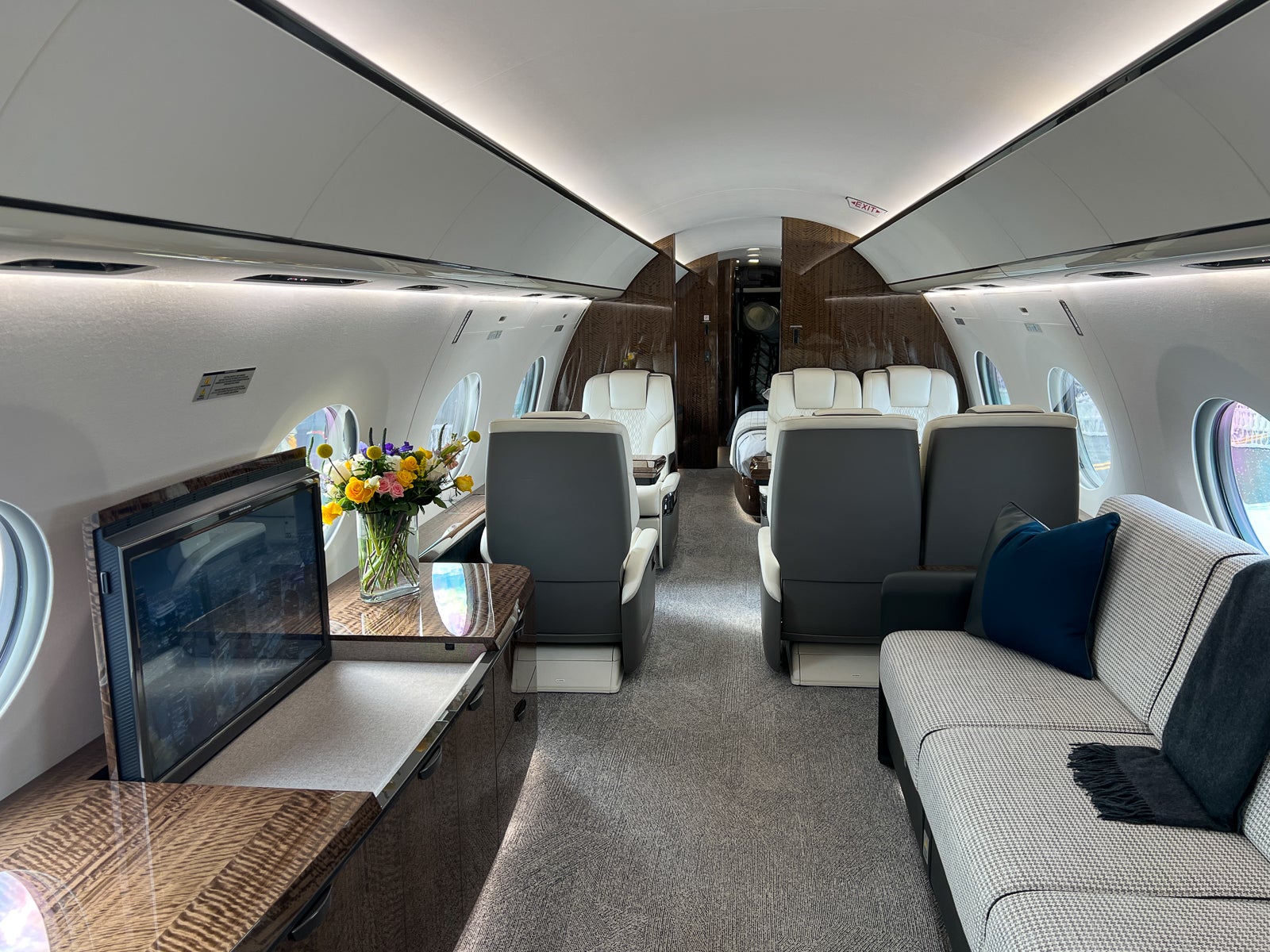 Owners can play whatever they want on the TV — and can even configure their favorite streaming service to use the G700's Wi-Fi system, which comes standard. This particular aircraft was configured for Apple TV.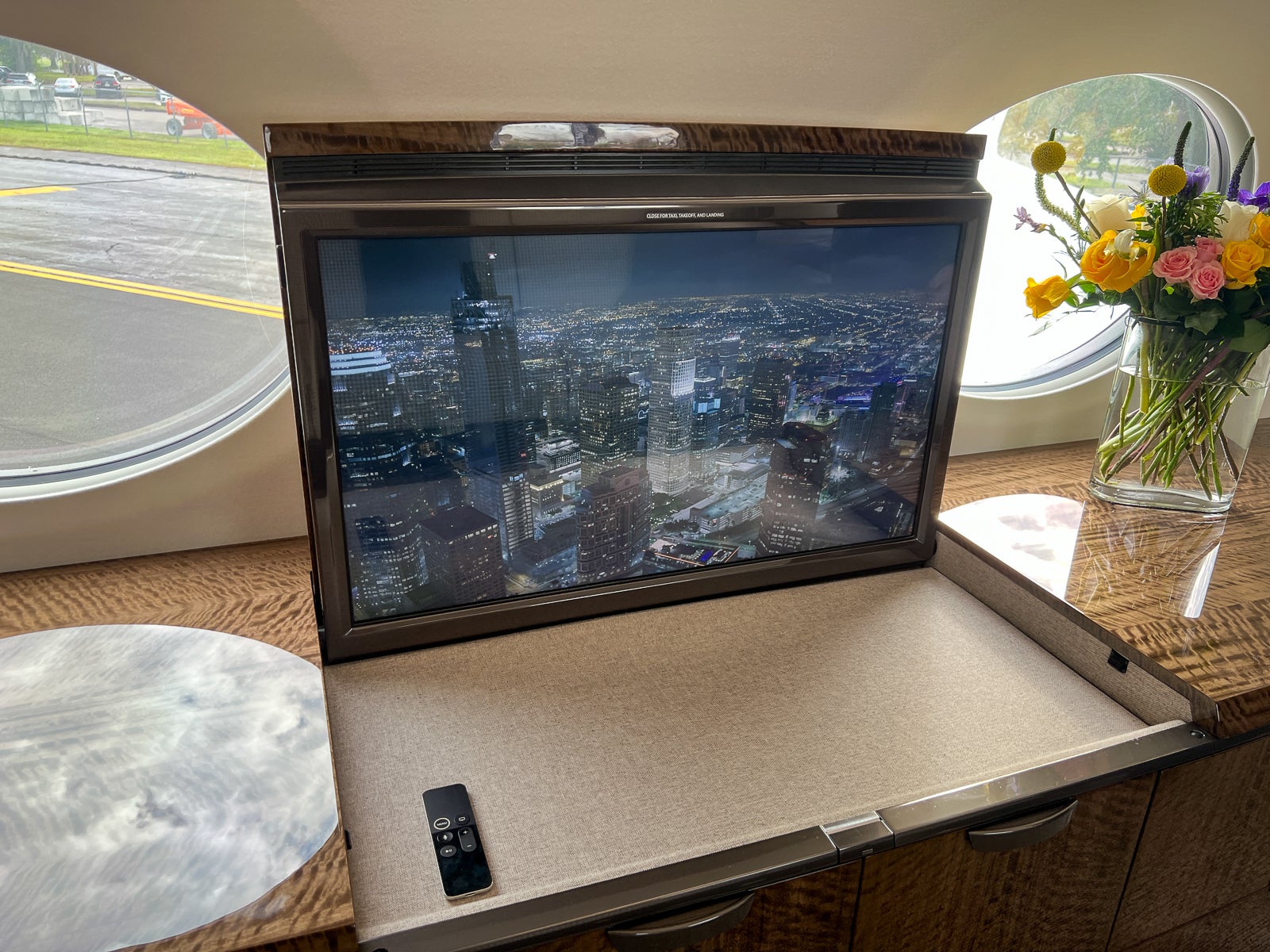 For those who'd like a drink while enjoying a movie, there's wine storage inside the entertainment center.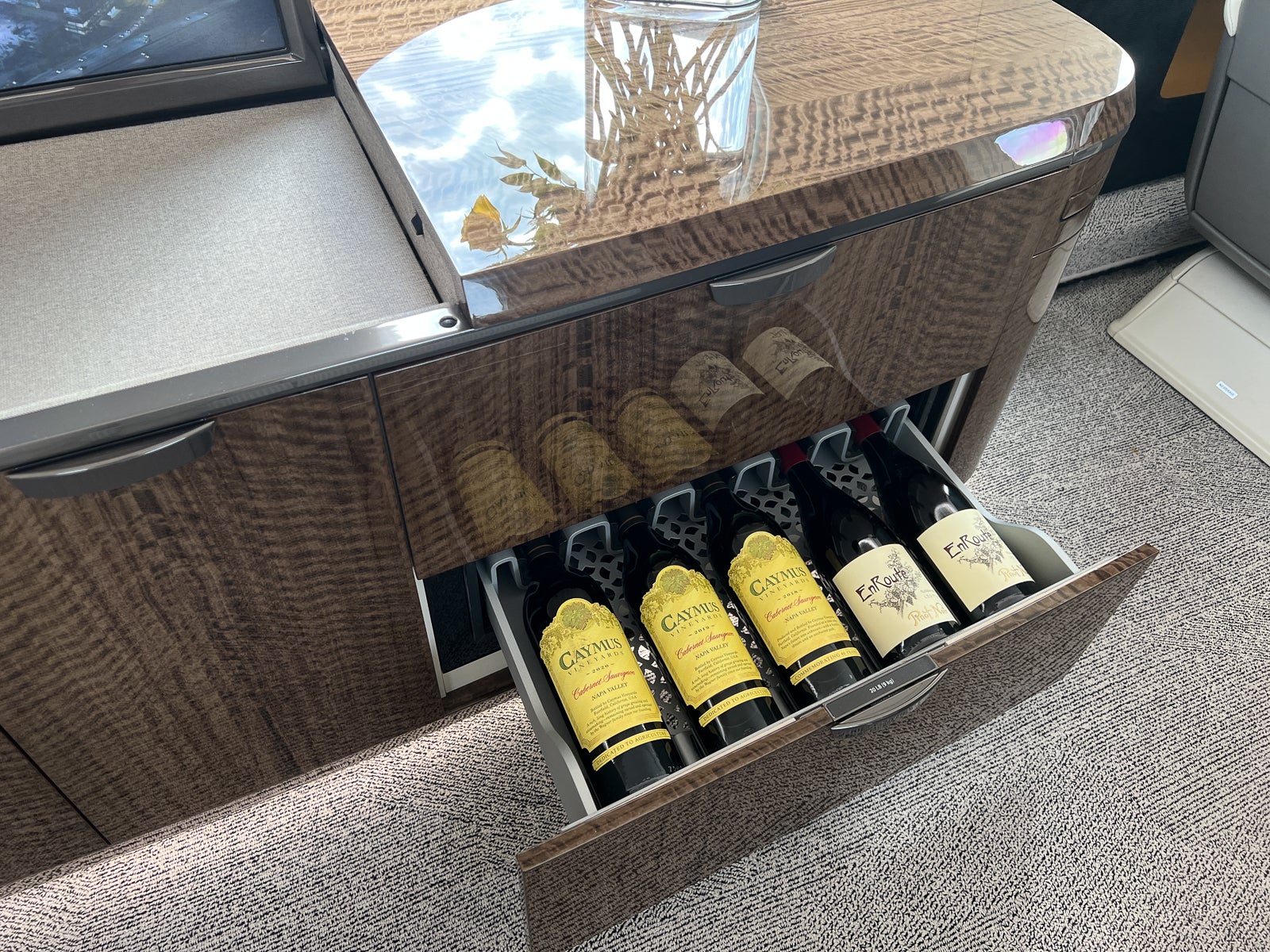 The next section is more seating with built-in tables and with three seats across, fitting a total of six passengers.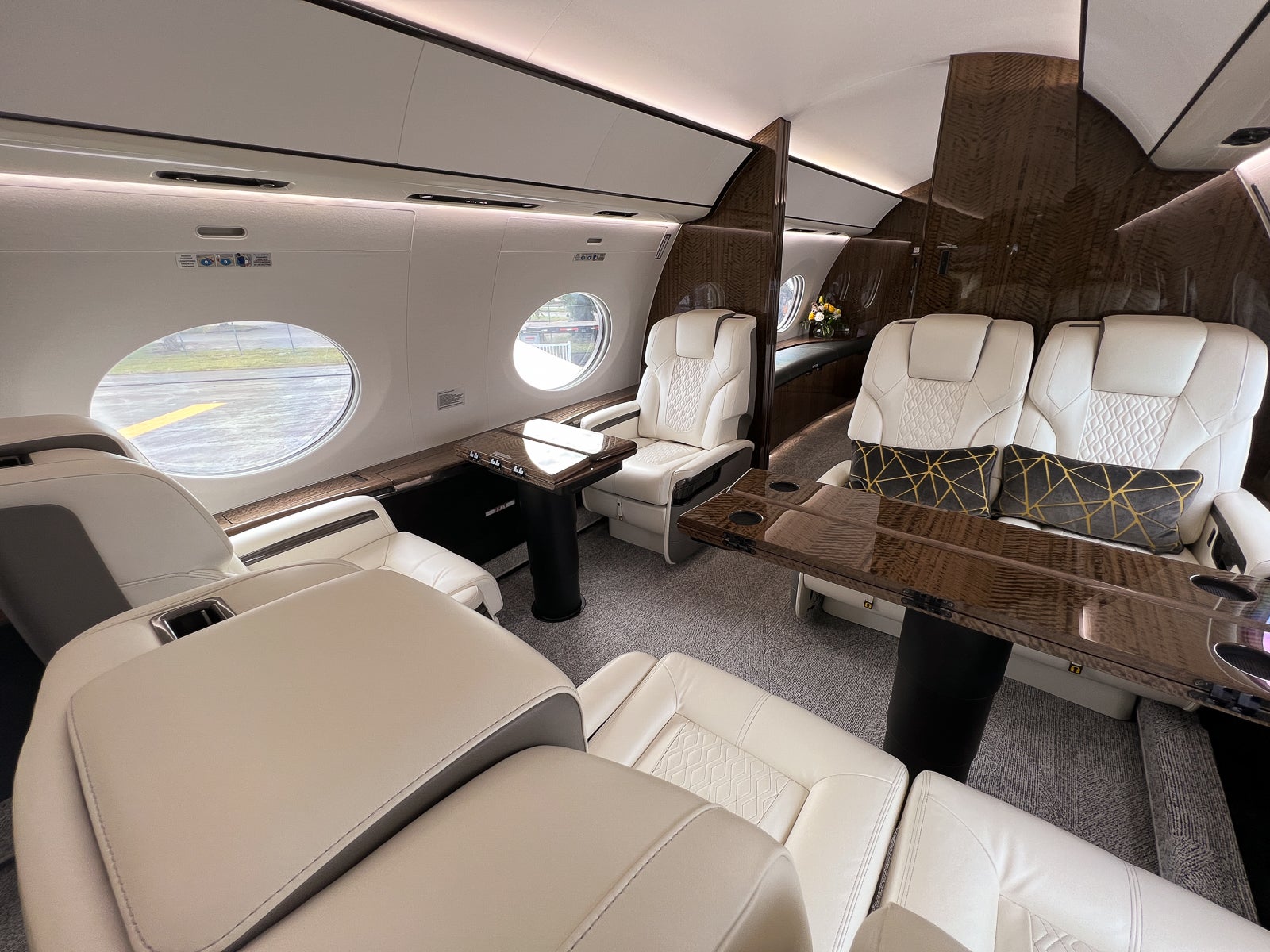 Then comes the private stateroom, which is separated from the rest of the aircraft by a bulkhead featuring a sliding, pocket door. With such a long range, the G700 can feature a bed.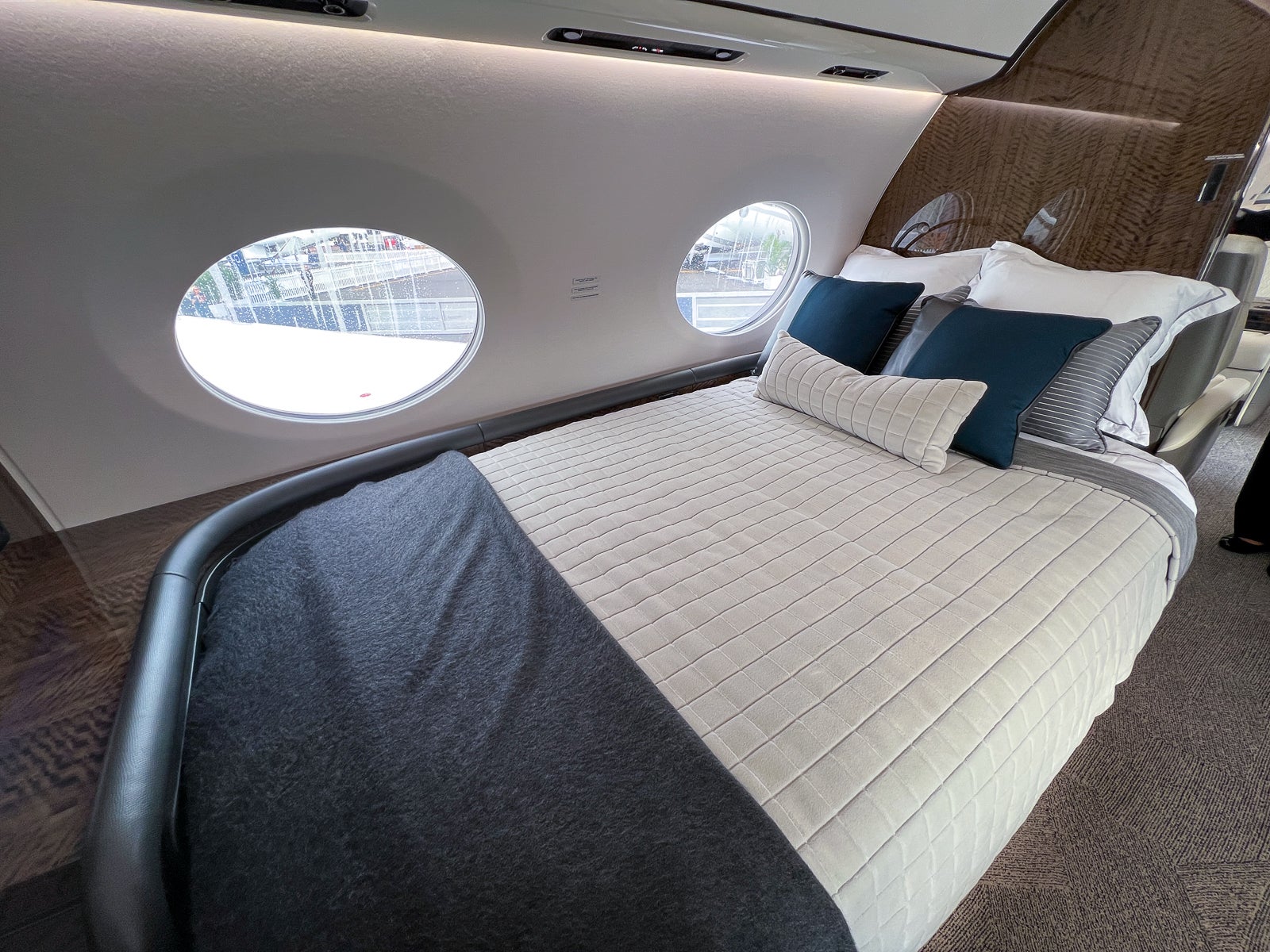 At the foot of the bed is another TV — this one shows flight information, but it could be configured to show anything.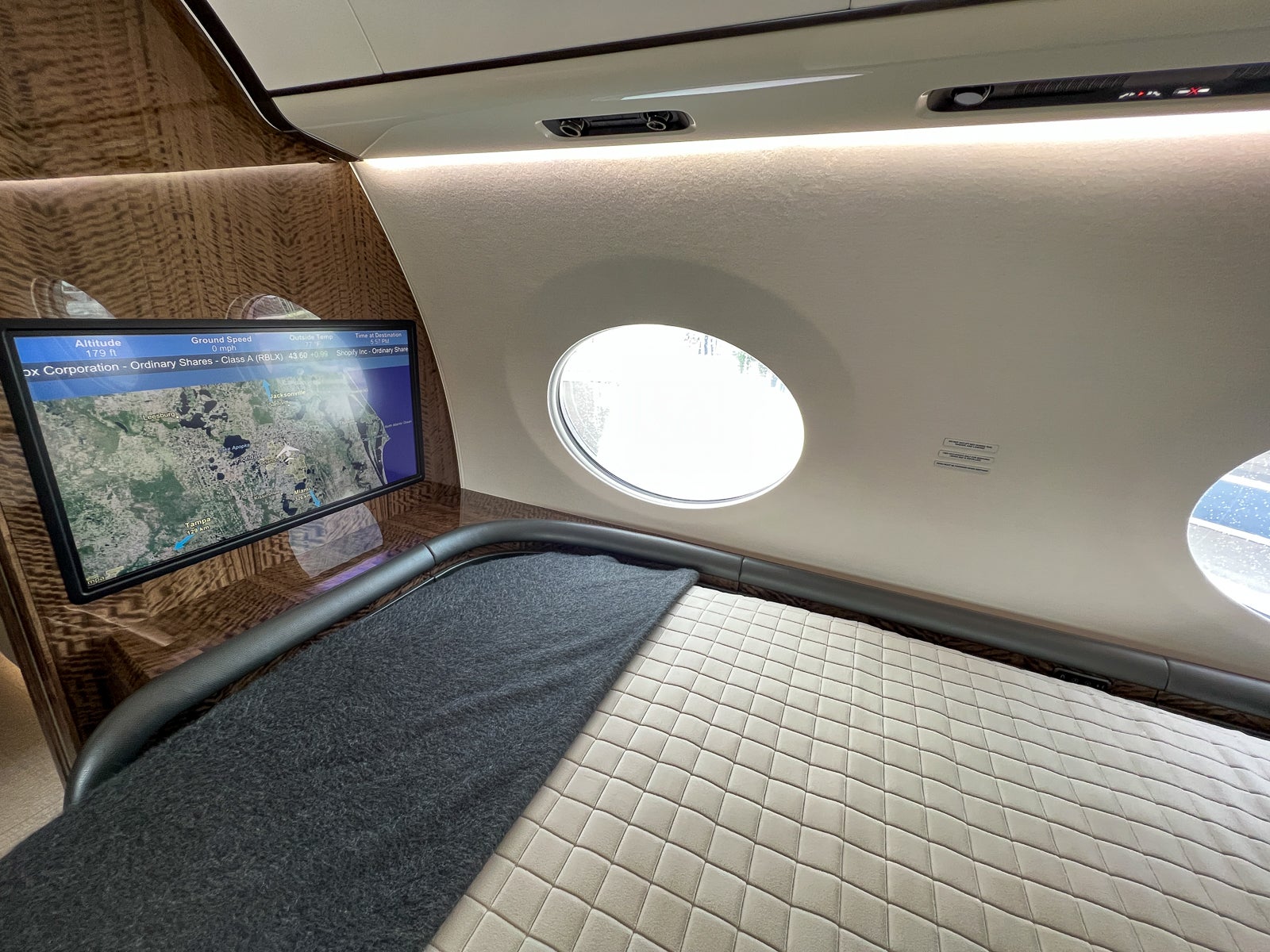 Across the aisle from the bed was a padded, built-in credenza.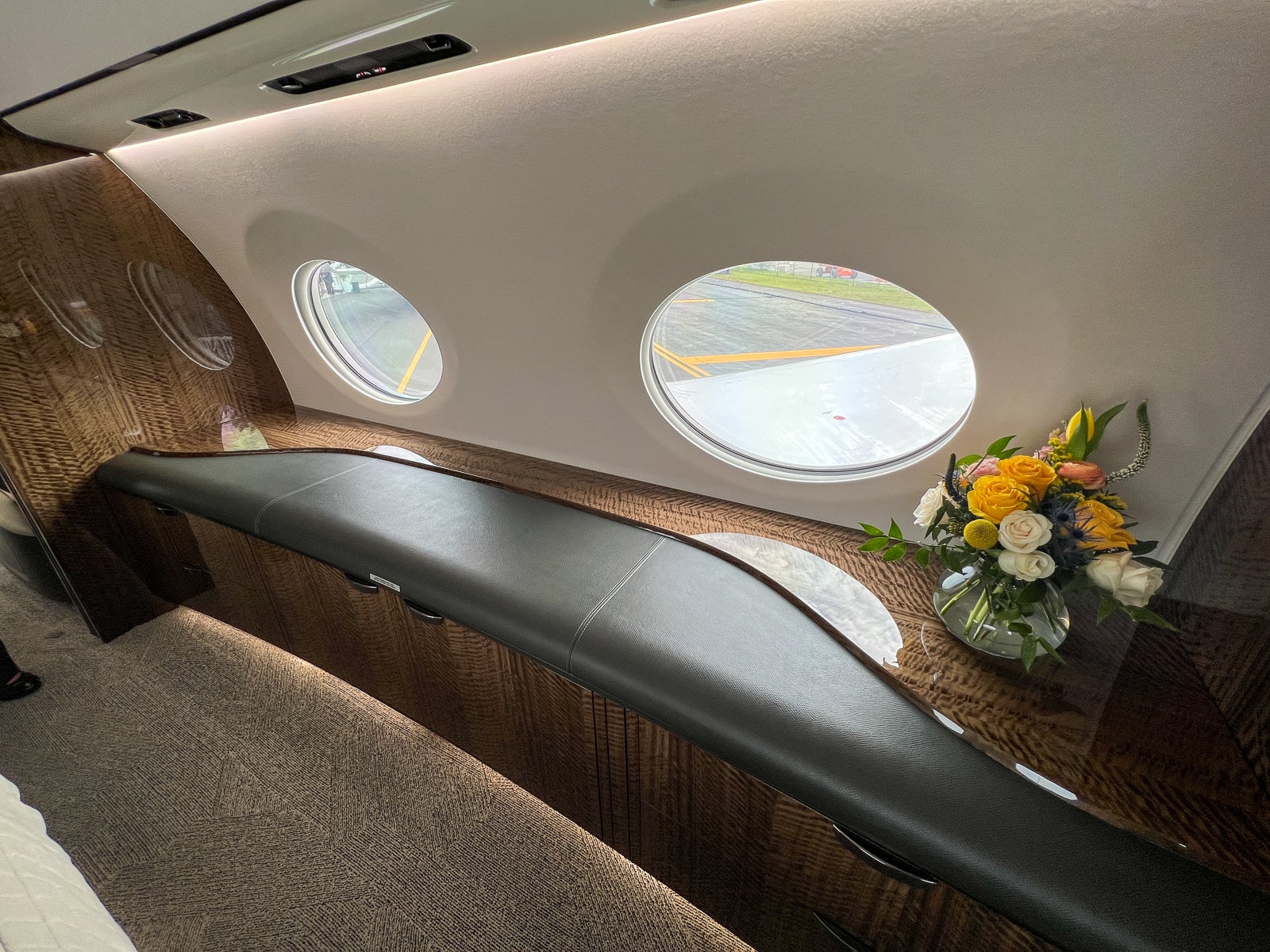 Next is another bulkhead with more pocket doors, which features the lavatory.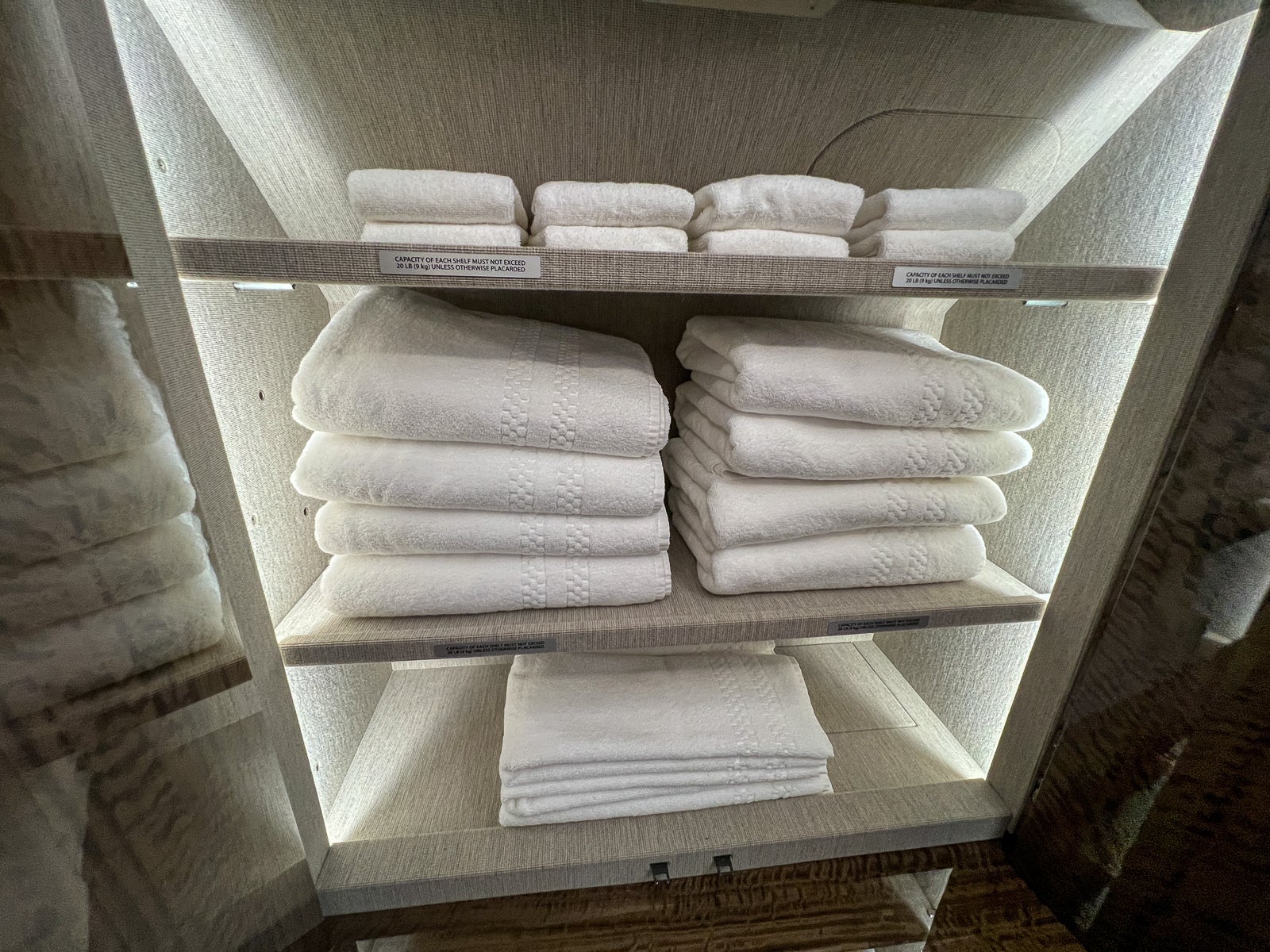 While a rare installation on Gulfstreams, this G700 featured a shower to allow VIPs to refresh after a long flight.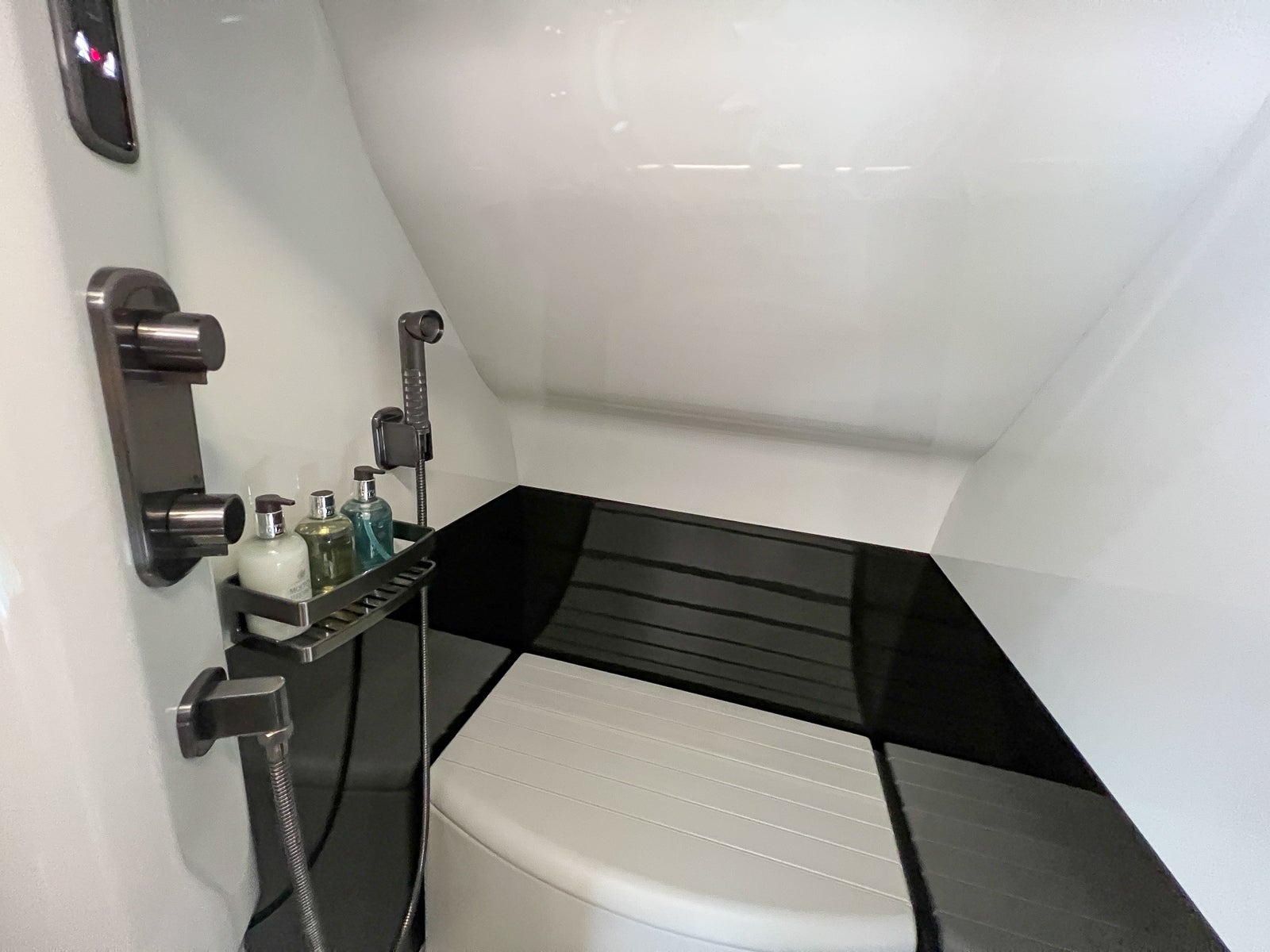 The toilet seat is designed to also be used as a seat in tandem with a vanity mirror.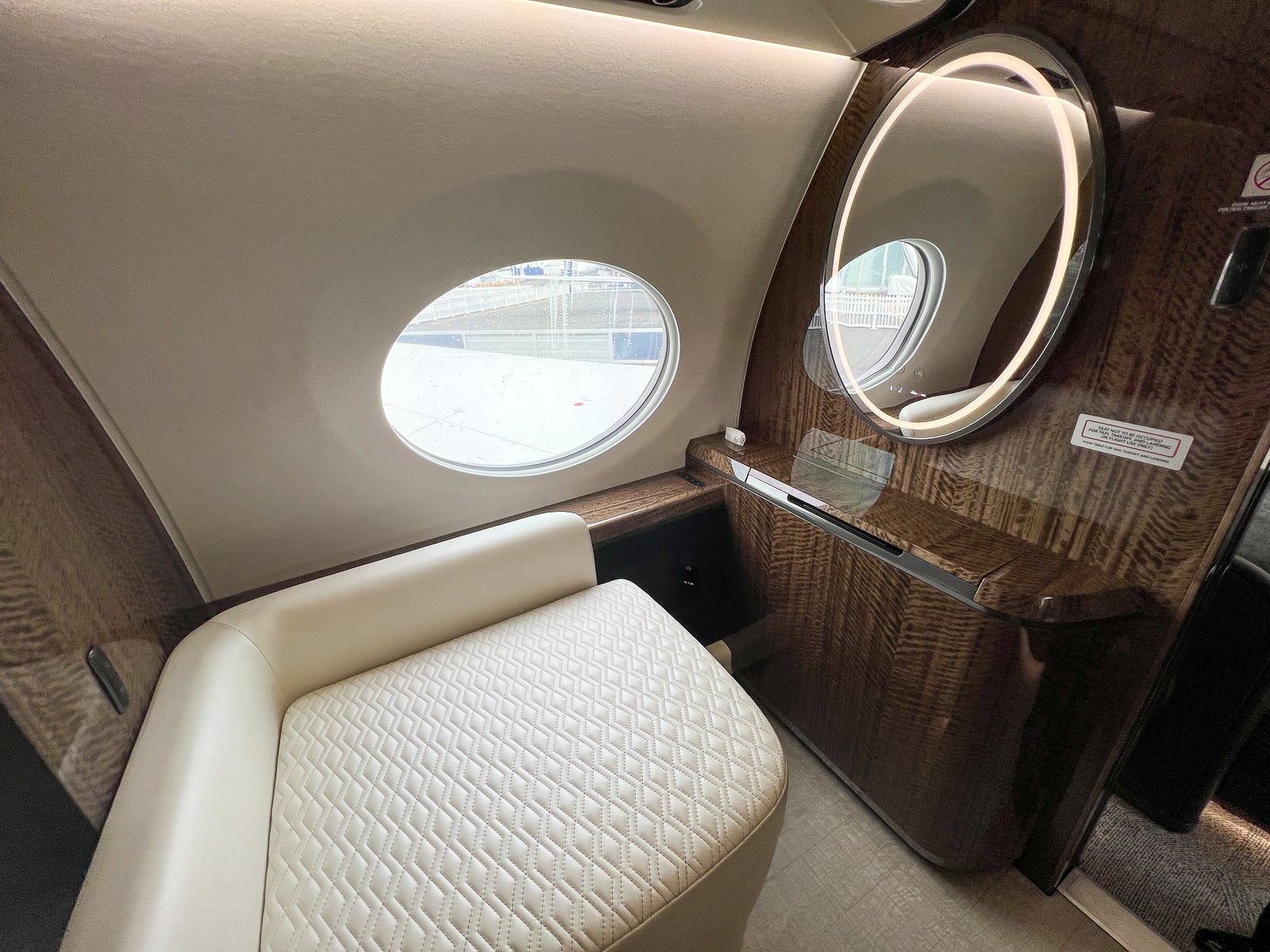 The sink area includes plenty of mirrors and storage. This aircraft features a white countertop finish — but an owner would have many bespoke options to choose from.
A customizable galley
Like just about everything else, the galley is also customizable.
This aircraft featured ovens, a bar and other creature comforts.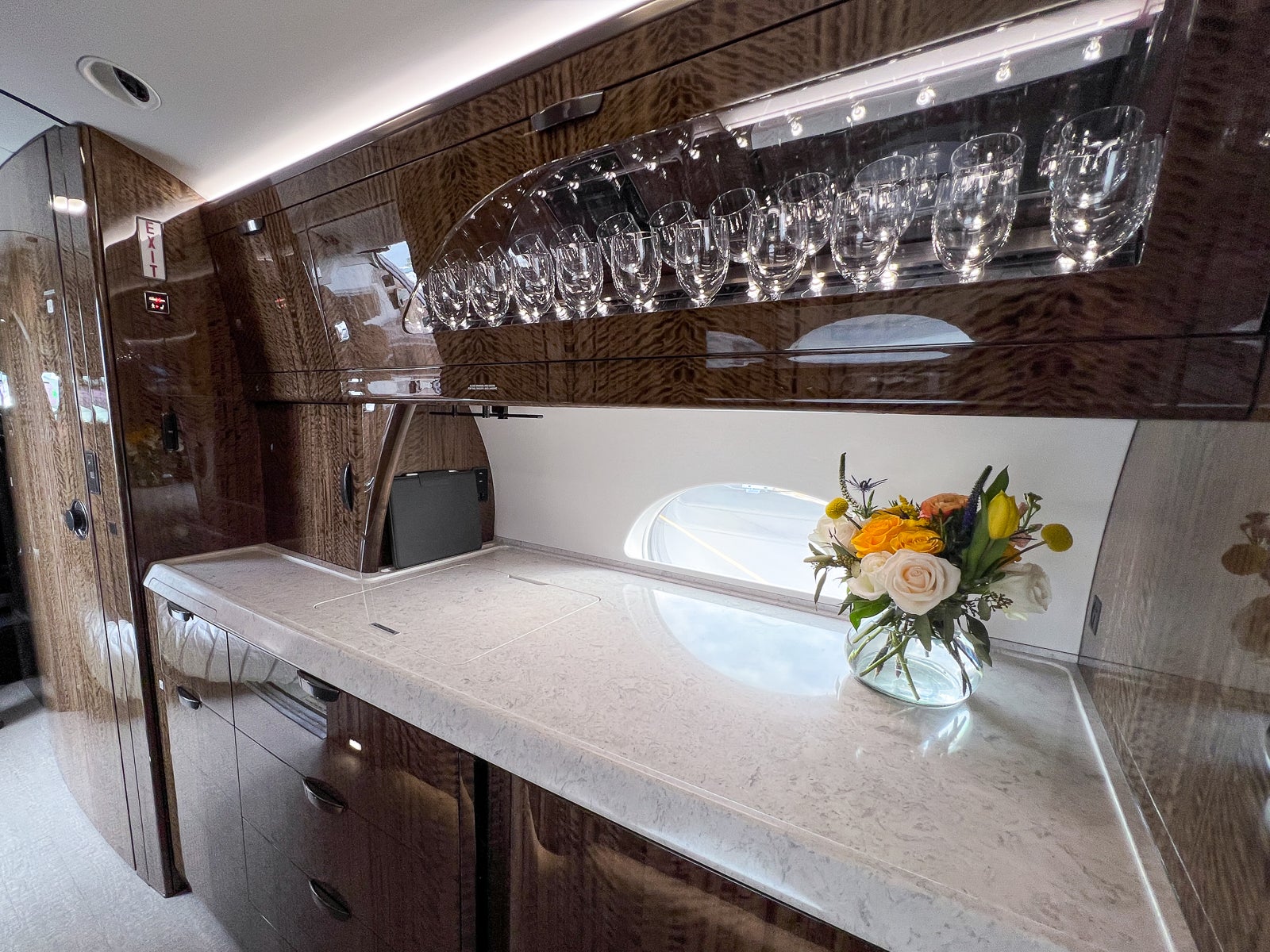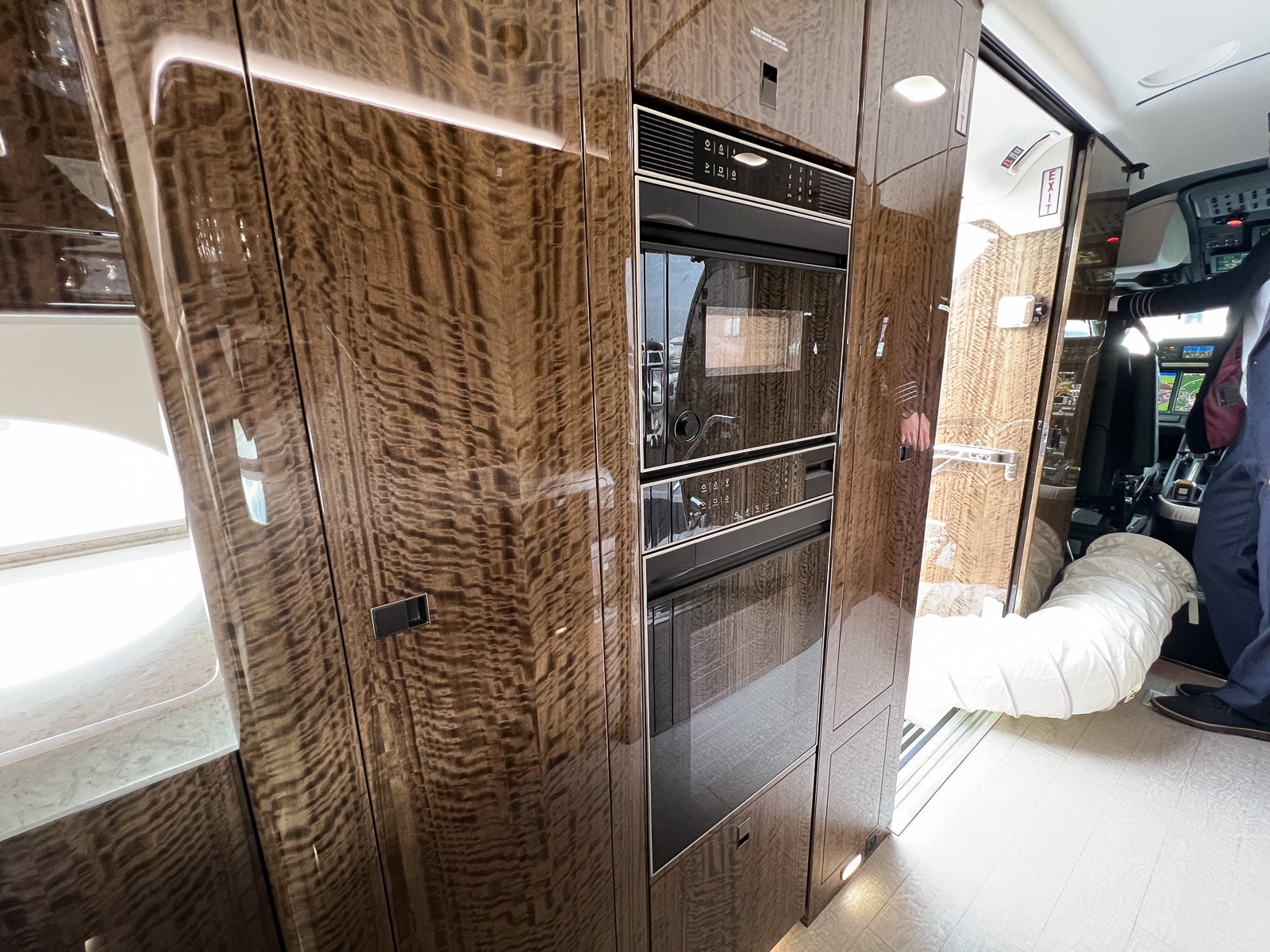 Owners can even equip the galley with their favorite espresso machine.
One of the customizable layouts allows for a lavatory in the forward section of the aircraft, in addition to the aft — allowing for complete privacy for those who are lucky enough to be able to use the stateroom.
Bottom line
The Gulfstream G700 will hit the skies soon — and it will be a hugely important member of Gulfstream's lineup of high-end, bespoke private jets. With a spacious cabin and a massive range, this $75 million jet brings the best of both worlds to its deep-pocketed owners.
While I don't have any flights planned on the G700 in the future, a ride on one of these incredible planes has been added to my bucket list. Just stepping foot aboard it while on static display was incredible.