Editor's note: This post was updated with new details.
JetBlue Airways' revamped loyalty program debuts on May 10. The countdown is now on to the launch of the hotly anticipated new "Tiles" program and the many major changes coming to its frequent flyer program. Don't fret: There aren't many big losers.
The New York-based carrier is rolling out an overhauled TrueBlue program in early May that'll bring updates to the perks you receive for flying and transacting with JetBlue and its partners.
The revamped program includes benefits for infrequent flyers, new Mosaic elite tiers and much more. It's worth mentioning that JetBlue isn't making any changes to how you earn or redeem points, including the redemption rate and the no-expiration policy.
Here's everything you need to know about the changes.
Tiles are the new status metric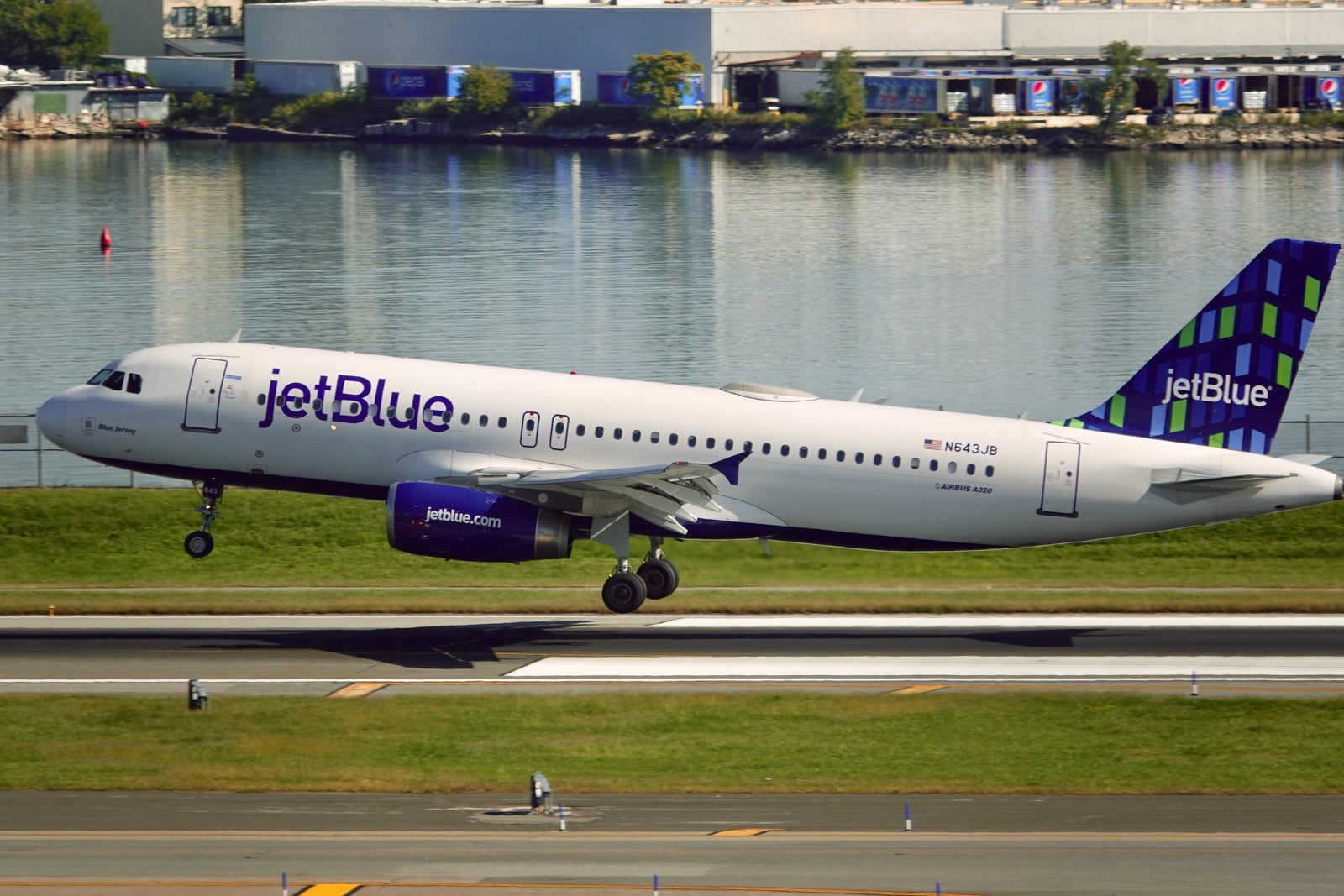 American Airlines has Loyalty Points. United Airlines has Premier qualifying points. And now, JetBlue has Tiles.
Historically, you earned status in JetBlue's program by accumulating Mosaic qualifying points or by hitting a cobranded credit card waiver.
With the revamped program, you'll need to accumulate Tiles to earn status. (The naming convention is quite thoughtful — many Tiles create a mosaic, the name of JetBlue's elite tier.)
Tiles can be accumulated in two ways:
Earn 1 tile for every $100 on qualifying JetBlue spend, which includes flights, JetBlue Vacations packages, Paisly by JetBlue bookings, JetBlue fees, JetBlue add-ons (such as seats) and American Airlines-operated flights.
Earn 1 tile for every $1,000 spent on a cobranded JetBlue credit card. Unlike the previous program, this includes all cards, such as those issued internationally.
You'll earn Tiles for eligible activities between Jan. 1 and Dec. 31 of each year. In 2023, members began earning Tiles for activity on Jan. 1, even though the program doesn't officially launch until May 10. More details about the transition are below.
As you earn Tiles, you'll unlock benefits and elite status in the program.
At first glance, it's clear that JetBlue has reconsidered how it defines engagement with the airline. JetBlue will now measure your activity across multiple channels, not just flying, in your status journey.
The airline has significantly expanded the ability to earn perks from credit card spending. You'll also be rewarded for transacting with other parts of the airline, including through package bookings and by paying ancillary fees.
In a way, Tiles are quite similar to American's new Loyalty Points, which you can earn through many activities, not just flying.
Perks You Pick before Mosaic
This one is big.
Traditionally, the benefits of airline loyalty don't begin until you cross a status threshold. Until then, general members don't usually enjoy any special perks.
However, with JetBlue's new program, even a casual flyer will be rewarded. When you earn 10, 20, 30 and 40 Tiles, you'll be eligible for a pick from the following "Perks You Pick" menu:
Group B boarding.
Priority security.
One free drink (beer, wine or liquor) per flight.
2 times the points for a JetBlue Vacations package (one-time use).
5,000 TrueBlue points (worth $65, according to TPG's valuations).
Note that you can't pick the same perk multiple times as you hit more milestones. If you don't select a benefit, JetBlue will not automatically choose one for you.
"We want to be careful about … we don't want to choose for a customer what their preference would be," Chris Buckner, JetBlue's new vice president of loyalty programs and partnerships, said in an interview with TPG.
Your selected perk(s) expire on Dec. 31 in the following year after you earn them. So, if you earned 20 Tiles in 2023, you'll enjoy your two selected benefits through Dec. 31, 2024. You can make your selection at any time before the perk expires.
The introduction of perks before earning status is a major development for airline loyalty programs. The ability to select a benefit or two just from spending $1,000 or $2,000 on JetBlue makes the airline's program one of the most rewarding for casual flyers.
Of course, the perks aren't nearly as lucrative as those you'd receive from earning status, but something is certainly better than nothing.
It's worth noting that these new benefits come at the at the expense of the Go Long, Lucky 7 and Take 3 bonuses, which were historically available to all members. They will be retired at the end of the year.
"We actually had pretty low engagement on those bonuses. So we haven't actually heard a lot of customer feedback on that. And again, that also allowed us to reinvest into some of these other amazing perks that we're able to provide," Buckner said when asked about these bonuses.
"So we think it's going to be a really big win for customers," he added.
4 tiers of Mosaic status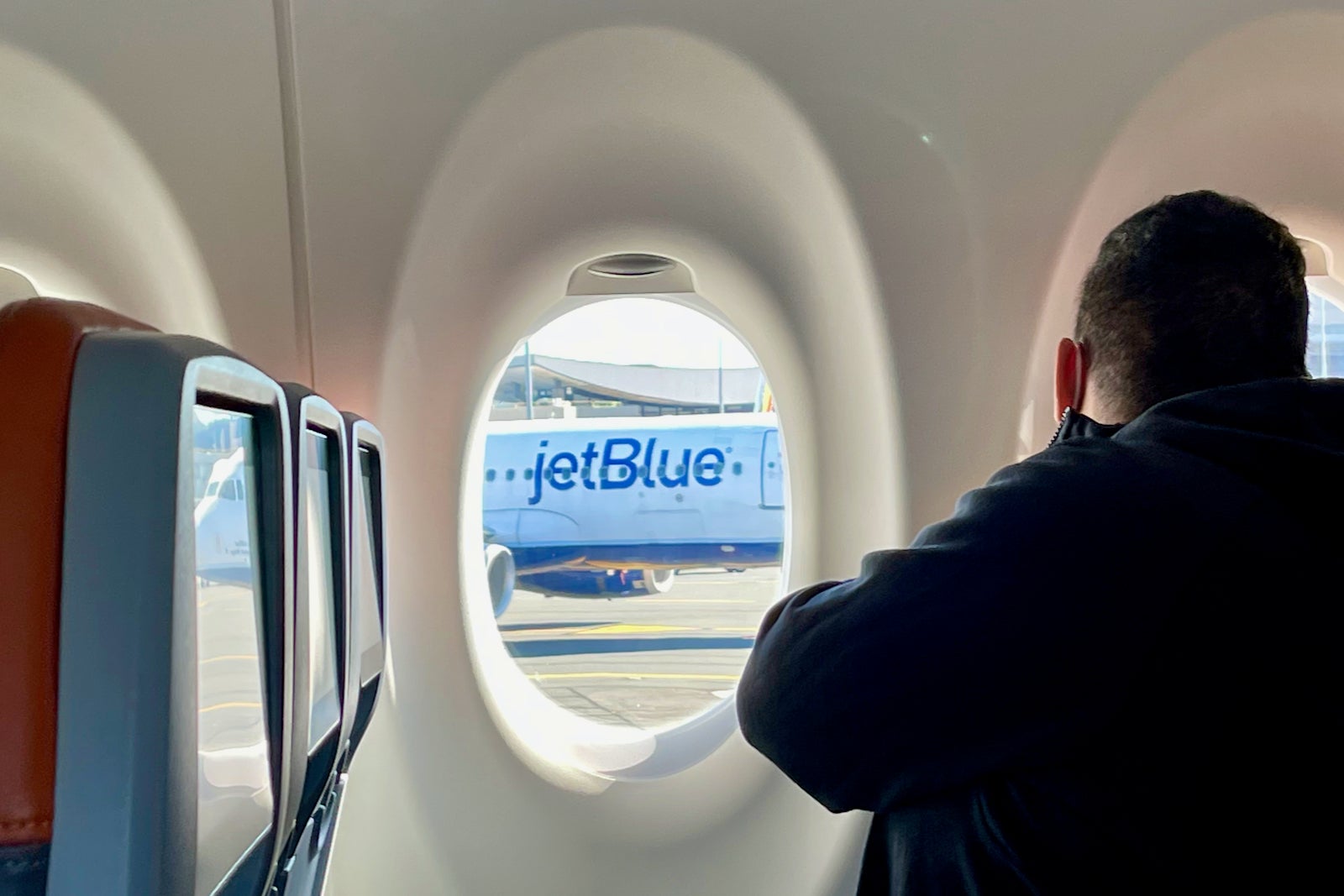 Last year, JetBlue introduced a second tier of Mosaic status, dubbed Mosaic+. That additional tier, due to expire at the end of the year, was a signal of things to come in the program.
Beginning May 10, JetBlue will offer four tiers of Mosaic status. Each level will be called Mosaic, but the perks associated with each tier will vary.
To earn status in 2023 and beyond, you'll need to accrue the following number of Tiles between Jan. 1 and Dec. 31 of a given year.
Mosaic Level 1: 50 Tiles (equivalent to $5,000 in JetBlue spend or $50,000 in JetBlue card spend or a mix of both).
Mosaic Level 2: 100 Tiles (equivalent to $10,000 in JetBlue spend or $100,000 in JetBlue card spend or a mix of both).
Mosaic Level 3: 150 Tiles (equivalent to $15,000 in JetBlue spend or $150,000 in JetBlue card spend or a mix of both).
Mosaic Level 4: 250 Tiles (equivalent to $25,000 in JetBlue spend or $250,000 in JetBlue card spend or a mix of both).
Adding more Mosaic levels aligns JetBlue's elite program with many of its major competitors.
The number of flyers spending $25,000 a year with JetBlue (to achieve Mosaic Level 4) is, without a doubt, considerably lower than that of Delta or United. However, at least JetBlue will offer more perks than ever before for those who do decide to go all-in with the airline.
That said, as you climb the elite ranks, the benefits aren't as lucrative as those you'd receive with the major U.S. airlines, as you'll see below.
Mosaic Signature Perks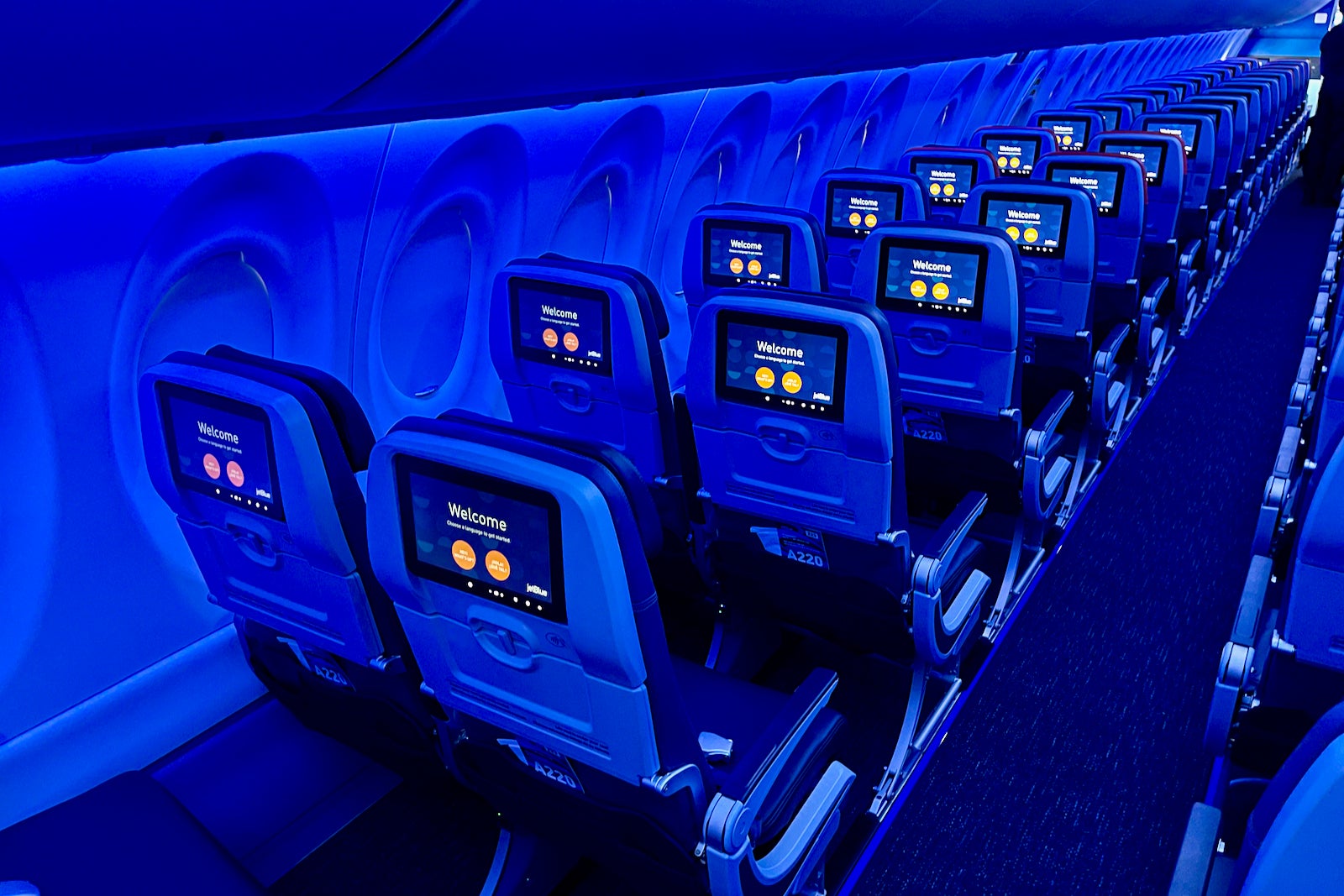 When you earn Mosaic status, you'll enjoy a suite of benefits included with your membership. These so-called "Mosaic Signature Perks" largely resemble Mosaic's historical benefits, with some notable changes.
Note that the Mosaic Signature Perks come in addition to the Perks You Pick that you accumulate on your journey to hitting 50 Tiles.
When you earn 50 Tiles, you'll become a Mosaic member and earn the following benefits:
Mosaic boarding.
Two free checked bags.
Free beer, wine and liquor.
Free Even More Space seats at check-in.
Free same-day switches.
Priority security.
Dedicated check-in areas.
Priority support line and priority chat.
Complimentary upgrades on Heathrow Express.
When you earn 100 Tiles, you'll become a Mosaic Level 2 and earn the following benefits in addition to all Level 1 perks:
Free Even More Space seats during booking.
When you earn 150 Tiles, you'll become a Mosaic Level 3 and earn the following benefits in addition to all Level 1 and 2 perks:
Four "Move to Mint" certificates that offer complimentary upgrades from core to Mint.
When you earn 250 Tiles, you'll become a Mosaic Level 4 and earn the following benefits in addition to all Level 1, 2 and 3 perks:
Two additional "Move to Mint" certificates.
Four complimentary seats on Blade helicopter transfers between Manhattan and John F. Kennedy International Airport (JFK) or Newark Liberty International Airport (EWR).
You can use these "Move to Mint" certificates to confirm a business-class seat on an economy fare. The number of certificates required to upgrade your flight will vary by flight, and JetBlue wasn't ready to offer any more specifics about this perk, including when you can apply these vouchers.
Perks You Pick for Mosaic
In addition to the signature perks of Mosaic status, you'll also receive a pick from a new menu of six benefits every time you cross a Mosaic tier.
The menu includes:
20-tile bonus (that can be gifted to another member).
15,000-point bonus (worth $195, according to TPG's valuations).
Mint Suite priority (arriving later in 2023).
Pet fee waiver.
$99 statement credit on the JetBlue Plus Card and the JetBlue Business Card.
FoundersCard Blue membership.
The information for the JetBlue Plus and JetBlue Business cards has been collected independently by The Points Guy. The card details on this page have not been reviewed or provided by the card issuer.
You can only choose a perk once yearly, so you can't theoretically stock up on 15,000-point bonuses if you cross multiple Mosaic tiers.
Previously, all Mosaics received a 15,000-point bonus when earning or requalifying for status. Now, you can customize your experience by choosing the perk(s) you value most.
Just like Perks You Pick before Mosaic, your selected perk(s) expire on Dec. 31 in the following year after you earned them. So, if you earn 100 Tiles in 2023, you'll enjoy two benefits through Dec. 31, 2024. You can make your perk selection at any time before your status expires.
More details about these benefits will be announced before the refreshed program launches. Some options are quite interesting and unique, especially the pet fee waiver, which could provide lots of value for Mosaic members who frequently travel with pets. (JetBlue charges a $125 per flight pet fee.)
The Mint Suite Priority benefit is also an interesting one. JetBlue's old Mint product is arranged in an alternating 2-2 and 1-1 configuration. Savvy travelers know to select one of the four private "suites," which offer additional storage, direct aisle access and sliding doors.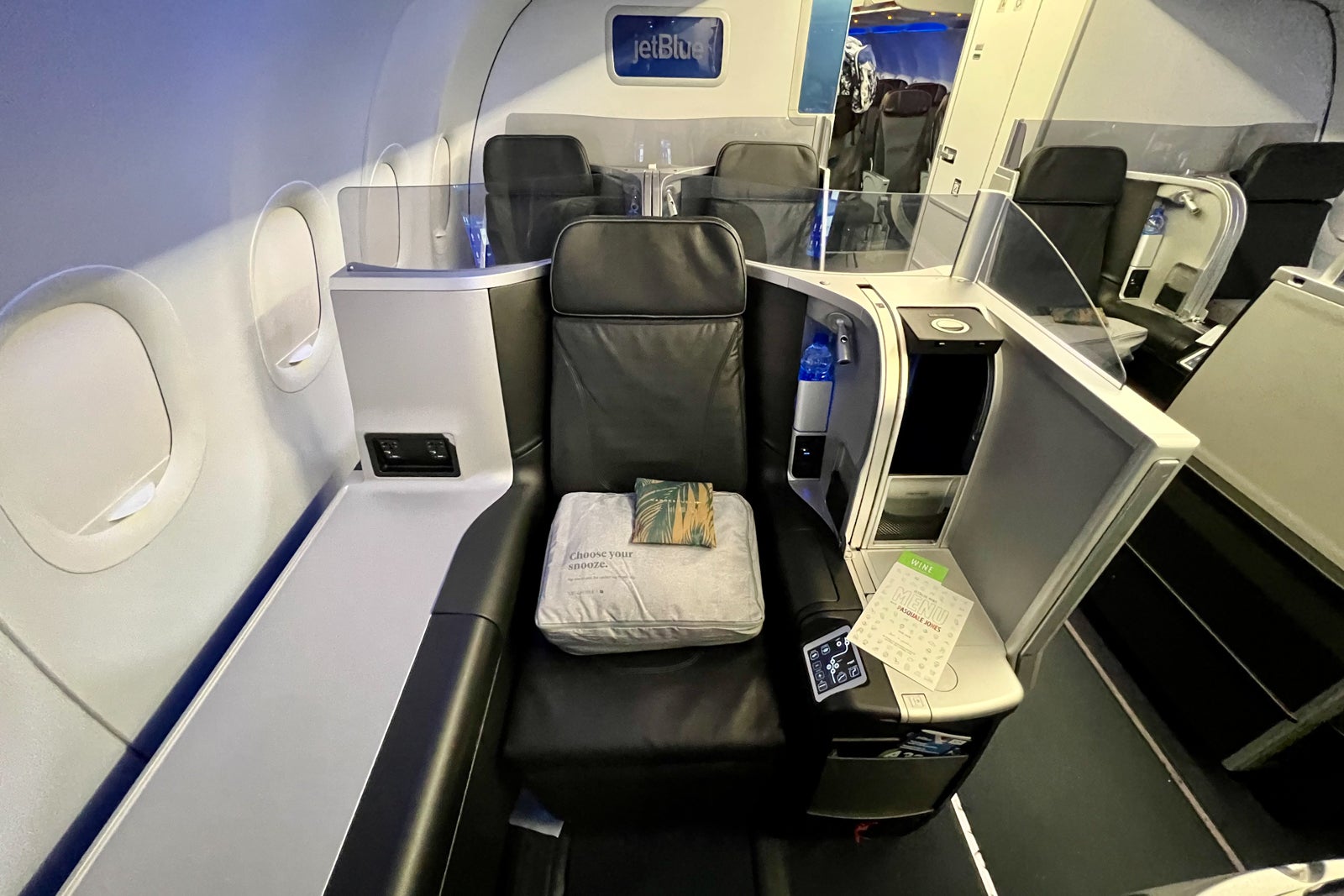 Historically, JetBlue hasn't charged extra for these seat assignments due to compliance issues with the Americans with Disabilities Act. They're always among the first seats to be selected, so this could be a great benefit for Mosaics who frequently fly the old Mint.
JetBlue wouldn't disclose how many seats it'll block and when the blocked seats may be released to other travelers. The airline promised to share an update when this perk launches later in 2023.
Some other benefits, like the FoundersCard membership or $99 statement credit, don't seem to be that rewarding.
The ability to get or gift 20 Tiles could be an interesting pick, especially if you or a loved one are inching closer to a status threshold. Note that these bonus Tiles are awarded in the year in which they're picked, so they could theoretically give you a head start on requalifying for status the following year.
Other Mosaic perks
JetBlue isn't planning to differentiate between the Mosaic tiers besides with the aforementioned benefits and perks.
The airline is calling all elites Mosaic members, and boarding passes will simply display "Mosaic" status, regardless of which level you've achieved. JetBlue will not prioritize phone calls or waitlists by status levels, but flight attendants will be able to see your level on their digital manifests.
That said, it sounds like JetBlue is considering some further differentiation among the softer benefits at each tier.
"The Mosaic experience is going to be tailored for every level. There will be some forms that will be differentiated," Buckner said.
2023 transition brings a unique opportunity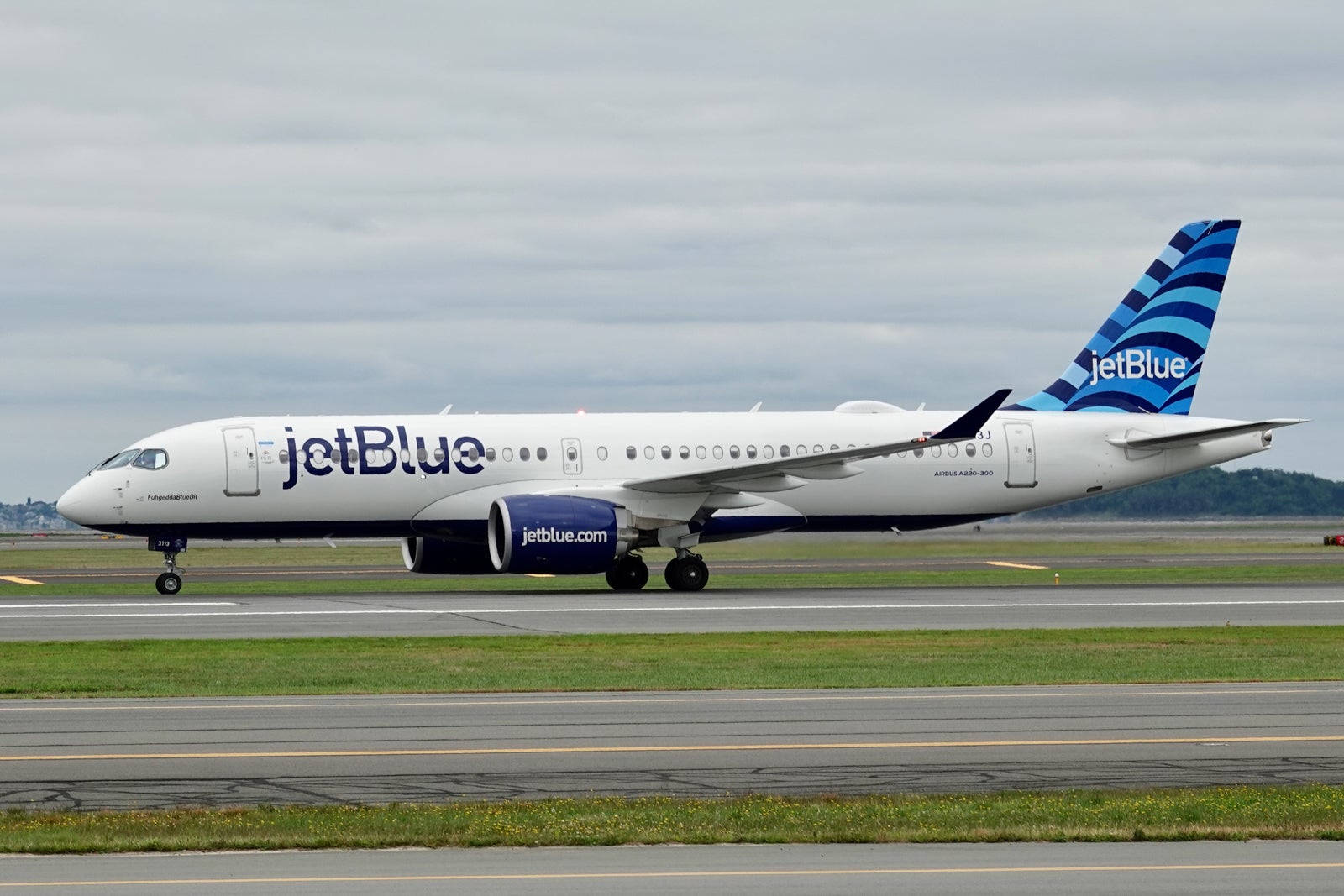 JetBlue always seems to chart its own path and timeline, and that'll be true with the transition to the new loyalty program. Instead of a clean transition with a program launch on Jan. 1, JetBlue will make it considerably more complicated and wait until May 10 to debut the new program. Until then, it'll be business as usual for TrueBlue.
When the program launches, all travel and credit card spending from Jan. 1, 2023, and onward will be converted into Tiles. If you've flown enough to earn a perk by the launch date, you can select it then.
Existing Mosaic status will also be converted into an equivalent tier when the program launches. JetBlue will compute your 2022 earnings and year-to-date progress in 2023, and it will award you with a Mosaic tier equivalent to either one, whichever is higher.
When the status is converted, you'll also be able to select Mosaic Perks You Pick associated with your new level.
Perhaps the biggest unanswered question is whether JetBlue can successfully pull off the technology transition to the new program. The airline has suffered from broken technology for many years, and the airline's app experience essentially pulls up a mobile-friendly version of JetBlue.com when performing complicated tasks.
"We have the utmost confidence in our ability to deliver," Buckner said. It will be very interesting to see the outcome.
Credit card enhancements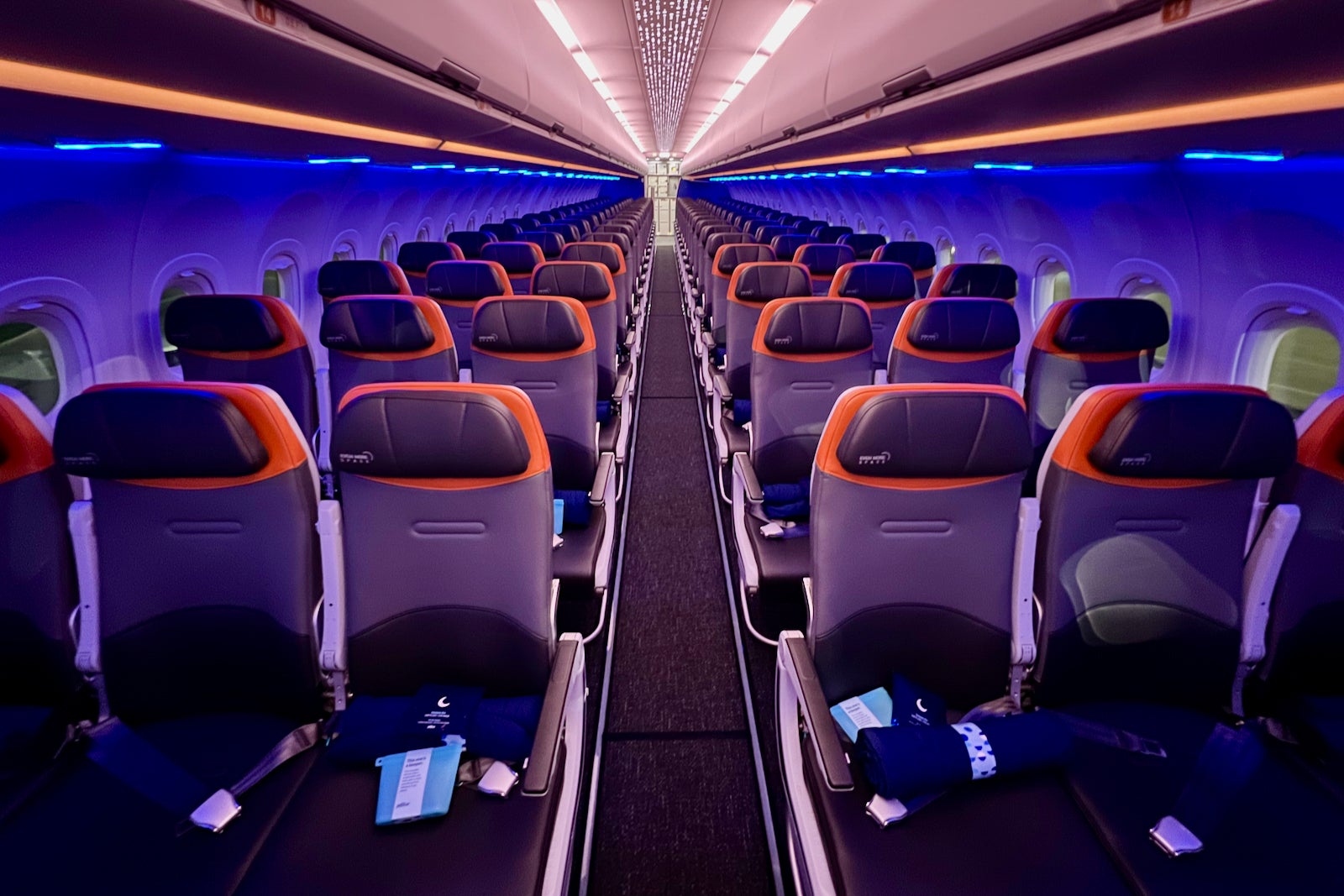 In addition to the new program, JetBlue is also making some (minor) updates to its cobranded credit cards that'll launch with the new program in spring.
JetBlue Plus Card members will enjoy a new feature called "Points Payback." This will allow them to redeem points to pay themselves back from purchases of $25 or greater, up to a maximum of $1,000 annually, at a yet undisclosed rate. Points redeemed for purchases will appear as a statement credit toward their account balance.
JetBlue Business Card members will also now receive Group A boarding on JetBlue-operated flights.
Bottom line
JetBlue just announced a launch date of May 10 for perhaps its biggest update yet to its TrueBlue loyalty program.
The overhauled program includes a brand-new way to measure your loyalty — Tiles — which you'll earn based on your spending with JetBlue, its partners and cobranded credit cards.
There are now four tiers of Mosaic status, each with a suite of customizable perks. Plus, everyone can now earn travel benefits, even if you don't fly or spend enough to hit Mosaic.
The program gives JetBlue a long runway to grow its network and expand its footprint among travelers in many key markets. It comes as the airline is in the process of acquiring Spirit and as the airline seeks to win a lawsuit brought by the Department of Justice against the Northeast Alliance with American.
Most flyers, even the occasional ones, will benefit from the new program. But, it's not entirely good news — be sure to read our winners and losers analysis on JetBlue's new program.