It's shaping up to be a busy Thanksgiving, with many families once again able to get together in ways they largely couldn't during the past two holiday seasons. That means airports are sure to be packed, along with Thanksgiving dinner tables.
More than three-quarters of those surveyed this fall by market research firm IRI reported they plan to celebrate Thanksgiving just as they did before the pandemic. However, this year's feast will cost more: Thanksgiving dinner expenses are expected to be up by more than 13% this year compared to 2021.
Indeed, inflation is top of mind as many of us head to the grocery store to stock up on turkey, sides, drinks and desserts.
Those holiday food expenses will sting a little less, though, if you tap into some of the perks and offers from those same credit cards that get you key travel benefits. And if you approach it strategically, the money you spend on your Thanksgiving spread could help you work your way toward future free travel.
Here are a few things to keep in mind as you start scribbling down your Thanksgiving dinner shopping list.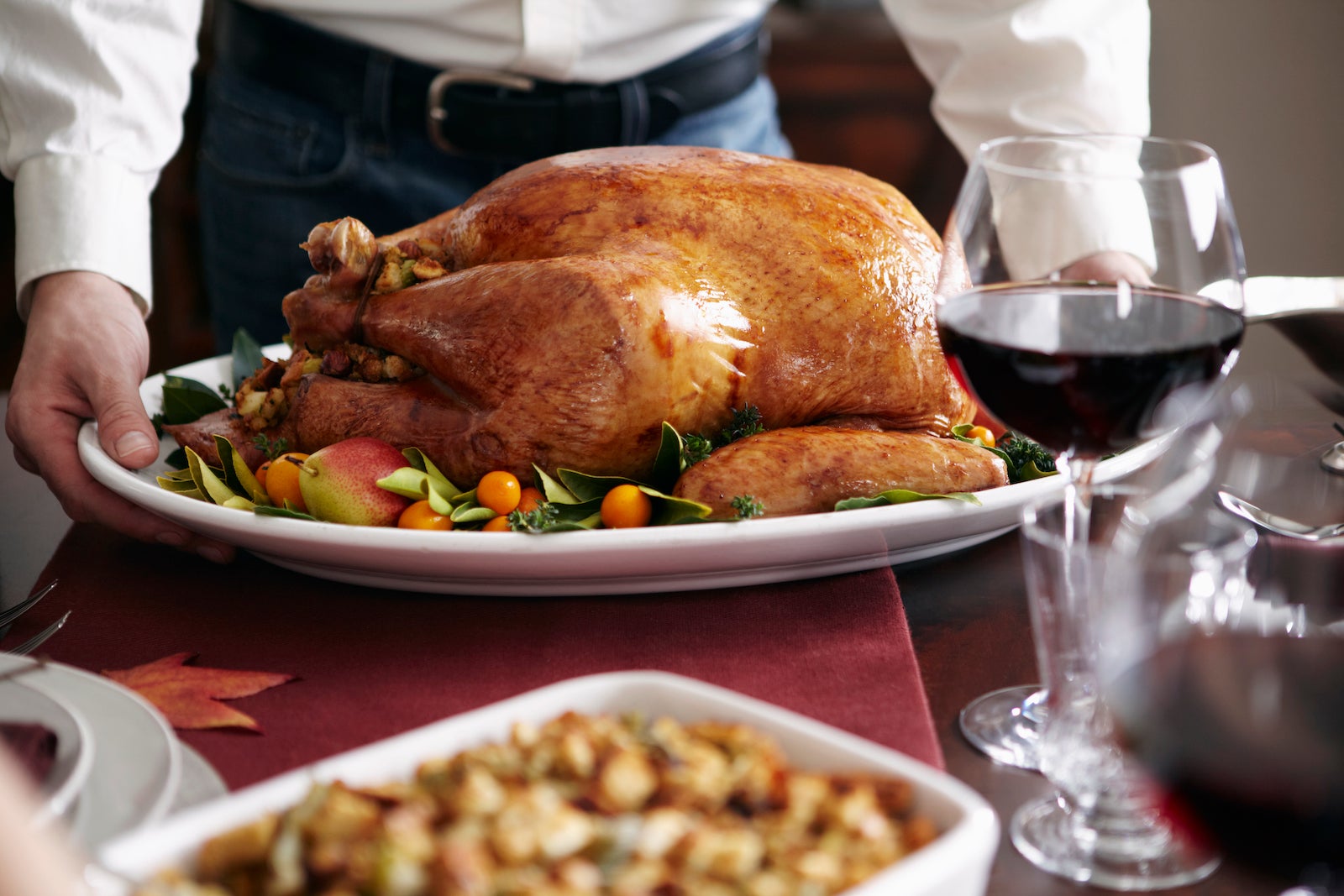 Use a card that earns the most at grocery stores
Before you head to the grocery store, be sure to make note of which card in your wallet earns you the most points or cash back on groceries.
Groceries are a lucrative bonus spending category for a number of credit cards. You could turn your $150 grocery bill into 600 points with a card like the American Express Gold® Card, which earns 4 Amex Membership Rewards® points per dollar at U.S. supermarkets (up to $25,000 per calendar year). The Citi Premier® Card likewise earns 3 ThankYou Rewards points per dollar on groceries. Other cards on TPG's list of best grocery credit cards can also earn you cash back.
In a lot of cases, this might be a different card than the one you'll want to use on your big holiday gift purchases just a few days later. So, if you're expecting a hefty grocery bill coming up ahead of the holiday, using a grocery-specific card could be a good way to diversify your points earnings before the gift-shopping begins in earnest.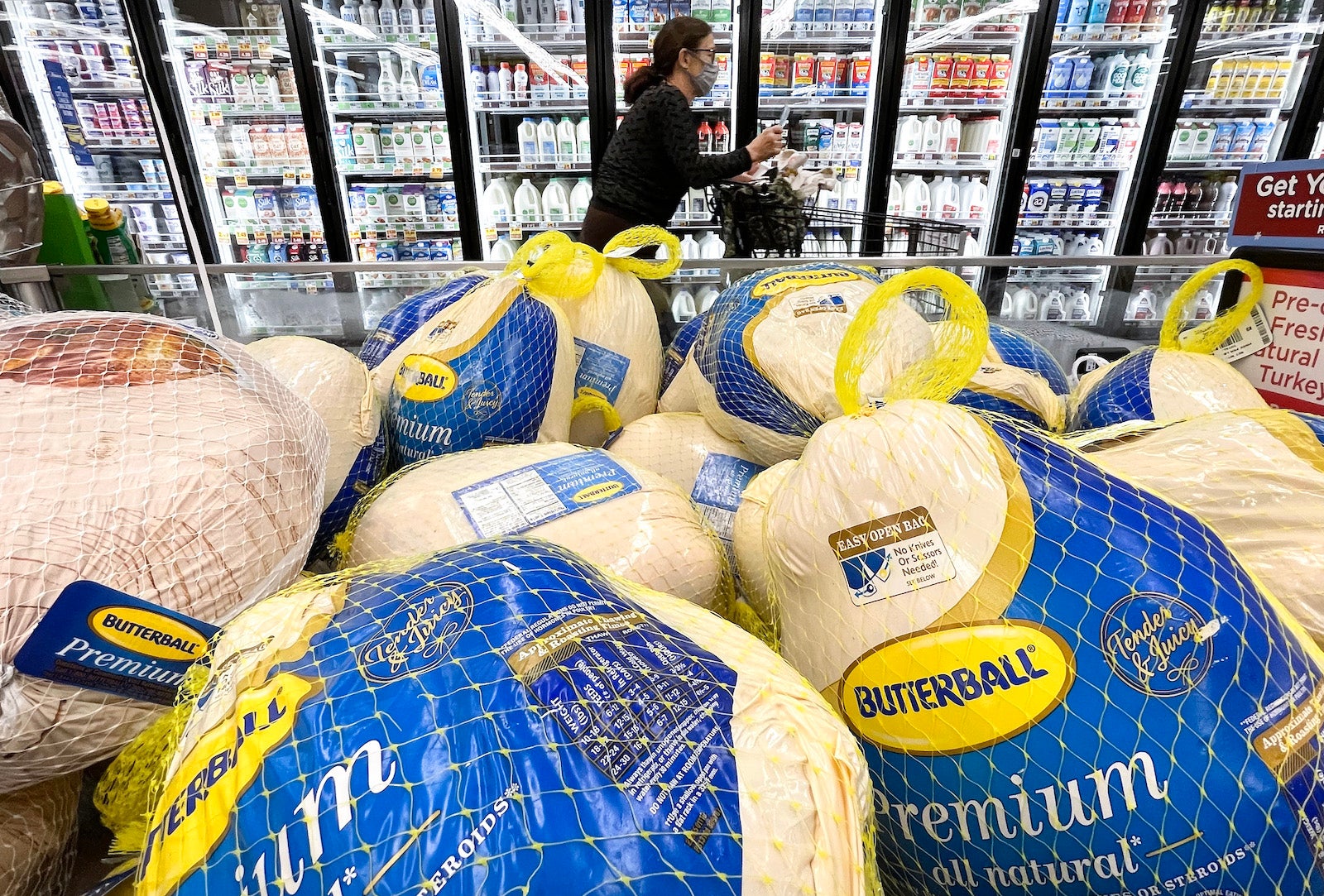 The same goes for restaurants
Numbers from the U.S. Bureau of Labor Statistics show inflation for food purchased at grocery stores, by some metrics, is outpacing that for restaurant food this fall. This could lead more Americans to dine out this Thanksgiving.
Even if you're not planning to take the family out to eat for Thanksgiving dinner, some restaurants offer Thanksgiving takeout options you might want to take advantage of. For example, when my wife and I each had to work on Thanksgiving day last year, we got a huge, delicious Thanksgiving to-go spread from a local restaurant near our home in North Carolina for $120 that got us dinner and leftovers for days. While cooking Thanksgiving dinner is a beloved tradition, the food was so good we'd consider doing it again.
If some or all of your Thanksgiving dinner will come from a restaurant, be sure to select the card in your wallet that earns the most points, miles or cash back on dining, and tap into any dining credits you get for swiping your card at a restaurant.
Consider moving your grocery purchase online
Do away with the packed aisles and potentially earn more points by doing your grocery shopping online. With some credit cards, you'll be able to earn at a higher rate when placing an online grocery order.
With the Chase Sapphire Preferred® Card, for instance, if you buy your groceries in person, you'll earn 1 point per dollar. However, you'll earn 3 Chase Ultimate Rewards points per dollar spent on online grocery store purchases.
So, not only will you avoid searching for a parking spot, standing shoulder-to-shoulder with other customers trying to grab a package of rolls and waiting in a frustrating line at the checkout, but you'll also earn triple the points by knocking out your grocery list from the comfort of your couch.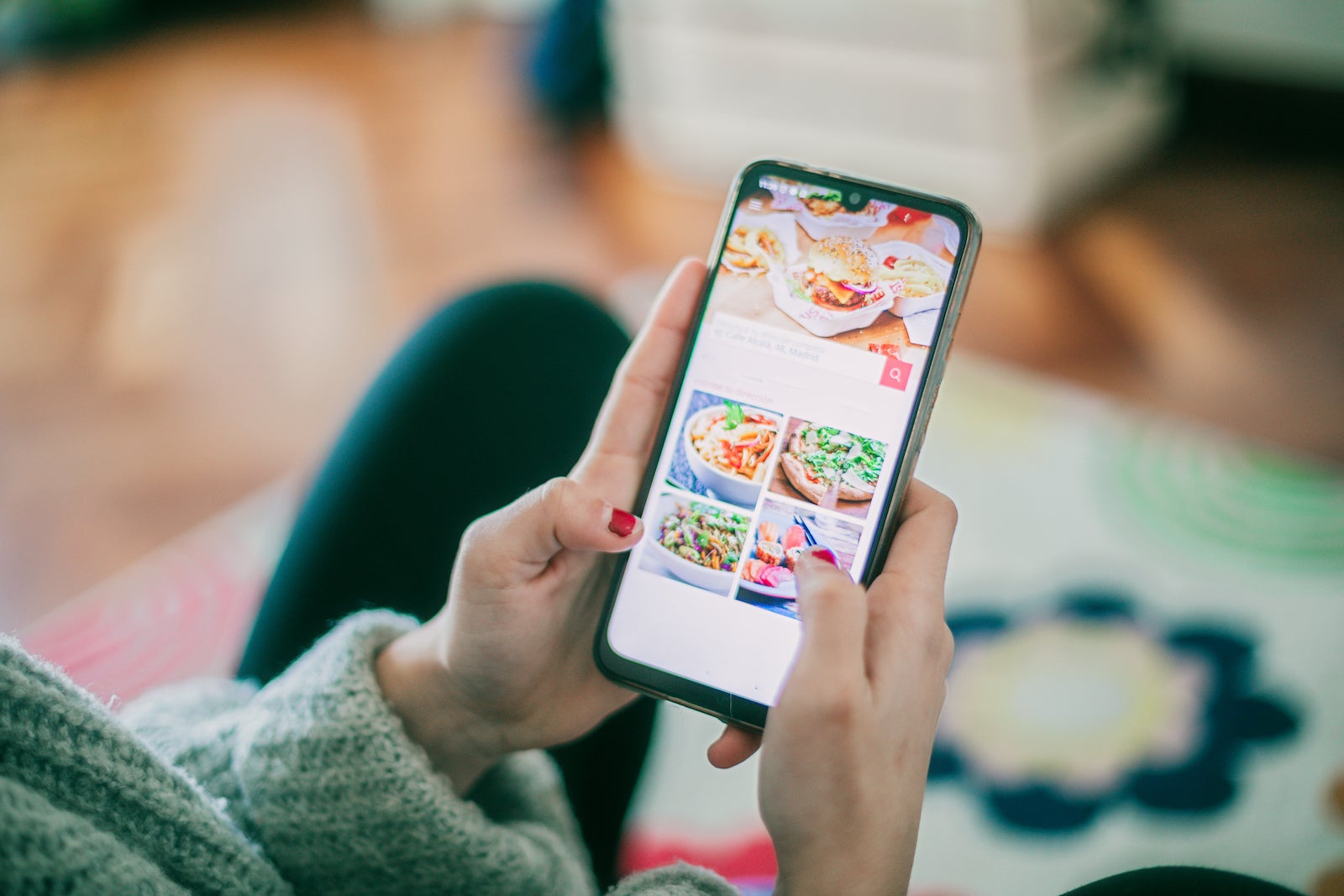 Check third-party sites online
While we're on the topic of shopping online for Thanksgiving, keep in mind that you may want to look beyond your typical, neighborhood grocery chain when it comes to your Thanksgiving dinner purchases. It can be a way to redirect your spending so you can earn at a higher rate and even potentially stack your earnings.
Cards like the Amazon Prime Rewards Visa Signature Card get you hefty returns on Amazon and Whole Foods purchases, for instance. That means an Amazon Fresh delivery order could be a way to maximize both convenience and cash back.
If you're chasing elite status before year's end or hoping to earn enough airline miles for an upcoming redemption, you might check airline shopping portals to see if there are any offers that could help you fill out your Thanksgiving table.
These shopping portals can do more than help you stock up on household items or purchase holiday gifts. There are food and wine retailers on many of these sites, too. Some might earn you 2, 3 or more airline miles per dollar spent. If you don't have a card that earns big on groceries (or everyday purchases, for that matter) in your wallet, this could be a way to accelerate your earnings.
You may not be able to buy every aspect of your spread, but it could be a way, for example, to buy pies, meat and wine. Log into a portal and sort by "food and dining" to find options that might be of help.
If you pay for your purchase with a rewards credit card, this could be a way to stack your earnings for your Thanksgiving dinner purchases.
The information for the Amazon Prime Rewards and the Amazon Rewards cards has been collected independently by The Points Guy. The card details on this page have not been reviewed or provided by the card issuer.
Tap into credit card offers and benefits
Don't forget about the offers you receive through your credit card portals. These offers can help you recover some of the money you spend on a particular credit card in the form of a statement credit. There are plenty of offers out there right now that could help you with holiday spending, and some offers might be of use to you as you do your grocery shopping.
For instance, I have access to the American Express portal through one of my credit cards. Here's an offer I found that could be hugely helpful for Thanksgiving: Get $35 back on purchases of $100 or more with Crowd Cow, which is an online site that does meat and seafood delivery, including Thanksgiving turkeys.

And there's always wine. Right now some members can get $50 back when they spend $100 or more at Macy's Wine Shop through American Express — not to mention, you'll enjoy free shipping on orders of six bottles or more.

Offers vary from one account and portal to another, so your best bet is to check on your offers. There could very well be one that could help you offset the cost of your dinner. Just be sure to add any offers you're interested in using to your card before making the purchase.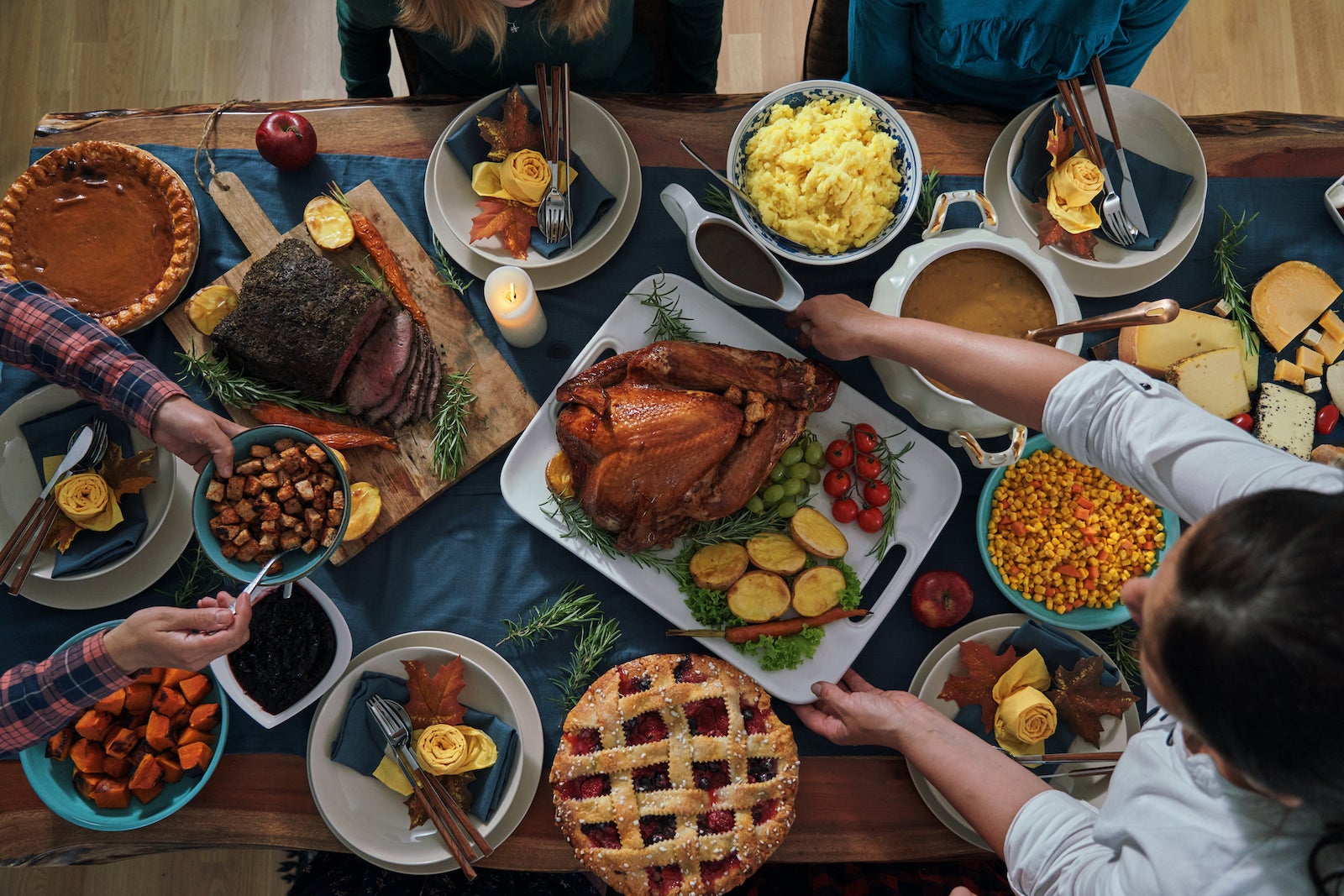 Bottom line
Perhaps the easiest way to earn free travel (and in some cases, elite status) is through a strategic approach to your normal spending. Such a strategy becomes all the more important when the big expenses in life come around, and certainly, Thanksgiving dinner is among the biggest grocery expenses of the year for many of us.
While inflation might make the final tally a bit painful at checkout, knowing you've done everything to offset the cost — or, that you're at least getting a nice return on your spending — can help soften the blow a bit.