Editor's note: This story is regularly updated with the latest information. 
---
If you want to stay as close as possible to The Magic Kingdom at Walt Disney World (without breaking any rules to try to sleep in the castle), there's a very good chance that the best hotel for your Disney vacation is right on the monorail line at Disney's Contemporary Resort.
Although Walt Disney passed away several years before Disney World first opened its gates in 1971, he played a huge role in planning the initial design of this magical Central Florida land, including the two original Walt Disney World hotel concepts that did open: Disney's Polynesian Village Resort and the iconic Contemporary Resort.
The park (and its original hotels) have now been open for more than 50 years, but Disney's Contemporary Resort is still contemporary thanks to a recent renovation.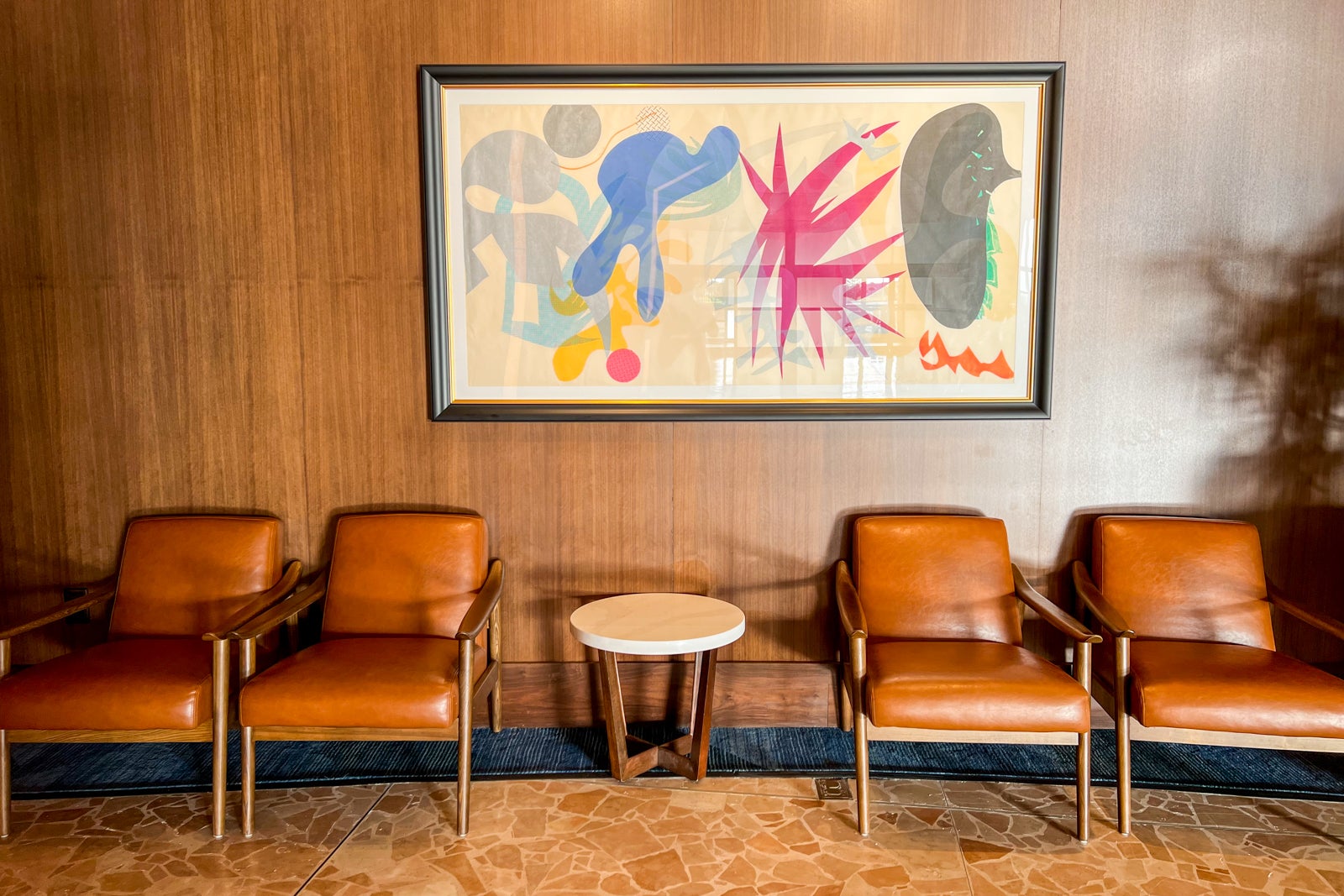 The monorail runs right through the heart of the Contemporary in a way that feels classic with an ever-present nod to a midcentury modern aesthetic, yet the property also manages to feel futuristic in a Tomorrowland sort of way.
Not surprisingly, being as close to The Magic Kingdom as possible with the monorail running right through your hotel comes at a price. That means it requires careful consideration when figuring out whether this is the right hotel for you. To help you make a decision here's all you need to know about what it is like to stay at Disney's Contemporary Resort.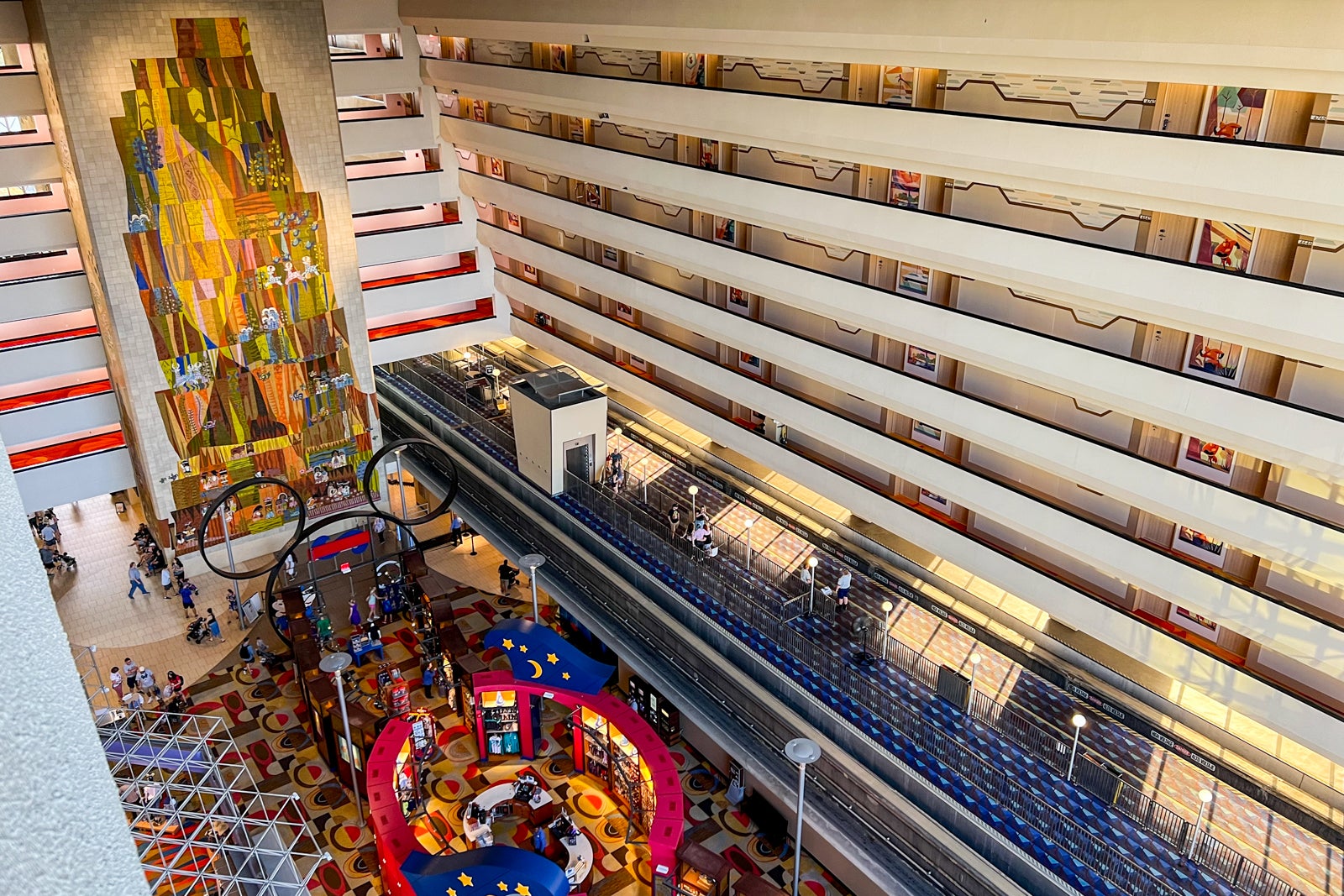 Booking
While Disney's Contemporary Resort is not the most expensive Disney World hotel, it's still up toward the top of the pricing pack as a hotel on the monorail loop.
Rates for entry-level rooms at the Contemporary often range from about $500 to $700 per night. There are sometimes sales and discounts for Florida residents, Disney+ subscribers and annual pass holders that can knock it down 20% to 30%, but don't expect rates here to ever dip below $300 per night.
Related: Book your Disney World vacations with our partner, Mouse Counselors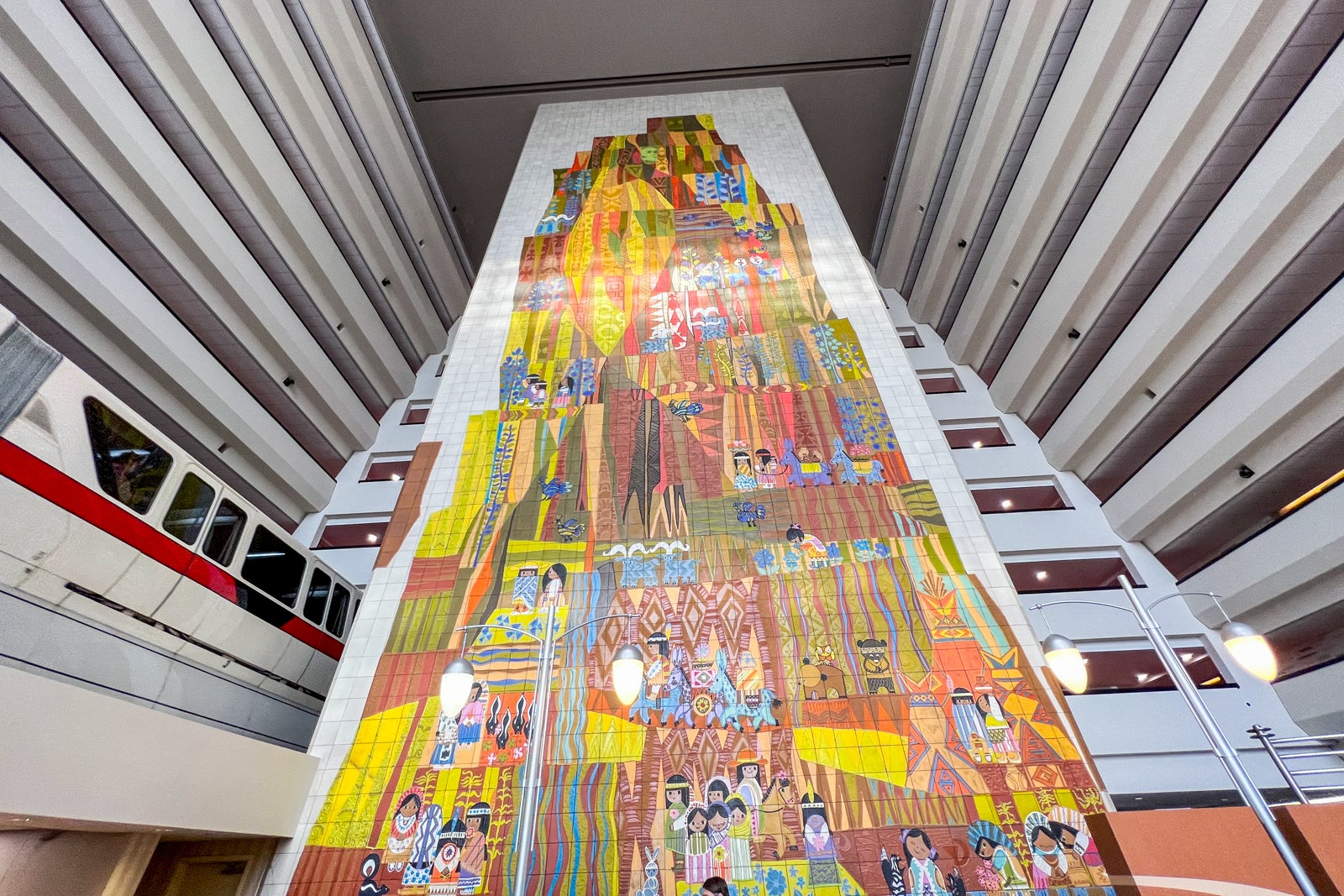 At most Disney hotels, the specific room type doesn't matter all that much since a pool view versus a garden view is pretty irrelevant when you spend your days at the park and are only in your room at night. However, room type really matters when staying at the Contemporary.
In fact, absent an incredible deal, I would probably not book a garden wing room here, as those rooms can be a pretty long walk to get to the monorail and restaurants since they're physically disconnected from the main building. Additionally, they're a bit claustrophobic and not nearly as special as staying in the Contemporary's true atrium tower, based on my experience.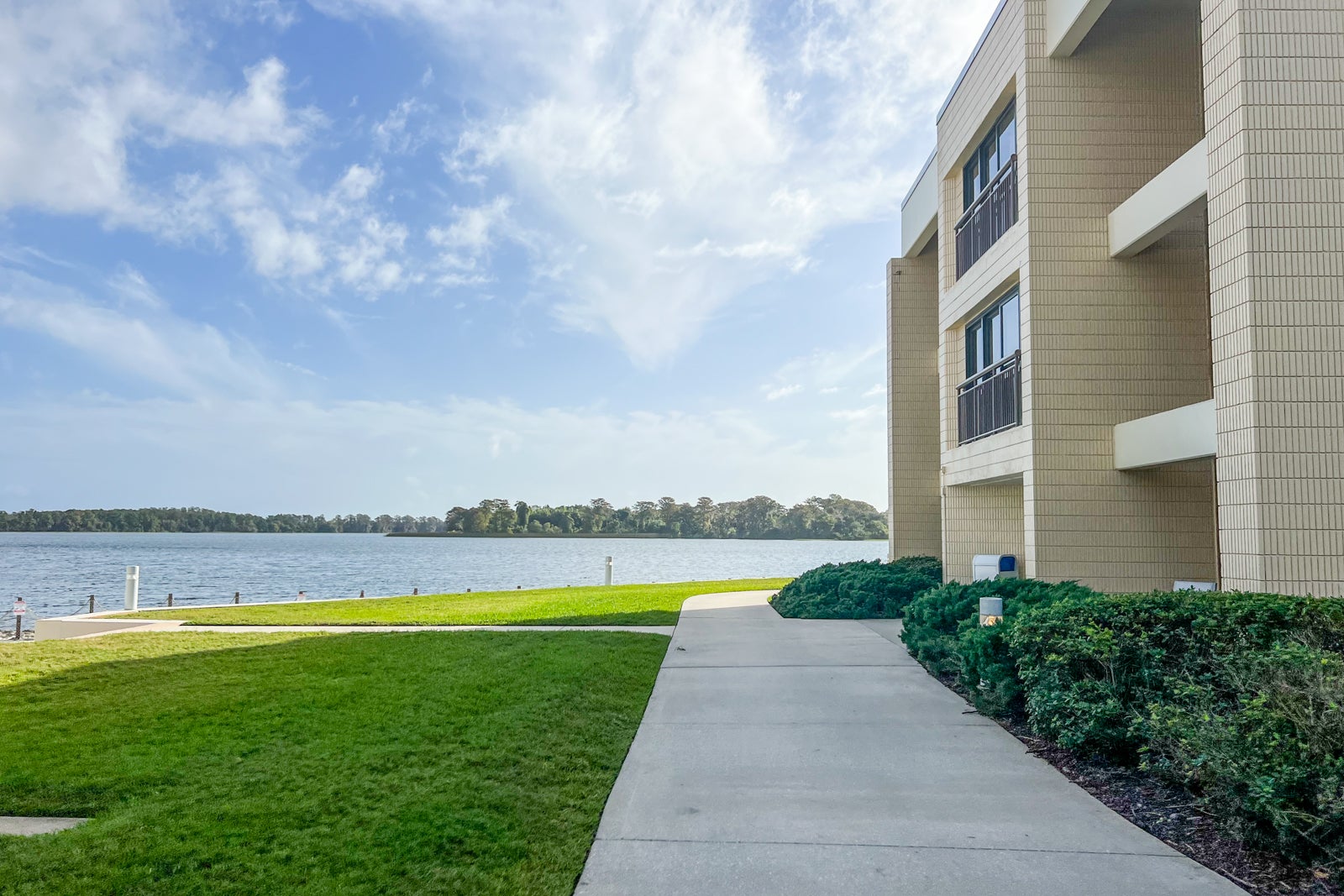 To put it another way, if you want the full Contemporary experience, book the atrium rooms. They will cost more, but they're the reason why you choose this resort over another Disney property.
If you can't swing a stay in the Contemporary's pricier accommodations, I recommend picking one of the more affordable Disney hotels instead of the Contemporary's garden rooms. For example, the rooms at Disney's Wilderness Lodge are only a boat ride away from The Magic Kingdom but cost considerably less — and are arguably nicer — than the Contemporary's garden rooms.
Related: Magic at every budget: These are the best hotels at Walt Disney World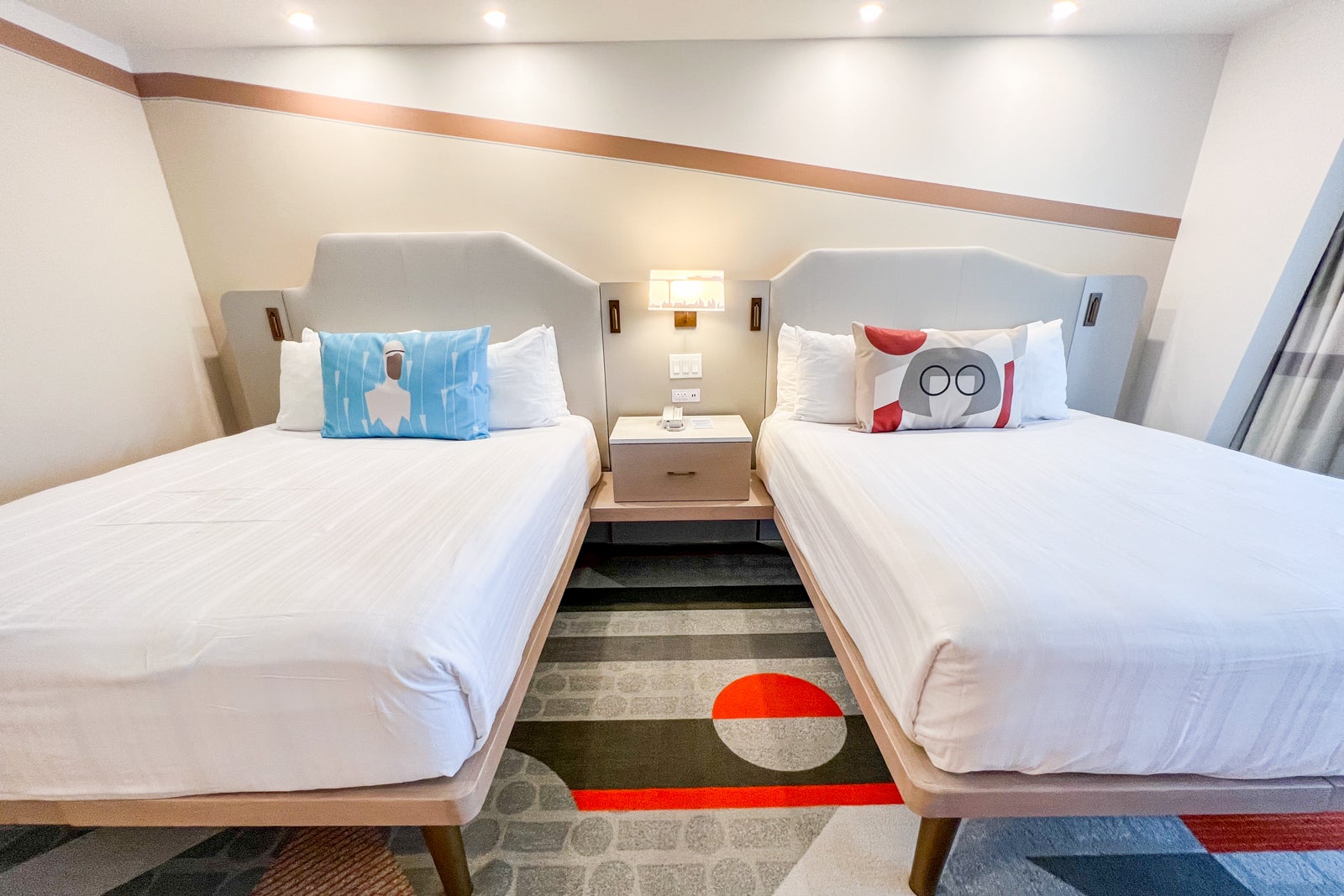 On the other end of the expense spectrum, if your budget allows, it's hard to beat a club-level room at the Contemporary. Those accommodations are usually at least $700 per night, though you'll see them cost well above that during busy periods like the winter holidays. For example, our one-night stay in a club-level room in November 2022 cost us $999 before taxes and fees.
By paying up for a club-level accommodation at Disney World, you'll enjoy access to a number of extras. At the Contemporary, this means upgraded service, the use of a lounge with free beverages (both alcoholic and nonalcoholic) and complimentary breakfast, dinner and dessert small plates, all of which were tasty. For a big splurge Disney trip, it's a next-level offering that is hard to beat.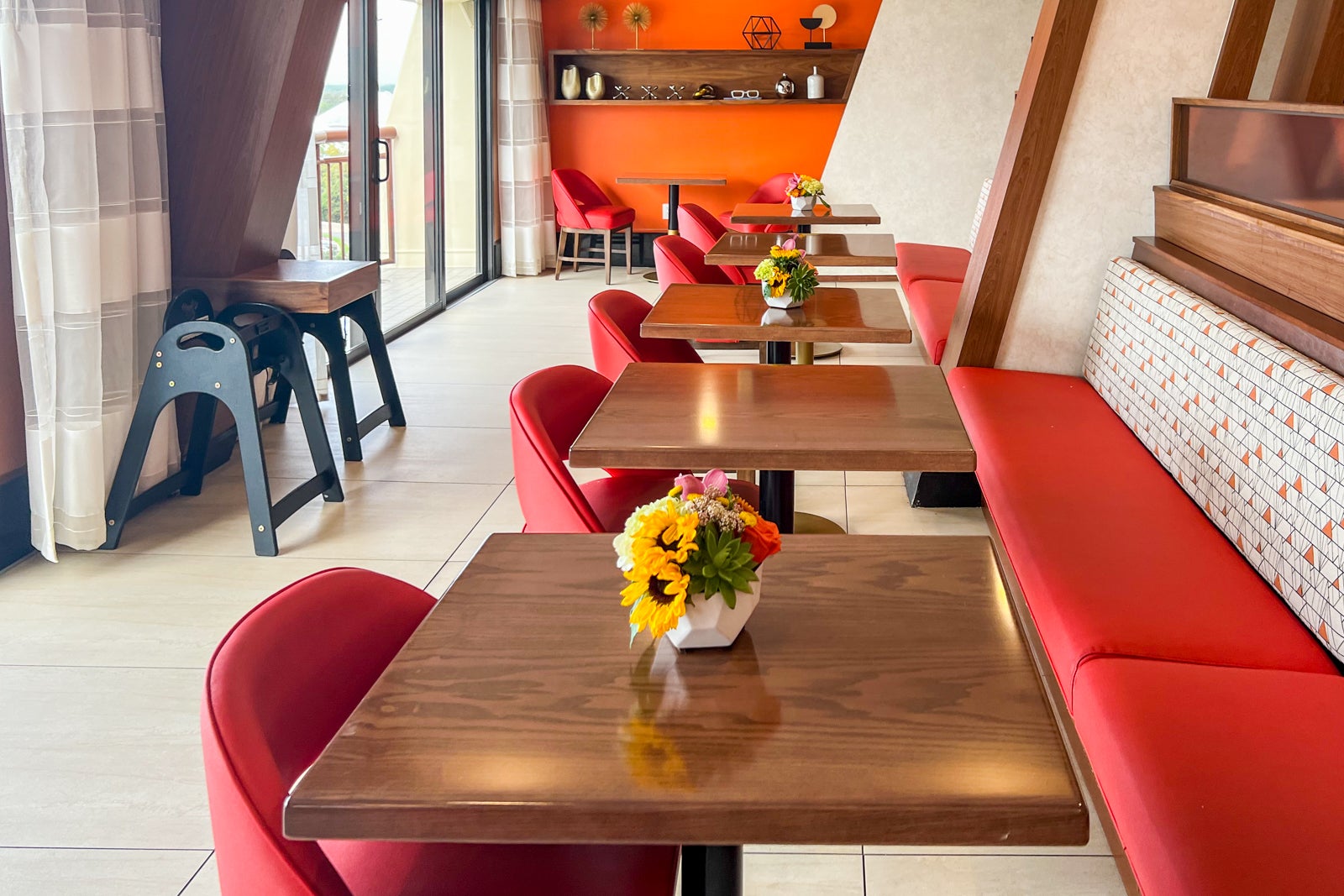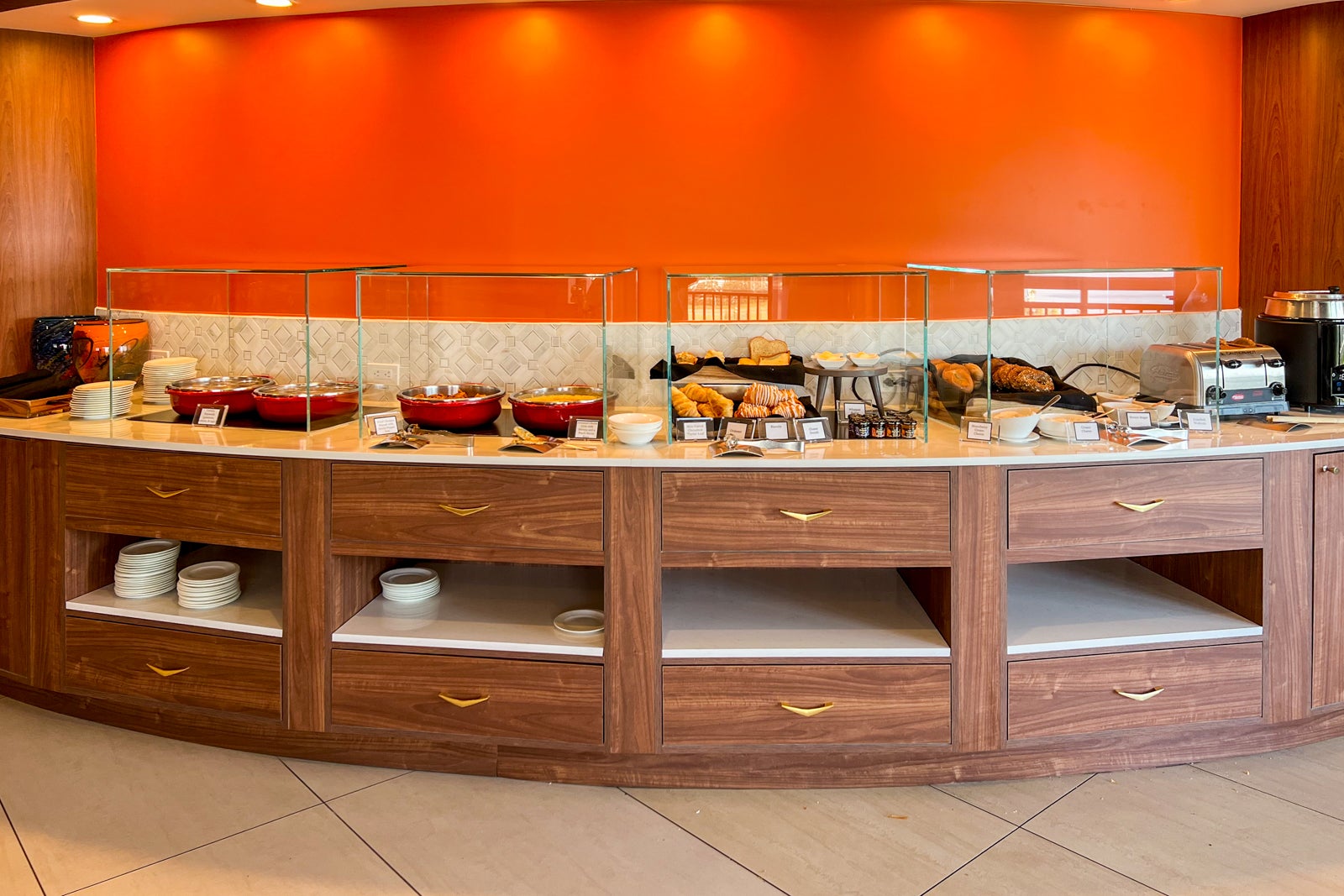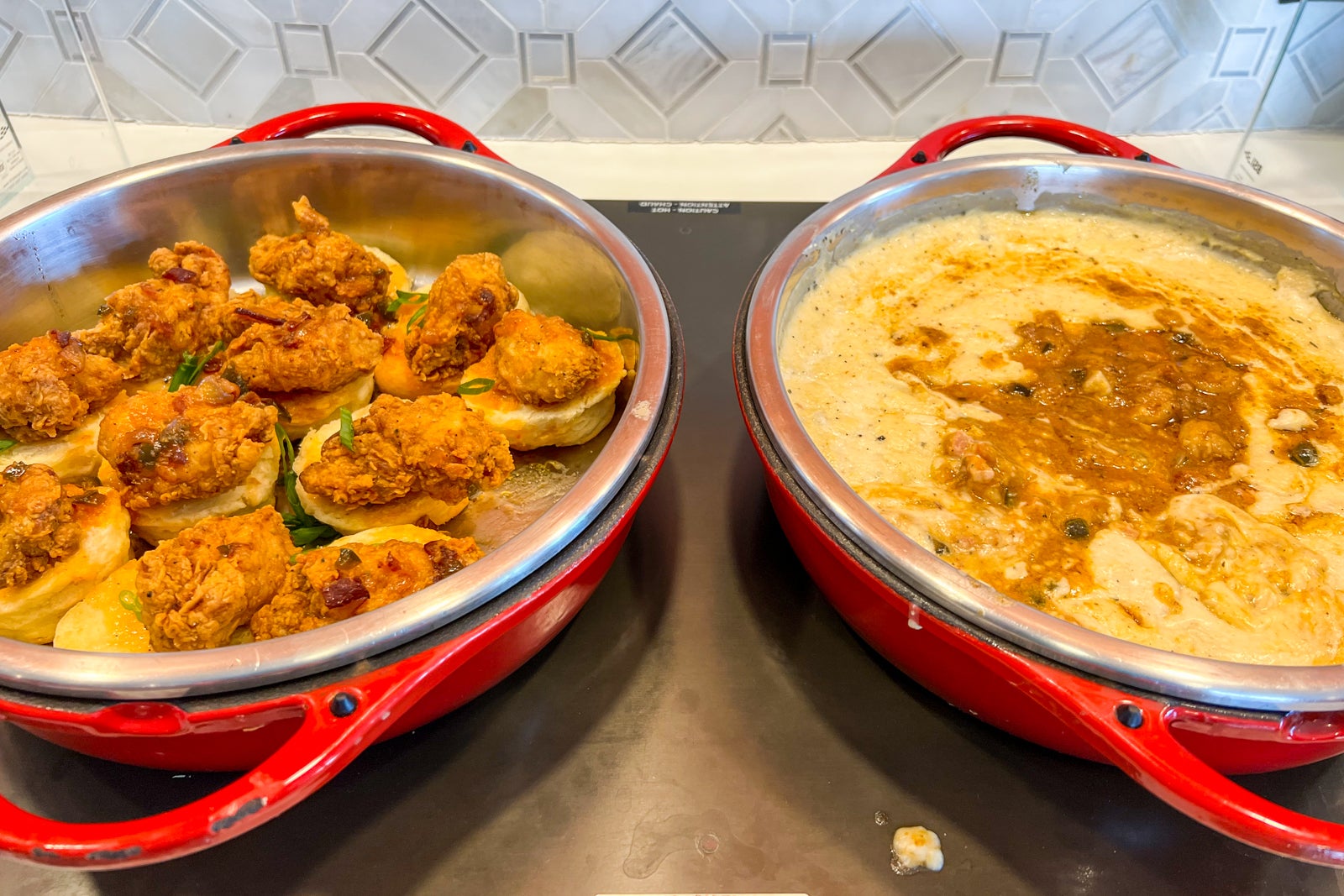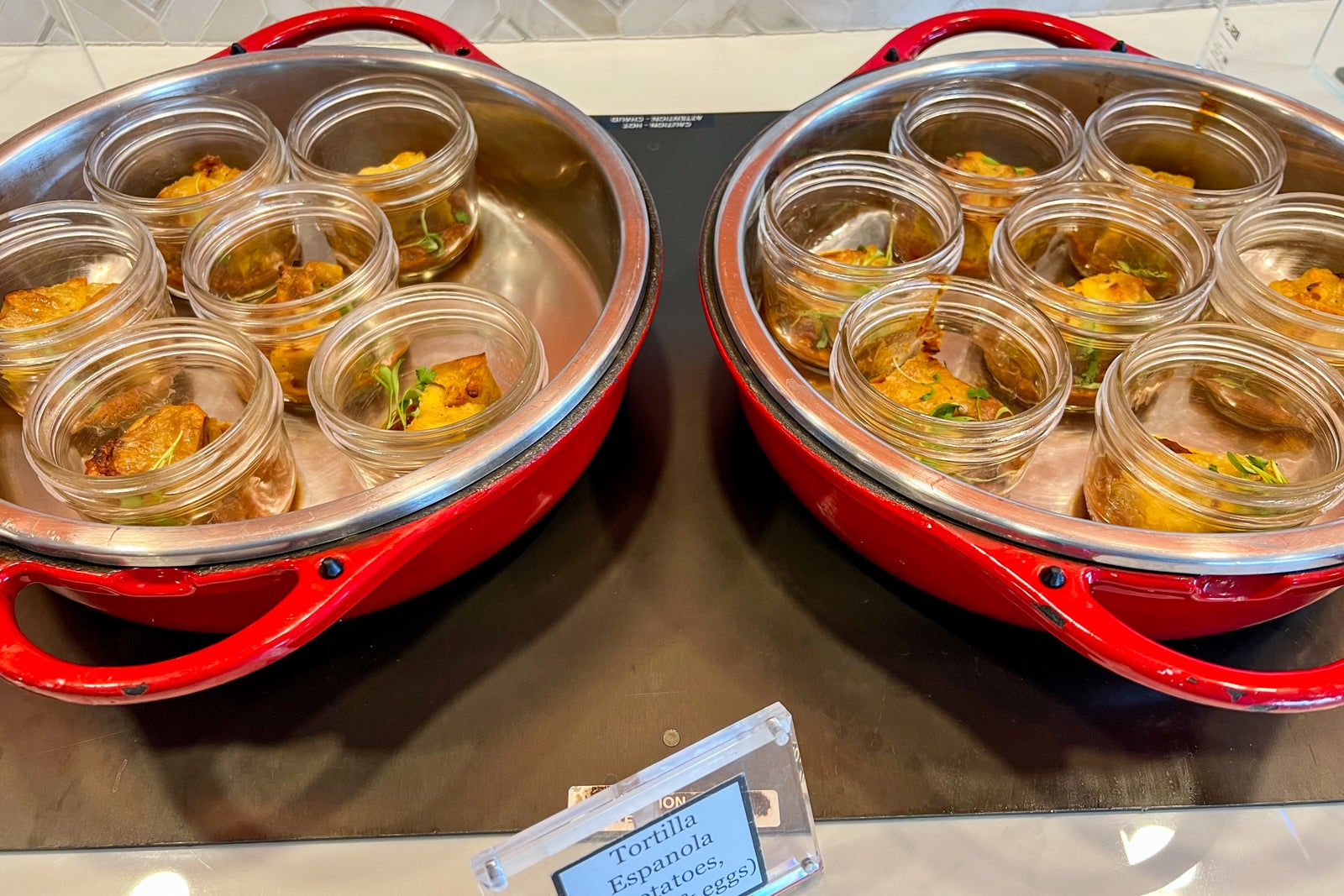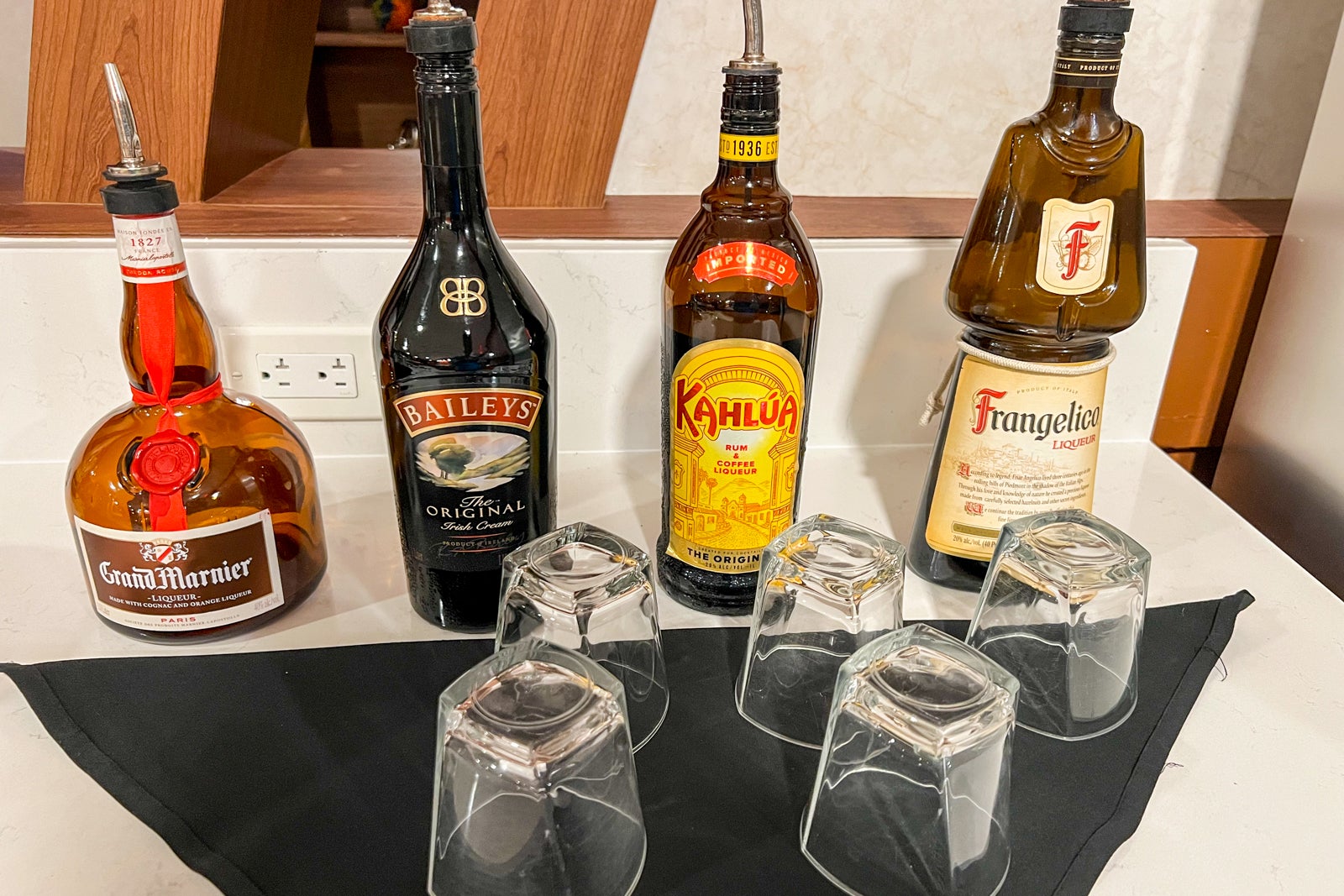 Regardless of which room you book, consider using miles from your Capital One Venture Rewards Credit Card or Capital One Venture X Rewards Credit Card (which earns you miles worth 1 cent apiece) to keep some cash in your pocket while visiting. Alternatively, you can use your Bilt Rewards points. They're worth 1.25 cents each and can be applied toward Disney hotel bookings when redeemed in the Bilt Travel Portal.
If you're a fan of Disney Vacation Club, know that the main Contemporary complex doesn't have any DVC rooms. However, Bay Lake Tower at Disney's Contemporary Resort, which has rooms bookable with DVC points, shares the same grounds. This is important to know even if you aren't a DVC member, as you can rent DVC points to reduce your out-of-pocket costs by potentially hundreds of dollars.
Related: Best credit cards for Disney and Universal vacations
Location
The main draw of Disney's Contemporary Resort is, without question, its location.
When you stay here, you're not only a short monorail ride away from The Magic Kingdom. You're also within a 10-minute walk from the park, should you decide you want a leisurely stroll.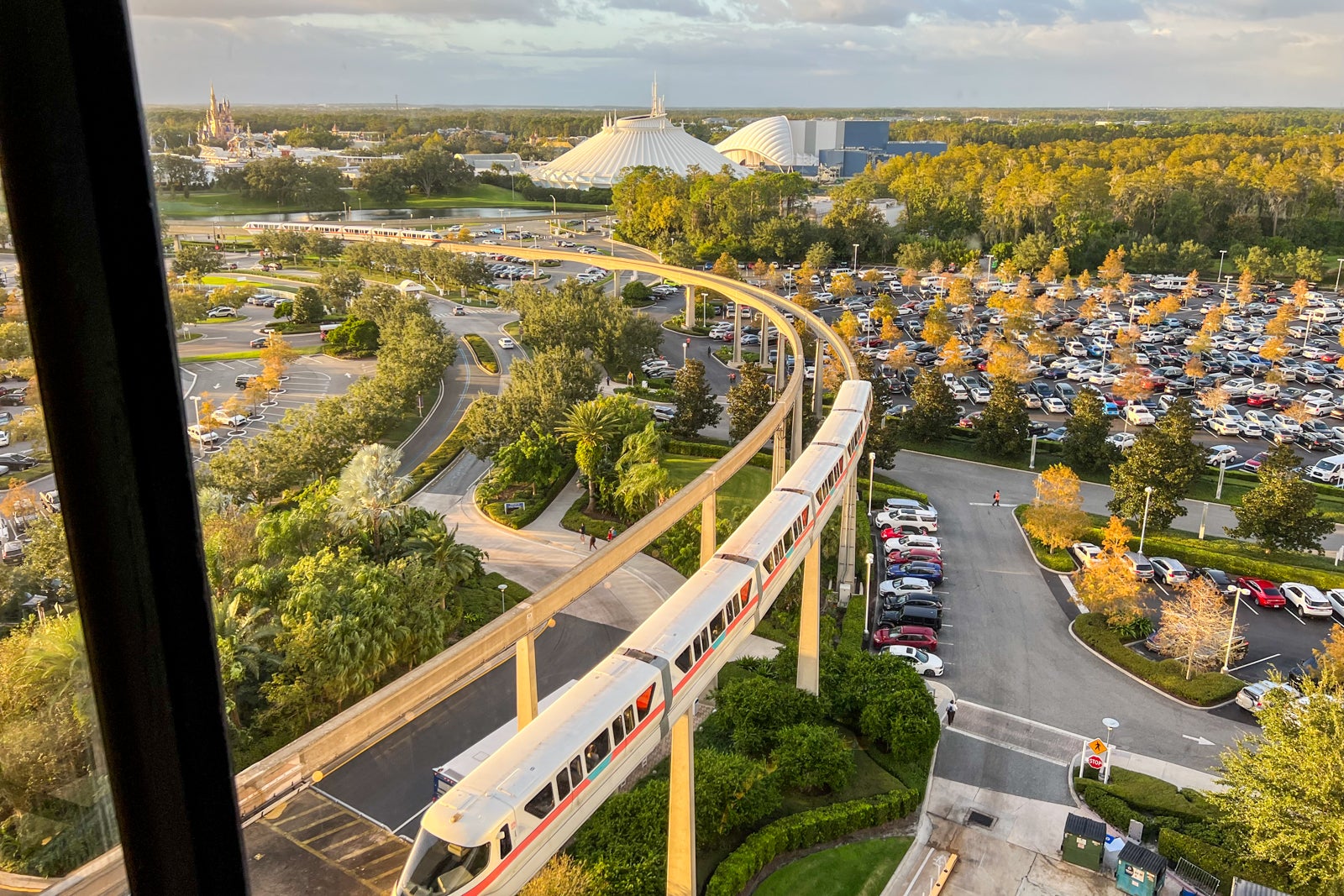 We timed the journey by making it a family race of sorts and found that an adult walking from the Contemporary to The Magic Kingdom can often reach the park faster than those taking the monorail since it stops at the Ticketing and Transportation Center, Disney's Polynesian Village Resort and Disney's Grand Floridian Resort & Spa along the way.
Going the other way is much faster by monorail, though, as the Contemporary is the first stop after leaving the park.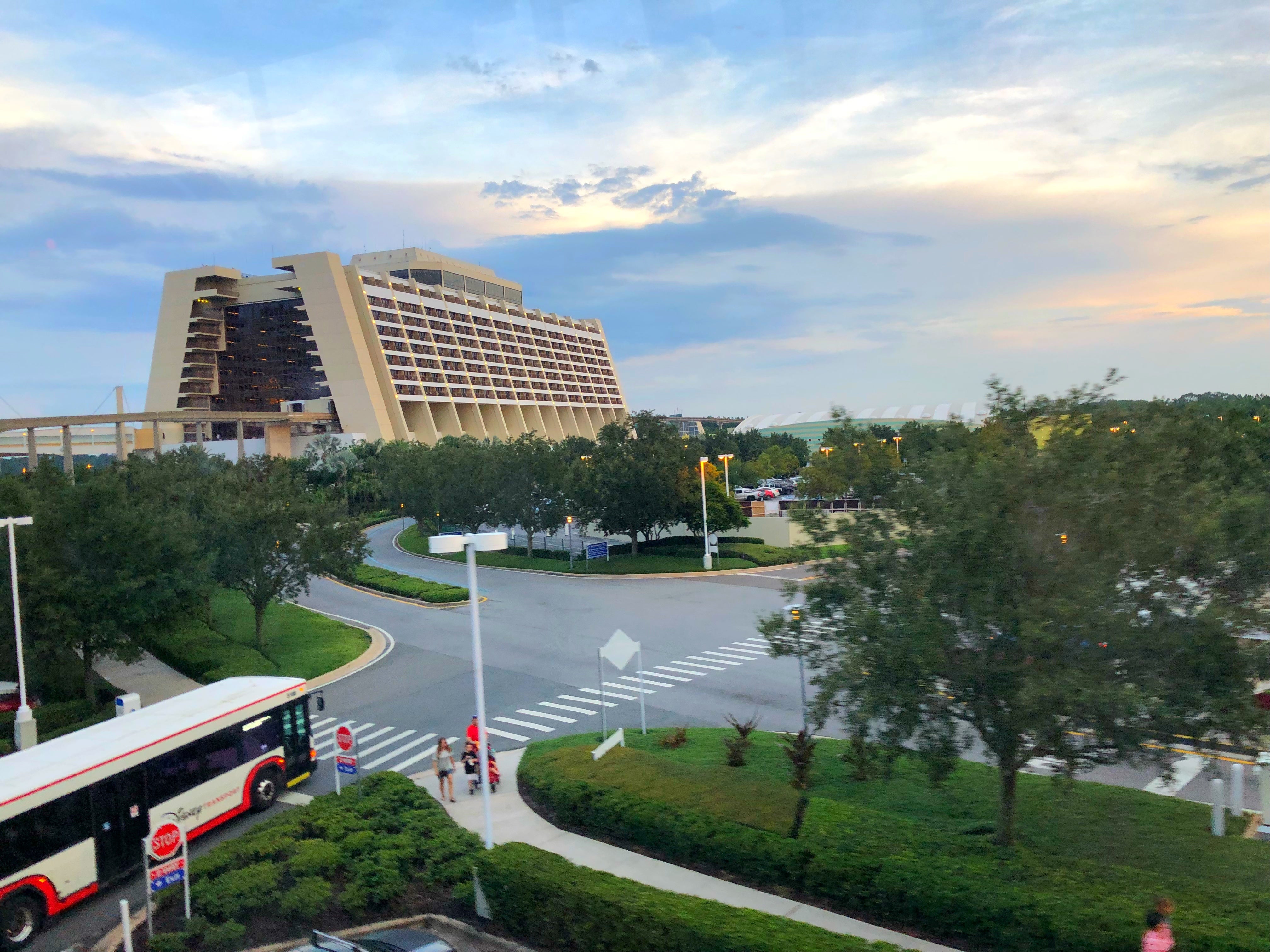 Since Epcot is also accessible via the monorail, you can take it from the Contemporary to that park as well. You'll transfer at the TTC to board the Epcot-designated monorail. Additionally, there are Disney buses and the pay-per-use Minnie Vans available in the Lyft app, should you wish to reach other areas of the Disney complex, such as Disney Springs or Disney's Hollywood Studios.
Related: The Disney Springs hotels: How to get Disney benefits at bargain prices
While it wasn't operational when I checked during my visit, you can sometimes take a boat to Disney's Wilderness Lodge and Disney's Fort Wilderness Resort & Campground, too.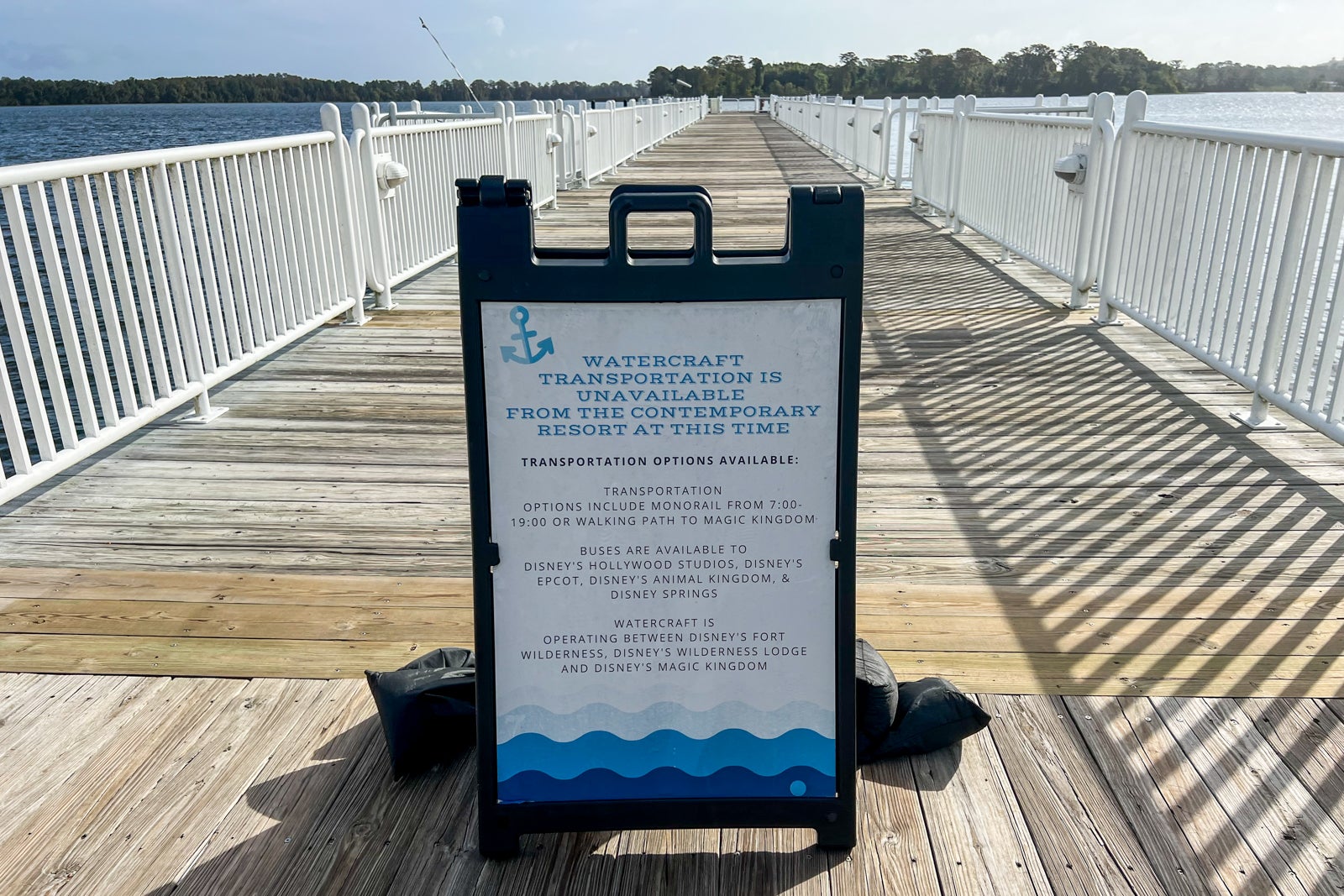 Check-in
You can check in to Disney's Contemporary Resort via the My Disney Experience app, which makes it possible to get your room assignment before you arrive at the hotel.
This is how we were able to get our room by 1:30 p.m., which is 2 1/2 hours ahead of the official check-in time, as we were heading over from a short stay at the Walt Disney World Swan Reserve. Because we were switching hotels, we didn't have to worry about our luggage, as Disney will transfer it upon request, even if you stay at a property that is not a full-fledged Disney resort, such as the Walt Disney World Swan, Walt Disney World Dolphin or Walt Disney World Swan Reserve.
By using Disney's direct-to-room service, you can use your phone and/or MagicBand to open your room door. Simply wait for the text or notification that your room is ready before heading directly to your accommodation. If checking in on the app isn't an option or you prefer a traditional check-in experience, you can instead head to the reception area in the hotel's lobby.
If you visited the property prior to its extensive renovation that debuted in 2020, you'll notice the changes as soon as you step into the lobby.
Instead of the relatively nondescript color palette of whites, browns and greens previously featured, the hotel now showcases a bright midcentury modern design with nods to both "The Incredibles" and the era in which the hotel was built. Decor details range from the overt to the subtle and, in my opinion, restored the grandeur of this hotel in a way that feels true to its roots and makes it relevant today.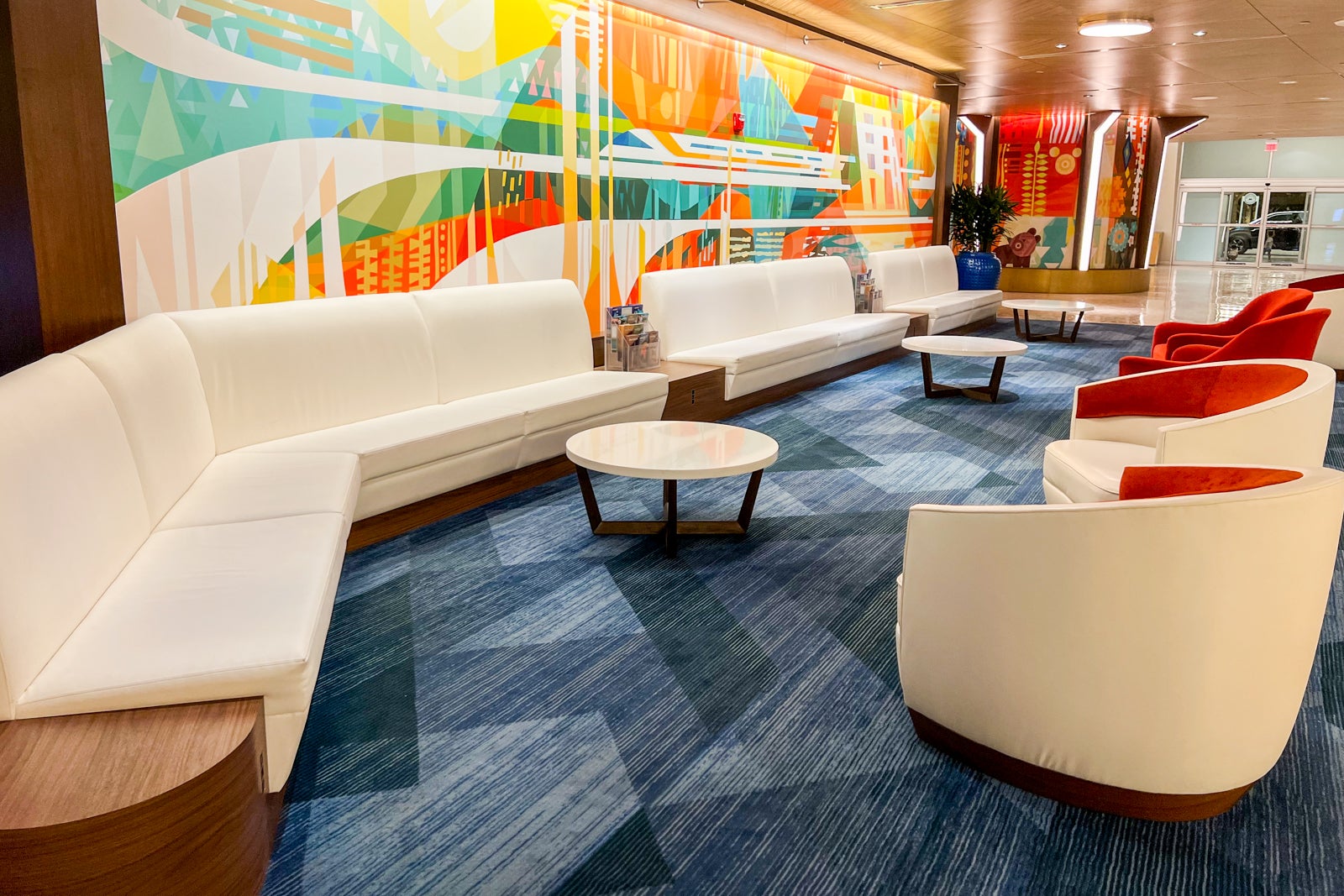 Beyond the refreshed decor, there's a fun feature for kids. To keep the little ones occupied while you check in, the hotel has a miniature waiting area within the lobby. There, your kids can watch a TV playing cartoons from pint-size chairs. I suggest taking full advantage of this space, especially if there's a long wait when you arrive.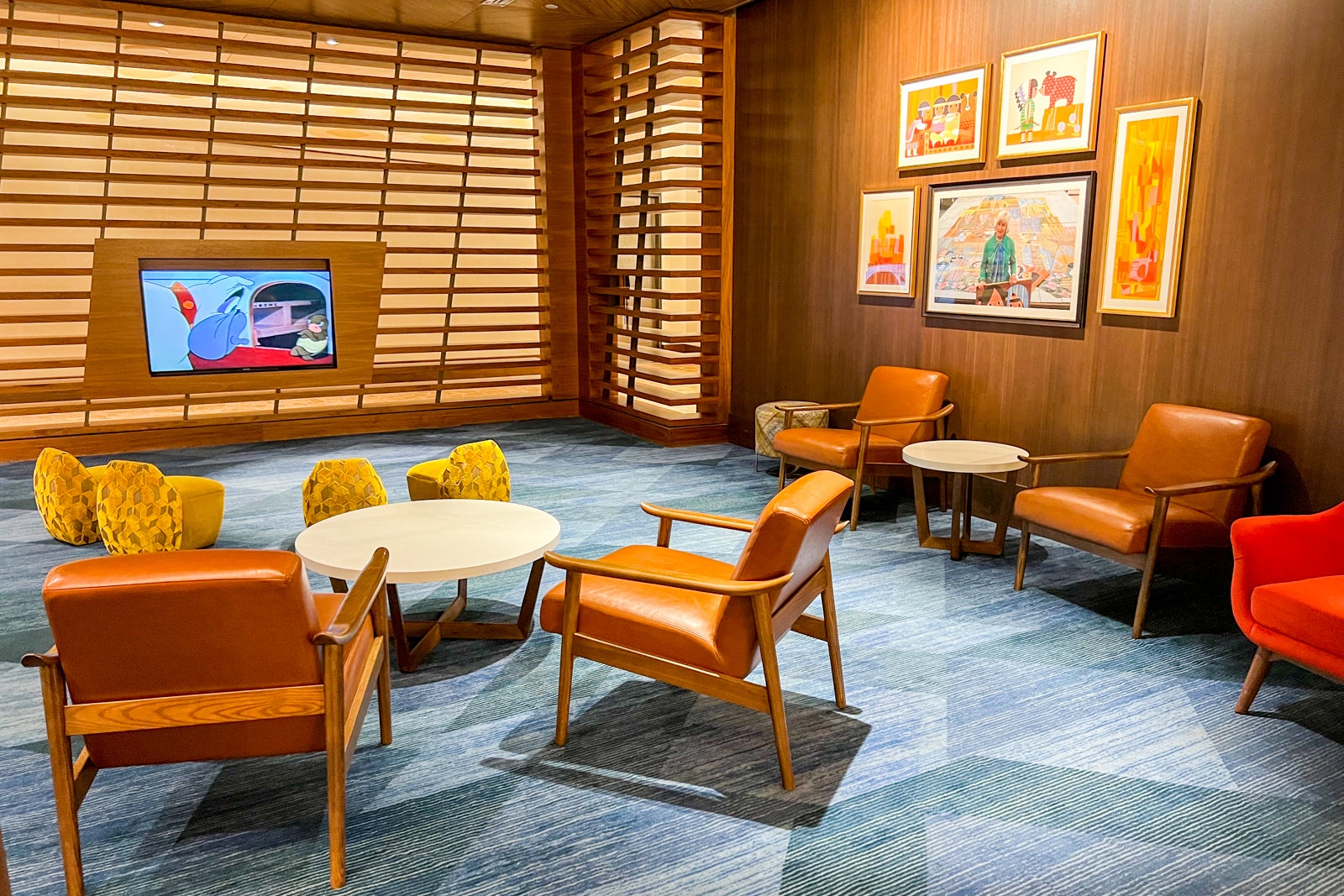 Disney does its best to accommodate early check-in and late checkout requests, but they're rarely granted, given the volume of guests that enter the resorts every day. You should assume that you likely won't be able to check in until 4 p.m. and will need to check out by 11 a.m. (the Contemporary's posted times).
It never hurts to ask, though, as I lucked into an early check-in slot during my most recent stay after initially being turned down.
Room
If you visited Disney's Contemporary Resort prior to the 2020 renovation, you'll hardly recognize the new rooms. The dark, dated rooms of yesteryear are now light, airy and just plain fun.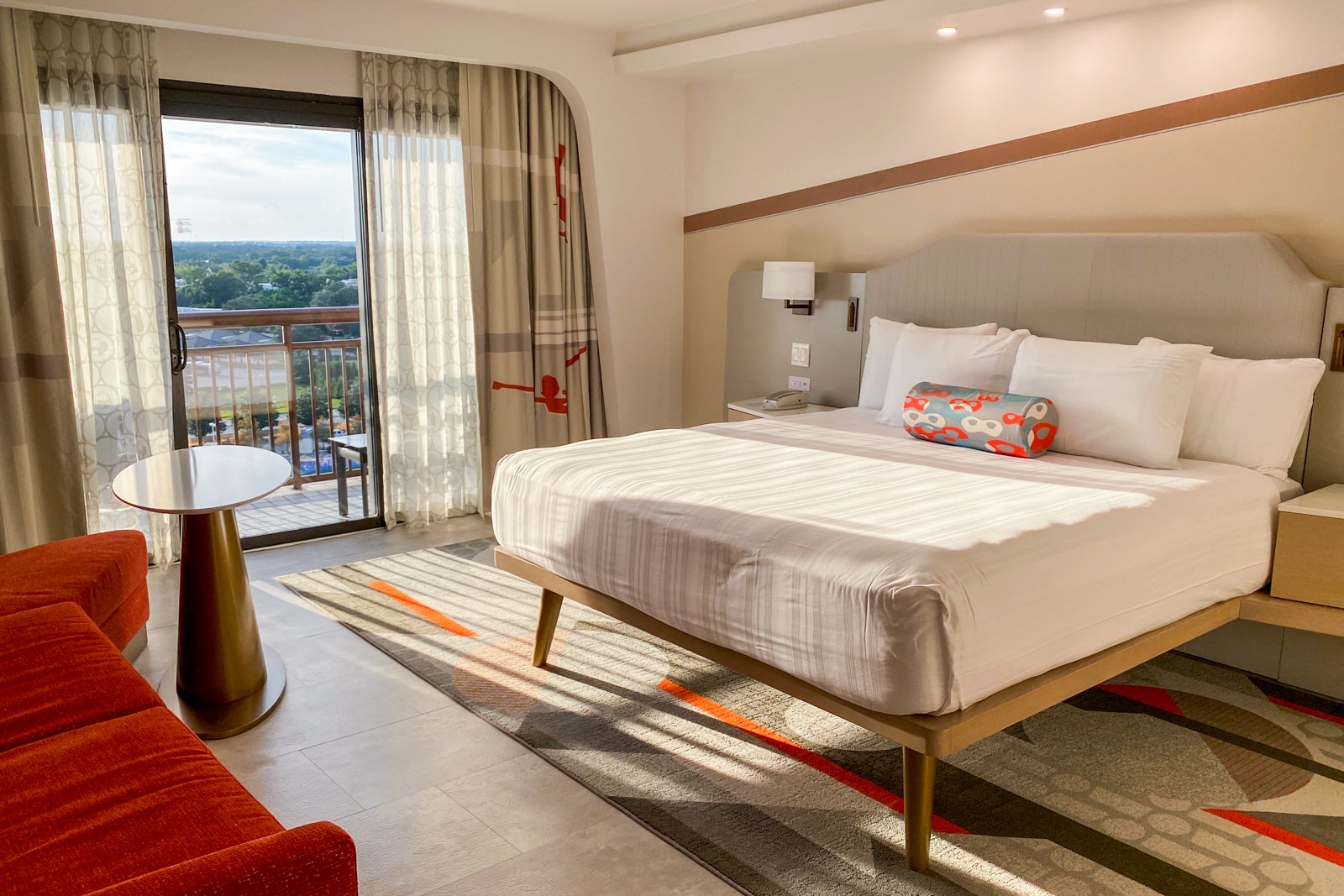 Gone are the dark wood furnishings and uninspired decor from our stay in 2018.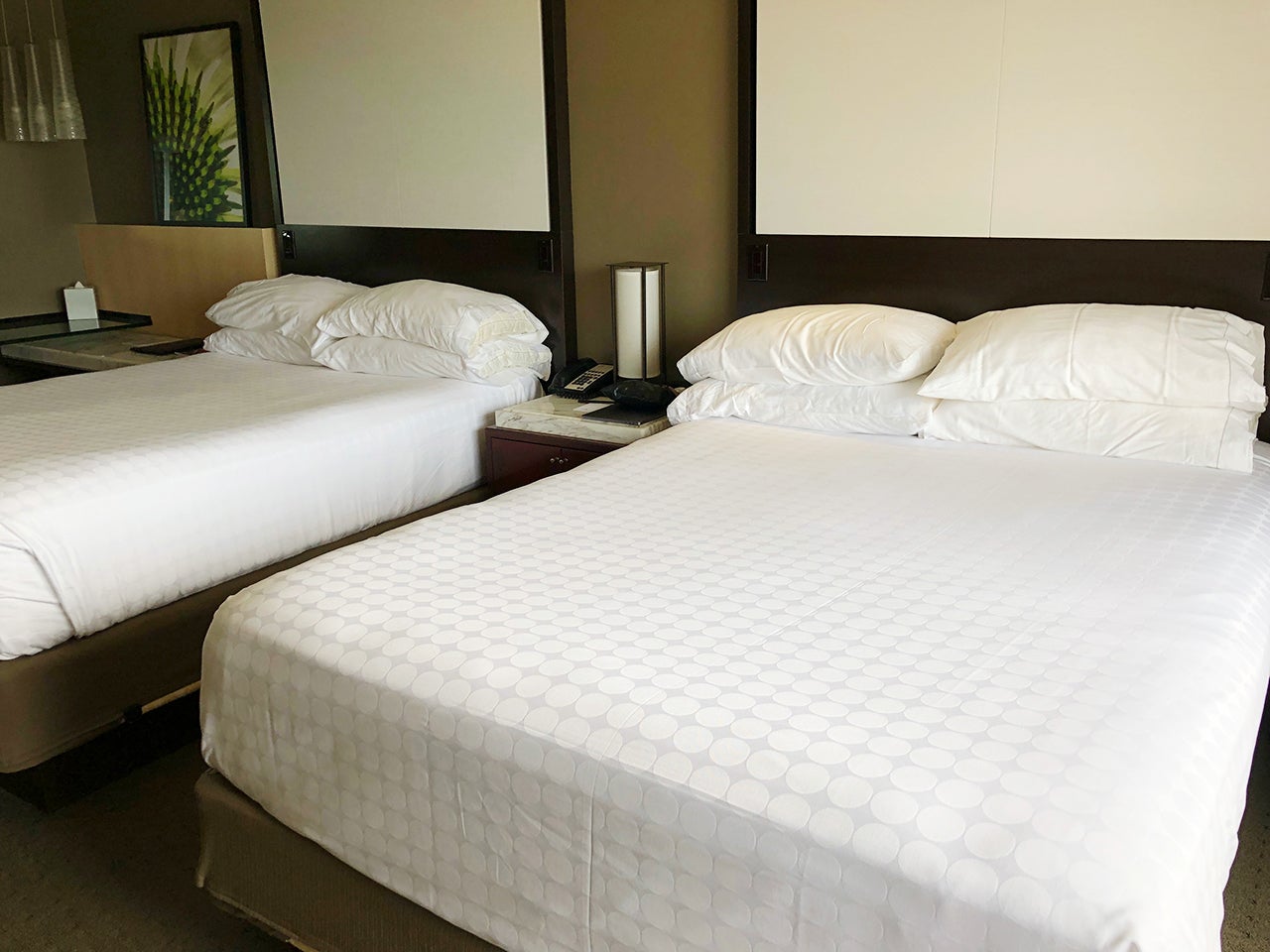 Instead, you'll now find a mix of white, beige and light gray hues with colorful pops of orange and blue. As an added bonus, each space also comes equipped with all the modern-day amenities you could need, such as multiple outlets, a Keurig coffee maker and a glass-enclosed shower with a rainfall shower.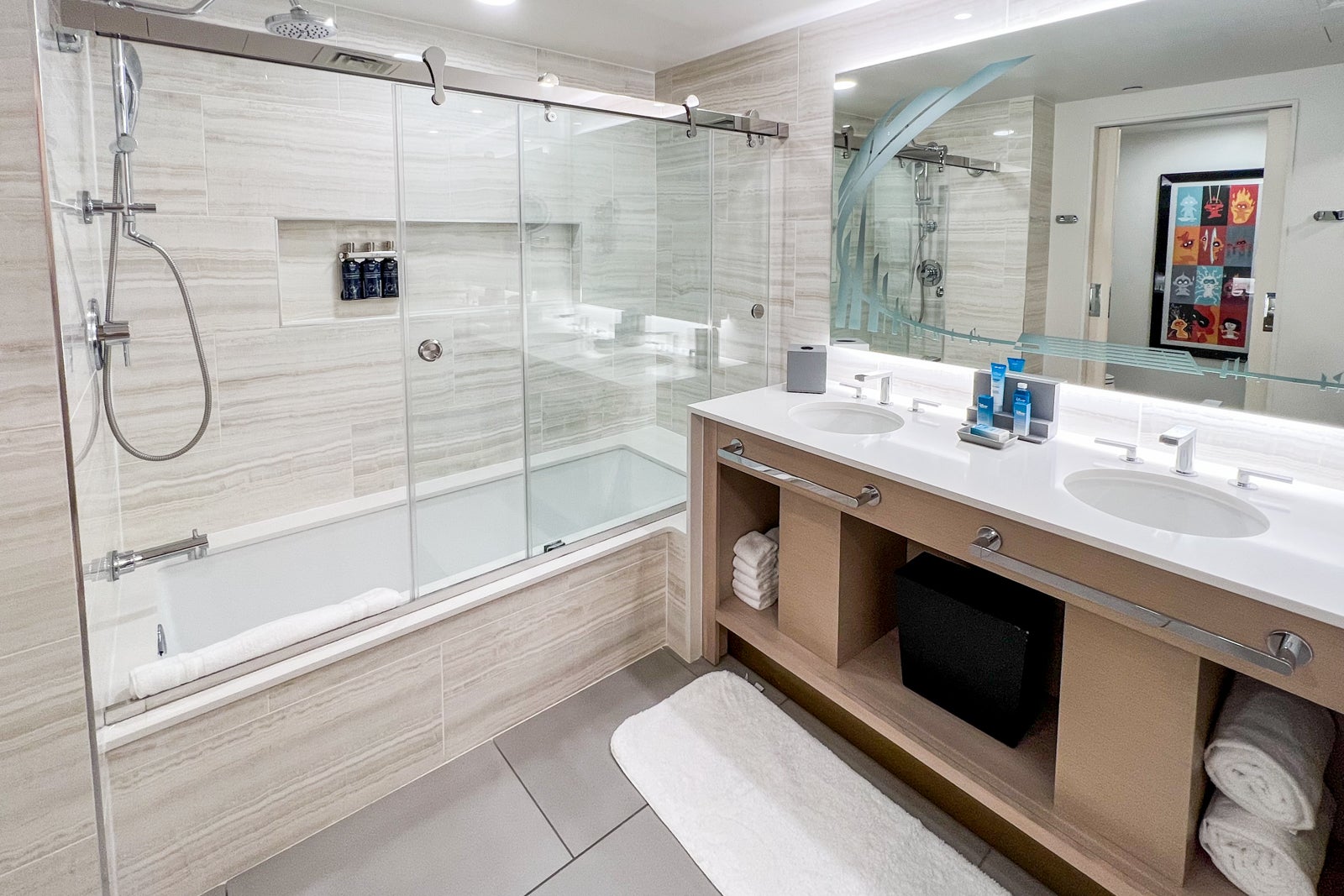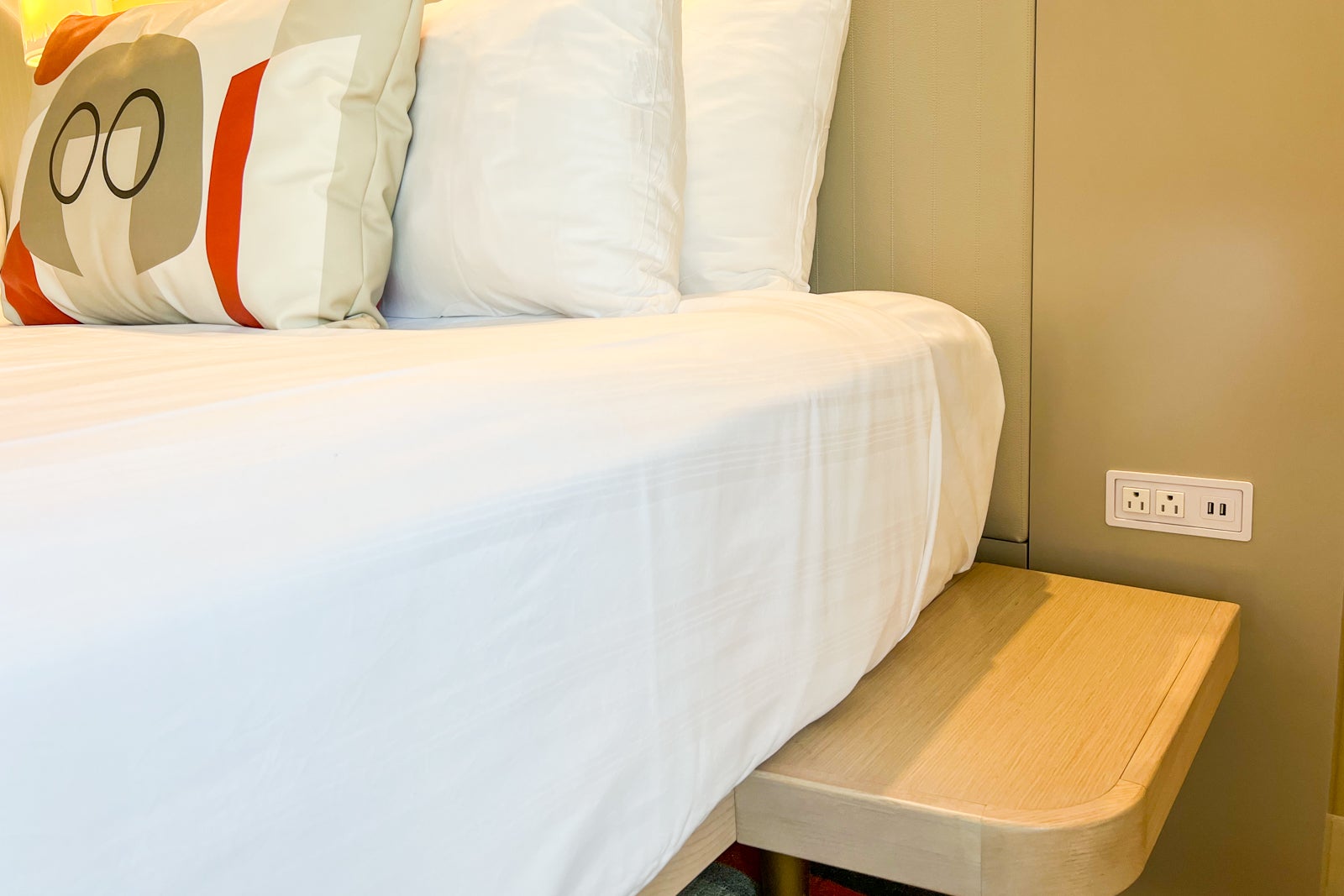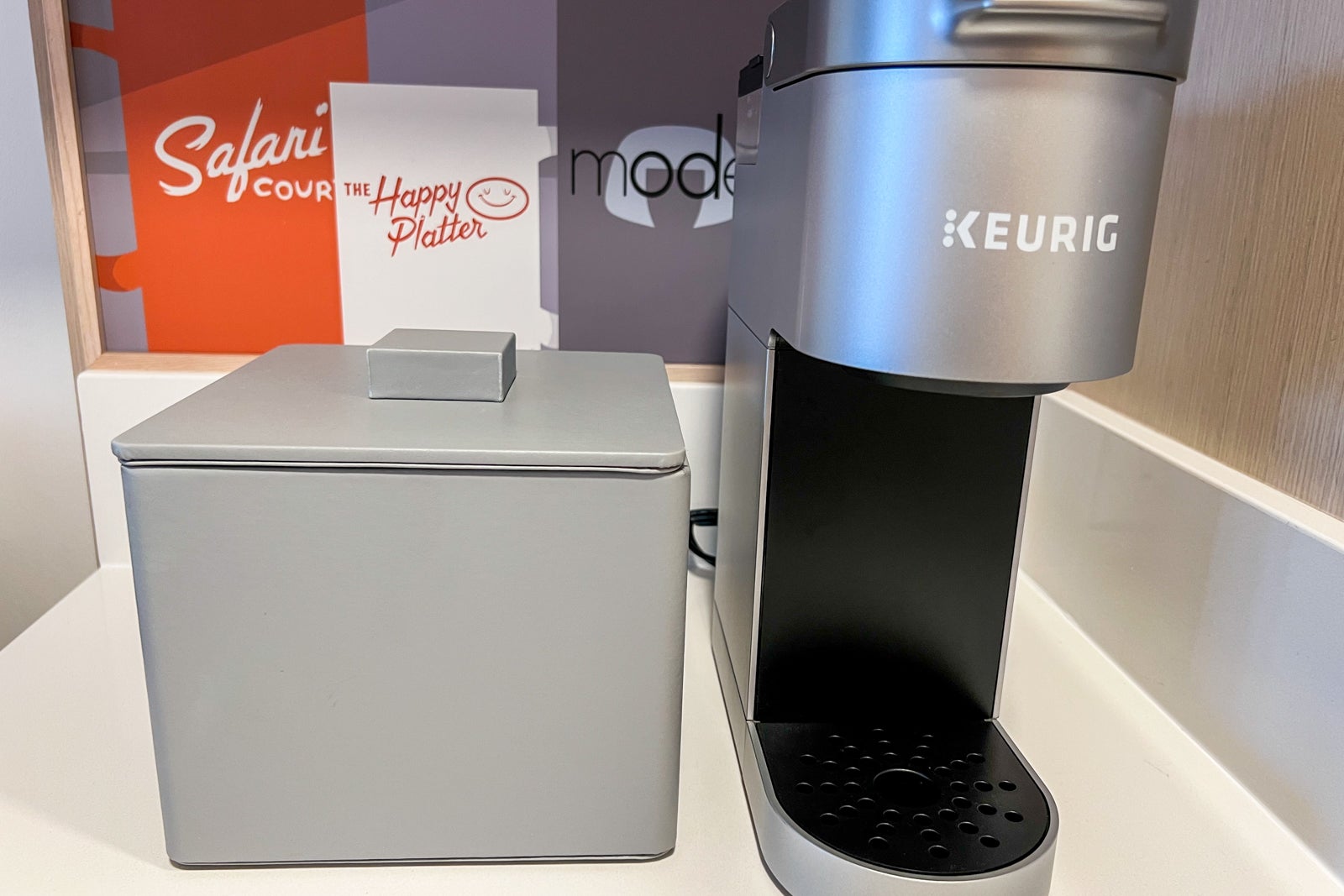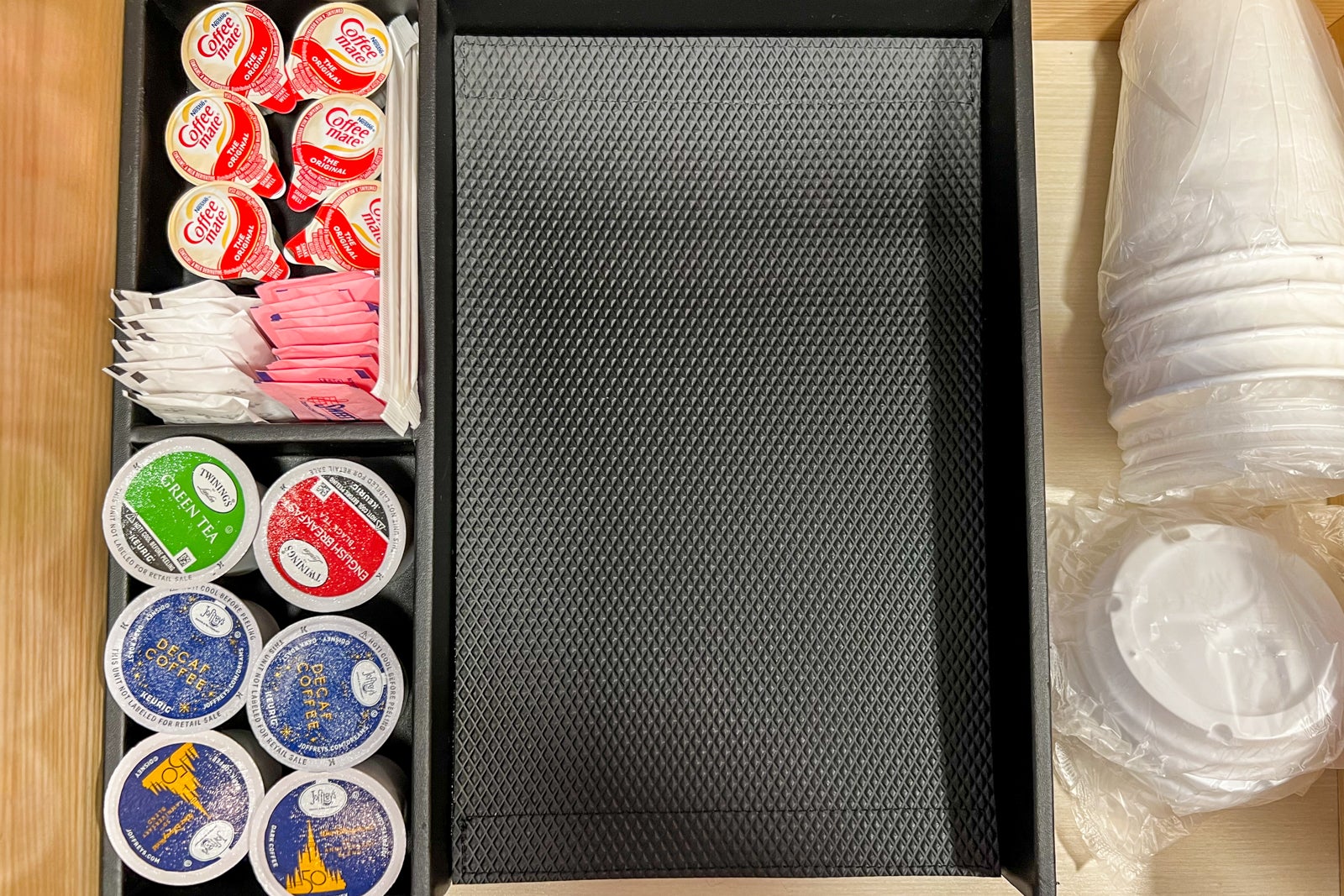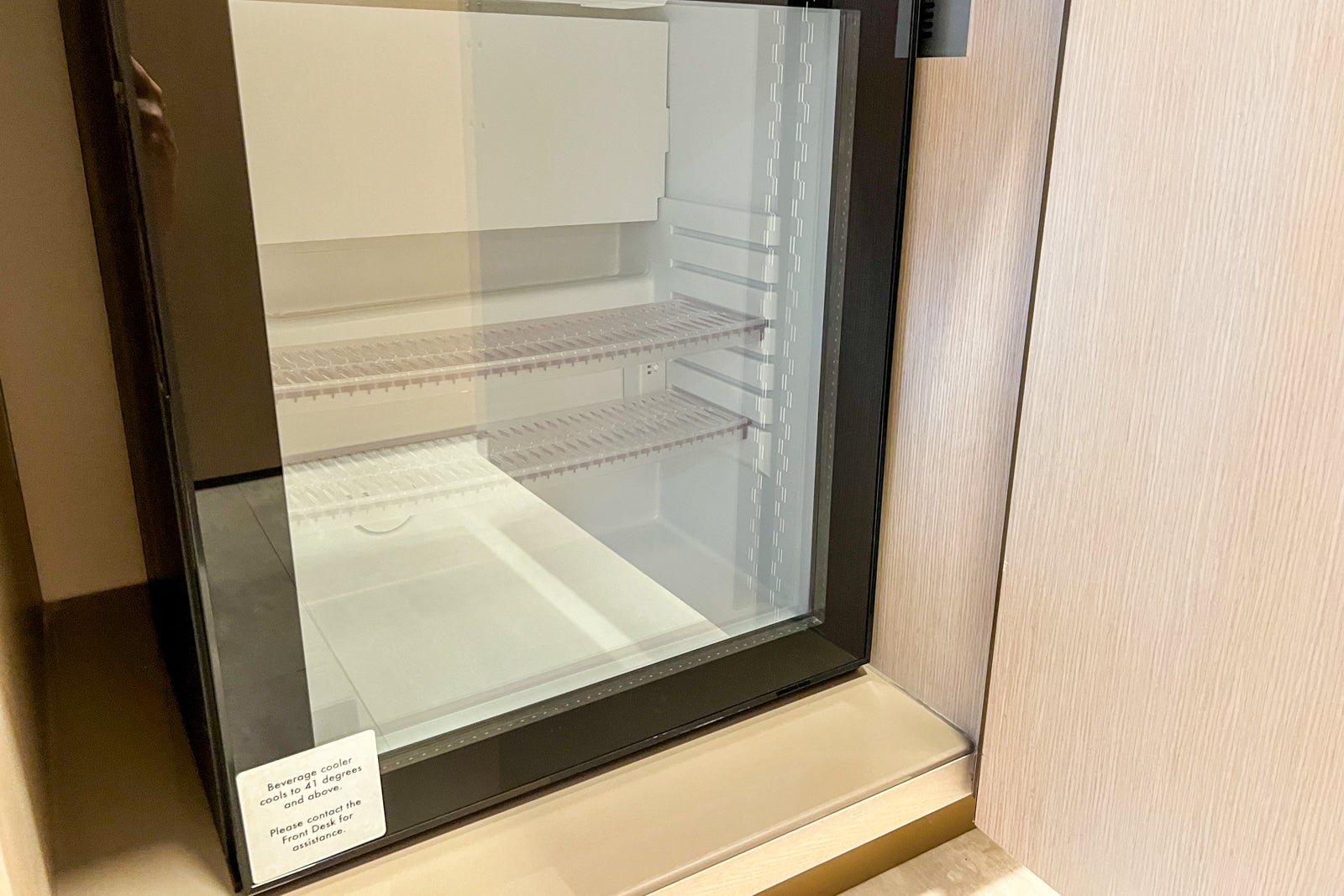 As you might expect, there are also adorable Disney touches that serve as a perfect example of why Disney resorts are so special and several notches above most other family-friendly hotels.
I won't give away all of these not-so-hidden gems, as they are fun to stumble upon, but expect to find some memorable details inspired by "The Incredibles," including a themed closet with hanging super suits.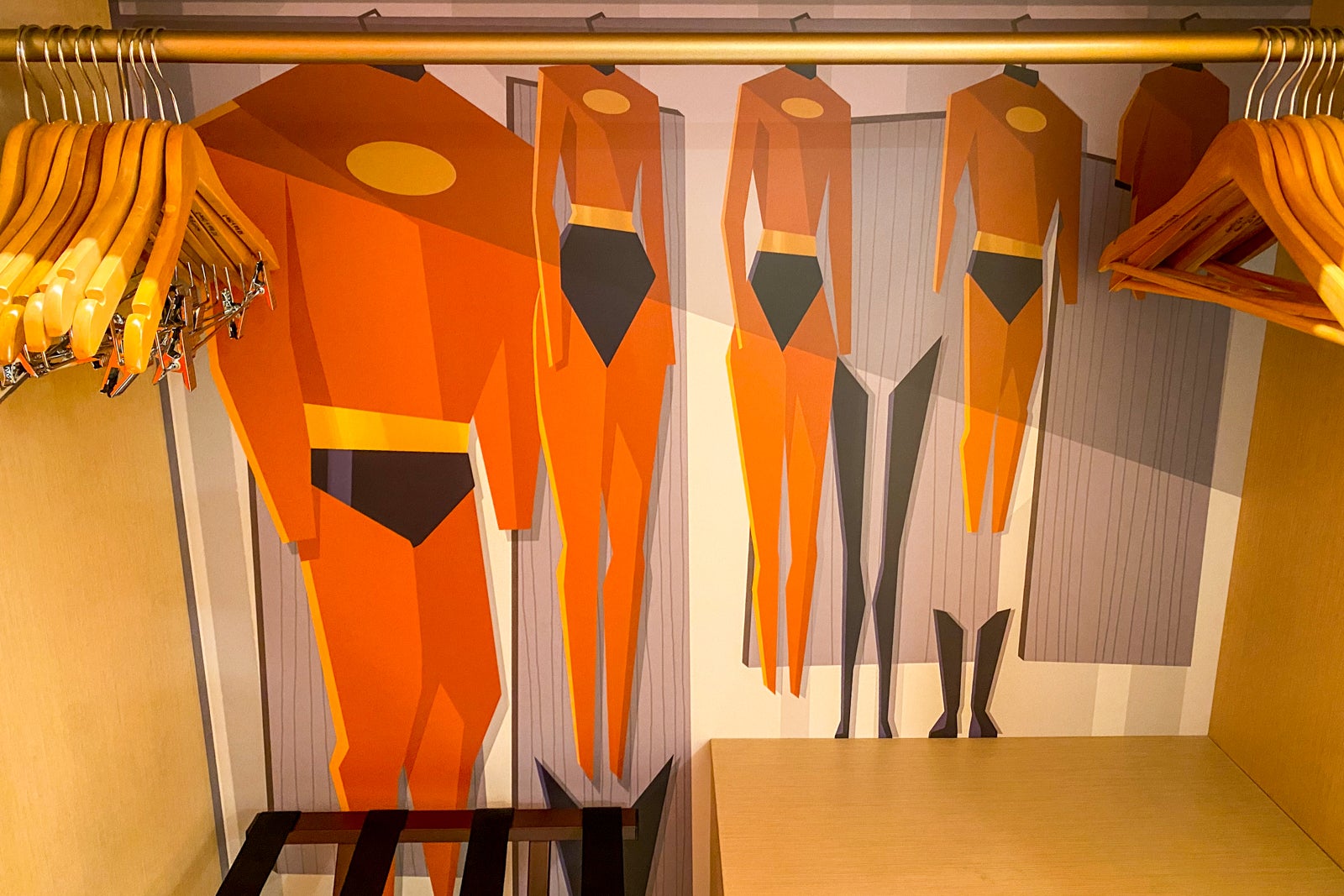 While standard rooms face the resort grounds and are rather underwhelming given the price, accommodations in the main tower are solid overall. If possible, you'll want to pay up for a room in the main tower's atrium that faces The Magic Kingdom, as these accommodations offer pretty fantastic views of the park's fireworks.
We splurged on this view when my kids were younger since we knew the littlest one in our crew wouldn't last in the park until Main Street U.S.A.'s fireworks go off around closing time. It's not an upcharge we typically go for now that the kids are older, but it was a true treat to watch the show from our balcony with a glass of wine as the accompanying soundtrack played on our in-room TV.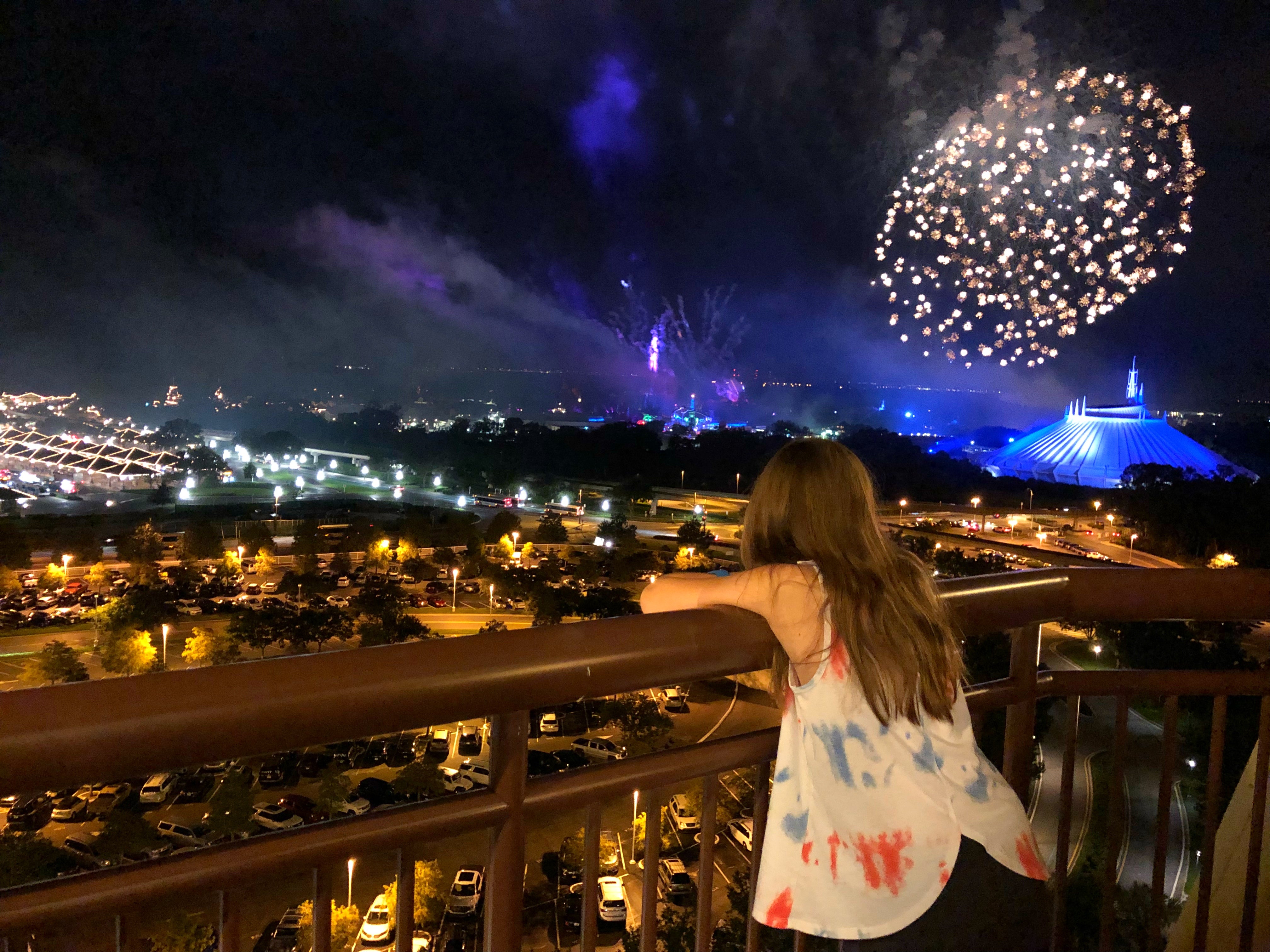 If you're like us and have older kids who can stay up to watch the fireworks in the park, don't worry about springing for a theme park-facing room, especially if you're traveling with multiple people. We prefer paying a little more for an atrium room that can sleep up to five guests (i.e., one with a sofa that easily converts to a handy single bed) instead of a space with a view of the fireworks.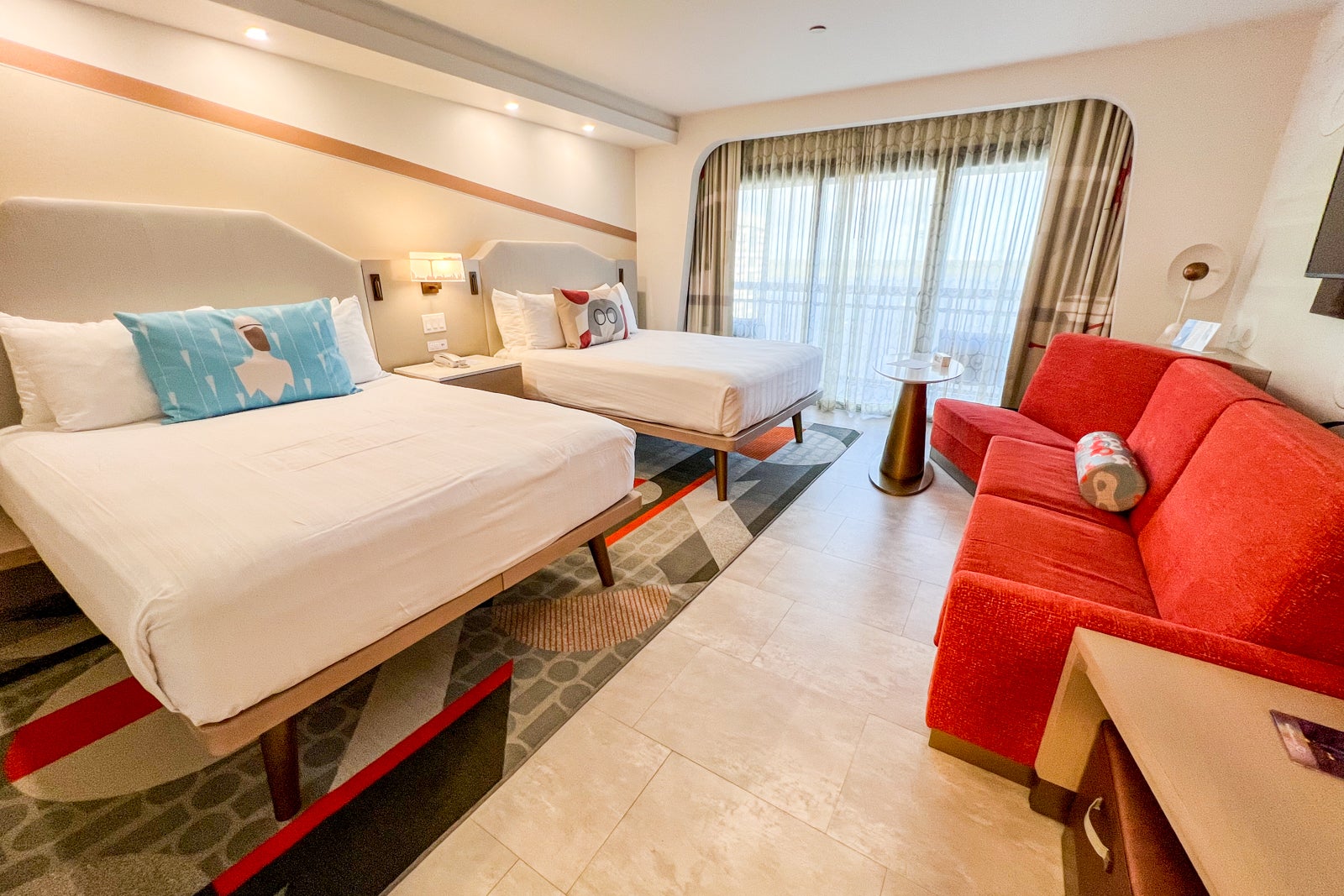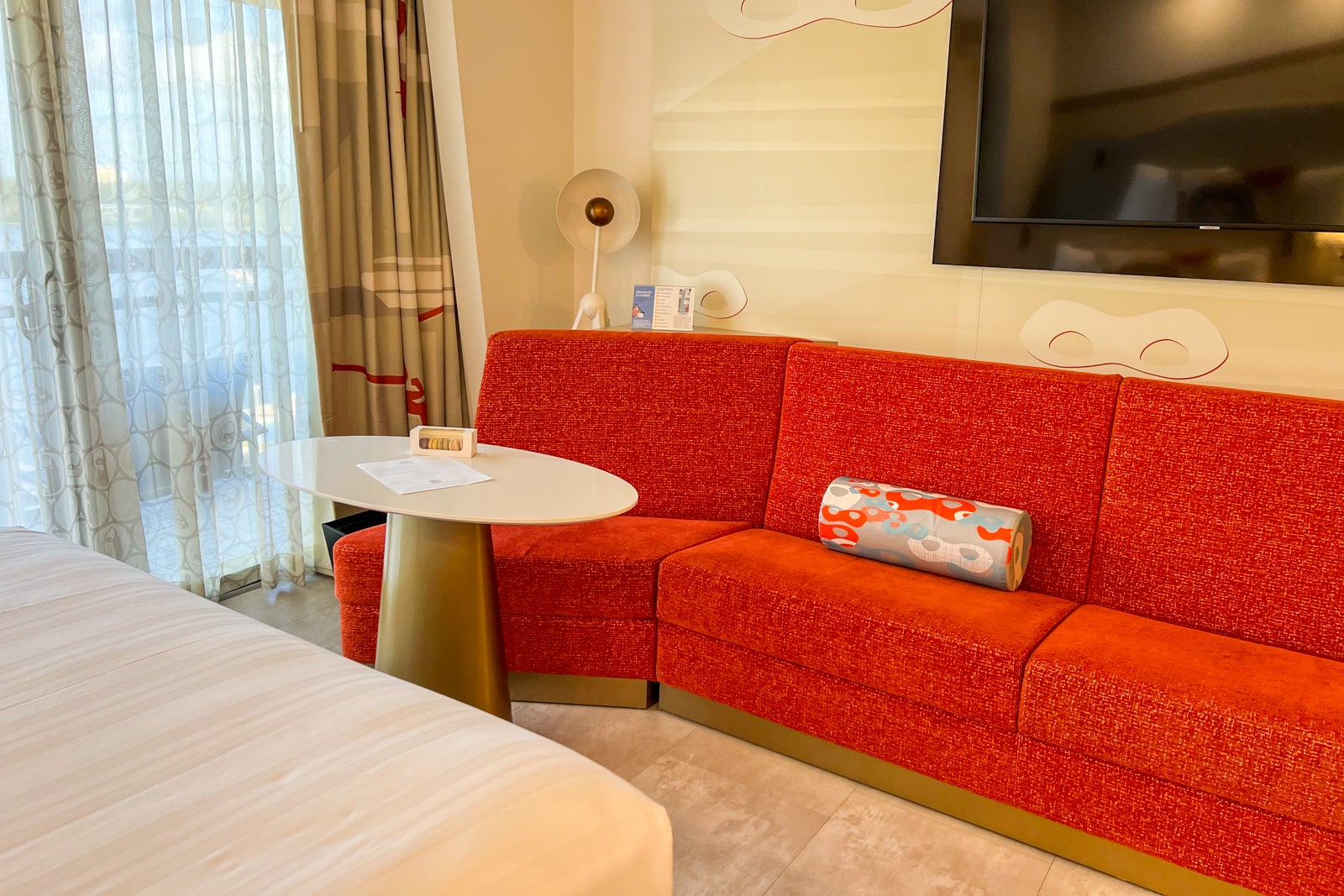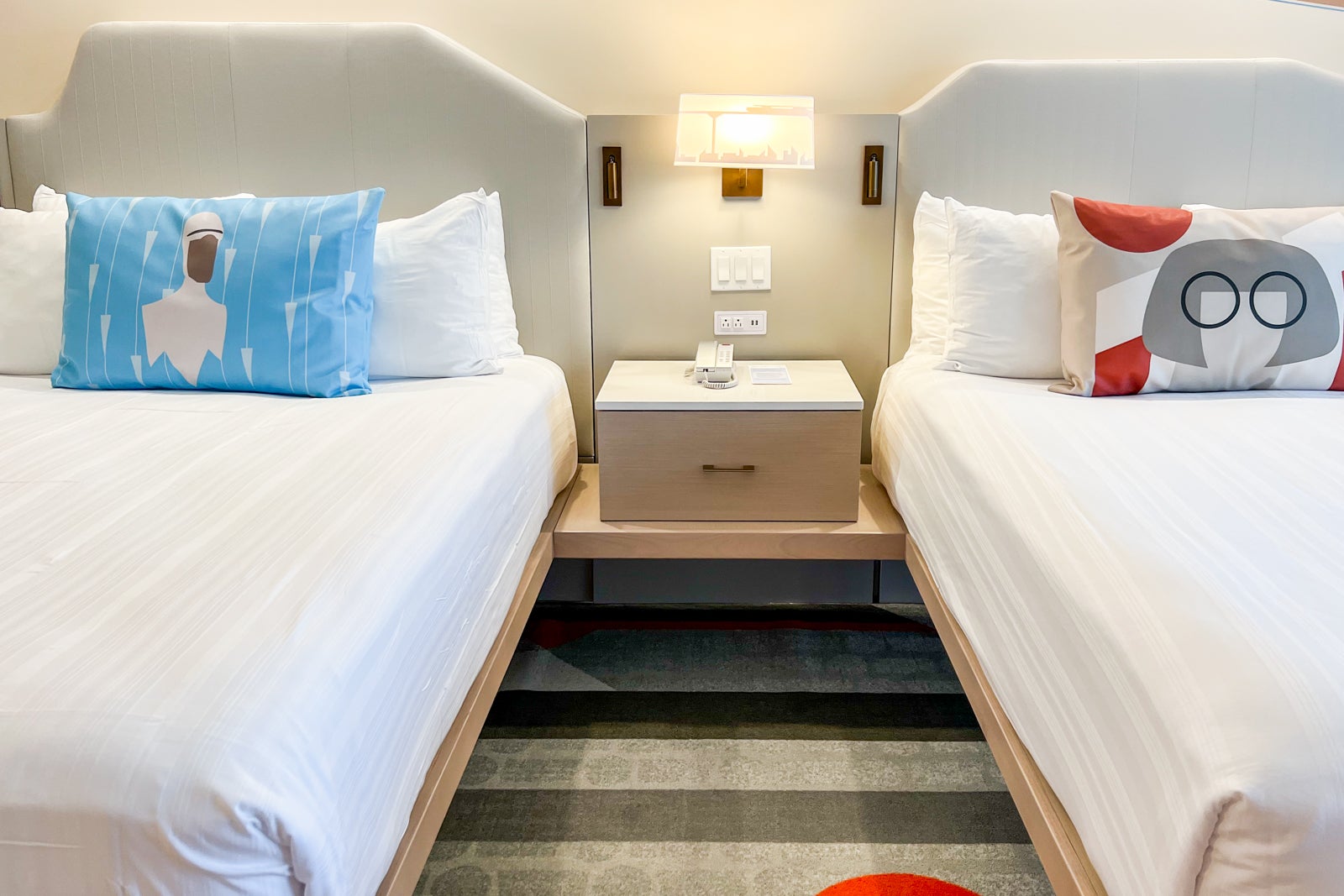 No matter which room we're in, we find that we sleep like exhausted babies each time. However, there's one negative we've consistently noticed: The Contemporary's rooms tend to feel more humid than I'd like.
On our latest visit, our room was at the end of the hallway by an exterior door that was propped open at times, which probably didn't help. Still, even during other stays, we've noticed the humidity more while in our room. It's never been bad enough to disturb us greatly, but it's worth noting, especially if you're planning a summer visit.
Food and beverage
Aside from being ultra-convenient to The Magic Kingdom, the Contemporary shines when it comes to dining.
Chef Mickey's
On the same level as the monorail, Chef Mickey's is one of the most popular restaurants on the Disney resort grounds — and for good reason. Meals here are legendary, as they give you the opportunity to hang with Mickey, Minnie, Pluto, Donald and Goofy as you eat.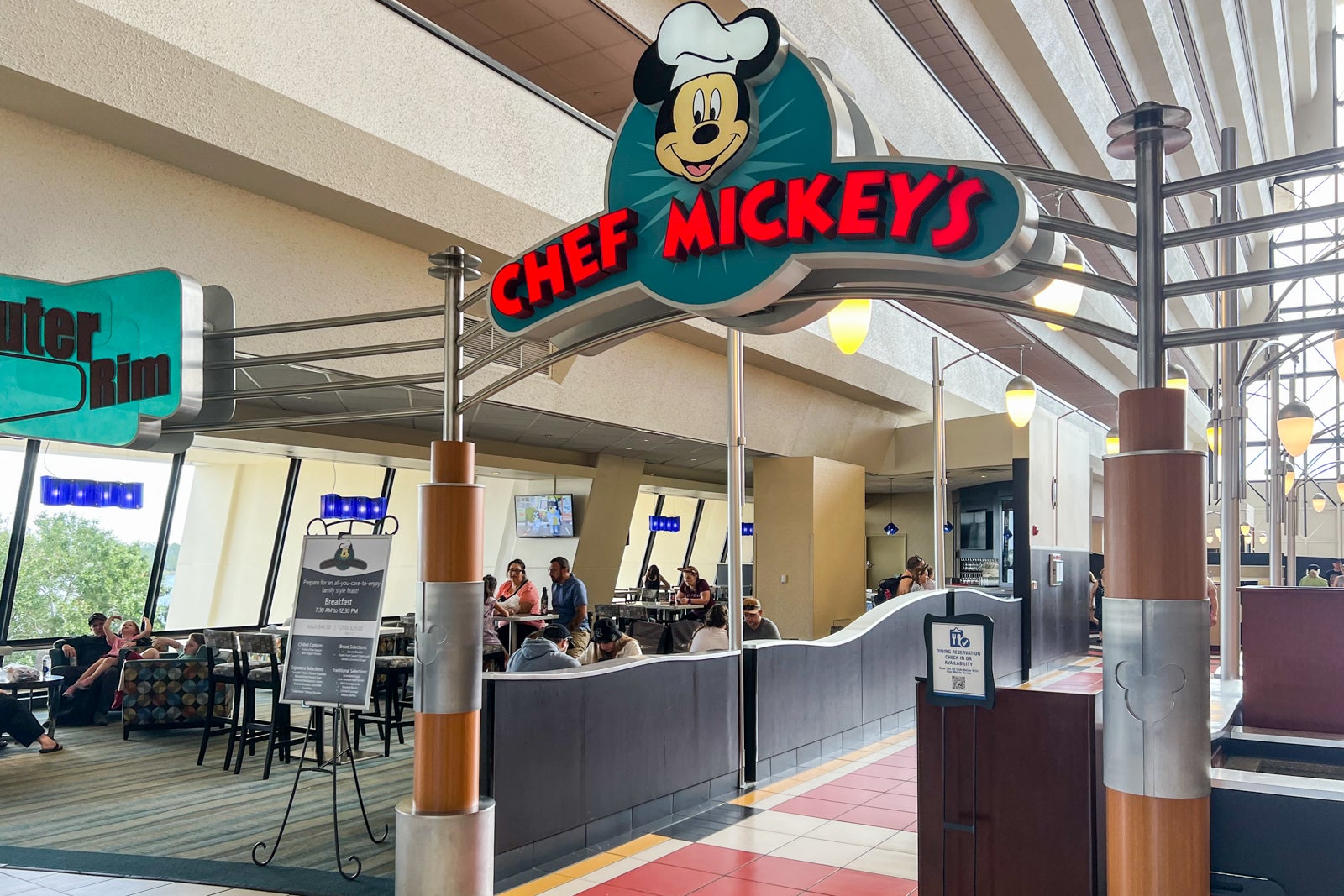 While Chef Mickey's character meals are available for breakfast and dinner daily, I'd argue that the late breakfast hours on a day when you're not heading to the parks is the best time to go.
During this block of time, you'll avoid an early wake-up call and spend less, as the breakfast service — which is available from 7:30 a.m. to 12:30 p.m. — costs $45 per adult and $29 per child 3 and older (kids 2 and younger dine for free). Should you opt to visit during dinner, expect to pay $59 per adult and $38 per child.
For breakfast, the all-you-care-to-enjoy items include eggs, Mickey waffles, chicken sausage, slow-roasted beef brisket, loaded potato-cheese casserole and banana bread French toast, among other options. The dinner menu features a number of plated selections, such as potato gnocchi, roasted salmon, pork loin and baby carrots.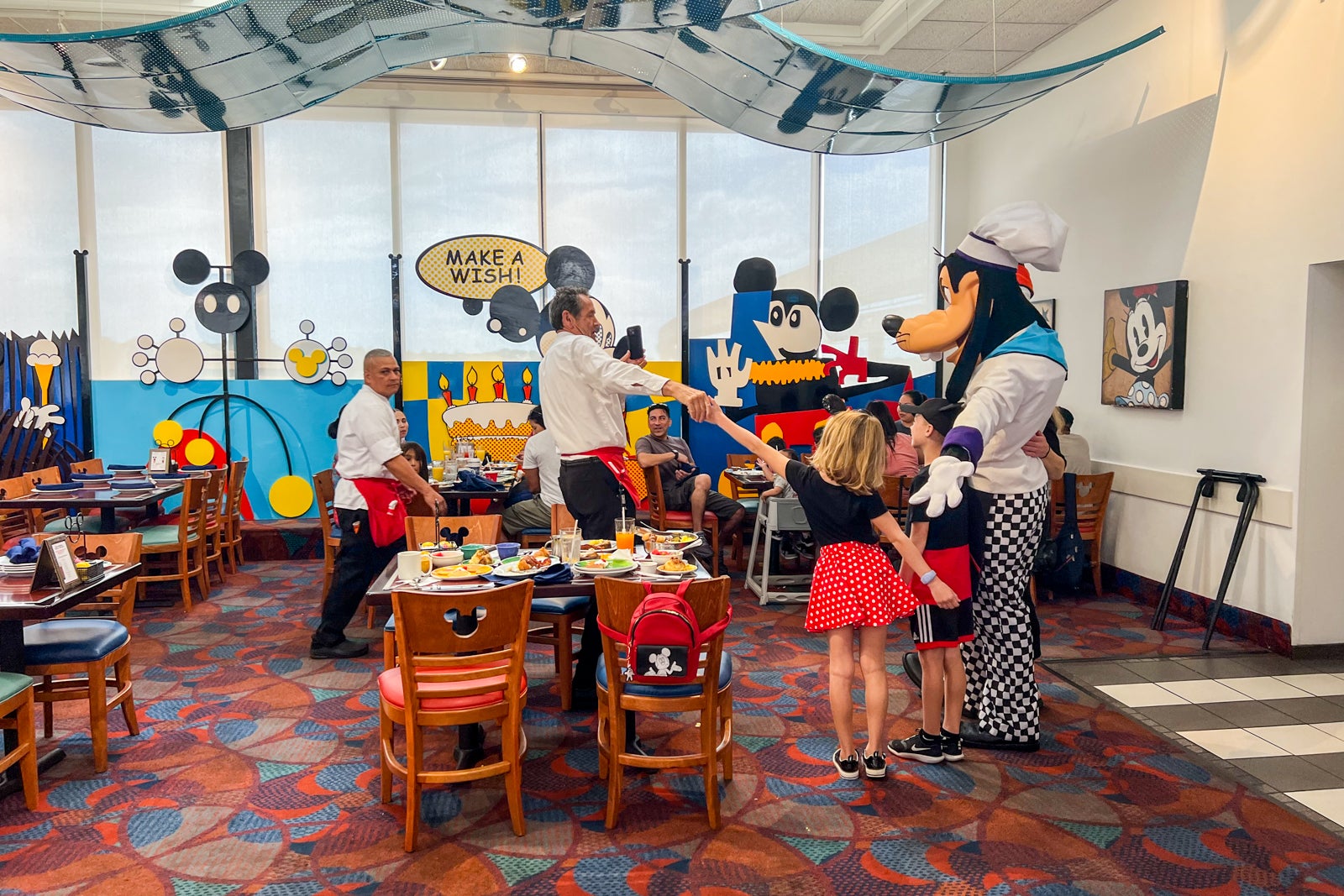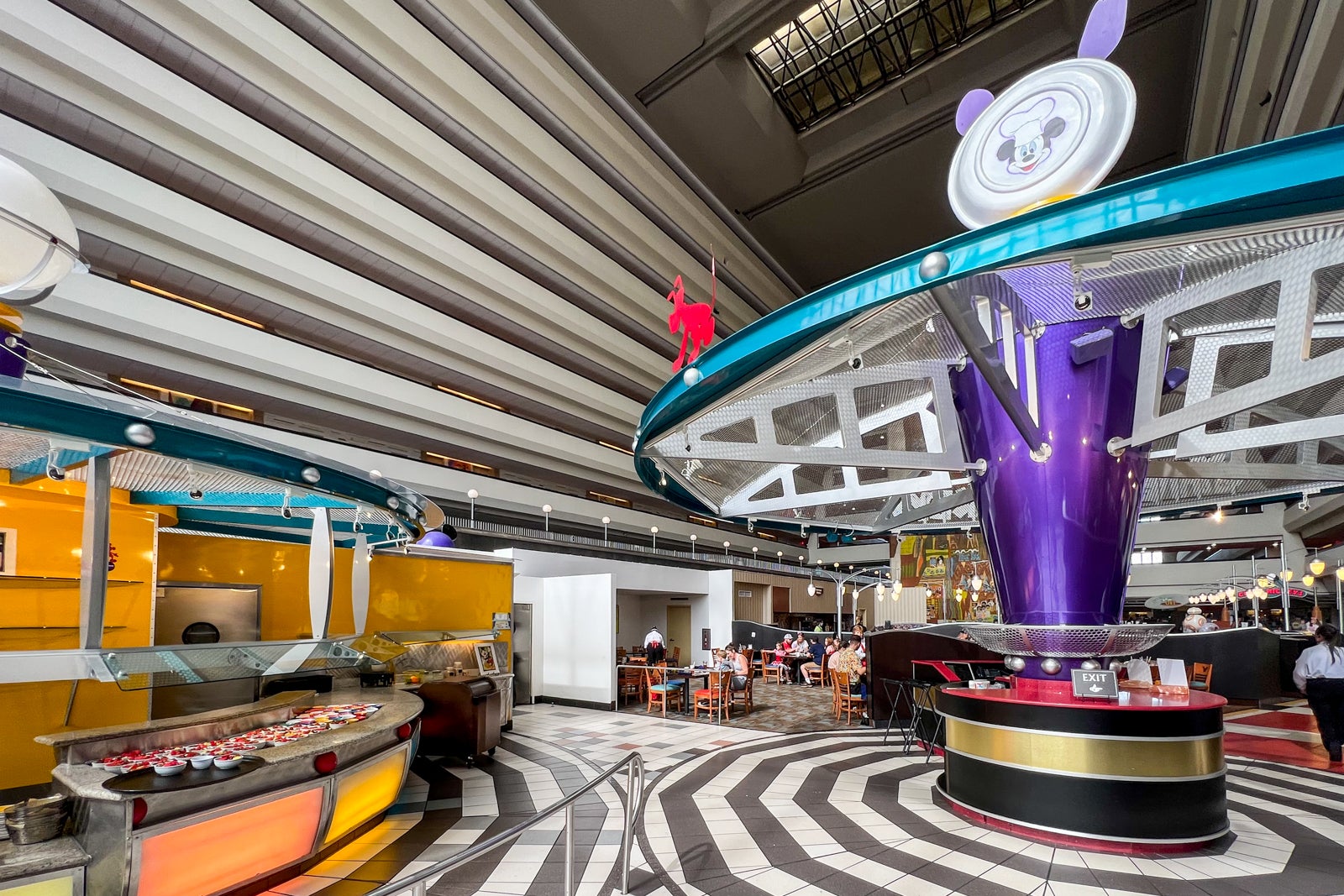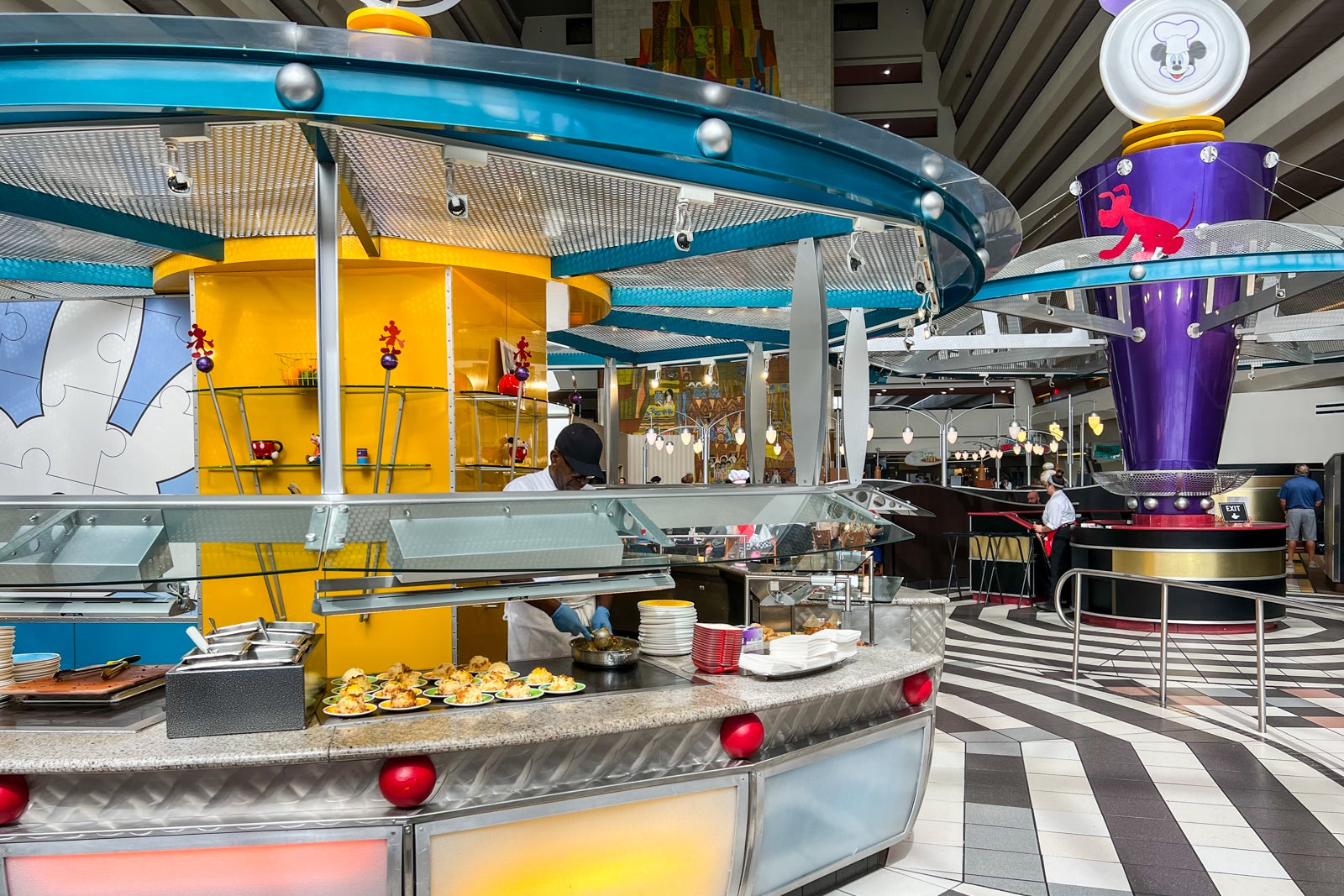 Chef Mickey's is a bright, loud, fun and upbeat experience, so plan accordingly — and have your camera ready.
When my kids were younger, eating here was the easiest way to meet all these key characters, as we didn't have to worry about leaving the hotel's indulgent air conditioning to schlep about the parks in search of our favorite figures. It may not be the most cost-effective way to hang out with Mickey Mouse, but it's certainly the most convenient option.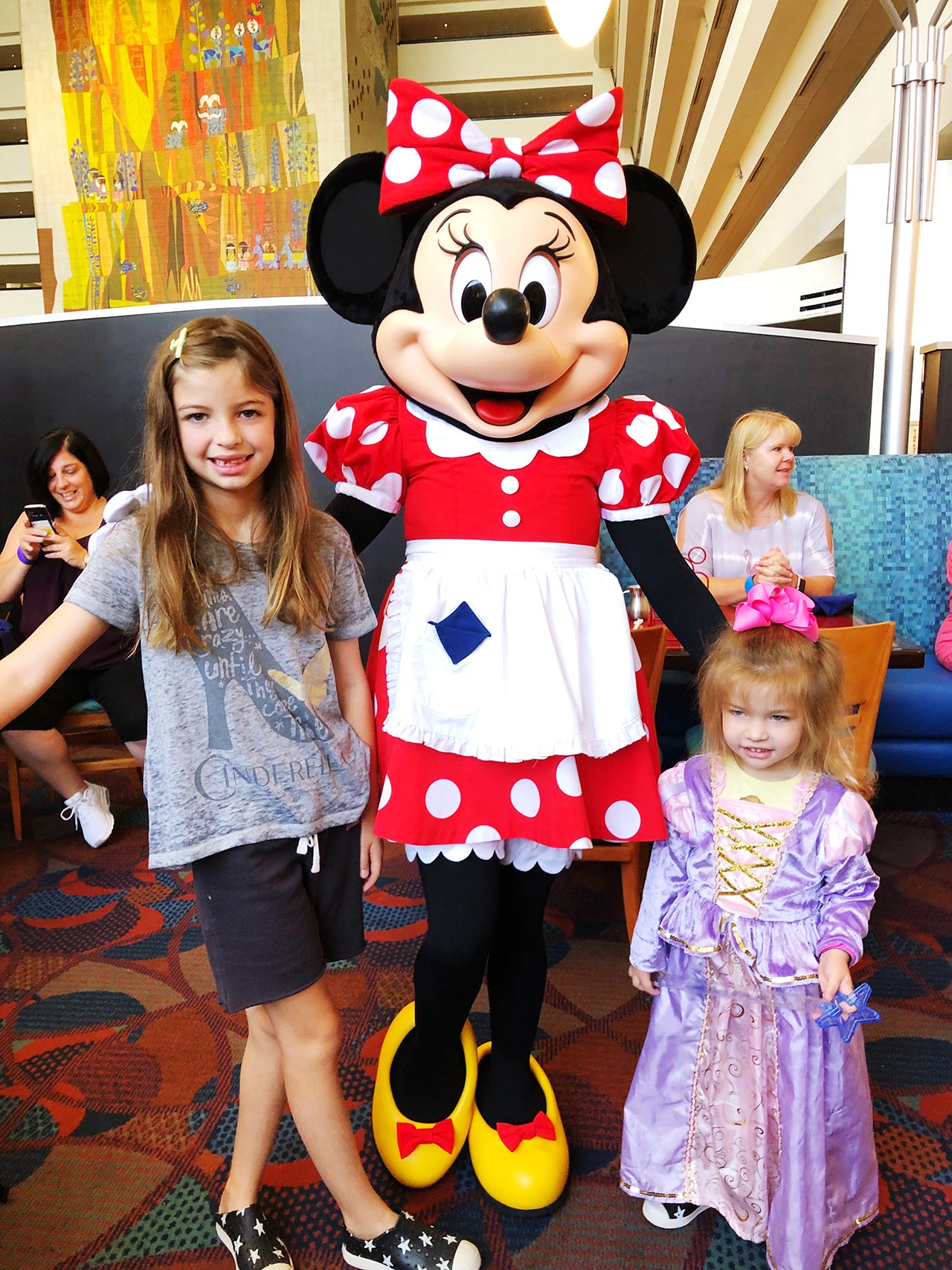 Related: The 3 best Disney World character meals you've never heard of — and how to book them
Steakhouse 71
For a more refined meal, Steakhouse 71 is a terrific new addition to the Contemporary. Paying homage to the resort's 1971 opening in its name, the restaurant serves some of Walt's favorites every day for breakfast, lunch and dinner.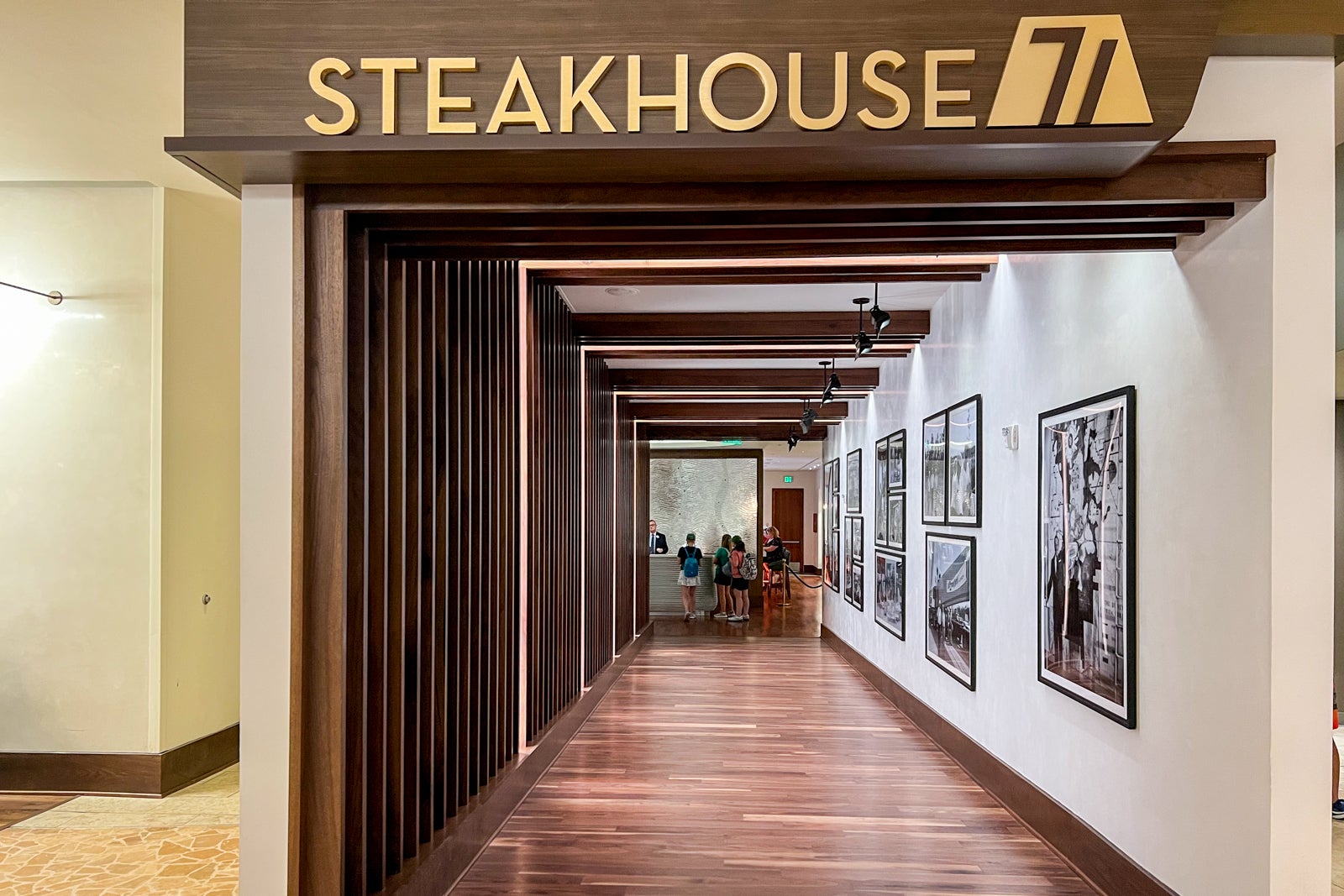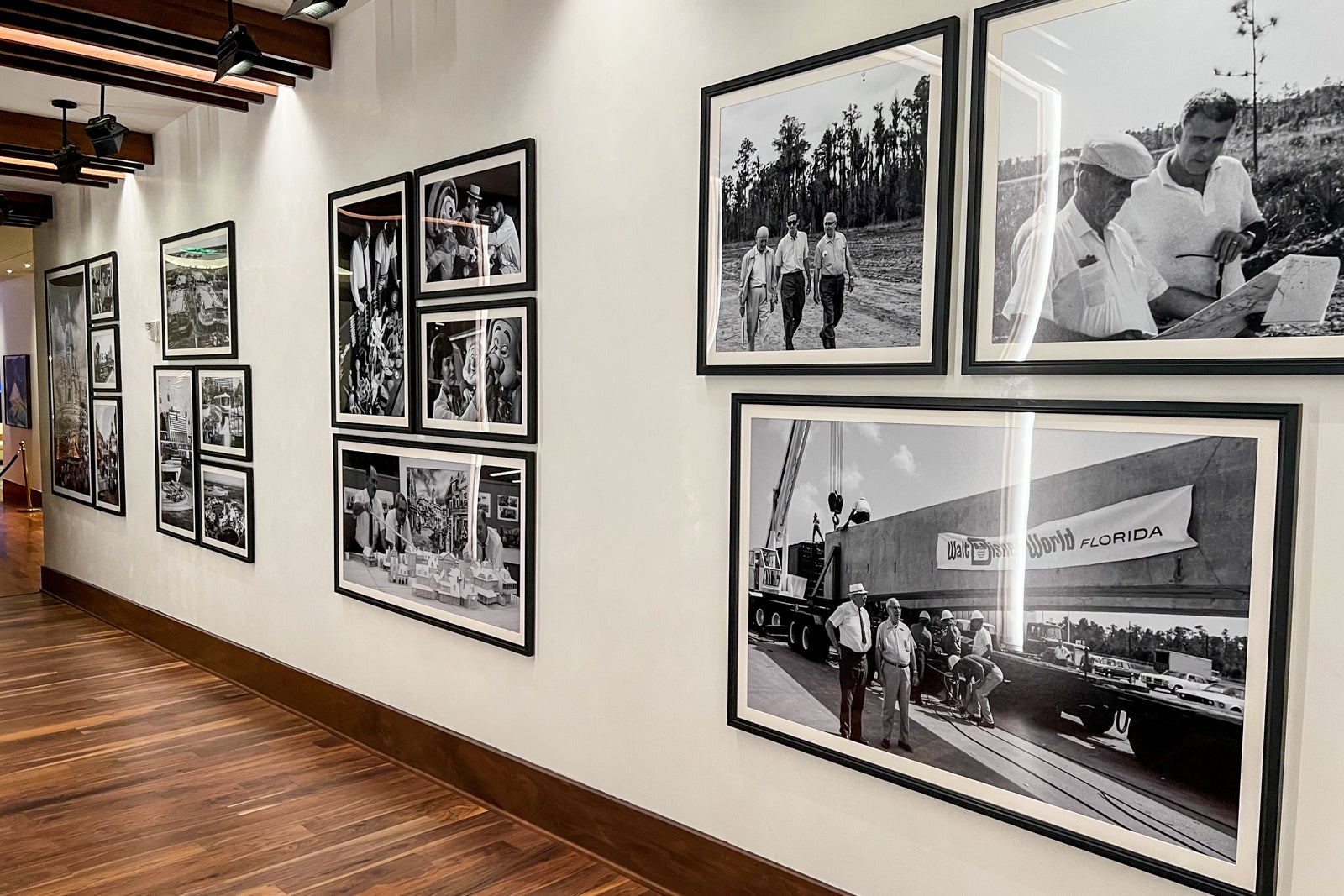 For breakfast, you'll find Walt's Prime Rib Hash ($18), plus a Florida-inspired eggs Benedict ($19) and various omelets ($17 each).
On the lunch and dinner menus, there are all kinds of comfort classics with an elevated twist, such as gourmet grilled cheese ($17), a burger on a brioche bun topped with lemon aioli ($21), beef tenderloin medallions ($39) and a whiskey-infused chocolate cake ($11).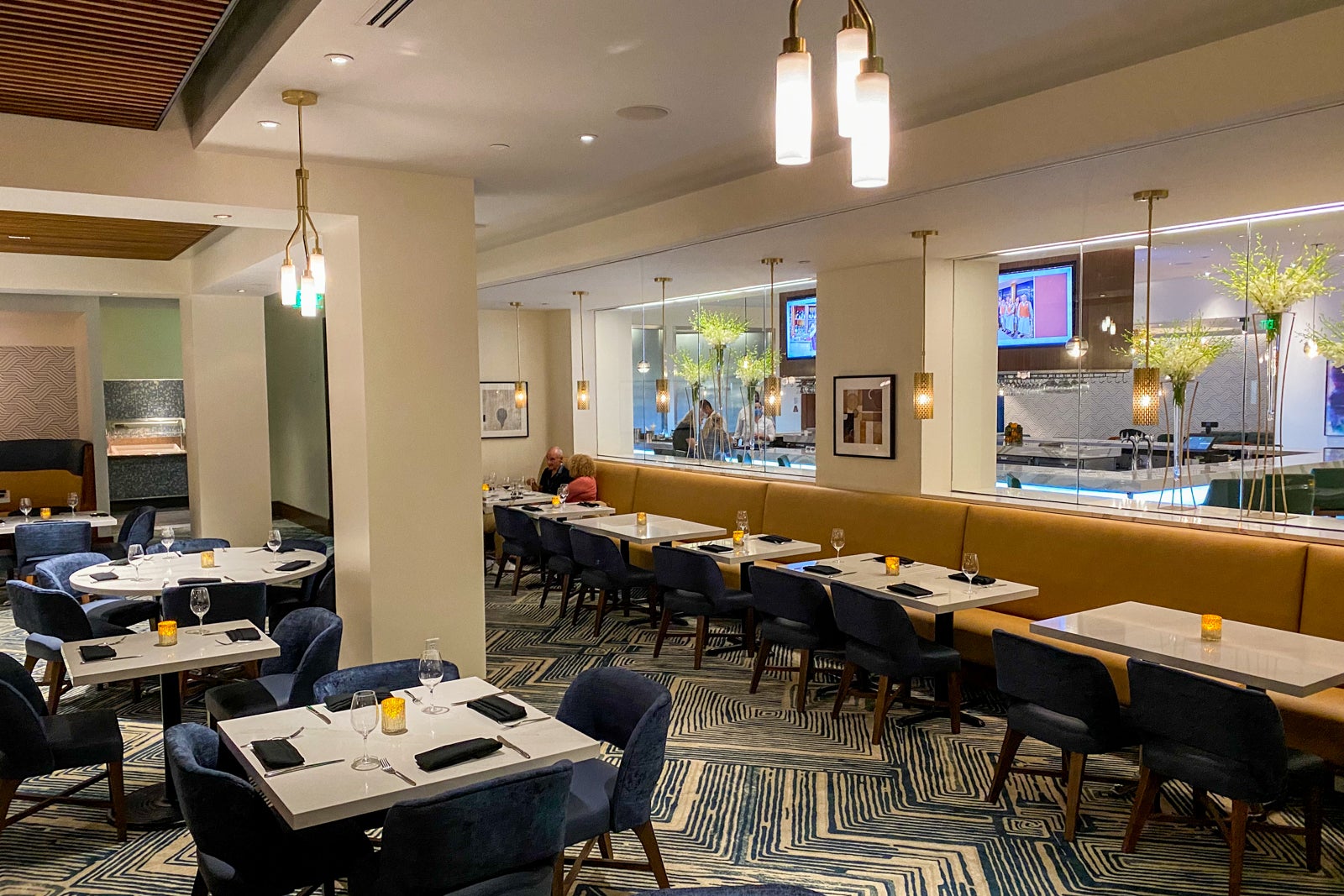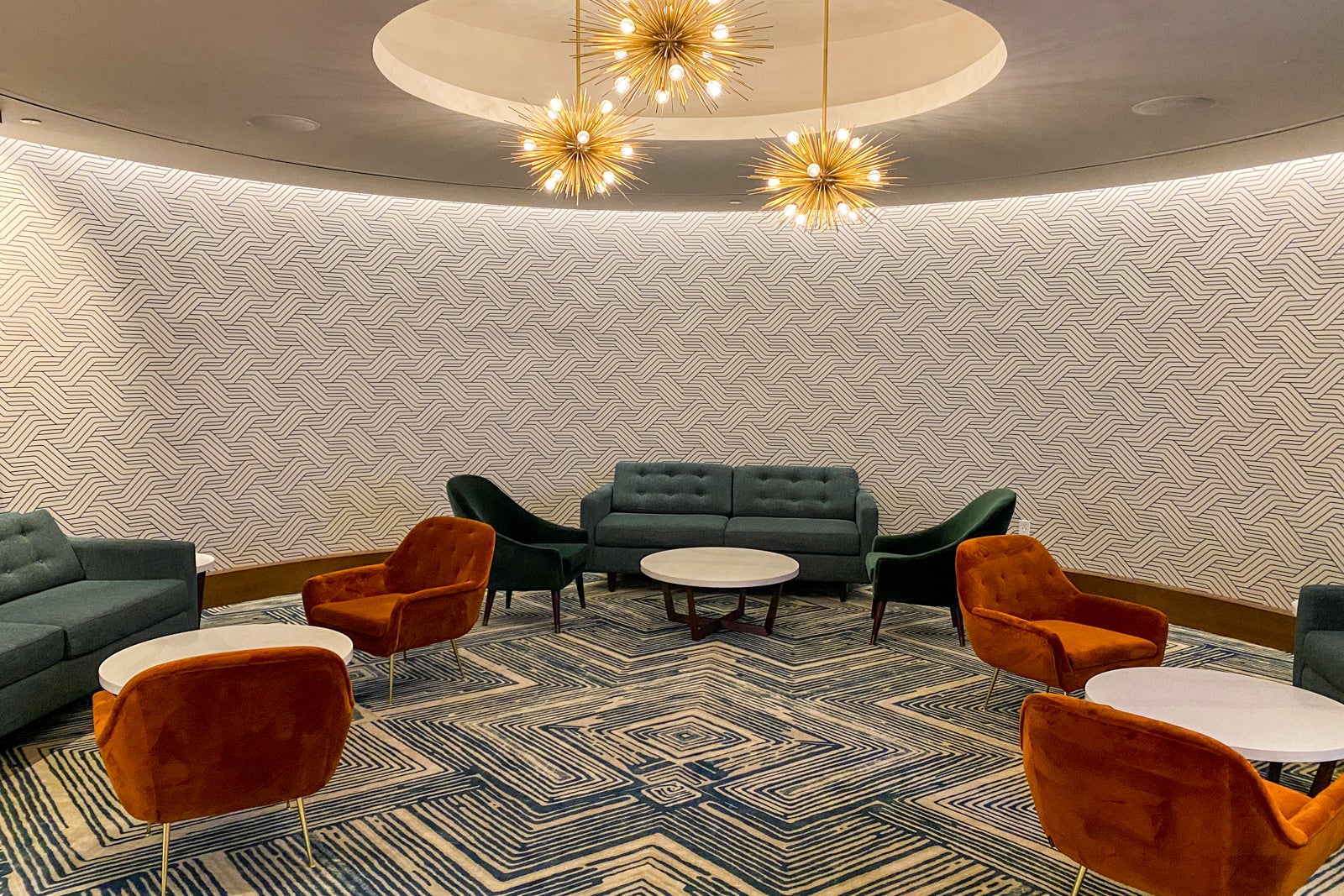 Steakhouse 71 reservations are generally much easier to nab than those for Chef Mickey's. So, if you don't want to worry about trying to score a table as soon as they become available 60 days before your visit, this higher-end option could be the place to dine.
California Grill
One of the best restaurants in all of Disney World sits at the top of the Contemporary. With its panoramic view of The Magic Kingdom and its evening fireworks, California Grill is a dining venue you have to experience for yourself.
Although reservations are tough to get during the prime dinner and fireworks hours, checking 60 days out when they open for booking is well worth the effort. Know, though, that you'll need to pack appropriate attire for meals here since the venue requires guests to dress "in attire that respects the restaurant's sophisticated and upscale aesthetic."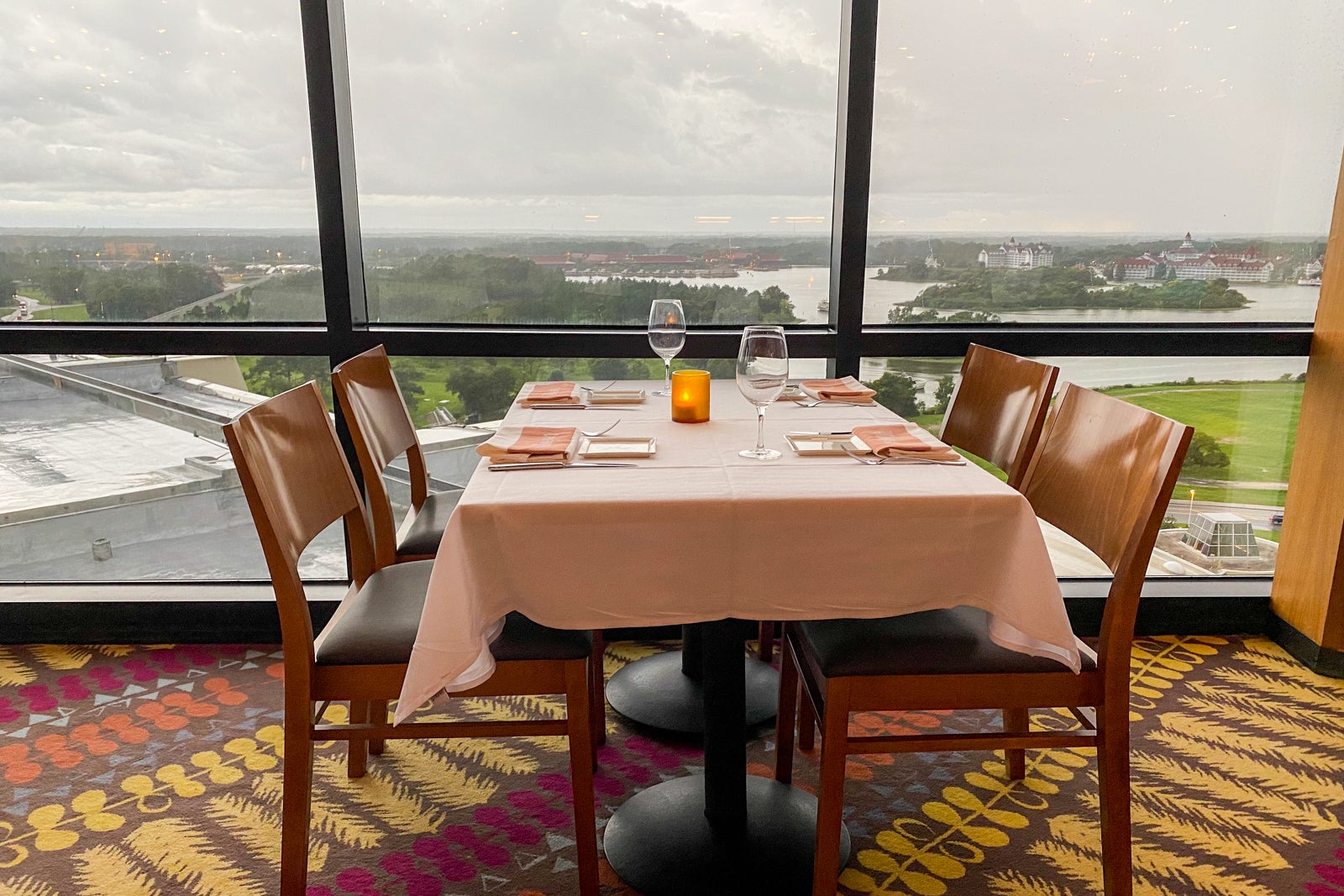 Prices are high, too, so budget accordingly.
The restaurant is typically an a la carte establishment. However, it's currently offering a special three-course, fixed-price menu in honor of Disney World's 50th-anniversary celebration, so you'll see meals priced at $89 for adults and $39 for children 9 and younger.
Items currently on the menu include classics from when the restaurant (formerly known as Top of the World) opened in 1971, such as duck a l'orange and limited-time dishes like an "EARidescent" creme brulee.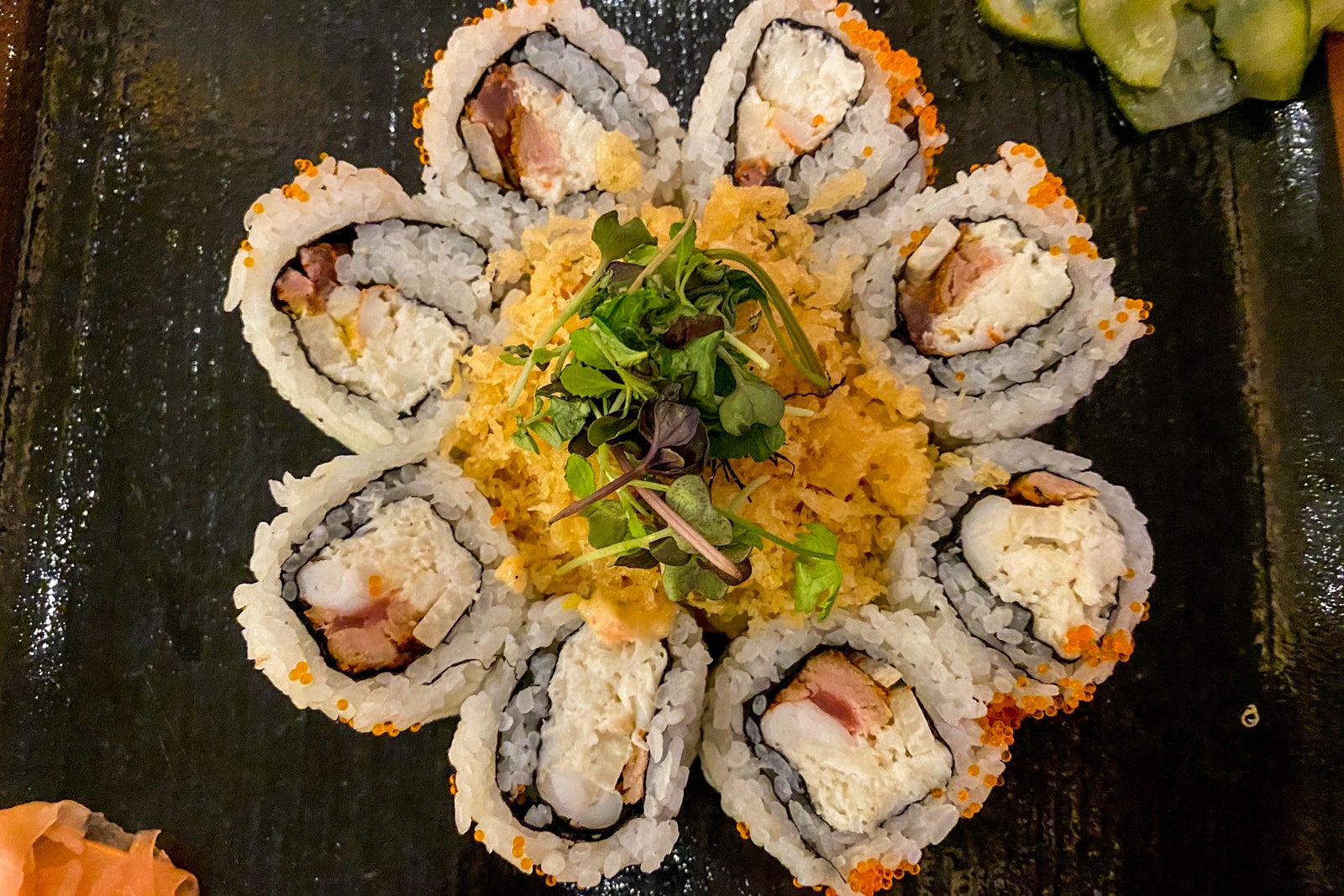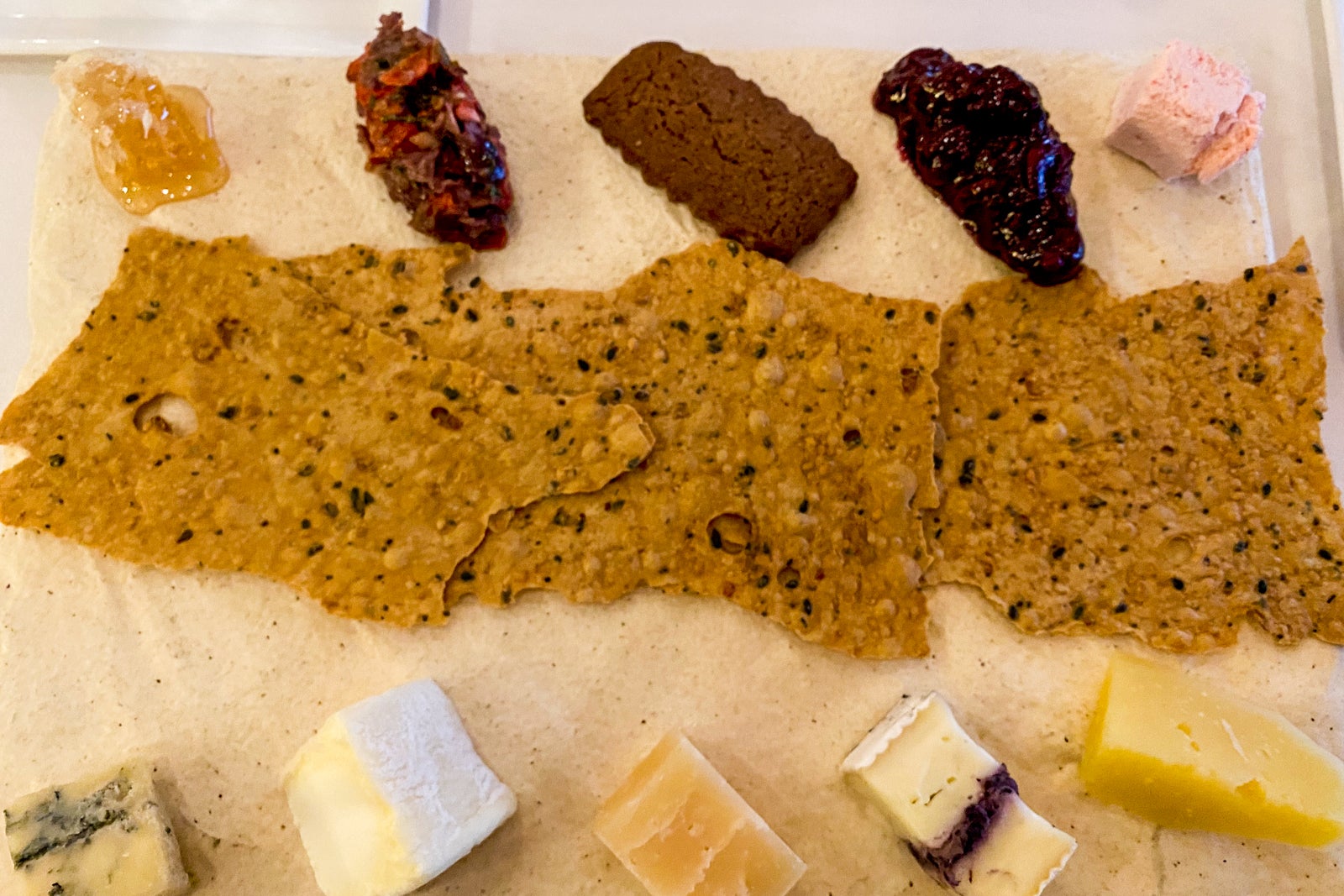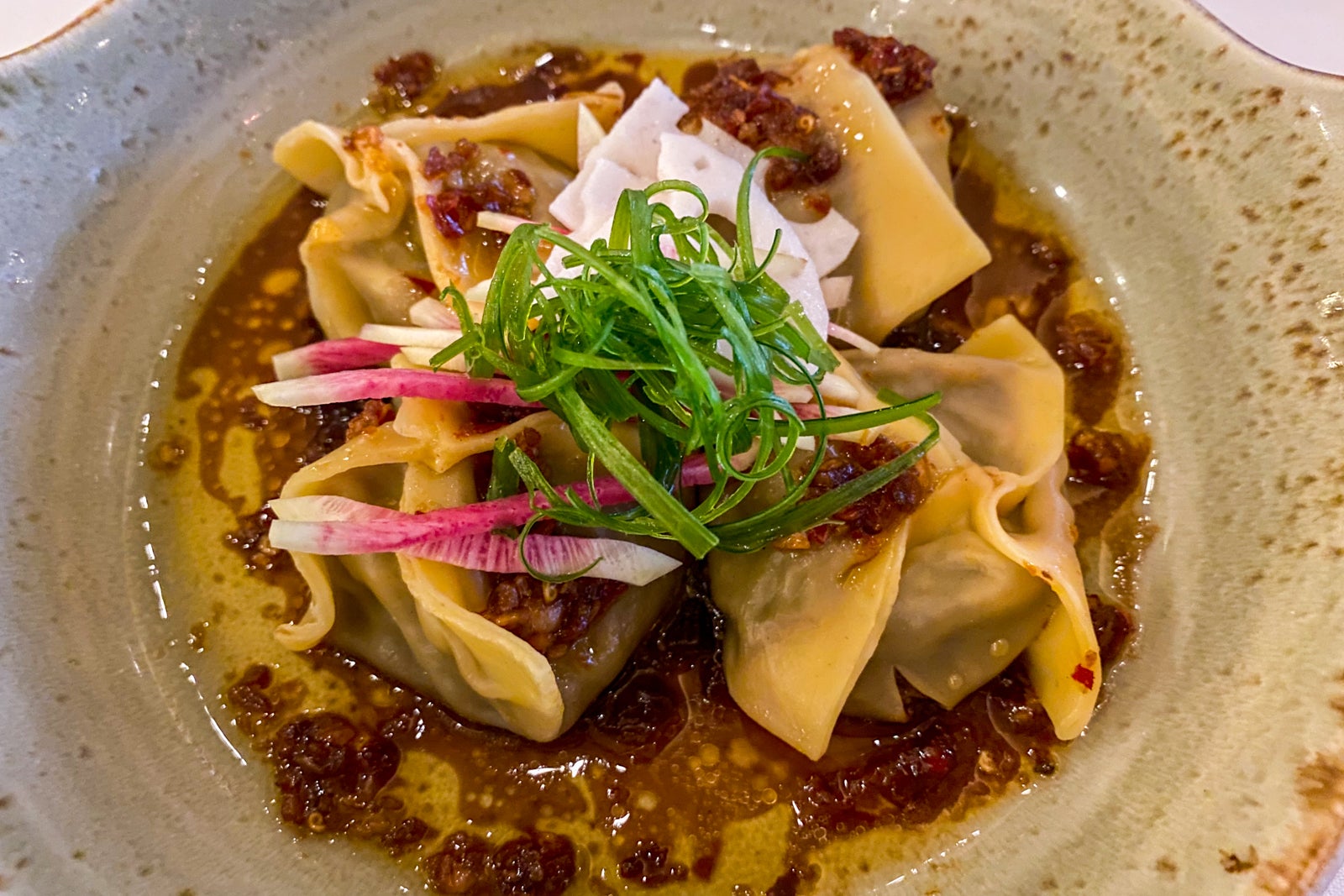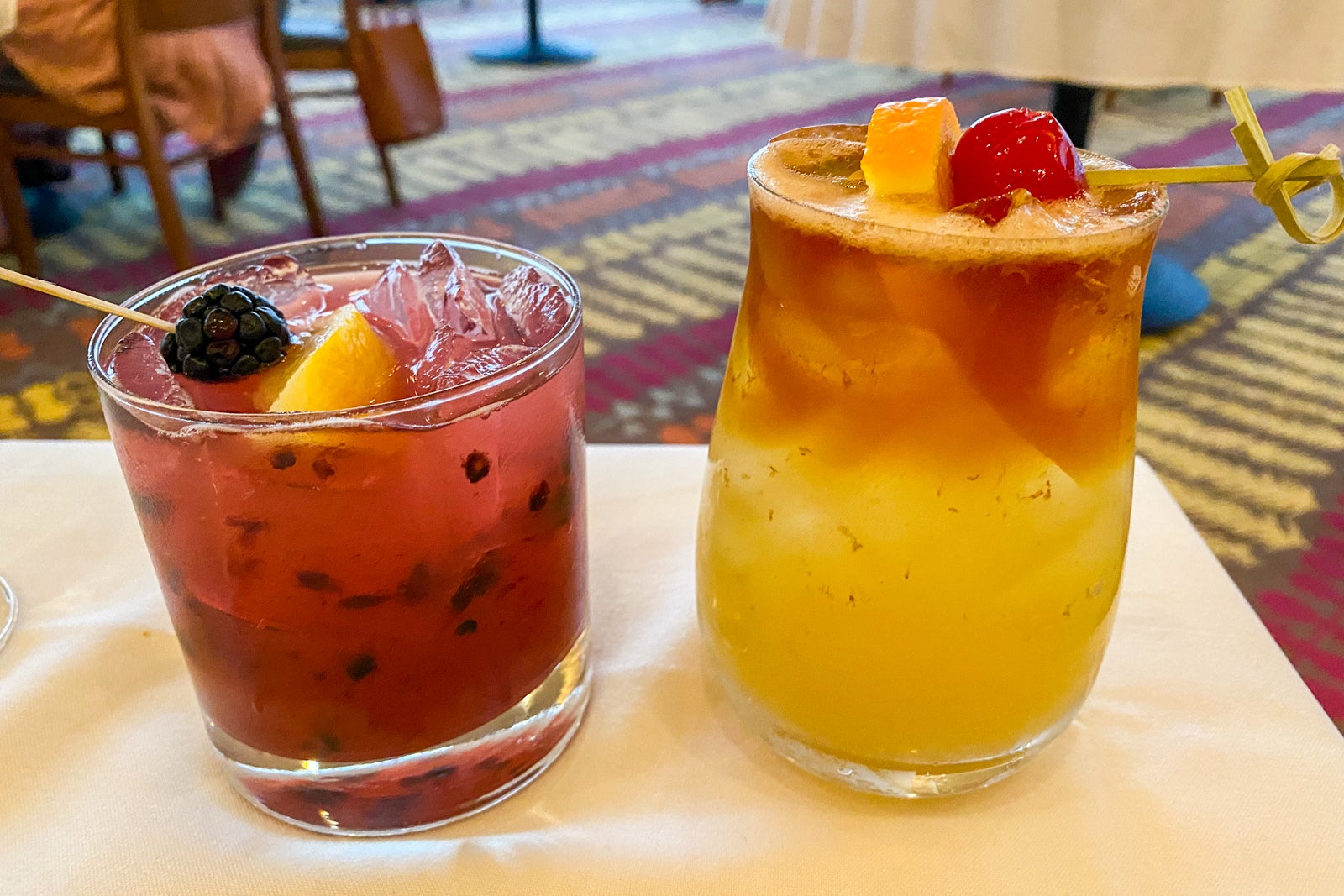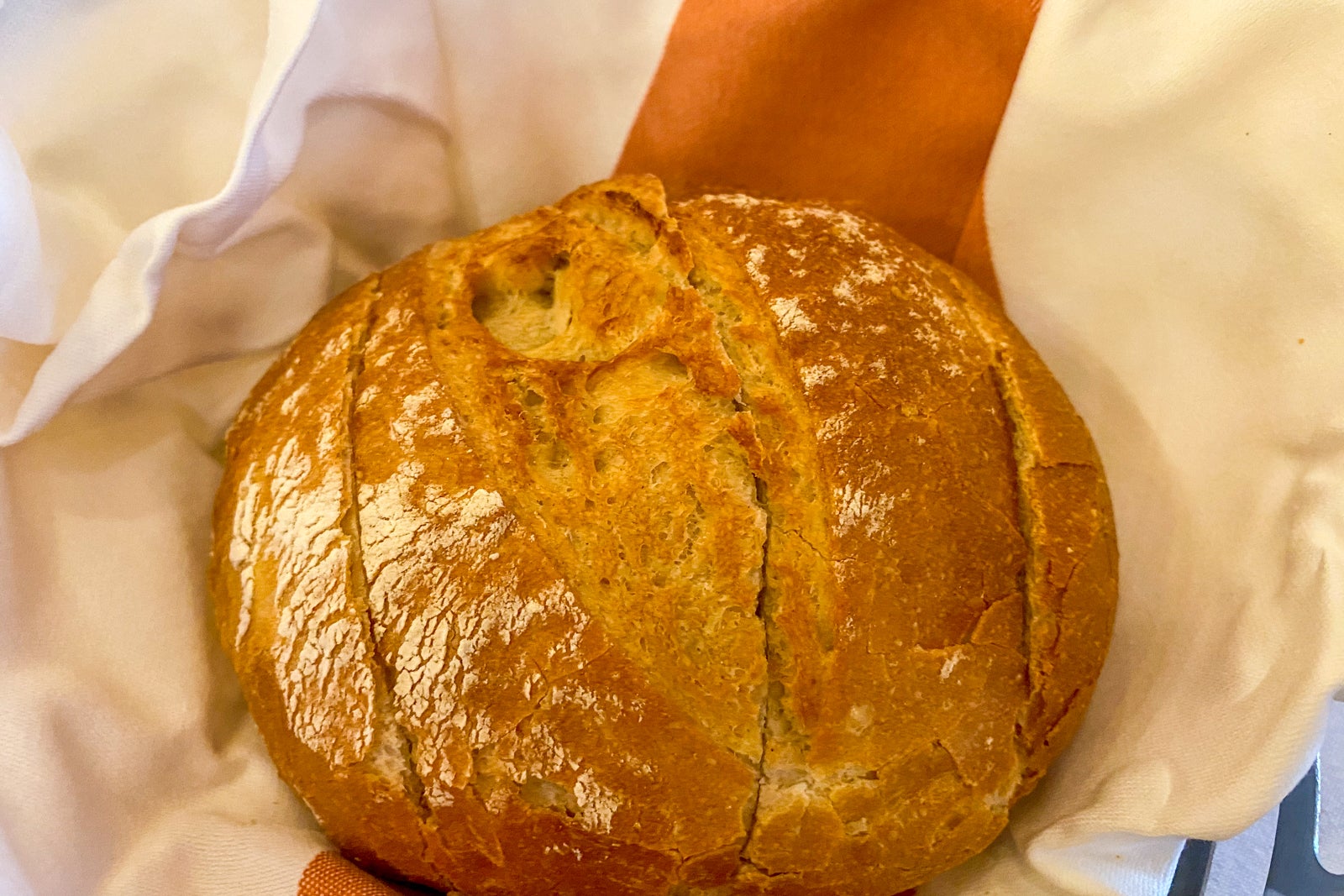 Related: The best credit cards for dining
Contempo Café
The Contemporary is home to more than sit-down establishments, so you can get your food on the run if you'd rather set aside less time and money for meals.
Contempo Café has an eclectic mix of options ranging from internationally inspired items like Chef Gina's lemongrass chicken banh mi ($12.29) and a grilled tofu bowl ($12.99) to comfort classics like a burger with fries ($13.49) and an all-meat flatbread ($12.29). You can order ahead in the Disney app so that your food is ready when you walk up to grab it.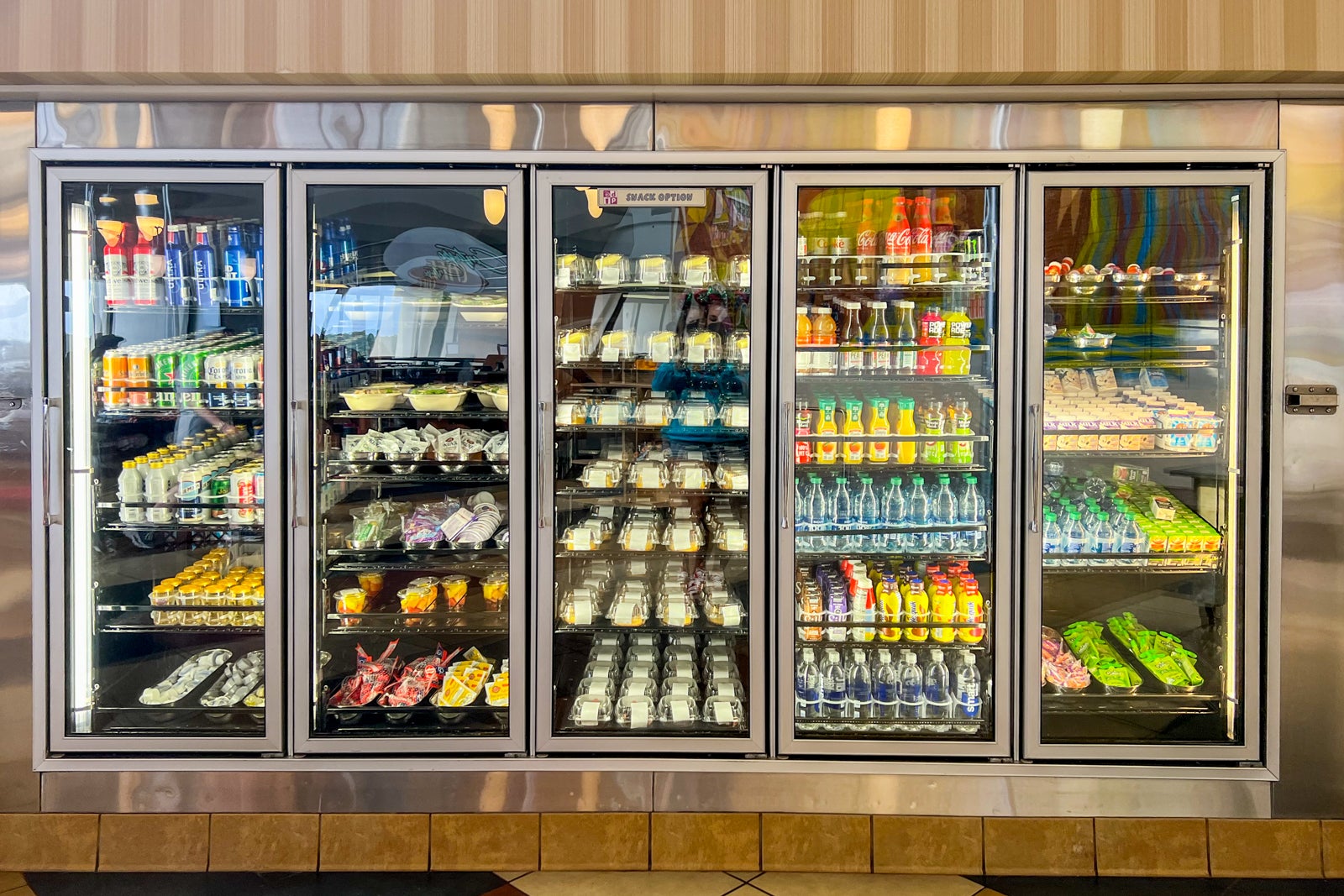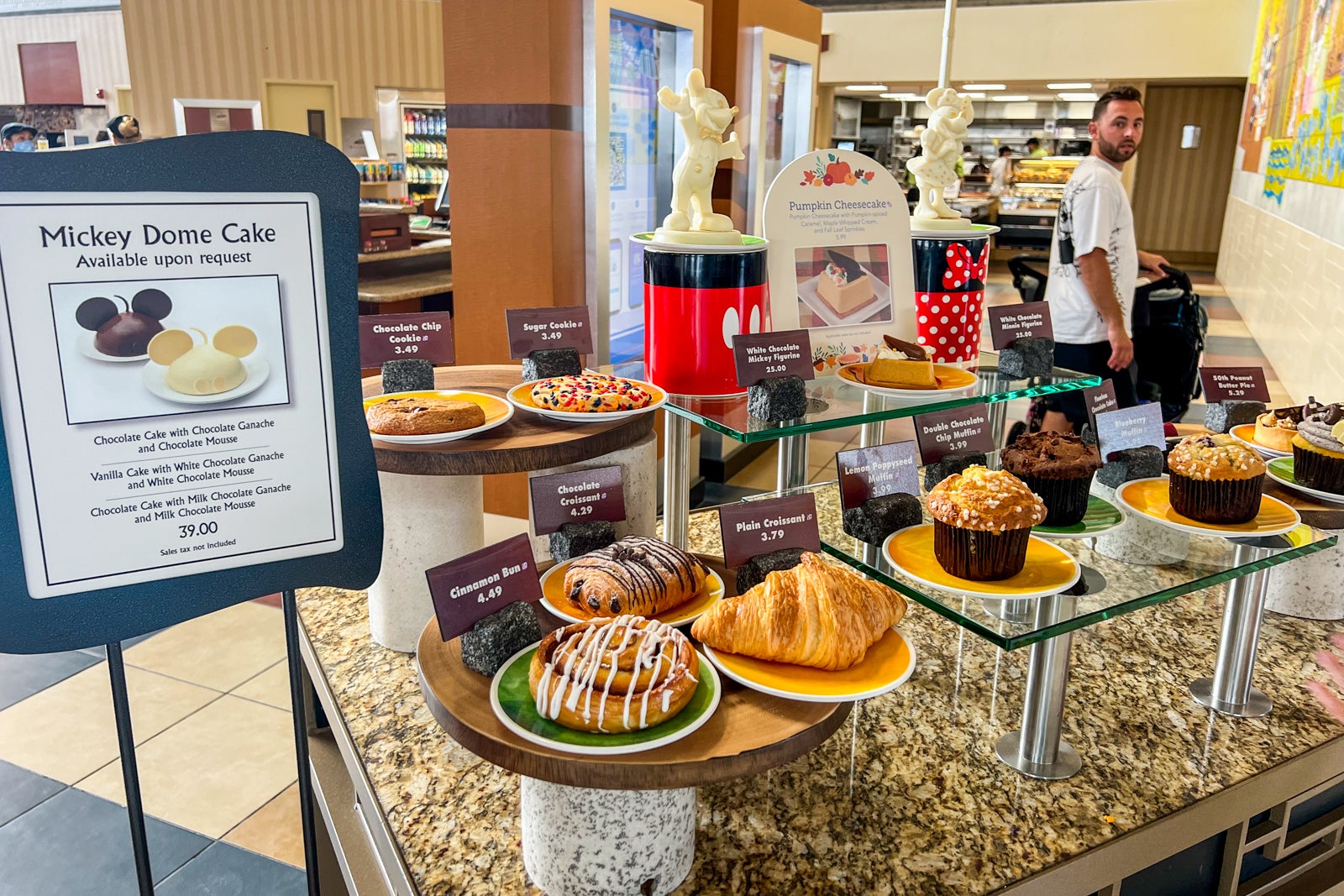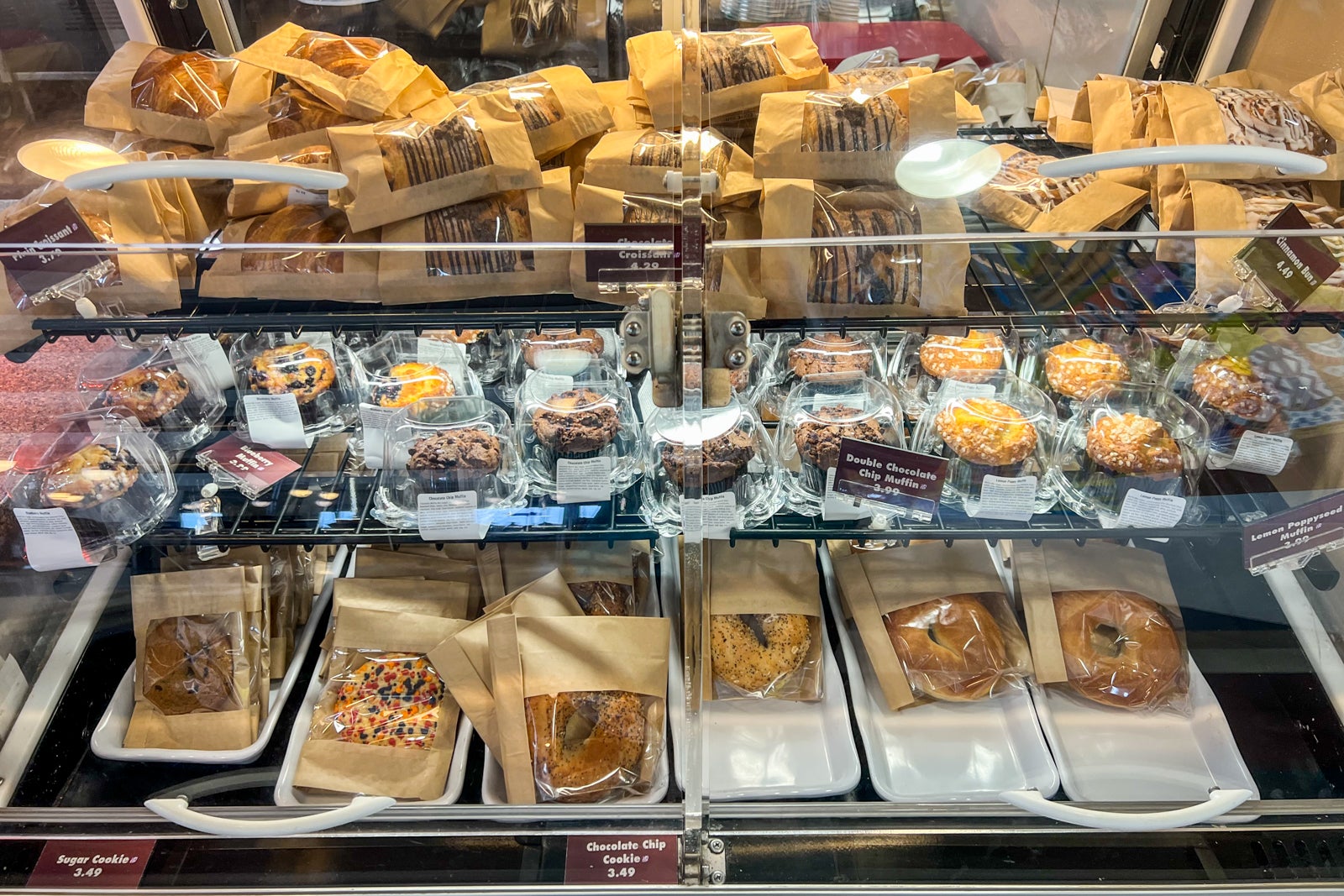 Club lounge
Because I stayed in a club-level room, I also had access to a lounge with a variety of complimentary dishes and beverages. Of the club-level rooms at Disney World that I've tried, this one at the Contemporary remains at the top of my list thanks to the lounge's service and diverse selection of items.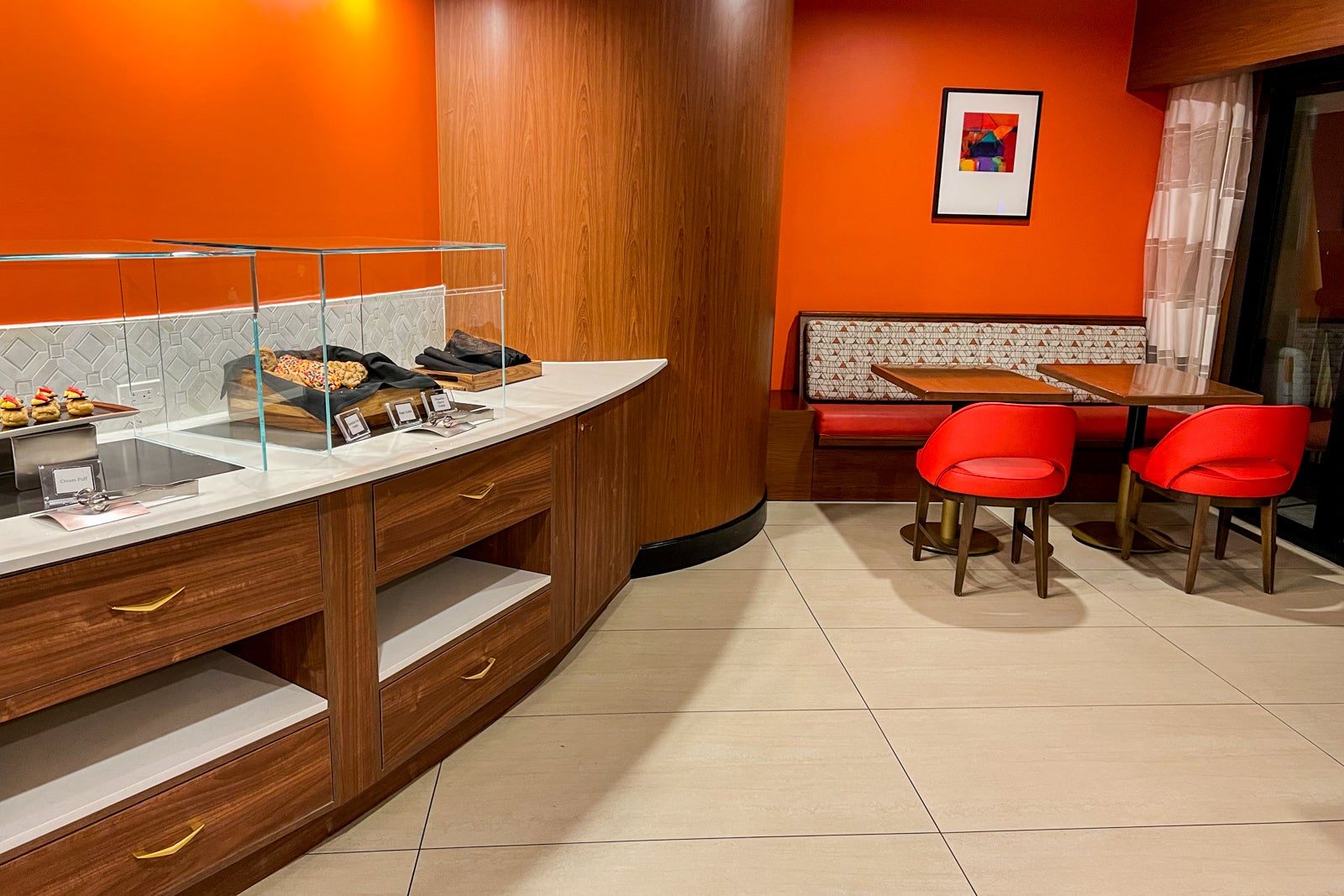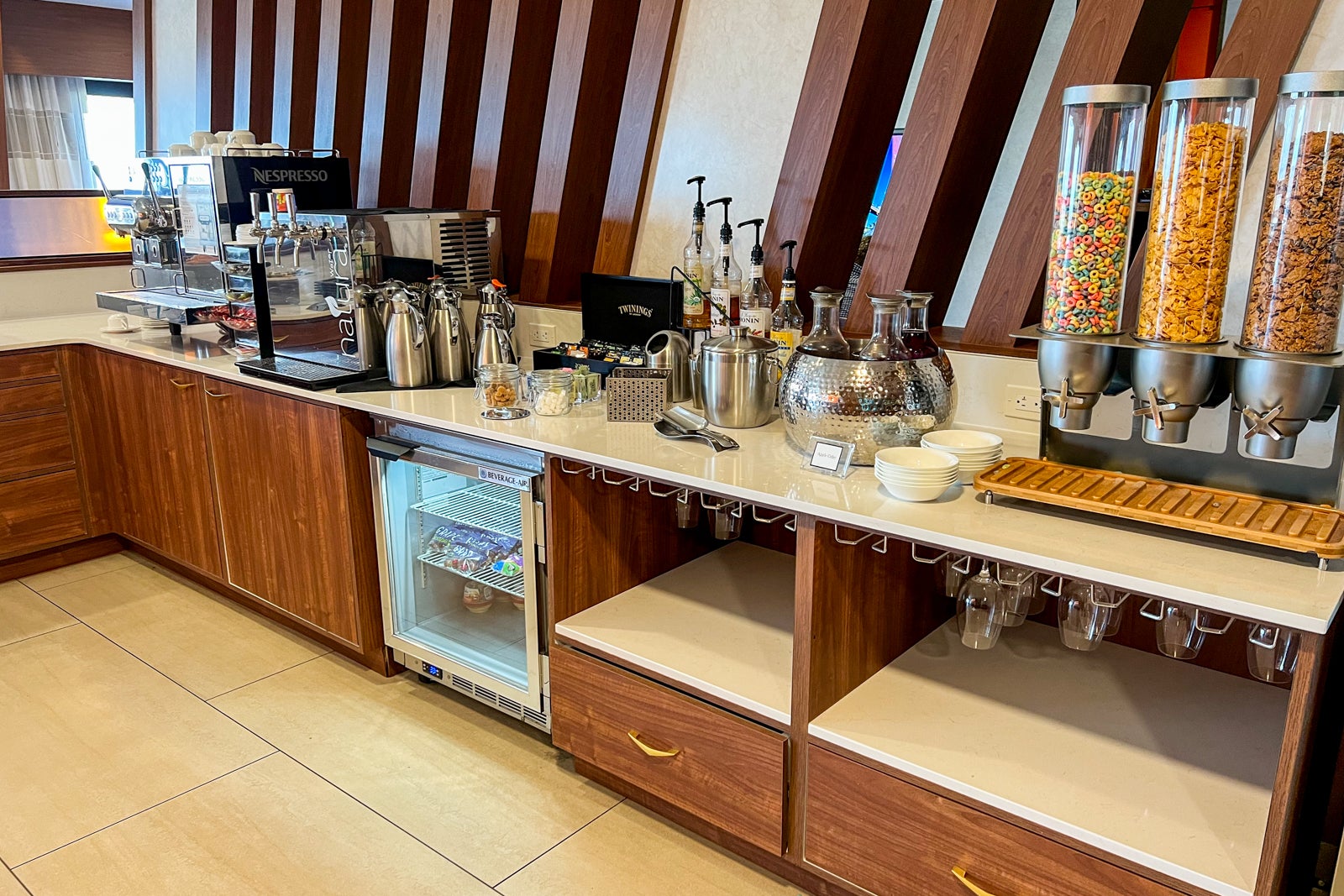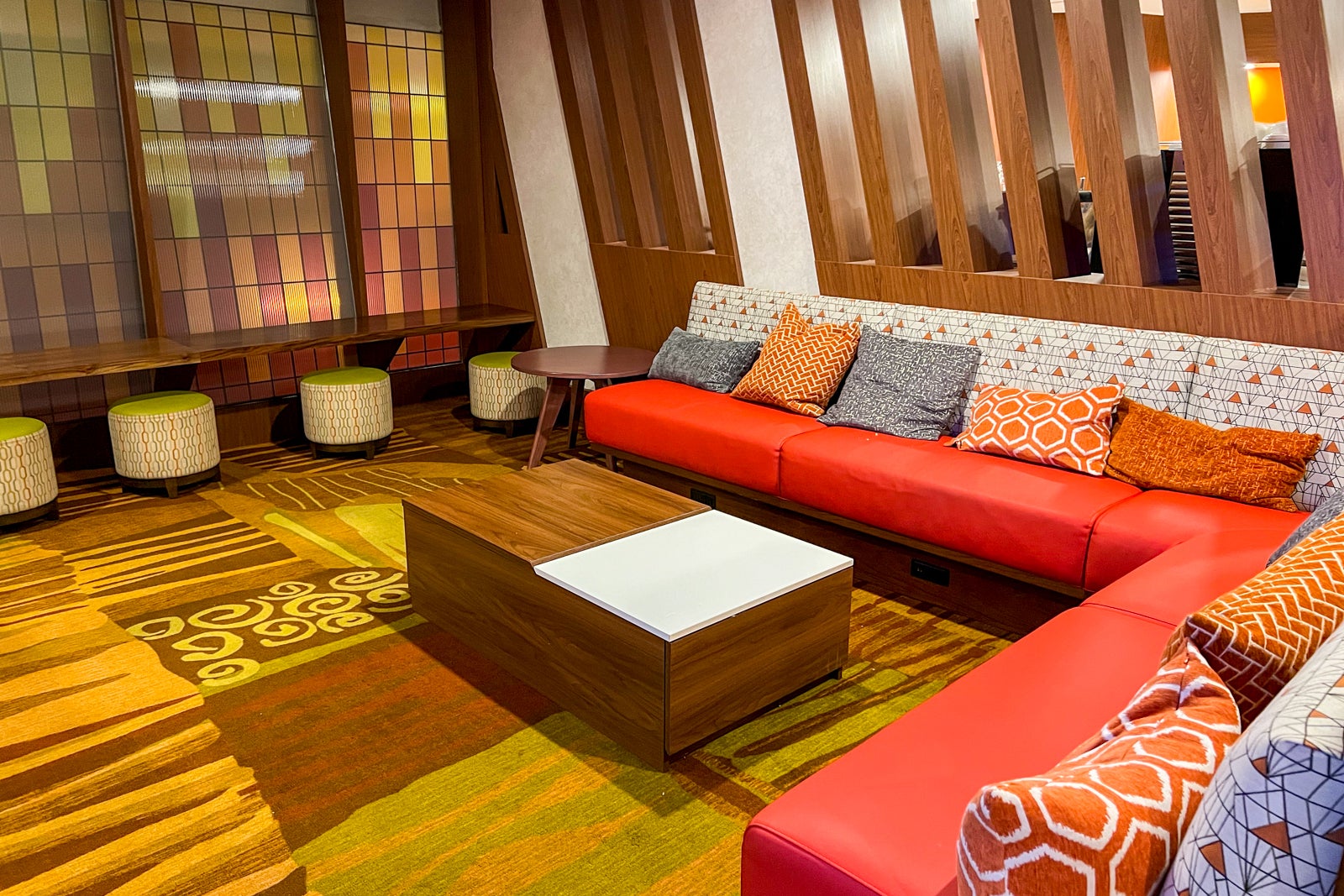 Situated on the Contemporary's 12th floor, the club-level lounge is open every day from 6:30 a.m. to 10 p.m. The food and beverage selections rotate throughout the day, so you'll find a mix of items to try as you pop in and out.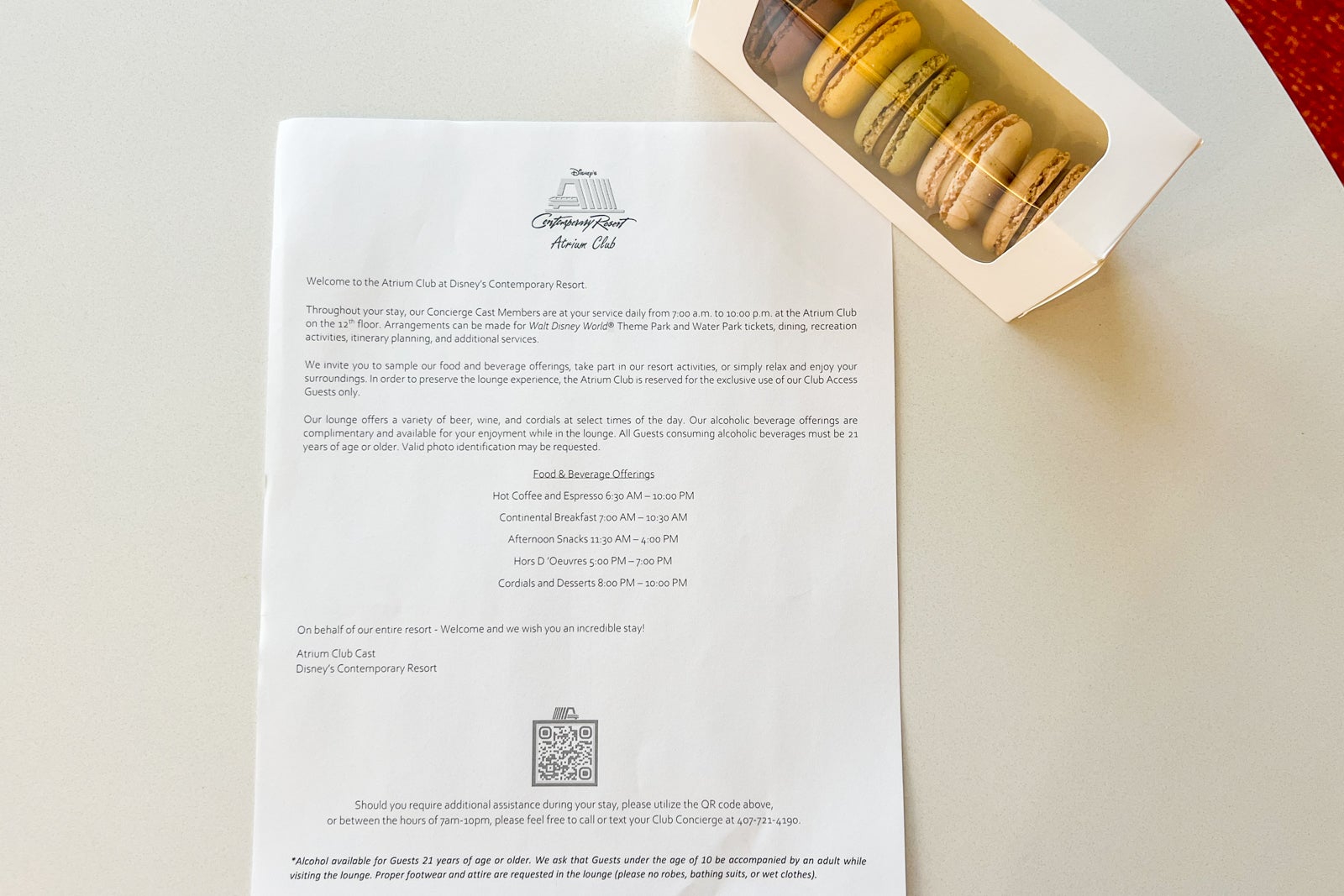 Coffee comes out at 6:30 a.m., which is key for those doing early theme park entry as a Disney resort guest. For something more substantial, you'll find continental breakfast options available from 7 a.m. to 10:30 a.m.
During our recent stay, breakfast items included tortillas with potato, egg and onion; small pieces of avocado toast; fried chicken biscuits with bacon pepper jam; shrimp and grits; pastries; and fruit. Much of the food is prepared in the California Grill kitchen located a few floors above, so you can expect some pretty fantastic bites when you visit.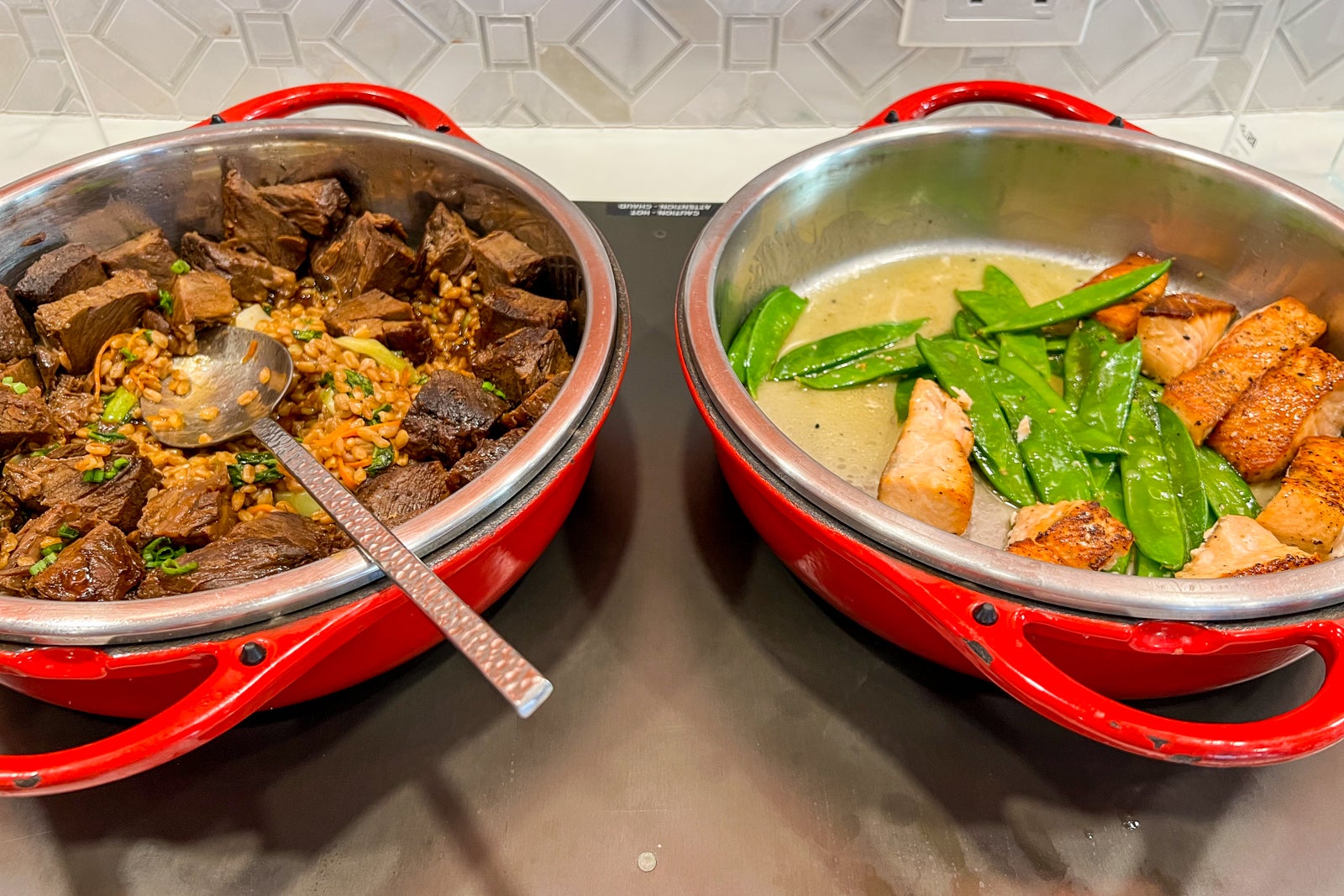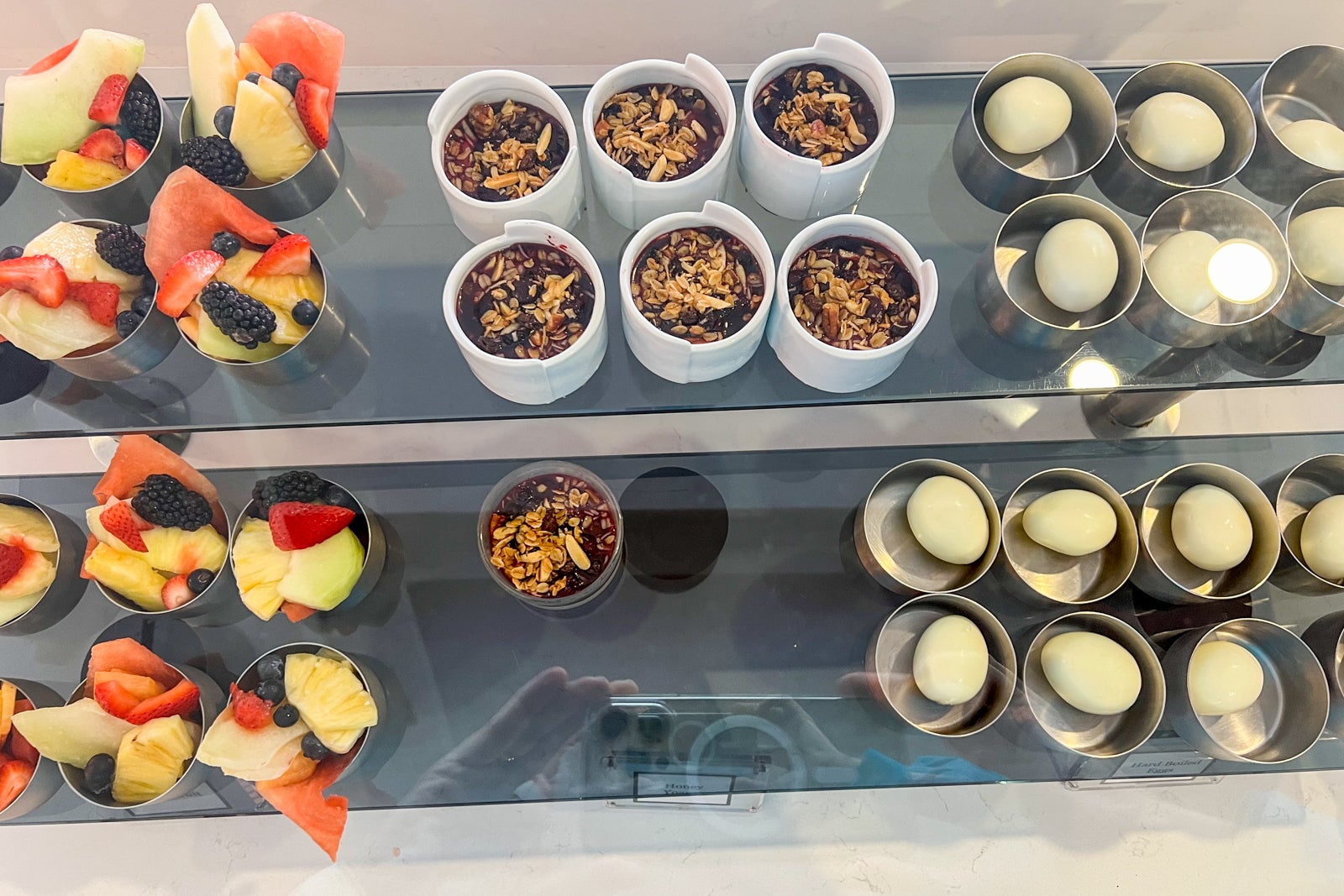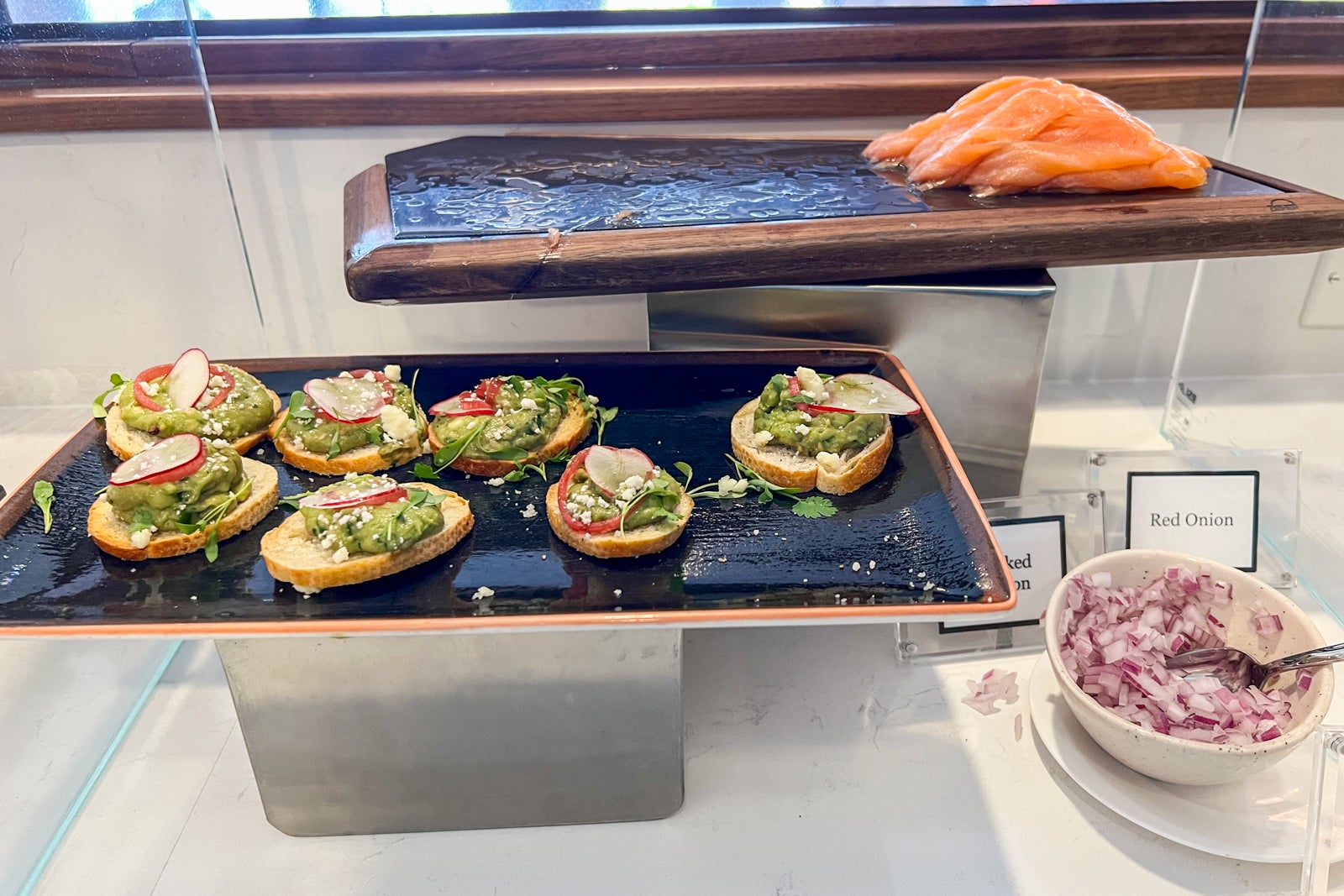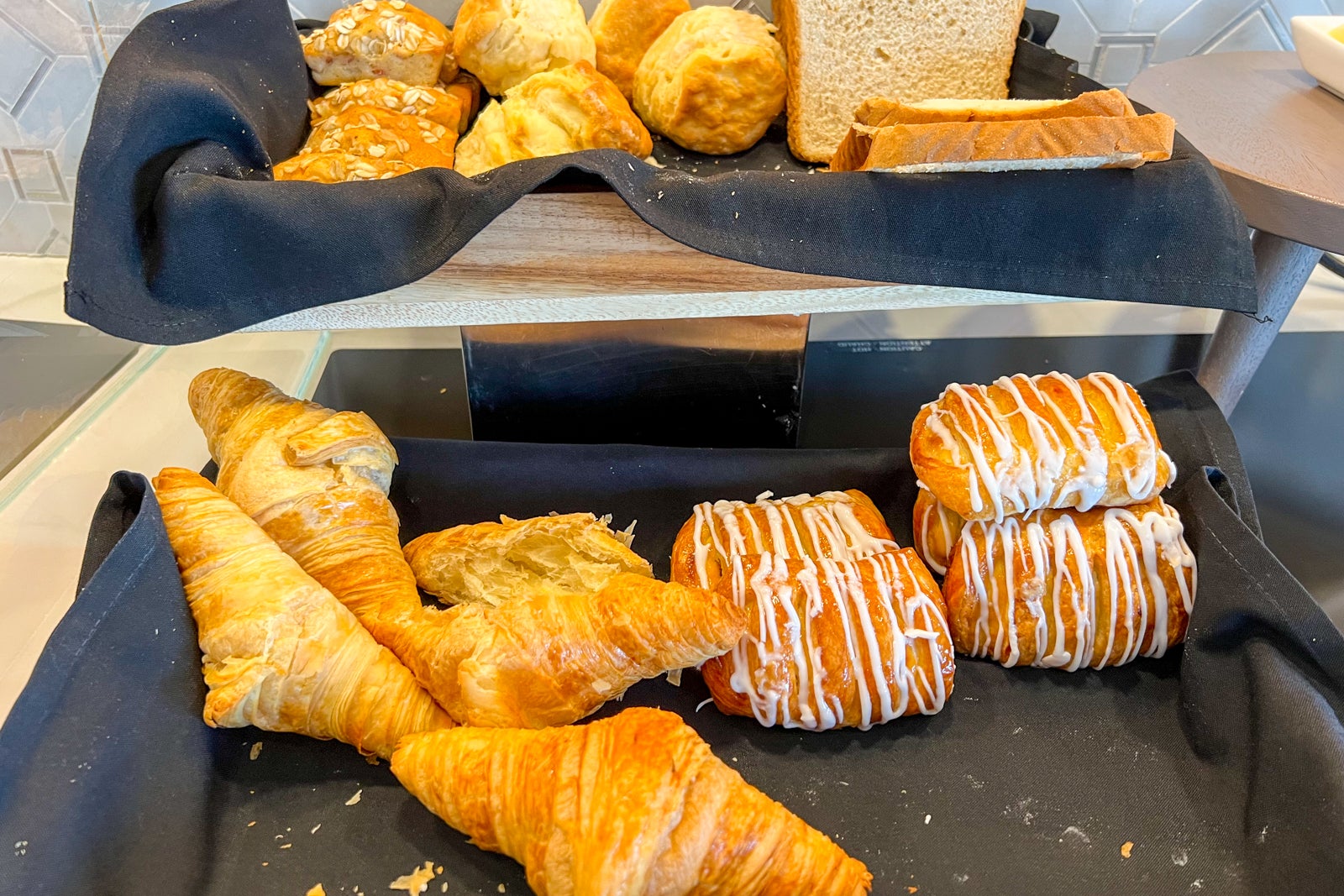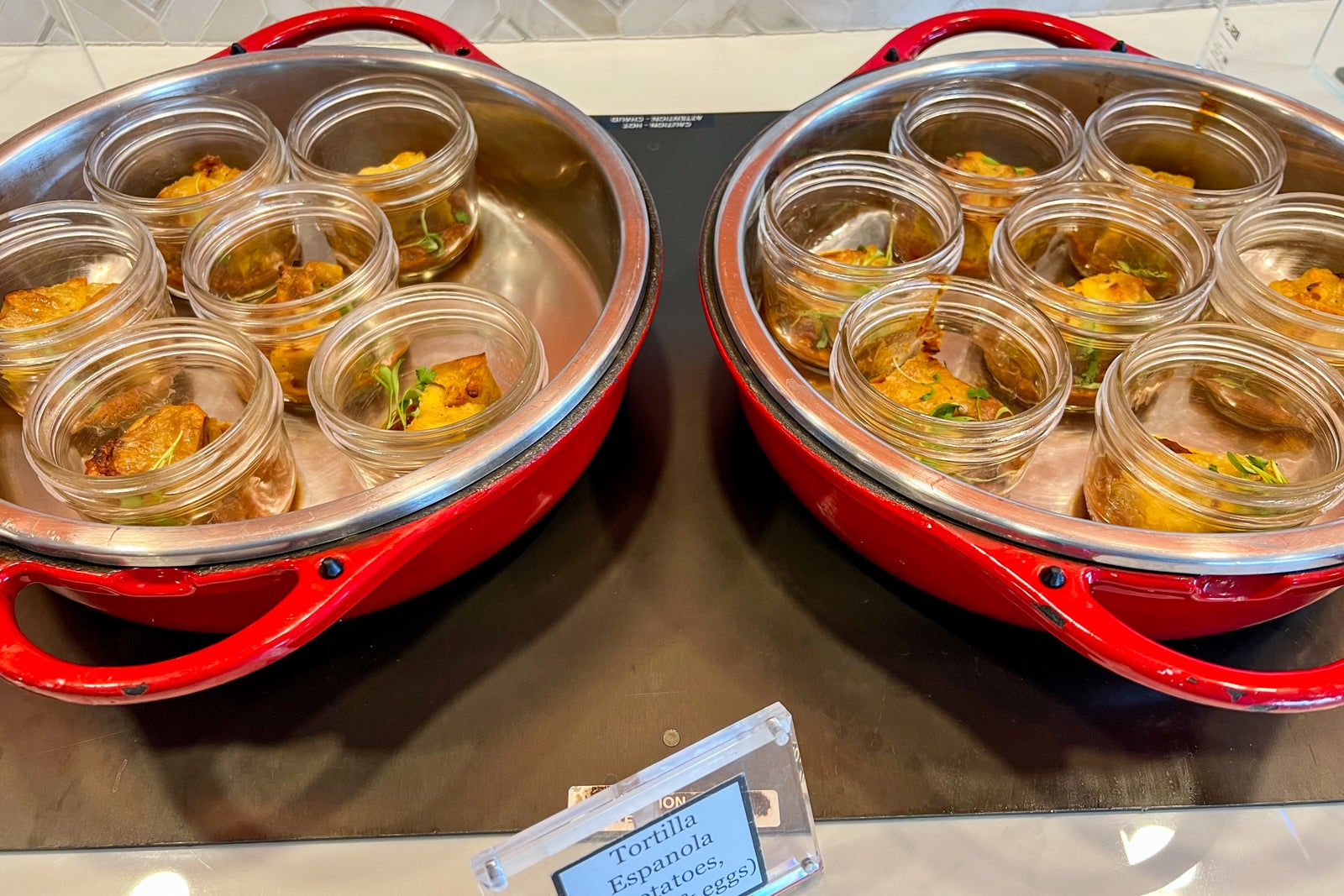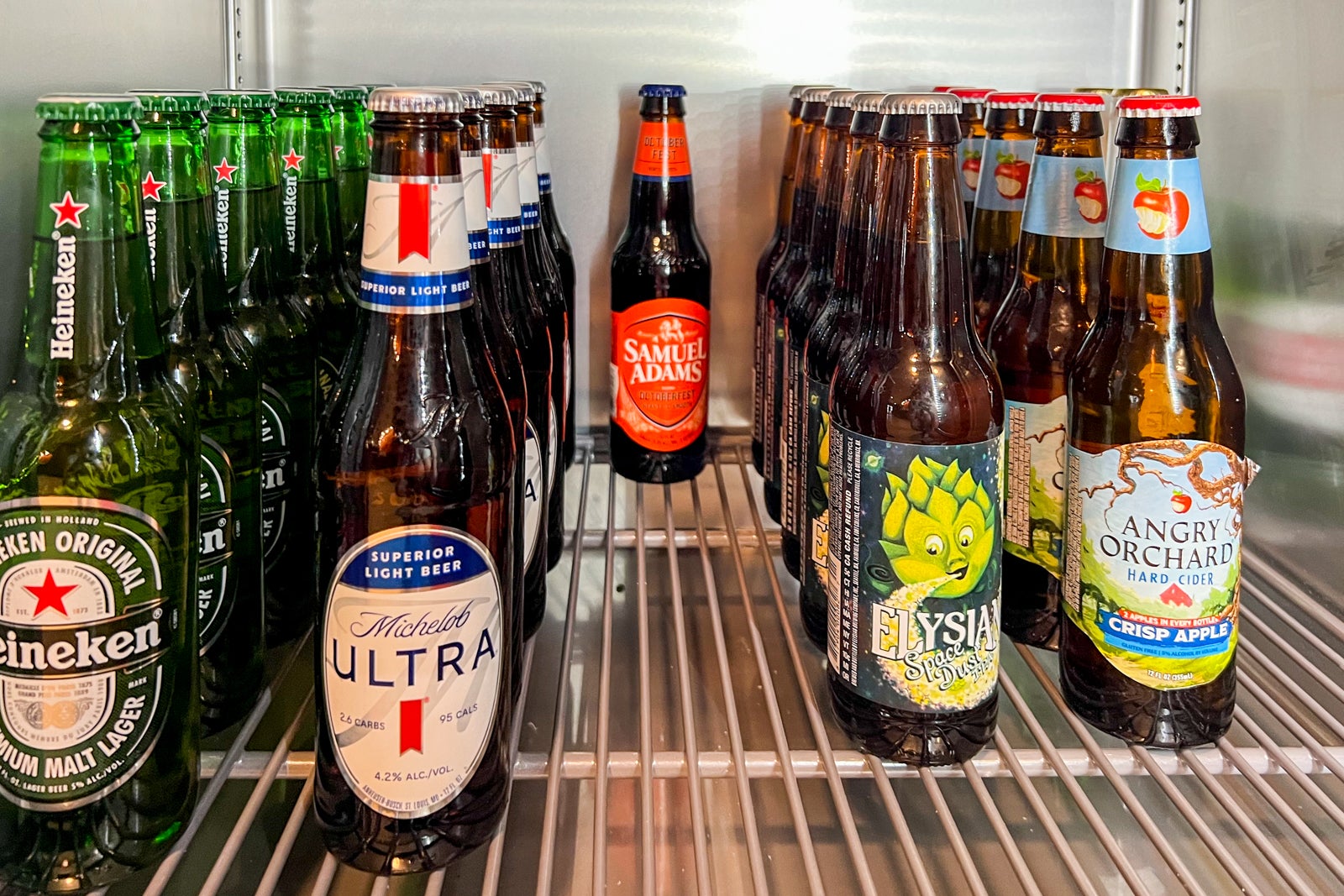 Between 5 p.m. and 7 p.m., more hot food comes out — enough to make a meal of it if you aren't with a super picky group of eaters. Or, you can grab one or two hors d'oeuvres to enjoy as an appetizer before heading to a full-service restaurant on or off the property.
While we were here, the evening spread consisted of miso-braised short ribs, honey- and soy-glazed salmon, tater tots, corn dog nuggets, a meat and cheese spread, buckwheat noodles, lemongrass shrimp and a delicious Thai peanut chicken salad.
By 8 p.m., the menu shifts to dessert, with savory items swapped out for various drinks and sweet treats. They're a perfect accompaniment to The Magic Kingdom fireworks, viewable from the lounge's balcony.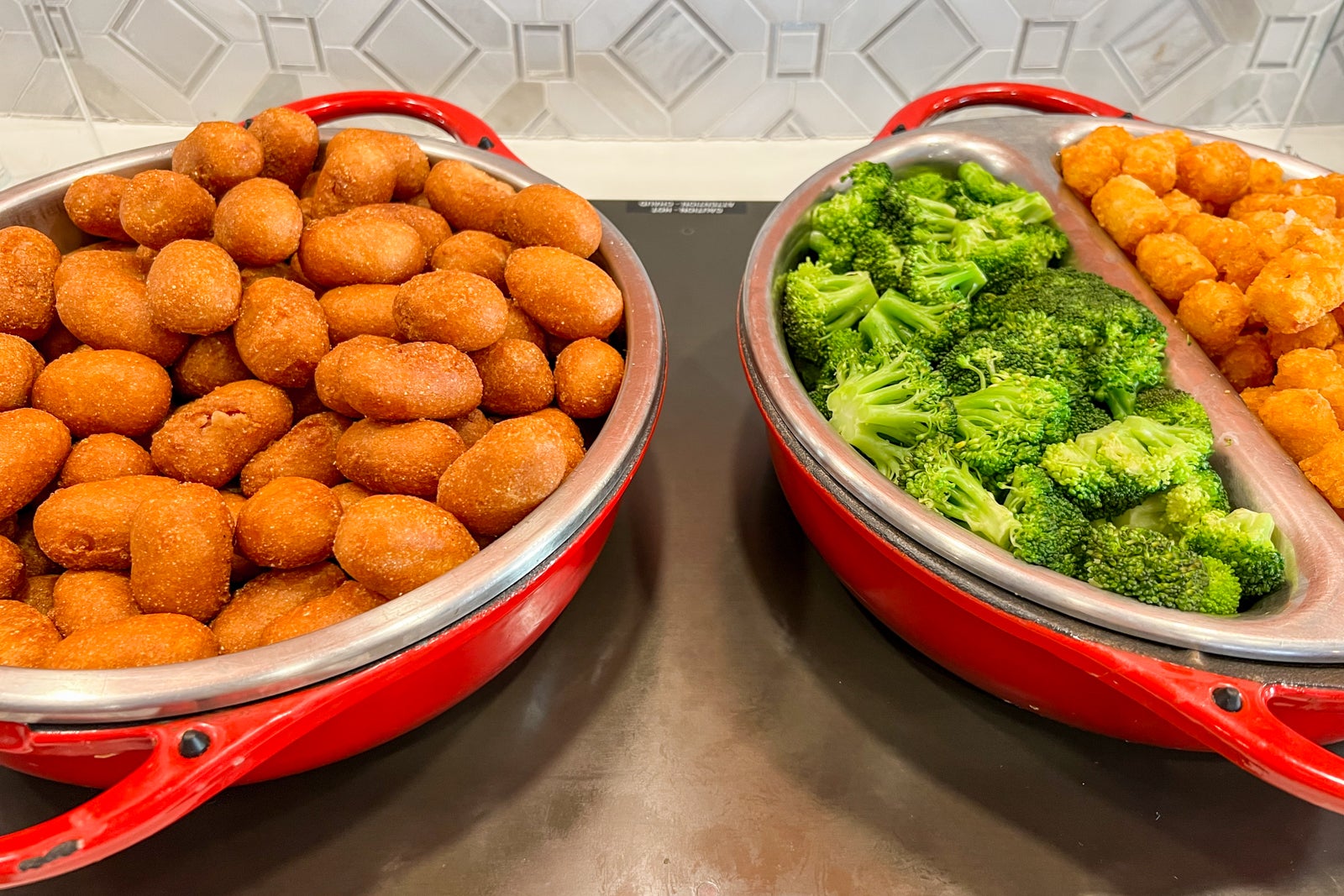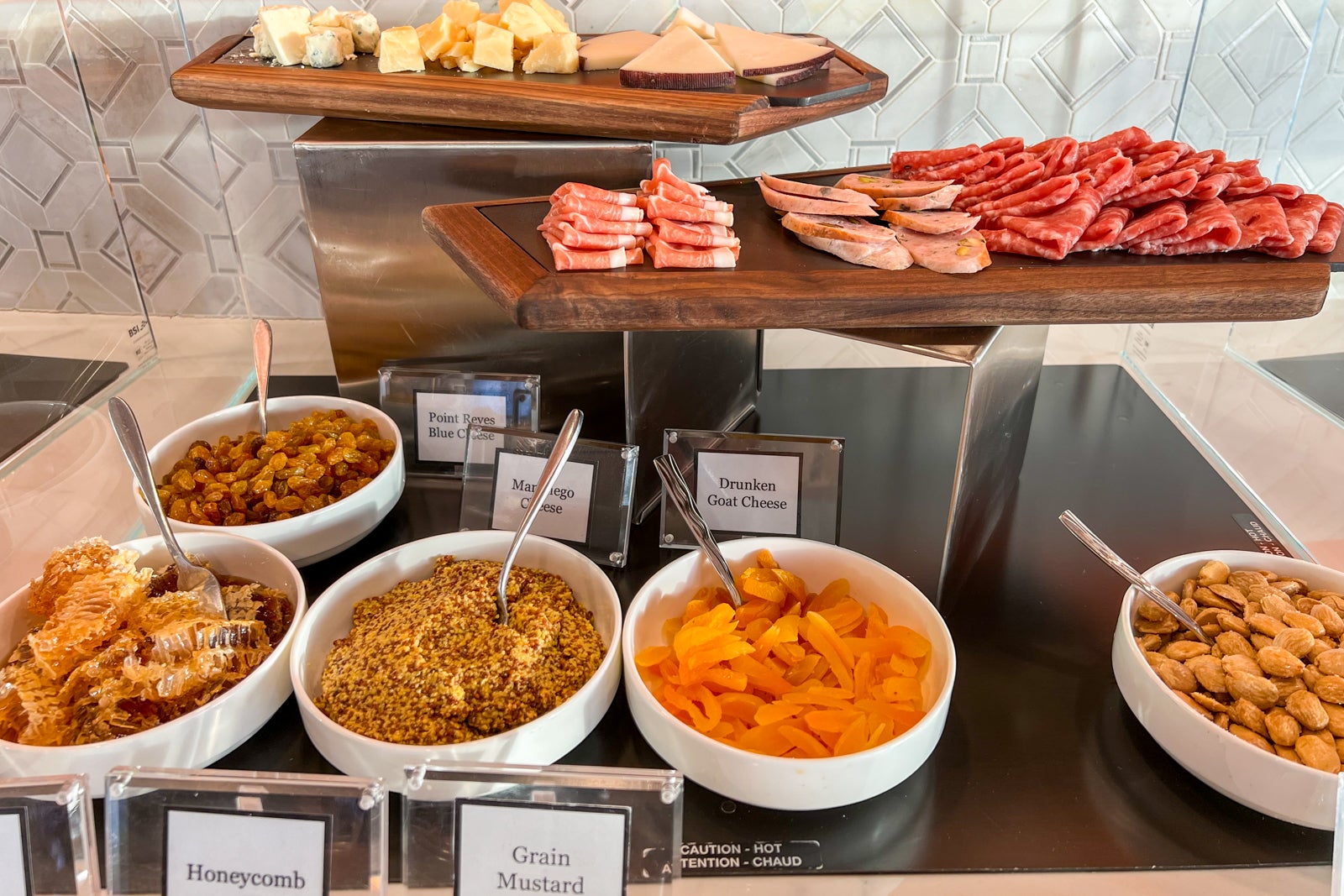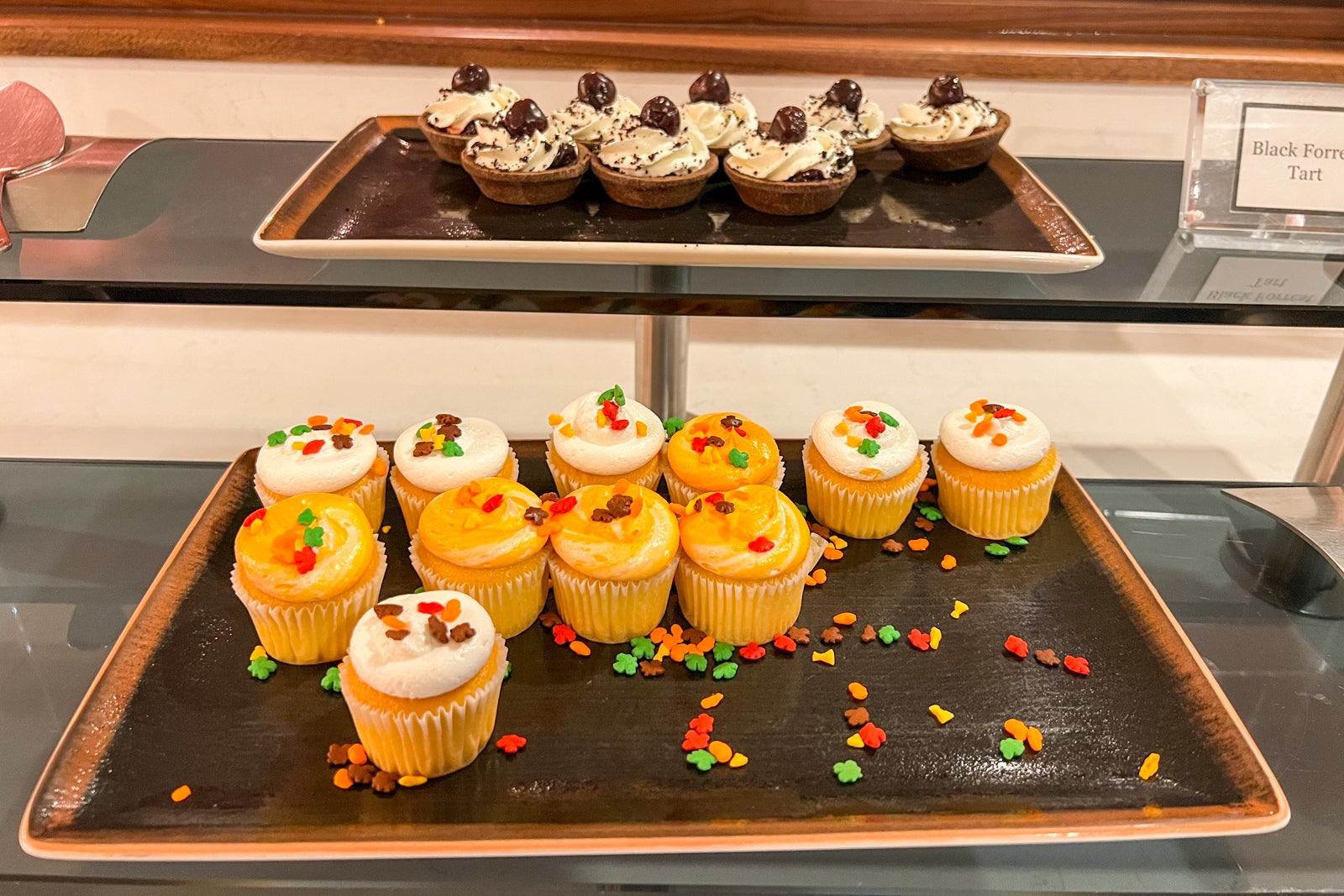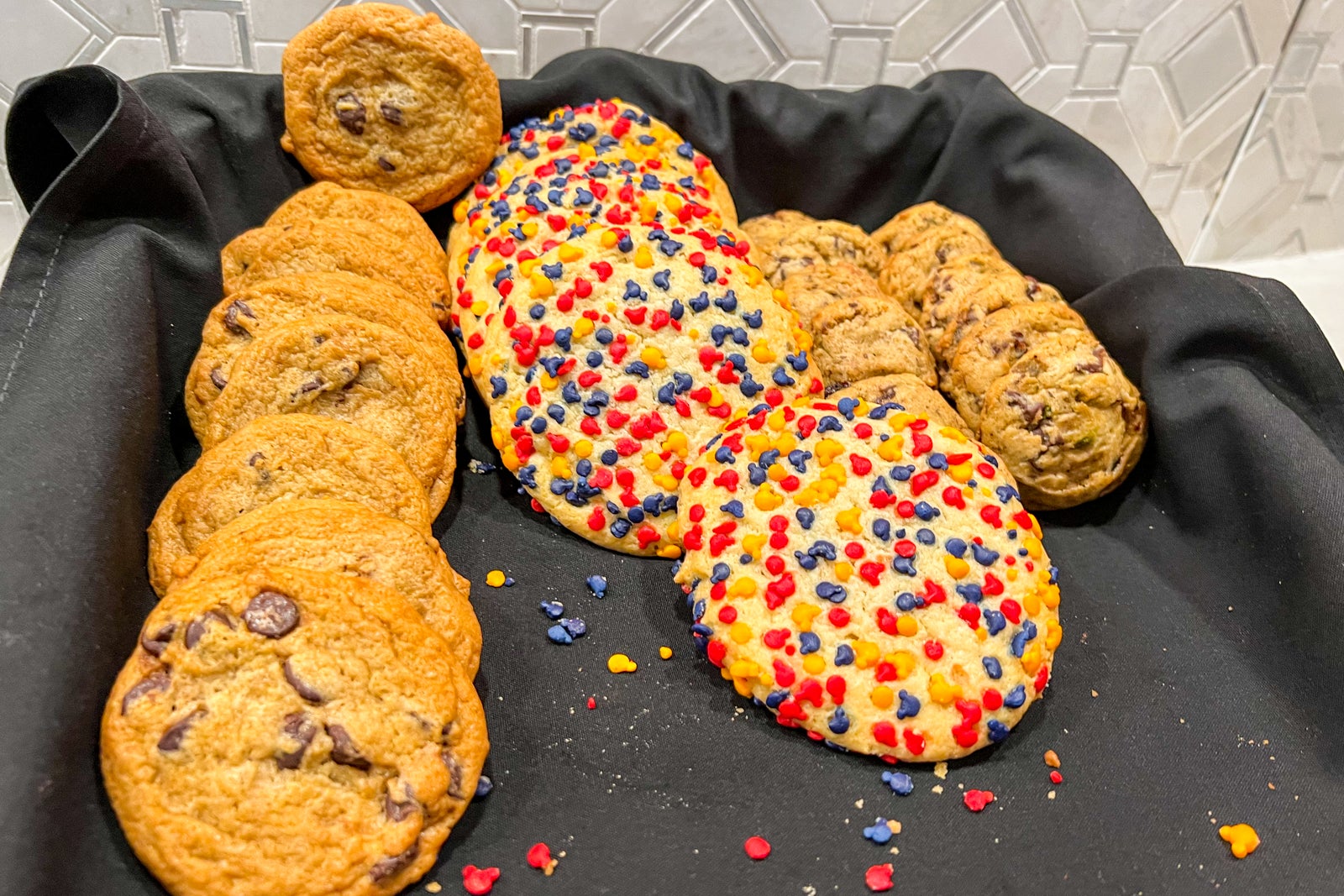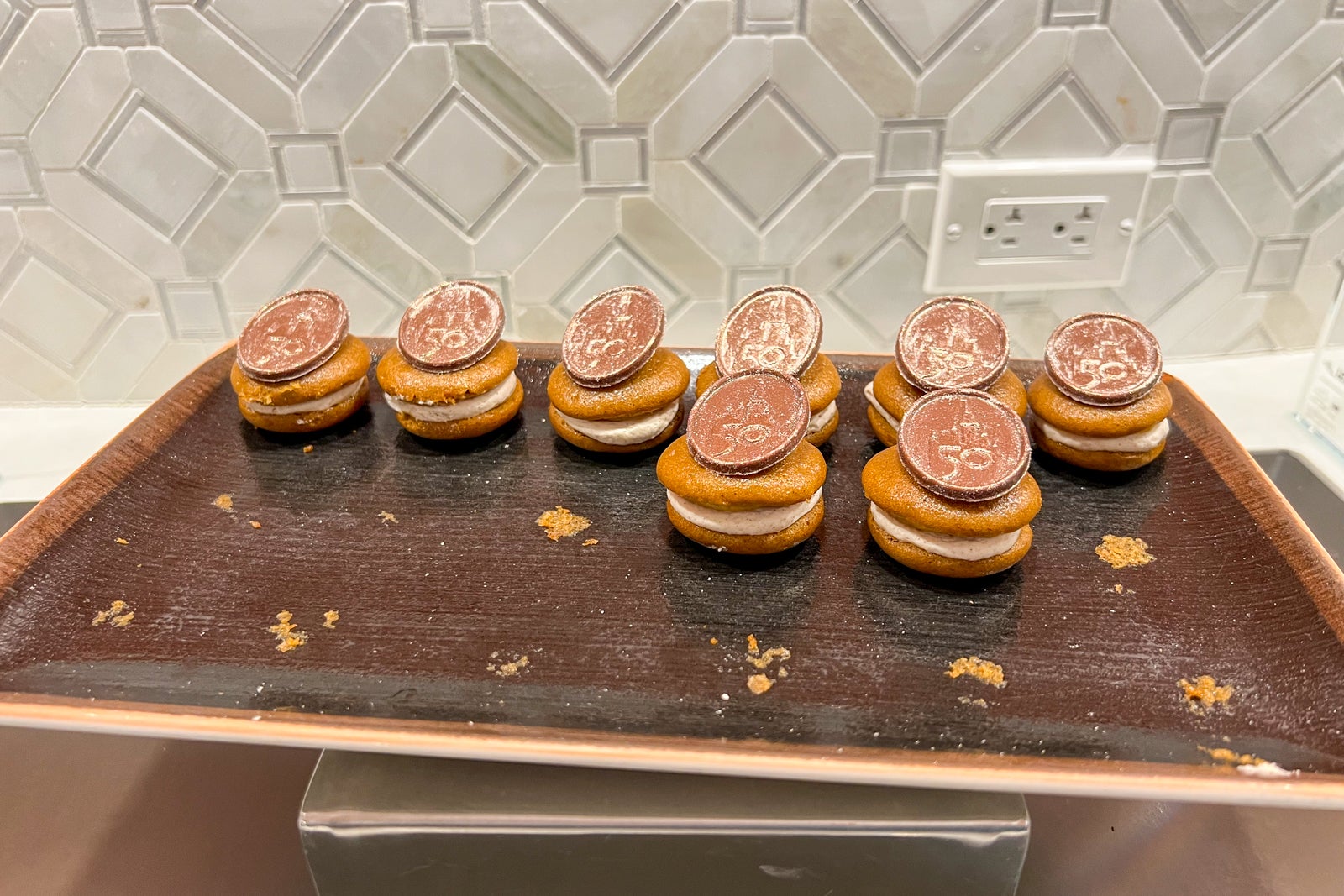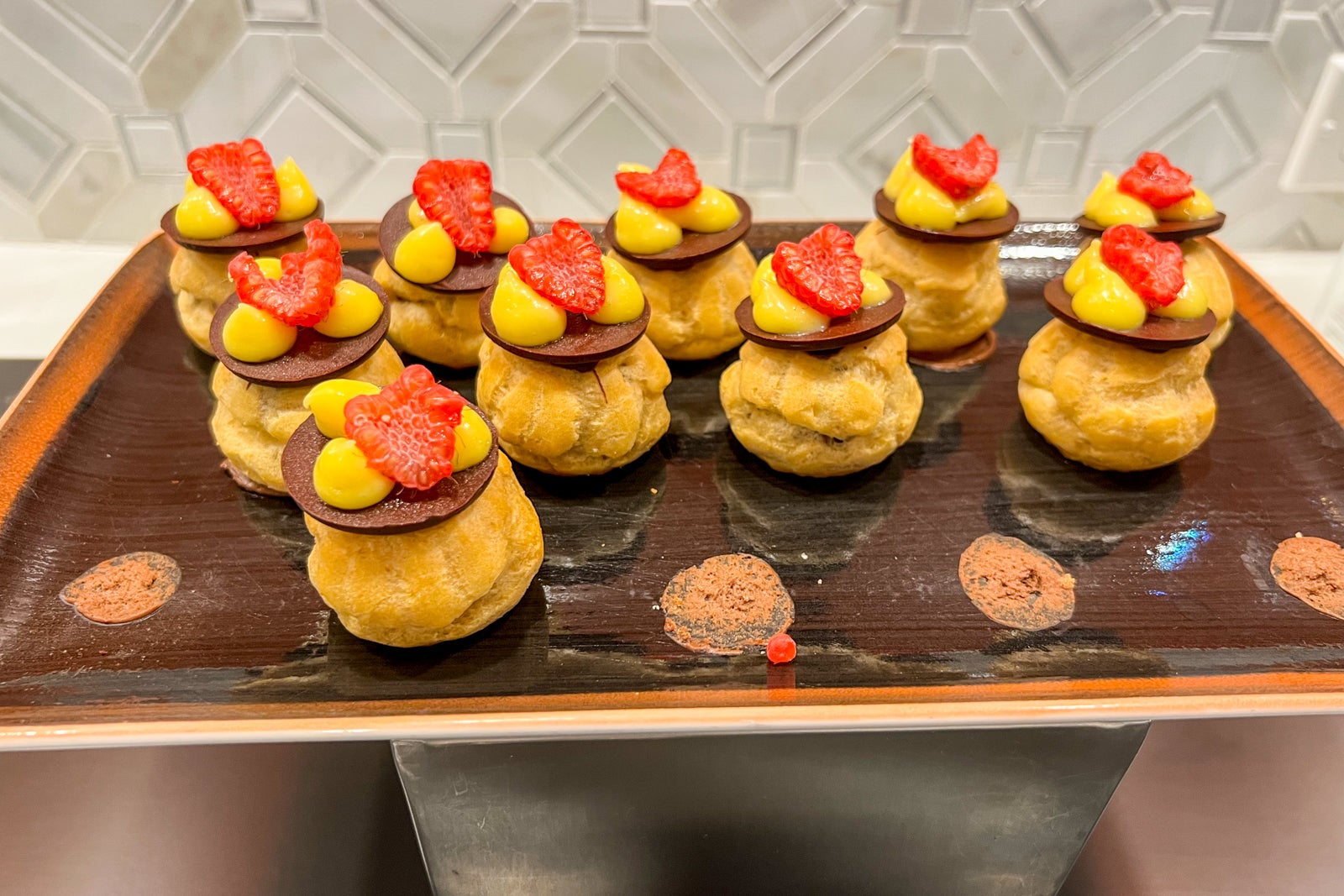 Amenities
While the Contemporary wins when it comes to location and dining, it doesn't have the absolute best lineup of amenities for a deluxe Disney resort. Nevertheless, it does have some fun options.
Pools
There are two pools on-site: the main pool and an all-ages quiet pool.
Open every day from 10 a.m. to 10 p.m., the large activity pool (known as the Feature Pool) has a 17-foot waterslide and lifeguards.
Towels and chairs are in ample supply, and there's a hot tub smack dab in the middle of the action if you find the water a touch too cold during the cooler months but want to keep an eye on the kids. There's also a water playground with water cannons and fountains by the main pool, should you have little ones in tow.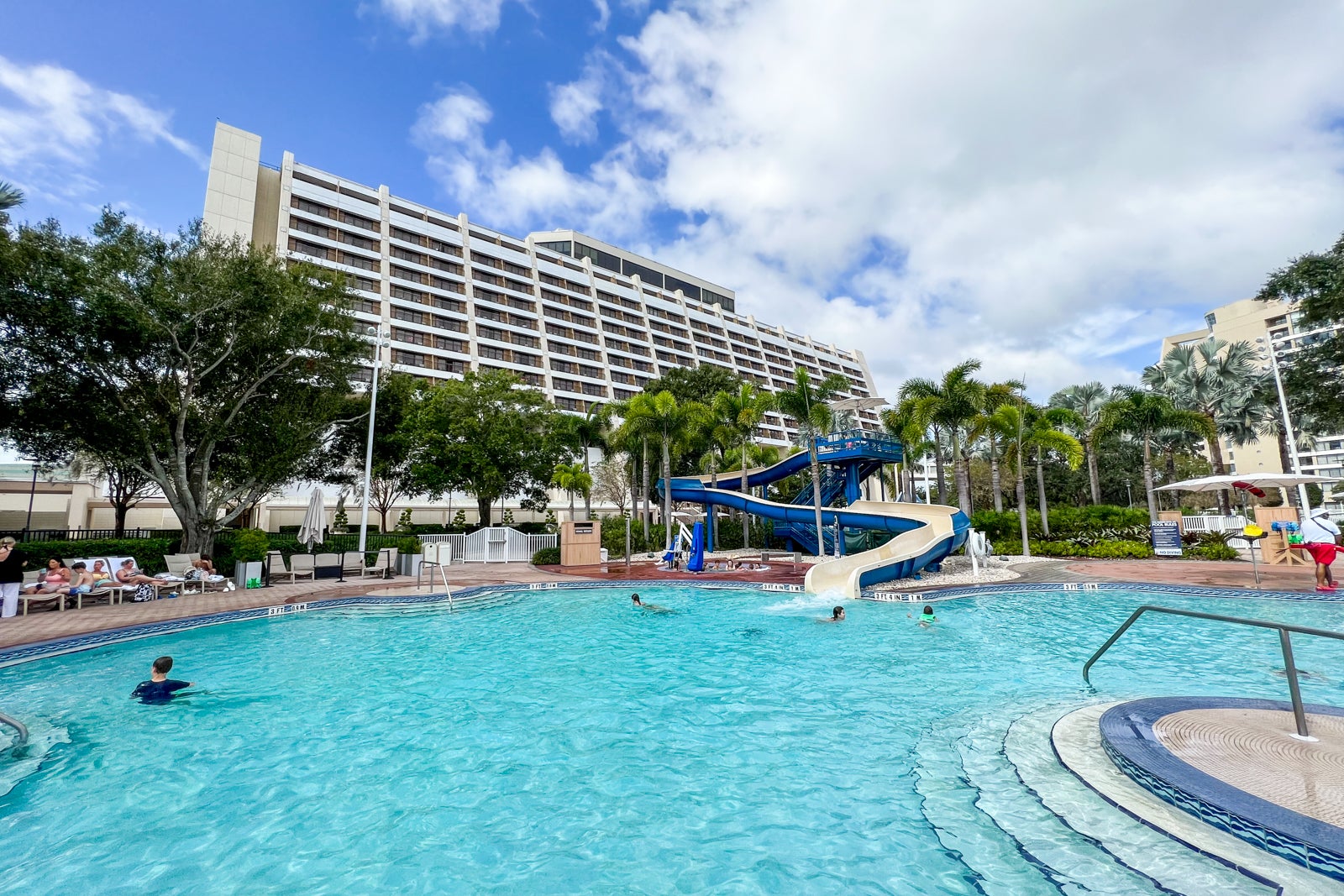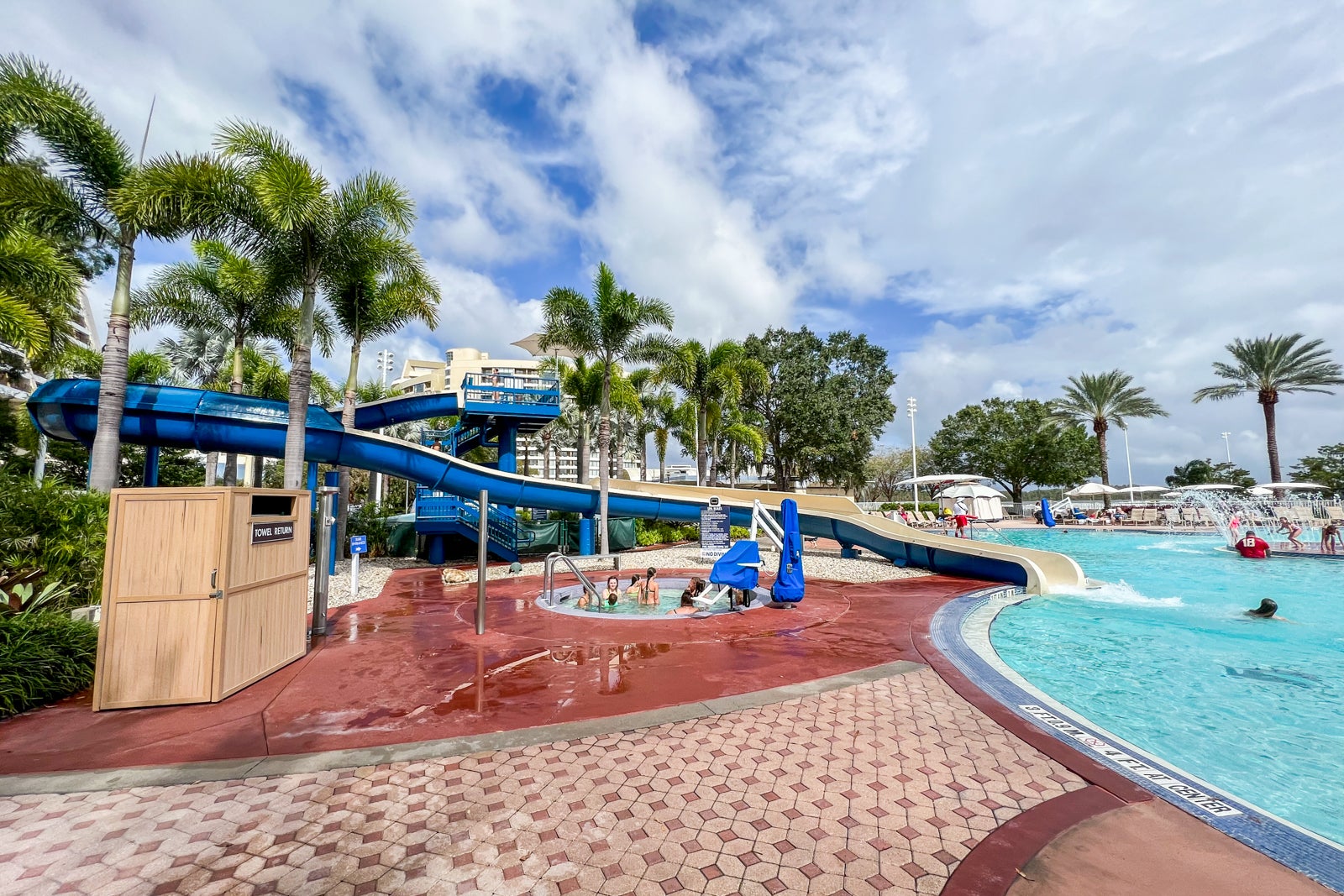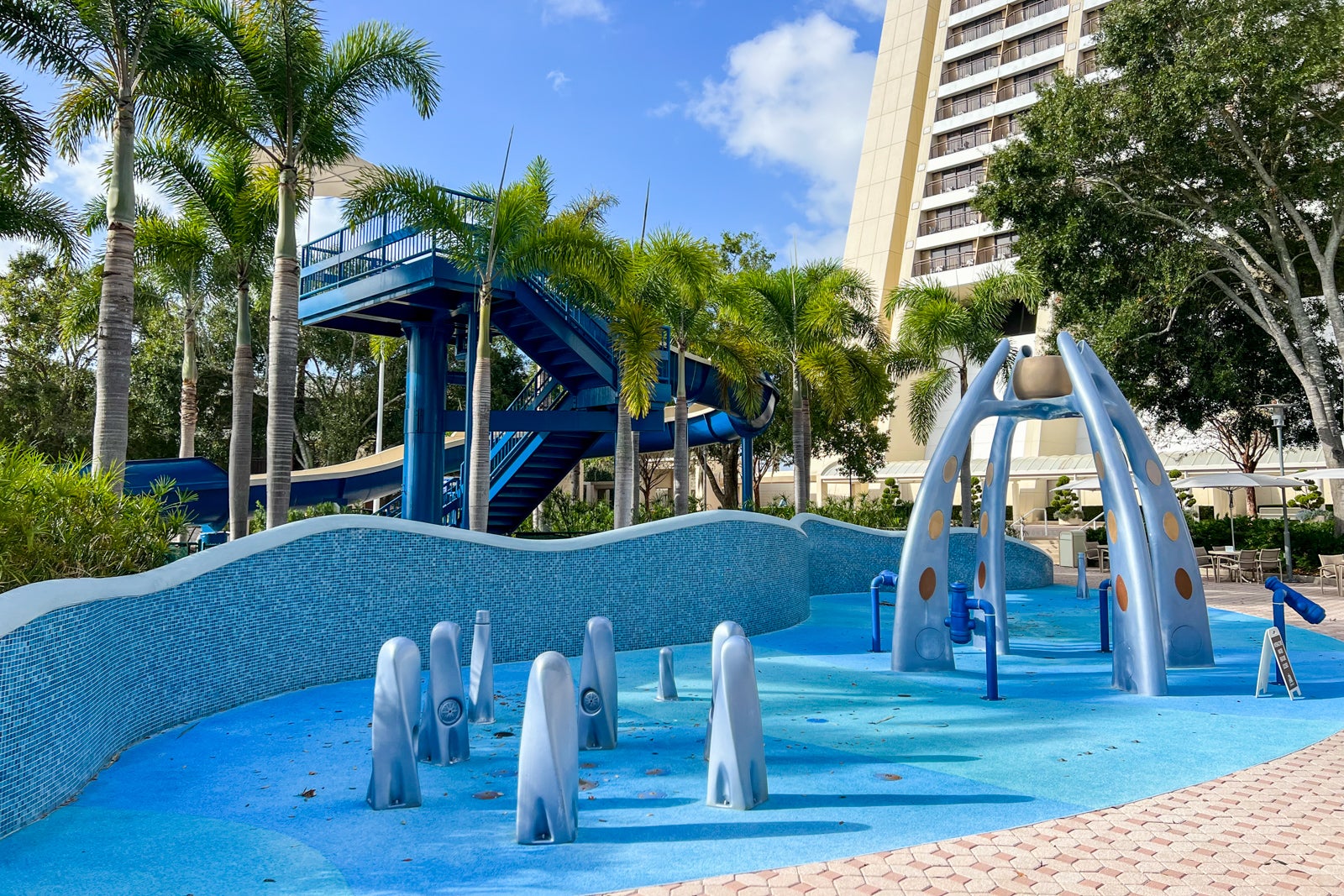 While this is a solid pool option, the pools at the Polynesian, Disney's Yacht Club Resort and even the Wilderness Lodge rank higher in my book due to their theming and kid-friendly water features. It's also worth noting that this main pool will be closed from early January to early April 2023 as it gets refurbished, so if pools are important to you, you may want to stay elsewhere.
A smaller circular pool known as the Bay Lake Pool is also available at the Contemporary, should you want to take a dip without all the action of the Feature Pool. It sits behind the main pool and is open longer (from 7 a.m. to 11 p.m.), though it does not have a lifeguard and asks that guests not splash or make loud noises while visiting.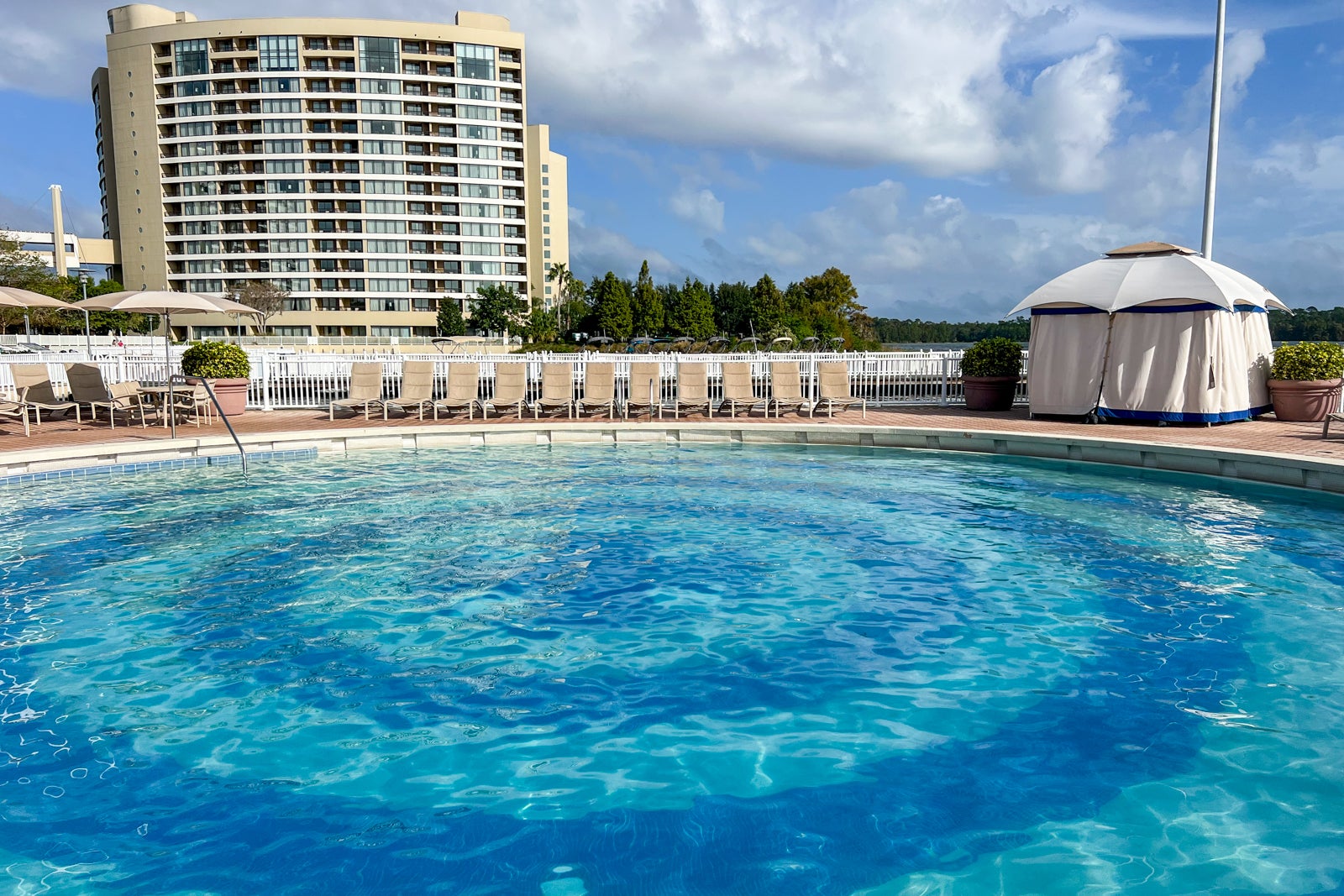 Should you need a break from the pools, you can play volleyball on the sand court located between the pools and the lagoon.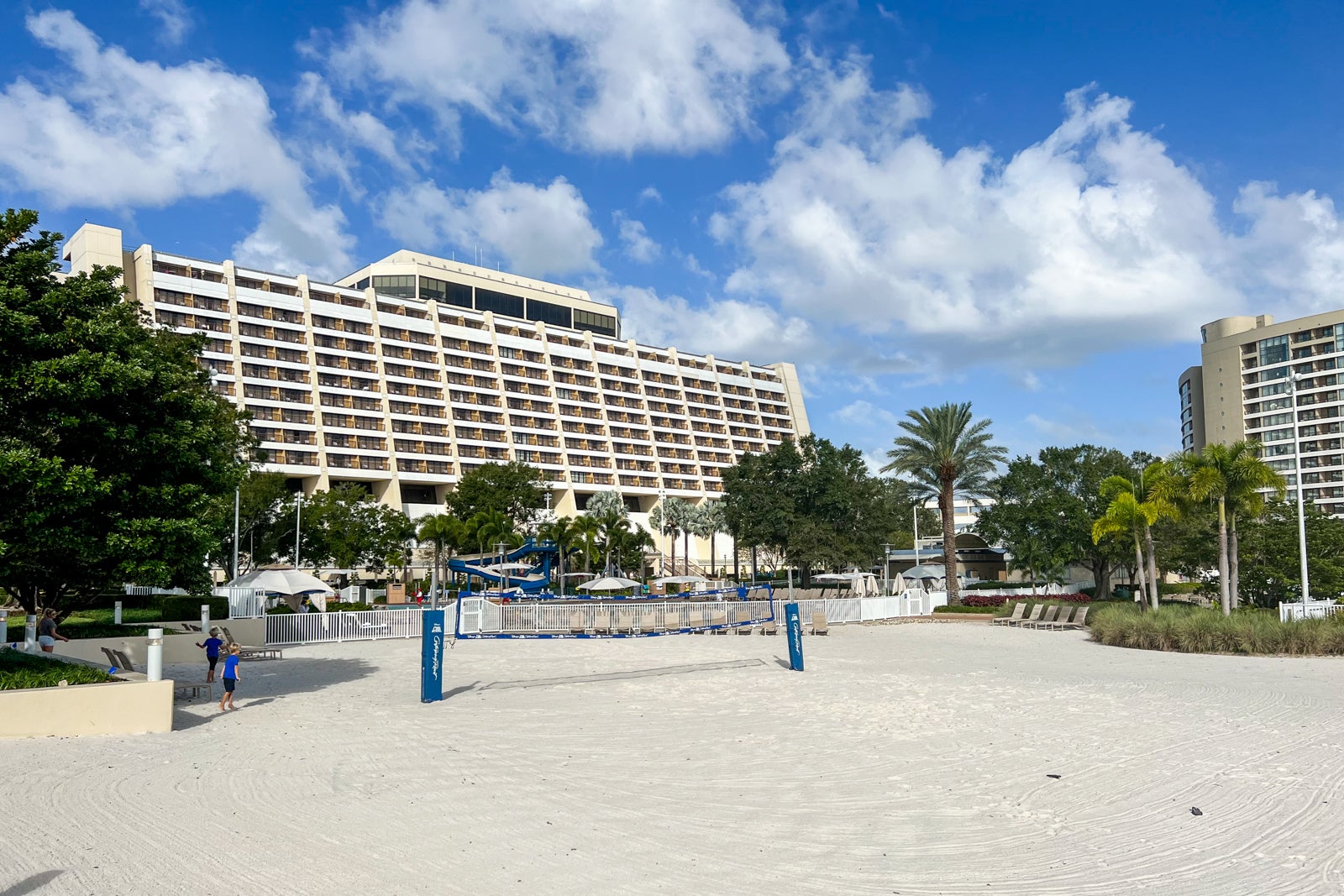 Arcade
Kids who love gaming or need a distraction on a rainy day will find an arcade on the Contemporary's fourth floor.
Although games in the arcade aren't free, they're certainly cheaper than a park ticket. An array of options are available, including classics like Pac-Man and Skee Ball.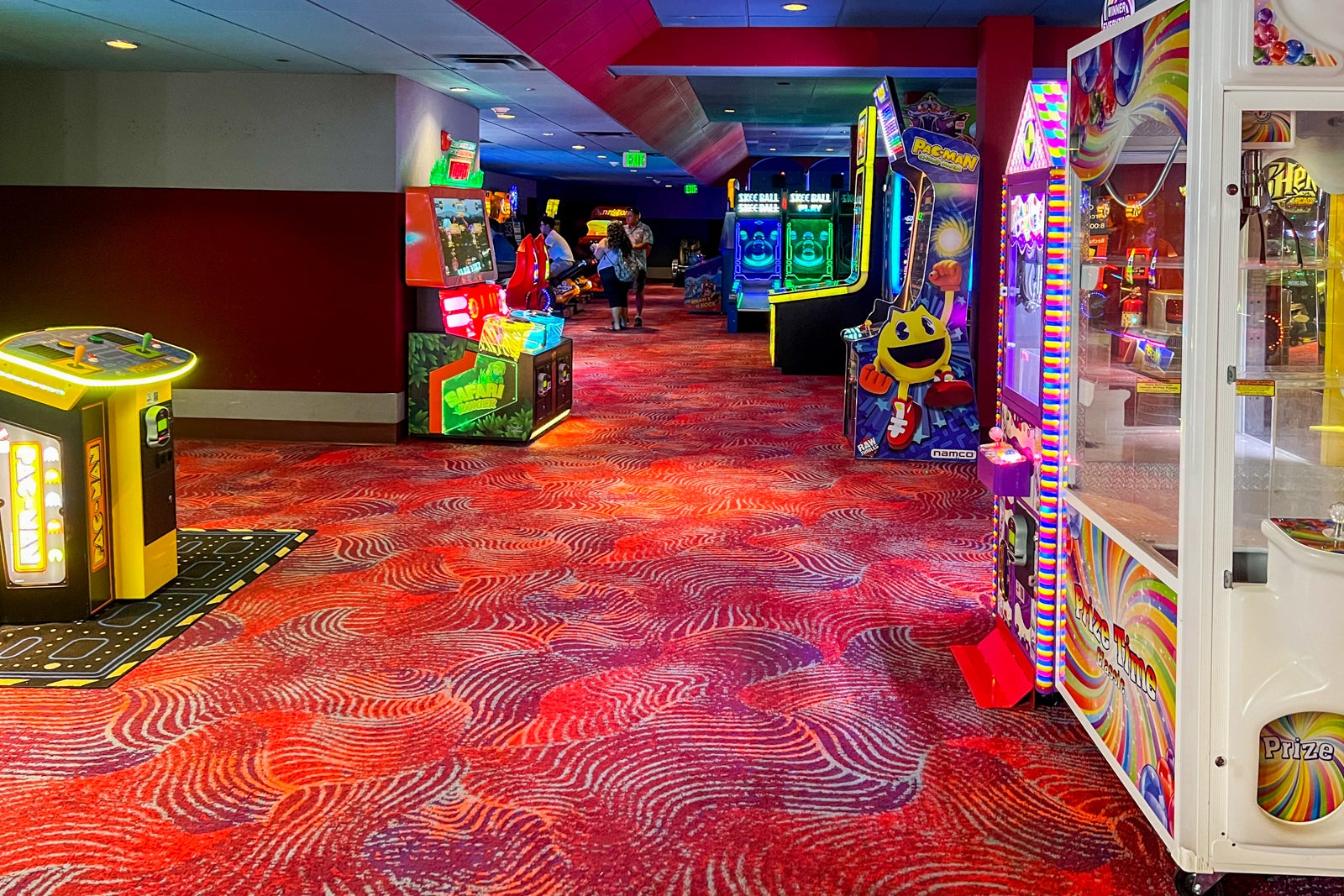 Gym
On the hotel's third floor, the gym houses a decent selection of machines, free weights, medicine balls and more.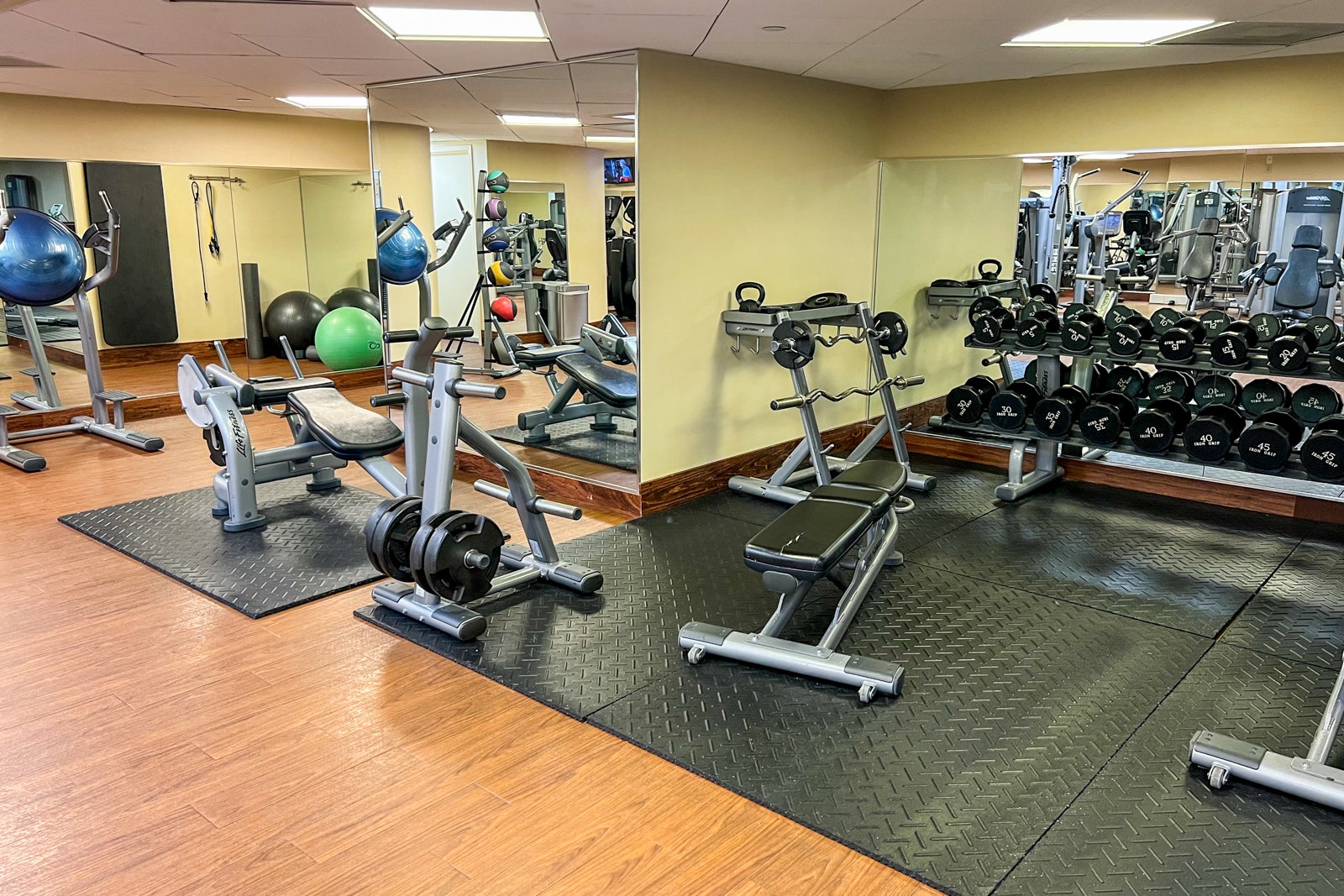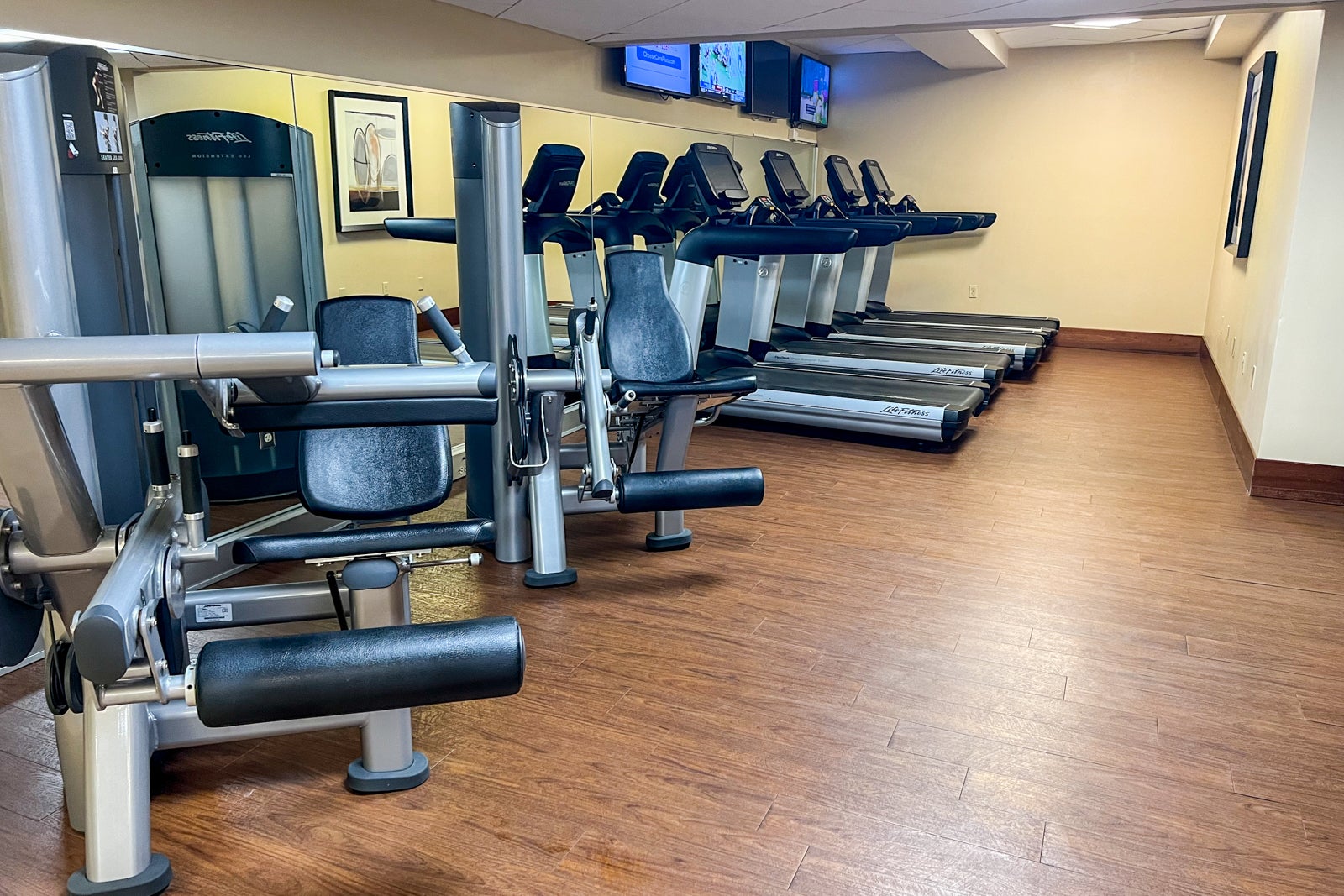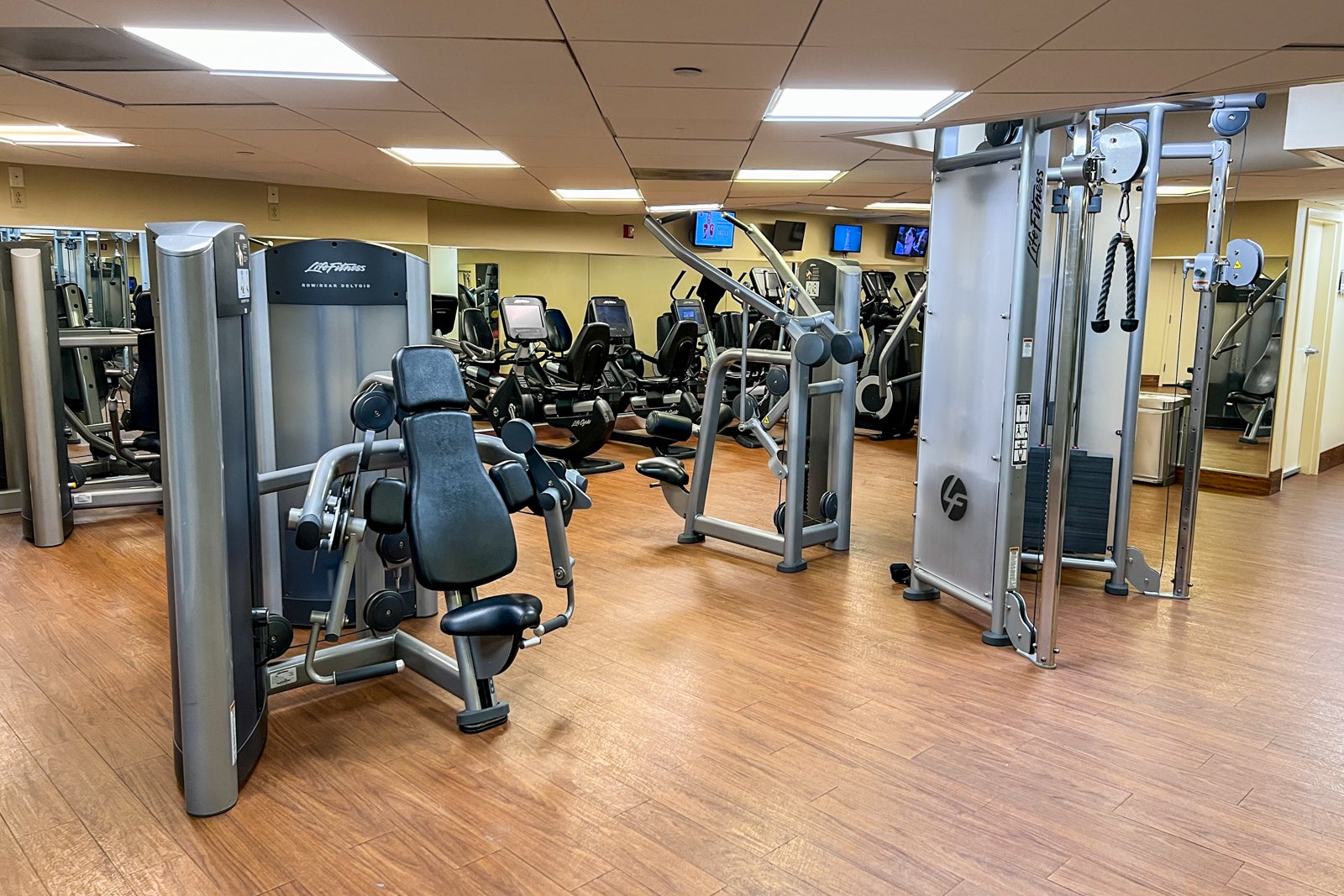 Since many theme park visitors walk 15,000 to 20,000 steps in a single visit, it's easy to understand why this fitness center stays empty most of the time. It also doesn't help that the space isn't very inviting, as it has low ceilings, isn't staffed and sits in a mostly unused part of the hotel. The lighting left a lot to be desired, too, when I stopped by.
Boat rentals
Because of its location right on Seven Seas Lagoon, the Contemporary offers boat rentals to guests. Each Sun Tracker Pontoon boat can seat up to 10 guests and is available for $45 per half-hour.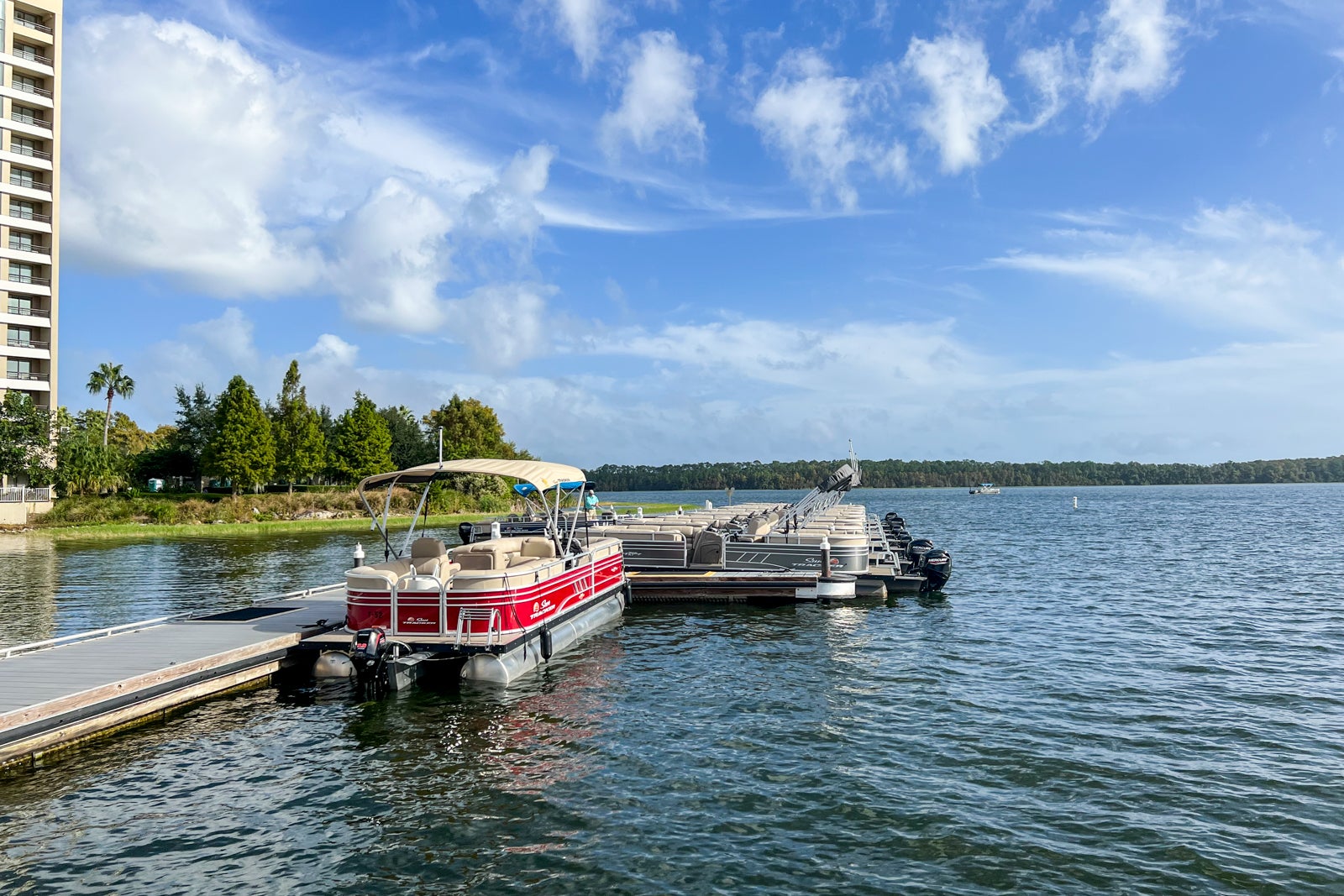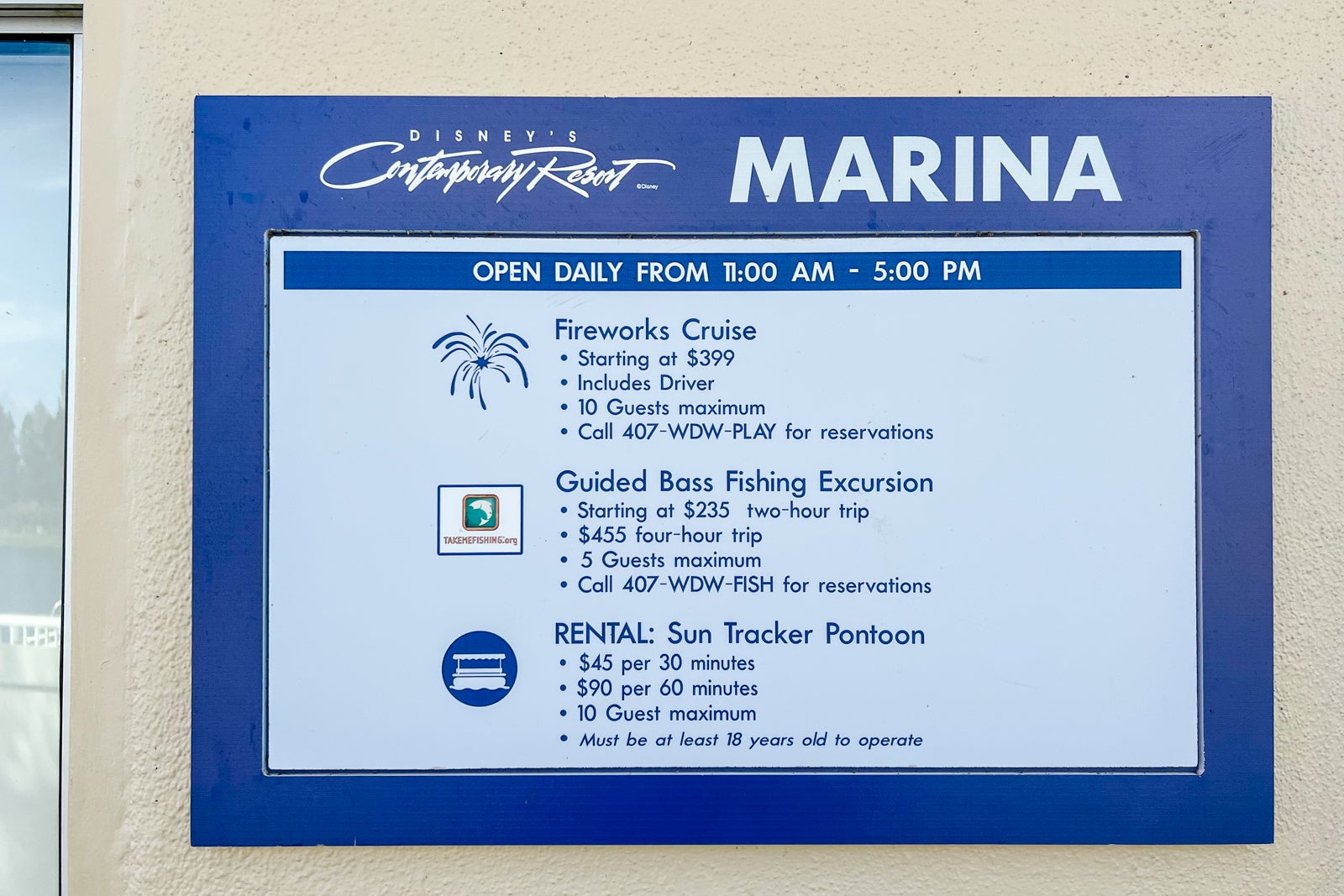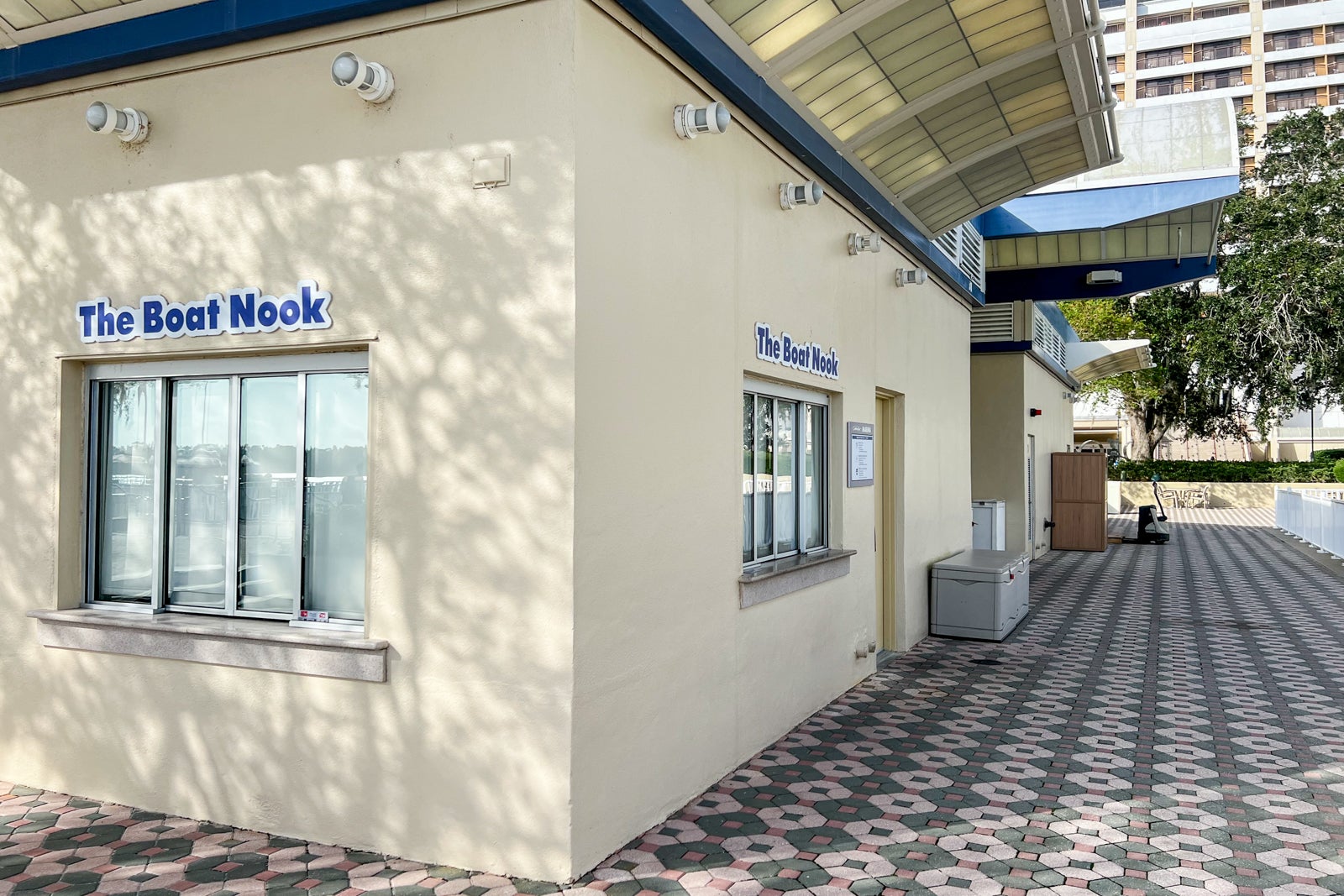 If you don't want to captain your own vessel, consider booking a fireworks cruise that departs from the hotel's dock. It comes complete with a captain and snacks and soft drinks, though it's not cheap at $399 per boat for up to 10 guests.
Related: The best $120 I've spent at Disney this year got me into the Magic Kingdom's secret tunnels
Service
The lesser-known star of Disney's Contemporary Resort is undoubtedly its top-notch service. Whether I've stayed in an entry-level garden room or an upgraded club-level accommodation, I've always enjoyed exceptional service from the property's staff.
On my most recent visit, which came with higher service standards due to booking a club-level room, the hotel proactively reached out to me multiple times via email and by phone to make sure I was aware of everything I needed to know and could make any special requests ahead of my one-night stay.
Then, at check-in, the cast member noticed that my kids had the new Disney MagicBand+ and asked if I had connected the bands to my phone. Funny enough, while I had activated them, I was having trouble getting them associated with my phone, so I was able to get help setting them up, all thanks to this cast member asking a simple question.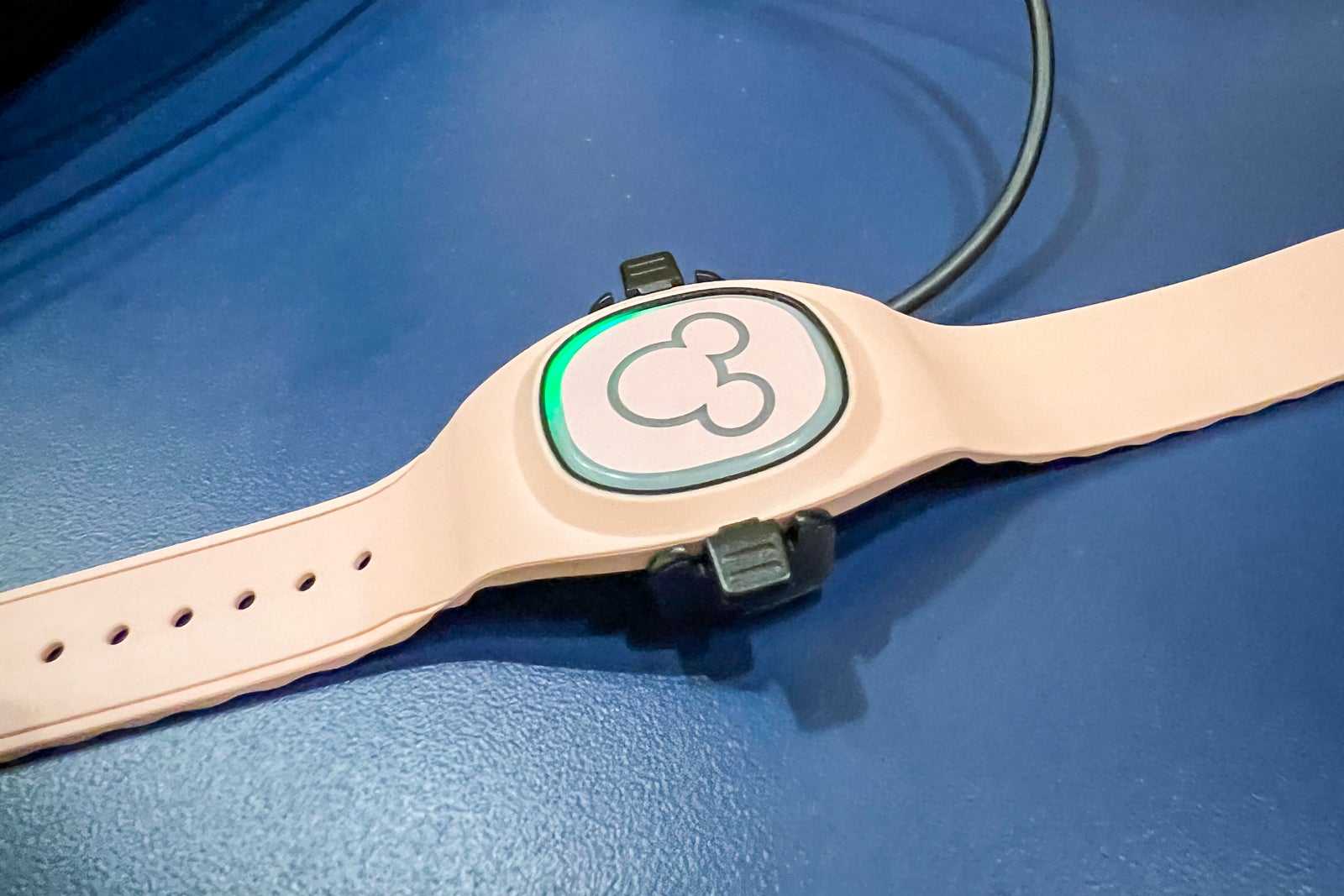 Then there's Dave, one of my absolute favorite Disney World cast members. We met Dave during our first stay at the Contemporary back in 2018 when we'd previously booked a club-level room. My kids were little back then and he made their day — or honestly, their trip — by busting out a spot-on Mickey Mouse voice that made them laugh so hard they still remember it.
While we didn't hear his awesome vocal skills this time around, we were excited to spot him yet again. Based on conversations I overheard, it sounds like he's still delighting guests in the same way he entertained my kids several years ago.
Accessibility
Disney is known for being pretty accessible, and this hotel is no exception — with one important thing to note.
Disney's Contemporary Resort is like every other Disney resort in that there is an accessible path of travel connecting the lobby, rooms, restaurants, shops, pools and facilities such as laundry and the gym. However, this property actively utilizes more levels than comparable Disney hotels.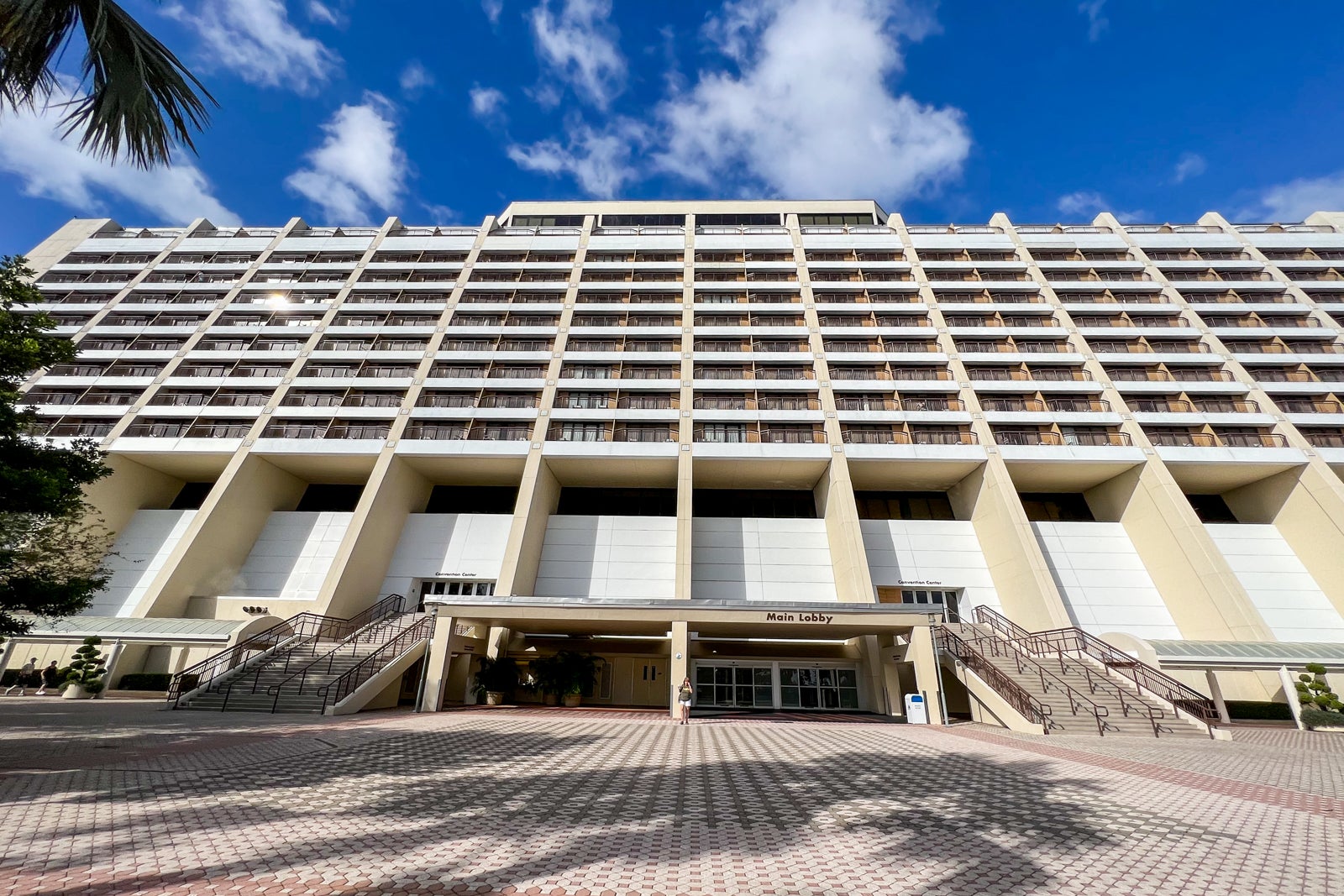 For example, there are some noteworthy amenities and services on the lobby level and third, fourth and 15th floors, meaning you'll need to set aside a fair amount of time waiting for an elevator if stairs and escalators are not an option. It's not substantial enough of a wait to be a deal breaker, but it is worth noting so you're adequately prepared.
At the pools and poolside hot tub, you'll find lifts. Additionally, standard parking is complimentary for guests with a valid disability parking permit. Parking otherwise costs $25 per night for standard parking and $33 per night for valet parking.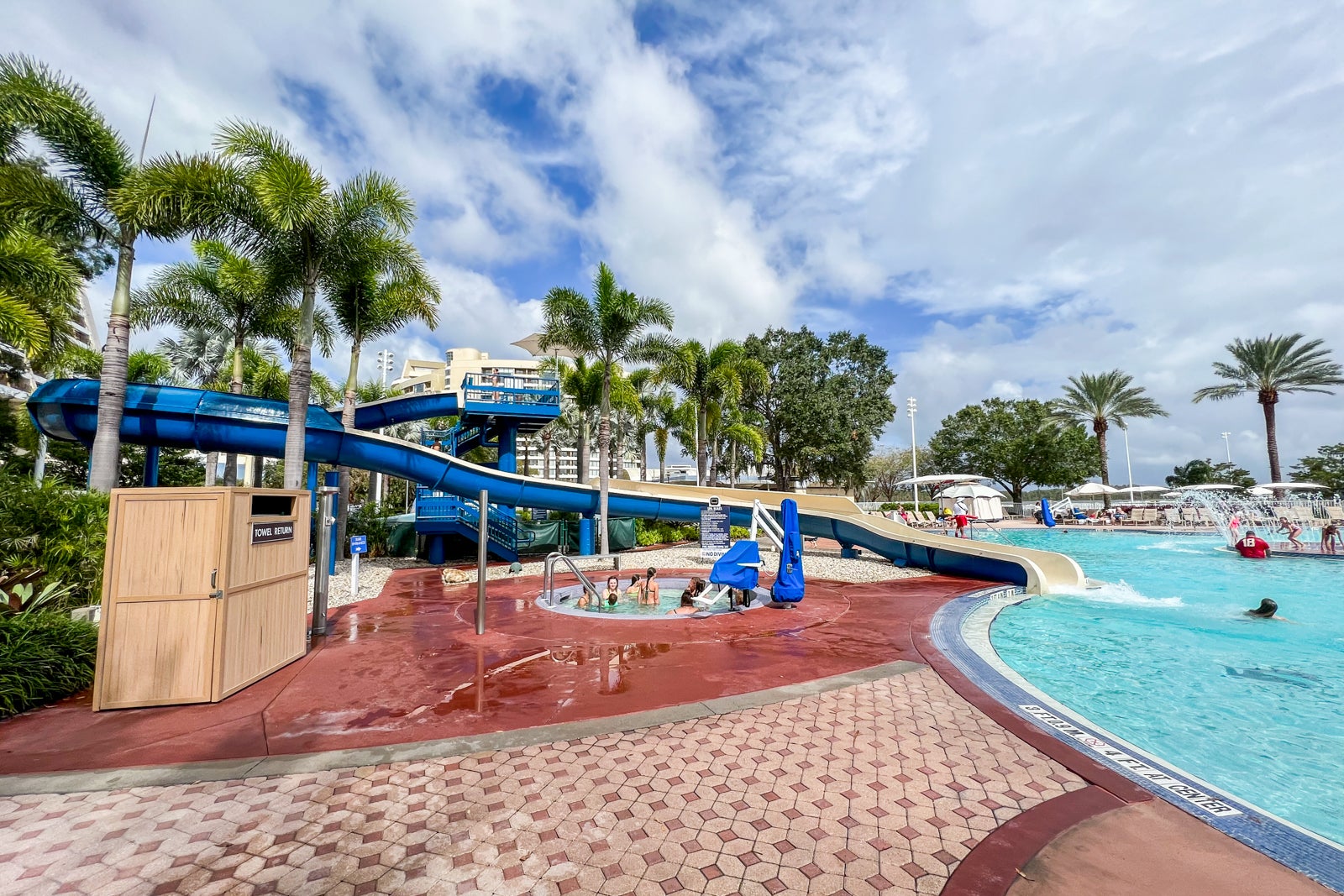 There are wheelchair- and hearing-accessible rooms, too. To book one of these accommodations, click the "accessible room" box when you are searching for your dates on Disney's website.
Overall impression
Disney's Contemporary Resort is a Walt Disney World icon.
It's been part of the complex since the beginning — and, by design, it feels like an extension of Tomorrowland, the closest land in the Magic Kingdom.
When you stay here, you are literally in the Disney Bubble, so the magic, convenience and theming are all around you from the moment you wake to the moment you drift off into dreamland.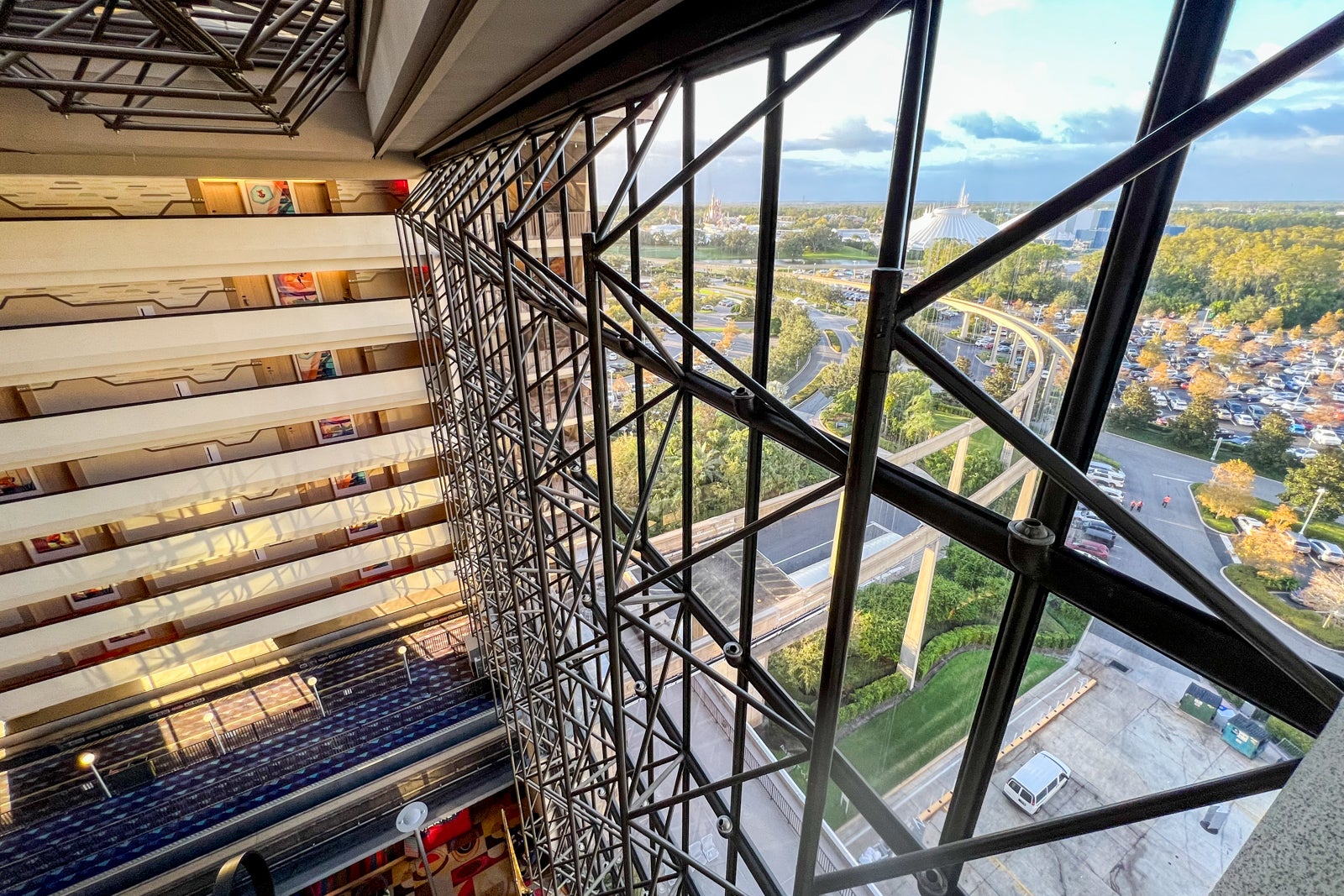 The rooms, lobby and other common areas at the Contemporary have greatly improved in recent years, though you'll still want to skip the basic garden room option in favor of a room in the main building's atrium so you can watch the monorail go in and out as you walk the halls of the resort — a bucket list experience for every Disney fan.
It may not be the best resort to stay at if you plan on having lots of downtime for on-site amenities, and it's certainly not the flashiest option out there.
However, it continues to be the best accommodation option for young families planning a special trip to The Magic Kingdom, as its incredibly convenient location makes it a cinch for guests to maximize their time in the parks and even pop back for an afternoon nap.
To continue your Disney vacation planning, check out the following stories: