Editor's note: This story is regularly updated with the latest information. 
---
When searching for a points-friendly ski resort, you can't miss The Ritz-Carlton, Bachelor Gulch in Avon, Colorado. This hotel seamlessly blends the high-end attributes of the Ritz-Carlton brand with an on-mountain location, especially now with its recent multi-million dollar renovation behind it.
While this is a can't-miss ski hotel on paper, it's actually quite easy to overlook. This Ritz-Carlton is tucked away from the crowds (that's a good thing), and Bachelor Gulch itself carries slightly less name recognition for those not familiar with the area, despite it being skiable with an Epic Pass, connected to the more-known Beaver Creek mountain and home to the new kid-friendly McCoy Park.
First opened in 2002, The Ritz-Carlton Bachelor Gulch looks like it has always belonged on the mountain. it's crafted in the log cabin style you'll see at many national park lodges across the country. However, outside of the wooden beams, you will hardly be roughing it, as you'll have all the trappings of a high-end hotel housed within that rustic-looking exterior.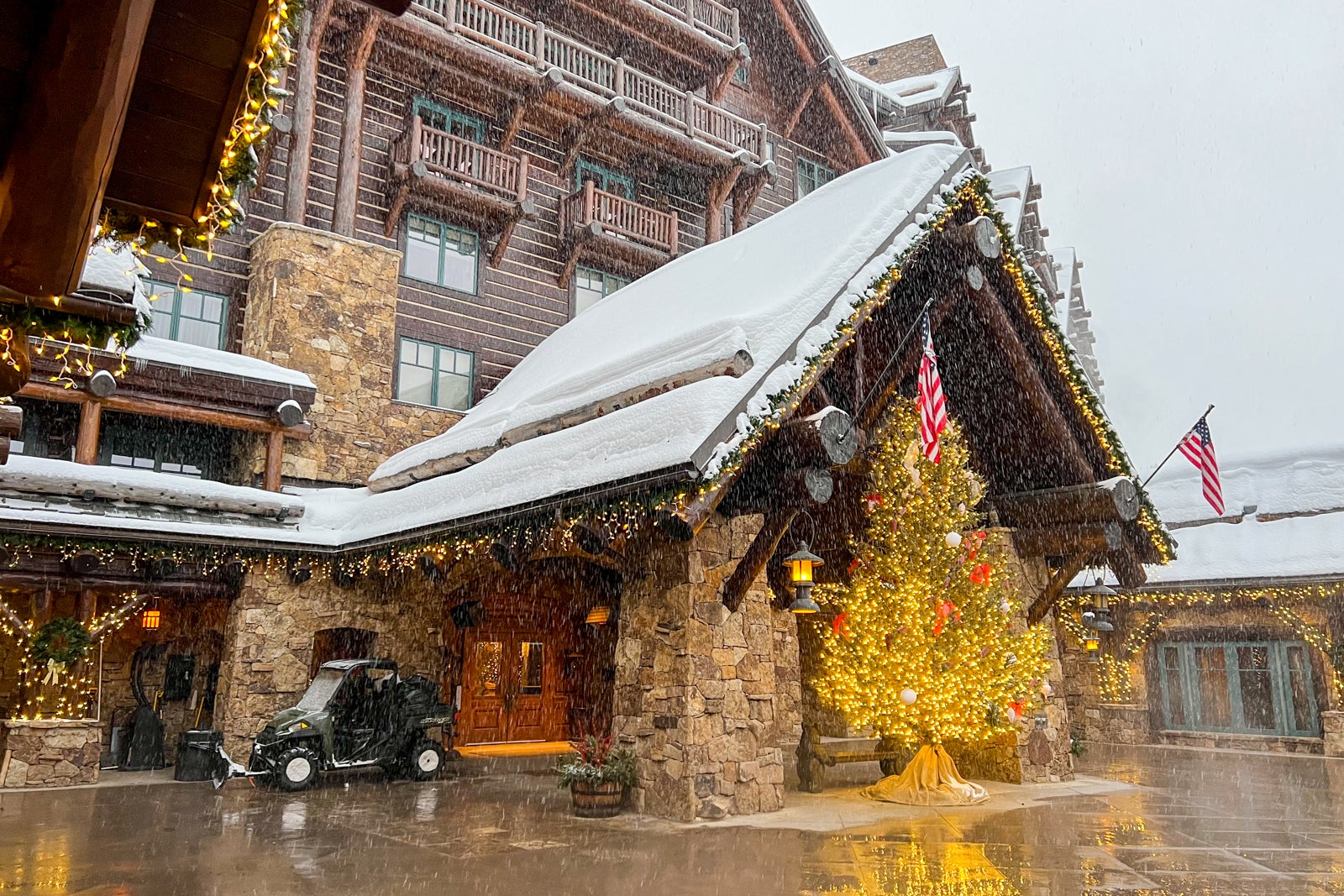 Location
Bachelor Gulch is a part of the Beaver Creek mountain and area. The terrain is connected and accessible from a lift in Bachelor Gulch, assuming you're not a brand-new skier. That also means the area is about 30 minutes east of the Eagle County Regional Airport (EGE) and about 20 minutes west of Vail.
However, Bachelor Gulch isn't just Beaver Creek by another name; it's an area all its own.
Founded in the early 1900s by — you guessed it — several bachelors, the area has maintained an exclusive-yet-slightly-rugged vibe. It's sort of like a secret club for those who know it exists (and have the means — or points — to stay there).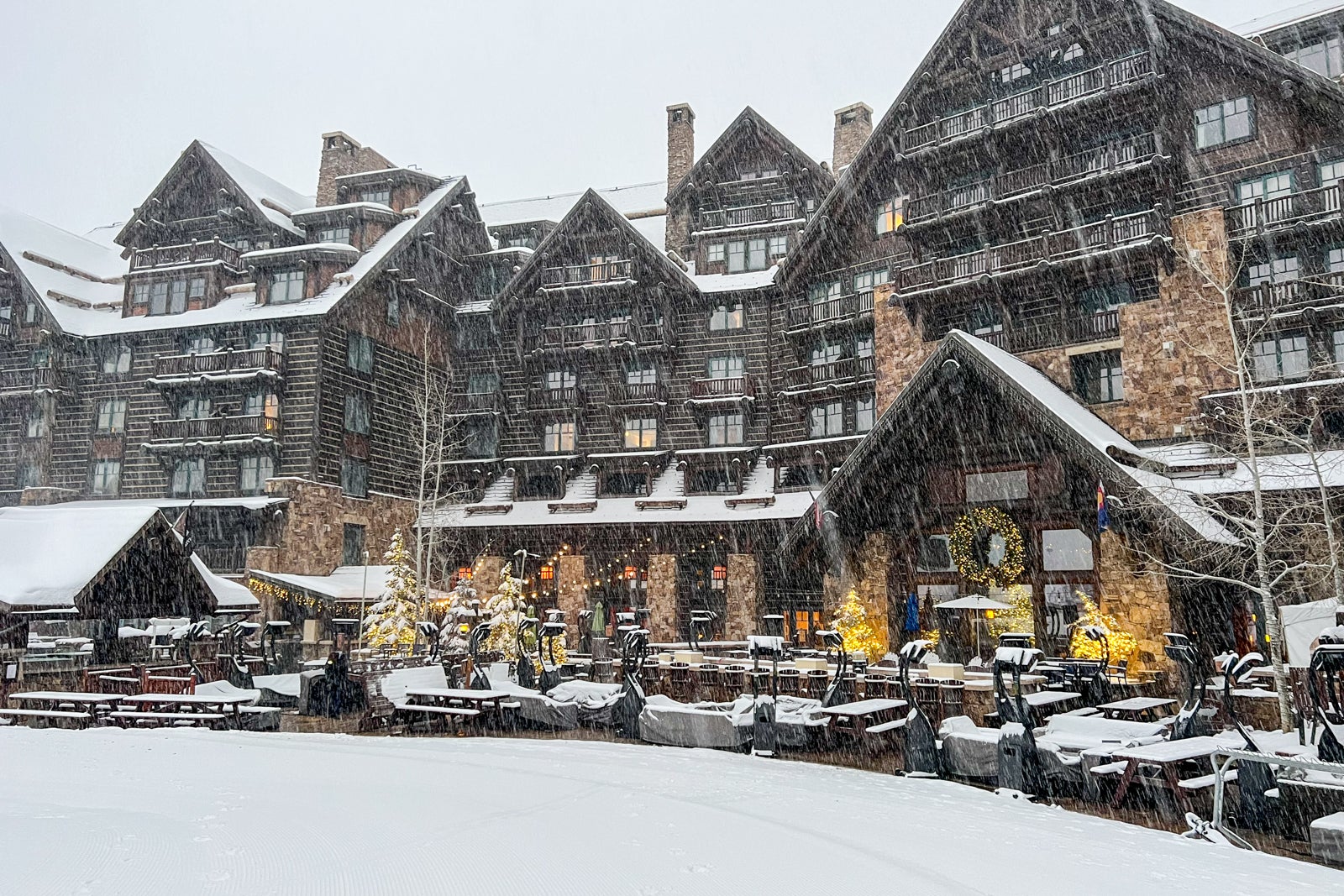 The Ritz-Carlton serves as the centerpiece of this unique area that hosts a mix of ski-loving visitors and Bachelor Gulch residents.
The hotel is ski-in and ski-out, with a small caveat. While Bachelor Gulch has a large number of green runs toward the base of the mountain and up in McCoy Park, some of these towards the base are not truly beginner-friendly as they can get a bit steep.
If you're looking for easy green runs for kids to enjoy on their very first ski trip, this may not be the best ski-out location. (Stick with taking Stirrup down the Bachelor Gulch Express if you want the easiest way down with new skiers or boarders.)
Related: These are the best ski resort for families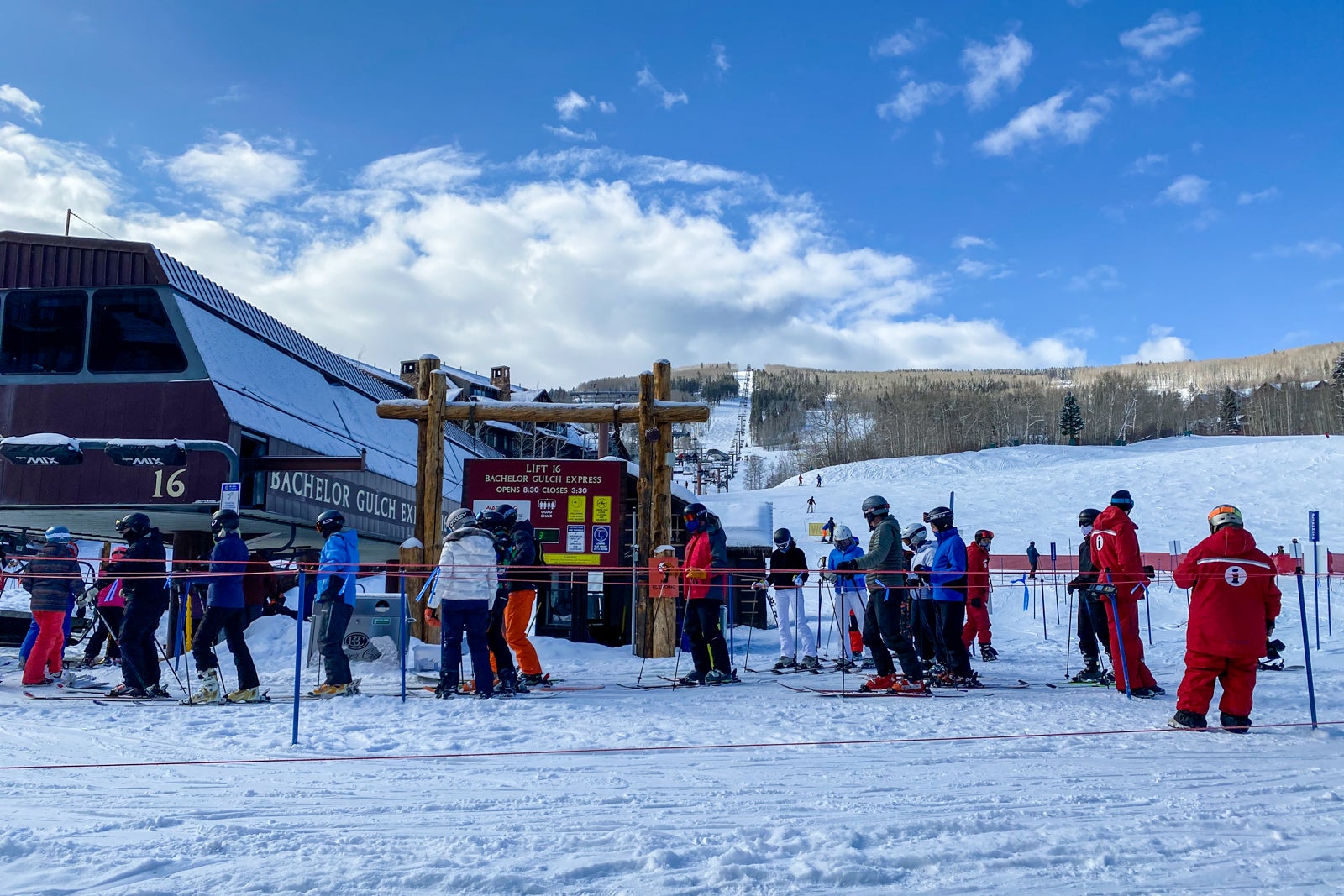 However, once your party feels confident enough on skis to tackle tough greens, The Ritz-Carlton, Bachelor Gulch is as ski-in-and-out as it gets, with the lift line just a snowball's throw away from the back of the property.
Booking
In the same league as other luxurious Marriott ski properties such as St. Regis Aspen and St. Regis Deer Valley, The Ritz-Carlton, Bachelor Gulch comes with a hefty price tag.
During the ski season, you can expect to find room rates starting around $1,000 per night and points prices will usually range from 95,000-120,000 Marriott Bonvoy points per night.
If you stay during the ultra-peak Christmas to New Year's week, paid rates for a standard room start well over $2,000 per night. As is standard with Marriott, if you book five nights on points, the fifth night is free, which could be a good play for a ski vacation.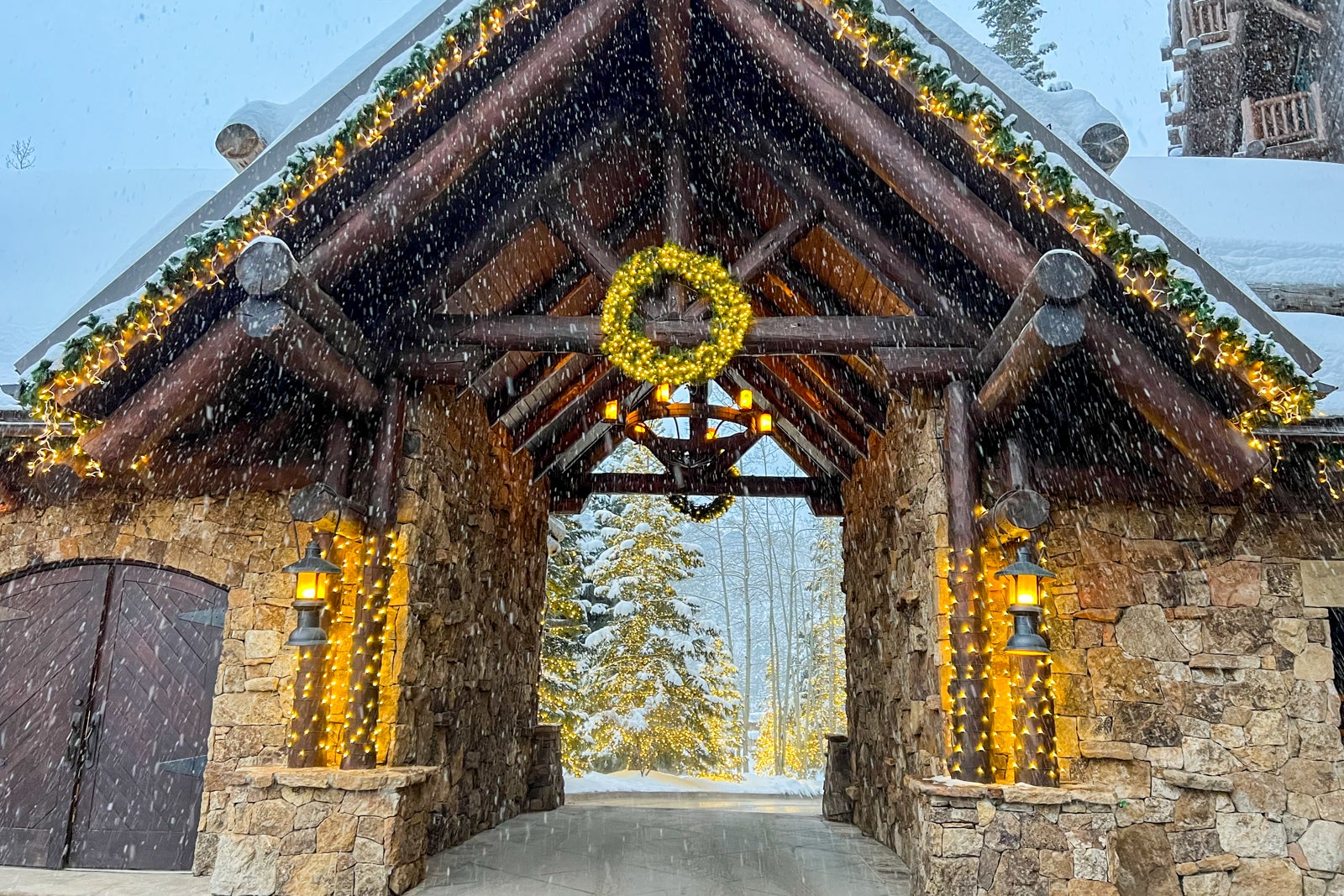 In the offseason, especially in the fall and spring months, paid nights drop to around $225 per night and off-peak awards can be found for 70,000 Marriott points per night.
If you want to increase your Marriott points balance, the Marriott Bonvoy Brilliant® American Express® Card is currently offering a welcome bonus of 95,000 Marriott Bonvoy bonus points after you use your new card to make $5,000 in eligible purchases within the first three months of card membership. It also offers an 85,000-point annual certificate, which could be useful at this resort, especially if you were willing to add a few Bonvoy points to it.
Just know that on top of the points or cash rate, there is a $50 resort fee per night and a $60 parking fee per night for resort guests. The somewhat terrifying sign displaying $500 parking as you arrive is blessedly not the price for resort guests, but rather is to deter drive-in skiers from parking at the resort for the day.
If you do opt to pay with cash, look into doing so via the Amex Fine Hotels + Resorts program if you have The Platinum Card® from American Express or via TPG's booking partner Skylark, which offers some elite-like perks for booking via their program.
Check-in
We were greeted outside by a very friendly man in a cowboy hat who helped with our bags and directed us to the front desk. It was a warm greeting that carried over into the check-in area, which was just to the left of the fireplace inside the front doors.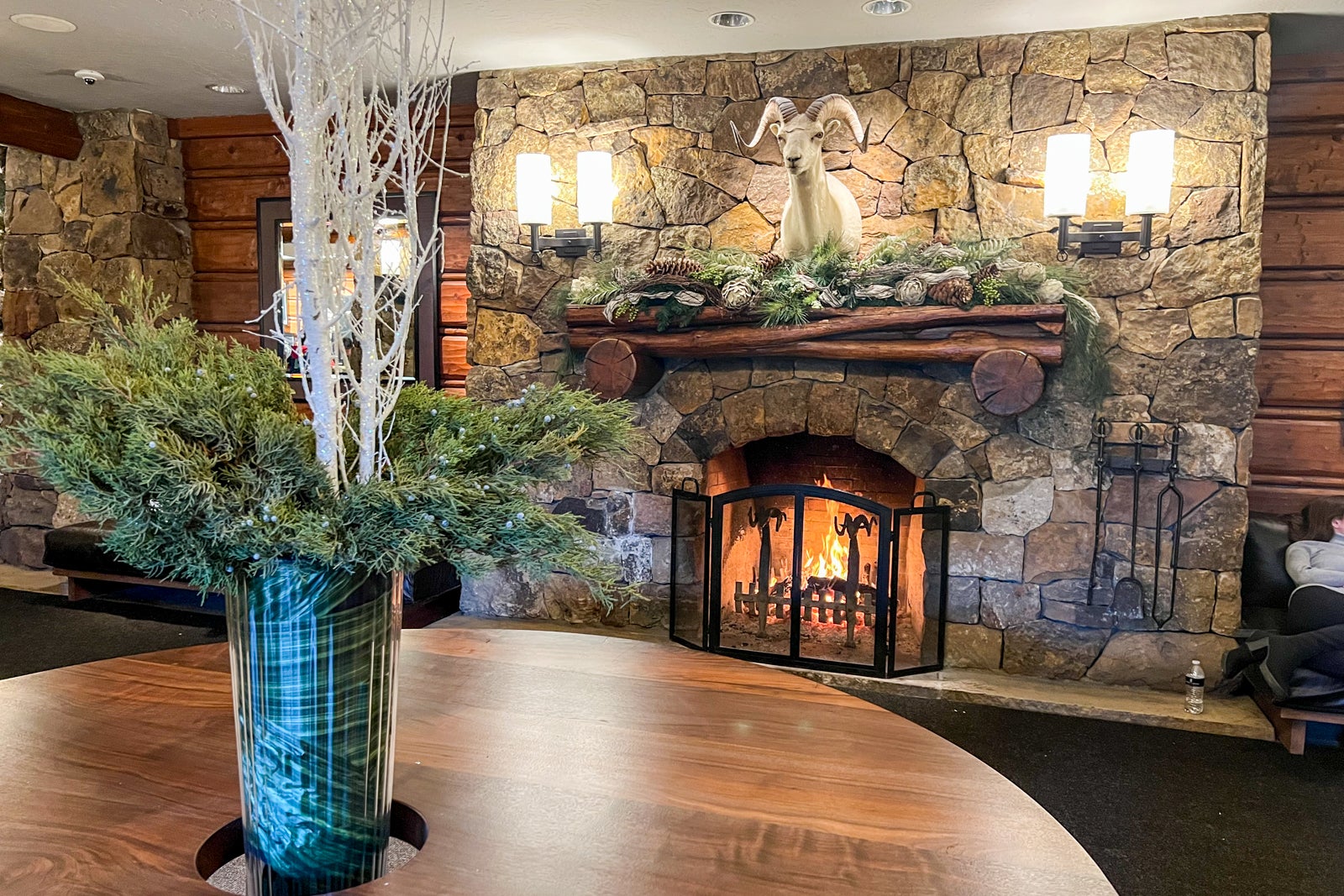 The check-in area, like the rest of the hotel, features a mix of natural materials such as wood and stone and earth-tone colors.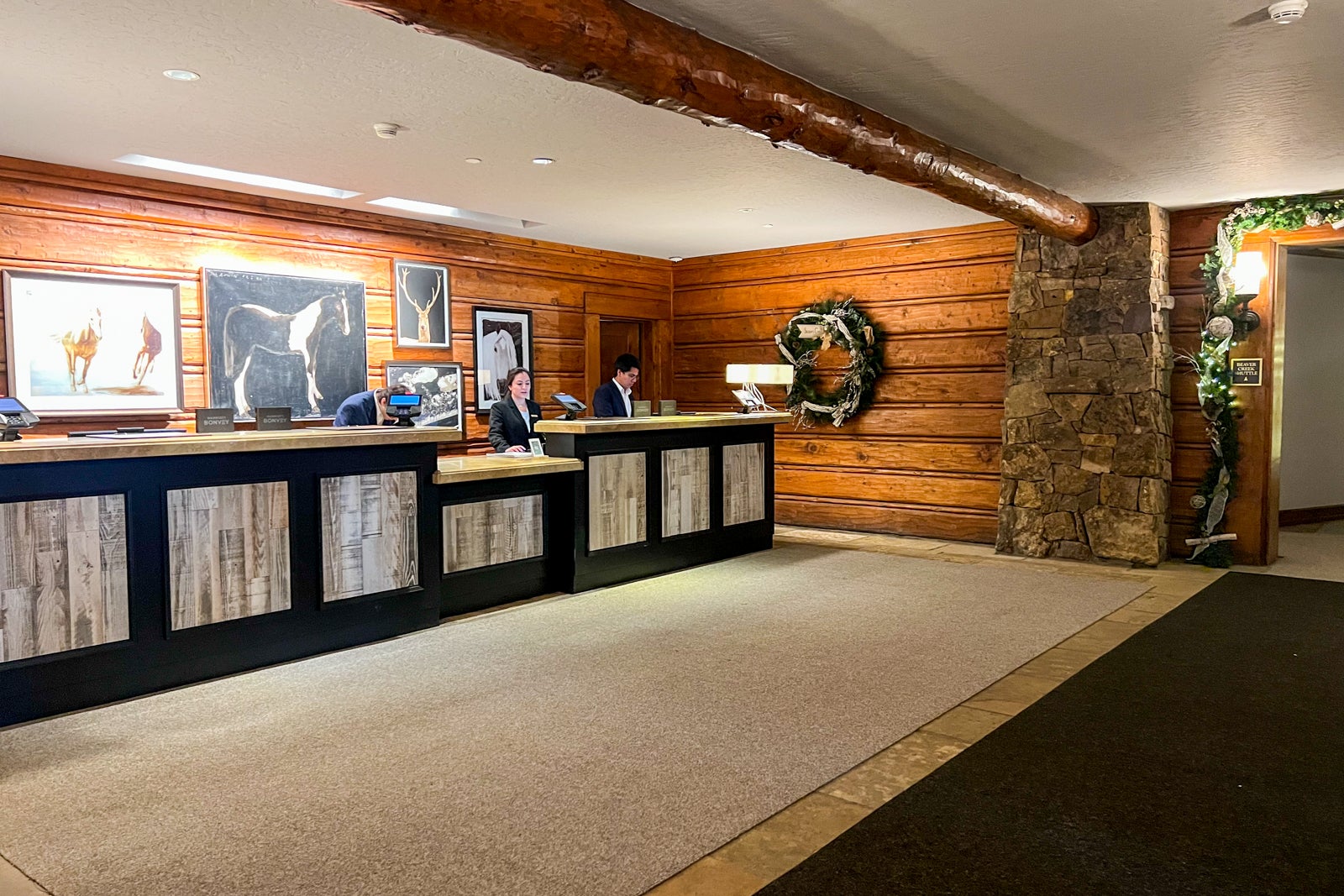 Unfortunately, for those traveling with Marriott elite status, it won't get you many tangible perks at Ritz-Carlton properties. Unlike when staying at a St. Regis, there's no such thing as a Marriott Platinum free-breakfast option at a Ritz-Carlton. Nor does it get you club-lounge access, waived resort fees, or really anything at all.
None of that was a surprise, but it's worth reminding yourself of since it is very different than most other Marriott brands.
Room
Our room wasn't ready early this time, but once we were inside, it was worth the wait.
The Ritz-Carlton, Bachelor Gulch has 68 rooms with fireplaces, 82 with a walk-out balcony and 35 rooms with both. On this trip, our Marriott Platinum status likely did one good thing for us — scored us an upgrade to a true one-bedroom suite. That's no small feat, as on this peak winter holiday week suites were going for about $3,000 per night.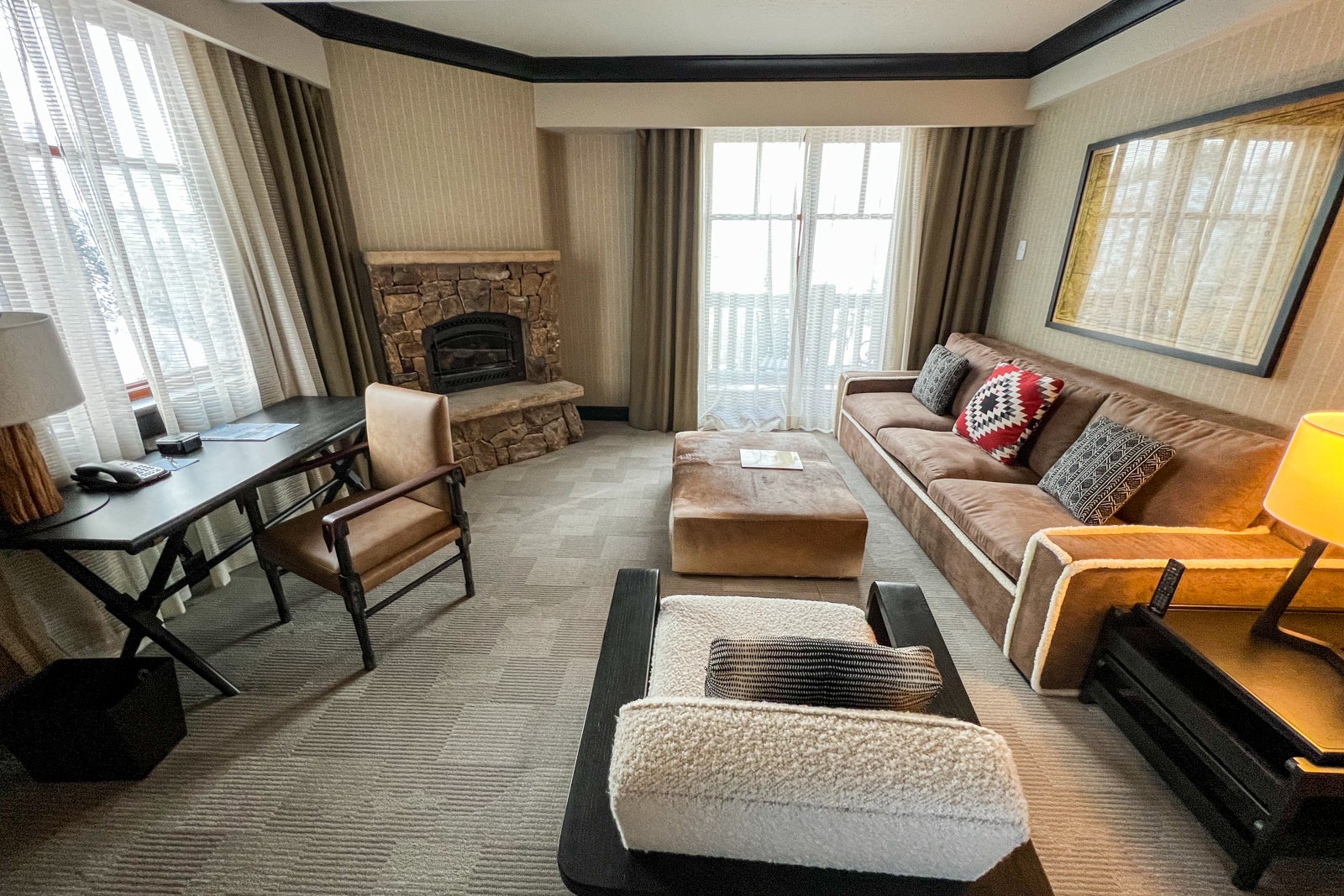 Obviously, the suite was a nice treat, and we put the pull-out couch and extra space to great use with the kiddos.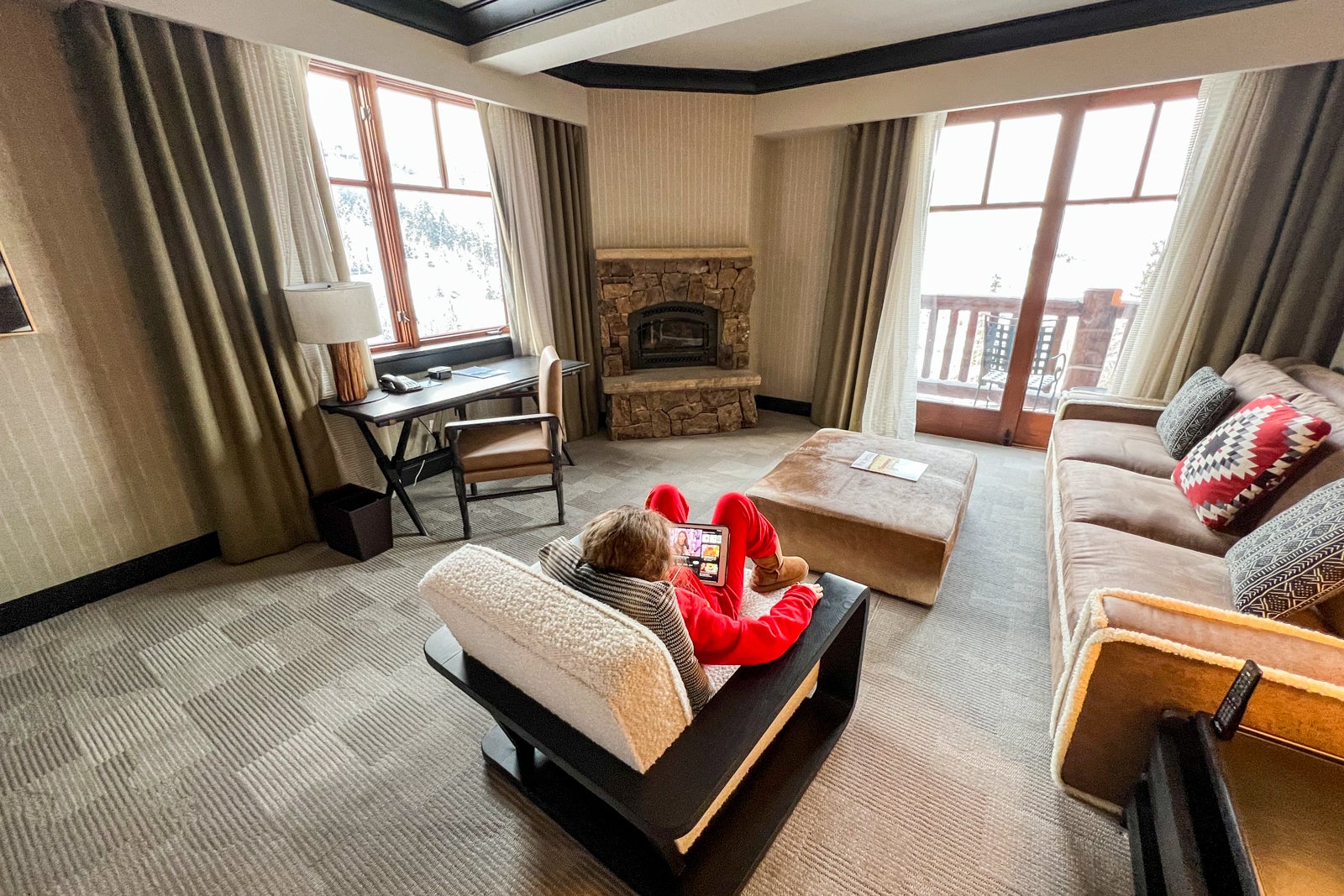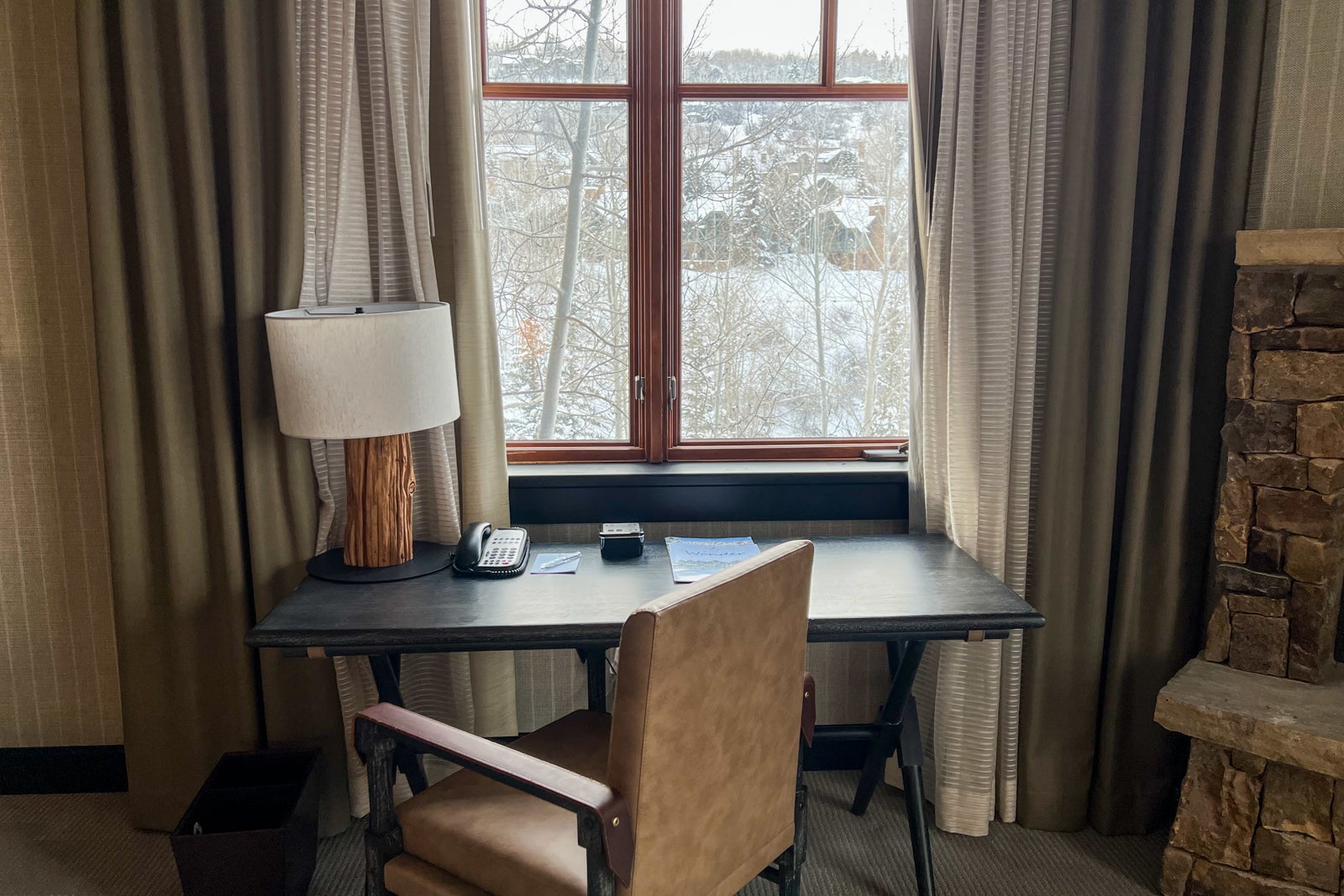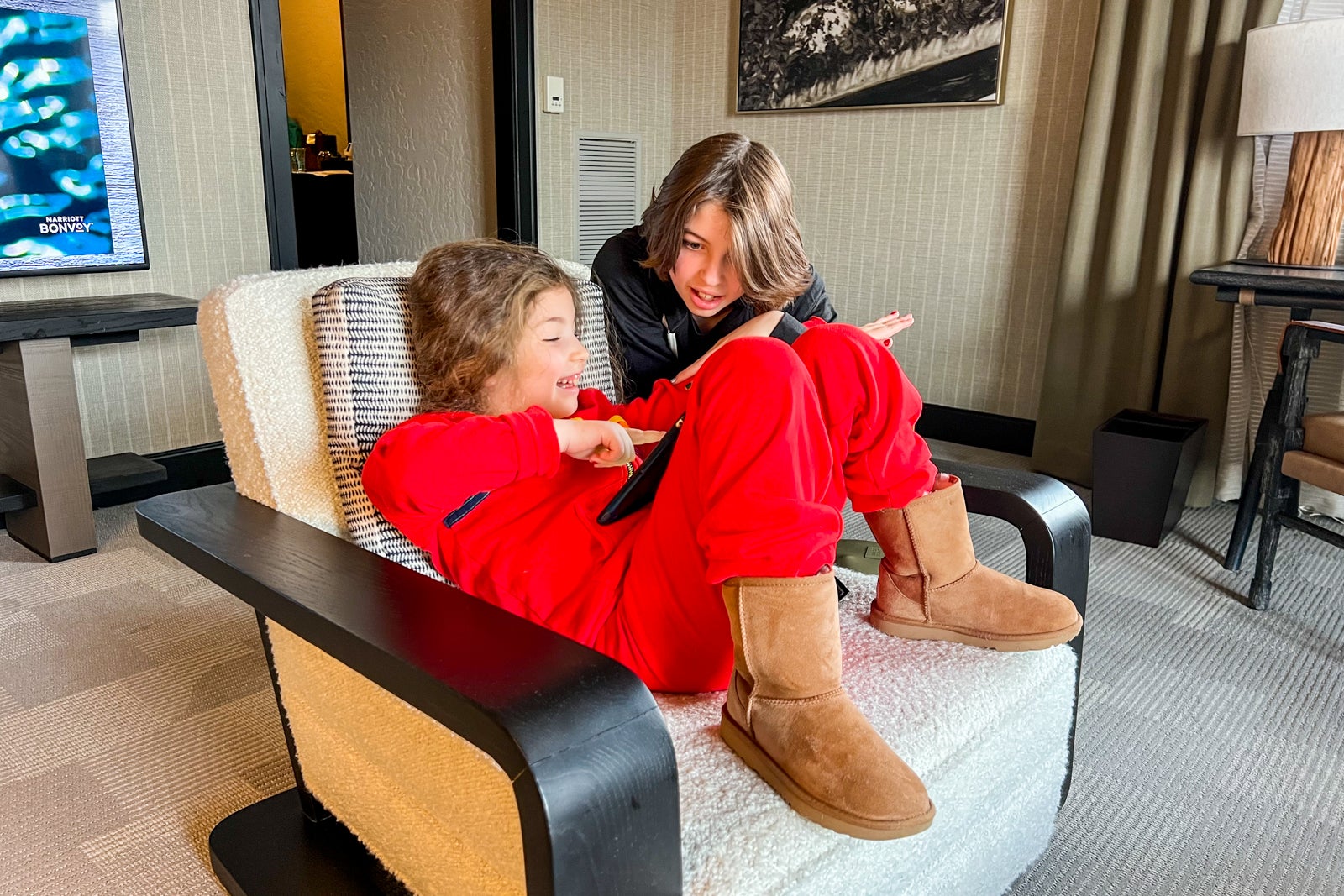 What I was very curious about was whether the bedroom itself was worthy of the high rates now that the renovations had occurred. For posterity, here is what our standard room looked like in March 2021.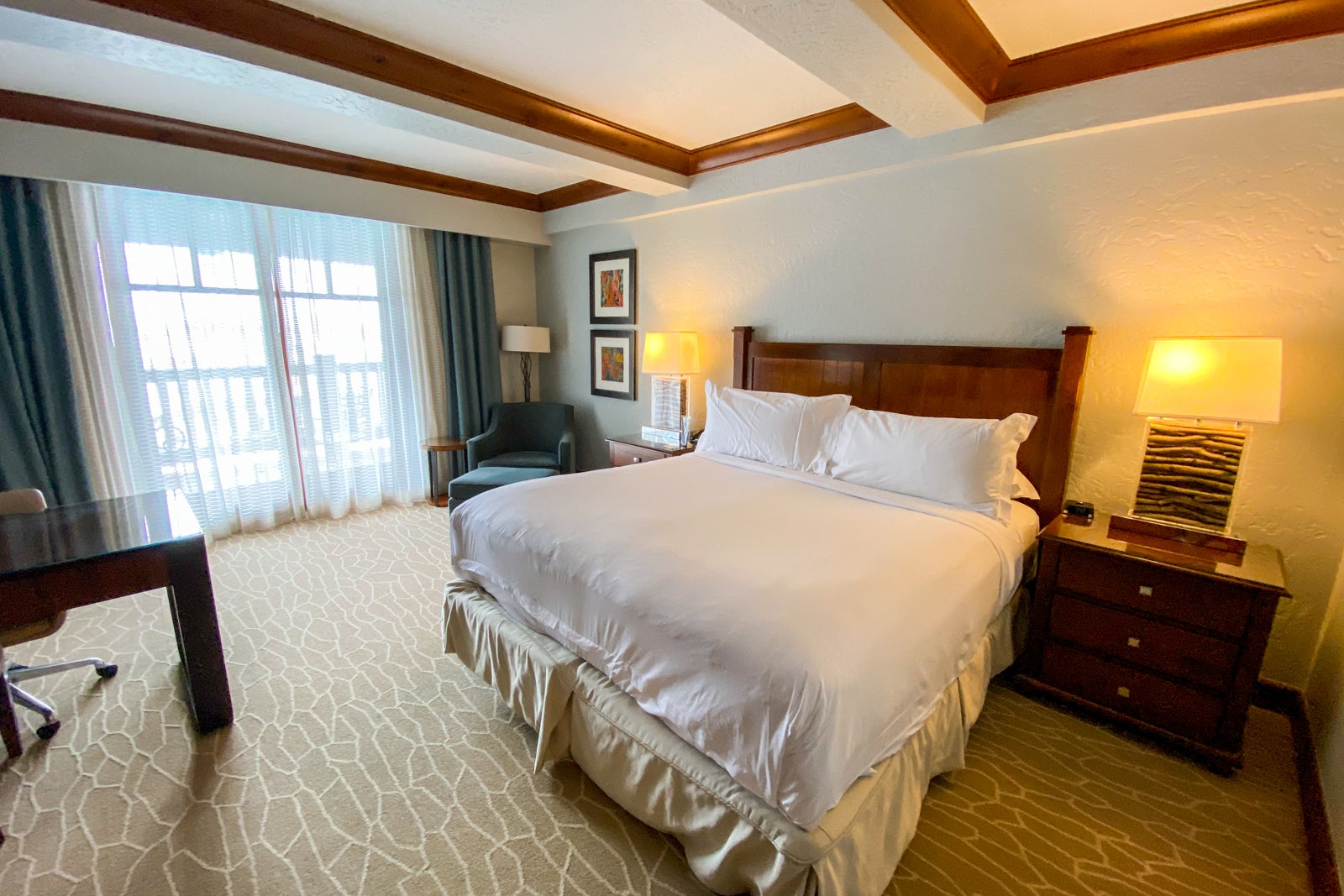 As you can likely see, it's much, much better.
The modern mountain vibe is alive and well at the Ritz-Carlton Bachelor Gulch with a toning down of the heavy wood and grandma's bedroom set accents. It now looks much more like your cool uncle's bachelor pad.
The king-size bed was deliciously comfortable and the suite had two oversized closets for all your ski-related gear. Our room had a balcony that overlooked the mountains with a ski run below.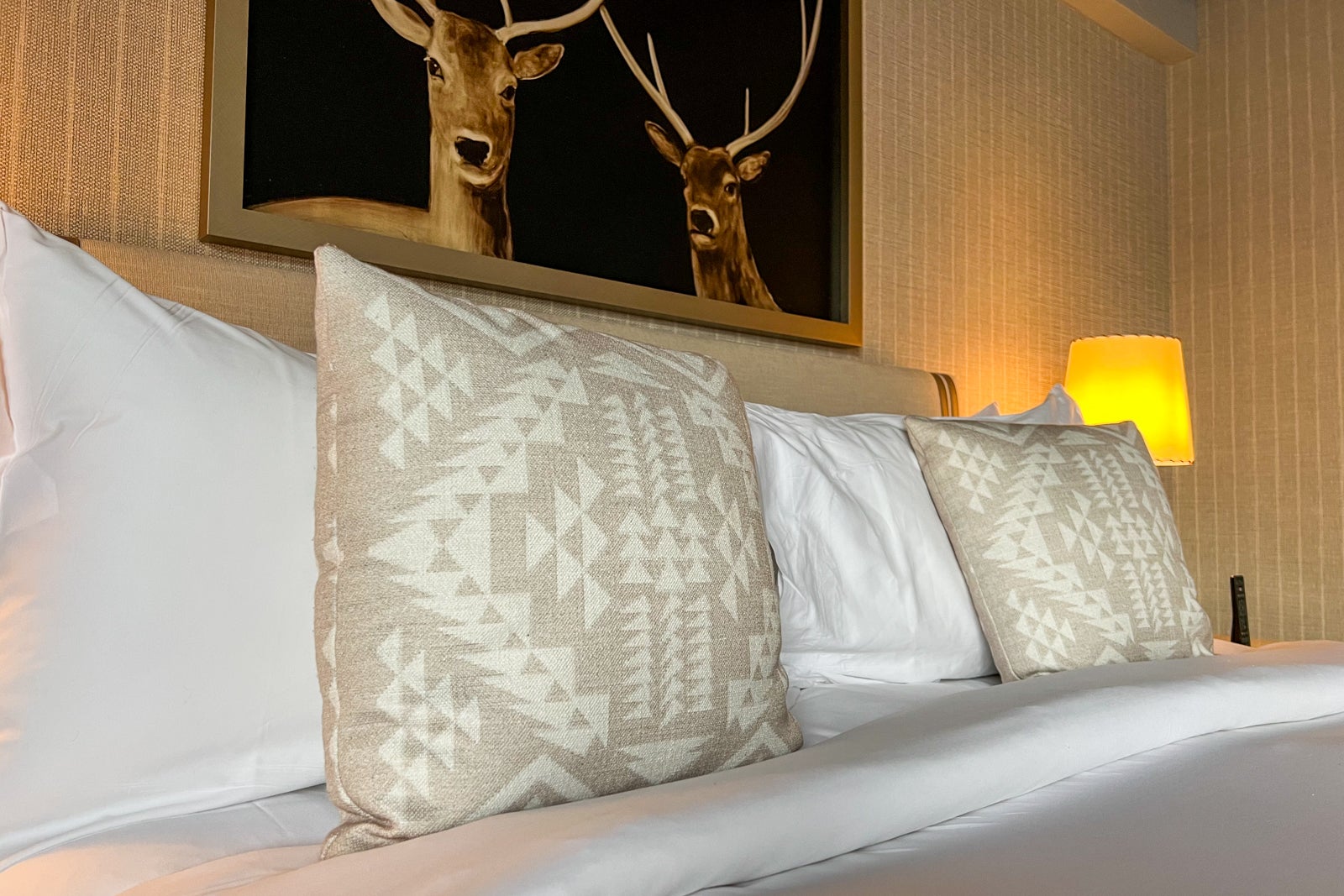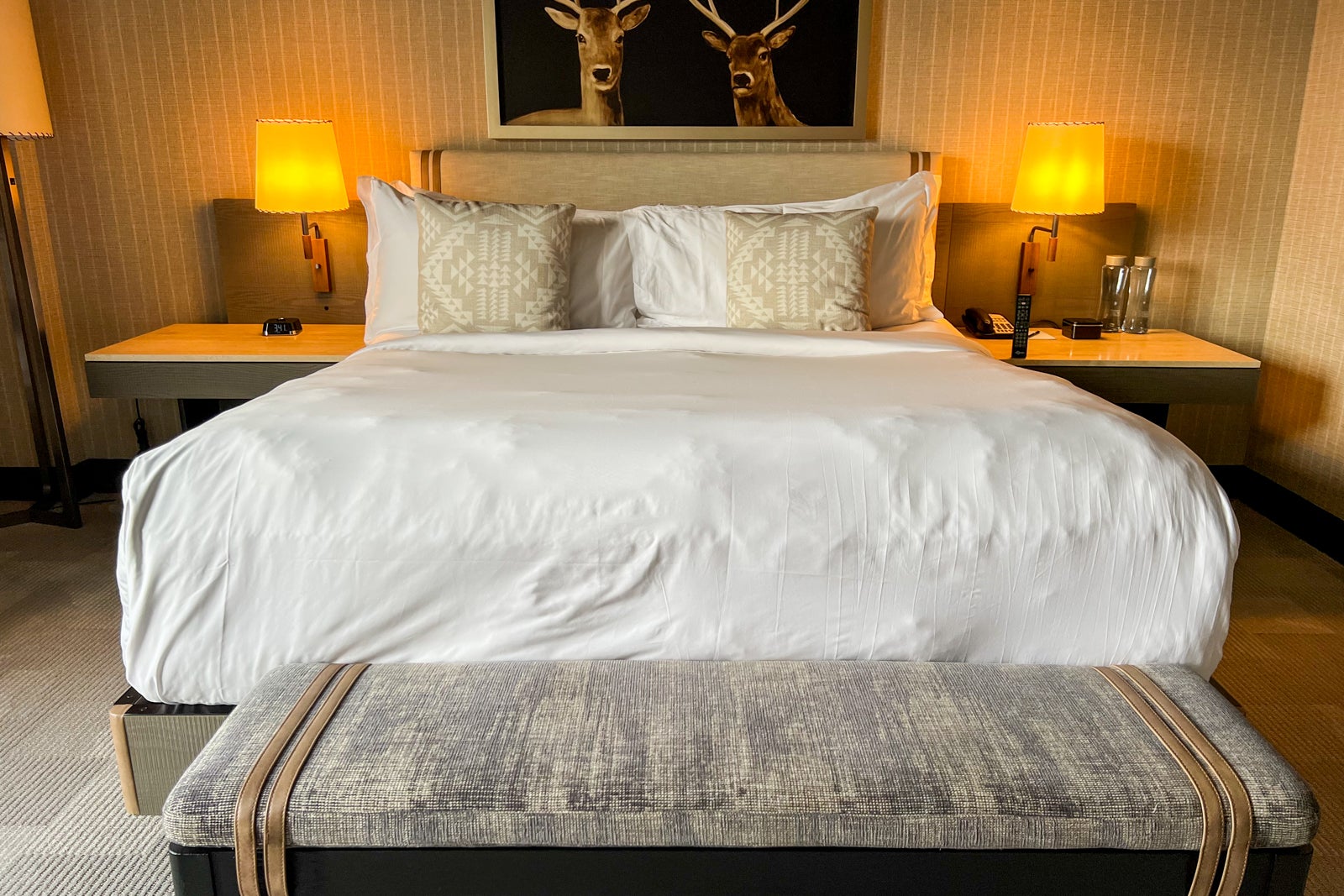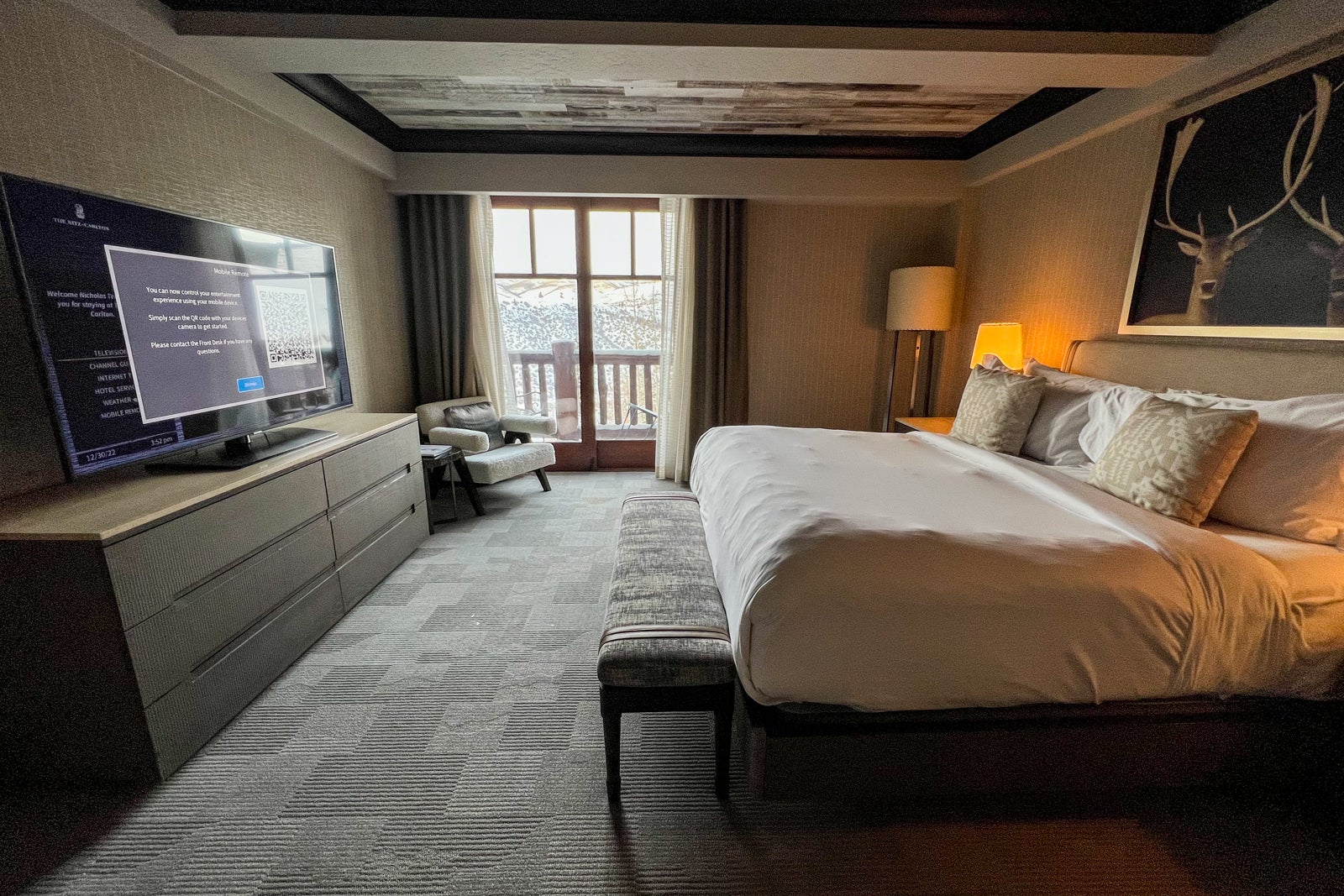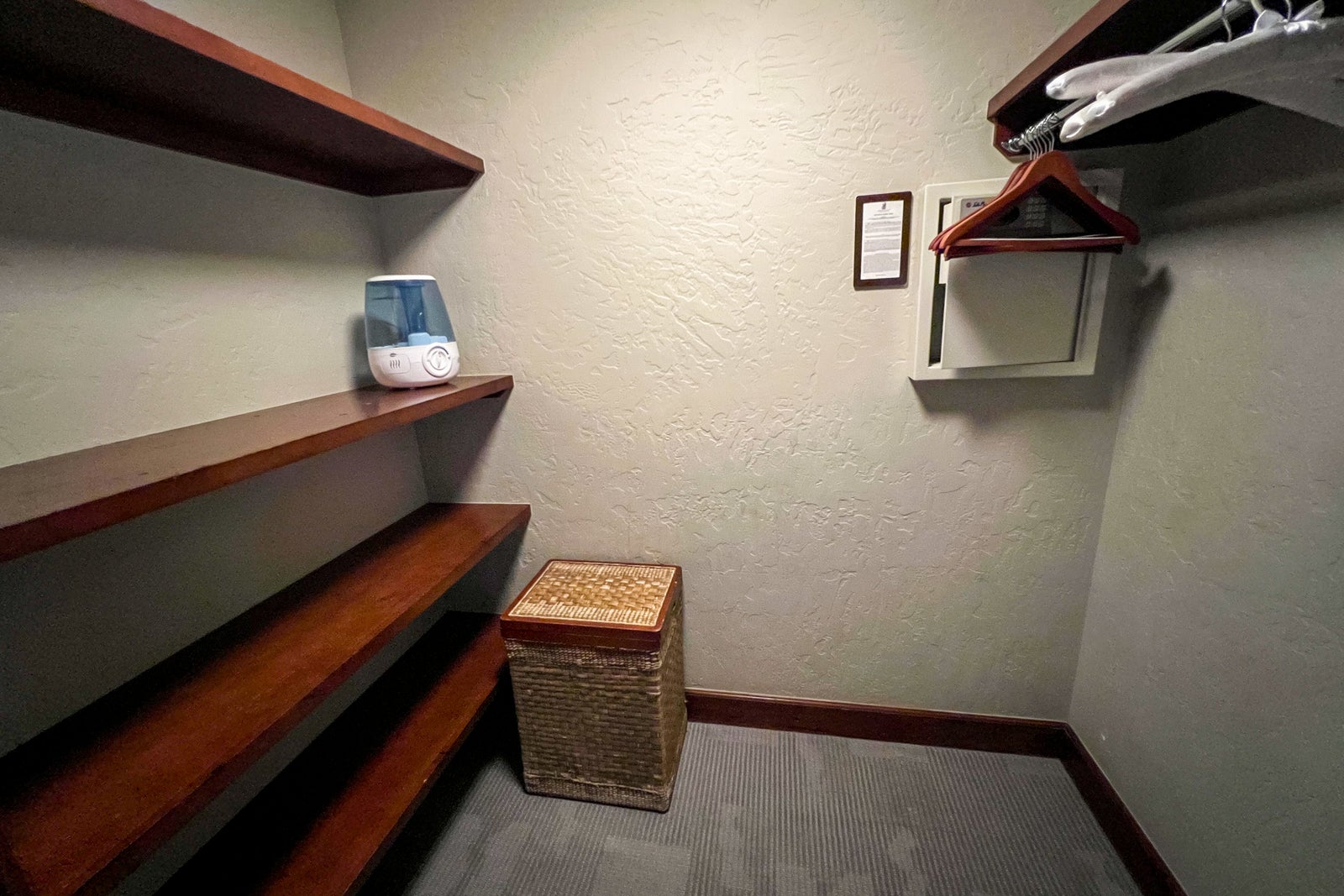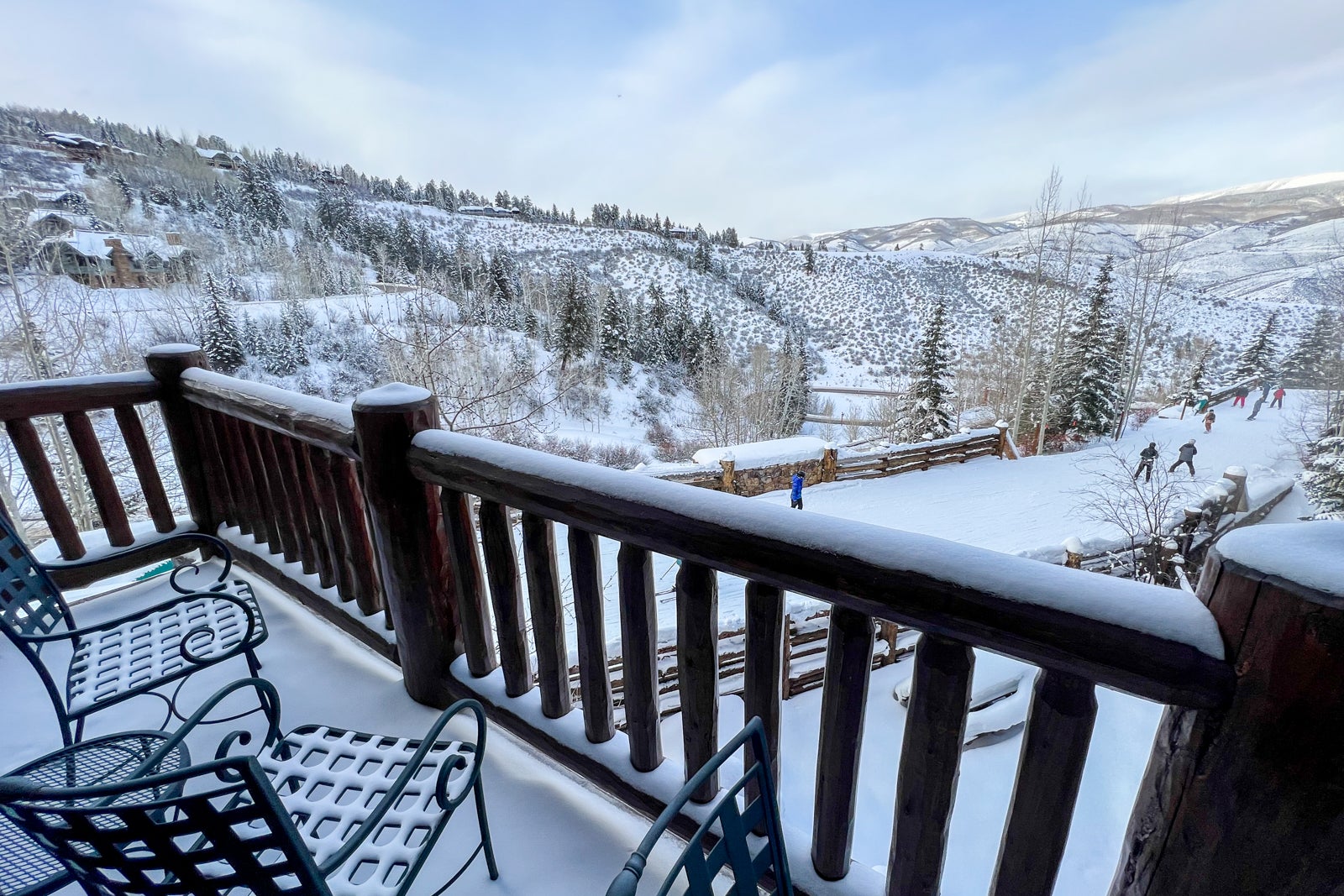 The bathroom in the suite was also updated from the last visit and featured a double, separate room for the toilet and then both a shower and a large tub. Basically, it had everything you could possibly want.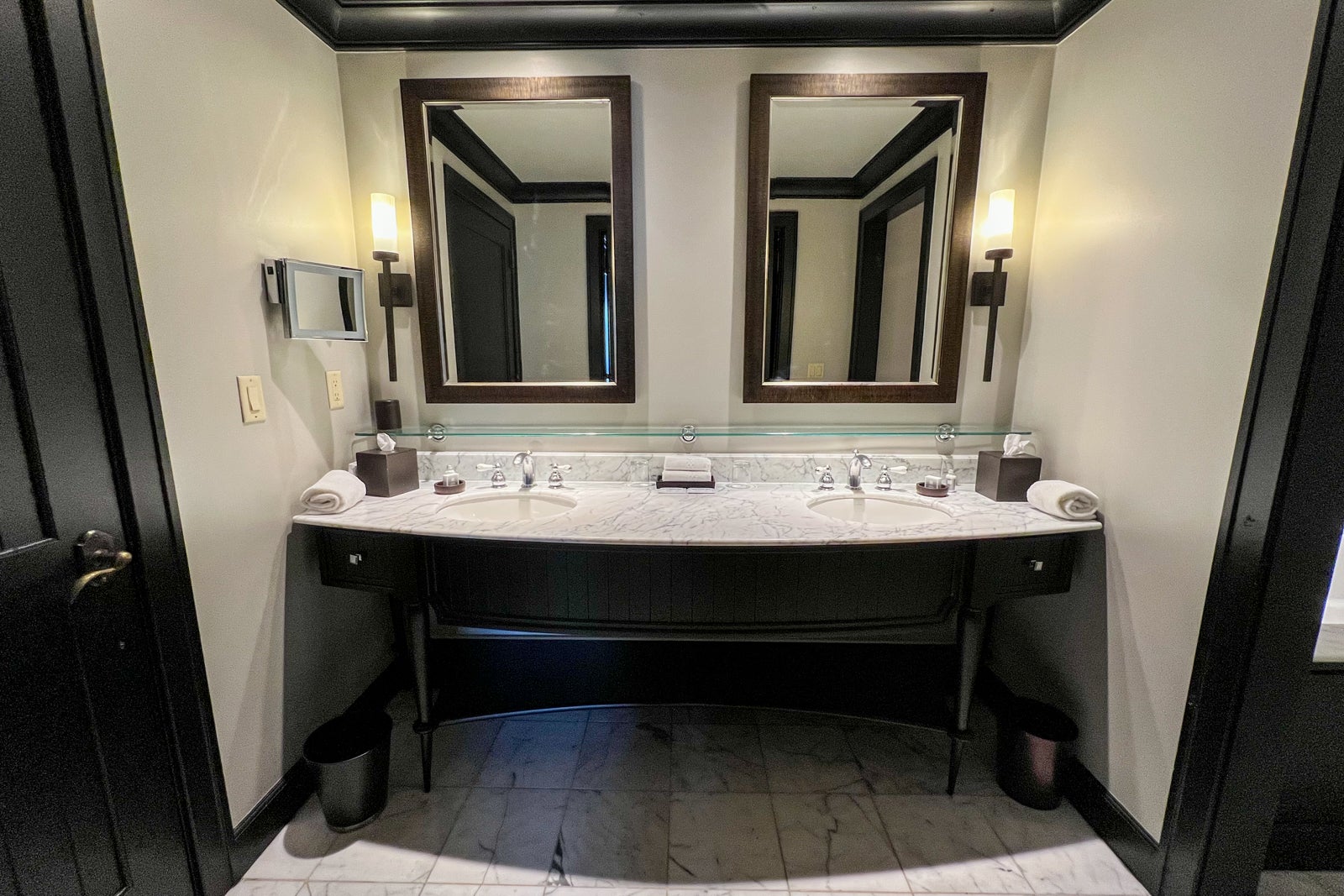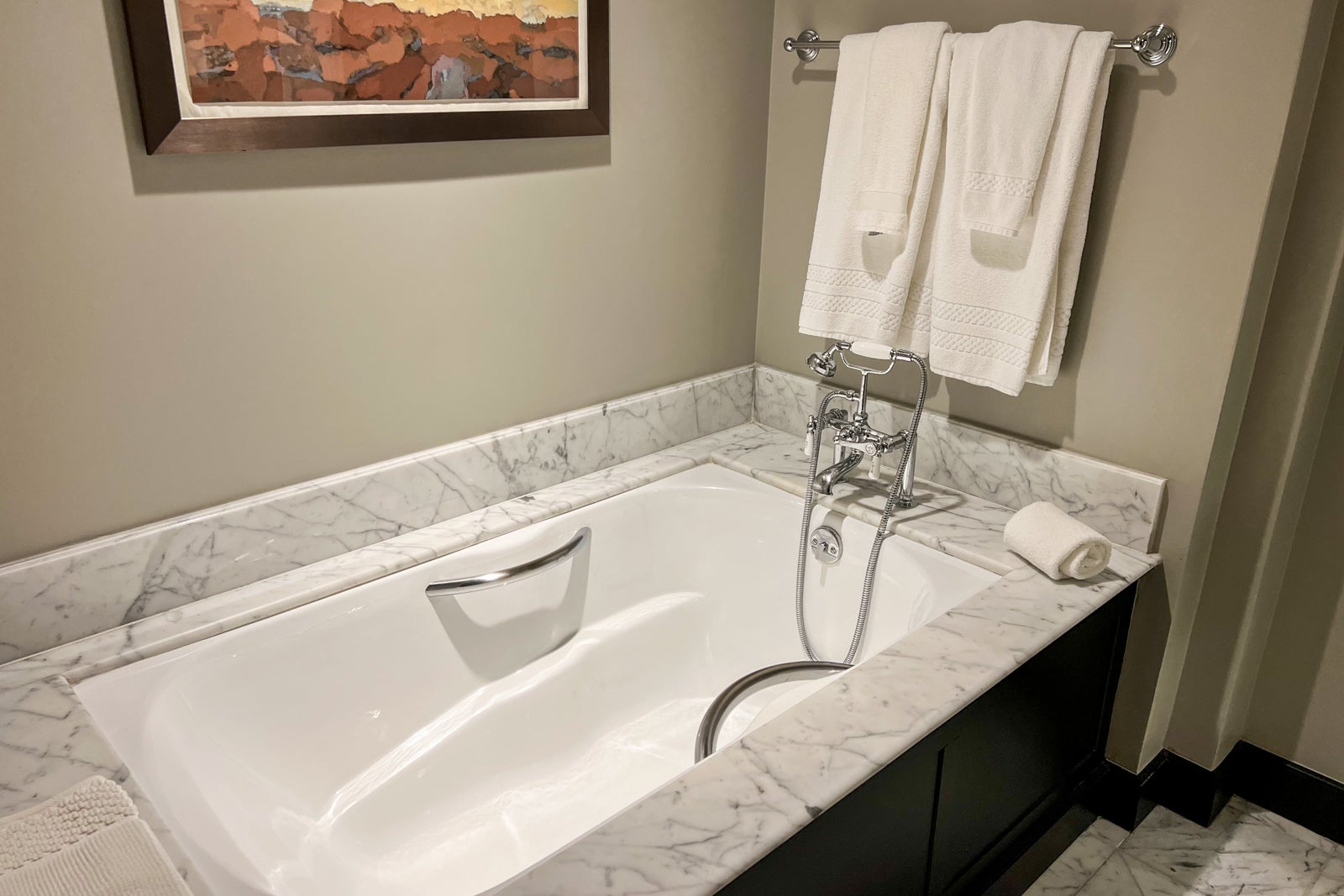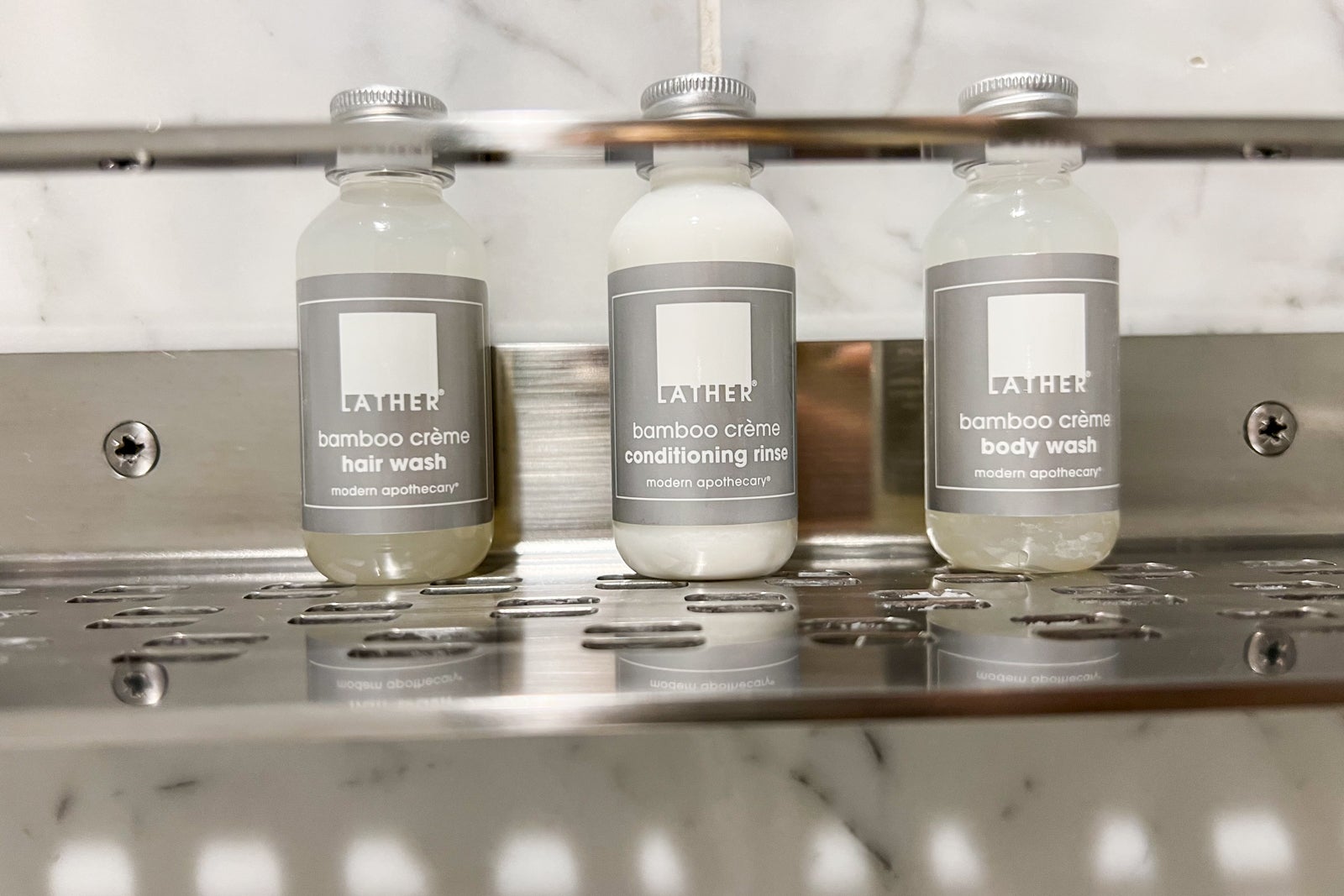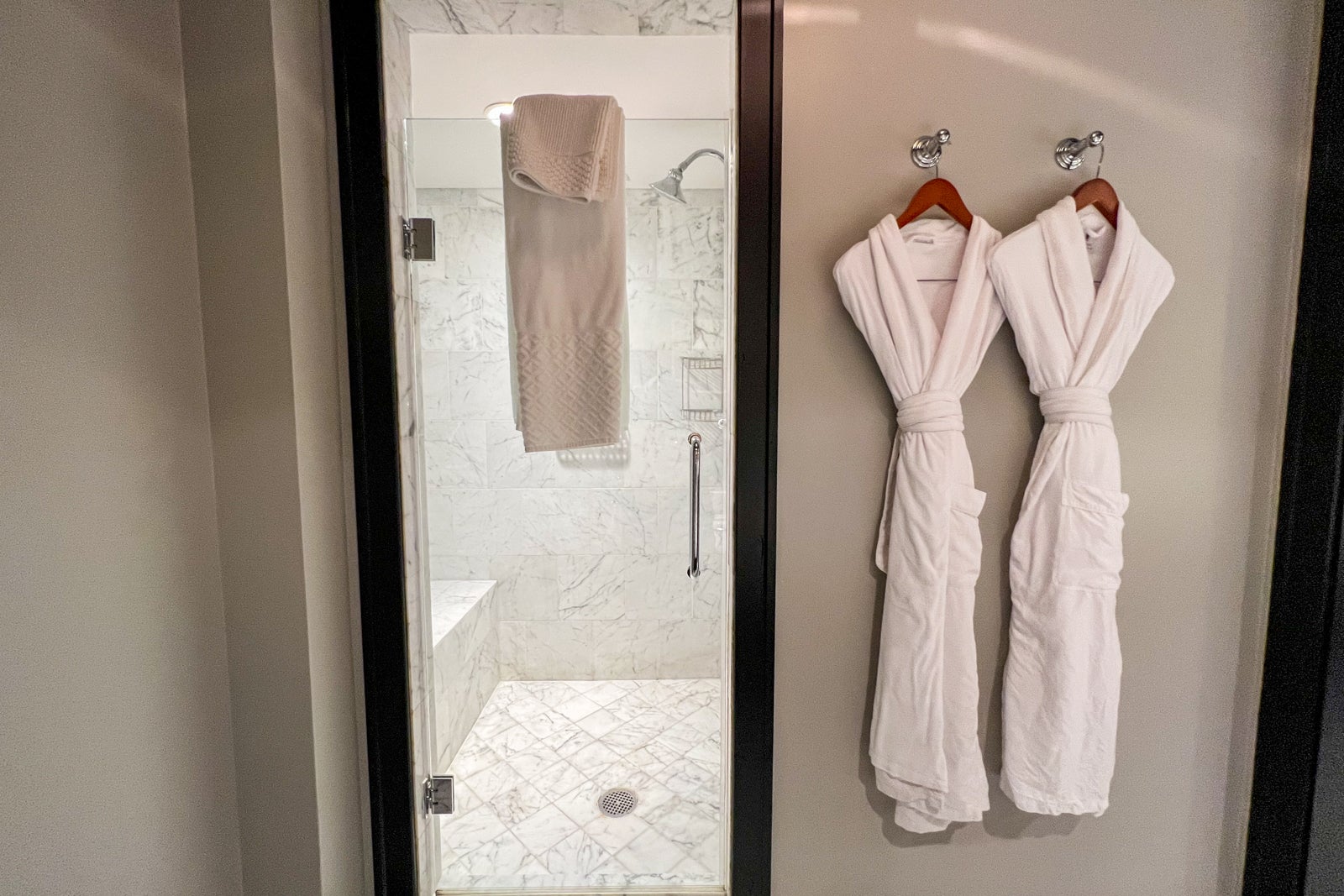 Even the hallways have gotten a new look. They're still a bit winding, though, so pay attention to where you're heading. It's easy to take a wrong turn.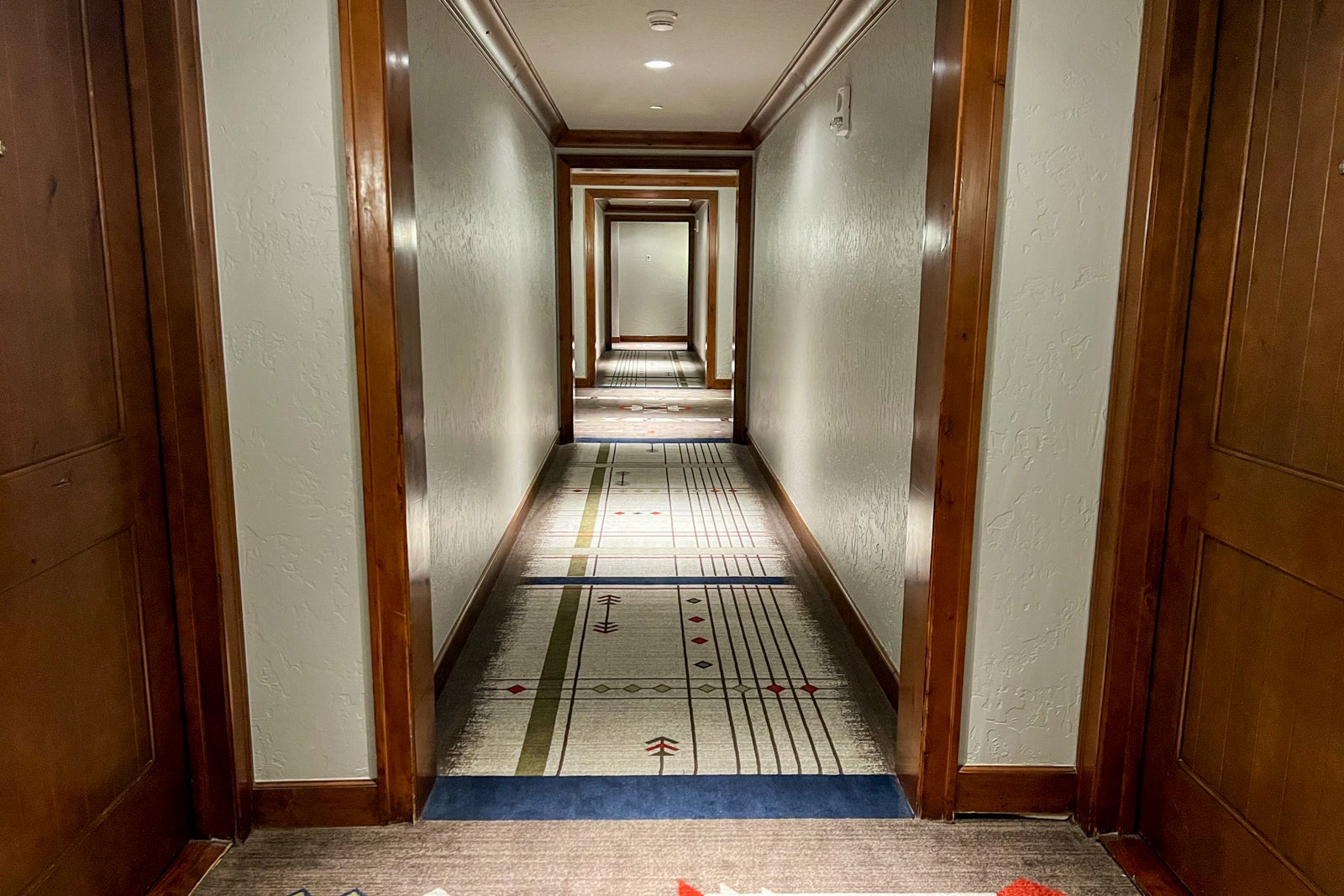 Food and beverage
A standout feature of the Ritz-Carlton, Bachelor Gulch is the variety of on-site dining options — though the popularity of the restaurants and high demand on peak ski days is a challenge. In addition to room service, the hotel features Wyld, a fine dining restaurant; Sakaba, a high-end sushi restaurant; Buffalos, a casual gastropub and some additional outdoor lunchtime options.
I did my best to eat my way around the hotel's various options spanning from my 2021 visit and this most recent one.
Room service
Room service here was predictably not cheap, but it wasn't as painful as it could have been given the price of everything else.
The continental breakfast in 2021 was $19 and came with delicious yogurt and berries, a chocolate-infused croissant, juice and coffee. We added some sides of bacon and sausage and made a pretty great breakfast for three out of those contents.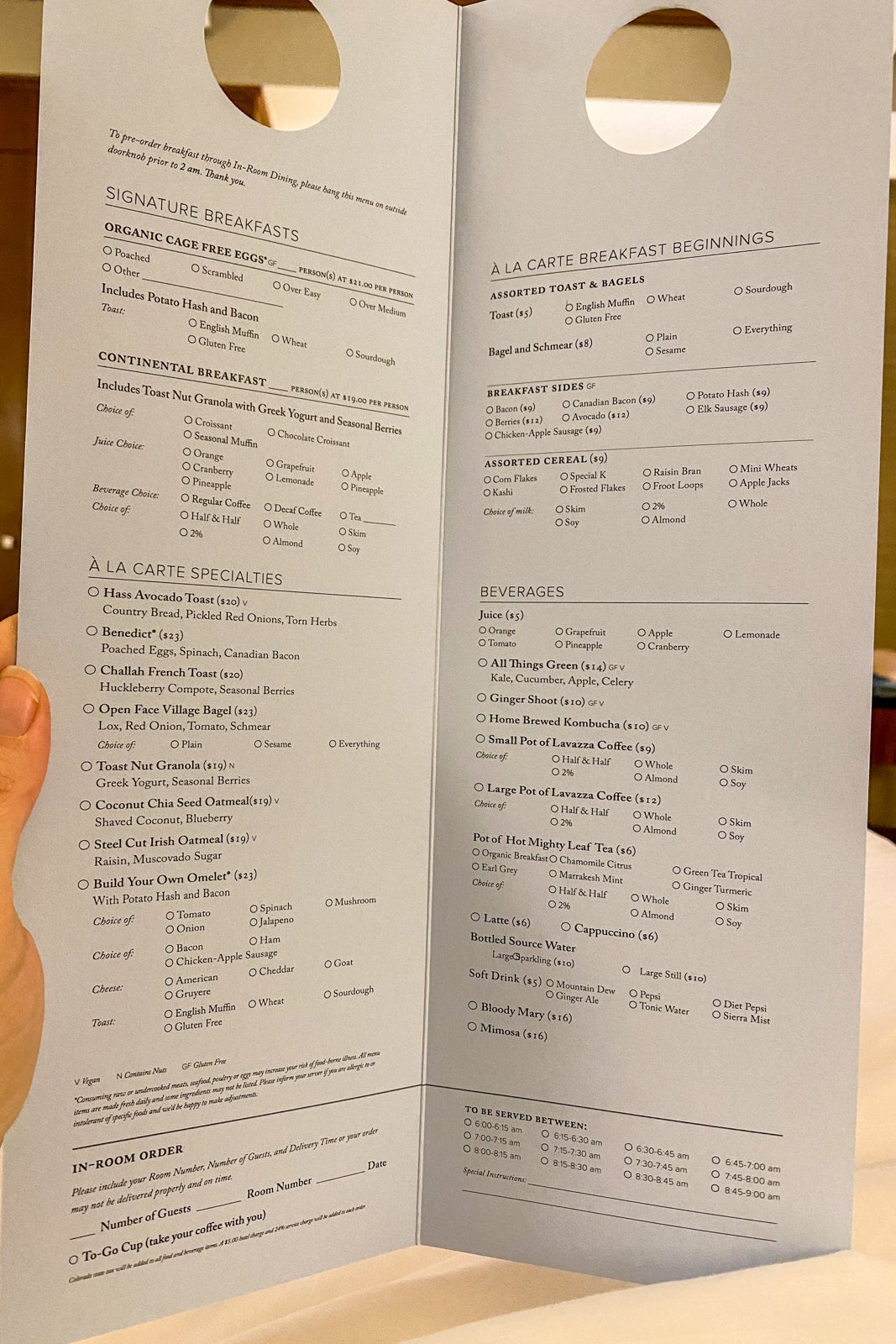 Room service arrived on a legitimate cart, right on time. Everything we tried was tasty and not that much more expensive than many of the other dining options in the hotel. Plus, there is a lot to say about in-room convenience on a ski morning.
Grab and go market
Your most readily available and economical option for food in the otherwise pretty secluded Ritz-Carlton Bachelor Gulch is the market. Here, muffins are $4.50 and breakfast burritos are $16, which is about as good a deal as you're going to find on the property.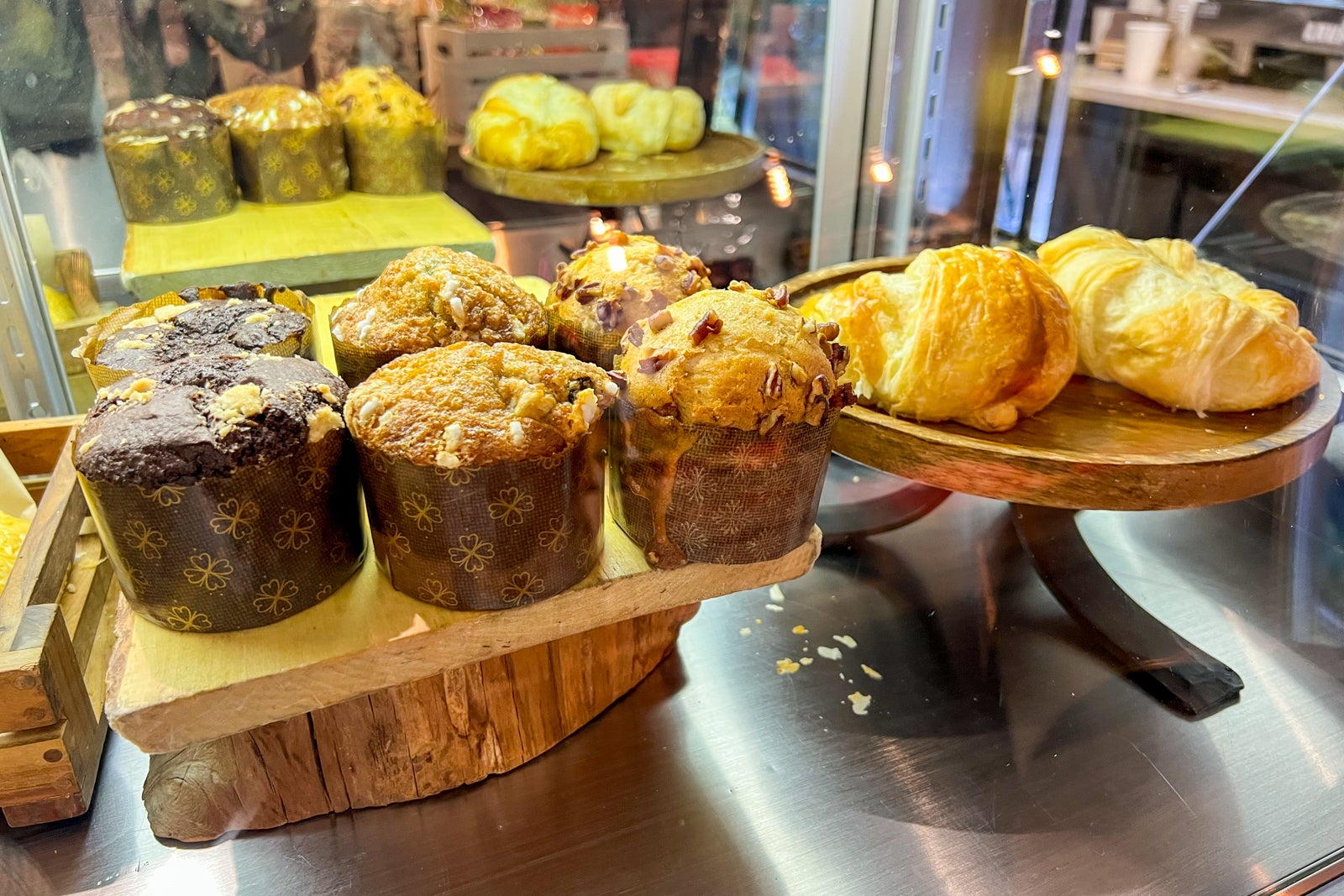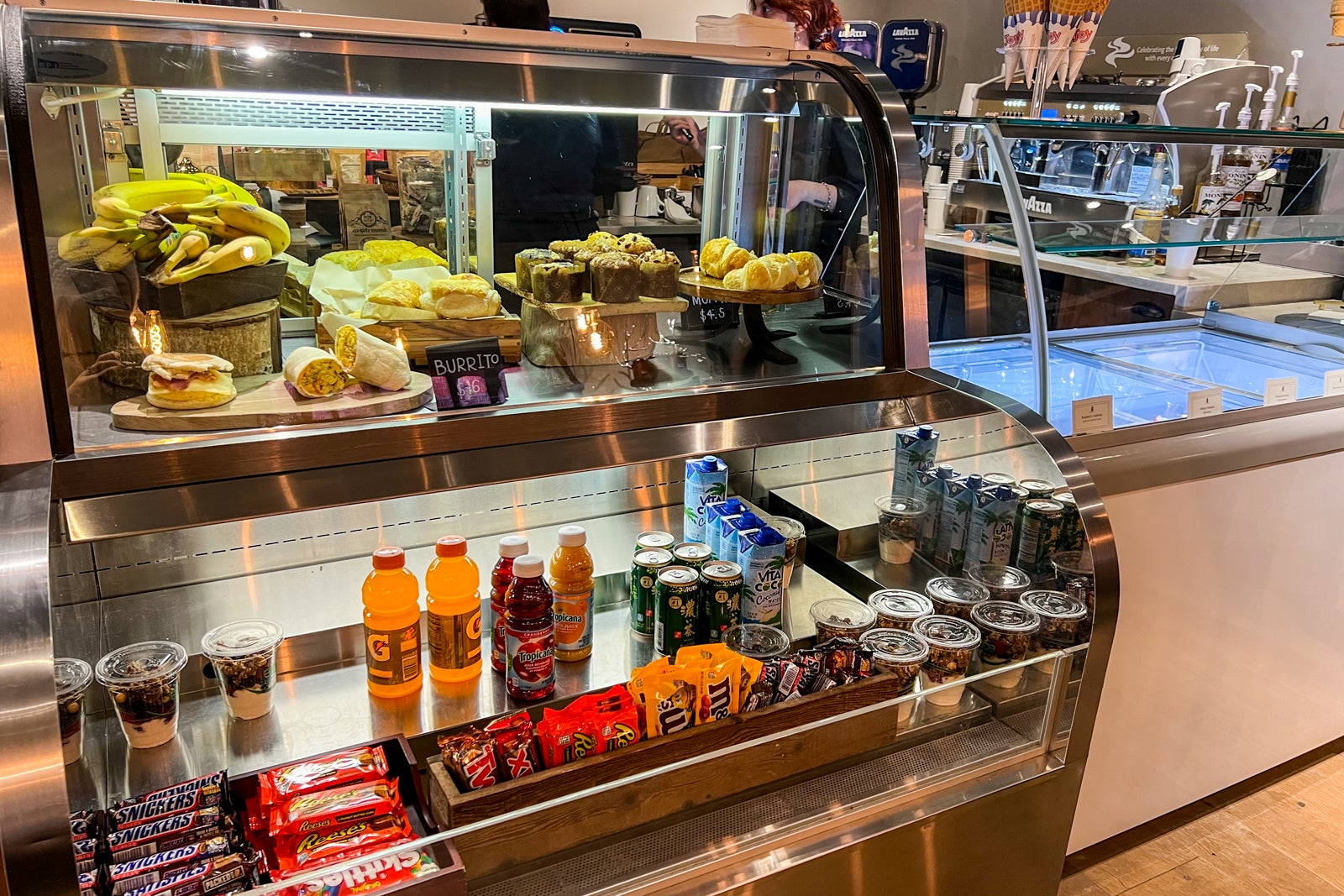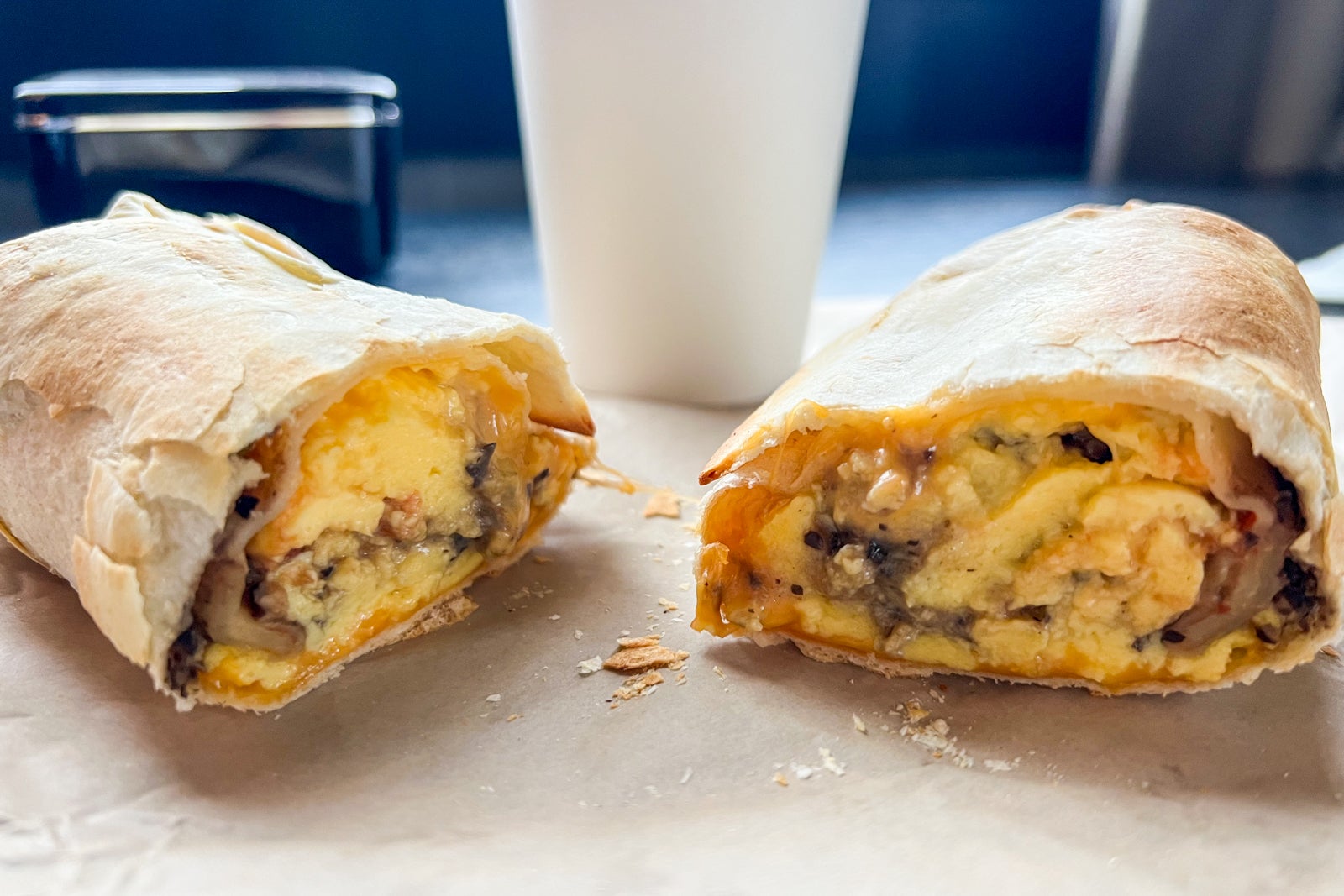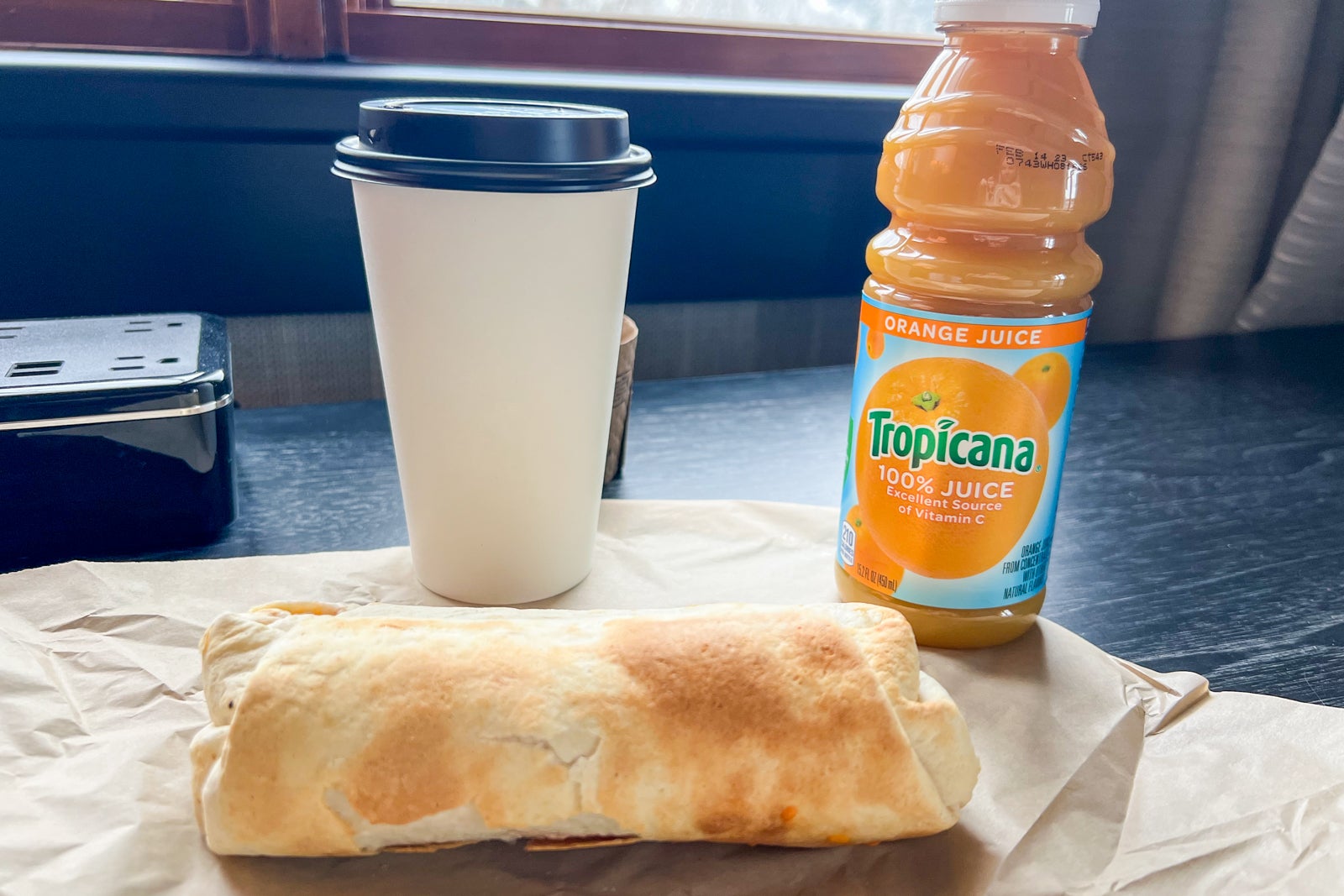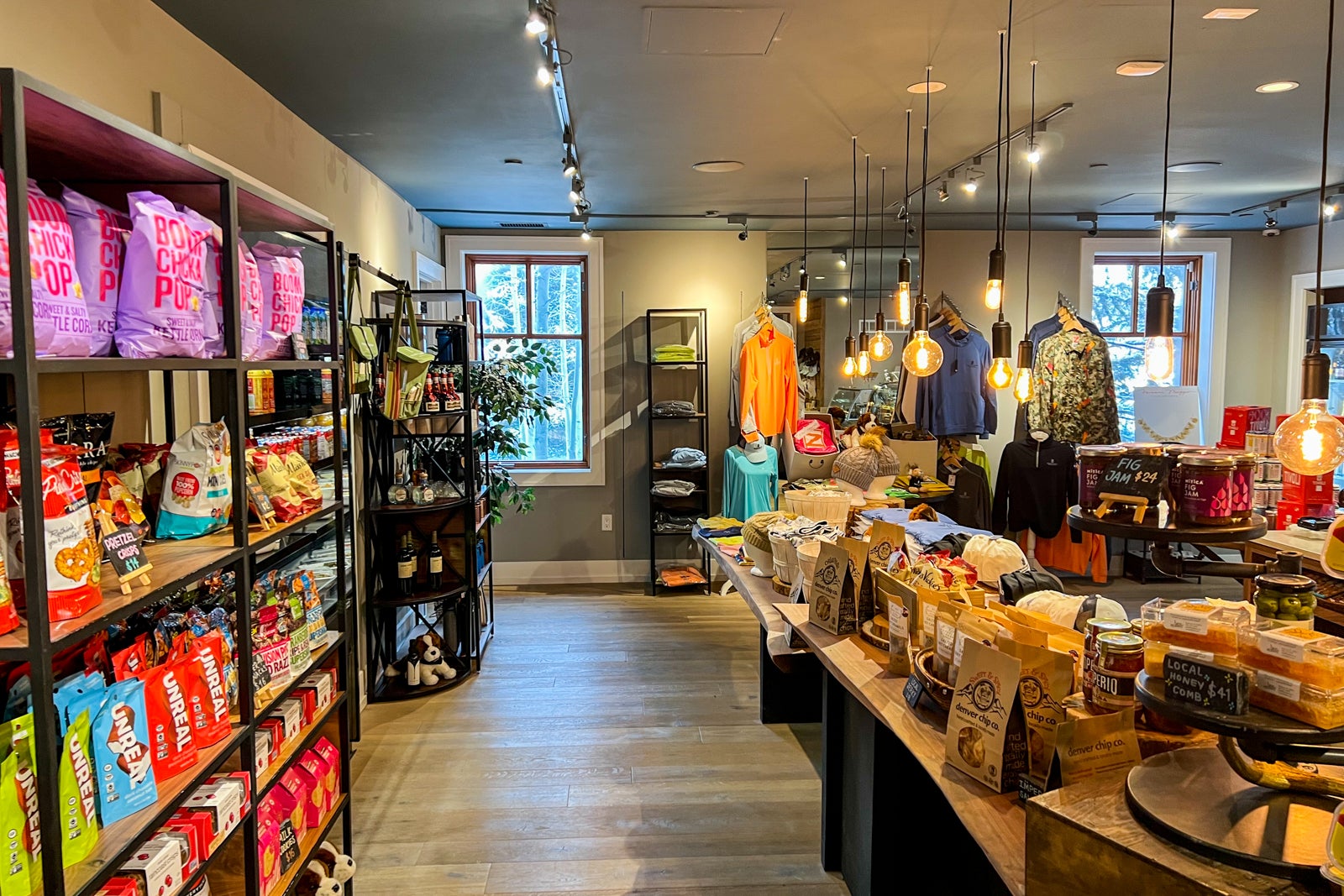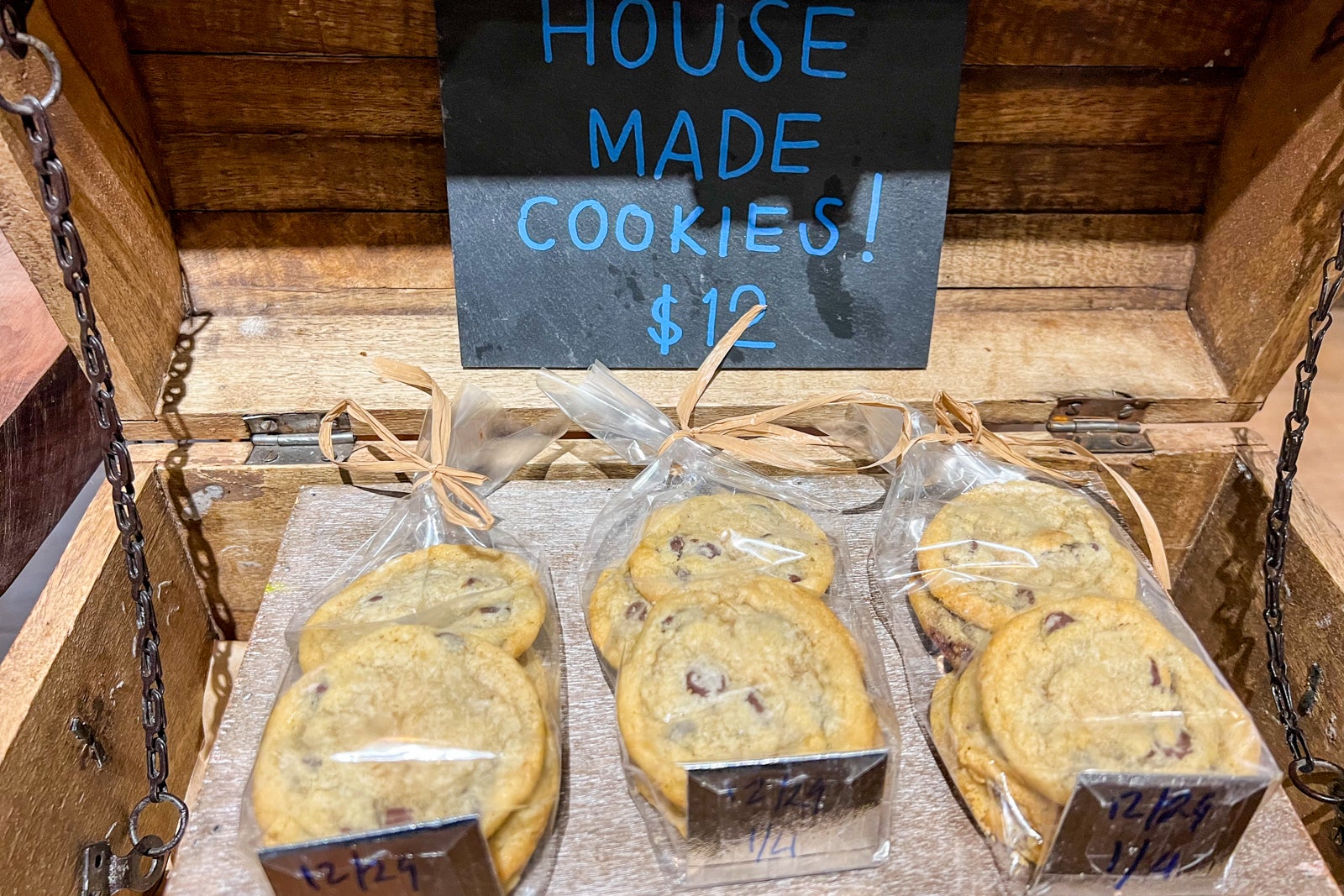 Buffalos
Buffalos is a casual restaurant, but it still gets very busy. Make reservations well in advance if you want to dine here. The menu includes items such as a buffalo burger, chili, mac and cheese and an amazing, warm, cowboy cookie served with a scoop of vanilla ice cream. The food is solid, even if prices are higher than you might wish, at $23 for a bowl of chili and $14 for kids meals.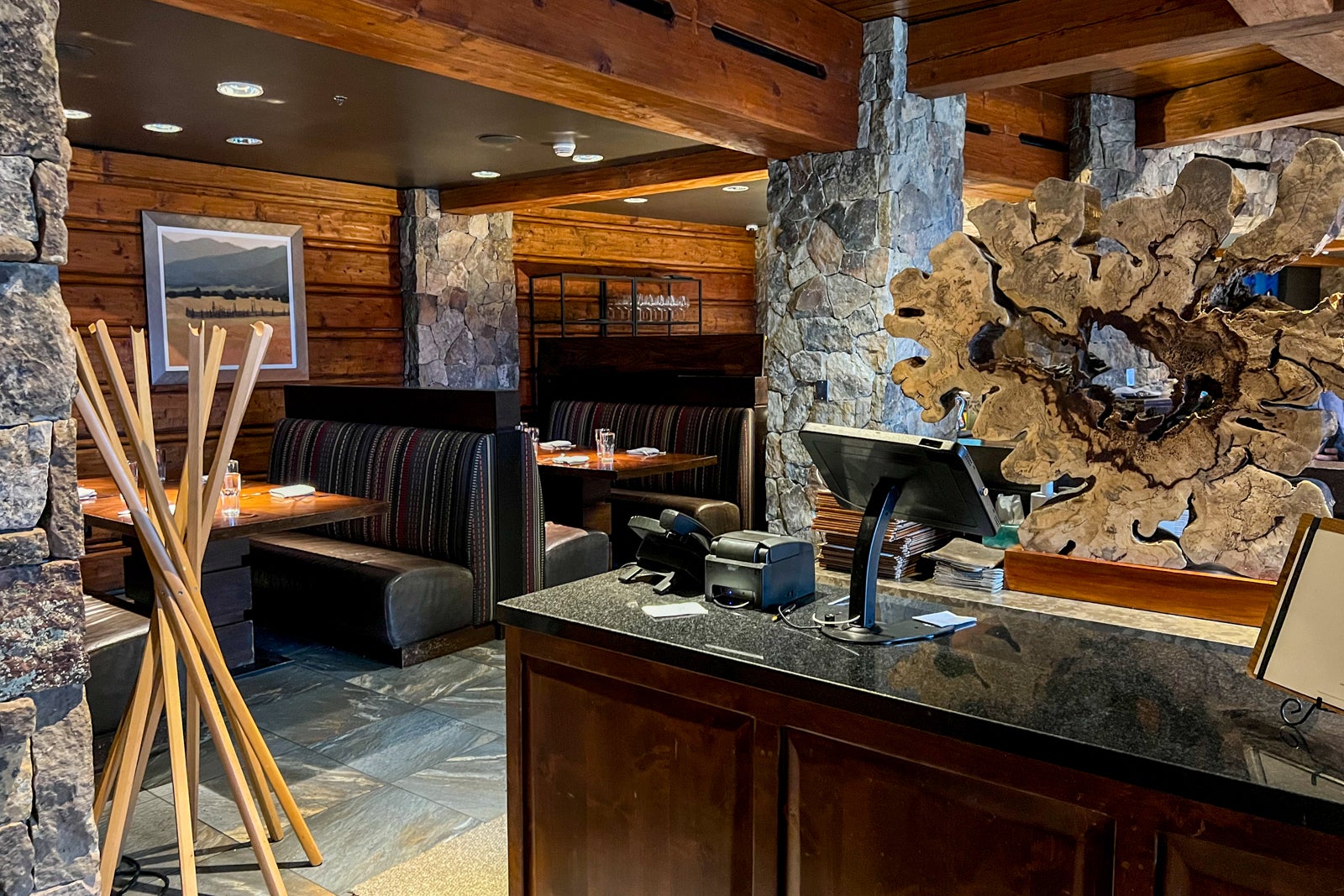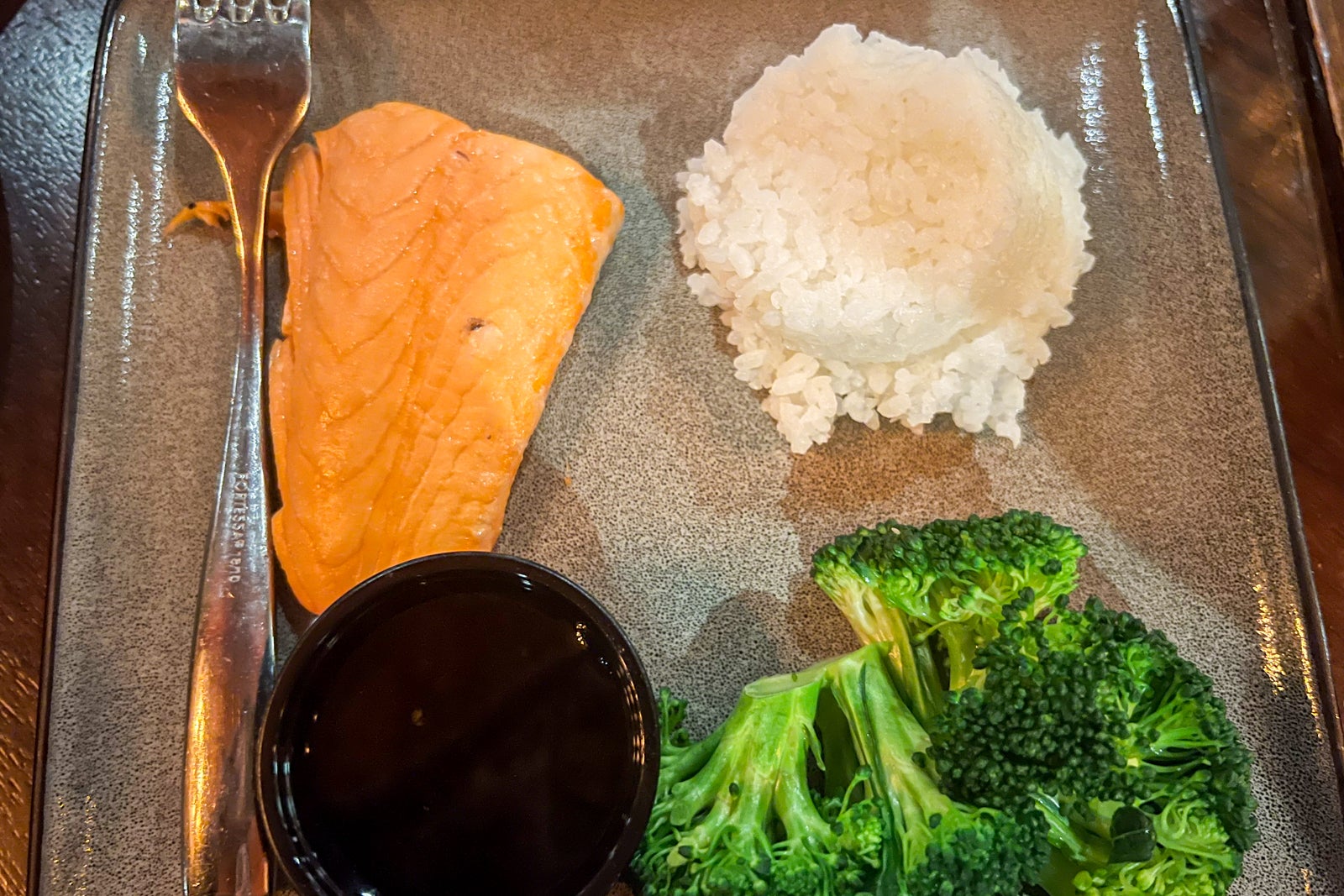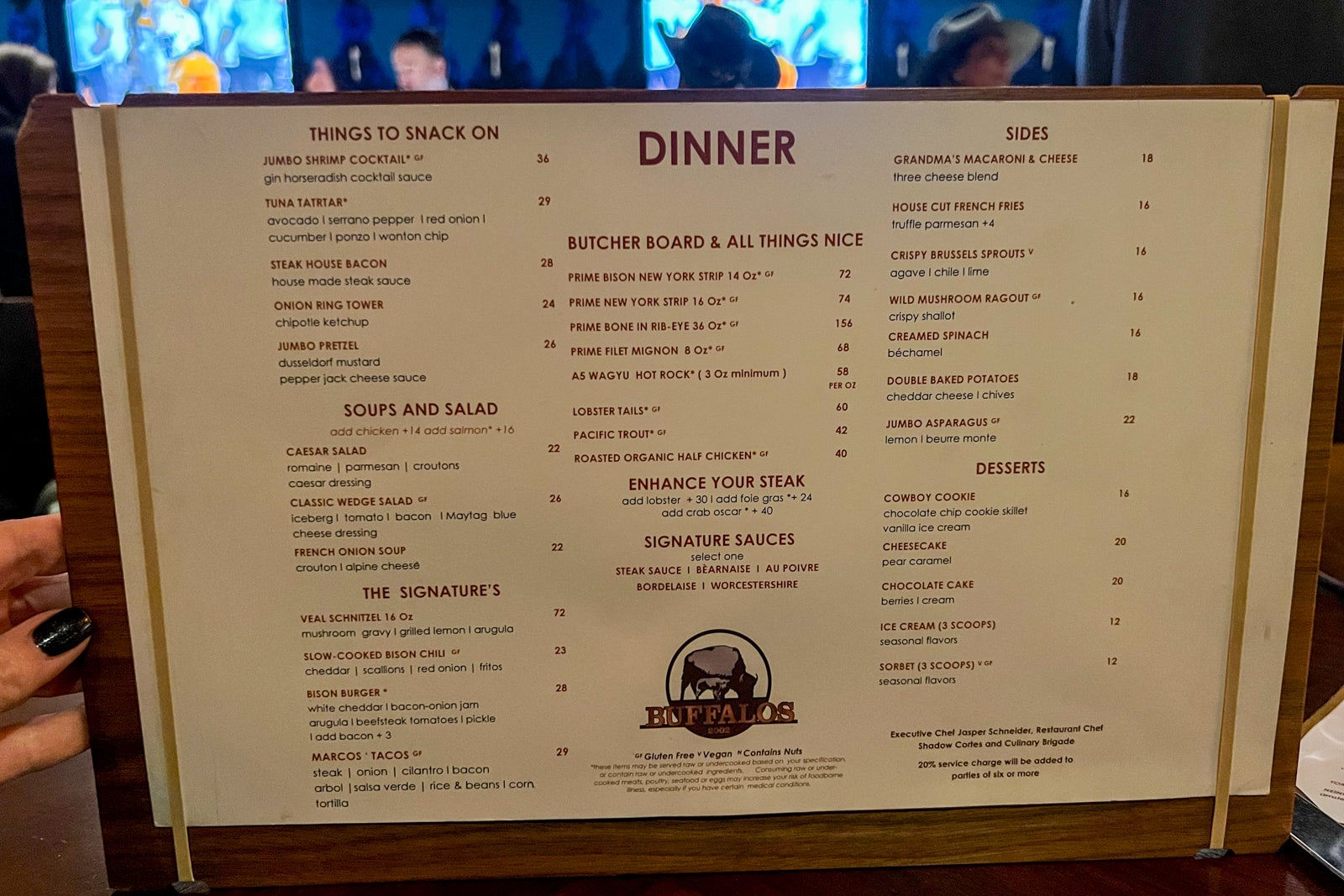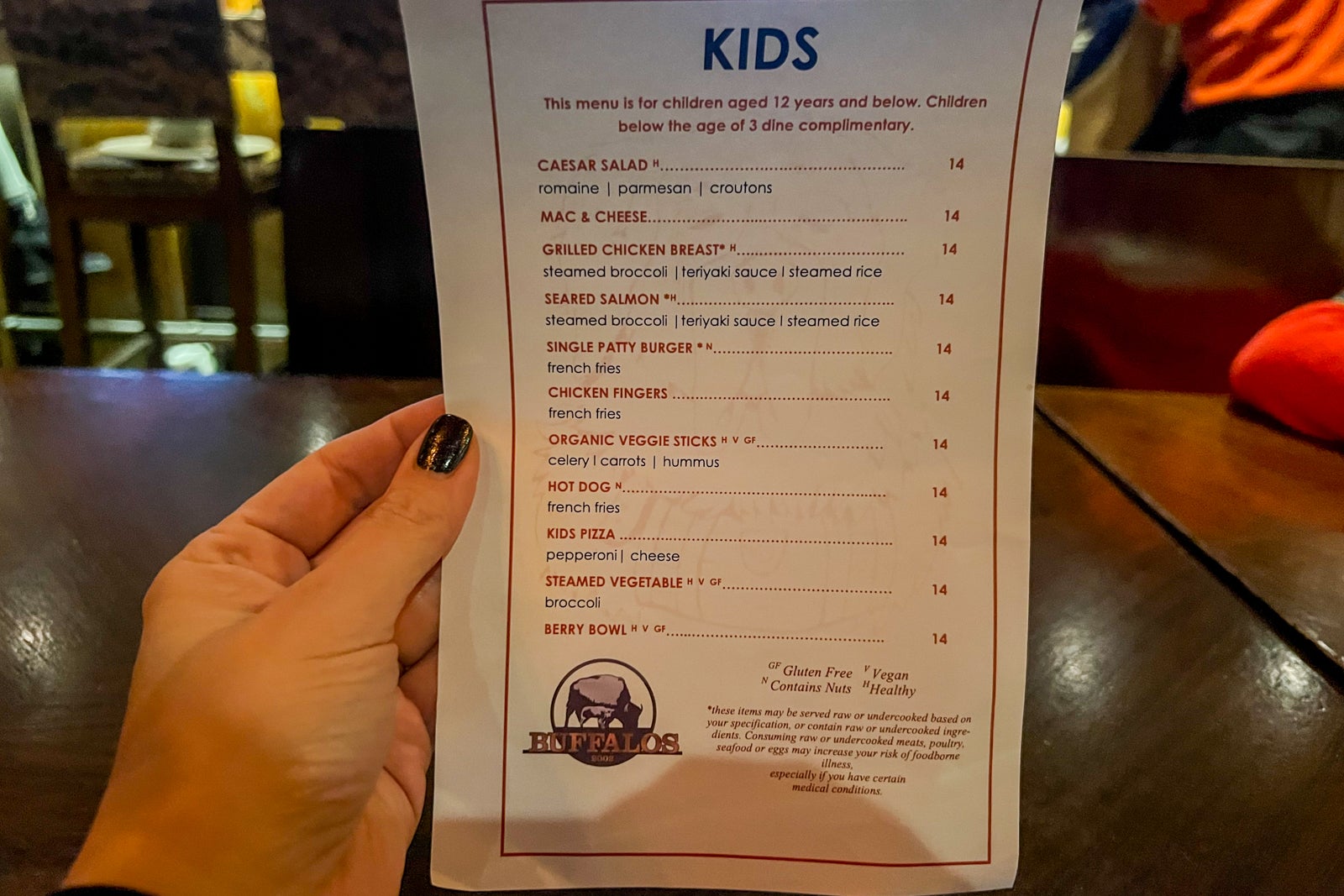 Wyld
Next up on the list of dining options at the Ritz-Carlton is Wyld. This restaurant focuses on locally farmed meats and vegetables, accompanied by seafood. The same advice applies as at the other restaurants — make reservations and be ready for a large bill. That said, we did find Wyld to be the easiest of the three restaurants to get into.
The salmon cones ($27) are great if you want some fresh and flavorful fish without getting overly stuffed. If you're a bit hungrier, the kid chicken tenders are a reliable hit ($16), while the ramen bowl was packed with flavor, though potentially a bit too spicy for some.
Service here was quite slow on our recent lunch visit, which is a common theme during peak times at many resorts right now.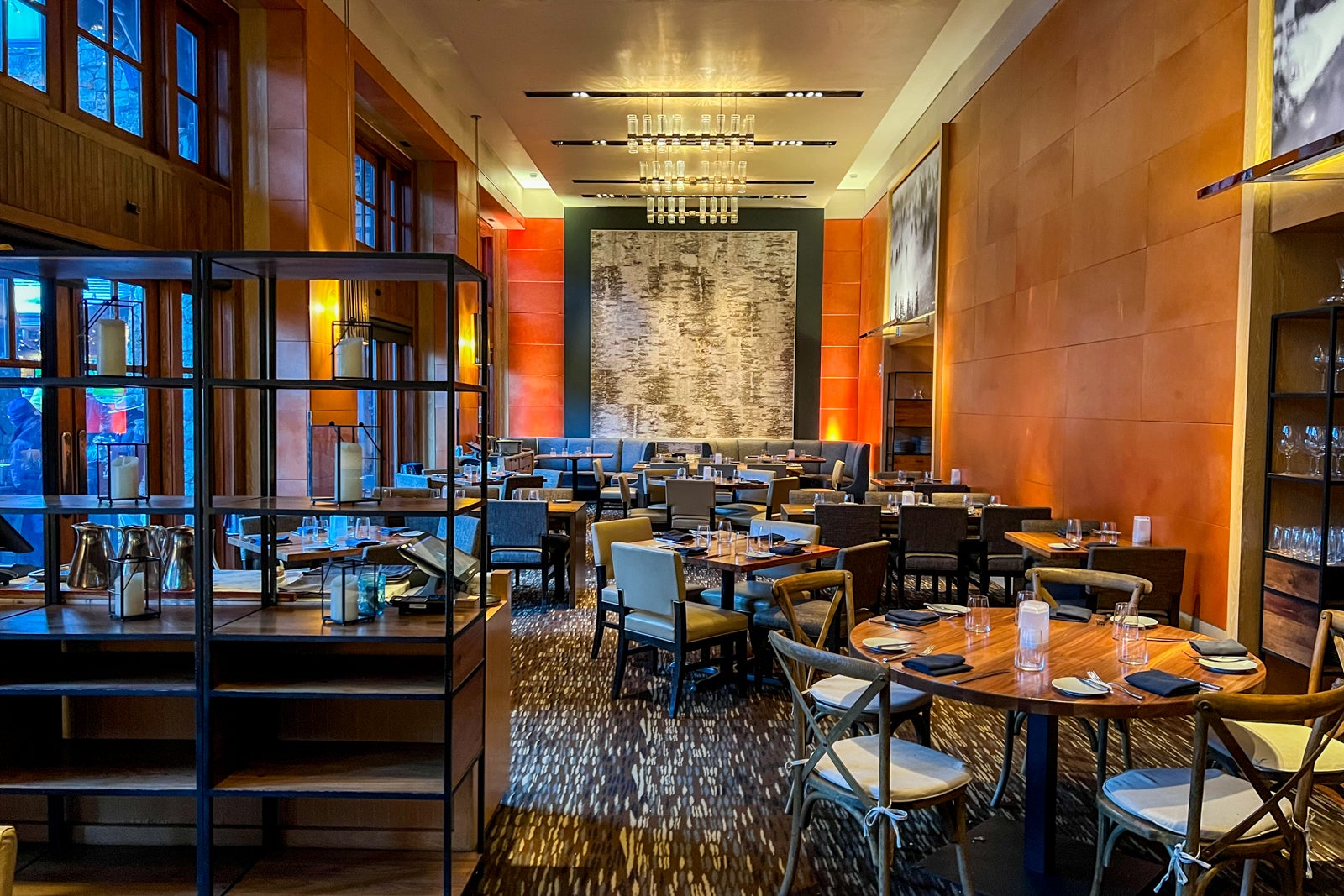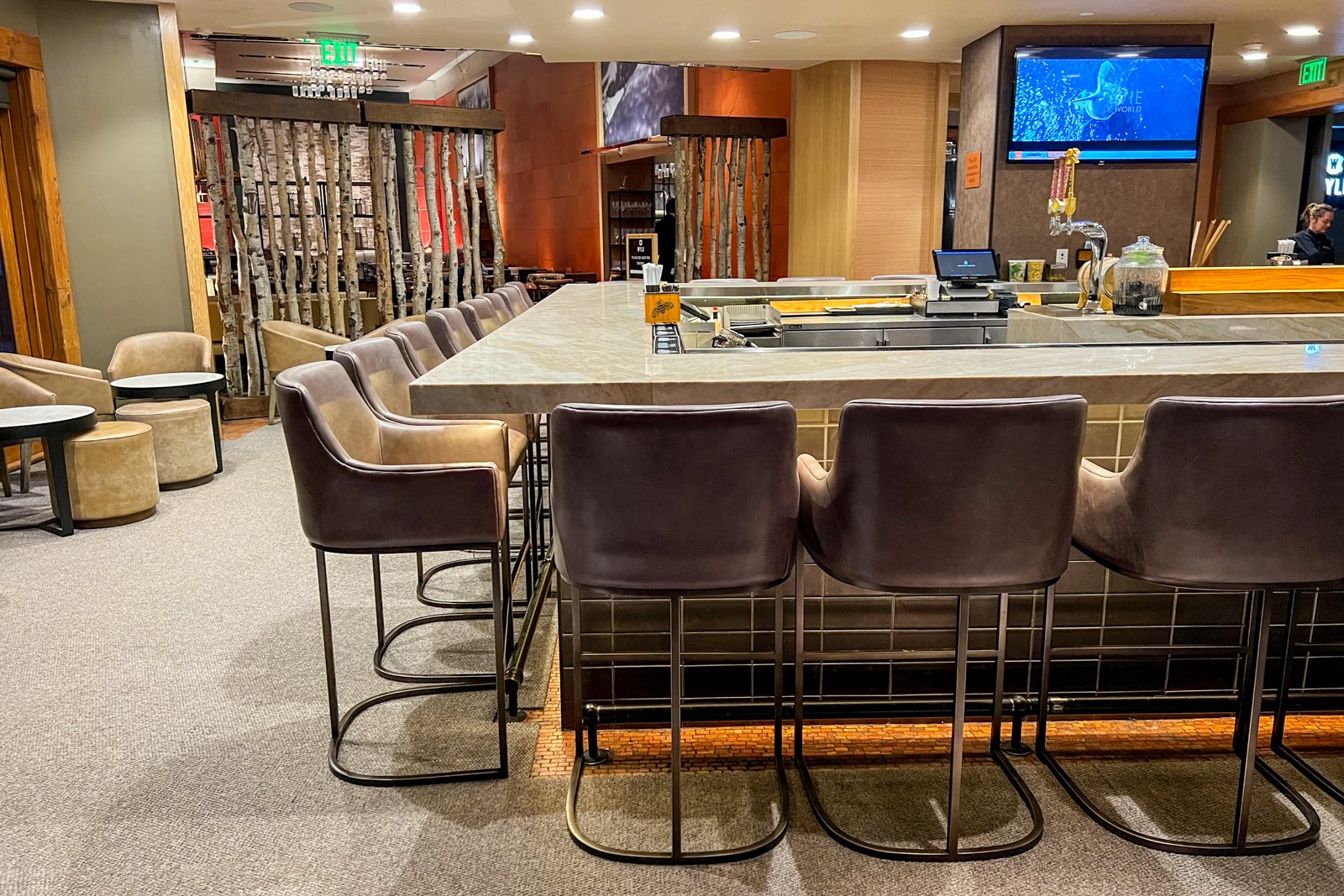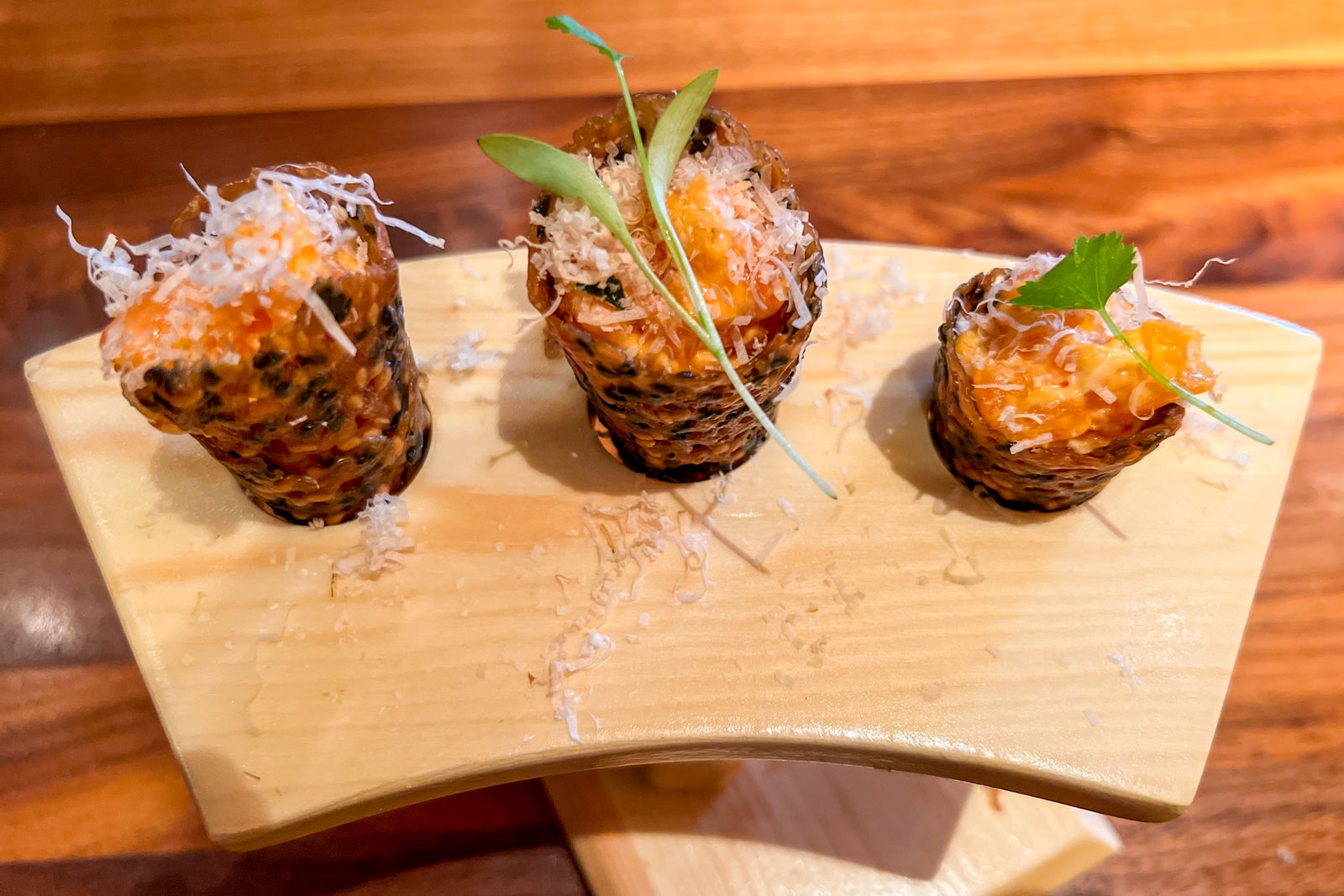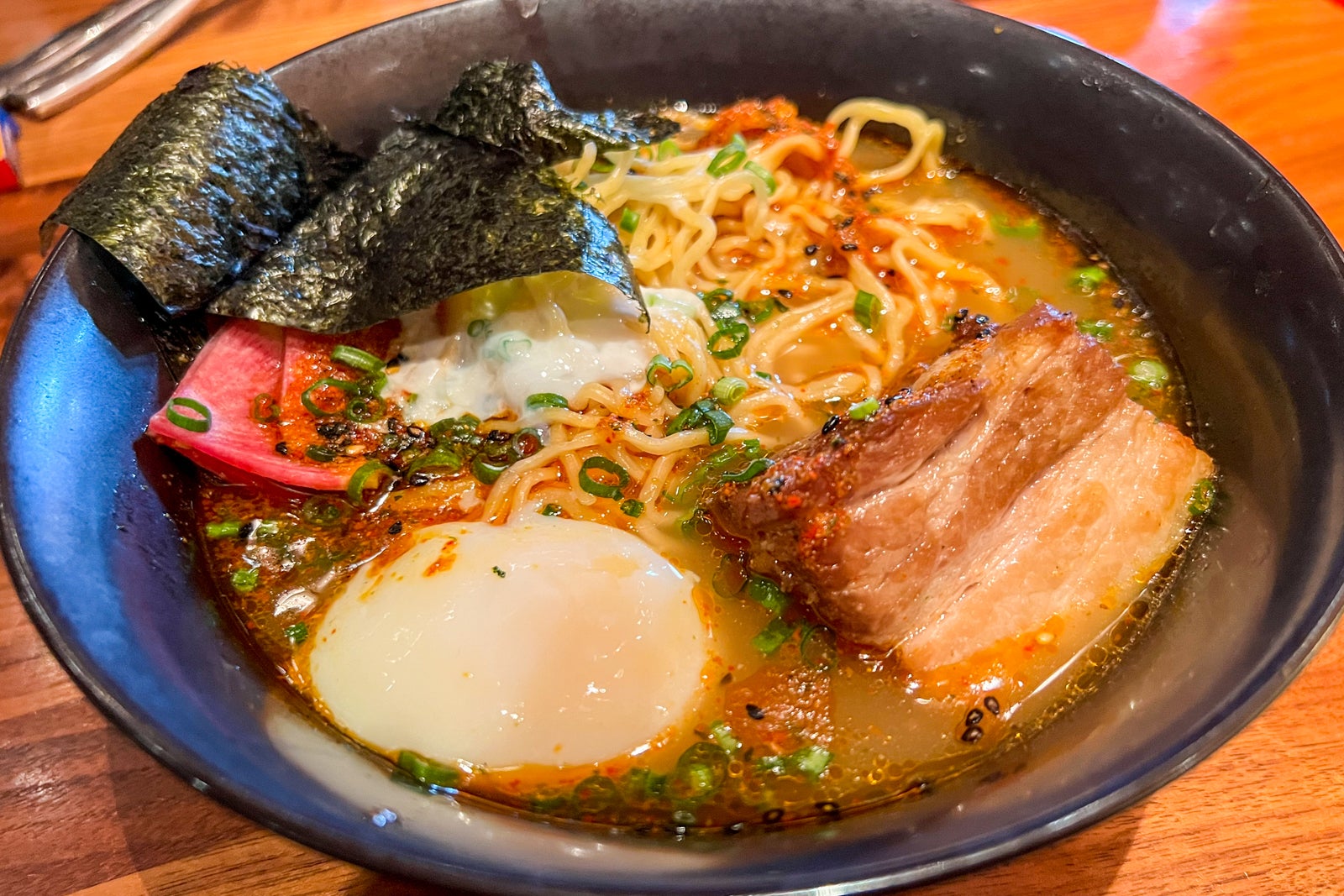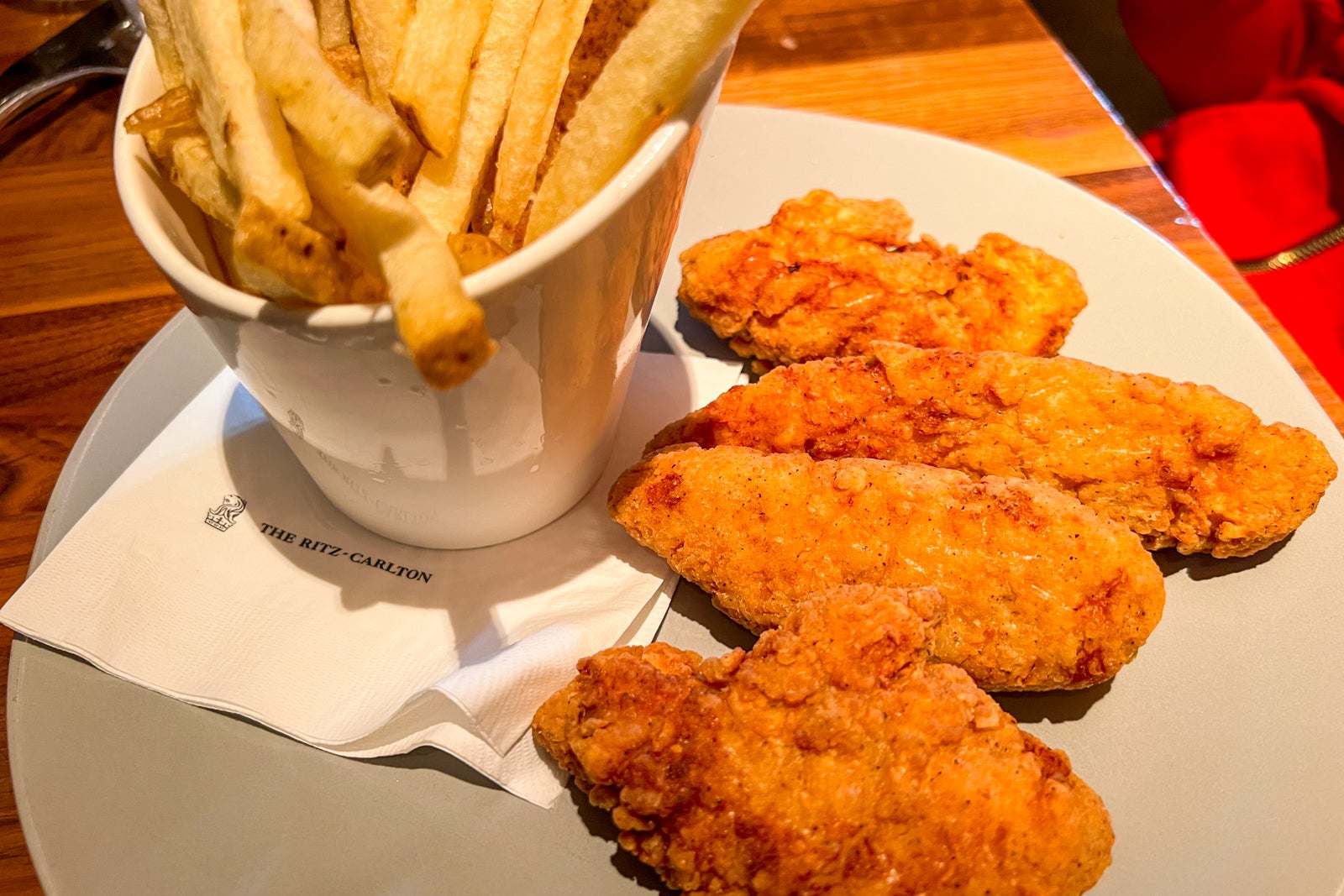 Sakaba
Sakaba, a sushi restaurant, is truly amazing and not to be missed. It's probably one of my favorite meals we've had in the area.
Reservations are a must here, and you should make them before your trip. In fact, that's true for all the restaurants as there are not enough seats on busy nights to meet demand unless you are eating very late in the evening. Book all of your on-property dining on Open Table well before your trip.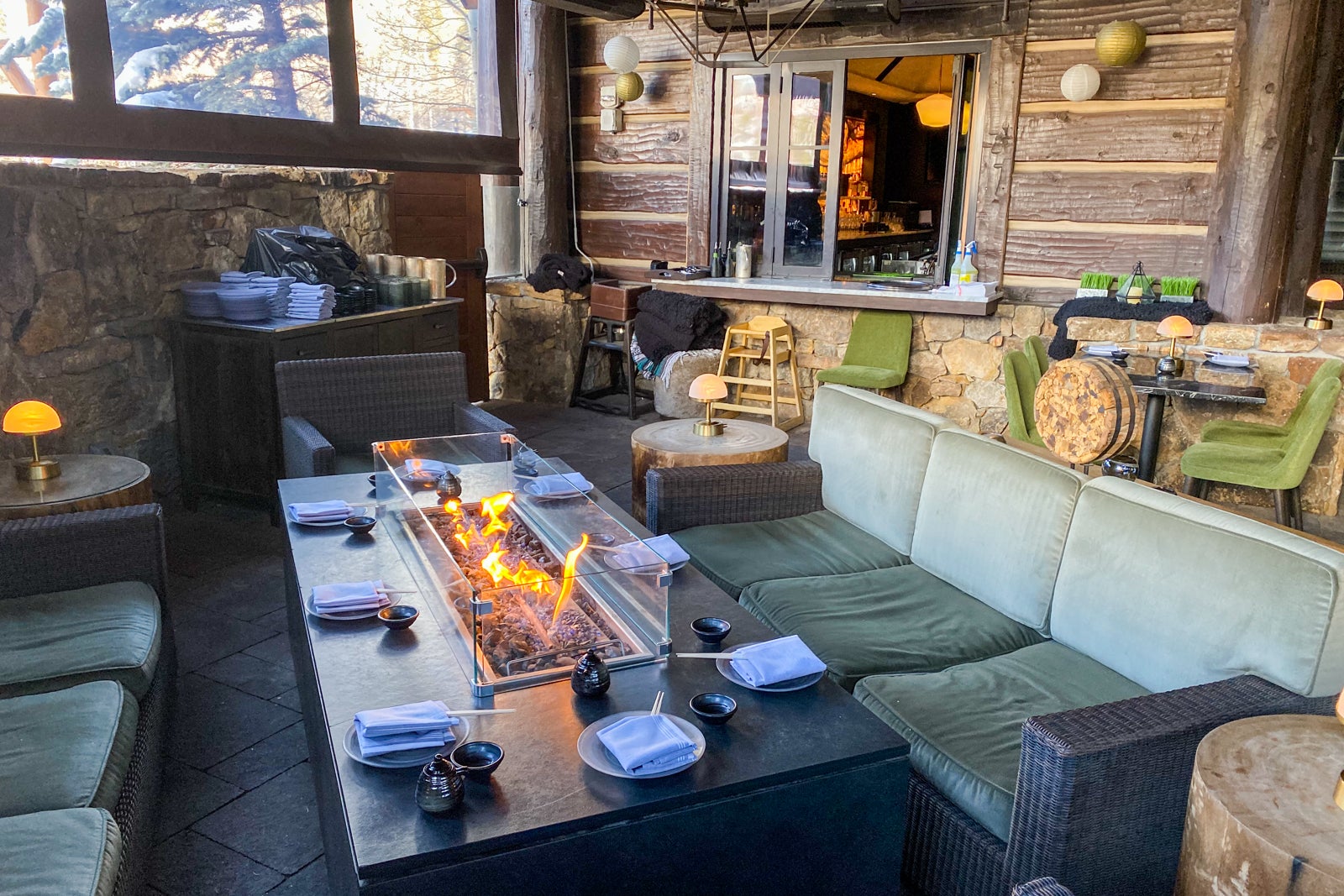 Sakaba has both indoor and open-air seating, but regardless of where you sit, you're in for a treat with the meal. Just know in advance this place is very expensive with portions that aren't especially large. This crispy rice with tuna appetizer ($32) was something I will crave forever; it was that good.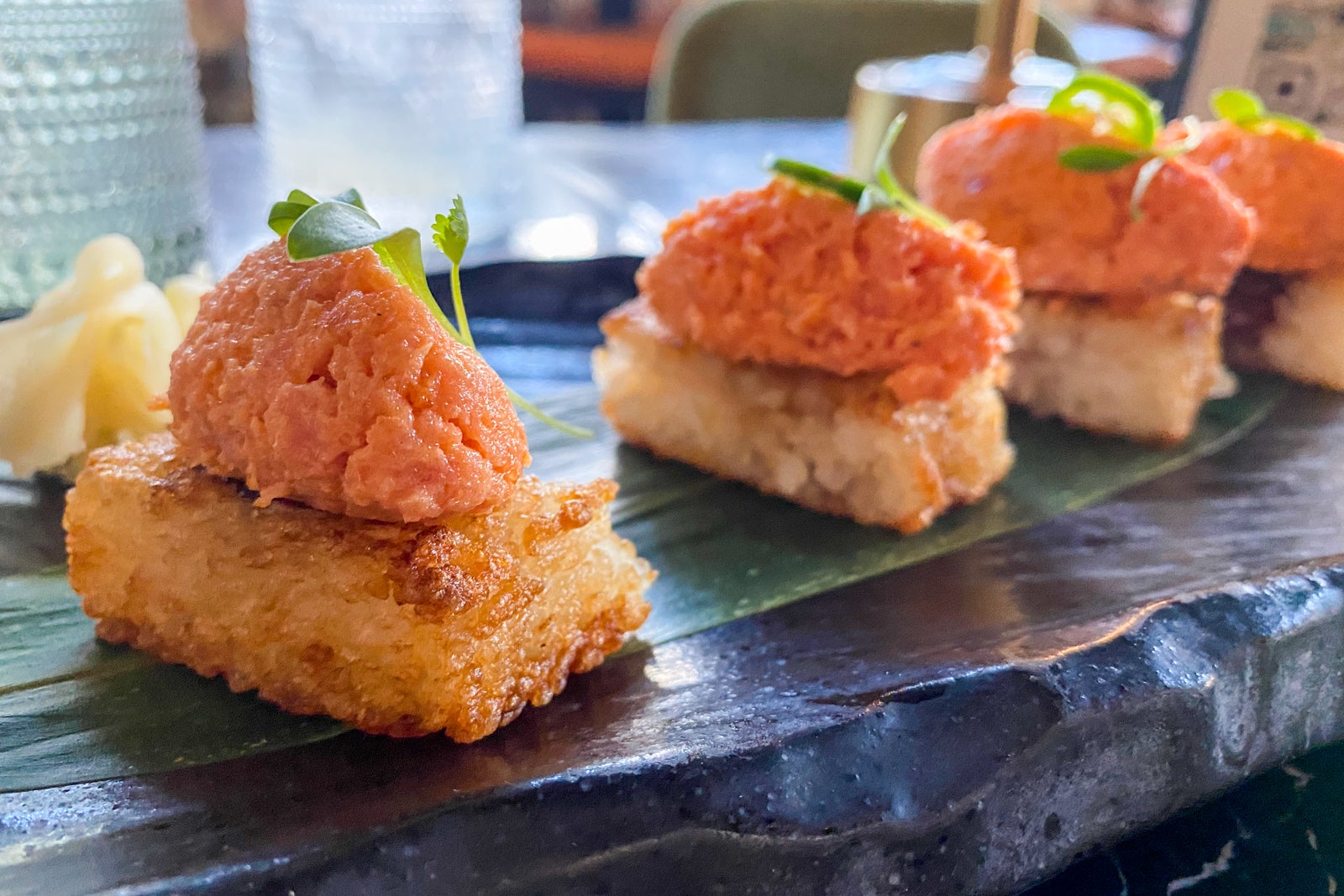 We also had an assortment of sushi rolls, seaweed salad and ramen noodles for the littlest in the family, all of which were fresh and fabulous.
Amenities
Ski amenities
If you're paying ski-season rates, I'll assume you're staying here because you want ski-out access in Bachelor Gulch. If that's the case, the hotel is rich with ski amenities. First, there's the ski valet that will hold your skis or board overnight and make it available outside each morning.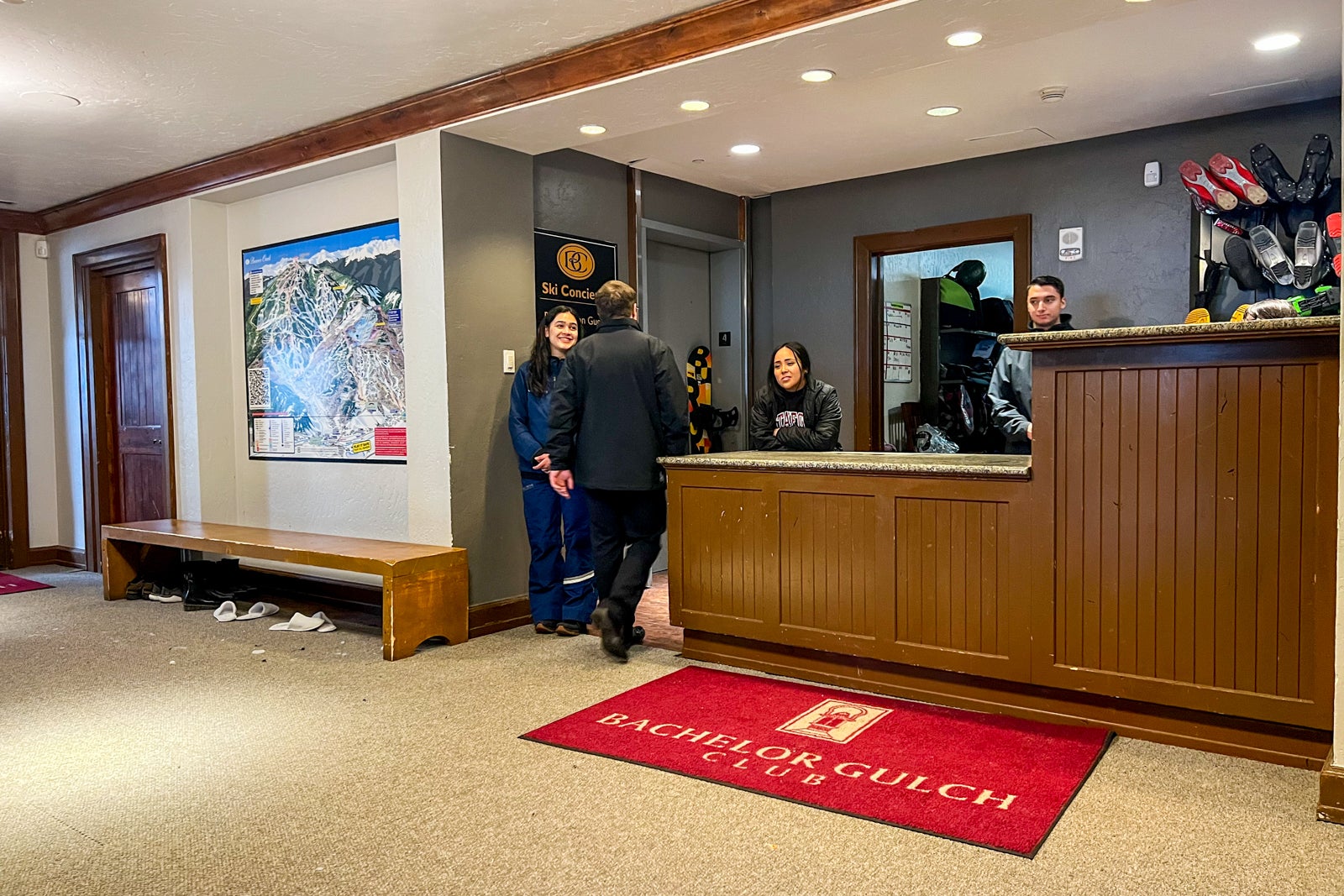 In addition to the ski valet, there's also a ski shop where you can rent equipment, along with a Beaver Creek lift ticket office where you can get tickets or pick up your Epic Pass, all within the hotel. That makes this property pretty much an all-in-one ski stop.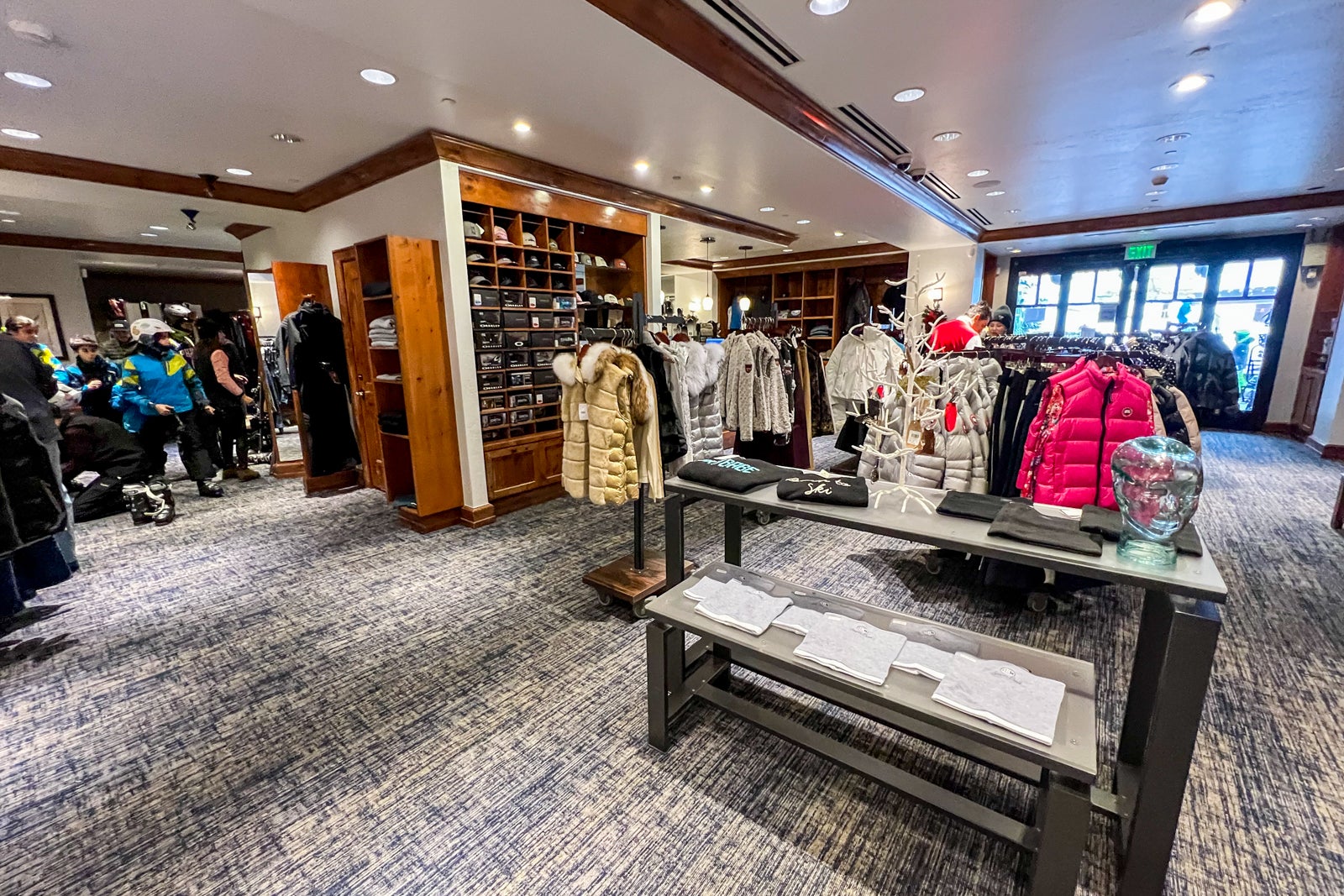 While it was not available during our visit when I asked, at times, there has been a Ritz Kids ski-nanny program that can help get your kid(s) to and from ski school each day for you.
As you can see from this photo taken from inside the hotel, you are about as close to the lift as possible when staying at The Ritz-Carlton, Bachelor Gulch.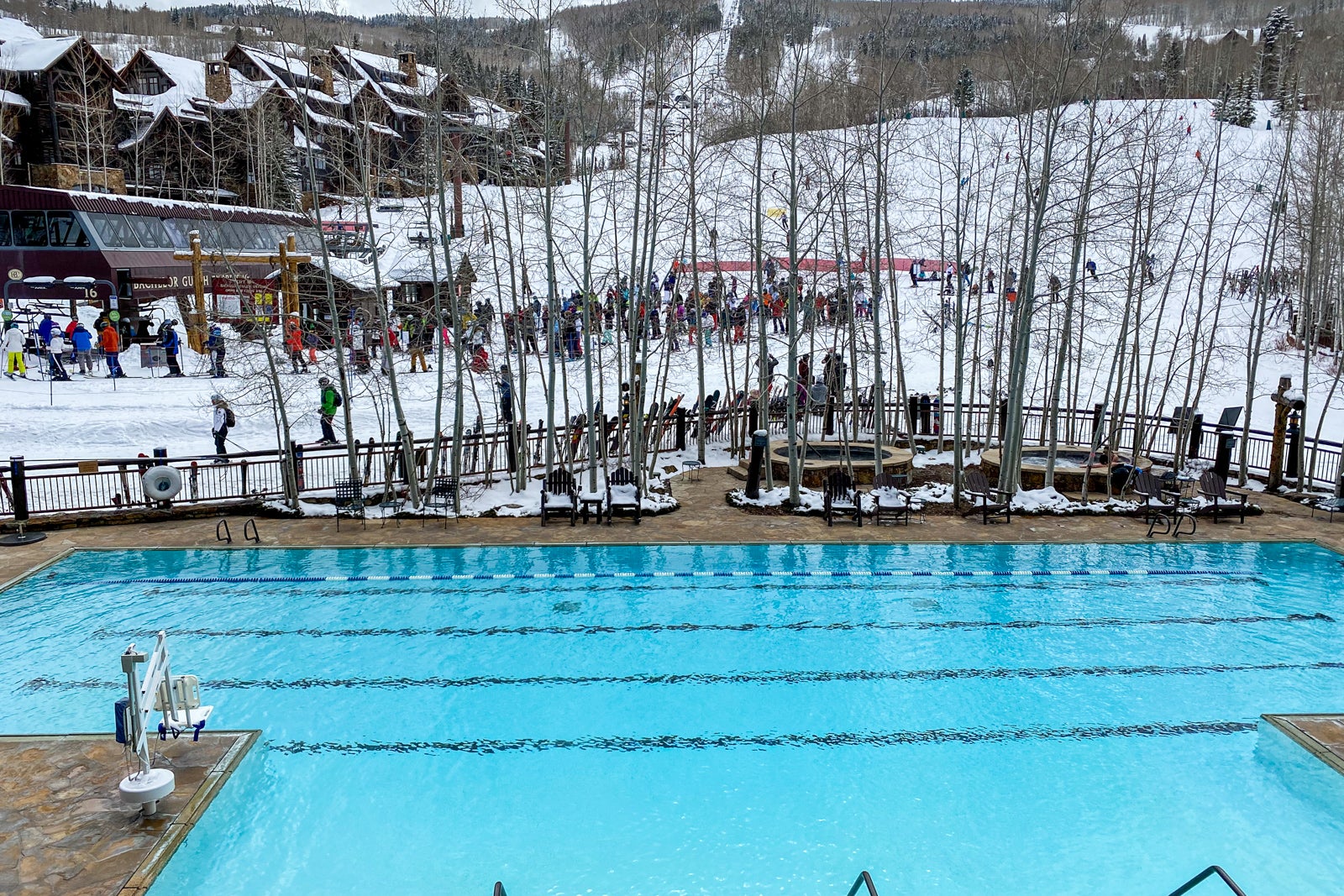 Kid activities
Although the ski nanny wasn't available, other great kid-friendly activities were alive and well during our visit via a schedule of daily (included) activities.
First up, during our visit, there was a wolf sanctuary visit which was just an epic highlight of my kids' trip.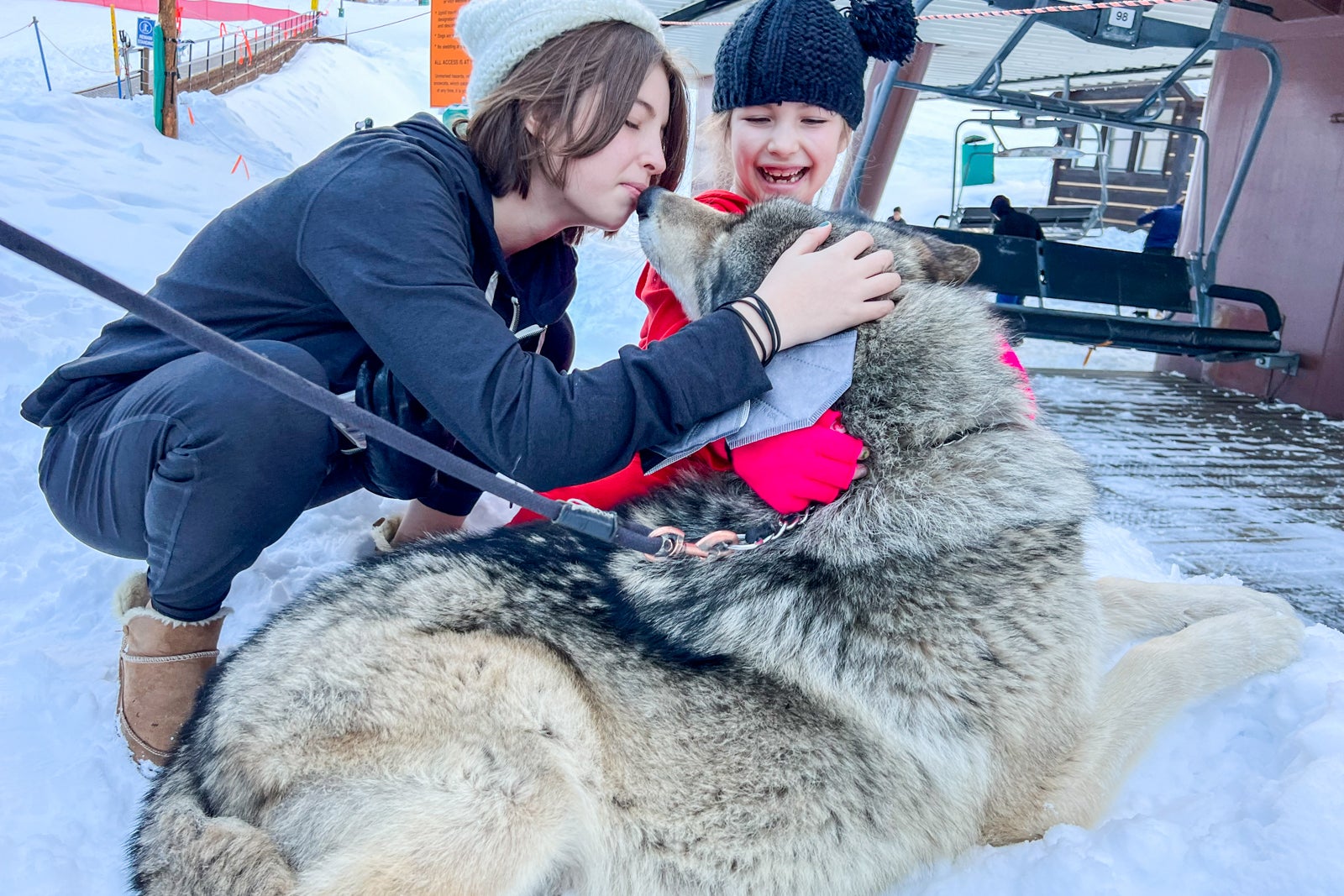 Later in the evening, there was cookie decorating, which was great considering it didn't cost anything extra. To cap off the evening, there was the arcade where the games are programmed to just let the kids play for no extra cost — which they most certainly did.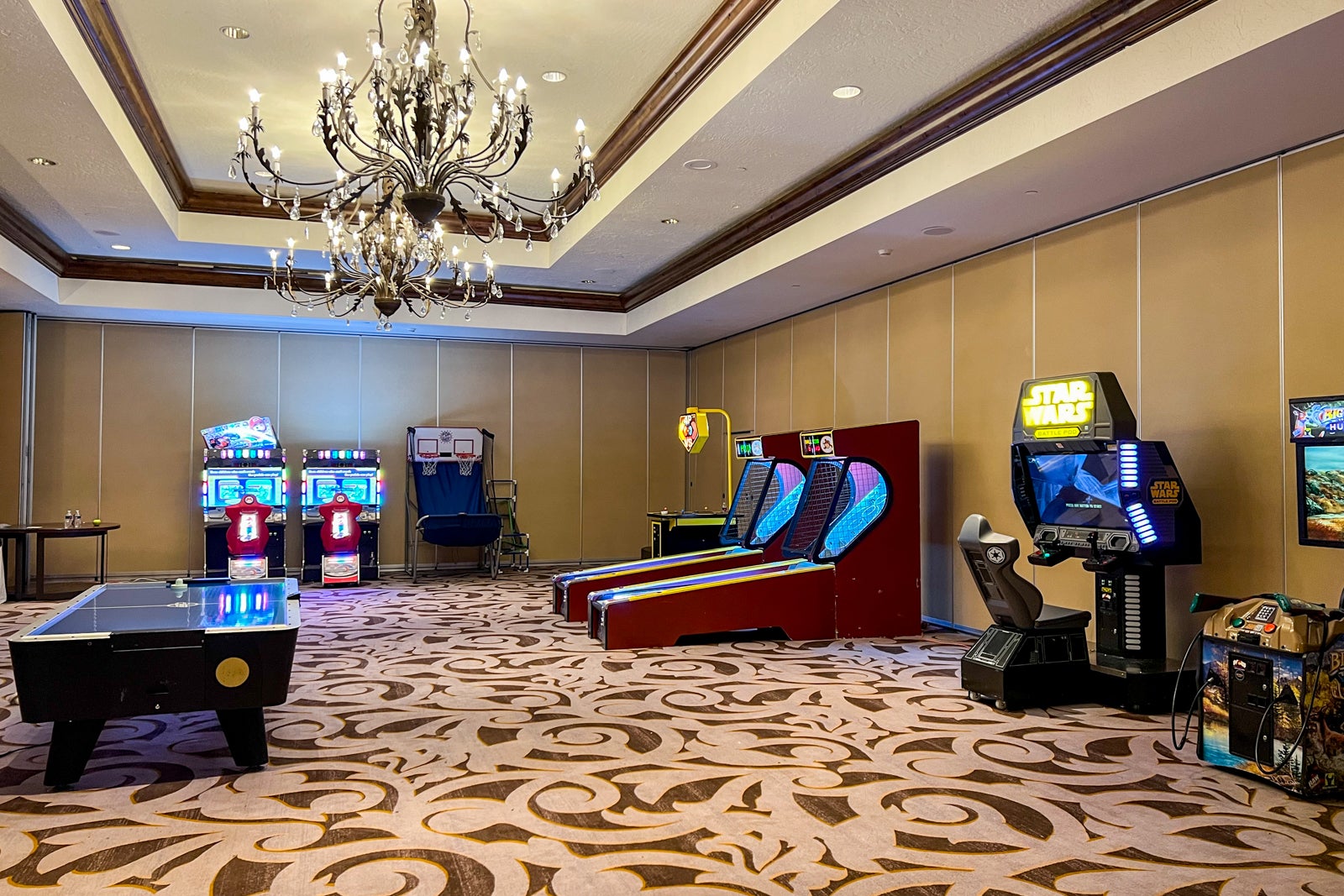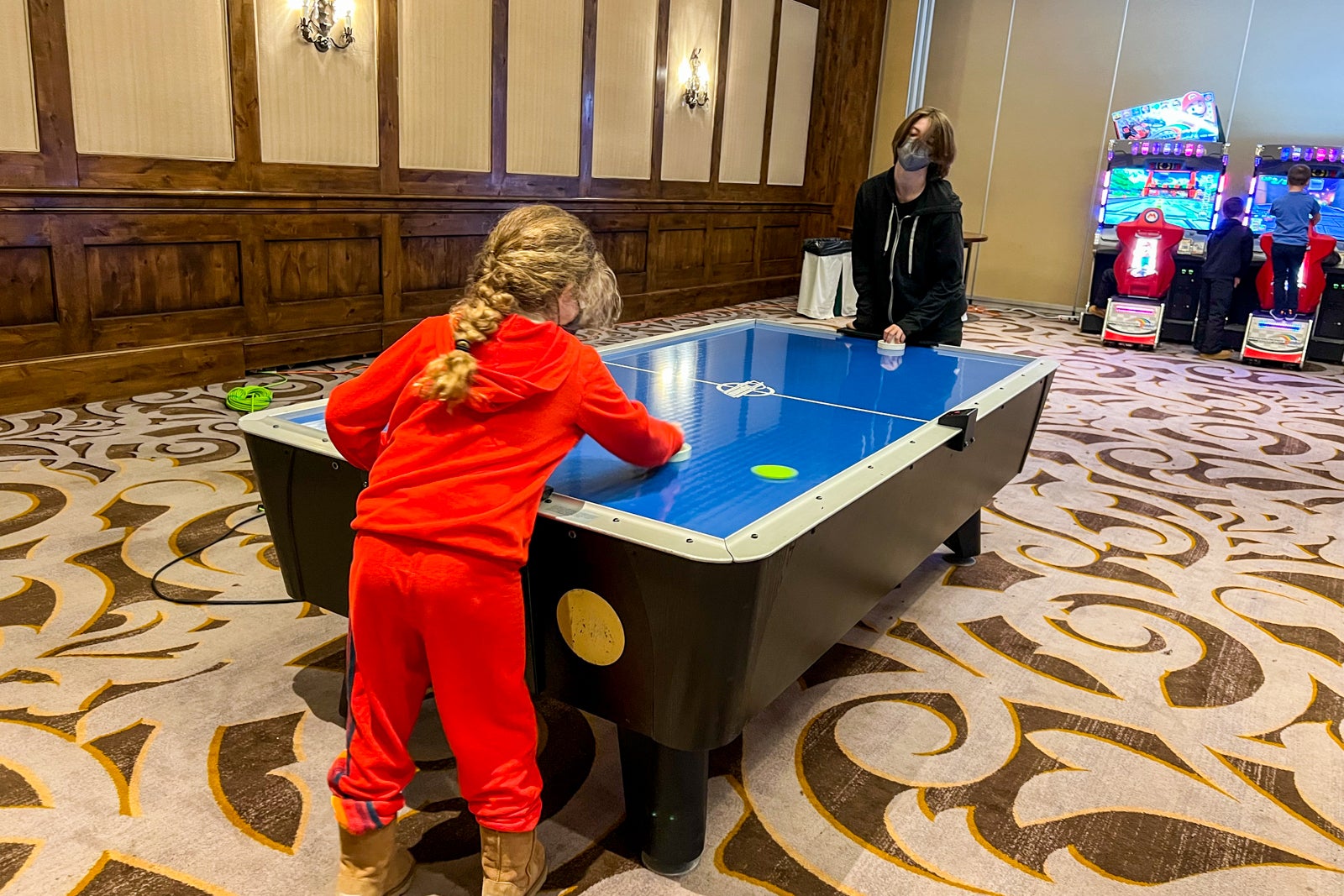 Spa
On my last visit to the hotel, I went into the Ritz-Carlton, Bachelor Gulch spa with very high hopes and expectations — but it turned out just OK.
This time, I didn't budget for a treatment (they start at $205 for a 50-minute massage), but I was able to take a peek around the spa and things were looking much better than last time. The spa leans into its dark, cave-like environment with an enticing grotto pool.
Access to this is included for all hotel guests 18+, which is a huge perk. Even the smaller plunge pools and hot tubs had that same cave vibe.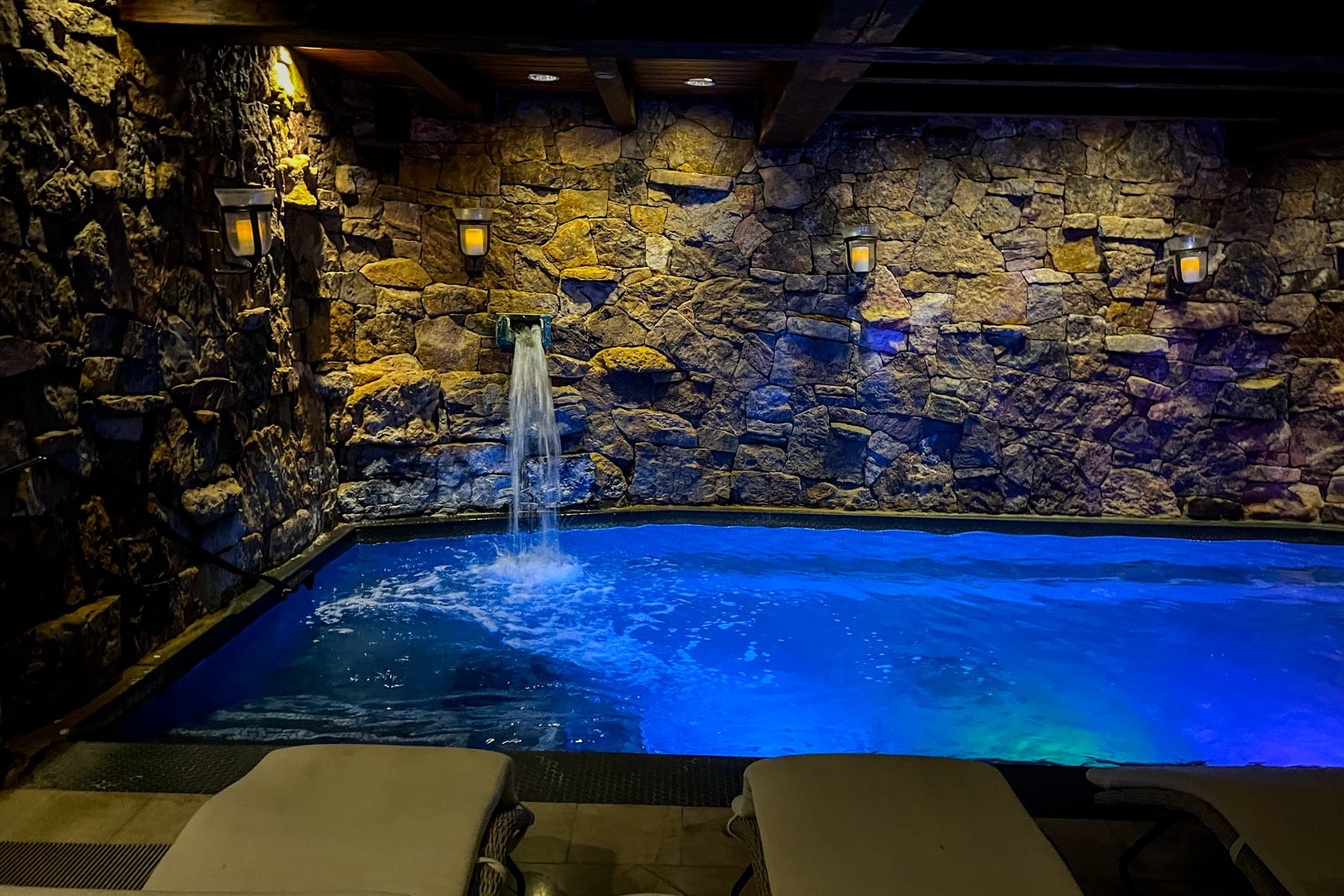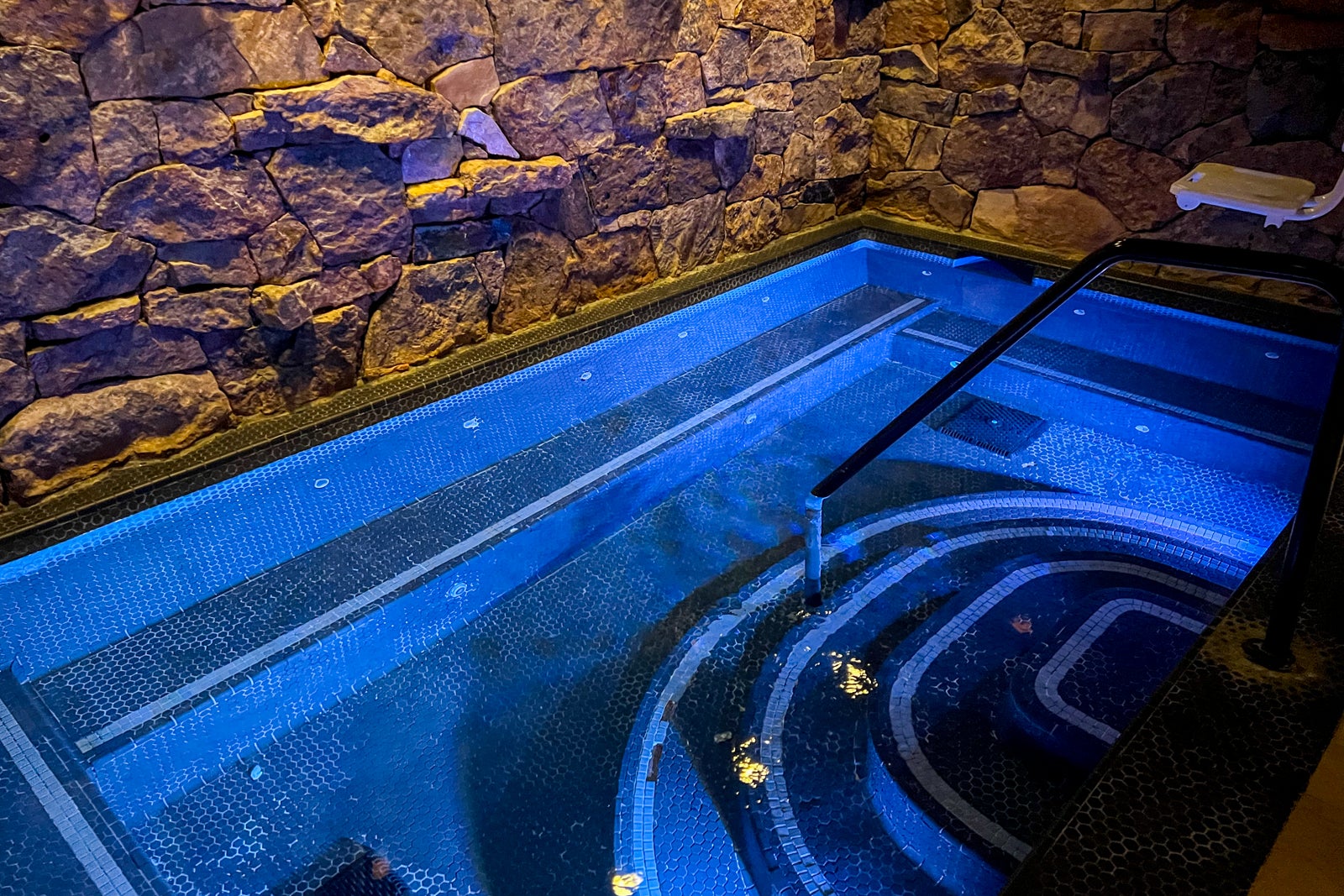 Pool and hot tubs
The Ritz-Carlton's outdoor pool is undeniably gorgeous.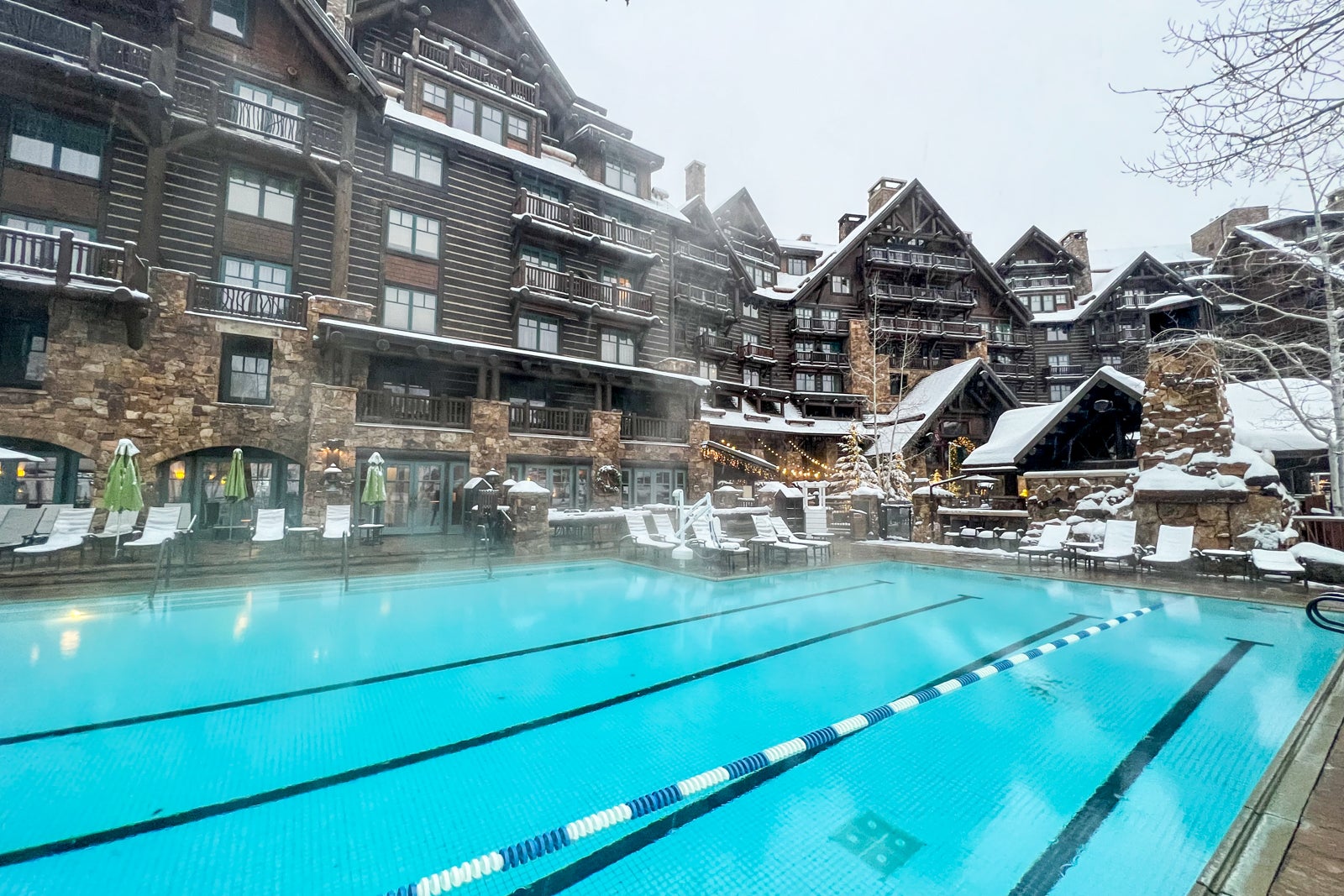 It is heated, though not warm enough for this Texas family's tastes in the winter. The kids did try taking a dip, but it lasted only for a brief moment before they came out shivering. We did see some other families lasting longer, so it's highly possible we are just used to warmer water than others.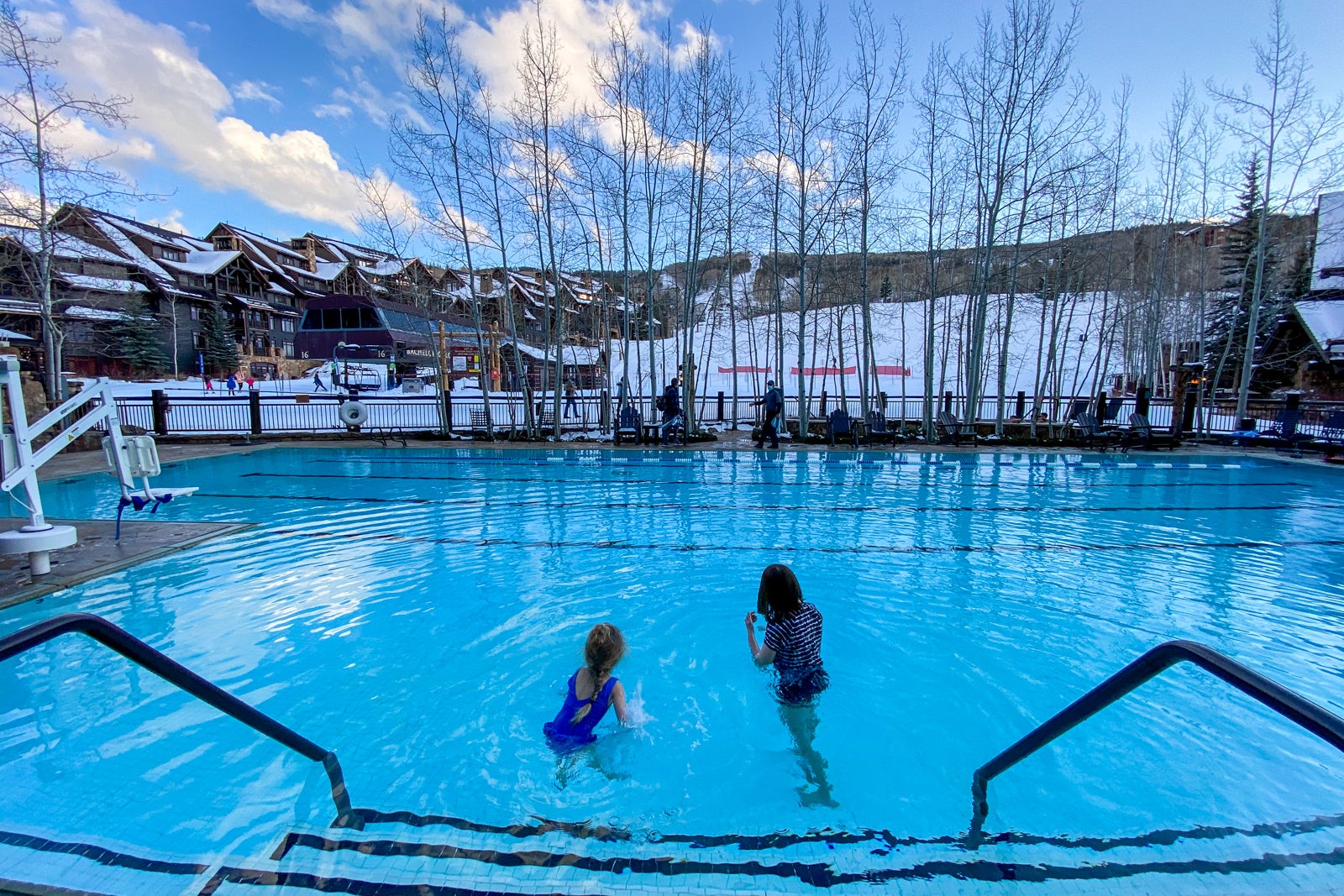 The three hot tubs, however, had no shortage of toasty water.
It is easy to snag an empty hot tub during the middle of the day. However, expect them to be pretty heavily used in the apres-ski hours. The pool and hot tubs also promptly close at 7 p.m., so there's not really a chance for an evening dip after the crowds clear out. Whether you dive in or dangle your feet, there's no question this area is a gem of the property.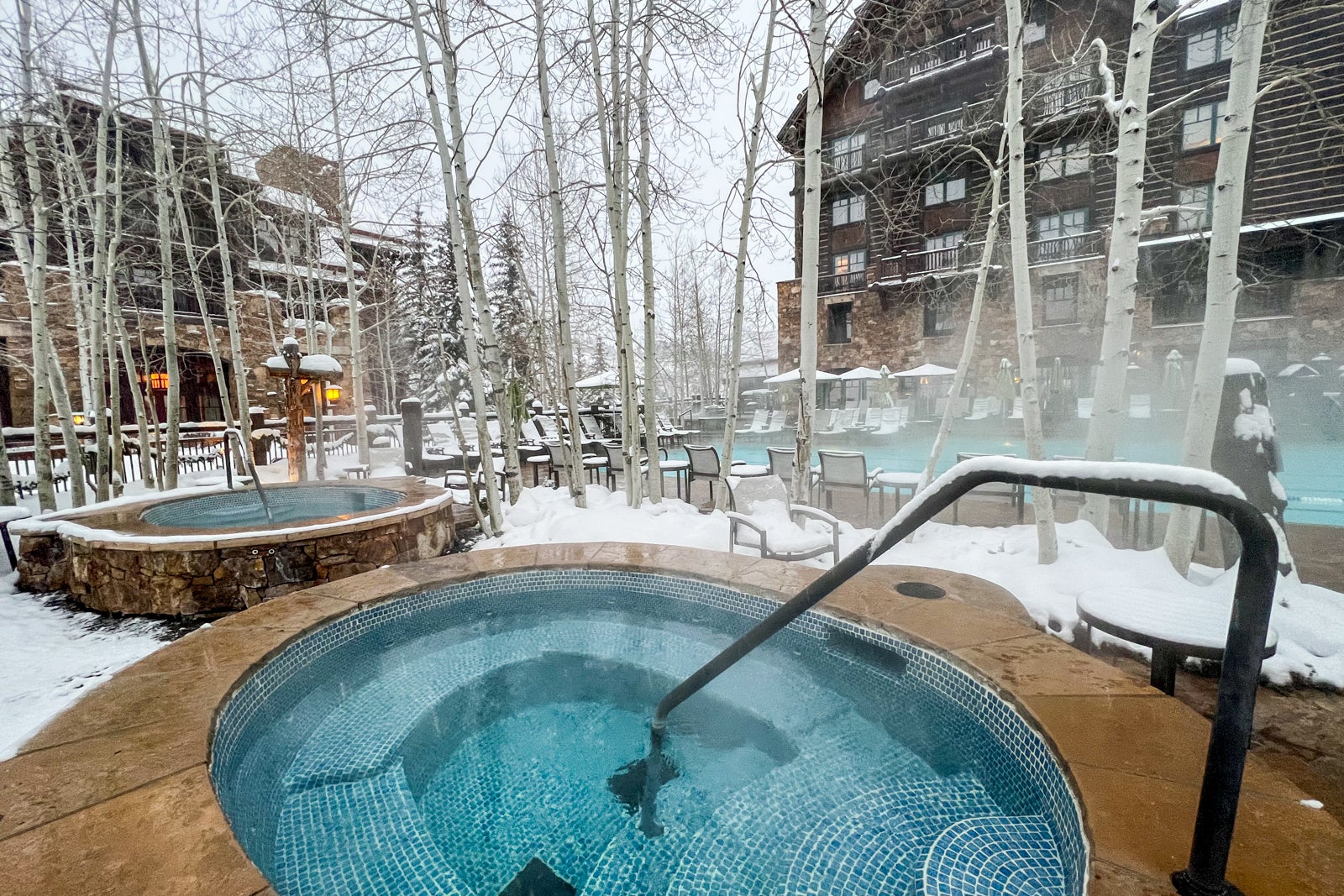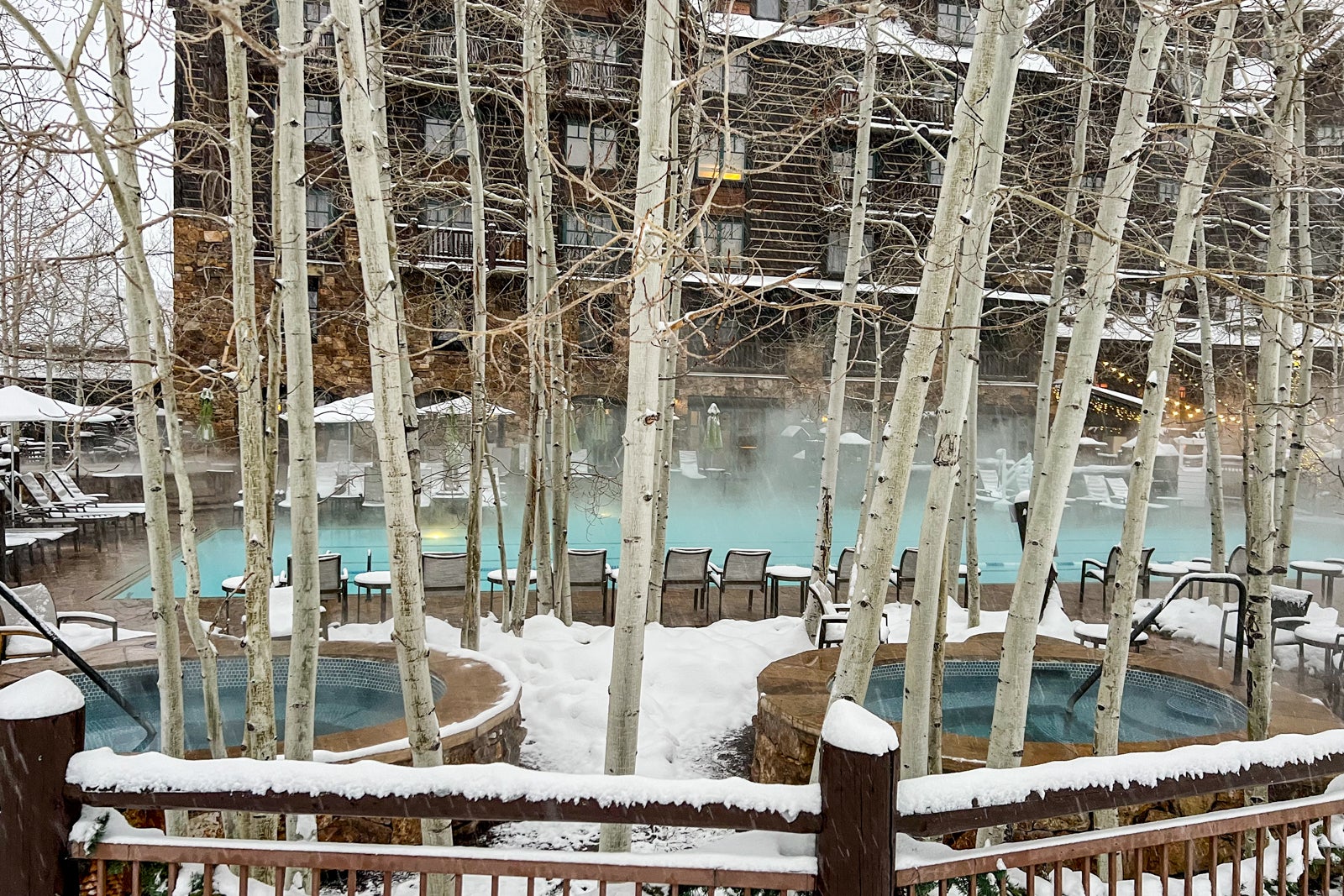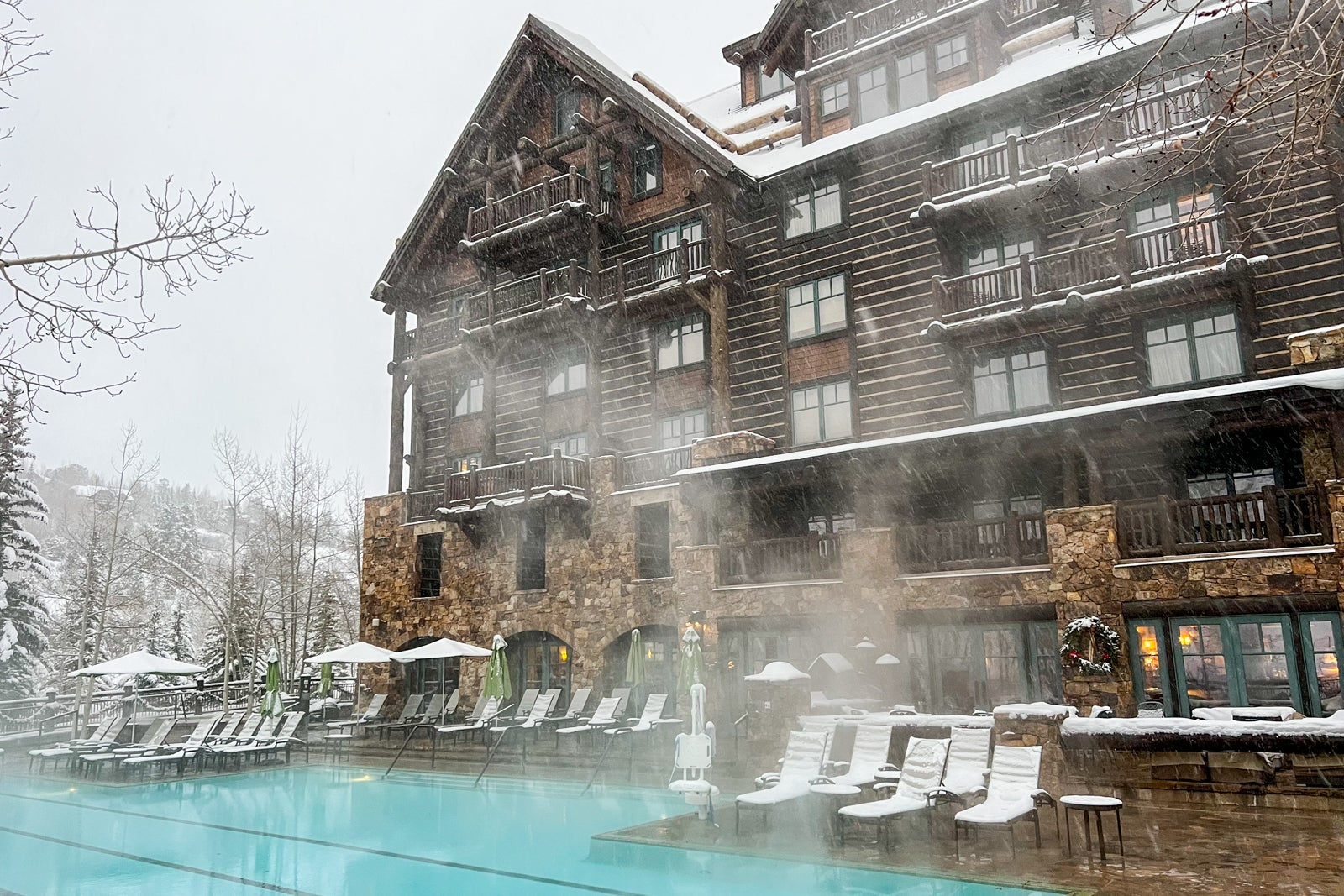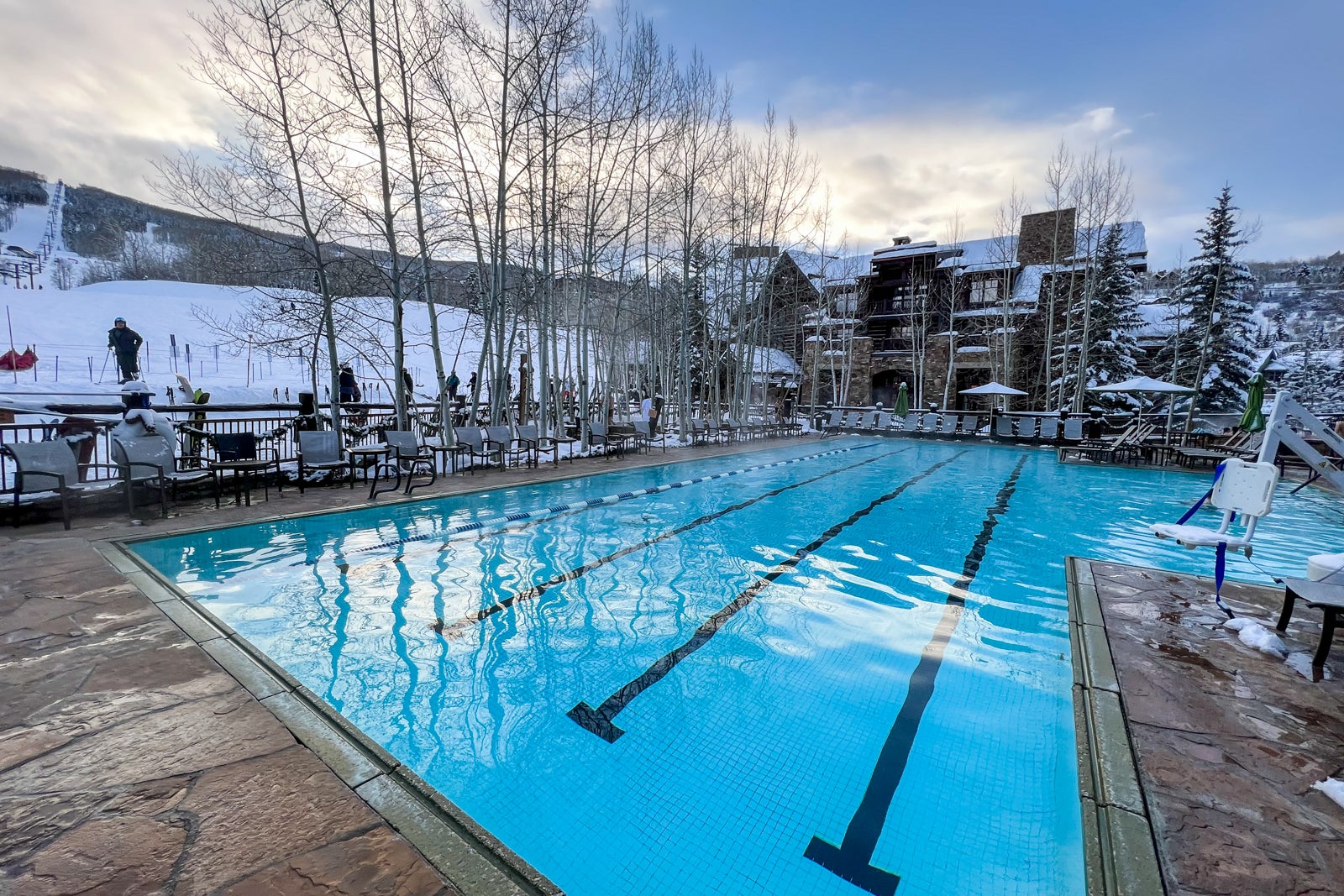 Other amenities
The hotel has a pretty extensive gym facility, including a couple of the popular Peloton bikes. There is also a complimentary snowshoeing excursion available in the mornings which is included as part of the resort fee. I recommend asking for a list of the activities and classes going on during your visit if that is up your alley.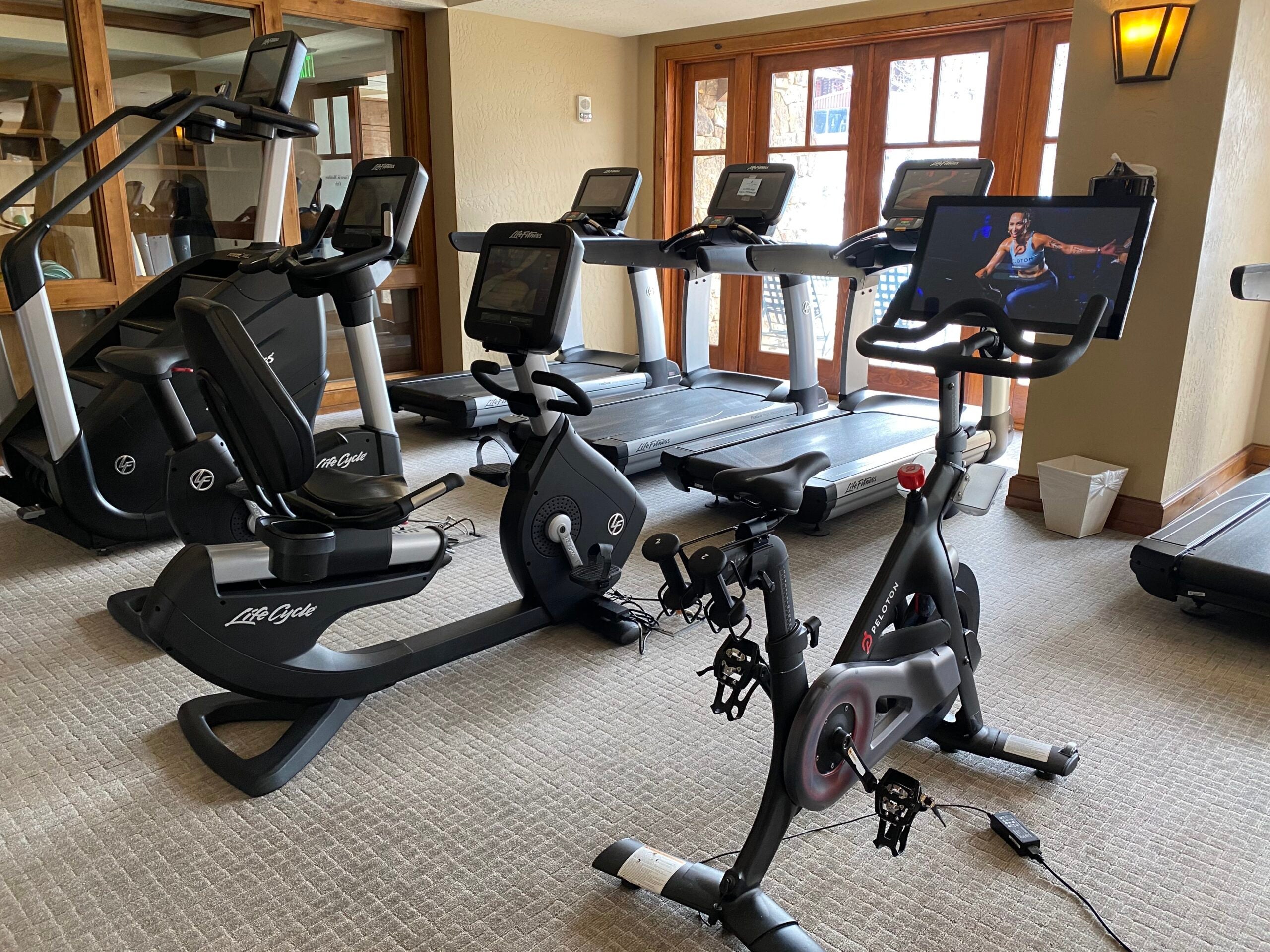 If you'd like to enjoy some s'mores by the fire pits, you can ask the front desk for some included s'more kits.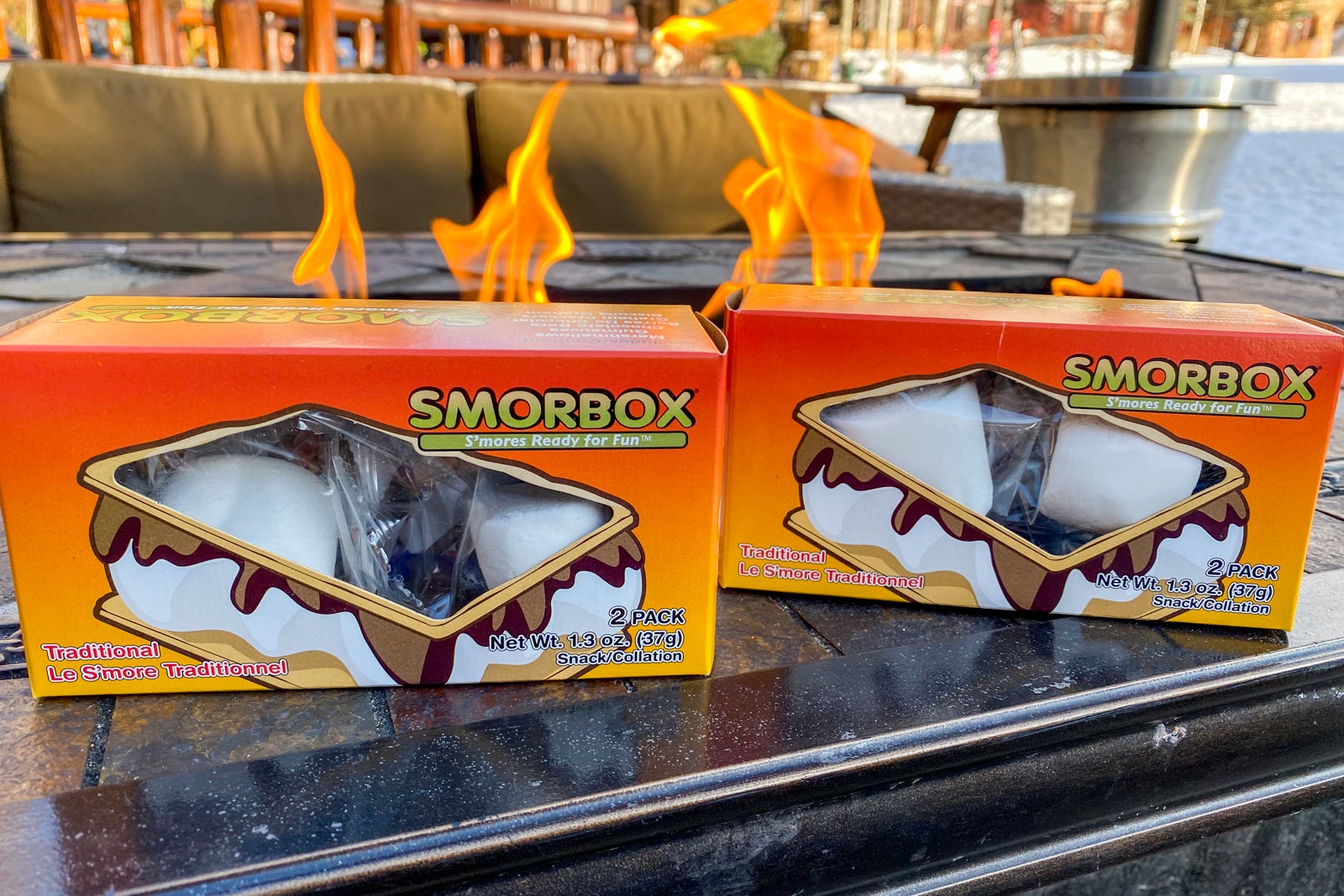 The hotel also hosts live entertainment in the evenings. Each night we were there, a musician performed in the late afternoon hours. It was truly a joy to hear live music by the firepit as the snow fell.
Whether you're ready to cozy up indoors with a beverage or brave the outdoors after your ski runs, this hotel has mastered the art of the apres-ski. Just know that it can get pretty loud and busy, bordering on a bit too much at times for those interested in more laid-back relaxation.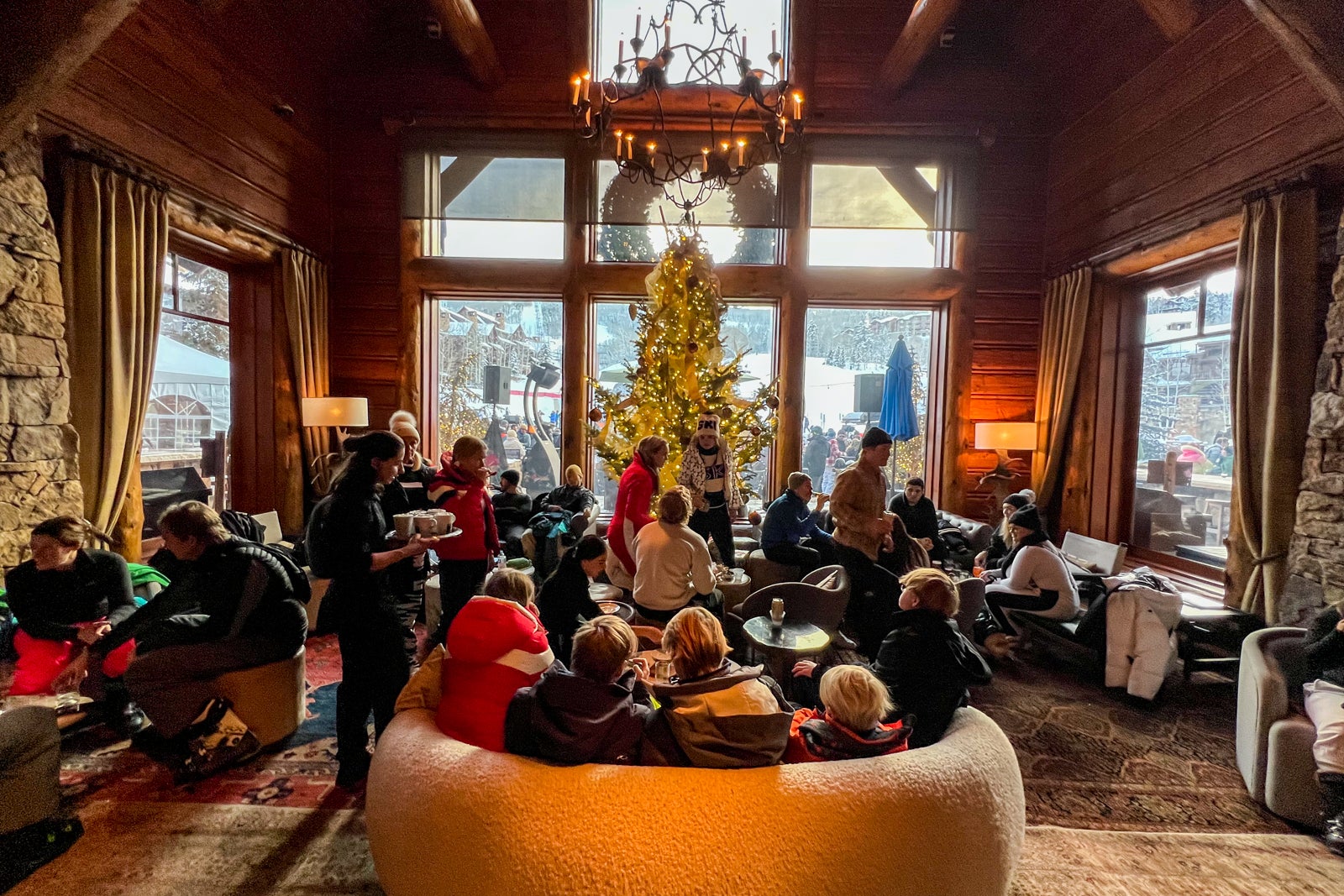 A complimentary house car is sometimes available, though it wasn't during our trip when we needed to head to another part of Beaver Creek. However, you can summon the free Beaver Creek shuttle (a no-cost alternative) via an app.
Service
The food we enjoyed at the Ritz-Carlton Bachelor Gulch was generally quite good (and the sushi was outstanding). However, being a hotel guest and having a hard time finding a place you can actually eat at the hotel isn't ideal. During my visits, the hotel staff and concierge desk have no more power than powering up OpenTable for bookings, and it seems they need another dining option.
Perhaps continuing the trend of more demand than the hotel can handle at the moment, we also experienced service that was, at times, on the slow side. Also, in some parts of the hotel, trash would linger around well into the next day.
For a hotel going for more than $1,000 per night, there are some spots where it may not 100% meet expectations until staffing levels are able to ramp up a bit more.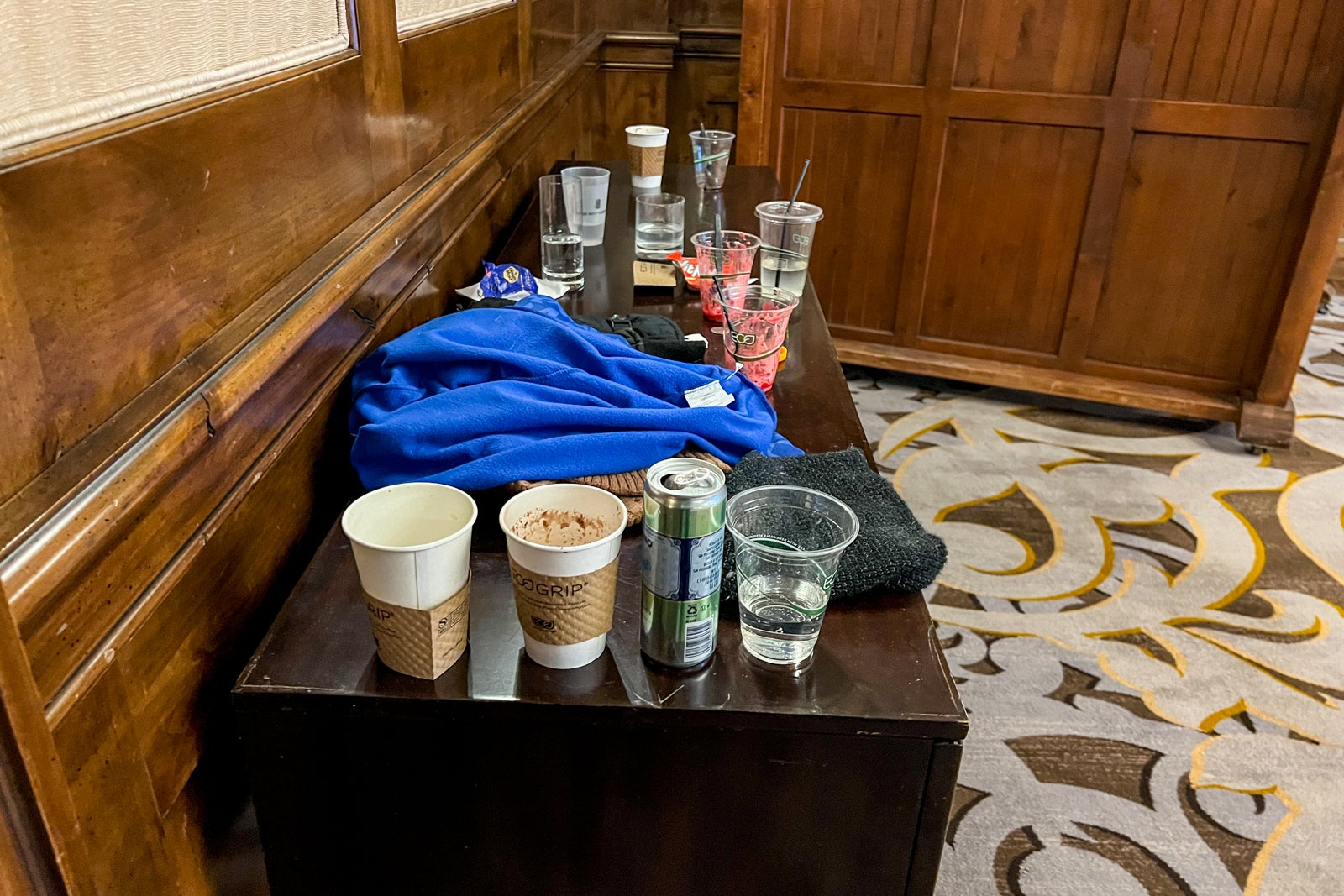 Accessibility
The good news is that there aren't a lot of stairs to contend with at the Ritz-Carlton Bachelor Gulch. The bad news is that there also aren't a ton of elevators in some areas of the hotel, so peak times can create a slight slow down getting around the hotel.
Accessible rooms at the hotel have a 32-inch wide opening with both mobility- and hearing-accessible rooms available, while the main pool is also serviced with a lift.
Overall impression
There's no denying the Ritz-Carlton, Bachelor Gulch has a five-star location for those who can take advantage of its ski-out opportunities. The hotel has a classic log cabin exterior that now blends well with the modern-mountain interior. I'm a fan of the room renovations that are better suited to the hotel's price point and soul.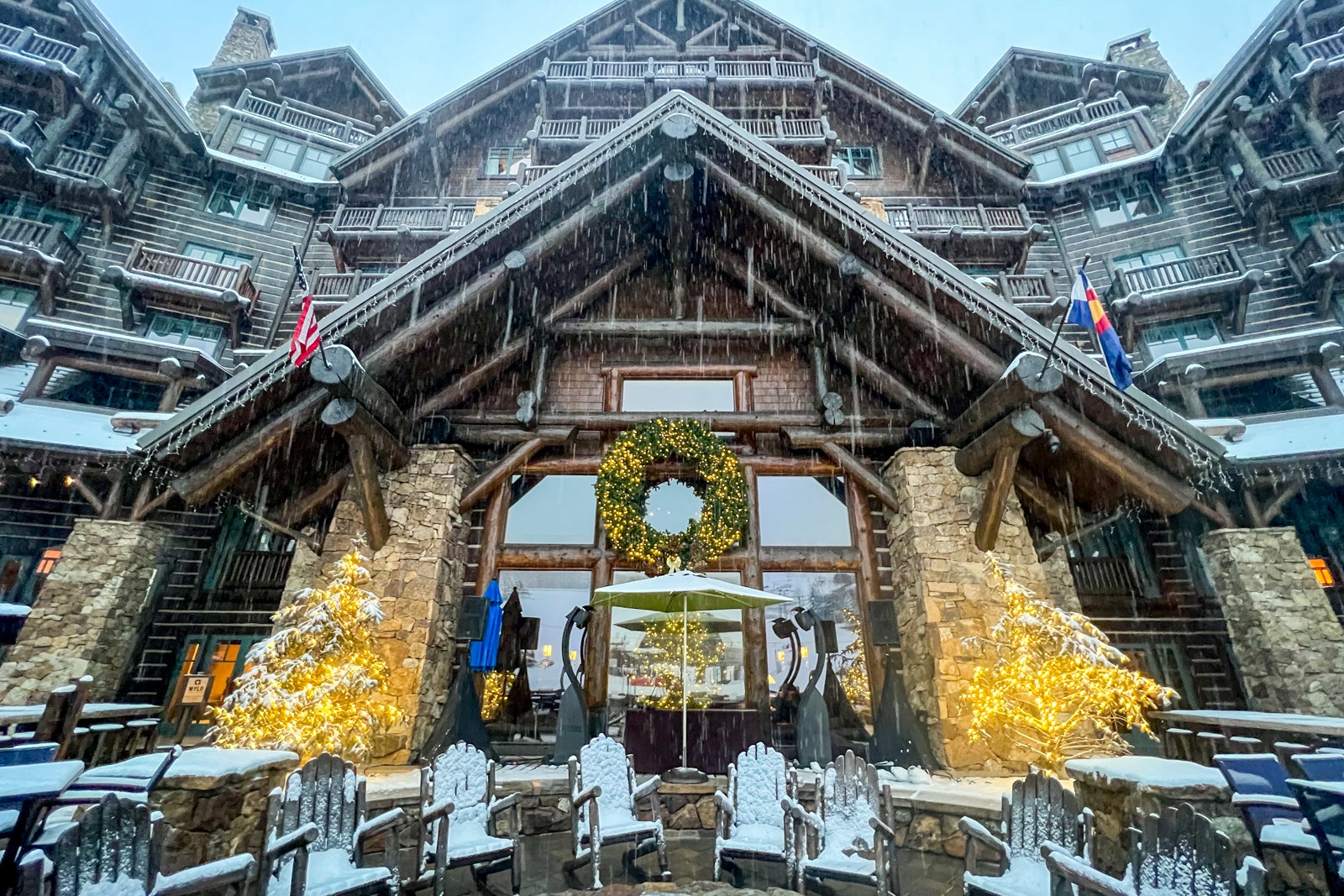 At the price point, the hotel isn't yet perfect. Some occasionally slow service, combined with overcrowded bars and restaurants, can make for an — at times — frustrating vacation given the investment.
However, if you know ahead of time to make reservations for all your meals and have budgeted appropriately for the prices (seriously, keep your kid's eyes away from the $65 stuffed Ritz-Carlton dog in the market), you can focus on the outstanding elements of the hotel.
The ski-out location, pools, spa grotto, sushi restaurant and now fresh rooms make it one of the best ski resort hotels in the U.S.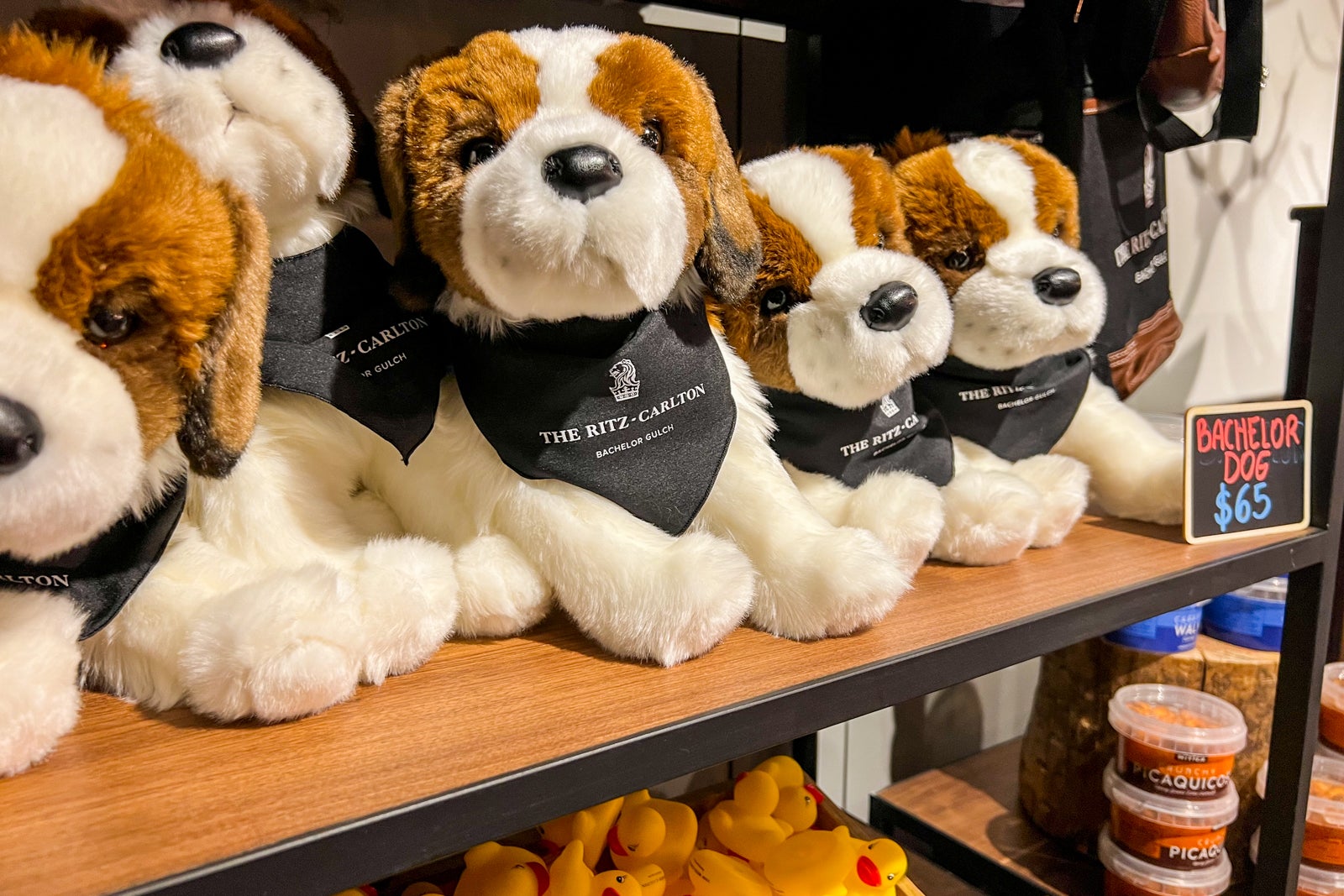 If you have the points or cash to spend, you can have a dreamy ski vacation living on the mountain for a few days at The Ritz-Carlton, Bachelor Gulch.
For rates and fees of the American Express Platinum Card, please click here.
For rates and fees of the Marriott Bonvoy Brilliant Card from American Express, please click here.