Royal Caribbean offers its cruise guests a choice of either traditional dining with set times and assigned tables or a more flexible plan called My Time Dining. If you've never cruised with Royal Caribbean or tried My Time Dining, you may wonder if this option is right for you and your travel group.
We've previously covered the broad definitions of traditional versus flexible dining options across the mainstream lines, but let's get down to specifics of what to expect with Royal Caribbean's My Time Dining plan.
For more cruise news, reviews and tips, sign up for TPG's cruise newsletter.
Royal Caribbean's My Time Dining: The basics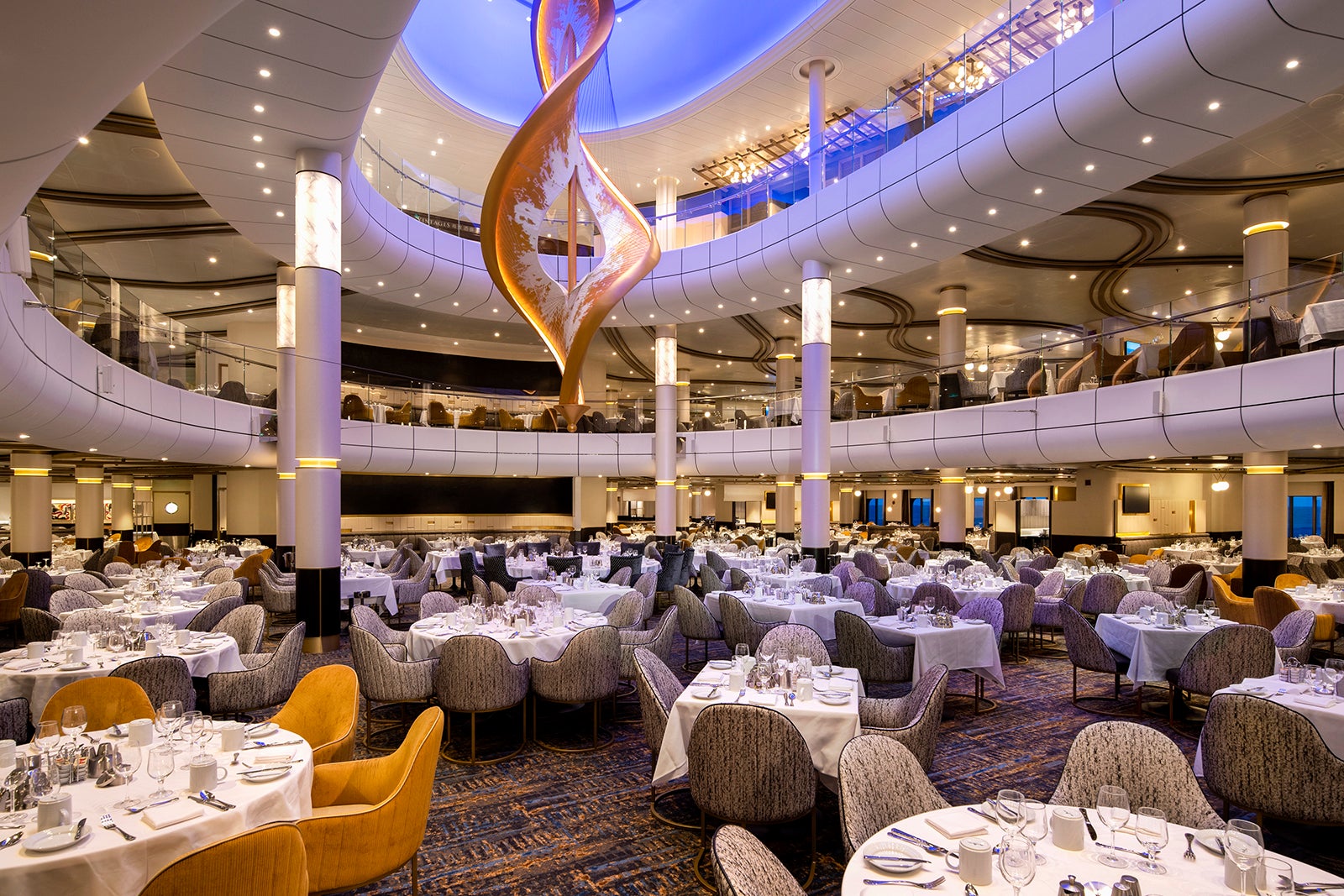 My Time Dining frees you from a set dinner time and assigned table and tablemates in the main dining room. Some Royal Caribbean ships have multiple main dining rooms; others have one main dining room with multiple floors. You will be assigned to a specific dining space dedicated to serving passengers on the flexible plan. It will be noted on your Sea Pass cruise card.
Beyond the designated venue, nothing else is assigned. You make the choice of when to eat each day within the serving hours assigned to My Time Dining rooms. The most common My Time Dining hours are from 6 p.m. to 9:30 p.m. Those hours (particularly the start time) may vary depending on the ship and the itinerary, but you can always find the details in the Royal Caribbean app, on the dining room information in your cabin's interactive TV or in the daily Cruise Compass news bulletin.
For example, you can dine at 6 p.m. one night and 8:30 p.m. the next if that works best with your schedule. You can also skip the main dining room and dine at the buffet or a specialty restaurant.
Related: 35 Royal Caribbean cruise tips and tricks that will make your voyage better
Your dining choice is made during the booking process. If you book your cruise online, you'll want to watch for the dining option question. If you book through a travel advisor, make sure they know your preference. The alternative is to allow the cruise line to choose for you, and it's not always easy to change your dinner time.
Pro tip: The bigger the ship, the more complicated it becomes to make dining changes once you are on board because the cruise staff is working to satisfy more people.
It all sounds simple enough, right? Make your choice during booking, then show up at the correct dining room each night whenever you are hungry. However, the details can get tricky. Here are the most common questions asked online about My Time Dining, as well as the answers.
Where can I eat when I choose My Time Dining?
You are free to eat in any food venue on the ship (during its hours of operation) for breakfast, lunch and snacks. For dinner, you may eat in the dining room assigned to you, the buffet and other casual eateries, or a specialty restaurant (though you'll likely need to make reservations ahead of time).
Are the menus the same for early and late diners as they are for My Time Dining?
Yes. The main dining room menus for traditional and My Time Dining groups are the same each night.
Do I need to tell the maitre d' or waiter I'm not coming to dinner some nights?
You do not need to let the dining staff know unless you have made reservations for a table in your assigned dining room. Then it's appropriate to cancel the reservation.
Do I need to make reservations?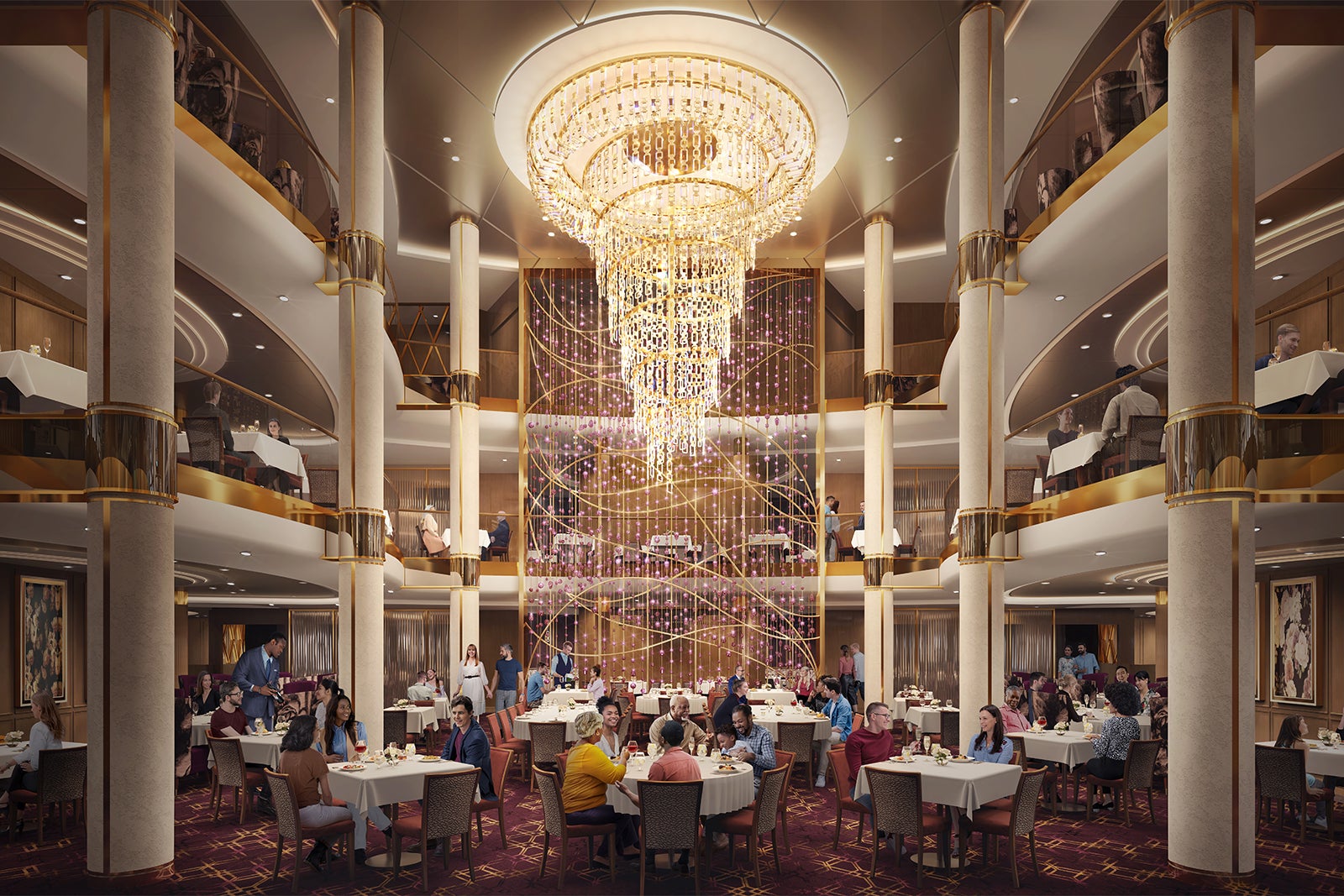 Reservations are not required for My Time Dining on Royal Caribbean, but they are strongly recommended. If you make reservations, you will have a separate, faster-moving line at the entrance to the dining room. Some guests may prefer to eat at the same time every evening. Others may want to reserve dinner times based on their activity schedule or dine elsewhere some nights based on the menu.
Pro tip: You can preview menus in the Royal Caribbean app, but they won't appear until your sailing dates are close. You can, however, see any ship's current menu plus about a month's worth of sailings – even if you don't have a cruise booked.
Here's how:
After you log into your account on the app, you'll either see your next booked cruise or a screen that reads, "Let's look up your cruise."  
Choose the "Browse our ships" option at the bottom of the screen.
Pick your ship, then pick any of the dates shown.
From there, you can look at dining options and menus for that sail date.
If your cruise is booked too far in advance to see menus, swipe left on the home screen to see your profile and choose "Select a different cruise" to view upcoming dates. The current dates should always have menus, but they might not match what is served on your cruise.
Related: The ultimate guide to cruise ship food and dining
How and when do I make reservations for My Time Dining?
You can make reservations pre-cruise in the online cruise planner as soon as you pay the deposit for your cruise. Once you board the ship, you can manage your reservations in the Royal Caribbean app. You can also make or check reservations in person at the dining room entrance during embarkation.
Star Class suite guests can have their Royal Genie make reservations for them. Suite guests in Grand Suites and above can also request reservations through the suite concierge in the suite lounge on ships that have those.
How long will I wait to be seated if I show up without a reservation?
Think of it like any popular land-based restaurant. Show up at a peak time without a reservation – or with a large group — and your wait will be longer. I've heard of wait times as long as an hour — often on the first night of the cruise while everyone adjusts. If you only make one main dining room reservation, make it for the first night you plan to eat there. You'd be amazed by how much that will smooth out the wrinkles in the process.
You may be able to speed up the wait time by agreeing to share a table with others instead of insisting on a table only for your group. The maitre d' may also suggest you return at an appointed time if the wait is exceptionally long (essentially making an impromptu reservation for you). Royal Caribbean has used pagers in the past, and some ships in the fleet may still use them occasionally to notify guests when their table is ready. However, it is not a common practice.
Related: Which cruise ship activities should you book ahead of time?
Can I change to a traditional early or late dining time during the cruise?
The easy option would be to stick with My Time Dining and ask for the same dinner time each night. You can even request the same table and waiter, essentially re-creating the traditional experience. Note that My Time Dining starts a bit later than the "early" seating in the traditional dining rooms, which is generally at 5:30 p.m. The late seating of traditional dining is usually 8 p.m. Both seatings of traditional dining may vary by ship and itinerary.
If you are dissatisfied with the My Time Dining experience once on board, the cruise line allows one change per cruise if space is available for your party in the traditional dining room.
Related: Dining mistakes you must fix on your next cruise
Can I request a table for two?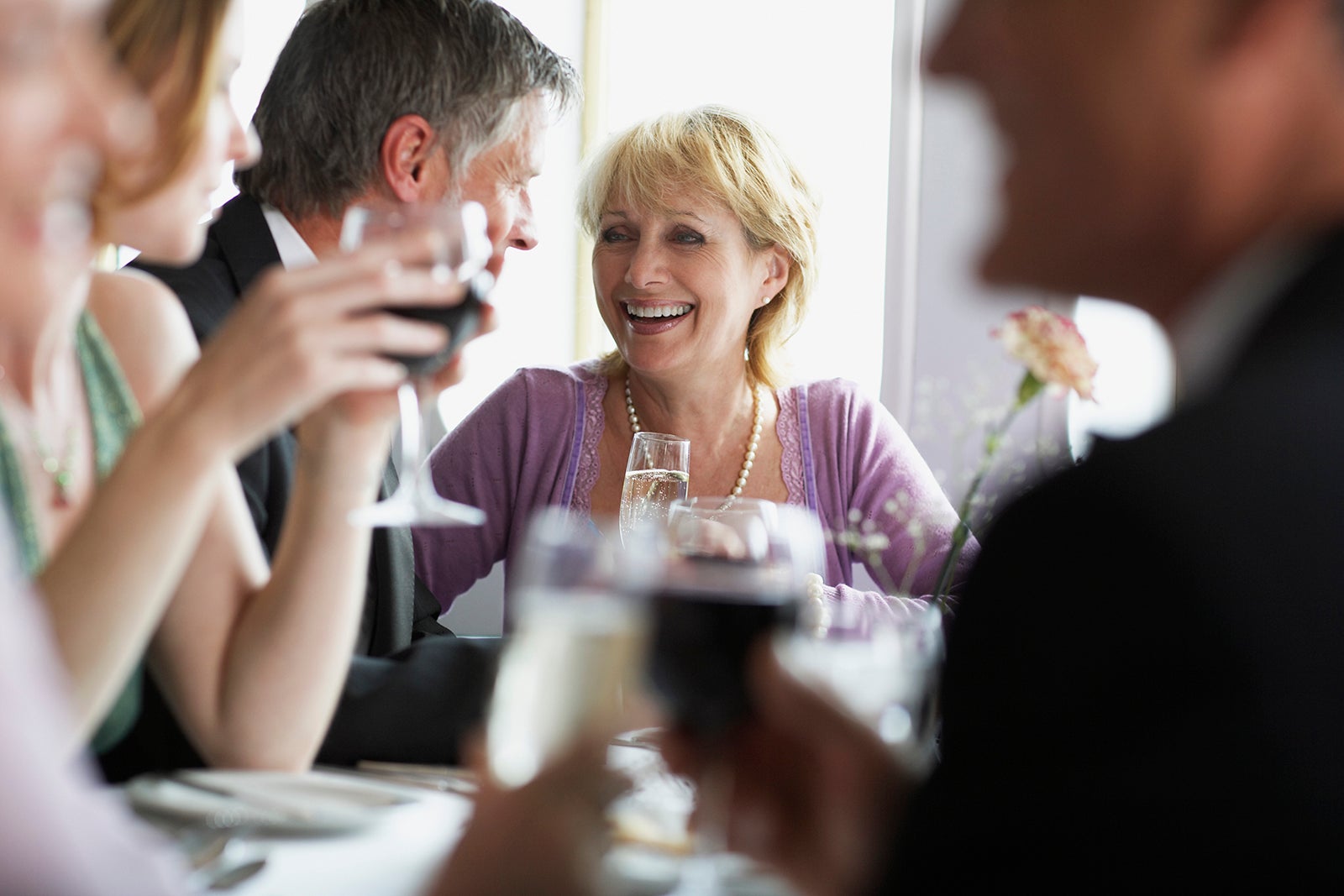 You certainly can. That does not mean your request can always be accommodated. As in a land-based restaurant, table selection may be limited if you go at a busy time. You may need to choose between eating at your desired time at a shared table or waiting a while for a two-top to be ready.
This is another good reason for making reservations. It's far easier for the dining room staff to accommodate your wishes if they receive your request in advance.
Also, if you like the table and waitstaff you are assigned on the first night, tell the maitre d' you'd like that table every night. If it's possible, they will make it happen for you.
Related: The 10 best cruises for couples seeking romance and together time at sea
Can I eat dinner more than once (or at two venues)?
There is no rule saying you cannot. I have been known to have dinner at one time, head to the early show, then return to the dining room for dessert and a cup of tea. I've also enjoyed appetizers with friends early in the evening, only to return or even go to a specialty restaurant for my actual dinner at a later time.
You might think you can avoid the newly implemented surcharge on extra lobster tails by dining twice on lobster night and ordering one tail each visit. However, this dining hack does not work. The staff would notice that you're a repeat guest and charge for the second lobster tail accordingly.
Can I select My Time Dining on every cruise?
You can stick with My Time Dining or swap back and forth if your needs change on different cruises. Dining options sometimes sell out as the cruise fills up, potentially leaving you stuck with traditional seating when you wanted My Time Dining or vice versa. If that happens, your best option is to go straight to the main dining room upon boarding to try and change it.
Are friends allowed to join us for dinner if we have My Time Dining?
Friends who have chosen My Time Dining are free to join you. You are not locked into that table for two you requested on previous nights. However, according to Royal Caribbean, friends previously assigned a traditional dining time will give that up for the rest of the cruise if they join you in the My Time Dining room for a meal. (Remember that one change per cruise rule?)
Will we miss the shows if we choose My Time Dining?
Shows on Royal Caribbean ships are timed to coordinate with the traditional dining times. Opting for My Time Dining may throw a wrench in your entertainment plans if you aren't careful. The solution is to determine which shows you must see and coordinate your dinner plans around showtimes.
You'll want to account for the possibility of wait times in your plans. The worst-case scenario is that you must skip dessert to make it to the show. You can always ask for dessert to go, though.
How does tipping work with My Time Dining?
Pre-paid gratuities are required to participate in My Time Dining. Those tips are then shared among all My Time Dining waiters. You are welcome to offer additional tips to specific waiters.
Related: Tipping on a cruise ship: Everything you need to know
Is the dress code the same for My Time Dining?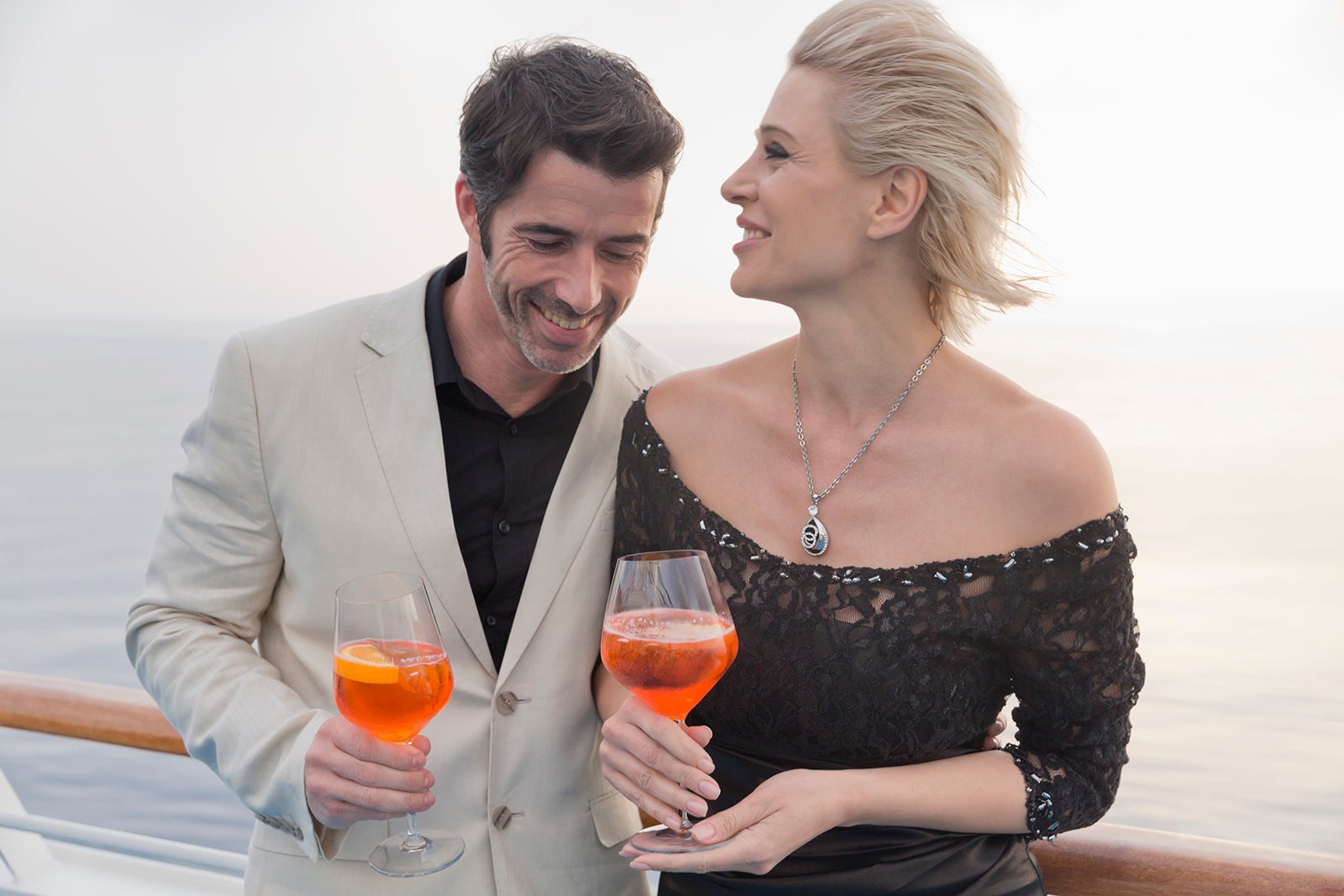 Novice cruisers may think that My Time Dining is the casual cousin of the traditional dining routine and that flexibility should also apply to the dress code. That's not the case.
The suggested attire each evening is the same for all main dining rooms. I will tell you, though, the My Time Dining room tends to feel a touch more casual most nights. For one thing, more families with children lean toward My Time Dining, meaning you'll see a more relaxed attitude to the official dress code some nights.
Rules regarding swimsuits, ragged jeans, athletic wear and shorts are generally still enforced.
Related: What to wear on a cruise: Cruise attire and cruise line dress codes
Who should choose My Time Dining?
My Time Dining on Royal Caribbean is best for families with young children, people with packed activity schedules and those who prefer a flexible routine. It's also ideal for extroverts who like to meet new people over dinner every night, as well as insular groups who don't want to sit with strangers.
It's nice to not be locked into a set time to eat. Even if you make reservations for the whole week before you set foot on the ship, you can easily cancel or change them, leaving you free to eat when hunger strikes rather than when the clock strikes.
Who should avoid My Time Dining?
If routine is your thing, you may be happier with the traditional dining option. Once you know where your table is (traditional diners have the table number printed on their cards), there's no waiting to get into dinner. You walk through the door and head to your assigned table.
Large groups traveling together who want to share the evening meal most nights will find traditional dining works best. My Time Dining adds too much confusion and requires a great deal of communication every day to pick a dinner time, and your large party may not always be accommodated at the same table.
Bottom line
Royal Caribbean's My Time Dining plan adds flexibility to the dinner hour for those who want it. You choose the flexible dining option during the booking process, then eat dinner in the main dining room assigned to you during the venue's open hours. Choosing My Time Dining does not impact where you eat any other meal, nor does it affect your ability to skip the main dining room some nights in favor of the buffet or a specialty restaurant.
The main downside is the possibility of waiting in line to be seated. Plan ahead with reservations or show up at non-peak dining times, and you can avoid this problem and enjoy your dinner with minimal hassles.
Planning a cruise? Start with these stories: