Some Southwest Airlines cardholders are in for a treat, with the airline launching an "anniversary bonus" promotion offering points for being a loyal cardholder.
Here's how to check for your bonus and a look at offers we've seen so far.
How to see your Southwest anniversary bonus
Southwest credit card holders can visit SouthwestCardAnniversary.com and provide their name and Rapid Rewards number.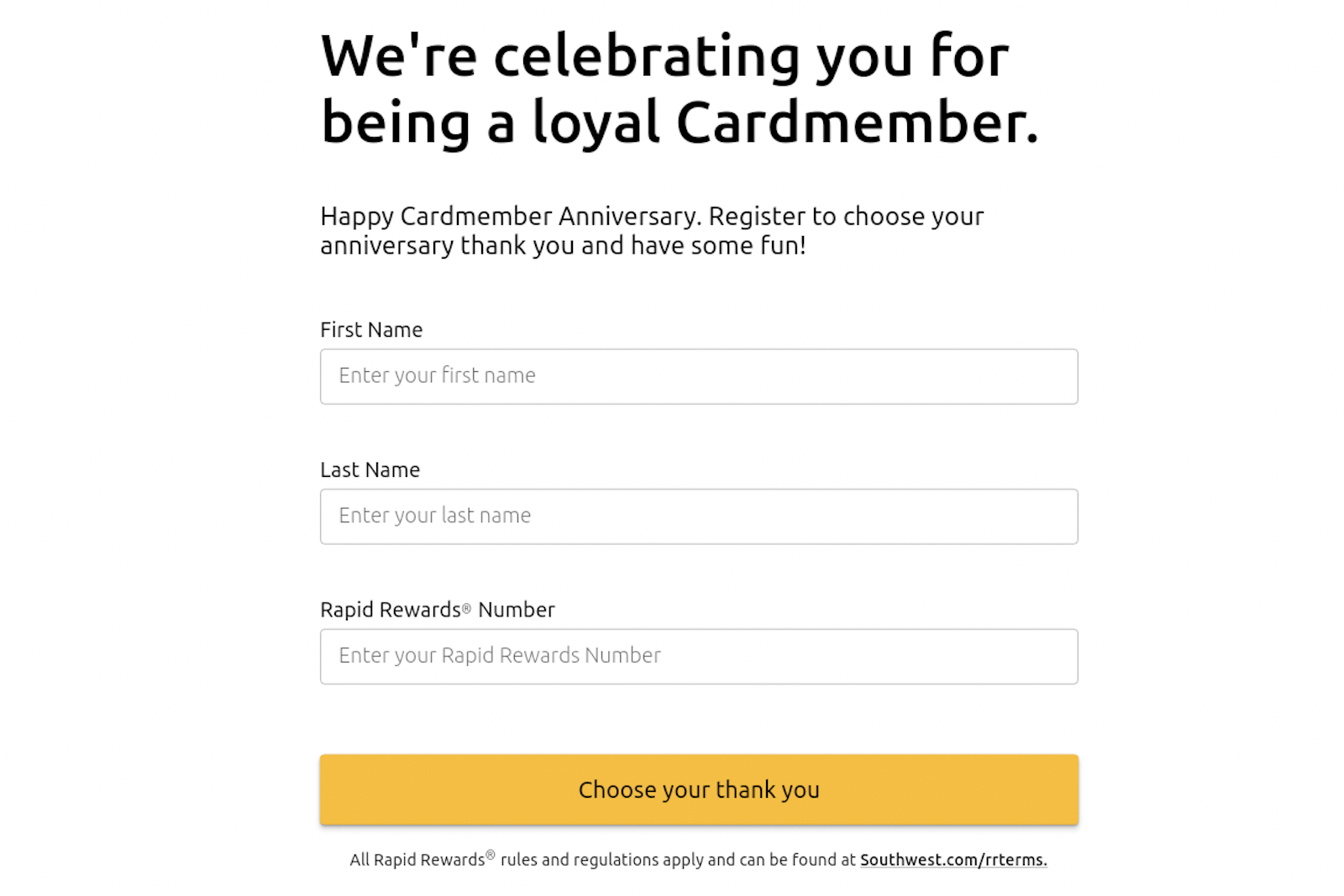 Some cardholders are receiving an error message, though. If you see red text with an error message after providing your information, you're not eligible for a Southwest anniversary bonus.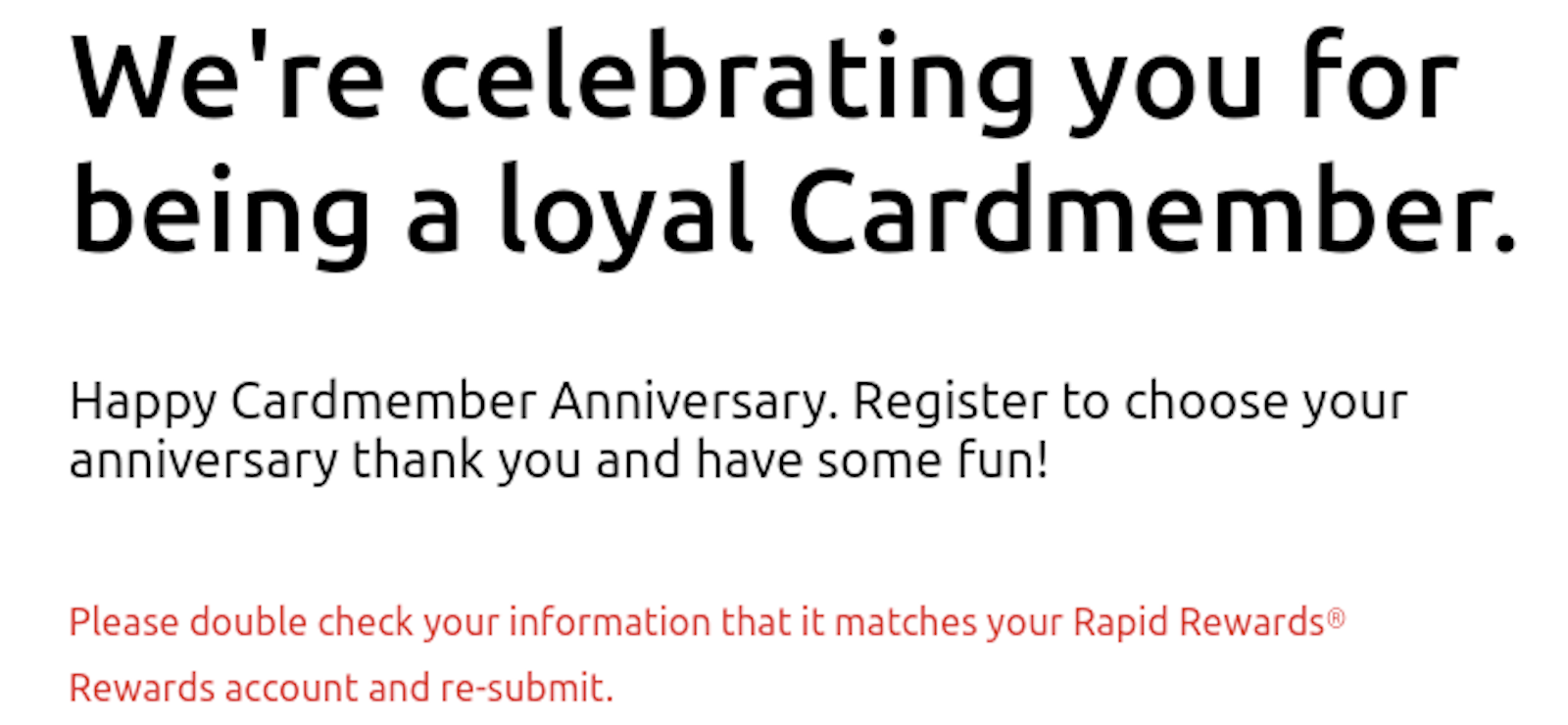 Available Southwest anniversary bonuses
You can choose your bonus between March 1 and April 30. Options for cardholders include the following:
Tier qualifying points toward A-List status.
Companion Pass qualifying points.
Bonus points.
The quantity of points offered will change based on how long you've had your Southwest credit card. Thus, you could be offered as few as 250 points or as many as 2,000. The best offers seem to be reserved for those with 20-plus years as Southwest cardholders.
Note that whether you choose TQPs, CPQs or bonus points, the amount of points is the same.
The terms state that choosing TQPs will count toward A-List or A-List Preferred status but not toward Companion Pass qualification. Likewise, the option for CPQs will count toward Companion Pass but not A-List or A-List Preferred qualification. The terms also state that it could take up to eight weeks for your chosen bonus to appear in your account.
TPG values Southwest Rapid Rewards points at 1.5 cents apiece, making 250 points worth $3.75 and 2,000 points worth $30.
Some Southwest cardholders are receiving another gift via email: a discount code good for 20% off a reservation made for short-notice travel. To qualify, travel must be booked with points and occur within 14 days of booking.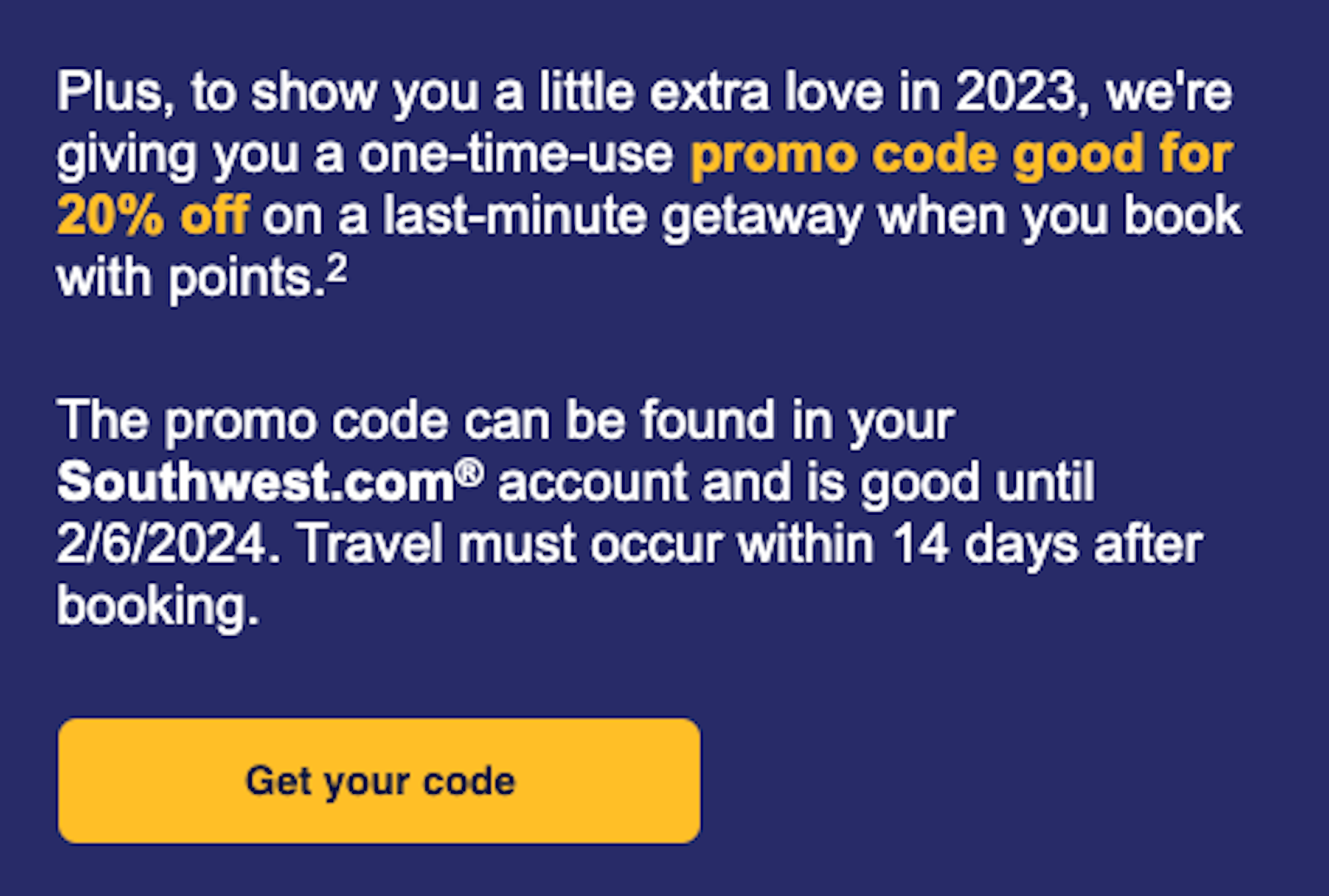 Bottom line
Southwest cardholders may be able to choose an anniversary bonus. However, not all cardholders are eligible for an offer. If an available option means the difference between earning the Companion Pass or A-List status this year, that could be valuable for your loved ones. If not, points are likely your best option.
Related reading: