Southwest Airlines is making a slate of changes to its passenger experience.
The Dallas-based carrier plans to introduce free inflight Wi-Fi for Business Select fares and will soon offer same-day standby to all passengers.
Want more airline-specific news? Sign up for TPG's free biweekly Aviation newsletter.
Southwest also confirmed to TPG it will reduce the availability of its EarlyBird Check-In to select flights, routes and days starting Aug.15, as first reported by Gary Leff at View from the Wing.
Under the new changes, same-day standby will be available to passengers who book even the airline's cheapest Wanna Get Away fares and will also be enabled on Southwest's app, a Southwest spokesperson confirmed to TPG.
That allows passengers on Southwest's lowest fare classes to waitlist for a different flight on the same day without paying a fare difference. This is especially useful for passengers flying on routes with multiple daily frequencies.
For inflight Wi-Fi, the expansion of its availability to Business Select passengers comes as airlines have increasingly sought to make the service free on board. Delta Air Lines made its inflight Wi-Fi free for international flights in March.
Previously, free Wi-Fi on Southwest flights was only available to A-List Preferred customers, the top tier in the carrier's frequent flyer program. Now, Business Select passengers can connect up to three devices for free with Southwest's Wi-Fi.
Passengers who purchase other fare classes can continue to purchase inflight connectivity.
In addition, Southwest plans to limit the availability of its EarlyBird preferred boarding product on certain "flights, routes, or days," an airline spokesperson confirmed. Southwest told TPG that "beginning Aug. 15, EarlyBird Check-In® will be subject to availability on certain flights, routes, or days, and that will mean EarlyBird Check-In is unavailable for some customers looking to purchase it."
The airline has struggled to retain the product's value as it has become more popular. Since Southwest does not assign seating, early boarding offers passengers a chance to pick a preferred seat.
However, as more passengers have begun to pay for the product, some have encountered frustration, paying to board early but finding out that many other passengers have done the same thing, causing some of them to have paid for virtually the same boarding position they may have had otherwise.
The airline also offers priority boarding with its more expensive fare classes, and limiting EarlyBird Check-In could incentivize more passengers to buy up to the better fares.
In fact, the airline is counting on more passengers purchasing Business Select fares that are more expensive and would guarantee passengers would be among the first 15 to board.
Southwest spokesperson Laura Swift told TPG, "This focus brings an opportunity to evolve our fare and ancillary products while maintaining the value they bring to our customers."
Southwest also shared a chart outlining some of the new booking classes.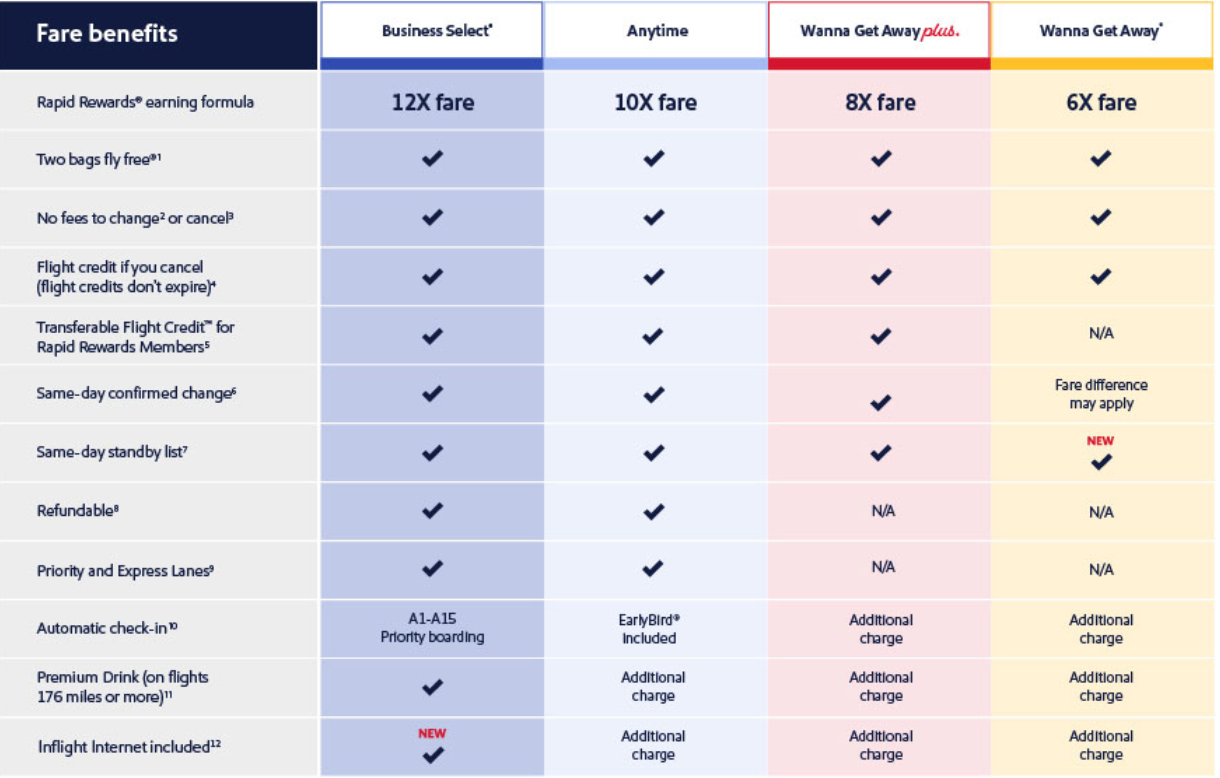 Ultimately, changes are coming to the Southwest travel experience. It remains to be seen whether the changes to EarlyBird are overall positive or not.
Related reading: