Whether you're planning to gift your family a surprise trip to Disney World for the holidays, you already have an upcoming park trip planned or you like to occasionally have some fun Disney 'stuff' around the house, this deal is for you. In fact, I'd say it might be the best day of the year to shop online for Disney goodies.
Very rarely is any Disney merchandise in the parks at all discounted. It's pretty much full price or nothing when shopping on Main Street U.S.A. However, you can get a lot of the very same stuff online at ShopDisney. Right now, you can do it at some of the best prices of the year.
Whether you want some new ears, new Disney shirts, a stuffed Mickey (or Figment), a Disney Starbucks tumbler or even the new MagicBand+, you can save a lot of money today compared to what you're likely to spend when shopping at the parks in person.
Here's how to save big on your Disney purchases right now.
Related: These are the best Black Friday travel deals
Get 20% cash back at ShopDisney
Today only (Nov. 25), you can get the largest amount of cash back on ShopDisney purchases I can ever remember seeing.
TopCashBack is offering 20% cash back on your ShopDisney purchase by first starting at TopCashBack.com — this is even higher than the 15% Rakuten is offering. If you are new to TopCashBack, you can also get an additional bonus as a new member.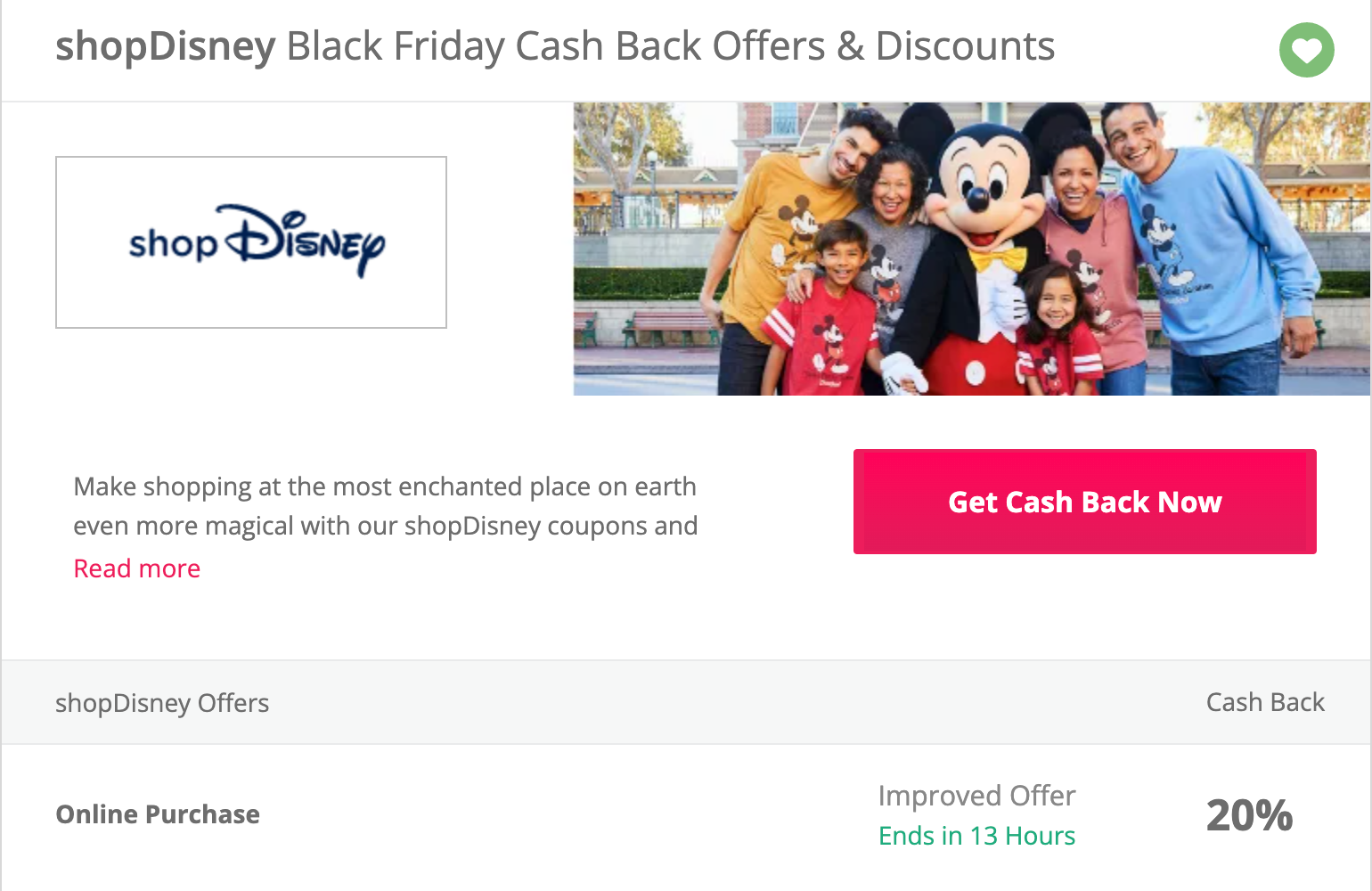 What's great about this 20% cash back — besides the obvious — is that it works for most items on the site, even those that aren't discounted directly. For example, the new MagicBand+ is not on sale on Disney's site, but you can still earn 20% cash back with this offer on the bands; you won't be able to do this if you wait and buy them at full price in the parks.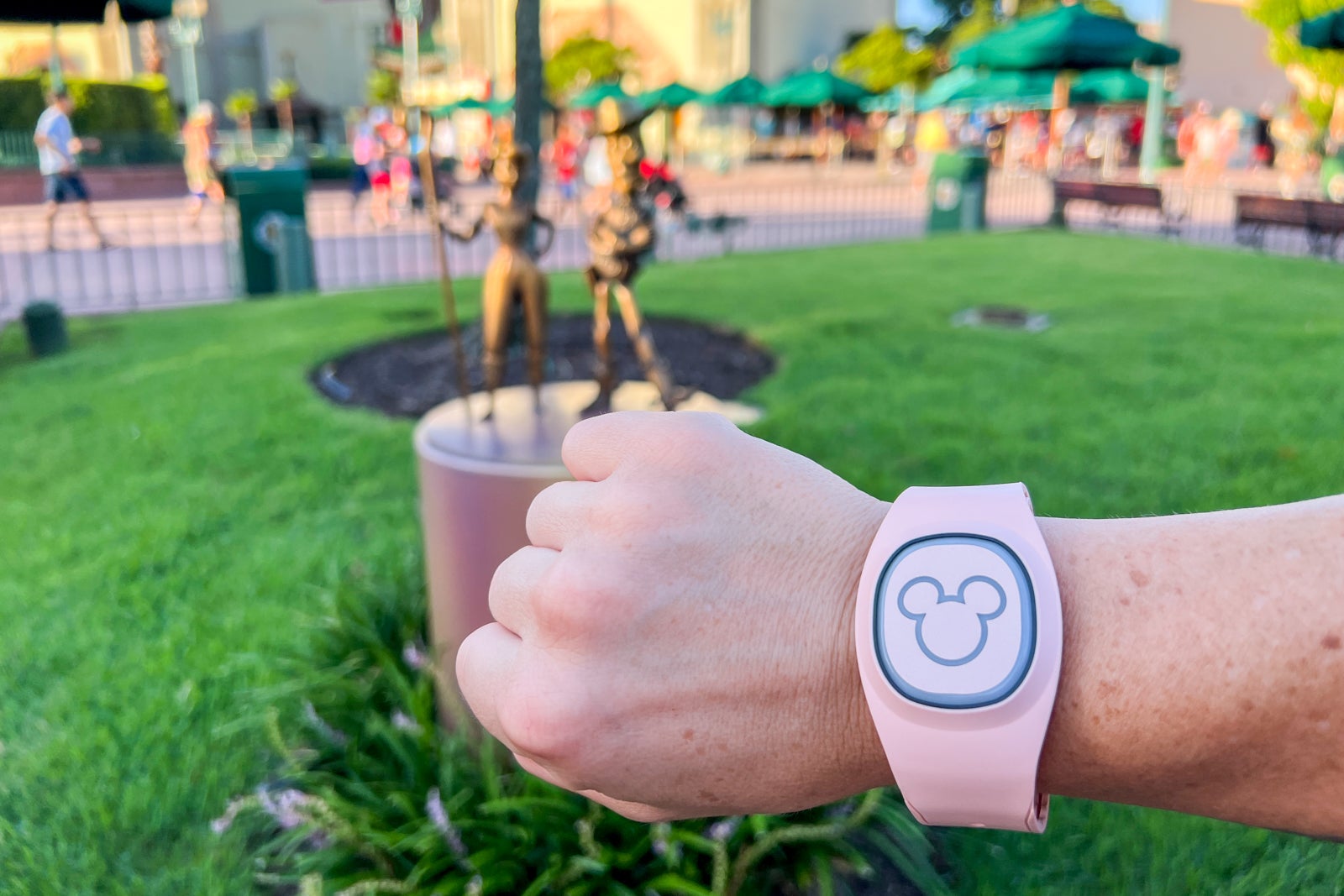 For example, the interactive MagicBand+ starts at $35, which means with 20% cash back you'll get about $7 cash back, dropping your 'final' price to $28. That's a good discount for something that almost never goes on sale.
Of course, the 20% cash back also works on virtually every other item sold on the ShopDisney website, from toys to shirts to purses and beyond. The specific terms and conditions state:
Cashback is not eligible on gift card purchases and D23 memberships.
Only products purchased from the Disney Store are valid for Cash Back. Disney Vacation Packages and Disney Park Tickets are not valid for Cash Back.
Returning, exchanging or canceling part of your order may result in the cash back being declined.
Combining promotions from another site and/or using a coupon code not posted and approved by TopCashback
Returning, exchanging or canceling part of your order.
Purchases made on sites other than shopDisney's U.S. site.
Stack the 30% off Black Friday sale
ShopDisney offers 30% off most items via its online Black Friday sale. Yes, this will stack with the 20% cash back you're earning from TopCashBack.
So those sparkly ears that will cost you $35 in the parks are on sale for $24.49 with the 30% off code MAGIC (which also gets you free shipping with $75 or more). If you then stack on earning 20% cash back then your brand-new ears now essentially cost less than $20.
This works not only on ears but also on spirit jerseys, plushies, personalized t-shirts and so much more. Surprise your kids with Disney goodies before your trip. Or, lay out the trinkets on the bed in the Disney hotel room and save a ton versus paying park prices.
Related: Ultimate Disney World packing guide
Check your Chase Offers to save more
Last but not least, don't forget to check your Chase offers as several Chase credit cards have been offering 5-15% back in the form of a statement credit on ShopDisney purchases. This isn't a ton of savings since it is typically capped at a pretty low amount, but there's no reason to leave these dollars on the table if you have a Chase card that is eligible; all of these offers stack nicely together.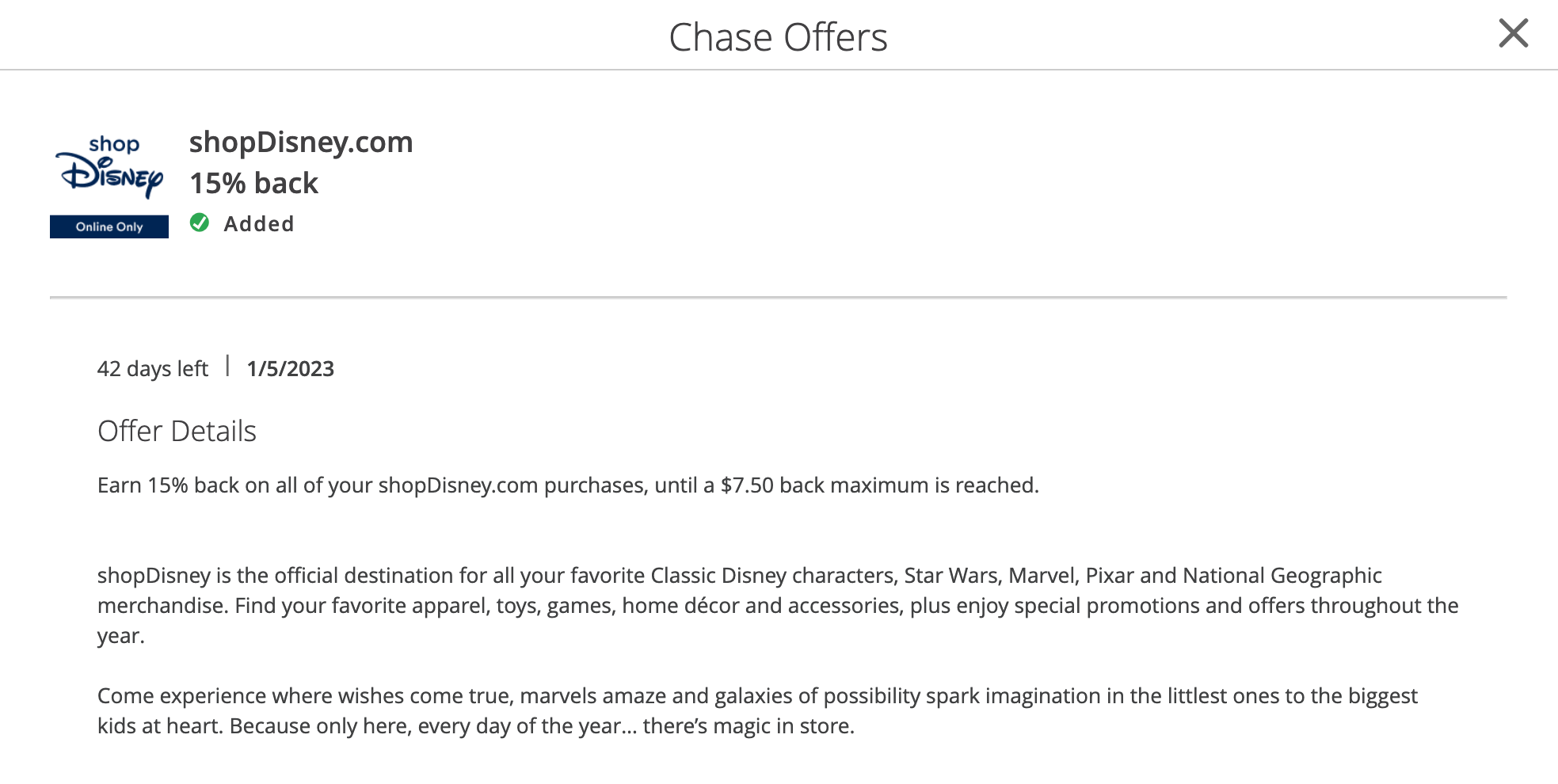 Bottom line
We almost never buy anything in the parks anymore as we either get purchase in advance to wear while we are there. Or, we order it online by stacking deals if we see it in the parks and decide we can't live without it.
Today is the day to earn 20% cash back on virtually everything for sale at ShopDisney, and stack on big Black Friday discounts and more in the process.
Related readings: