Editor's note: We've updated this story with new information.
---
There are many ways to redeem points and miles for flights to Europe. But, if you plan to fly on select transatlantic routes, you should consider redeeming Iberia Avios.
In this post, I'll discuss a specific sweet spot that allows you to fly Iberia business class nonstop for just 34,000 Avios each way, plus modest taxes and fees. This pricing is valid on off-peak dates, between select U.S. East Coast cities and western European cities.
Here's what you need to know to book this sweet spot:
Why it's special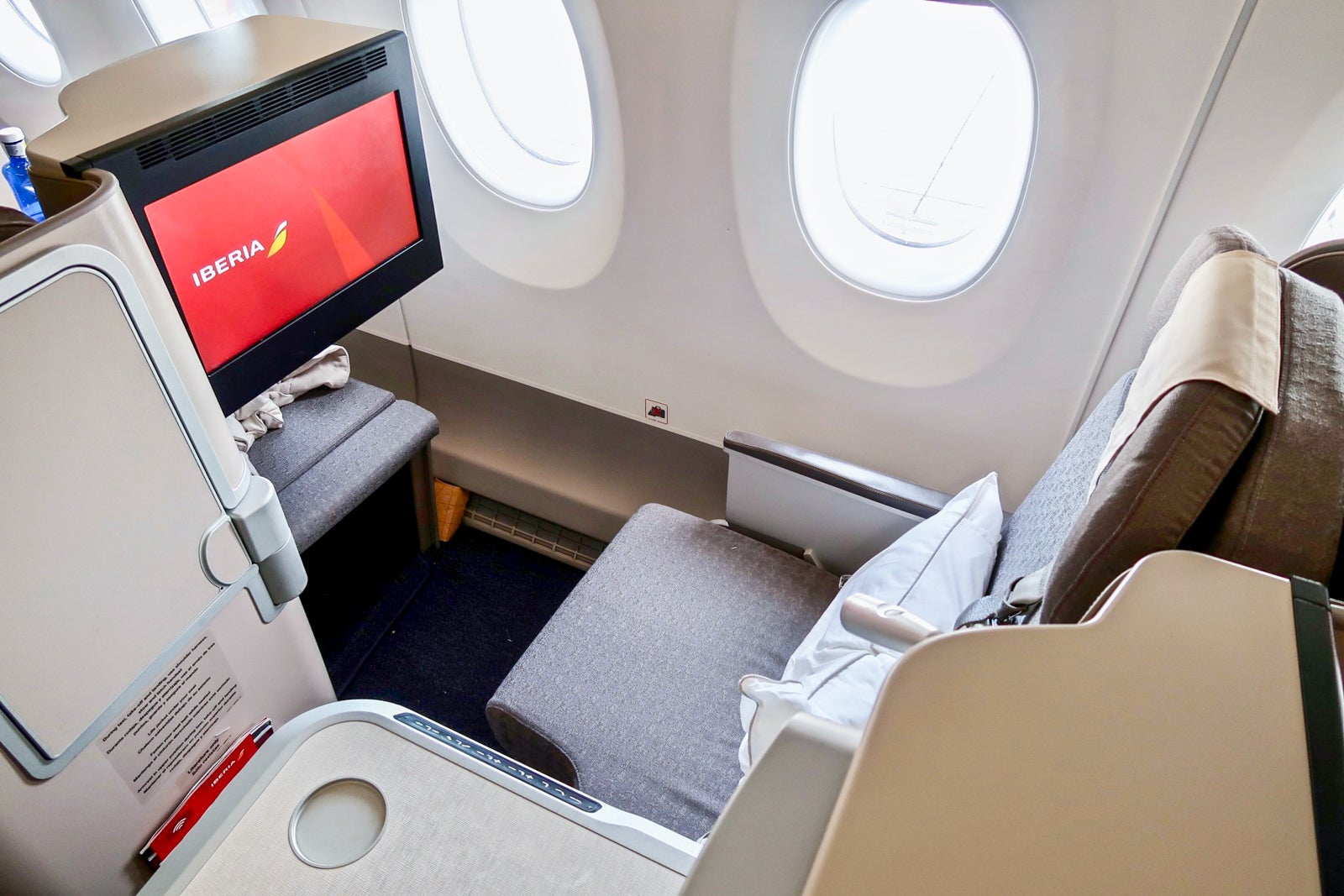 TPG has written about the best ways to travel to Europe using points and miles. But, Iberia Avios can unlock one of the best ways to fly in business class.
The key is to fly a direct Iberia-operated flight of 3,001 to 4,000 miles on off-peak dates (check Iberia's peak and off-peak calendar here). This is because Iberia uses a distance-based award chart for its flights. Here's the off-peak award chart for Iberia flights: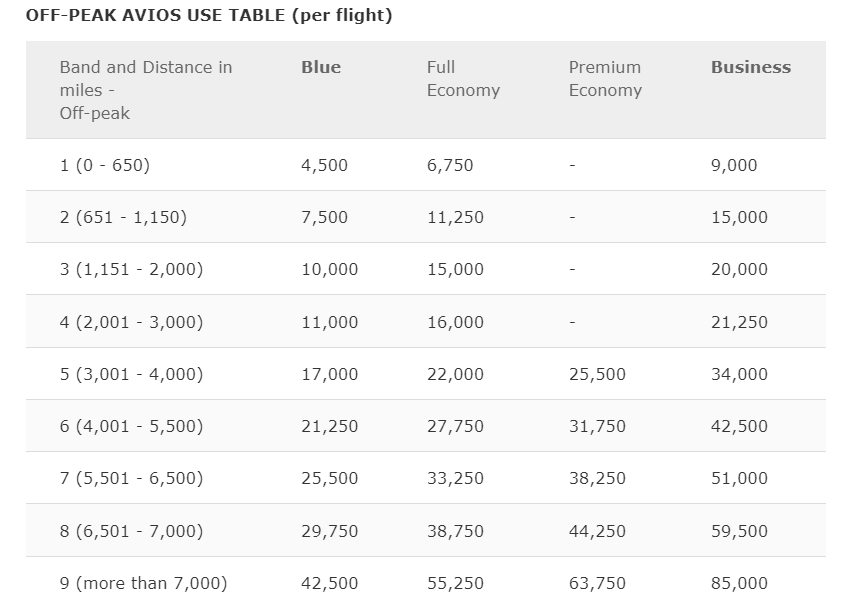 Iberia operates several transatlantic flights that fall into the 3,001 to 4,000-mile distance band. As such, you can book Iberia flights between the following city pairs for 34,000 Avios, plus modest taxes and fees:
Boston and Madrid.
Boston and Barcelona.
New York and Madrid.
New York and Barcelona.
While flights from Chicago to Madrid are slightly outside this range, they also price at 34,000 Avios one-way in business class.

Related: How to transfer British Airways Avios to Iberia
How to book this award
To book this award, start on Iberia's website. Enter your origin, destination, desired dates and check the "Pay with Avios" box. I recommend searching for a one-way award and checking the "My dates are flexible" box when selecting your preferred dates. Select "Premium cabins" from the drop-down and then click "Search."

On the next page, you'll hopefully see business class award availability as I did. If not, you can try to click "Monthly view of flights" to check a wider range of availability. However, you'll usually get an error message instead of a calendar view. So you may need to search day by day or through another Oneworld partner.
Once you find an award you want to book, click on the purple business class box.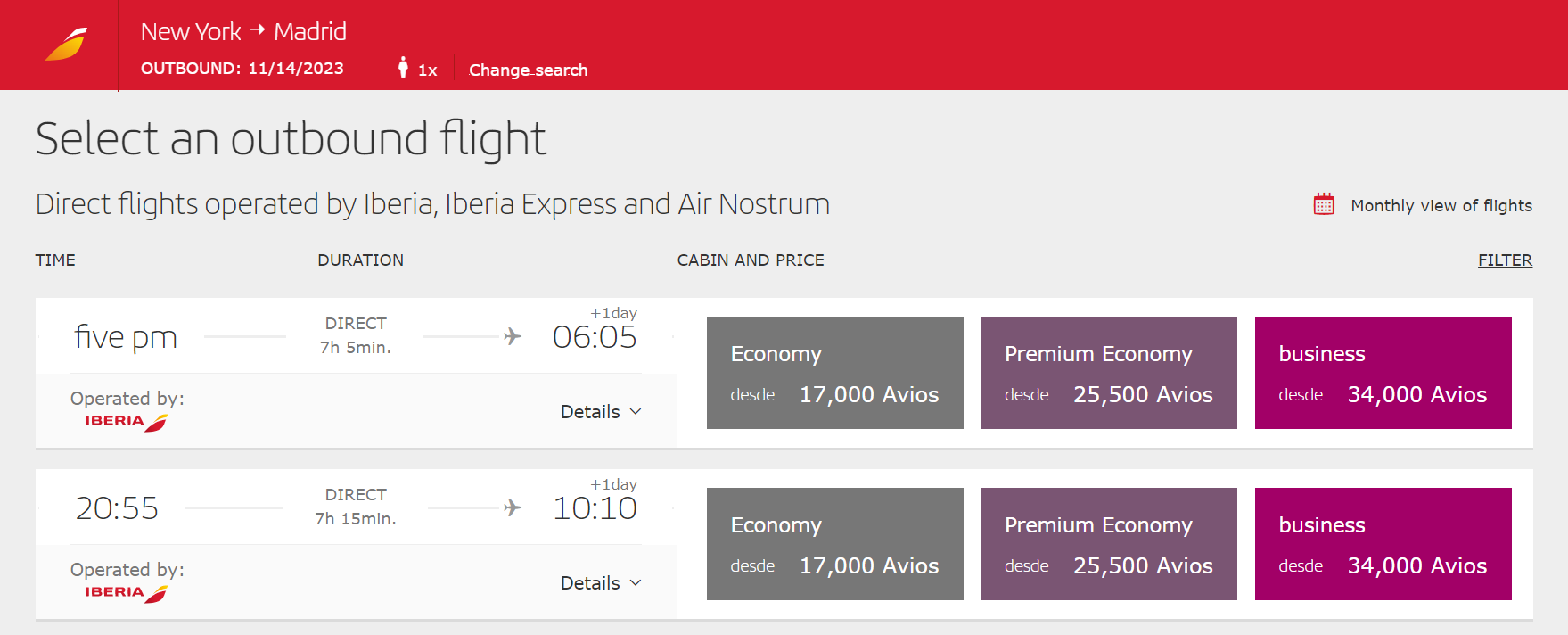 You'll see the details of your fare, including your baggage allowance, on the next page.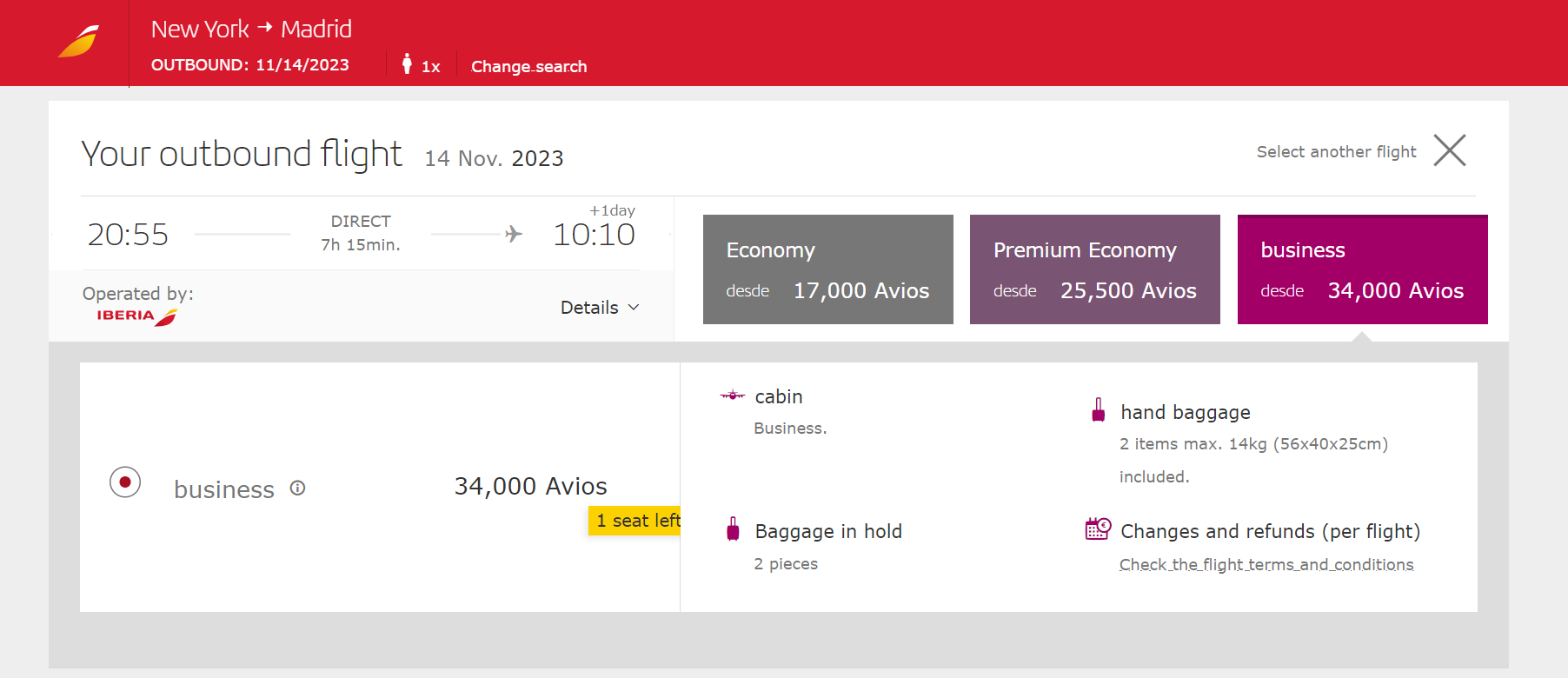 Scroll down and you'll see the options to pay for your flight. Specifically, you can choose the number of Avios to redeem, but you'll need to pay a higher cash copay to redeem fewer Avios.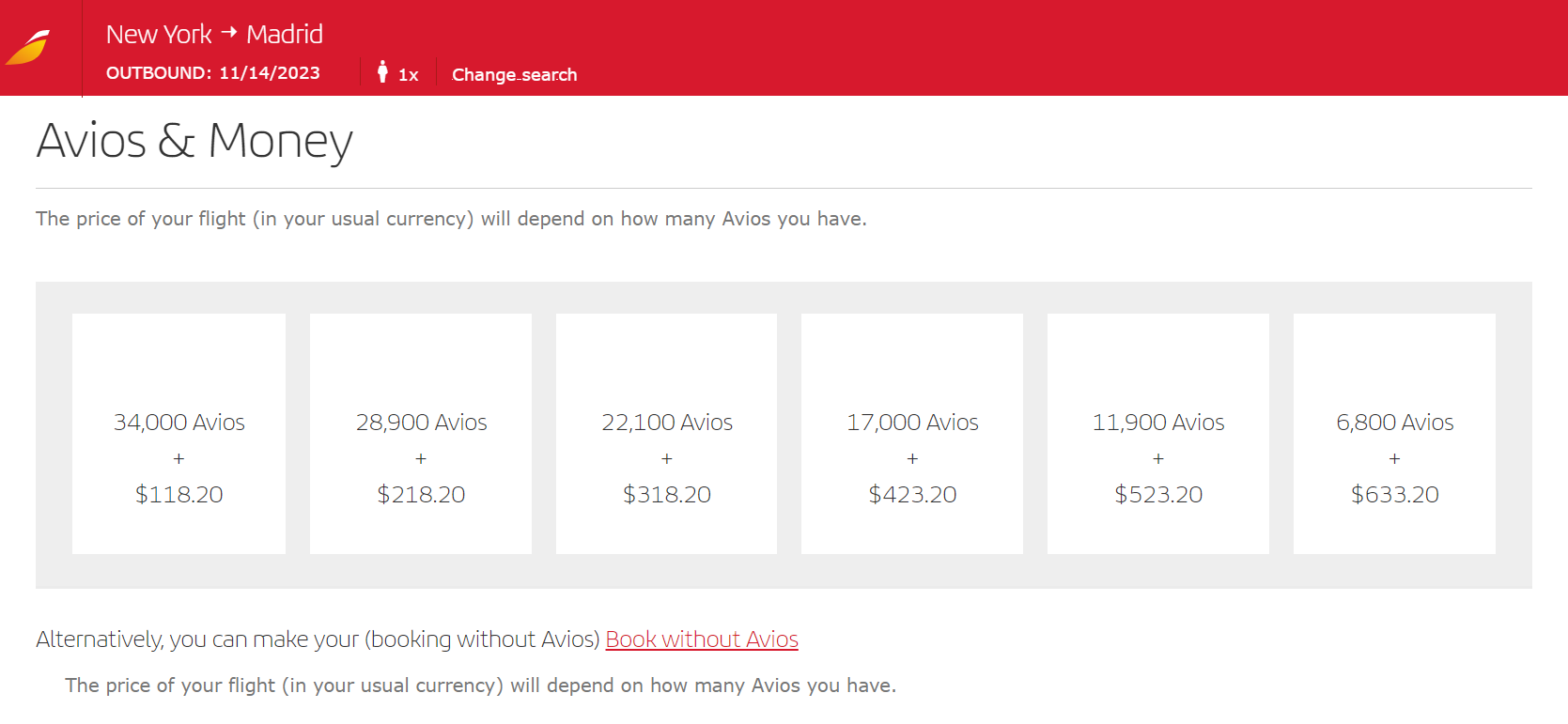 TPG's valuations peg the value of Avios at 1.5 cents each. If you value Avios at 1.5 cents each, the best option would be to redeem 34,000 Avios and pay $118.20 when business class flights cost at least $628.20 one-way.
Related: Maximize your airfare: The best credit cards for booking flights
How to earn Avios for this award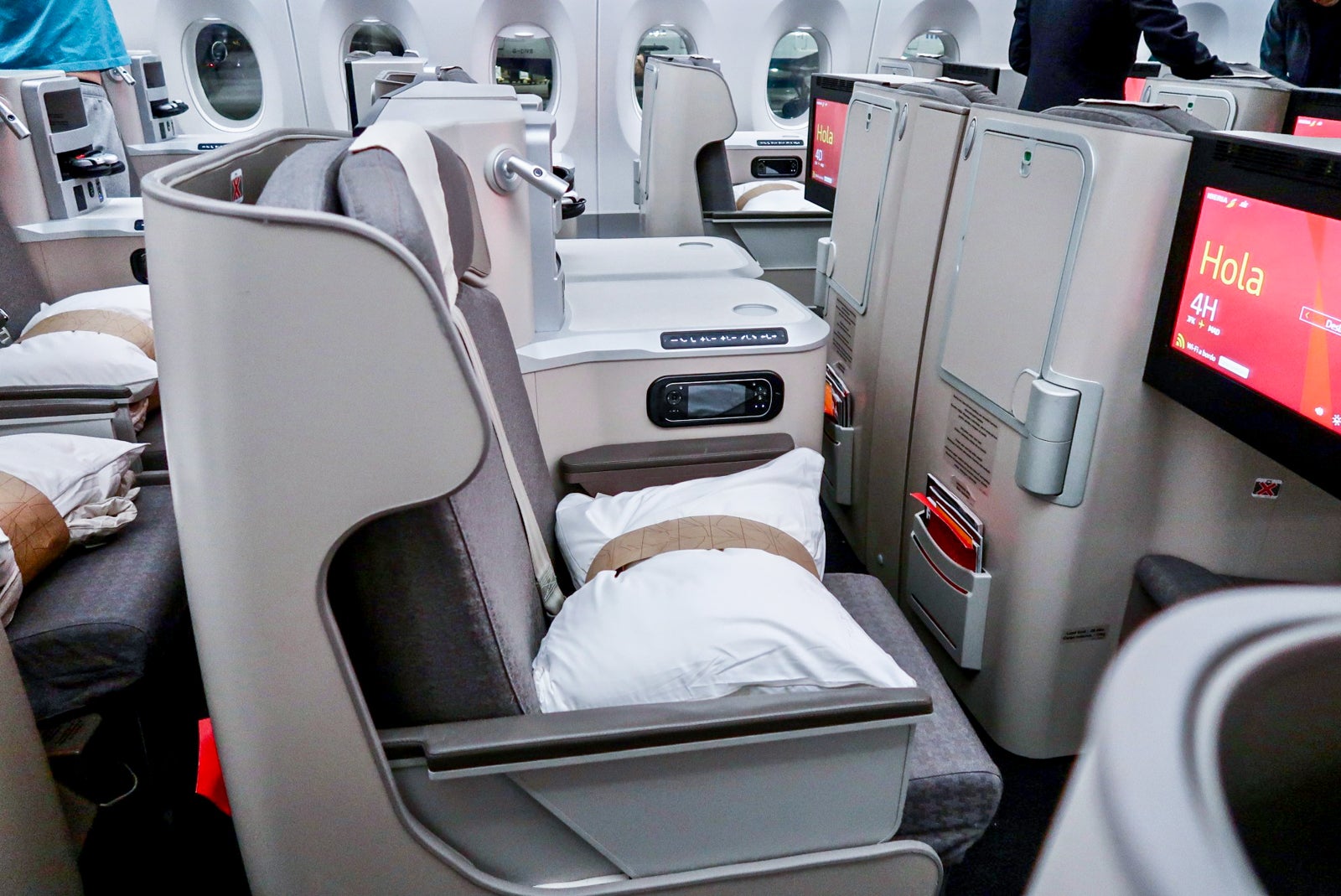 There are three primary ways for U.S.-based travelers to earn Iberia Avios:
Transferring rewards from other Avios programs or transferrable currencies can quickly boost your Iberia Avios account enough for you to book an award. Read our posts on transfer times if you're looking to book an award with limited availability:
Related: 4 versions of Avios: When to use Aer Lingus, Qatar Airways, Iberia and British Airways
Bottom line
This sweet spot only applies to a few Iberia-operated transatlantic flights. So, travelers often overlook this inexpensive business class sweet spot. But redeeming 34,000 Avios to fly transatlantic in business class shouldn't be ignored.
If you don't live in Boston, New York or Chicago — or want to visit a European city other than Madrid or Barcelona — you'll need to book separate positioning flights to utilize this sweet spot. Luckily, there are plenty of domestic sweet spots for positioning within the U.S. And it's usually easy to find inexpensive flights or trains to position within Europe.