Editor's note: This is a recurring post, regularly updated with the latest information.
It's no secret that All Nippon Airways Mileage Club is a highly regarded loyalty program with excellent redemption options, particularly for international business-class flights.
One exceptional ANA Mileage Club redemption involves flights to Japan and other parts of Asia. When you fly on off-peak dates, these ANA-operated awards can offer significant savings compared to other airlines' business-class fares for one-way trips. Additionally, you can add a free stopover on most ANA international award tickets.
In this story, we will explore the uniqueness of this deal and discuss how to use your American Express Membership Rewards points to book.
Why it's special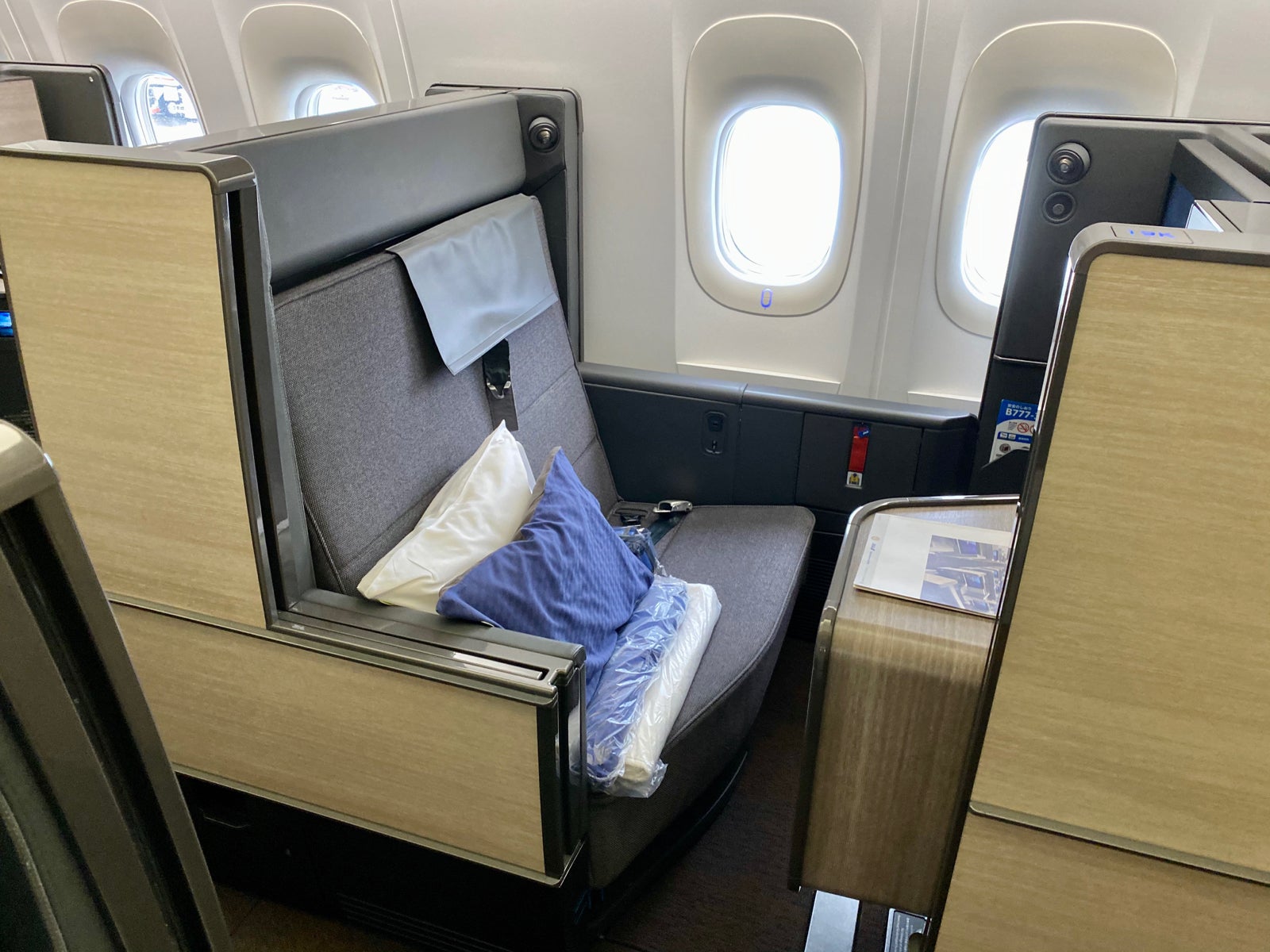 You can book ANA business-class award flights from the U.S. to Asia for as little as 75,000 miles round-trip. This is less than what many programs — like United Airlines MileagePlus — charge for a one-way business-class ticket from the U.S. to Asia. Better yet, ANA offers one of the best business products in the sky, especially on routes equipped with the carrier's new "The Room" business-class product.
Pricing varies based on where you fly. Flights to Japan are cheapest at 75,000 miles round-trip on off-peak dates. But flights on other dates or to other destinations in Asia cost more miles. Here's a look at round-trip off-peak business-class pricing between the U.S. and several zones in Asia (you can view the full award chart on ANA's website).
Japan: 75,000 miles
South Korea/East Russia: 80,000 miles
Asia 1 (Central Asia): 80,000 miles
Asia 2 (South Asia): 100,000 miles
Off-peak dates vary based on where you fly. These are the off-peak dates for flights from the U.S. to Japan,  South Korea and East Russia (you can view all the seasonality charts on ANA's website).
2024: Jan. 4 to Feb. 29 and April 1 to 24
2025: Jan. 4 to Feb. 28
You can also add a free stopover and open jaw to most ANA international flight award tickets. This means you can visit a second city without redeeming extra miles. For example, you can start by flying from San Francisco International Airport (SFO) to Tokyo's Narita International Airport (NRT), where you can stay for as long as you'd like. Then, you can visit Sapporo's New Chitose Airport (CTS) and return to the U.S. via Tokyo.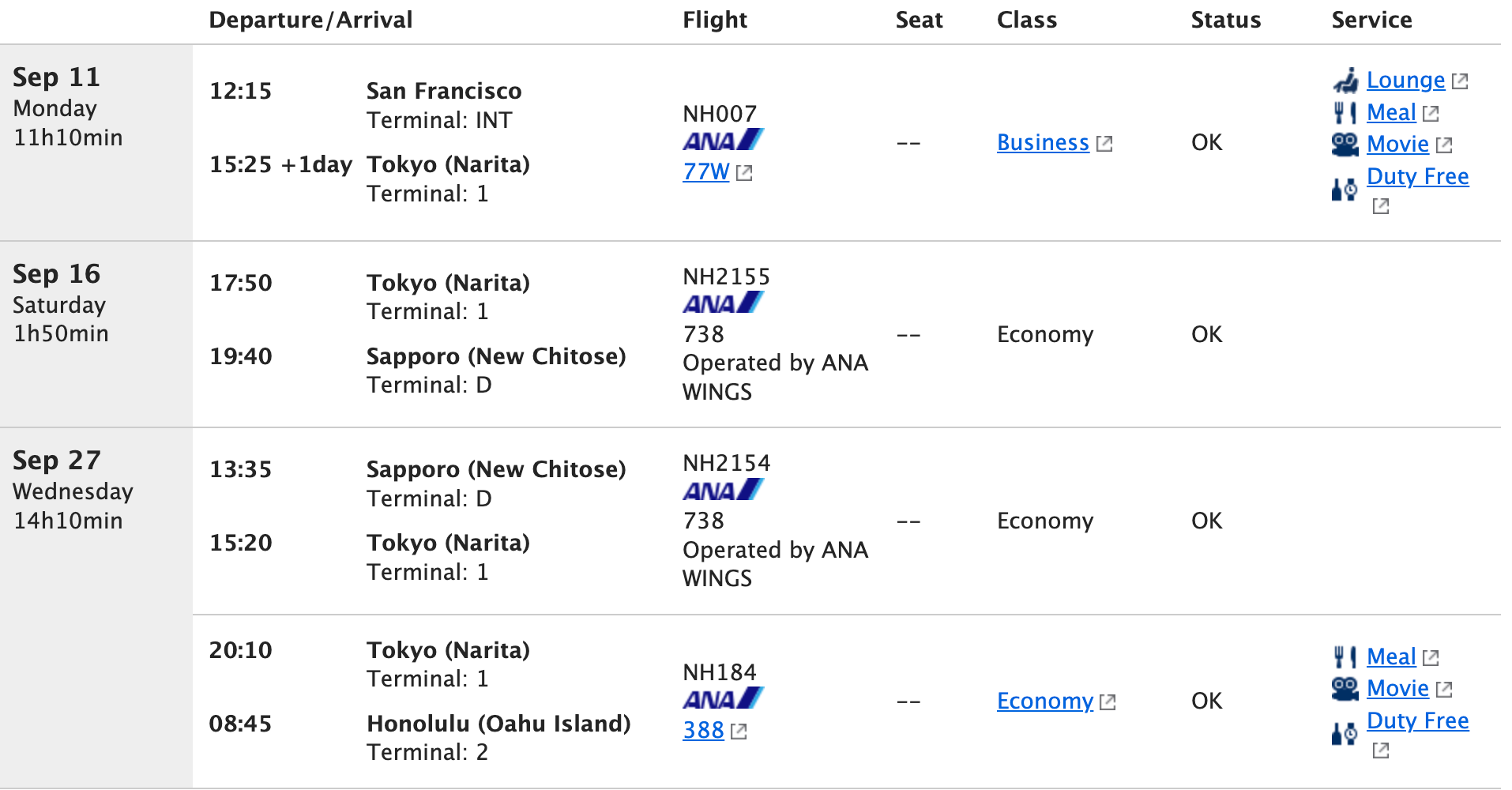 That said, there are a couple of restrictions to remember when booking ANA international flight awards. First, most flights must have ANA flight numbers (if you want to fly with ANA partners, look at the partner flight awards page). And second, you can only book round-trip tickets.
Related: What are stopovers and open jaws on award tickets?

How to book this award
To book an ANA international flight award ticket, go to the ANA website, sign in and click the "Flight Awards" heading. Then, click "Award Reservation" to go to the award search screen.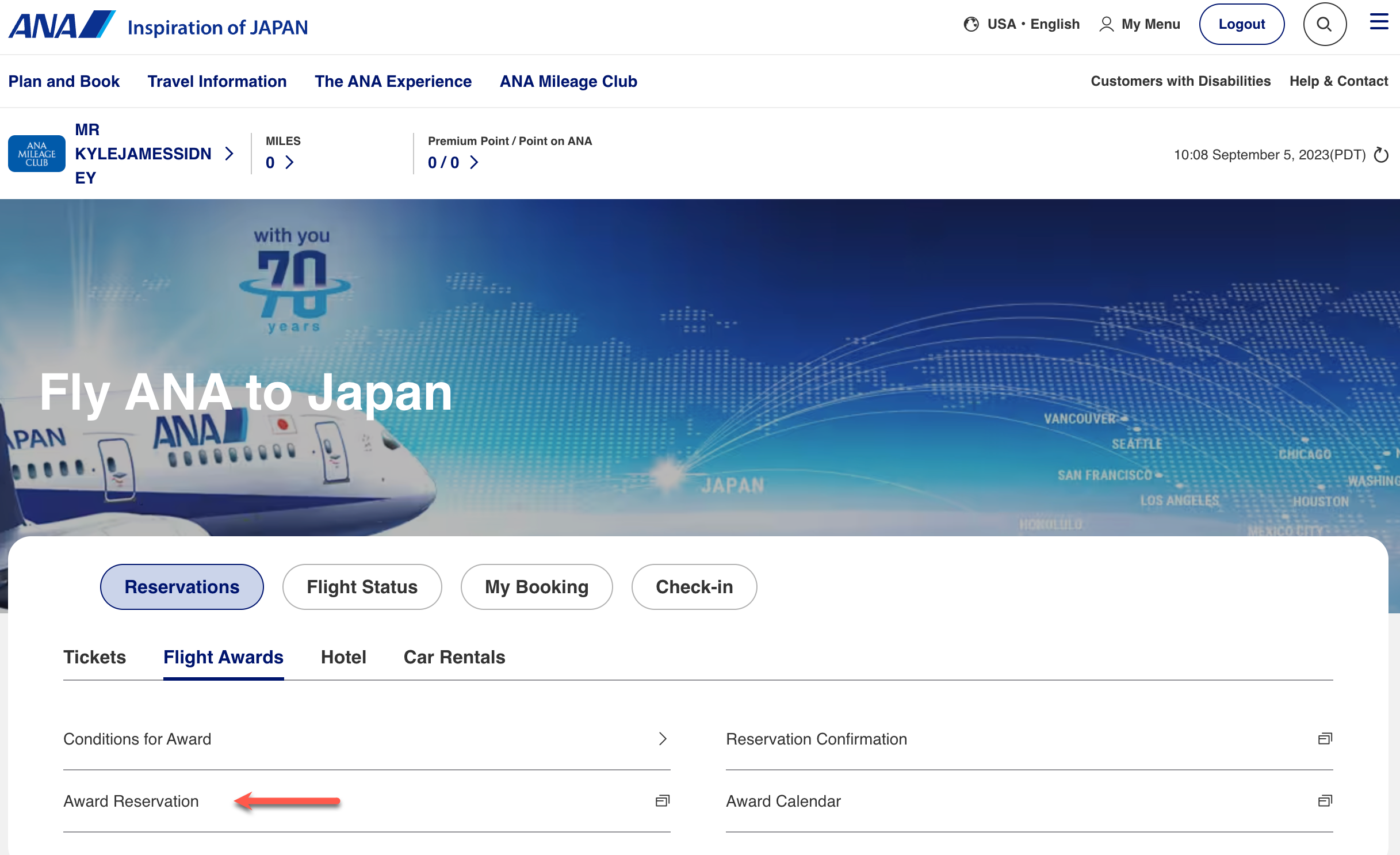 Here, you can select whether to book a round-trip or multicity award ticket. Select the multicity option if you'd like to book a ticket with a stopover, which we'll do in this example. Enter your itinerary and click the orange "Search" button at the bottom of the screen.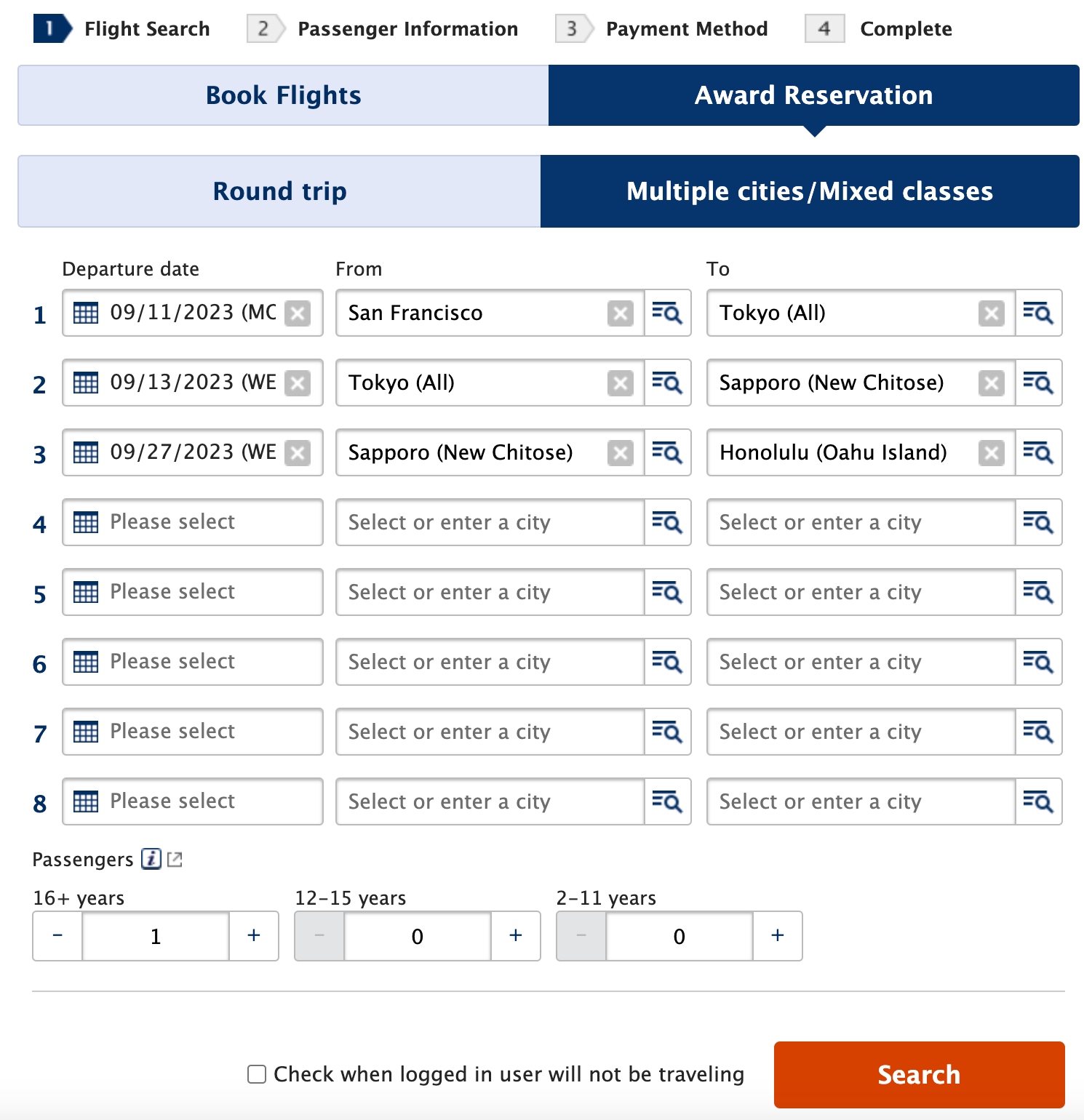 You'll find flight options for the first leg of your trip at the center of the screen. Flights listed as "available" can be confirmed immediately (so skip waitlisted flights if you can). Select the flight you'd like and click the continue button to select flights for the remaining legs.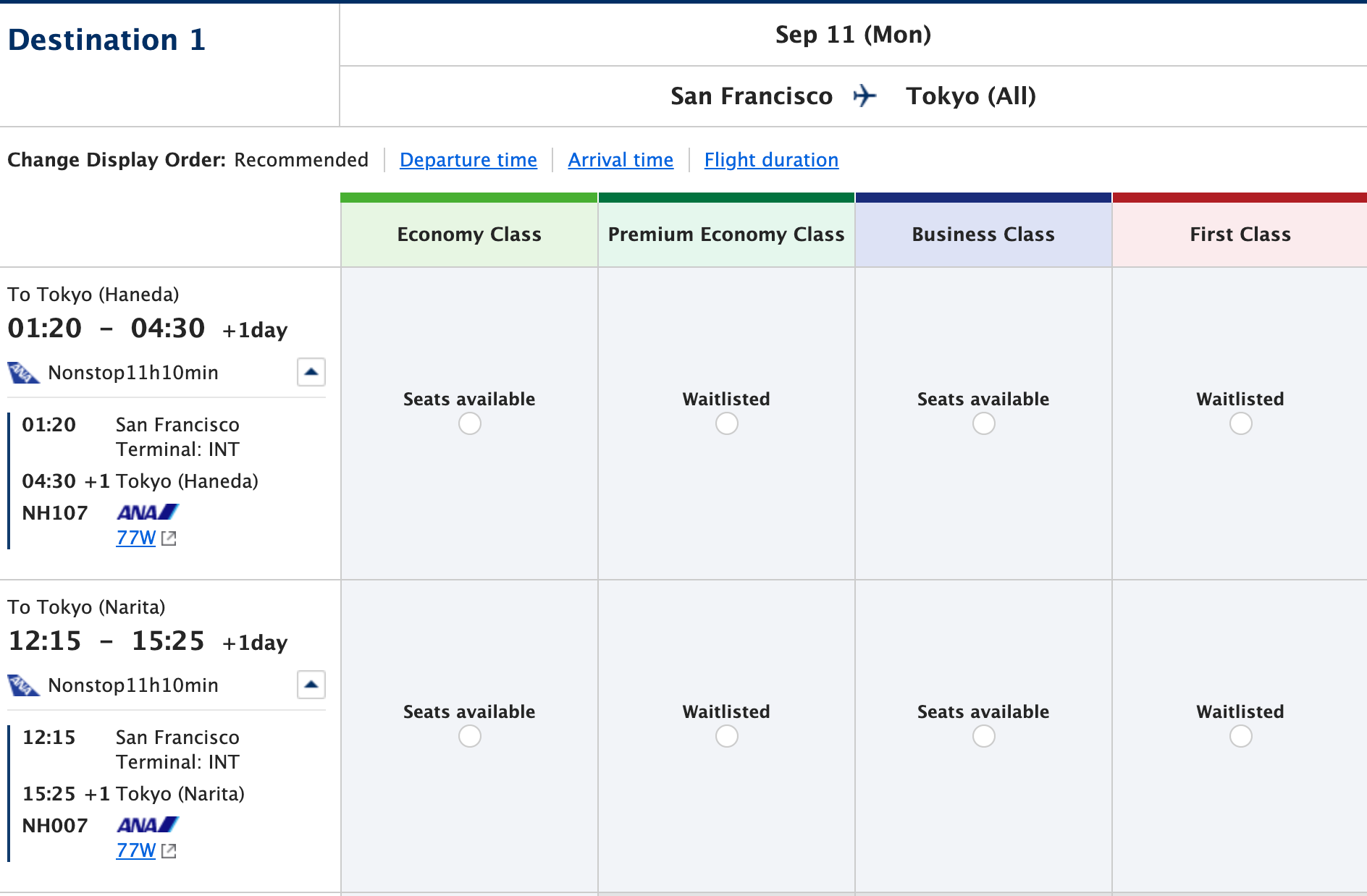 After you select all your flights, you'll get a quote for the miles and taxes required to book. Follow the prompts at the bottom of the screen to complete your booking.
Related: The best ways to travel to Japan with points and miles

How to earn miles for this award
American Express Membership Rewards transfer to ANA Mileage Club at a 1:1 ratio. You can earn Amex points by getting and using an American Express Membership Rewards card. If you're interested in signing up for a new card, here are two offers that will put you well on your way to having enough points for an ANA round-trip international flight award ticket to Asia:
You can also transfer Marriott Bonvoy points to ANA Mileage Club at a 3:1 transfer ratio. You'll earn a 5,000-mile bonus for every 60,000 Marriott points transferred, so 60,000 Marriott Bonvoy points could become 25,000 ANA miles.
Related: Book mixed-cabin awards with ANA Mileage Club to stretch your miles
Bottom line
Round-trip business-class tickets to Japan for 75,000 miles are hard to beat. Bookmark this article and refer to it the next time you need to book a round-trip award to Asia. It can save you a ton of miles if award space works out.