If you've dreamed of flying in Swiss' highly rated first class, we have good news.
Related: Swiss Perfection: A Review of Swiss First Class on Its Flagship Boeing 777-300ER
Flying first class on Swiss typically requires paying cash or holding elite status with Miles & More from Lufthansa Group (which owns Swiss) for the privilege of booking a first-class ticket using miles.
But now, United MileagePlus members can book Swiss first-class award tickets. That said, there are some big caveats you should be aware of. This news was first reported by Live and Let's Fly.
How to book Swiss first class with United miles
The biggest thing to know about booking Swiss first-class award tickets with United miles is that they're only bookable within three days of departure. In turn, you can only use this for last-minute award tickets.
Additionally, only connecting itineraries show first-class awards on United's website. You can't book a flight directly from John F. Kennedy International Airport (JFK) to Geneva Airport (GVA) as a Swiss first-class award. However, you can book JFK to Munich International Airport (MUC) via GVA. The JFK-GVA flight would be in the Swiss first-class cabin, with the second flight in business class since there's no first-class cabin on that flight.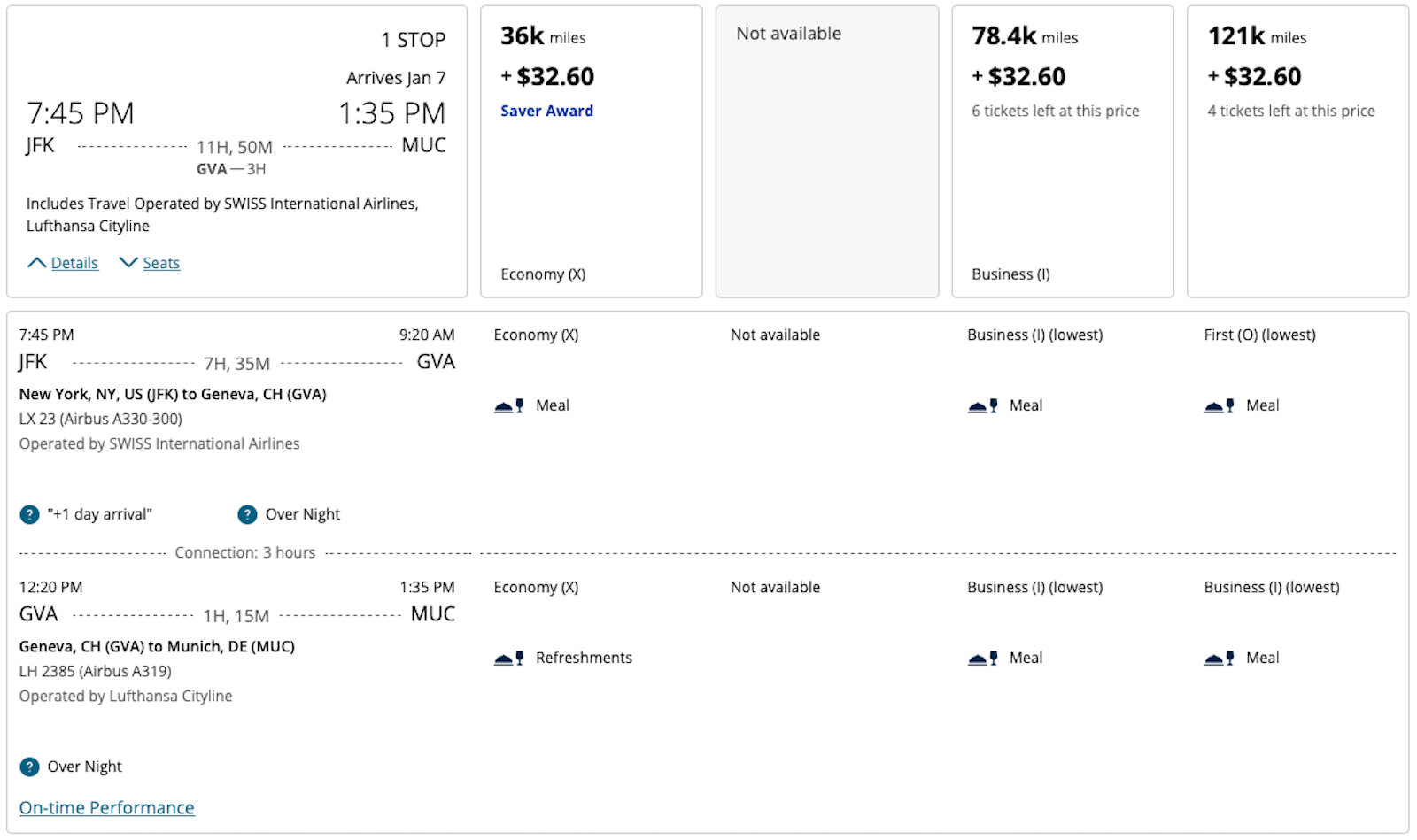 This example award costs 121,000 United miles, plus $32.60 in taxes and fees.
Right now, Swiss first-class awards are not showing on other Star Alliance partner websites, such as Air Canada Aeroplan or Avianca LifeMiles.
Caution: We've seen this before with sad news in the end
It's also worth pointing out that over the past five years, we've seen Swiss first class become available for brief periods using partner miles. On some occasions, Swiss canceled those bookings, claiming it was a mistake.
Until now, the only guaranteed way to book Swiss first class with partner miles has been the airline's three-hour flight between Sao Paulo-Guarulhos International Airport (GRU) and Buenos Aires, Argentina's Ezeiza International Airport (EZE).

This route is a continuation of the route between Sao Paulo and Zurich and is open to partner award bookings regularly. It doesn't require booking only a few days in advance.
Finally, there's no guarantee that this isn't a glitch on United's website. These awards could go away at any time, so book quickly if you see something you want to fly.
Bottom line
If you're flexible and longing to try Swiss first class, you can book it using United miles — at least, for now. Just remember that you can only book connecting tickets and you must book within three days of departure. But even then, award space can be tough to come by.