Among upscale cruise lines, Oceania Cruises has one of the simplest fleets.
All six of the ships that the Miami-based line currently operates fall into one of just two groups, known as "classes" in cruise industry lingo: the Oceania class and the Regatta class.
Each of these two groups is made up of ships that were constructed around the same time to the same basic design. If you know one member of the group, you know them all.
For more cruise guides, news and tips, sign up for TPG's cruise newsletter.
Oceania also has two more vessels on order that will make up a new, third class of ships at the line. But the first of these vessels, which together will be known as the Allura class, doesn't arrive until next spring.
An introduction to Oceania Cruises ships
Oceania Cruises is an upscale line — that is, it offers a higher level of service and aims for a higher-end customer than mass-market brands such as Norwegian Cruise Line, which is owned by the same parent company. Like all upscale lines, it operates smaller, less crowded (and pricier) vessels than you'll find at the more mass-market brands.
At 66,084 tons, Oceania's two biggest ships currently in operation, Marina and Riviera, are less than half the size of the biggest Norwegian vessels and just a third the size of the biggest ships operated by Royal Caribbean and MSC Cruises. They also hold far fewer passengers — just 1,250 apiece, assuming two people per cabin.
Unveiled about a decade ago, the two ships make up what is known as the Oceania class at Oceania, and — for a few months more, at least — they are the leading lights of the Oceania fleet.
The four other ships that Oceania currently has in operation (Nautica, Insignia, Regatta and Sirena) are significantly smaller and older than the Oceania-class ships, and they hold far fewer passengers. They make up what is known as the Regatta class at the line.
Related: The ultimate guide to picking a cruise line 
The relatively small sizes of all six ships as compared to mass-market vessels — and resulting intimacy — is part of what you're paying for when you sail with Oceania. The ships may not have all the gee-whiz deck-top attractions of megaships such as Royal Caribbean's Wonder of the Seas. But they offer serenity at sea in a relatively uncrowded setting, with a higher crew-to-passenger ratio than you'll find on mass-market vessels, more high-end restaurants and more elegant accommodations.
The smaller size of the ships also allows them to call at lesser-visited ports around the world that the big ships can't access — one of the big allures of sailing with a smaller-ship line such as Oceania.
Come May 2023, Oceania will be unveiling the first vessel in the new Allura class of ships mentioned above, which will be just a tiny bit bigger than the Oceania-class ships.
Allura class
Ships in class: Vista (coming in 2023); unnamed (coming in 2025).
Size: 67,000 tons.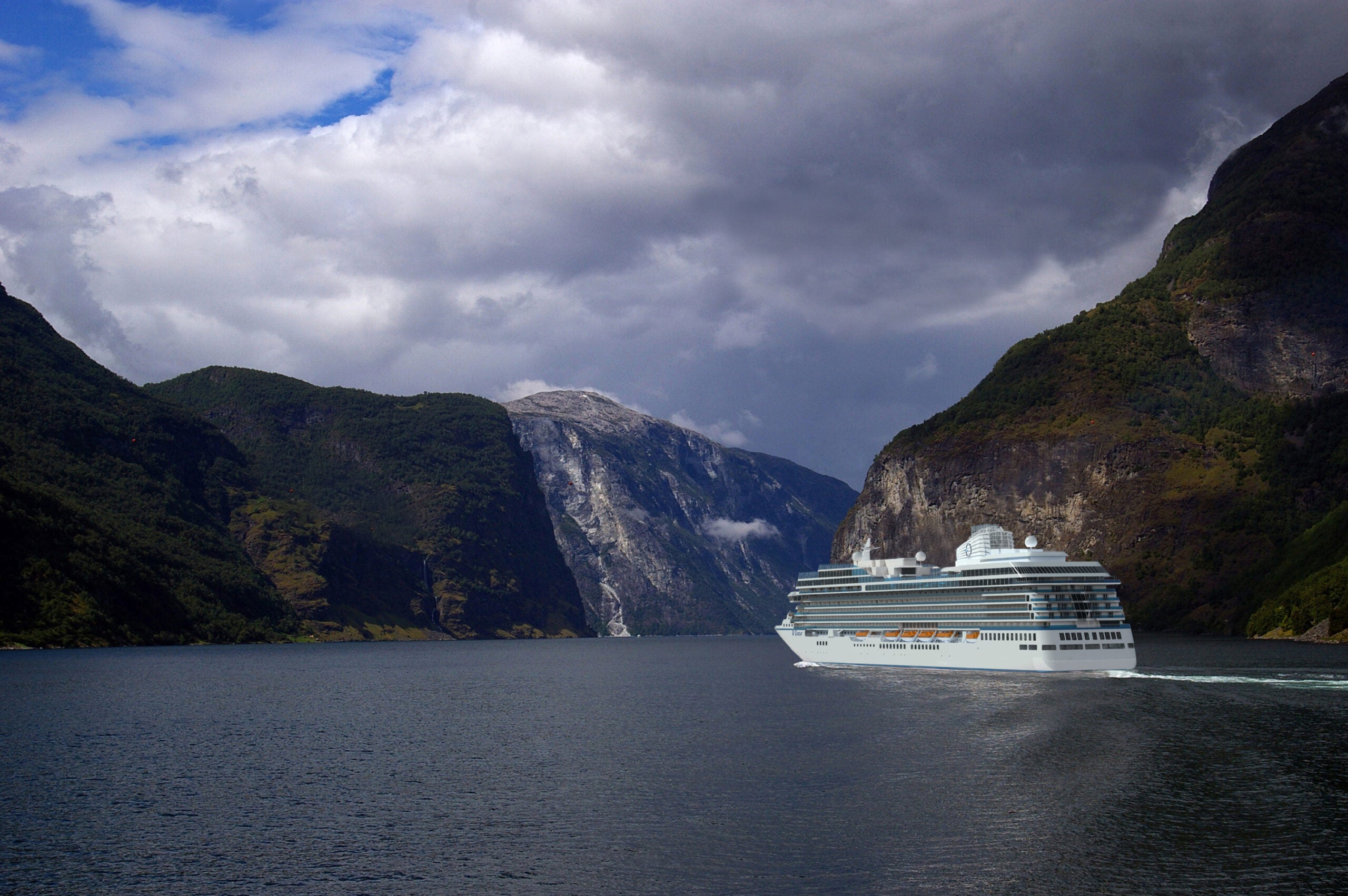 The Allura-class ships aren't yet sailing, but when they do begin service, they will be the new stars of the Oceania fleet.
The first of the two ships, to be called Vista, is due to arrive in May 2023. It promises an elegance and refinement unlike anything that has been seen before at the line.
At 67,000 tons, the vessel will be a tad bigger than Oceania's last two ships, Marina and Riviera. But it'll carry fewer passengers (1,200 versus 1,250). That means its "space ratio" of space per passenger will be higher.
Related: The most exciting new ships of 2023
The space ratio of a ship is considered a measure of how upscale it is, with higher space ratios typically corresponding to more luxurious vessels.
As for decor and amenities, Oceania has promised an "evolution" of the intimate, residential-style interior venues for which its ships are known. Vista will retain such Oceania signatures as a Grand Staircase at its center and a Grand Lounge that serves as a central meeting point, as well as a martini bar, Aquamar Spa and a Horizons observation lounge.
The top deck of the ship will revolve around a tranquil pool area, and — as is the case with all Oceania ships — the ship's interior will have a full-blown casino with an accompanying bar.
Vista also will feature a larger variety of cabin sizes than earlier Oceania vessels, ranging from standard balcony cabins measuring 291 square feet (the largest standard balcony cabins in the industry, according to the line) to an array of suites that measure up to 2,400 square feet.
Among new cabin categories will be Oceania's first solo cabins — six in all. They'll measure a spacious 270 square feet and have their own balconies, something that is relatively rare for solo cabins on ocean ships.
In fact, every cabin on Vista will be a balcony cabin — a first for the line. Every cabin will have either a full balcony or a more limited French balcony. The ship will have no windowless "inside" cabins or balconyless "ocean-view" cabins.
The solo cabins, notably, also will be concierge-level cabins, which means they will come with access to a private, keycard-accessed concierge lounge and complimentary use of the ship's Spa Terrace.
Related: Get extra perks with the Oceania Club loyalty program
In another upgrade as compared to Oceania's other ships, Vista will boast 12 different culinary options for passengers — four of which will be new concepts for the brand.
The newcomers include Ember, serving "inventive American" cuisine, and wellness-focused Aquamar Kitchen (think smoothies, organic "power bowls" and yellowfin tacos with white cabbage slaw). Also new will be the Culinary Center Dining Room, an ocean-view space offering food-and-wine pairing experiences that will tie to the ship's cooking classroom. A new Bakery at Barista outlet will serve fresh-baked pastries.
Signature Oceania eateries making a return include the Polo Grill steakhouse, Italian-serving Toscana and upscale Asian venue Red Ginger.
A second, as-yet-unnamed Allure-class vessel is due to debut in 2025.
Oceania class
Ships in class: Riviera (2012); Marina (2011).
Size: 66,084 tons.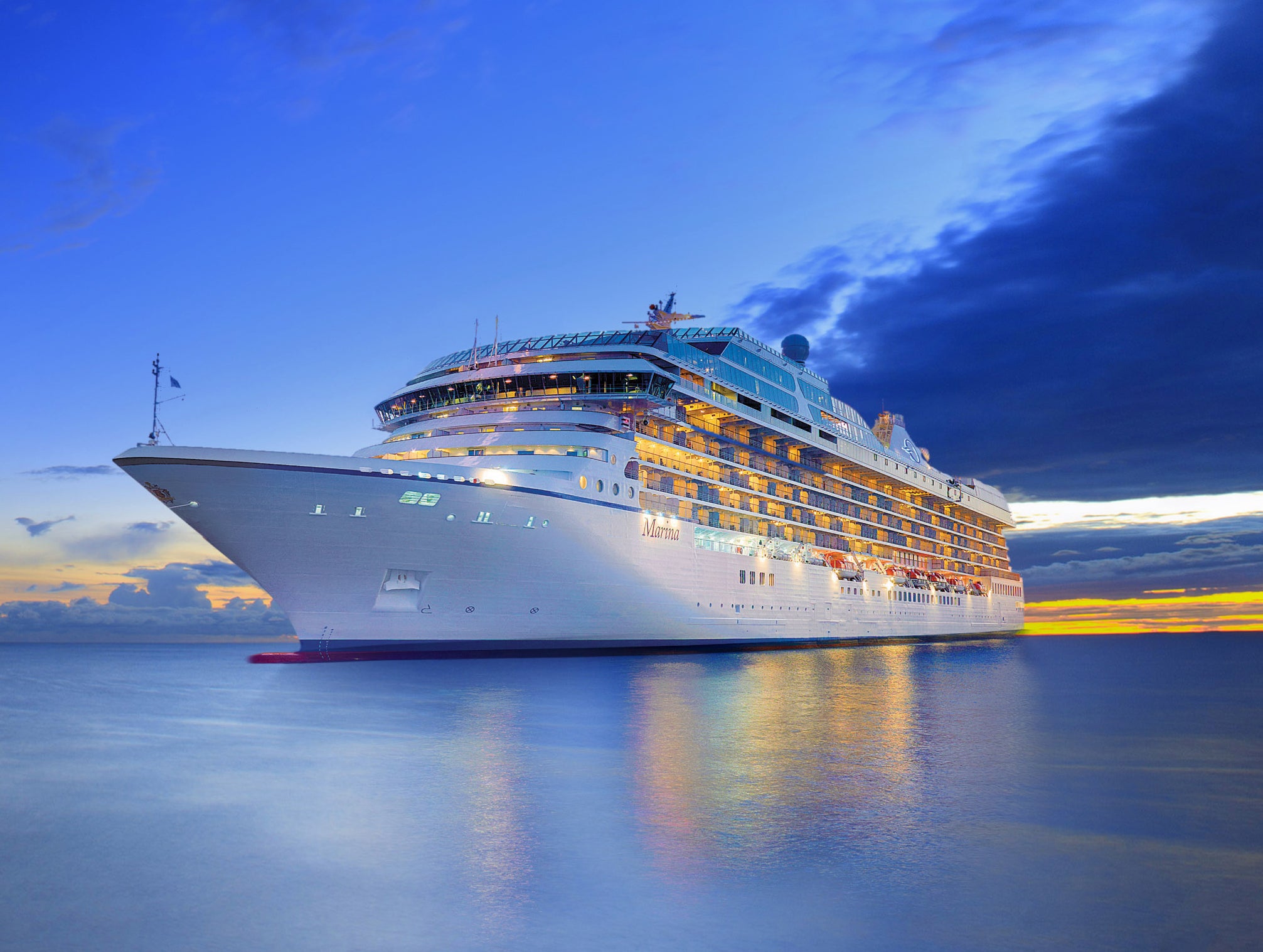 The two Oceania-class ships are the current belles of the ball in the Oceania fleet (at least until the arrival of the Allura-class ships). They are newer and bigger than the four other Oceania vessels currently sailing, with bigger and more elegant cabins, and a wider array of high-end eateries.
You'll find the Oceania-class ships feel more spacious than the line's four other vessels, and they have an overall elegance that takes them to a higher level. That said, they also carry a lot more passengers than Oceania's other ships — 1,250 as compared to 684.
If you're the sort of person that prefers traveling in smaller groups, the line's smaller Regatta-class vessels might be a better fit.
Overall, the Oceania-class vessels have a residential feel, which is something they share with all Oceania ships. You can sit back with a book in a wing-back leather chair in the English-style libraries on the ships, or sip a martini while listening to a piano player in their elegant Horizons observation lounges. The main pool areas on the vessels are classy and relaxing, with teak decking and rows of plush chaise lounge chairs facing sparkling pools.
Related: The 5 best destinations you can visit on an Oceania ship
Each of the vessels has four superb specialty restaurants that are in keeping with Oceania's foodie focus — none of which comes with an extra fee. They are the Polo Grill steakhouse, Italian Toscana, Asian-fusion Red Ginger and French Jacques (the latter the creation of famed chef Jacques Pépin, a culinary adviser to the line).
In addition, each ship has a main Grand Dining Room that also has a Jacques Pépin tie-in; he created the venue's signature dishes. The restaurants serve up Continental cuisine with menus changing daily.
Also for foodies, Riviera and Marina each have a high-end cooking classroom where passengers can learn how to make dishes themed around an ingredient or the regional cuisine of your cruise destination. It's a feature you won't find on the line's smaller ships.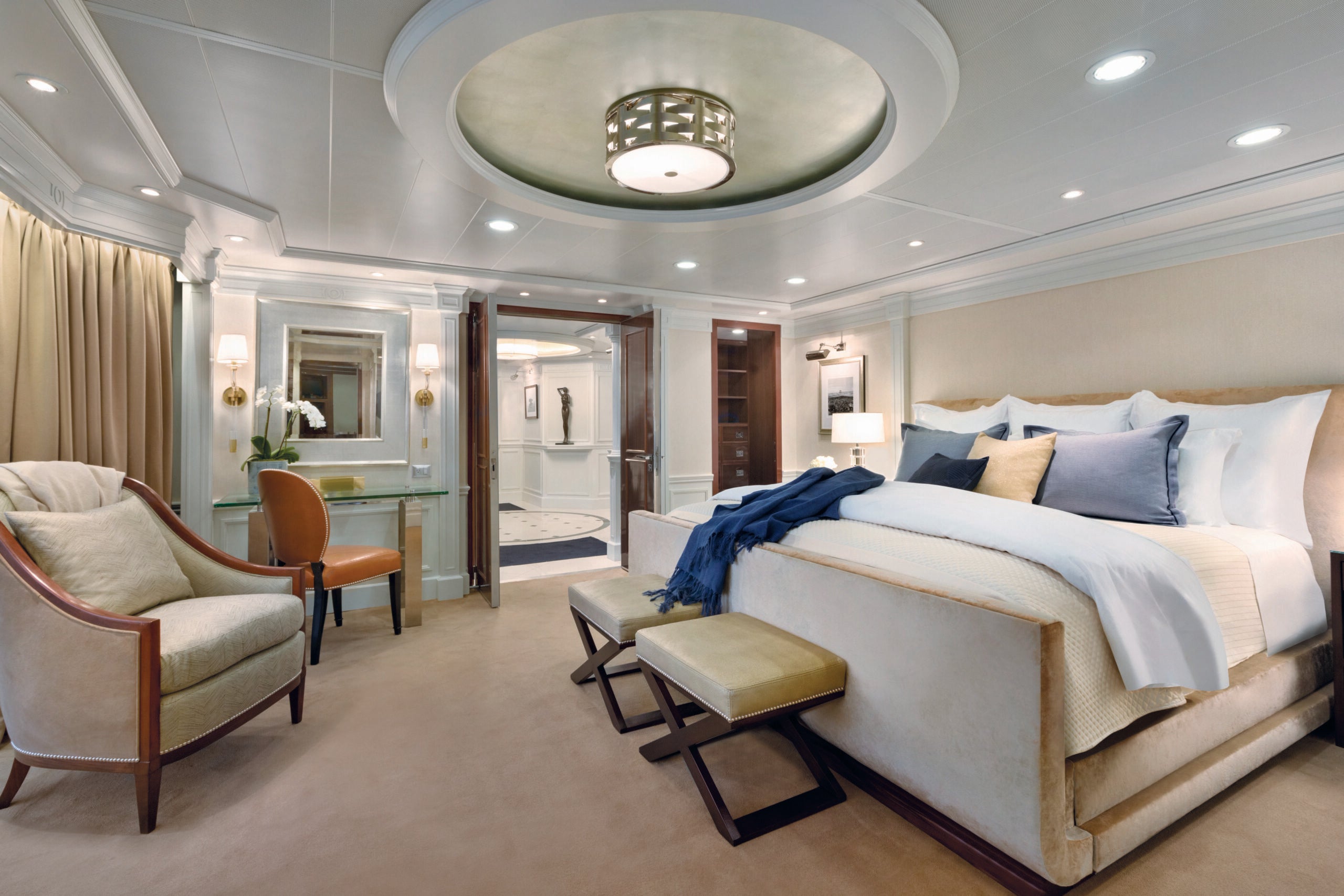 Among other enrichment offerings (a big part of the Oceania formula) on the ships are art classes taught by an Artist in Residence in a dedicated space called the Artist's Loft. In addition, each of the ships has a theater where guest speakers lecture regularly, often on topics related to the destinations the ships visit. The theaters also are the setting for evening performances by an ever-changing array of guest entertainers such as pianists, classical string quartets and vocalists.
A swanky spa, outdoor running track, golf putting green, pickleball court and even croquet and bocce courts round out the activities available on board.
Cabins on the vessels also have a residential feel and are much more spacious than the cabins you'll find on the line's smaller ships. Standard balcony cabins, for instance, measure a generous 291 square feet, which the line boasts makes them some of the largest at sea.
Unlike the soon-to-debut Allura-class ships, these vessels also have ocean-view cabins, which measure 240 square feet, and windowless "inside" cabins, which measure 174 square feet. They typically are priced lower than balcony cabins and can be a good entry-level option for passengers looking to save.
Related: Why it pays to upgrade your cruise ship cabin
The ships also are loaded with bigger suites, some as big as 2,000 square feet, with elegant decor crafted by famed designer Dakota Jackson and furnishings from Ralph Lauren Home.
Regatta class
Ships in class: Nautica (2000), Sirena (1999), Regatta (1998), Insignia (1998).
Size: 30,277 tons.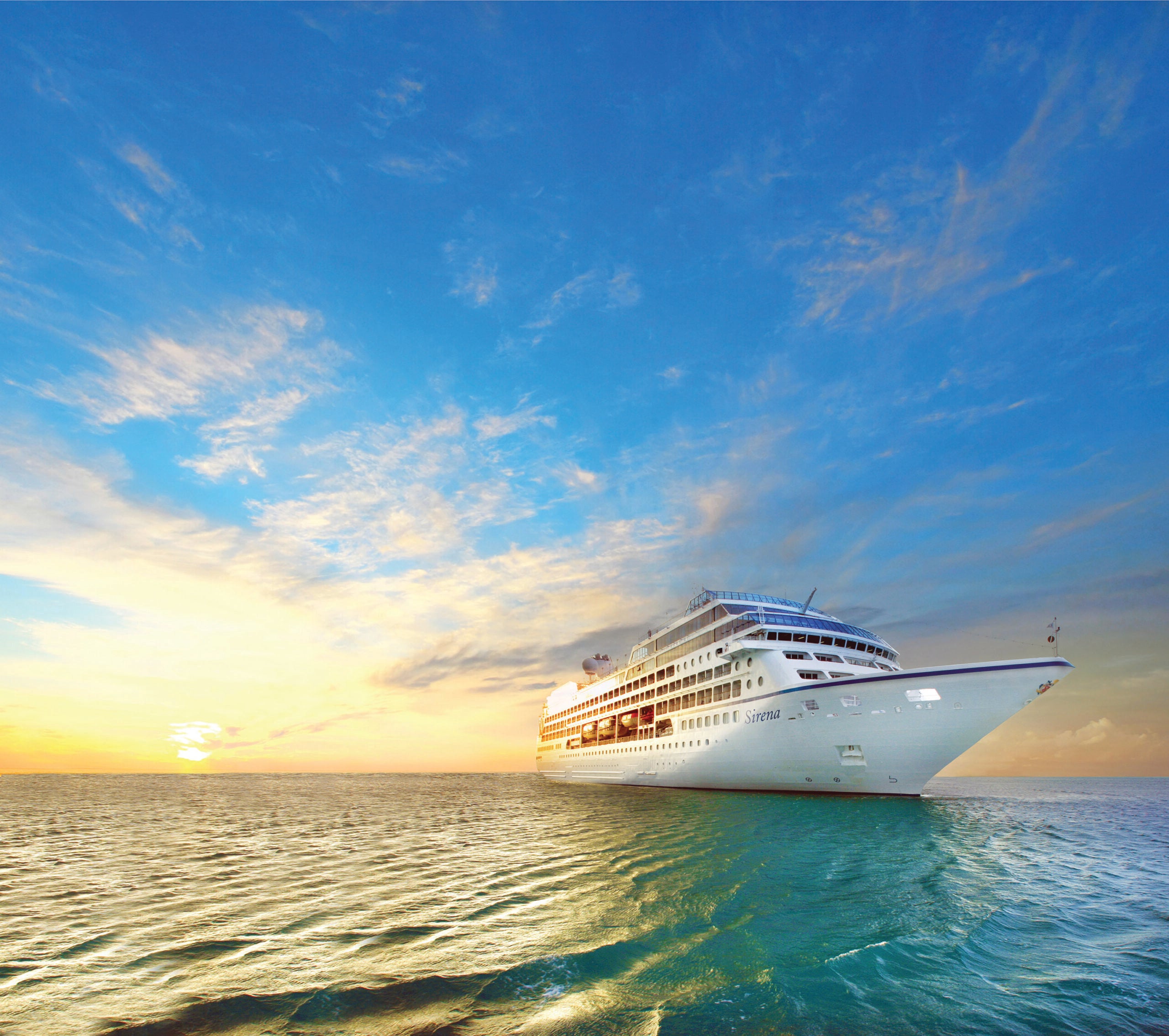 The Regatta-class ships have long been at the core of the Oceania fleet, and they continue to be highly popular with Oceania fans. About half the size of the line's Oceania-class ships, the four vessels in the series offer a much more intimate atmosphere than the Oceania-class ships with fewer bars, restaurants and entertainment areas.
Like the Oceania-class ships, the Regatta-class vessels have a residential feel, with interiors that revolve around small central reception halls with grand staircases that lead to a single deck with bars, lounges, a casino and a main restaurant.
The main restaurant, the Grand Dining Room, is where passengers dine most nights. But each of the ships also has one of Oceania's signature Polo Grill steakhouses and a Toscana restaurant serving Italian cuisine — both located near the tops of the ships. That's just half the number of specialty restaurants that you'll find on the Oceania-class ships.
Each of the ships, at the top, also is home to a relaxing outdoor pool area, as well as an interior observation lounge called Horizons and a casual eatery called the Terrace Cafe. Each of the vessels also has a small spa with steam rooms, salon and fitness center, as well as a small library. Additional top-deck features include a small putting green area.
Related: 5 cruise ship suites that will blow your mind
Cabins on Regatta-class ships are notably smaller than those you'll find on the line's newer ships, with balcony cabins measuring just 216 square feet. Despite regular updates, they also can feel a bit dated as compared to newer Oceania ships.
All four of the Regatta-class vessels are now more than 20 years old, and they are showing their age in some areas.
That said, they remain wonderful vessels on many levels — one being that their small size allows them to access ports around the world that bigger ships can't visit. This allows them to sail more-interesting itineraries, in many cases, than you'll find on bigger ships.
Along those lines, Oceania often deploys the Regatta-class ships on its more far-flung, destination-rich itineraries, including some of the cruise industry's longest around-the-world cruises.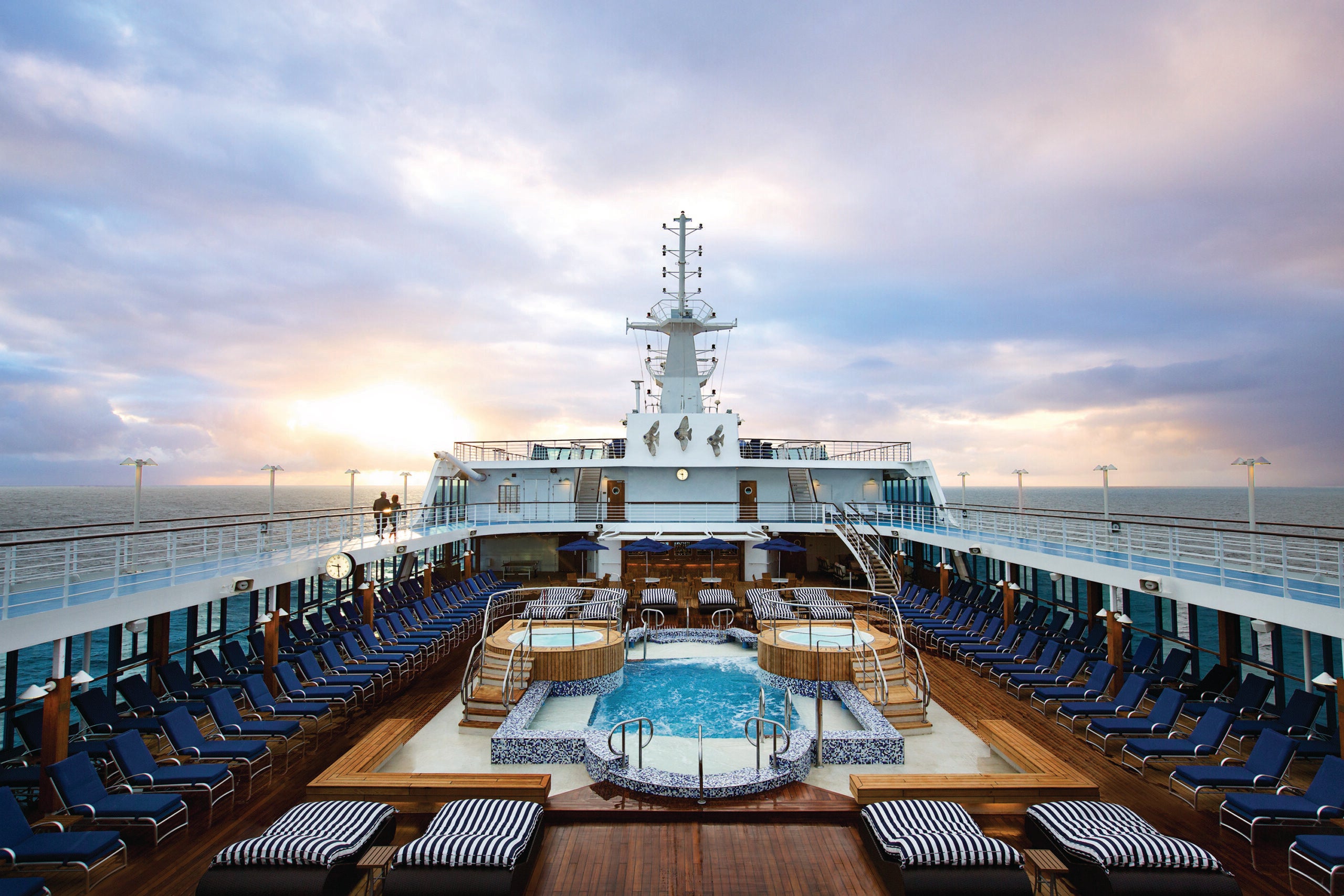 For the coming year, for instance, Insignia is scheduled to sail a 200-day world cruise out of Miami (starting on Jan. 15) that will bring stops on five continents including Antarctica.
In general, the Regatta-class ships appeal to cruisers who care more about the destinations they will be visiting than about having a lot of onboard options for dining, entertainment and activities.
Regatta-class trivia: The four Regatta-class ships and the four vessels in the fleet of rival line Azamara are sister vessels. They all once belonged to long-defunct Renaissance Cruises. You'll sometimes hear cruising aficionados refer to them by their Renaissance-related class name, the R class.
Bottom line
The Oceania Cruises fleet is relatively easy to understand. As of now, there are just two types of Oceania ships operating, a number that will grow to three in the coming year. All the ships have the same upscale, residential feel, with the main differences among the ships being their size and the number of eateries and bars you'll find on board, as well as the size of their cabins.
If a spacious cabin and more restaurant and bar choices are what matters to you most when cruising, the line's Oceania-class ships or soon-to-debut Allura-class ships are the most logical choice. If you prefer a smaller, more intimate environment with fewer people and don't mind giving up some amenities to have it, the Regatta-class vessels might be a better fit.
Planning a cruise? Start with these stories: