Among cruise lines that focus on high-priced luxury trips, Seabourn has one of the simplest fleets.
All the line's ships fall into one of three groups: The Encore-class ocean ships, the Odyssey-class ocean ships and the expedition ships (which Seabourn has not given a class name).
Each of these groups is made up of ships constructed around the same time to the same basic design. If you know one member of the group, you know them all.
Seabourn operates seven vessels — two Encore-class ships, three Odyssey-class ships and two expedition ships. That number is set to drop by one in 2024 when one of the Odyssey-class vessels leaves the Seabourn fleet.
Here, we explain the distinctive features of Seabourn's three ship classes, so you can plan the luxury cruise that's right for you.
An introduction to Seabourn ships
Seabourn is one of about half a dozen major cruise lines that compete in the market for "ultra-luxury" cruises — voyages that promise a high level of elegance and pampering and have a high price tag to match. The company, which debuted in 1988, claims to have pioneered the niche.
Like all such brands, Seabourn operates ships that are far smaller and more intimate than the giant floating megaresorts operated by Royal Caribbean, Norwegian Cruise Line and Carnival Cruise Line. Instead of thousands of passengers, each Seabourn vessel is designed to hold a few hundred people.
Still, while the ships are smaller than what you'll find at a mass-market line, they're not cramped. Indeed, they're among the most spacious ships at sea when measured by their space-per-passenger ratio, which is about 50% higher than what you'll find on many mass-market ships. They also operate at a nearly one-to-one ratio of staff to passengers — one of the highest levels in the cruise business.
Both space-per-passenger ratios and staff-to-passenger ratios are measurements used as shorthand for the luxury level of a vessel.
Seabourn ships also offer such luxury touches as marinas for water-based play when the vessels are anchored in calm and sunny locales.
Related: The 8 best luxury cruise lines for elegance and exclusivity
Every cabin is a suite, and the number of restaurants, bars and lounges is impressive for vessels of this size.
Two of the line's three types of ships — the Encore class and Odyssey class — are similar in design. The main difference between the two is that the Encore-class ships are bigger. They essentially are Odyssey-class ships with an additional deck for extra suites and public areas.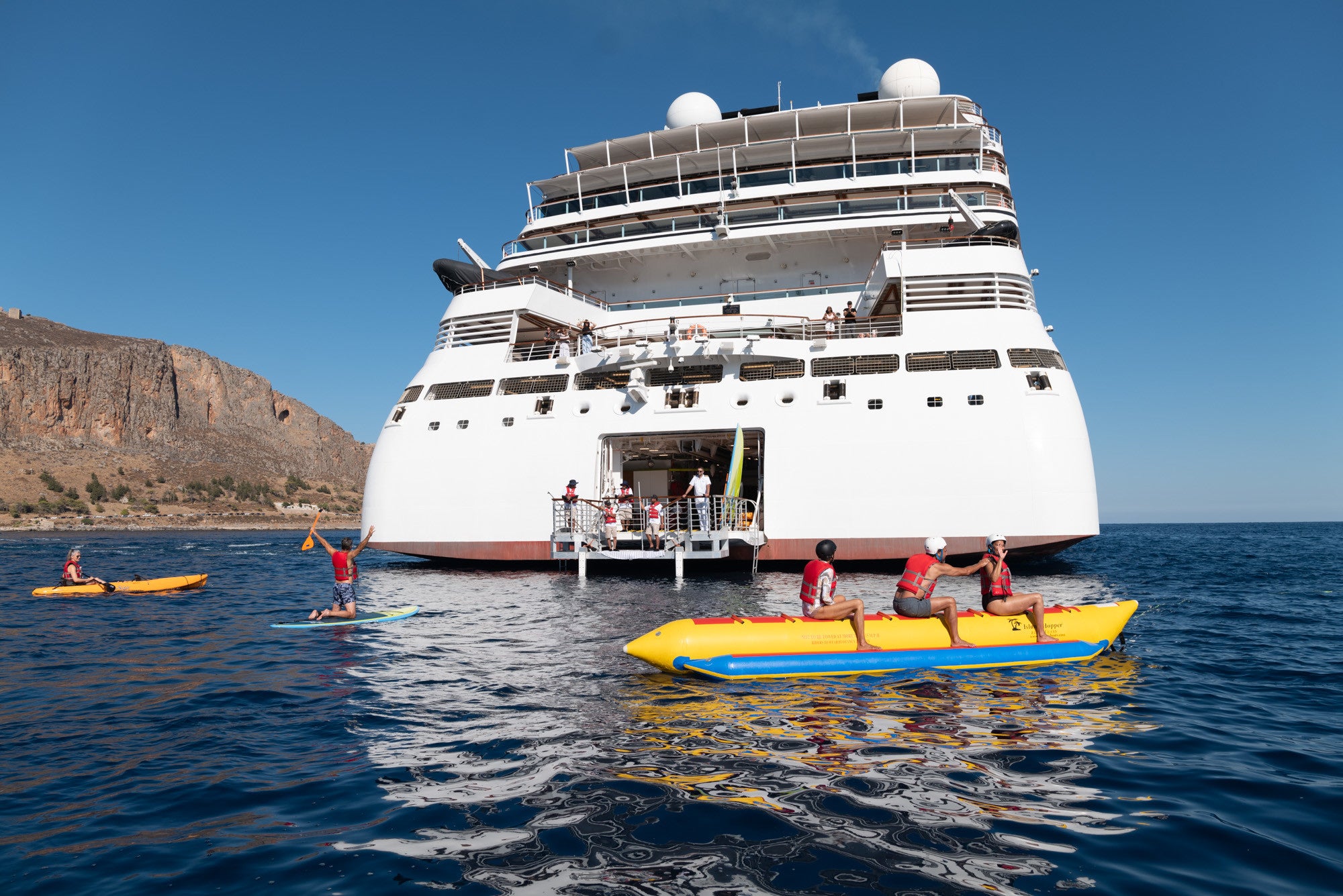 As a result, the Encore-class ships can hold 600 passengers, based on double occupancy, while the Odyssey-class ships are designed to carry up to 458 passengers.
The third and newest class of Seabourn ships, the expedition ships (Seabourn doesn't use a formal class name for these vessels) are much smaller ships specifically built for expedition cruising — a type of adventure-focused cruising that involves visiting hard-to-reach and off-the-beaten-path places such as Antarctica and the Arctic.
Expedition ships are designed to hold 264 passengers, based on double occupancy.
Seabourn ships aren't as big or opulent as the luxury vessels operated by some of its competitors, most notably Regent Seven Seas Cruises (which mostly markets vessels carrying 700 to 750 passengers). The line offers a more subdued, intimate sort of luxury. If it's soaring spaces loaded with pricey marble and crystal chandeliers you're after, Seabourn may not be for you. However, if you prize intimacy and elegance without a lot of showiness, Seabourn ships could be a good choice.
Encore Class
Ships in class: Seabourn Ovation (2018); Seabourn Encore (2016).
Seabourn's two Encore-class ships, Seabourn Ovation and Seabourn Encore, are the biggest vessels in the line's fleet. If you're in the "bigger is better" camp regarding cruise ships, these are the Seabourn vessels you'll want to pick.
That said, the ships aren't all that different than the line's smaller Odyssey-class vessels (more on those below). Built on the same platform as the Odyssey-class ships, just with one more deck, they feature all the same main public spaces that exist on the earlier vessels, often in the same locations, with a handful of additions, the most notable being a sushi restaurant.
As is the case with the Odyssey-class vessels, the hub of each Encore-class vessel is its centrally located public gathering place known as Seabourn Square.
A revolutionary concept when it first debuted on Seabourn Odyssey, Seabourn Square might best be described as the ship's living room. Filled with comfortable seating, workstations with computers, a puzzle table and cases lined with books, it's a multipurpose space that is part lounge, part cafe and part library.
On one end of Seabourn Square is its most alluring feature — a European-style coffee bar serving carefully crafted cappuccinos and other espresso drinks, plus freshly baked pastries, homemade gelato and other nibbles. The spacious room is also home to a circular concierge area at its center where staff can help you book activities, and a guest services desk and a desk where you can book future cruises.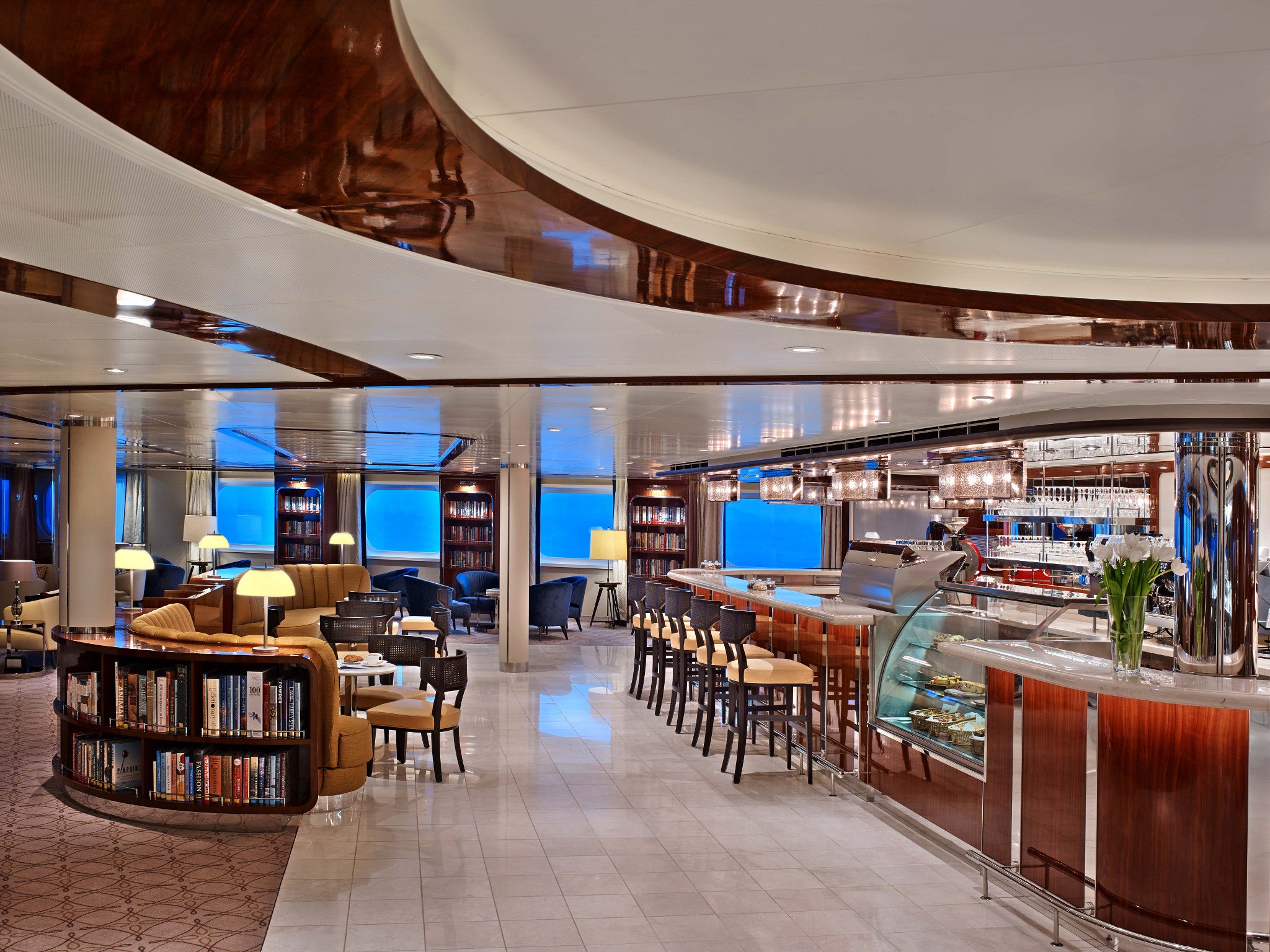 Other major public areas on each Encore-class ship include the Grand Salon, a theater-like space with tiered seating that is home to entertainment at night and serves as a lecture hall during the day. The Club is a cozy lounge with a bar and a tiny casino on the side. At the top of the ship, overlooking the bow is the Observation Bar, which offers stellar 270-degree views (even better views than what is available from the bridge, one deck below).
Dining options include The Restaurant, the ship's main dining room, which offers elegant sit-down meals; The Patio, a poolside venue serving lighter fare; and The Colonnade, a casual eatery with both buffet and table-service dining during the day.
The Patio converts into the table-service-only Earth & Ocean for dinner. In the latter configuration, it offers bistro-style cuisine that rotates throughout each voyage.
In addition, the ship is home to The Grill by Thomas Keller, an eatery created by the famed chef. It offers his take on the classic American restaurant of the 1950s and 1960s, with his versions of such iconic American dishes as New York strip steak and lobster thermidor. Keller also designed dishes for family-style dinners with set menus served in The Colonnade on select nights.
Related: The 5 best places you can visit on a Seabourn ship
Unique to this class of ships is Sushi, a dedicated sushi restaurant with just 30 seats. Tucked away in a corner off a central stairway, it's a hidden gem offering lovely and innovative sushi and sashimi plates at night. During the day, it serves disassembled "bento boxes" with cooked entrees such as miso salmon and teriyaki chicken — the latter arriving with miso soup and small dishes of salad, rice and oshinko.
As is often the case with luxury vessels, none of the eateries have an extra charge.
The Encore-class ships also have a small but sumptuous spa and wellness center with five treatment rooms, a thermal area, a salon and a fitness area.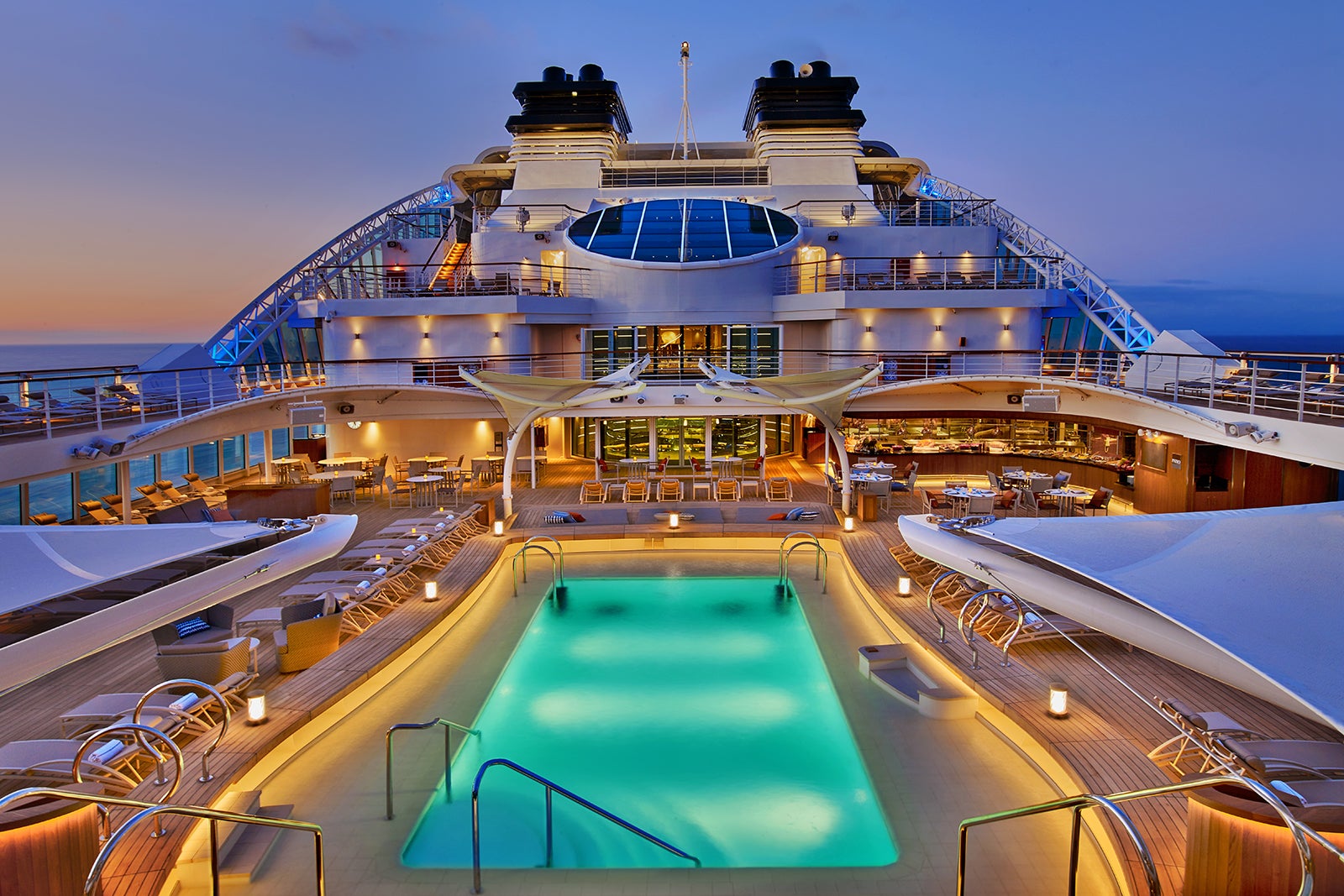 Decor-wise, the Encore-class ships have a more yacht-like look than the older Odyssey-class vessels, with interiors created from top-to-bottom by well-known hospitality designer Adam Tihany. Tihany didn't work on the earlier vessels, which have a more Nordic-style sleekness.
I find the Encore-class ships more enticing in their design than the Odyssey-class ships, thanks to Tihany's rethinking of the decor. That said, I have mixed feelings about their larger size, which results in a slightly more crowded feel. This is most noticeable when at the main pool areas of the vessels, which aren't much bigger than the main pool areas on the Odyssey-class ships, despite the ships carrying about a third more passengers.
On the plus side, the Encore-class ships have several additional hideaways for outdoor lounging tucked into little nooks at their fronts and backs.
Odyssey Class
Ships in class: Seabourn Quest (2011); Seabourn Sojourn (2010); Seabourn Odyssey (2009).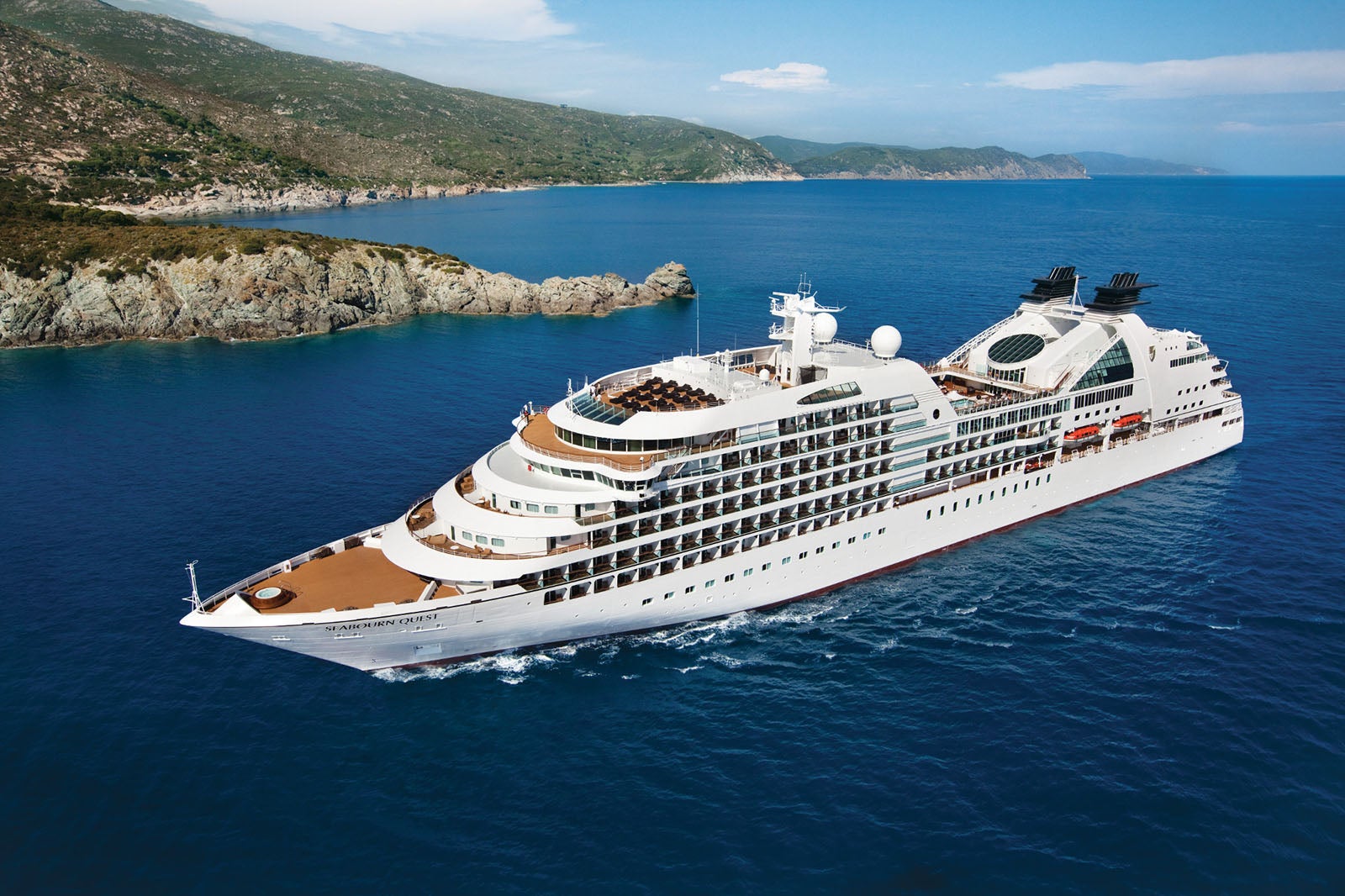 As noted above, Seabourn's three Odyssey-class ships are similar to its two Encore-class ships in design, with the main difference being that they are a bit smaller. At 32,326 gross tons, the three vessels measure about 23% smaller than the Encore-class vessels. They hold about 24% fewer passengers.
The result is that the Odyssey-class ships provide a more intimate feel. The basic layout of the ships in the two classes is roughly the same, albeit with a few notable differences. On the Odyssey-class vessels, you're traveling with fewer people, which results in everything from fewer crowds around the main pool to fewer people in the casual The Colonnade eatery at lunchtime.
As with the Encore-class ships, the public areas of the Odyssey-class ships revolve around a centrally located public gathering space called Seabourn Square, featuring elements of a lounge, cafe and library.
The Odyssey-class ships also have Grand Salons with tiered seating for entertainment and lectures, a cozy The Club bar and lounge, and a ship-top Observation Bar that offers sweeping views.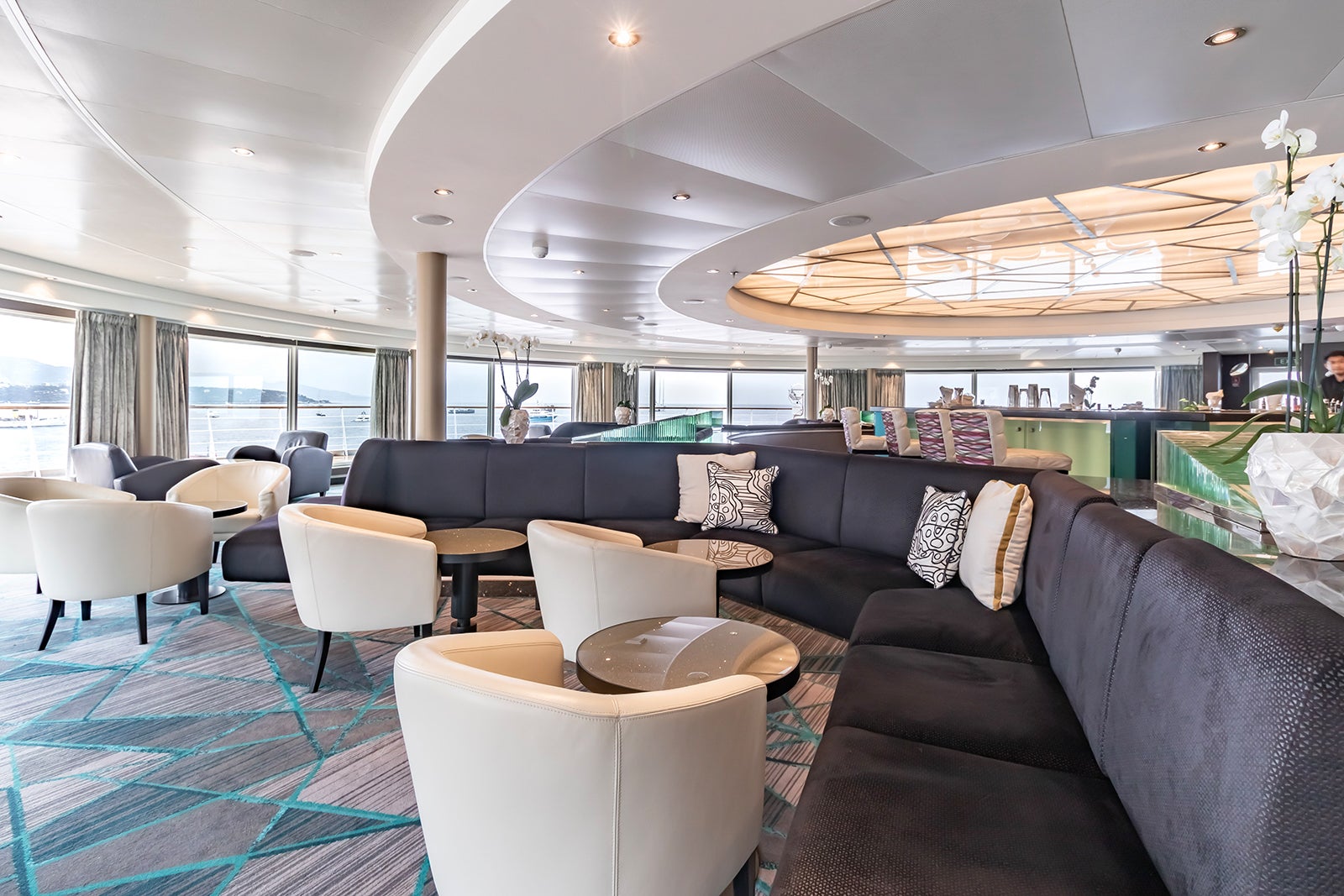 The biggest difference with the Odyssey-class ships is that they have one less deck and, therefore, 24% fewer suites. In public areas, the only notable difference is that there is no sushi restaurant and a smaller The Grill by Thomas Keller. (Initially, these ships didn't have Thomas Keller restaurants, but they were carved out of space previously dedicated to the casual eatery, The Colonnade.)
The deck where the sushi restaurant and large Thomas Keller restaurant are located on the Encore-class ships is the deck that is missing on the Odyssey-class ships.
The expedition ships
Ships in class: Seabourn Pursuit (2023); Seabourn Venture (2022).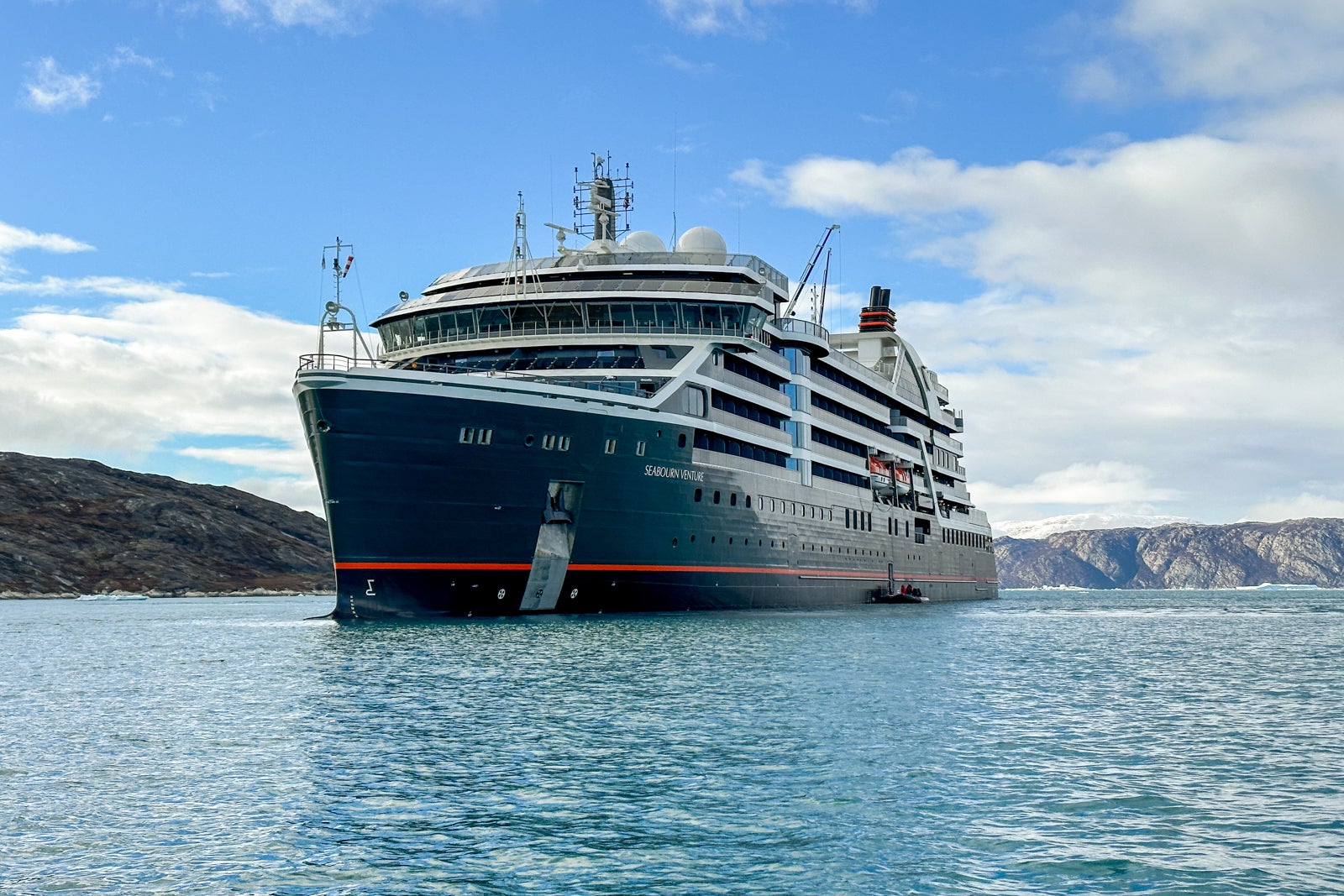 Seabourn Pursuit and Seabourn Venture are the Seabourn ships you book to get off the beaten path.
Much smaller than the other vessels in the Seabourn fleet and designed to carry just 264 passengers each, they're both expedition ships — small vessels built extra tough to travel to the most remote and hard-to-reach parts of the world, including Antarctica and the Arctic.
As is typical for ships of this type, they both have extra-thick hulls and other features that allow them to bump through ice in polar regions. They carry Zodiac boats for landings in remote areas that have no infrastructure. They also sail with expedition guides to lead you on the landings and explain the wildlife and scenery.
Related: Luxury adventure cruise ships you have to see to believe
Still, unlike many expedition ships, Seabourn Pursuit and Seabourn Venture are luxurious vessels, with many of the upscale venues and amenities found on Seabourn's bigger, more traditional luxury ships. If you know the bigger ships, you'll feel right at home on the expedition ships.
Seabourn Pursuit and Seabourn Venture both have Seabourn's signature Seabourn Square area that offers snacks, coffee and a guest services desk. Each offers a version of the main restaurant called The Restaurant and the more casual The Colonnade eatery.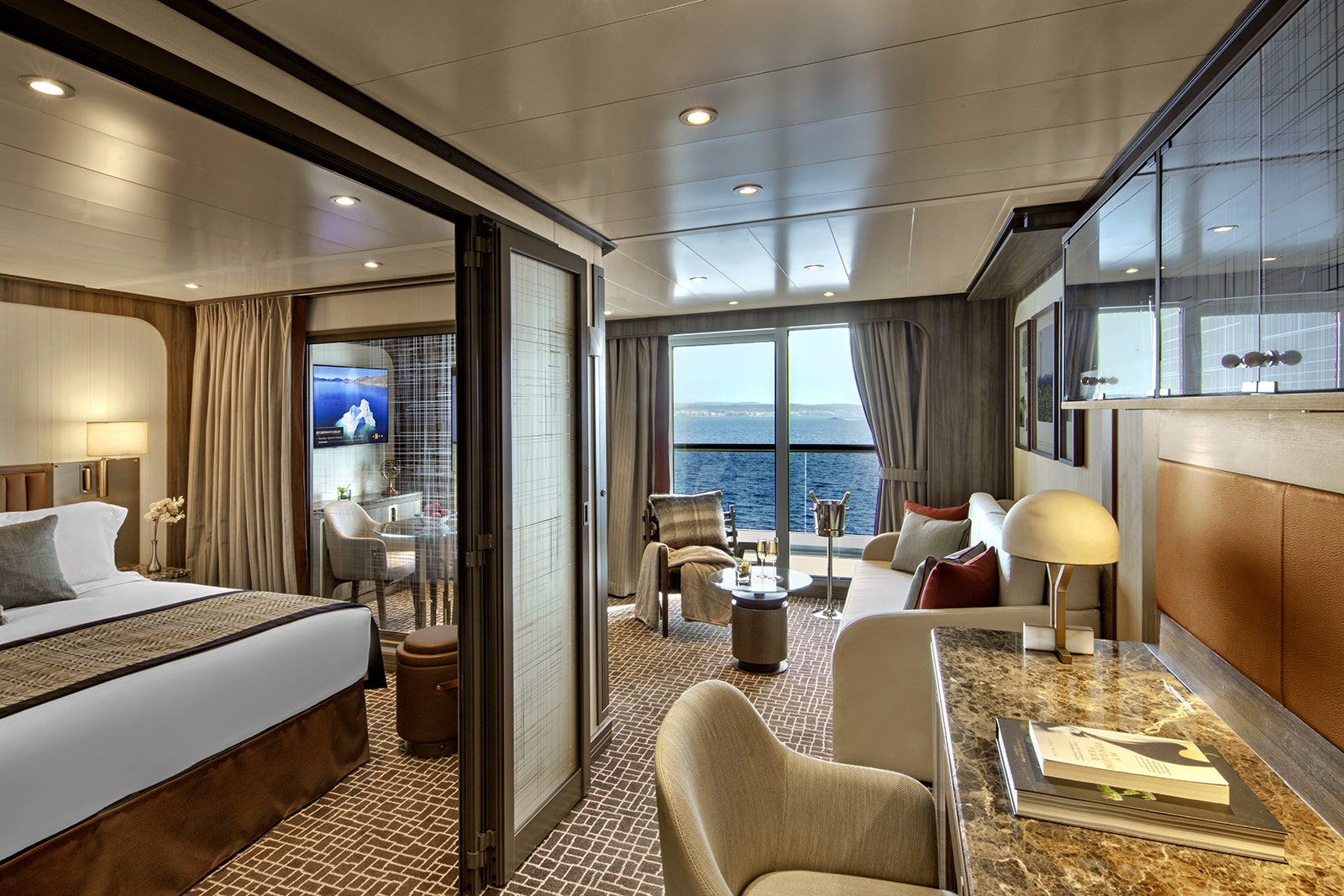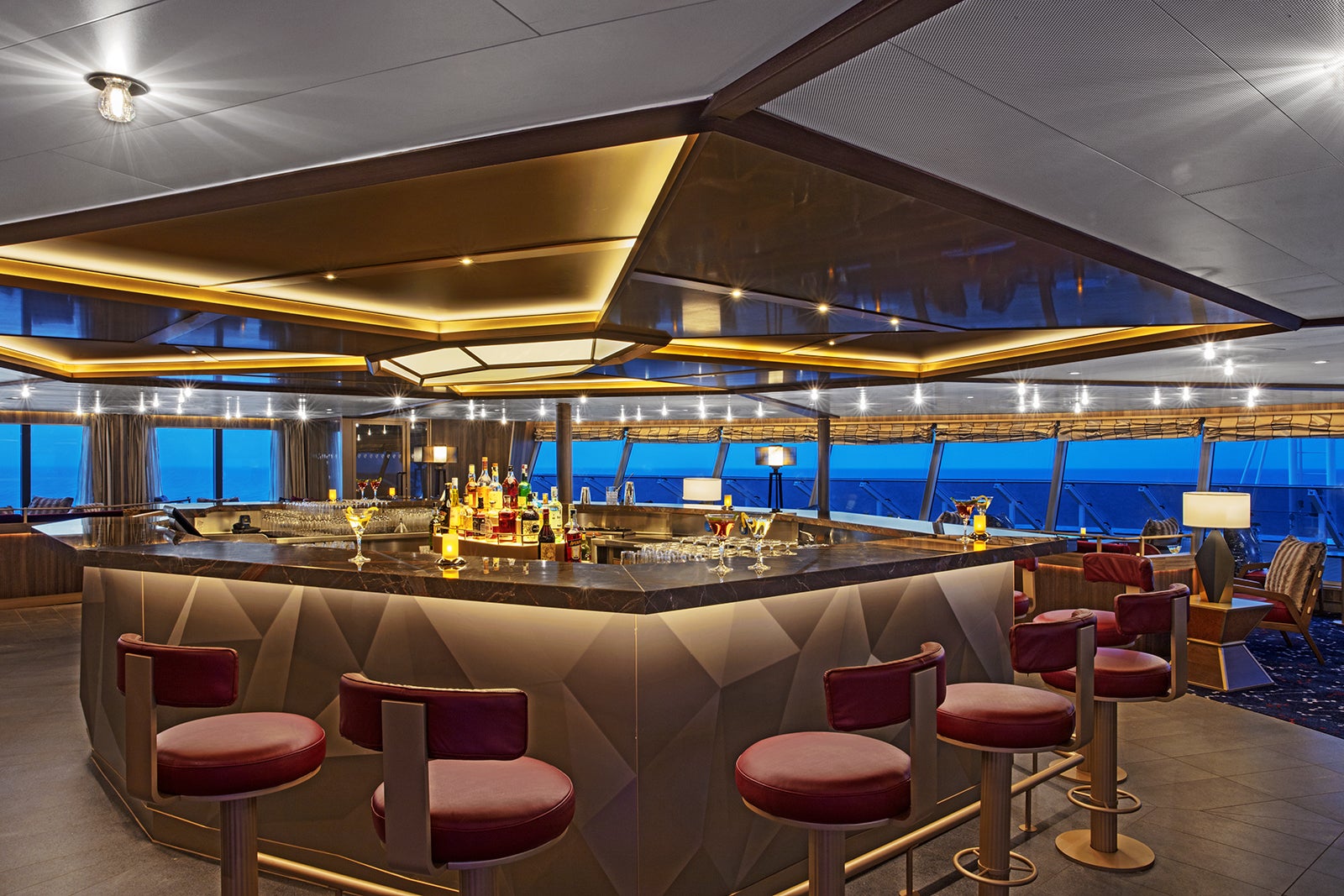 Rounding out the public spaces are a smaller version of Seabourn's spa and wellness center and a bar and lounge called The Club.
Suites on these vessels are especially swanky, with bright bathrooms all featuring bathtubs. Walk-in closets provide ample storage, even for long sailings, and every room has a small drying closet for outdoor adventure clothing. The latter is a welcome touch after rainy days and wet landings (when you put on waterproof boots provided by the ship and step off the Zodiac into the water when you reach the shore).
In addition, small in-room touches, like Swarovski binoculars and a pillow menu, further enhance the ship's already thoughtful design.
The expedition ships also offer features that are unique to their class, from a "mud room" with cubbies where passengers can prep for landings in remote places such as Antarctica to a pair of submarines that are available for extra-fee underwater excursions.
In short, the ships are like smaller, more adventurous versions of the bigger Seabourn vessels.
Bottom line
The three types of Seabourn ships vary significantly in size , but they all are similar in their onboard venues and amenities. If you've been on any Seabourn ship and loved it, you'll surely love its other vessels, too.
Planning a cruise? Start with these stories: