Editor's note: This is a recurring post, regularly updated with new information.
---
Viking is unusual among major cruise lines in that it operates both ocean ships and river ships. Despite this, it has one of the easiest-to-understand fleets.
The vast majority of Viking's river ships — at last count, there were 80 — feature the same design. If you've seen one of them, you've seen them all.
Ditto for the line's ocean ships. Nine of Viking's 11 ocean ships are nearly identical. The two exceptions are the recently unveiled Viking ocean vessels specifically designed for expedition cruising — a type of cruising that involves traveling to remote, hard-to-reach places on hardy vessels that carry their own landing craft.
For more cruise guides, tips and news, sign up for TPG's cruise newsletter.
As a result, the bulk of Viking's vessels falls into one of just three groups; all the ships in each group sport nearly identical designs.
An introduction to Viking cruise ships
Viking has expanded enormously in recent years with the addition of dozens of new river and ocean ships.
Founded in 1997 with four river vessels, the company operated just 29 ships as recently as 2012. Now, there are more than 90 ships in its fleet.
The vast majority of these ships are river ships — the company's sole focus for its first 18 years in business. The company dominates the market for river cruises aimed at North Americans, accounting for about 50% of all such trips.
Starting in 2015, Viking began rolling out ocean cruise ships, too.
In early 2023, as noted above, Viking had 80 river ships in its fleet — almost all of which have the same basic design. The exceptions are a few vessels that Viking operates on rivers in Egypt and Asia (more on these ships below). The line also recently began offering cruises on the Mississippi River and its tributaries using a new type of vessel.
Related: The ultimate guide to Viking ships and itineraries
Viking's ocean ships fall into two distinct groups: a series of 930-passenger traditional ocean ships that began debuting in 2015, and a series of 378-passenger expedition ships that began debuting in 2022.
Unlike most cruise lines, Viking doesn't use the term "classes" to define different sets of ships in its fleet. Instead, it refers to its series of traditional ocean ships as the "Viking ocean ships" and its series of expedition ships as the "Viking expedition ships." We've followed the same breakdown of the line's ocean and river fleet below.
Viking ocean ships
Ships: Viking Saturn (2023), Viking Neptune (2022), Viking Mars (2022), Viking Venus (2021), Viking Jupiter (2019), Viking Orion (2018), Zhao Shang Yi Dun (2017), Viking Sky (2017), Viking Sea (2016) and Viking Star (2015).
Size: 47,800 tons.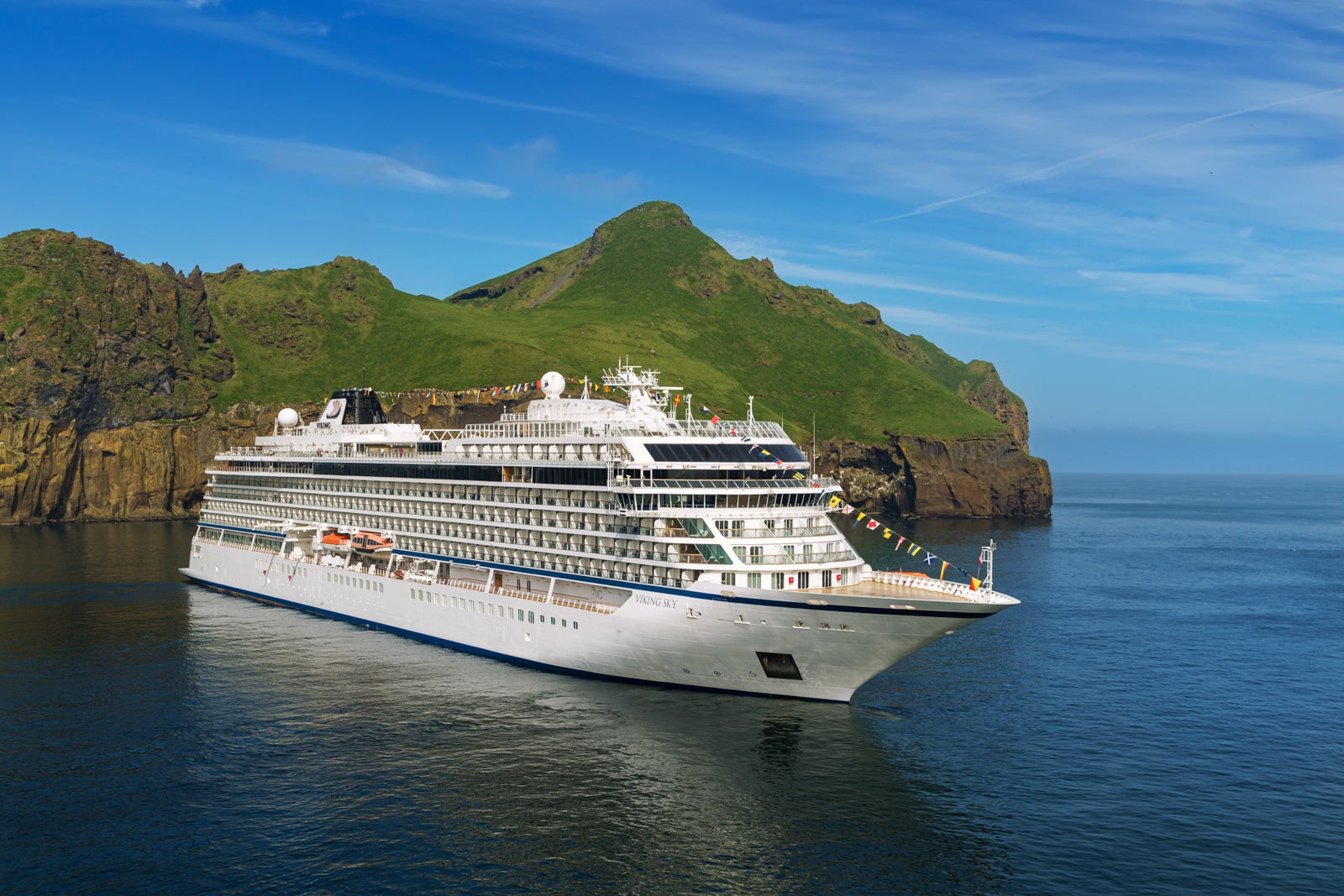 For years, Viking only operated river ships, and some cruisers still think of the brand primarily as a river cruise company. However, since 2015, Viking has been rapidly rolling out a series of upscale ocean vessels; these new additions are increasingly dominating the world of higher-end ocean cruising.
As of June 2023, Viking has nine ships sailing the world's oceans, each with a capacity for 930 passengers. That gives Viking 8,370 berths in the upscale ocean cruise market — more than competitors Oceania Cruises and Azamara combined.
The series is far from finished. Six more of the vessels are on order from Italian shipbuilder Fincantieri for delivery between 2024 and 2028, and the company also has options with Fincantieri for four more of the ships to debut in 2029 and 2030. Assuming they are all built, Viking's ocean division will soon be bigger than Oceania, Azamara, Seabourn and Silversea Cruises combined.
The first thing to know about the ships in this series is that they all are pretty much identical. When sailing on any one of them, you will be hard-pressed to tell what is different.
They're also quite upscale. While Viking doesn't market itself as a luxury line, some still consider it so. The vessels are full of luxury touches, from sumptuous bedding in cabins to heated floors in cabin bathrooms.
Related: The complete guide to Viking cabins and suites
Each of the ships in this series has a stylish, Scandinavian-influenced design that is a Viking trademark, and the cabins are large by cruise ship standards. Even the smallest cabins on each of the vessels have 270 square feet of space — a generous amount. Many cabins are significantly bigger than that, with 14 two-room suites on each of the vessels ranging in size from 757 to 1,448 square feet. Many of these bigger suites offer sweeping views from wrap-around private balconies.
Each of the ships' interior spaces is built around an elegant, three-deck-high atrium filled with comfortable seating areas that have a living room-like feel. Each also has a bar and guest relations desk. At the top of the ships, you'll find two-deck-high, glass-walled lounges that offer stunning views over the bow. Other interior spaces include a fitness center and a stylish spa with a thermal suite area that is open to all passengers at no extra charge (something that is not common on cruise vessels).
Multiple restaurants on board each of the vessels include Italian eatery Manfredi's (named after former Silversea owner Manfredi Lefebvre d'Ovidio, a friend of Viking founder Torstein Hagen) and The Chef's Table. The latter features rotating themed menus.
The centerpiece of the top deck of each of the ships is the main pool area, which features a glass magrodome that can close during inclement weather. The main pool area on each of the ships sits next to a lovely, glass-topped lounge with comfortable seating called the Wintergarden, which is home to afternoon tea. A den of serenity, it's one of our favorite places on these vessels.
A secondary pool area with an infinity pool is at the back of each of the ships.
While all of the ships in this series are essentially identical, you will find small differences on a few of them. Most notably, two of the vessels in the series — Viking Orion and Viking Jupiter — have a small planetarium built into the top level of the two-level lounge at their fronts (known as the Explorers' Lounge). Some of the later ships in the series have slightly larger fitness centers and slightly smaller hair salons.
Note that in addition to the nine Viking ocean ships officially in the Viking fleet, a 10th ship from the same series, Zhao Shang Yi Dun, caters exclusively to the China market as part of a joint venture between Viking and a Chinese company. When it debuted in 2017, the ship originally catered to the North American market and was called Viking Sun.
Viking river ships
Ships: Viking Fjorgyn (2022), Viking Kari (2022), Viking Radgrid (2022), Viking Skaga (2022) and more than 60 other Longships built since 2012, as well as additional river vessels.
Size: 4,000 to 5,000 tons.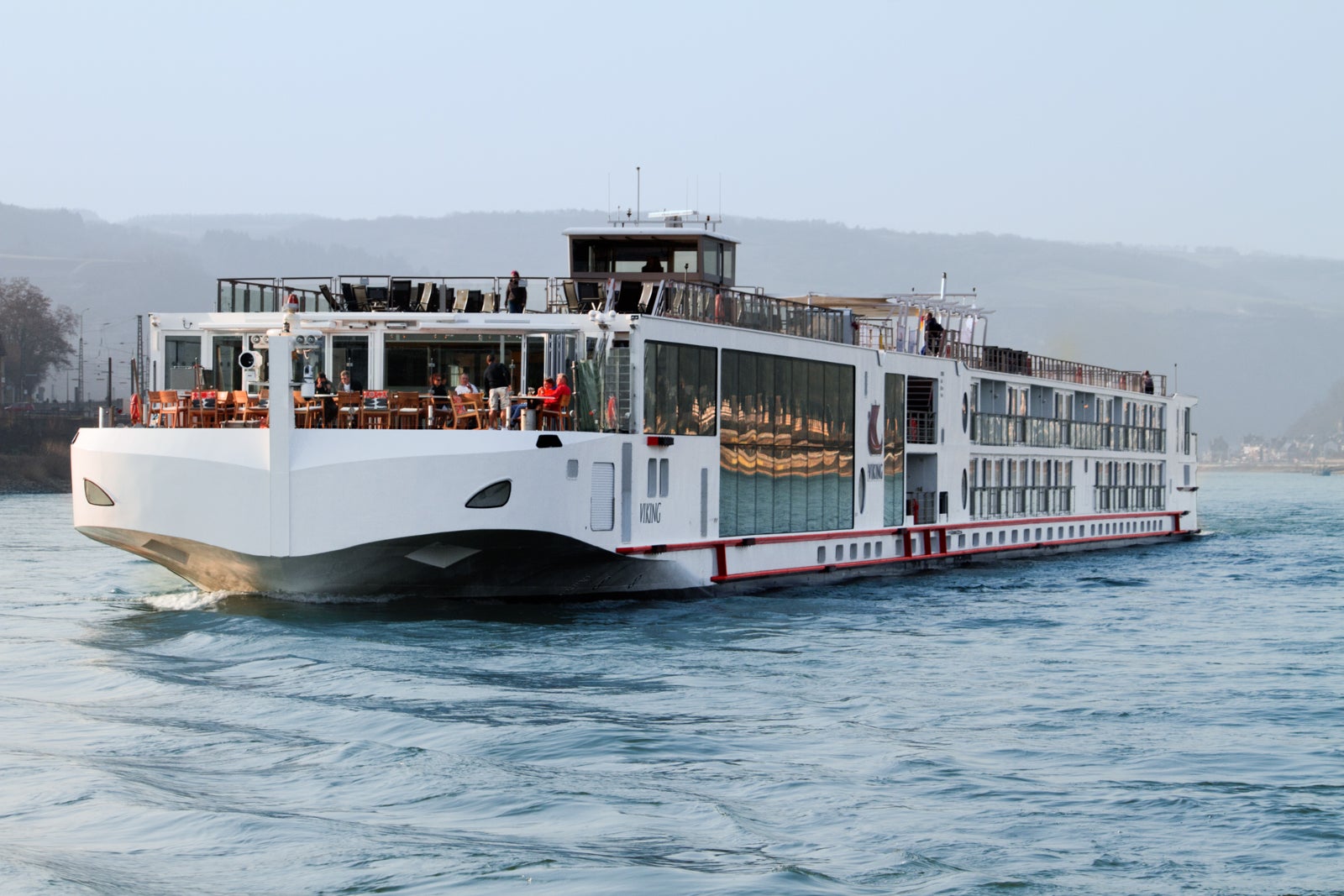 River ships originally put Viking on the map, and they're still at the core of the brand.
As noted above, the line has 80 river ships in its fleet. The vast majority of them have the same basic design and are known as Longships — a reference to the historic vessels used by Vikings in the Middle Ages.
Unveiled in 2012 and designed specifically to fit into the locks used across many of Europe's rivers, the Longships broke new ground in river ship design in multiple ways.
For starters, they have a configuration that includes some of the largest suites ever for river ships in Europe. They also have a significant number of cabins with balconies — which is made possible by an innovative cabin area layout that offsets main corridors. (In other words, the corridors don't run down the middle of the ship, creating a wider side with space for balconies and a narrower side with cabins turned sideways to also create room for verandas.)
Related: The ultimate guide to Viking's cruise loyalty program
Other innovations include a squared-off bow that allows for eight more cabins than similarly sized ships operated by competitors. Also, quieter engines allow for more cabins at the rear. An enormous amount of groundbreaking engineering went into redesigning the bow areas of the ships, in particular, to enable extra cabins while still leaving room for needed machinery.
As a result of such innovations, the Viking Longships can carry more passengers than similarly sized ships operated by competitors. This has allowed Viking to offer lower prices than other river cruise lines and still bring in a similar amount of revenue per ship — a fact that has contributed greatly to the company's rapid growth.
Like many river ships, each of the Viking Longships has one main restaurant where most passengers eat their meals as well as one main interior lounge with a bar. There's also a secondary, casual dining area at the front of each vessel with indoor and outdoor seating. (The outdoor portion, called the Aquavit Terrace, also serves as a forward-facing outdoor lounge during off hours.) Unlike many river ships, the vessels have no spas or fitness centers.
As is typical for river ships, the top of every Viking Longship is covered with an expansive lounge area. There's also a walking track and an herb garden — the latter used by the kitchen staff to grow herbs used during the preparation of onboard meals.
Most Viking Longships are 443 feet long — the perfect length to fit into the locks on many of Europe's rivers. Viking also built slightly smaller versions of the Longships, measuring 361 feet or 410 feet in length, specifically to sail on rivers where lock sizes or other navigational factors require smaller vessels. The 410-foot-long versions of the vessels, for instance, were specifically built to sail into the heart of Paris on the Seine River.
Related: Fast-growing Viking unveils four new ships for the Seine
While the Longships come in several different lengths, they are essentially identical in their offerings and decor. The only notable difference is that the smaller versions of the ships have fewer cabins and thus hold fewer people. The 443-foot-long versions of the ship are designed for 190 passengers, for example, whereas the 410-foot-long versions of the vessels hold 168 passengers (since they have 11 fewer cabins).
While most Viking river ships are Longships, there are a few exceptions in the Viking river fleet. Viking operates several smaller, purpose-built vessels on the Nile River in Egypt. It also has several older river vessels that predate the Longships and traditionally have operated on rivers in Russia and Ukraine. (For now, river cruise itineraries in both countries are on hold due to the war in Ukraine.)
Viking also recently began sailings on the Mississippi River with a new ship specifically designed for the river and its tributaries.
As of May 2023, Viking had another 14 river ships either under construction or on order via provisional contracts.
Related: First look at Viking's stylish new Nile River ship
Viking expedition ships
Ships: Viking Polaris (2022) and Viking Octantis (2022).
Size: 30,150 tons.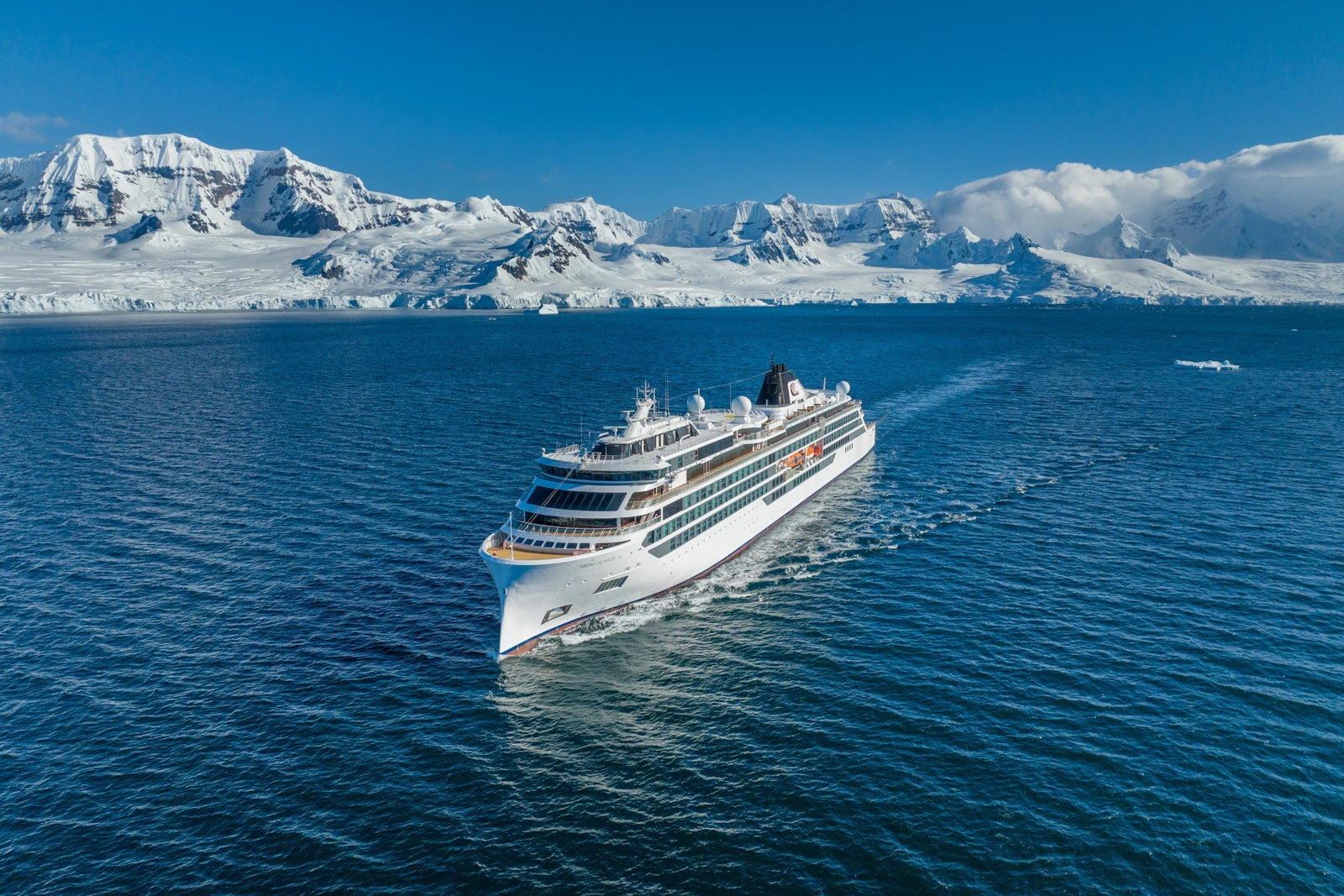 Designed to hold just 378 passengers, the Viking expedition ships are specifically designed to take travelers to the most off-the-beaten-path parts of the world, including Antarctica and the Arctic.
As of now, Viking operates just two ships in the series, Viking Octantis and Viking Polaris, both of which debuted in 2022. No more are currently on order.
As is typical for expedition ships, these are tough vessels with reinforced bows that let them bump through ice in polar regions; the ships also have extra tanks for fuel and food.
Each of these vessels has its own landing craft on board to bring people ashore in remote locations, as well as kayaks and even submarines for exploring. (The latter is the hot new thing for expedition ships — upscale cruise brands Scenic Luxury Cruises & Tours and Seabourn have been adding submarines to expedition ships, too.)
Like other expedition ships, both Viking Octantis and Viking Polaris are designed to operate with a large and seasoned "expedition team" that includes biologists, botanists, geologists, glaciologists and ornithologists who lecture regularly.
Related: The 5 best destinations you can visit on a Viking ship
Each of the vessels has several new and unusual features, too. Most notable is The Hangar: an enclosed marina that allows passengers to transfer to a 12-seat excursion craft while still in the protected interior of the ship. It's a first for an expedition cruise ship.
In another first for a polar expedition cruise vessel, every cabin has floor-to-ceiling glass walls that slide partially open from the top to create a balcony-like feel.
Both Viking Octantis and Viking Polaris are designed to be upscale. Like all Viking's vessels, they boast elegant Scandinavian designs. The restaurants on both vessels include a version of Viking's signature Italian spot, Manfredi's and the Scandinavian-inspired Mamsen's outlet.
Another feature of both ships that will be familiar to regular Viking customers is a top-of-the-ship, glass-walled Explorers' Lounge offering stunning views of passing scenery.
In case you're curious, Viking Octantis is named after Sigma Octantis, the current "south star" that hovers over the South Pole (also known as Polaris Australis). Polaris is named after the current "north star" that hovers over the North Pole. The names are a nod to the polar regions where these expedition ships will likely spend much of their time.
Bottom line
Viking operates more cruise vessels than any other major cruise company catering to North Americans. This is in part because it's involved in both the ocean cruise and river cruise businesses. Despite its large size, its fleet of vessels is relatively easy to understand. The vast majority of both its ocean ships and river ships are almost identical in their designs.
Planning a cruise? Start with these stories: